Relaxed wedding with moss-inspired decor at Kirknewton House Stables, Edinburgh
Paulina had such a great time dancing on her wedding day she sprained her ankle and had to go to A+E!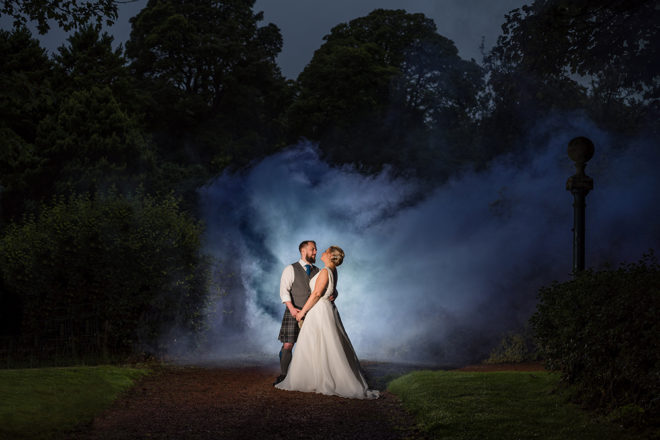 Paulina and Dave wanted to create a wedding day where their guests could let their hair down and relax.
Choosing to use lots of greenery, especially moss, to compliment their rural wedding venue Kirknewton House Stables, the couple created a fun, unstructured day that celebrated both their Scottish and Polish heritages.
Read more about Paulina + Dave's beautiful wedding day in the brides own words below…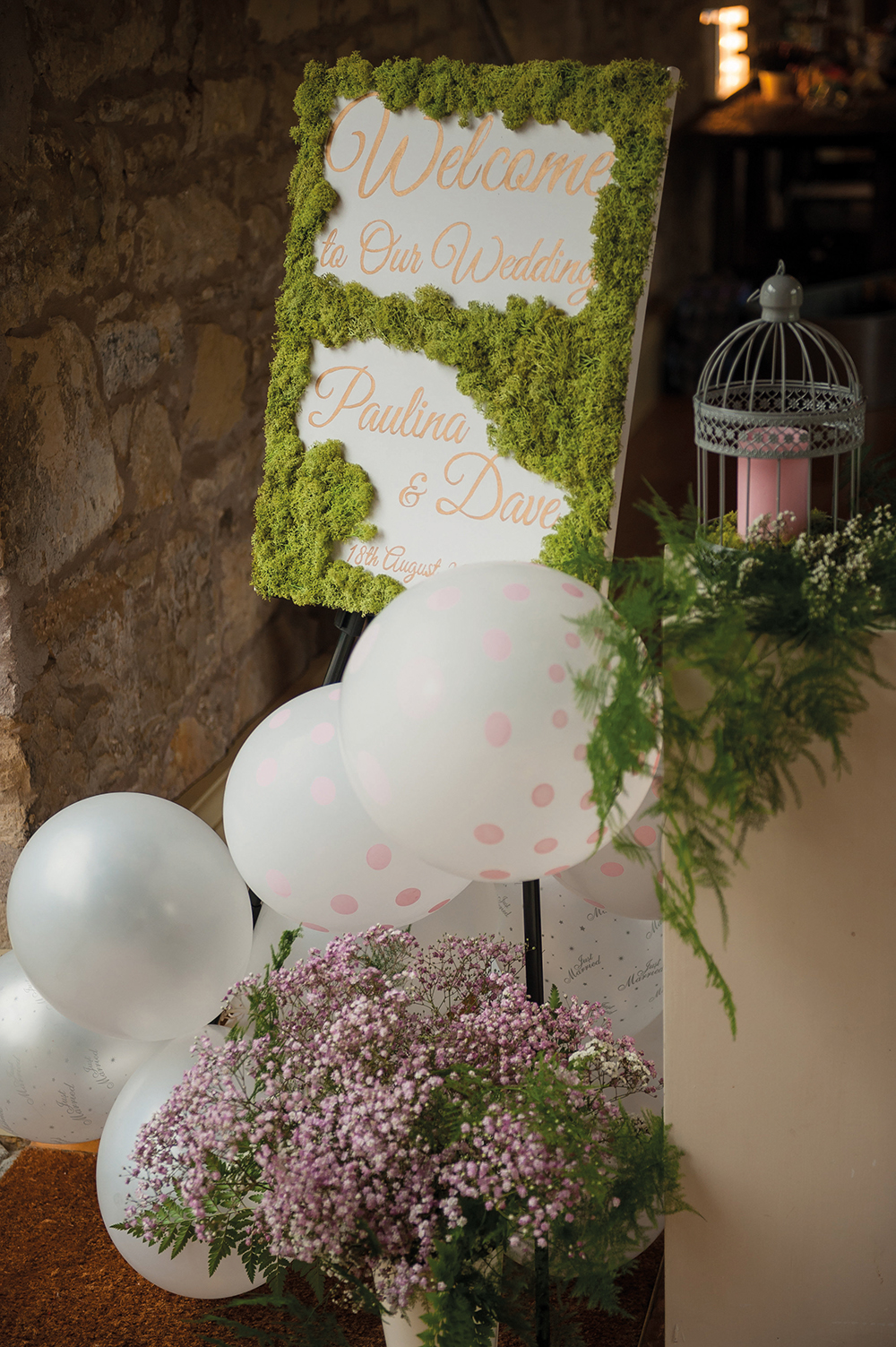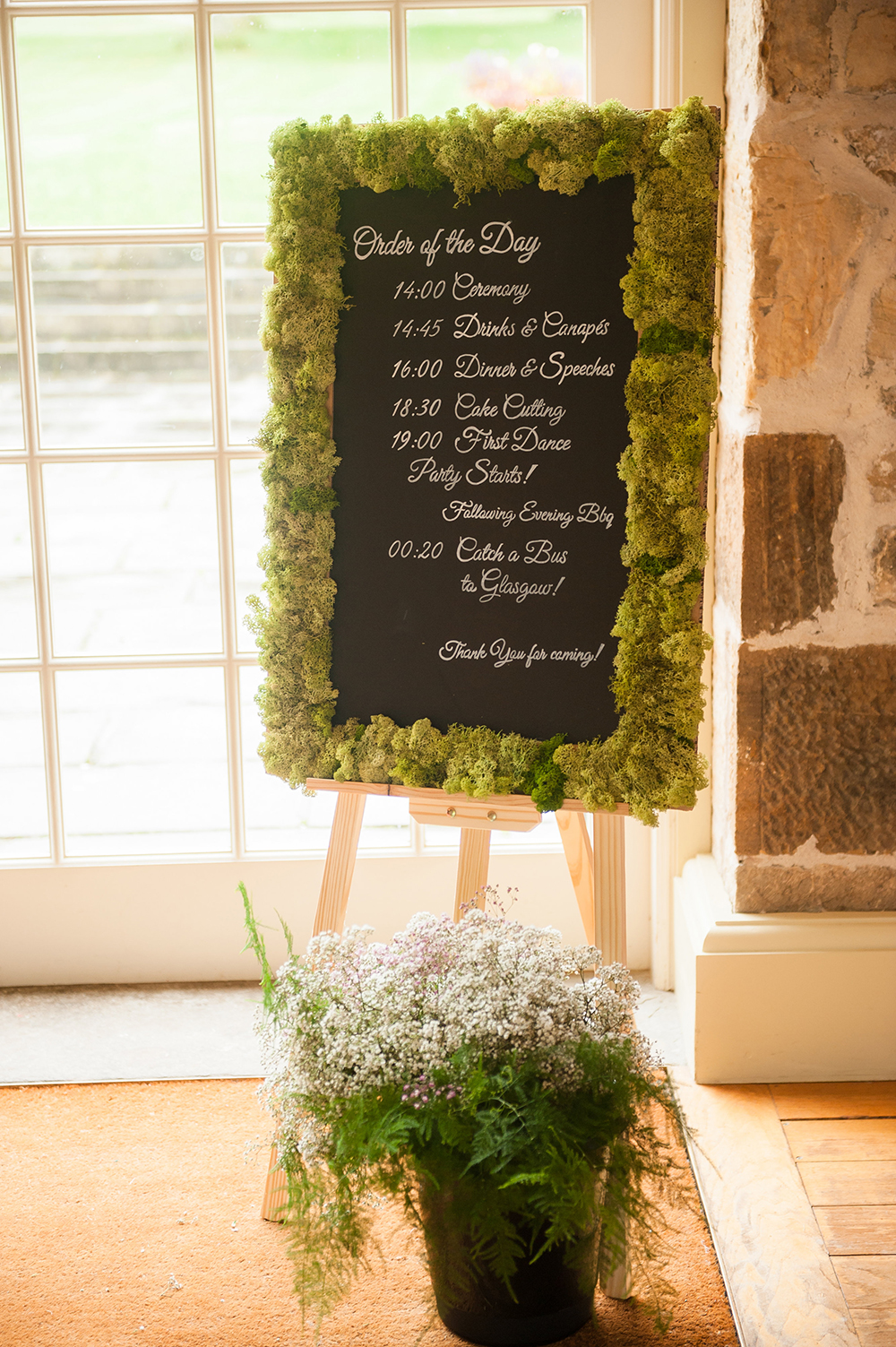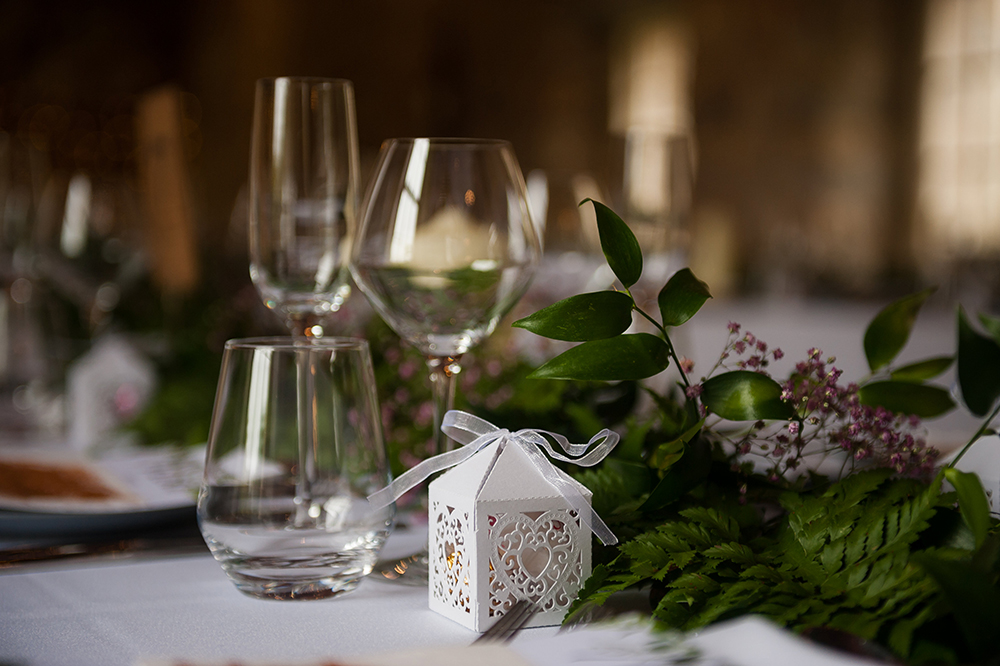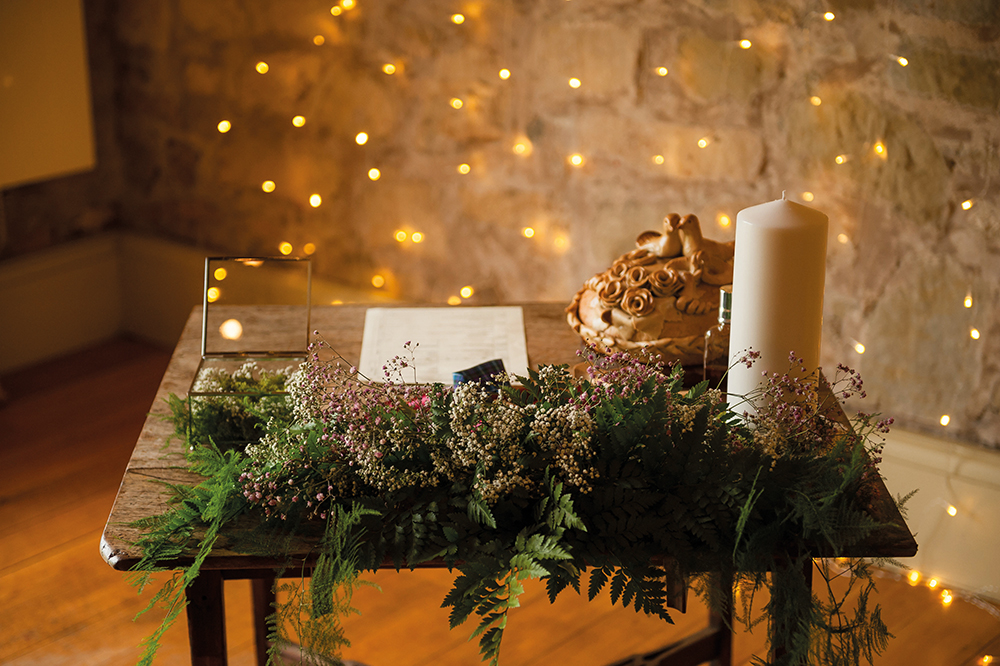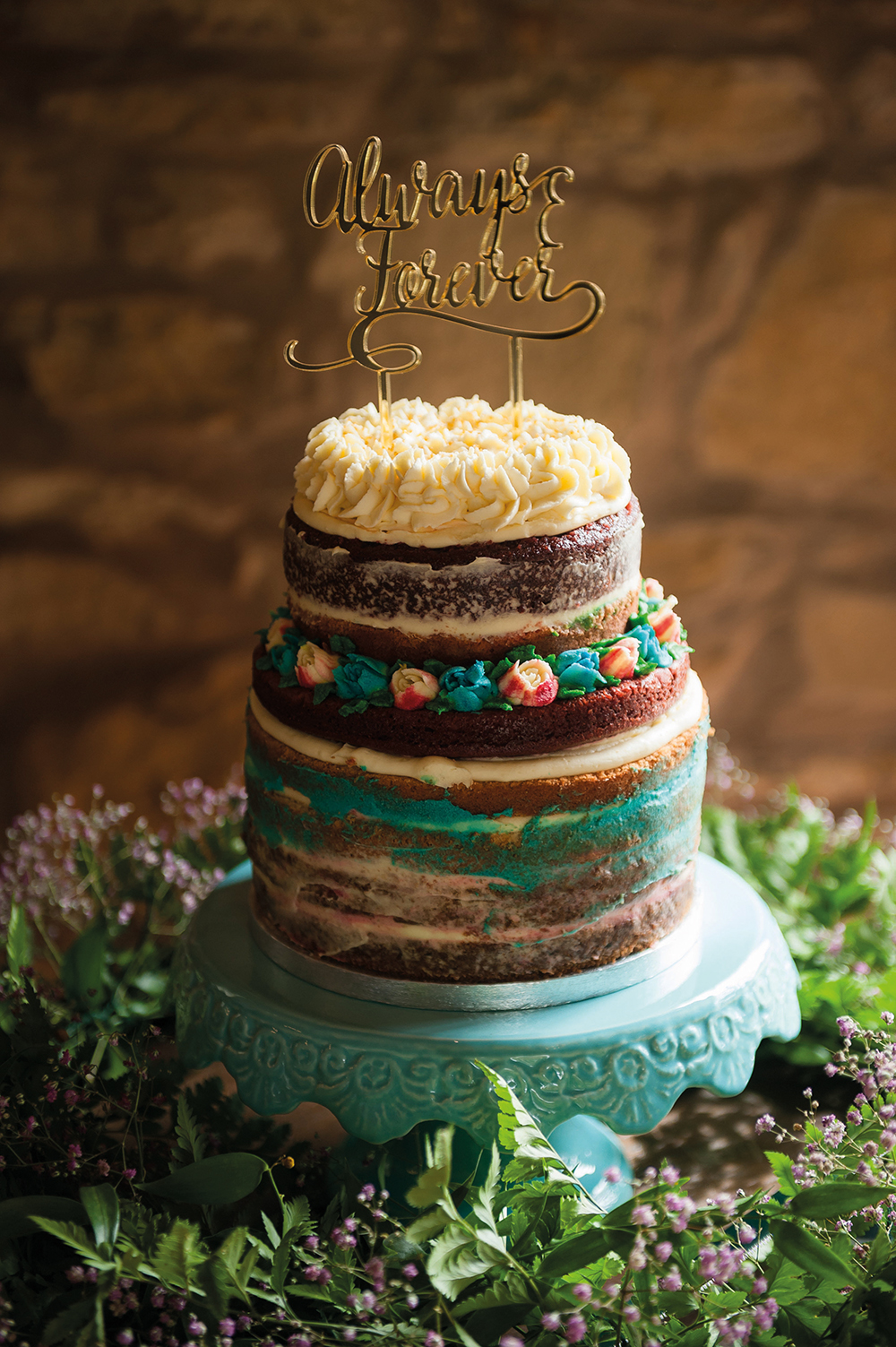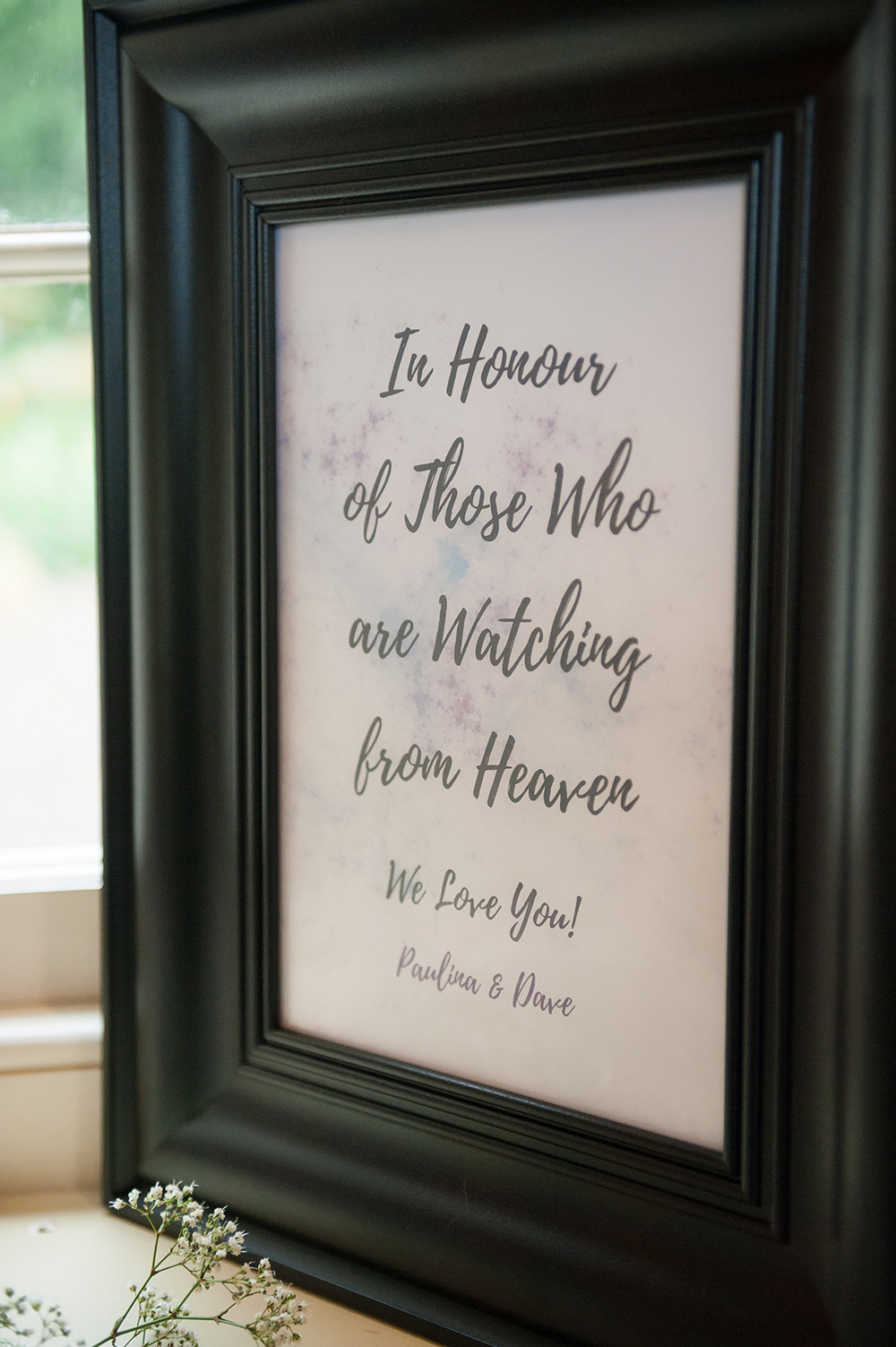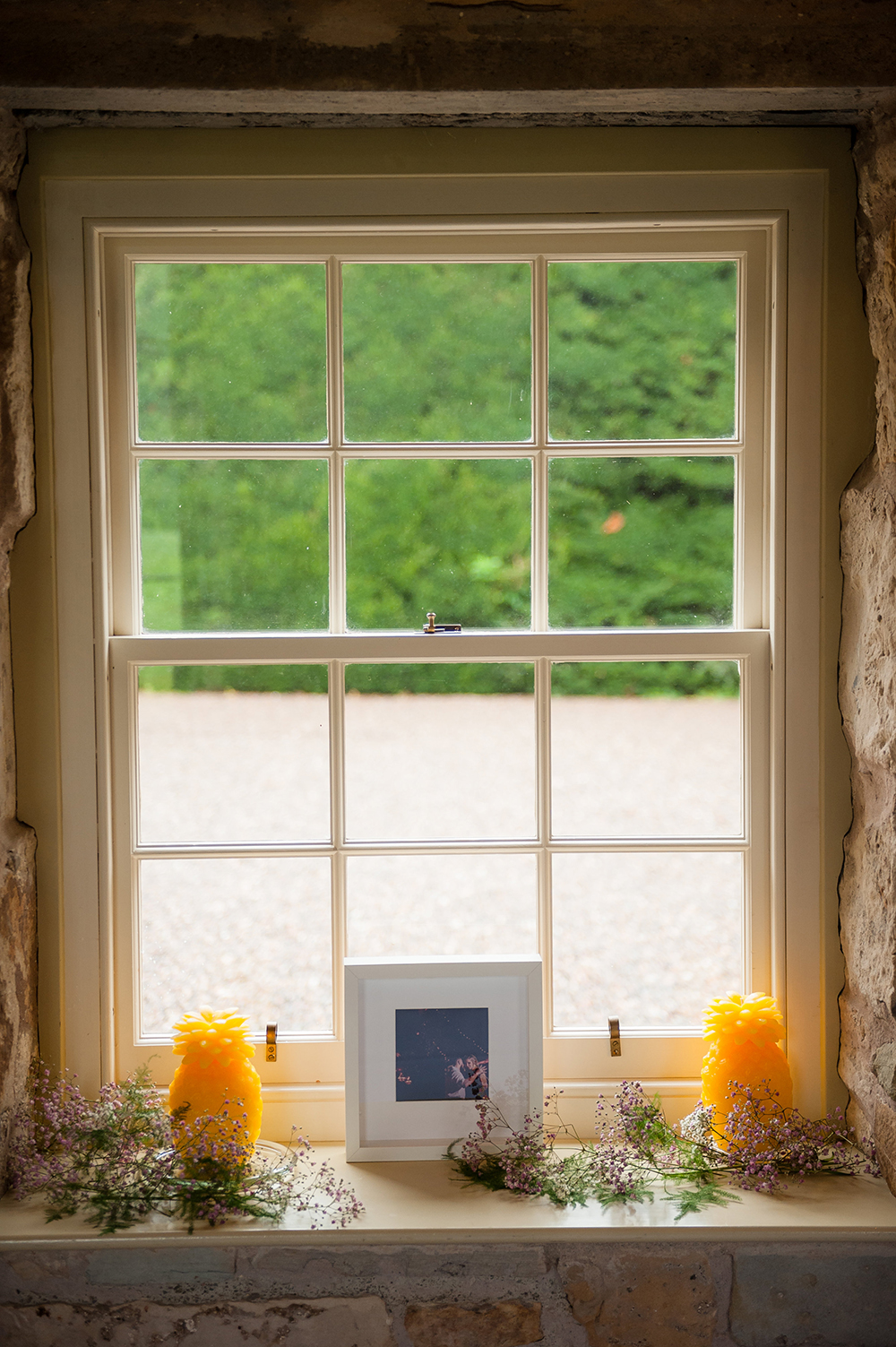 One night we were talking about our future when Dave spontaneously proposed!
He told me later he already had his grandmother's ring for me and was going to ask in a nice restaurant, but felt in the moment that the timing was perfect.
We got married at Kirknewton House Stables, which ticked all of our boxes. The location is stunning, with beautiful gardens and a natural rustic feel, which was exactly what we were looking for.
I graduated from The Glasgow School of Art as an interior designer, and the skills I learned were pretty transferable to wedding planning!
I carried out a survey of The Stables and the outside patio area to create a digital 3D model of the venue.
The survey helped me to plan and visualise different options for our ceremony, bar and reception space.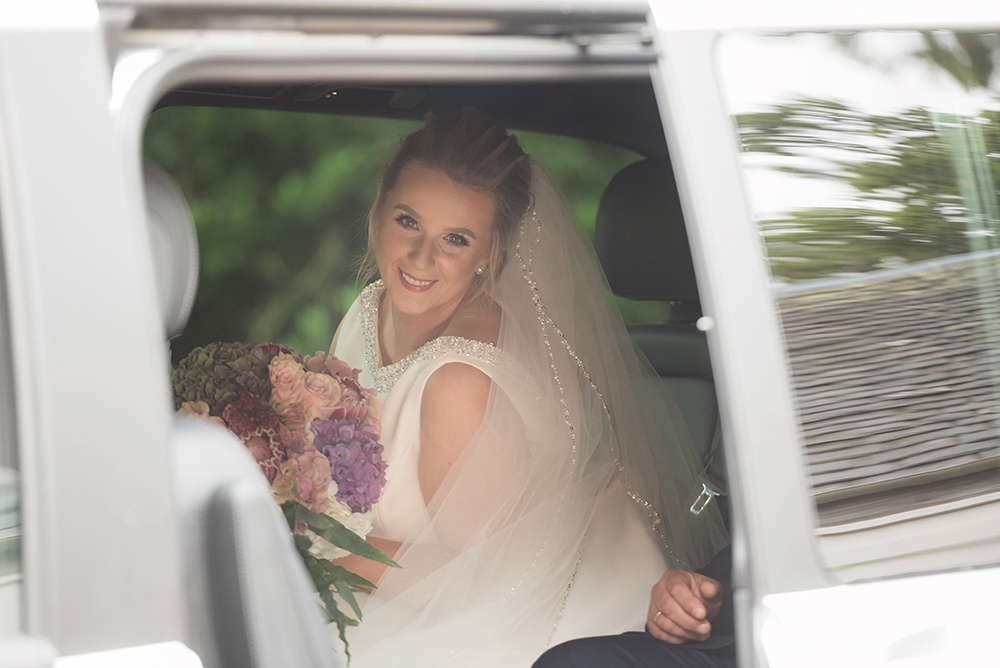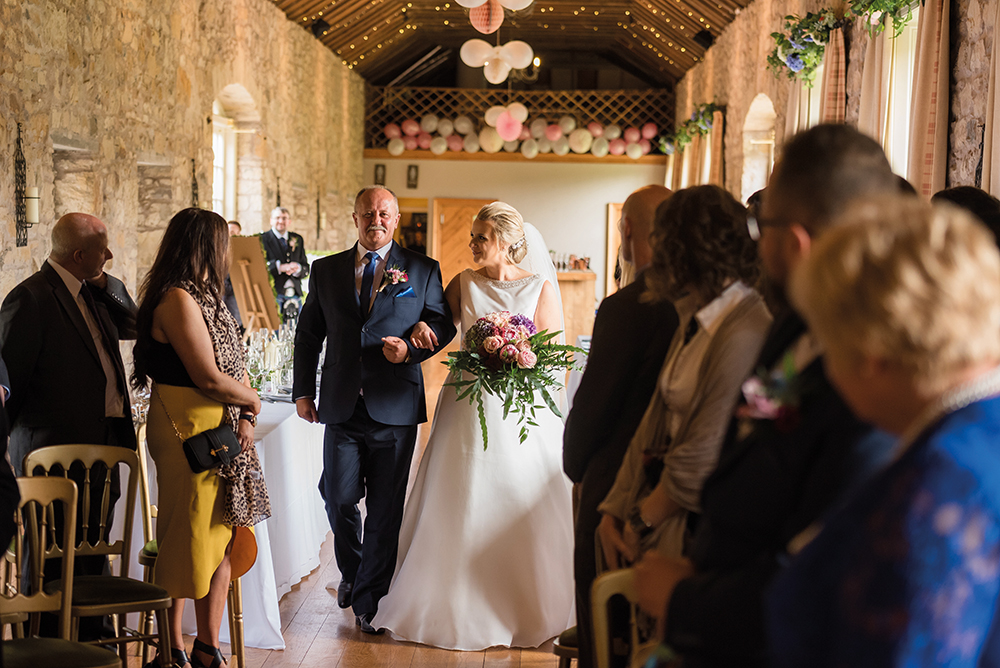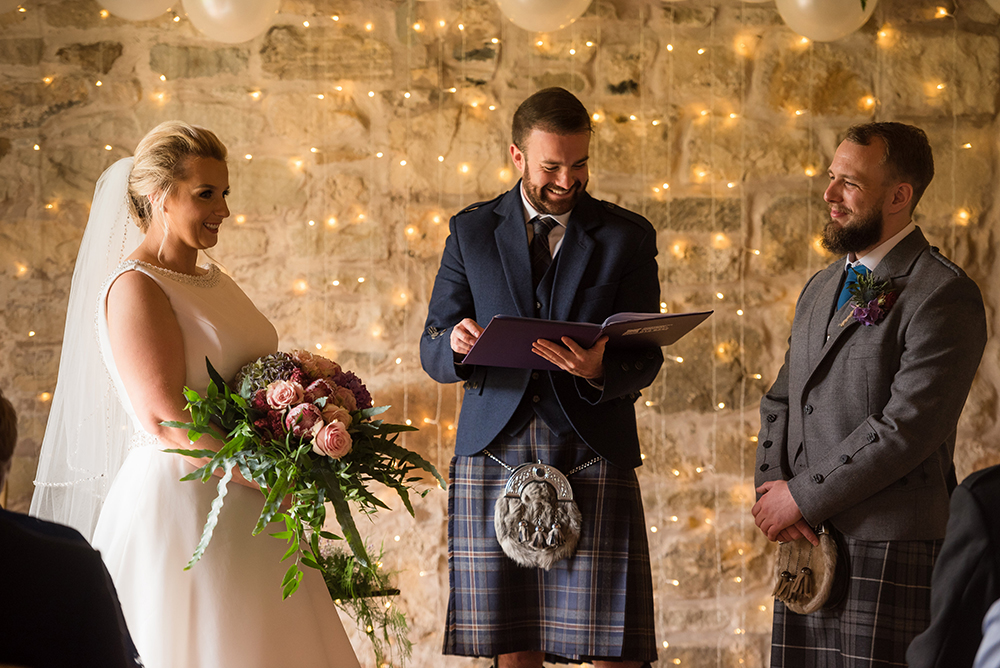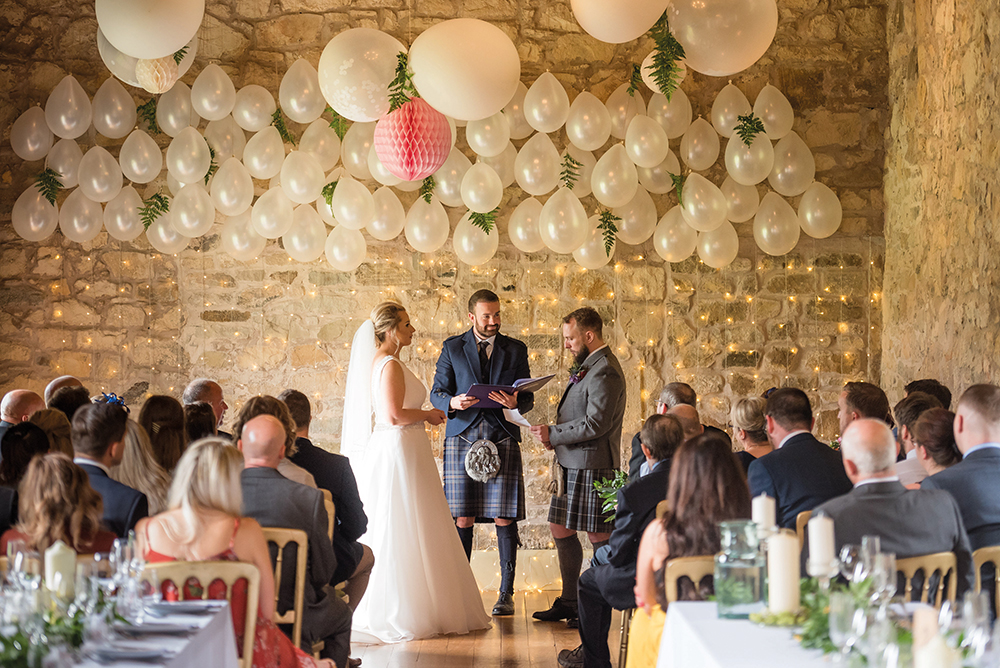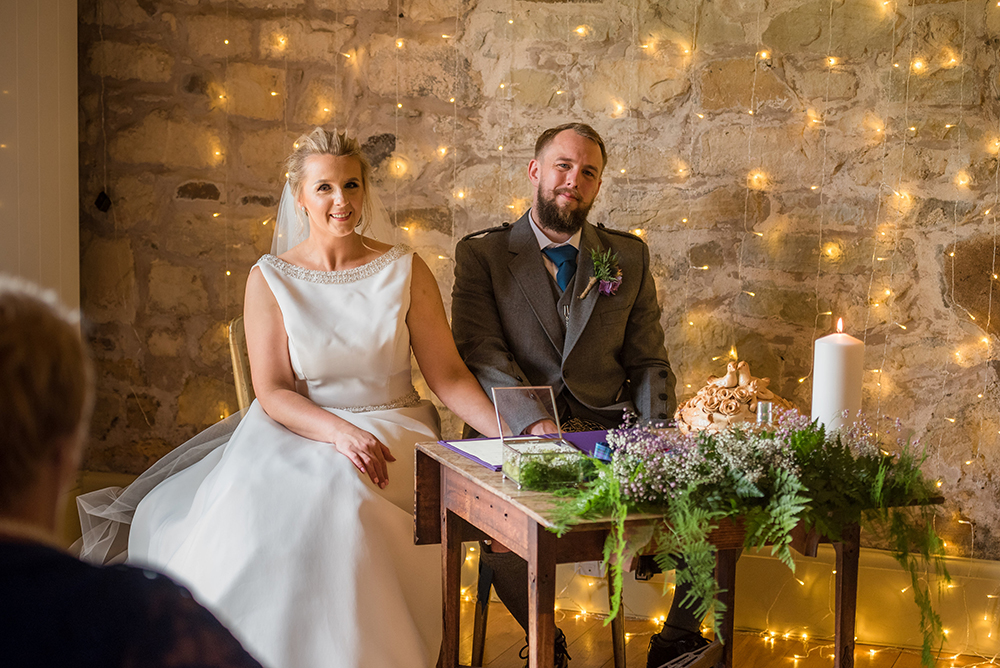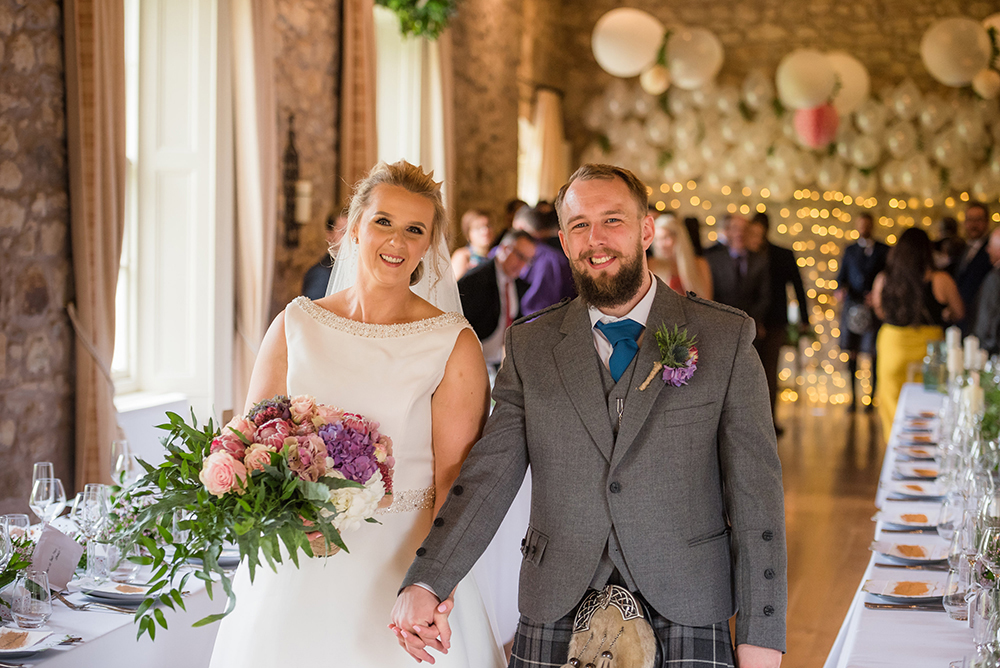 Dave and I decided not to have any groomsmen or bridesmaids. We're really close with our friends Kyle and Peter and went out for lunch with them and asked if they would stand next to us on our wedding day – happily, they agreed!
We had a humanist ceremony, which included the ancient Celtic ritual of handfasting and drinking from a handmade wooden quaich.
The ceremony was such an emotional part of our day. I remember seeing how proud my dad was and I couldn't have felt happier!
We booked Bespoke Catering and Events to create a fantastic food and drinks menu for our guests and we were so pleased with the results.
We were also able to hire some props from them such as whisky barrels, glass kilners and apple crates to fit our rustic theme.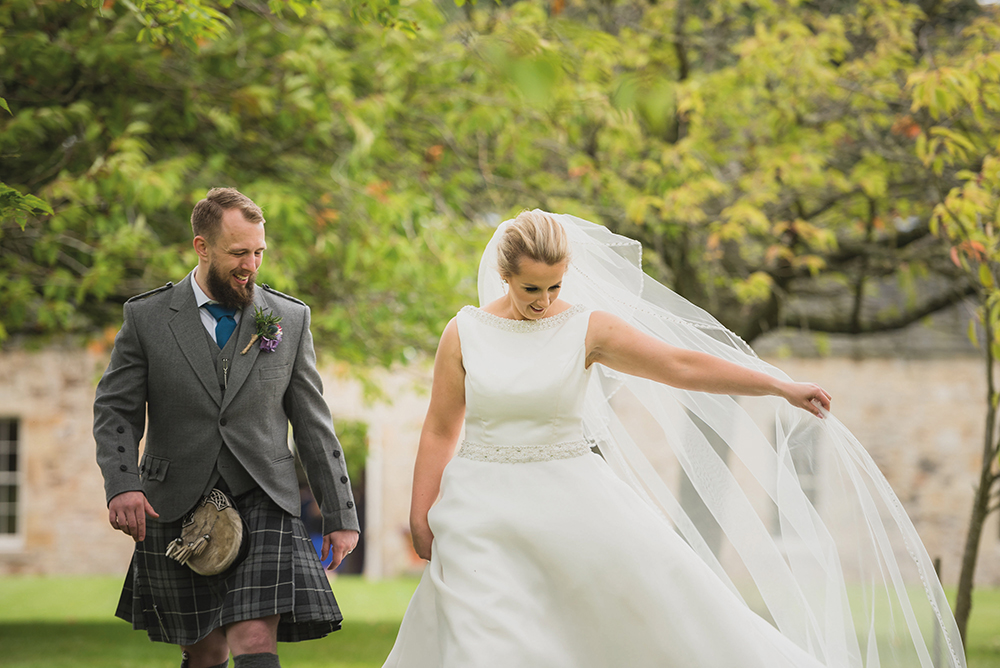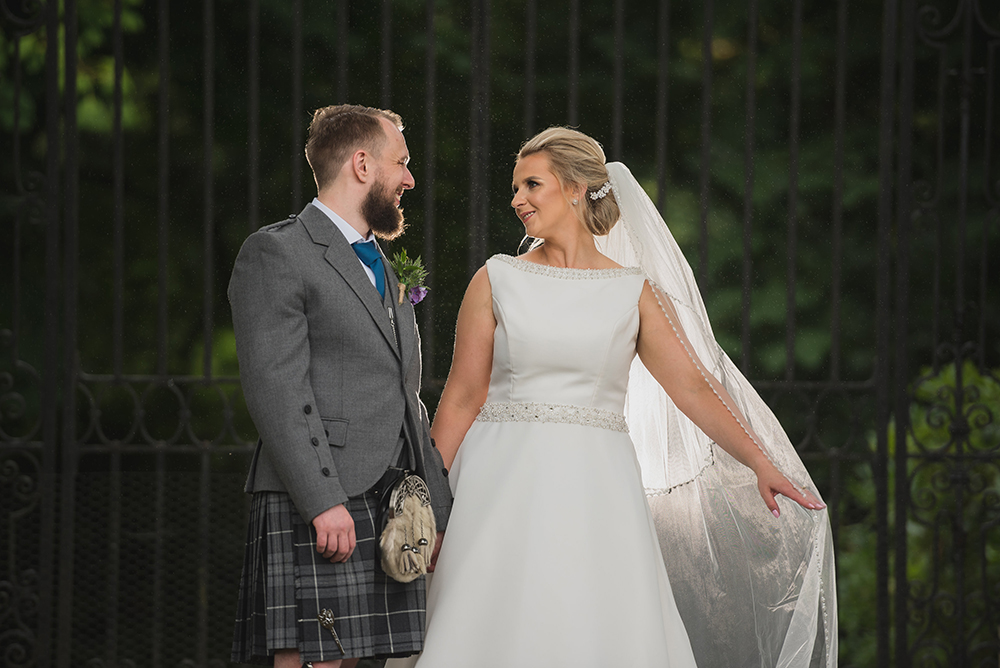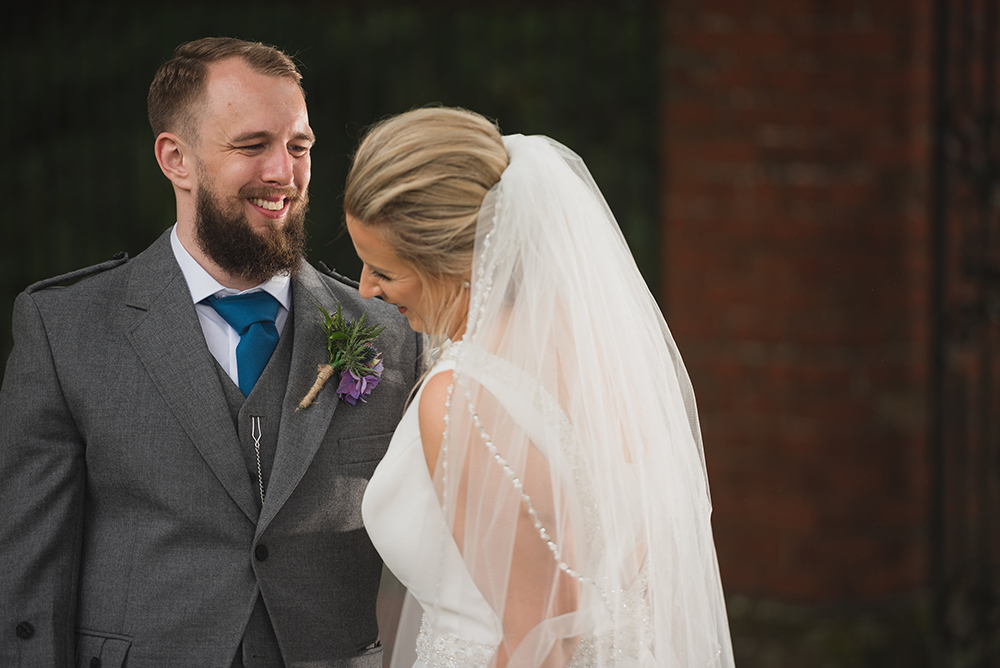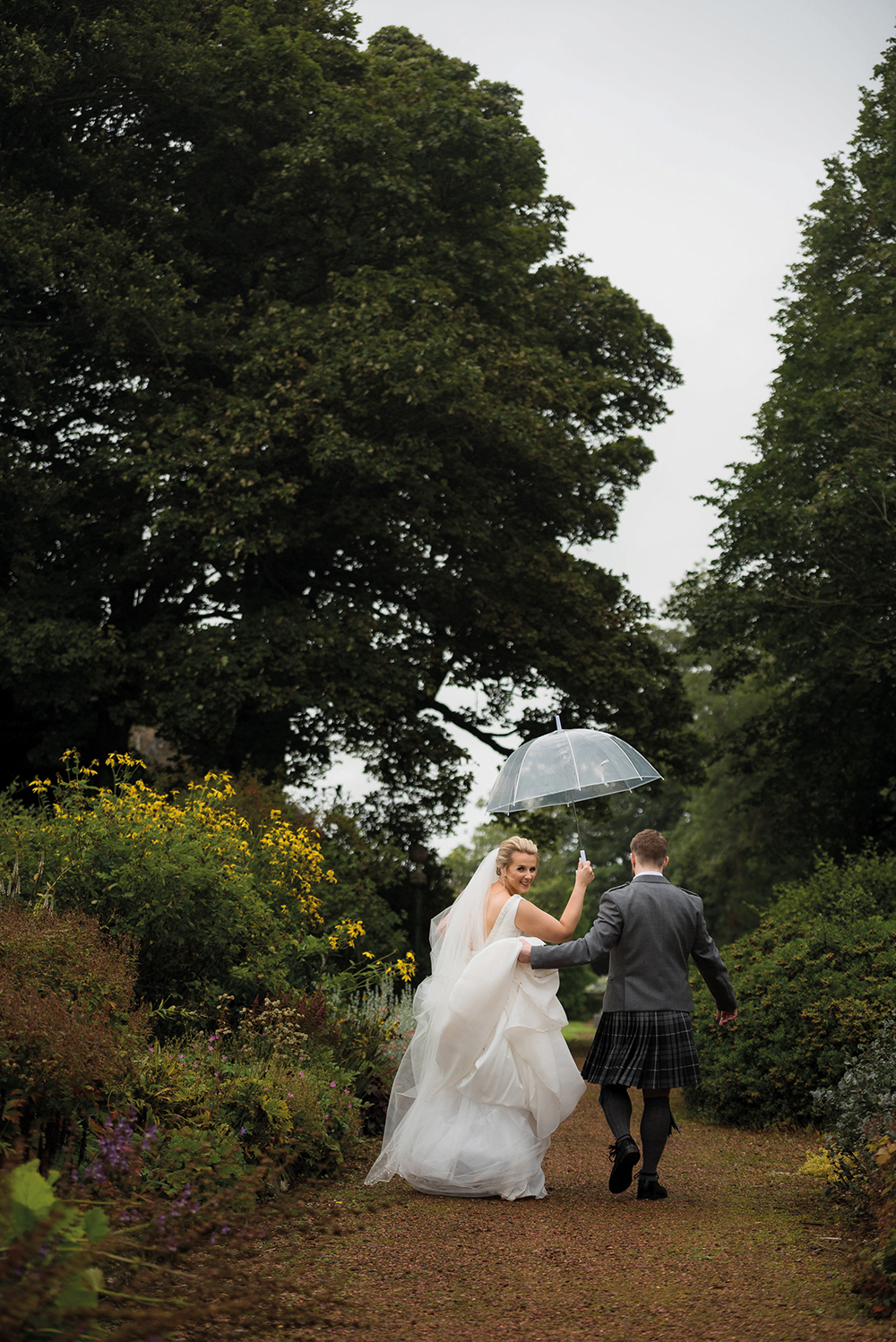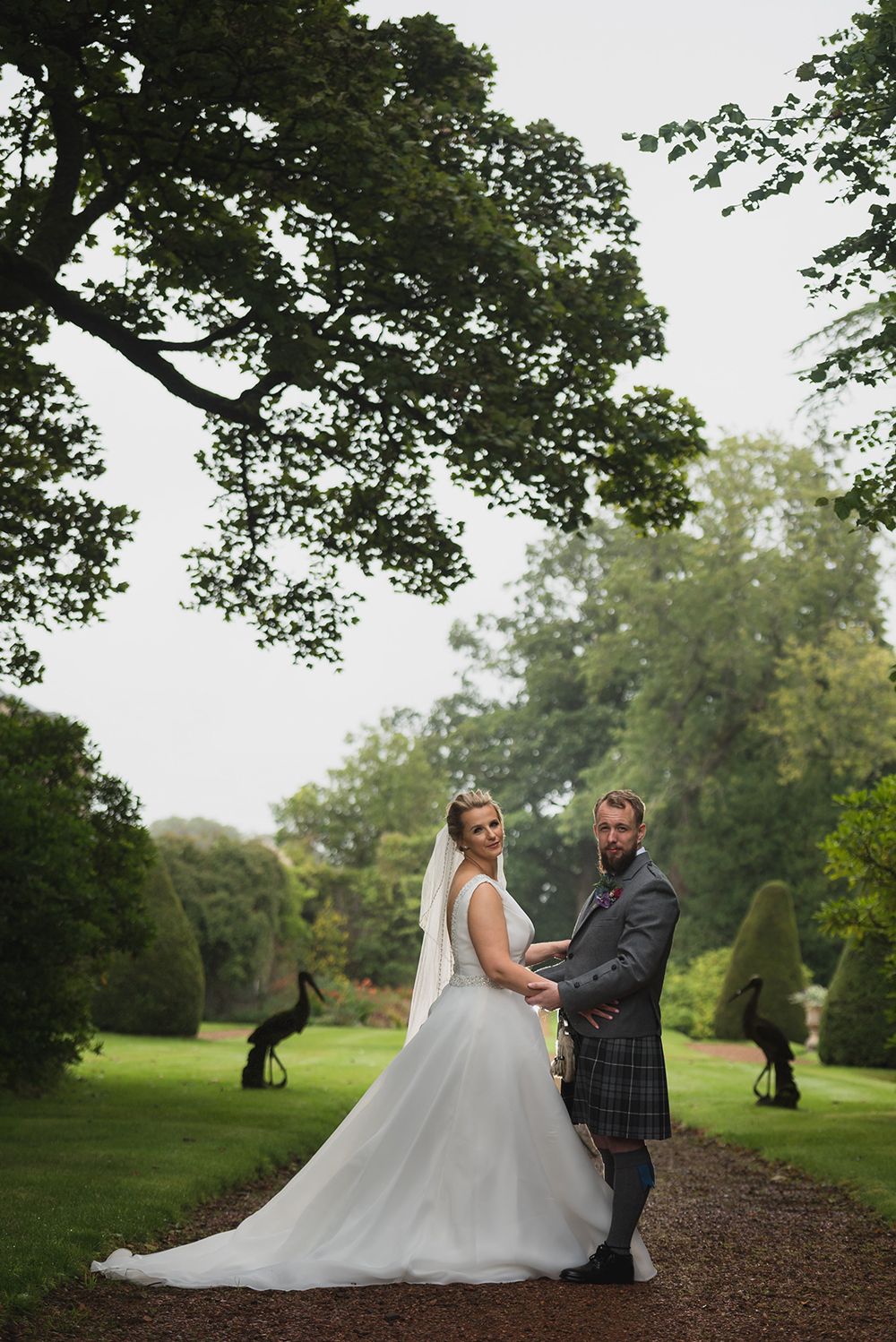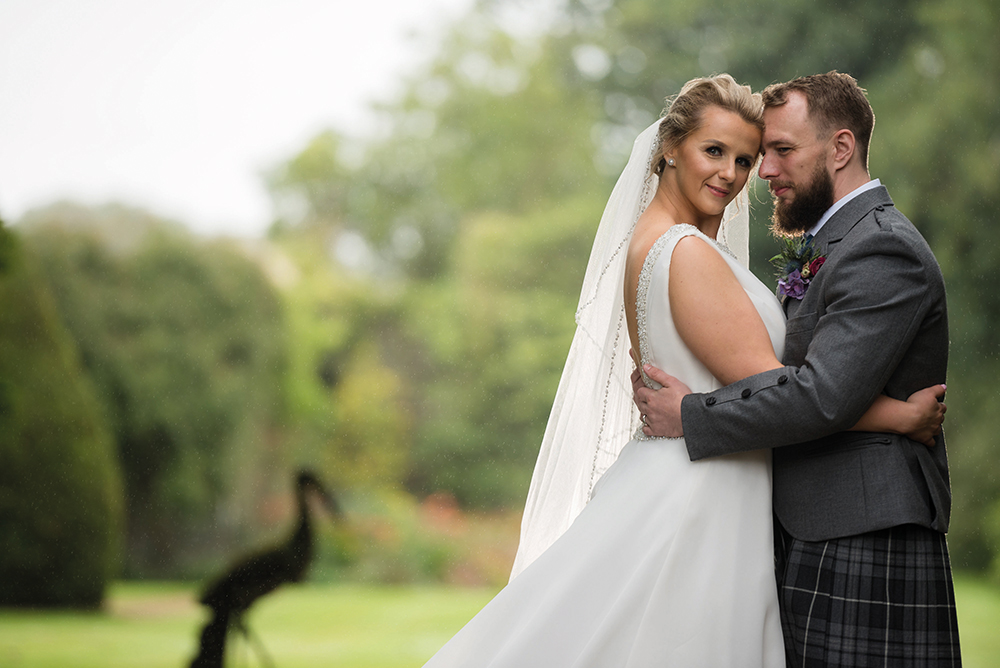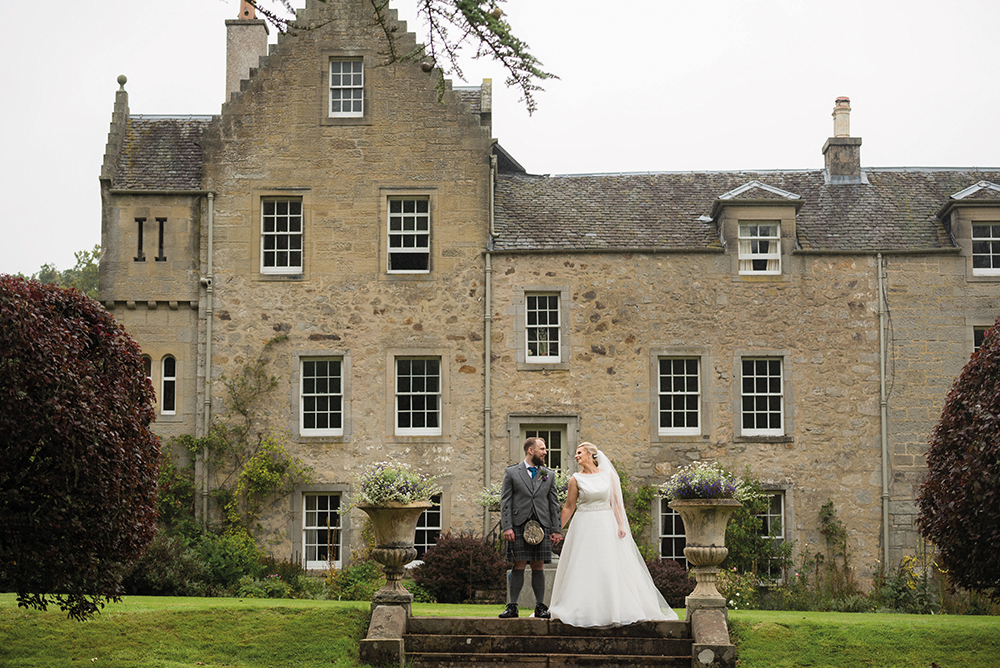 When I was dancing at the evening reception, I tripped over my dress and fell.
It didn't stop me having a good time and I kept dancing, but later when I checked it, it turned out I'd sprained my ankle. I had to go to A&E on my wedding night!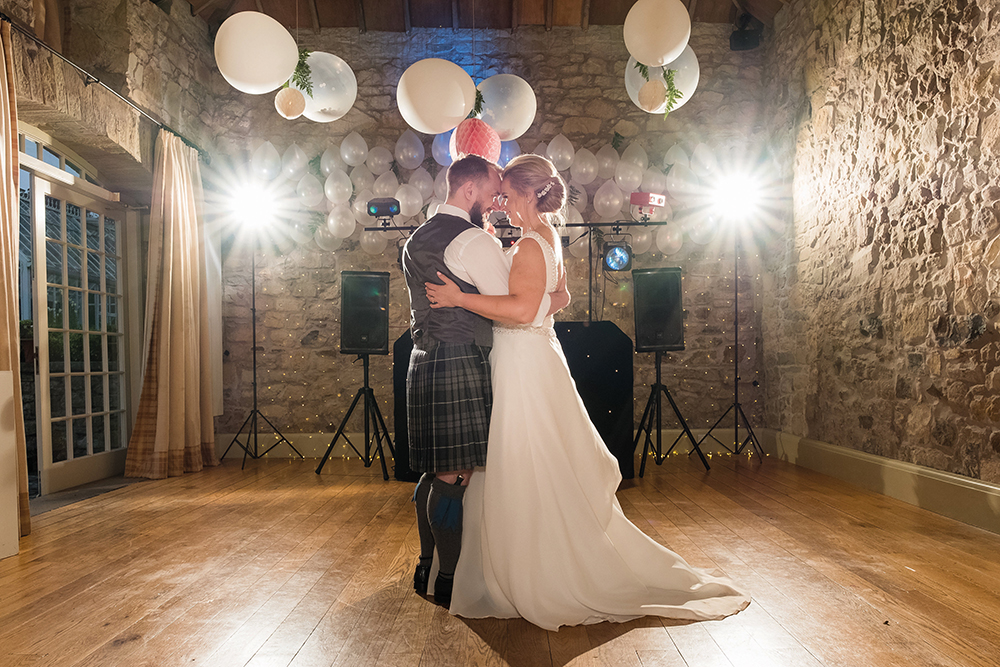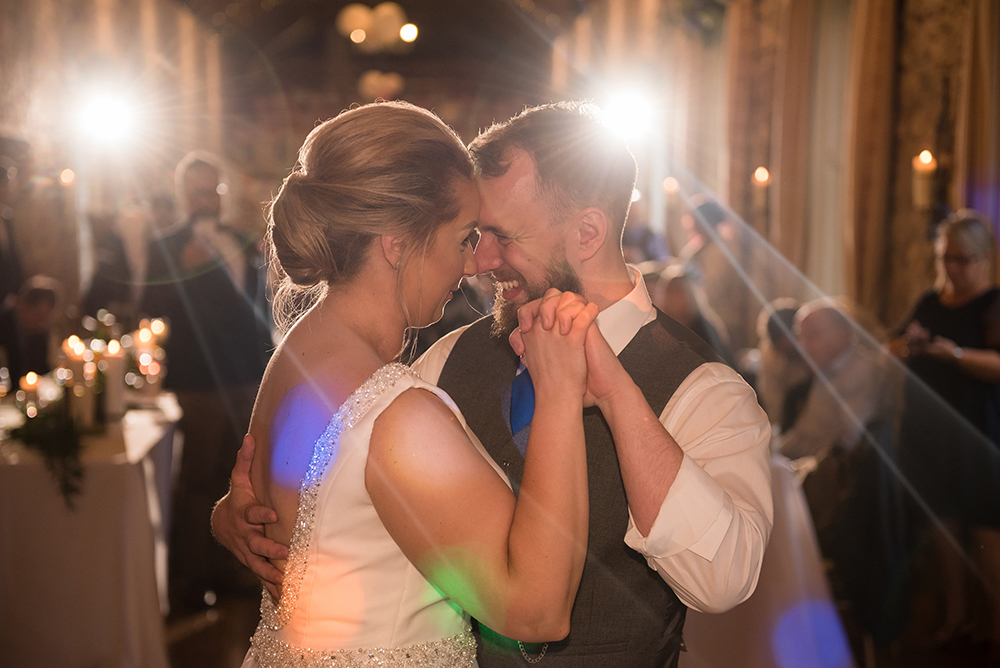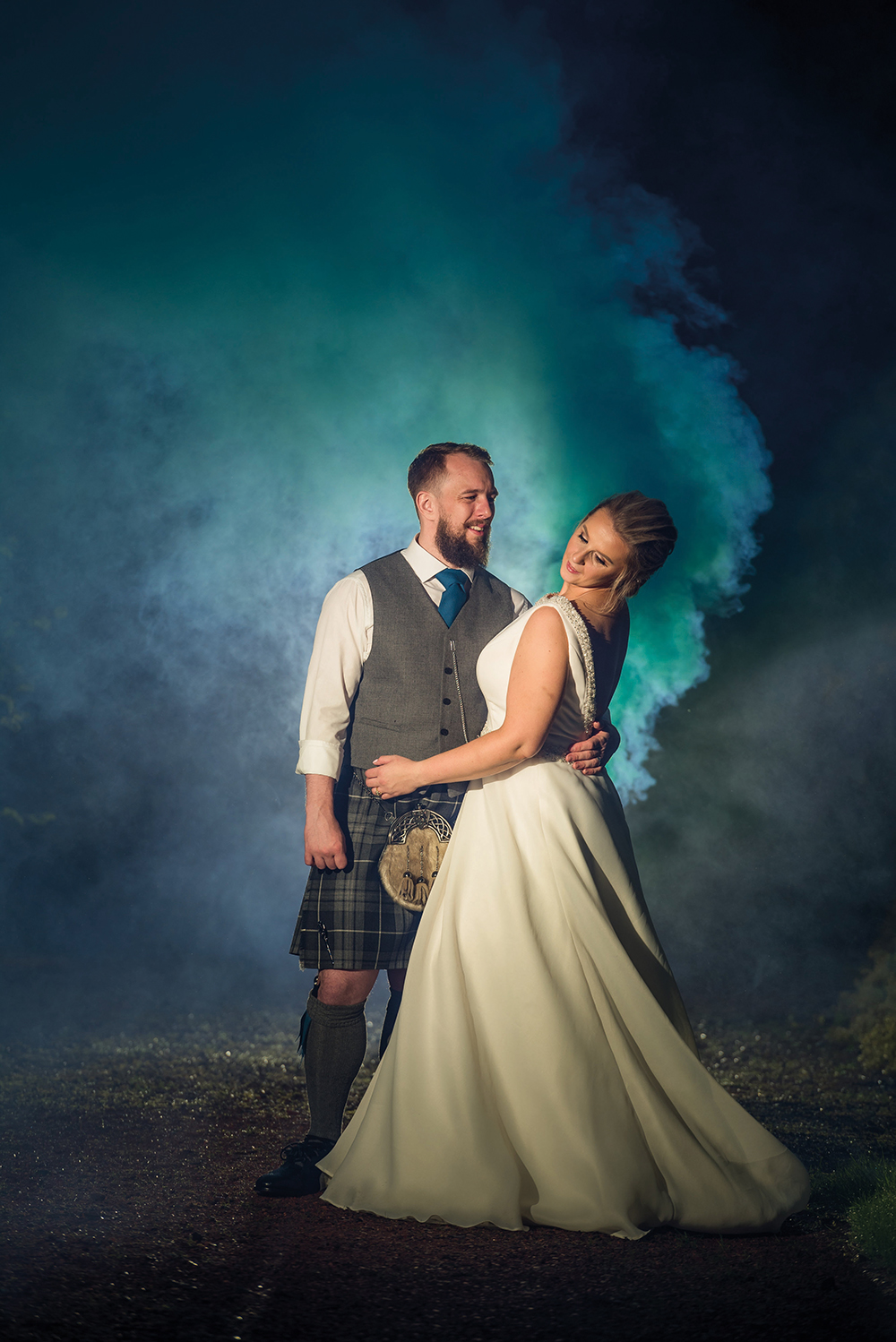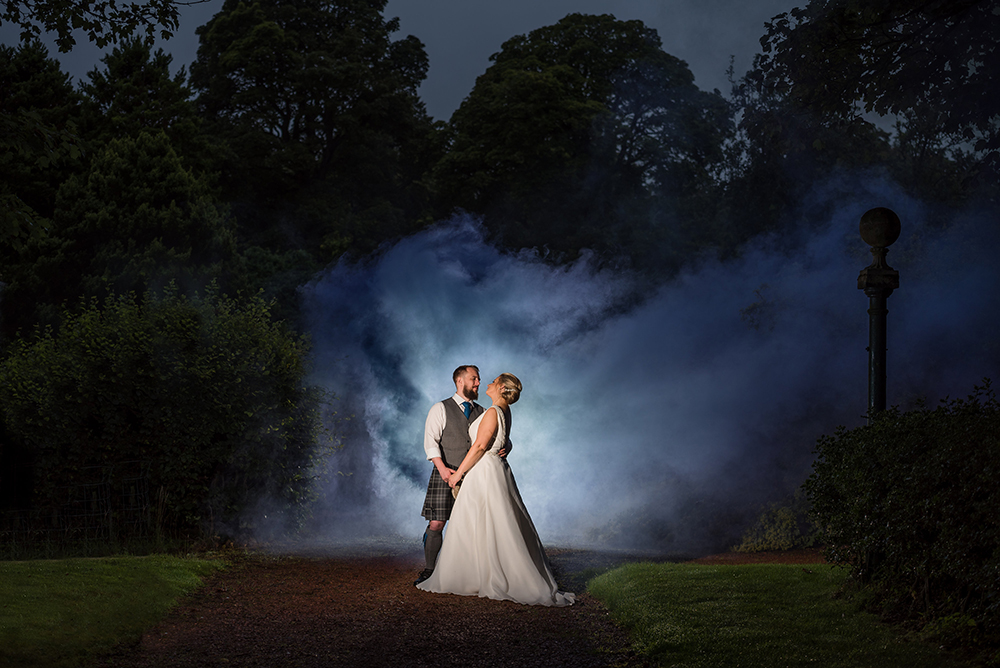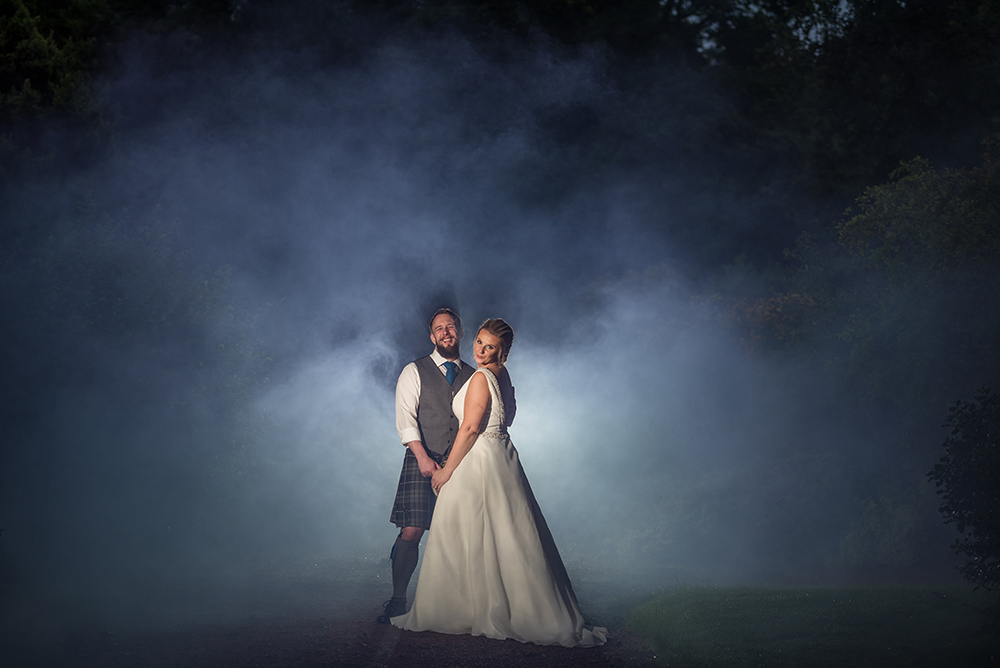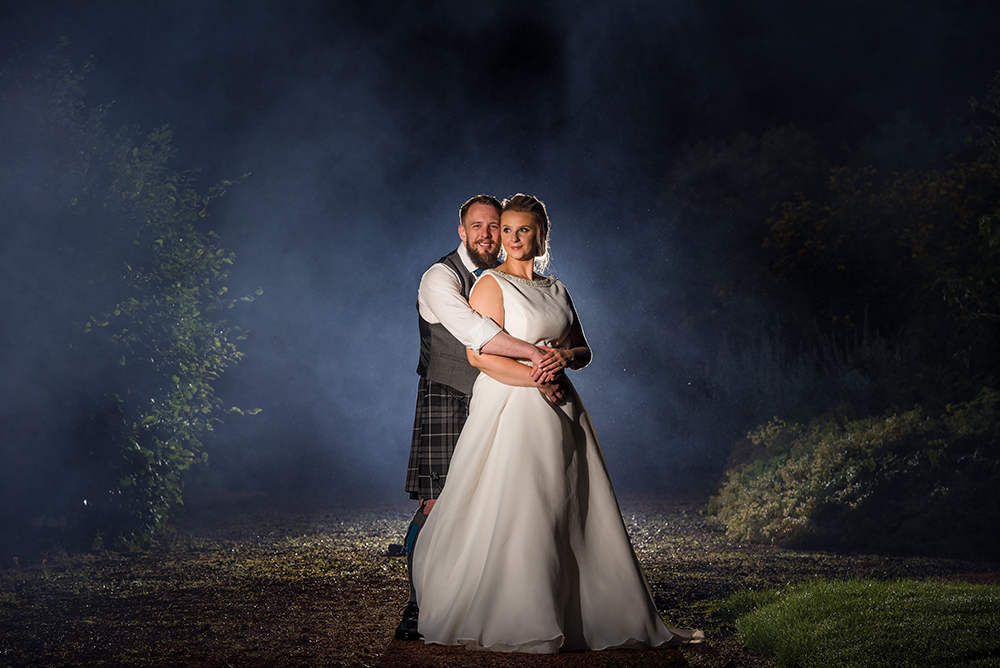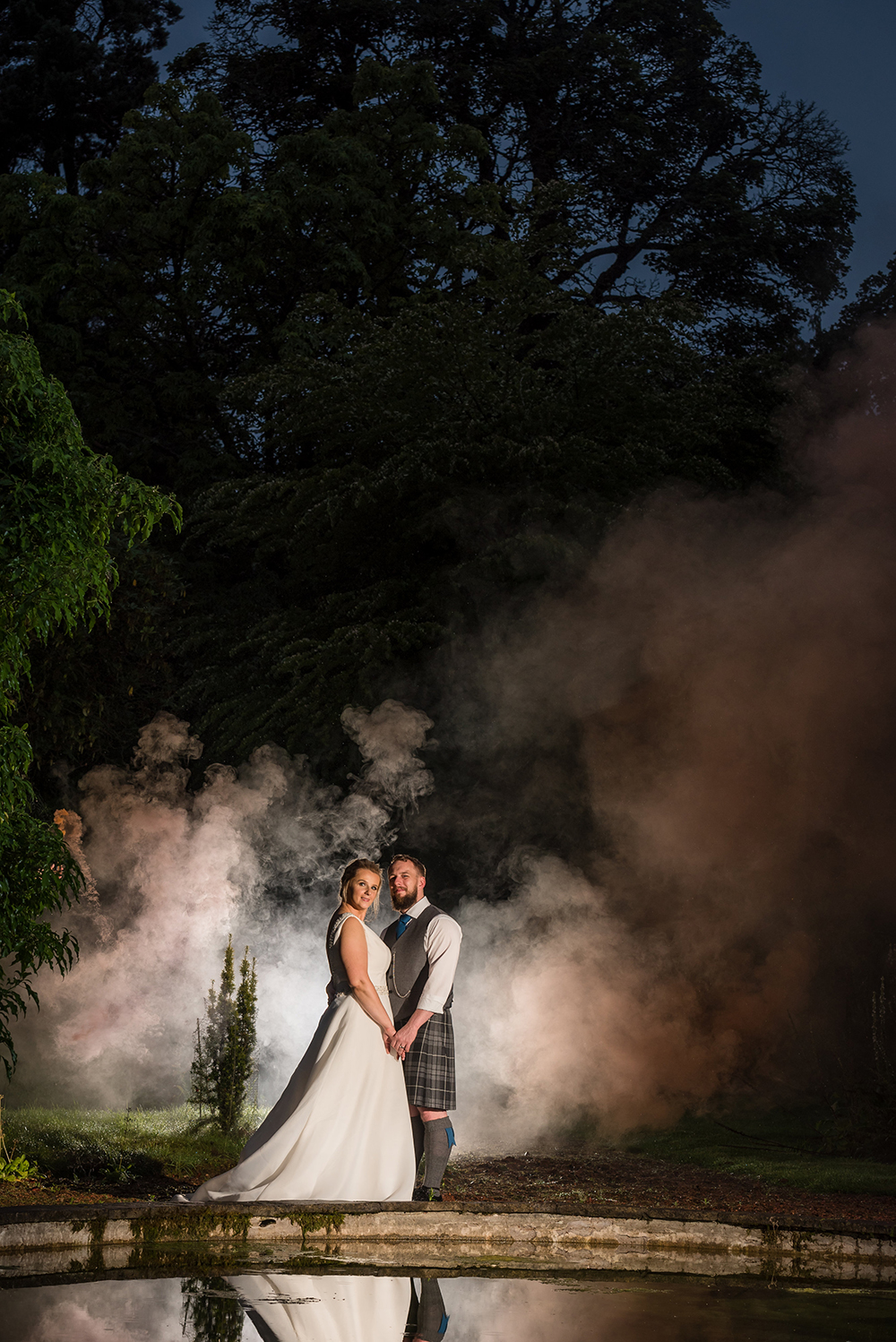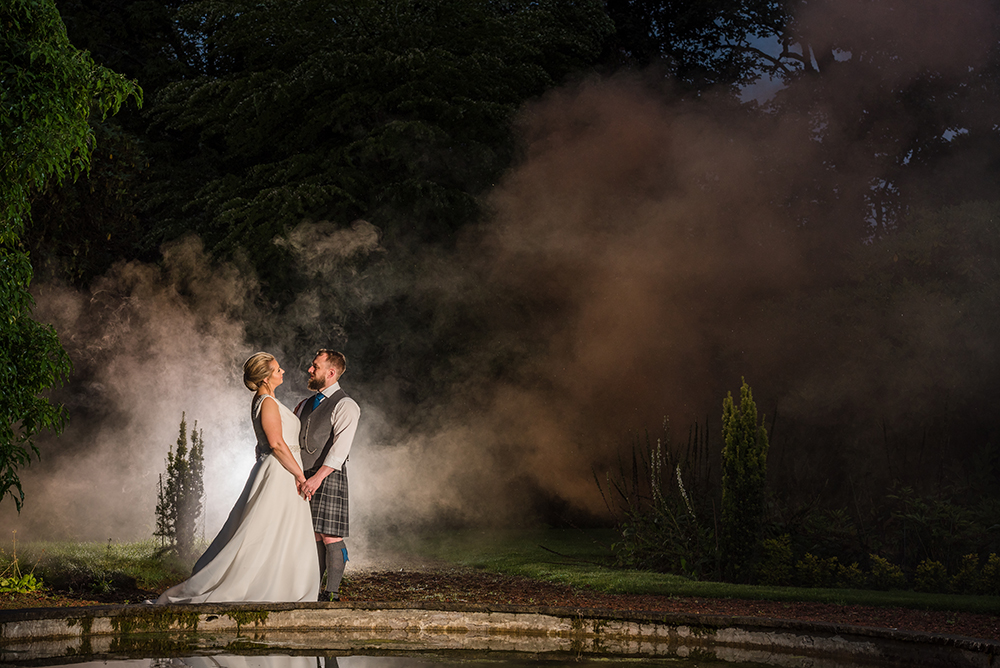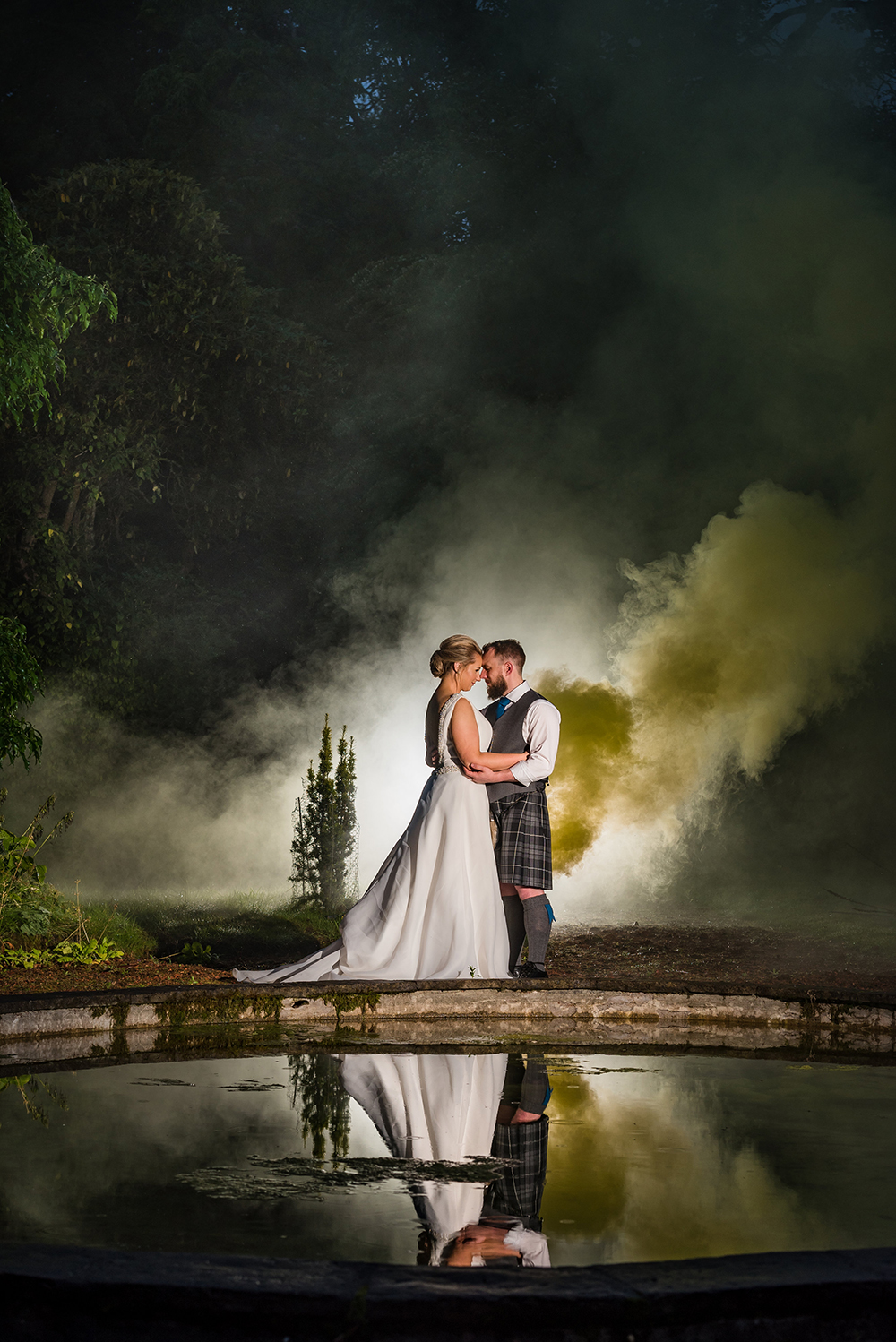 We wanted to use colourful smoke bombs for our wedding portraits. Our photographer Andi Watson was great and loved the idea!
DIY weddings take a lot of time and effort, so make sure you free up at least two weeks to give you enough time to put the finishing touches on your big day.
It doesn't feel that much different now that we're married, but it is nice to call each other husband and wife.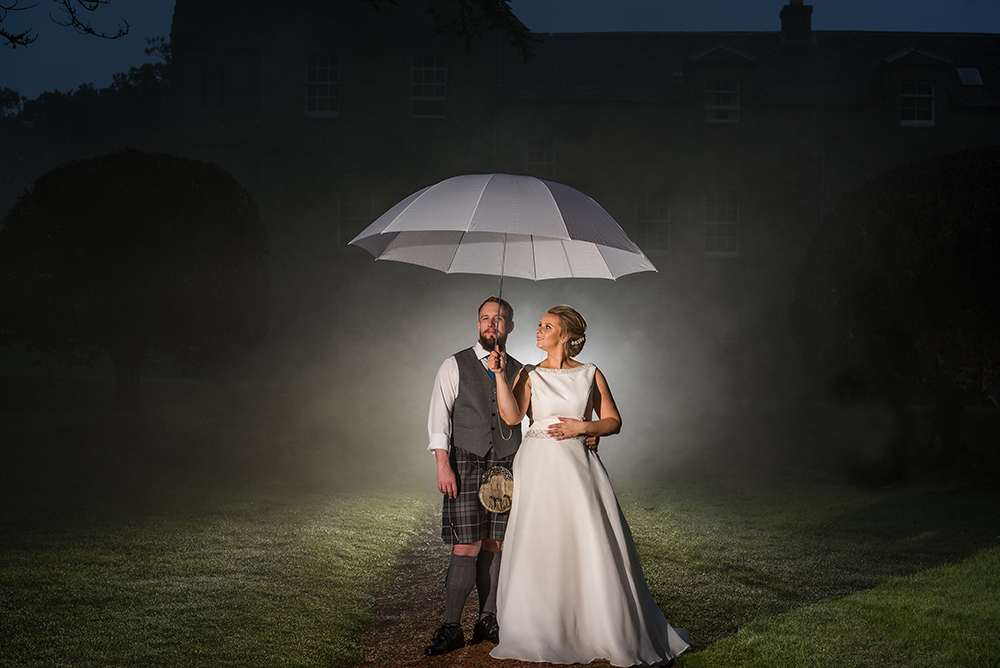 Venue: Kirknewton House Stables | Photography: Andi Watson Photography 
Bride's dress: 'Melba' by San Patrick at Opus Couture | Groom's outfit: Slanj Kilts 
Florist: Roots, Fruits & Flowers | Transport: Garelochhead Coaches 
Hair: James and Charlie at Alchemy Creative Collective
Celebrant: Christopher Gray at Humanist Ceremonies | Catering: Bespoke Catering and Events