Our Scottish Elopement: A beautiful same-sex wedding by Loch Coruisk, Isle of Skye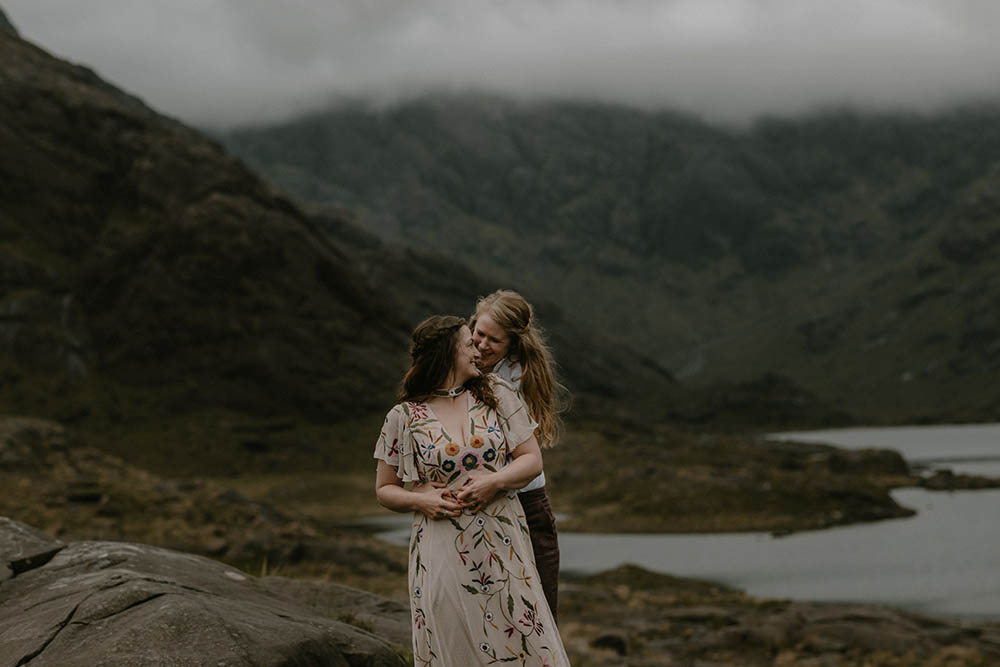 Our Scottish Elopement is a new series in which we explore the most beautiful locations to elope to in Scotland.
This week's elopement on the Isle of Skye was photographed by The Caryls Photography, who specialise in shooting elopements.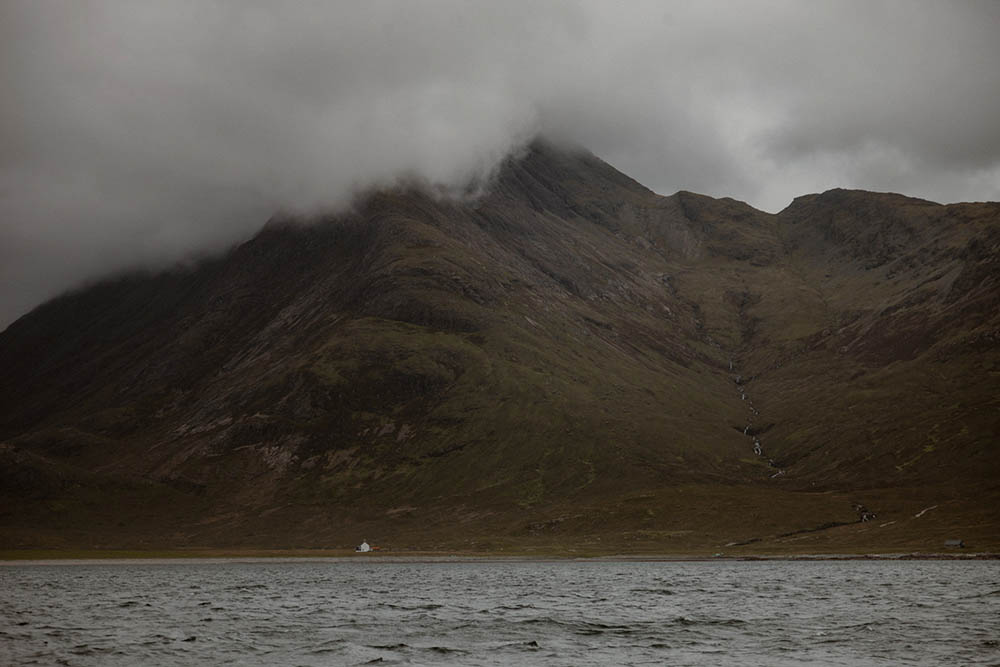 What the photographer says…
"With its green glens, rugged mountains and shimmering lochs, the Scottish Isle of Skye has to be one of the most romantic destinations in Europe for an adventurous elopement wedding," says photographer Katy.
"The weather on Skye is dramatic, and changeable. This makes for a moody, almost mystical atmosphere.
"When you cross the bridge onto Skye, it feels like you're stepping into the world of Outlander or Game of Thrones; it's the perfect elopement wedding location for nature-loving, outdoorsy couples who love mountains and want a spectacular setting for an outdoor elopement wedding ceremony.
"It's worth noting that Skye is popular with tourists (for good reason). So speak with your photographer (ideally someone who knows Skye well) about the best ways to avoid the crowds, and ensure you have a peaceful and private wedding ceremony."
What the couple say…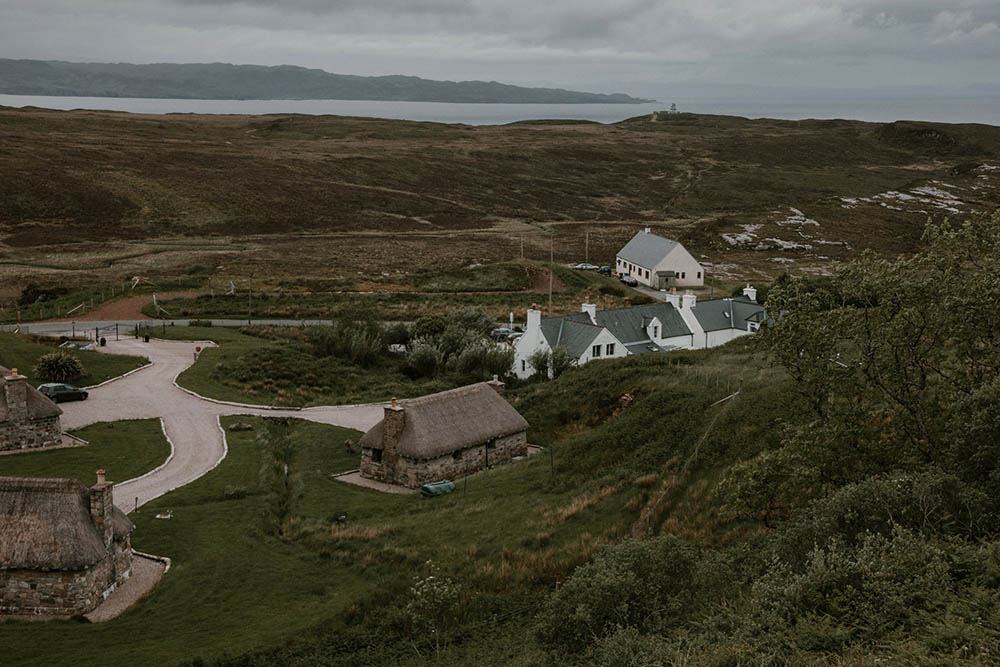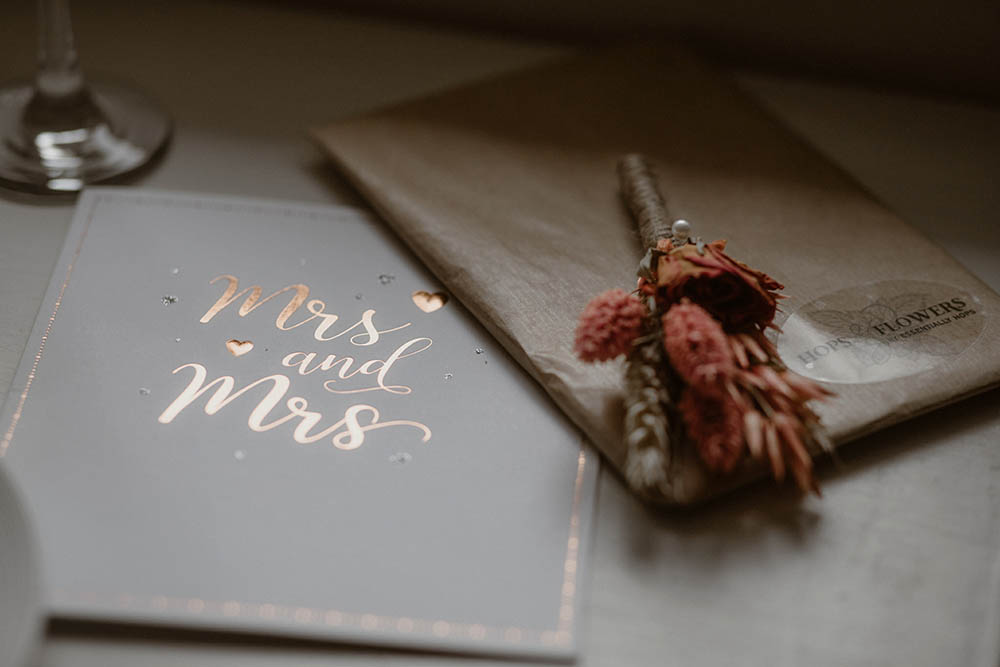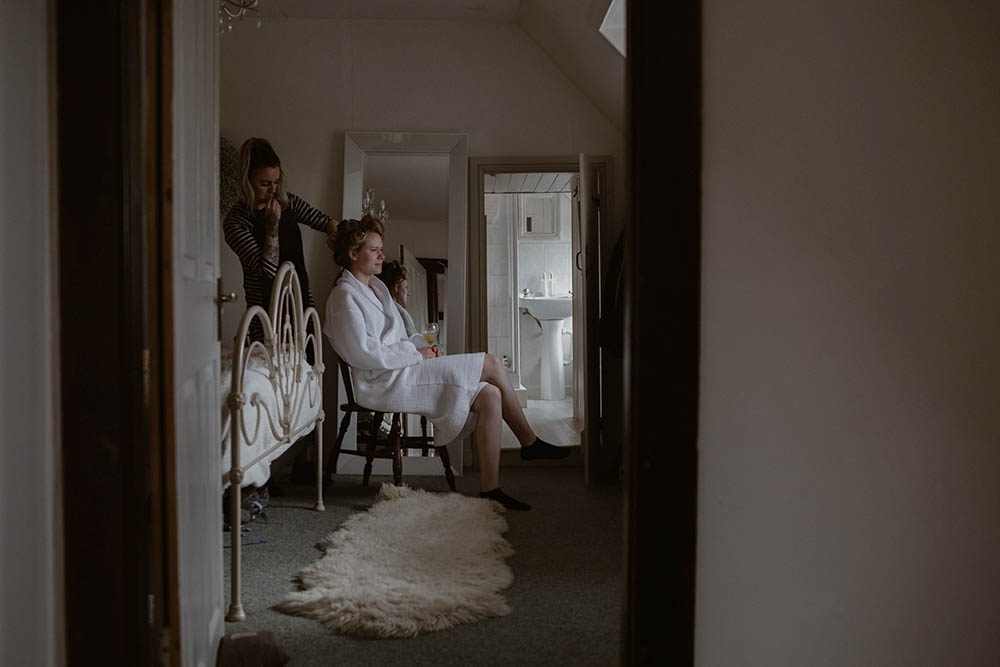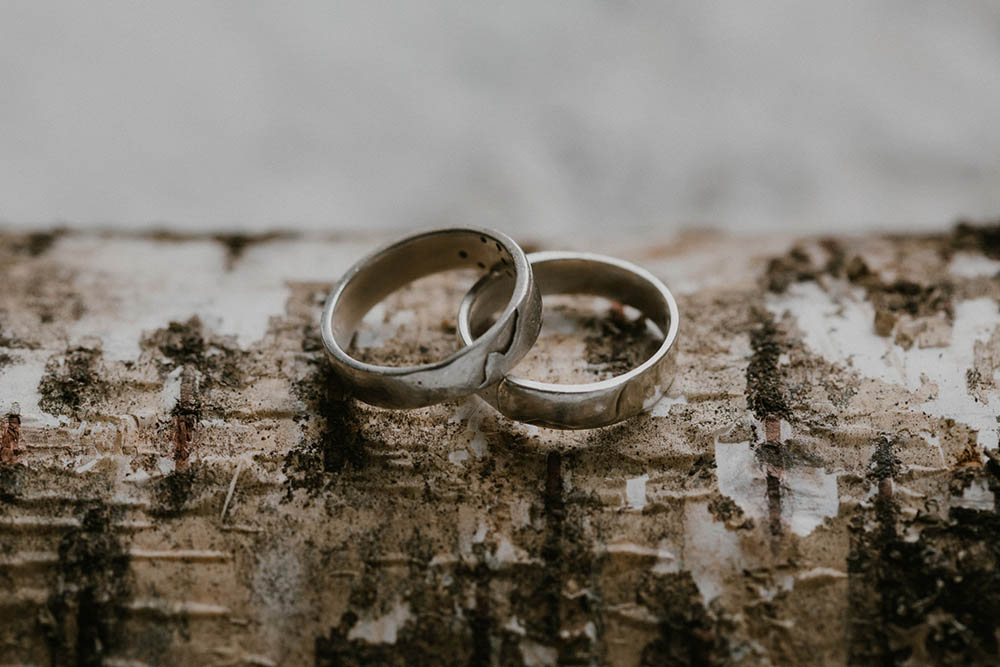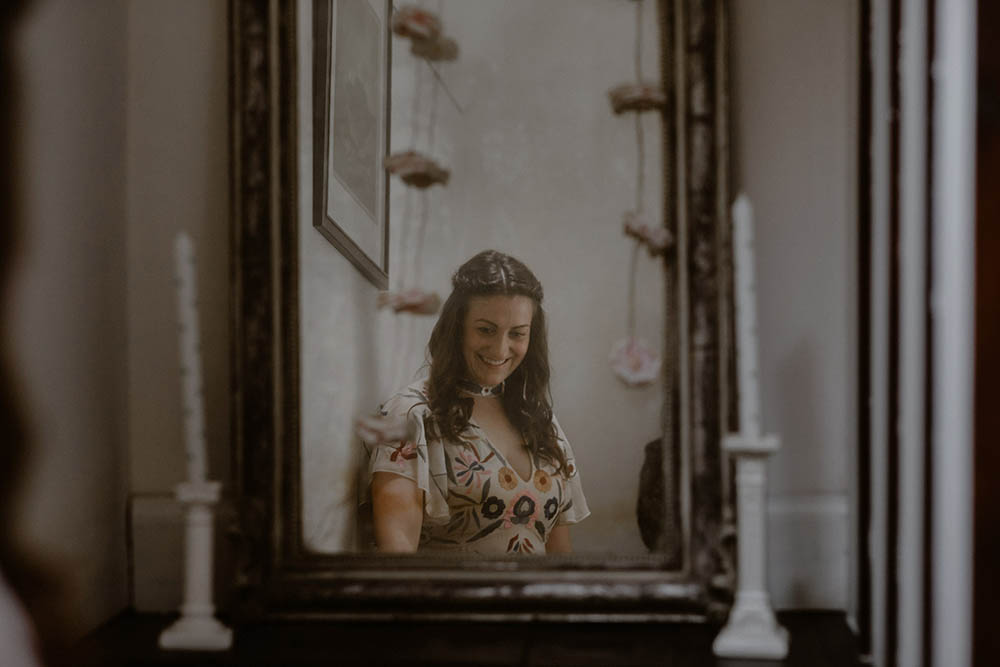 Welsh bride Chrissie and her German wife Kim are a well-travelled couple; they met in Darwin, Australia, travelled around New Zealand together then got engaged during a trip to Morocco!
Initially, when they embarked on their wedding planning journey, they thought they'd have a big bash.
"We had a guest list of nearly 200 people and ideas of a huge wedding. Then we attended a local wedding fair in North Wales and really felt out of place straight away," says Chrissie.
"We were asked many times, 'Which one of you is getting married then?' 'Are you the bridesmaid and you the bride?'
"Also we felt that everything was slightly too commercialised and impersonal for what we wanted our special day to be. So we quickly realised that no, we didn't want a traditional wedding."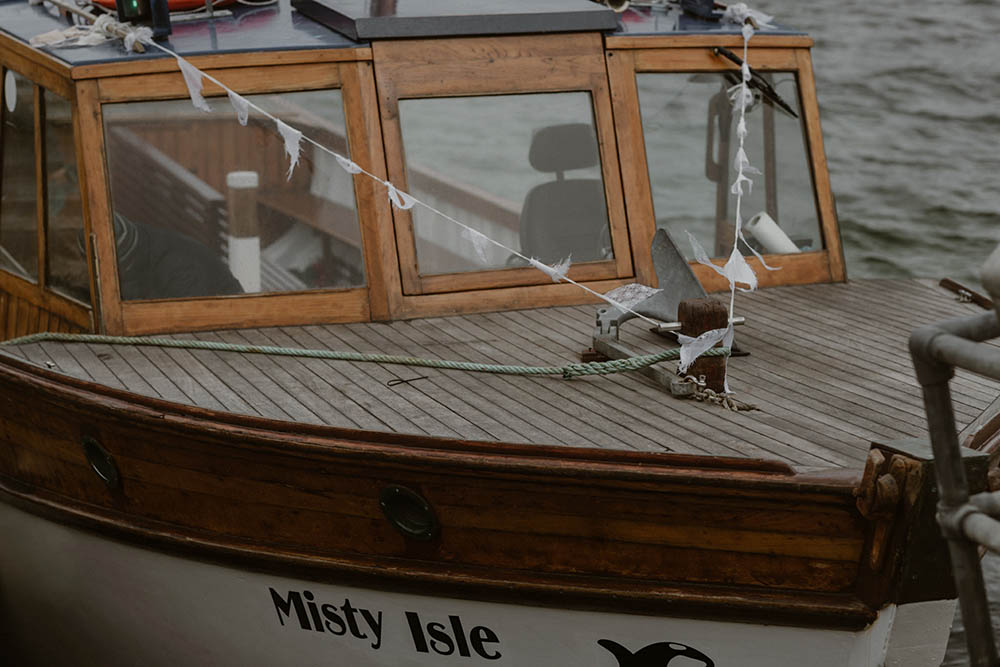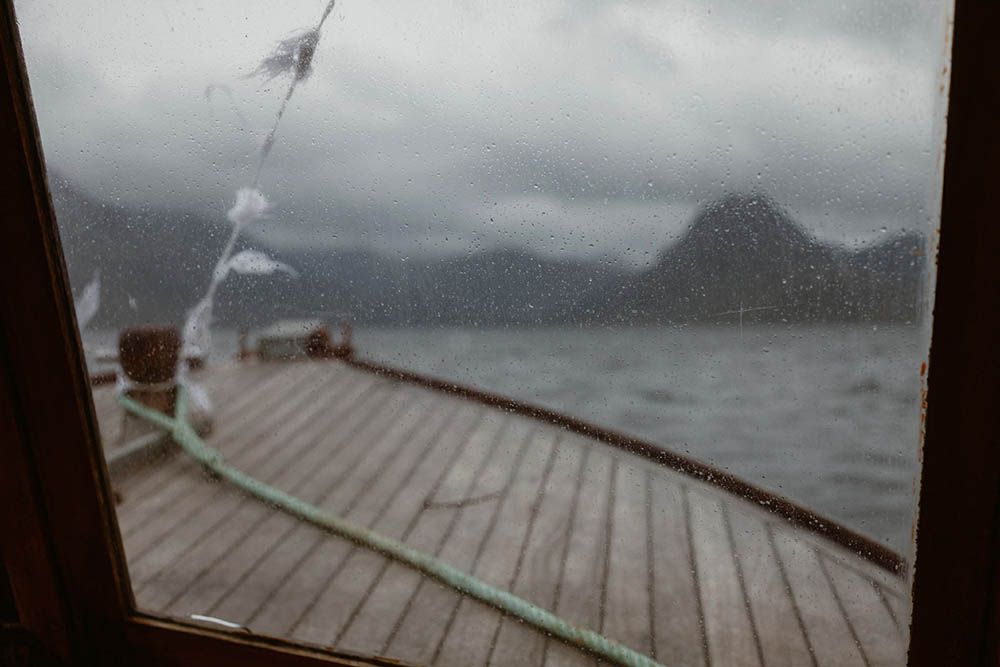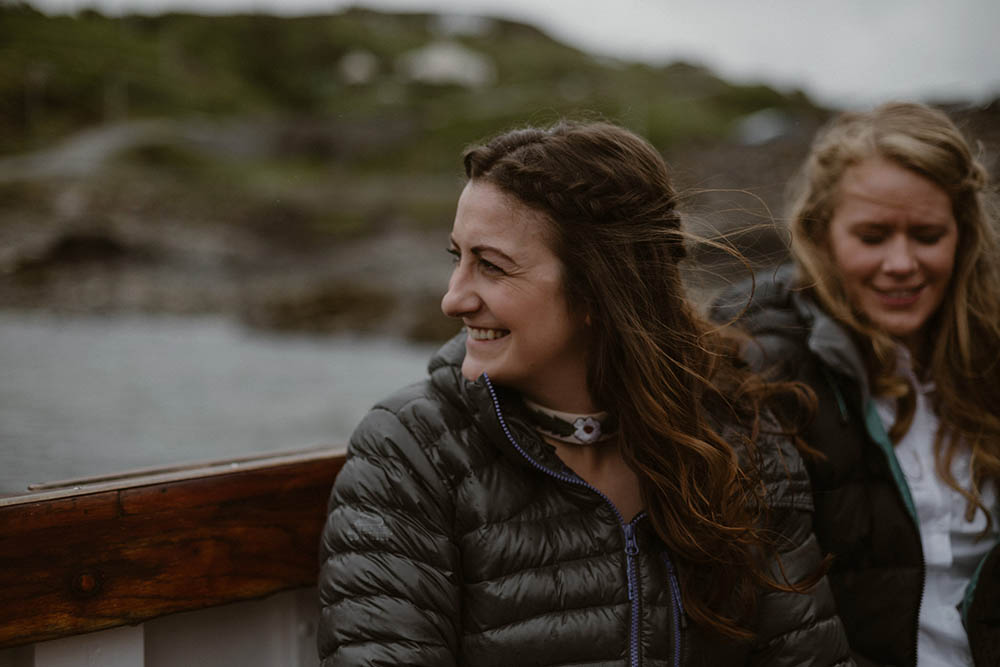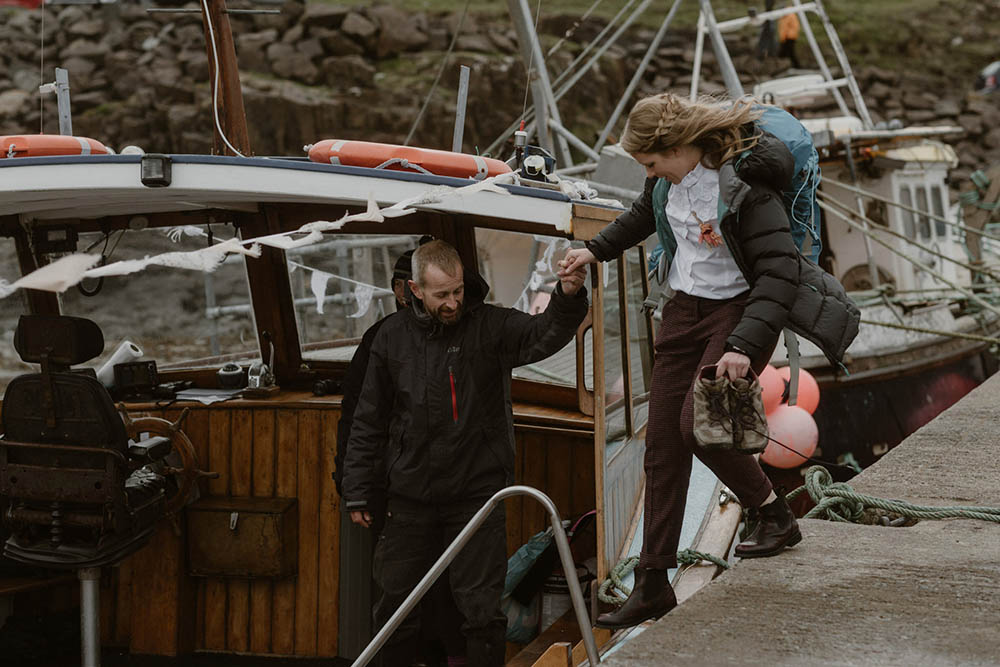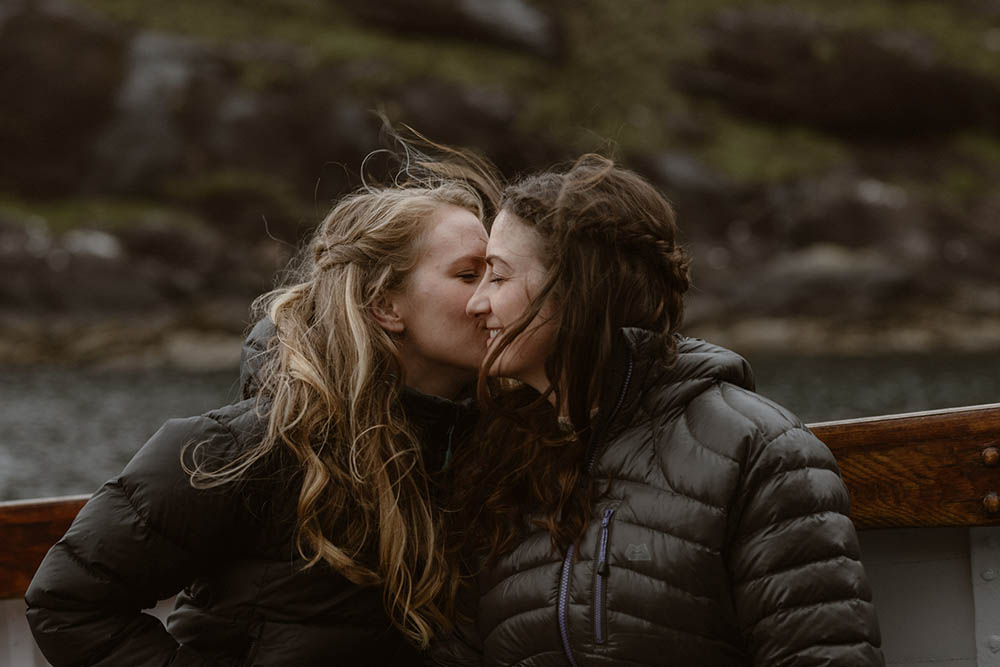 The couple now live in North Wales, but fancied a change of scenery for their wedding and loved the idea of a Scottish elopement.
"We liked the idea that you are allowed to marry outside in Scotland.
"We found Katy and Jim – our photographers – on Instagram. Already very impressed by the photos we saw of scenic locations and beautiful backdrops, we wanted to meet them. Once we spoke with them we instantly knew that we wanted to book them.
"They helped us so much with all of the planning – from finding the location, accommodation, to where serves the best coffee! They truly know Scotland and specifically our location – the Isle of Skye – so well."
Chrissie and Kim took a boat over to Loch Coruisk, passing a seal colony on the way ("What a highlight for your wedding day!").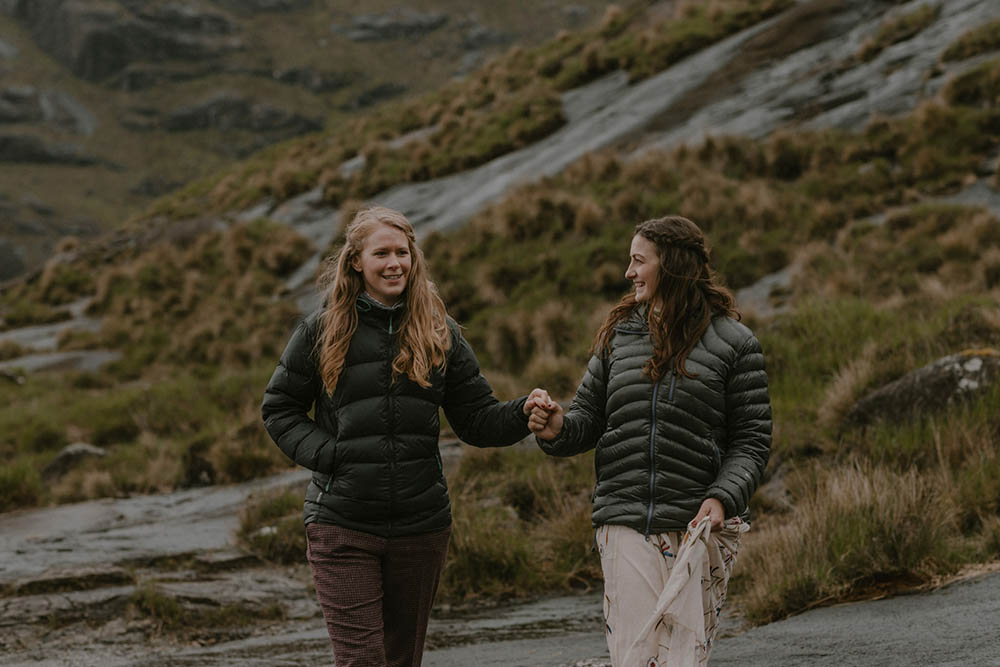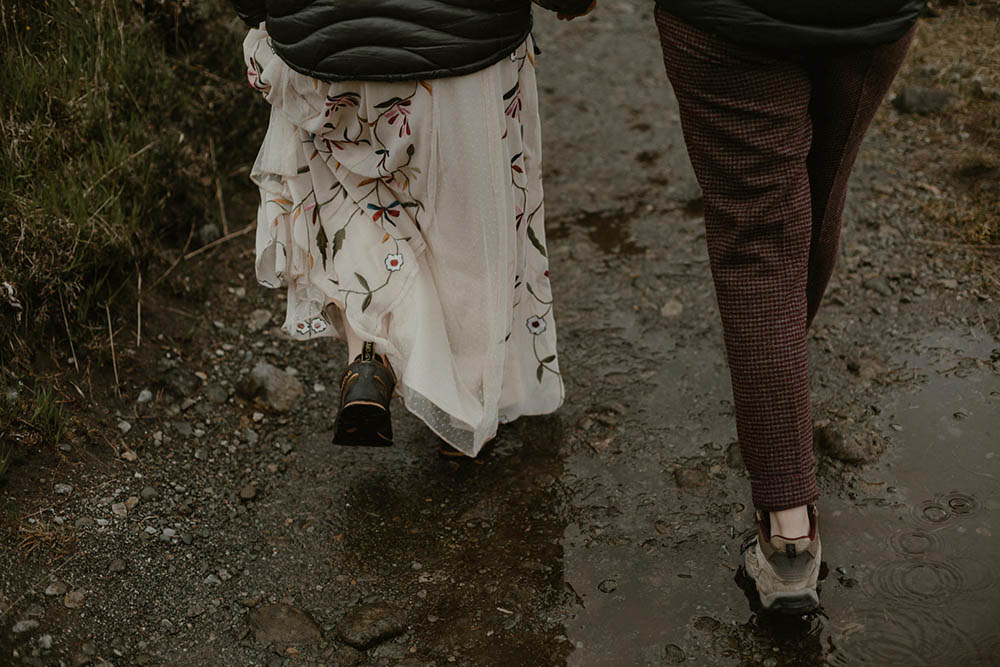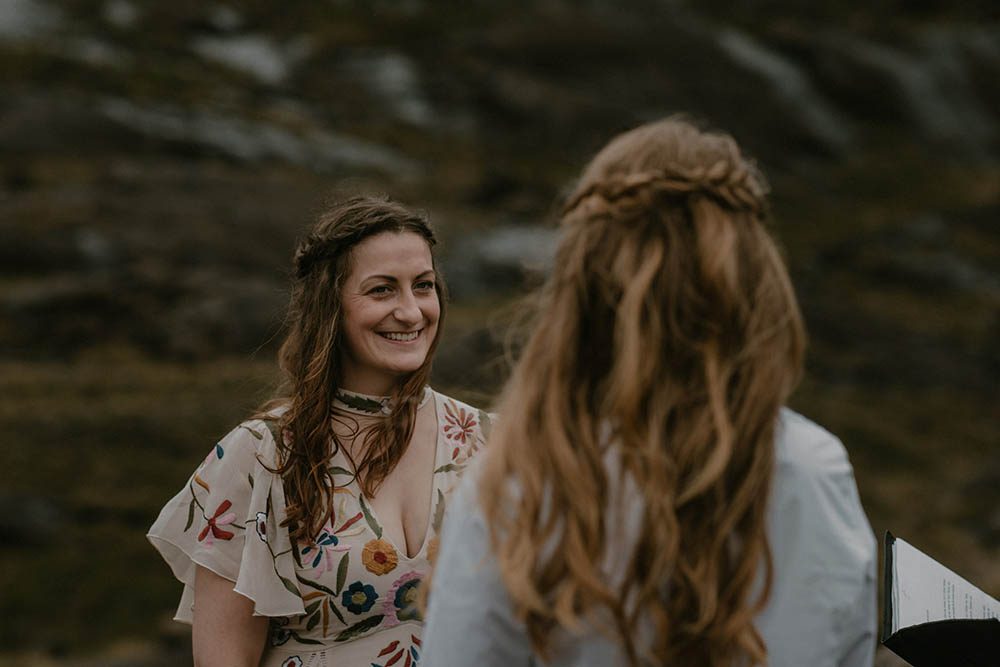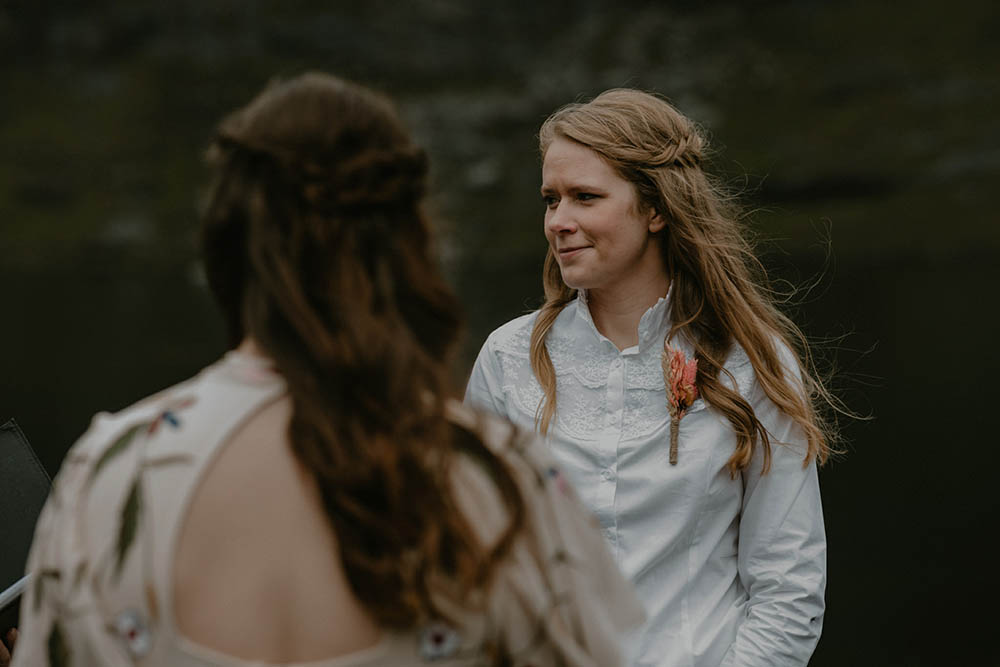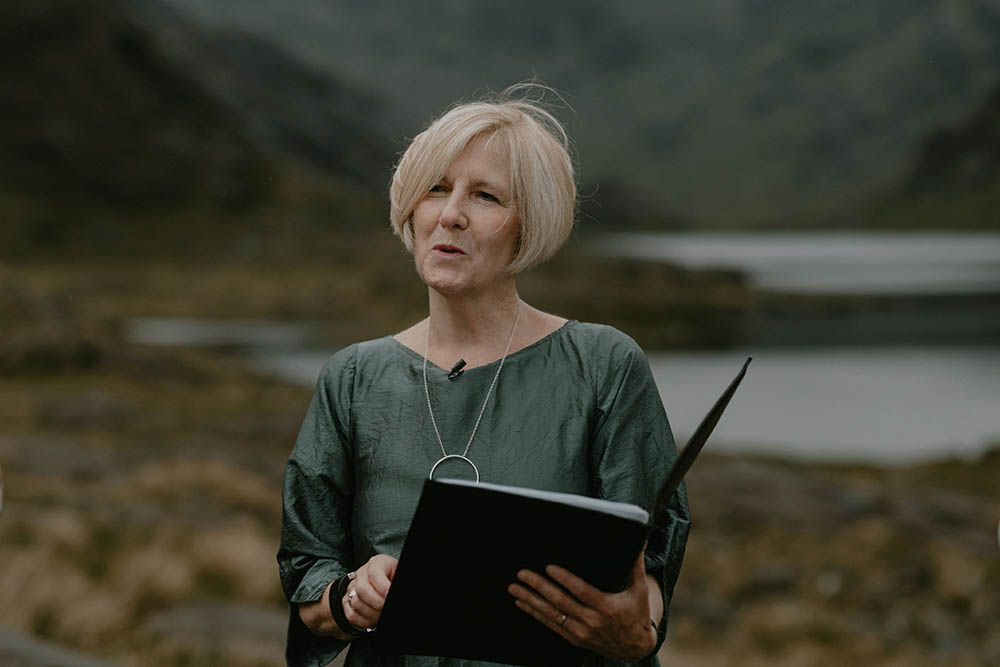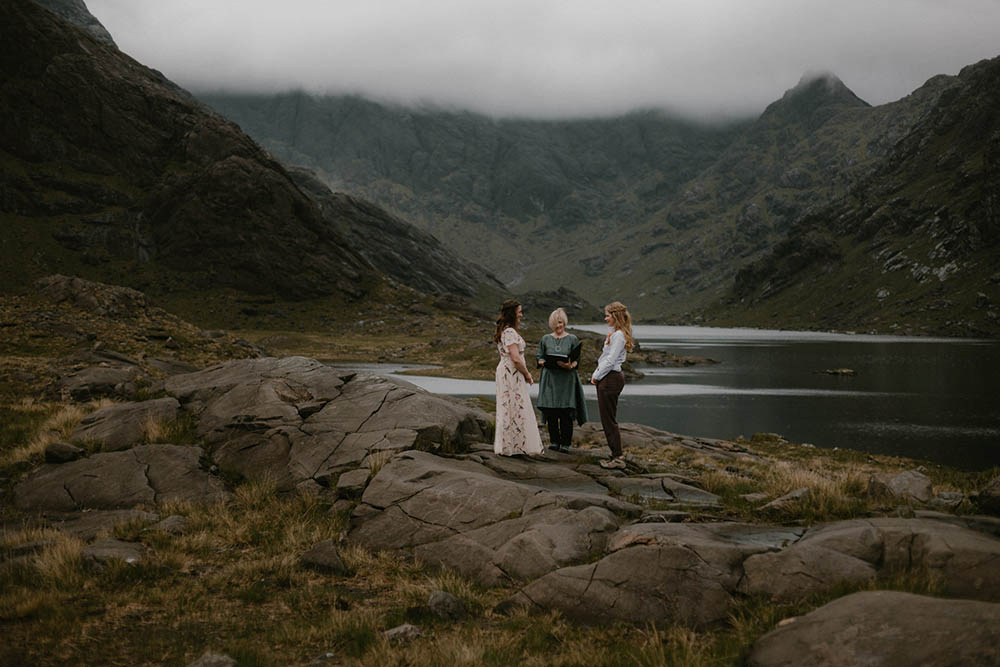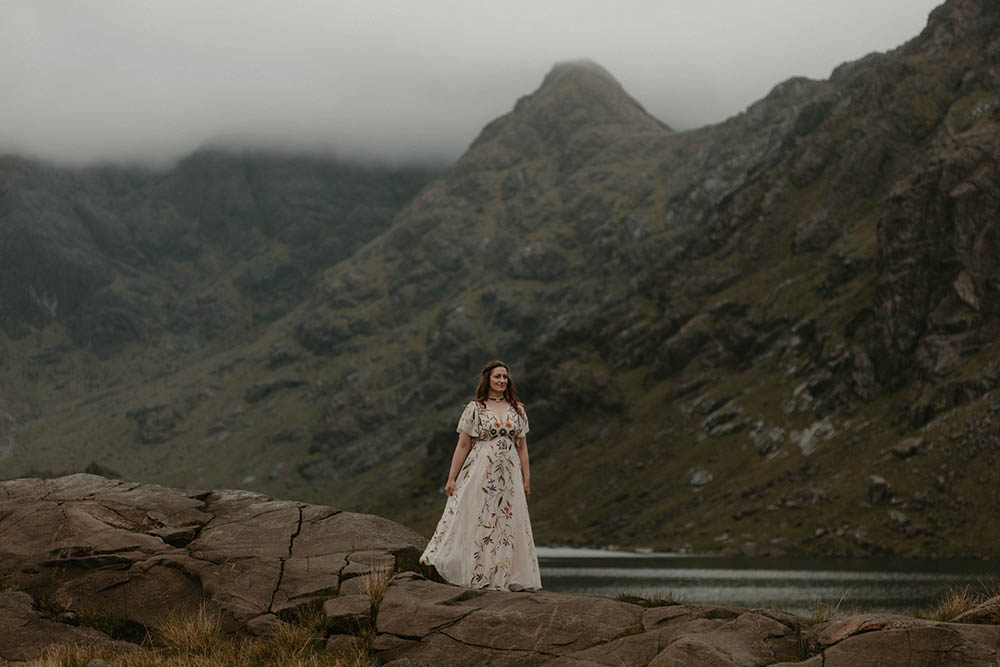 Chrissie wore a beautiful embroidered dress, while Kim teamed an elegant white shirt with tweed trousers.
"Kim also bought some stunning Italian leather boots from Arthur Knight, but she wore her walking boots to get to the ceremony location and forgot to change into her Arthur Knight boots when it started," laughs Chrissie.
"It's a funny story for us to remember back and think about! How many couples can say they accidentally got married in walking boots?! This definitely sounds like us."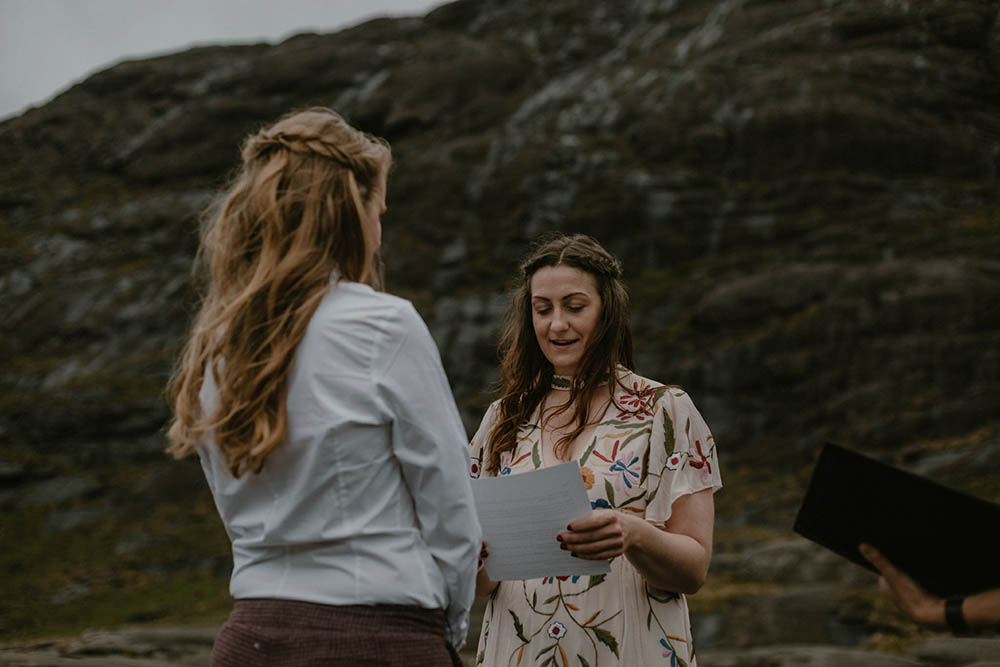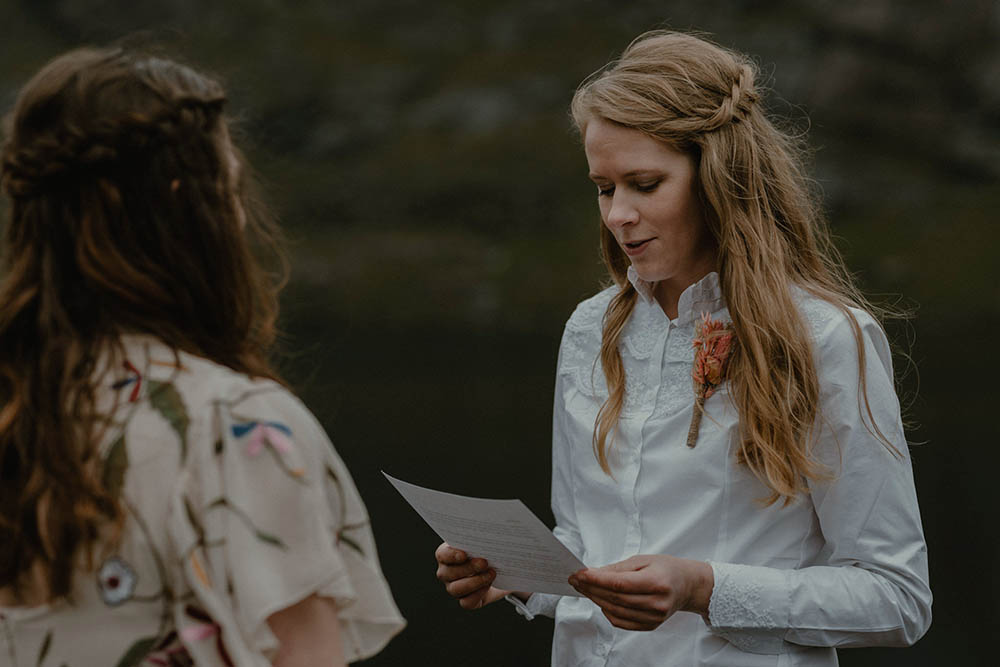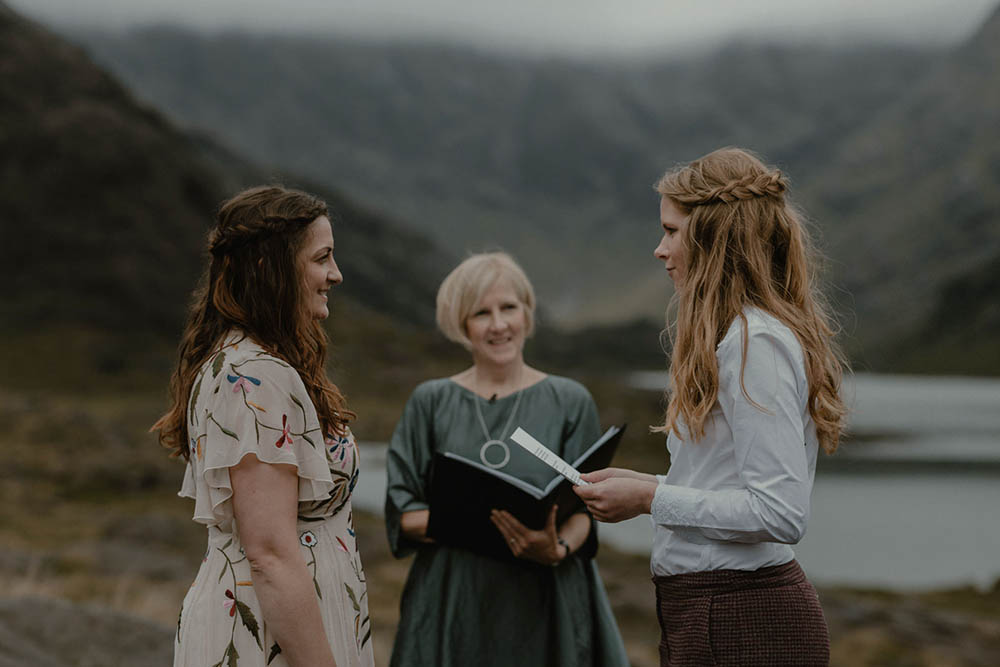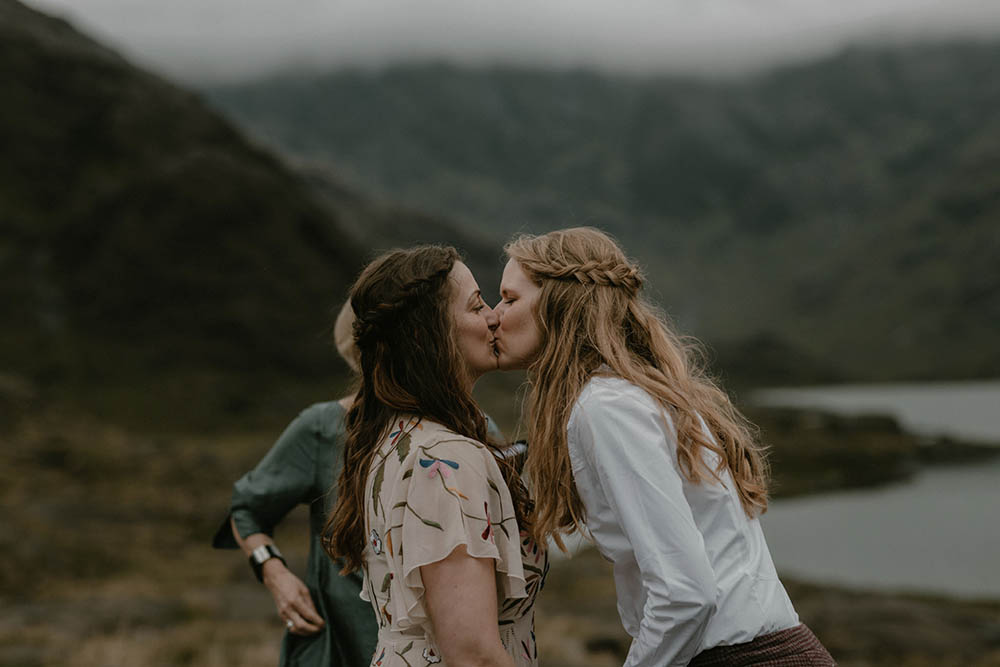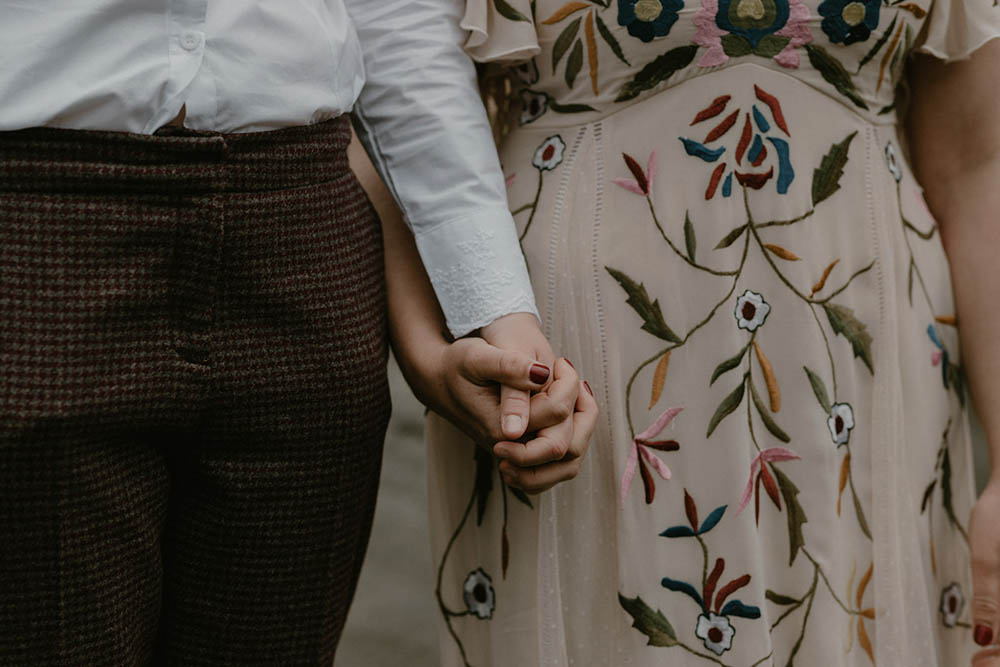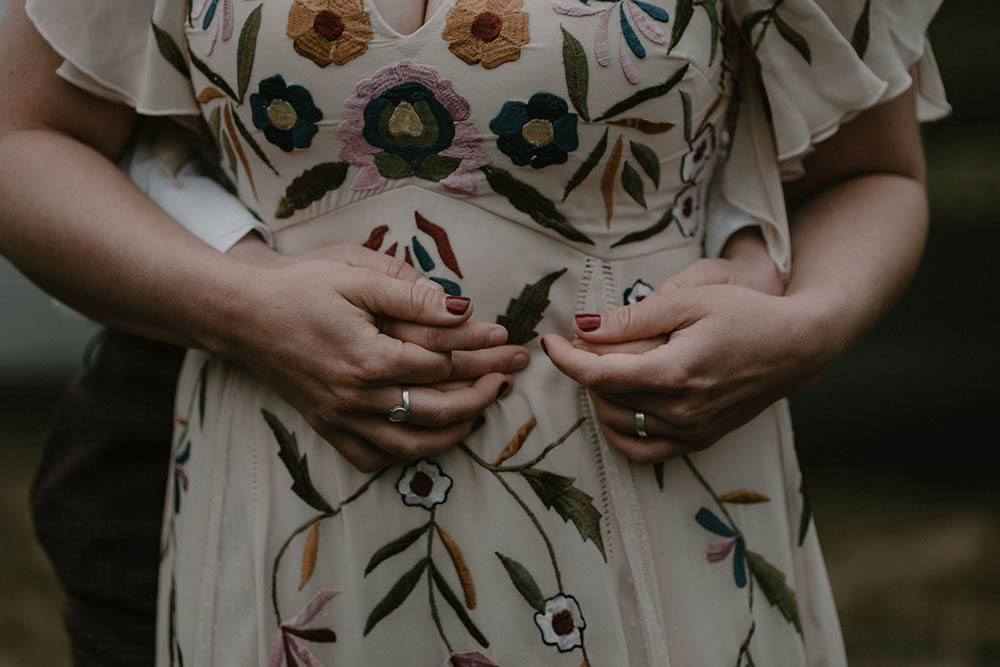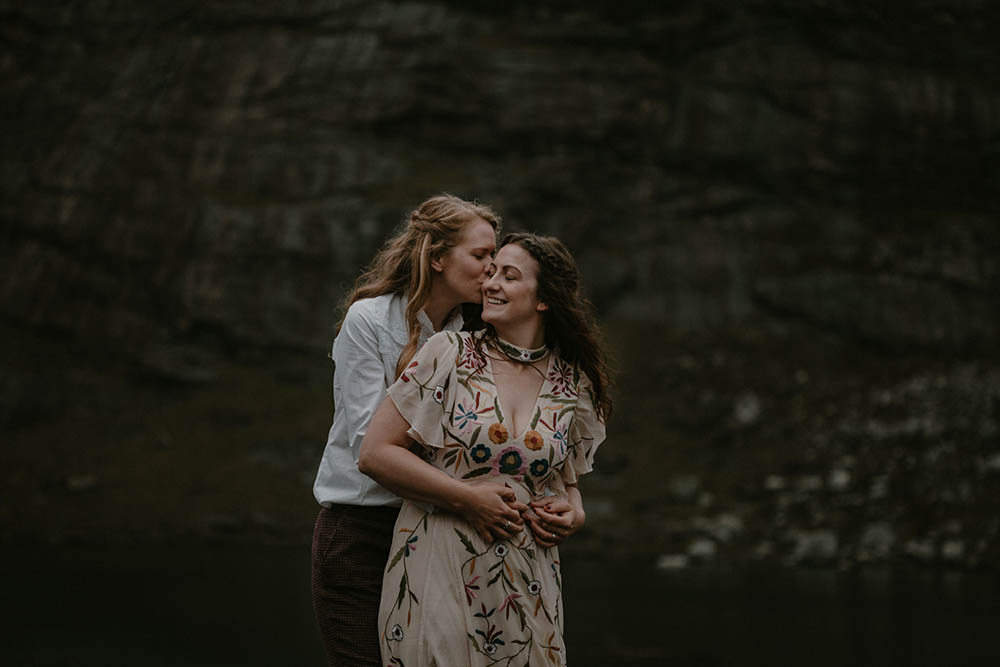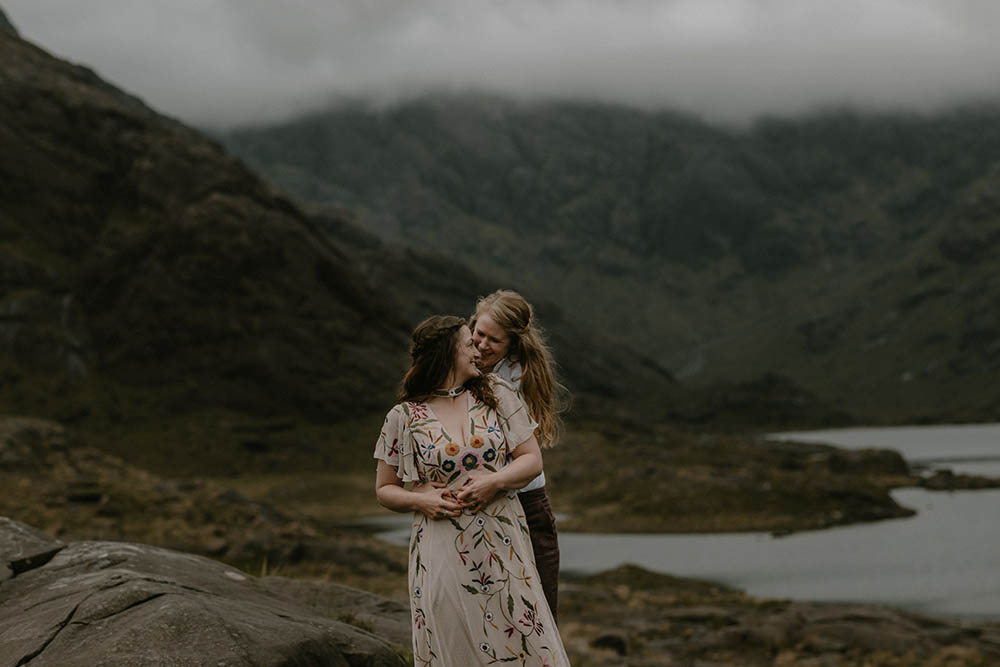 A personal, humanist ceremony was the perfect option for them.
"Laura, our celebrant, played such an essential part in making this day so wonderful and personal to us. Not only did she fully invest herself in planning out and writing the ceremony, but she was also very caring and supportive throughout the entire day," says Chrissie.
"We can't thank Laura, the Caryls and Lynn [our hairstylist] enough. We loved the fact that when signing our official documents and seeing the words 'bride' and 'groom' Laura did a big cross through it and wrote 'partner 1' and 'partner 2'. She didn't like the original wording – neither did we obviously."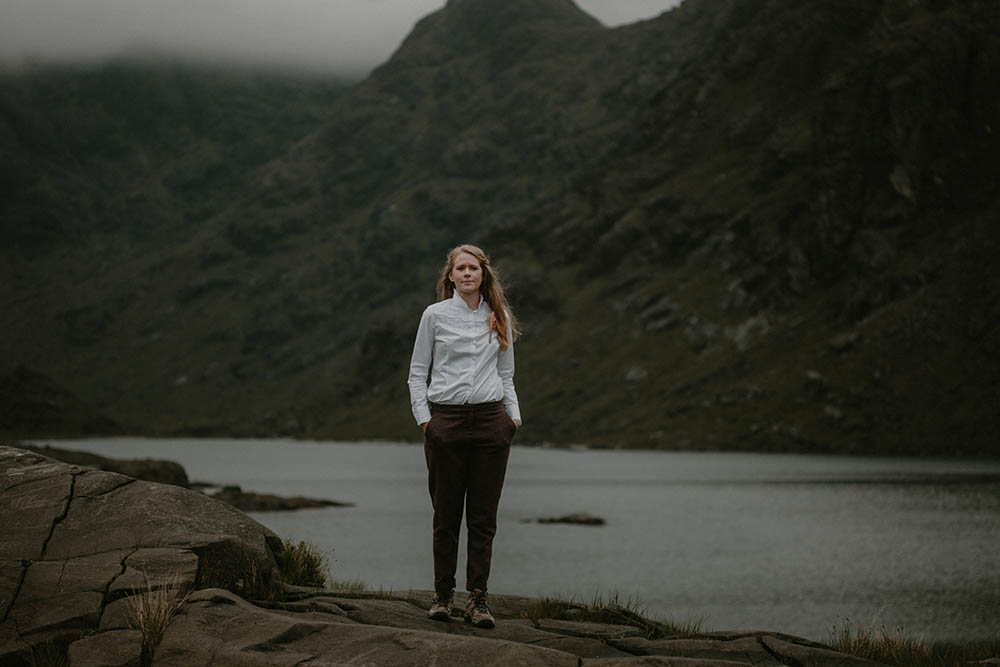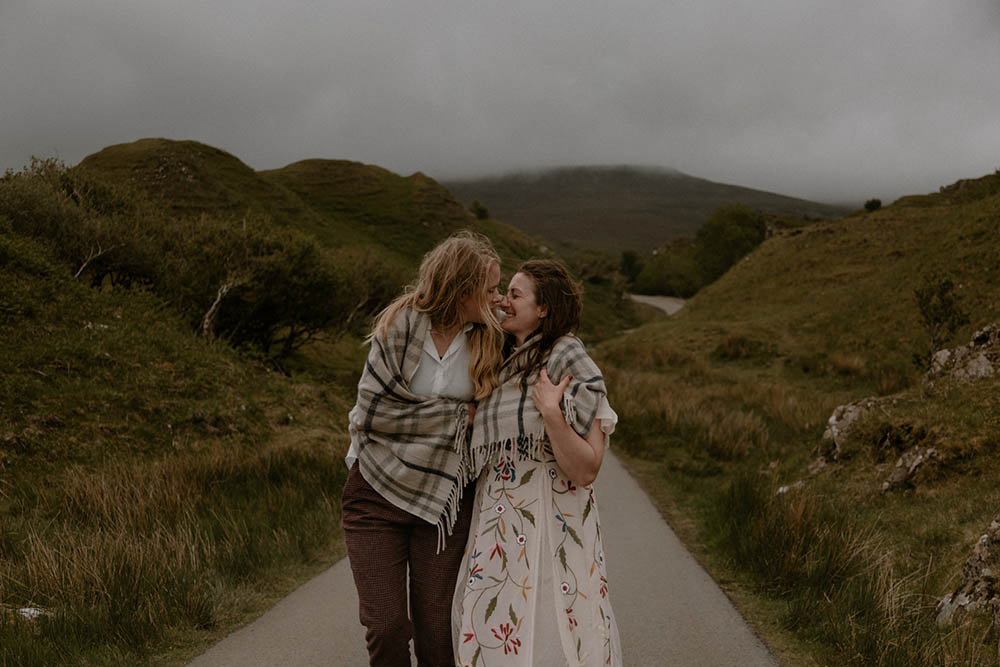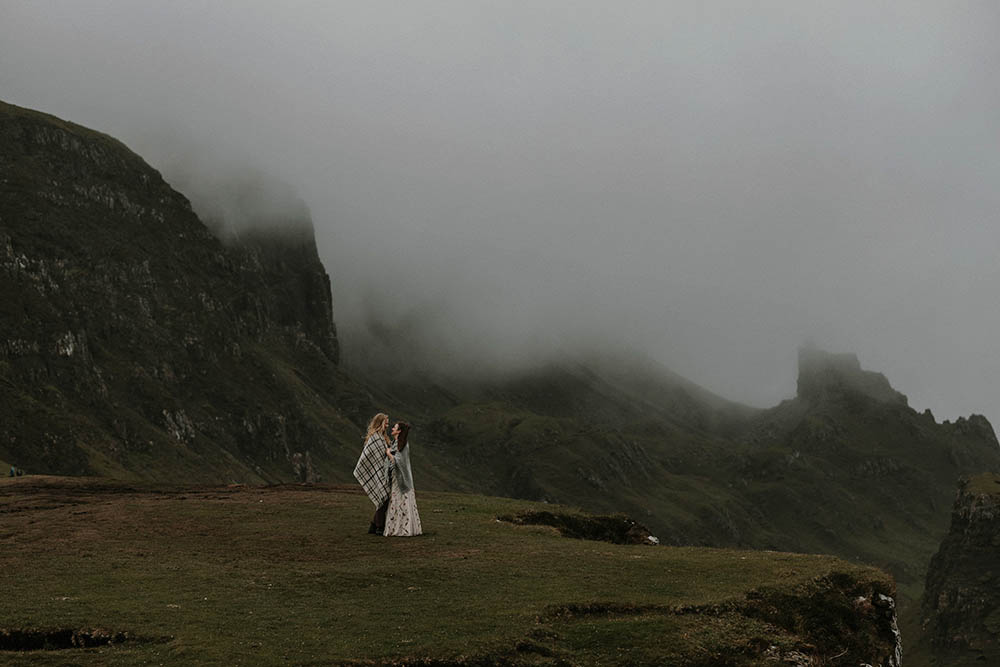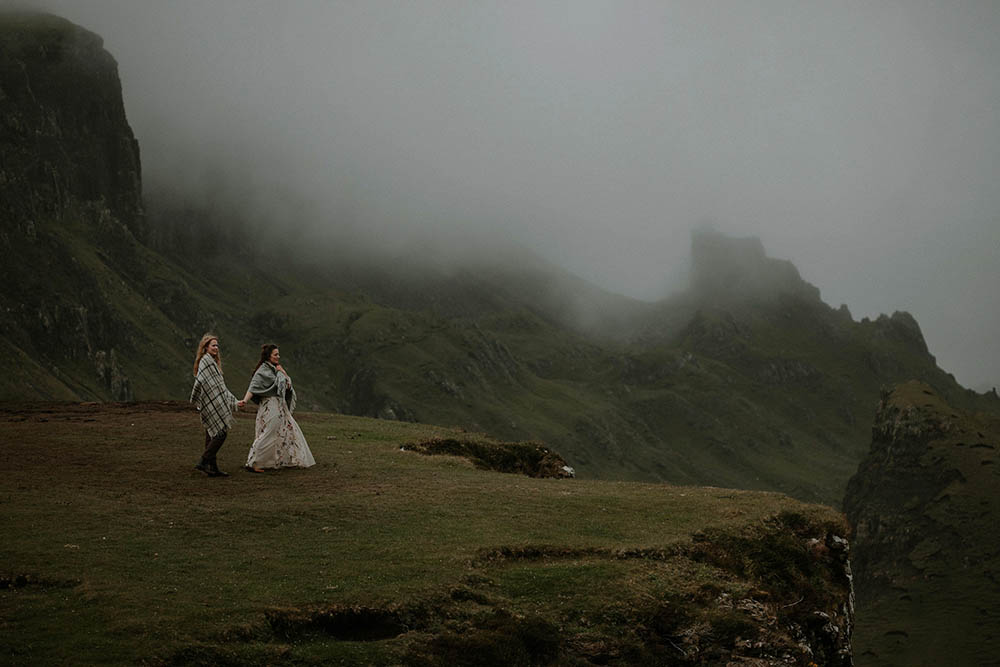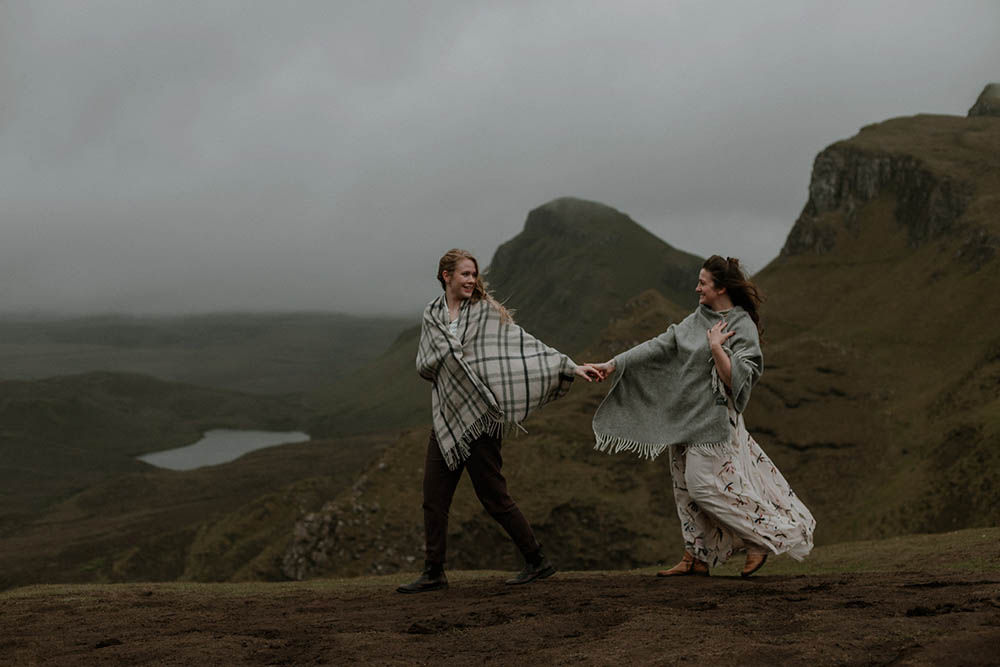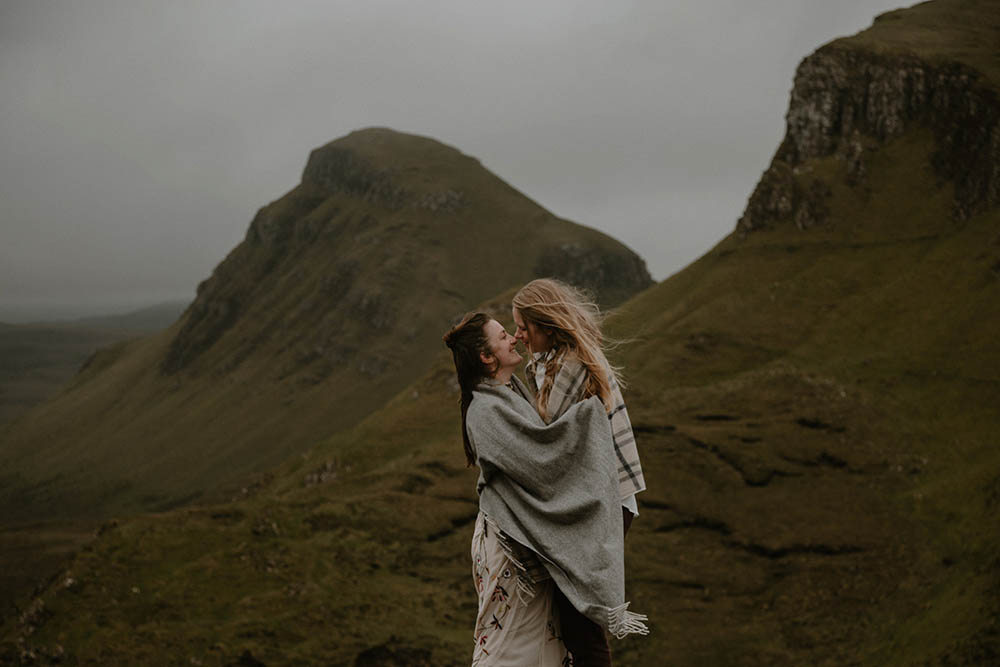 After the ceremony, the newlyweds took the boat back to Elgol and had a very chilled-out day.
"The beauty of the day was that we had time to  relax in the afternoon, unwind, play cards and realise that we were now married. In the evening we had a lovely dinner at Coruisk House followed by a sunset photo session with The Caryls who again took care of everything for us."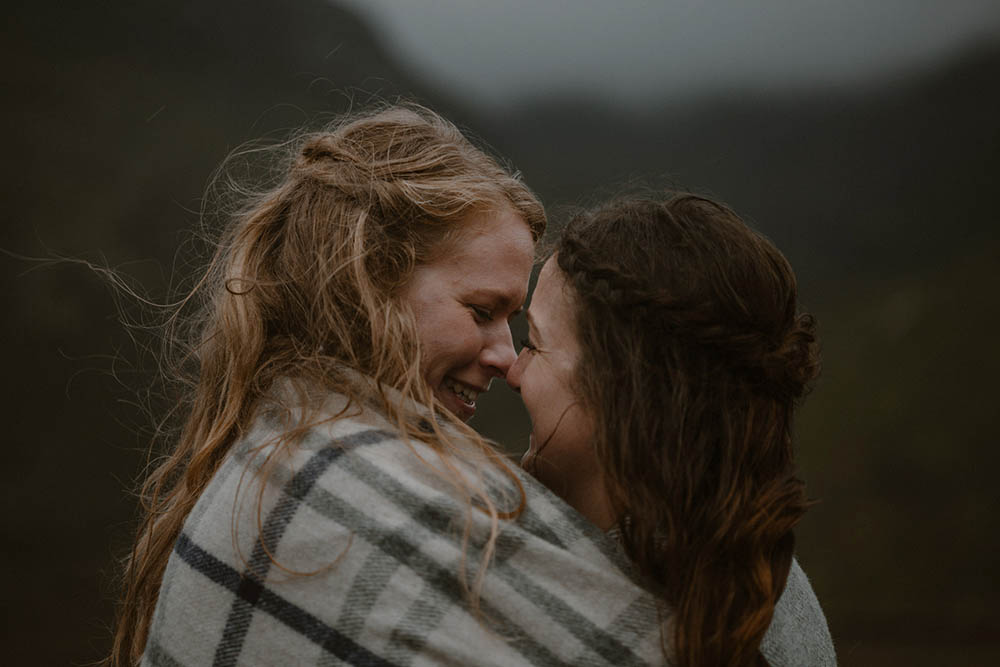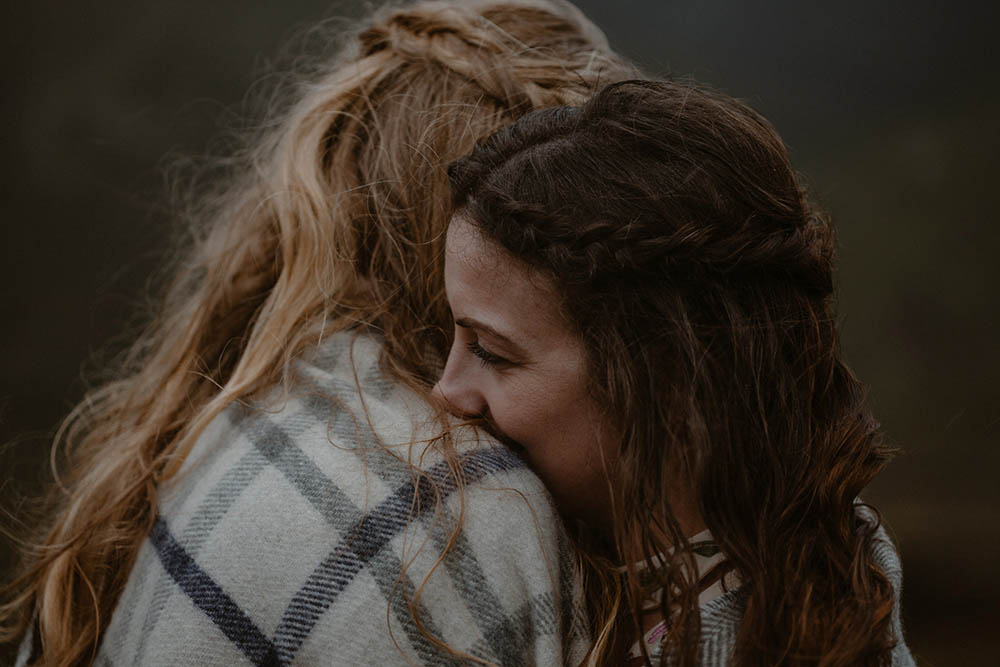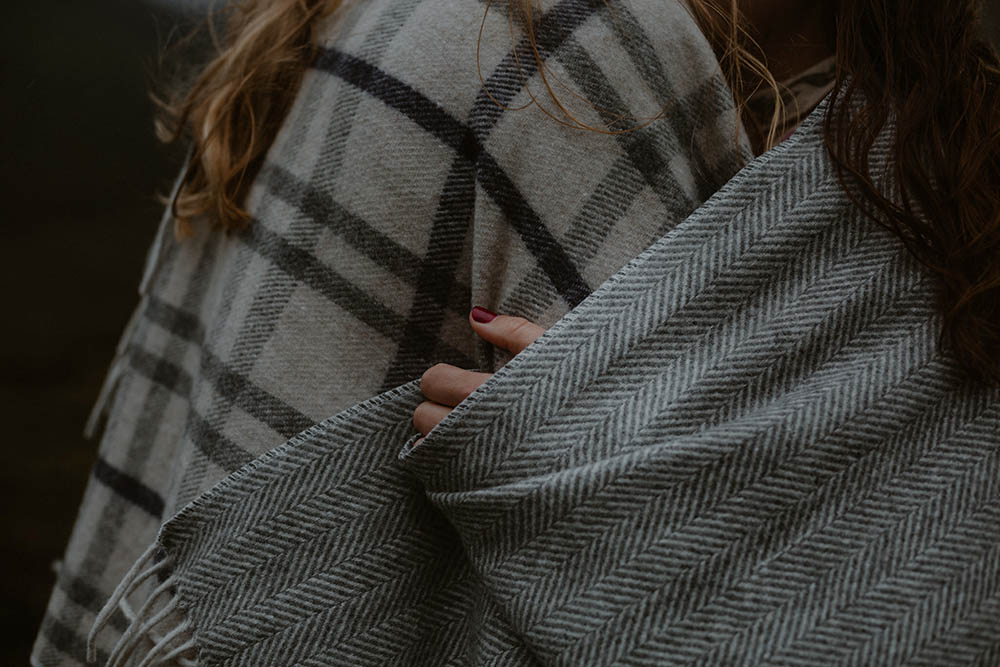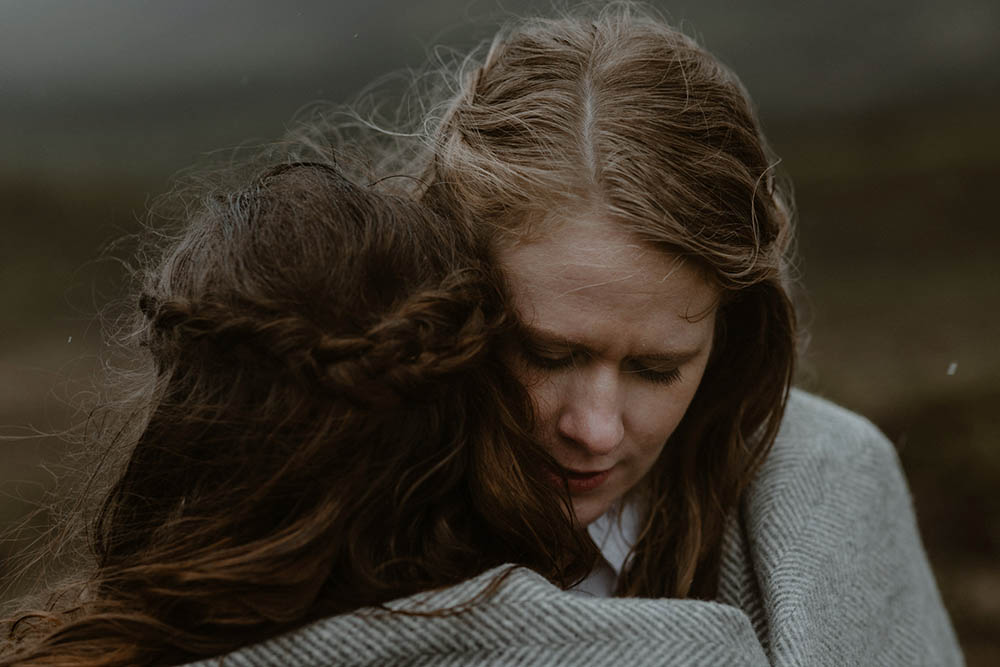 After eloping, Chrissie and Kim later had two bigger celebrations for family and friends: one in Cologne, and the other in North Wales.
"Even though we didn't have a big wedding, we still had our celebrations. Some of our close friends say we technically had three weddings!"
Their advice for other couples who are thinking of eloping to Scotland?
"We know that a lot of couples struggle with that decision as there are so many different opinions and voices trying to influence you. Take some time just the two of you and make that decision for yourself. The people who love you will understand and support you no matter what."

Photographer: The Caryls Photography | Videographer: Kim Ritter Films | Transport: Misty Isle Boat Trips | Chrissie's dress: Very.co.uk | Kim's trousers: Hobbs | Celebrant: Laura Gillespie, Humanist Society Scotland | Florist: Rosehip & Wren | Hair: Lynn Reilly, Skye Beauty Salon | Guesthouse: Coruisk House