Our Scottish Elopement: A same-sex wedding in a bluebell wood, Glen Finglas
Megan and Sara had the most romantic wedding ceremony in a bluebell wood.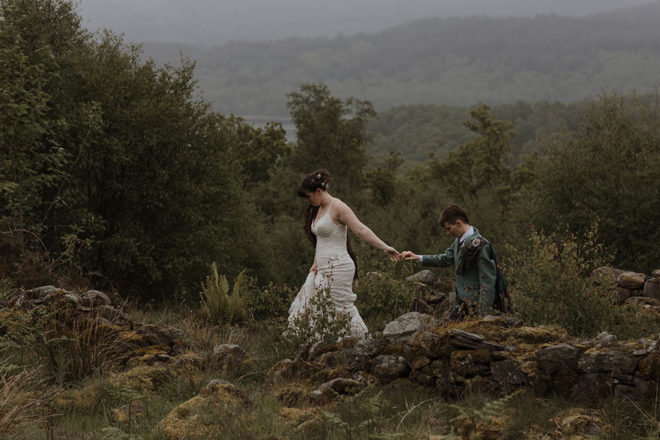 Our Scottish Elopement is a new series in which we explore the most beautiful locations to elope to in Scotland.
This week's elopement at Glen Finglas, Loch Lomond, was photographed by Caro Weiss, a wedding photographer who created Elope With Us, a Scottish elopement service which provides couples with an instant wedding team (from hair and make-up to flowers, photos and a film) for their elopement in Scotland.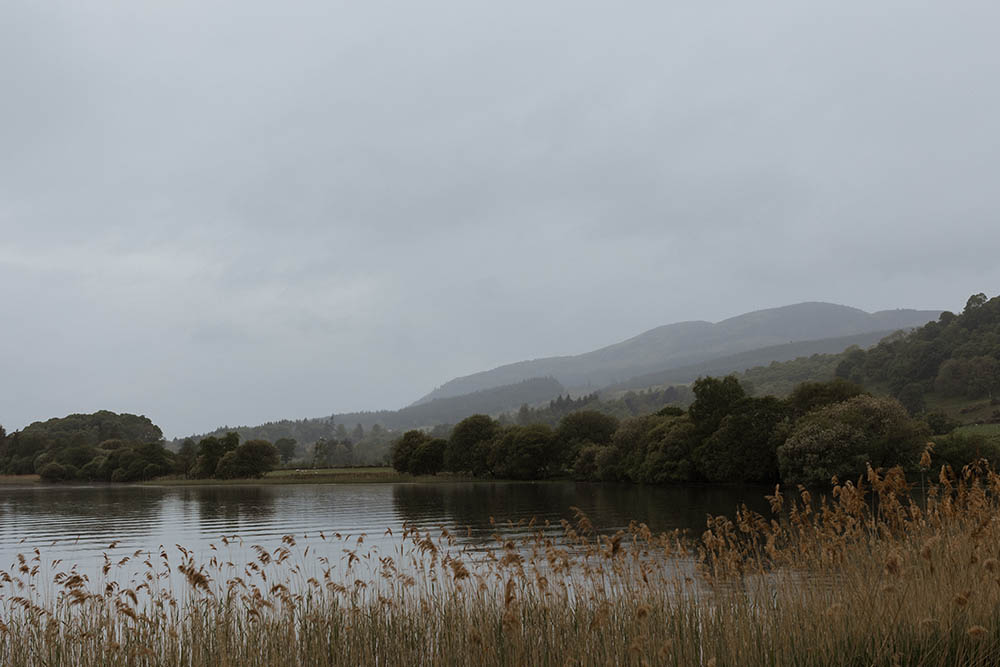 What the photographer says…
"Sara and Megan approach life and their relationship with jubilation, candour, and unconditional love. They're non-traditional, independent, humorous people.
"Their one request for their elopement location was a bluebell wood and thanks to the Scottish weather we were able to find one still in bloom at the end of May last year.
"Myself and my Elope With Us team had so much fun with these two wonderful humans and I will forever remember them giggling through the ceremony, climbing hills and laughing so much my cheeks were sore."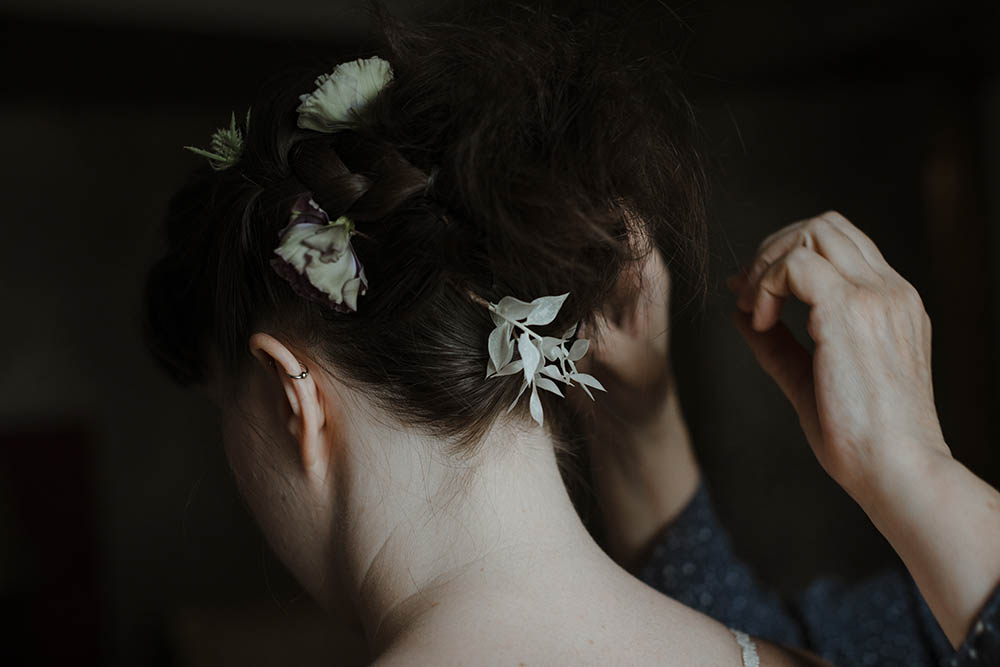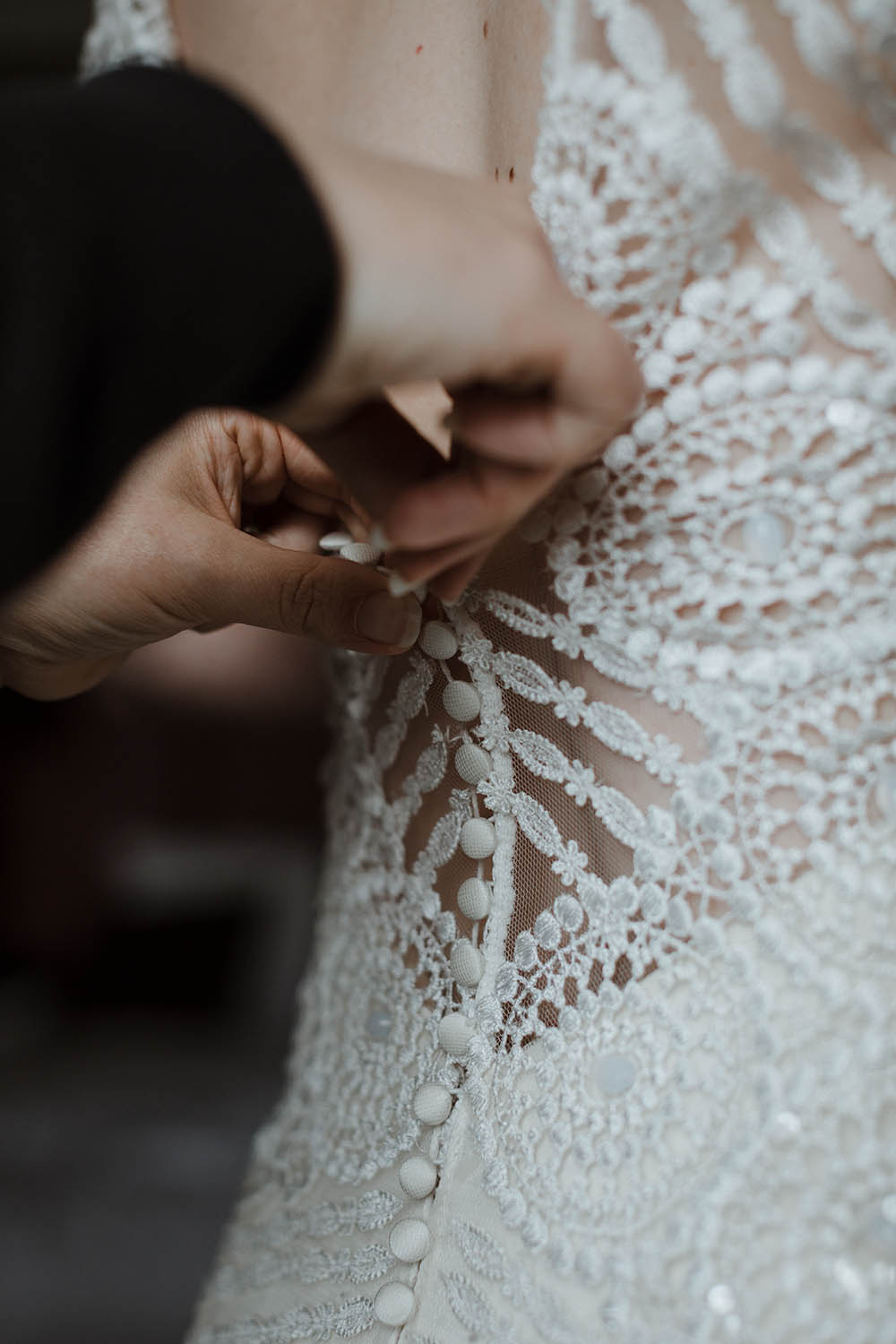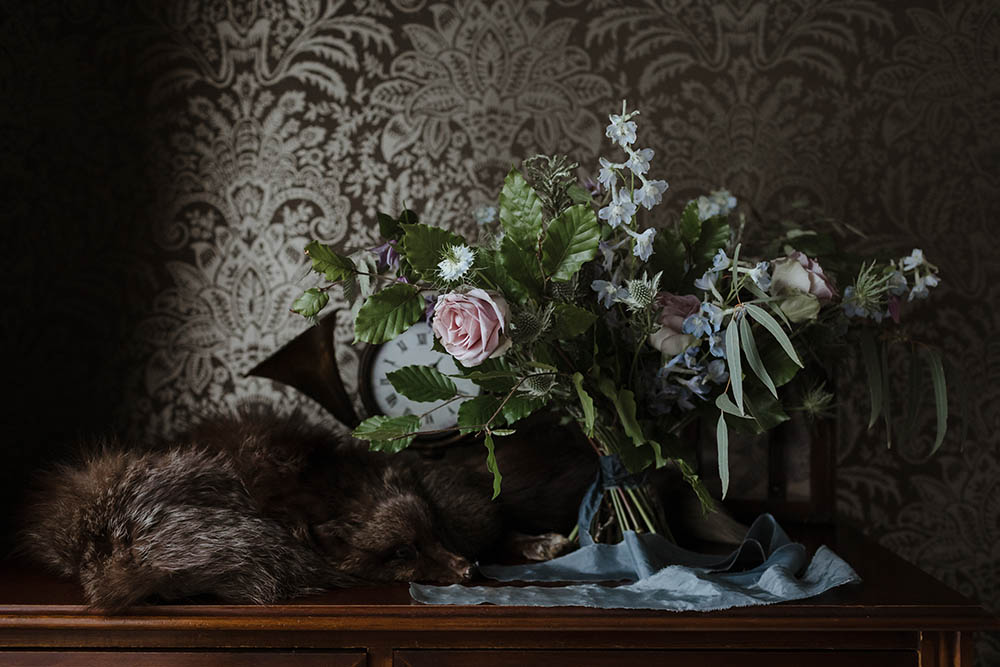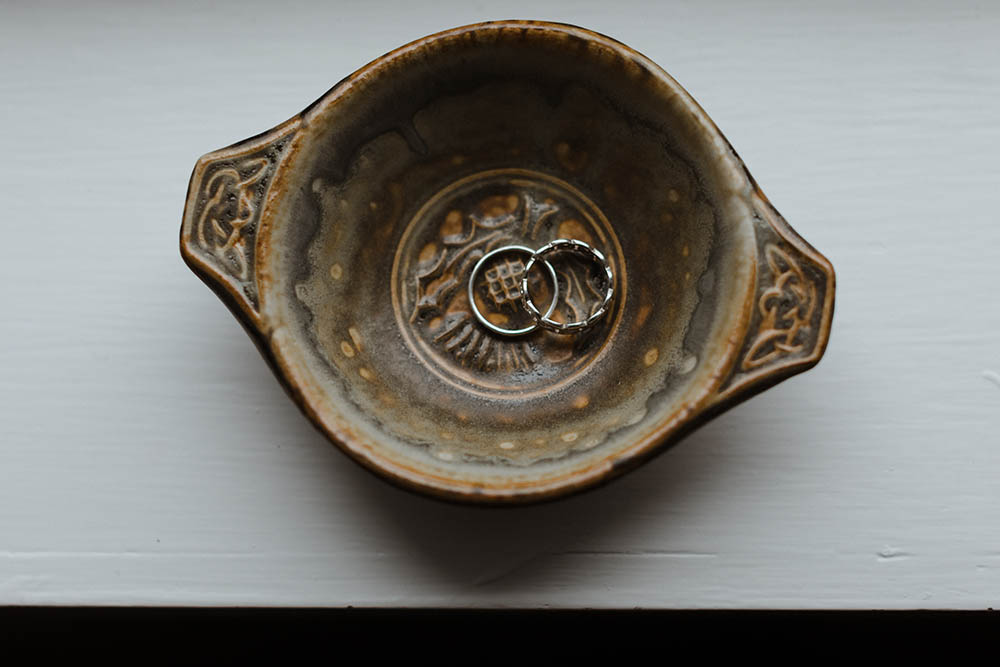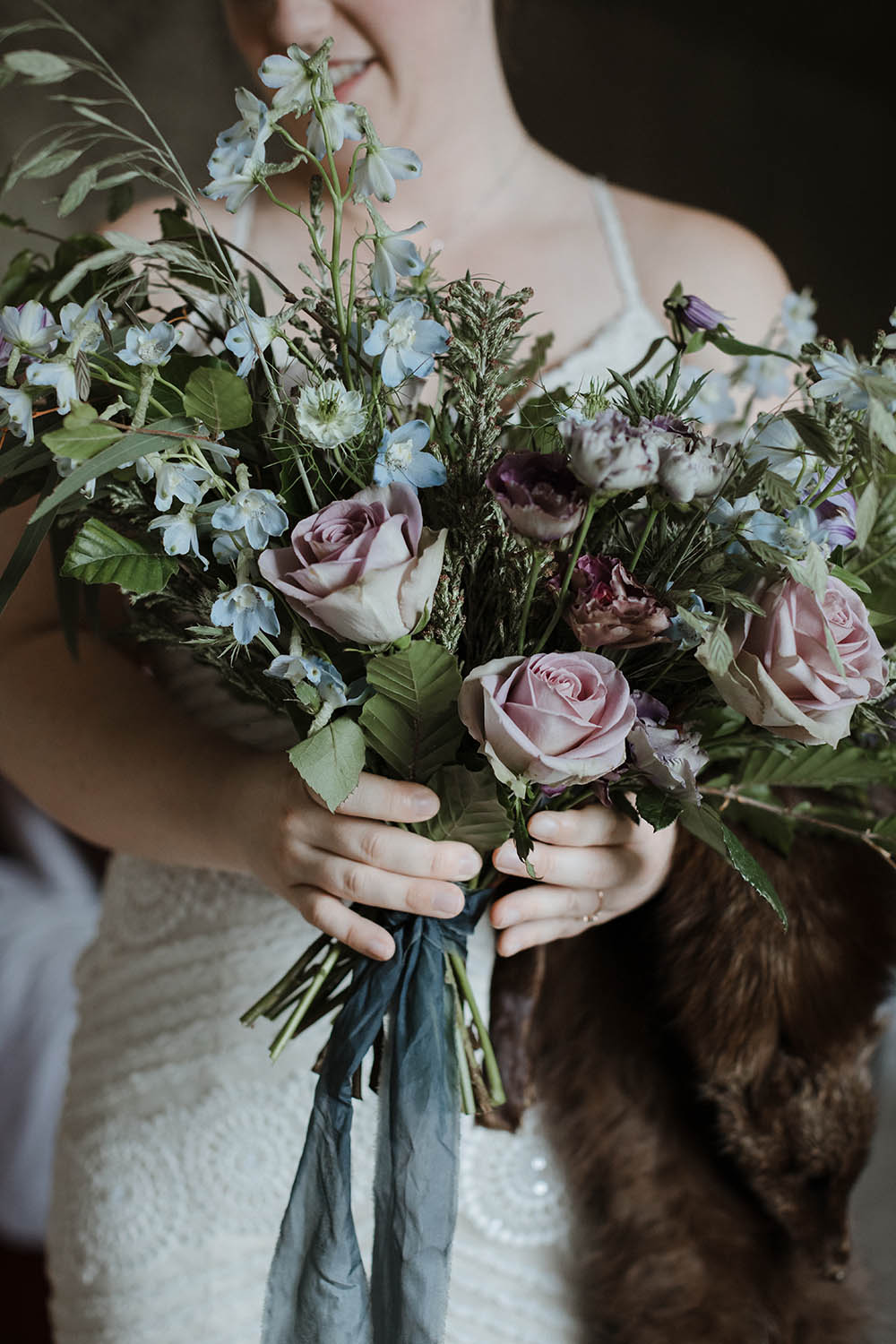 What the couple say…
"We met the old-fashioned way, by today's standards, at a gay bar in Philadelphia," recalls Megan.
"Depending on who tells the story it sounds quite different. We quickly fell into conversation and it was extremely apparent we were mutually interested in each other.
"Sara left to go to the bathroom. I was left waiting at the bar. After what felt like hours (but in reality, was probably 10 or 15 minutes), I turned and saw her talking to another woman and of course blew it out of proportion and left."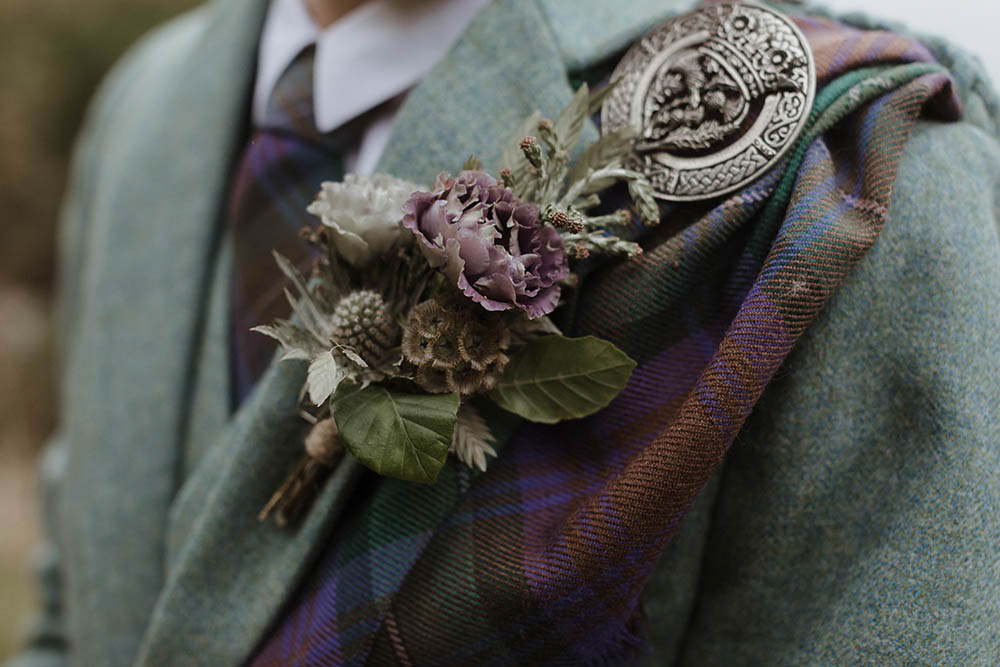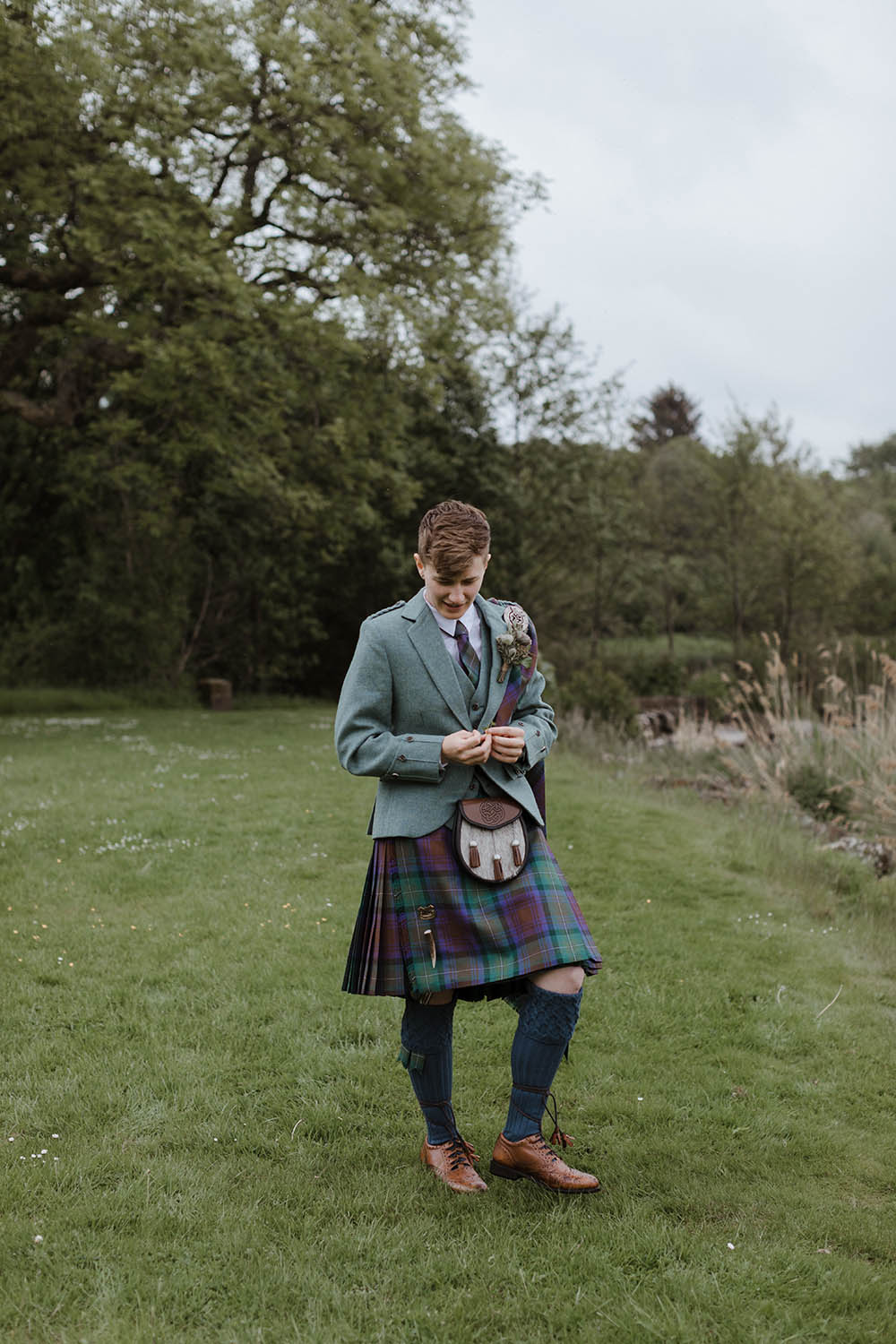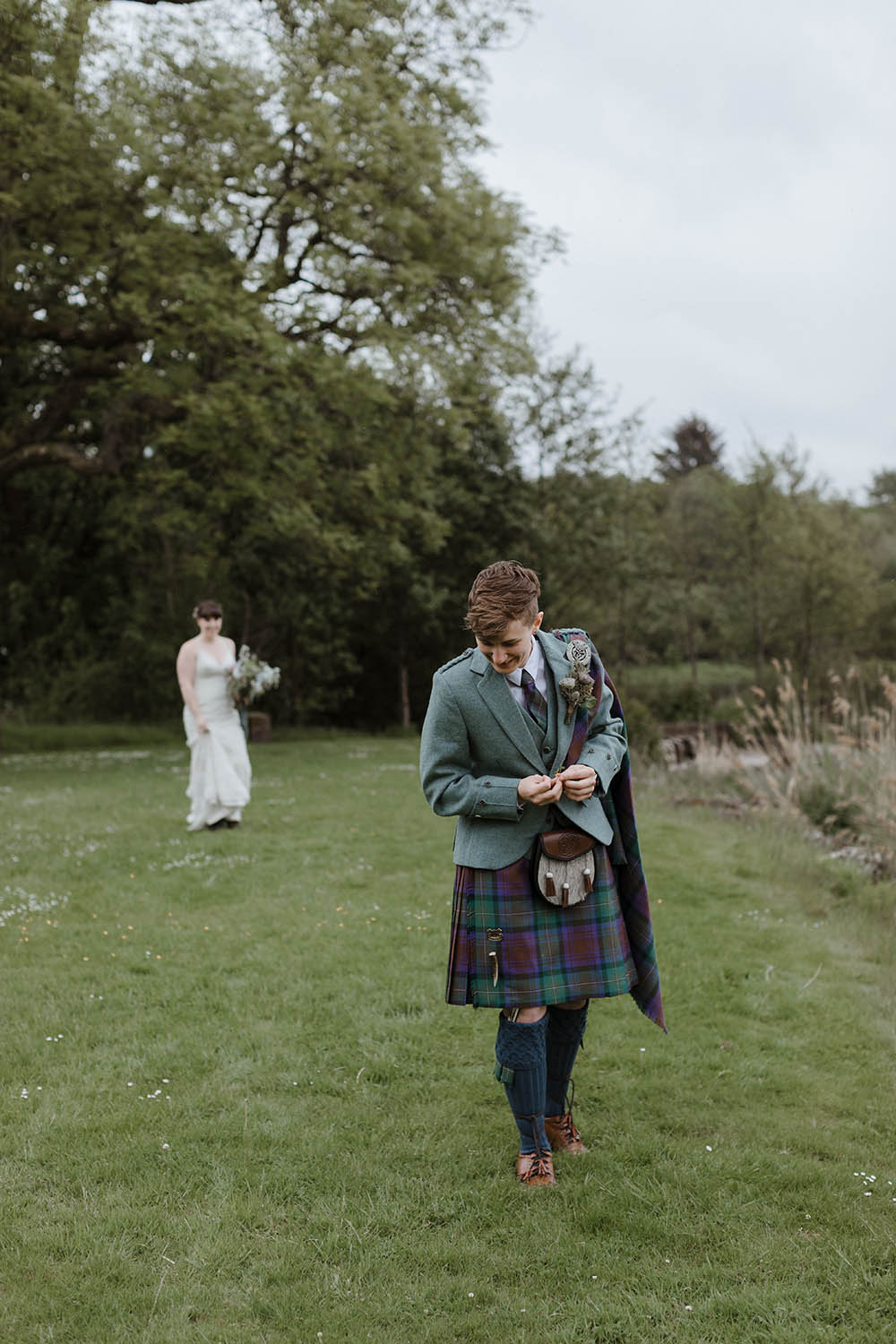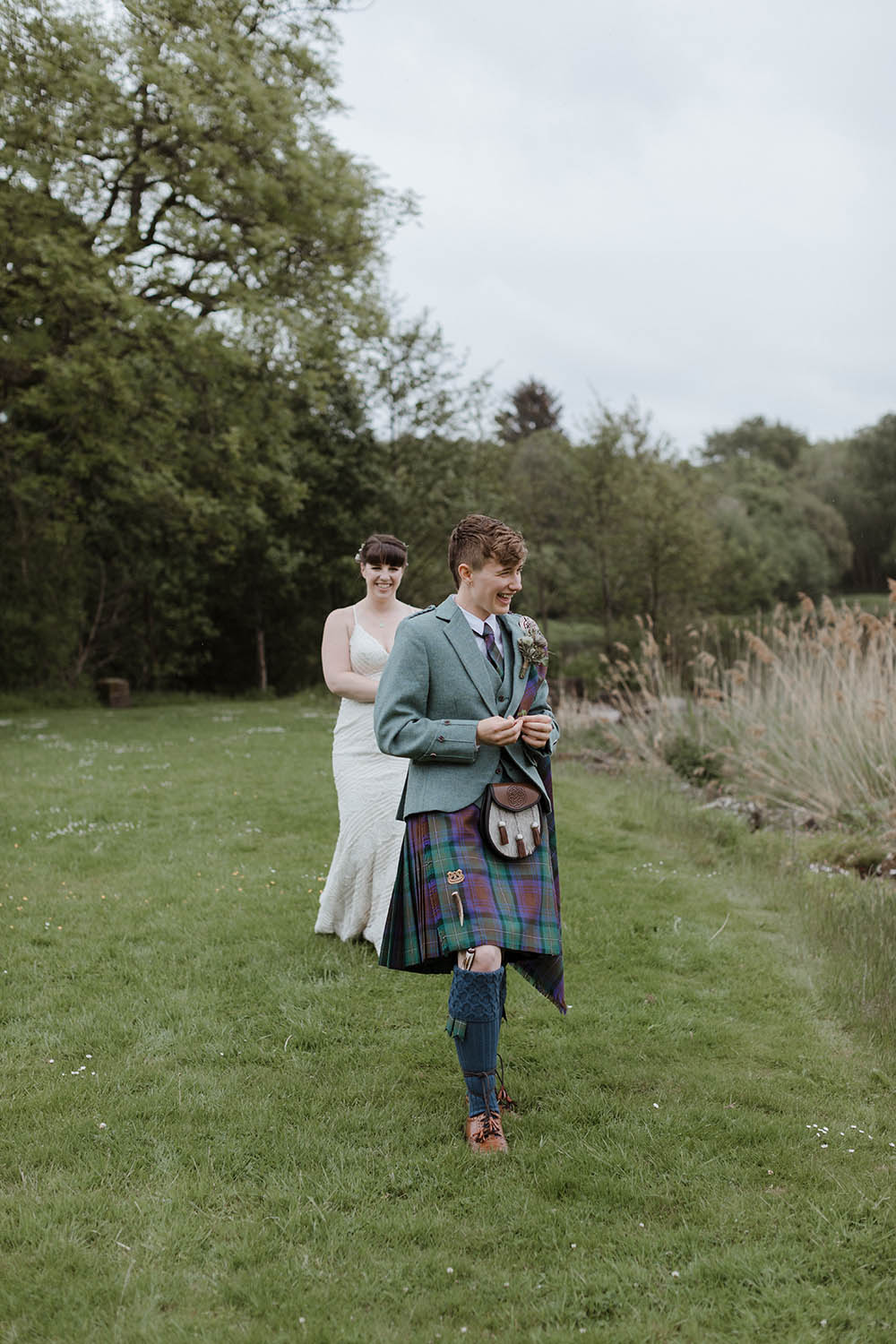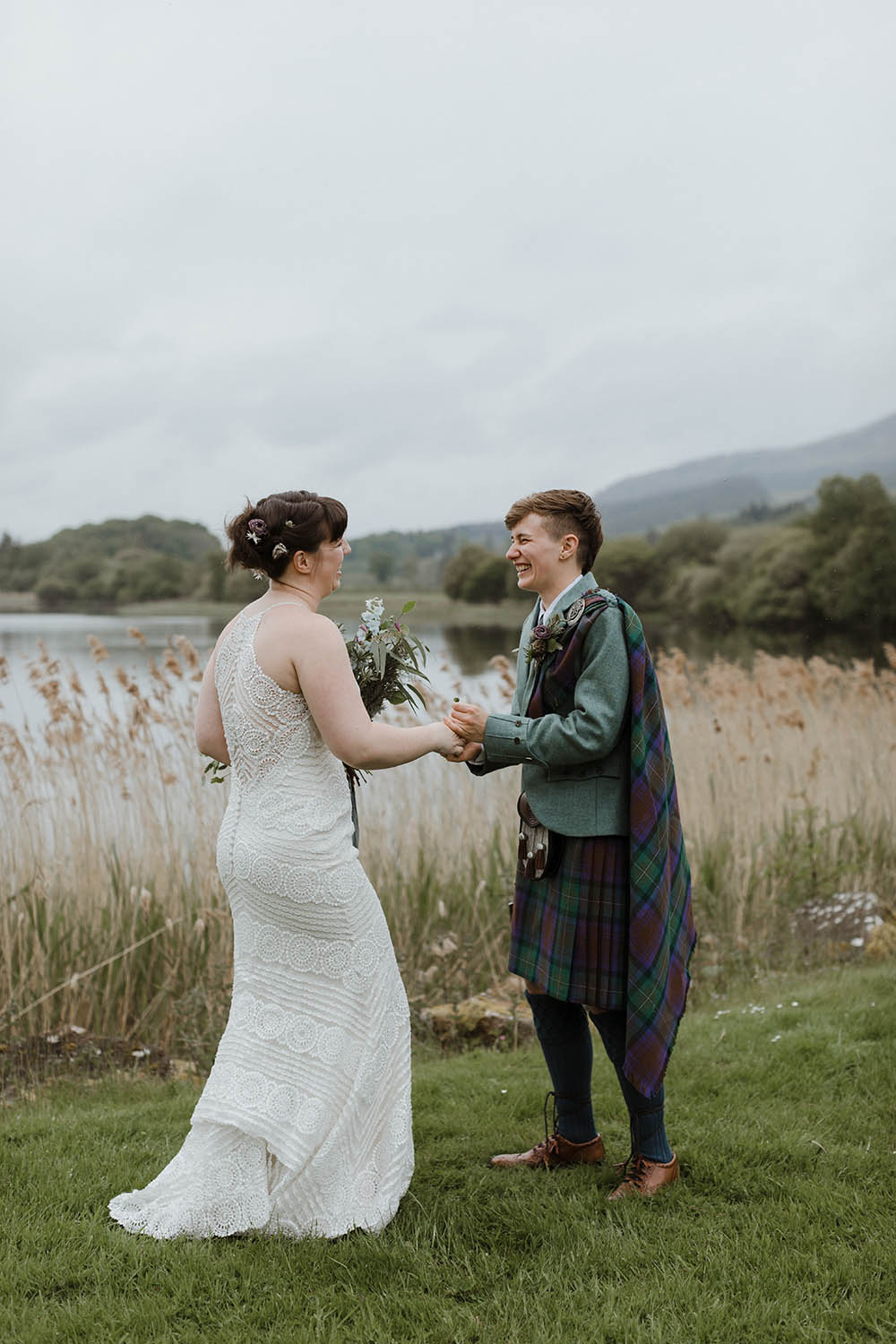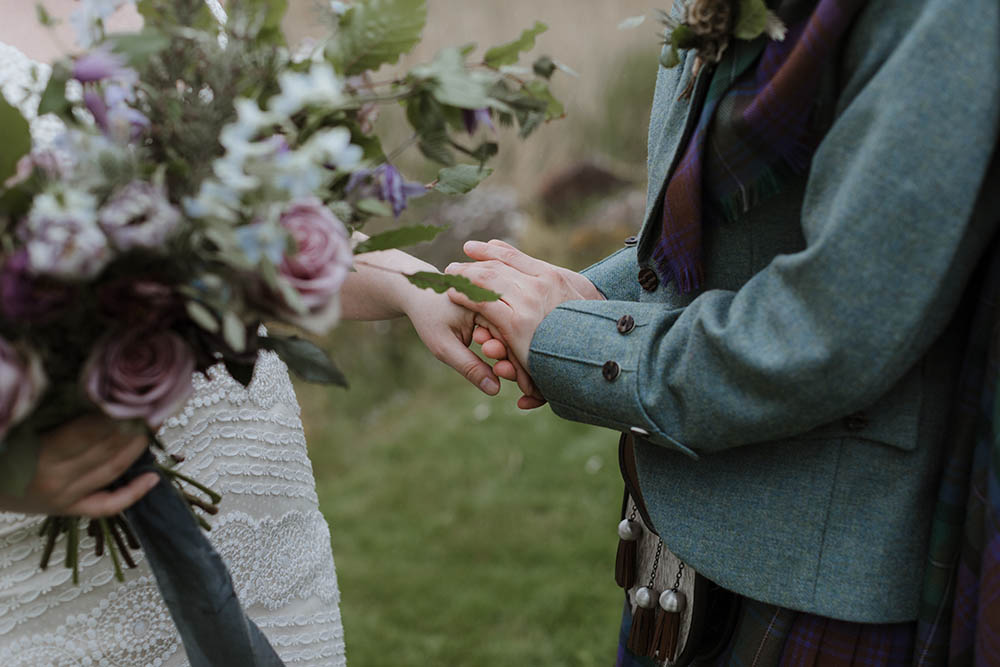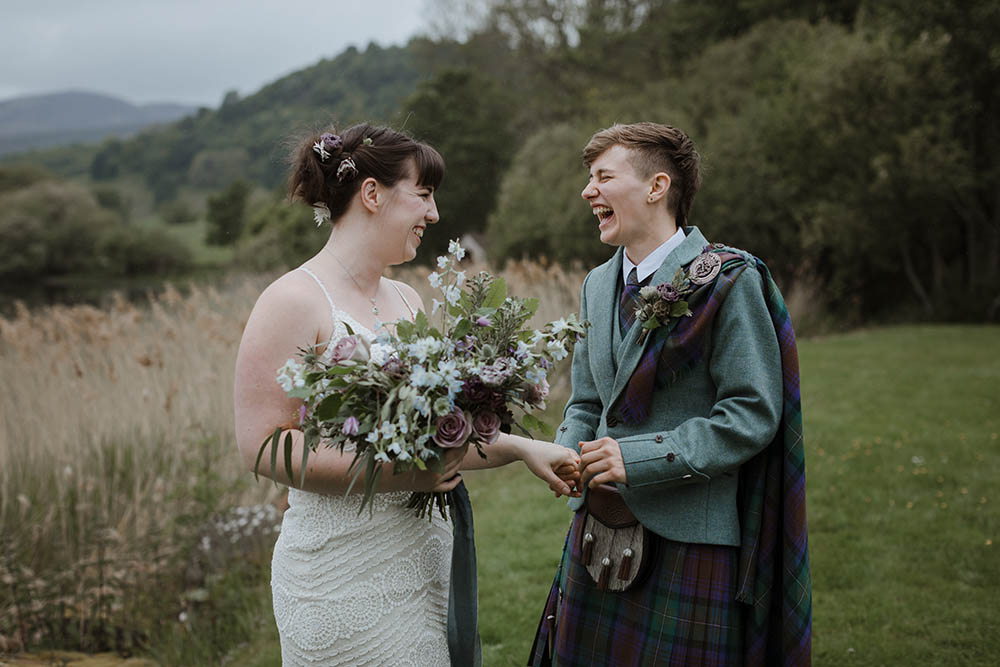 Fortunately there was a not-so-old-fashioned way for the pair to reconnect.
Sara tracked Megan down on social media and after a year of dating she proposed, then Megan did a proposal of her own, buying Sara a watch and creating a Japanese senbazuru (a thousand paper cranes).
At first the couple started planning a traditional wedding, but it soon became apparent that this wasn't what they wanted.
"Everyone had opinions about every single detail, to the point that I felt like I was losing control of my own day," explains Megan. "I wanted this day to be about Sara and I, and the beginning of our life together."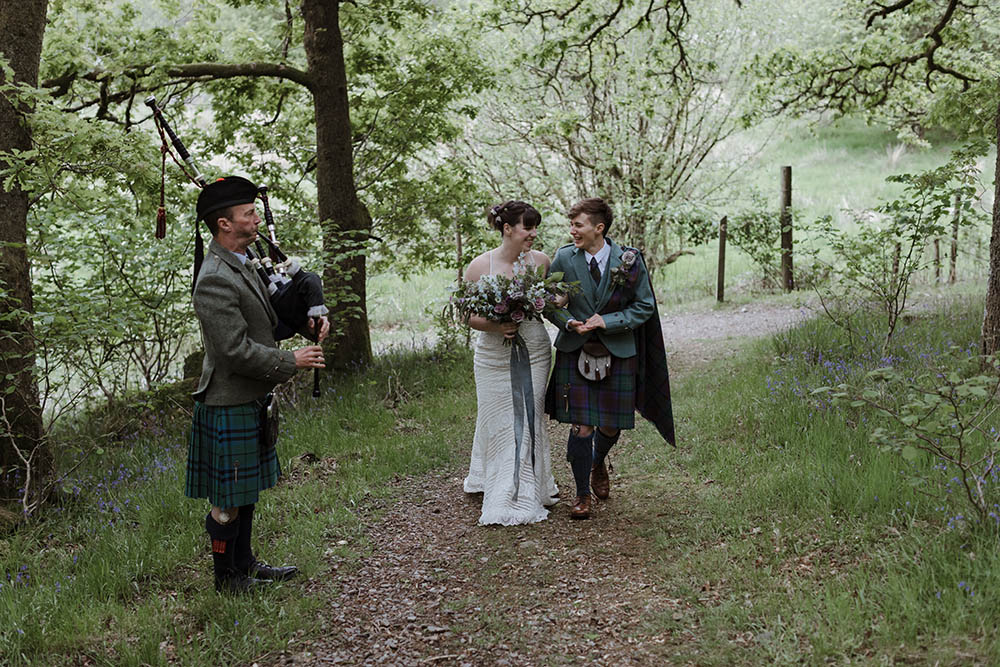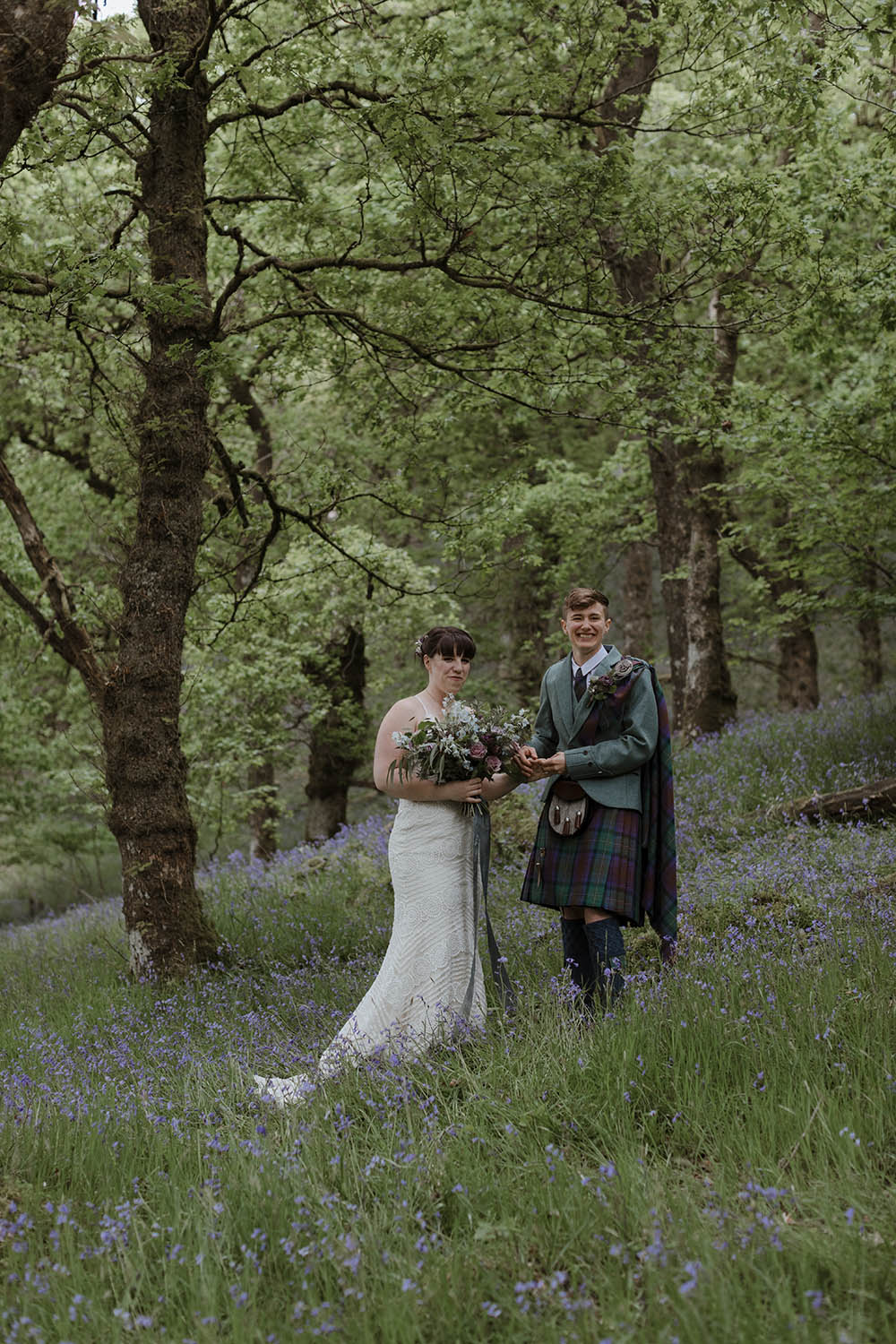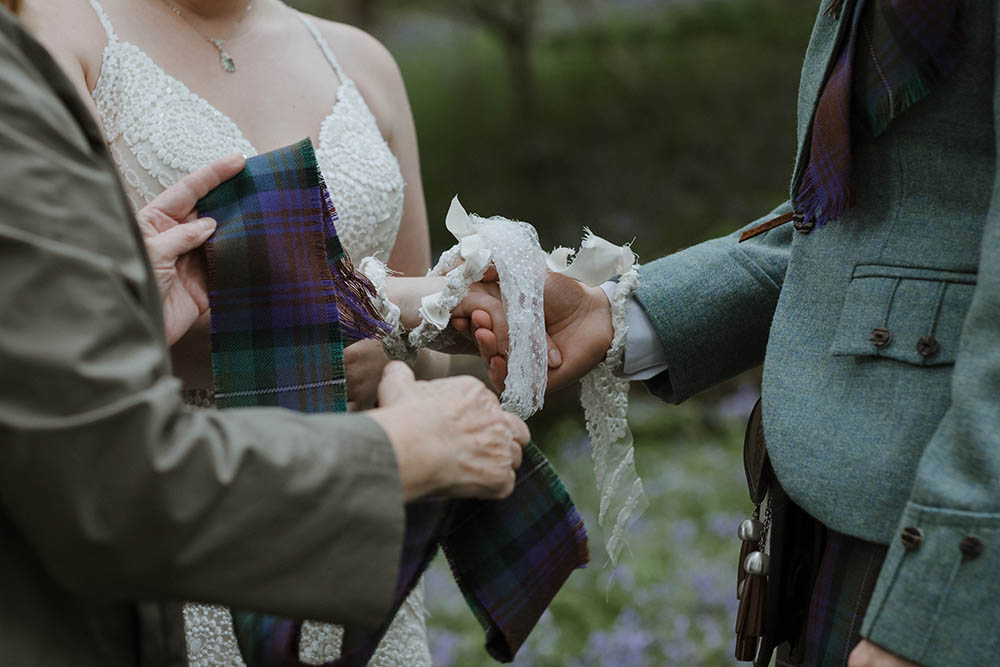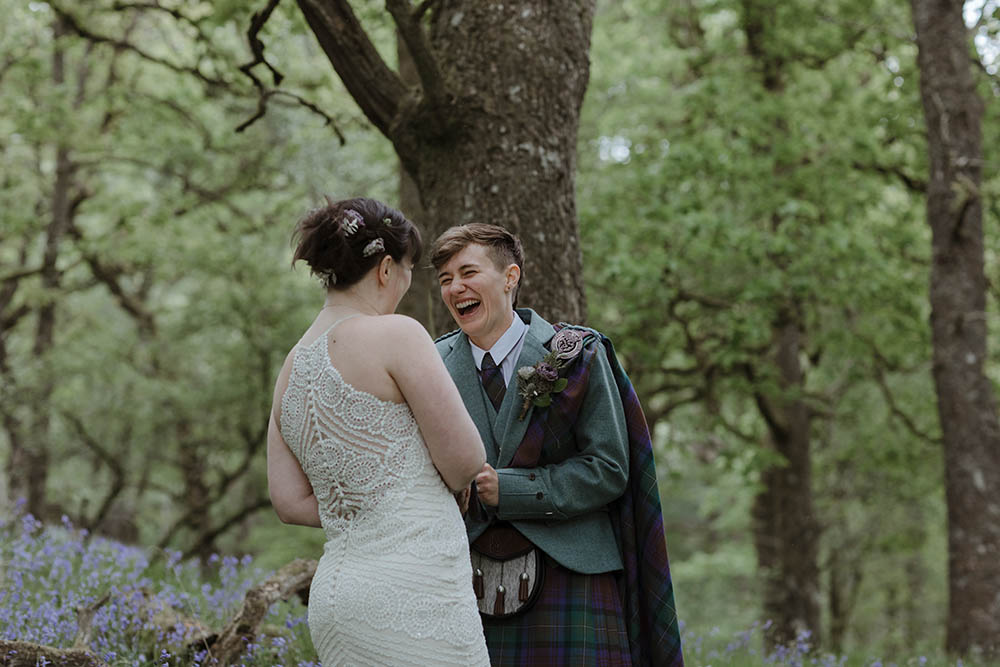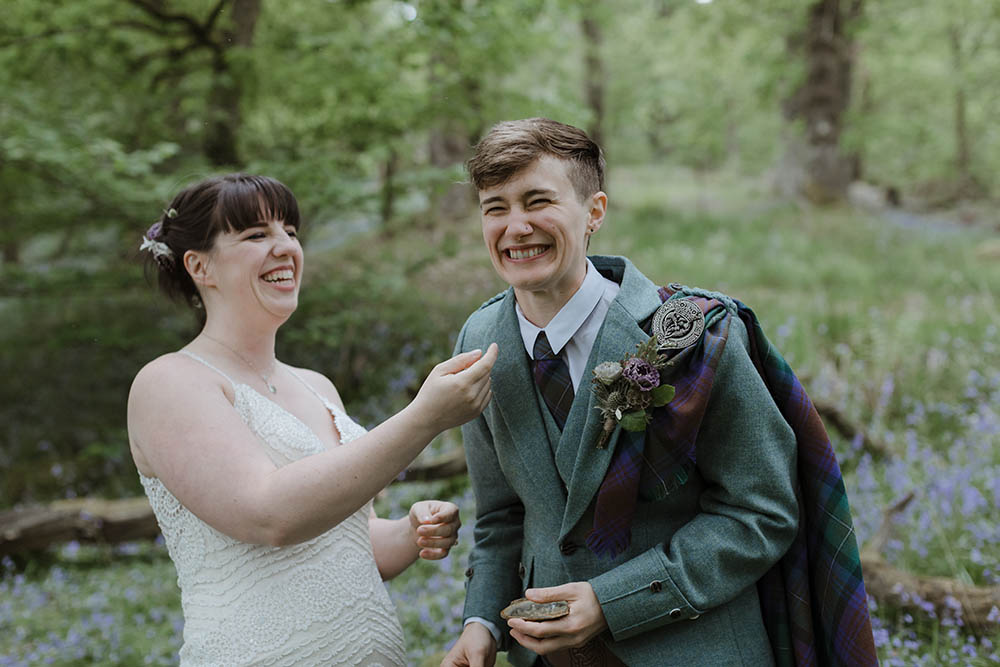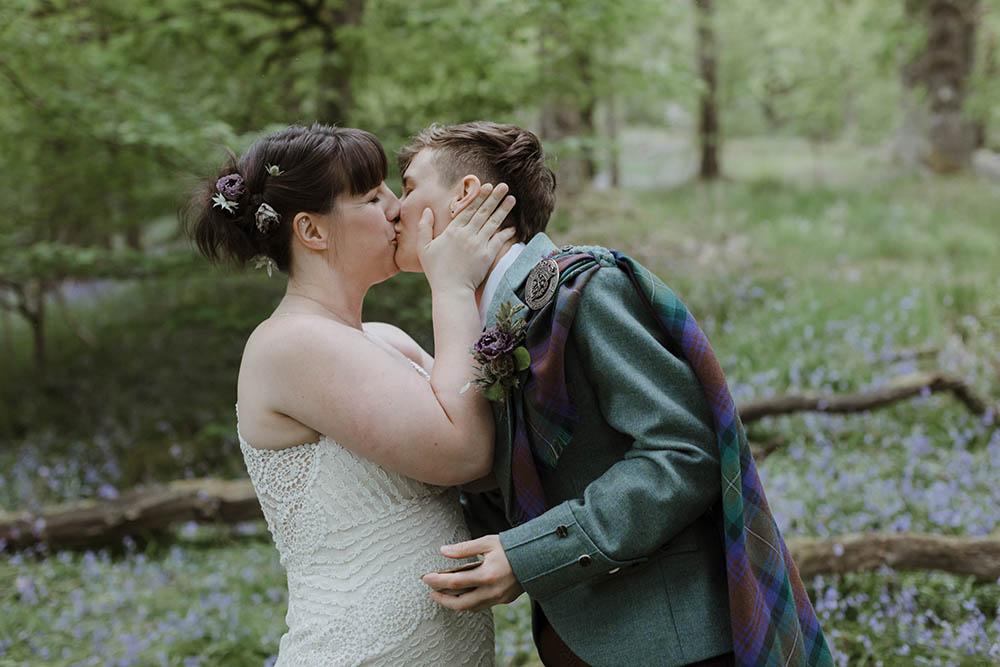 An elopement was the perfect option, and the pair decided that Scotland would be the ideal location.
"Sara has played in Scottish bagpipe bands since she was a young girl, and her family is Scottish. It was a place we both wanted to go together. We have a deep love and appreciation for the beauty of Scotland, the history… and the scotch!"
As they booked via Elope With Us, much of the wedding planning was taken care of. They just had to turn up with their outfits: Megan in a dress, and Sara in a kilt to reflect her heritage.
"Caro did all the heavy lifting of planning. She told me what time to be ready for hair and make-up and took care of everything else," says Megan.
"It was better than anything I could've planned on my own, and despite being thousands of miles and several timezone hours away she really made the whole experience feel very personal. Having an elopement planner made the process easy."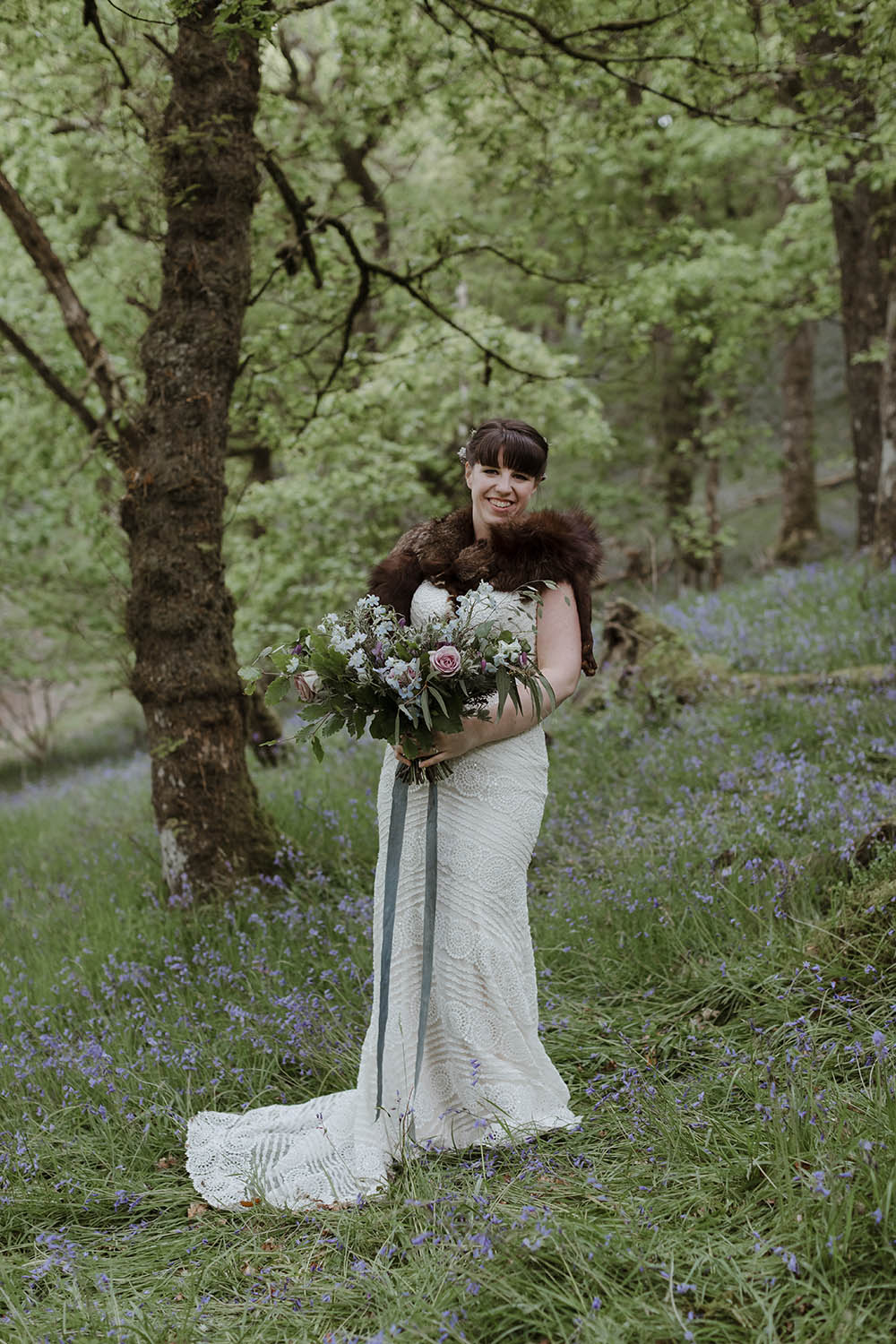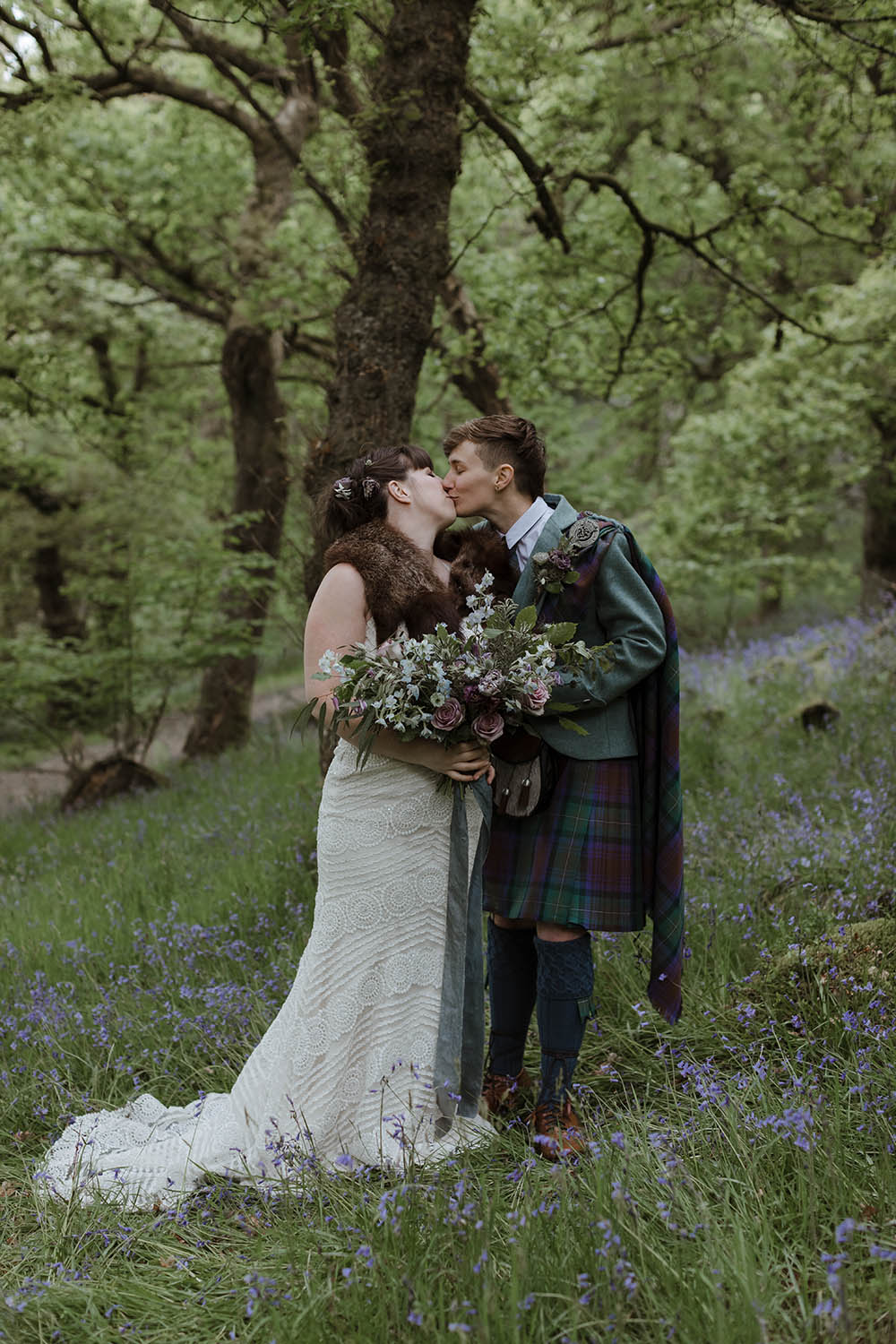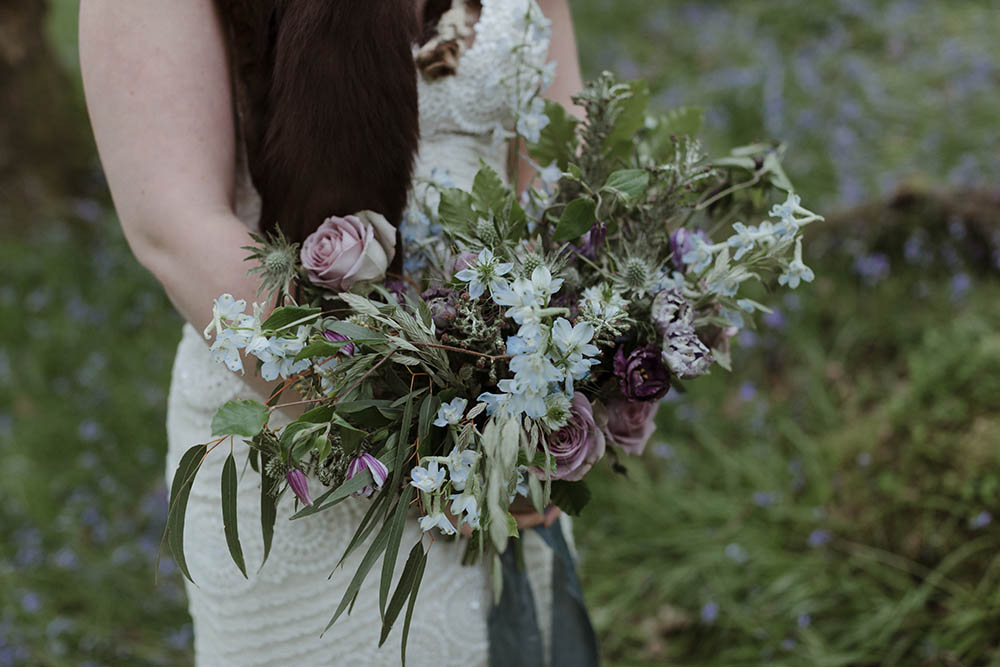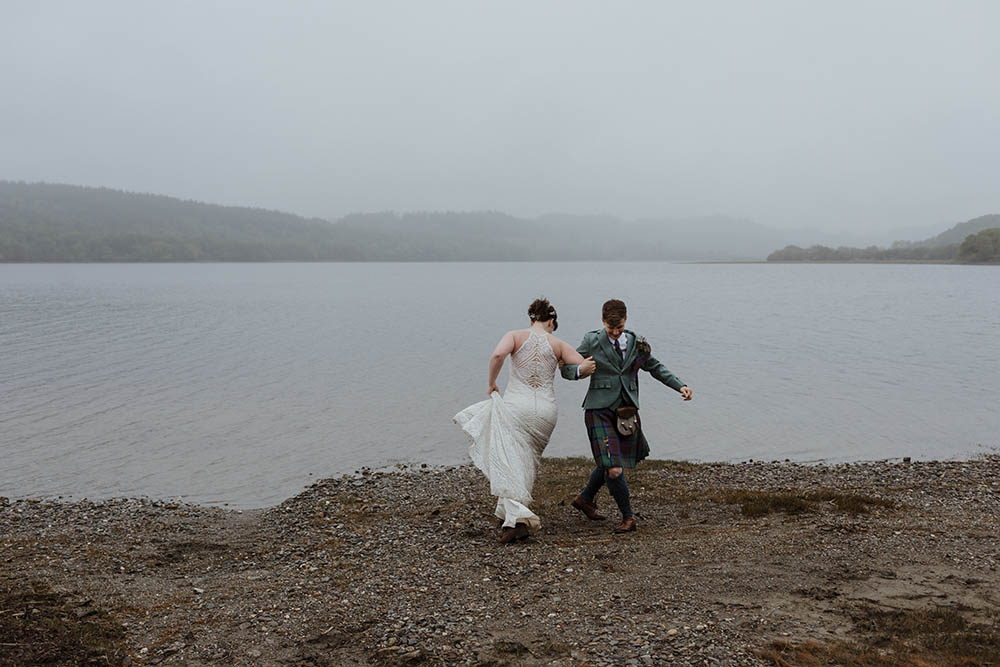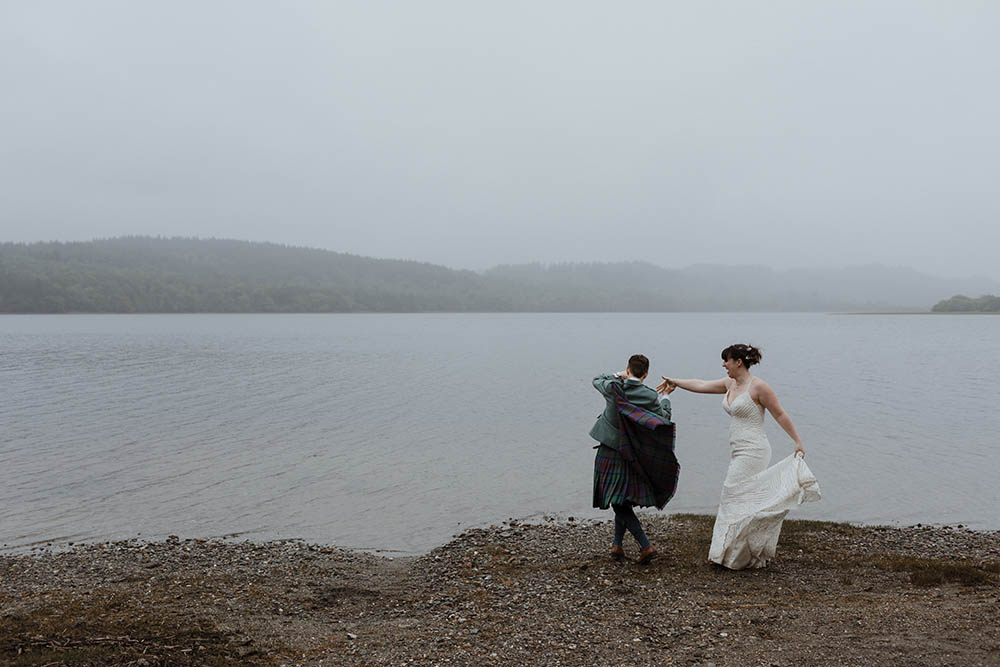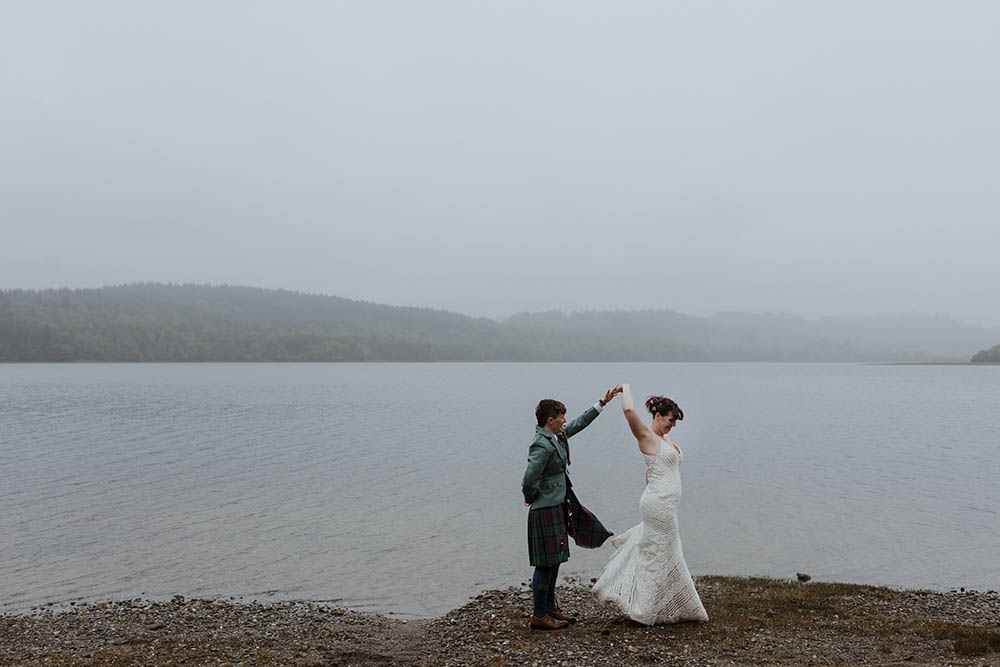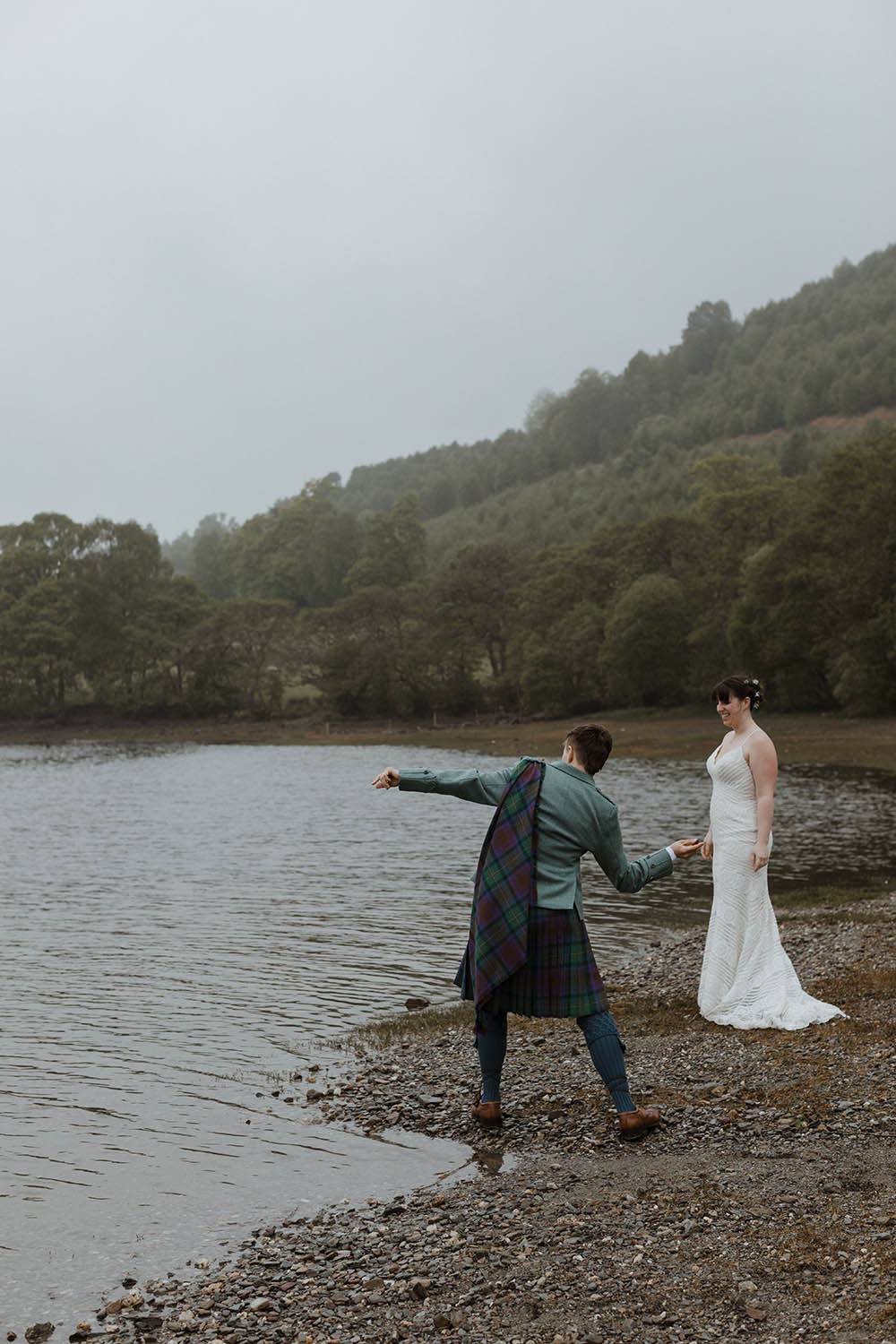 Megan and Sara got married legally in the US first to facilitate paperwork, then had a second ceremony in Scotland.
Megan describes the wedding day as "perfection".
She had a vision of getting married in a bluebell wood, and Caro managed to find one at Glen Finglas.
"The park was absolutely carpeted in them. It's one of the most beautiful places I've ever been, and our photos truly look like moments out of a fairy tale.
"Our bagpiper played us into the wood, and we exchanged vows and rings. It was everything anyone could ever ask for in a wedding. It was a special moment that was truly about the two of us and our love."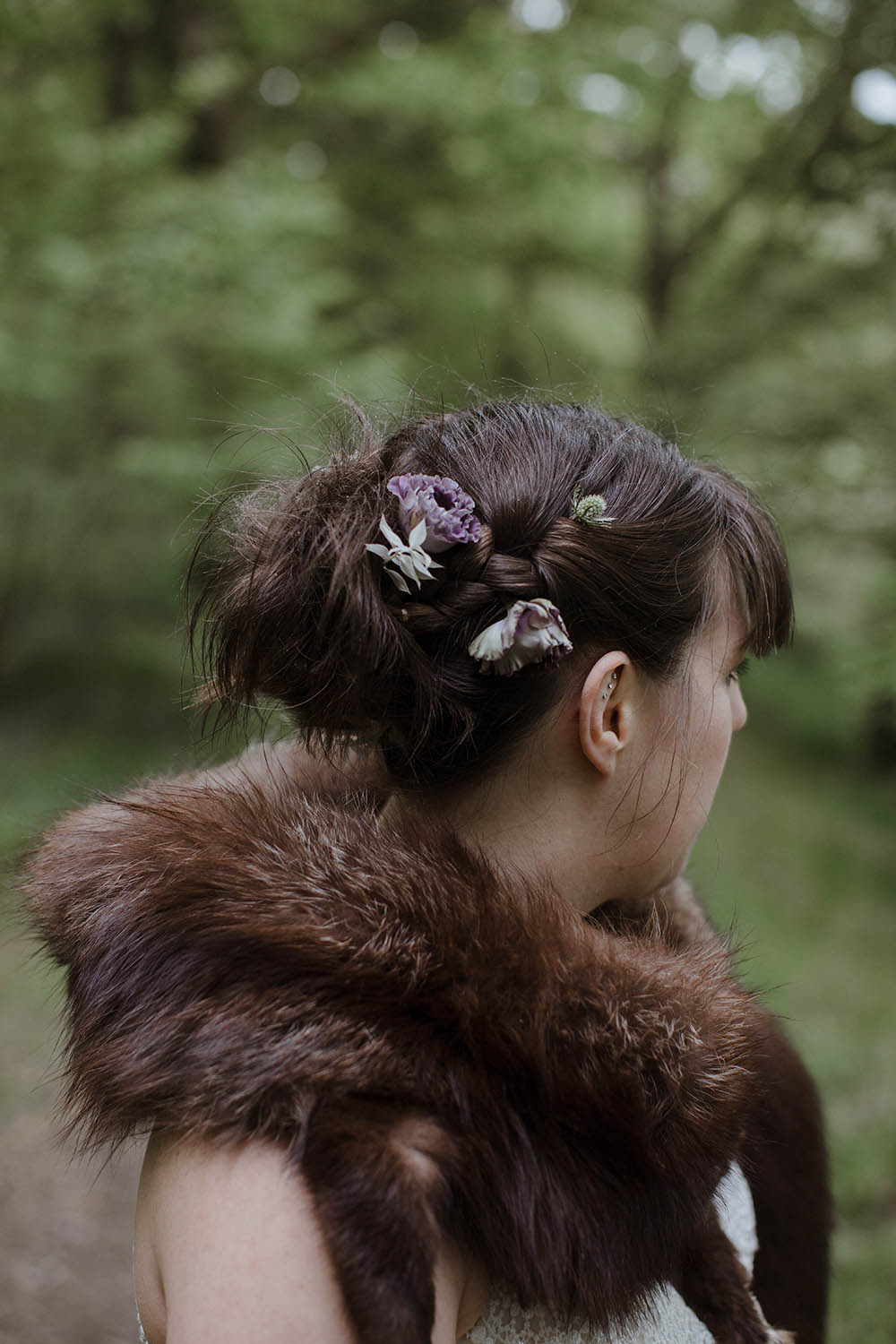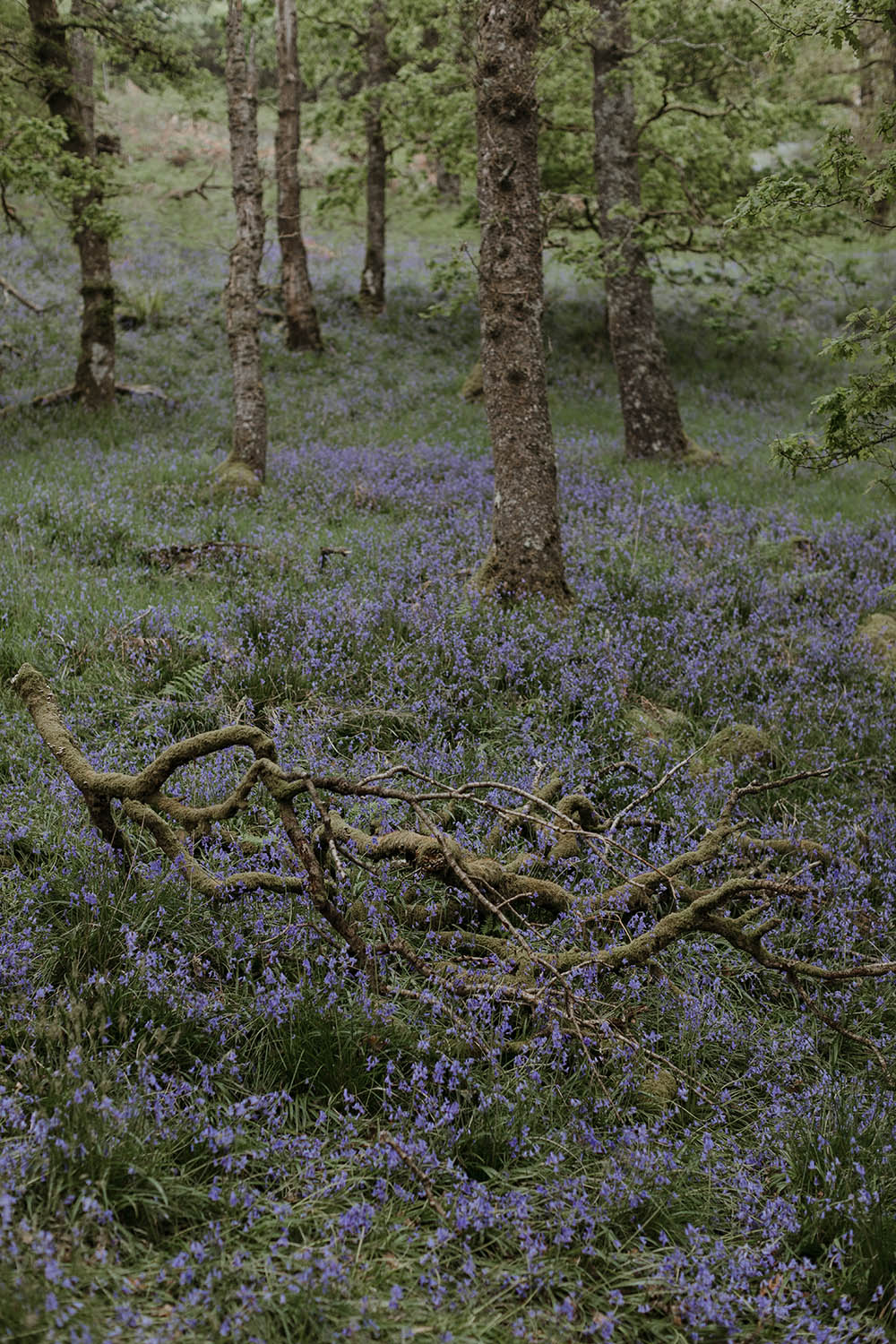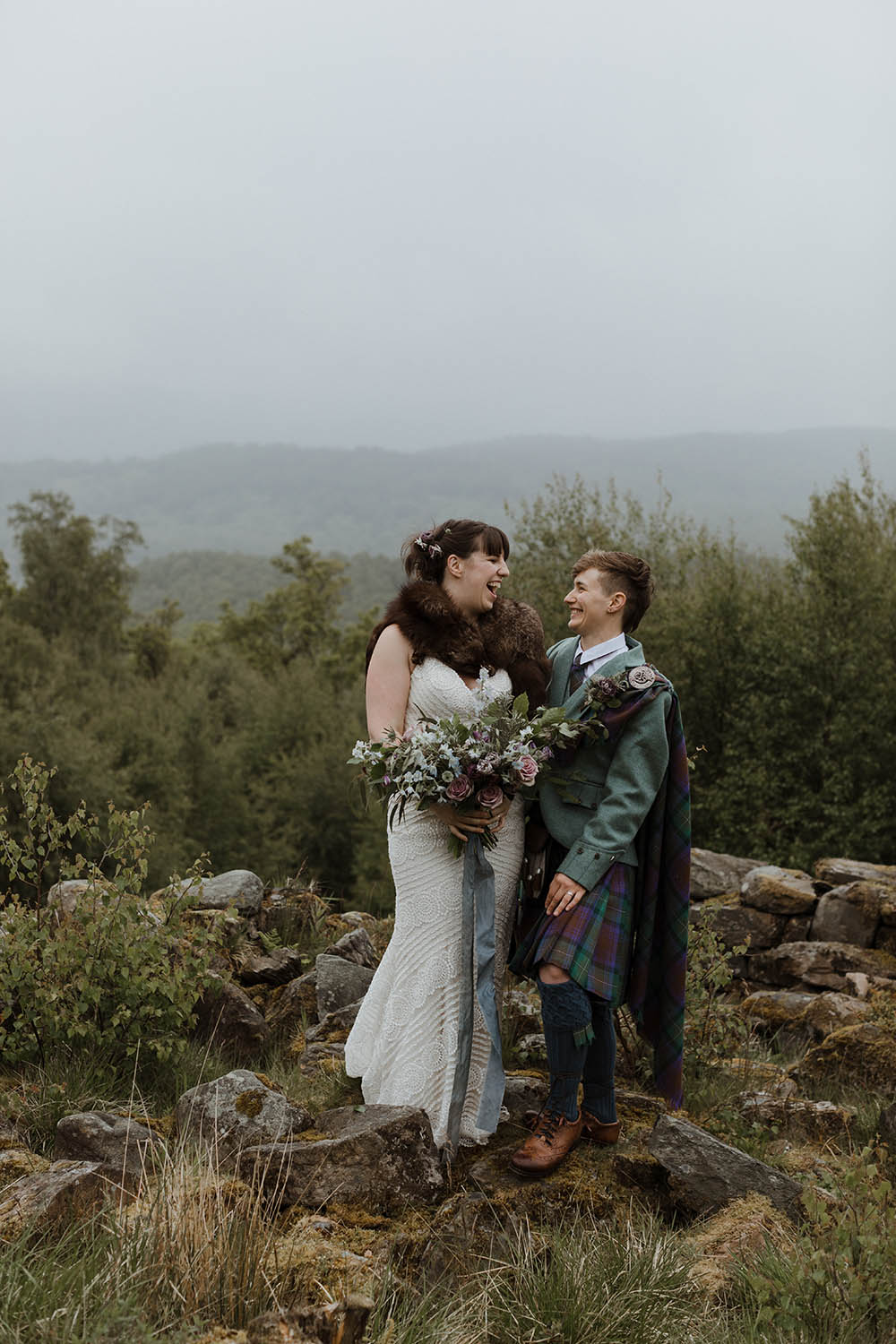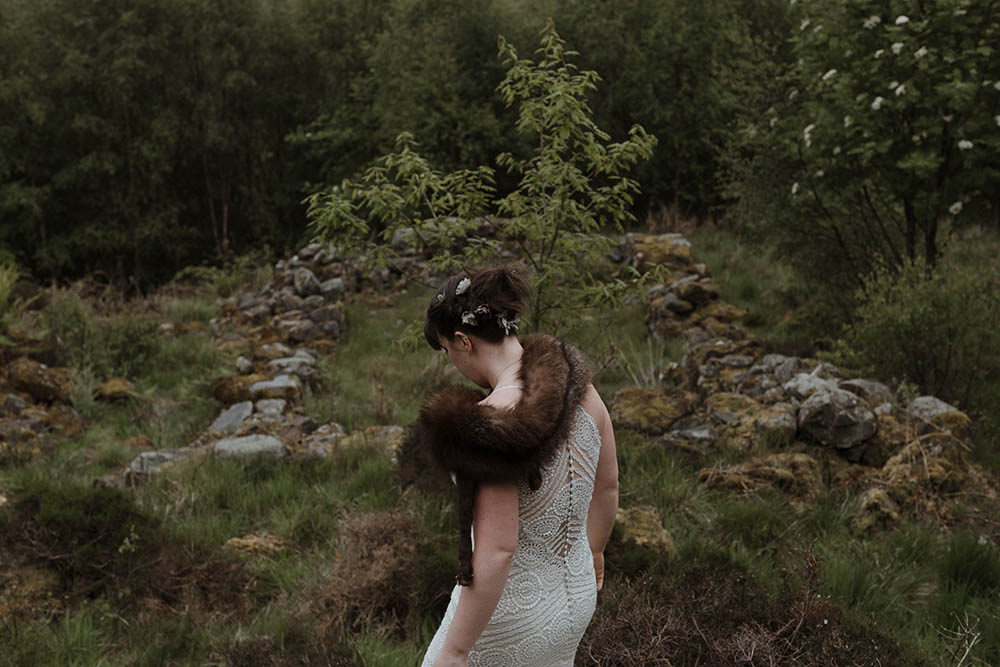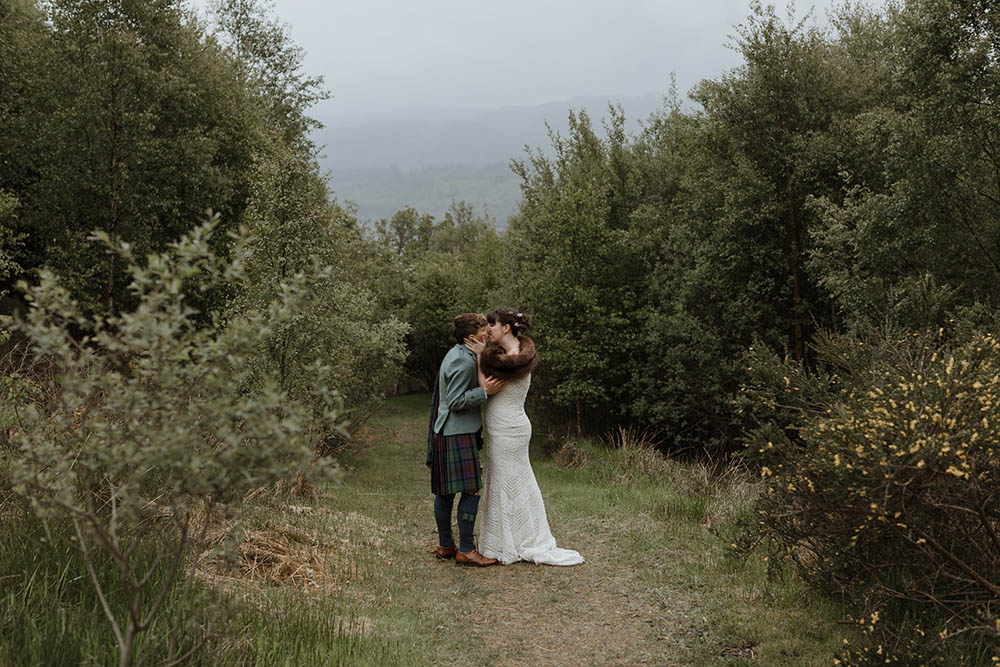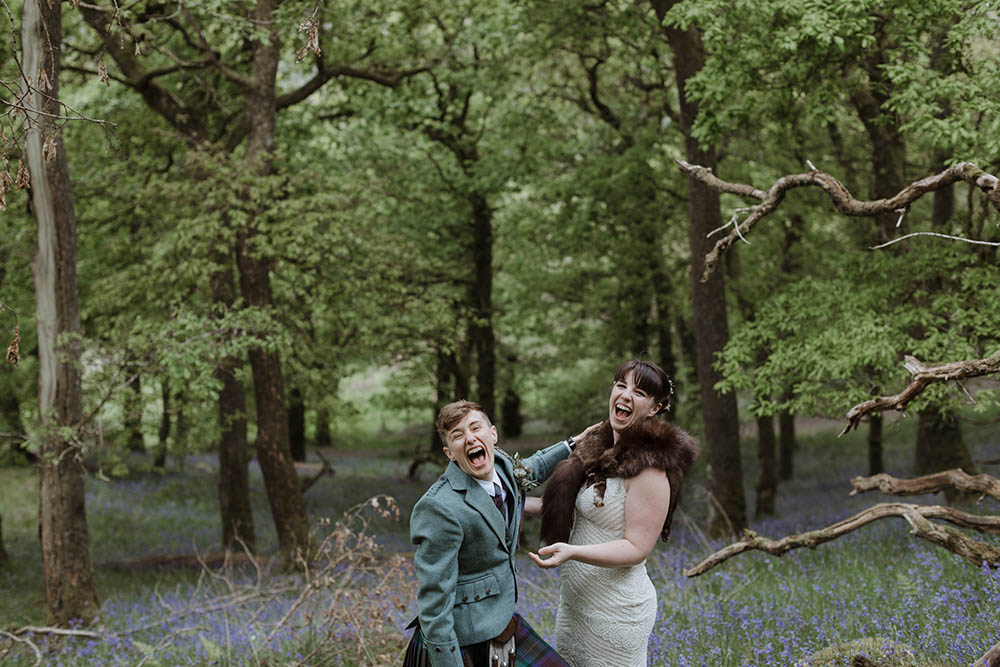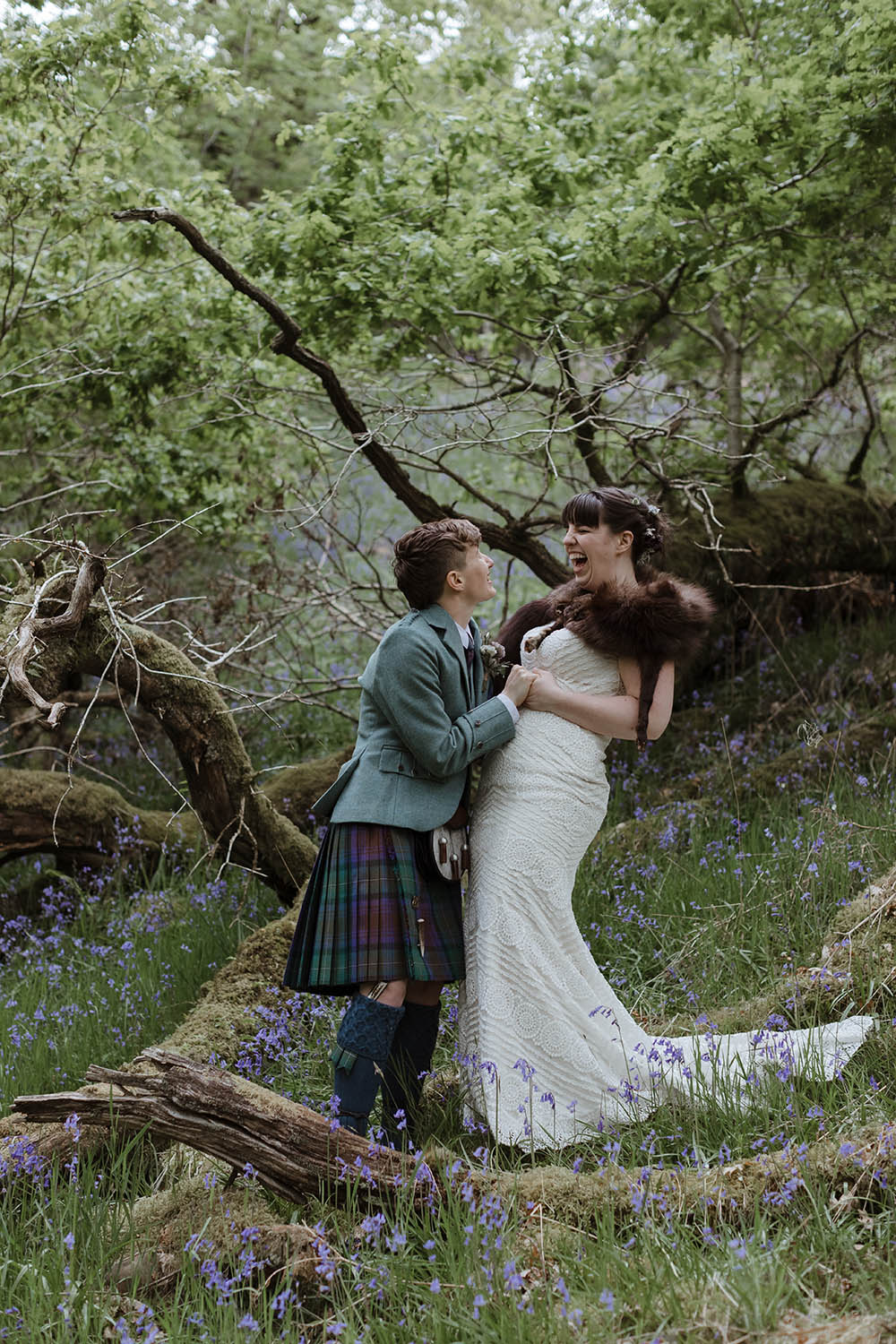 The couple have no regrets about eloping. The day was incredibly meaningful and personal to them, and they shaped it exactly how they wanted it.
"Within the perspective of being gay, eloping gave us the opportunity to create a wedding experience without direct social pressures," adds Megan.
"Regardless if you're gay or not, if people want to celebrate their love, they should do it in a way that fully expresses themselves, their relationship, their community and their family. The elopement provides that space to have a cherished moment free of any other outside constraints and pressures."

Photographer: Caro Weiss | Videographer: Sugar 8 | Megan's dress: The Sample Rack, Philadelphia | Sara's kilt: USA Kilts, Spring City | Celebrant and hair stylist: Leigh Ferguson | Bagpiper: Keith Marshall | Quaich: Uig Pottery | Flowers: Wild Flower Workshop | Make-up: Sharon Stephen