Our Scottish Elopement: A lockdown-postponed wedding at Dunbar's Close, Edinburgh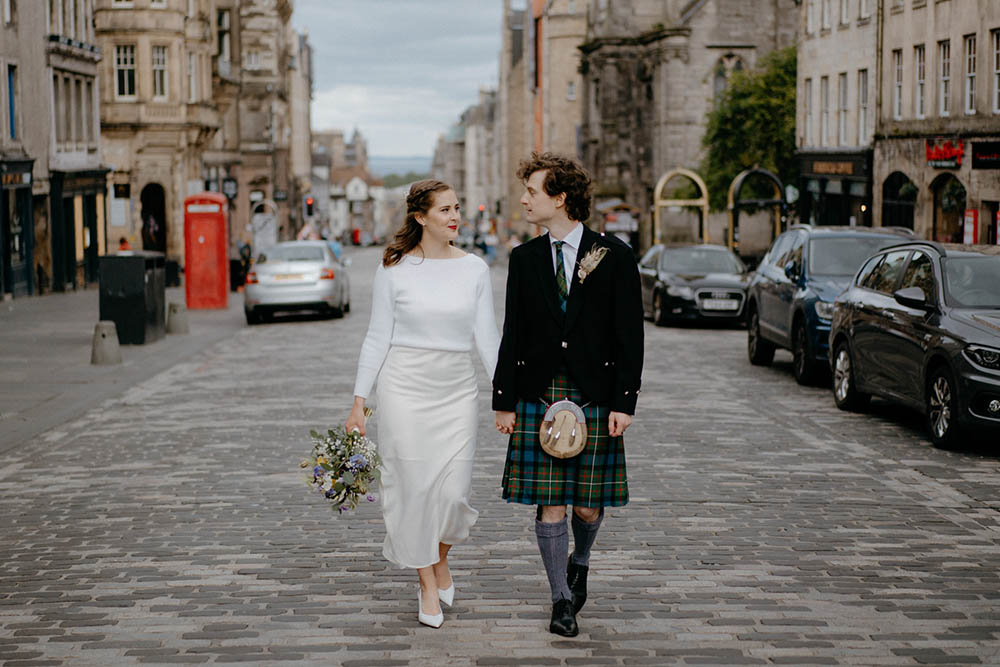 Our Scottish Elopement is a new series in which we explore the most beautiful locations to elope to in Scotland.
Our elopement series so far has focused on places you can elope to in the wonderful Scottish wilderness, from Glencoe to the Isle of Skye.
Today's post is a reminder that Scotland's cities make amazingly photogenic elopement locations too, as proven by super-stylish Canadian bride Sabrina and her partner Angus.
Sabrina and Angus were originally going to get married in May at Edinburgh's City Chambers, but they had to postpone their wedding due to Covid-19.
When the Scottish Government announced that outdoor weddings could go ahead, the pair switched their venue to Dunbar's Close, a leafy garden just off the Royal Mile, and got married on 4th July.
"Dunbar's Close is completely serene yet so close to the bustle of the Royal Mile," says Sabrina. "Once you get through the gates, there's a bit of a maze of sunken gardens until you get to a clearing at the back – this is where the ceremony was."
Keep reading to find out more about the couple's intimate city celebration, captured by the fabulous Lina Hayes Photography.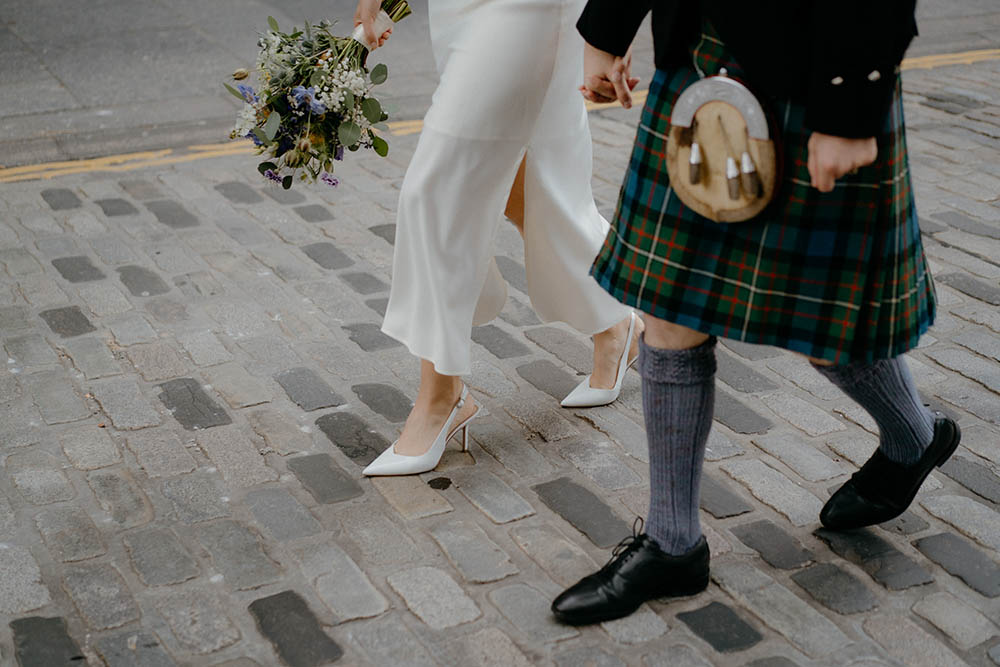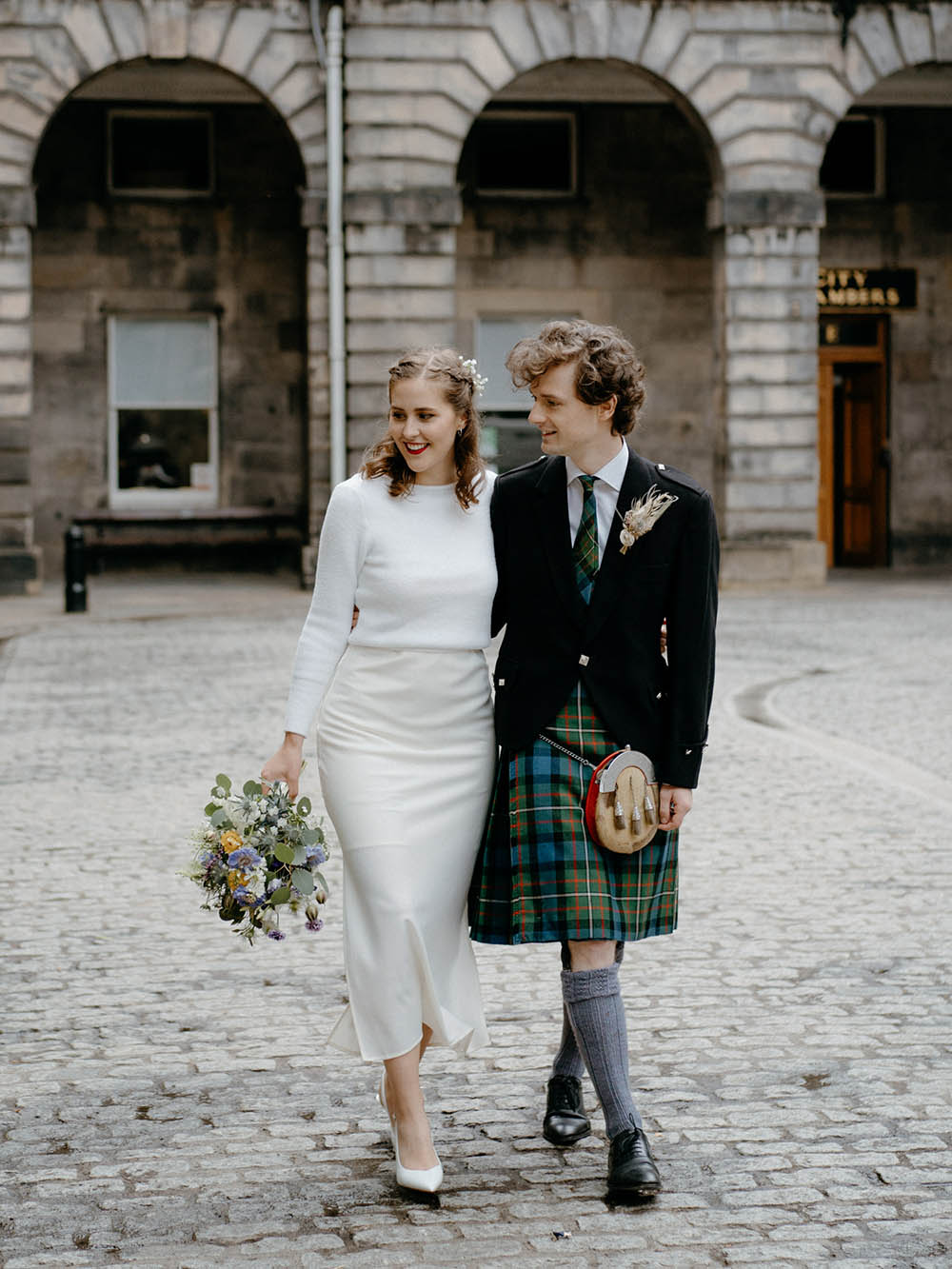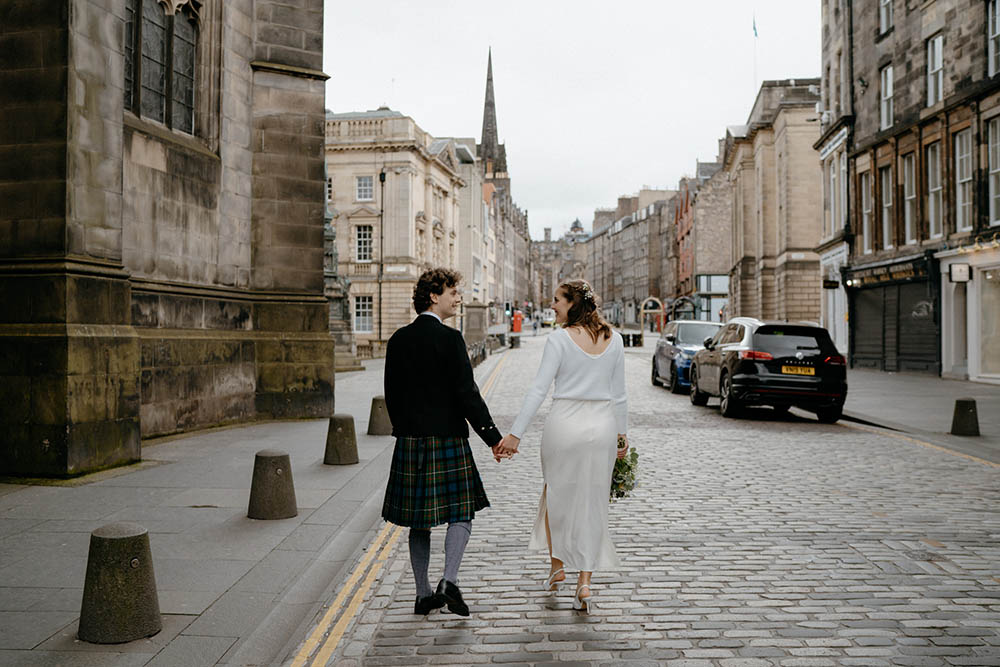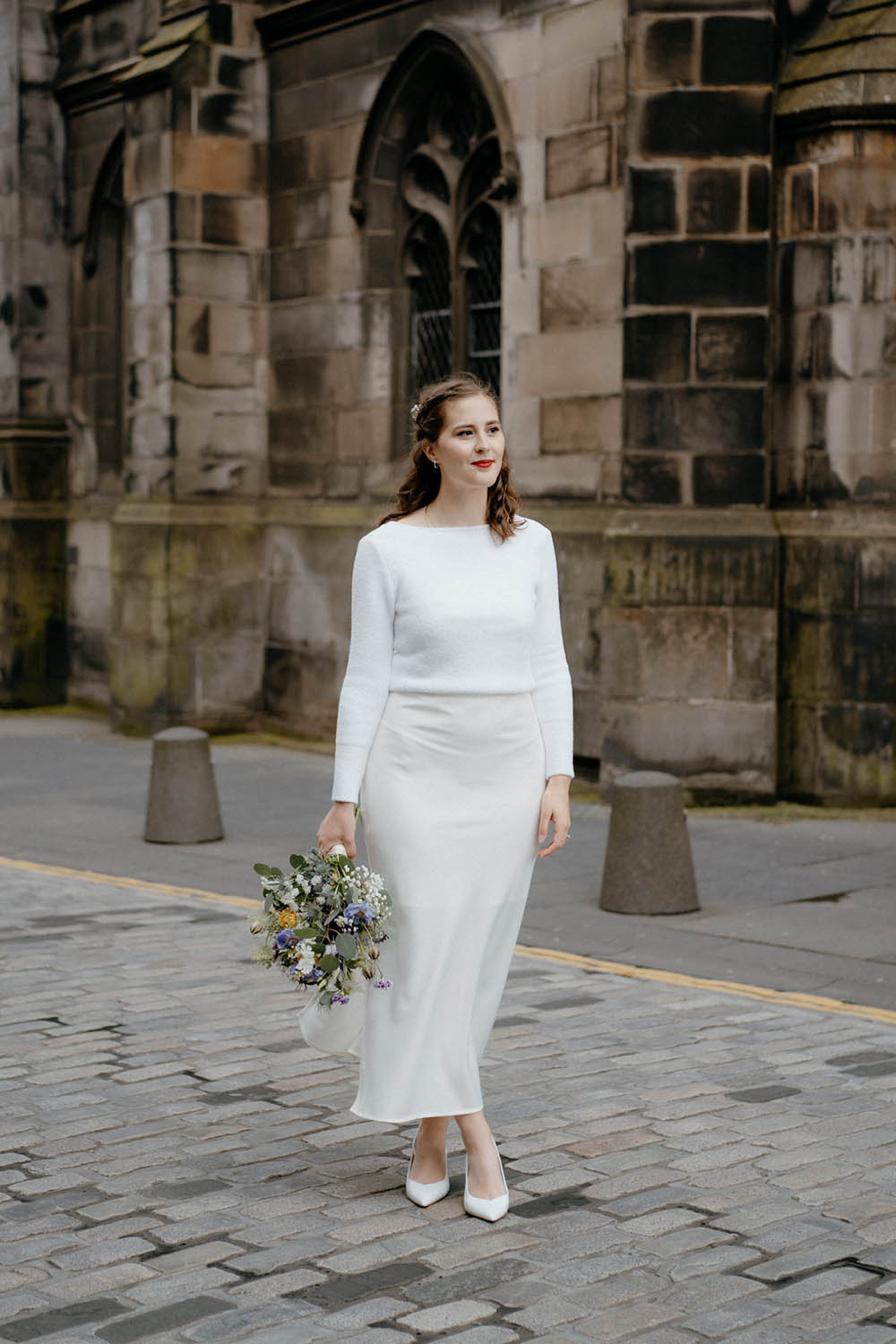 "Angus and I met on a blind (read: Tinder) date at Ox184 in February 2019," recalls Sabrina.
"By September I was telling my family that I would marry him, by November we were living together and by February, just two weeks before our anniversary, we were engaged."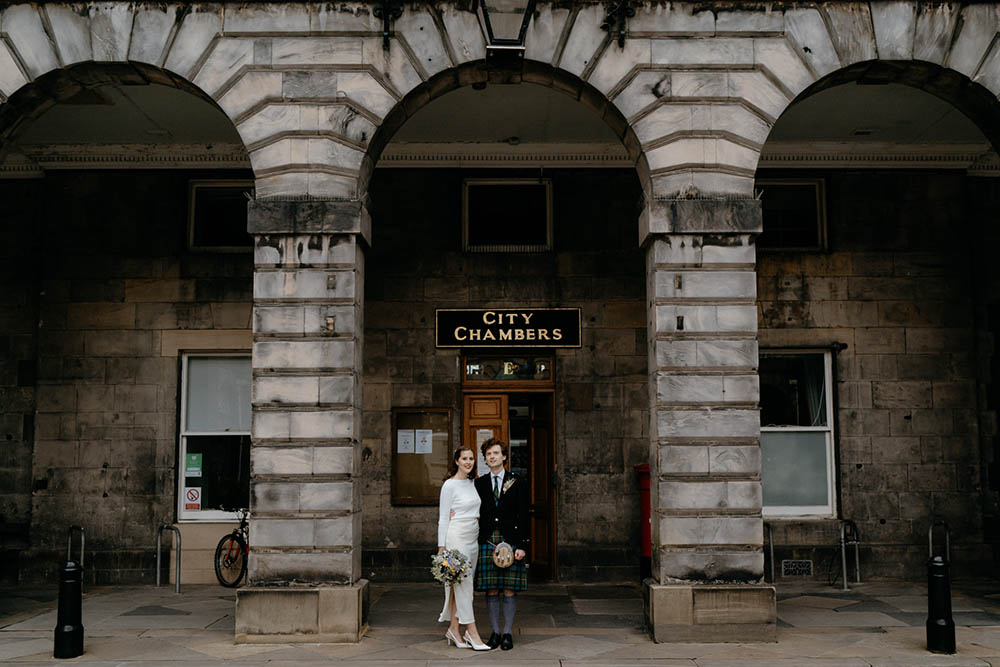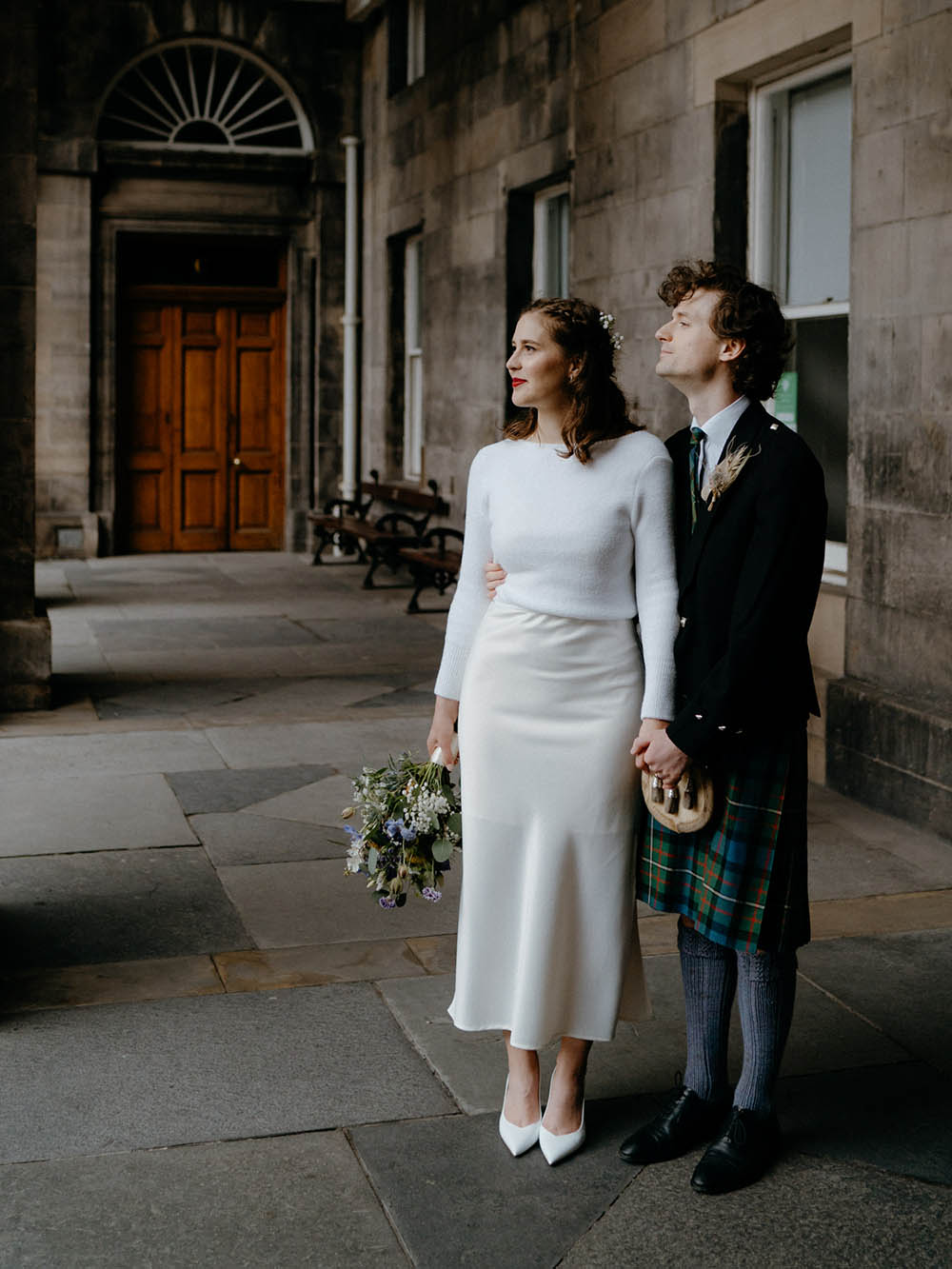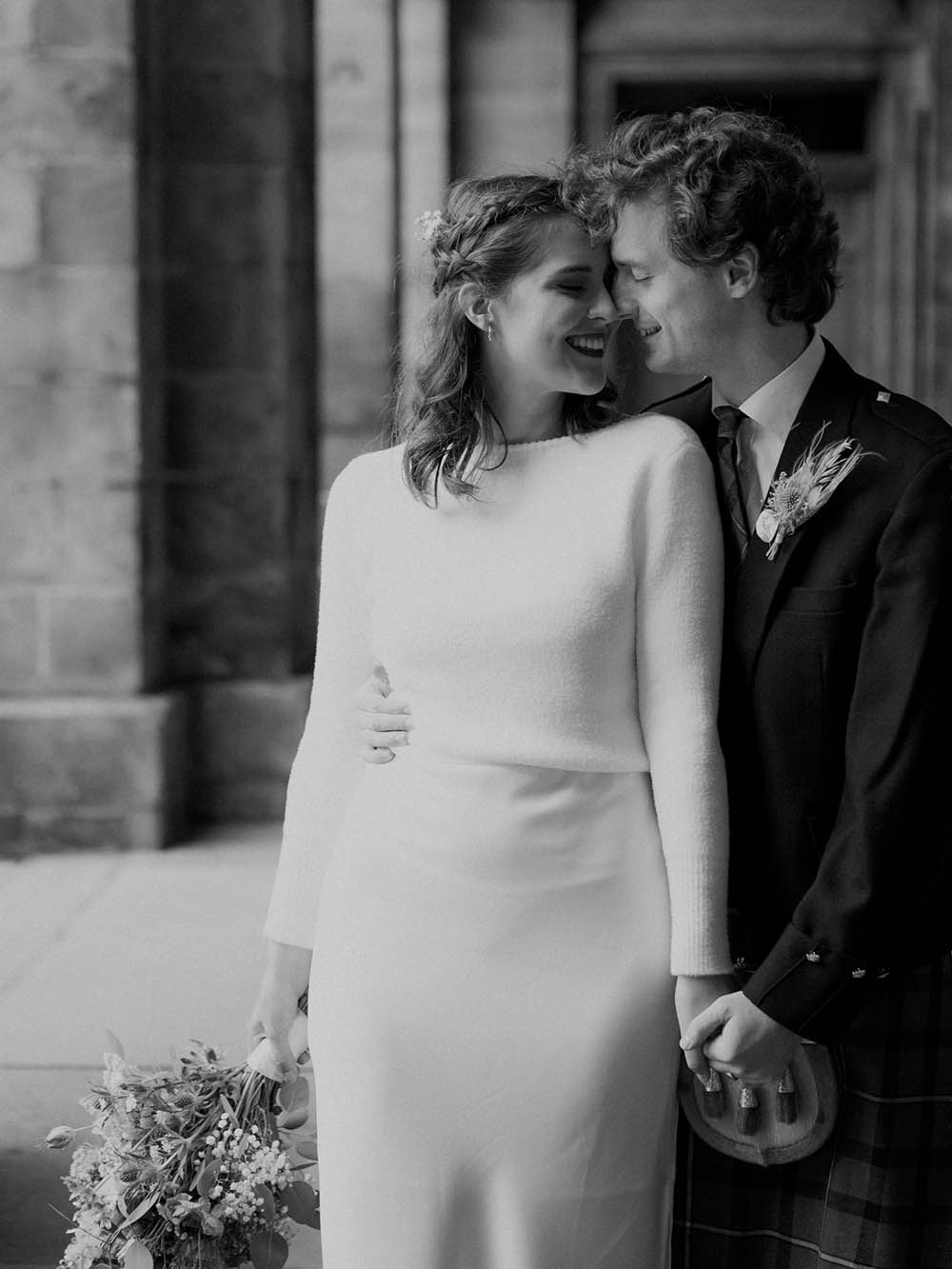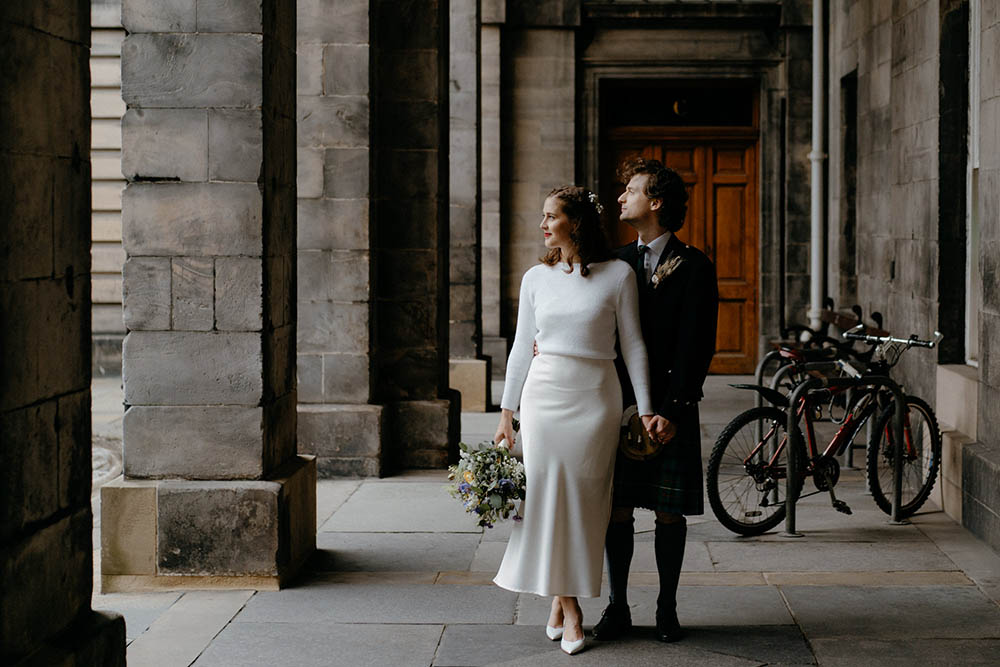 Angus tried to propose a few times to Sabrina; a couple of times he informally suggested they get married (to which Sabrina responded, "I'll marry you but not until you get on one knee!"), and on a third occasion bad weather got in the way of romantic proposal plans.
Fortunately, all went well for proposal number four.
"We went for dinner at McLaren's then walked back through Merchiston and stopped in Harrison Park, where we sat on 'our' bench.
"Angus handed me a card that professed his love and intention to marry me, and when I looked up he was (finally) on one knee!"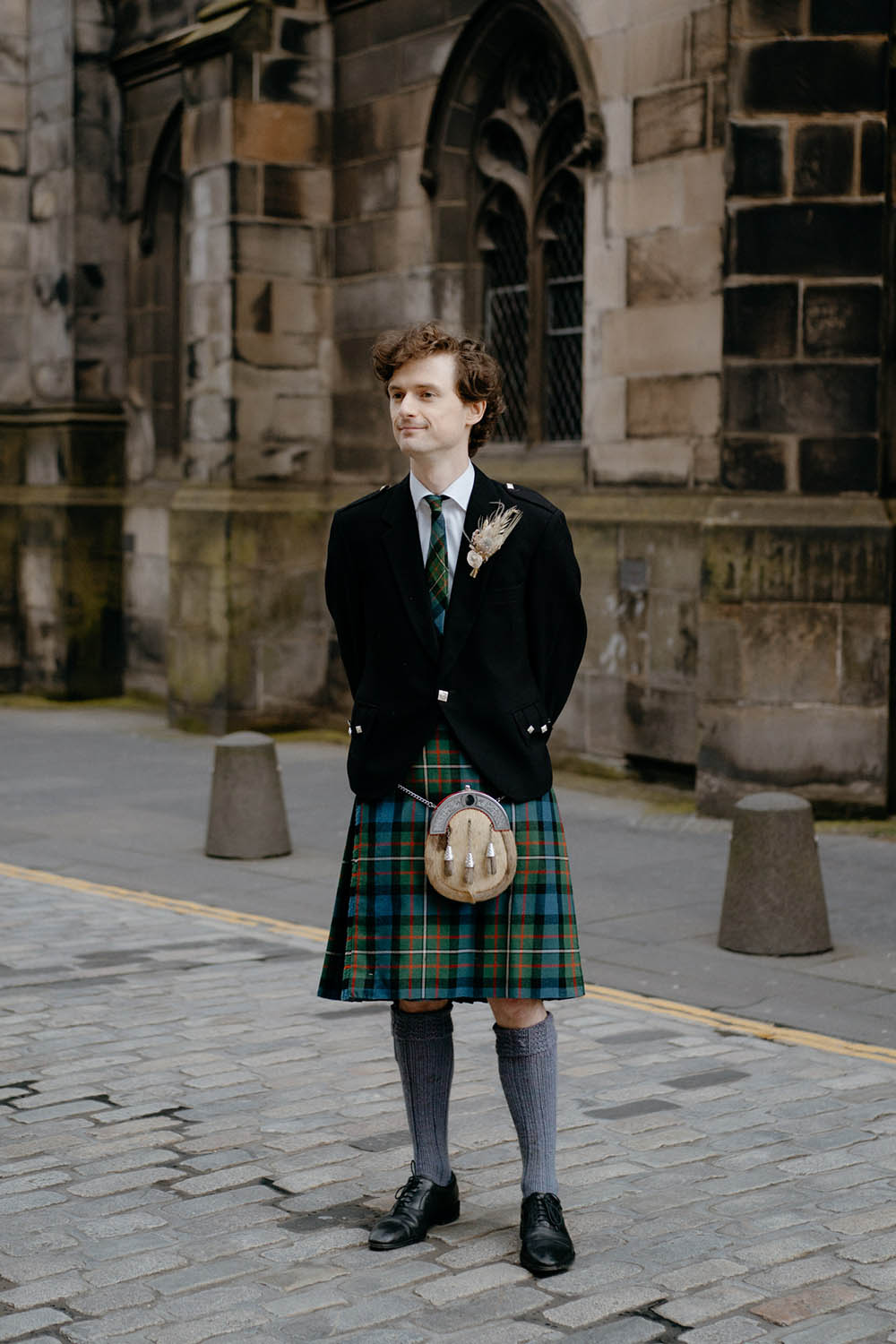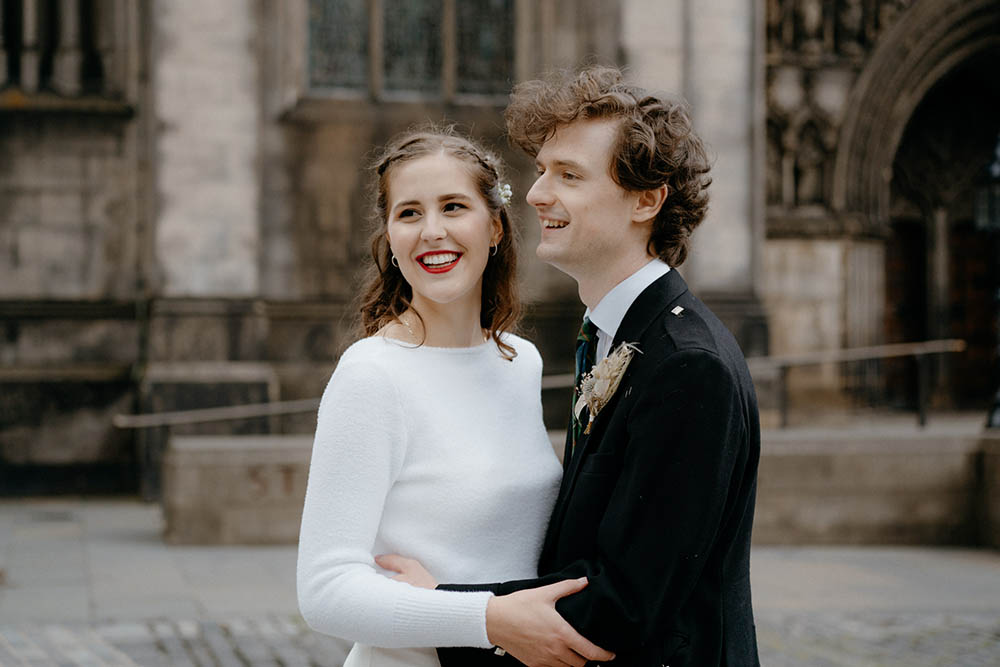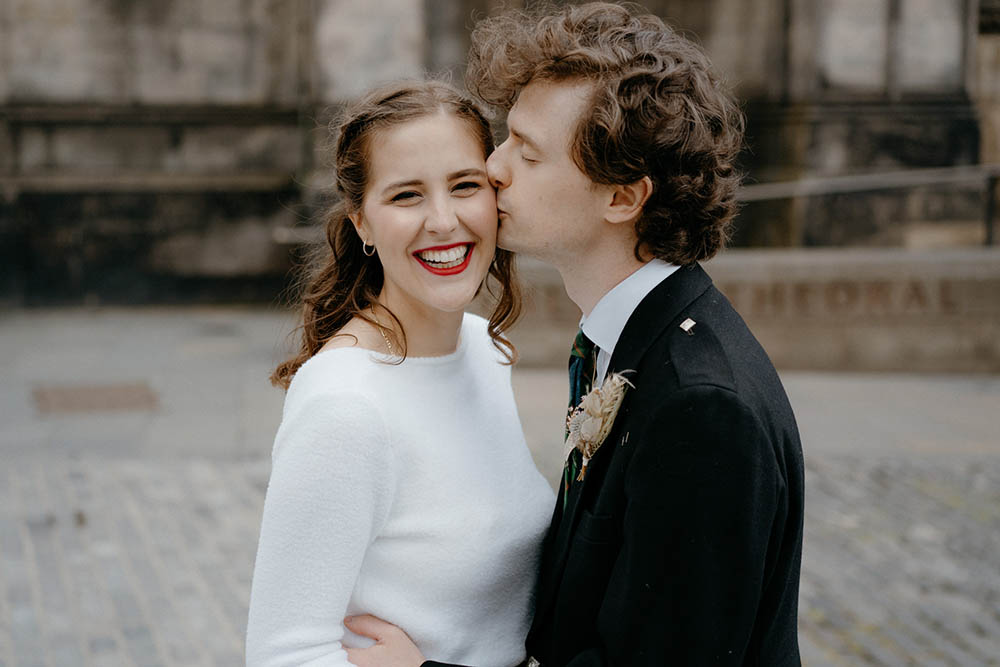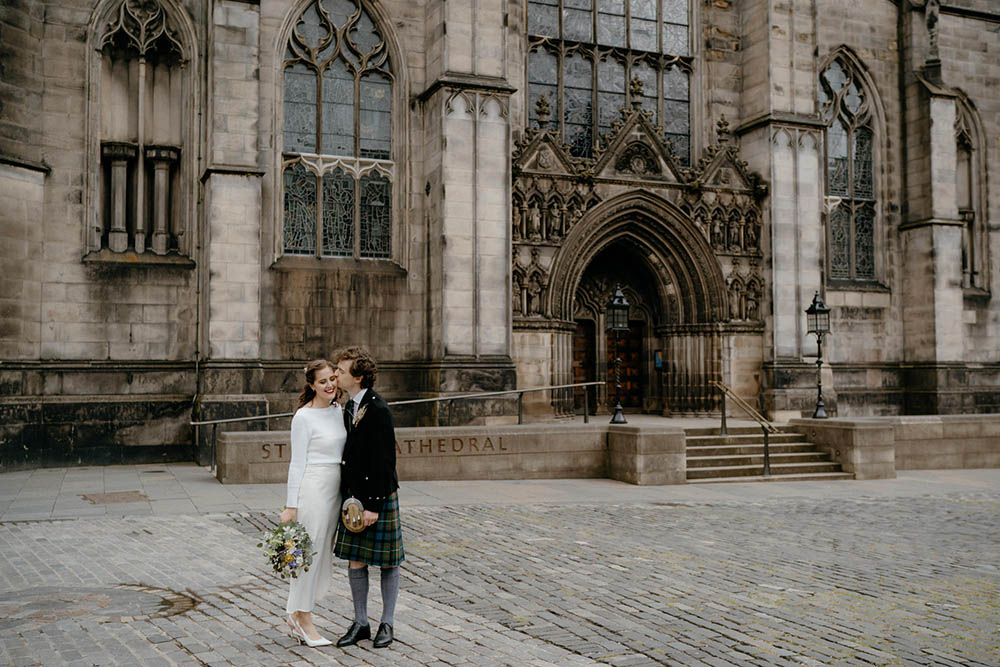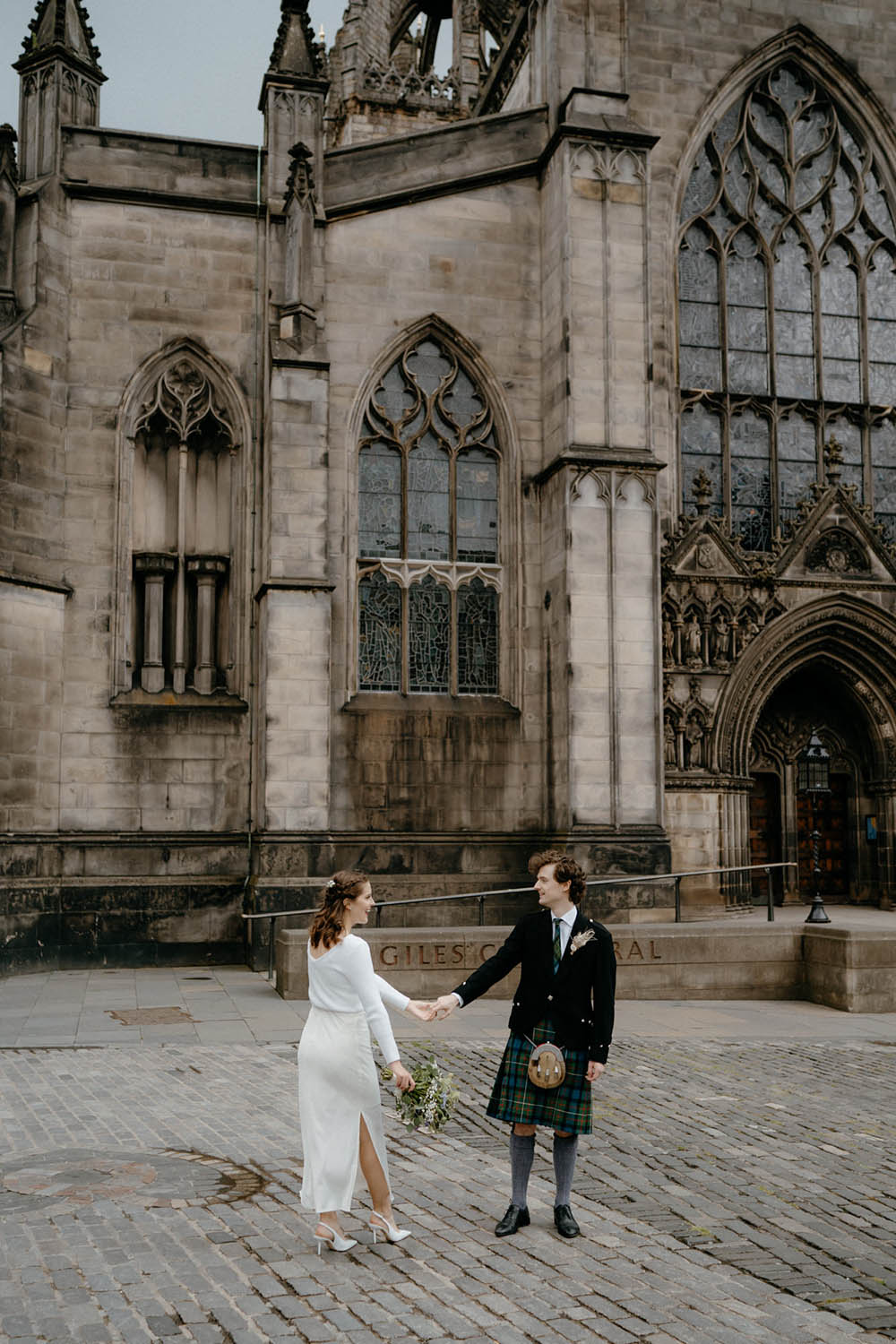 The couple had always envisaged having an intimate wedding, but Sabrina admits it started to grow arms and legs.
"Slowly but surely, the conversation of a reception and who to invite would creep in. Neither of us wanted to have all of the attention, and there was a huge gap because none of my friends could afford to travel to Scotland just for a reception," says Sabrina.
"It was a struggle to balance out what we wanted with what we felt we had to do, and in the end having a lockdown wedding was such a blessing!"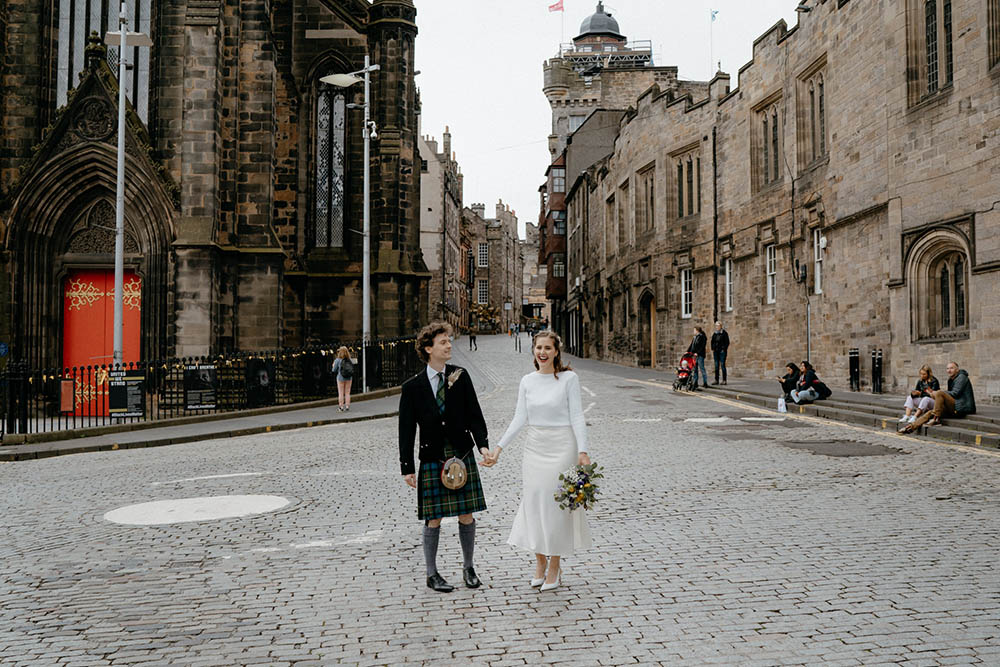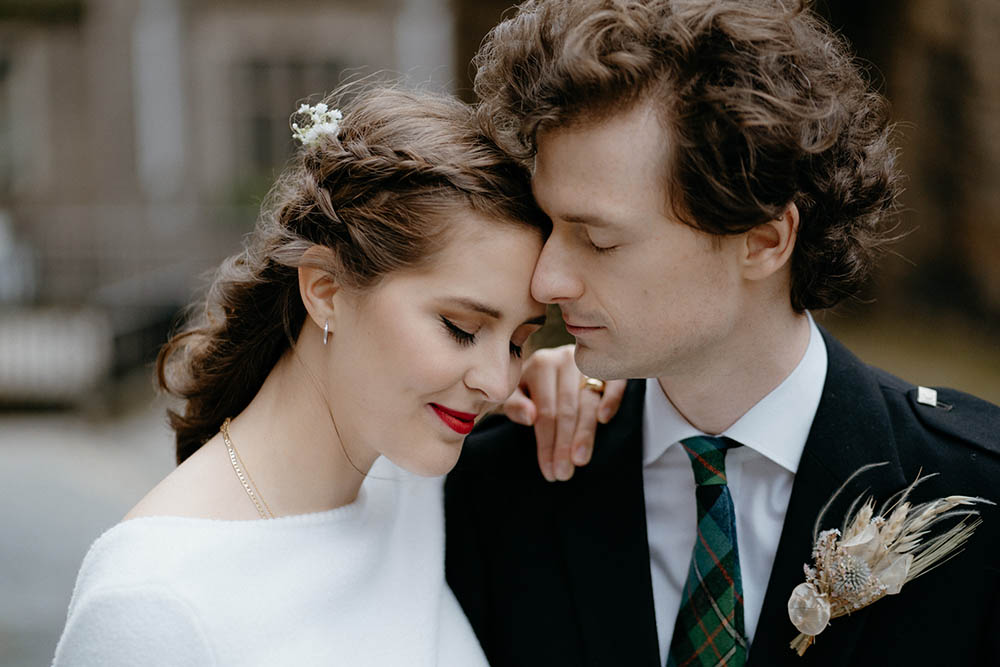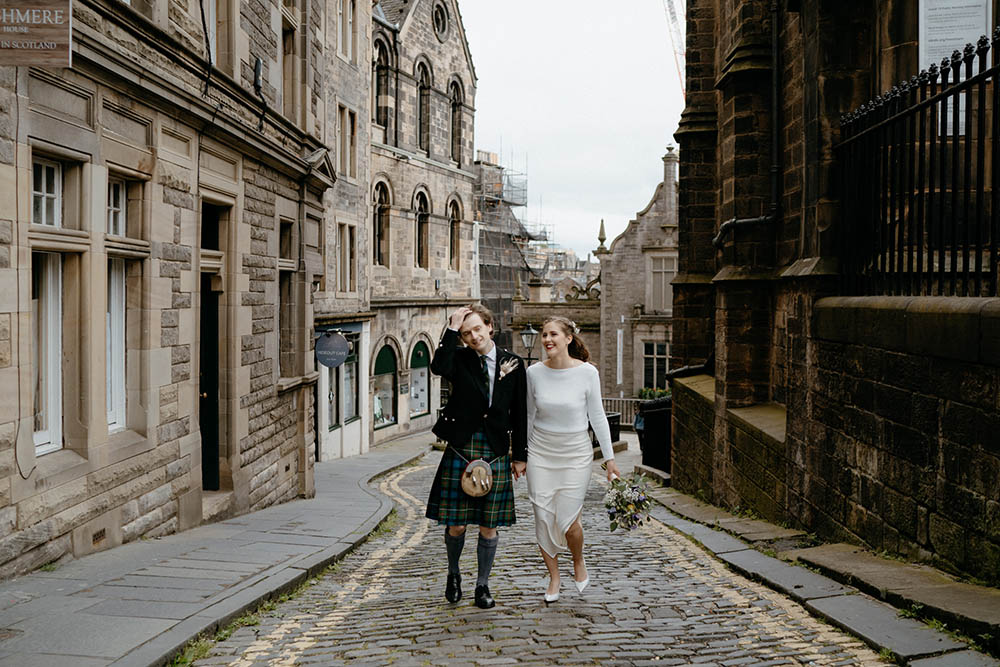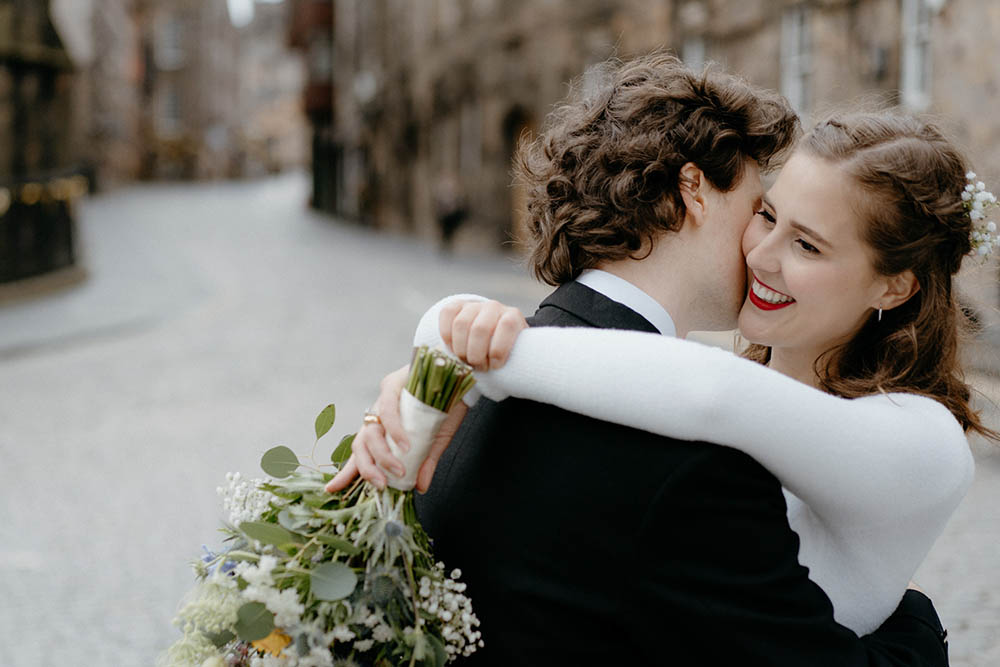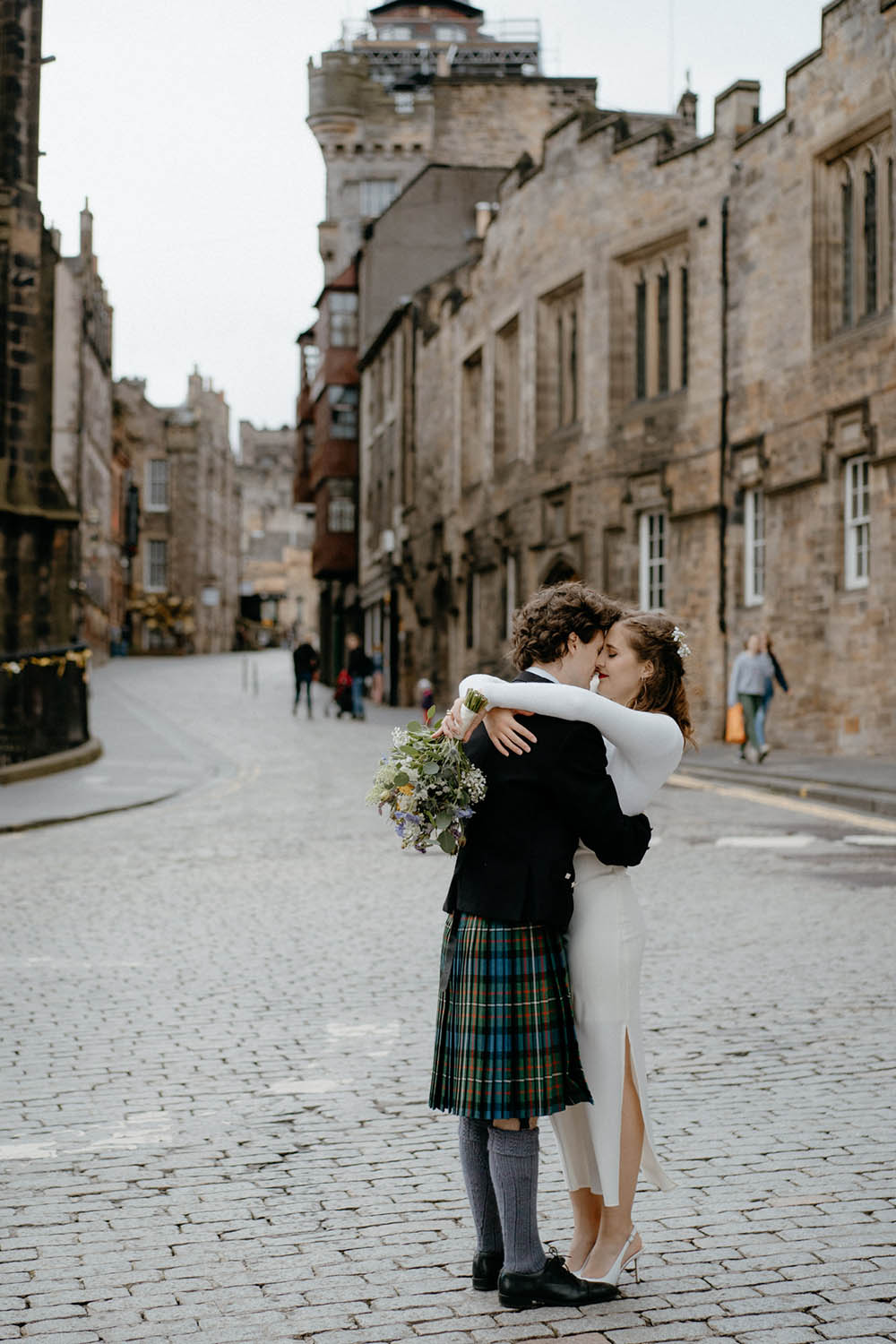 Of course, getting married in the midst of a global health pandemic had its disadvantages.
"There were a lot of things we had to give up to get married during the pandemic: not seeing each other the night and morning before saying I do, having my father walk me down the aisle, plus hair stylists, nail bars, make-up artists, trying on dresses, getting ready with bridesmaids… pretty much all of what you expect from a typical wedding day," says Sabrina.
On the bright side, though, the couple made the most of the opportunity to support lots of local businesses.
"Everywhere we looked, these businesses went above and beyond.
"My sister-in-law brought a whole picnic from an Elgin cafe that was over-the-top in the best way, my cake from The Pastry Section was beautiful and beyond delicious, and my Narcissus bouquet felt like the only thing I needed to feel and look like a bride.
"At the end of the day, even though we only had four guests, our wedding felt like it had a whole community."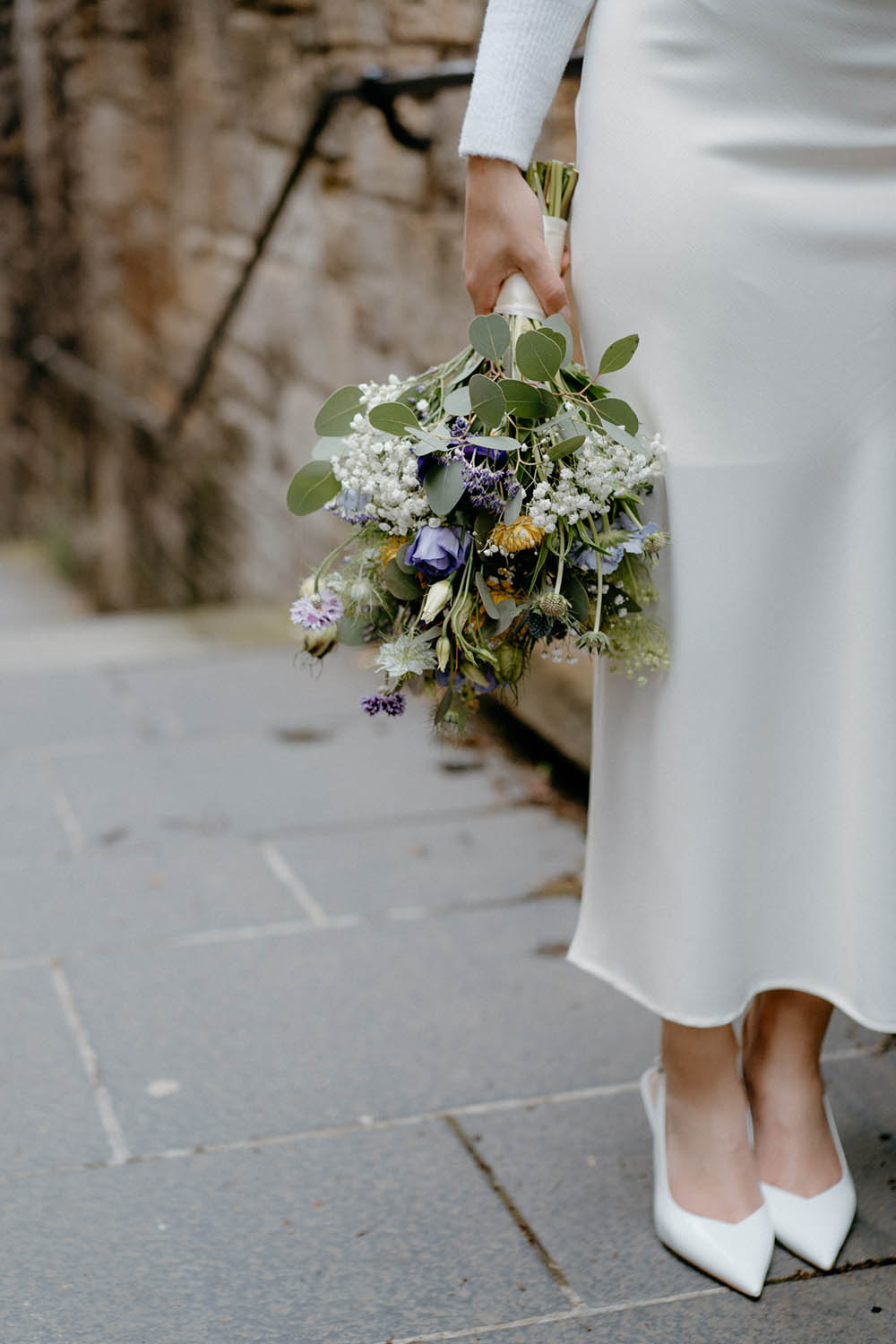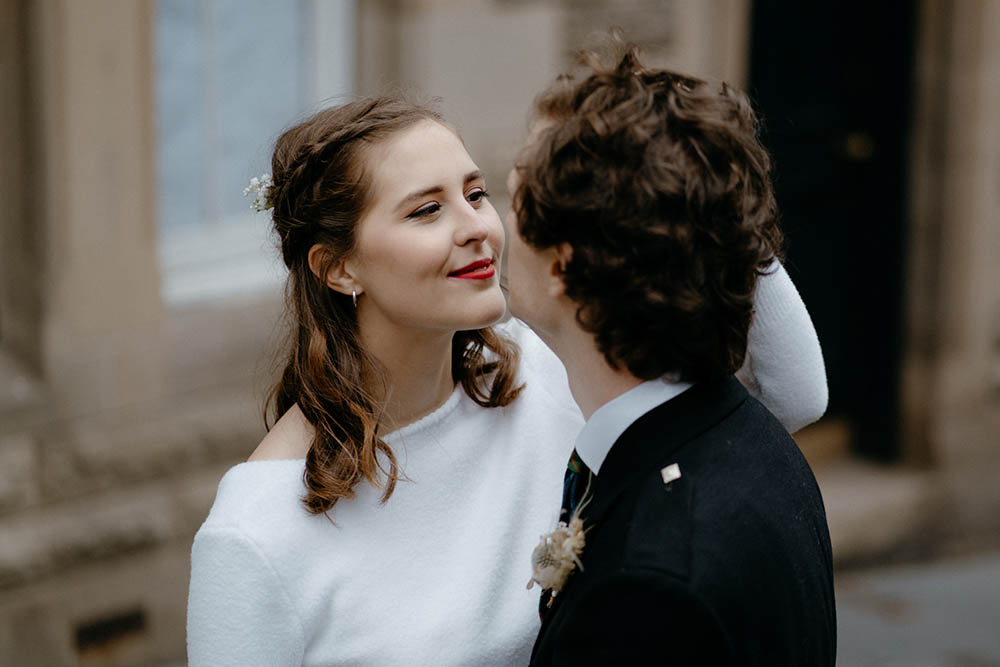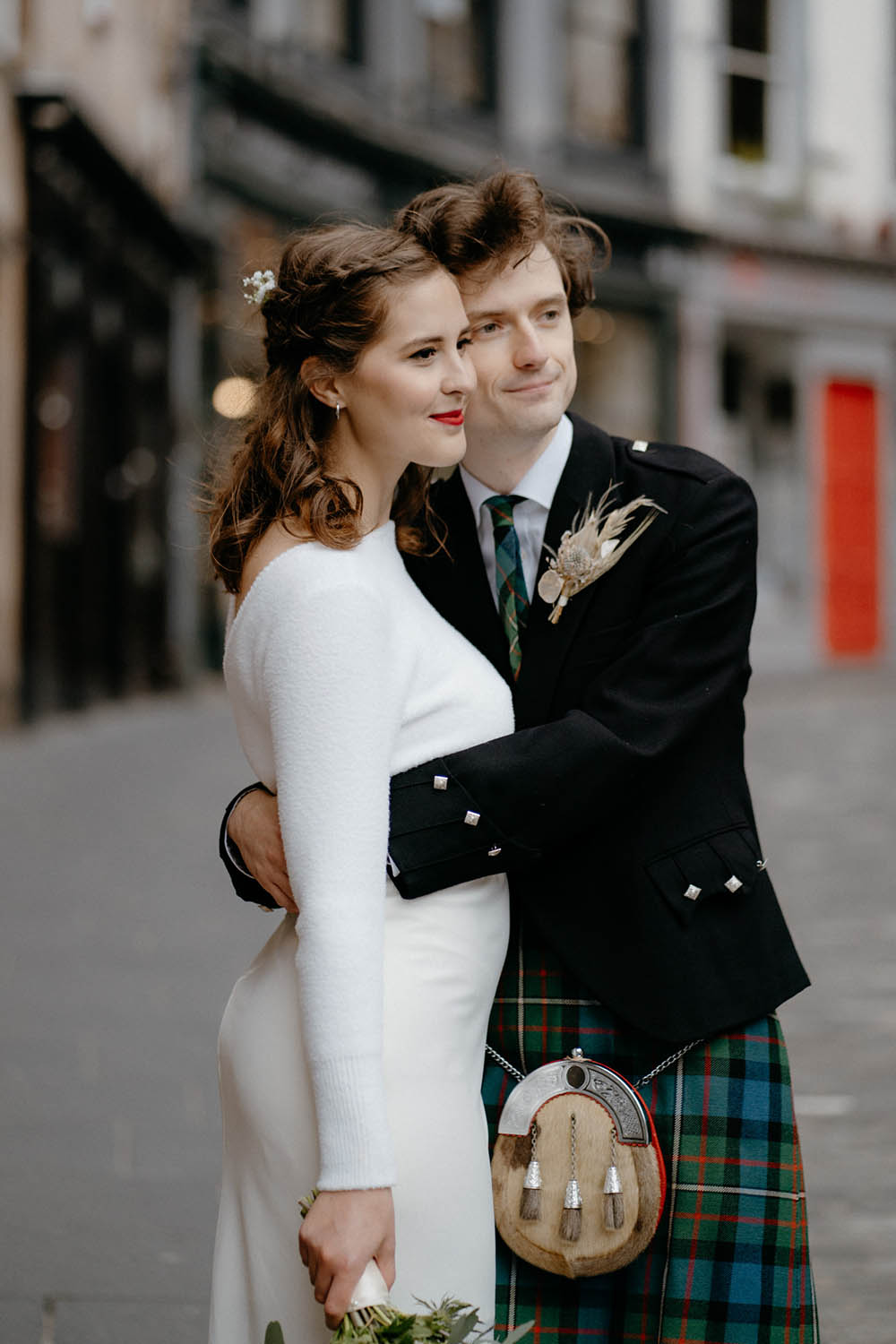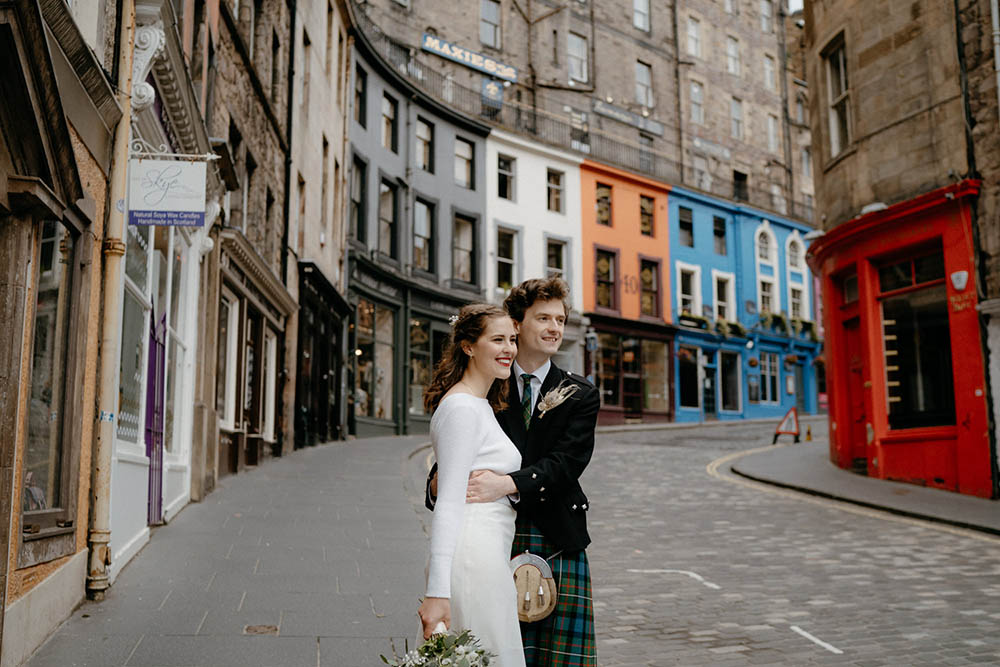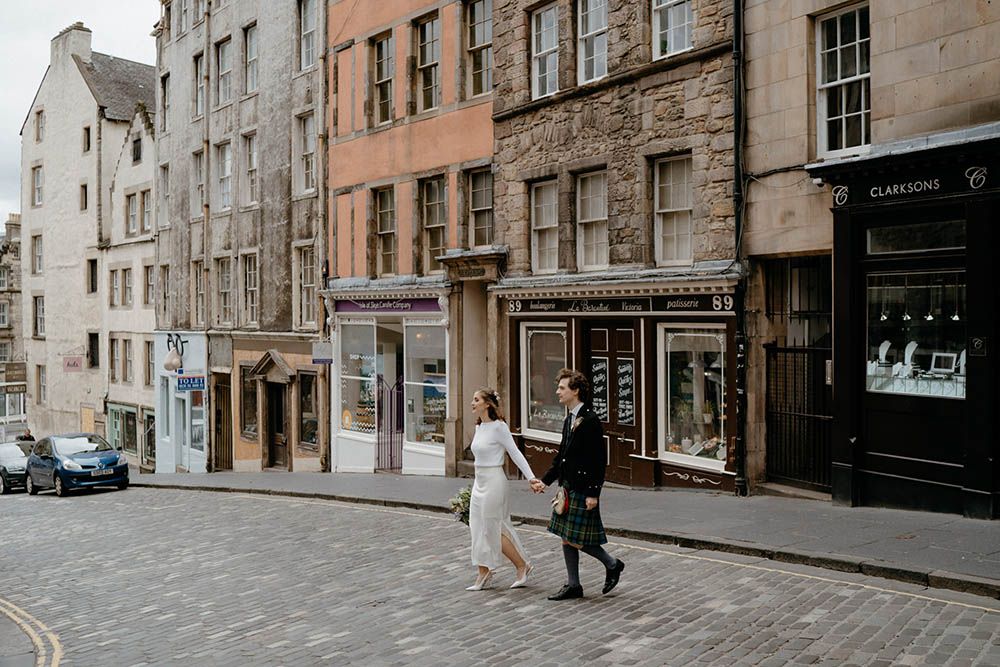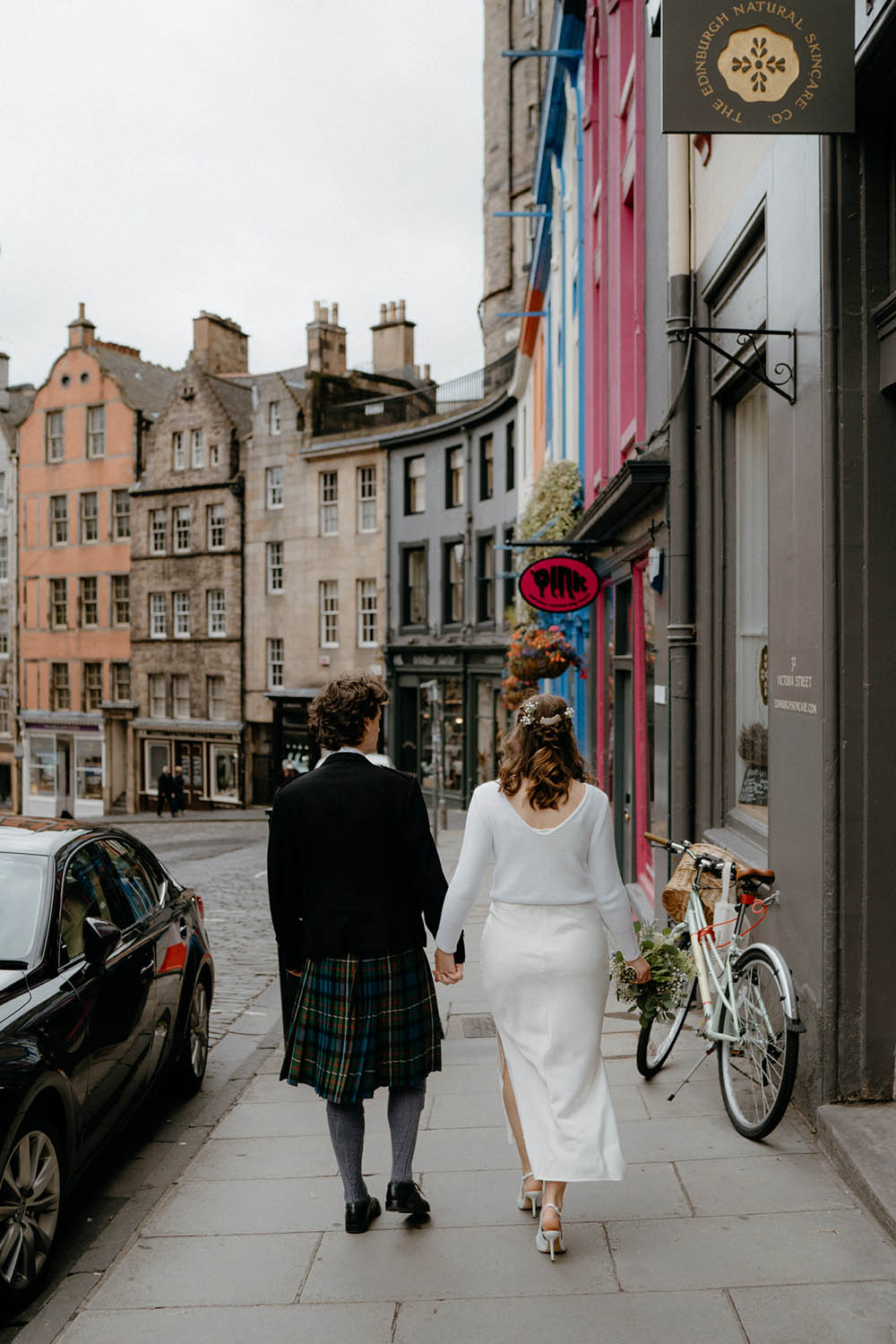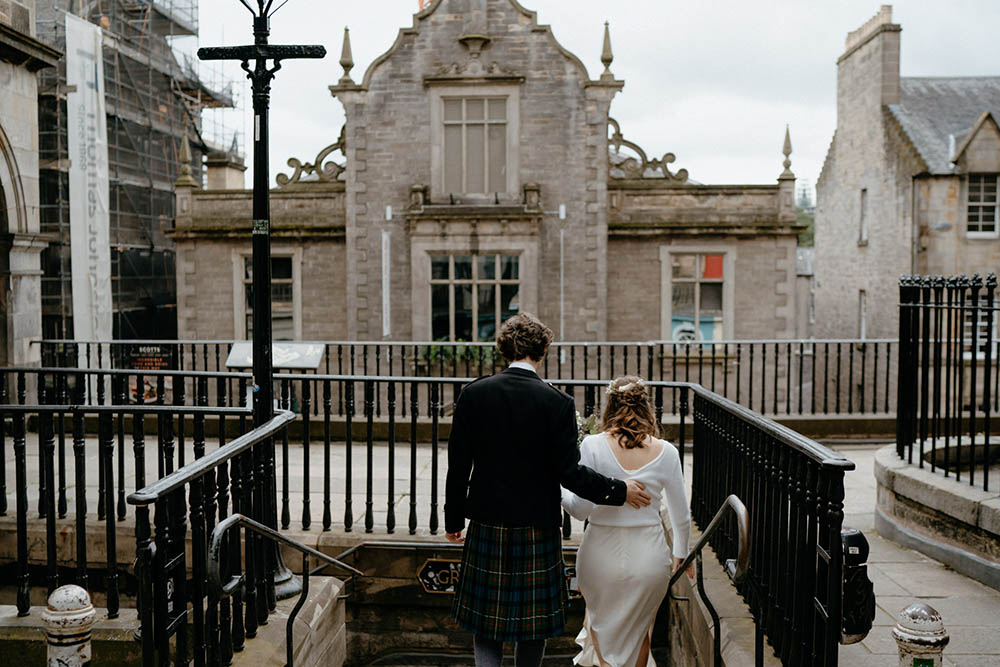 Angus and Sabrina's wedding day began with a walk around Gorgie, where they stopped in at Tea and Sympathy for tea and coffee.
Back at home, Sabrina did her own hair and make-up ("I sent photos of hairstyle options to everyone who couldn't be there in person to advise: my sisters, my mom, my cousin and my aunt all came together to vote for their favourite look!") then the couple got ready in separate rooms.
"Once I was all dressed, I went through to the other room where Angus and I had the least photogenic 'first look' ever. But at least we got a first look."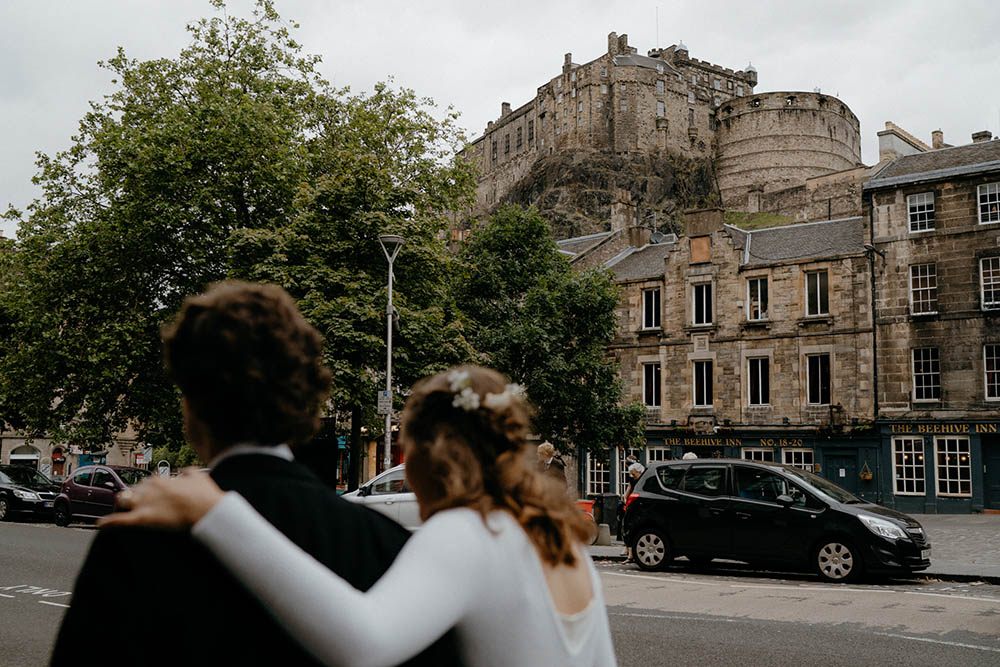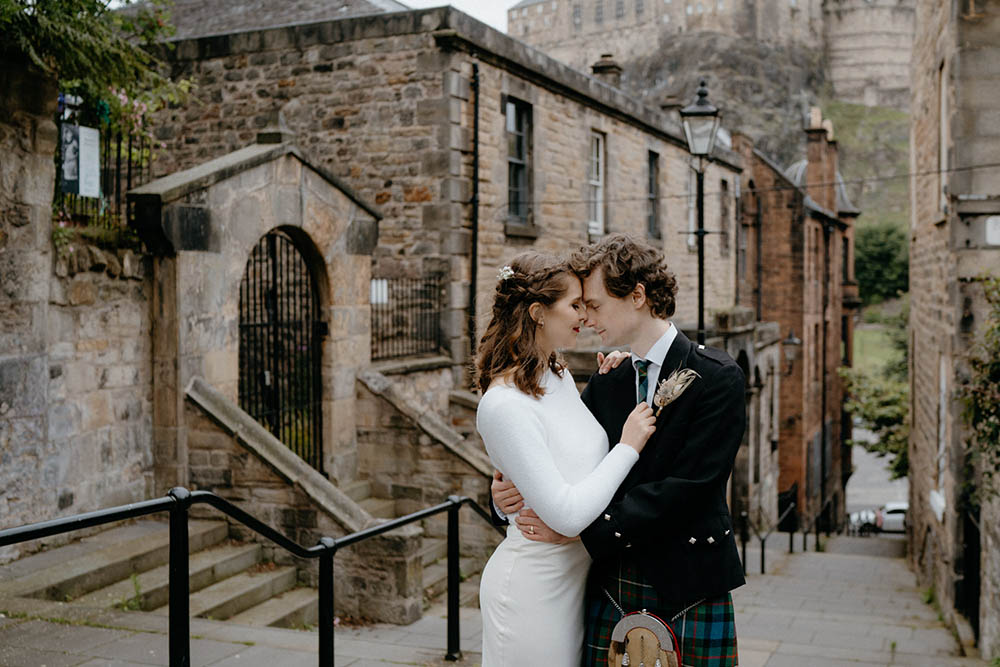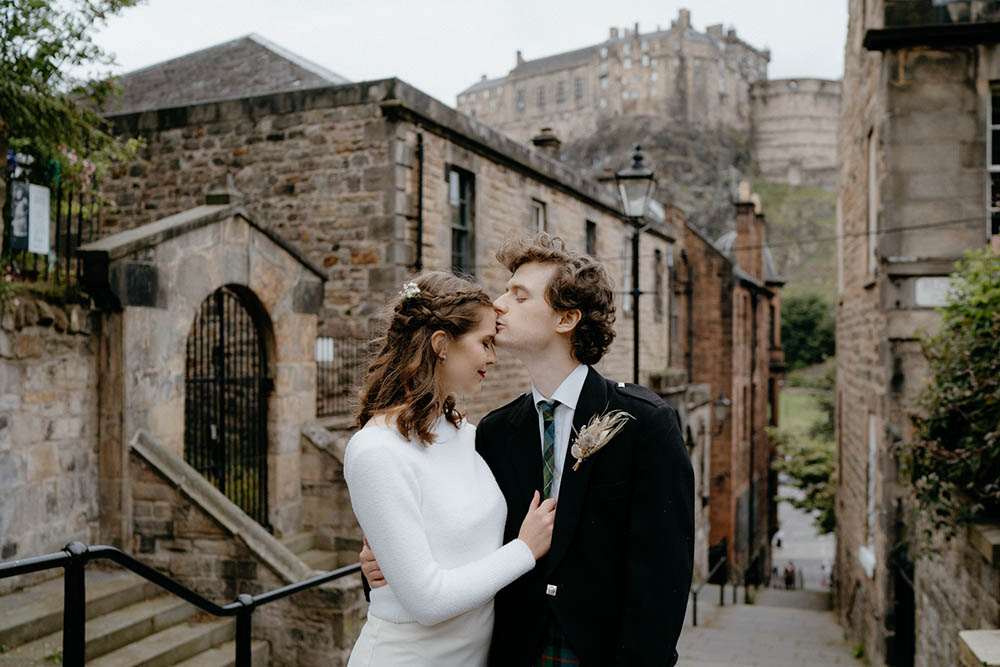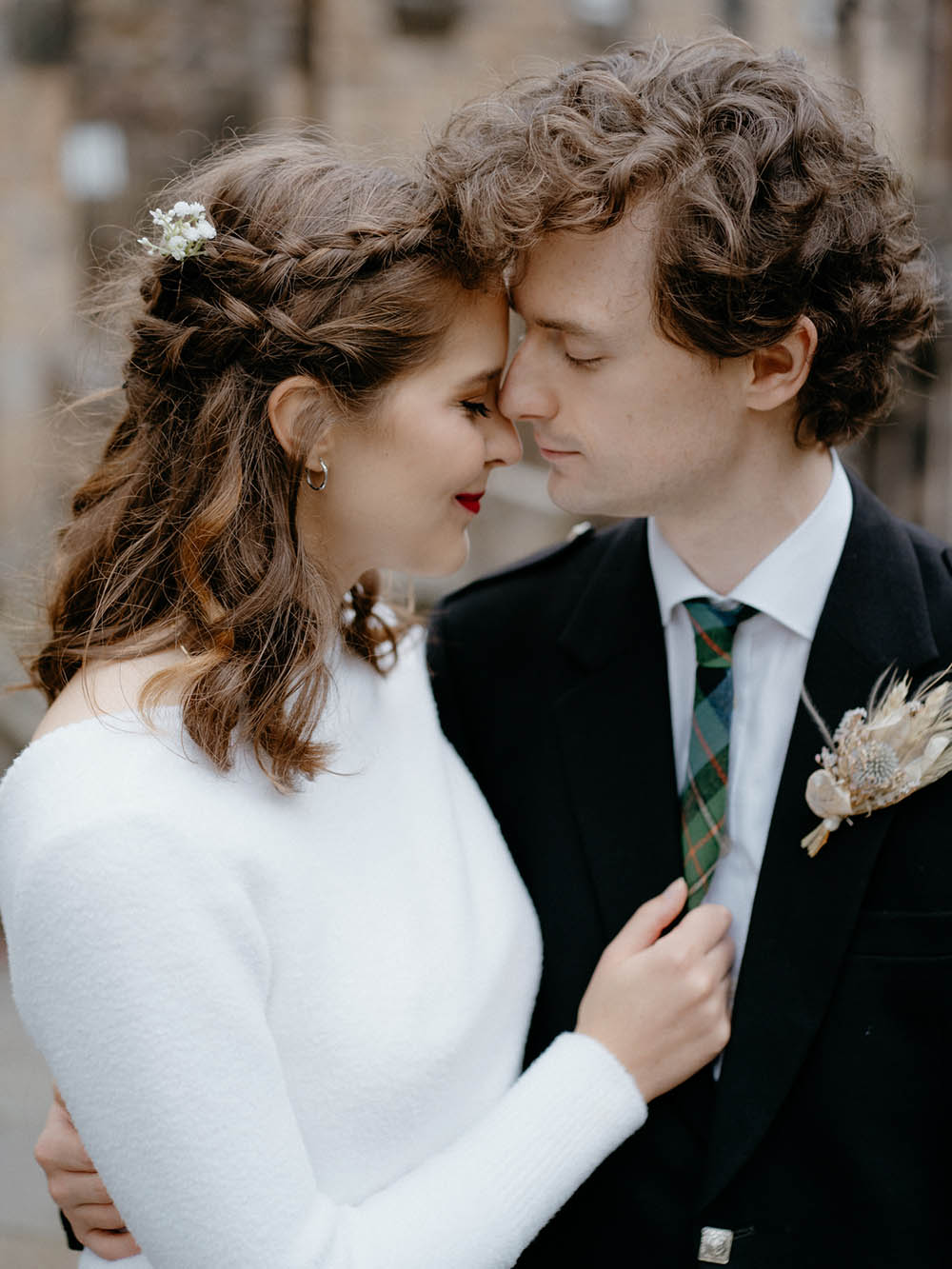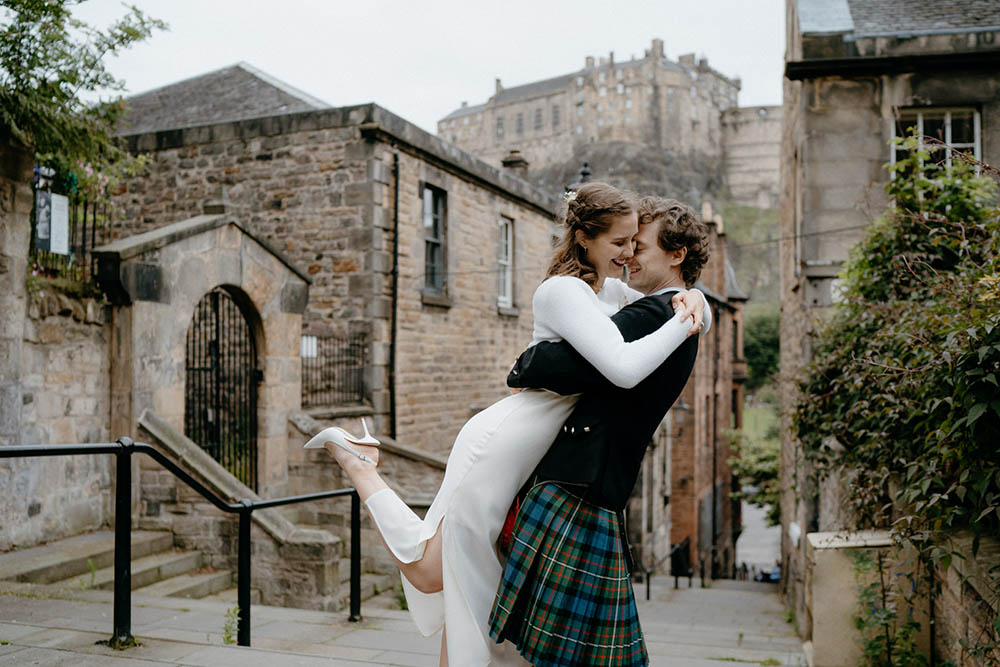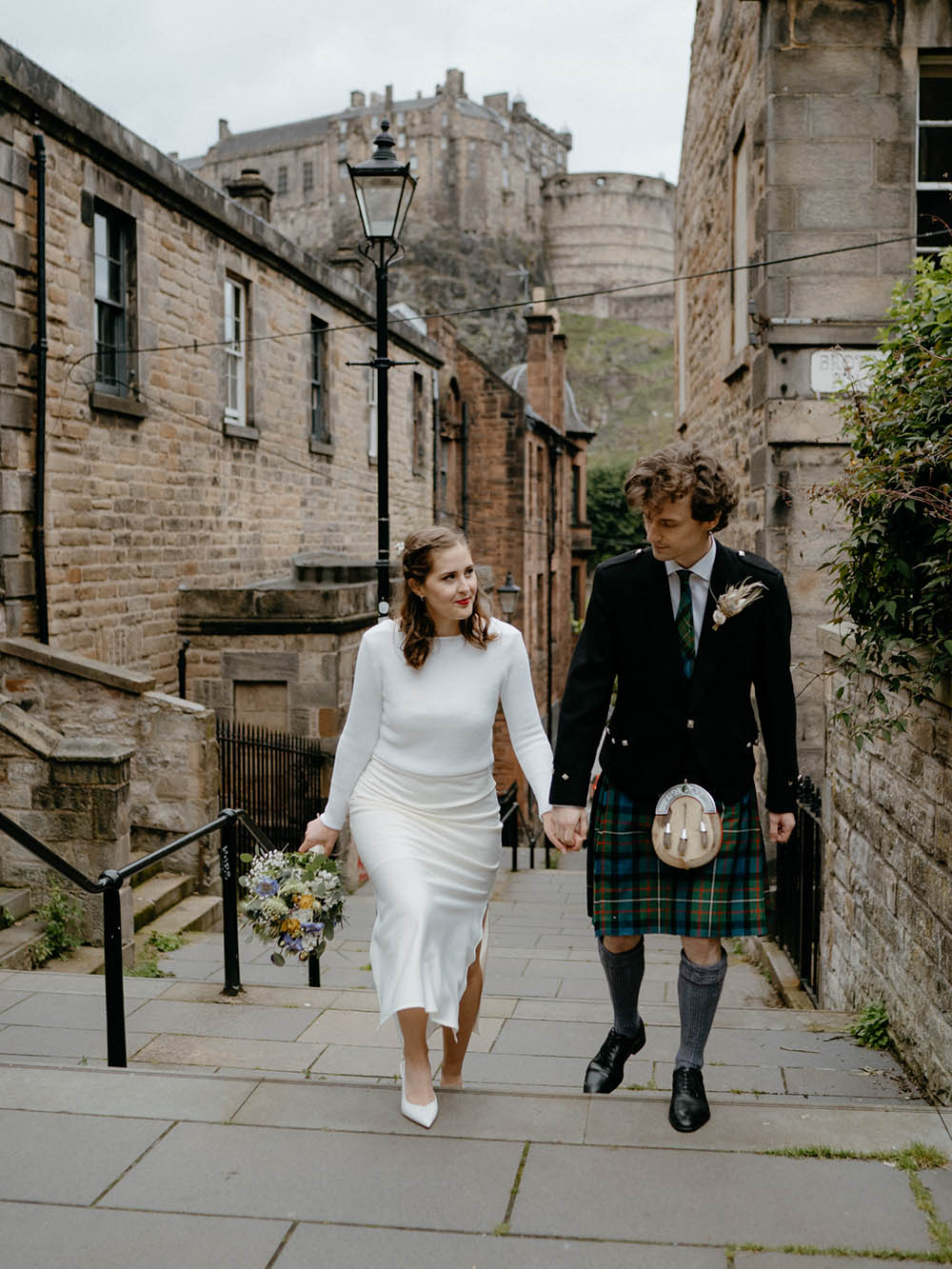 The pair took a taxi (wearing masks, of course) to their ceremony, where they met with their only guests: Angus's parents, his sister and her partner.
Their ceremony was live-streamed on Facebook so that Sabrina's parents, as well as other friends and family, could witness their marriage.
Afterwards, it was photo time!
The newlyweds met with their photographer Lina ("She manages to capture not just the couple, but the mood of the day and the wedding itself") and took to the streets of the capital for a photography session.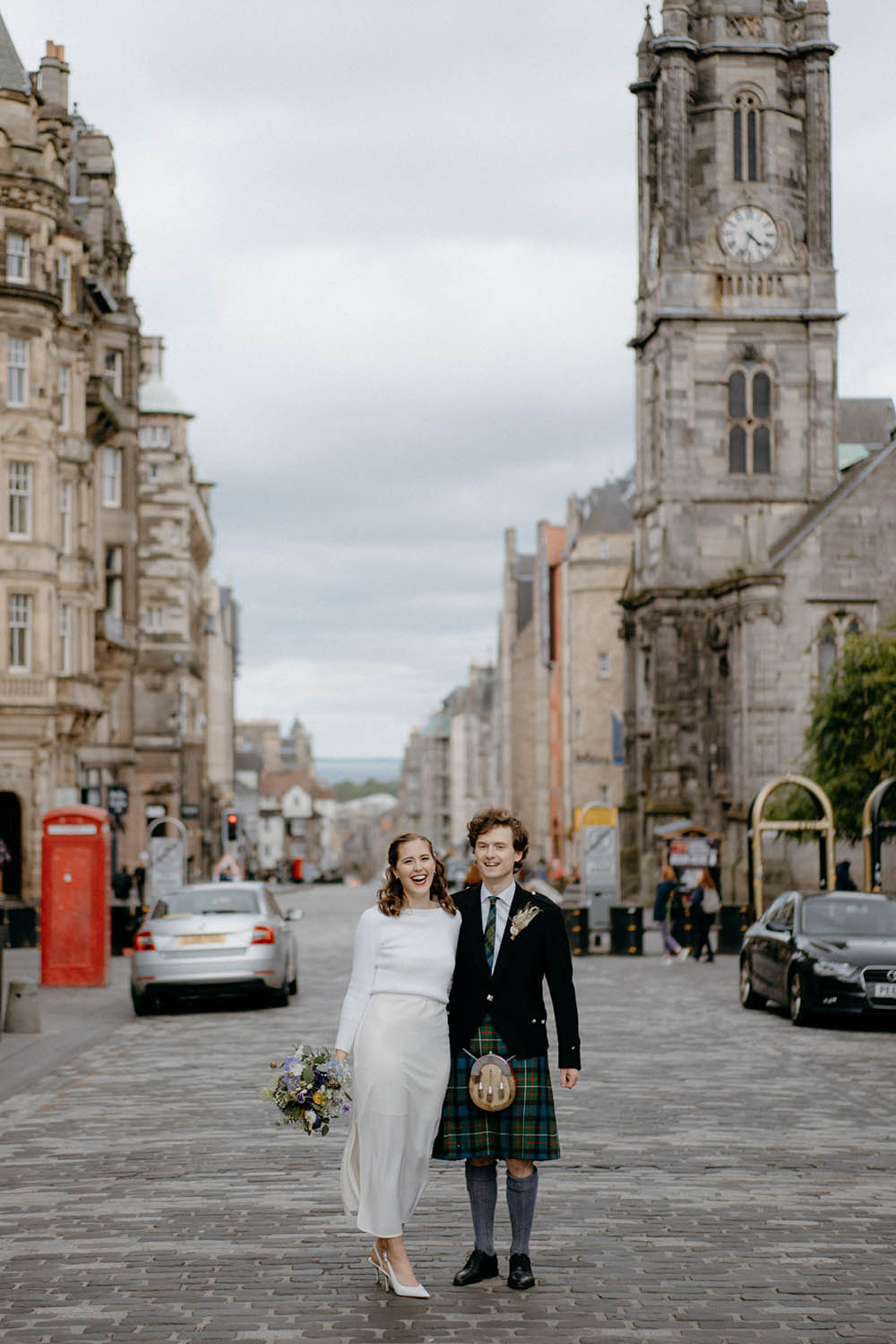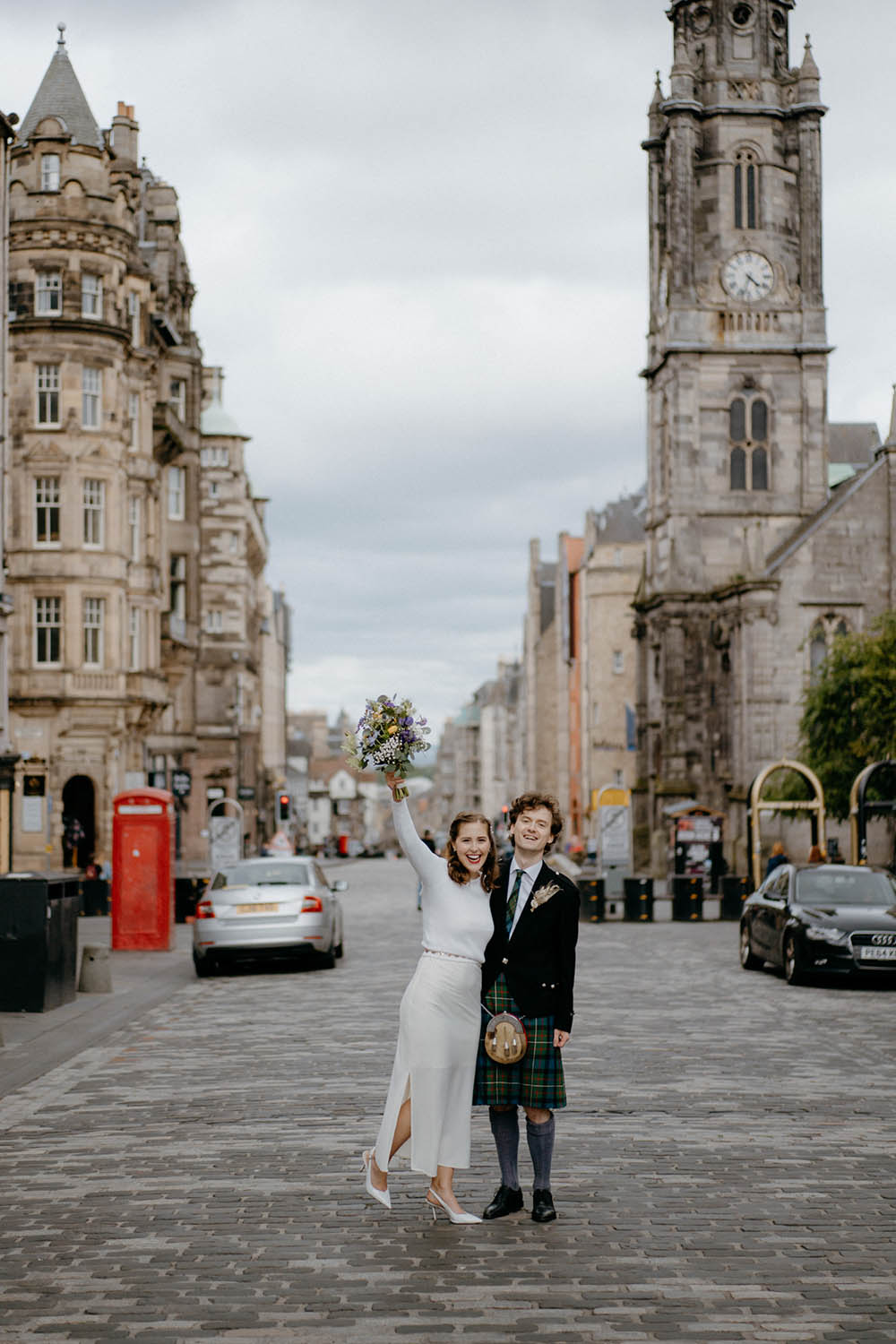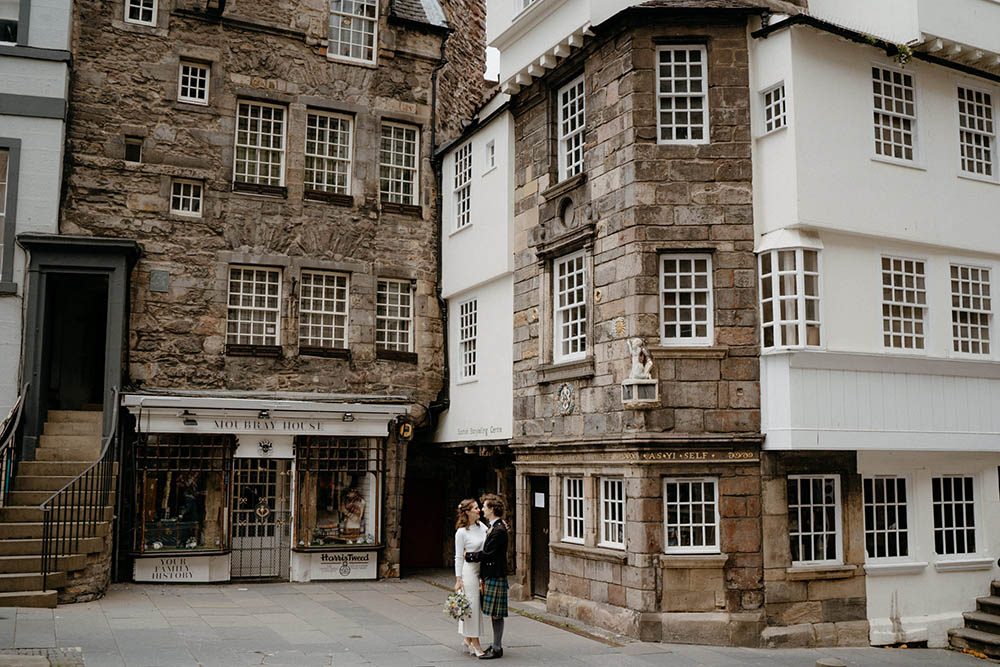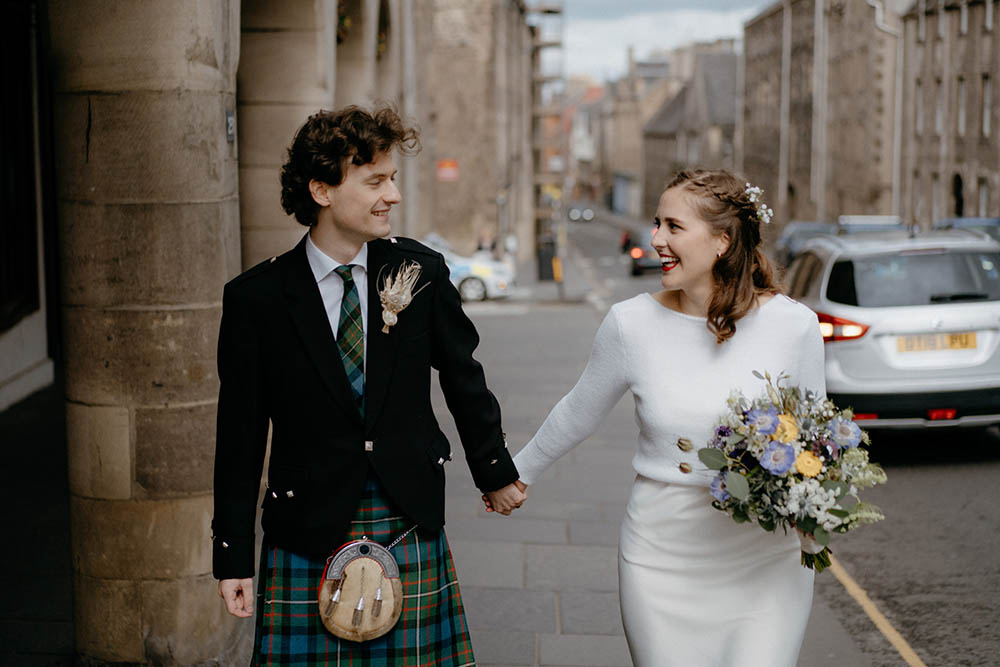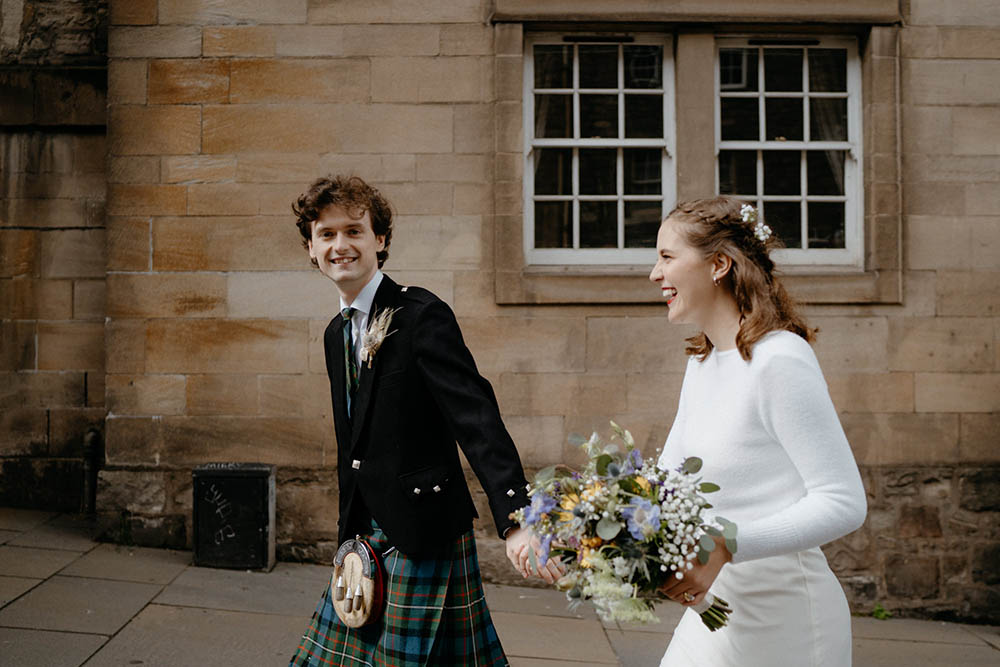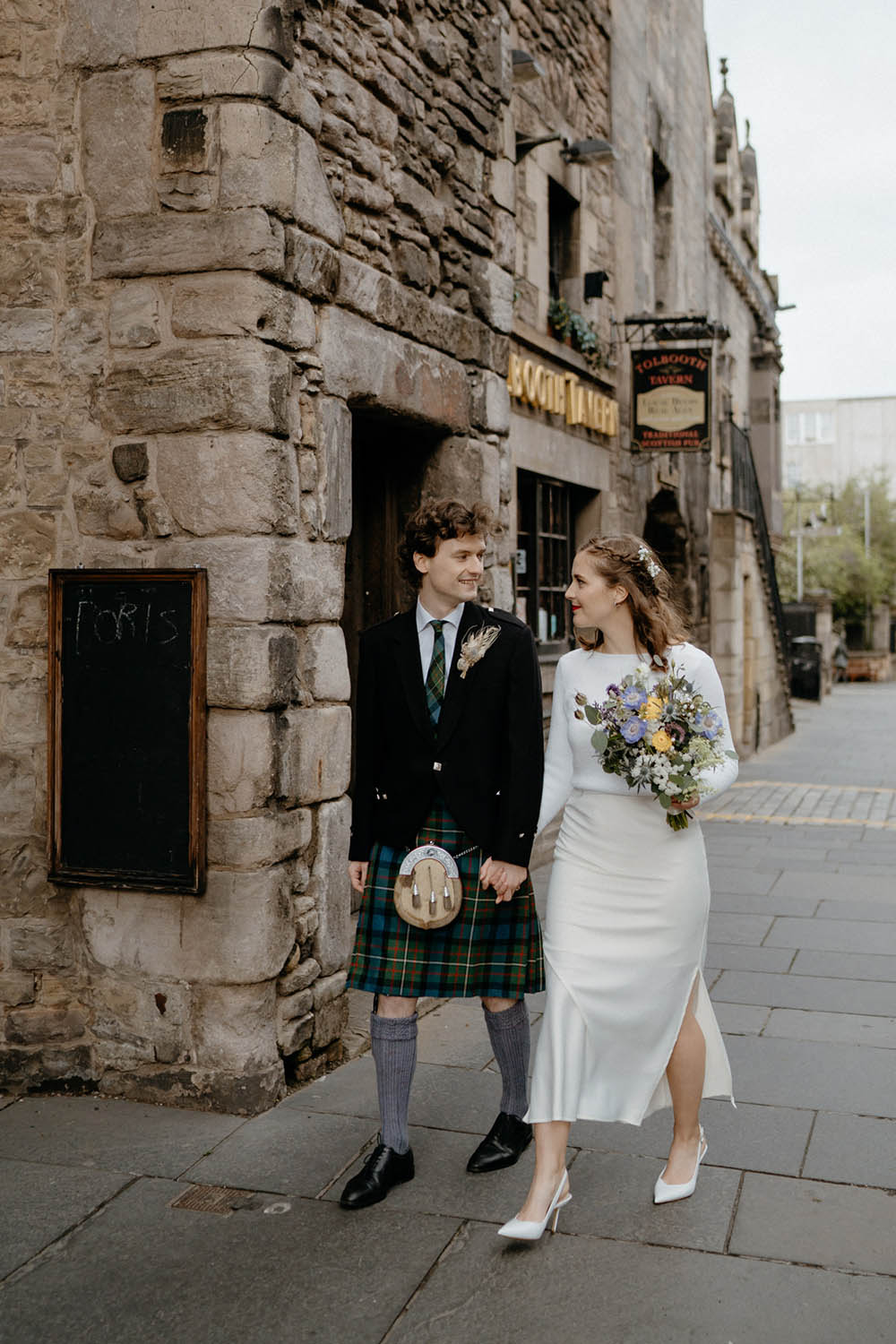 "The Royal Mile wasn't completely silent, there were enough people to scream "you're beautiful! Congratulations!" at me, but not enough to get in the background of photos, or honk at us if we stopped in the middle of the road for a moment," says Sabrina.
"At the end of our photo-tour, we stopped at Mary's Milk Bar for ice cream – Lina's genius idea!"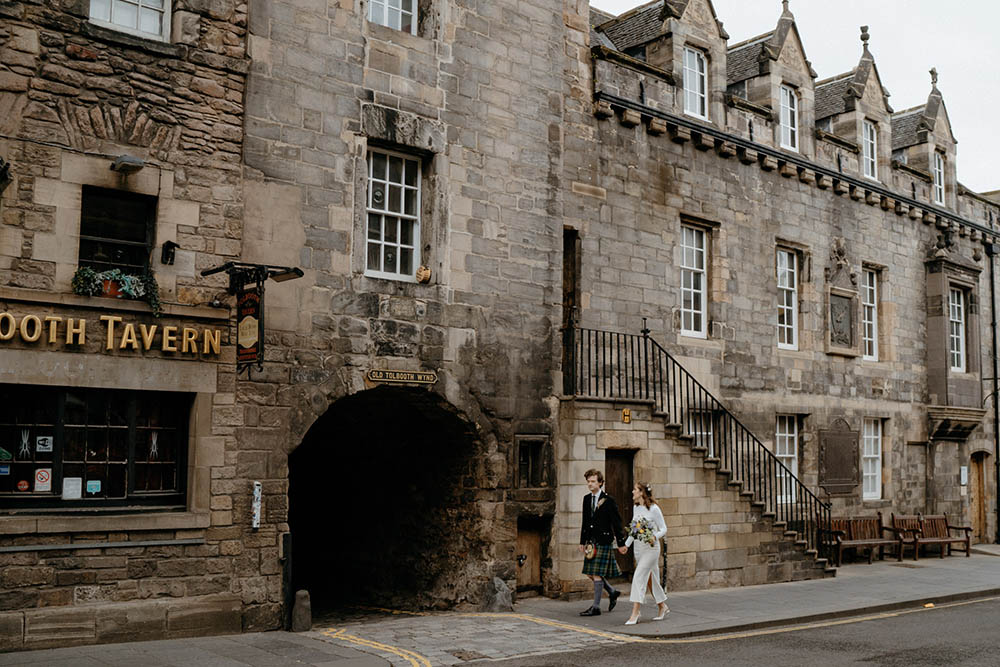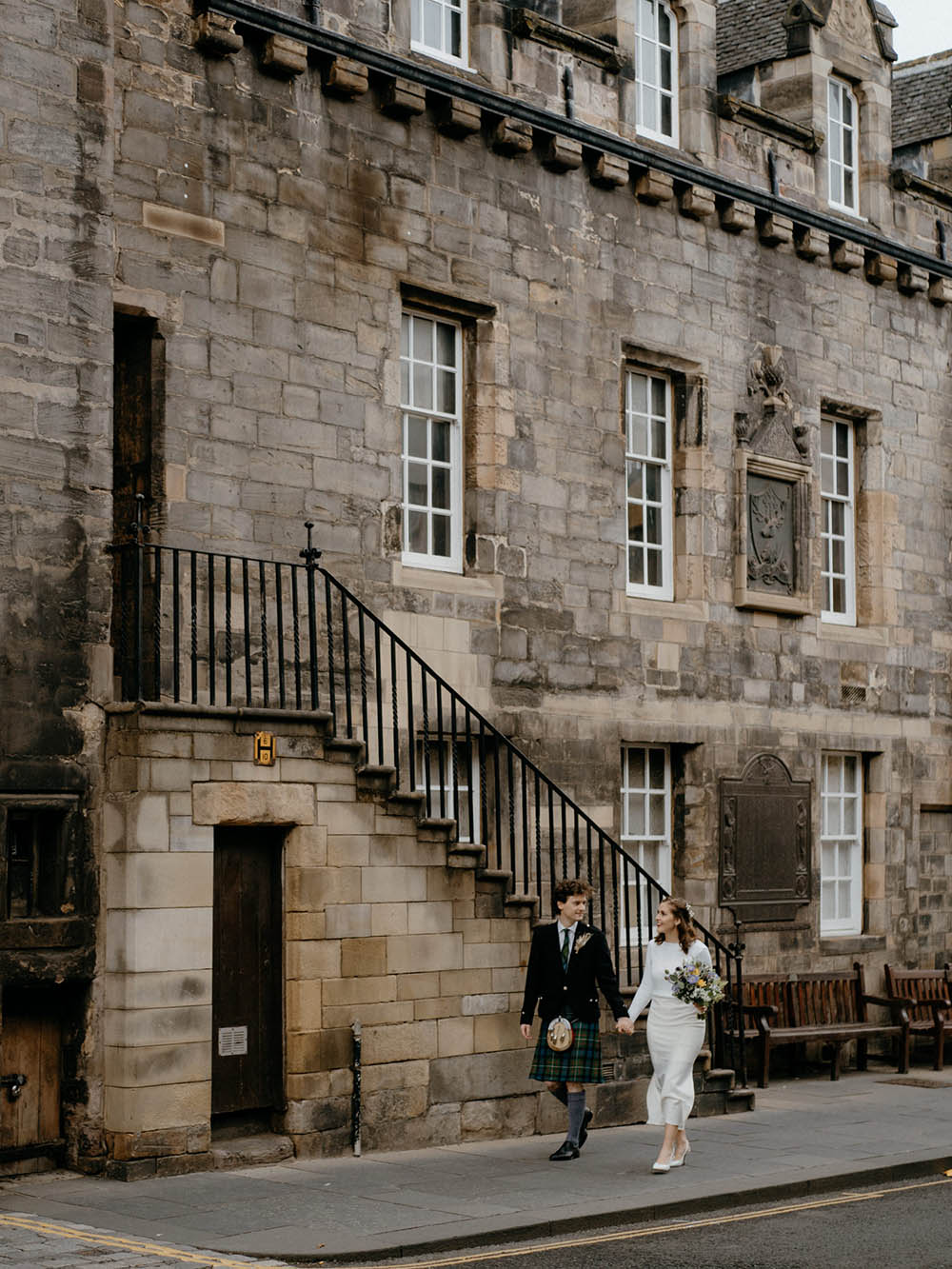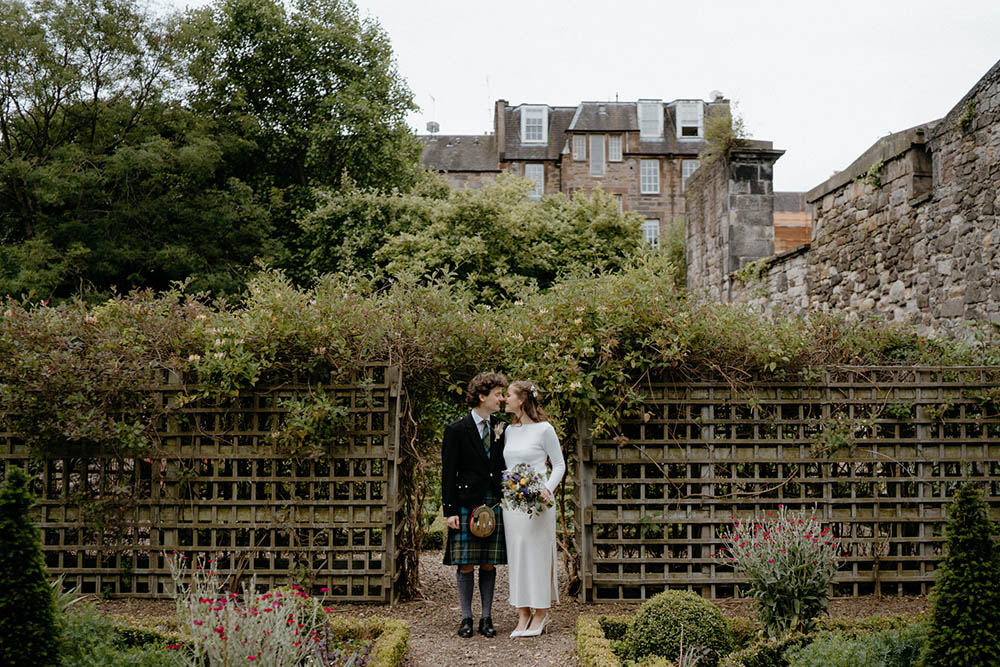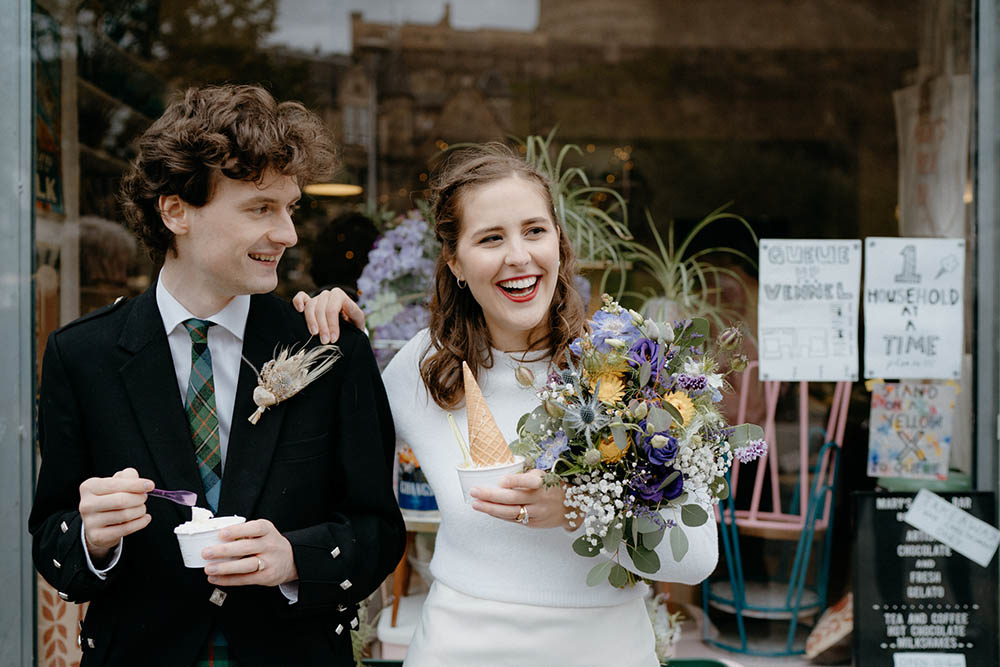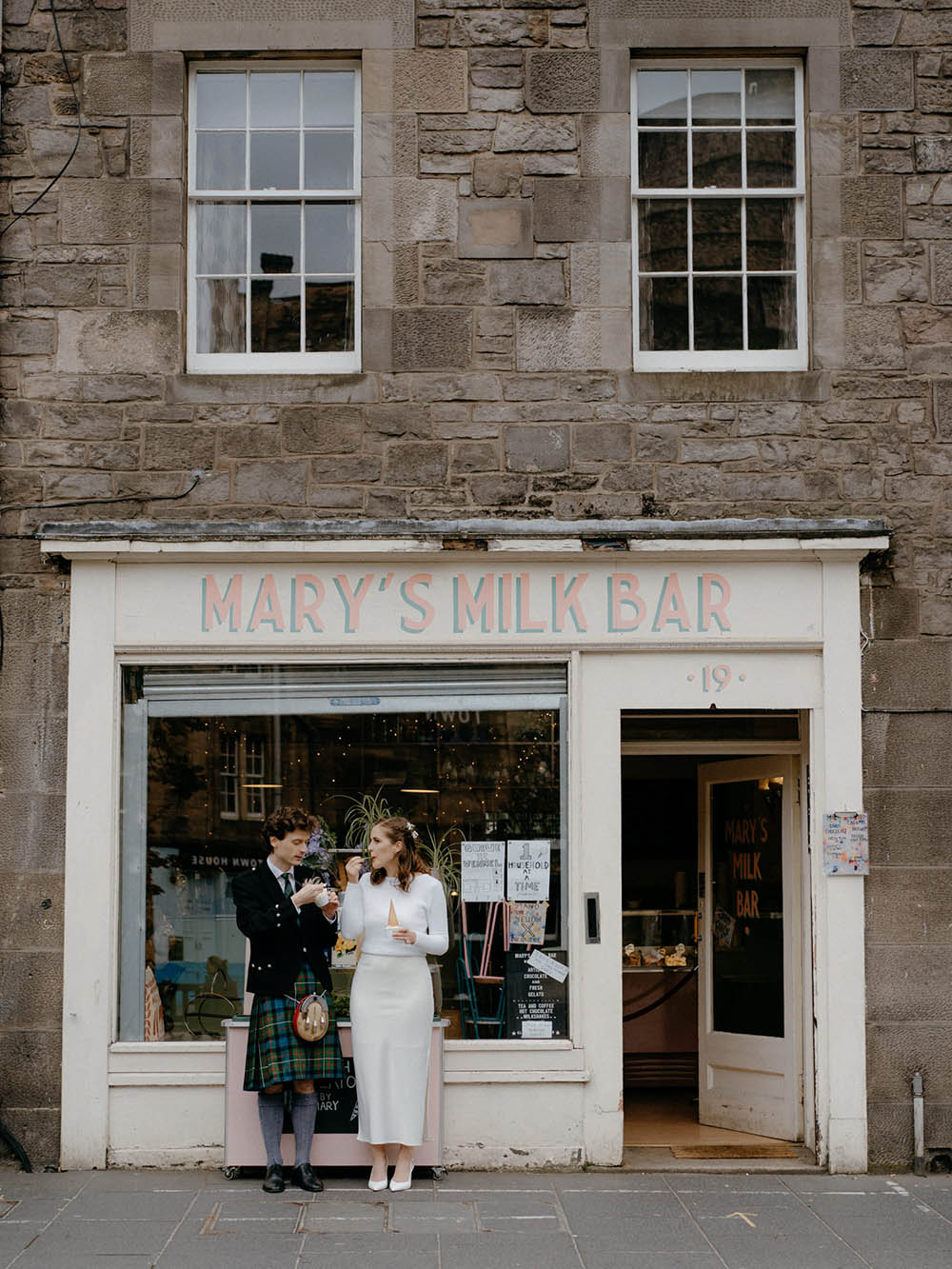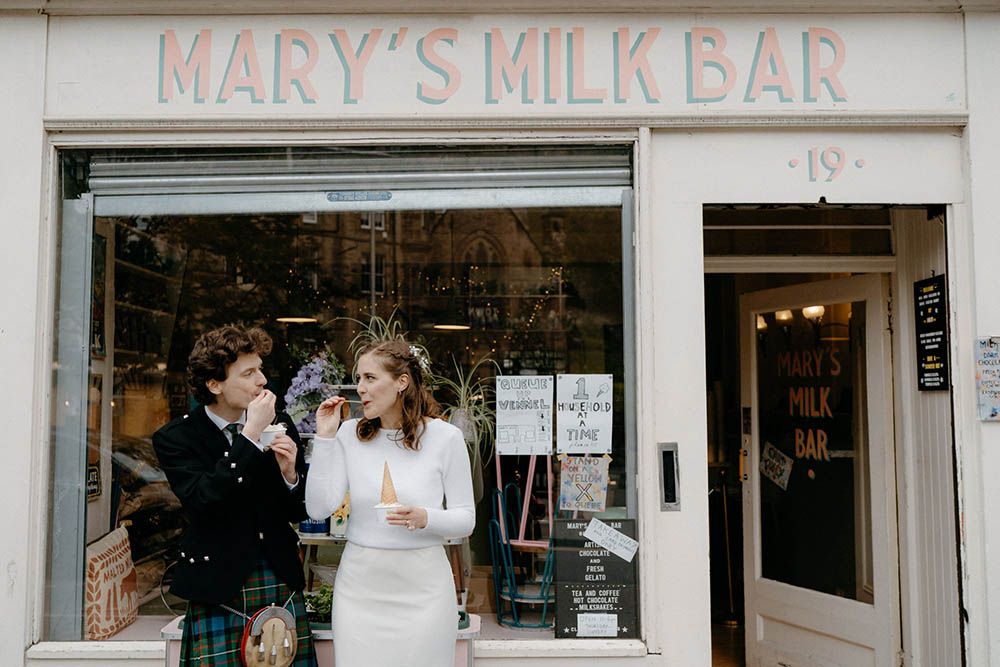 In total, Sabrina reckons the wedding cost around £1,500. And even though the day didn't look like the wedding they imagined back when they got engaged, they made it work for them.
"As someone who couldn't have most of the things she couldn't imagine her day without, let me tell you: not having something you can't imagine your day without will not ruin it if you don't let it.
"Prioritise expenses and once you know what you want, figure out a way to ensure that your budget is going to the right people. Shop small. When you support small businesses, nine times out of ten they'll go a million times farther than a big conglomerate.
"I bought a dress from a big brand and it arrived crinkled up in a plastic bag, in a sad, beat up cardboard box.
"In a non-coronavirus world, I could have bought a vintage dress for the same amount (from a boutique such as Those Were The Days in Stockbridge) and had an infinitely better experience, and I would have been supporting someone I know rather than a big business. That makes a difference not just ethically, but in how your day plays out!"

Photographer: Lina Hayes Photography | Cake: The Pastry Section | Flowers: Narcissus Wedding Flowers