Mount Stuart wedding with celestial theme and Lihi Hod wedding dress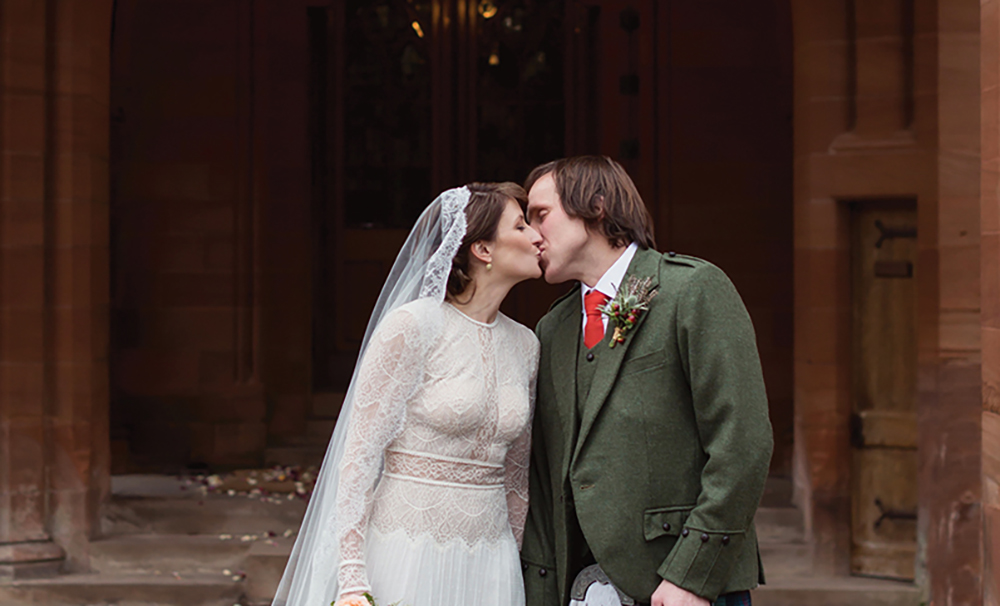 Read what bride Sarah has to say about her Mount Stuart wedding, and see the gorgeous photos captured by Craig and Eva Sanders.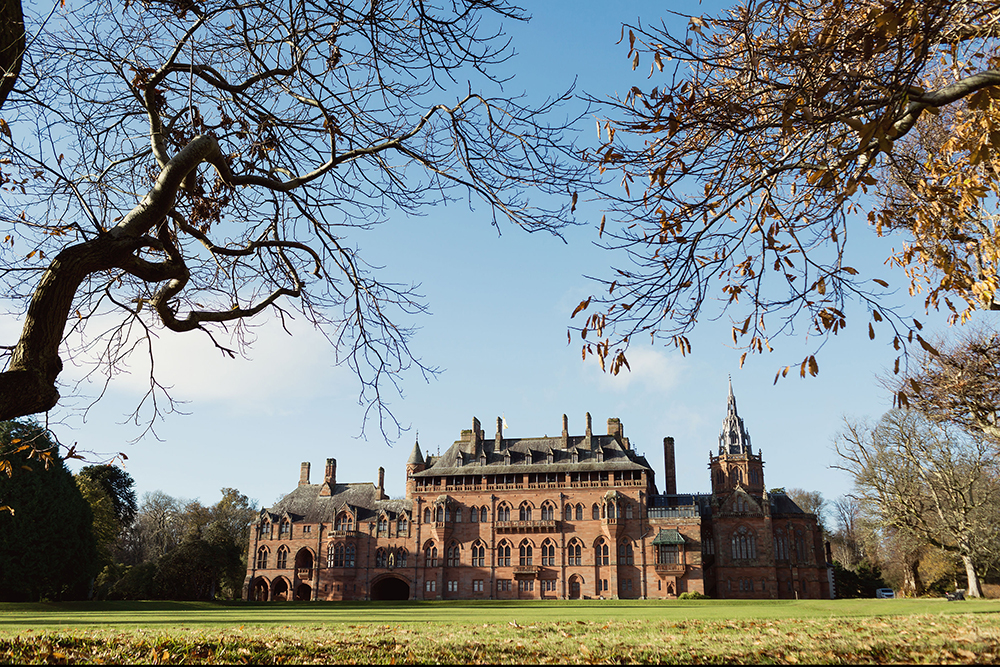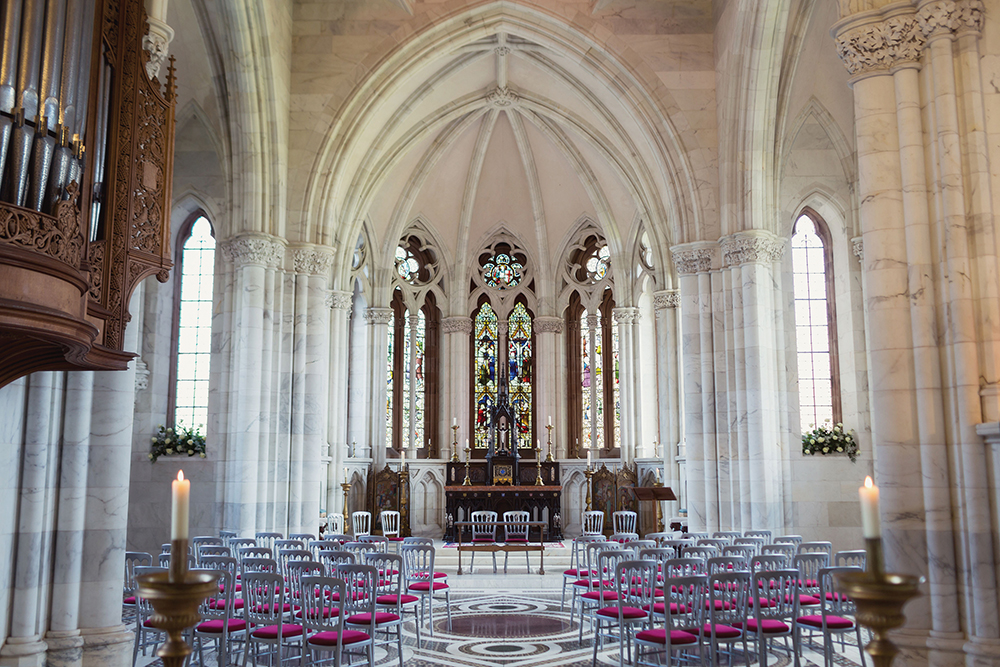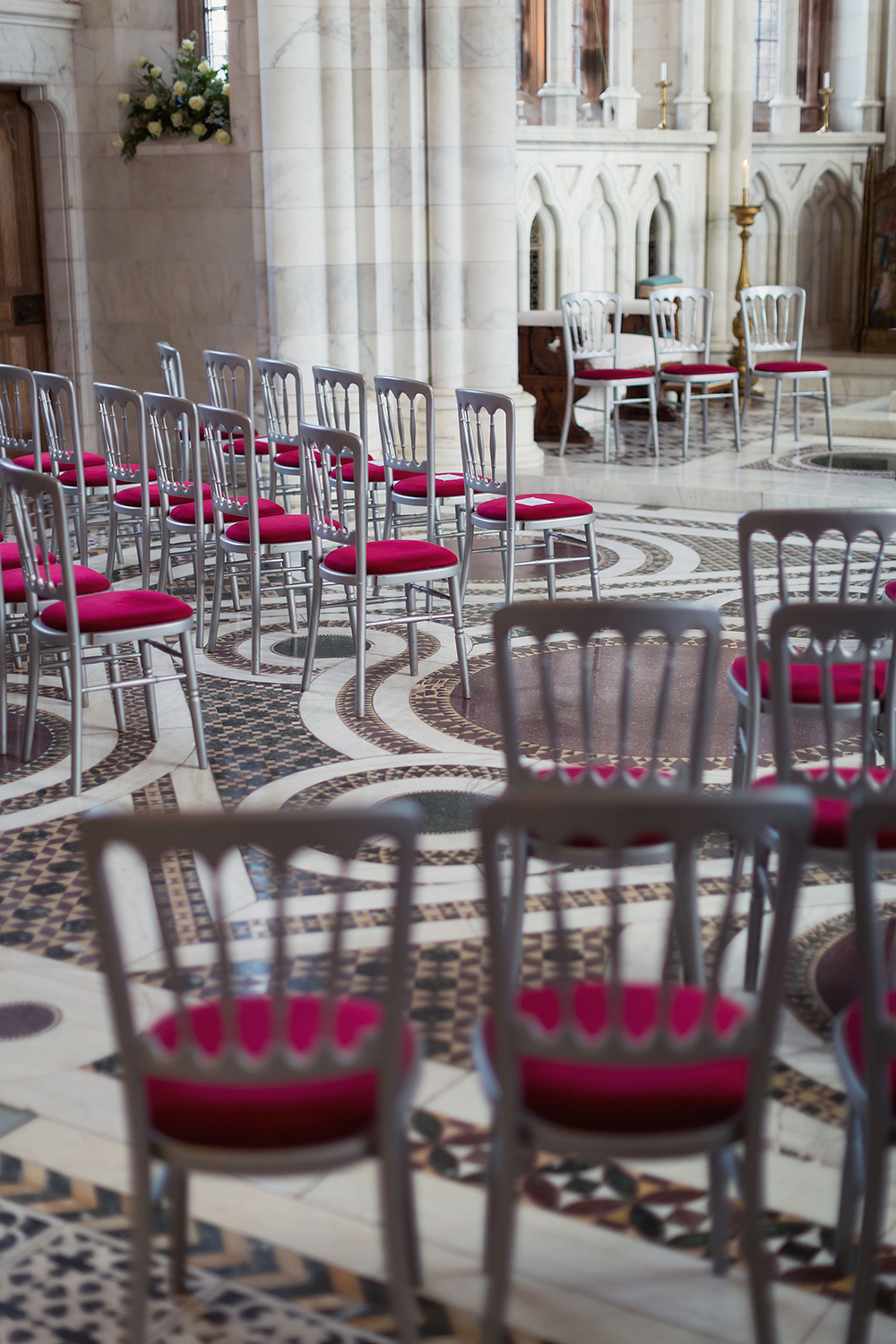 We toyed with the idea of going abroad to the south of Italy or France to get married as part of a big summer road trip around Europe. We ended up doing completely the opposite, and had a winter wedding in Scotland with family and friends.
My jaw hit the floor when I first saw Mount Stuart on the Isle of Bute, over 10 years ago.
The vibrancy, opulence and detail of its interiors and incredible art collections (with paintings by the likes of Gainsborough and Rubens in the dining room, for example), is truly breathtaking.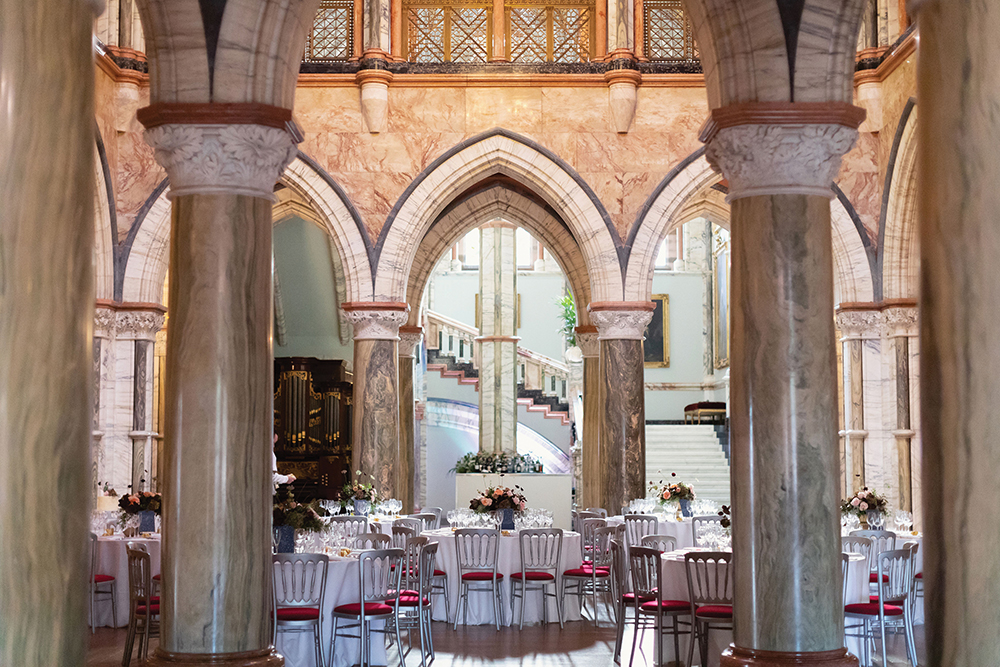 Walking into the building feels like escaping to another time, in another world – it's a place that at once makes you feel very happy and 'hygge'.
Mount Stuart itself was the entire inspiration for the wedding theme and colours. The whole house is bursting at the seams with incredible art, sculpture and jewel-like tones.
We wanted to incorporate its gorgeous details into the planning and styling wherever possible.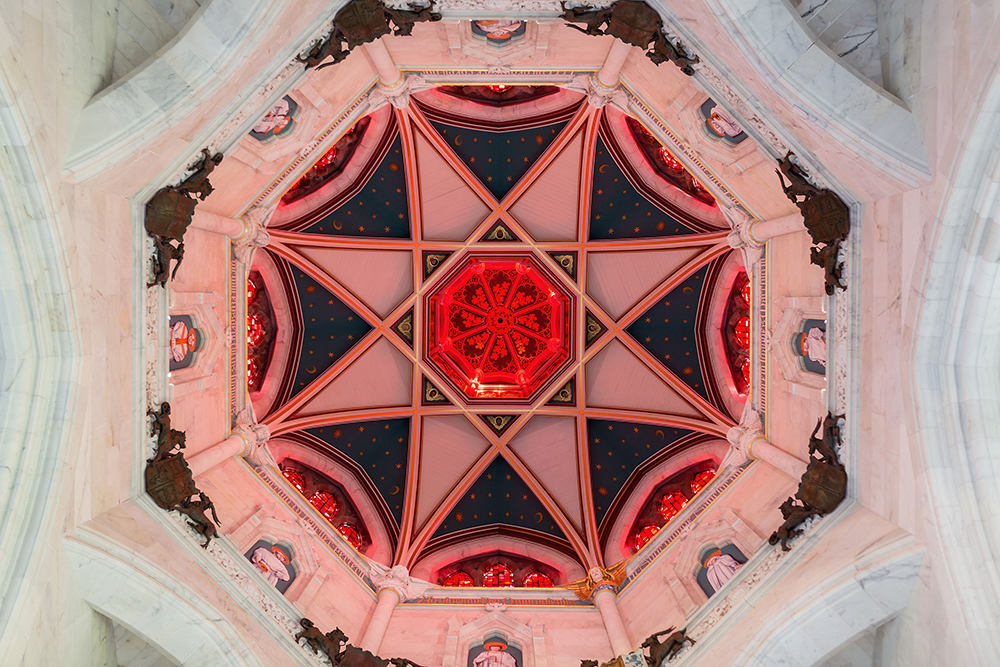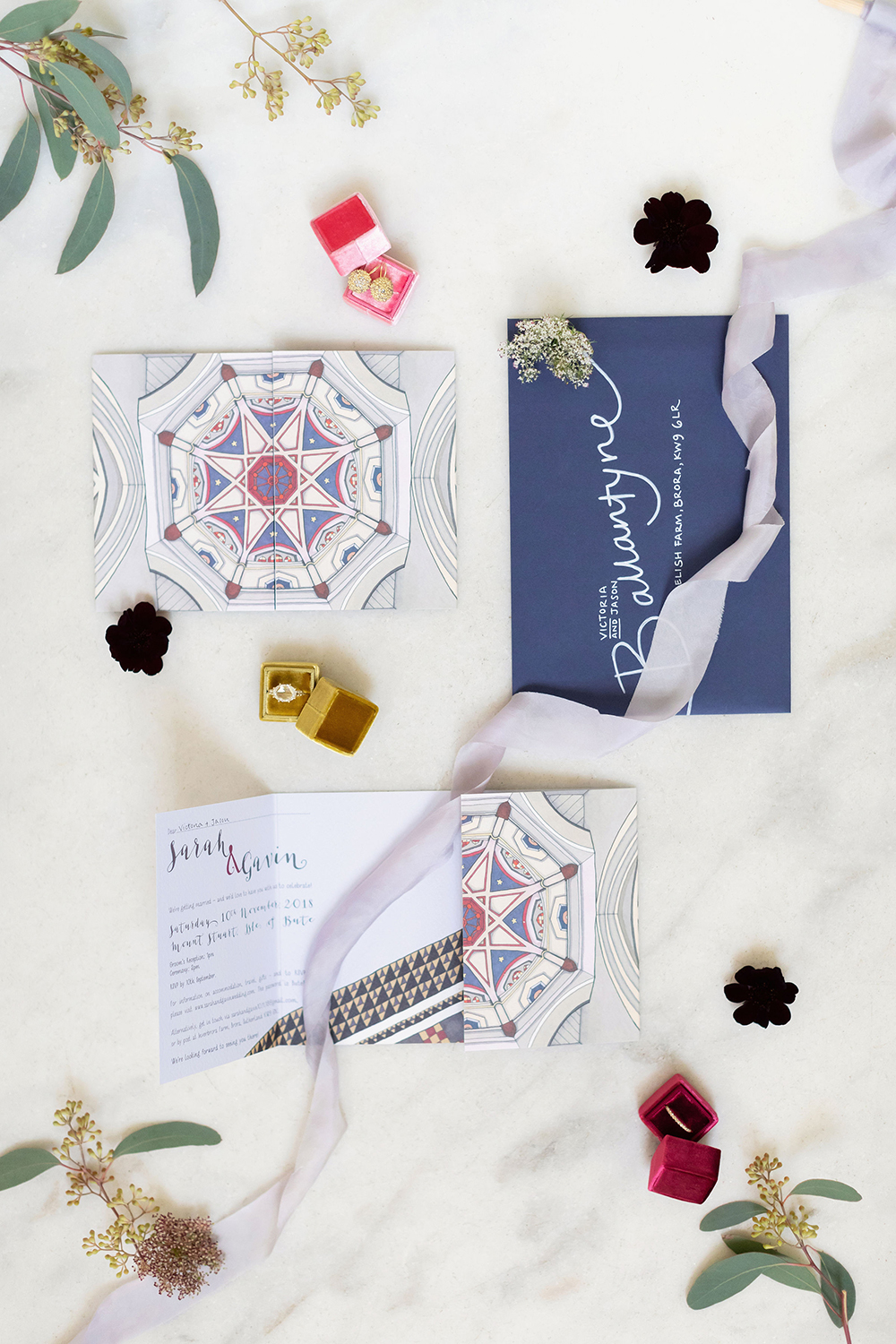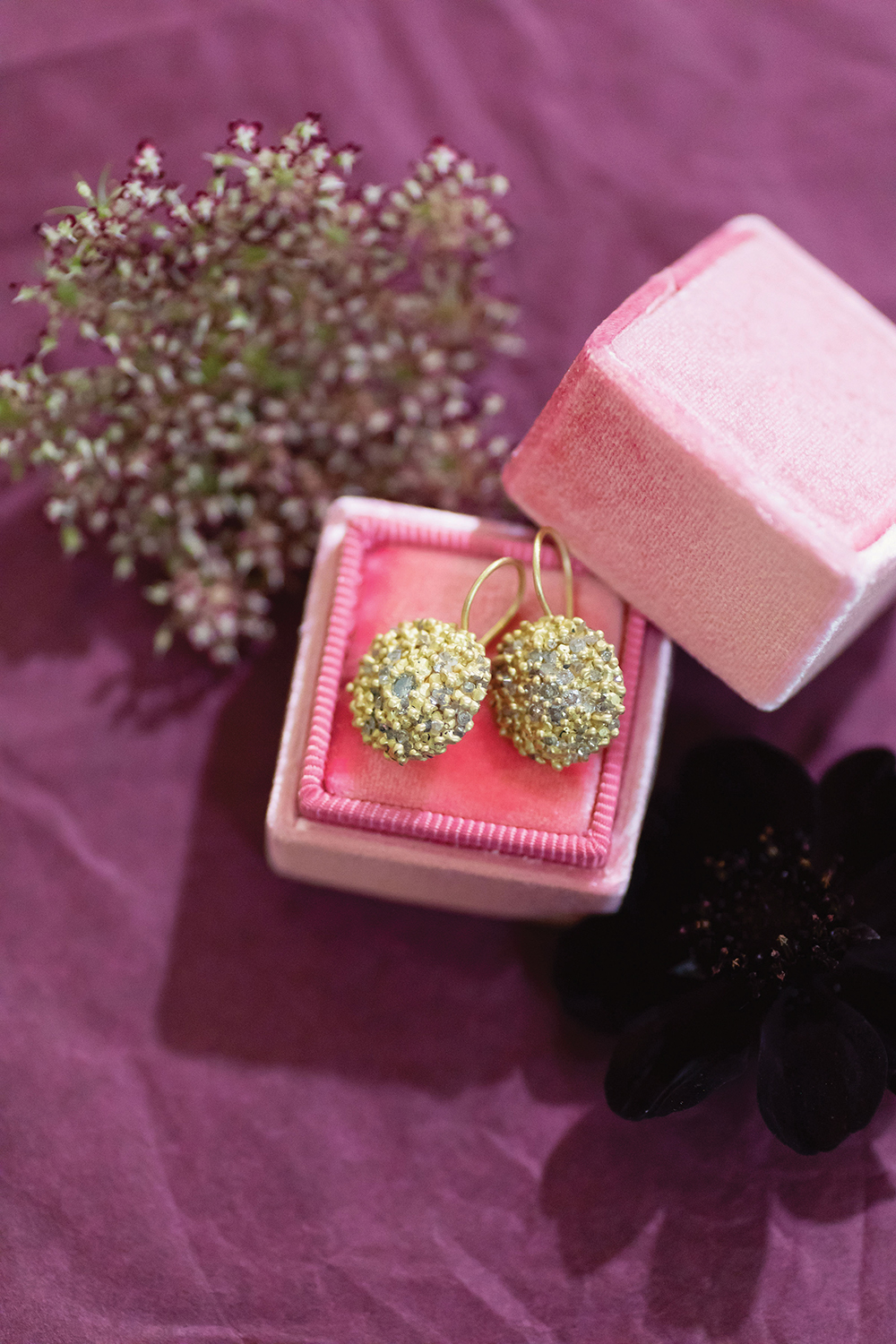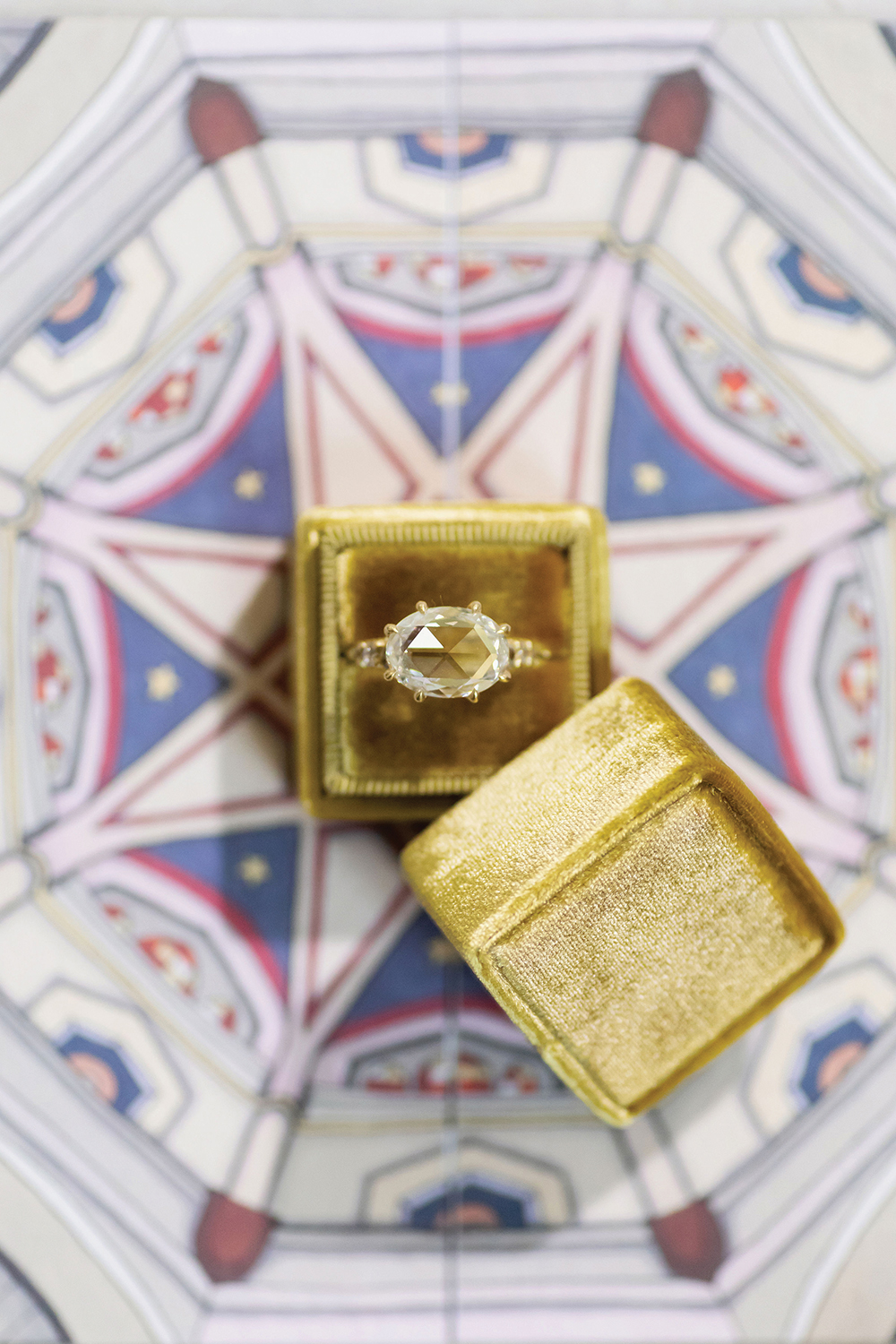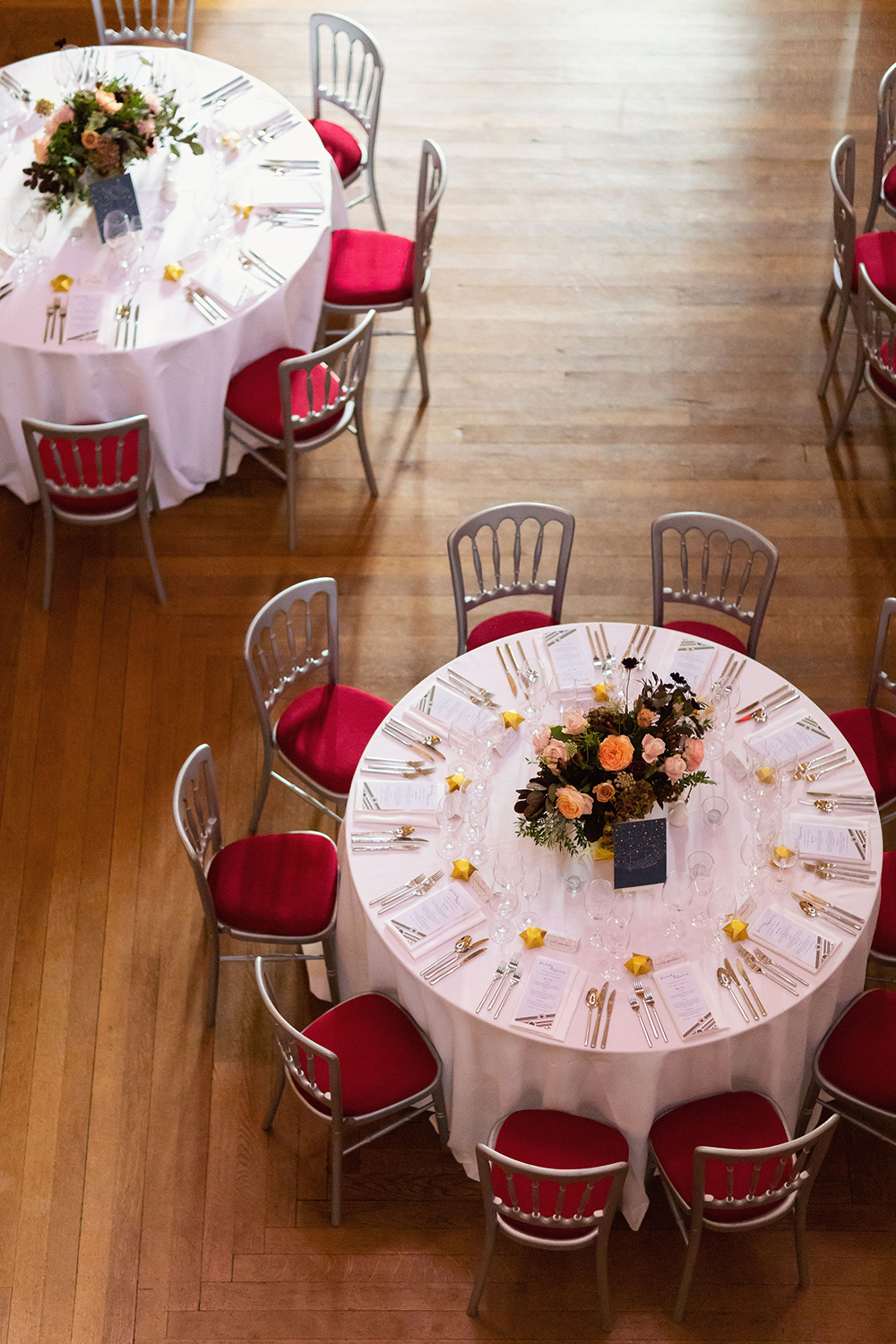 The vibrant raspberry red, teal blue and gold of the Marble Chapel's domed ceiling was the starting point for our colour palette, which carried through to the hand-illustrated invitations, menus and table plan.
Mount Stuart is full of astrological and astronomic references throughout the house, including the jewel-like stained glass windows of the hall and the murals of the Horoscope Room, where my bridesmaids and I got ready. Its astrological ceiling even depicts the exact alignment of the planets on the date of the Marquess of Bute's birthday.
Inspired by this, l chose a celestial theme for the stationery, artwork and colour scheme, along with some of the most iconic architectural and design details from the rooms.
My favourite décor detail was the beautiful hand-illustrated table plan and corresponding table cards, made by Laura Henderson. The ceiling of Mount Stuart's Marble Hall – where our wedding breakfast was held – features paintings of each of the 49 constellations of the northern hemisphere. We selected a handful of favourites – like Canis and Pegasus – and Laura transformed them into a suite of drawings set on top of a beautiful teal and gold table plan.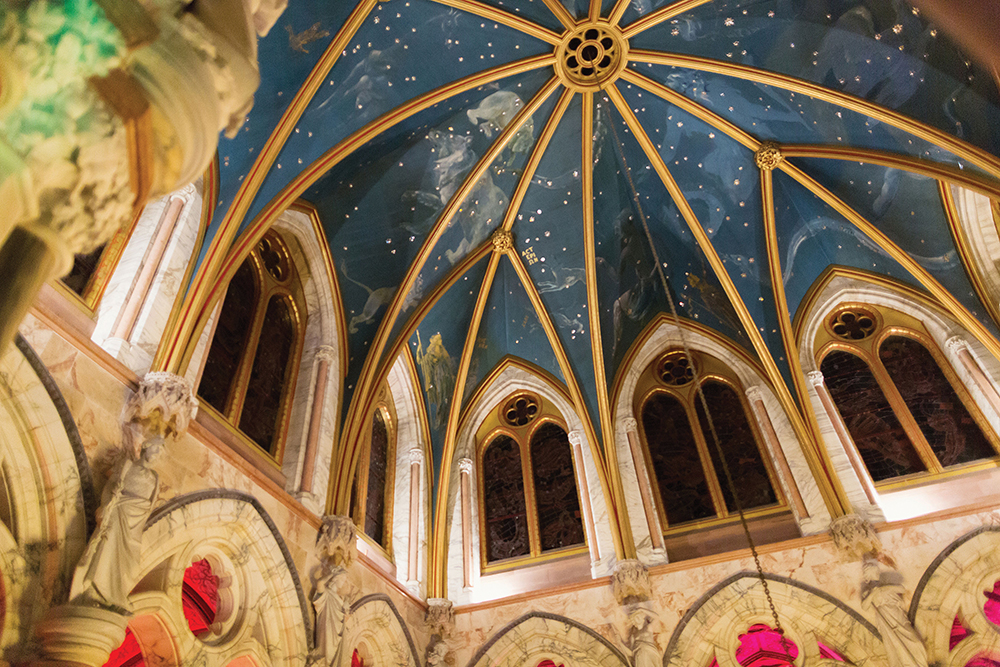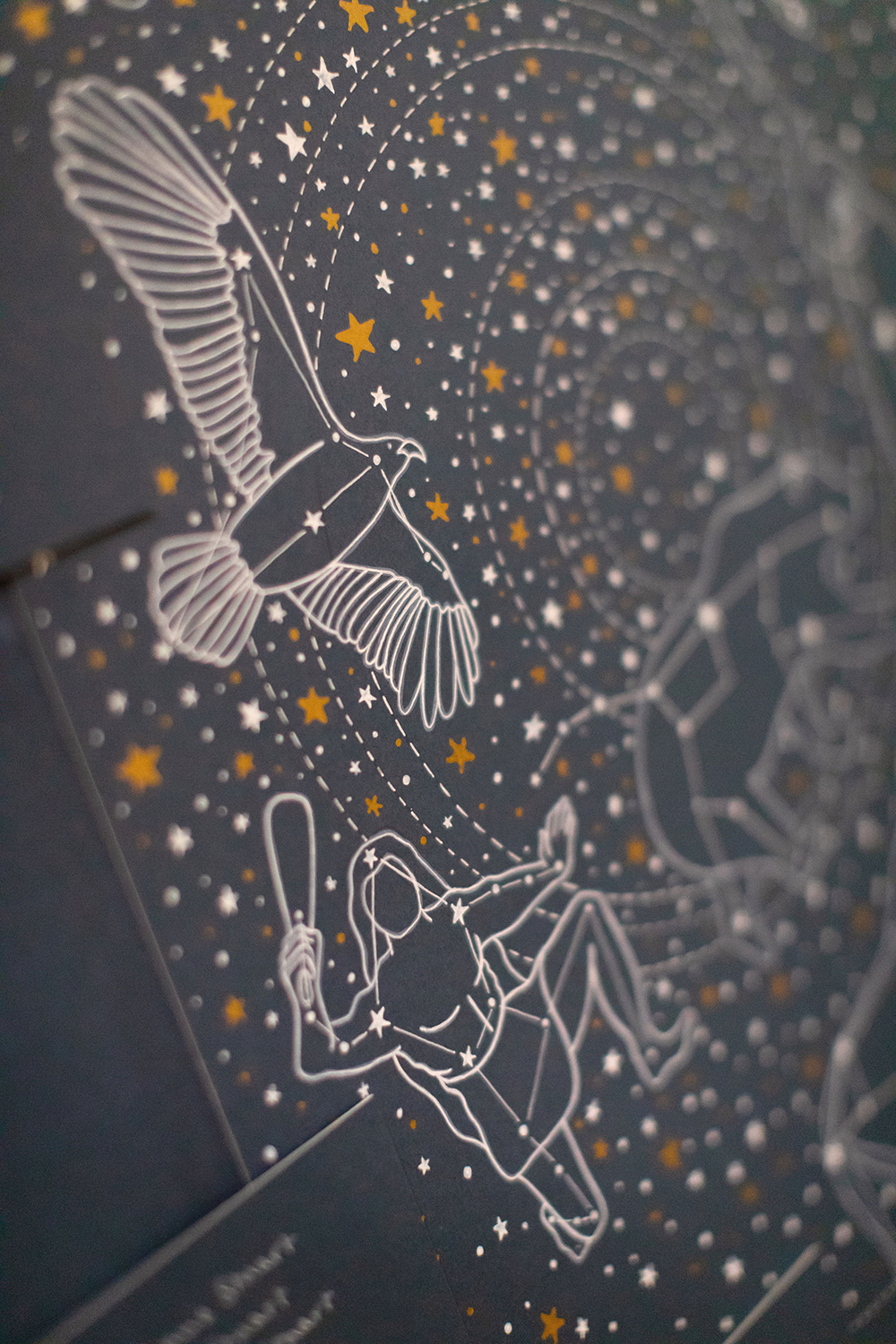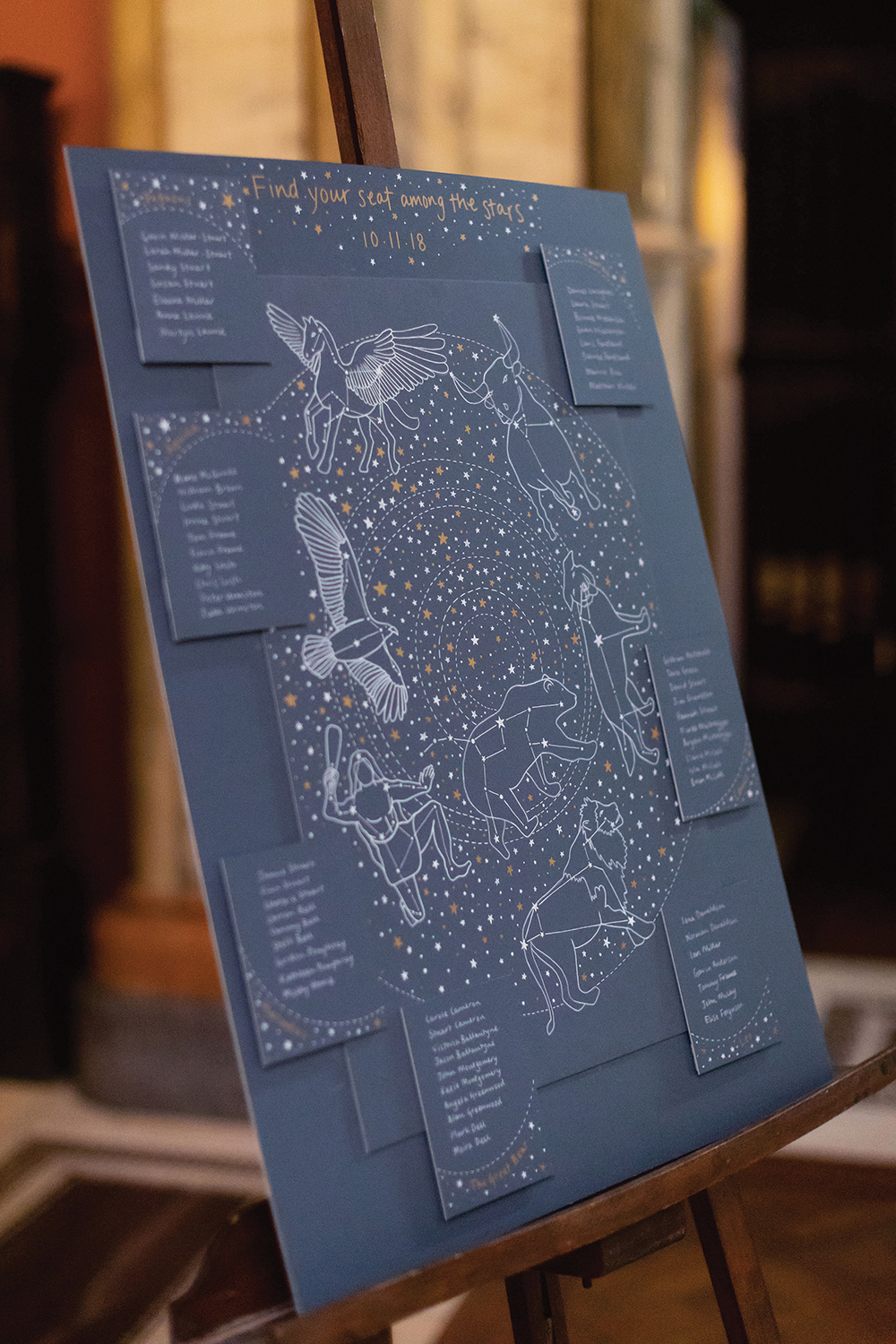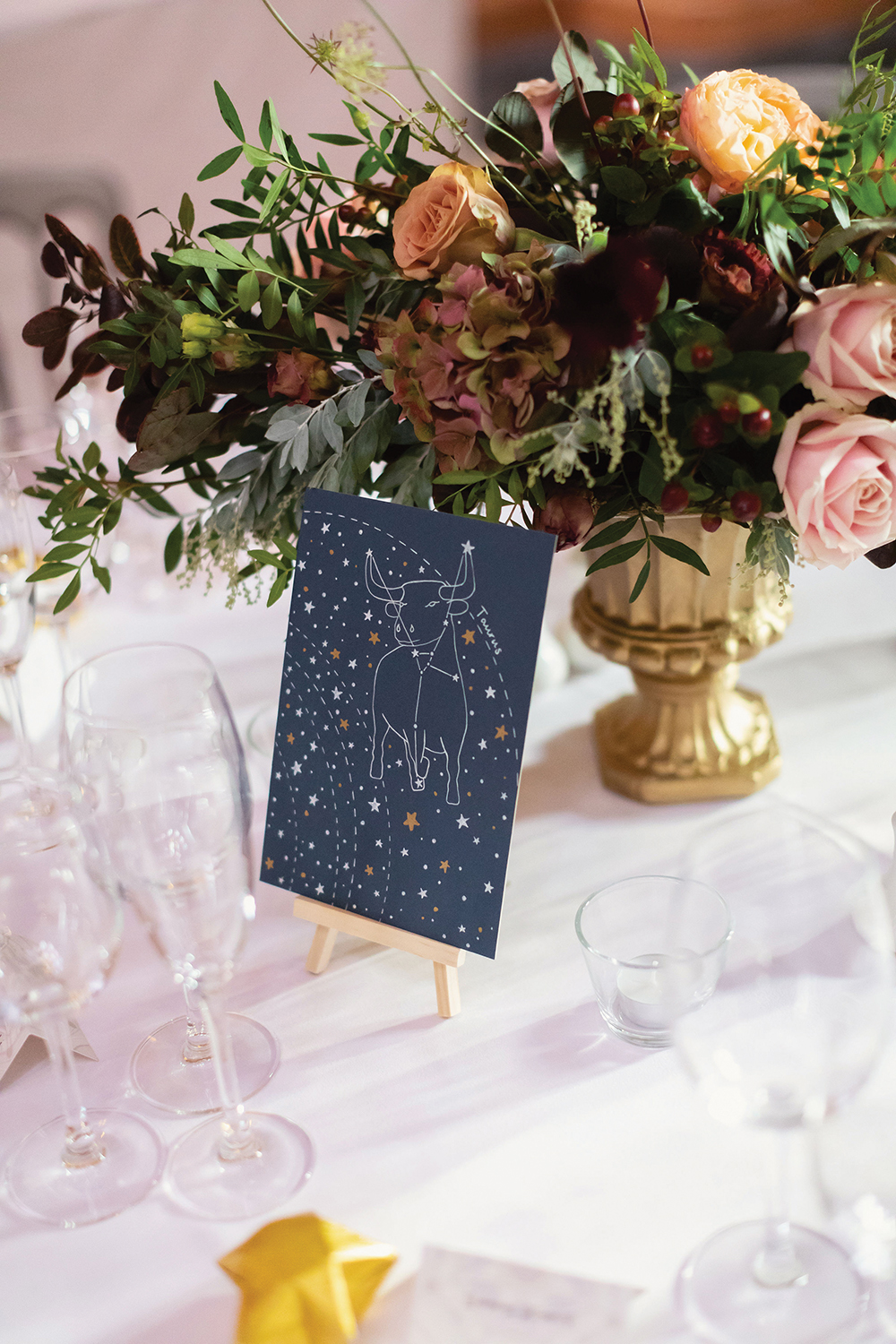 One of my favourite DIY details was the gold origami stars I made as wedding favours for our guests. I spent several months folding golden Japanese origami paper into three-dimensional star-shaped boxes, which I then filled with gold and bronze chocolate pearls and metallic silver moons.
After the wedding, we gathered up all remaining stars and threaded them onto a hanging mobile. It's a beautiful reminder of the day.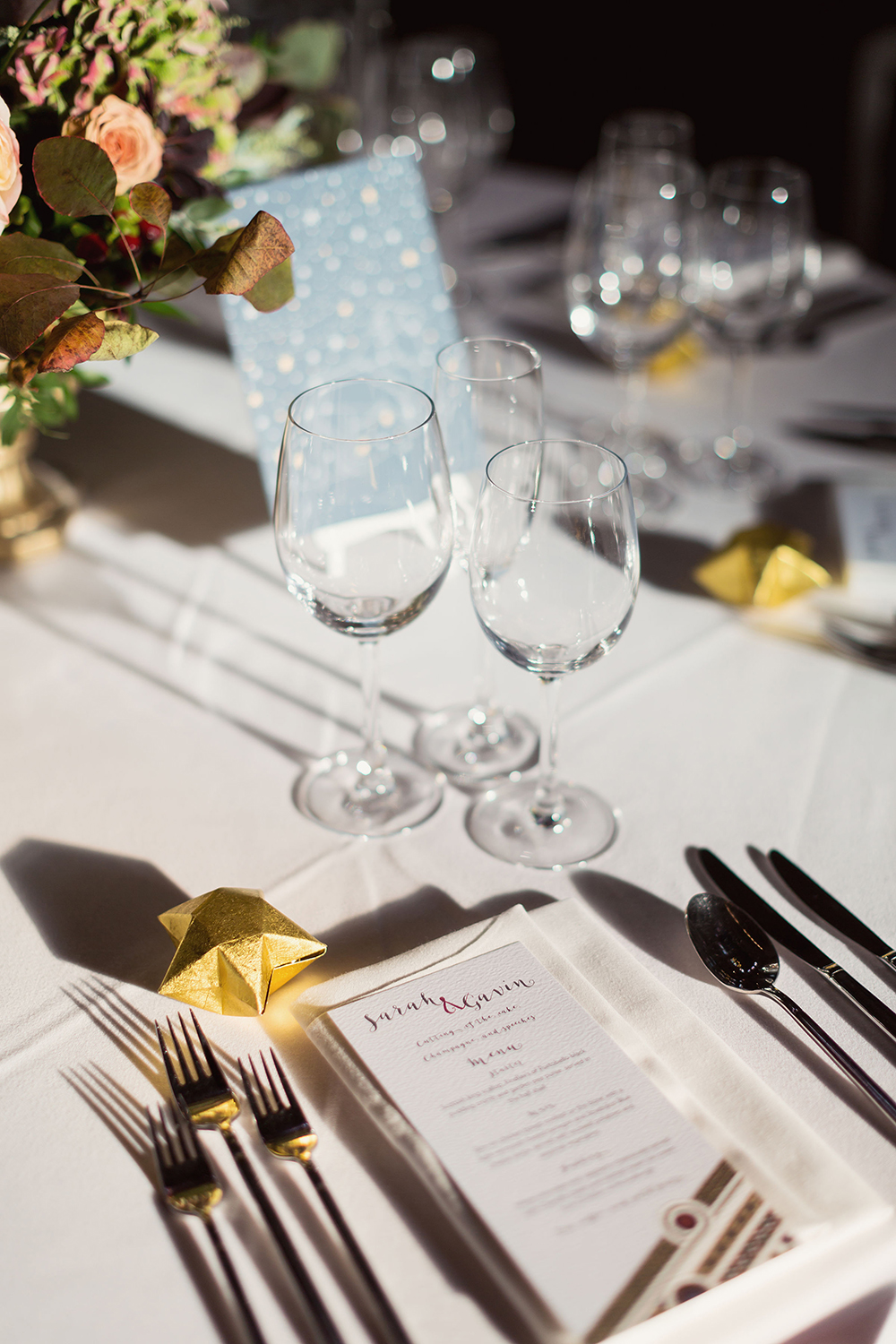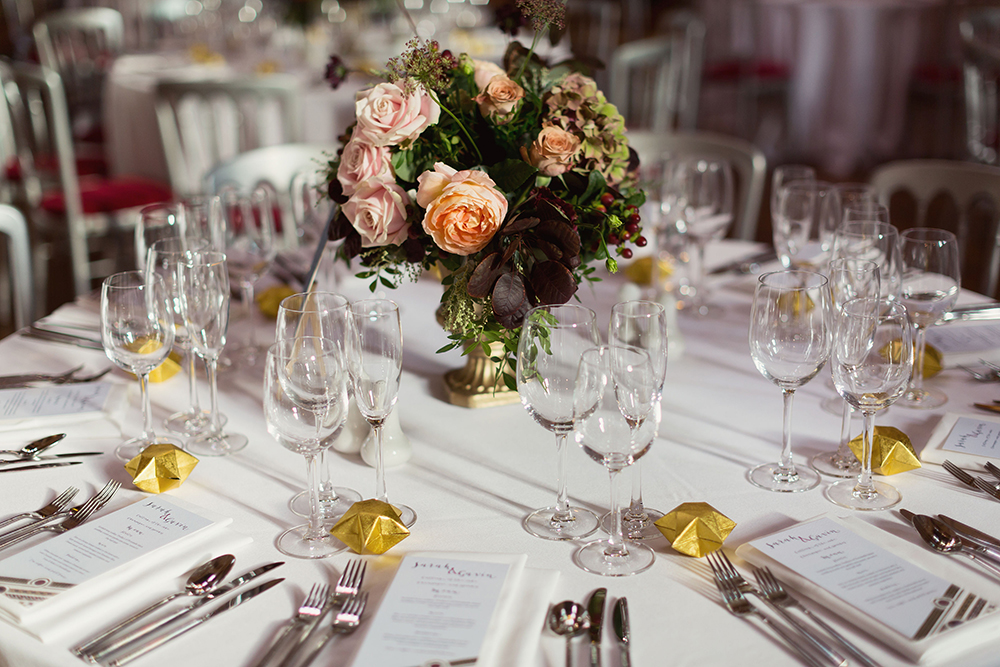 I was resolute about one thing: I would not step foot inside a wedding dress shop without first of all having a very specific idea of what I was looking for. I didn't want to involve family or friends without a definitive shortlist at least. I even bought a couple of dresses online (big mistake) – those were promptly returned!
Months later, a stumble on Pinterest stopped me dead in my tracks. A picture of the most beautiful wedding dress I've ever seen was staring back at me.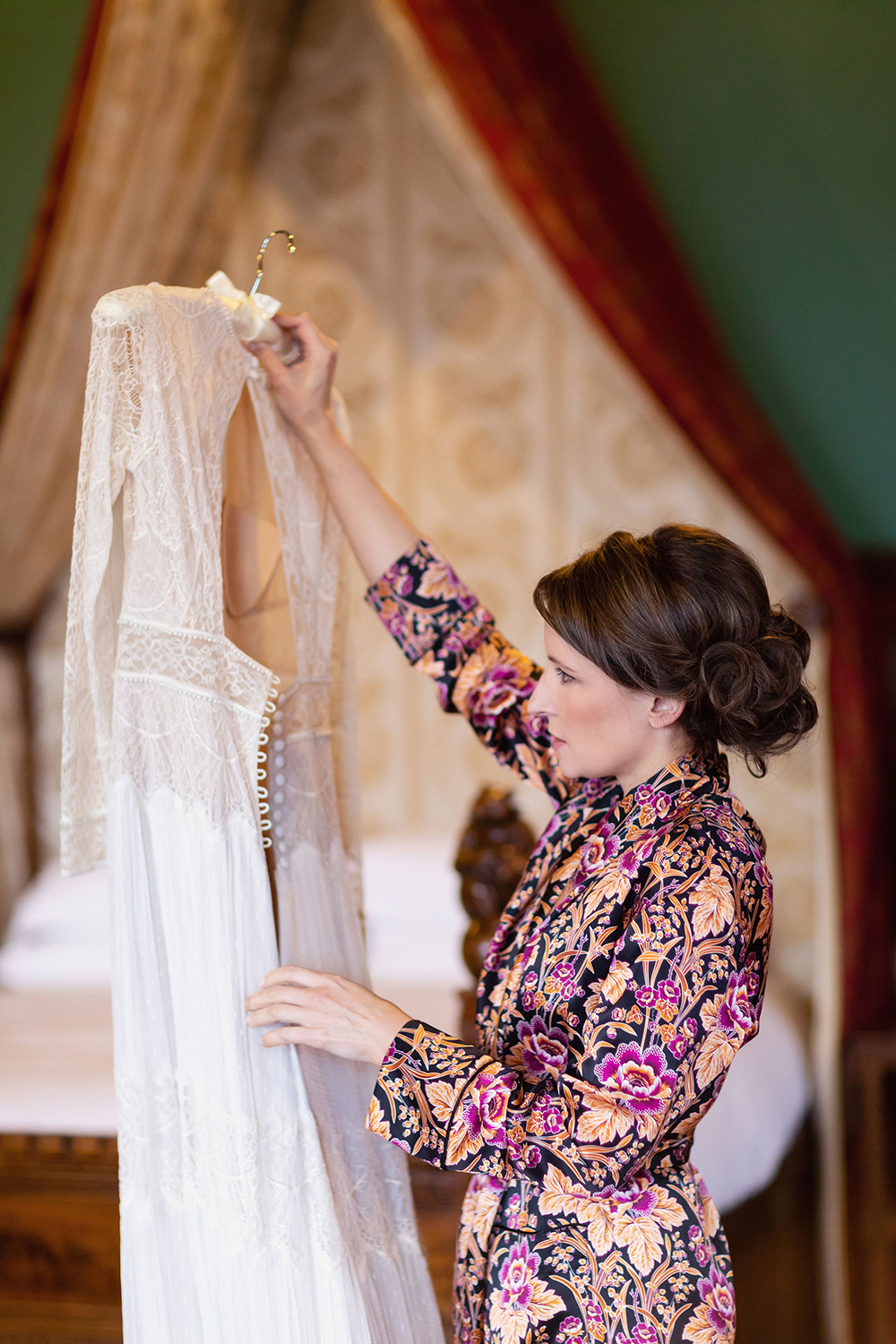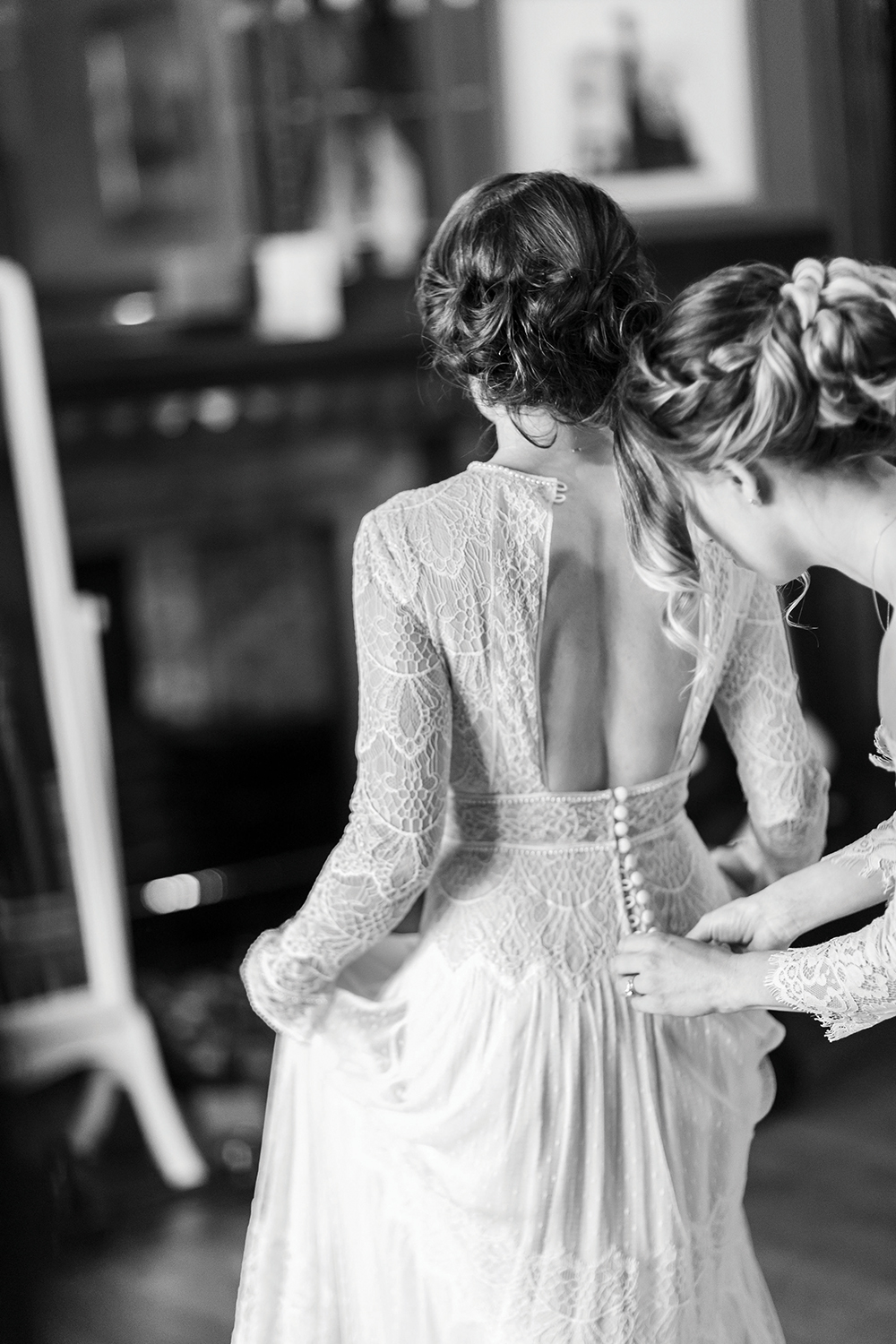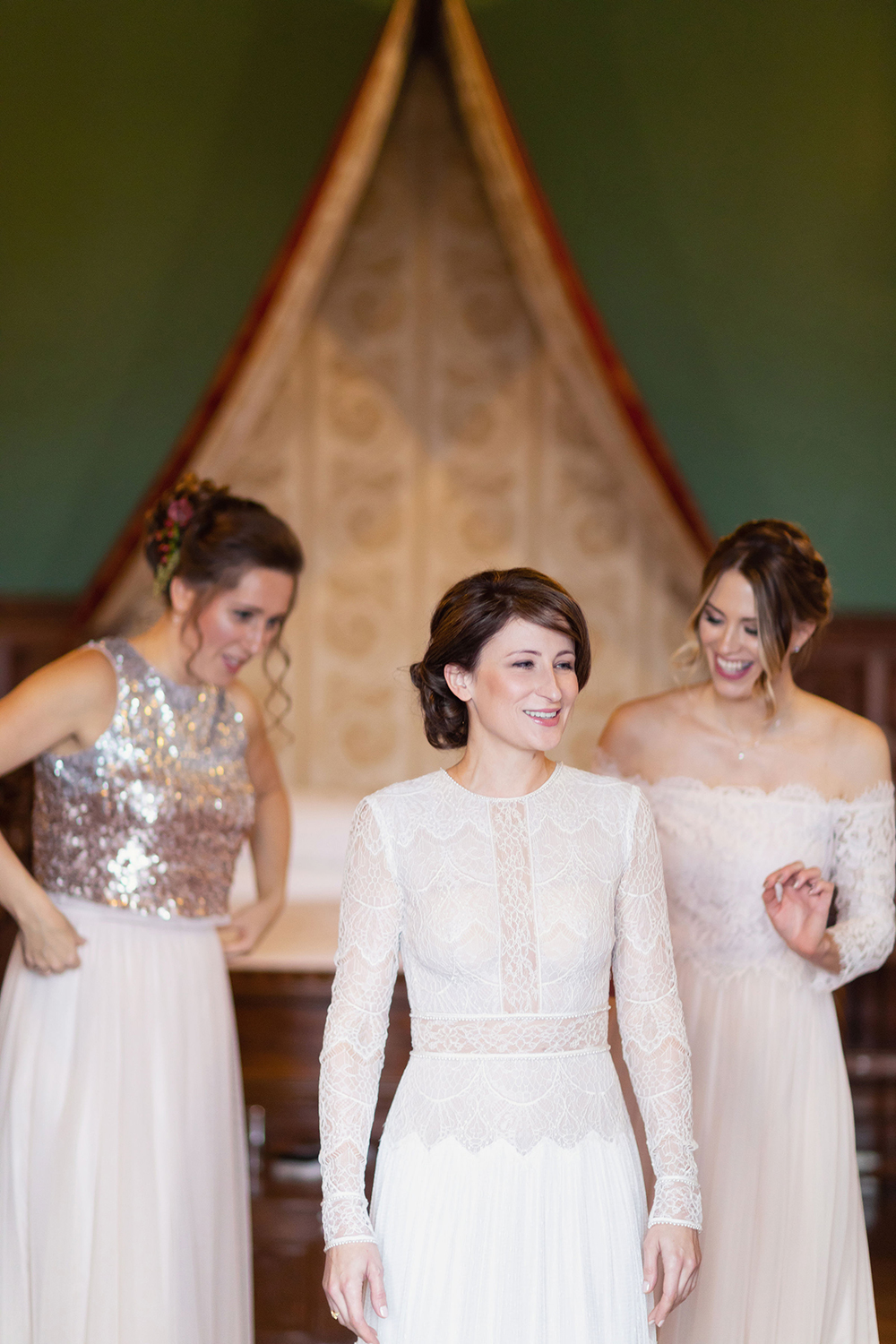 The 'Sophia' dress by Israeli designer Lihi Hod is soft, understated, delicate and intricate. It's made from dark cream lace with subtle moon and flower motifs, with hemlines and details highlighted by rows of tiny cream pearls. It's lined in layers of heavy, drapey, nude-pink and dark silver satin. To me, it looks and feels like a prized relic uncovered from a magical hoard of vintage wedding finds.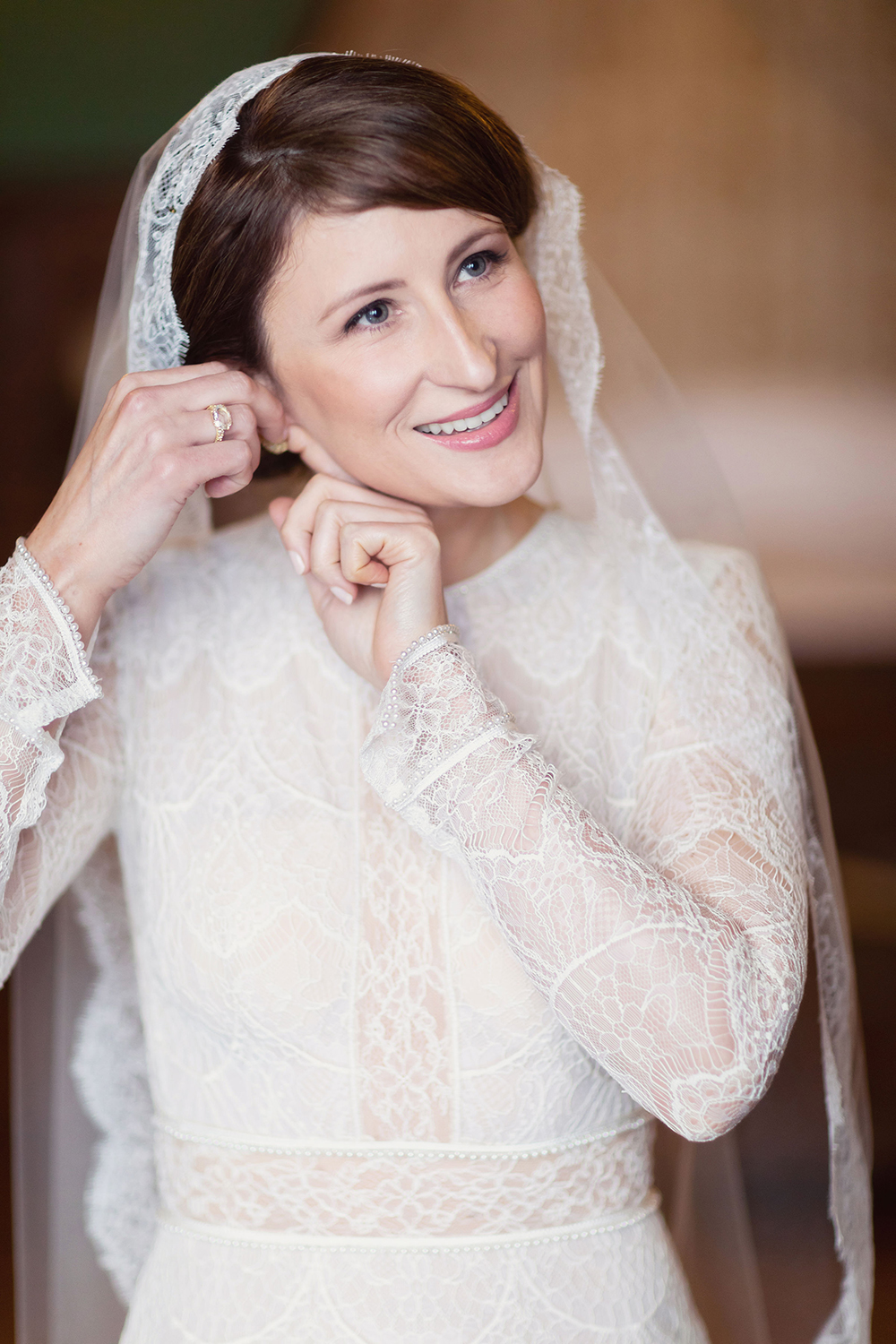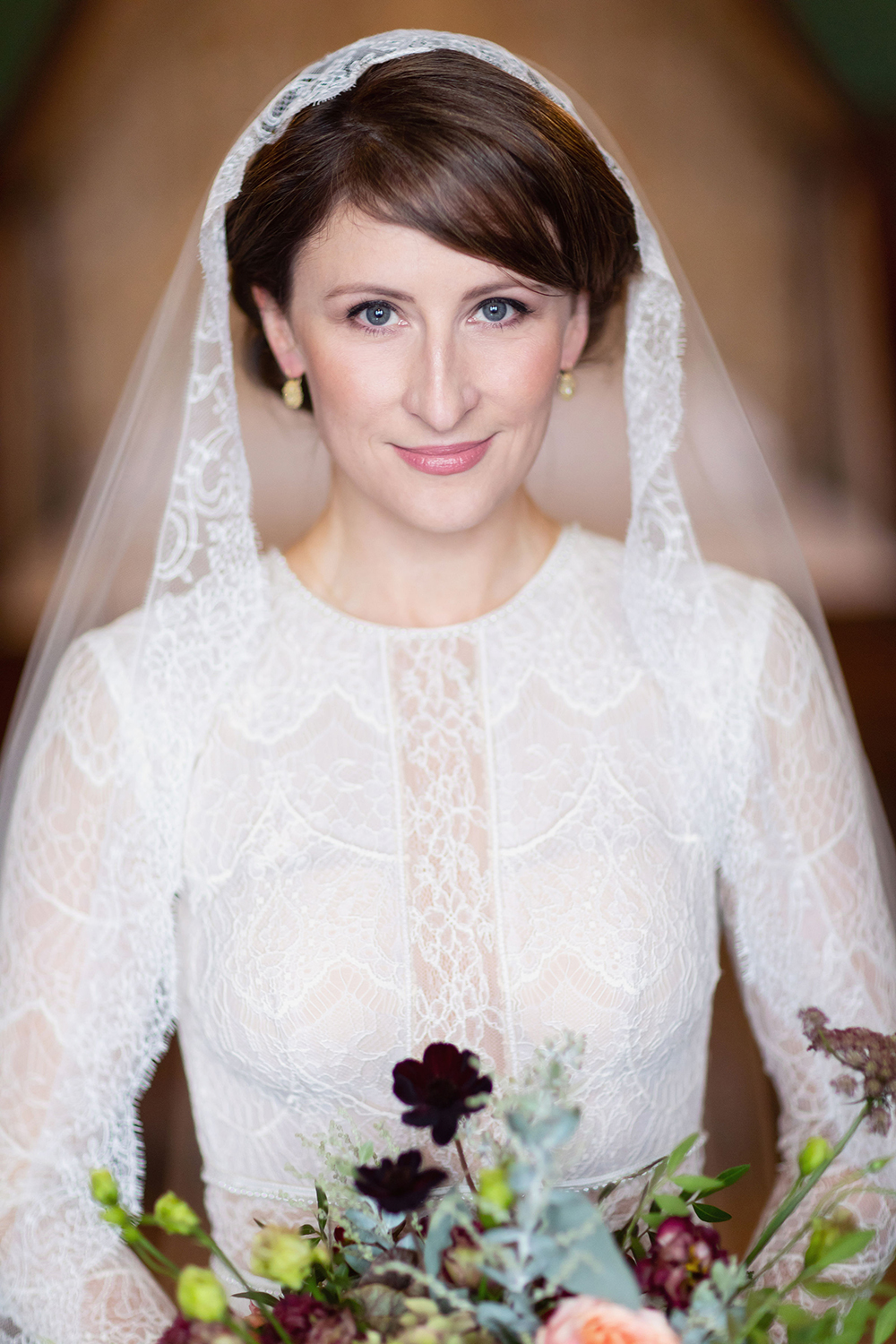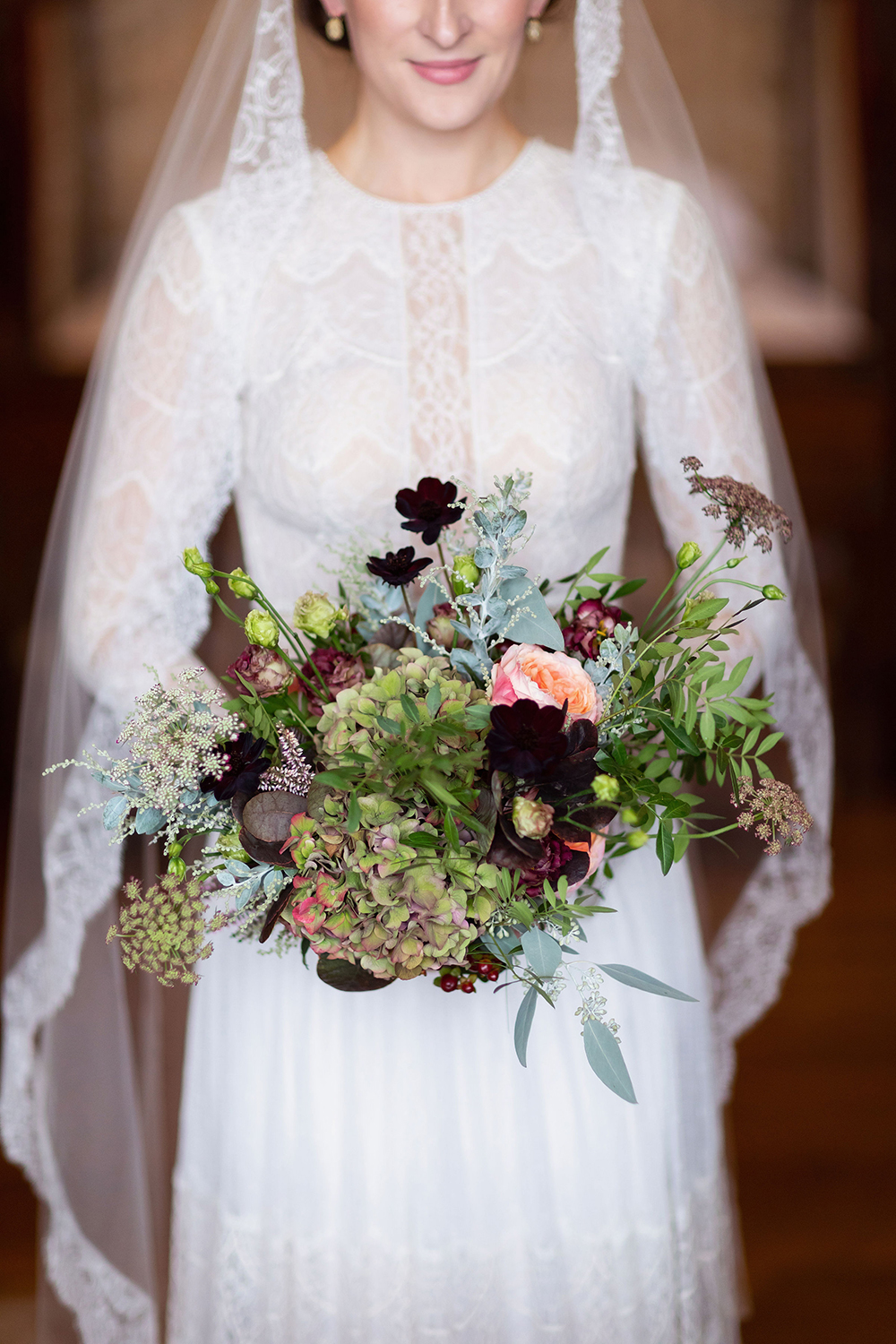 I had three bridesmaids – my two cousins Hannah and Laura, and my sister-in-law, Chrissie. I was keen to have as much close family involvement in the wedding as possible, and these lovely ladies were the natural choice!
The gold, emerald green, soft pink and berry tones of Mount Stuart's 'Horoscope Room' beautifully complemented the three slightly differing bridesmaids' outfits. All wore the same floor-length, fairly heavy and beautiful quality pale pink skirt from Monsoon, made of several layers of floaty tulle. We paired the skirts with differing vintage-inspired silver-sequinned and lace tops, also from Monsoon and Coast.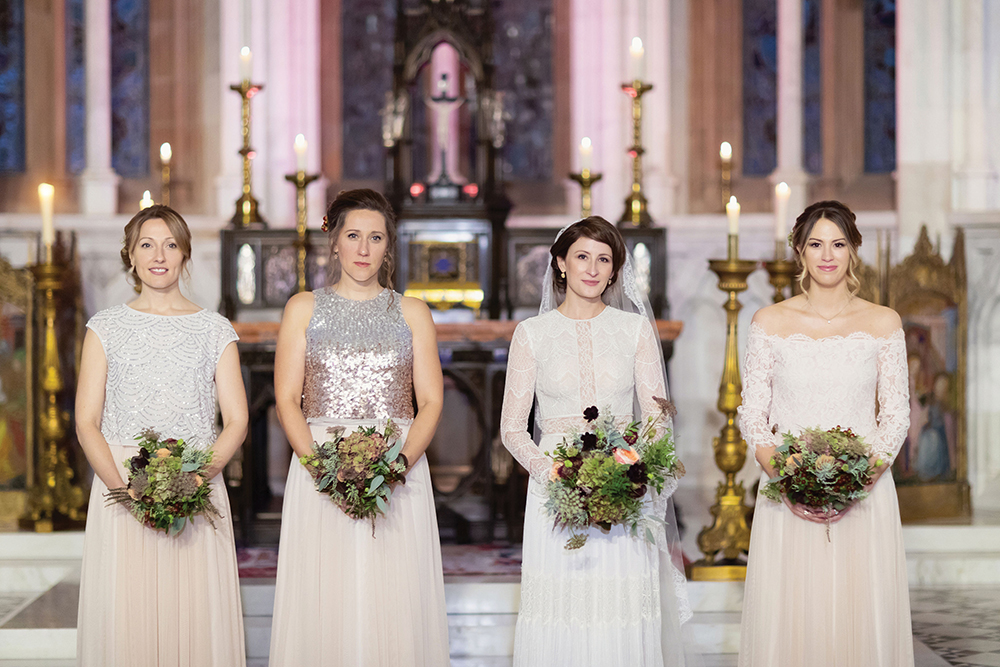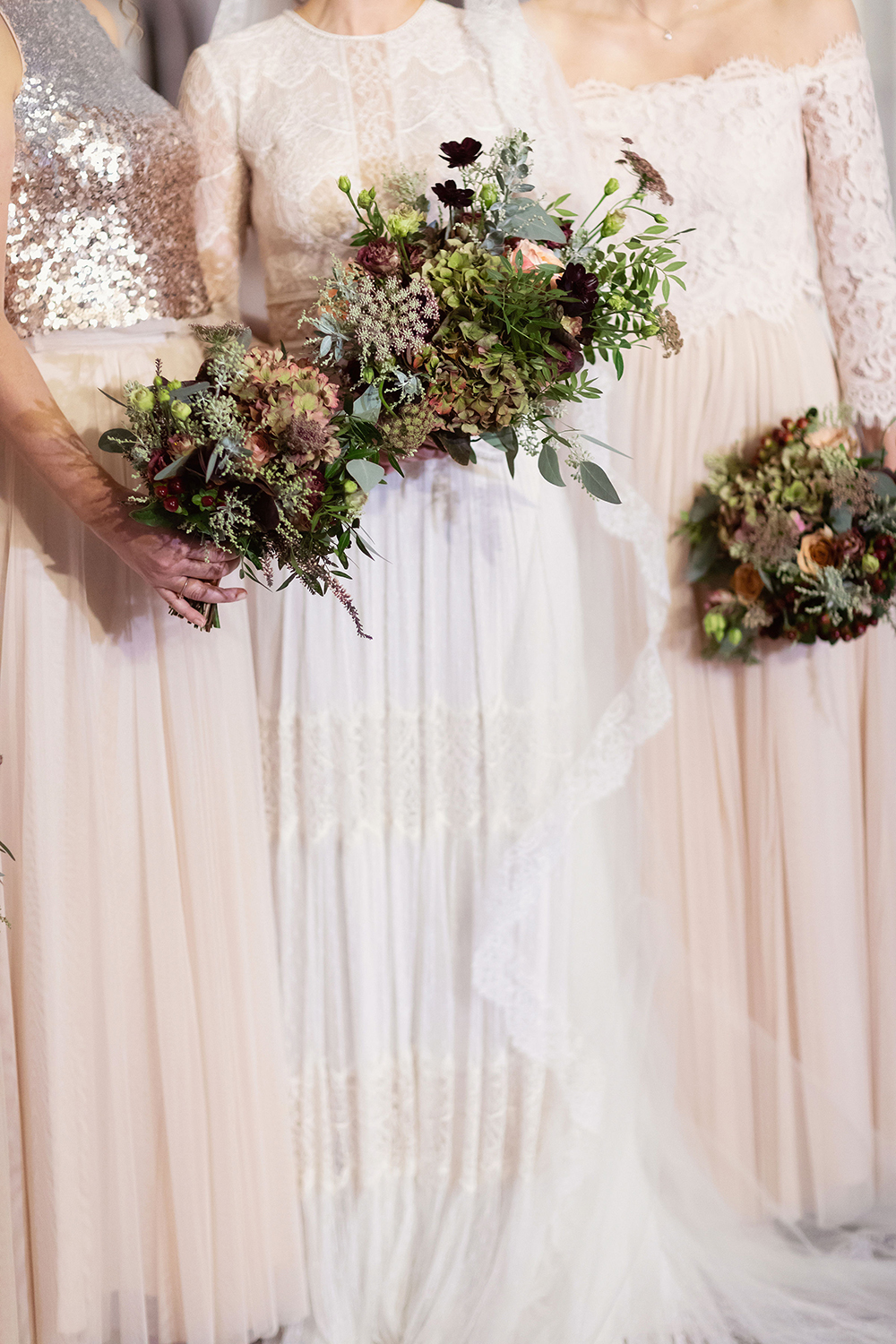 Gavin visited a lovely kiltmaker called Julia Jappy, based in a tiny Highland workshop in the village of Helmsdale, not far from our new home. Her exquisite made-to-measure work on Gavin's kilt, jacket and waistcoat in 'muted Sutherland' tartan and green tweed ensured that he properly looked the part.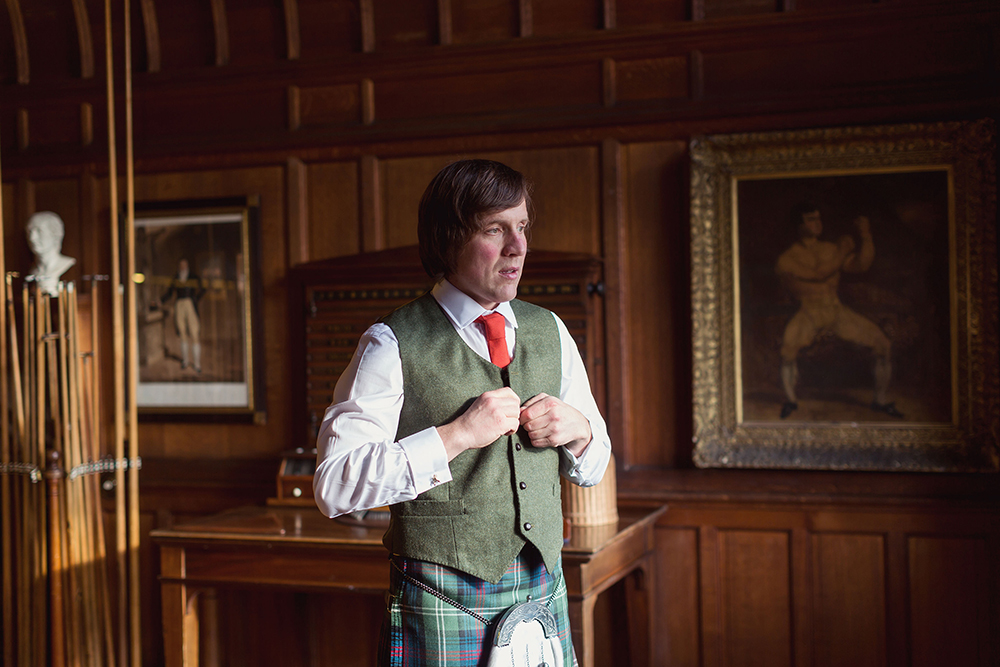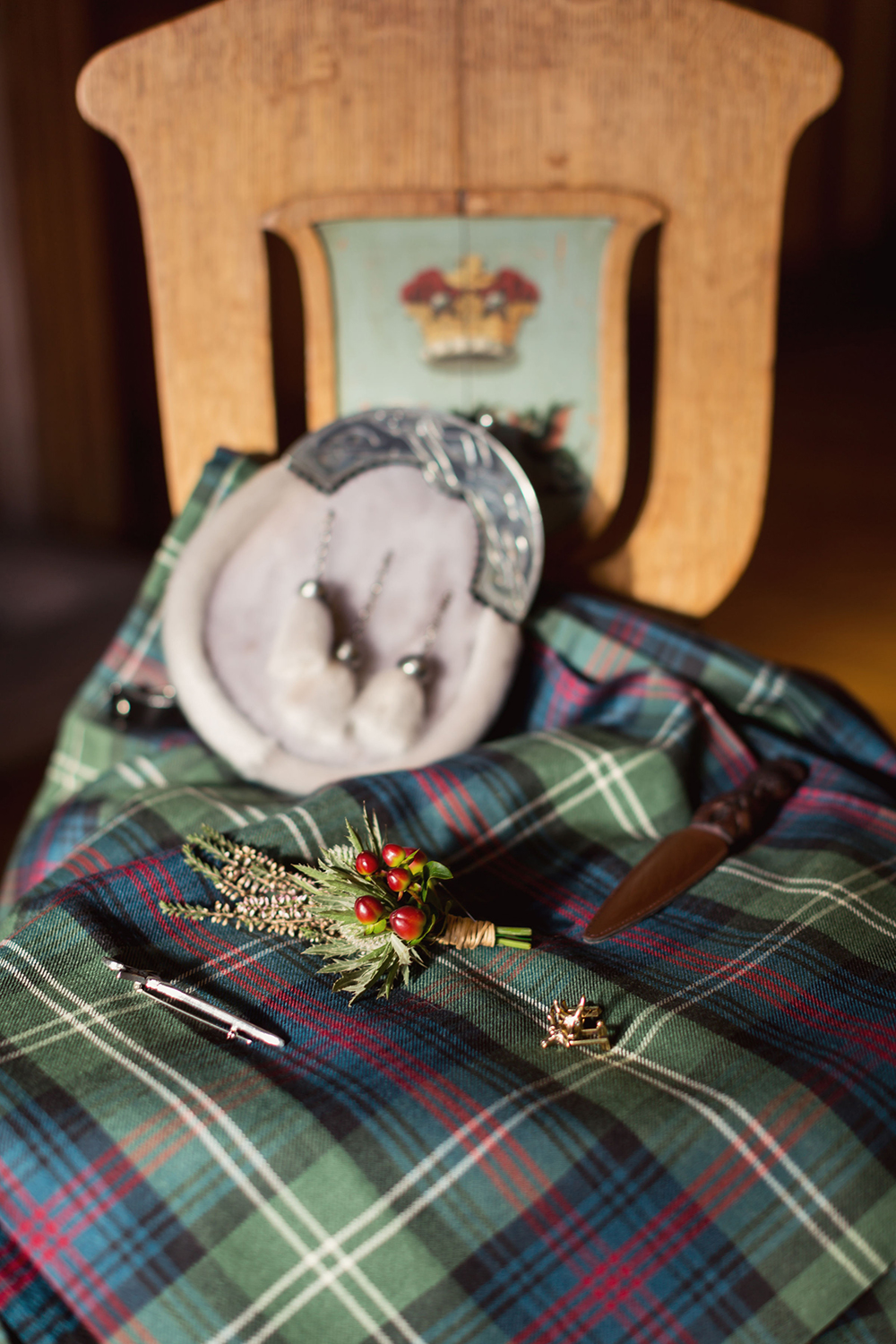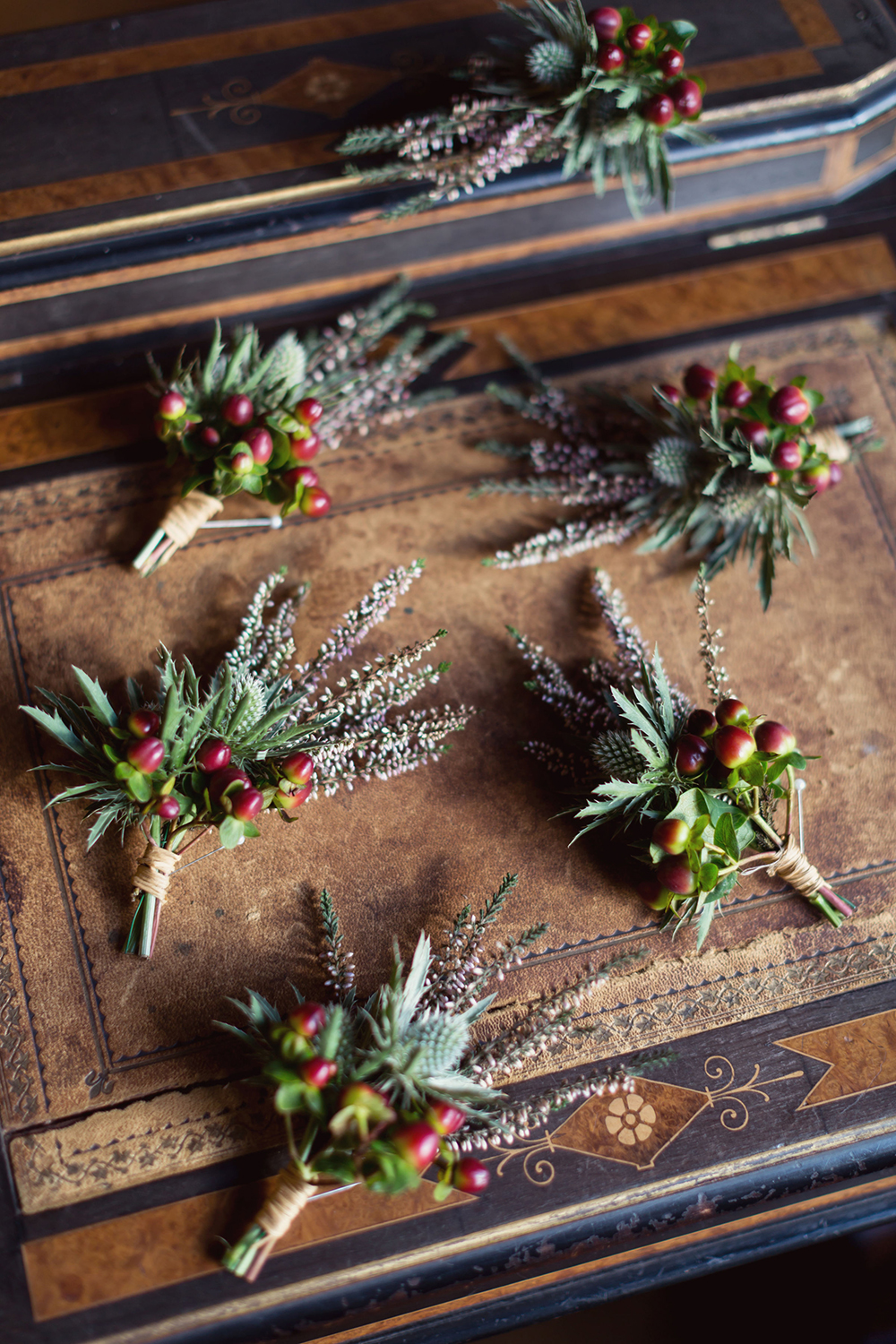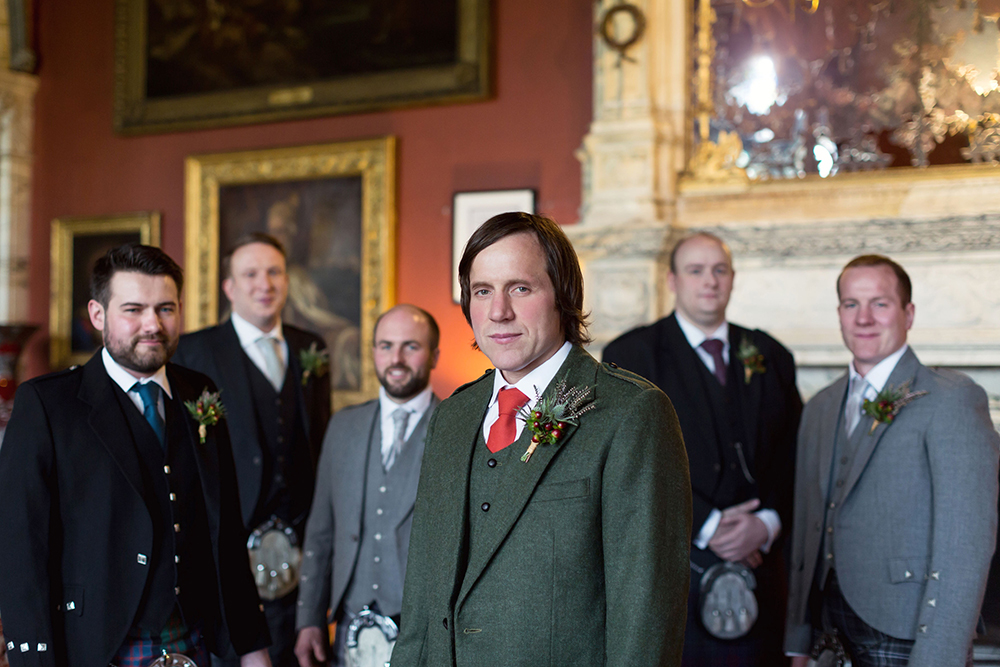 Gavin's best man was Martyn, aka 'Cheese' – who is one of his best friends from uni. His close family friend Tommy was groomsman, along with his brothers Matthew and Ian.
Our 'Best Dog' – and he had the bandana to prove it – was our lovely boy, Max.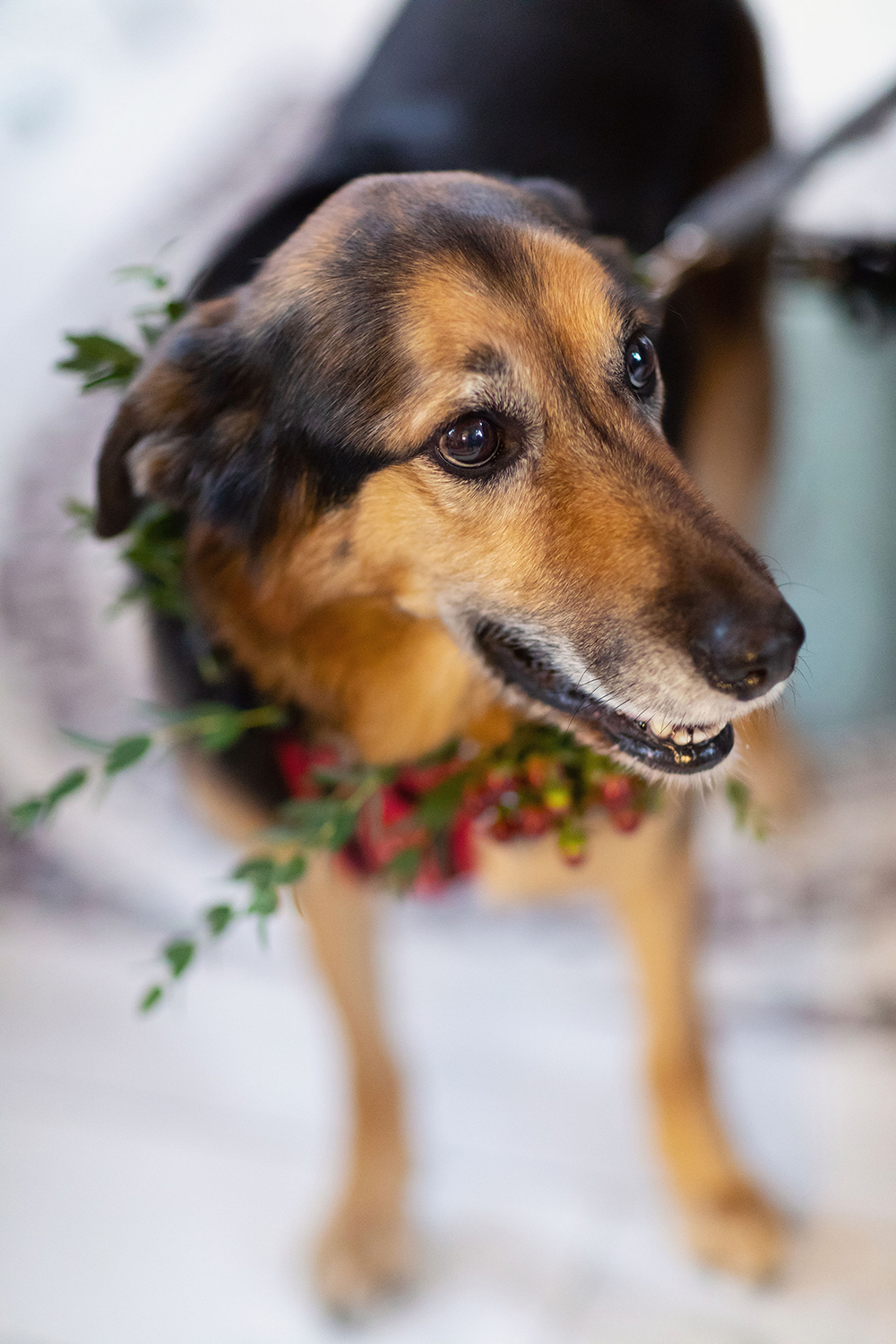 We chose a humanist ceremony predominantly because we're not religious, and because we agree with humanist principles of living a life led simply by reason, compassion and respect for others.
We wrote and read out our own unique secret vows to each other. We chose different words, but the parallels in the promises we made and the conviction we expressed were almost identical.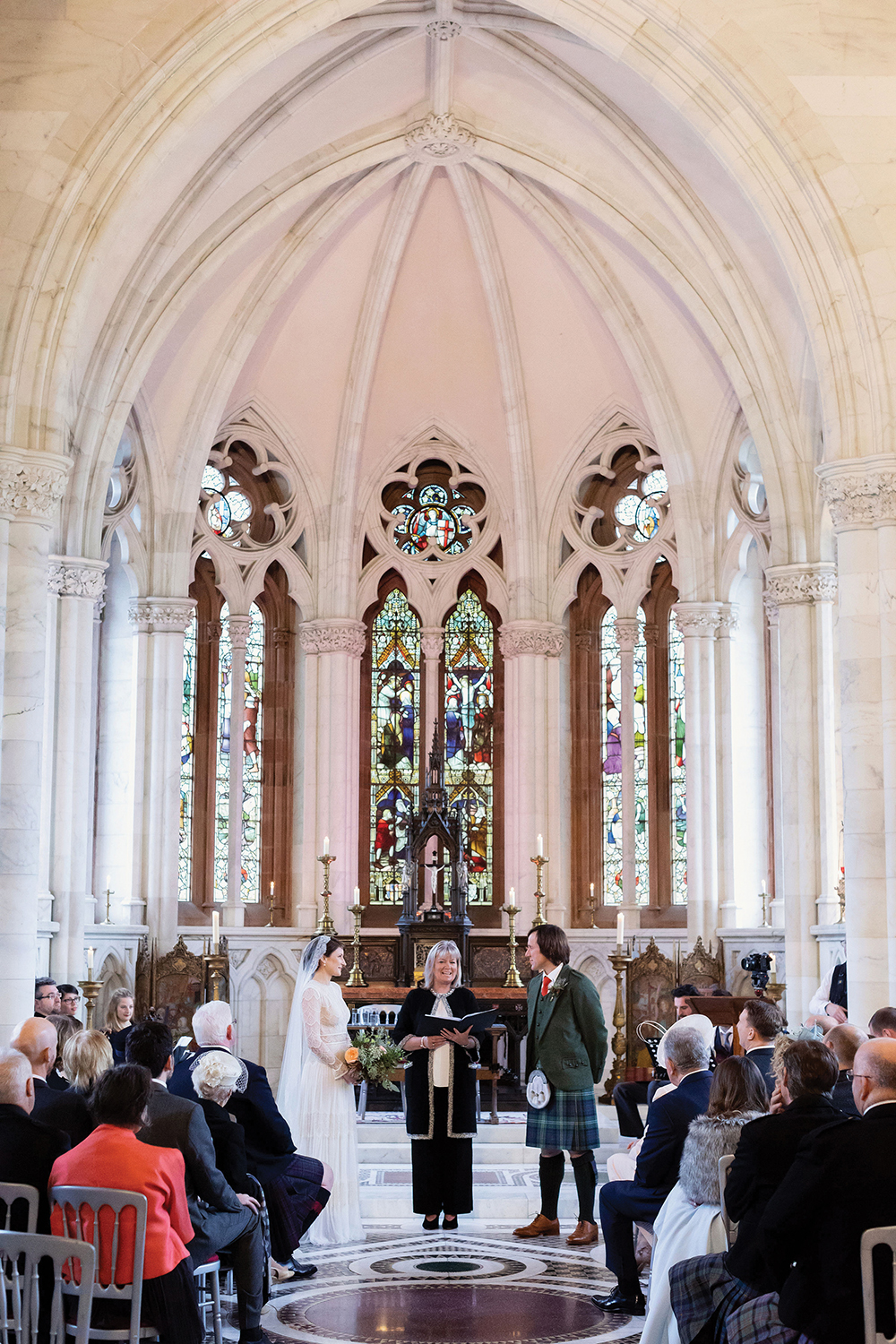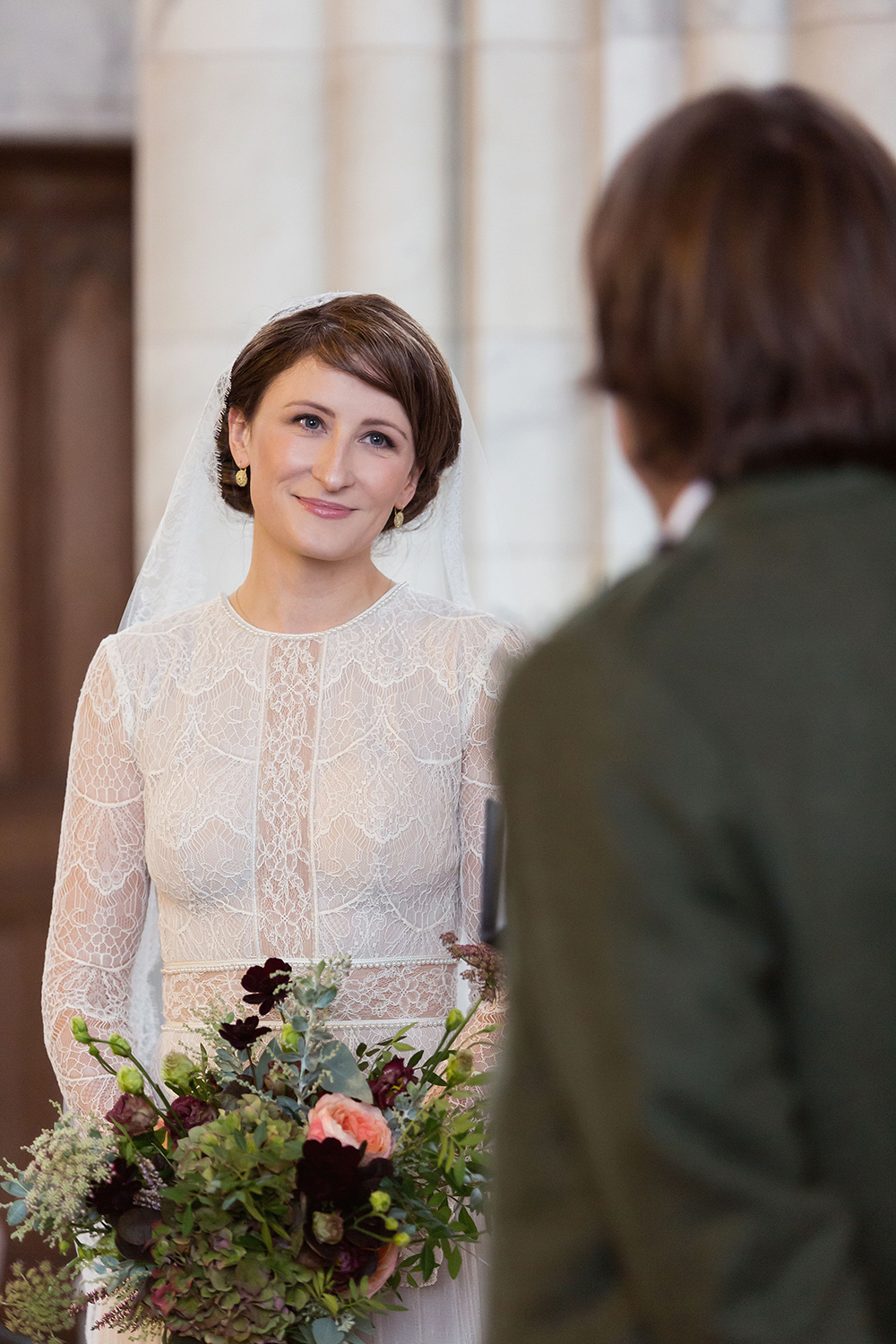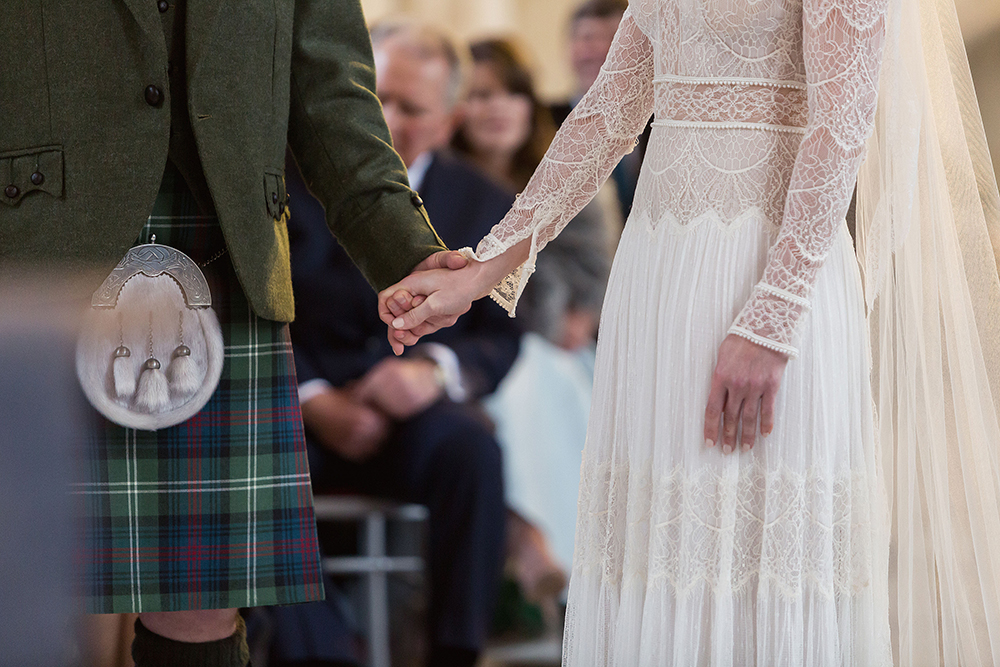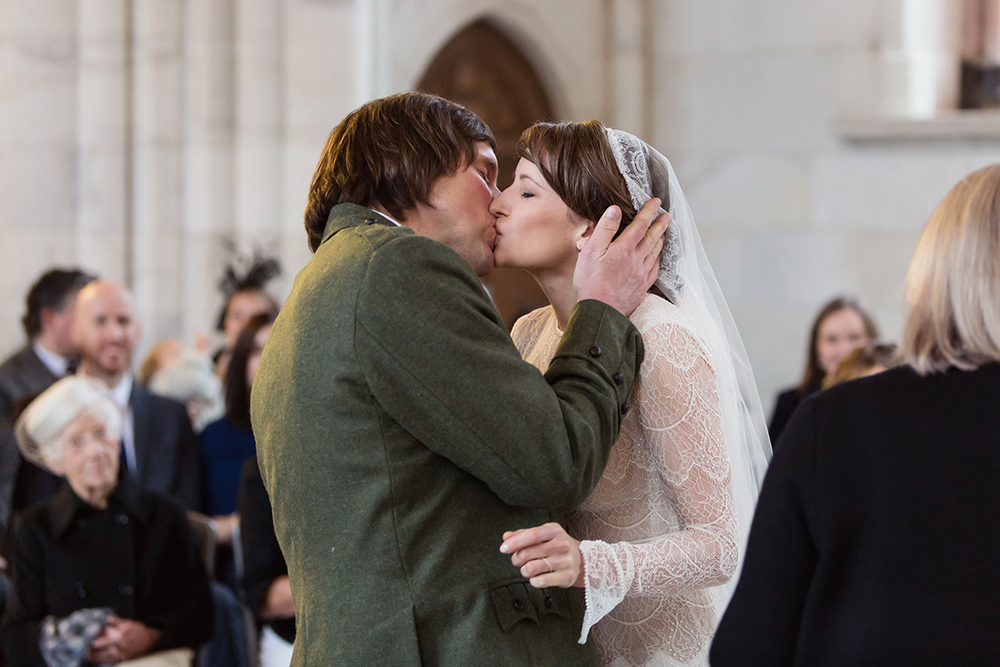 After the ceremony, we had a champagne reception with music from Capella String Quartet and Dougsy and Matt from our wedding band, Sneaky Treacle, on guitars. It was really cool having them play together, jamming and improvising, and they sounded amazing.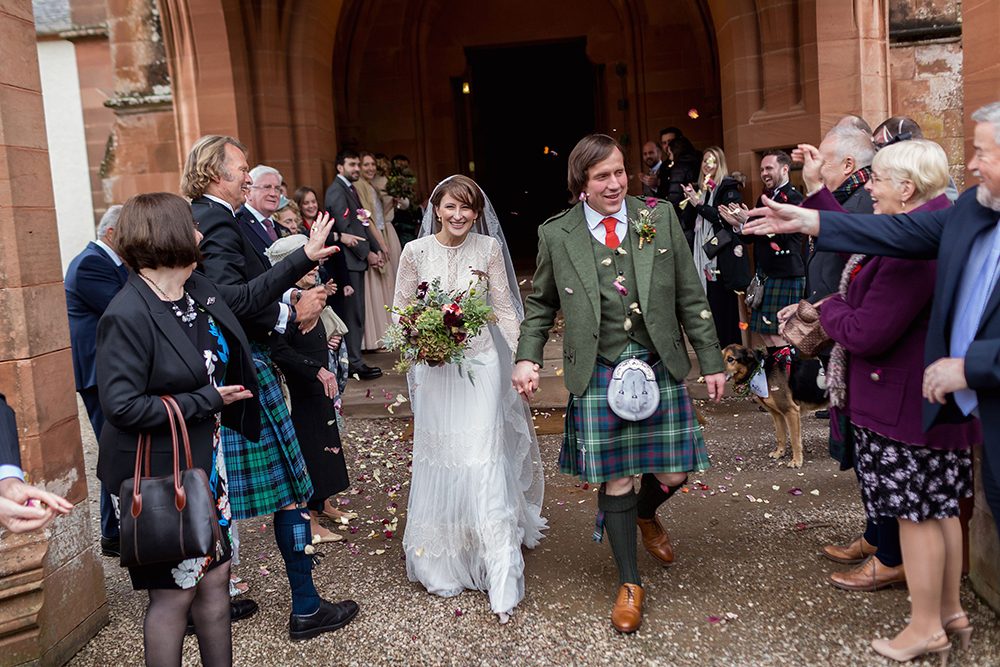 All of our catering was provided by Hickory Food, as recommended by the Mount Stuart team. We spent almost a year working with Hickory on an exciting menu with their talented team of chefs, co-ordinators and sommelier.
They created an exquisite bespoke menu for our wedding breakfast, including delicious canapes and a hearty rehearsal dinner the Friday evening before the wedding, served at Mount Stuart's self-catering property, Kean's Cottage.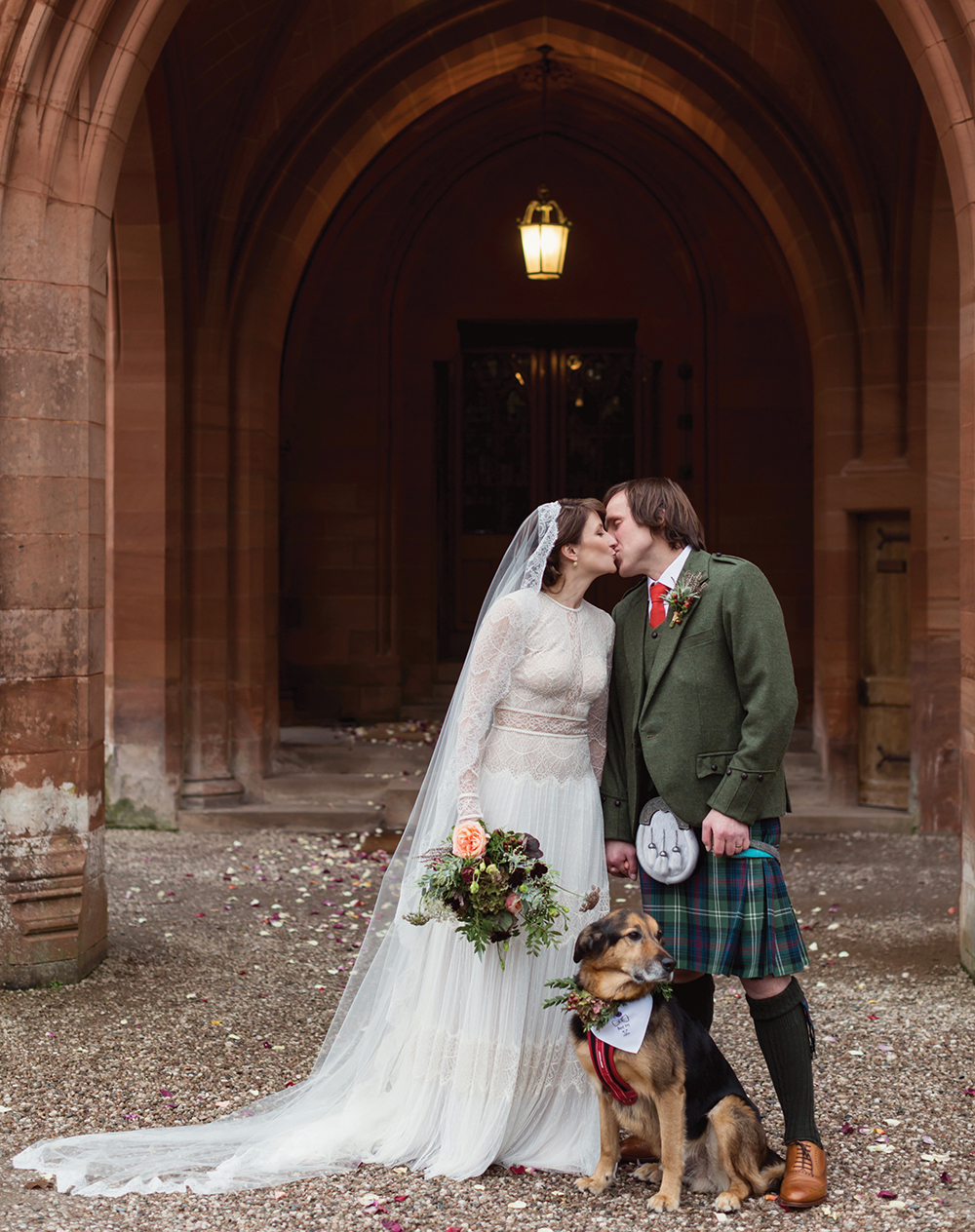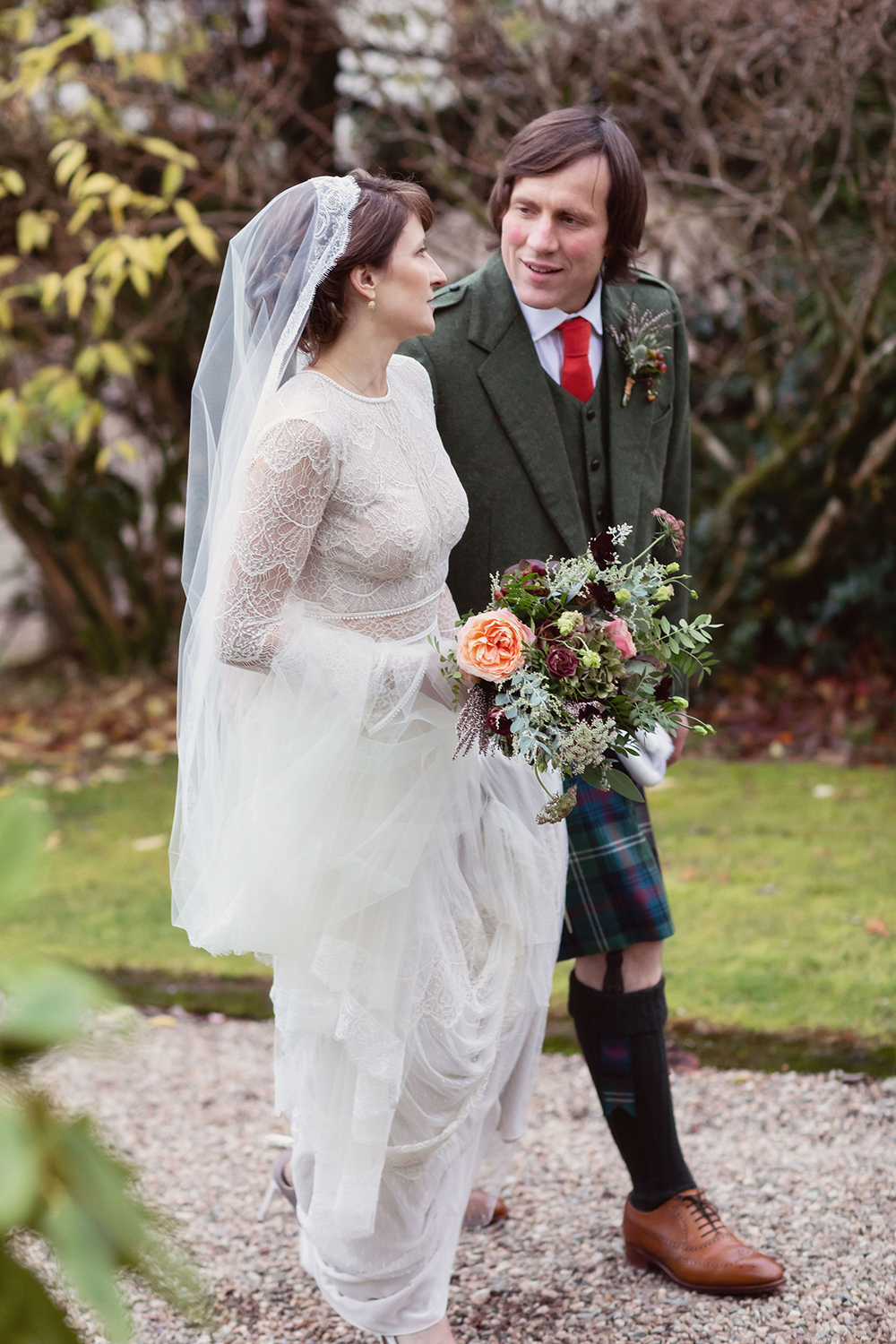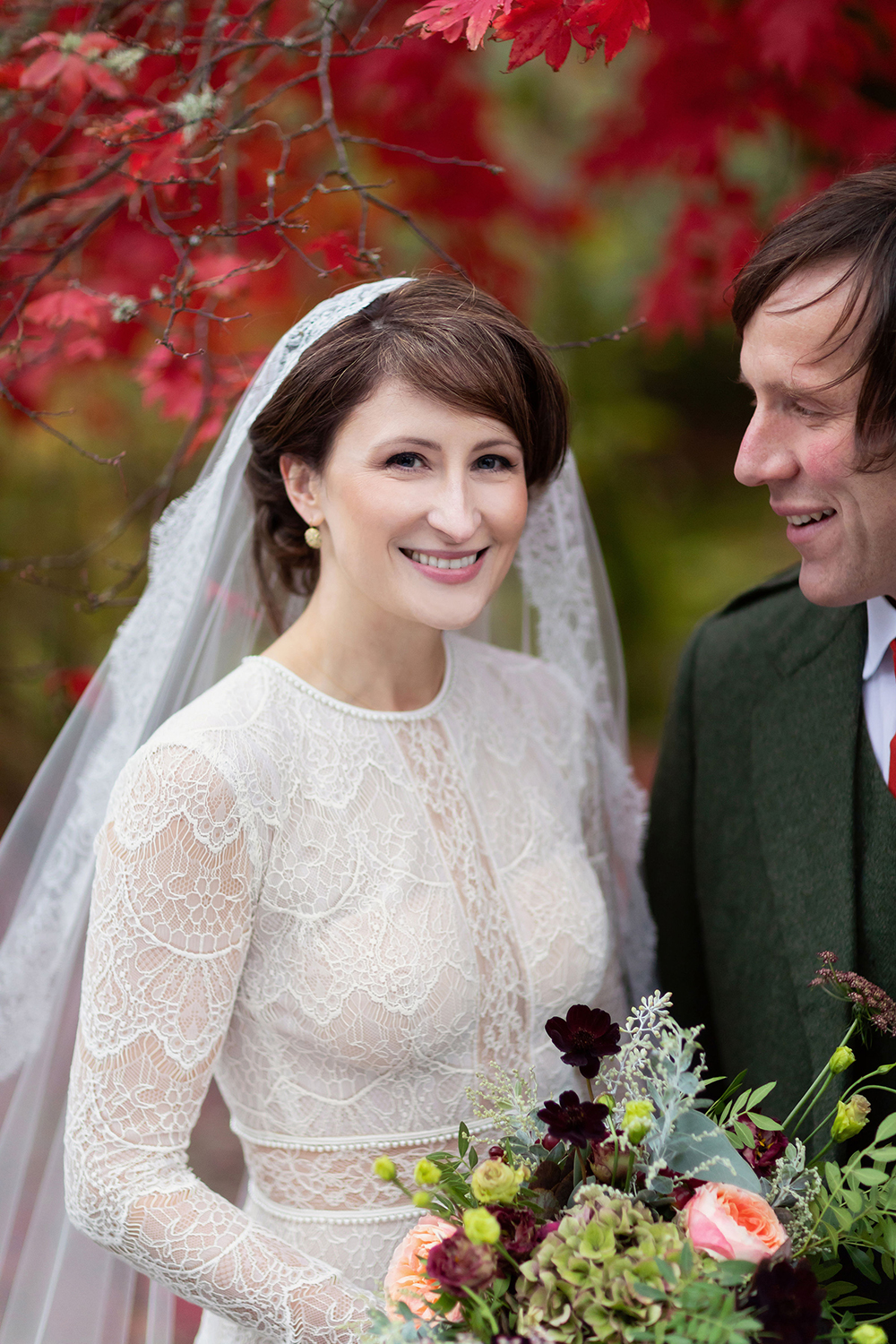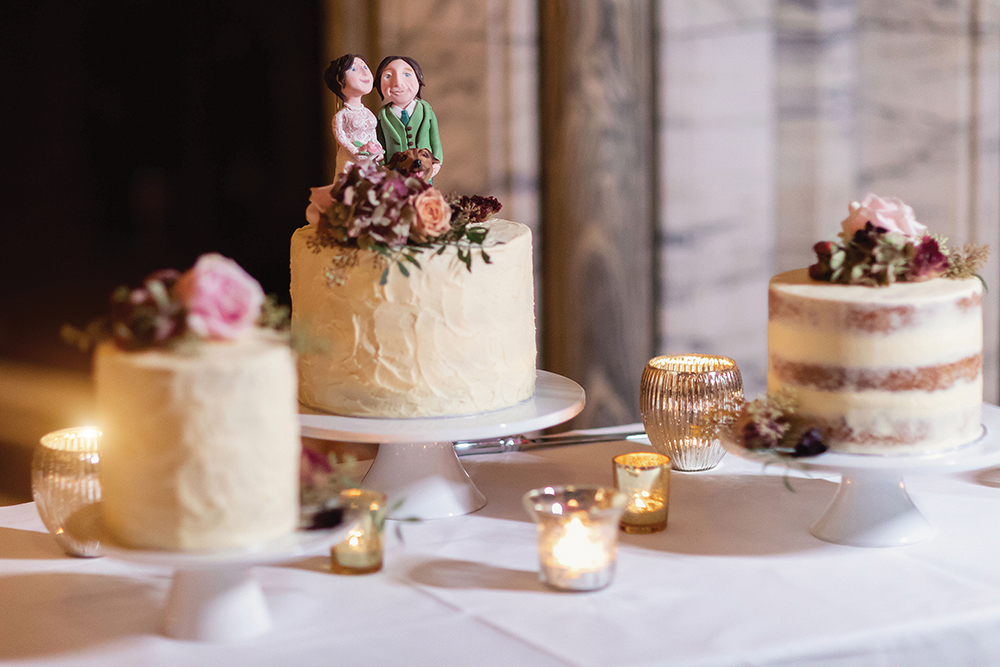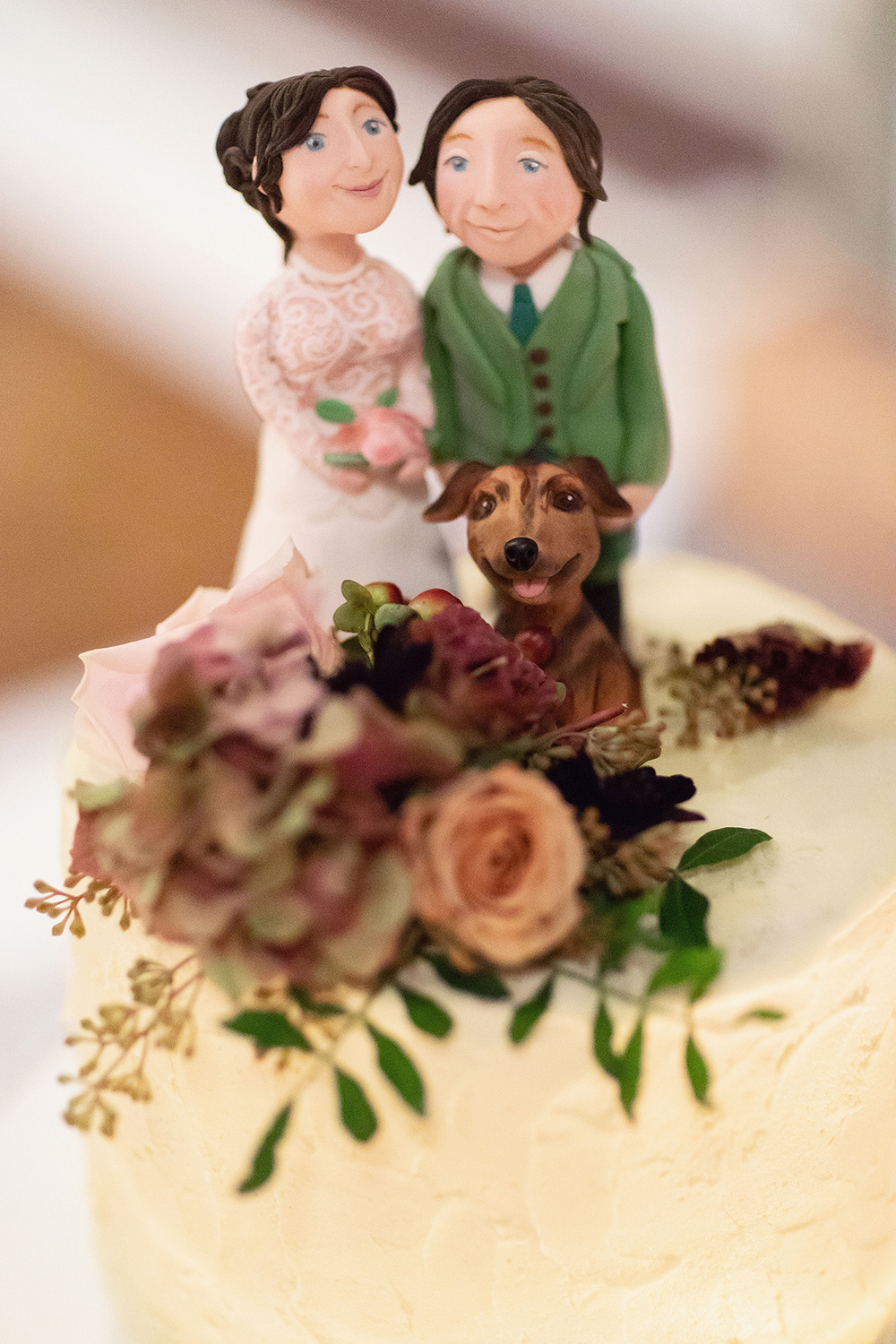 A really special moment – and surprise for the guests – came when the music suddenly stopped and the sound of bagpipes filled the Marble Hall. In walked a lone piper to usher everyone outside, quickly grabbing their coats on the way.
Gavin and I followed on to the back of the building, where a two-way radio was thrust in front of us. "Fire, fire, fire!" we shouted. This triggered the launch of a stunning and incredibly powerful firework display which lit up the sky, the gardens and the loch, set up by 21CC.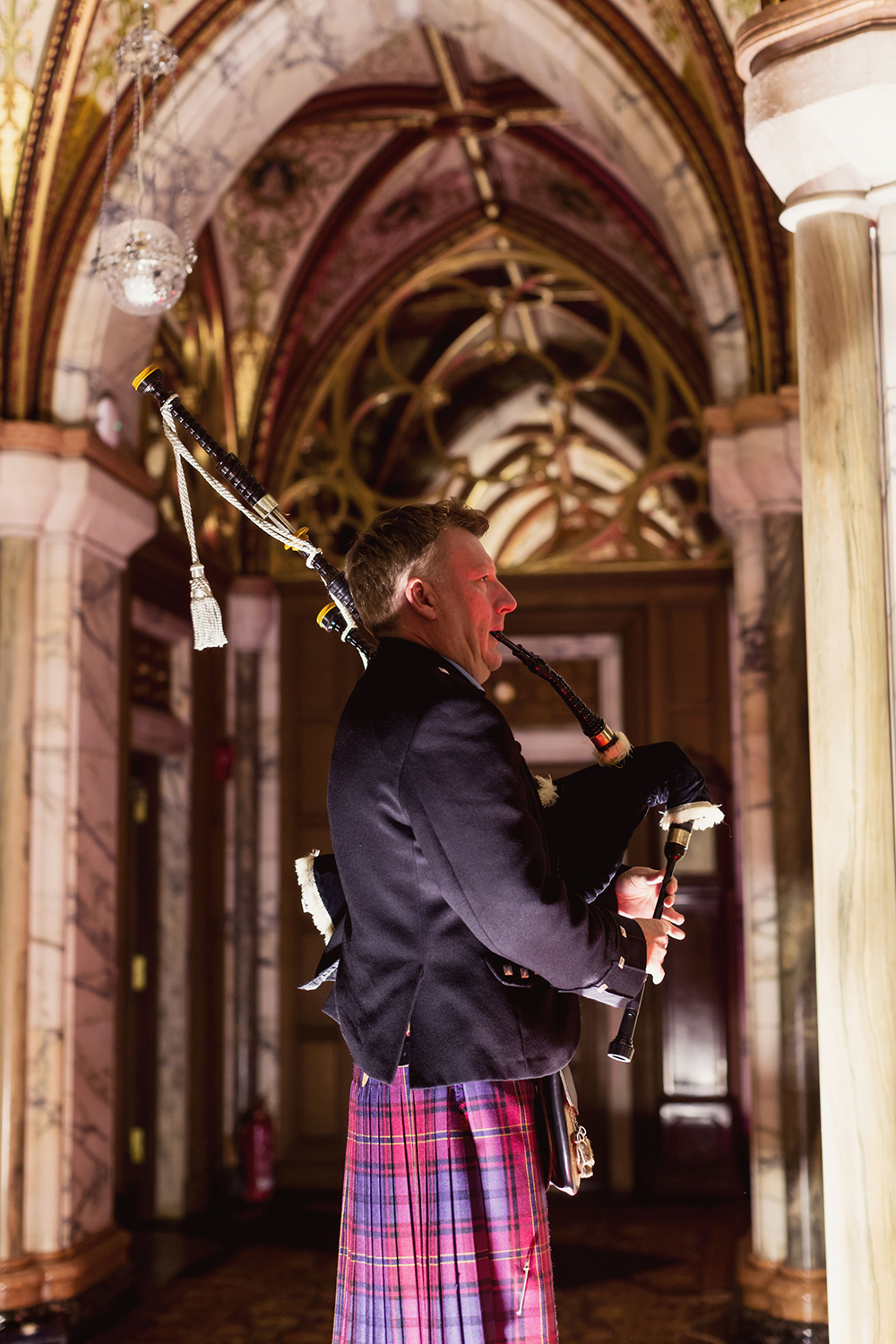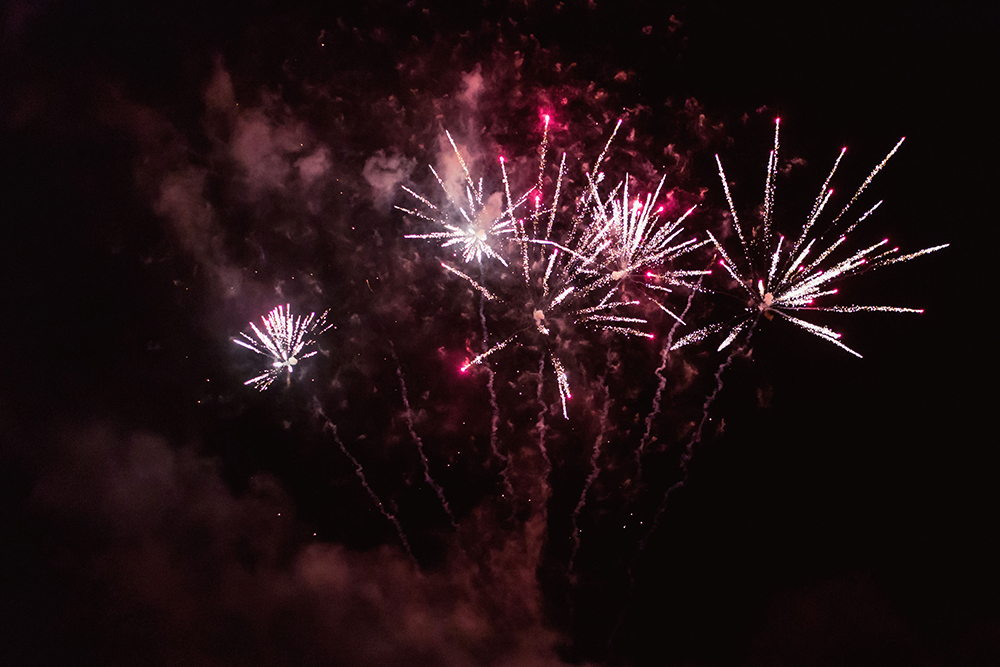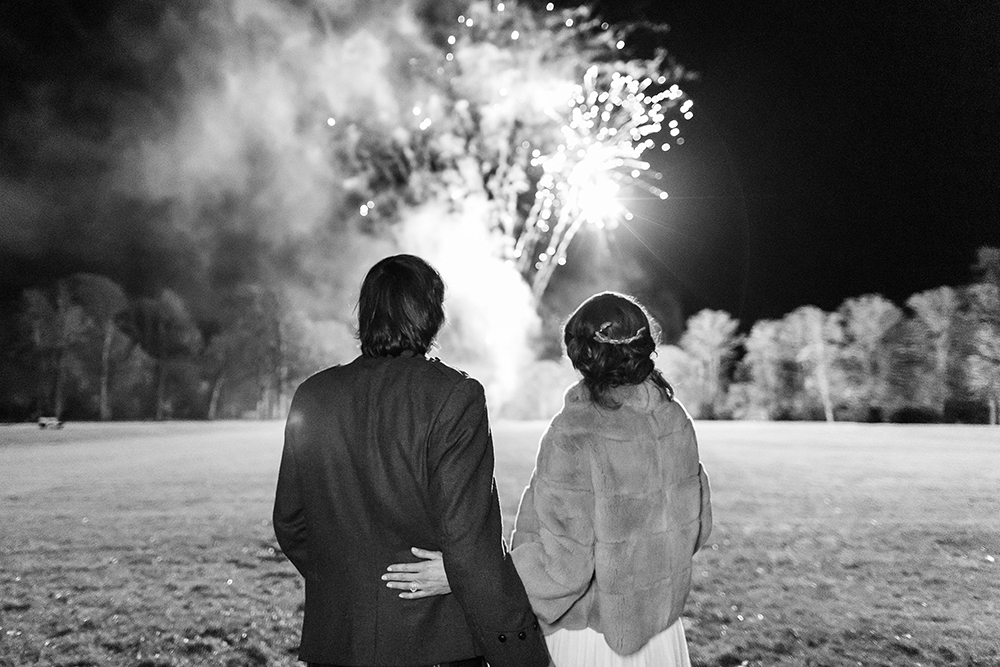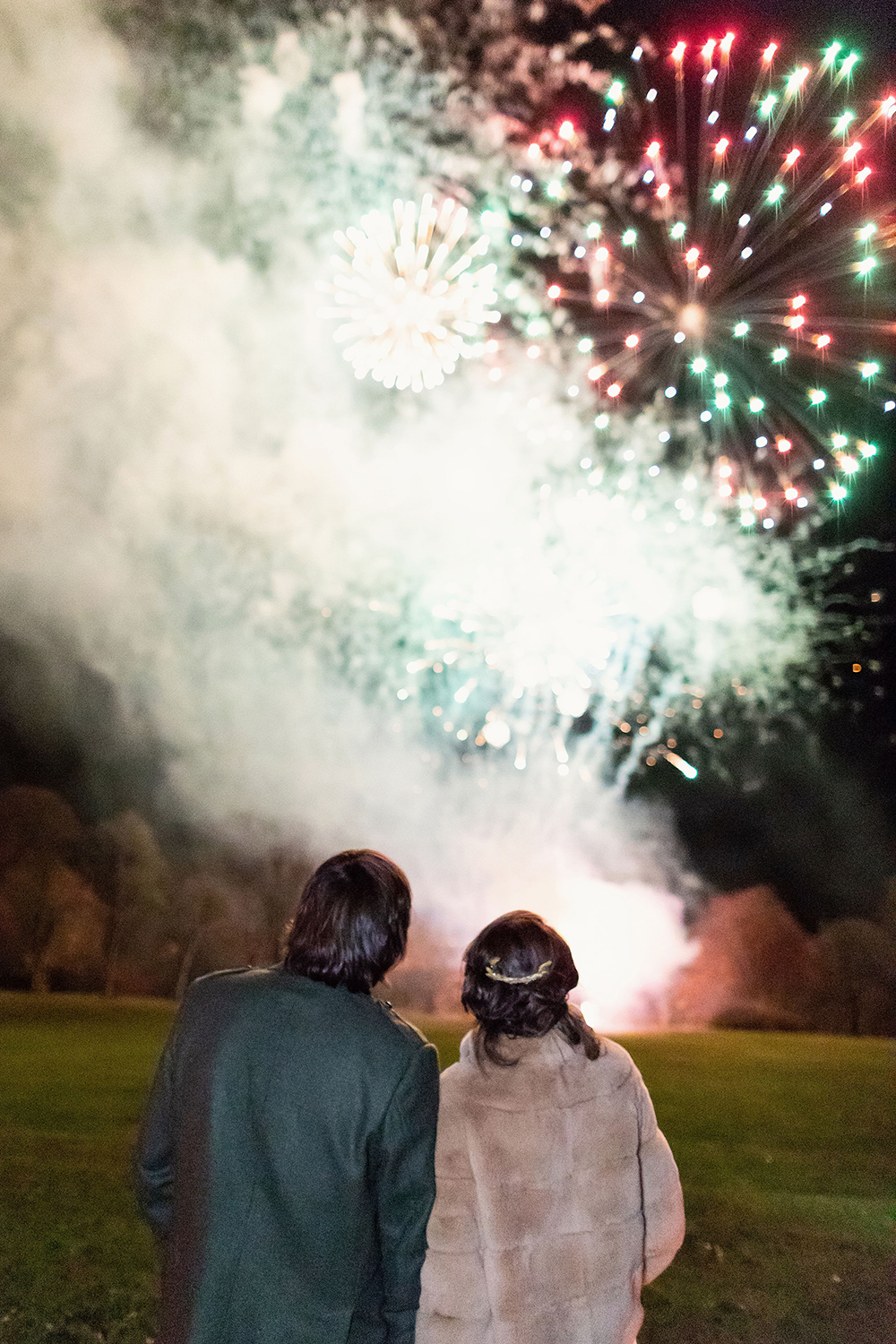 My wedding planning advice is to never believe that it's too early to start planning your wedding. If you've never planned a wedding before – believe that most things will take at least 50% longer than you think. This will really help to reduce any stress as the day gets closer. Then you can actually enjoy planning! Delegate as much as you can to those you love and trust and choose your suppliers extremely carefully.
Prepare to accept that things can and will change, because your big day probably won't turn out exactly as you picture it. If you just go with the flow (to an extent), you'll enjoy it for what it becomes. Be yourself at all times – and have no regrets.

Venue: Mount Stuart  | Photography: Craig and Eva Sanders  | Videography: Cherry Tree Films |
Rings and earrings: Polly Wales  | Dress: Lihi Hod at Browns Bride  | Stationery: Laura Henderson | Veil: Toni Federici | Bride's shoes: Aquazzura | Hair accessory: Hushed Commotion on Etsy | Bridesmaid skirts: Monsoon | Bridesmaid tops: Monsoon and Coast | Groom's outfit: Julia Jappy Kiltmaker | Cakes: Big Bear Bakery  | Florist: Myrtle and Bracken | Bridesmaid hair: Cameo Bridal Styling | Bride's hair and bridesmaid make-up: Myra-Ann Purcell | Celebrant: Fiona Bennie | Caterer: Hickory Food | String trio: Capella | Band: Sneaky Treacle | Fireworks: 21CC