Italian-inspired barn wedding day at Guardswell Farm, Perthshire
Nicola and Sam incorporated their cute nicknames, Italian proposal and natural flair into their effortlessly stylish day.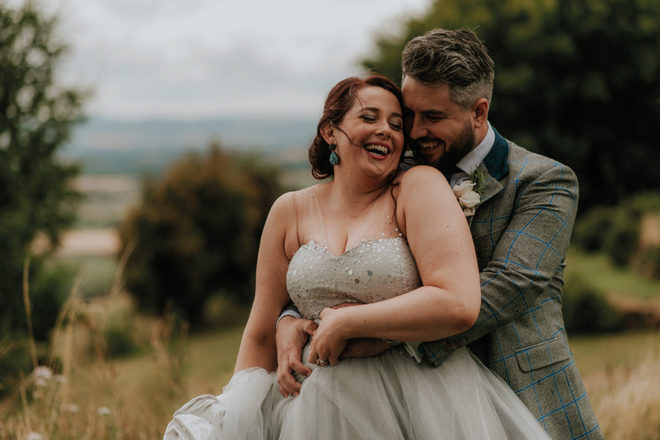 I'm a firm believer that you don't need sunshine for a fantastic wedding day.
Infact, if you choose the right location and venue, sometimes rain or mist makes for an even more romantic and breathtaking atmosphere.
That's exactly what happened at Nicola and Sam's July wedding day at Guardswell Farm in Kinnaird.
This blank canvas venue is located on a south facing hillside with views over the North of Fife, down to the Carse of Gowrie – simply stunning scenery for a gorgeous day.
Bride Nicola chats about the day with gorgeous shots from Simon's Studio…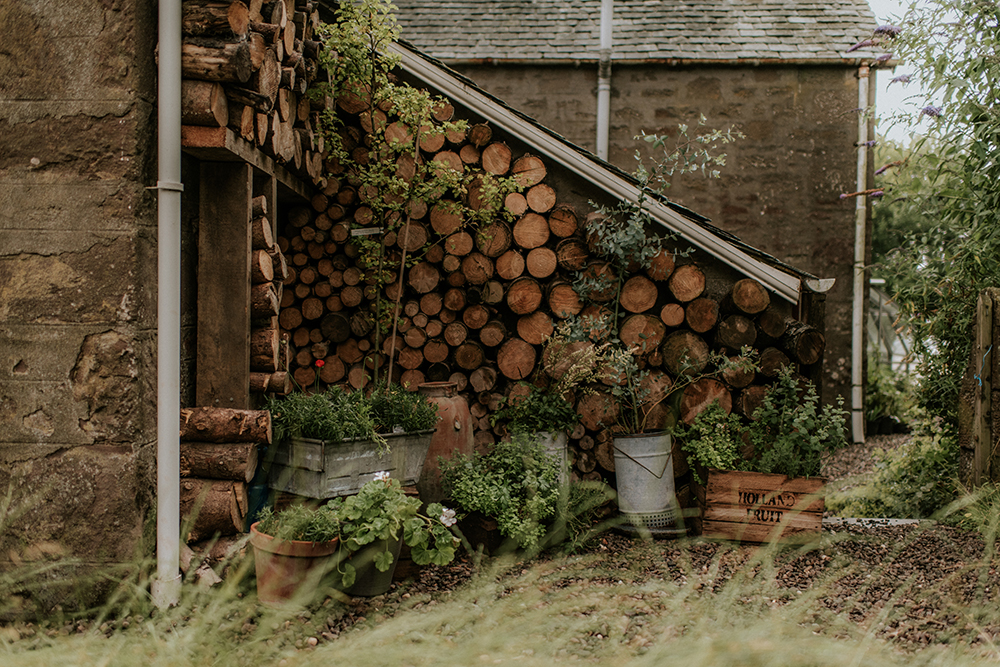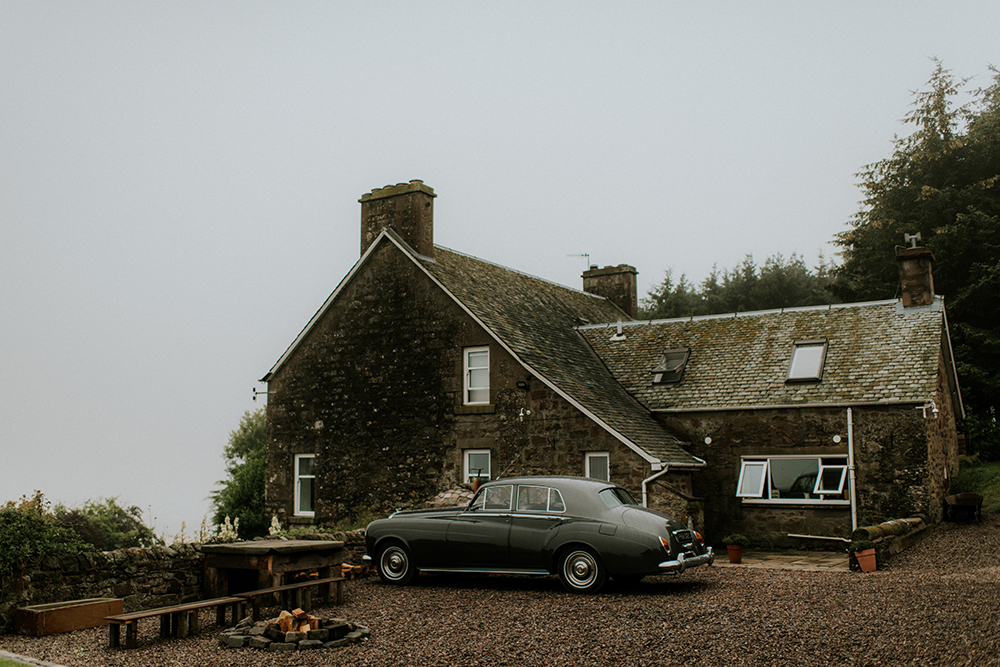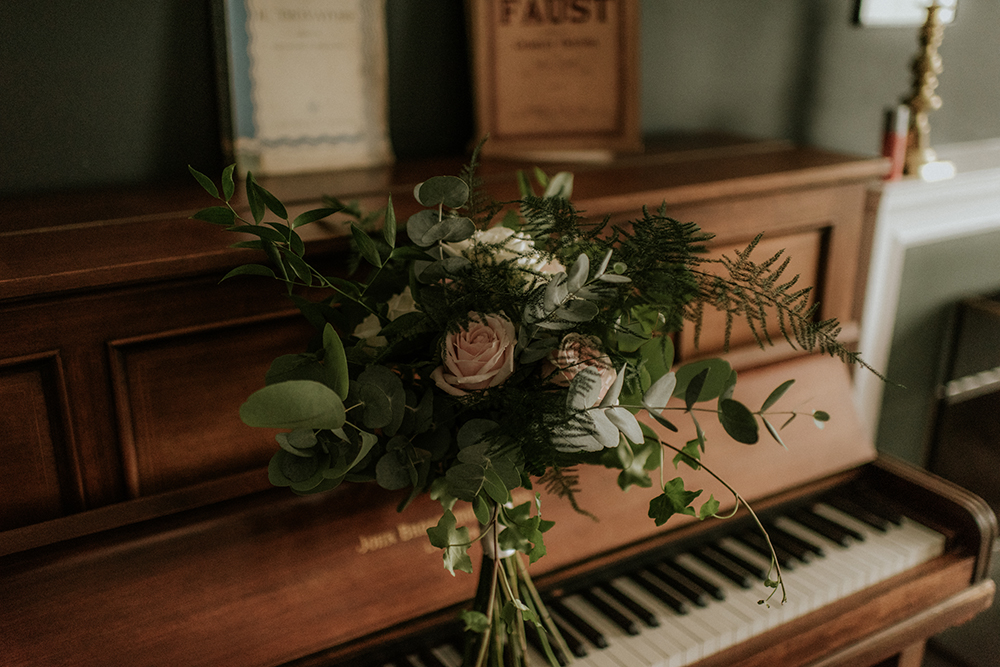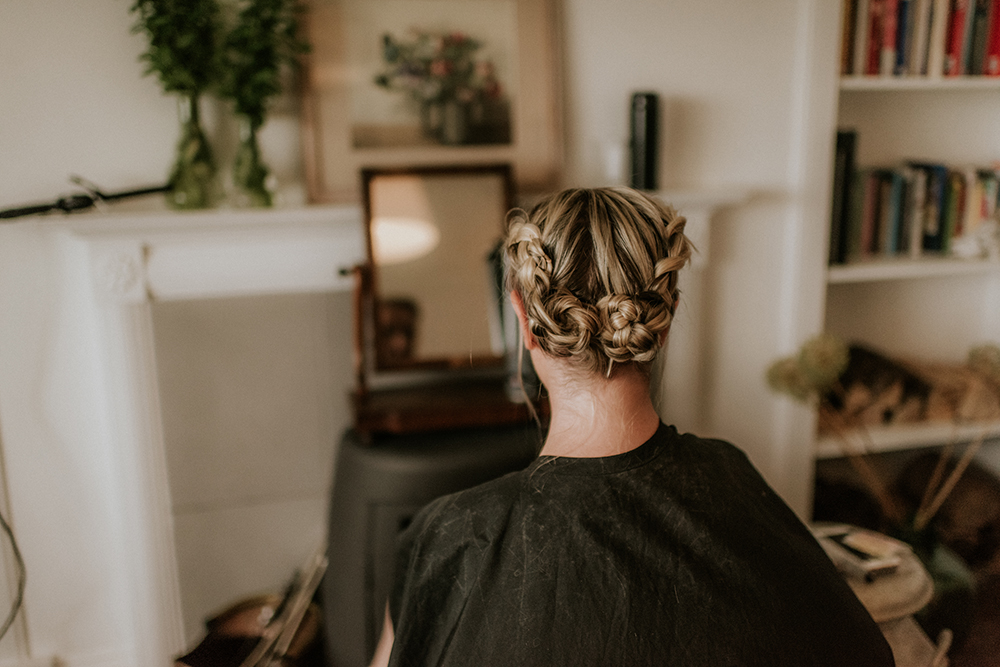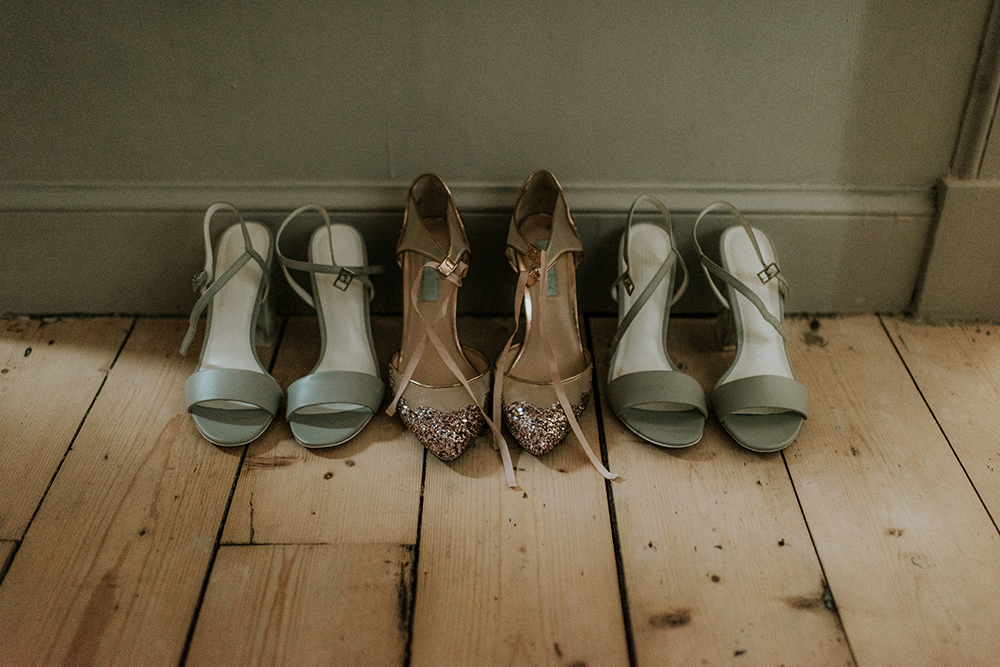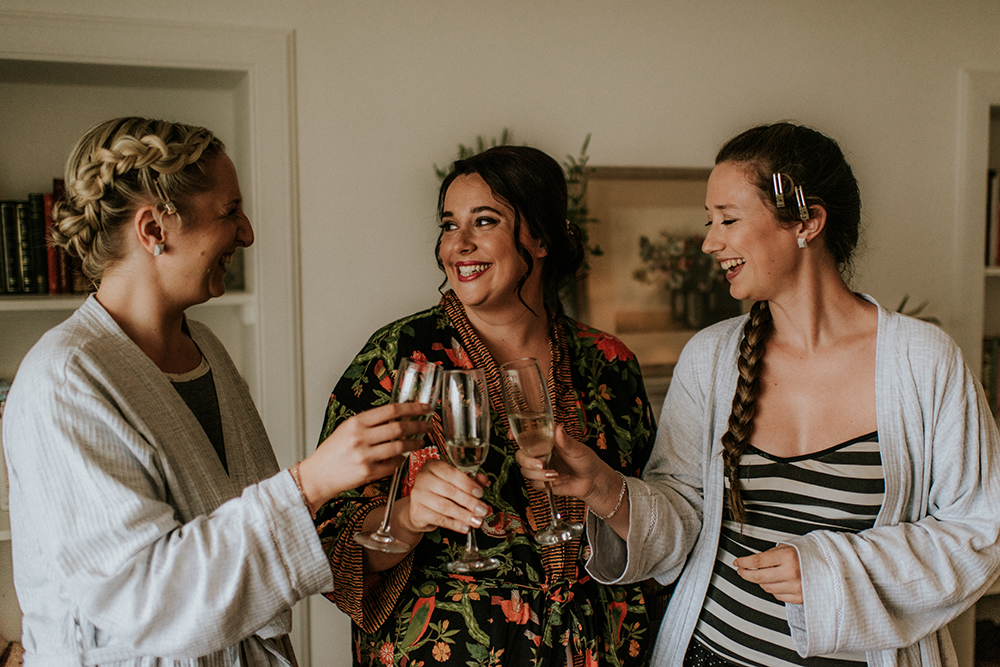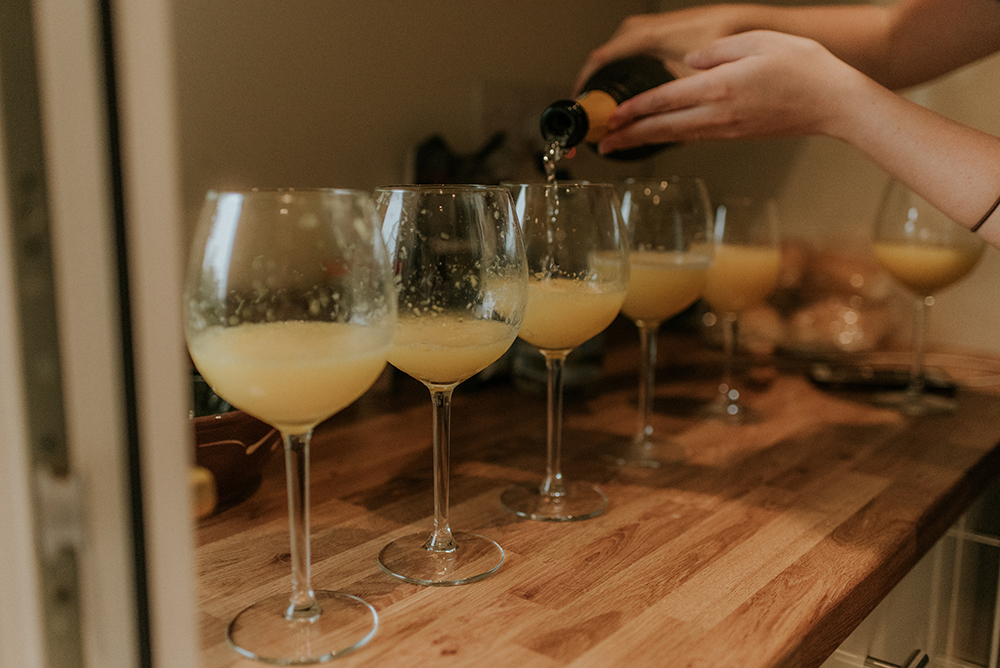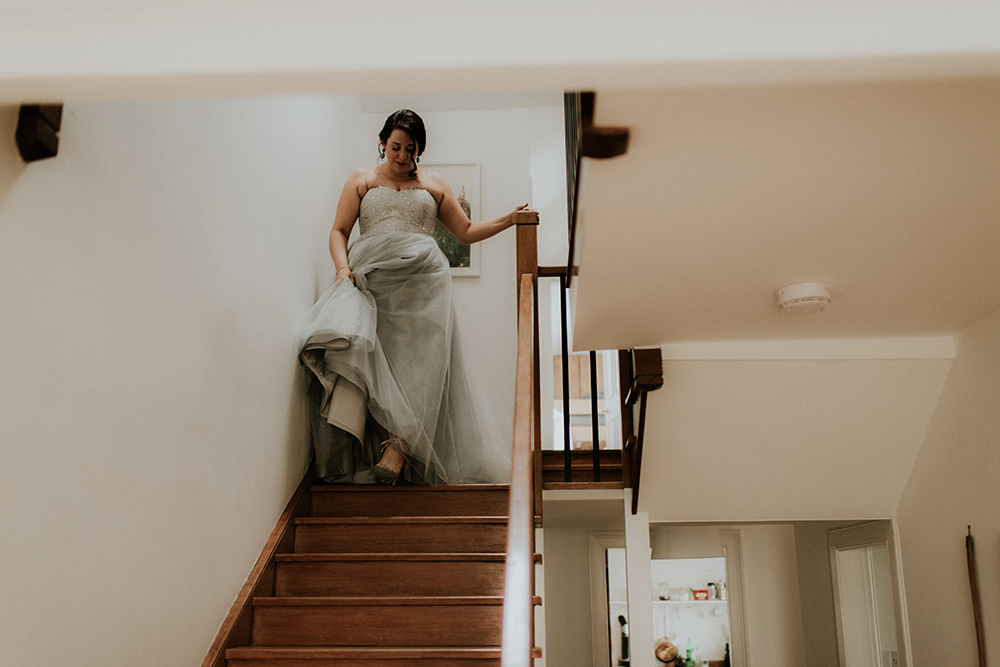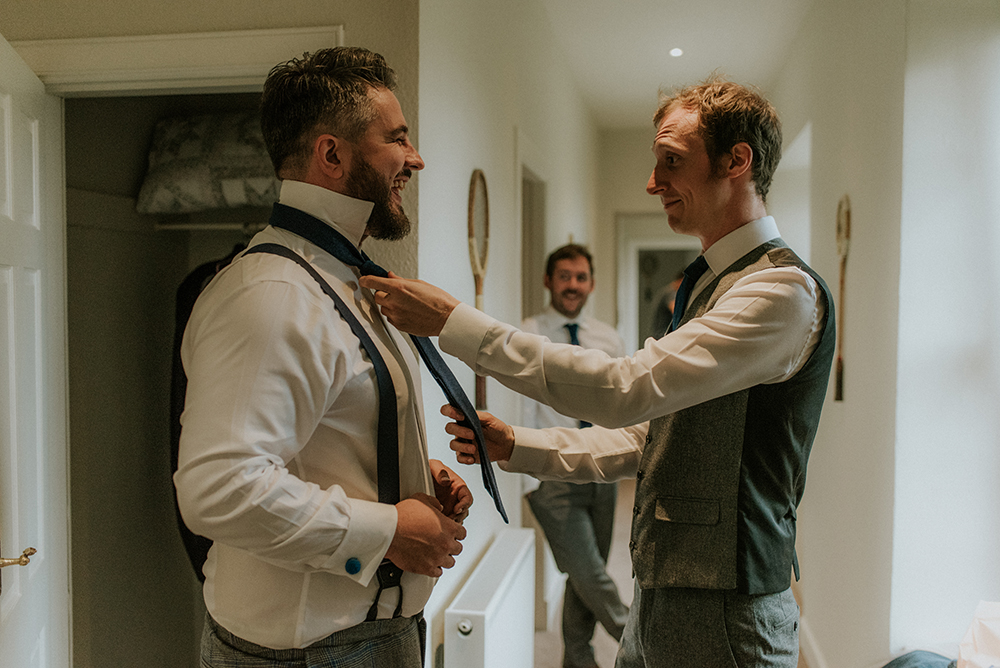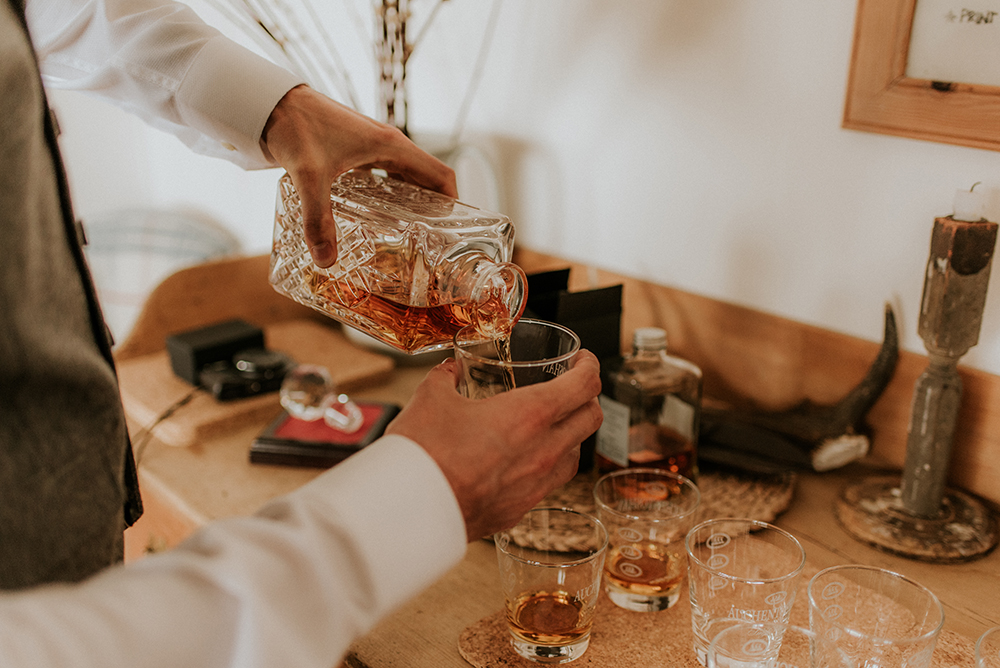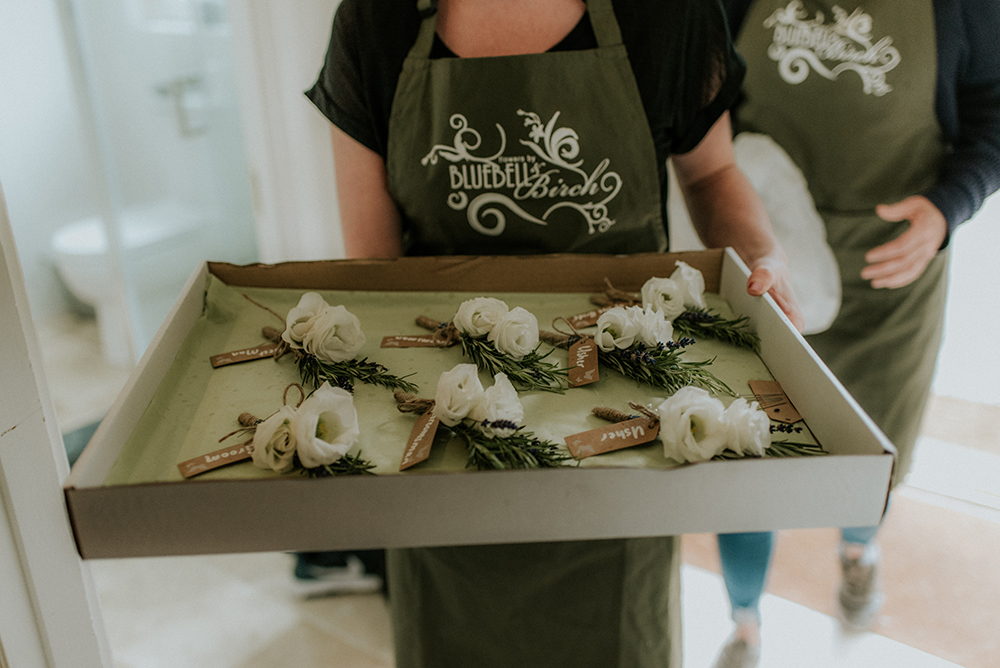 "Sam proposed to me in Venice, but I almost ruined it!
We had gone to La Fenice Opera house. Afterwards Sam wanted to go up to the royal box but I was way too hot.
By the time we had climbed six flights of stairs to our Airbnb all I wanted to do was take my dress off and he pretended he was going to help.
When I turned round there he was with a ring in his hand!
I came across an Instagram post that was one of the first to display the Guardswell logo and fell in love with this image.
I did a bit more research and knew it should be one to go and see.
We first saw our venue in the middle of December when it was still under renovation.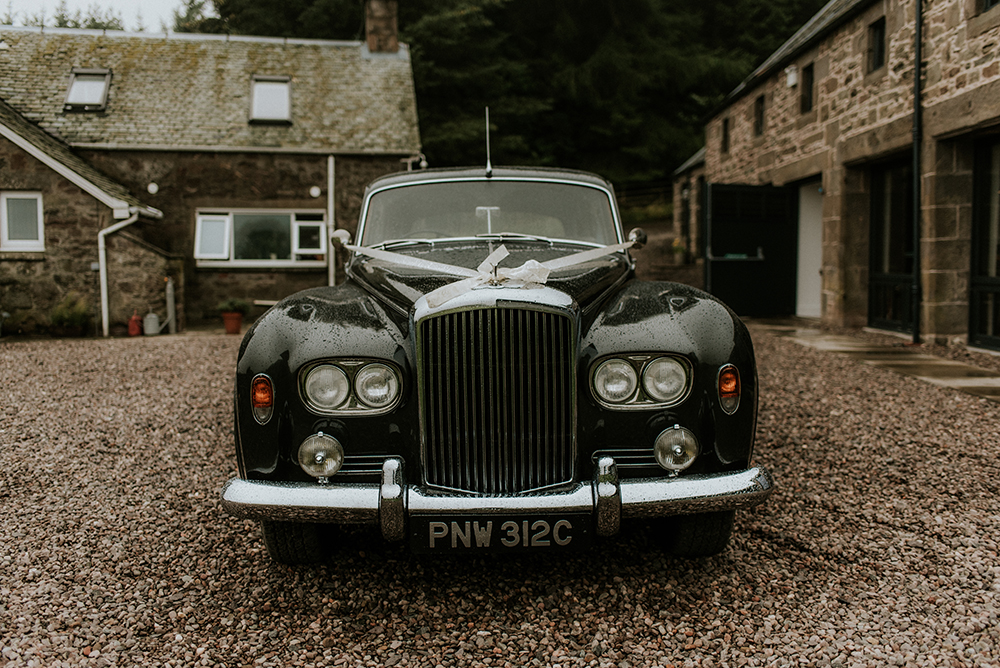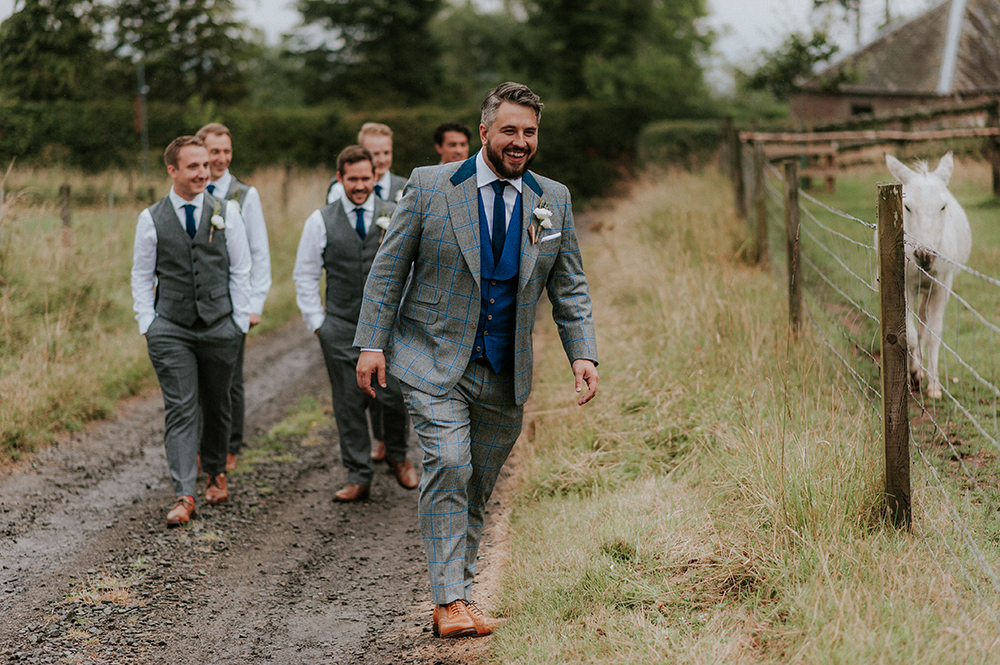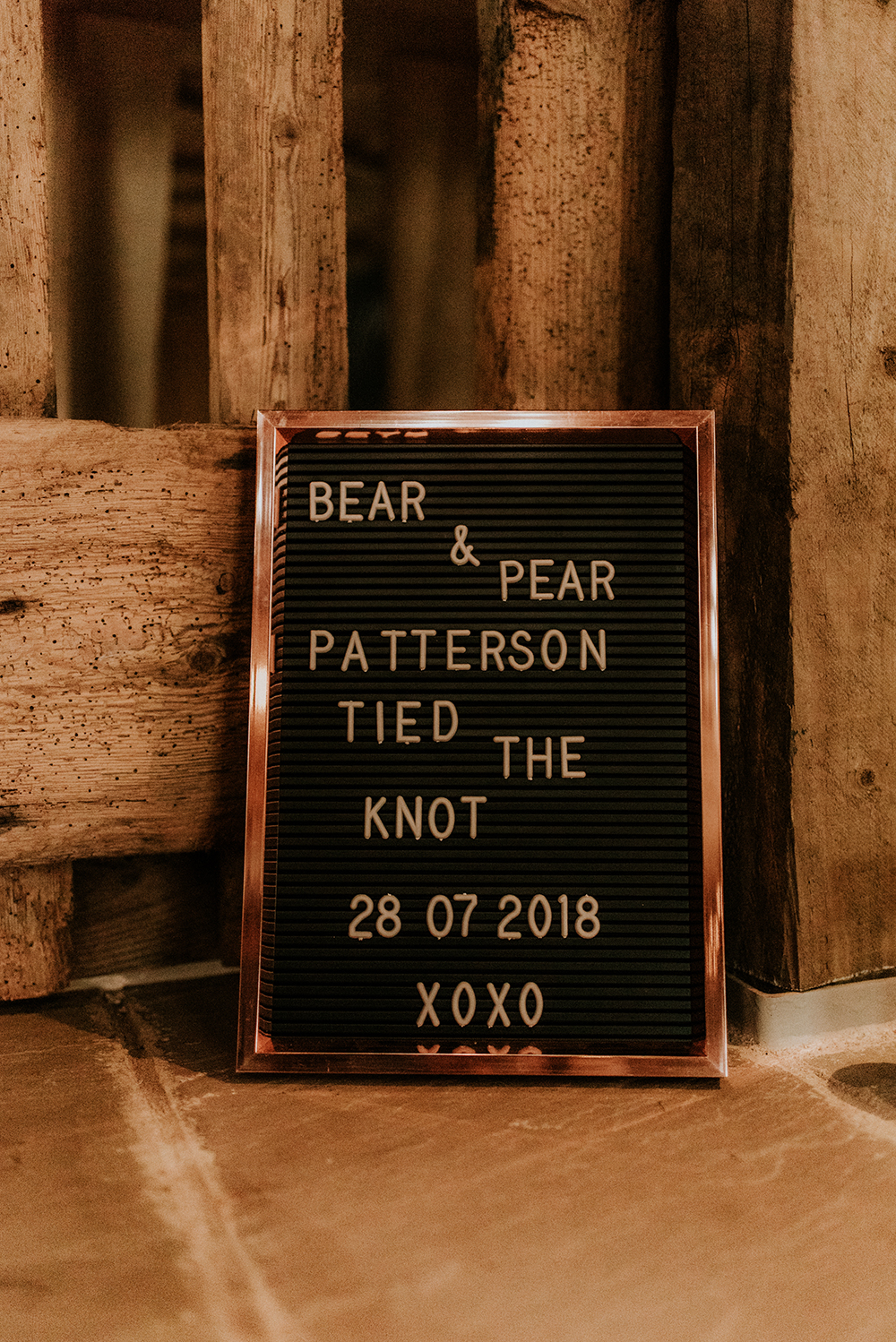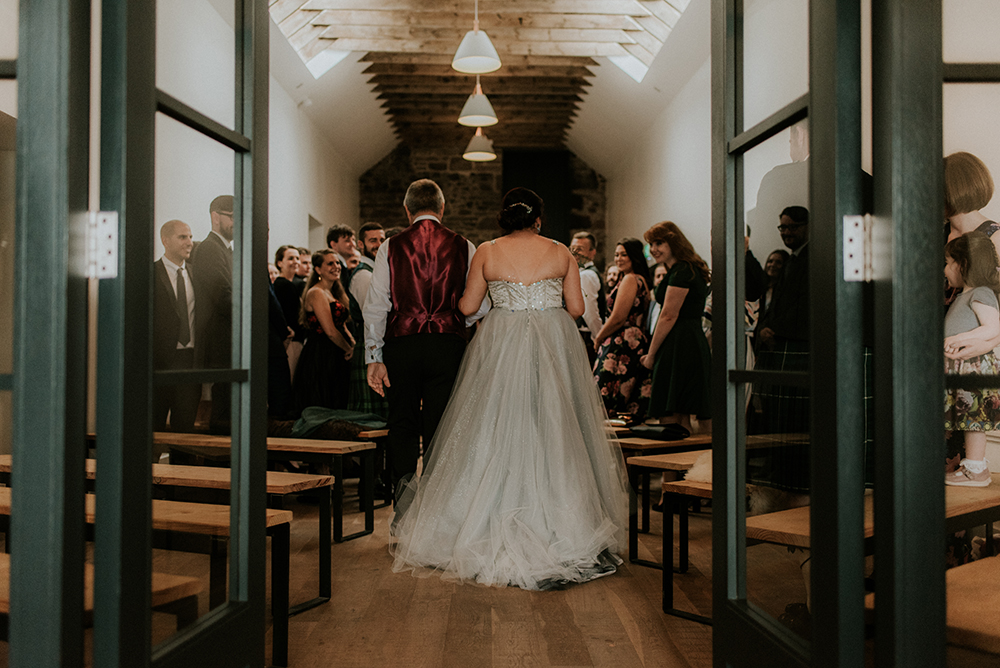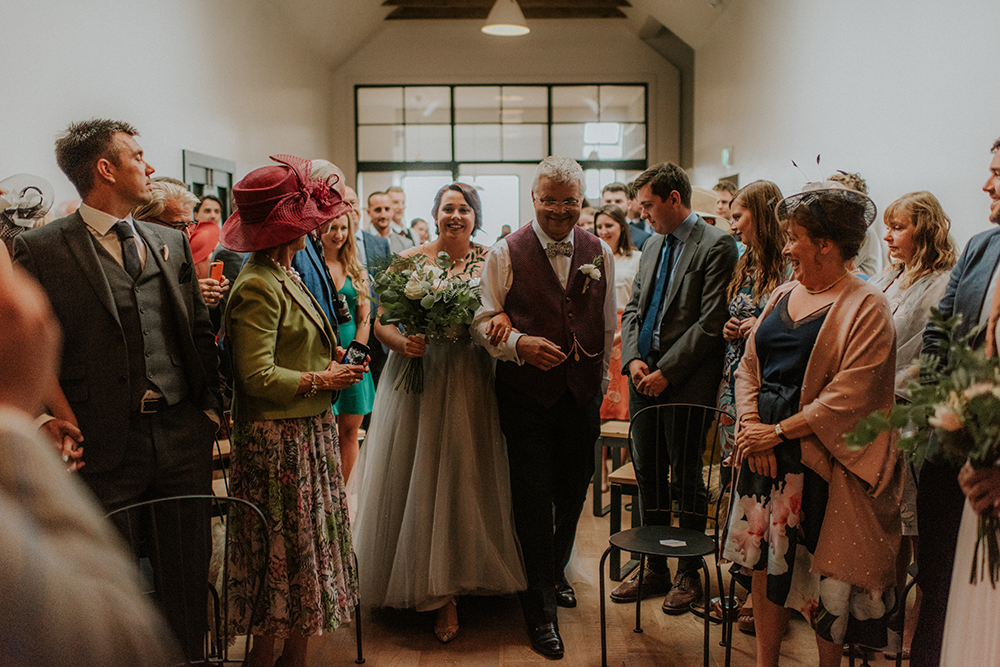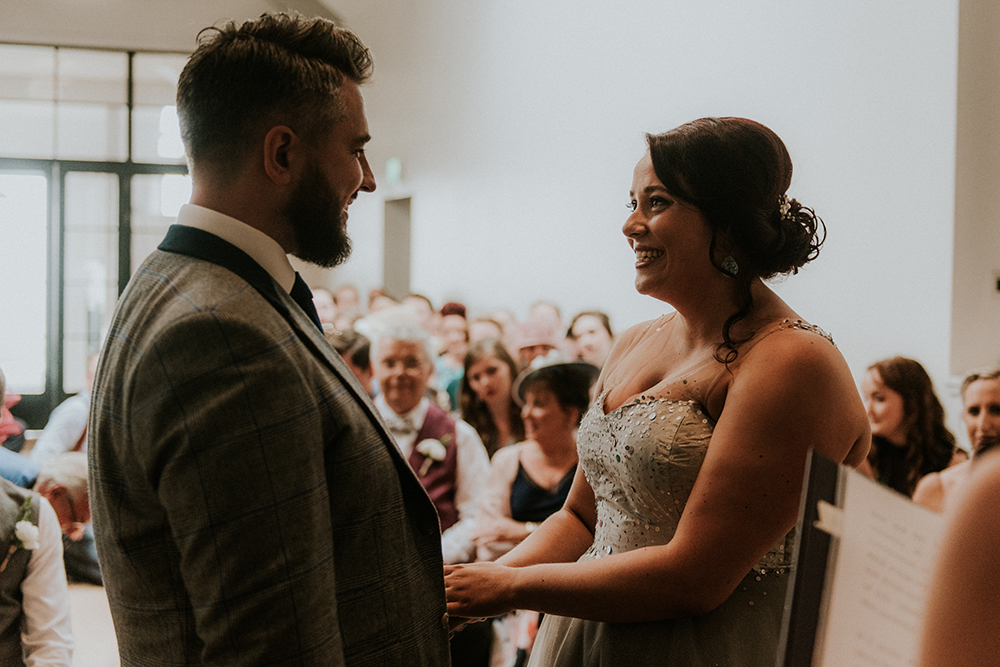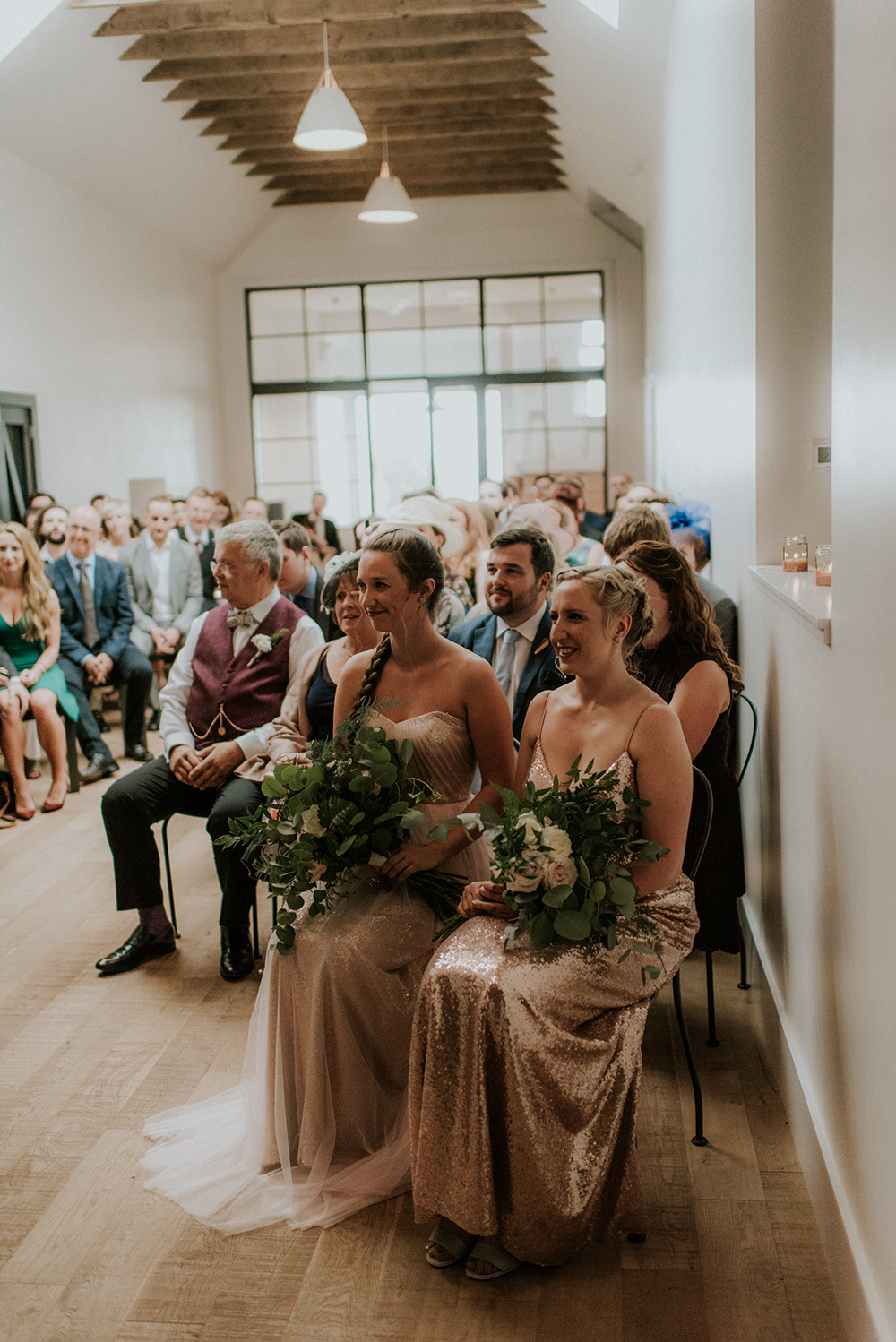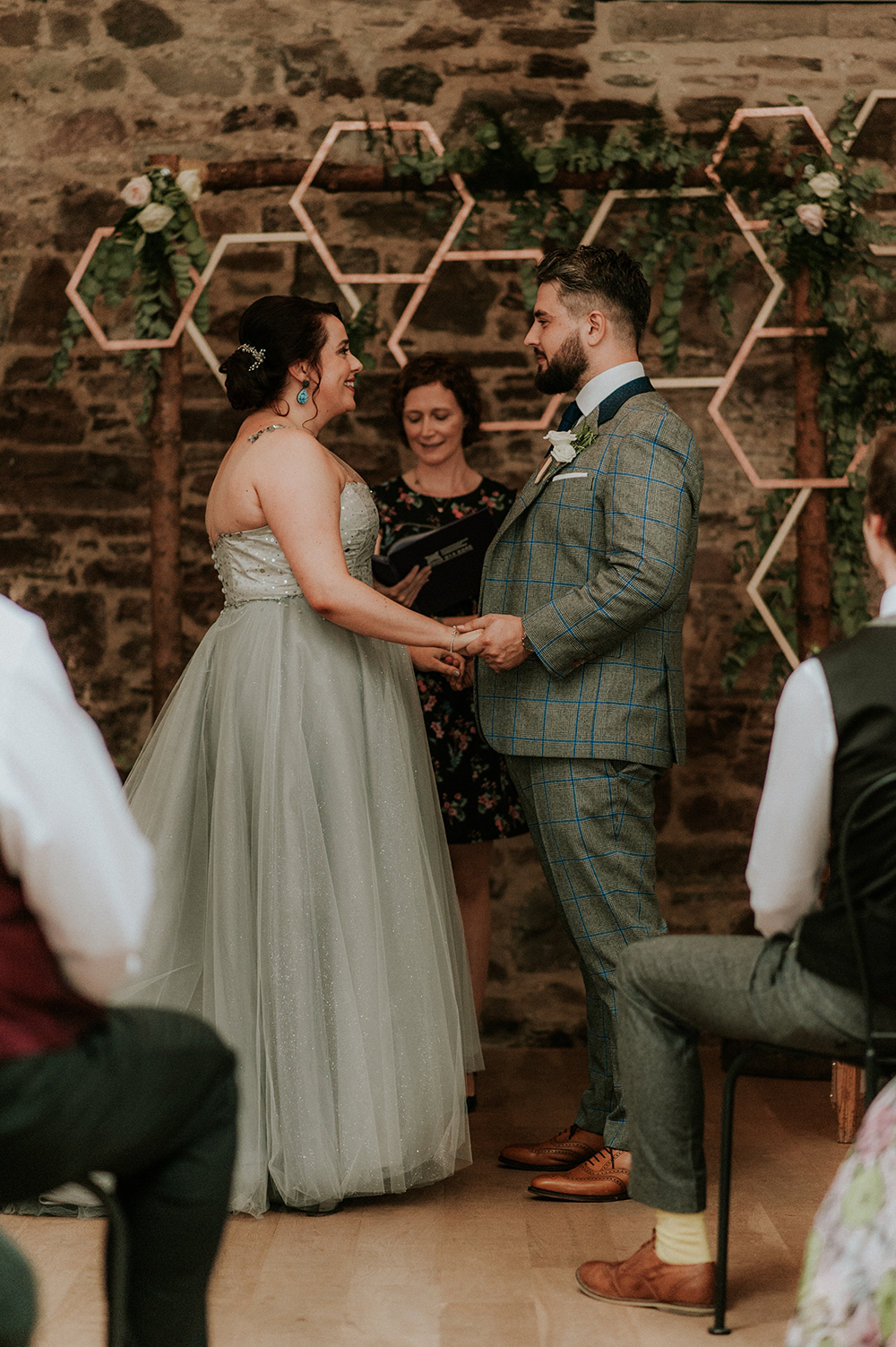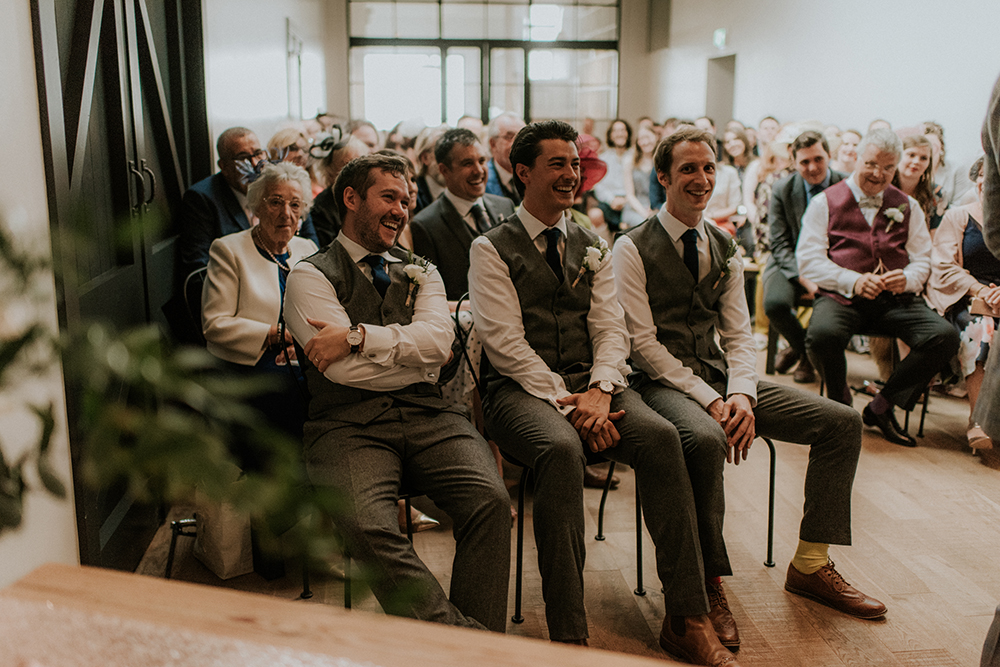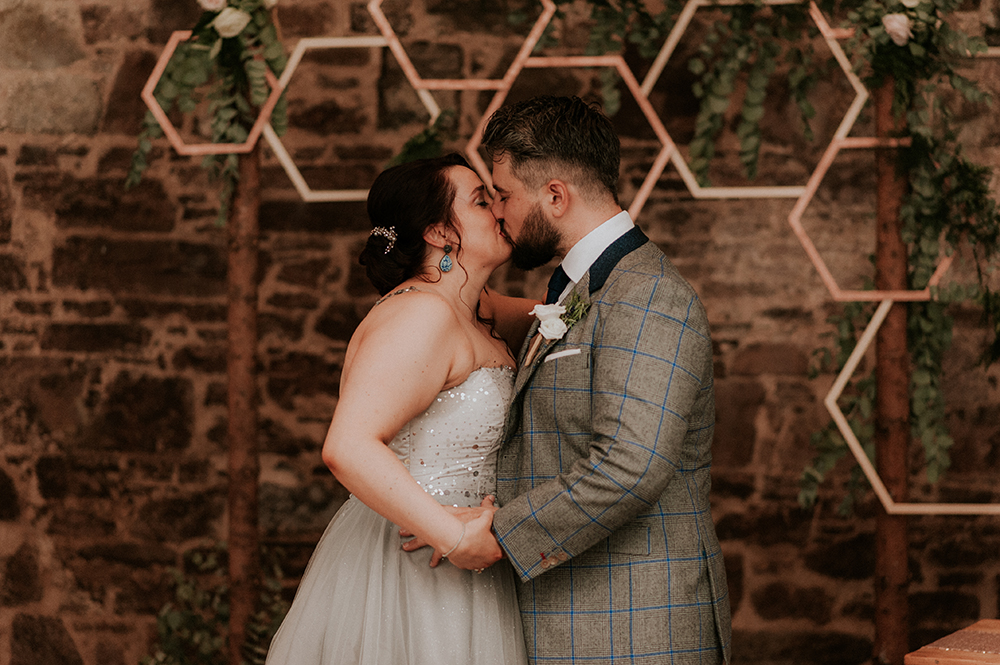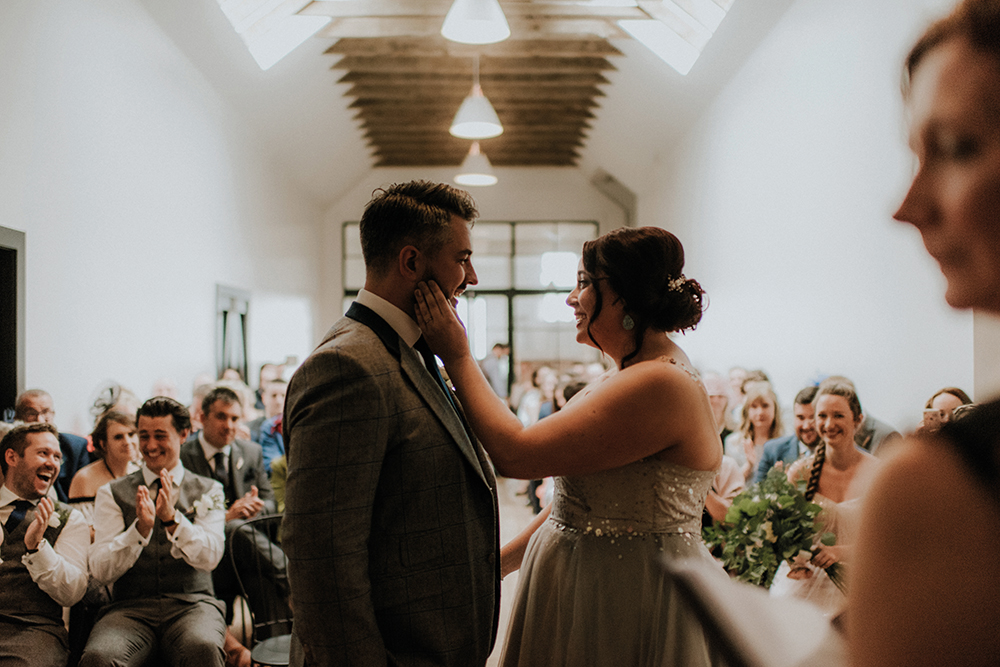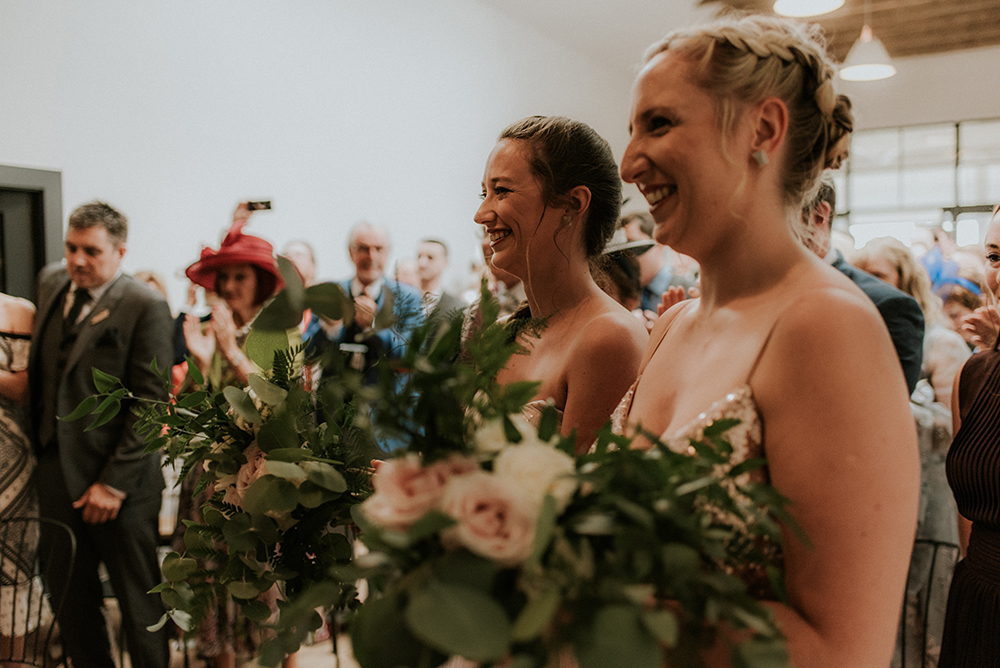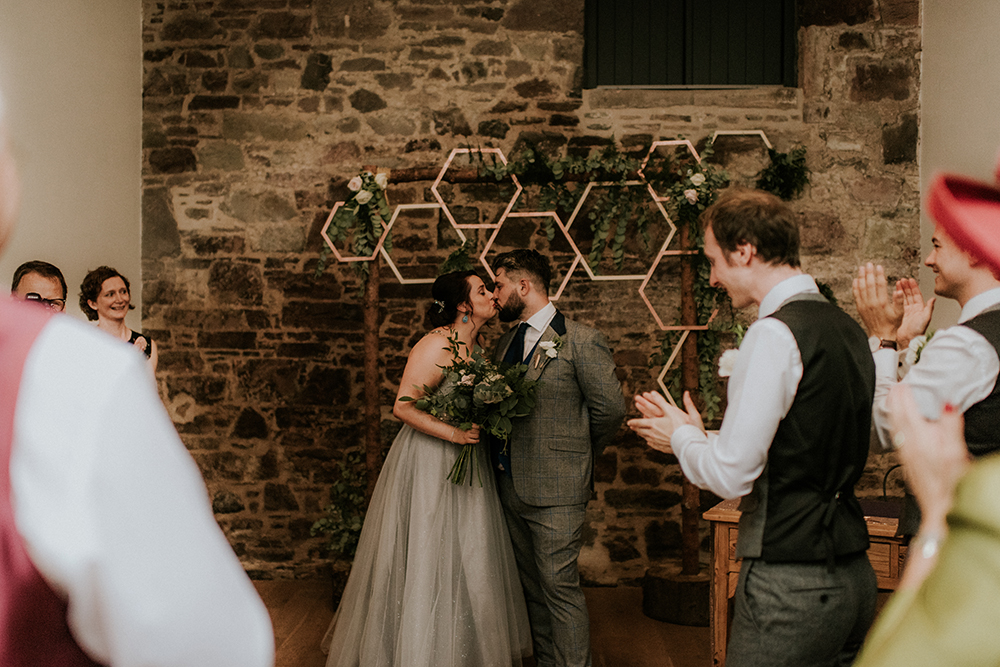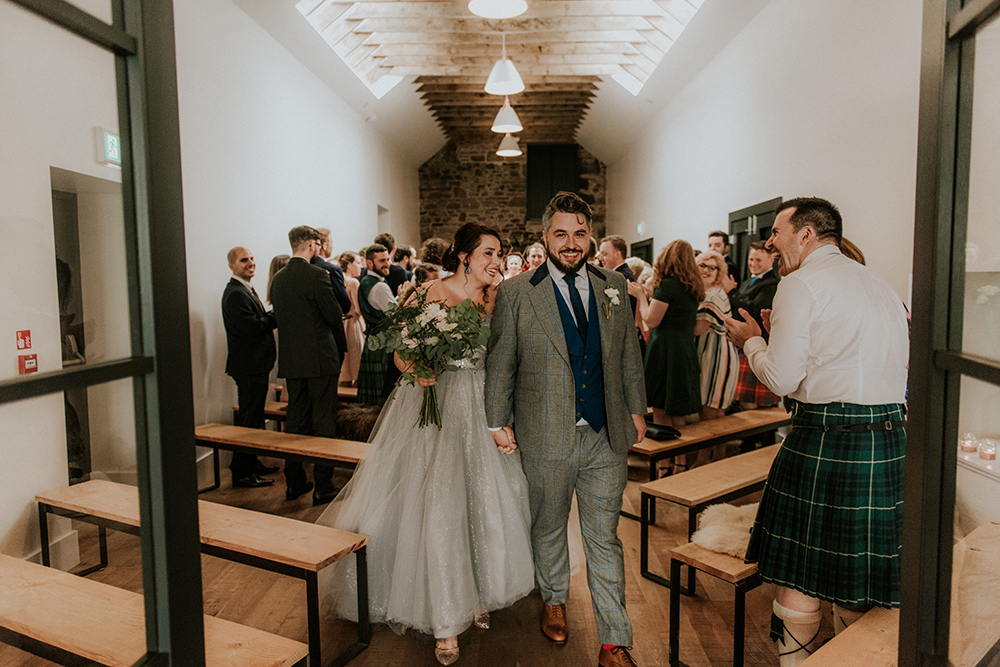 There was snow, wet concrete and no walls, but the feel of the space, the view and the amazing owner Anna made us know within two seconds of getting back in the car that this was the one!
The farm has been lovingly restored with exposed stone contrasting with fresh, clean walls and beautiful beams – an ideal backdrop for a rustic wedding.
Our theme was Venetian/Italian so we included lots of greenery and foliage in our floral arrangements.
Rose gold was our accent colour and we used it on practically everything from the hanging hexagons to the candle holders and vases.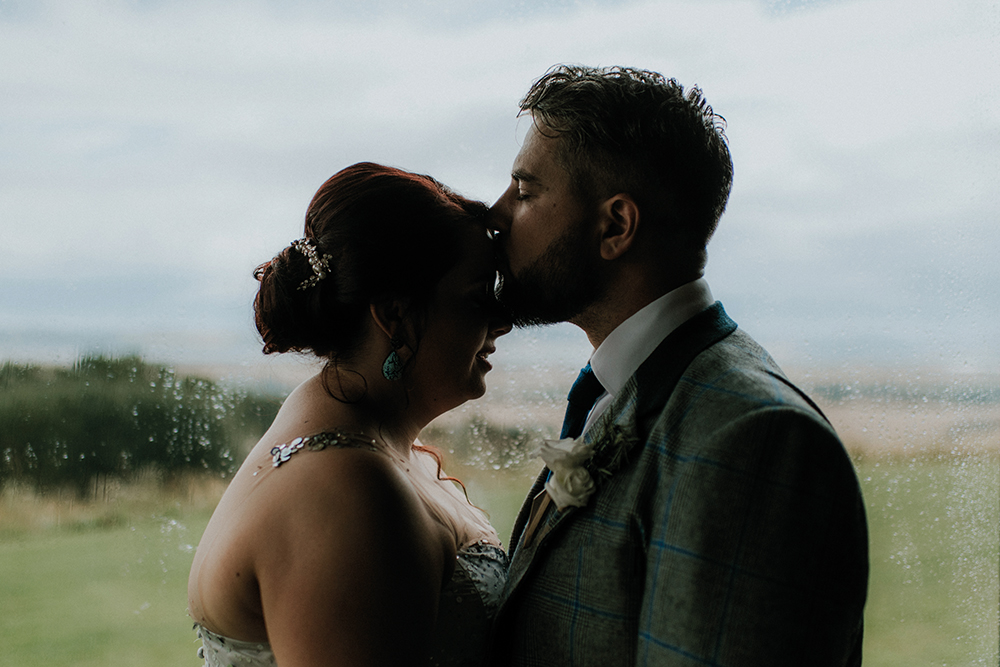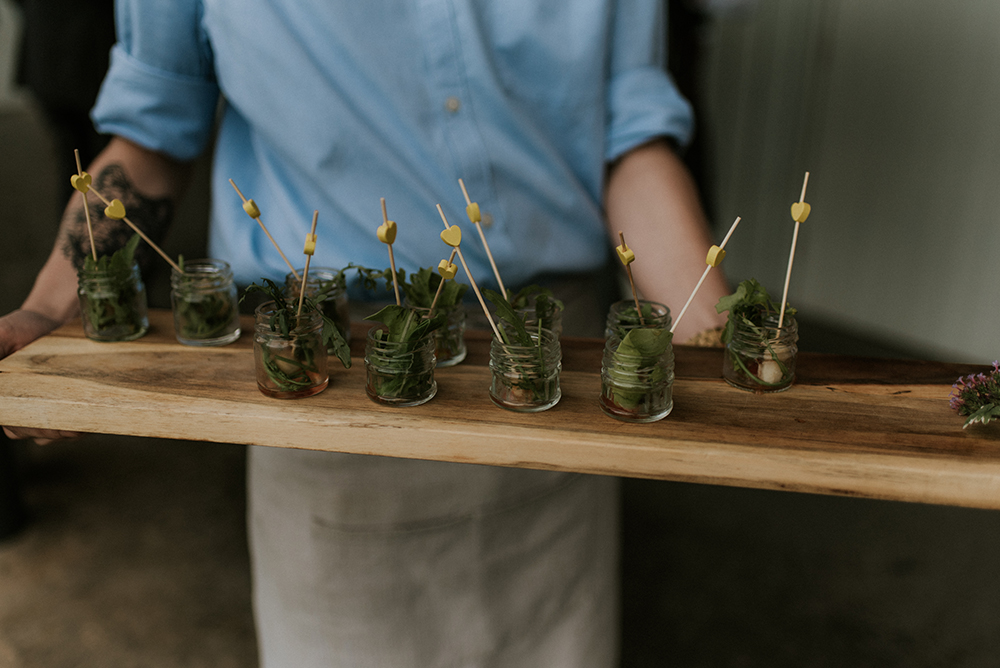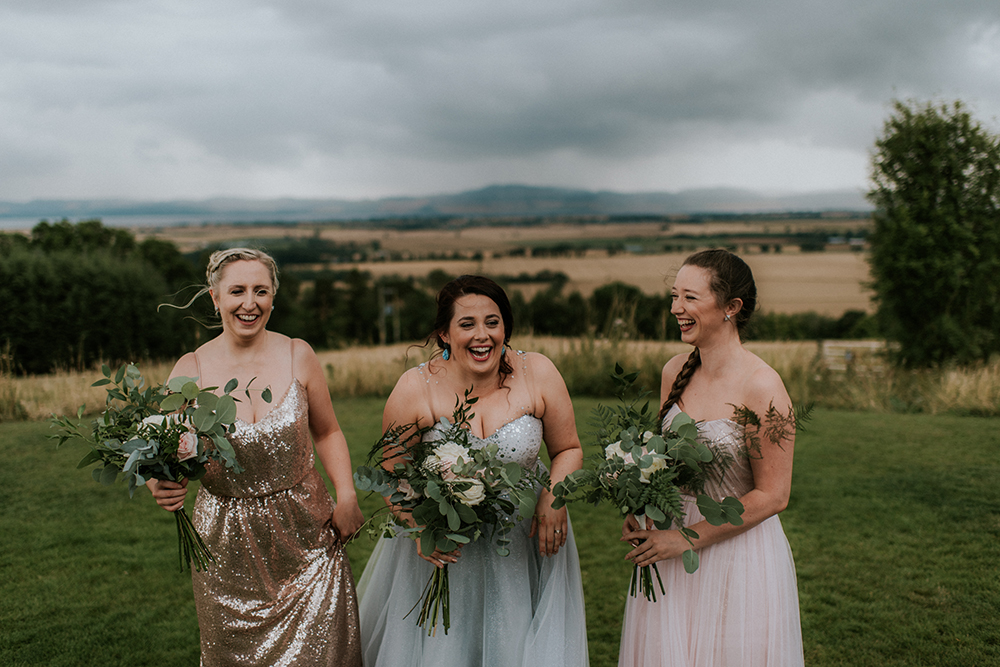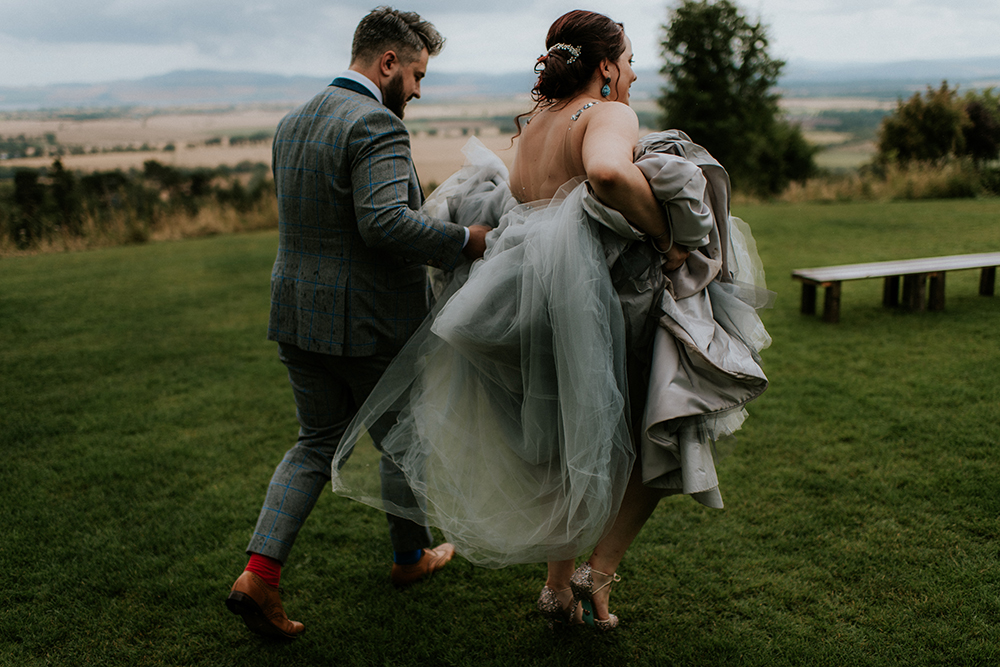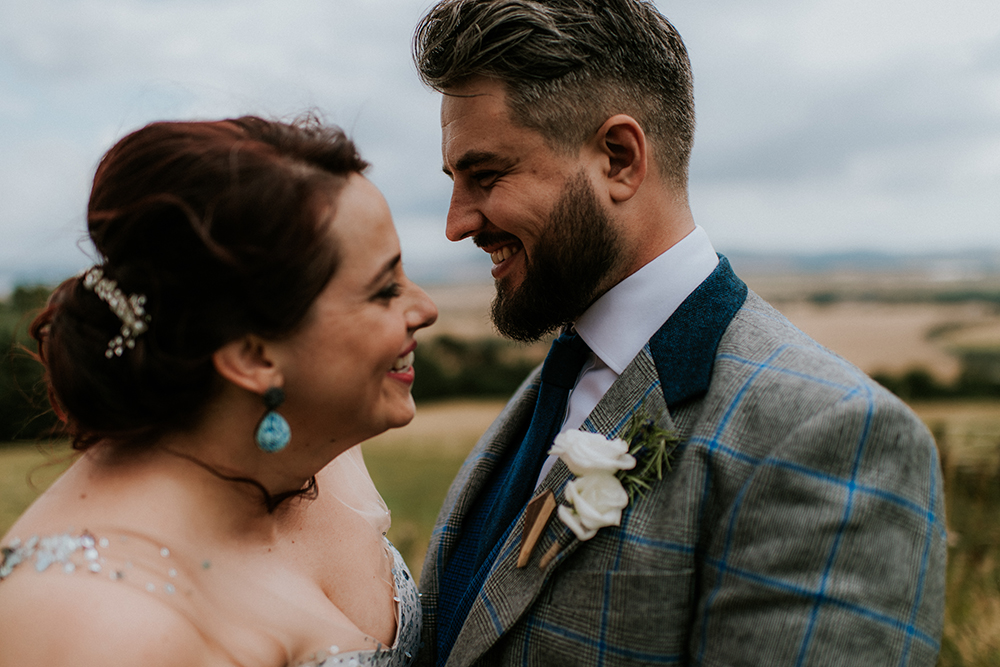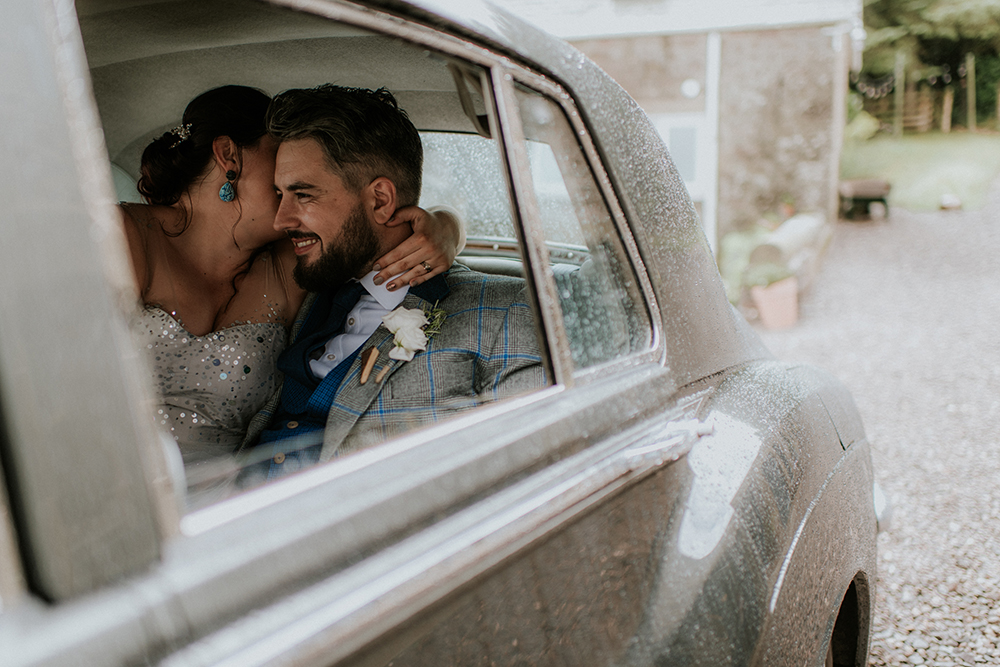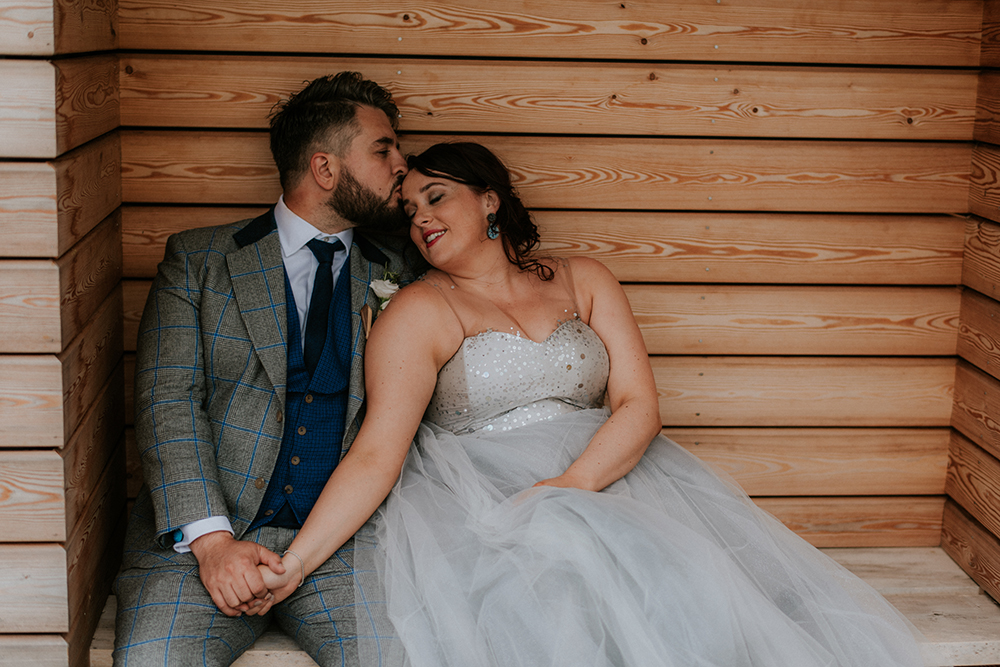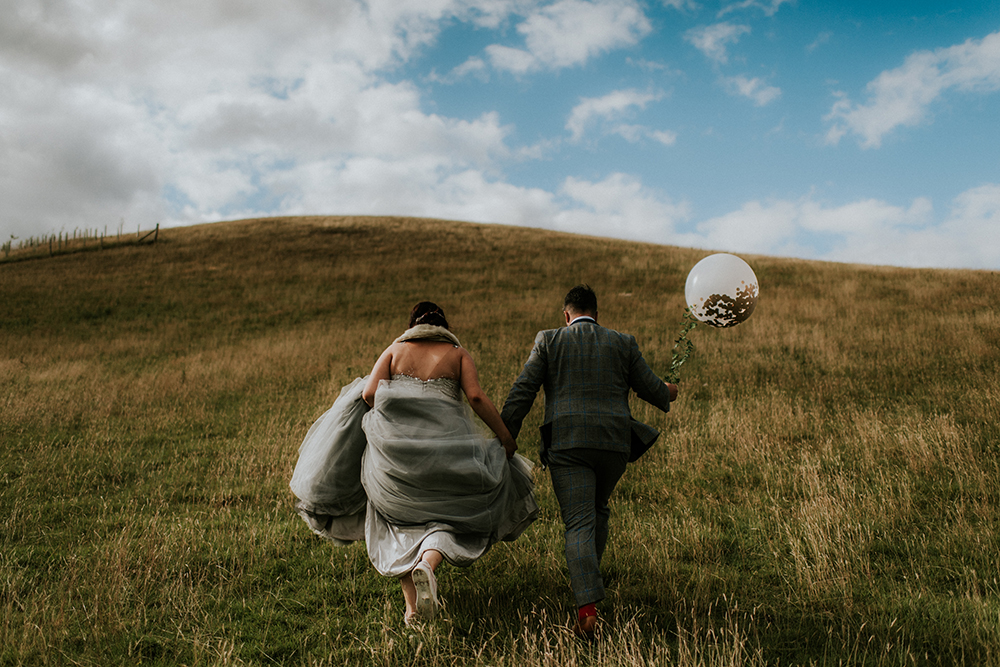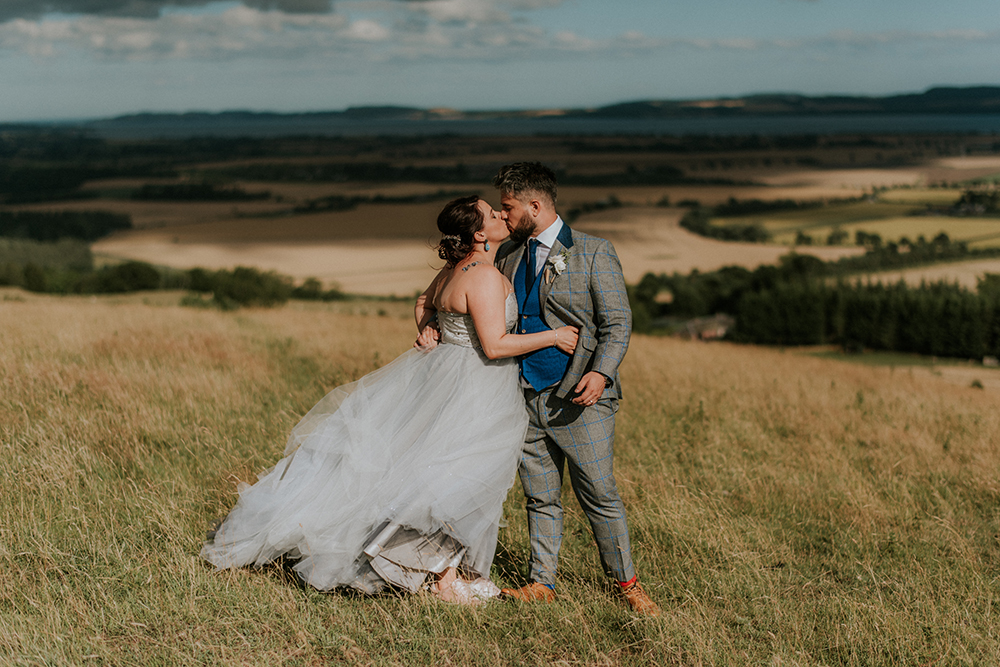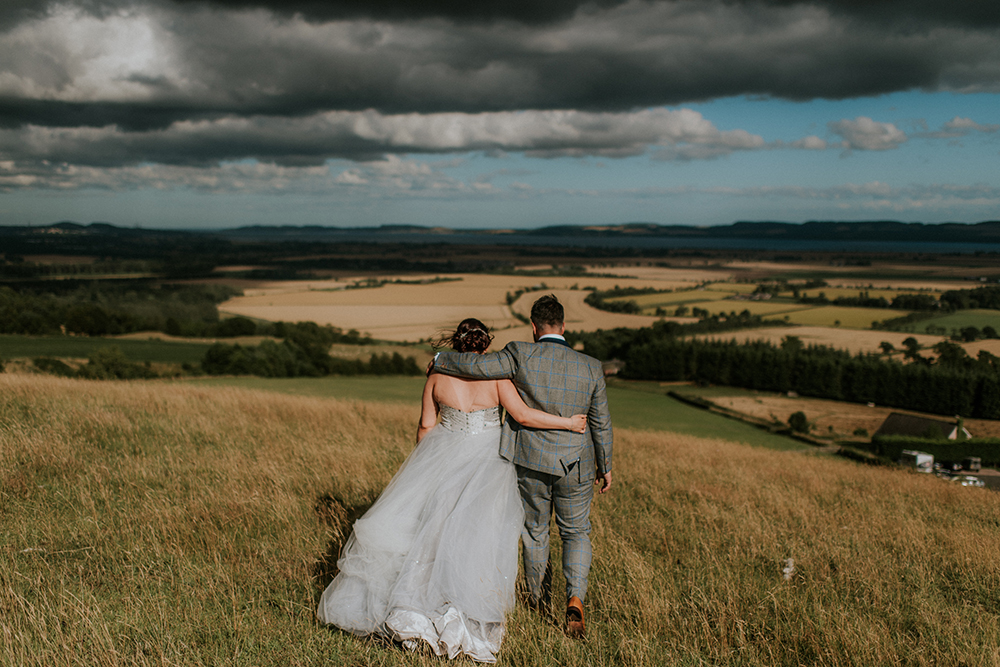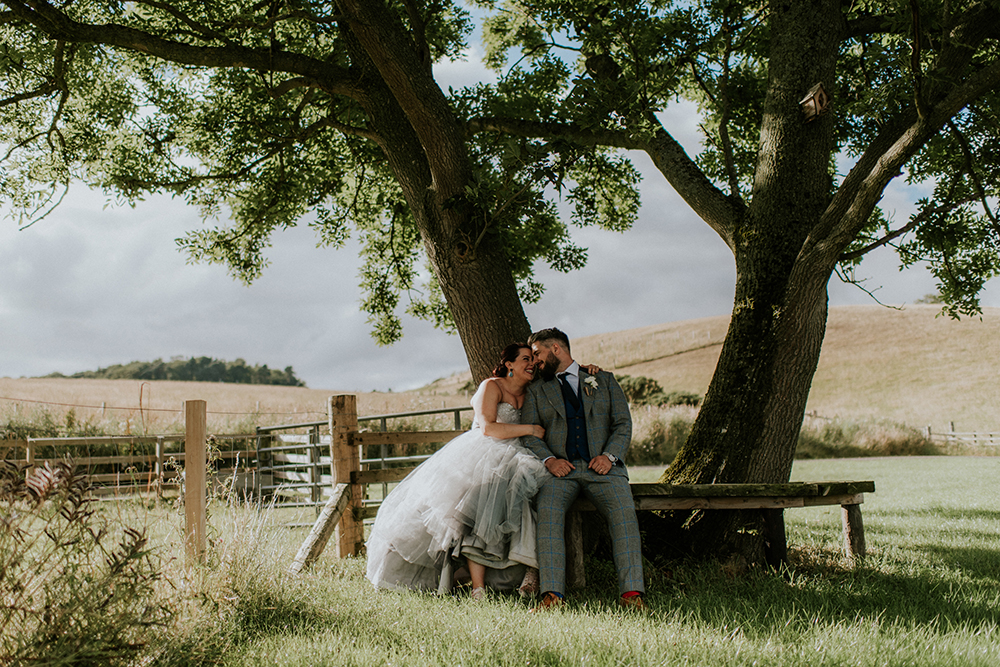 My dress shopping experience was like research.
I tried on around 20 dresses before deciding that I really needed to have a bespoke gown made.
I wanted my mum there for the first meeting with Wendy from Flossy and Dossy so she made a special trip up to Glasgow.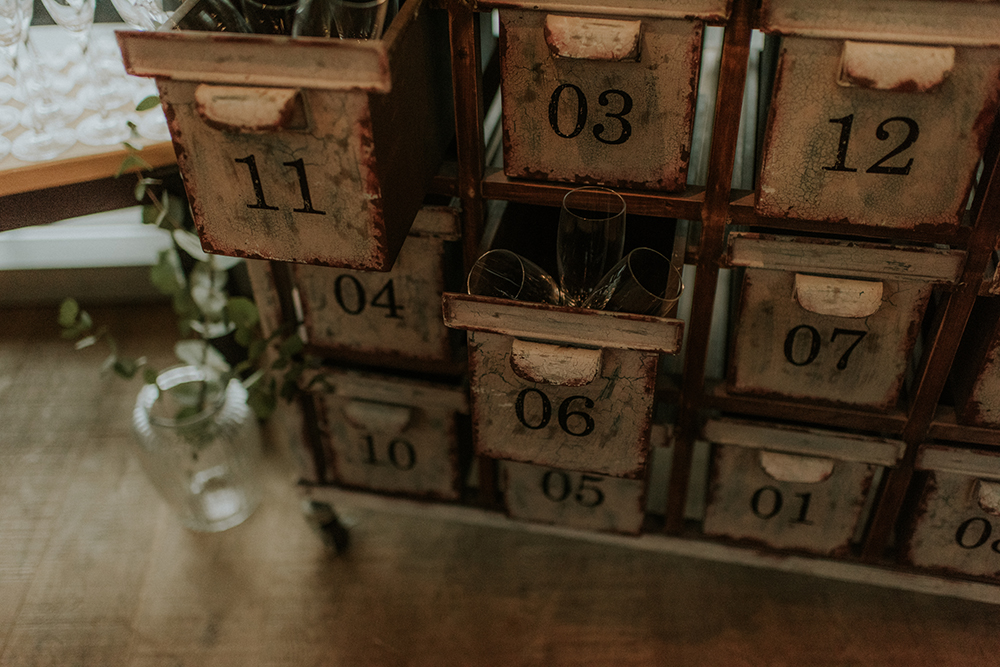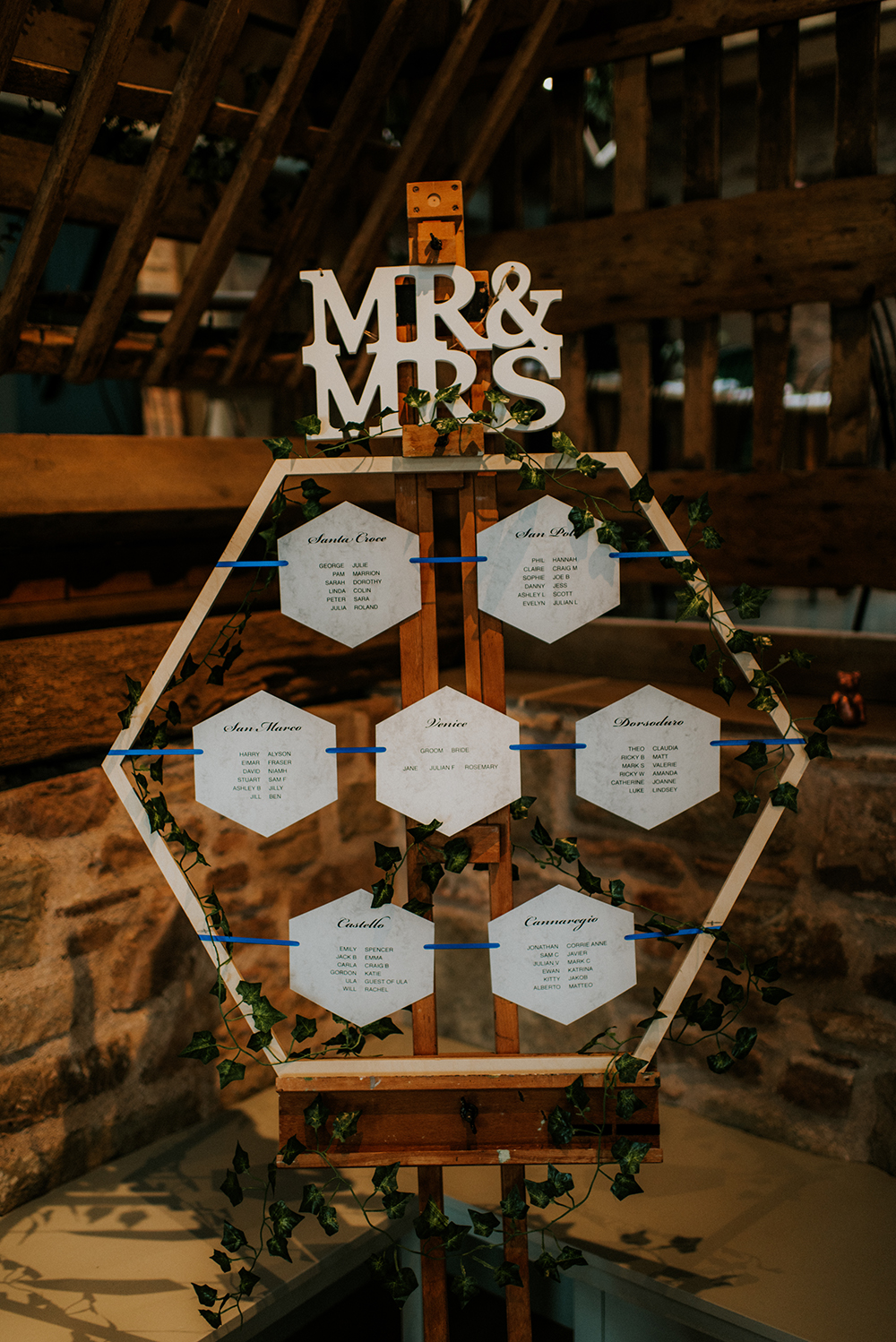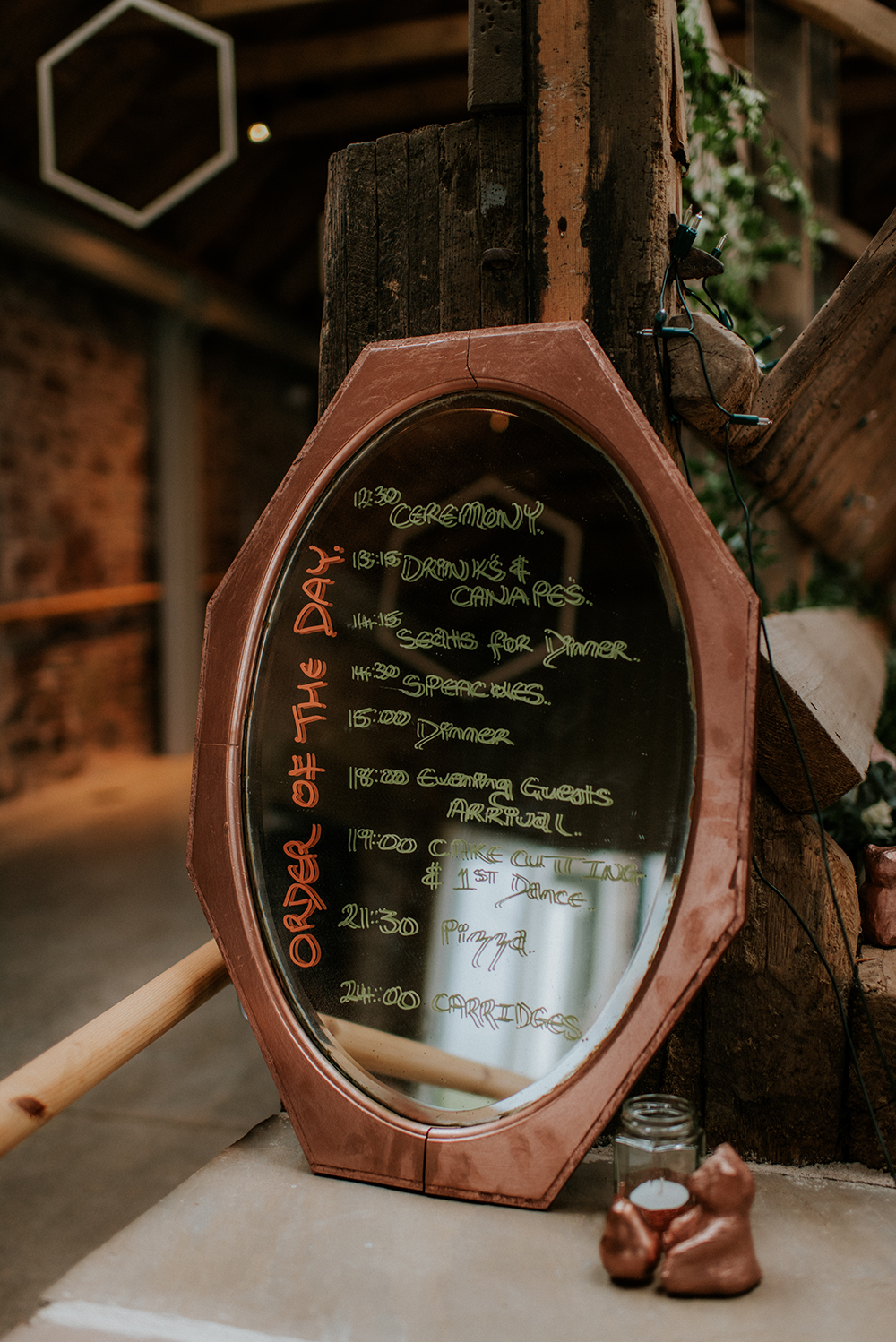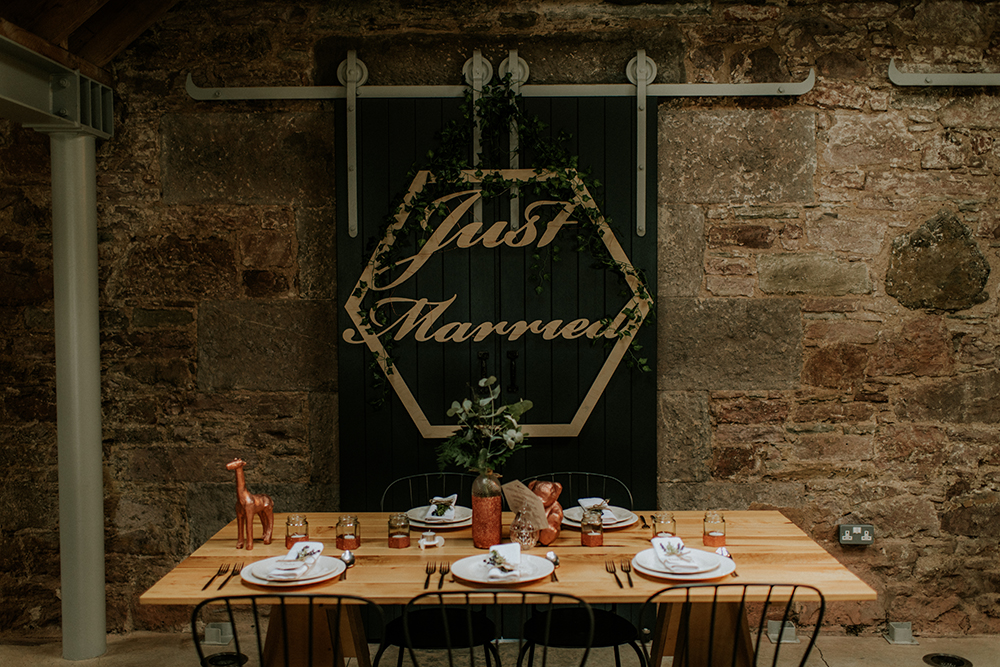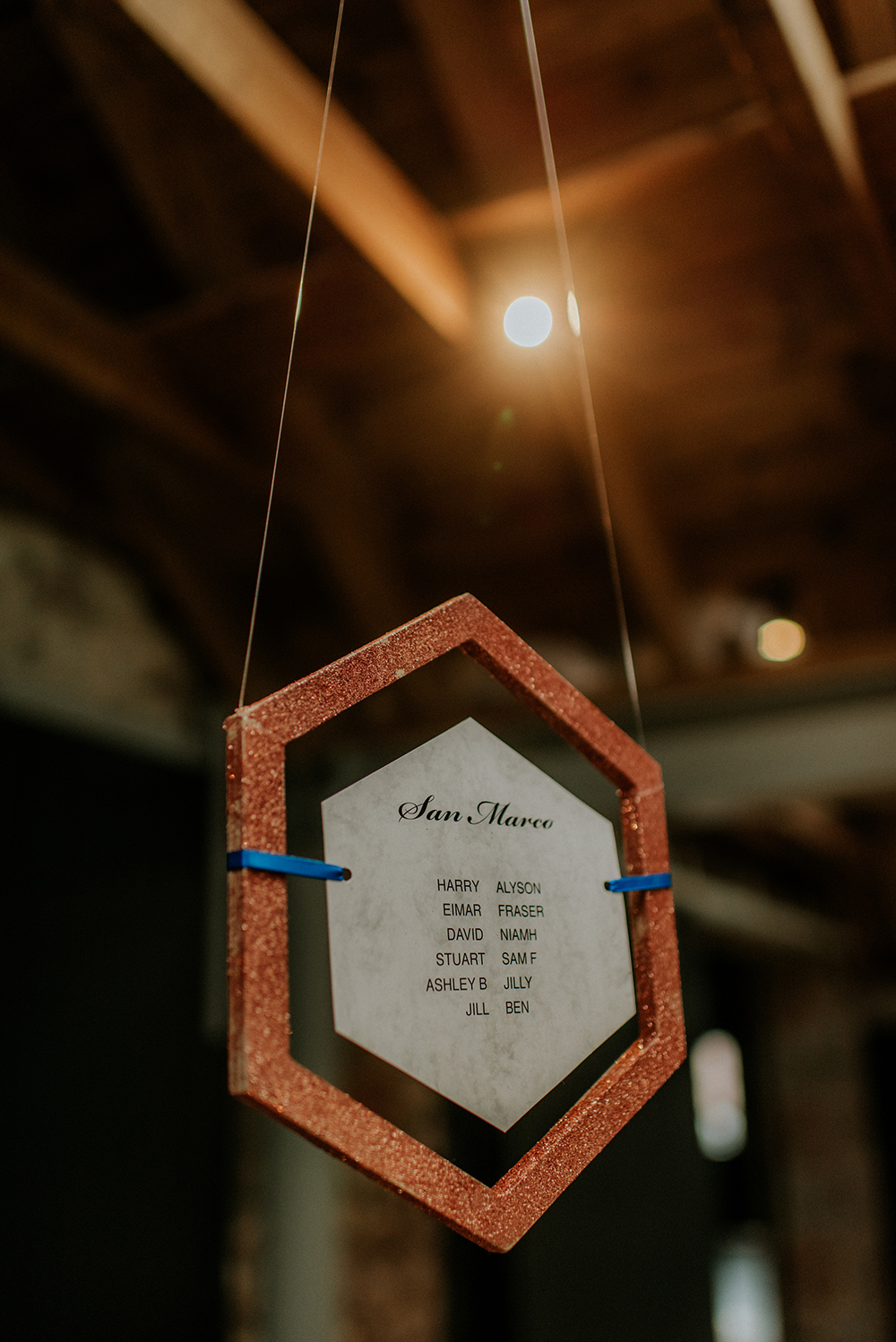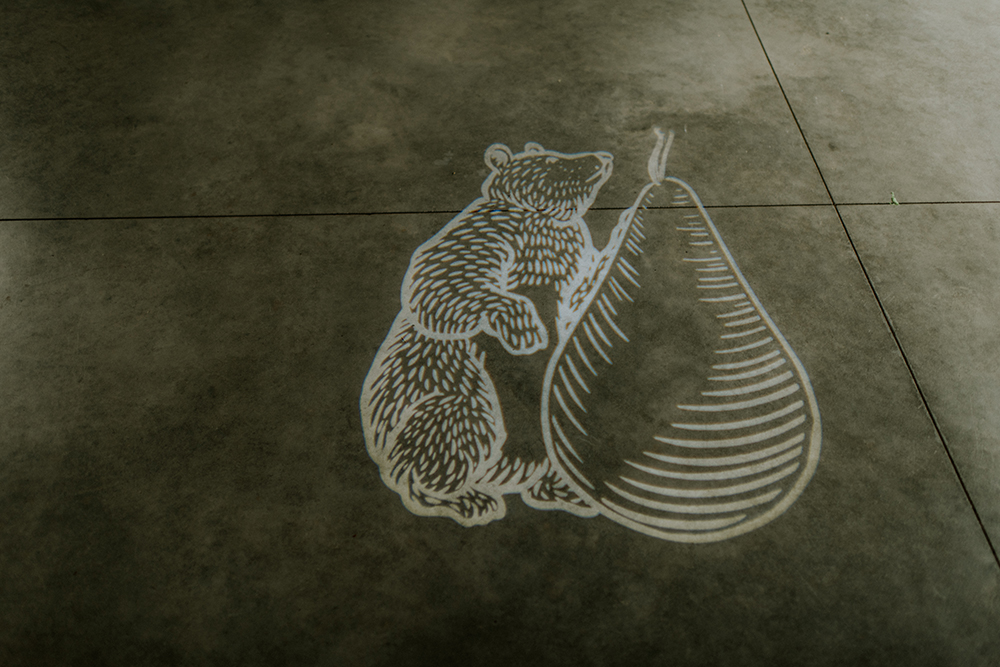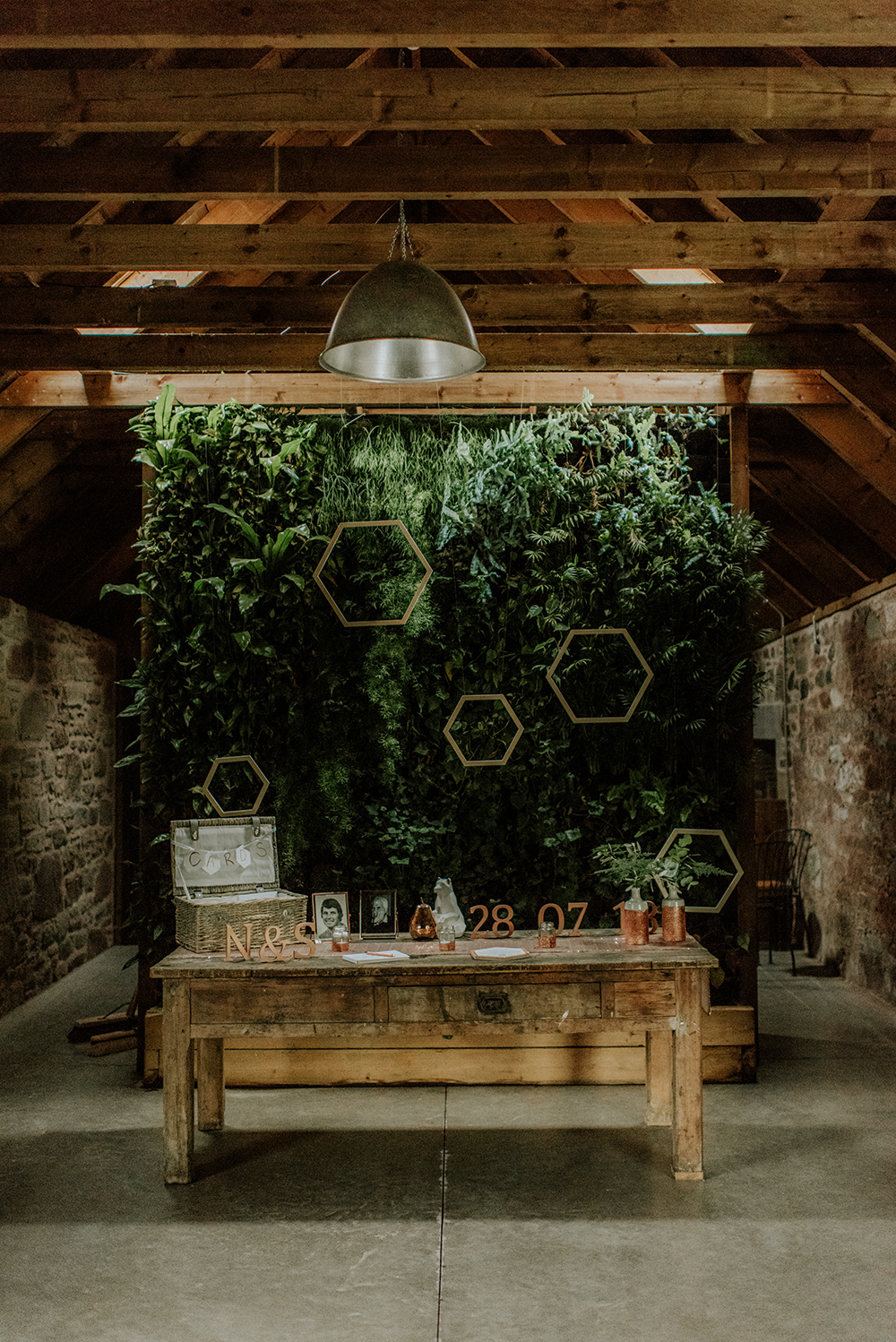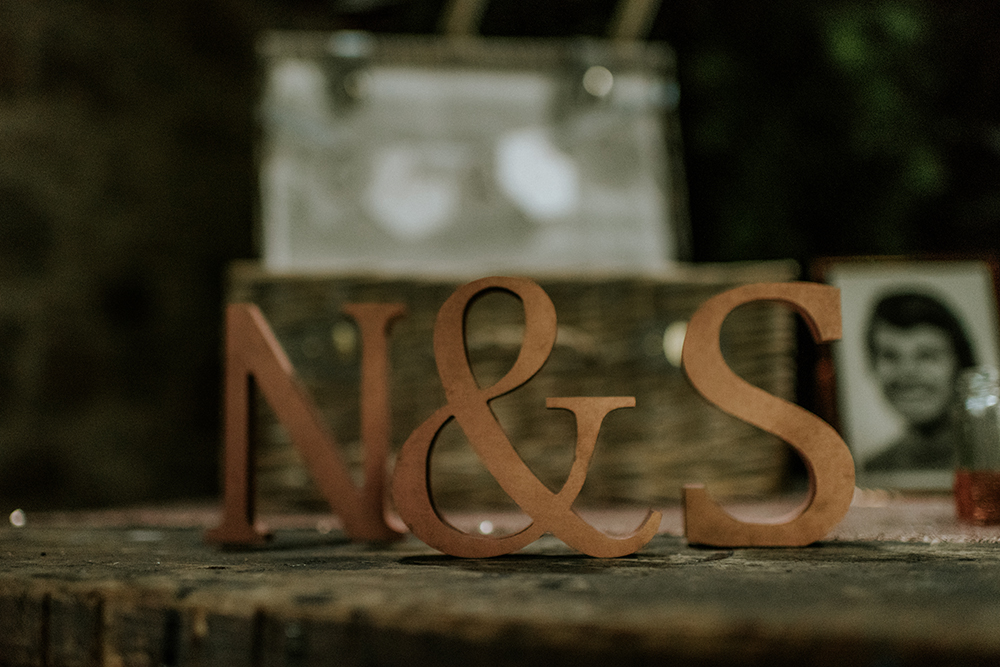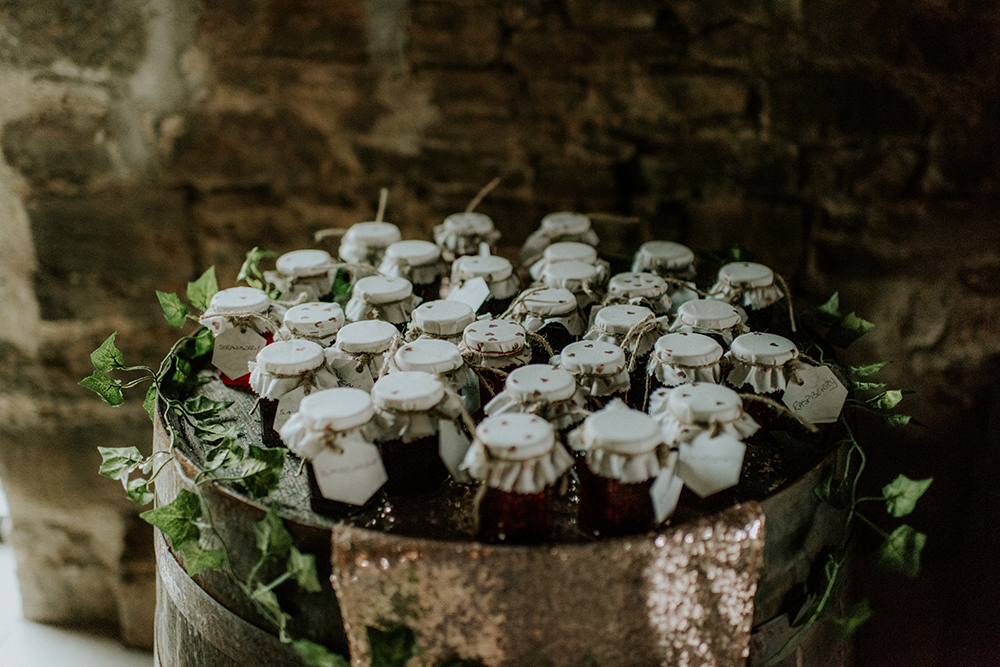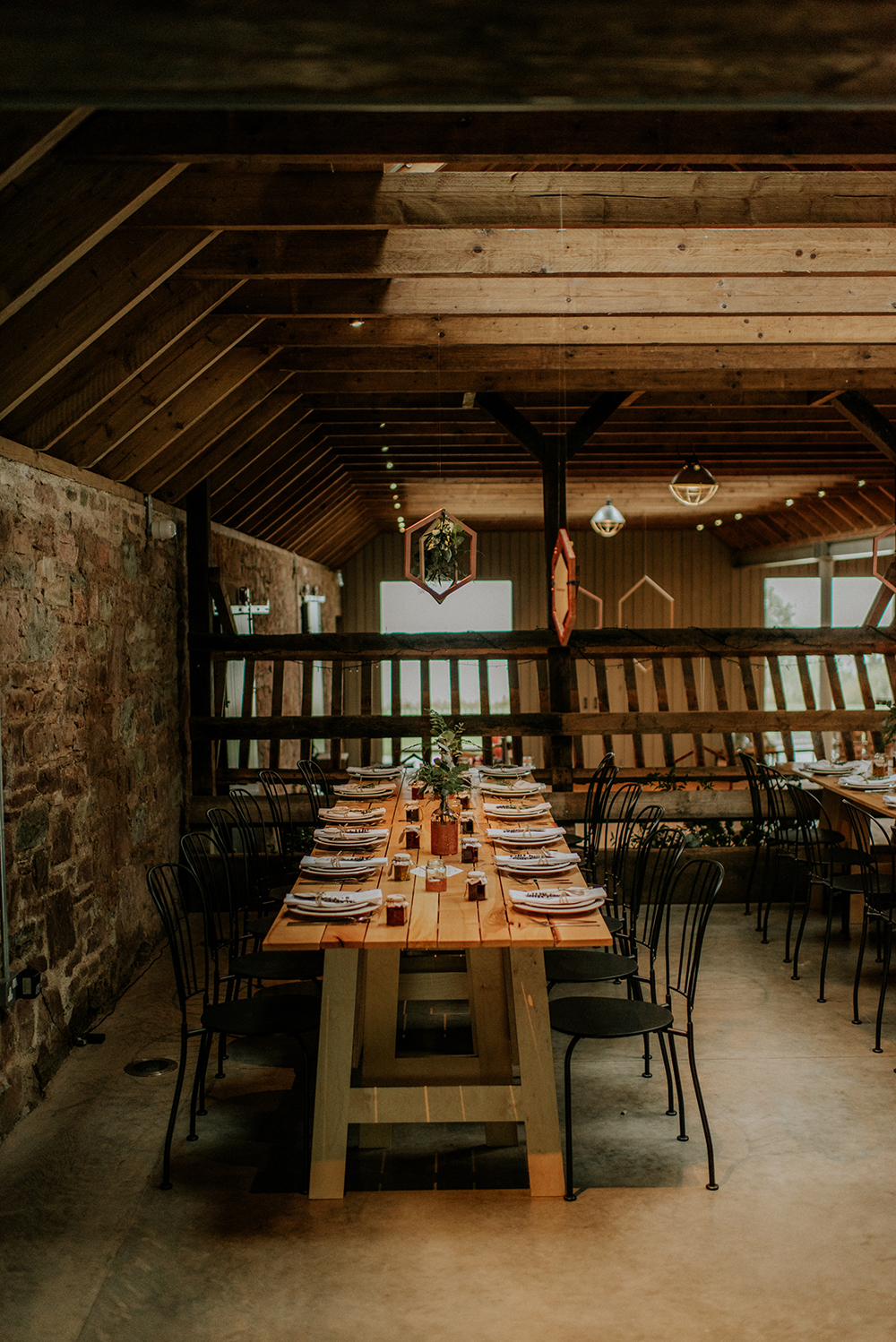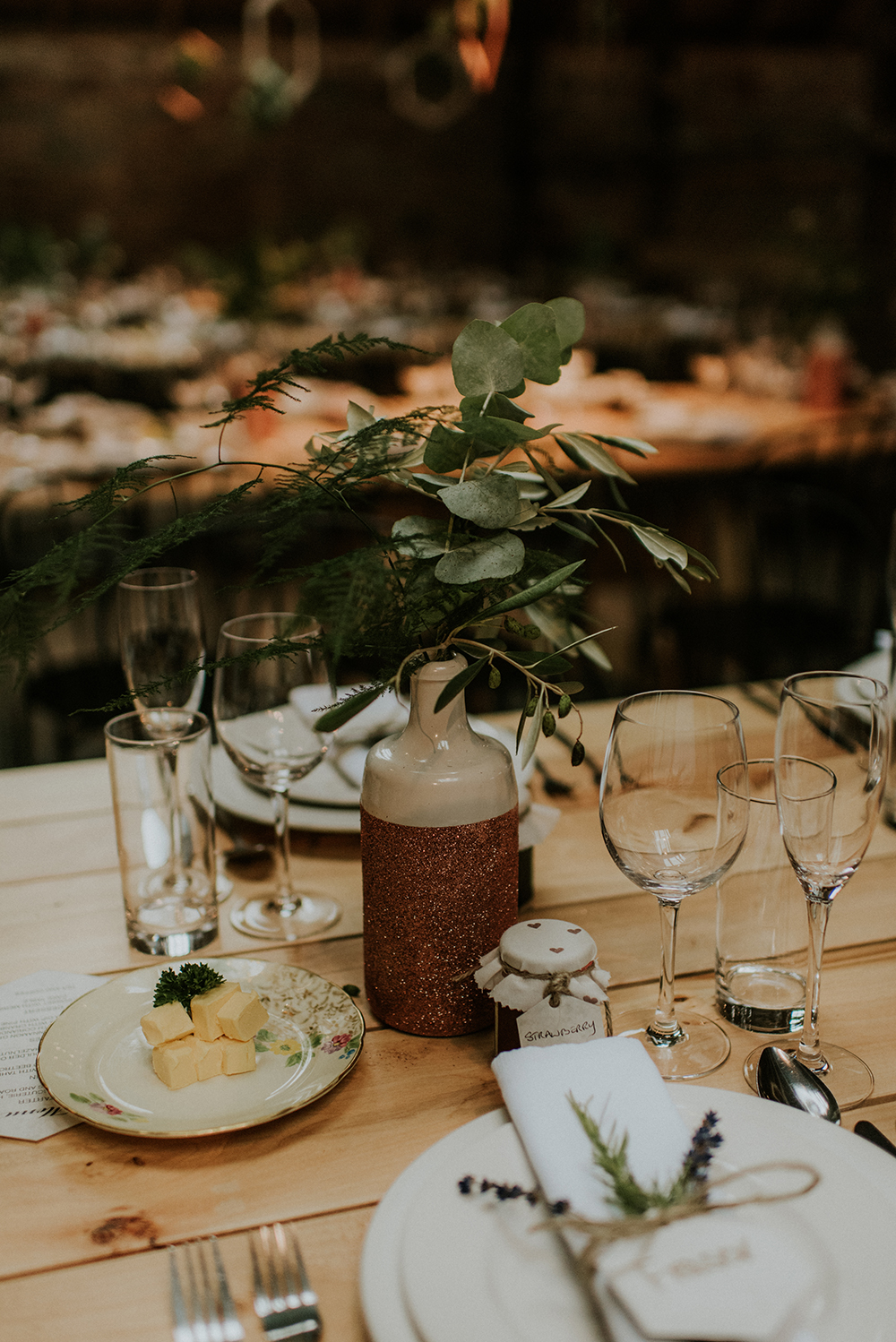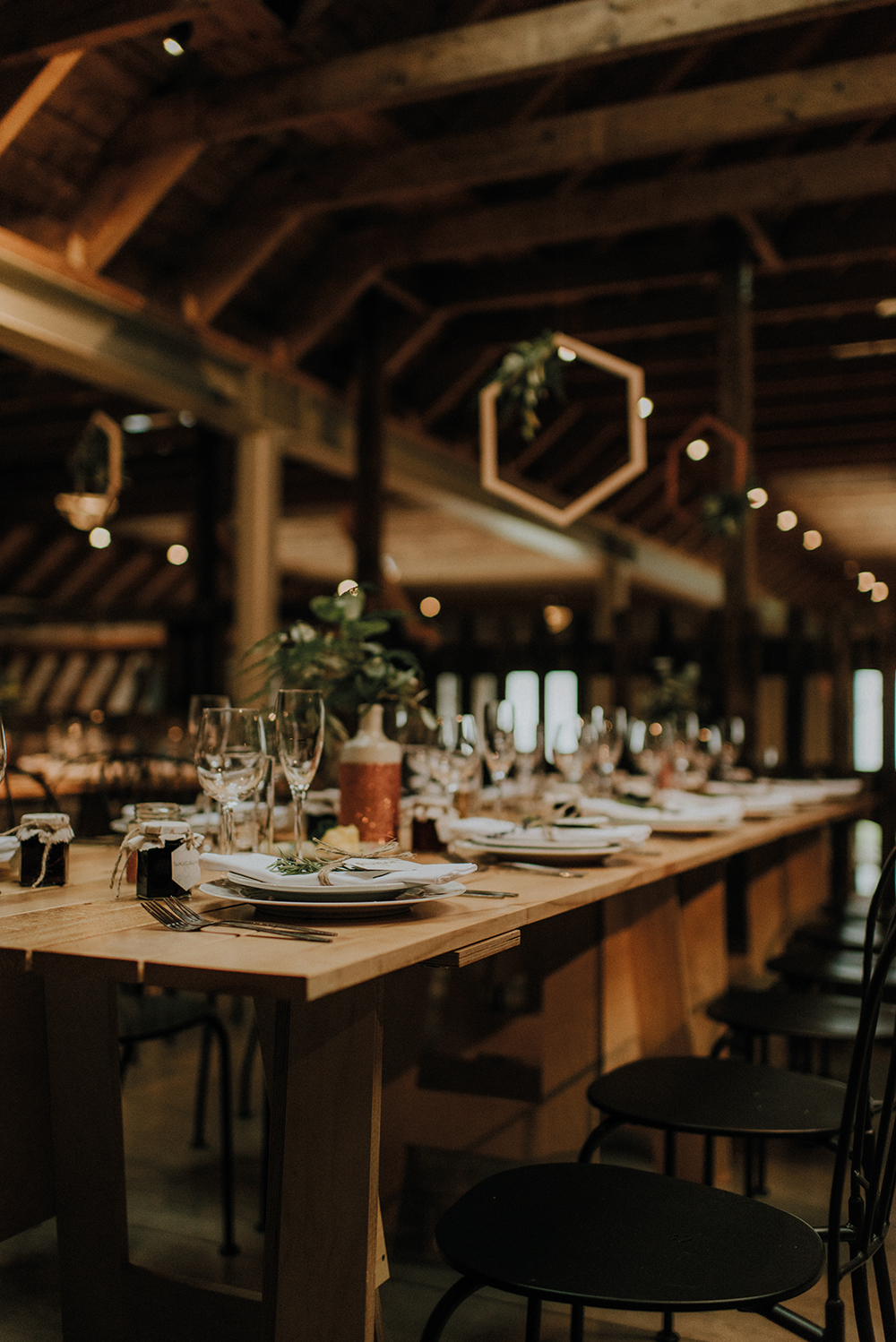 After eight weeks of sunshine, there was a thunderstorm the evening before the wedding and the day started with mist that had rolled in over the Tay, making it feel very atmospheric.
We had a humanist ceremony as that best fitted our values. We didn't write our own vows as we had written the wedding story, with the help of the celebrant Jenny.
As this had quite a funny storytelling feel to it, we wanted to keep the traditional vows.
Sam and I knew we would want 10 minutes to ourselves after the ceremony. I think we said, 'I can't believe we just did that' multiple times.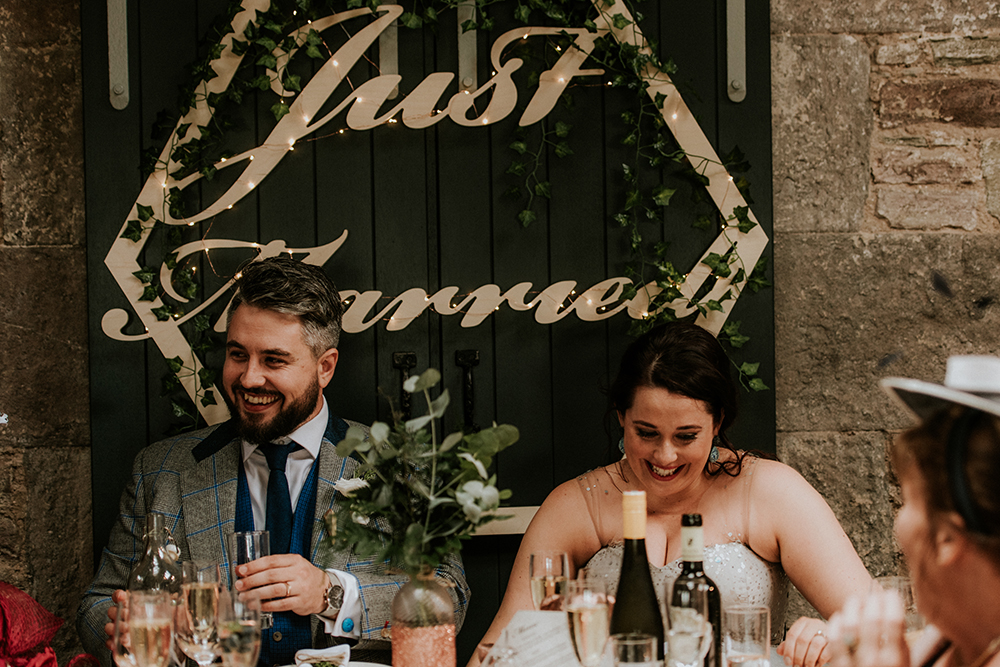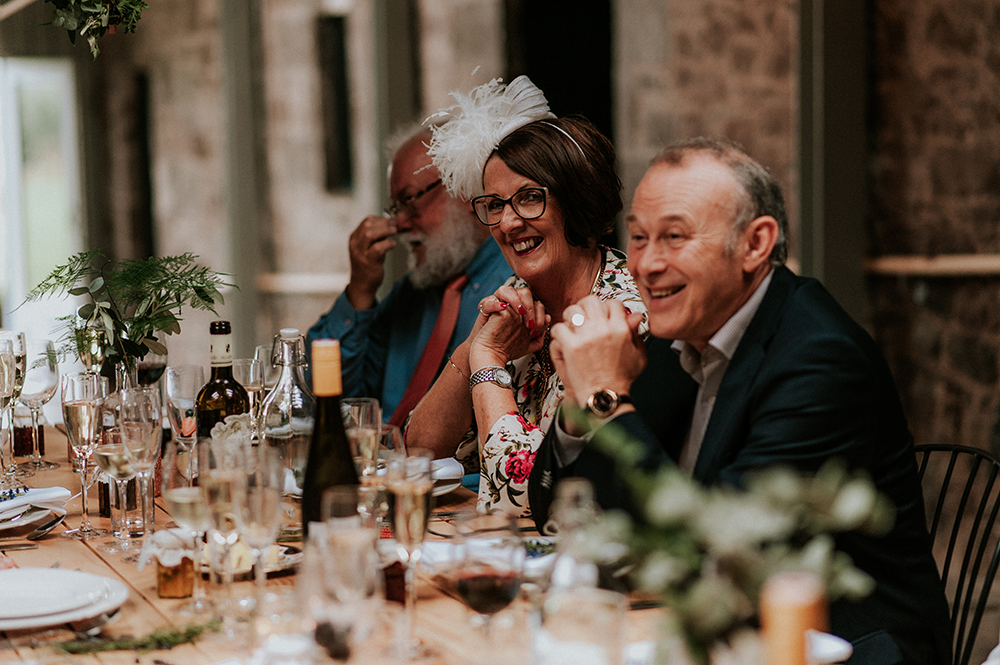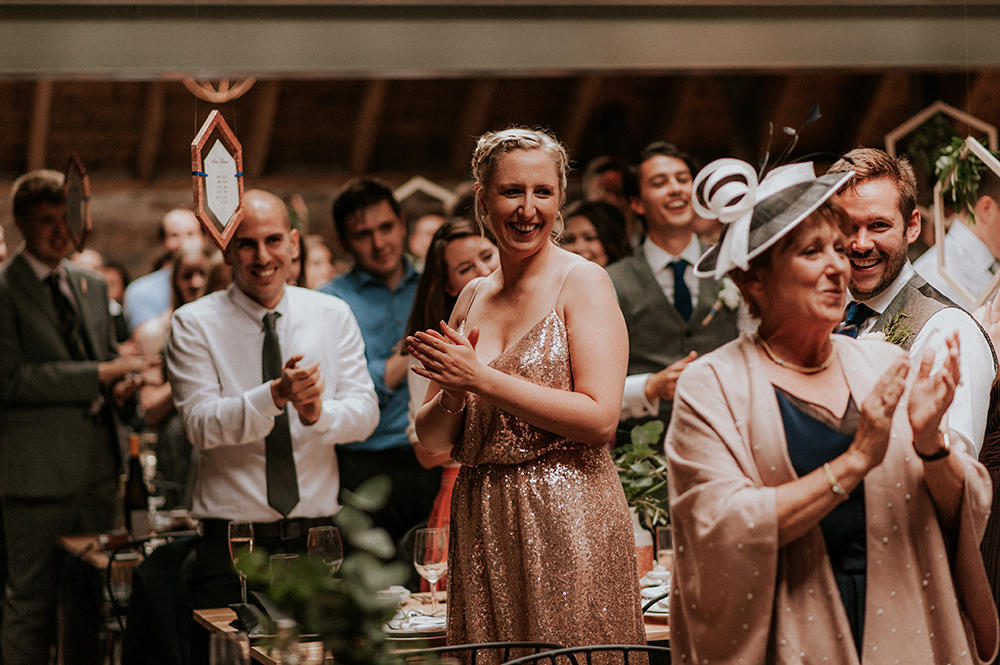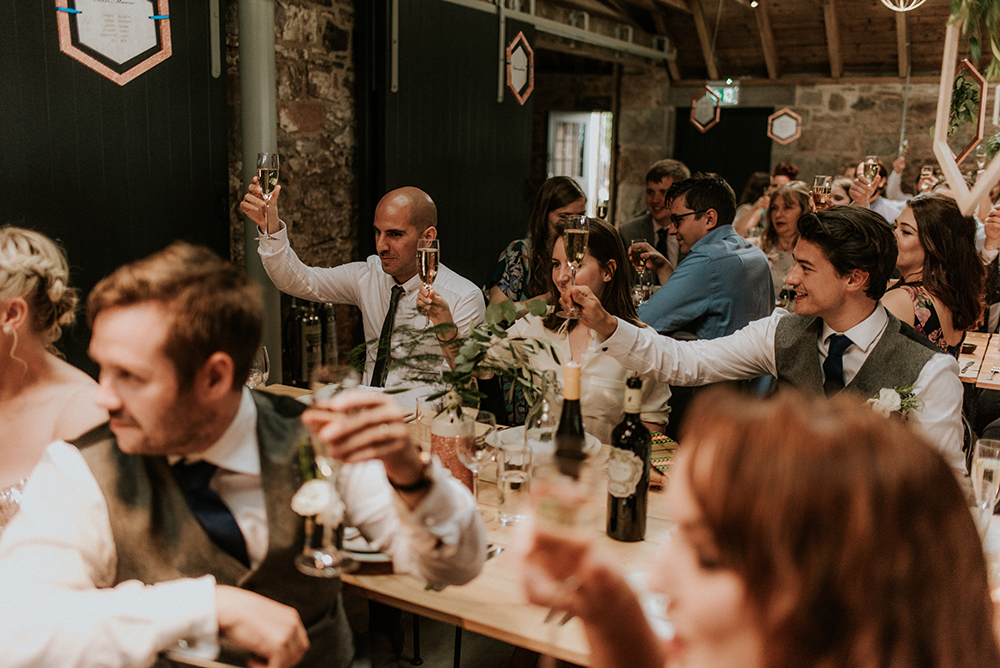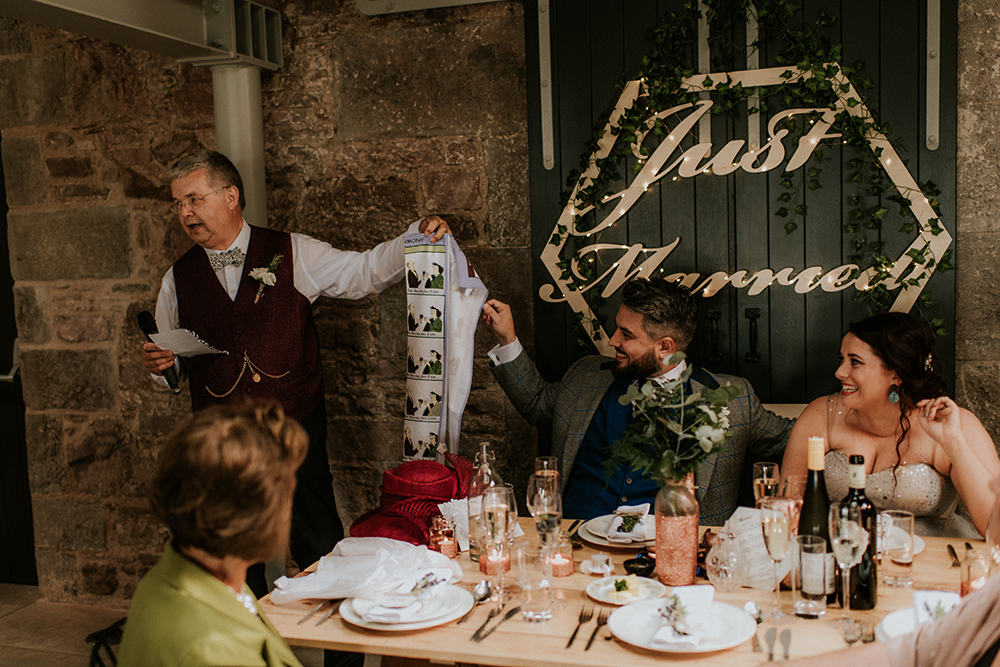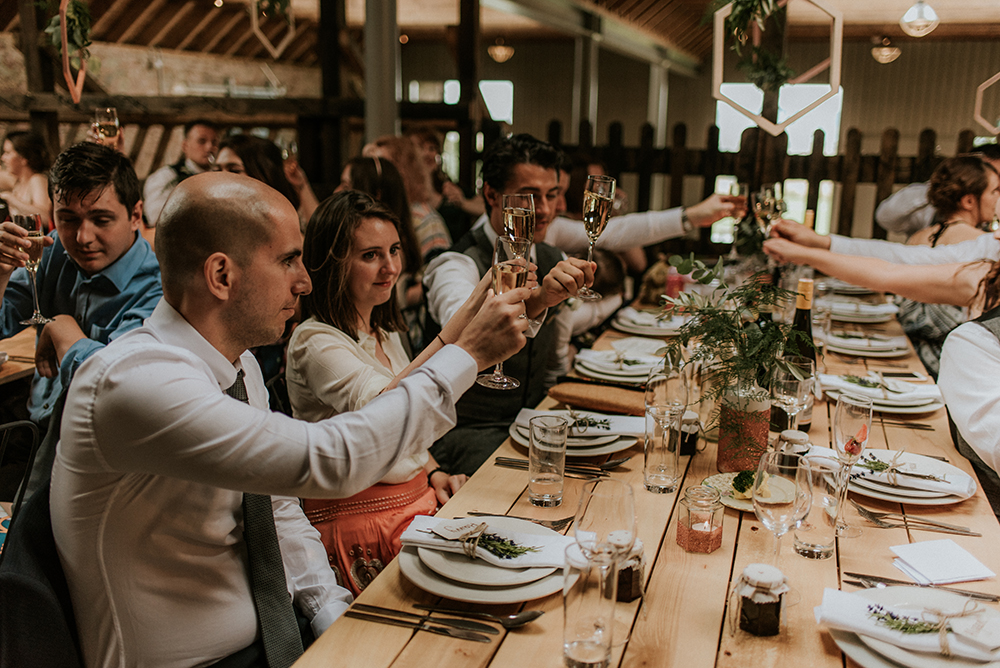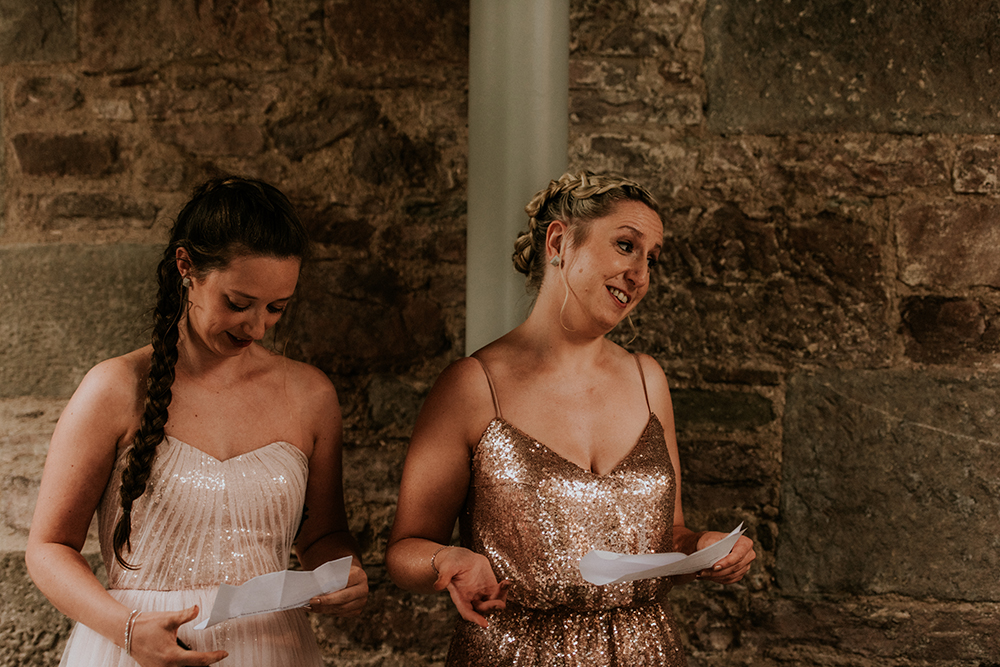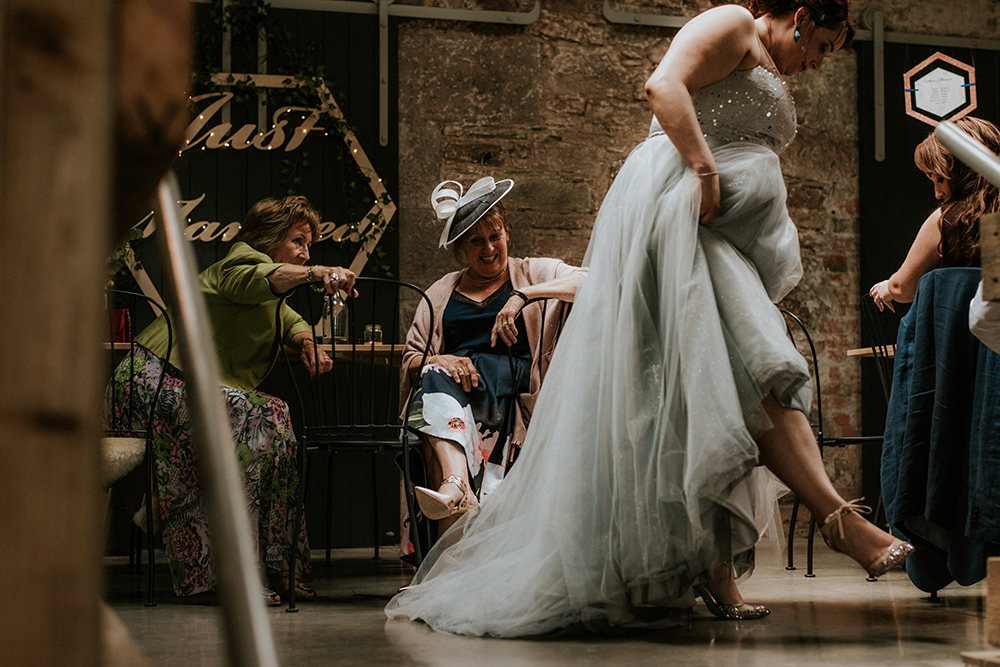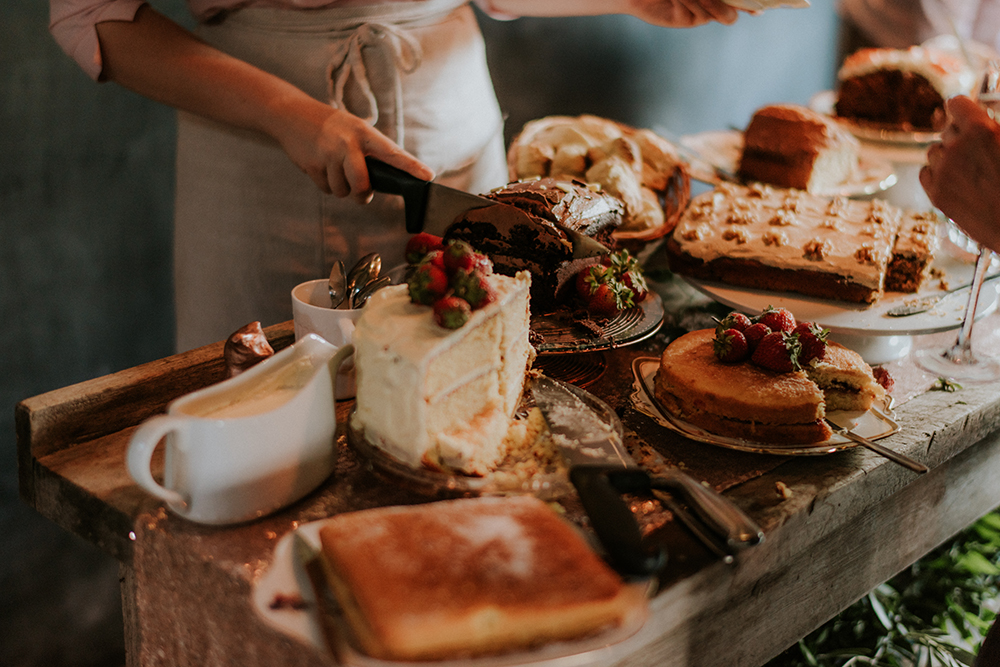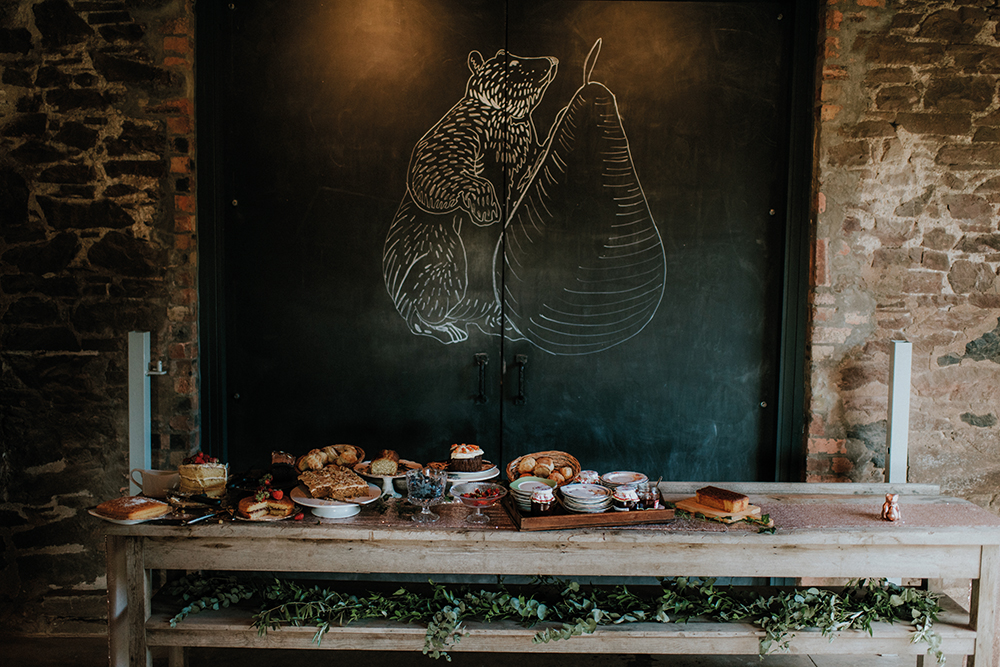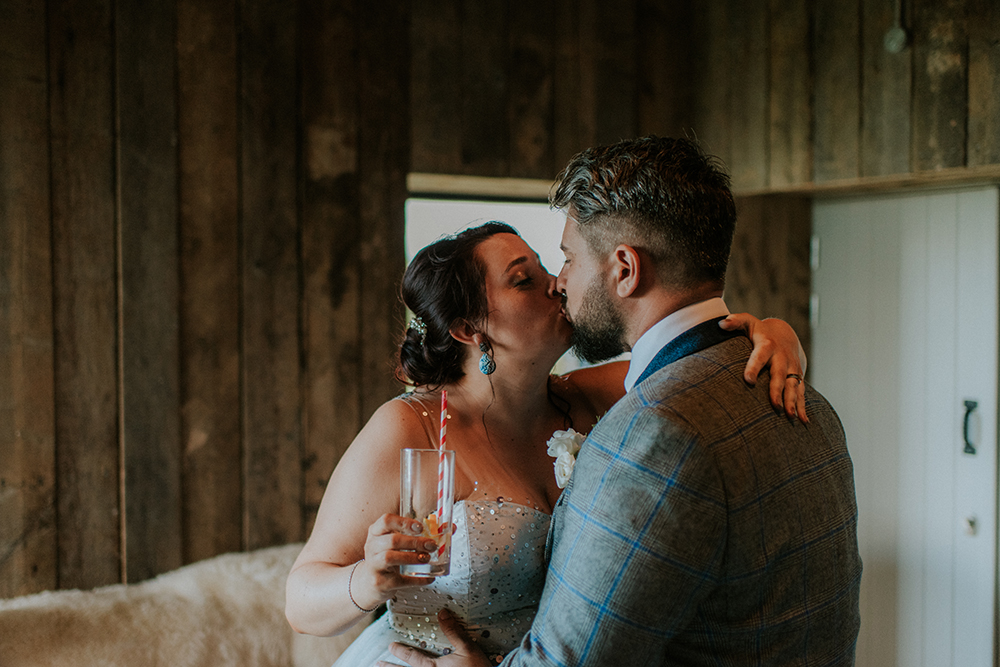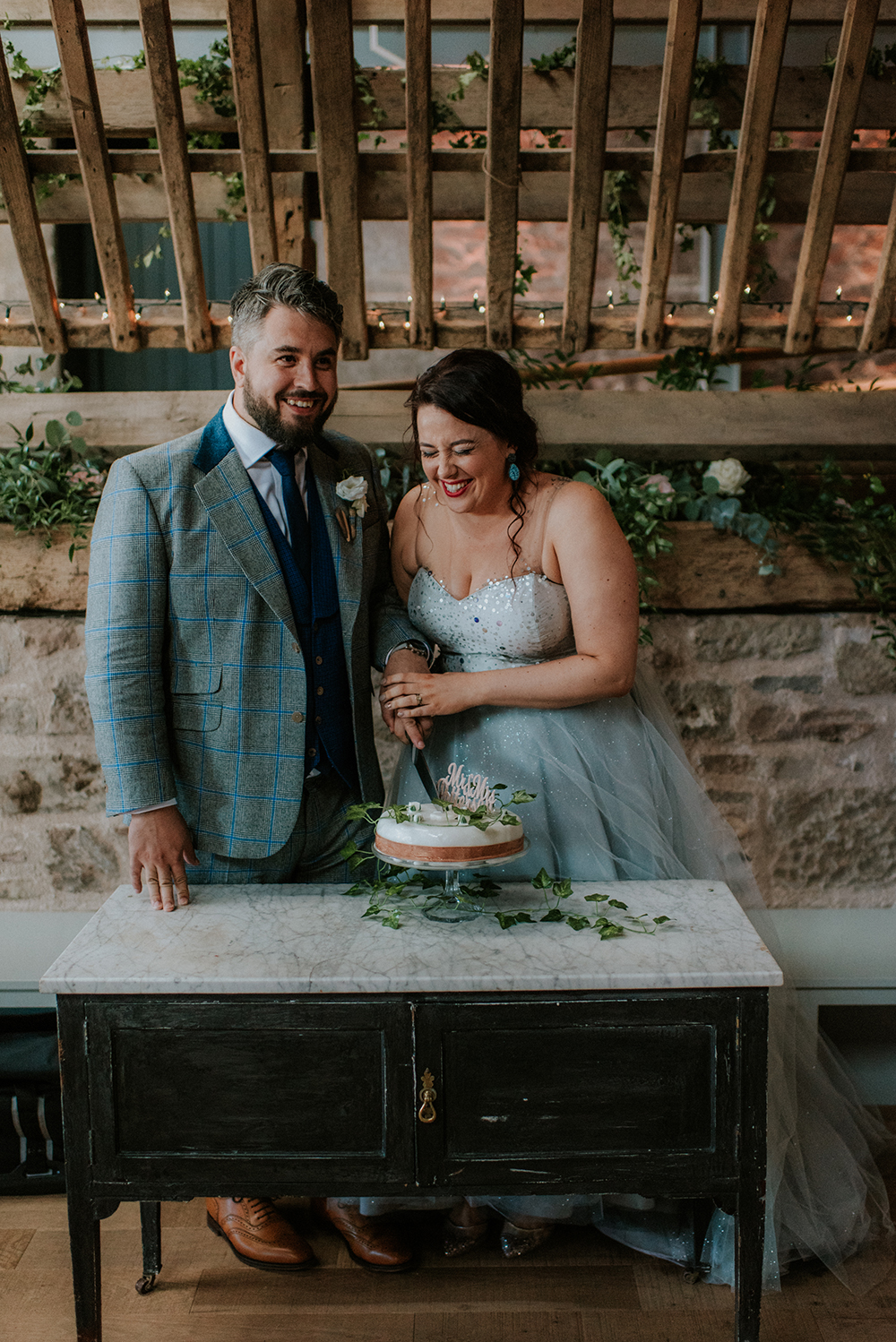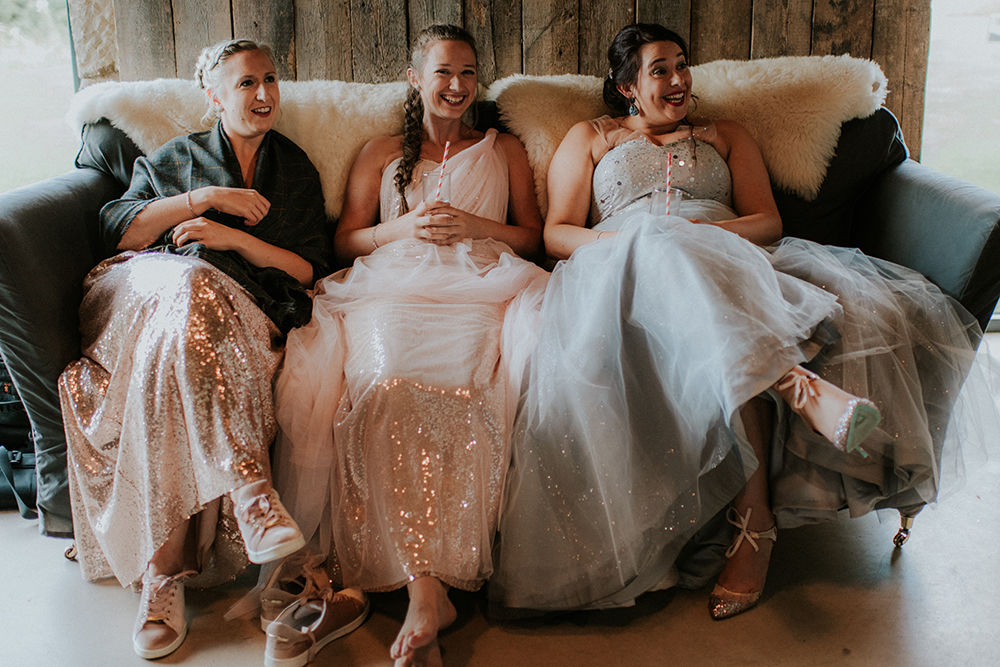 My dad has a vintage Bentley and I knew he would love to have it featured. I didn't even have to ask if they would mind driving it up from Norfolk.
We used herbs such as lavender in our decor to give our venue a flavour of Italy. We had a unique take on a floral backdrop with ferns and foliage, offset by gold geometrics and a touch of sparkle!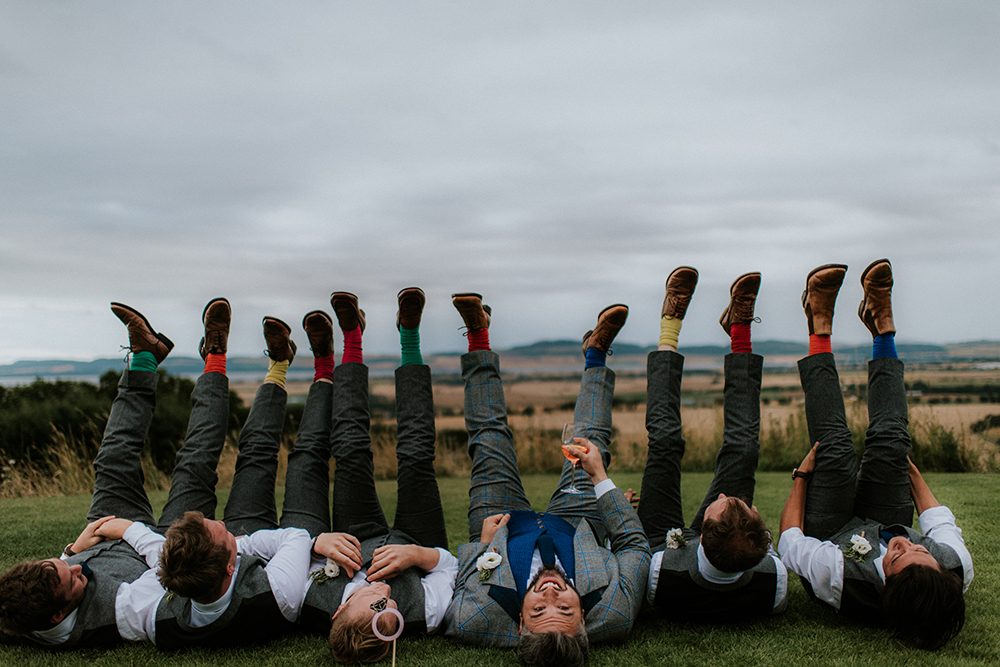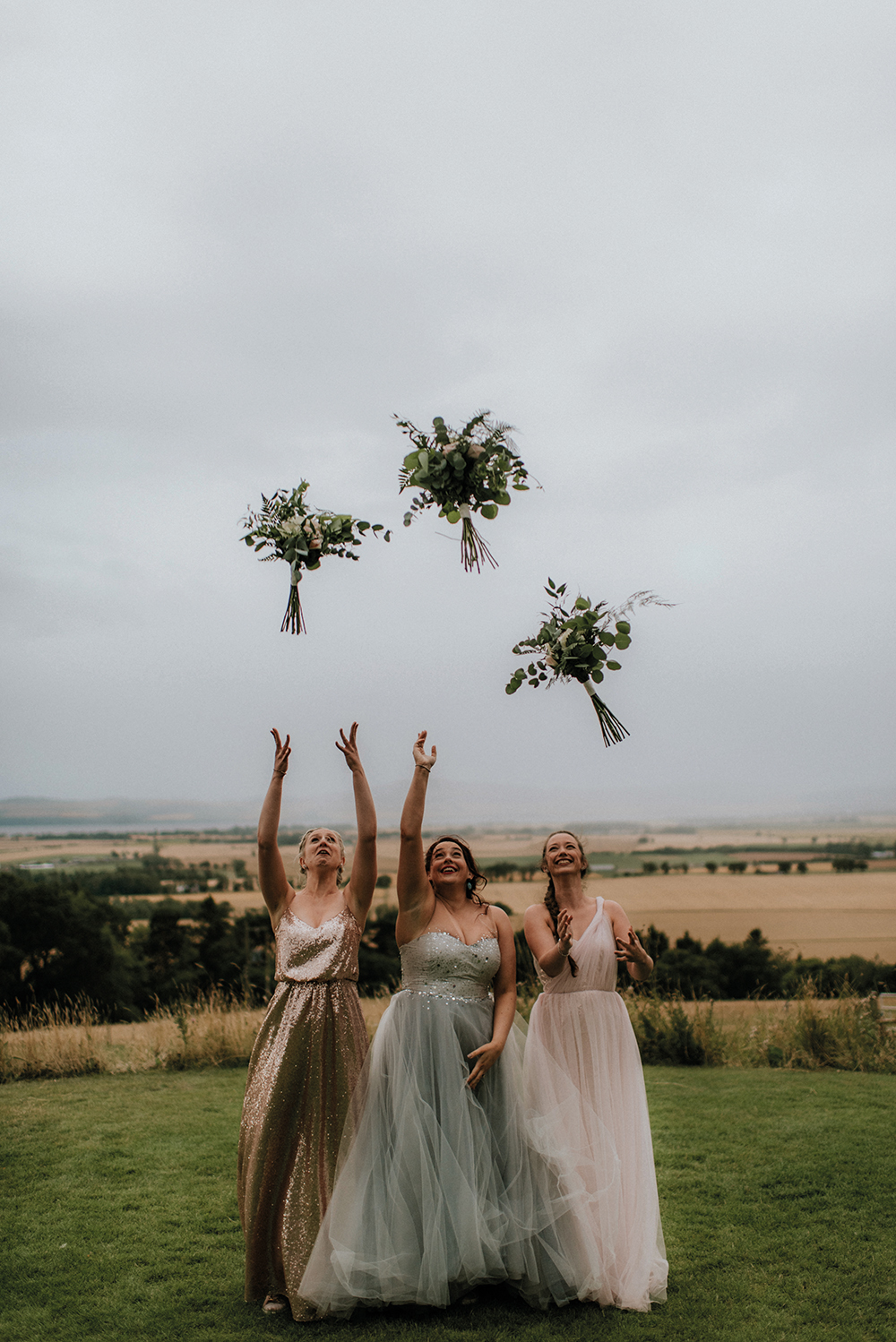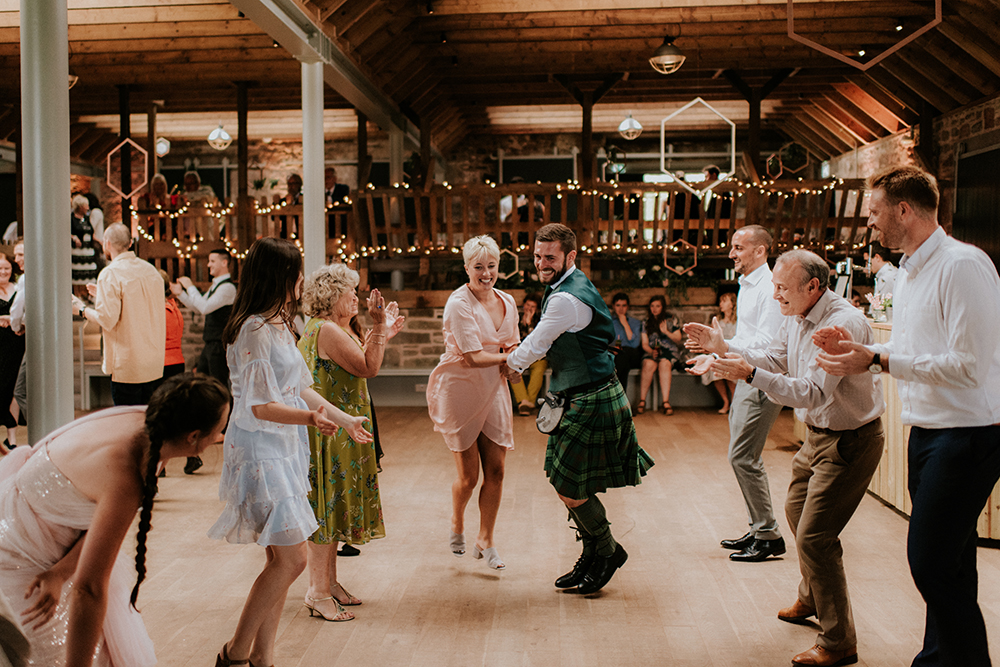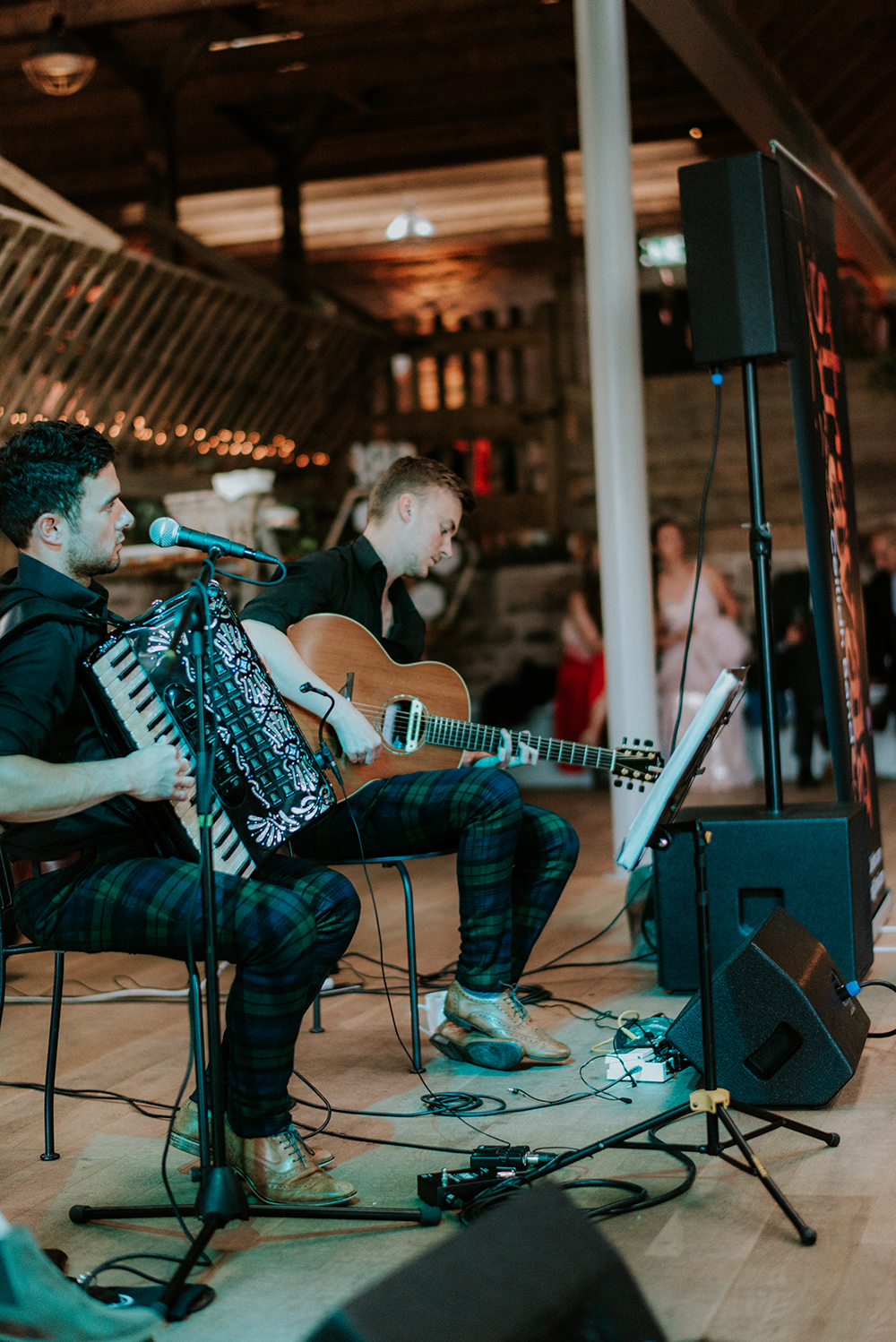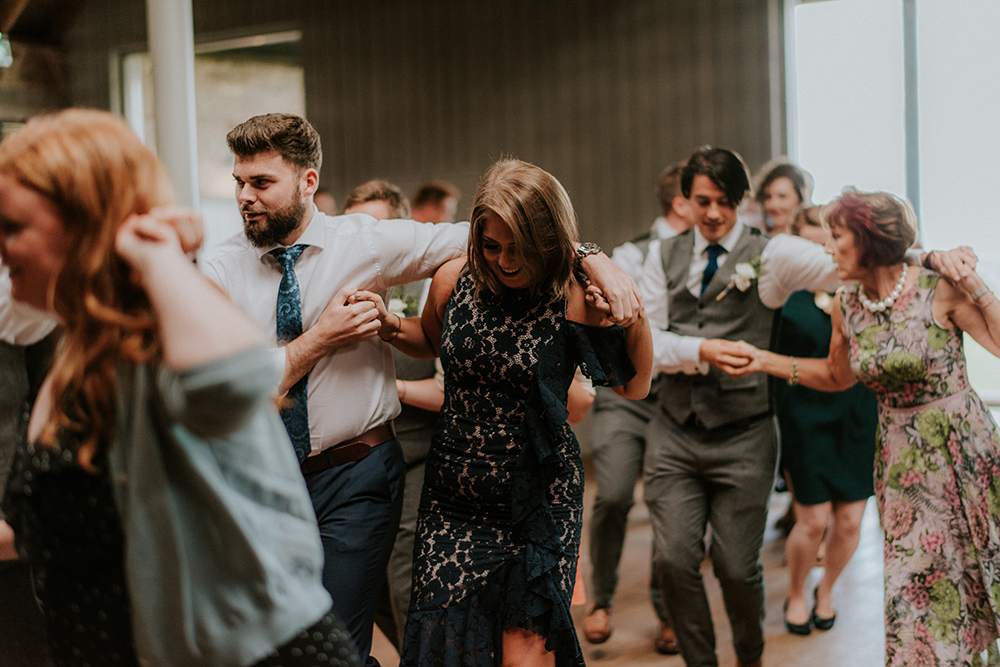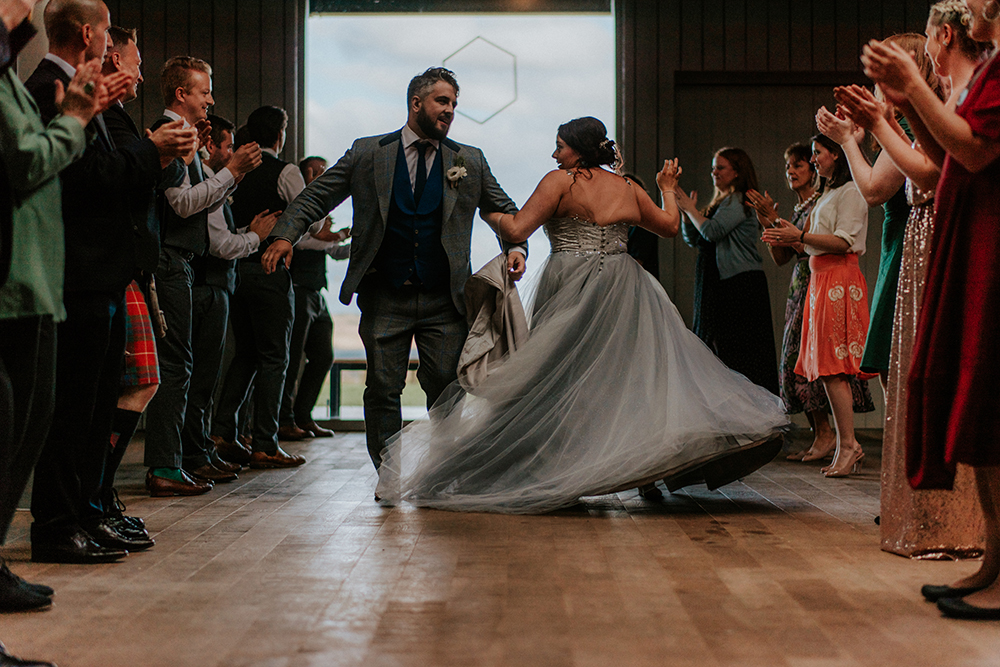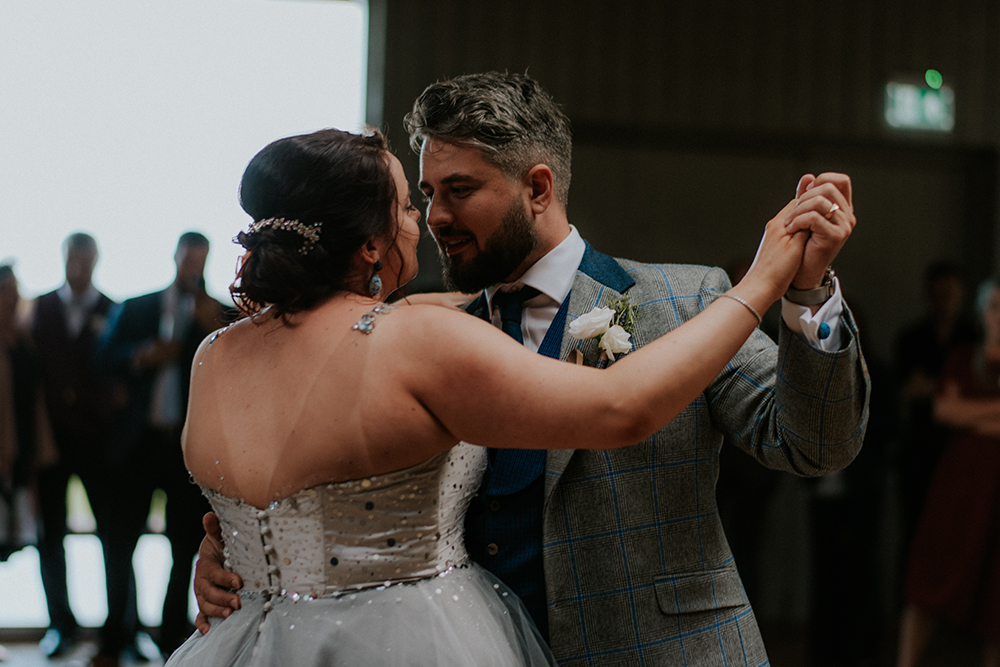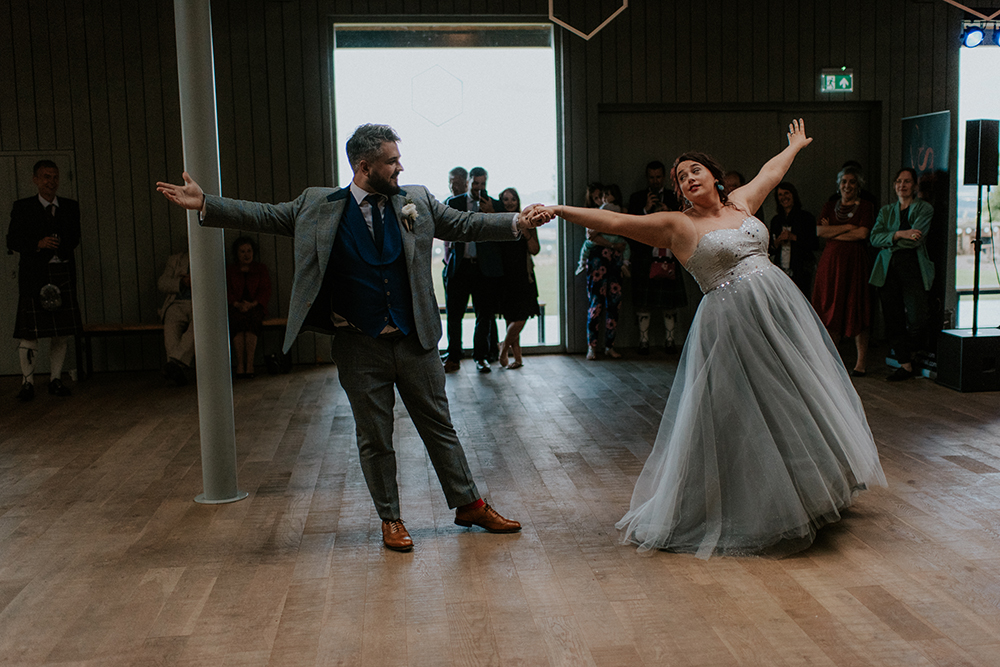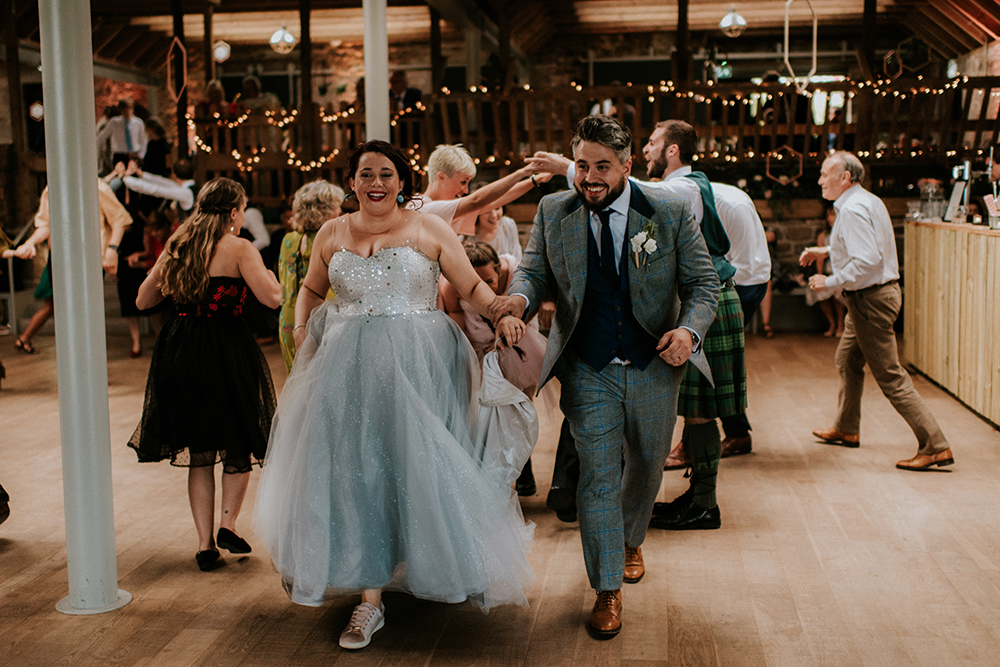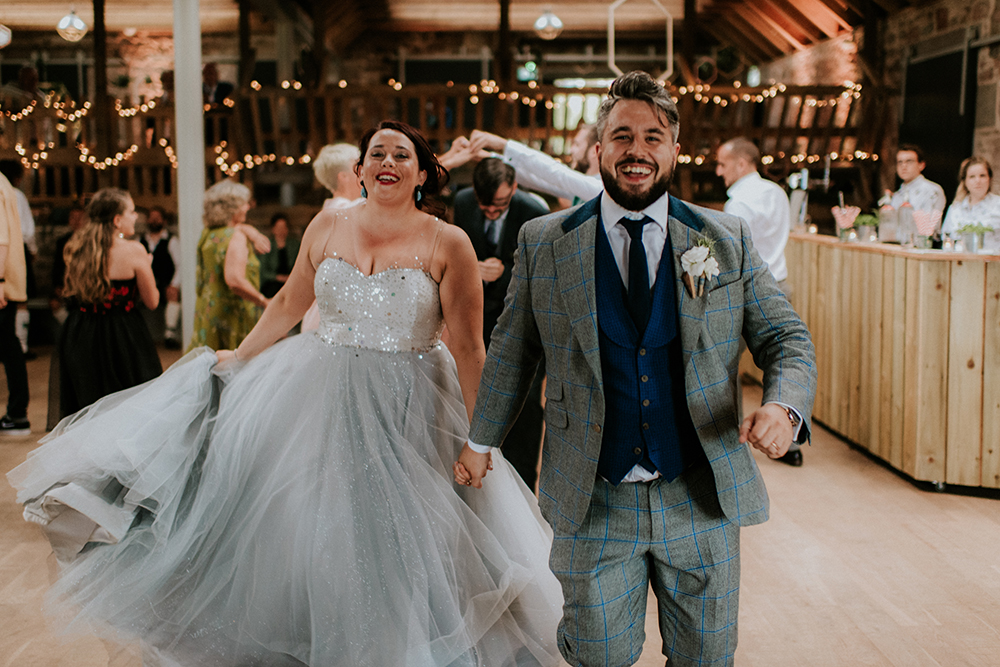 It was the best day of my life.
It's brilliant to know you have commitment, love and support from your partner, family and friends to pull off a wedding and then a successful marriage."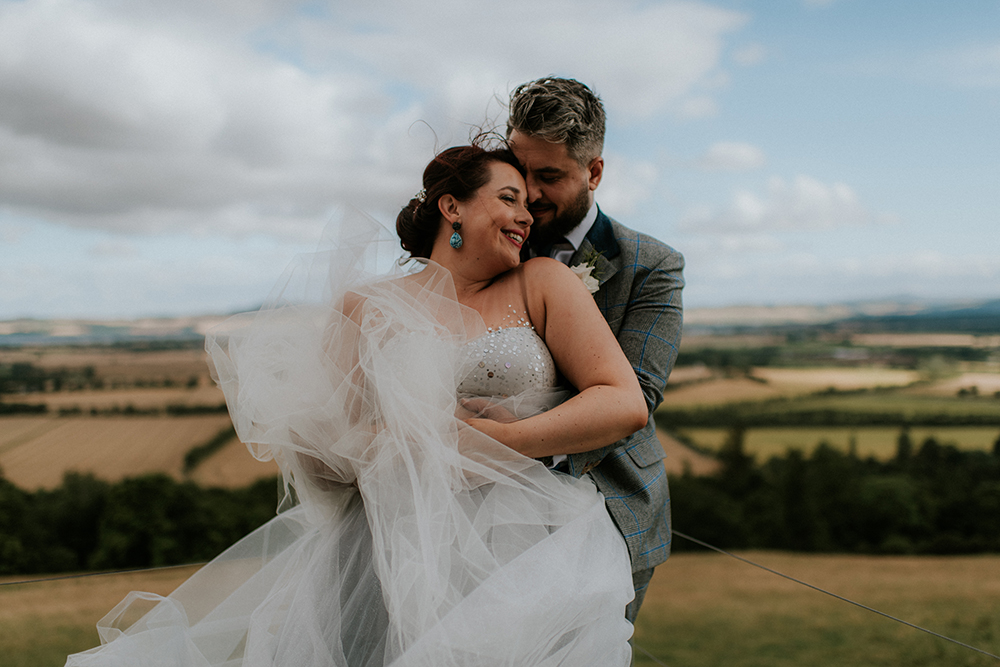 Venue: Guardswell Farm | Photographer: Simon's Studio
Celebrant: Jenny Shepard at Independent Humanist Ceremonies
Engagement ring: Melanie Eddy Jewellery | Dress: Flossy and Dossy | Hair vine: Debenhams
Bride's earrings + groom's cufflinks: Adrienn Pesti Design
Bridesmaids' dresses: Polly Rose Boutique
Groom's suit: Hunter Kingsley | Groom's brogues: Loake
Florist: Bluebell and Birch | Hair + make-up: Kate Elliot-Muir
Pimp your prosecco bar: Lov Events UK | Catering: Lazy Sunday
Band: Stravaig Ceilidh Band