Glamorous + boho wedding with rustic flowers at Mansfield Traquair, Edinburgh
Anna + Oliver planned their wedding at this iconic Edinburgh venue in just four months!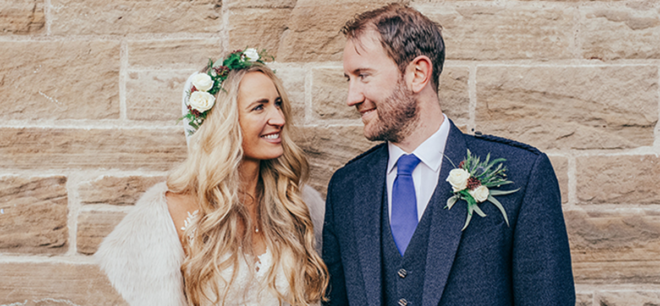 Think it's stressful trying to plan a wedding over the course of a year? Anna and Oliver did it all in the space of four months, and I have to say, we're all pretty impressed at SWD HQ with how they managed to expertly pull together a belter of a celebration in that short period of time.
Of course, it always helps to have some excellent wedding suppliers on board to help make the magic happen, doesn't it?
Reception venue Mansfield Traquair is impossibly photogenic (and captured beautifully by uber-talented photographer David Grant Simpson), and the music-loving couple made sure guests were entertained all day long by an array of fantastic musicians.
Hear what bride Anna has to say about the day…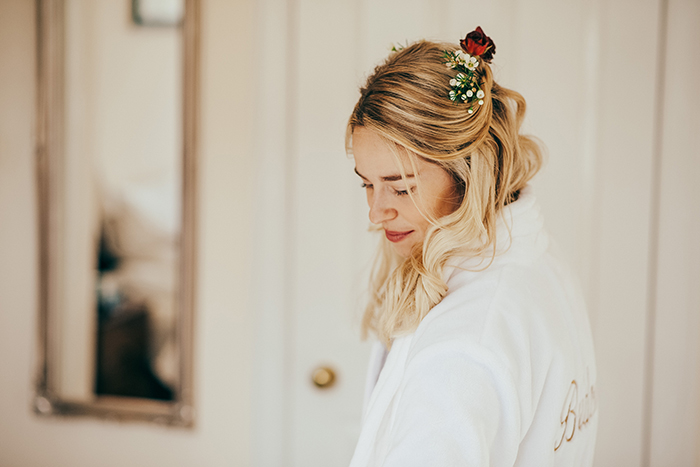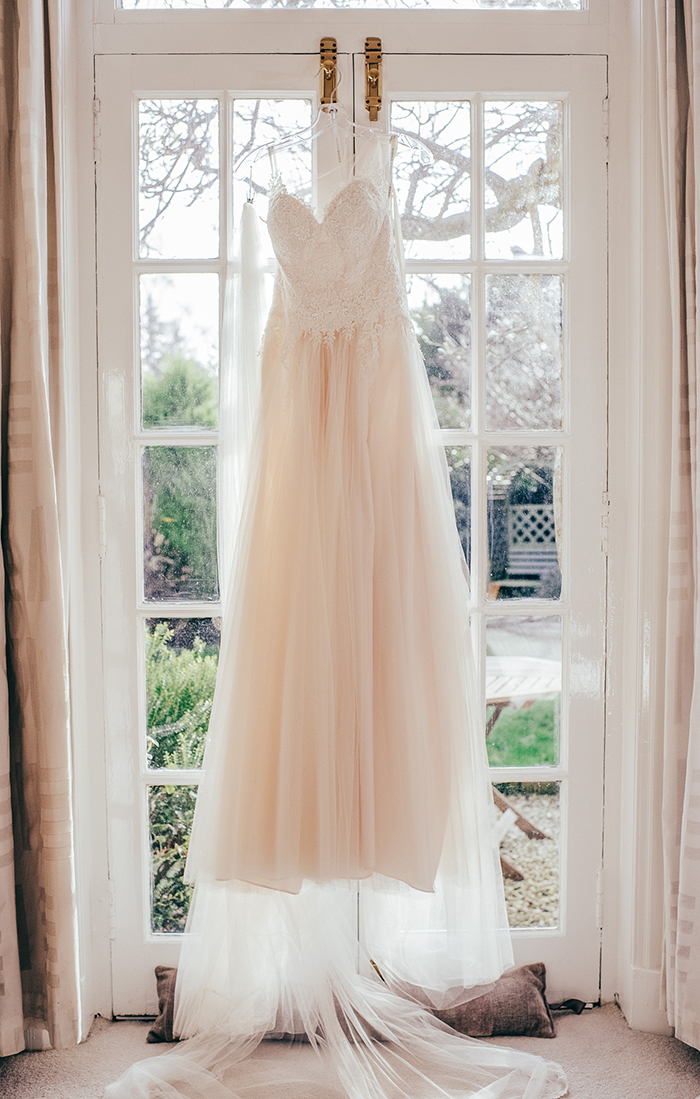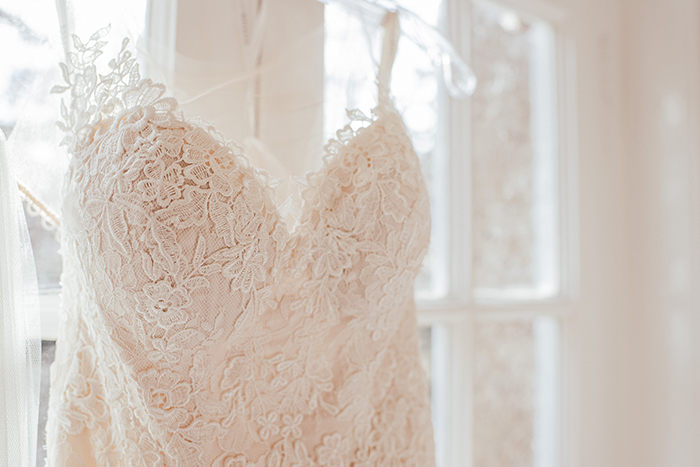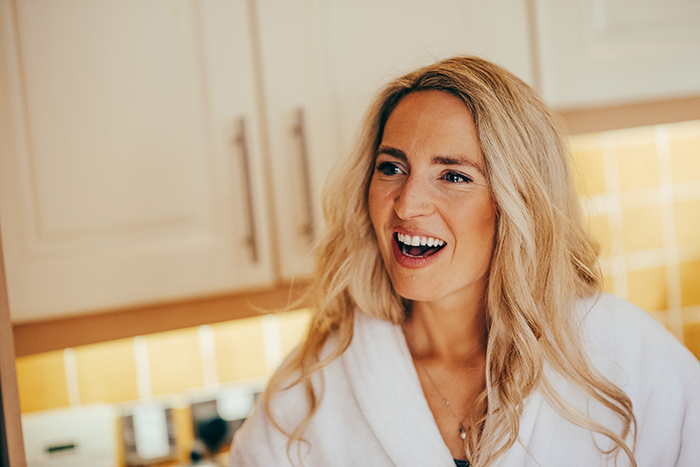 "We were introduced by my best friend Leanne who was one of my bridesmaids " they used to work together.
We got engaged in August 2017 and then started planning the wedding properly at the end of October, which is when we found the venue. We knew we really wanted to get married soon and we wanted it to be at Mansfield Traquair. Friday 23rd February was one of their few remaining dates so we went for it.
We planned the wedding in about four months. We were glad we planned it over a short length of time as I'm far too impatient and get far too excited to wait, say, six months or even a year. I don't know how others do that " I think doing it quickly kept the excitement alive!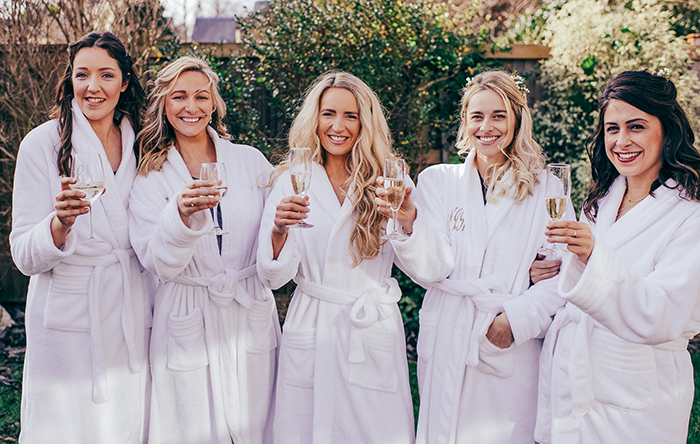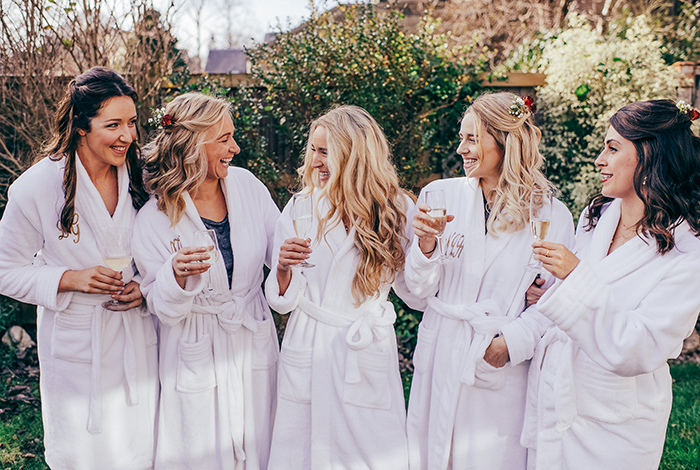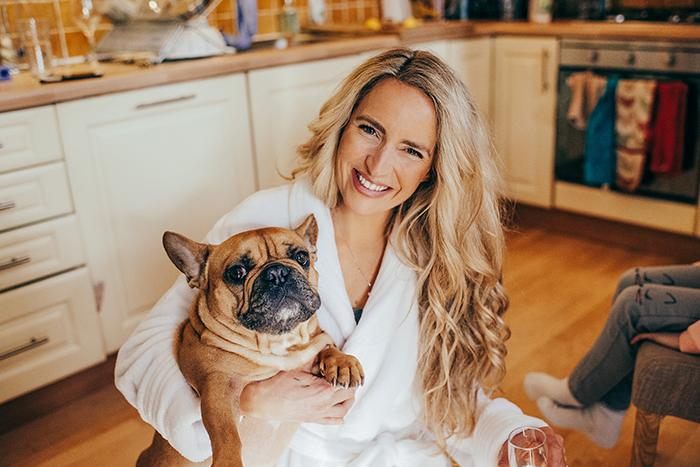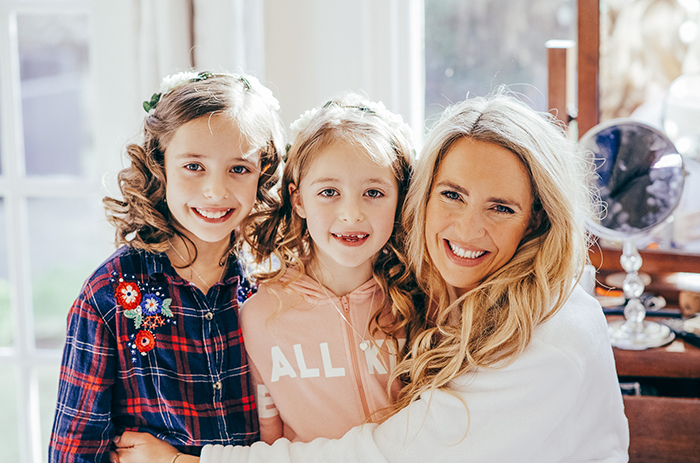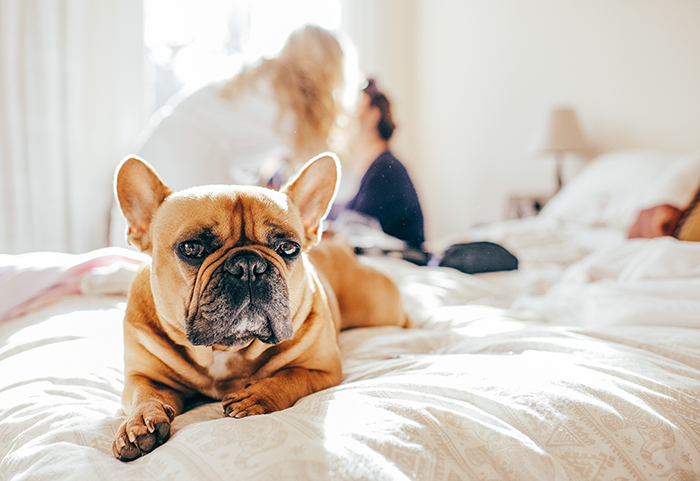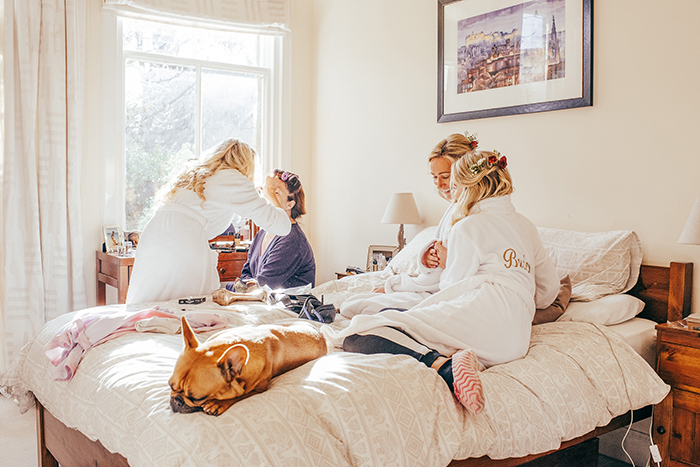 We have a gorgeous rescue French bulldog called Max, who is our first baby. We wanted him to feature in our celebrations but logistically it was a bit tricky and would have been overwhelming for him.
In the end, he was with me and my bridesmaids as we got ready on the morning of the wedding, guarding hair and make-up (he also features on our wedding cupcakes)!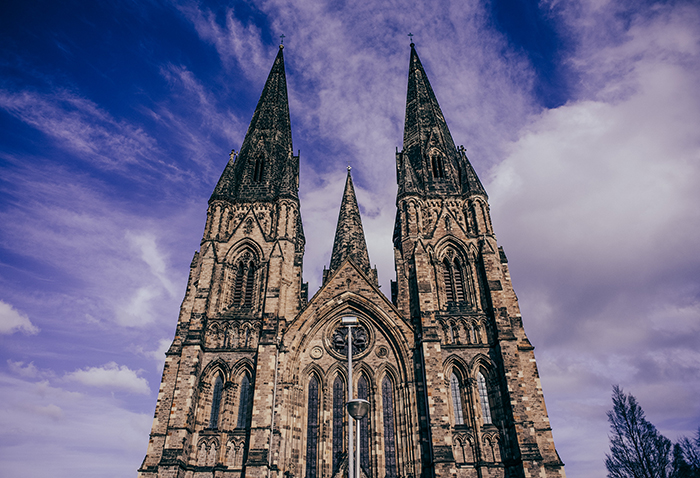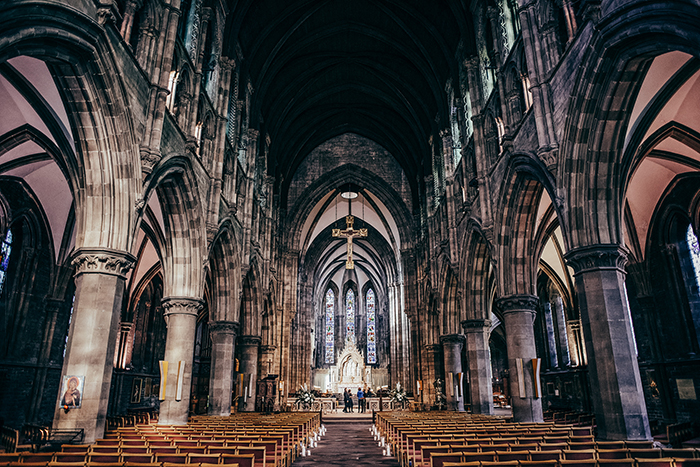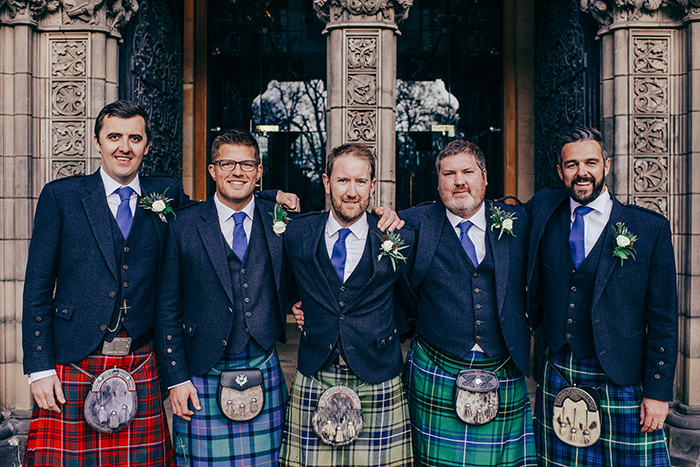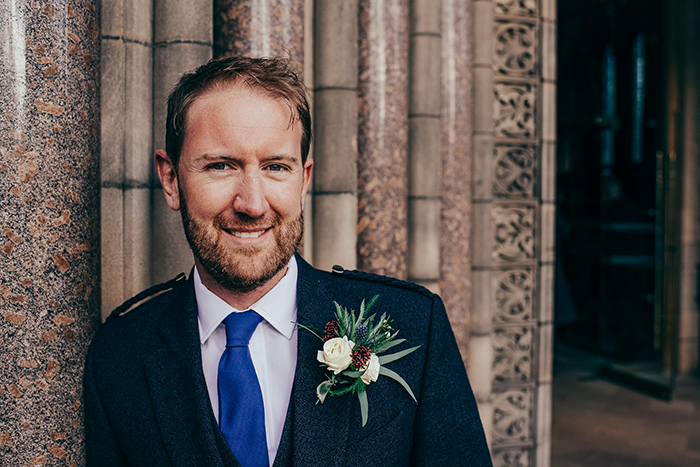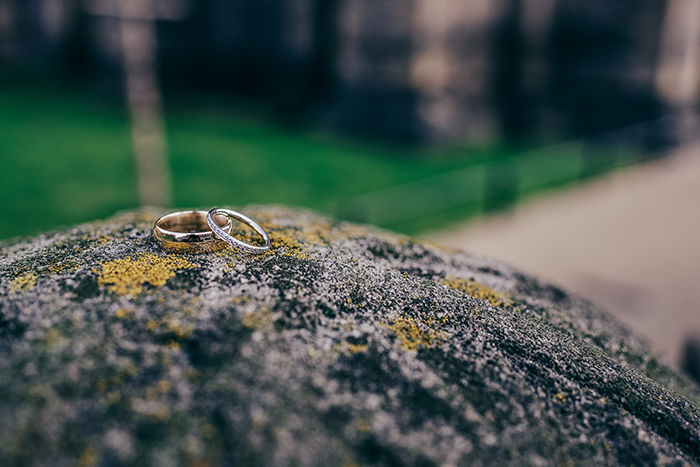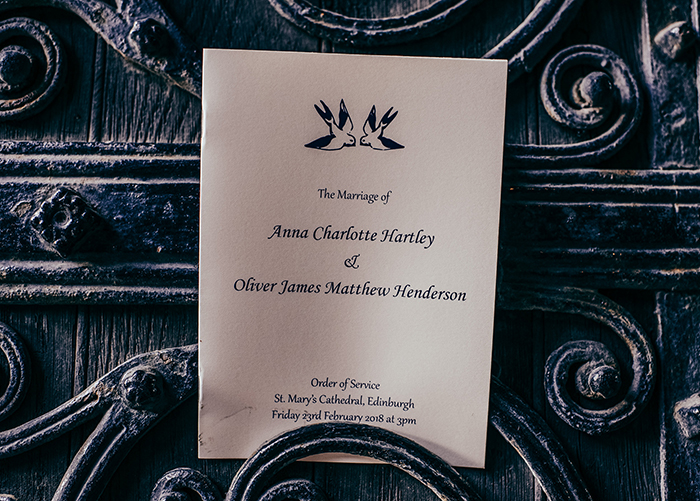 Our ceremony venue, St. Mary's Cathedral, is an episcopal cathedral local to us. My husband's mum always wanted to get married in this venue. It is a gorgeous cathedral with impressive grounds and a brilliant house choir.
The ceremony was very special. St Mary's cathedral is stunning and our minister delivered a wonderful heartfelt and humorous marriage sermon that was fitting for us.
It was also the anniversary of his marriage the same day which was lovely! We had lots of comments afterwards about how lovely, genuine and relaxed the service was.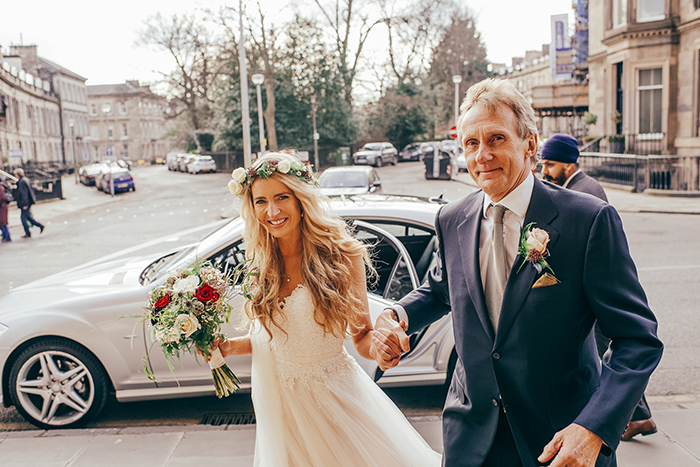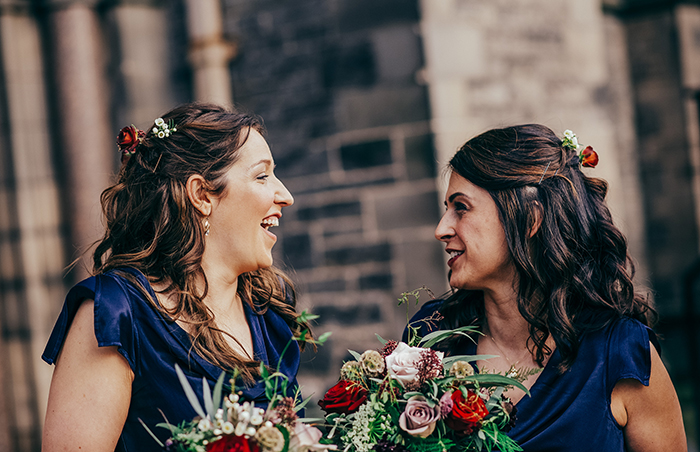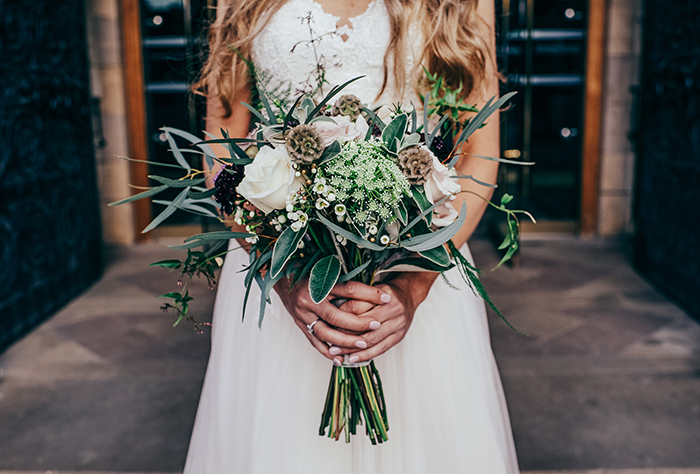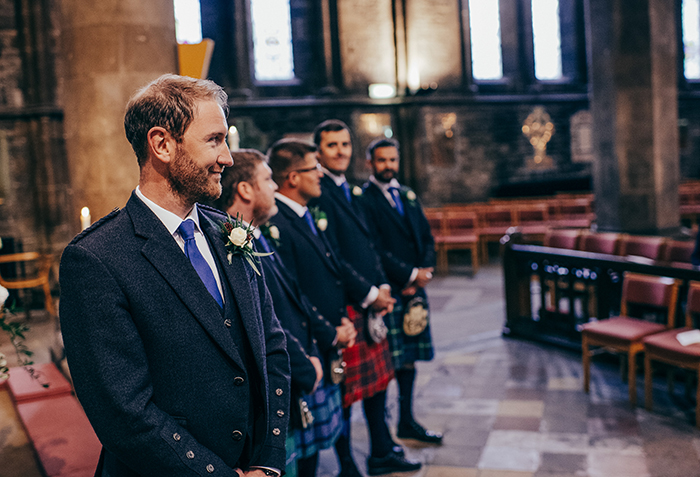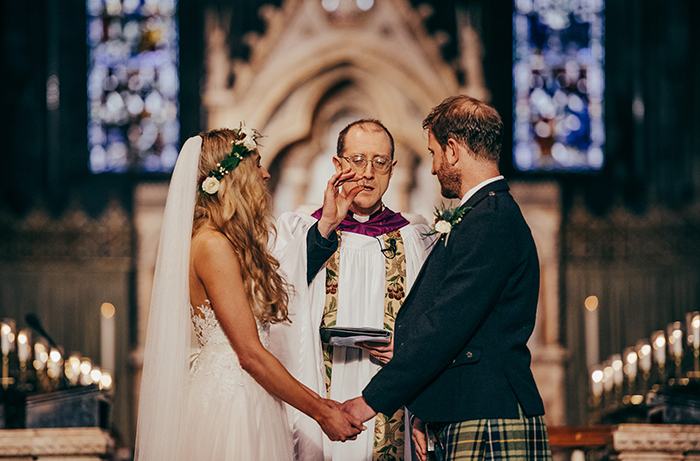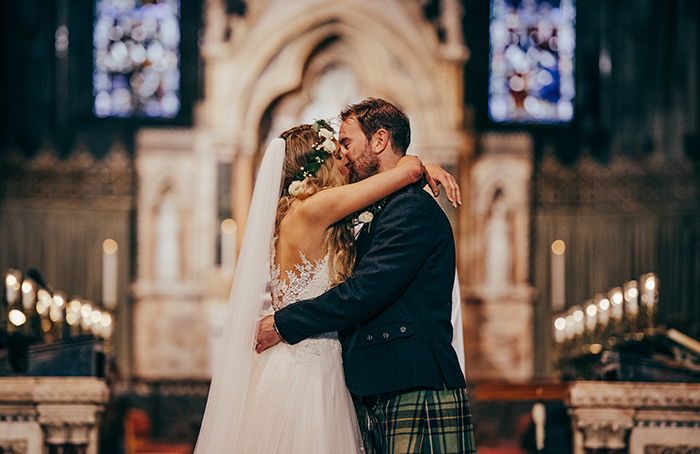 Our reception venue was Mansfield Traquair. Its understated beauty is what attracted us to it. From the outside it doesn't look that impressive, but when you enter it blows you away.
We went for rich colours: gold, navy, and deep red to match the interiors of Mansfield Traquair.
We had gold tablecloths, gold candelabras, garlands to wrap around these and lots of candles. I was also really pleased with our rustic winter foliage and flowers; Garlands did an amazing job!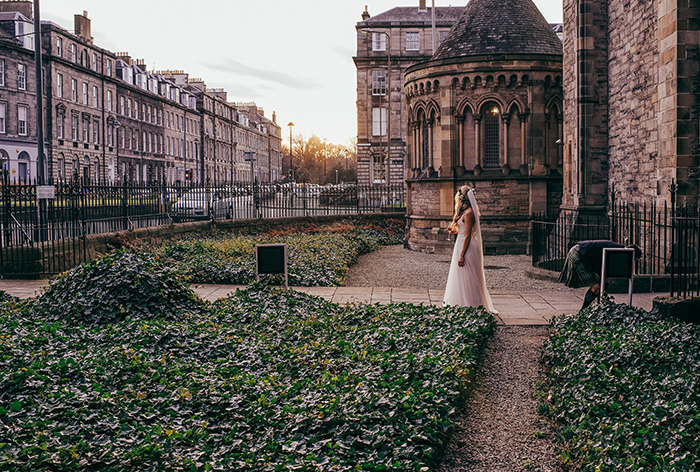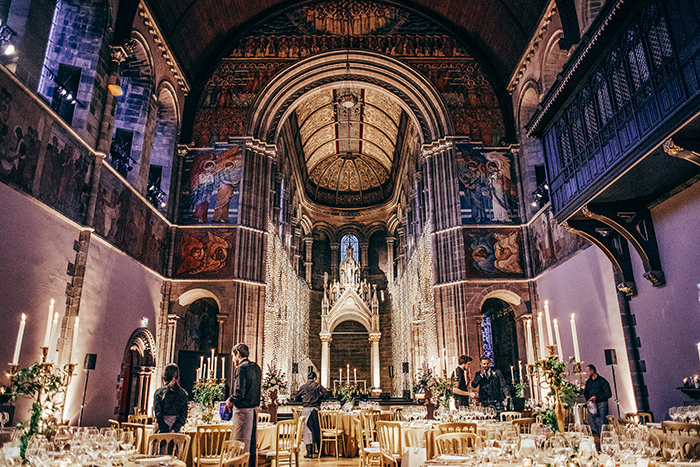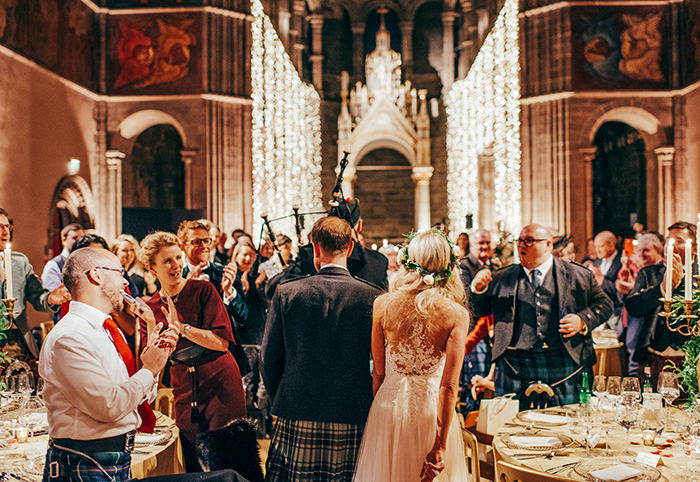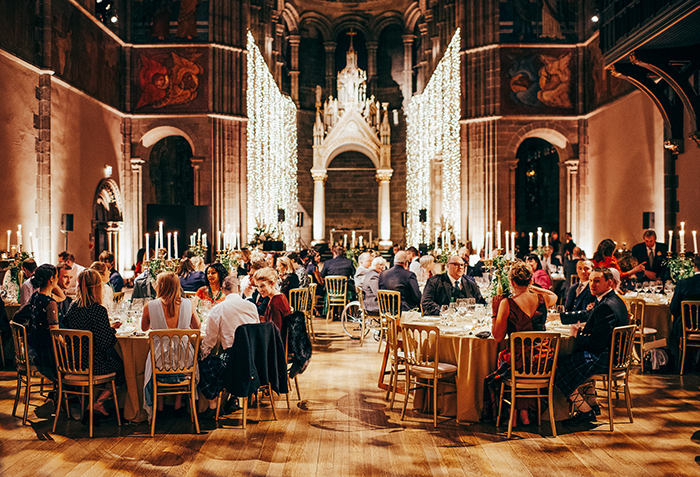 During the best man speeches (my husband had two best men!) they played a video clip from rugby players Stuart Hogg and Finn Russell wishing us a wonderful wedding day. My husband is a massive rugby fan, so that was a nice touch!
We had 108 guests. We wanted the day to be traditional, but also very relaxed.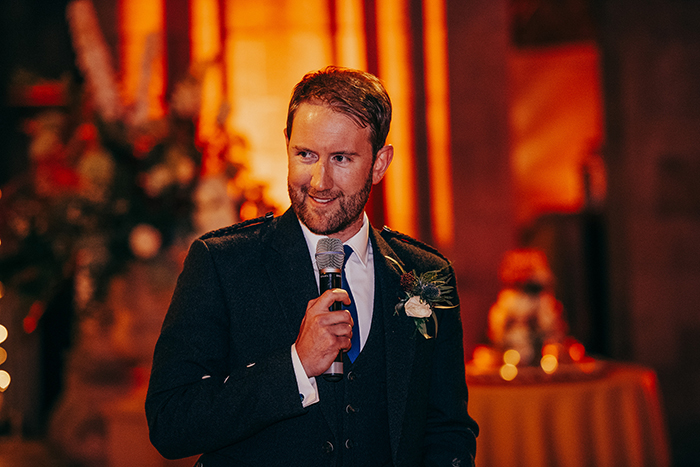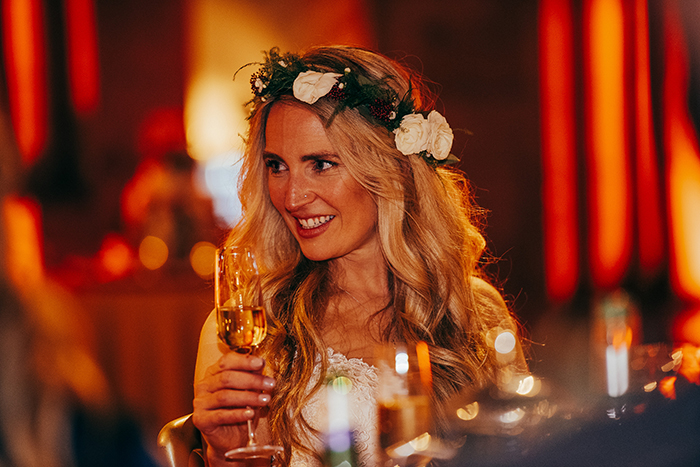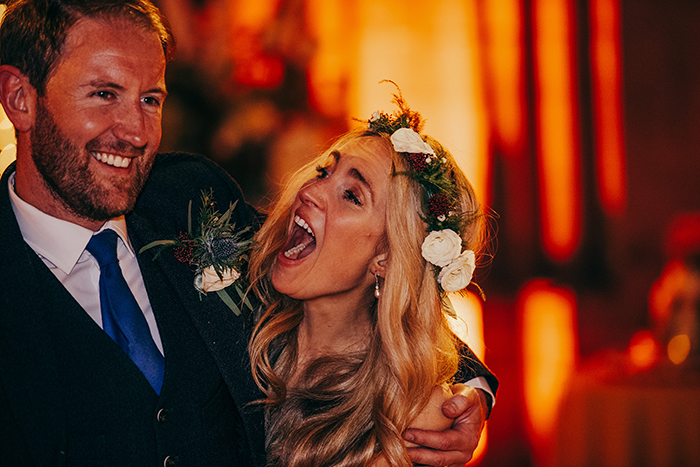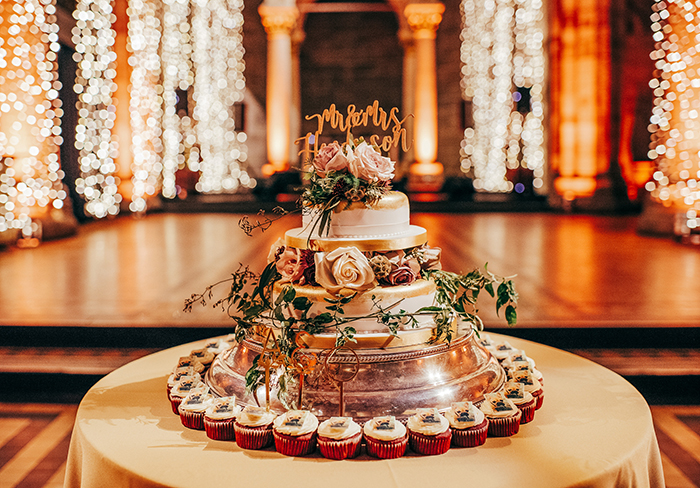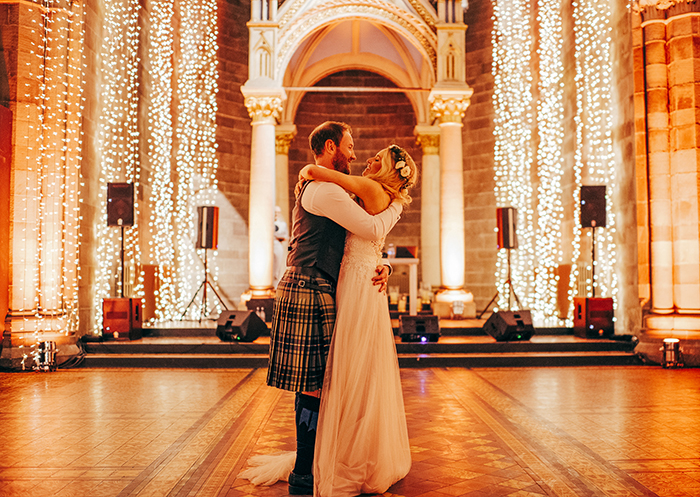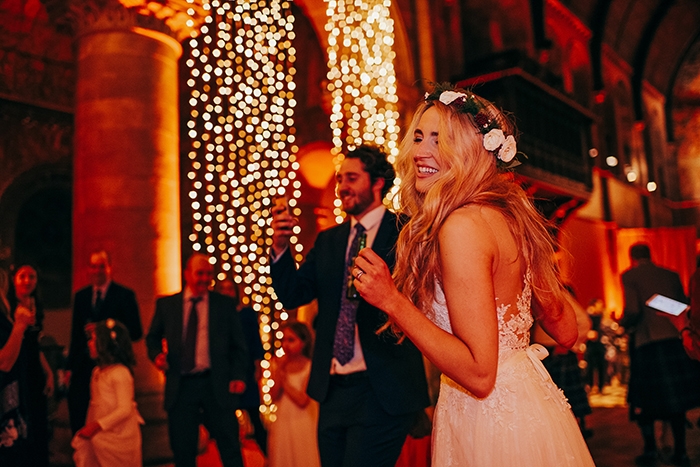 We had a piper play outside the church and pipe us into dinner. We wanted lots (and a variety) of music. We had the piper, the choir, a pianist, the band, my brother and sister doing a DJ set (my sister is part of a DJ duo in London called Four Tit), then our friend who rallied everyone for a ceilidh near the end.
We both love music and we wanted people to dance and enjoy themselves. We had a full dancefloor from the start and I don't think I moved from there until the lights went up to signal the end of our special day.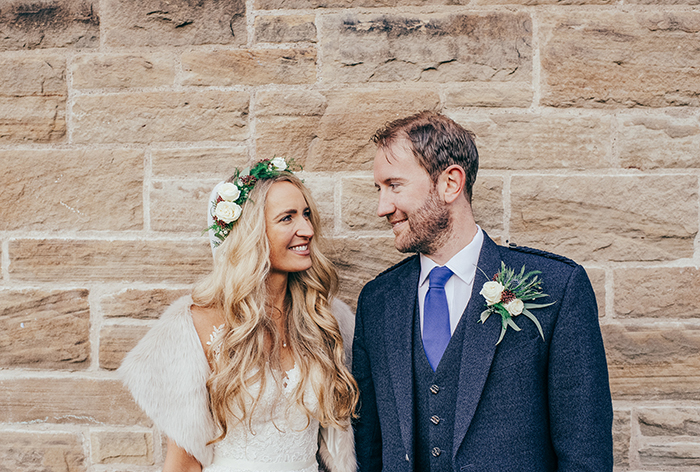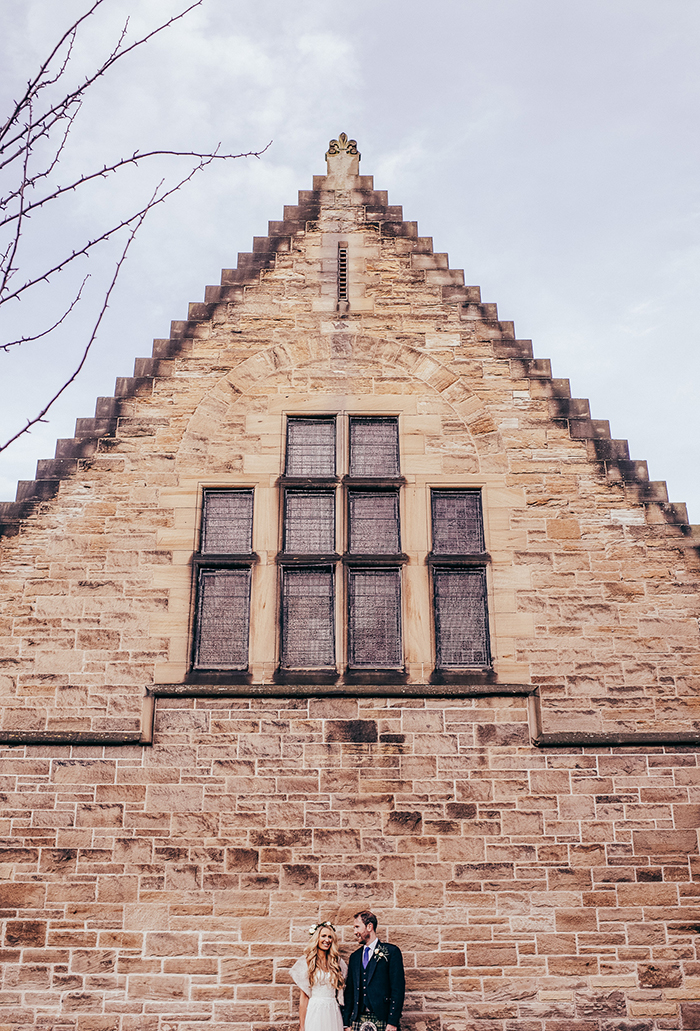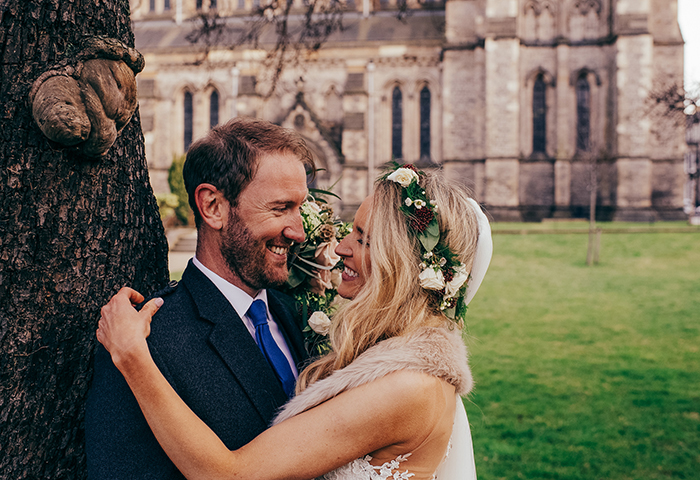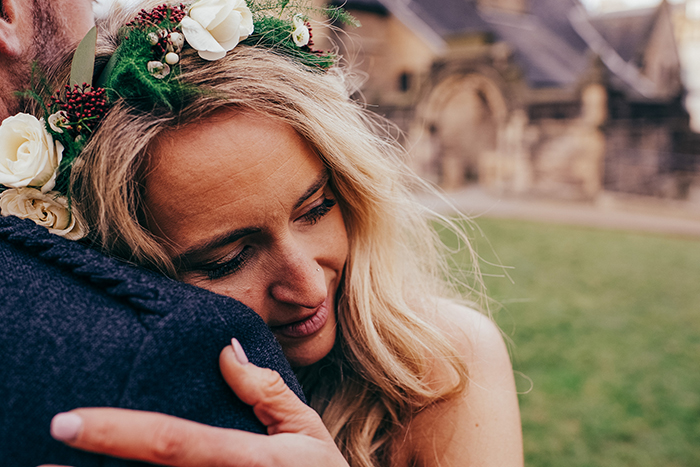 The next day felt amazing! To experience so much love and support from everyone we care about made it feel so natural and so special.
We have been together a long time and own a flat together, so being married didn't feel hugely different for us. It just felt very romantic and comforting to pledge to each other formally what we had already pledged as boyfriend and girlfriend!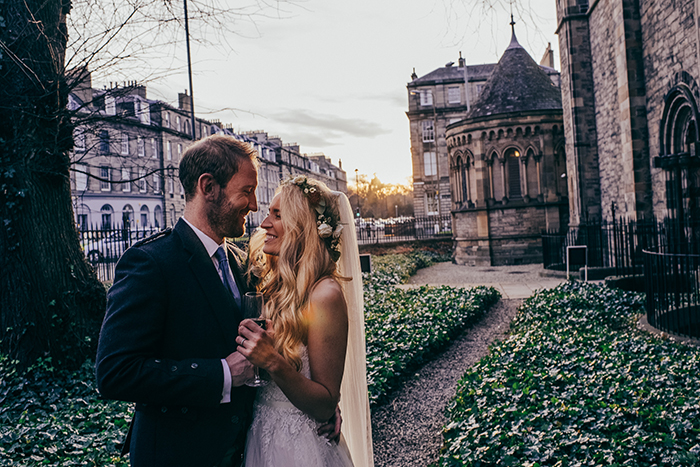 Photographer: David Grant Simpson Photography | Venue: St Mary's Cathedral for the ceremony and Mansfield Traquair for the reception
Transport: Capital Cars | Bride's dress: Essense of Australia from Kudos | Bridesmaid dresses: Ghost | Florist: Garlands
Pianist reception: Kevin Nicholson | Wedding band: The Correspondents | Bridal jewellery: Liberty in Love
Stationery: Stoneberry Press | Bridesmaid and mum's hairdresser: McGills Hairdressing