Glamorous blush pink wedding at Ingliston Country Club & Hotel, Glasgow
Grooms John + Chris wanted all-out glamour for their big day at Ingliston Country Club & Hotel!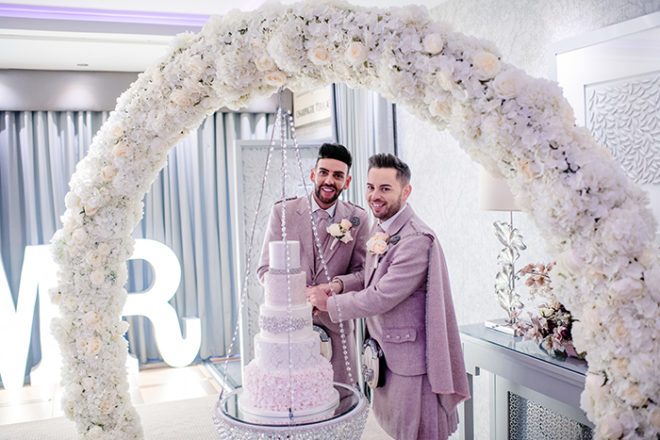 When John and Chris tied the knot, they knew it would be all-out glamour and glitz. Luckily, they found the perfect venue, Ingliston Country Club & Hotel, to host their gorgeous big day.
We're sharing some of the lovely photos from John Clark Photos and finding out more about all the little details that made their wedding so special from groom John…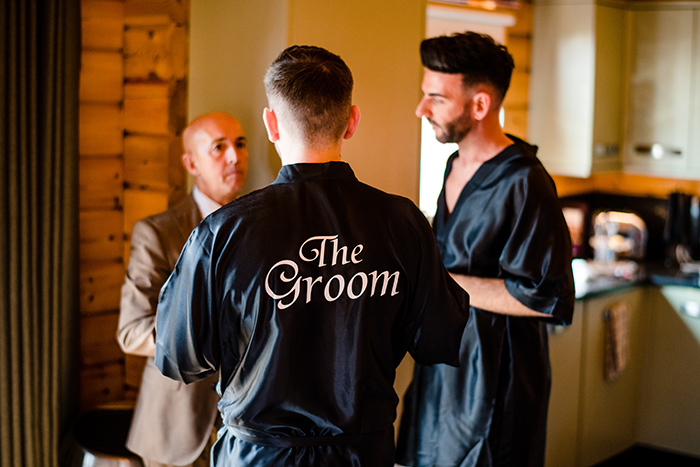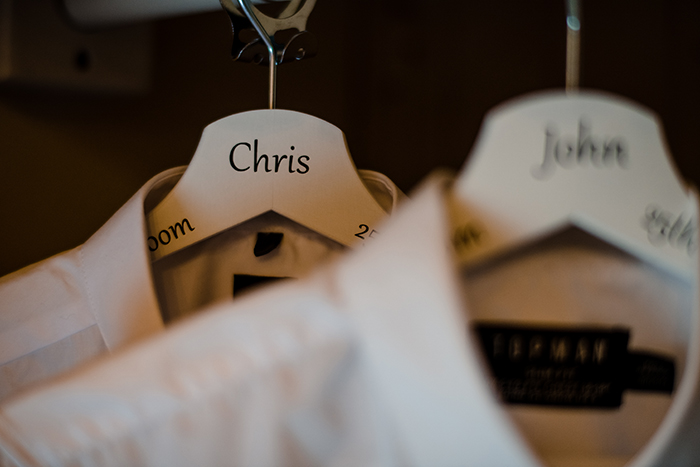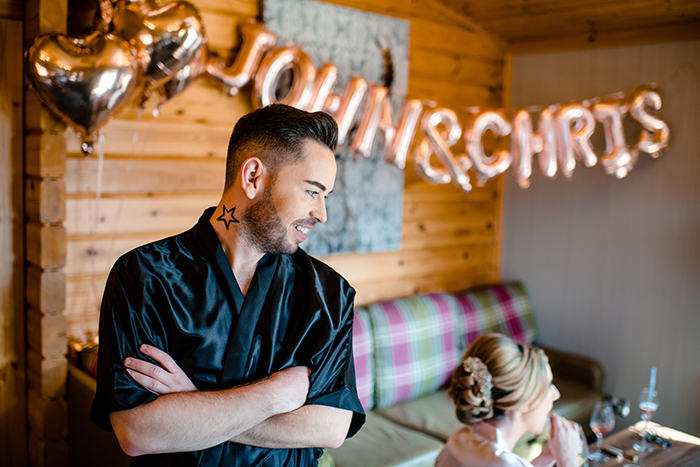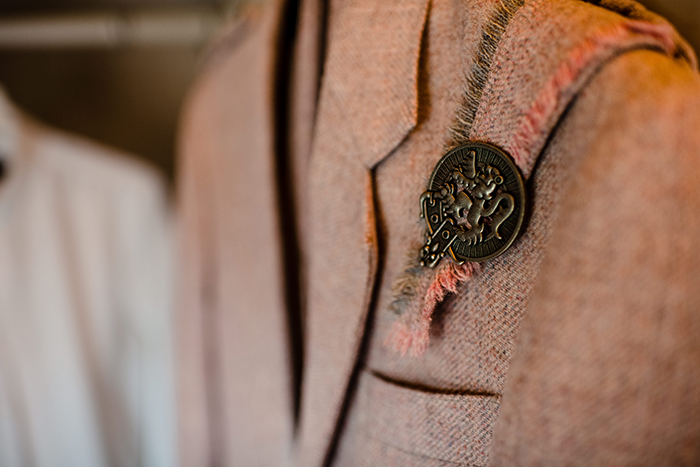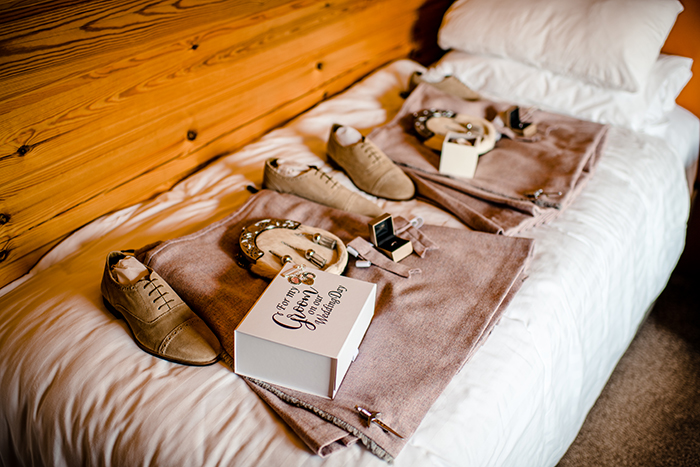 "I proposed to Chris on September 2nd 2015, at midnight on his birthday, in the secret garden at Caesar's Palace, Las Vegas.
I had it all planned! We watched the Bellagio Fountains and Chris complained the entire time that he was too hot hungry and his feet hurt – I wanted to throw the ring into the fountain at this point!
I had a phone case made as a gift which had pictures of us and the Bellagio Fountains, and at the bottom was a picture of the engagement ring.
At midnight, I presented the gift, dropped to one knee and produced Chris's engagement ring. He burst into tears and asked if I was serious, said yes, and we made a wish and threw a penny into the pond. It was a magical night.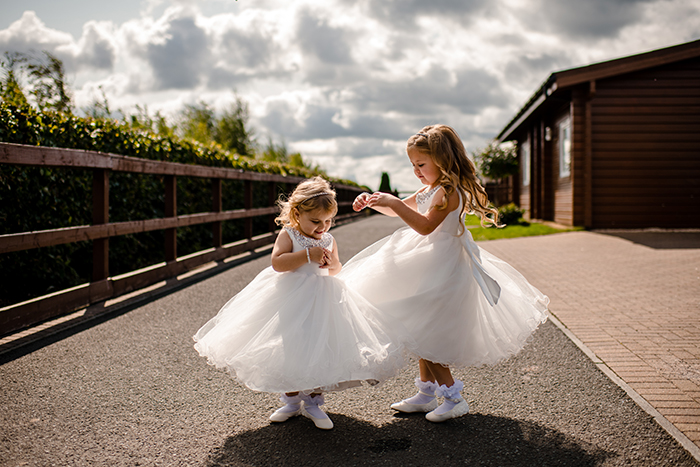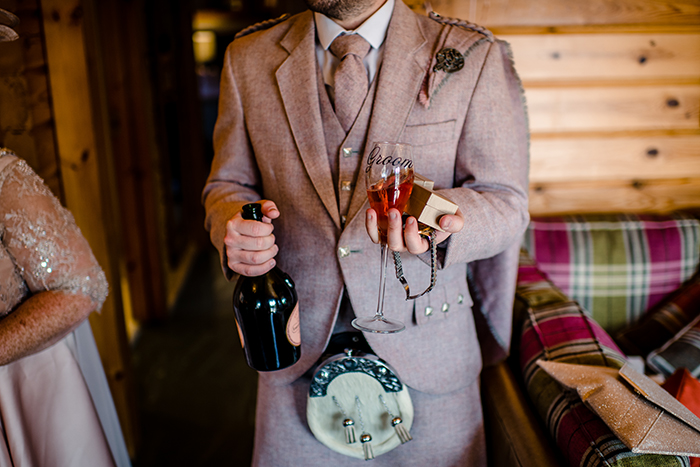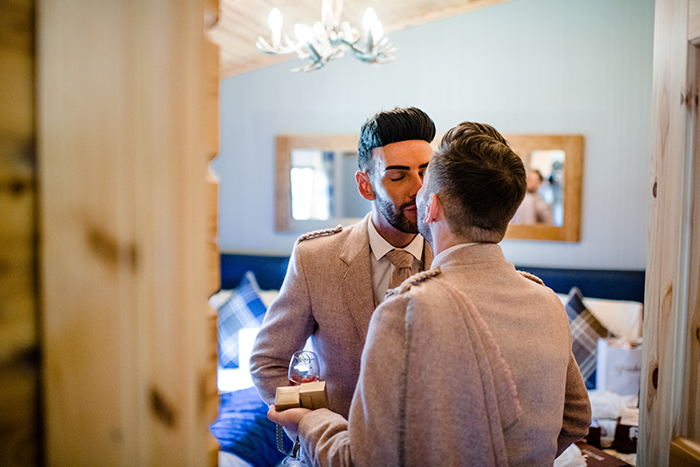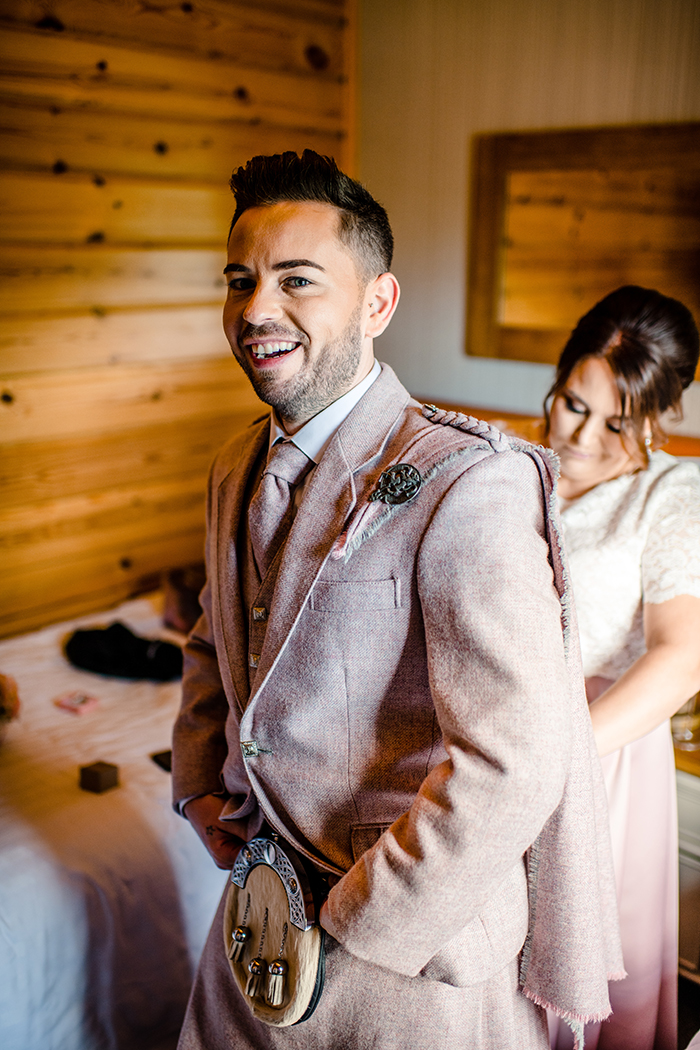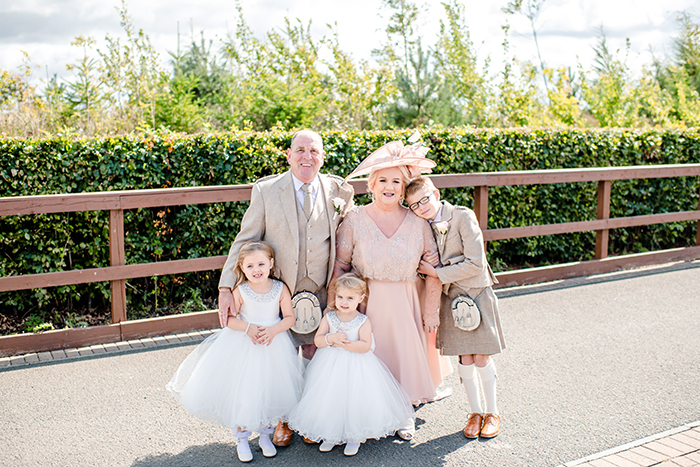 For us, finding a venue was the most important thing. We toyed with the idea of returning to Vegas, but with a young family it wouldn't have been practical.
We also booked our wedding after only six weeks of being engaged.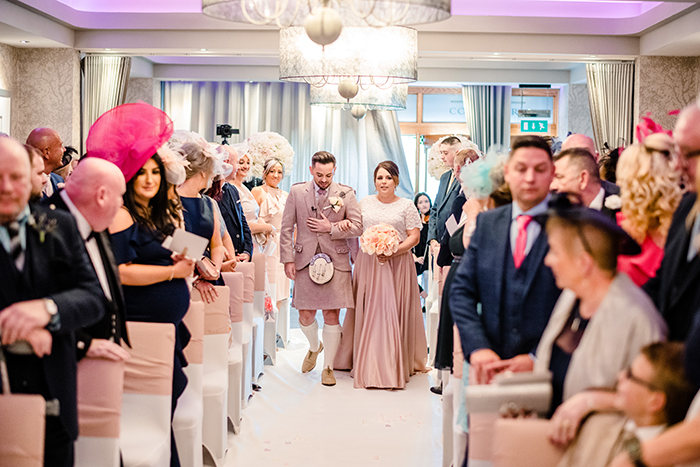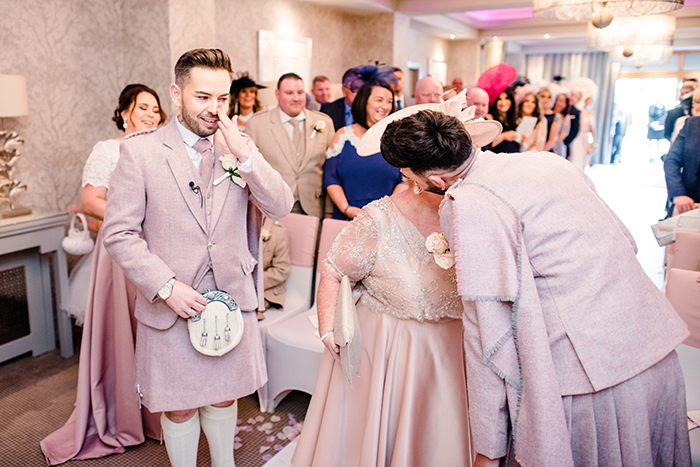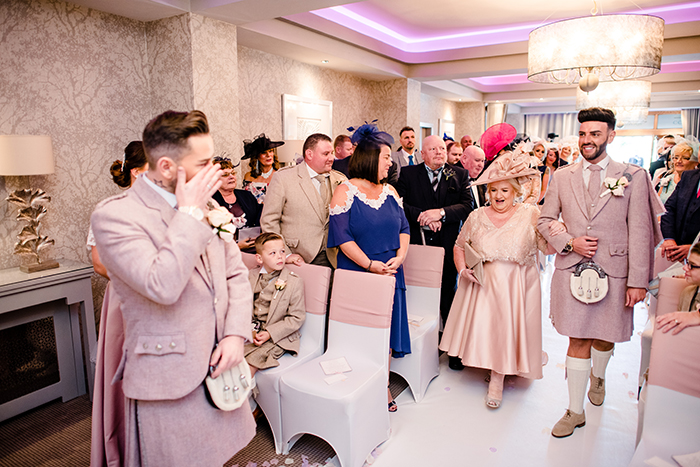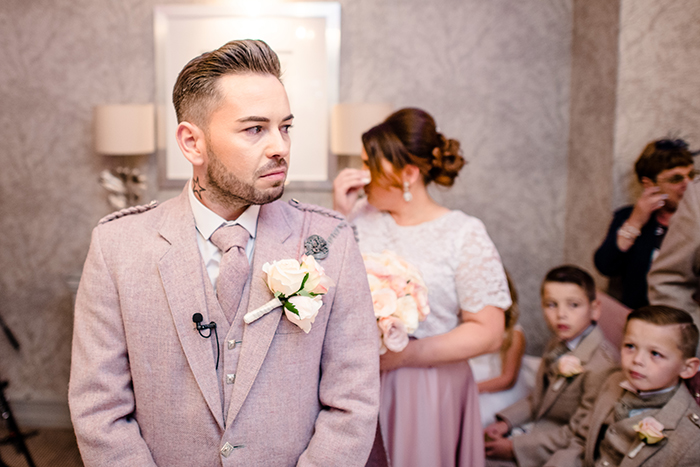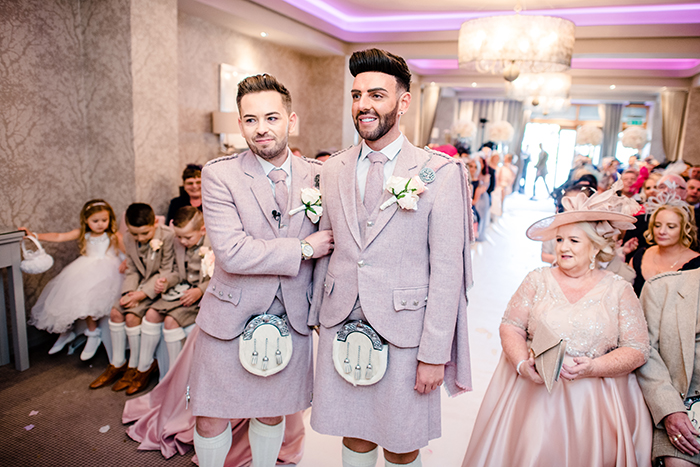 We chose Ingliston Country Club & Hotel in Bishopton as it gave us an incredibly warm feeling on our first visit.
My friend had married there a couple of years before, and I had always admired her pictures.
Ingliston was the only venue we viewed and the warm welcome from staff, as well as its glorious grounds and decor, sealed the deal.
Plus, the wedding coordinator Ian Maxwell was amazing, all along the way! We were very particular about every detail, and nothing was ever any hassle.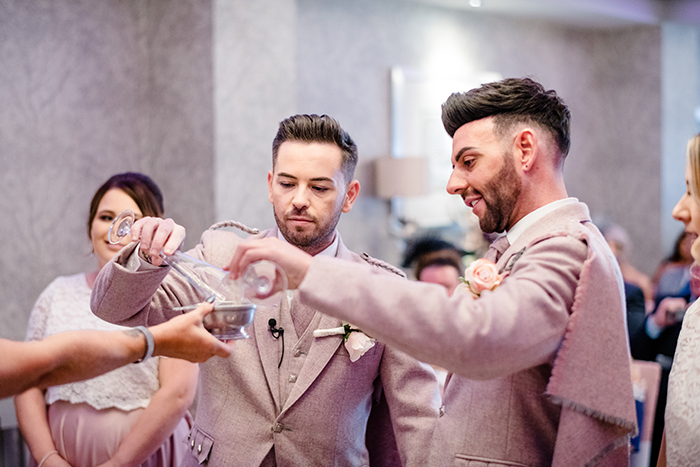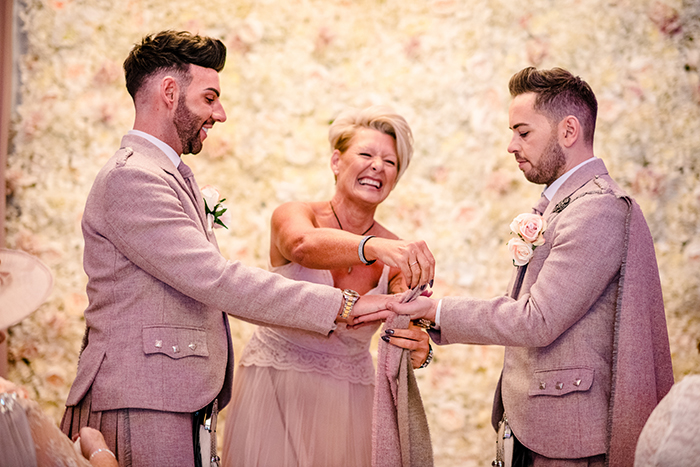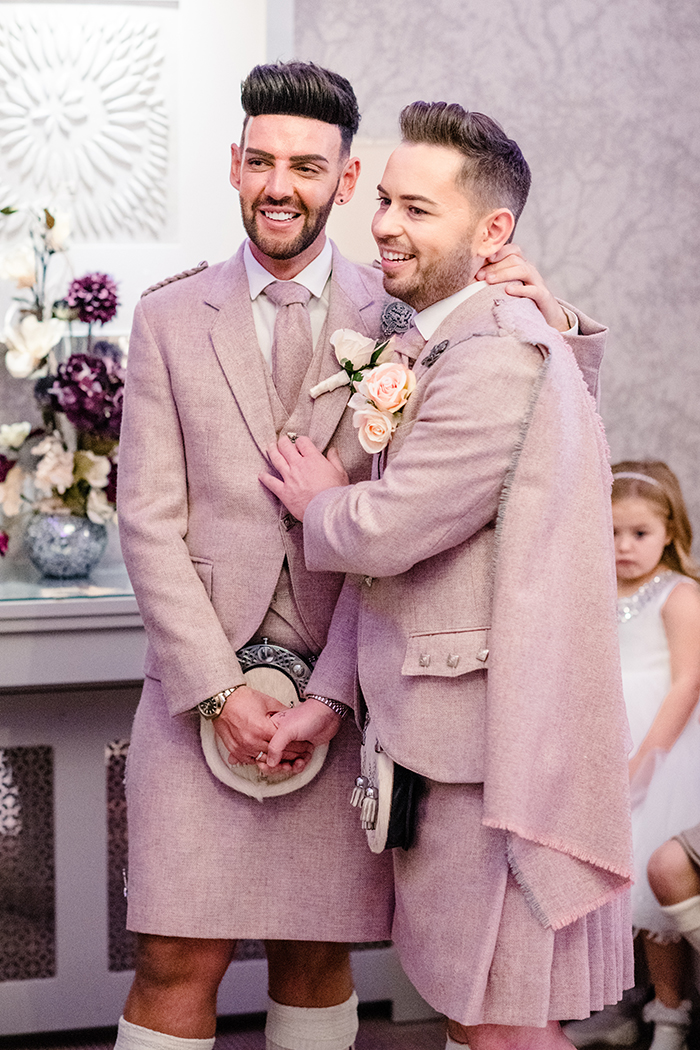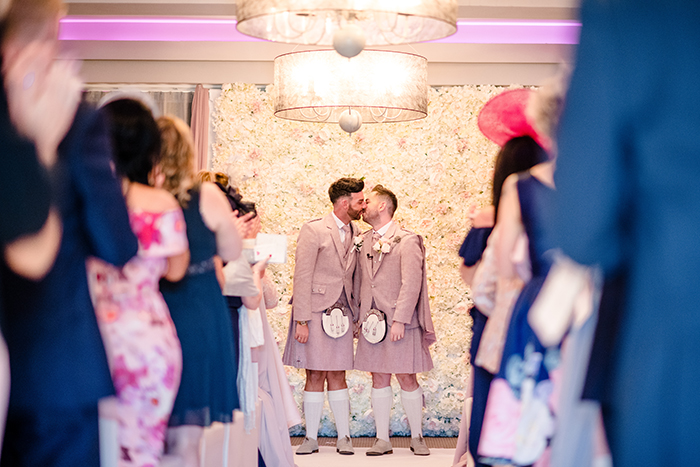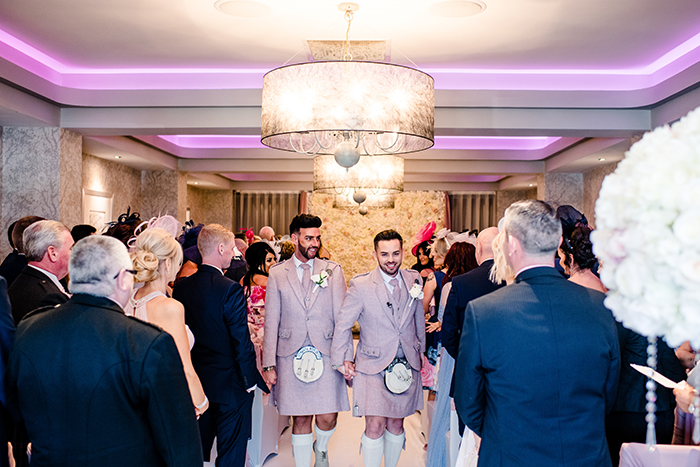 Our theme for the big day was glamour and more glamour! We wanted a feeling of grandeur that would take guests' breath away.
We opted for pastel colours with lots of blush pink and glitz.
We also had a strict 'No Hat No Entry' policy, and even joked about it on social media.
Our wedding was almost three years in the making, and we wanted a day everyone would remember.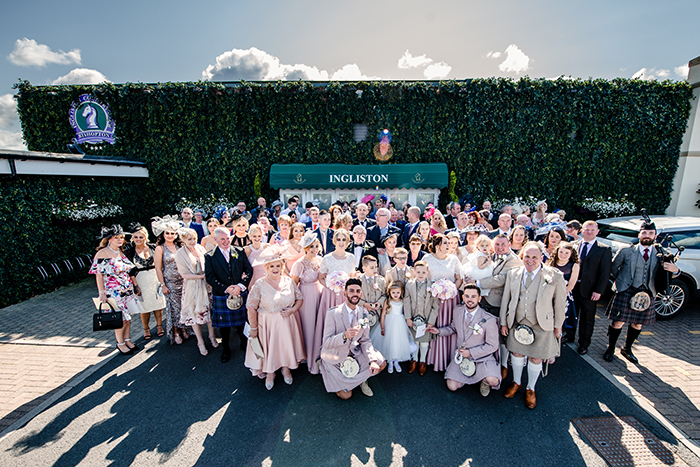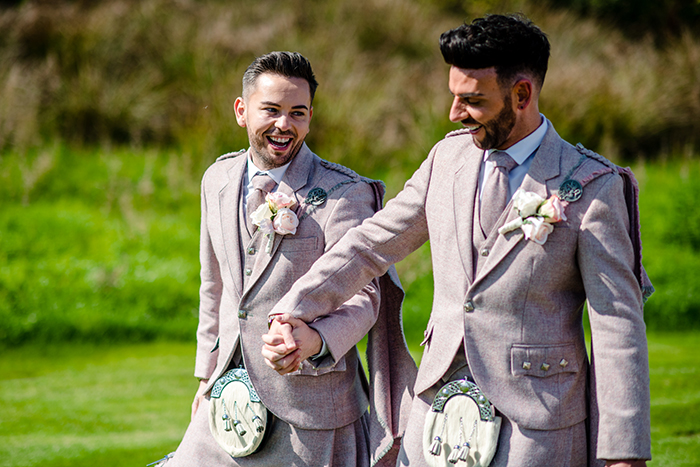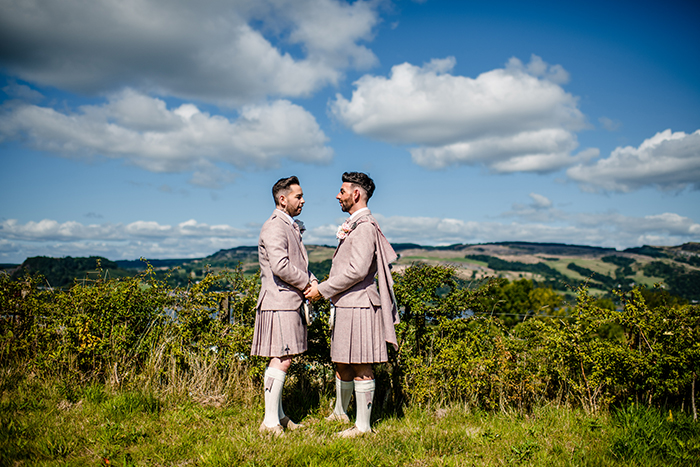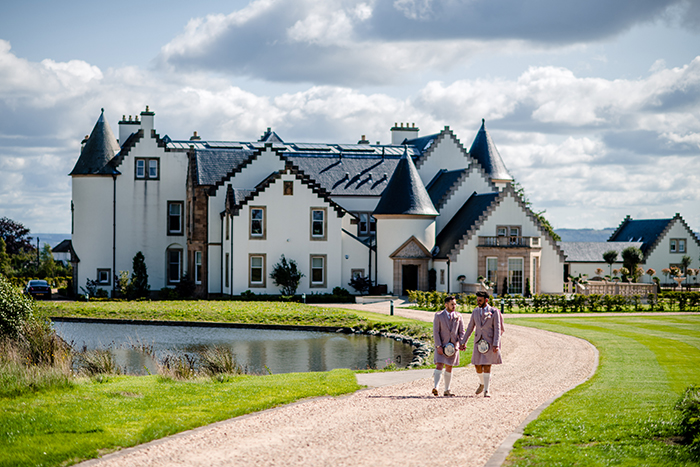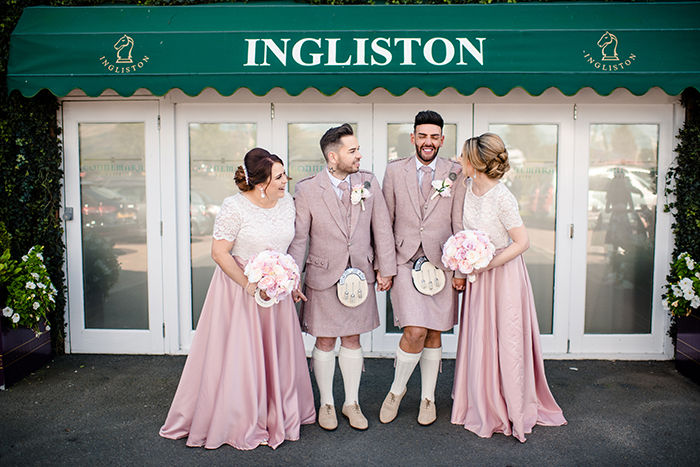 On the day, we opted for a very personal humanist service conducted by Lesley Anderson.
Everyone, including the Ingliston team, commented on how our ceremony room was 'buzzing with love'. You could truly feel it!
Our ceremony was simply our story, from the beginning until present day.
It was humorous at times, with readings from both our godmothers, but most of all it was intimate and emotional. We literally felt like the only two in the room, it was beautiful.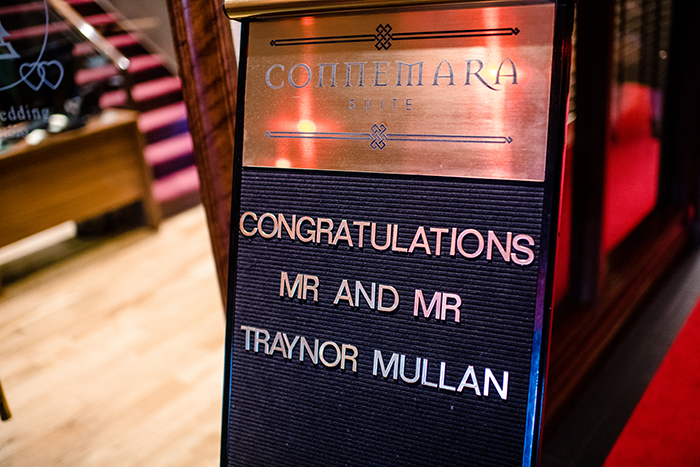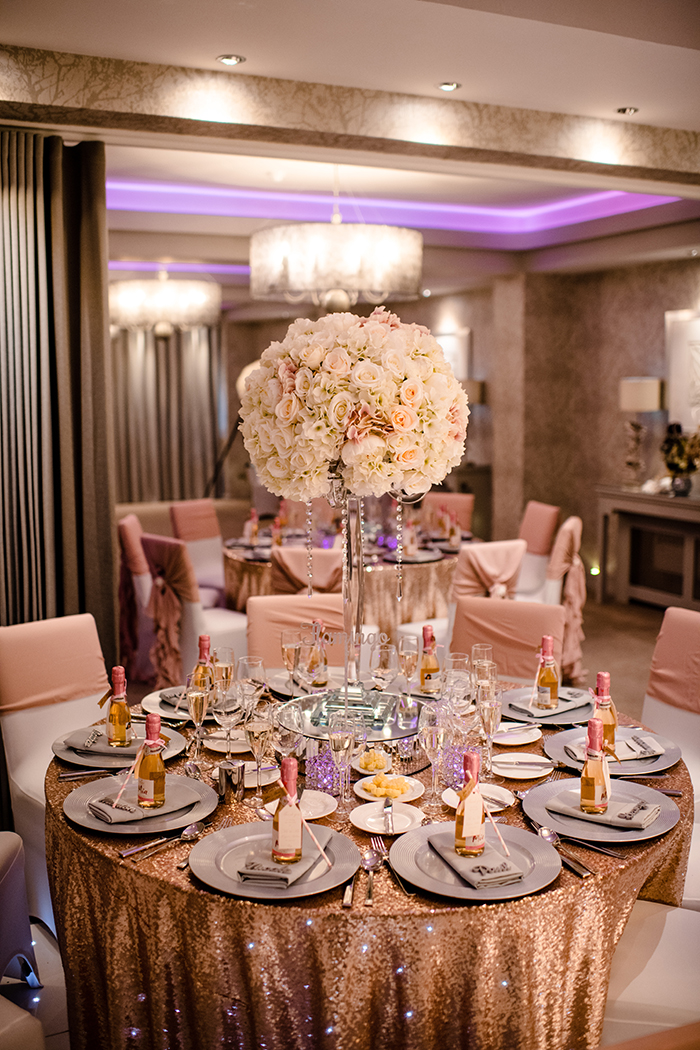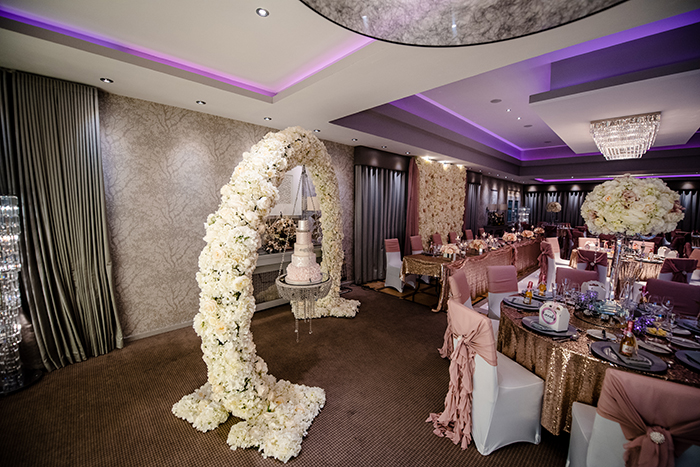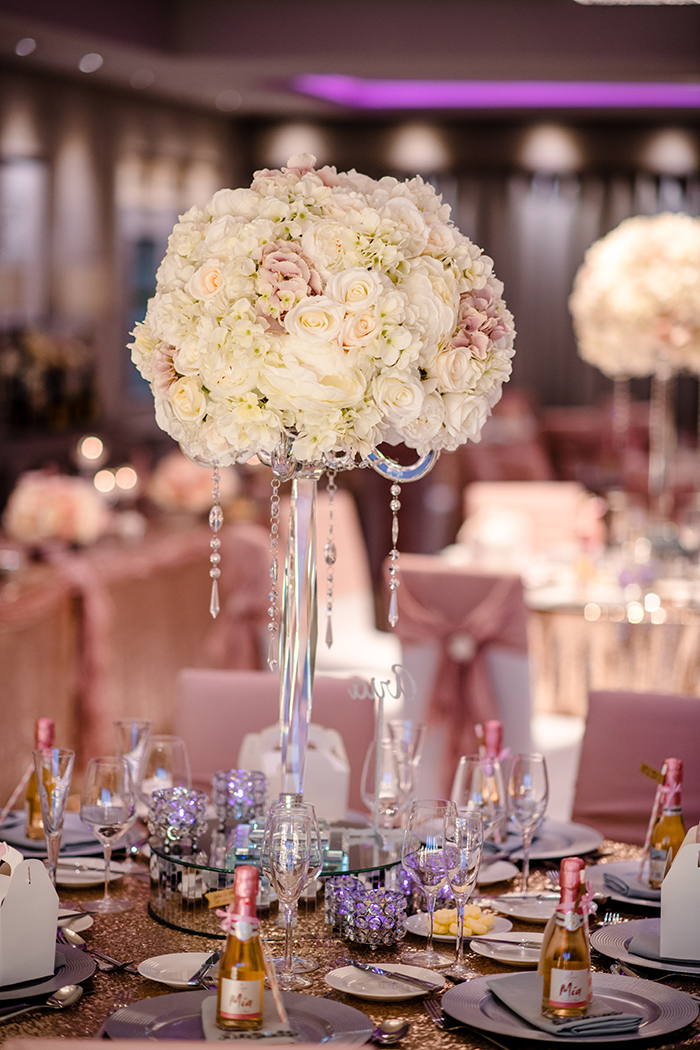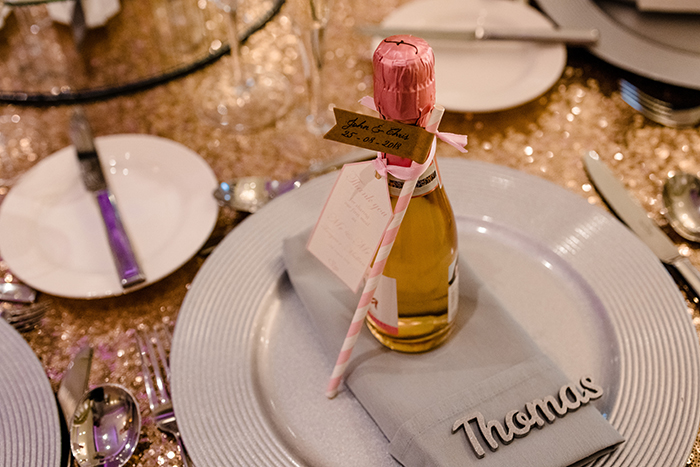 After the ceremony, we had a drinks reception and our singer Holly Burns performed during our pictures.
We were taken for our formal pictures and aerial shots in the grounds, and then met up with guests before the wedding breakfast.
Our guests were ushered to their seats and our wedding party announced. We cut our cake and then it was straight into the speeches, which were both funny and emotional.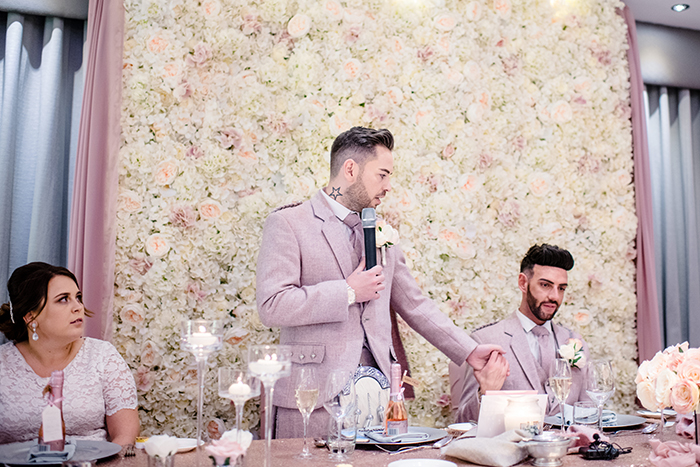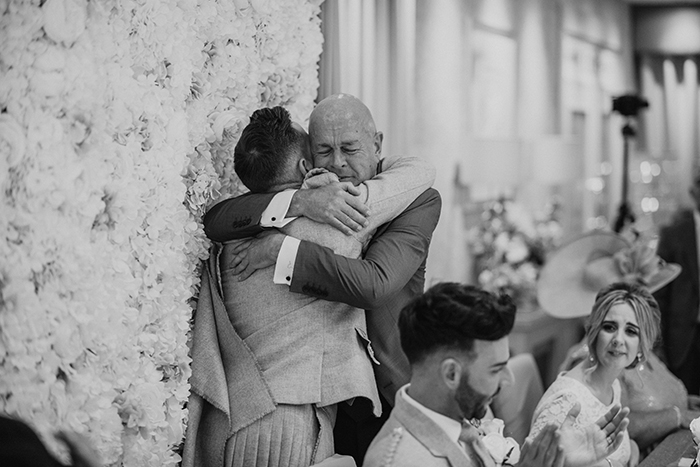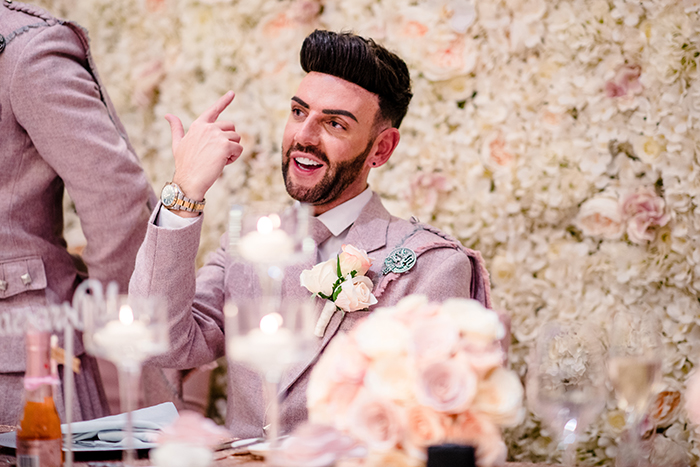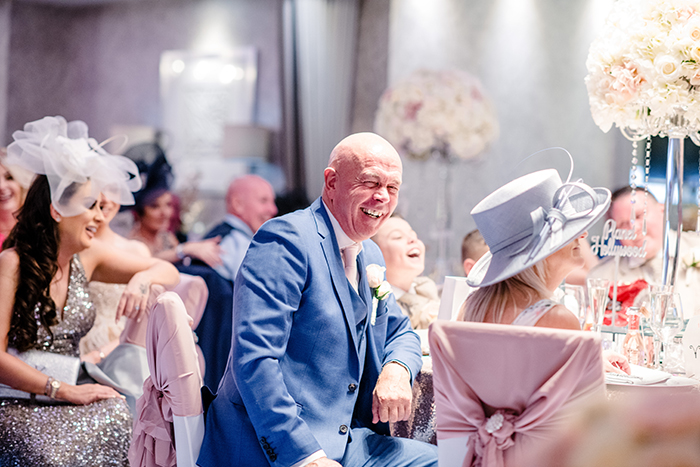 After the meal, we slipped out for some more pictures and managed to steal 20 minutes on our own back at our lodge, to sip champagne and reflect on our day so far.
We were both overcome with emotion. I would recommend any couple to steal some time away on their own.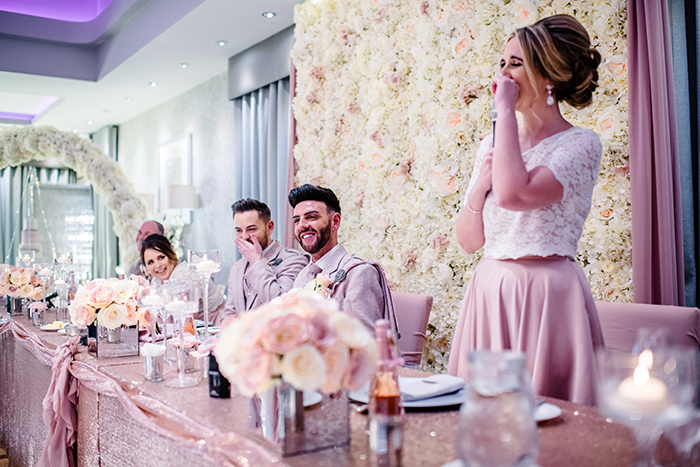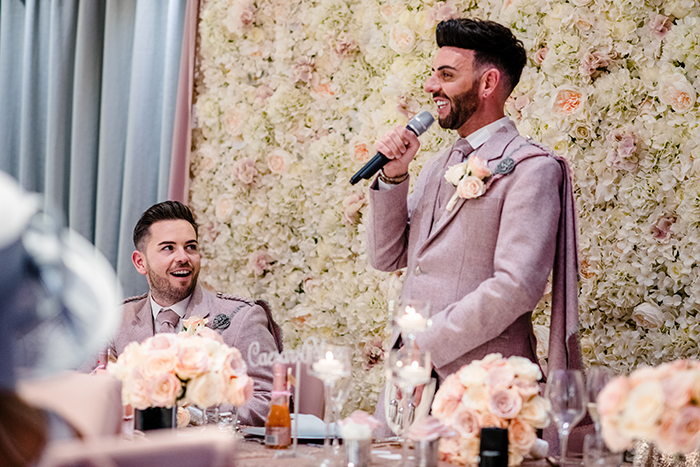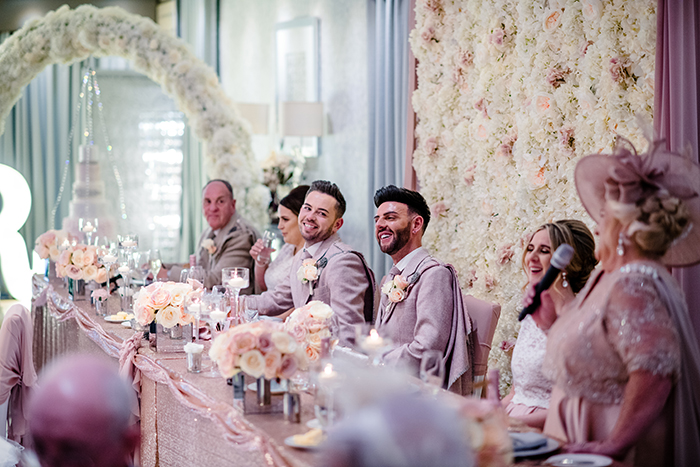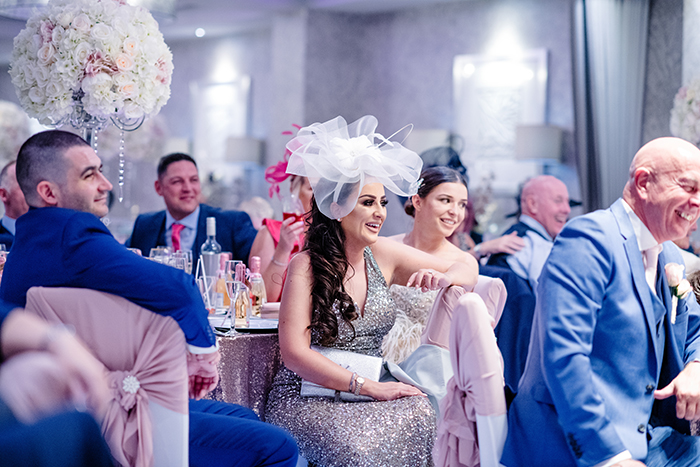 We were then back for our first dance, and to greet our evening guests. Our first dance was a medley from The Greatest Showman and was quite a routine.
Then we surprised my mum and Chris's sister (who'd walked us down the aisle) with a dance to Bette Midler's Wind Beneath My Wings.
I also had our singer surprise Chris with a rendition of This Is Me from The Greatest Showman, which again followed a full routine.
Meanwhile, our guests were treated to a candy floss and popcorn machine, doughnut wall and selfie mirror, as well as an evening buffet.
Throughout, our singer made sure the dancefloor was never empty and Zander Nation kept us dancing to club classics until the early hours. It truly was the most magical day.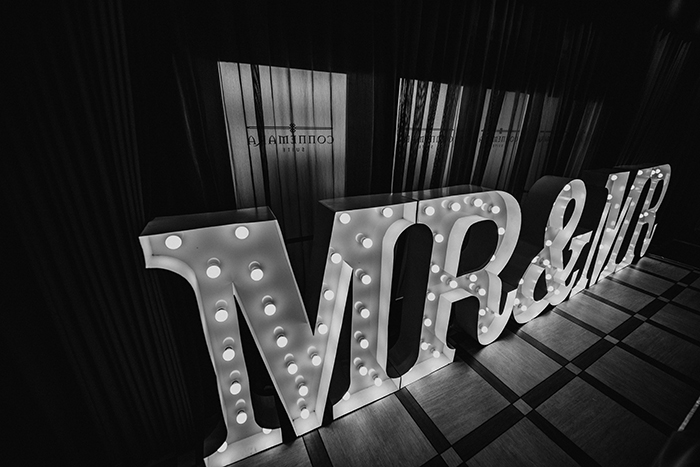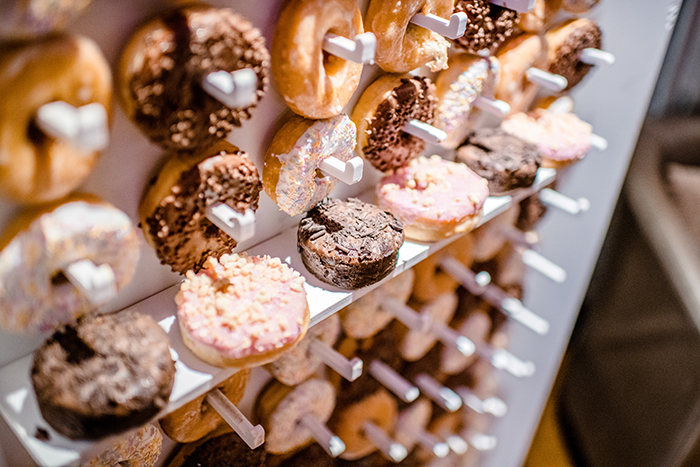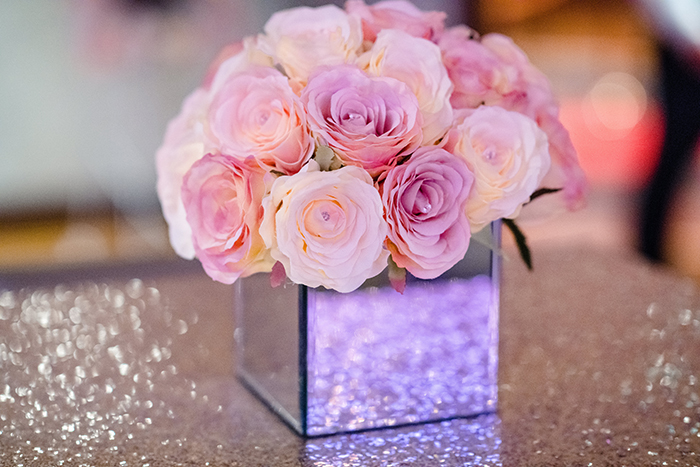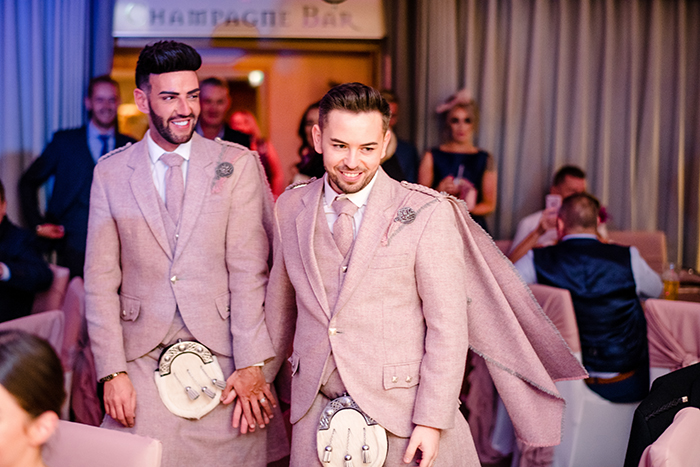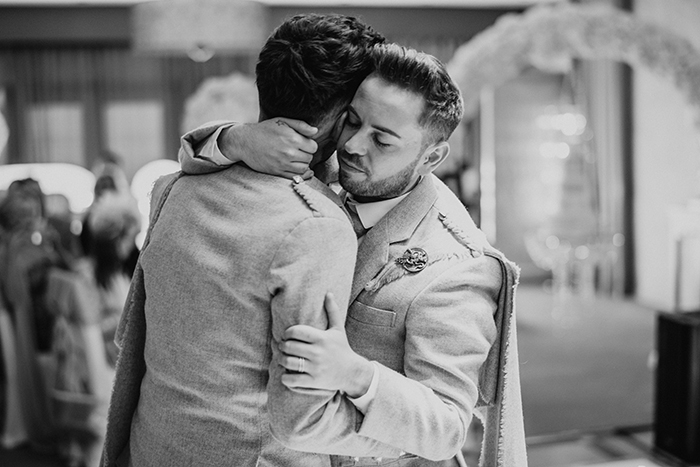 The highlight of the day was definitely the ceremony and seeing all our decor for the first time – I genuinely gasped when I looked inside!
I still cry when I watch our video or hear our wedding music. I wanted to make sure we both remembered how we felt at that time, and I still get goosebumps when we hear our celebrant introduce us for the first time as Mr and Mr Traynor-Mullan.
Budget was our first concern, but with three years of planning we wanted it to be amazing.
Our advice for any bride or groom is plan your day, nobody else's. If it takes five years to save for it, then so be it.
You'll never get the chance again to feel how you did on that day, so make sure it's amazing for you.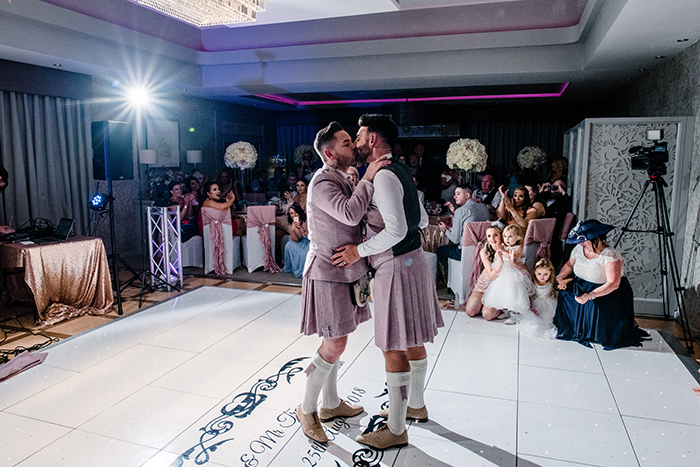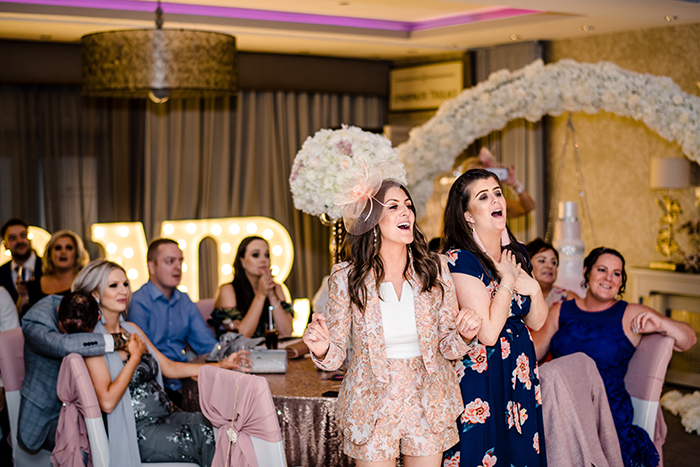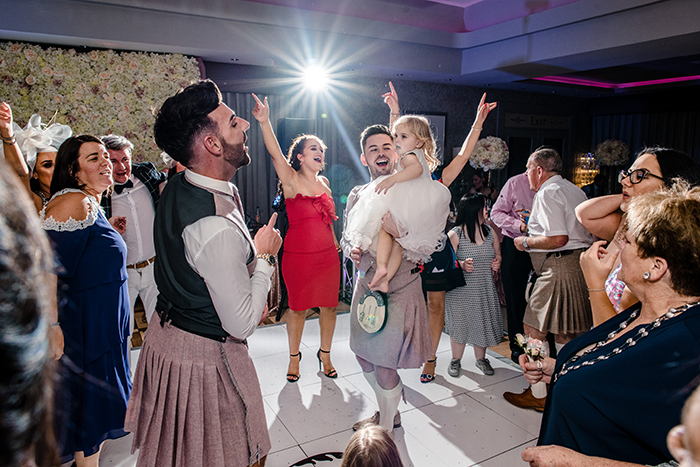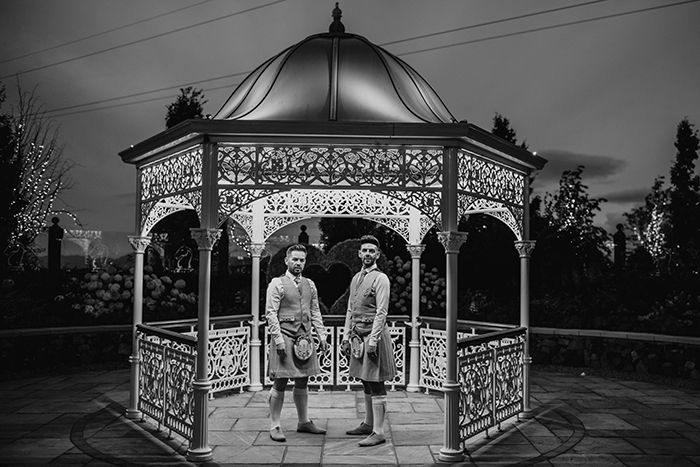 Being married does feel different in our opinion. We feel closer as a couple and have started our own little family.
We don't plan on having kids and live by the motto 'me and you, just us two' – I gifted Chris a watch on the wedding day with this engraved inside! Chris is my number one supporter, and I feel blessed and proud to introduce him as my husband.
I look forward to us growing old together – although whilst the Botox lasts, we will never look old!"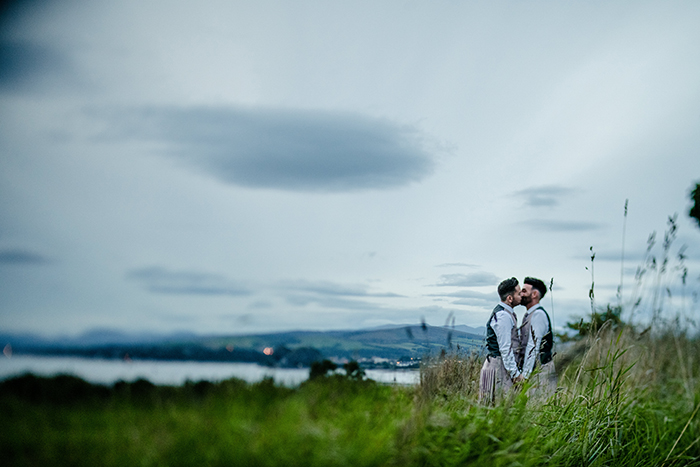 Venue: Ingliston Country Club & Hotel | Photographer: John Clark Photos | Videographer: John Carroll Photography & Videography
Kilts: MacKenzie Menswear | Bridesmaid dresses: custom-made by Carolyn Baxter | Flower girl dresses: Little Betty's Boutique
Hair: Hair and Makeup by S&M | Make-up: Claire Reid
Cake: Cakes-n-Crafts  | Cake swing: Classic Wedding Cars & Events
Celebrant: Lesley Anderson
Decor + flowers: LBS Event Design & Wedding Planners, Florette of Paisley and JAM Events
Entertainment: Holly Burns & Dj Zander Nation, Erskine Trio & Jonathan Graham Piper
Start planning your own dream wedding at Ingliston Country Club & Hotel
t. 0845 301 1010 | e. weddings@ingliston.com