The first ever wedding at The Firth Pavilion at Seamill Hydro, Ayrshire
Take an exclusive look at Frances and Gary's beautiful wintry celebration, the very first to take place at Ayrshire's newest wedding venue.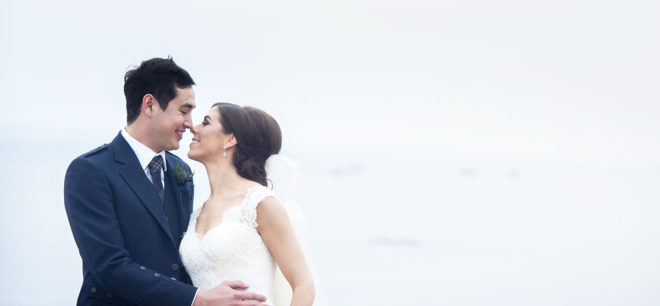 Back in February, Team SWD attended the launch of one of Scotland's newest and most exclusive wedding venues, The Firth Pavilion at Seamill Hydro in Ayrshire. It's been purpose-built specifically for weddings, which means every last detail has been thought of with your big day in mind " and I mean everything.
There's a room for you and your bridesmaids to stay in the night before the wedding, complete with cinema surround sound system, three-person hair and make-up dresser and wine fridge. The ceremony room boasts wall-to-ceiling windows overlooking the Firth of Clyde, two of which slide open silently and effortlessly to reveal a large balcony. The lighting has been designed to ensure your wedding photos look amazing. Need I go on?
So you can imagine how excited I was when the images of the very first wedding to take place at The Firth Pavilion, shot by the talented Jarvie and Jones, landed in my inbox. Frances and Gary tied the knot in January this year and their wedding was just beautiful. They even managed to get some stunning shots outside in spite of the winter chill!
Read on for the lowdown on their big day from bride Frances.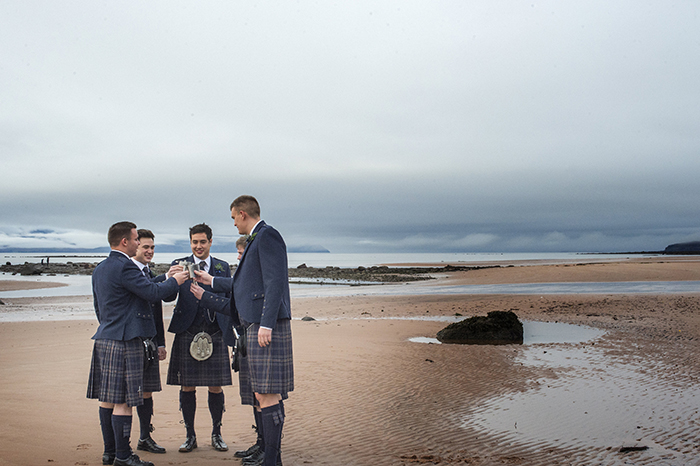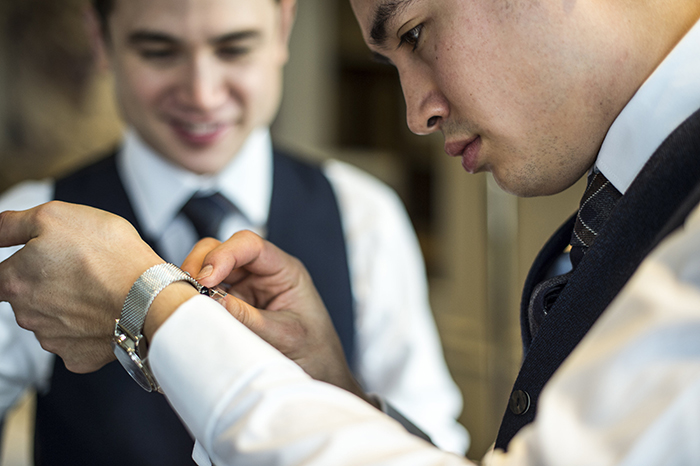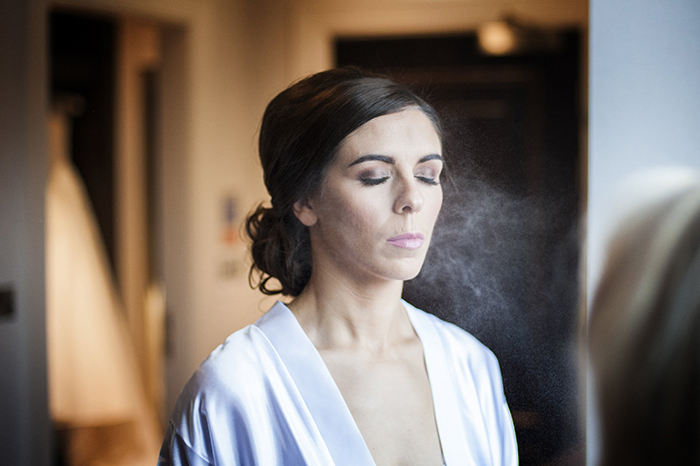 Seamill was the last hotel we planned to see, mainly because Gary was confident I would fall in love with the place. Norman, the business development manager, was amazing when showing us around the hotel, explaining in detail the possibilities for our potential wedding day. Additionally, he revealed the plans for the new Firth Pavilion (which overlooked Arran), which were stunning.
We immediately fell in love with the venue, but it was also extremely important to Gary and me that Norman took two hours out of his busy schedule to accommodate our visit. This level of care and attention was continued by all staff on the lead up to the wedding and throughout our whole wedding day.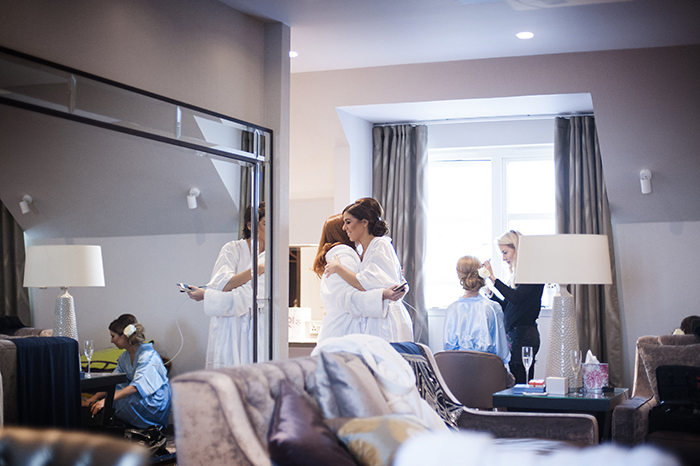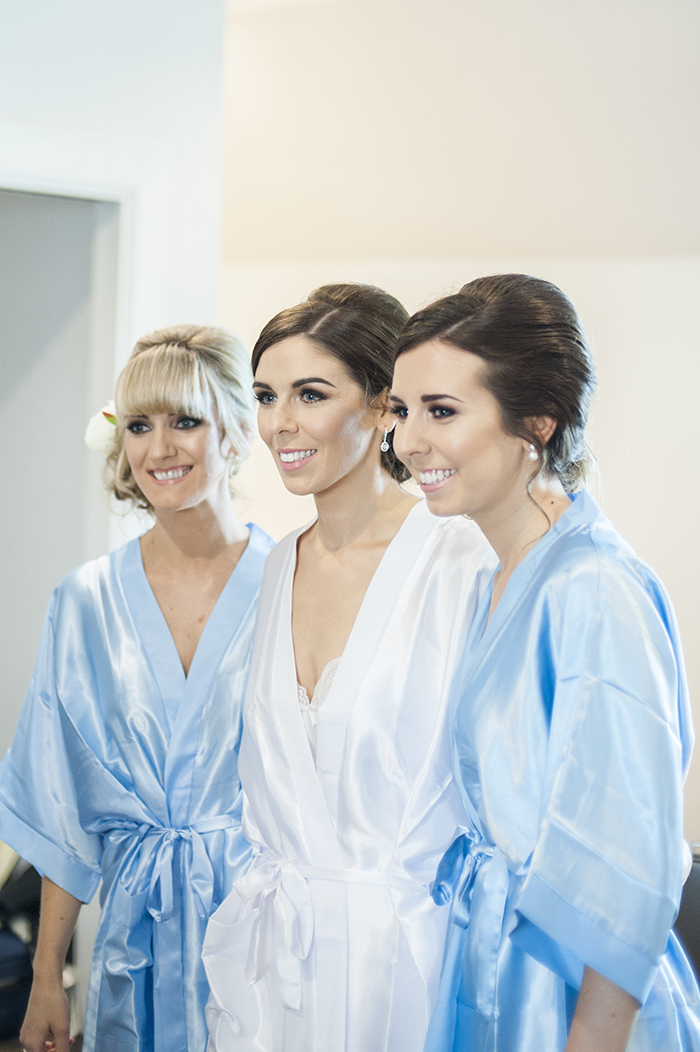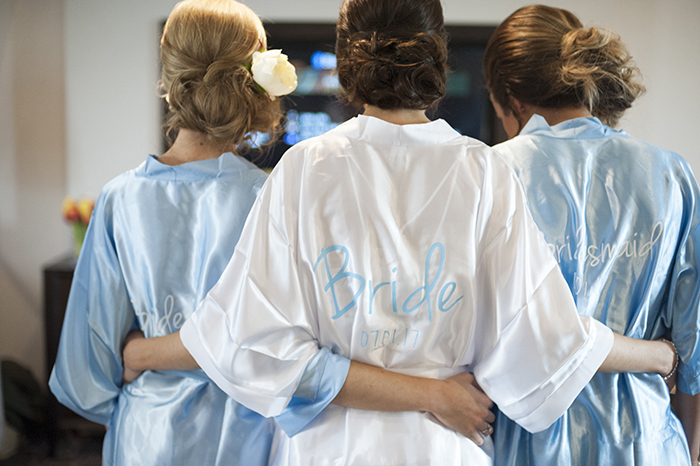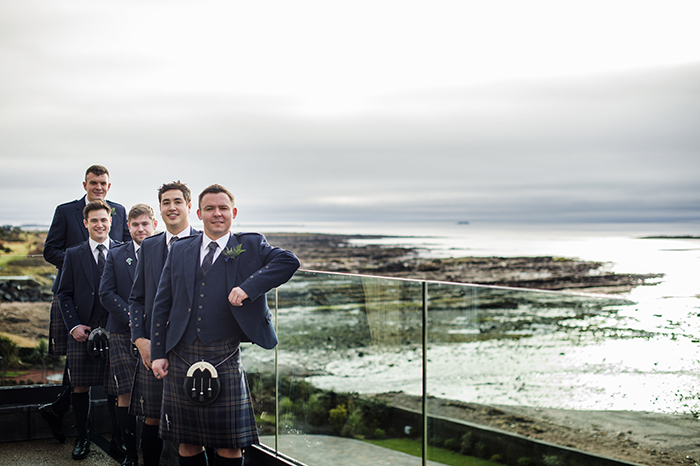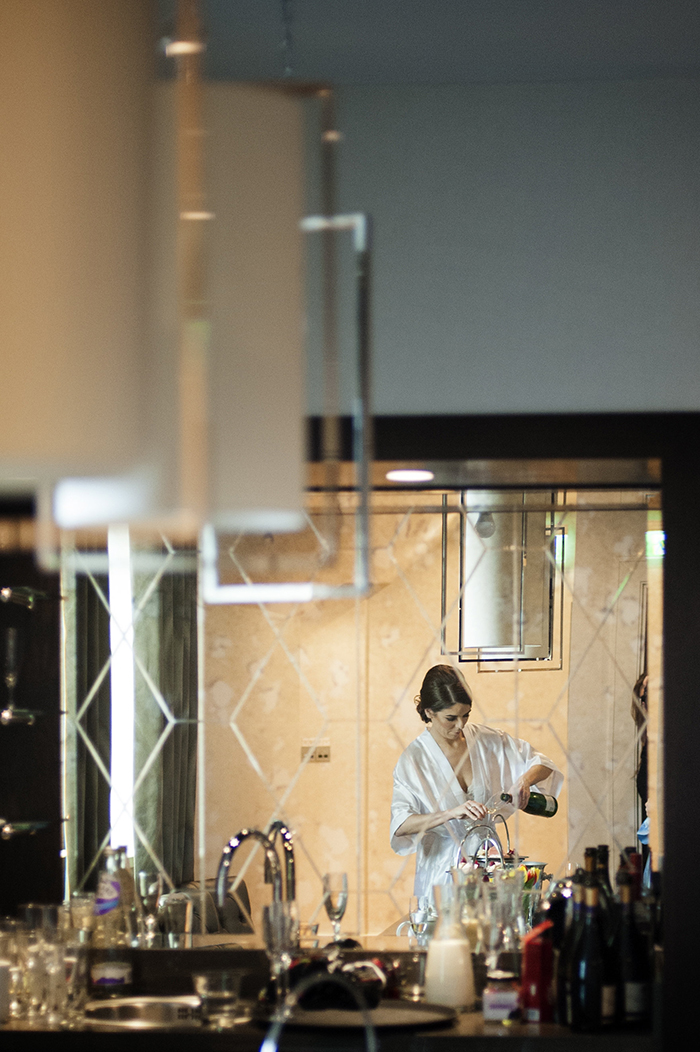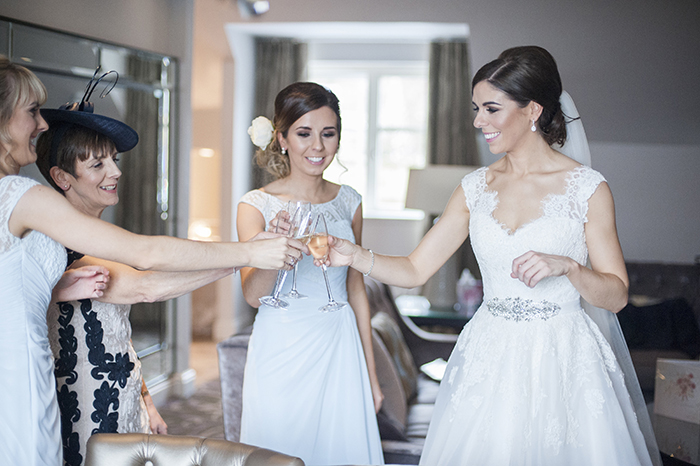 I was staying in the Glenashdale suite the night before the wedding. This room is amazing! It was purposely built so I could spend the night before with my bridesmaids and best friends, and also get ready the next day without having to stress about rushing to the venue. I would recommend this to any future bride-to-be.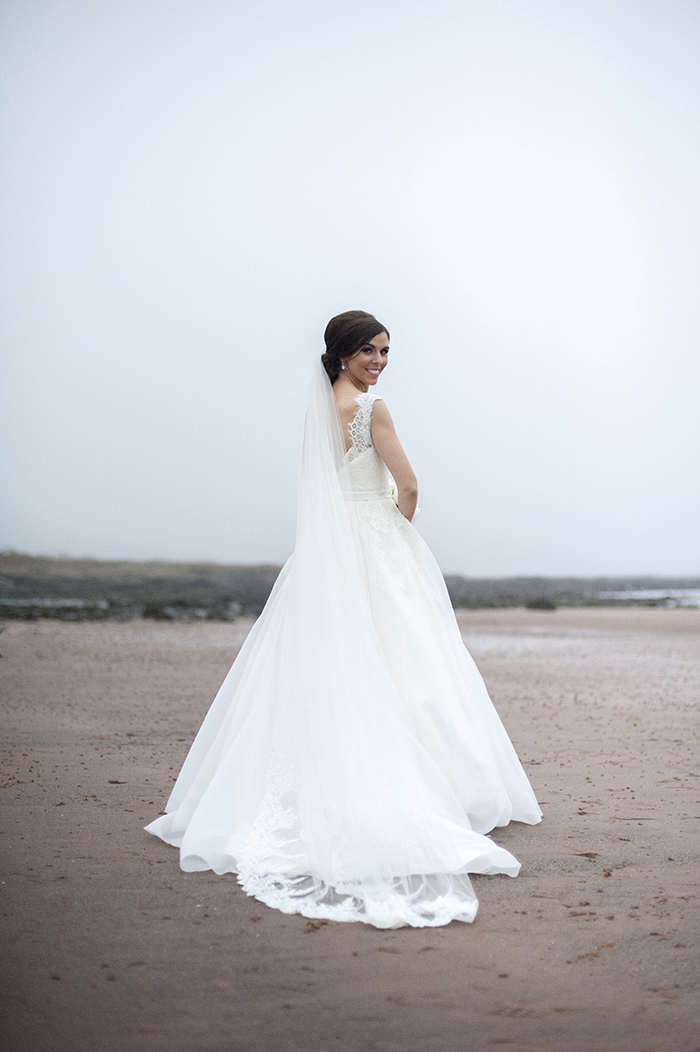 My dress was an Essense of Australia gown and was bought from Eleganza Sposa in Glasgow. The girls at Eleganza were all lovely, especially Lisa who worked with me on the appointment.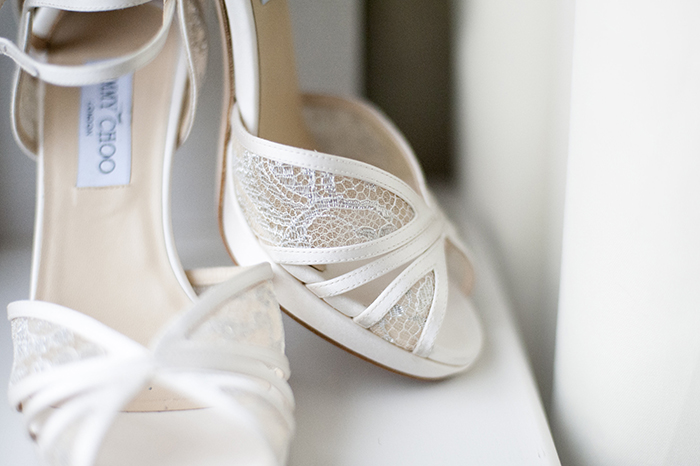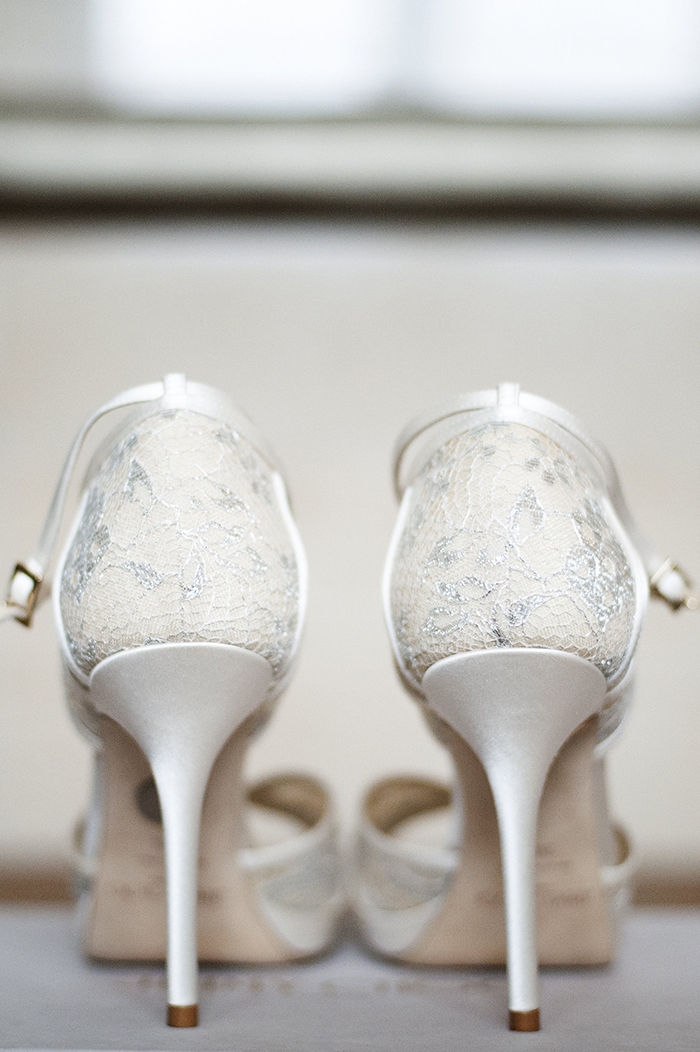 The standout accessory for the day were my Jimmy Choos! I always had my heart set on a pair of Jimmy Choos for the wedding day. I finally found the perfect pair that had some lace detail to match my dress. They were also super comfortable which made dancing the night away a whole lot easier.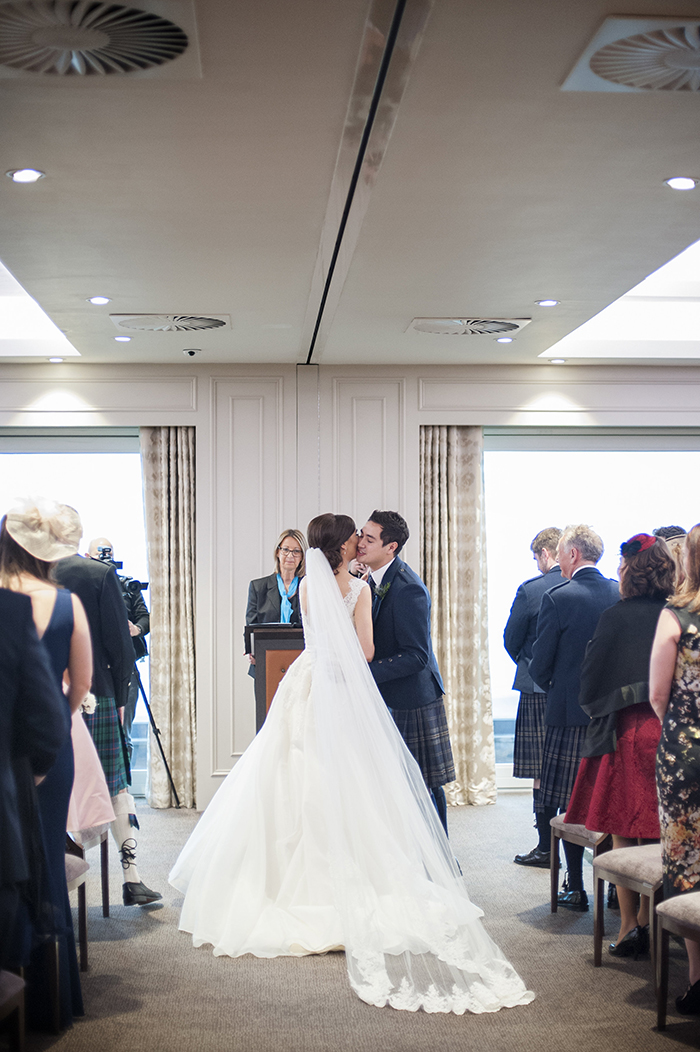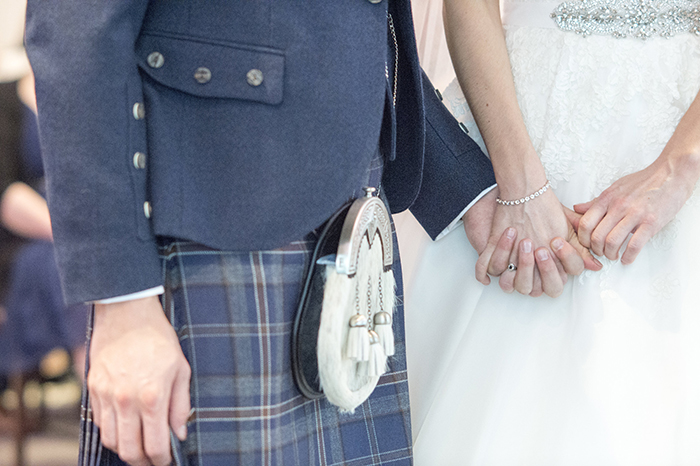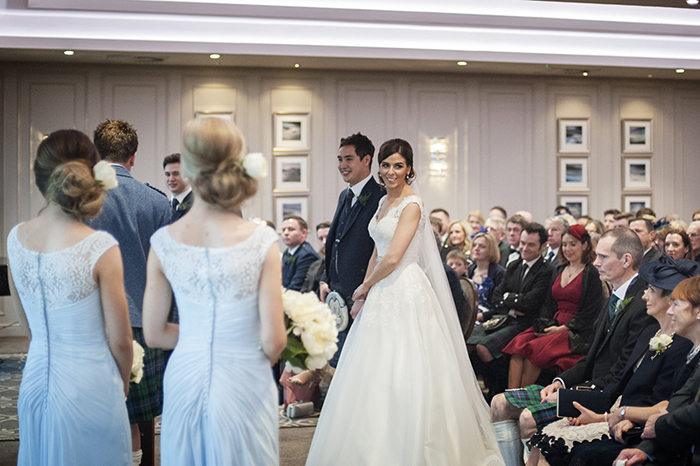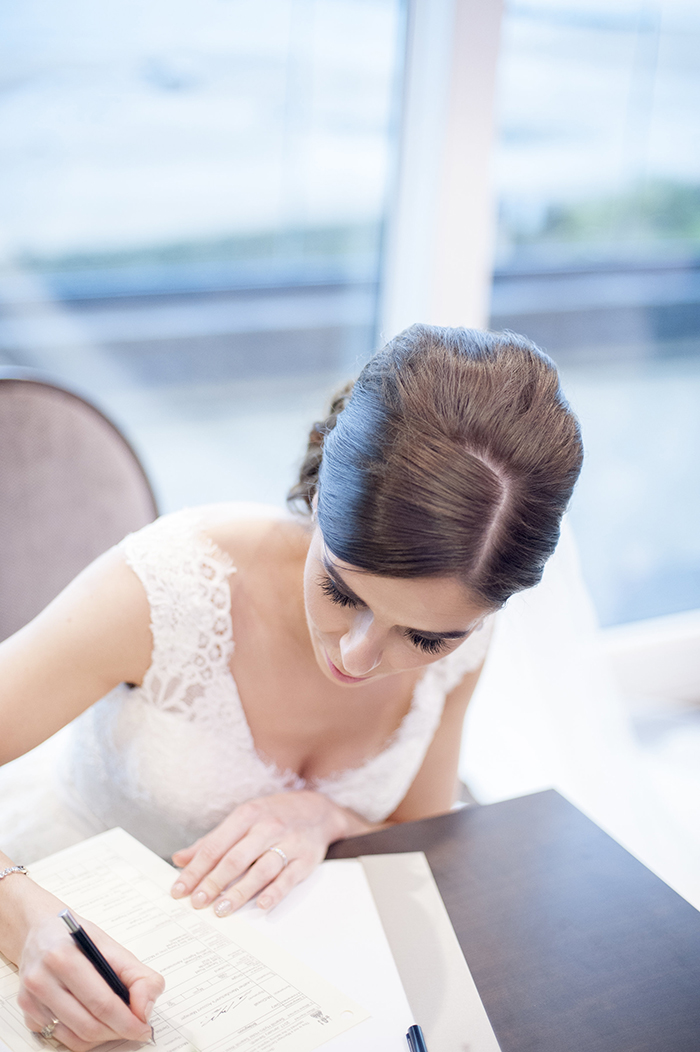 The stand-out moment of the day was when Gary and I were saying our vows. There were 150 people in the room to share the moment with us, but it felt like it was just the two of us standing there at the front. It was a very special moment that we will be able to look back on and smile just thinking about it.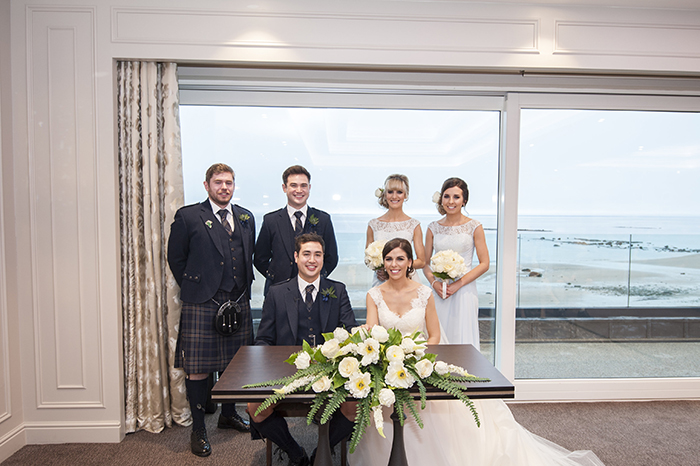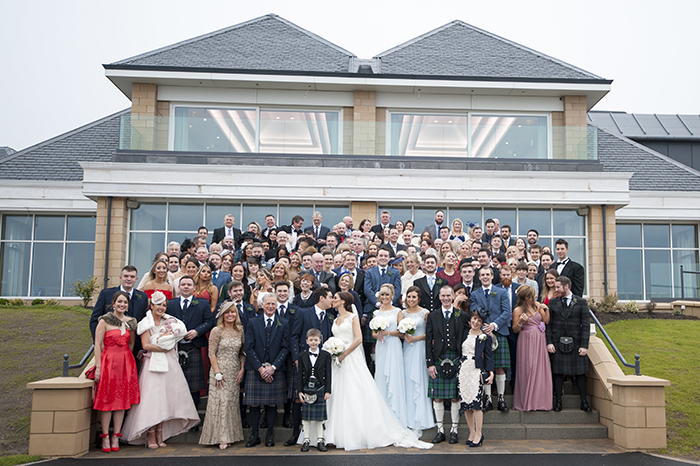 Our photographers, Jarvie and Jones, were recommended to us through Seamill. Their elegant and creative style of photography was exactly what we were looking for. Furthermore, photographer George also designed the Firth Pavilion which gave them an insight into the building and meant they knew the best spots to capture our big day.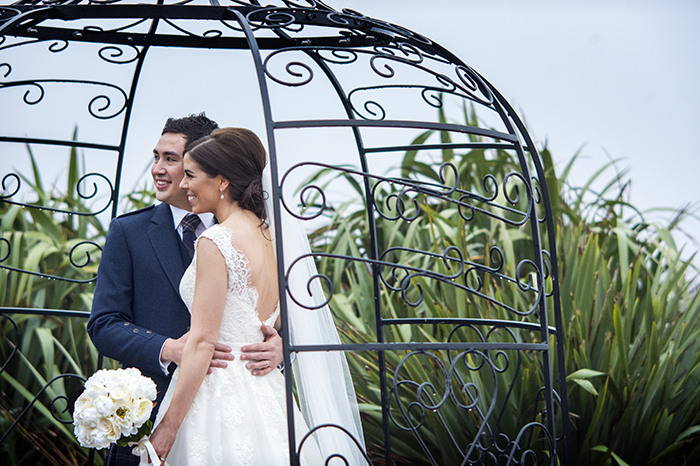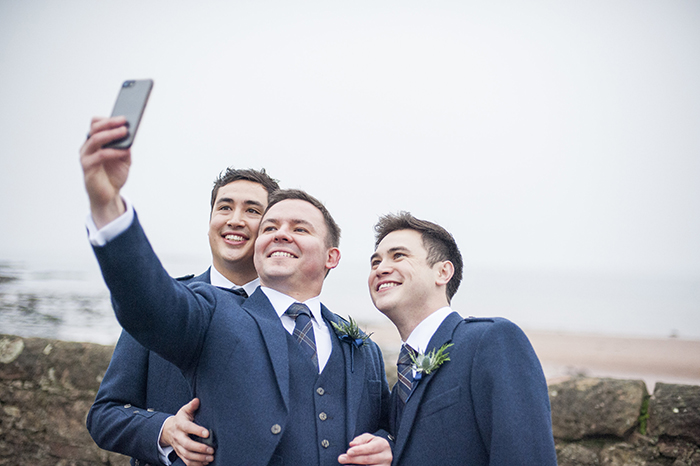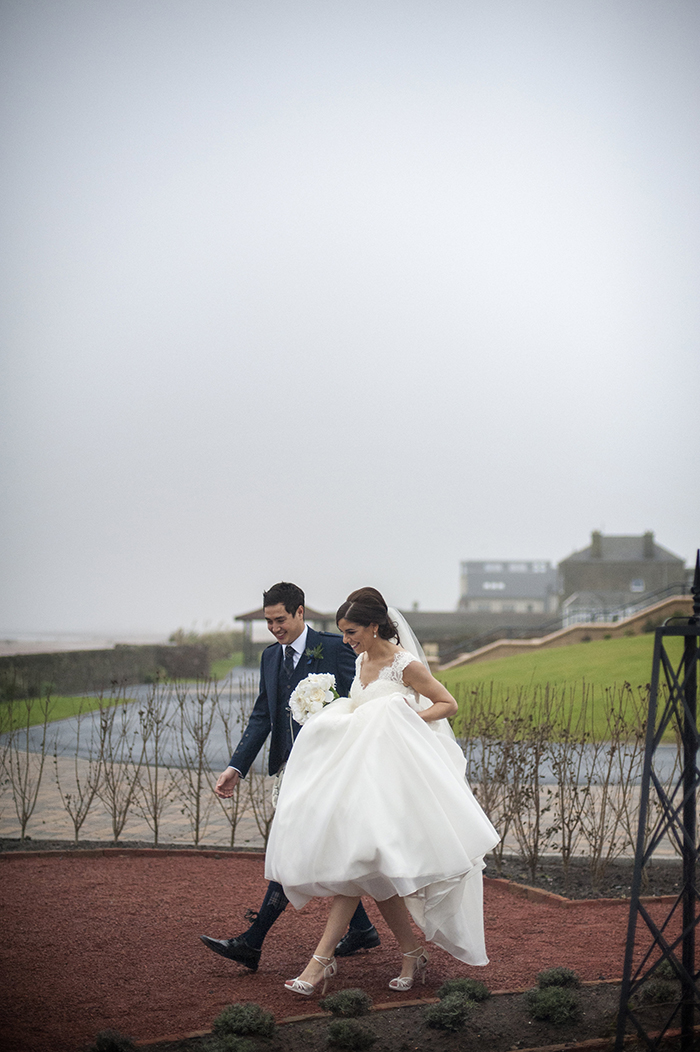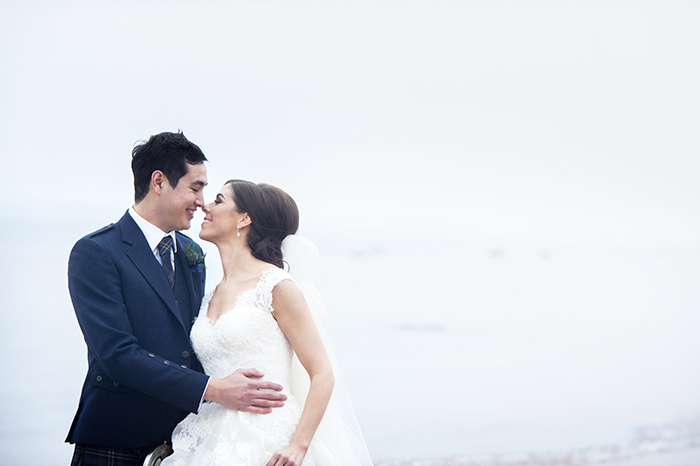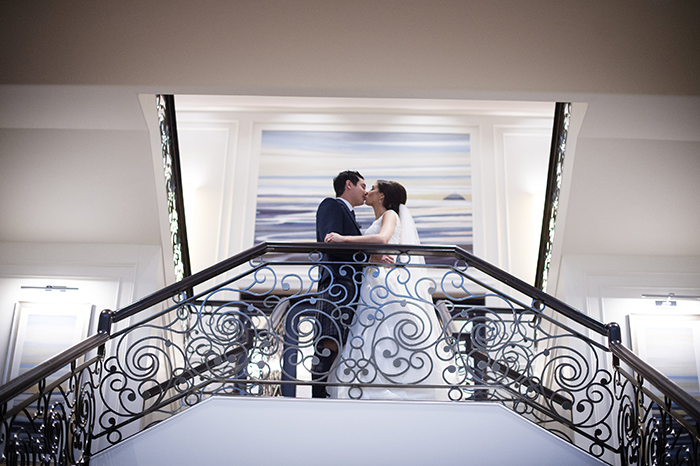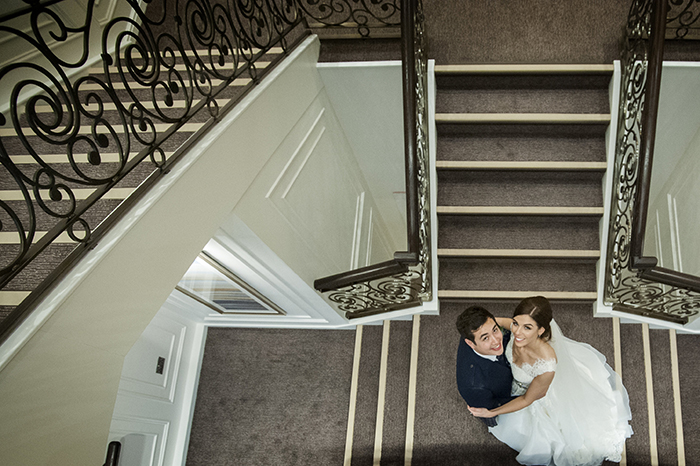 We didn't intentionally have a specific theme in mind, but the decorations, colours and flowers all came together to create an elegant wintry feel for a January wedding.
We had artificial flowers due to the time of year and the potential for the flower market not to have reopened after New Year break. I was unsure how they would look but my florist did an amazing job and I absolutely loved them!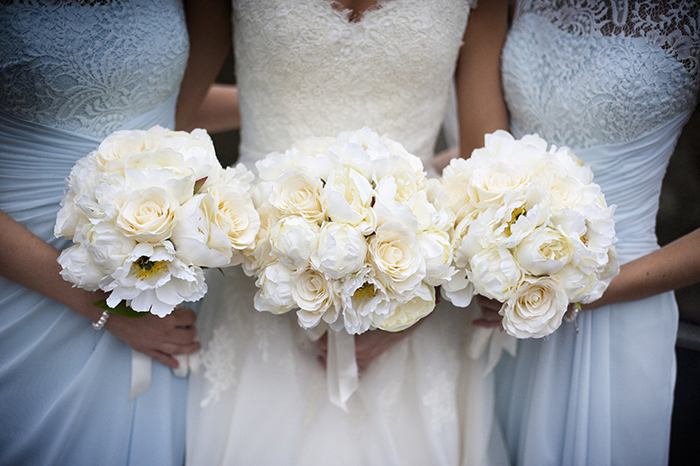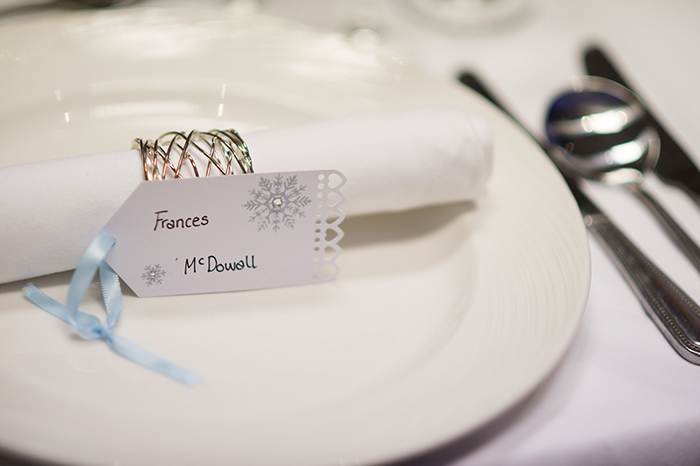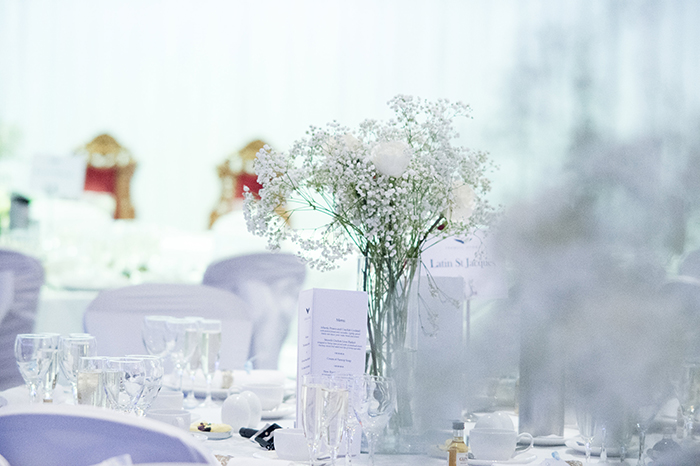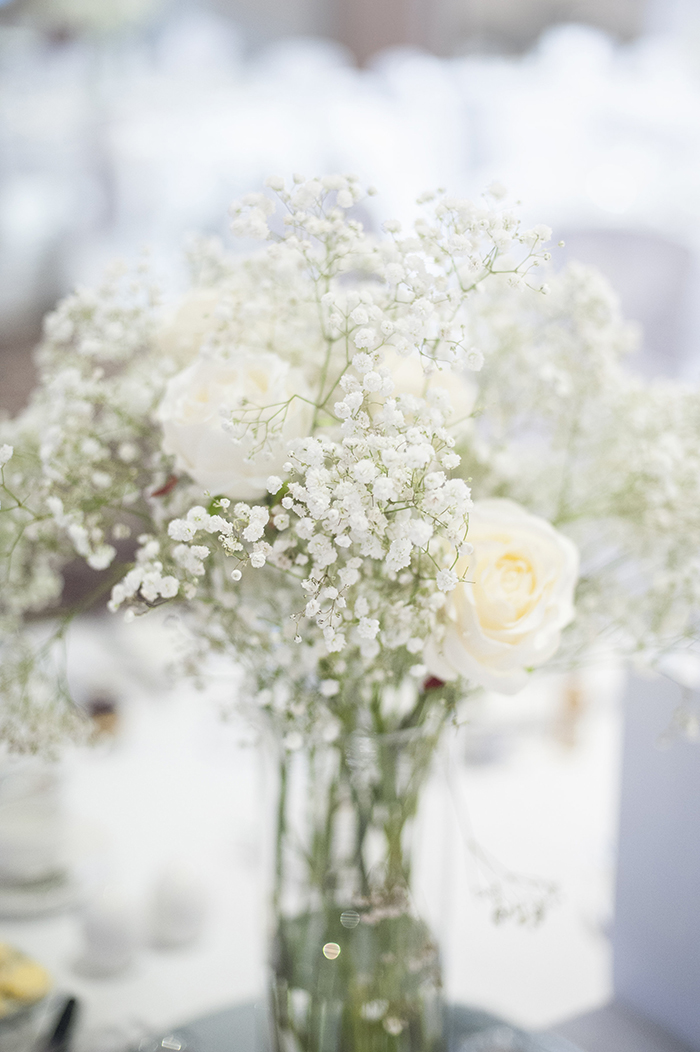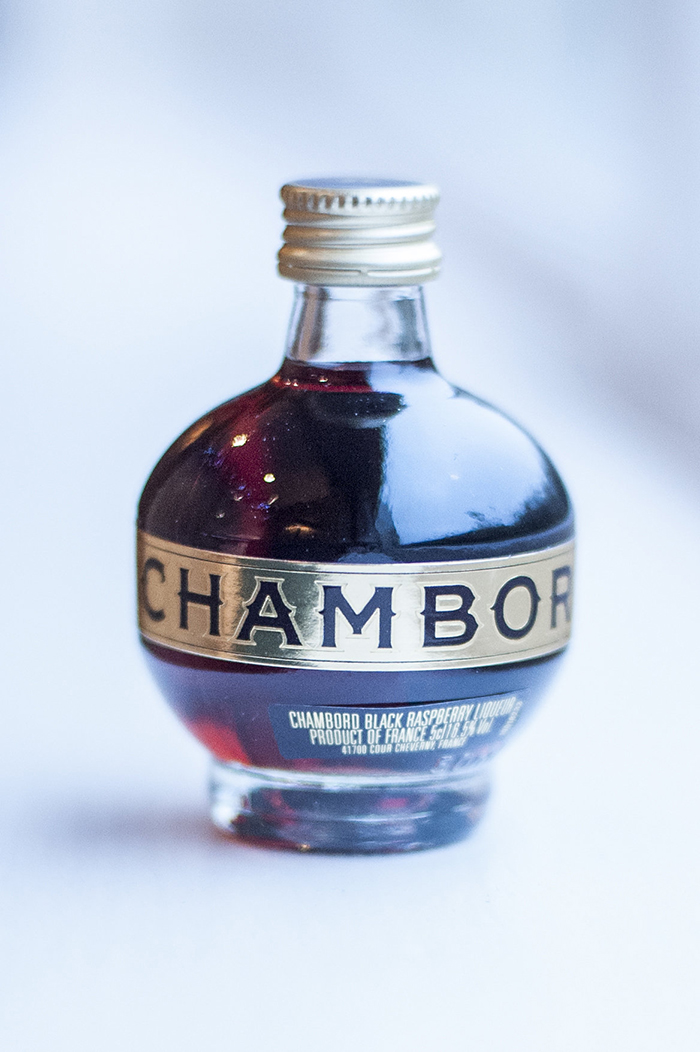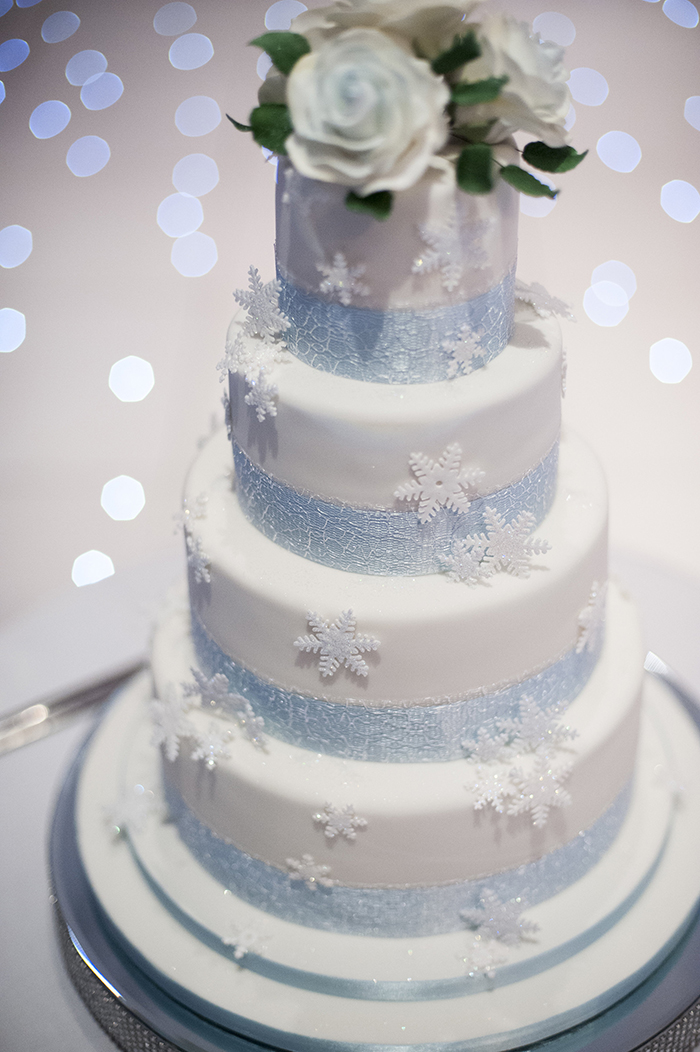 When we were organising our wedding, Greg and the large team at Blue Parrot Events Company were extremely professional and accommodated our every need. They also really helped us out when we found out the new evening function suite at Seamill wasn't going to be ready! Seamill Hydro were also excellent and were bending over backwards to make sure this didn't affect our day in any way.
We had to make some late changes to our arrangements and decorations for the change in function room but Blue Parrot were extremely understanding and went beyond our expectations. They even provided a double sized starlit dancefloor to cover the full floor! We would also recommend the Magic Mirror Photobooth; our guests loved this and it was great to see all the photos the next day.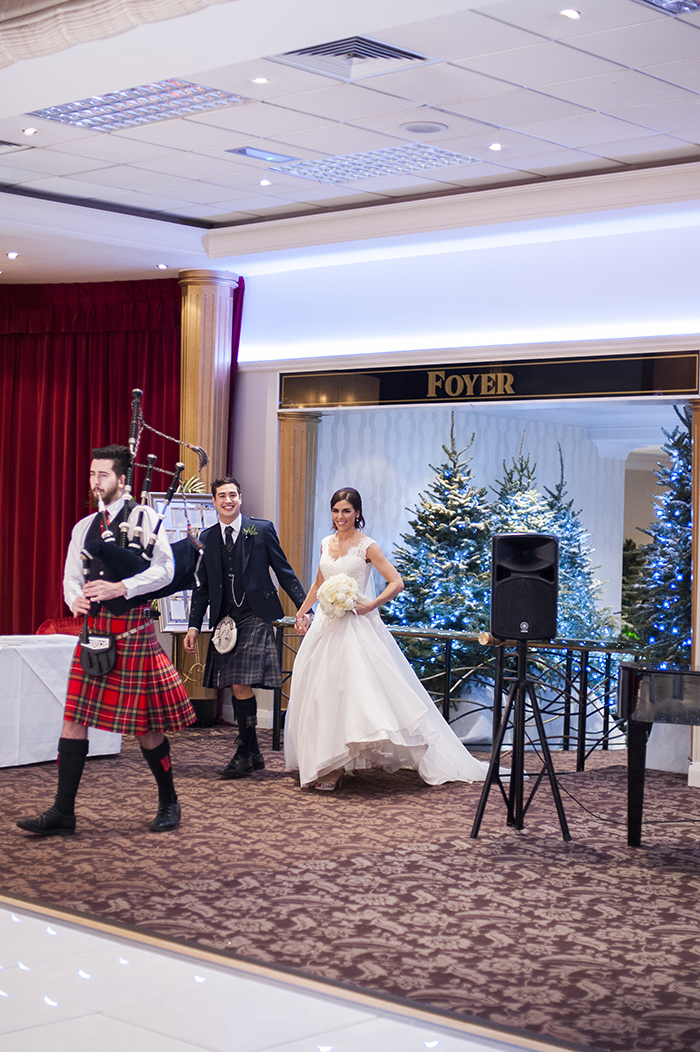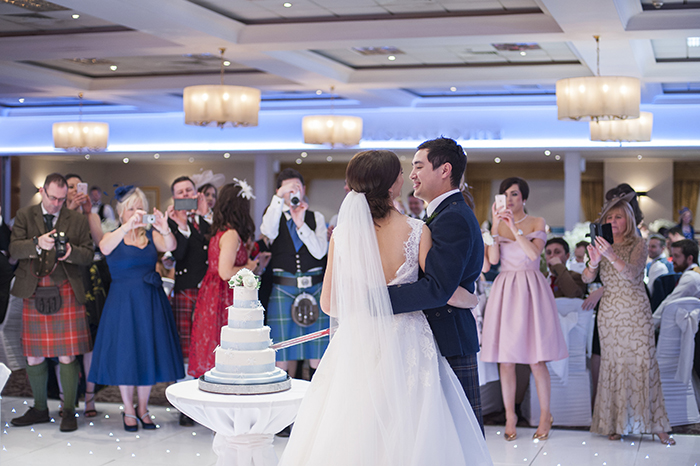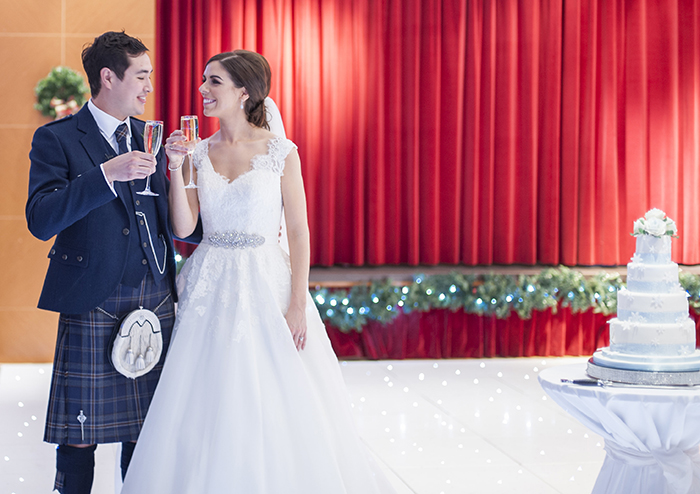 During the ceremony and meal we organised Alex Graham to play piano. Alex is an unbelievable talent and takes text message requests from the guests during the meal. At one point, there was a little competition between two guest tables that were trying to out-sing each other.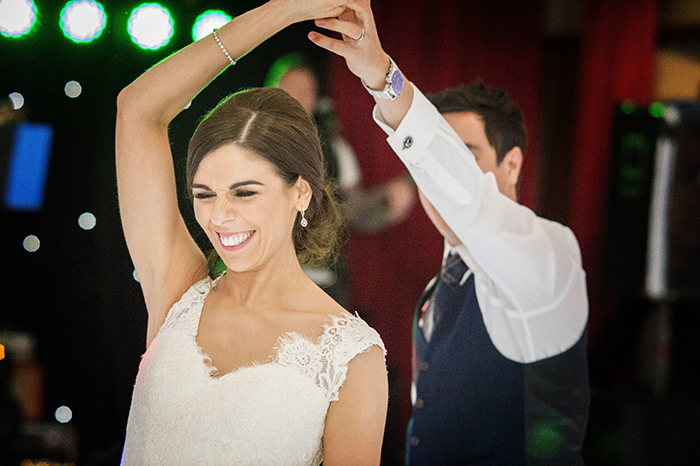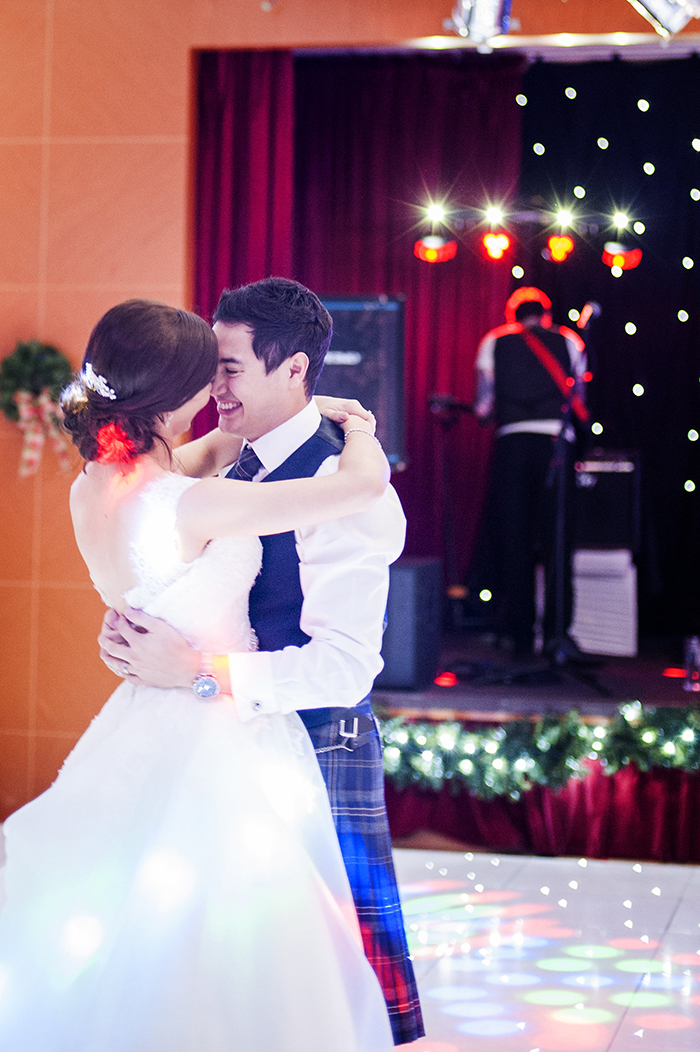 Our evening entertainment was provided by Second Hand Elastic Band (SHEB). The band were amazing and the dancefloor was filled the whole night. One of the best men, Lee, even got on stage to sing and play with the band for a few special requests from Gary and me.
Gary and I decided early that we wanted to take dance lessons before our wedding. Our first dance was NewtonFaulker " Dream Catch Me, so we learned to dance to make it a little bit more special. Luckily Gary did not manage to step on my dress and it went down a treat!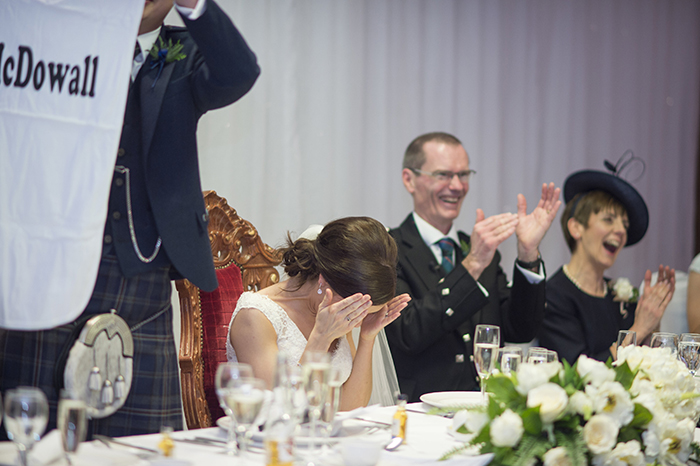 A special mention must go to everyone who made a speech. They were all funny but touching at the same time.
Gary and I have been together just over 10 years now, but we were apart for three years when Gary moved away for work. This was really hard on both of us, but we stuck with the bi-weekly journeys and ultimately it made us stronger. Gary's brother summed up our relationship with a very fitting quote during his best man speech:
"We are all a little weird, and life is a little weird, and when we find someone whose weirdness is compatible with ours, we join up with them and follow a mutual weirdness and call it love."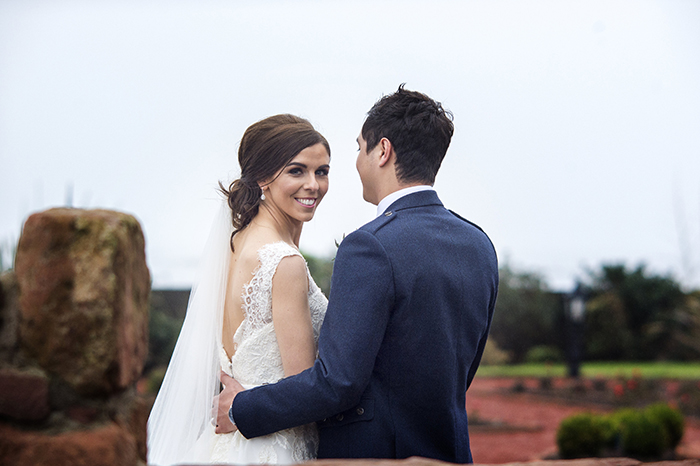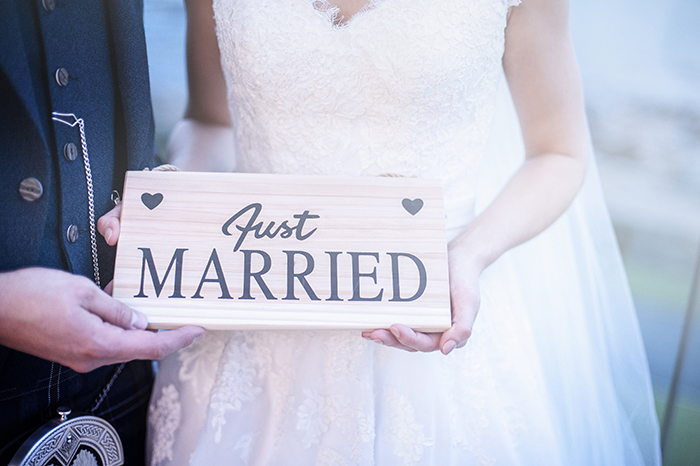 Venue: The Firth Pavilion at Seamill Hydro | Photographer: Jarvie and Jones Photography | Filmmaker: Piece of Time Media | Bride's dress: Essense of Australia at Eleganza Sposa | Bridesmaid Dresses: The Wedding Store | Groom and groomsmen's outfits: MacGregor and MacDuff | Cake: Sugar and Spice | Florist: Grassroots Fine Flowers | Pianist: Alex Graham | Band: Second Hand Elastic Band | Wedding rings: Rox | Stationery: Cards by Carrie | Hair: Eilidh Jamieson at Rainbow Rooms | Make-up: Louise Ballantine Makeup Artist | Decor and entertainment: The Blue Parrot Company