A Falside Mill winter wedding with a navy, gold and plum colour scheme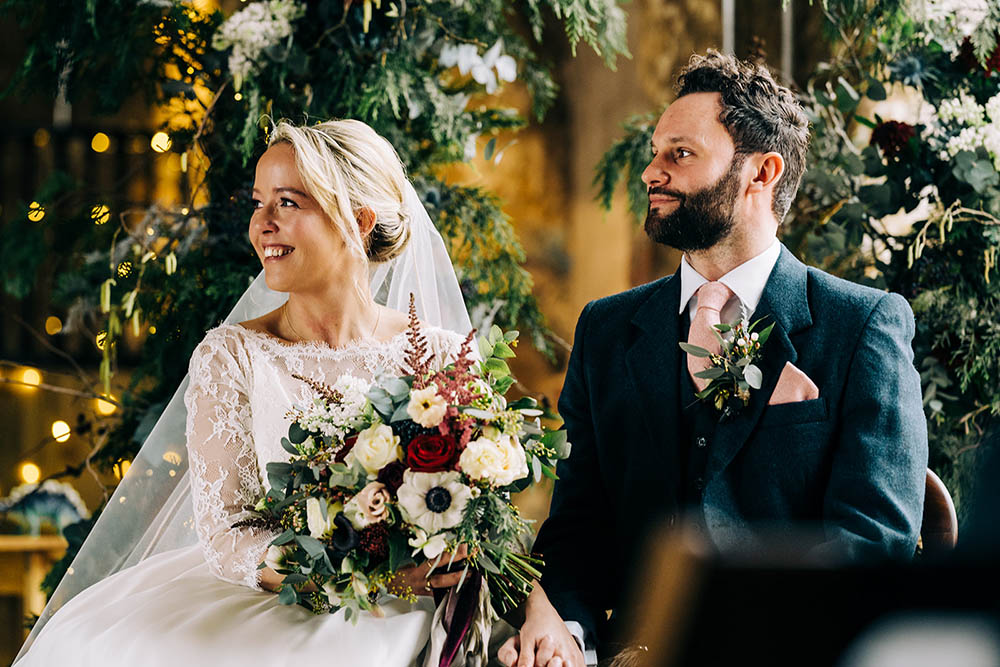 Lauren and Fraser got lucky with the timing of their Falside Mill wedding, marrying in January this year at the St Andrews venue.
"I couldn't be more grateful for our timing and to have been able to marry Fraser  that day," says Lauren, who is a doctor.
"We feel incredibly lucky to have had almost 200 of our favourite people together – cheersing, eating, dancing and enjoying one another's company, before this grim new reality started."
As you'll see from their gorgeous photos captured by Photos by Zoe, the couple had a beautiful winter celebration.
Keep scrolling to read more about their day in the words of bride Lauren.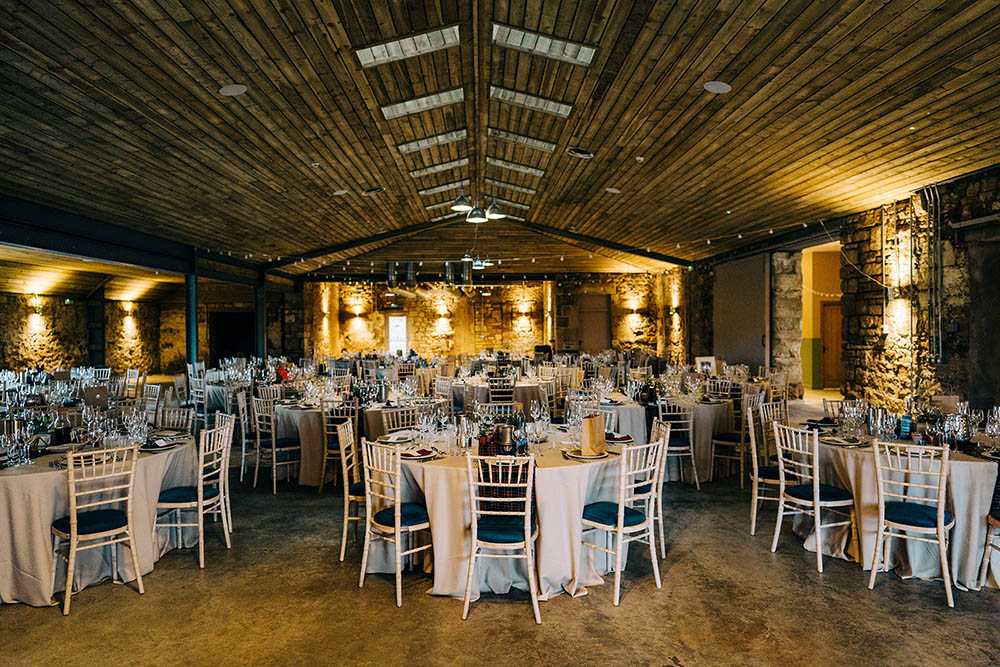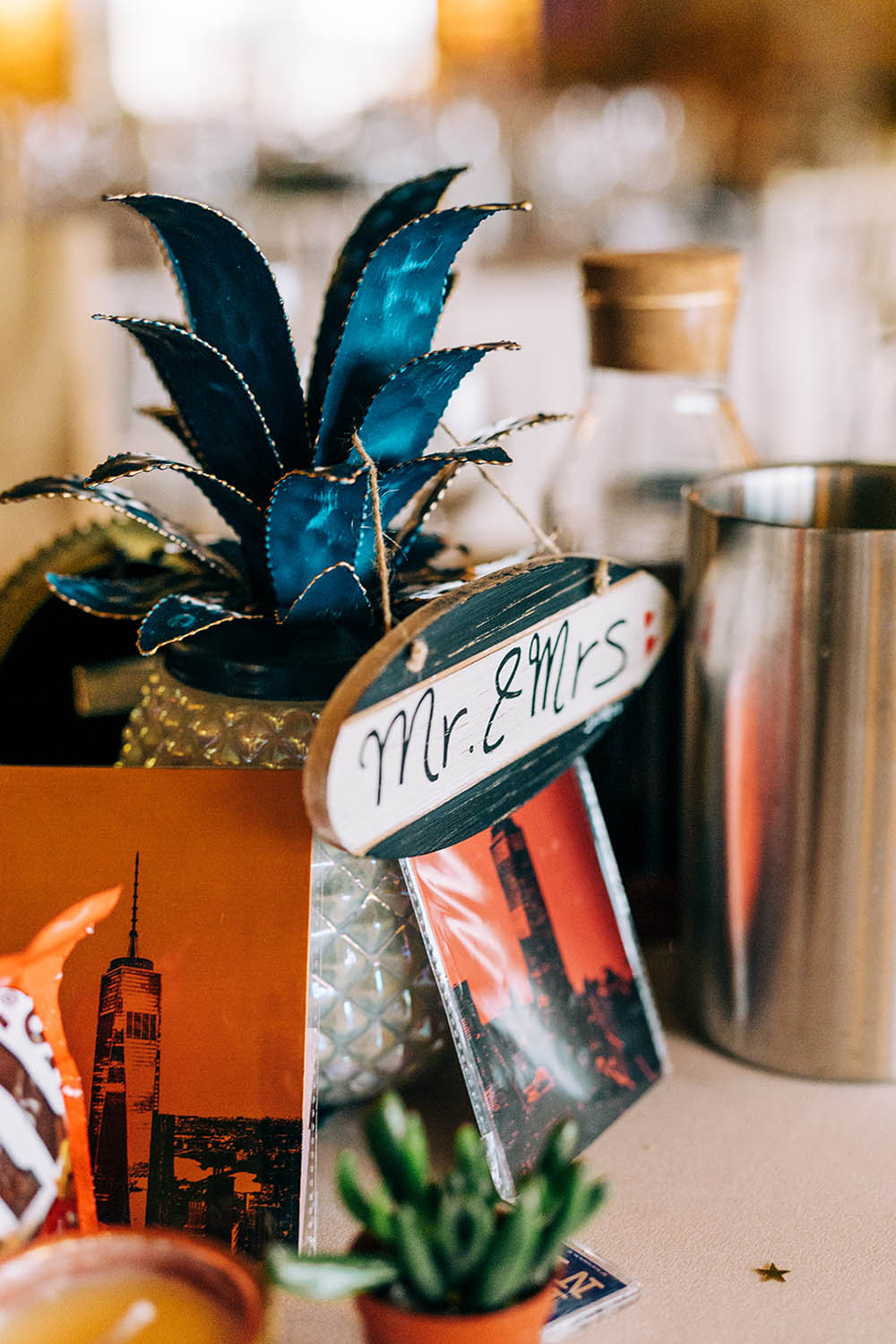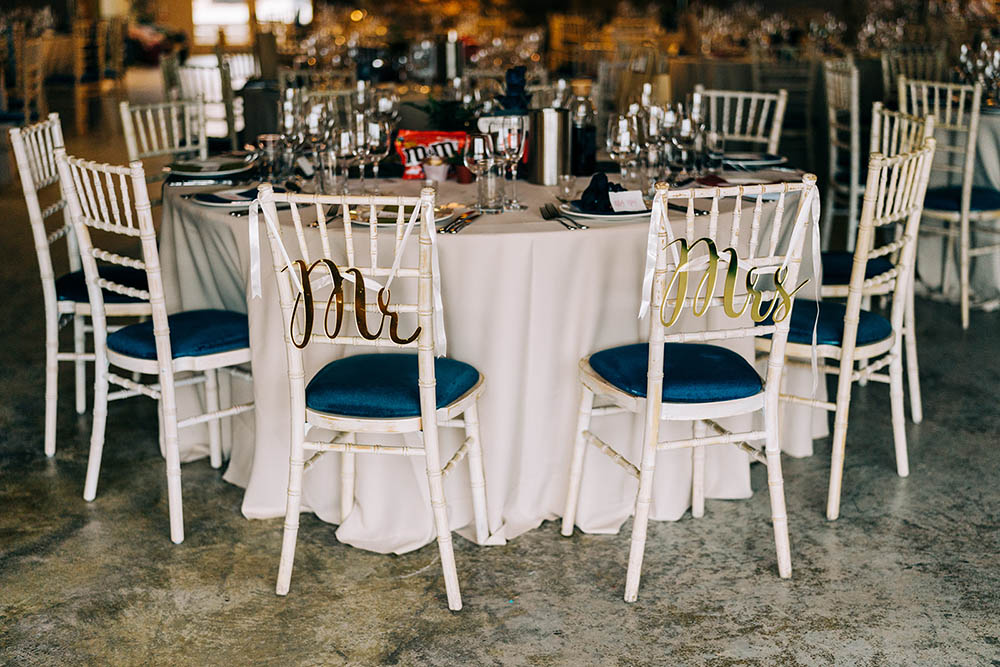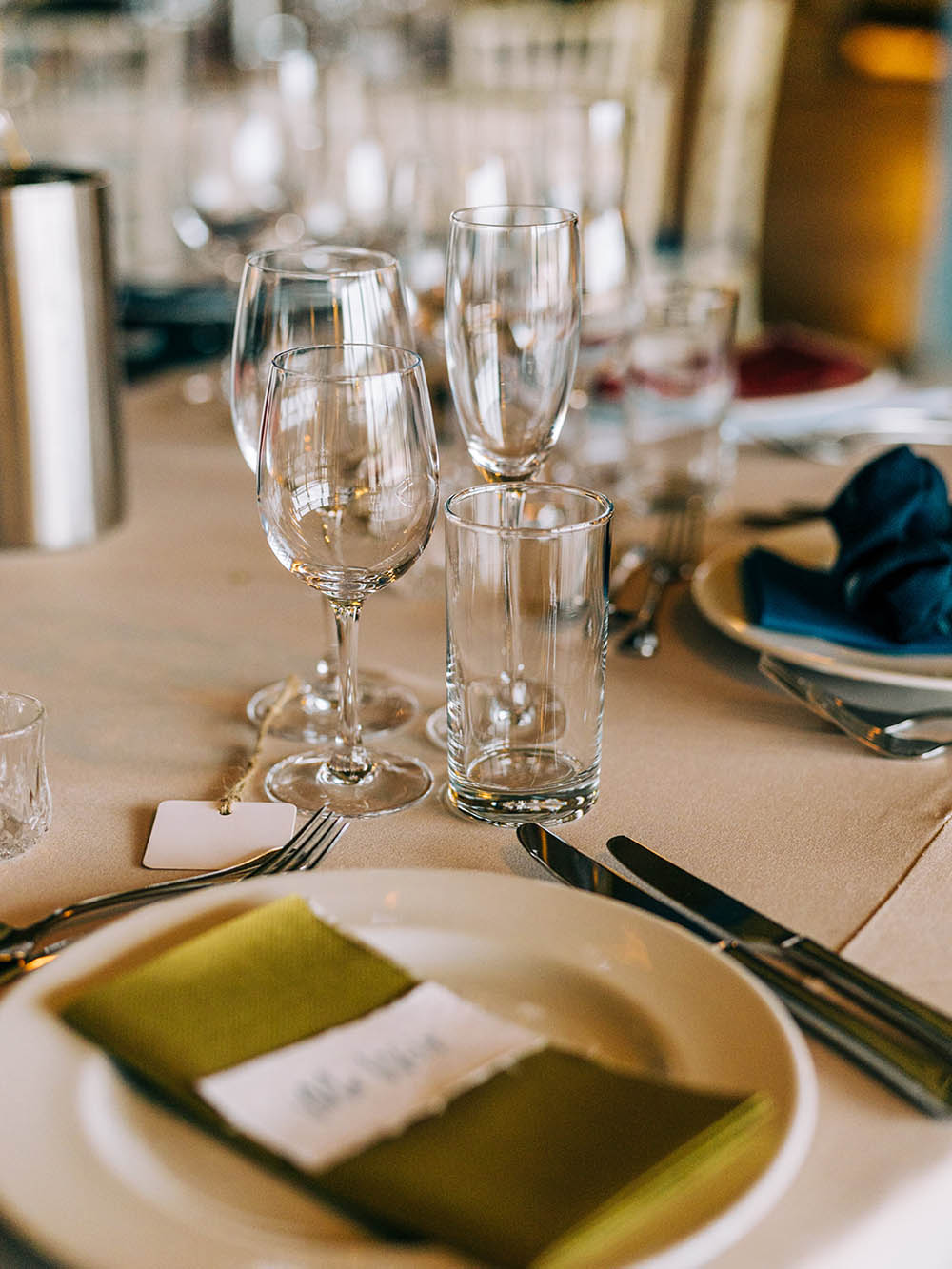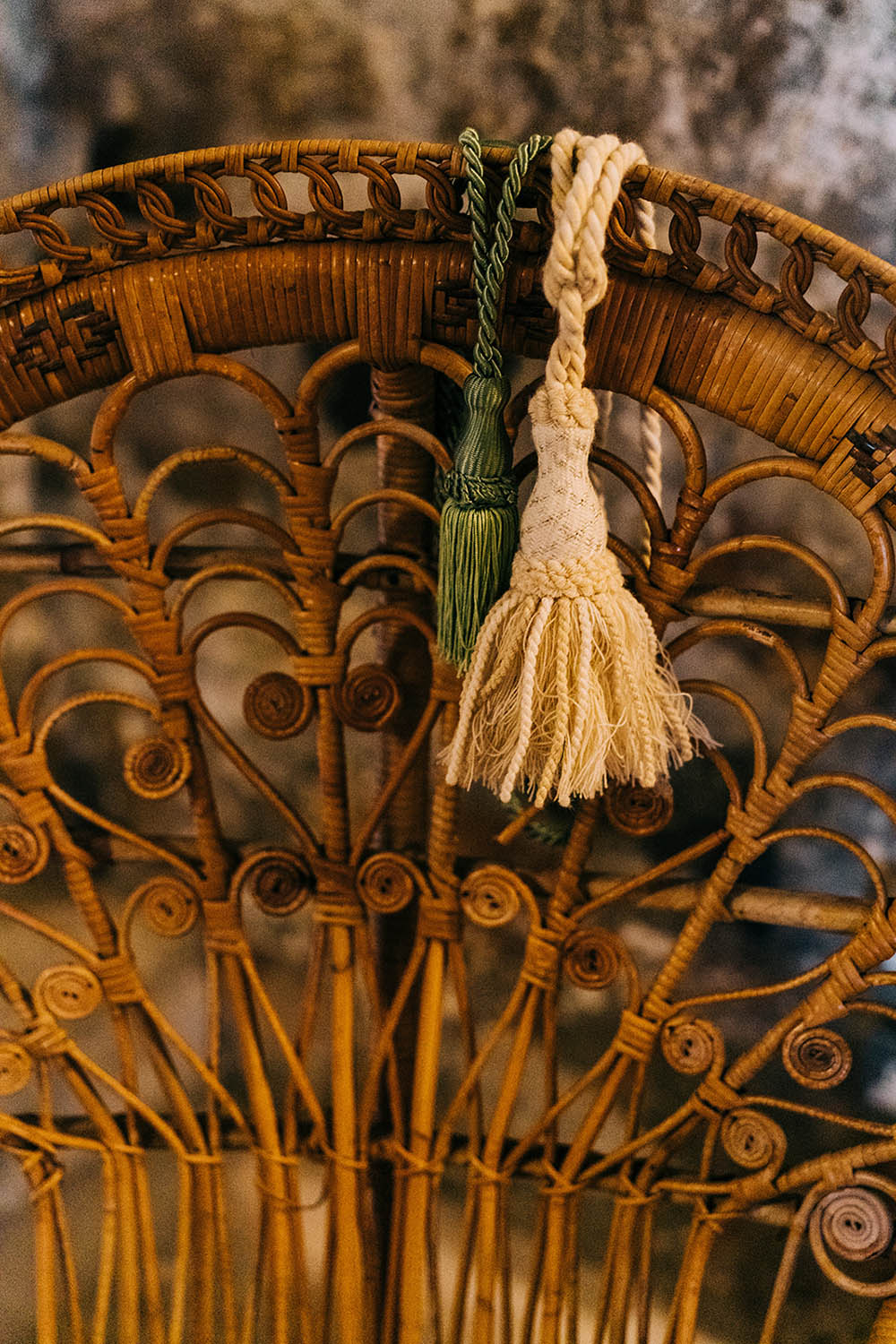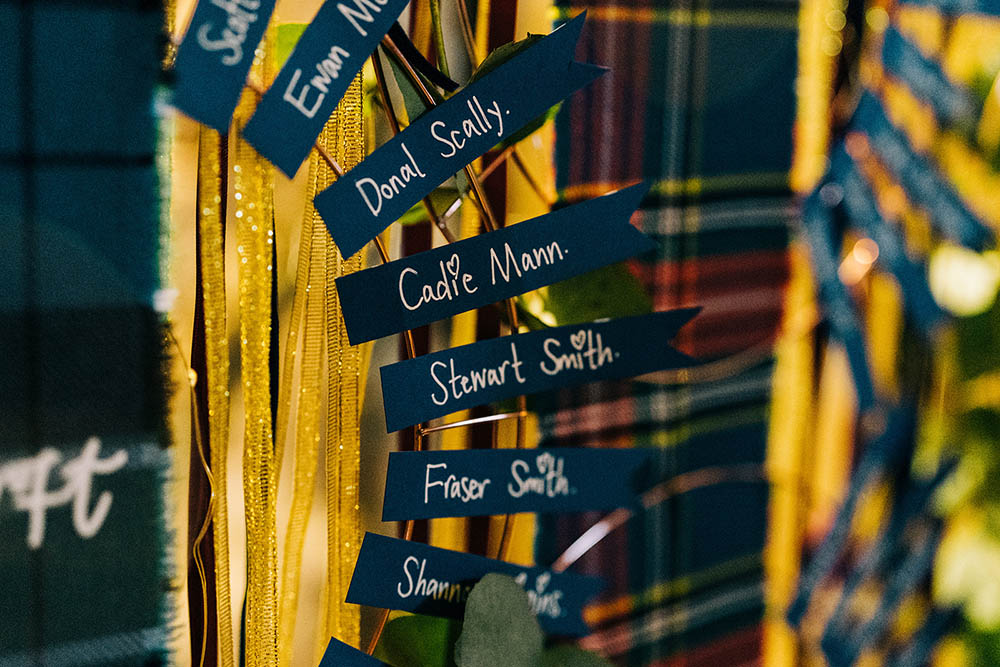 Fraser and I met in Edinburgh five years ago.
I feel incredibly lucky to have met him, we just clicked on our first date and have been very privileged to have enjoyed lots of adventures both near and far ever since.
As a surprise, Fraser bought me tickets to NYC for my birthday the year before last.
At the time I was maybe a bit hopeful that this might be it – an engagement – but we were buying a house and Fraser let me know he didn't want us to do 'everything' at once.
On our first day in the city we took a wonderful, very cold walk along the High Line before heading to Washington Square Park.
And there it happened, sitting in the fountain with the beautiful arch behind us Fraser asked if I wanted to marry him!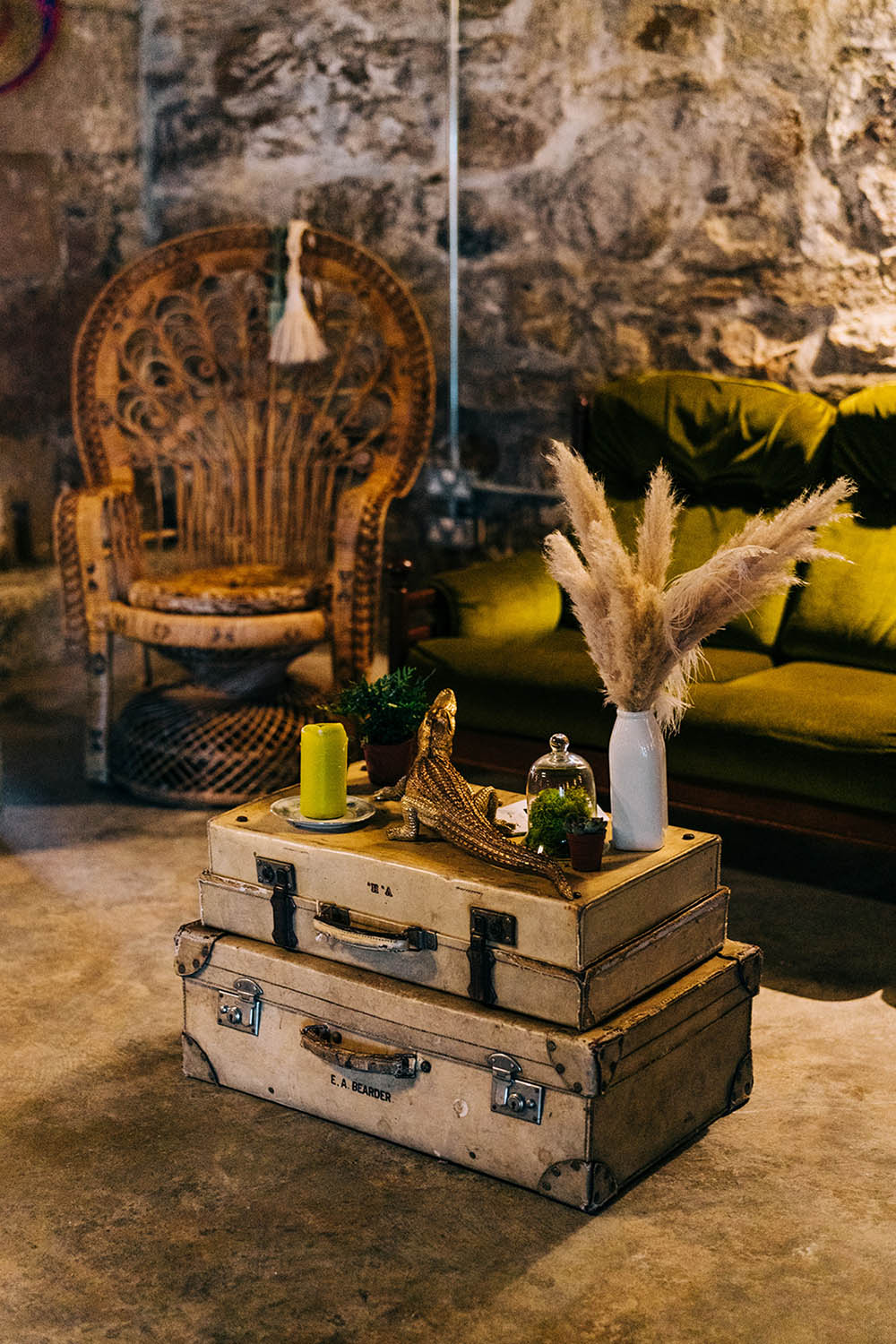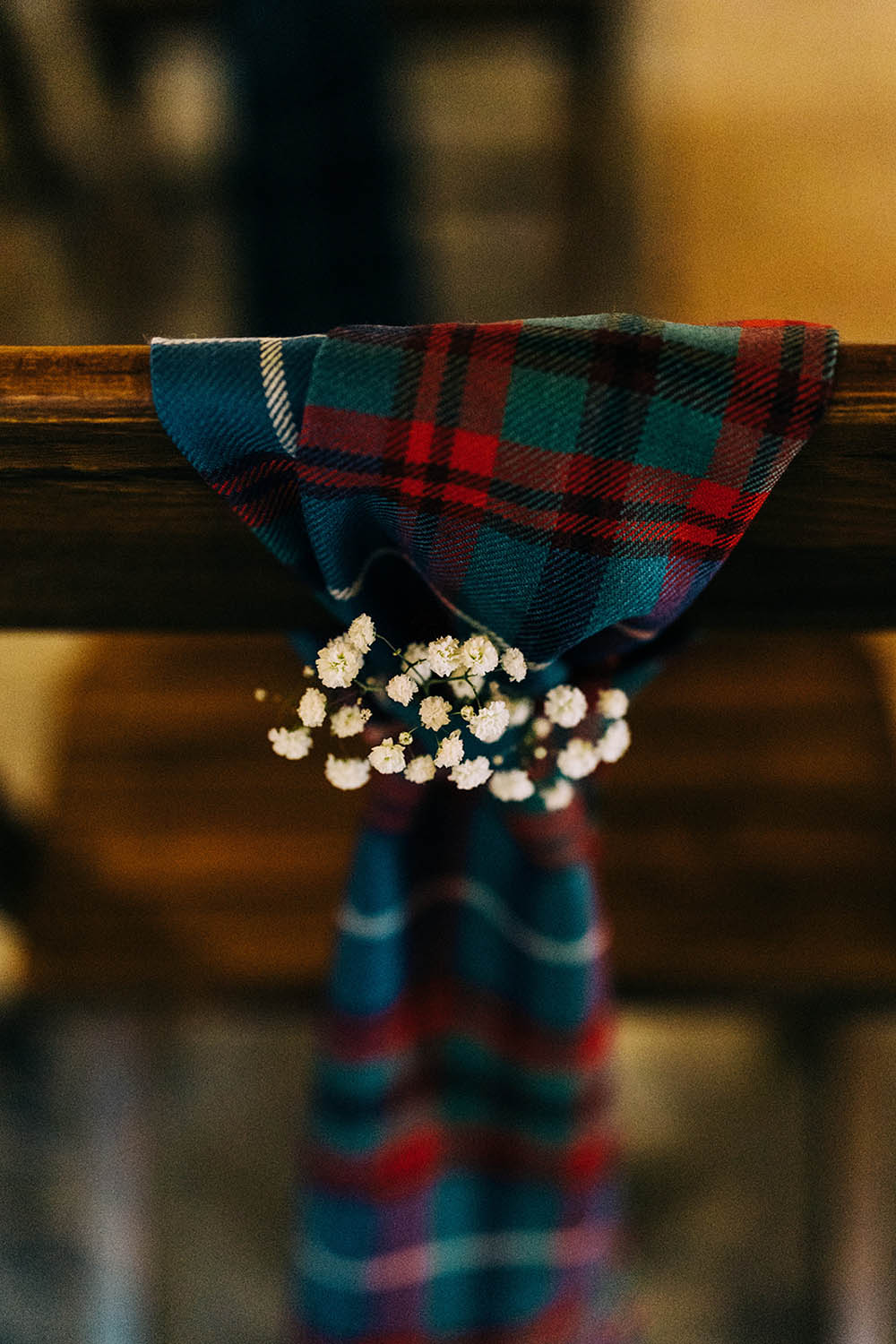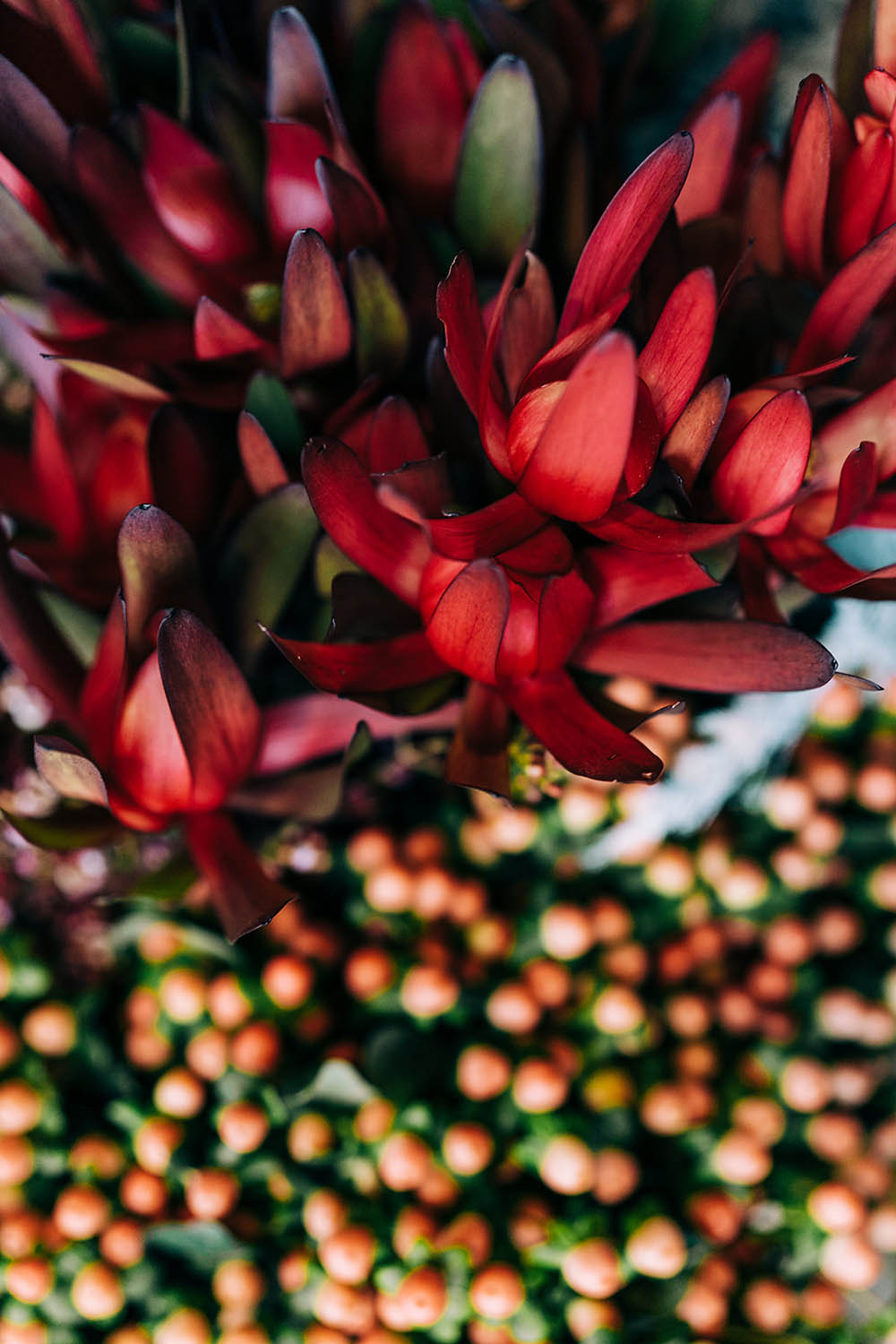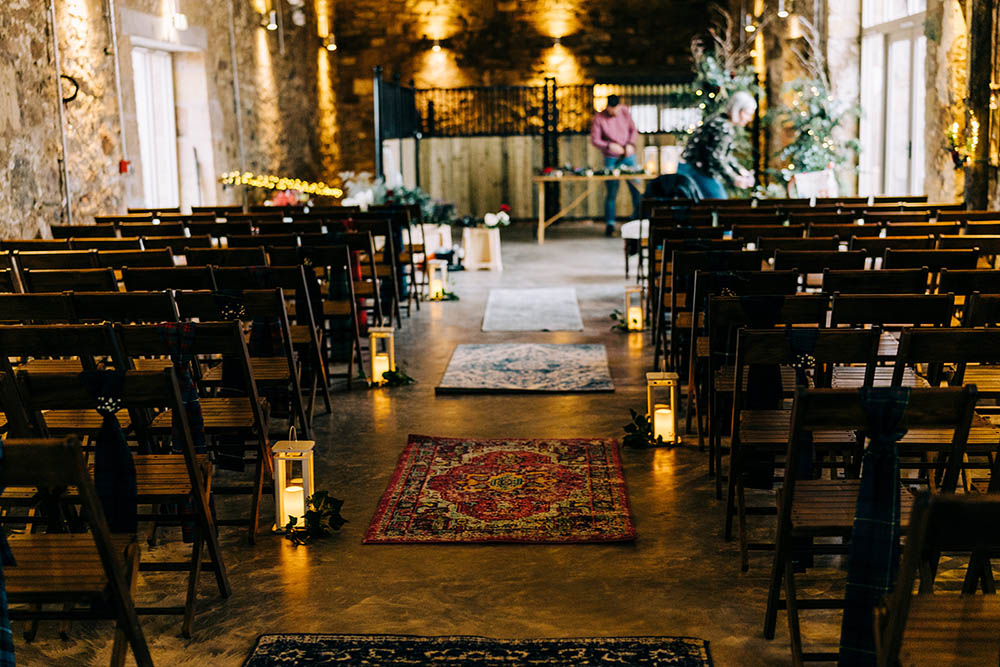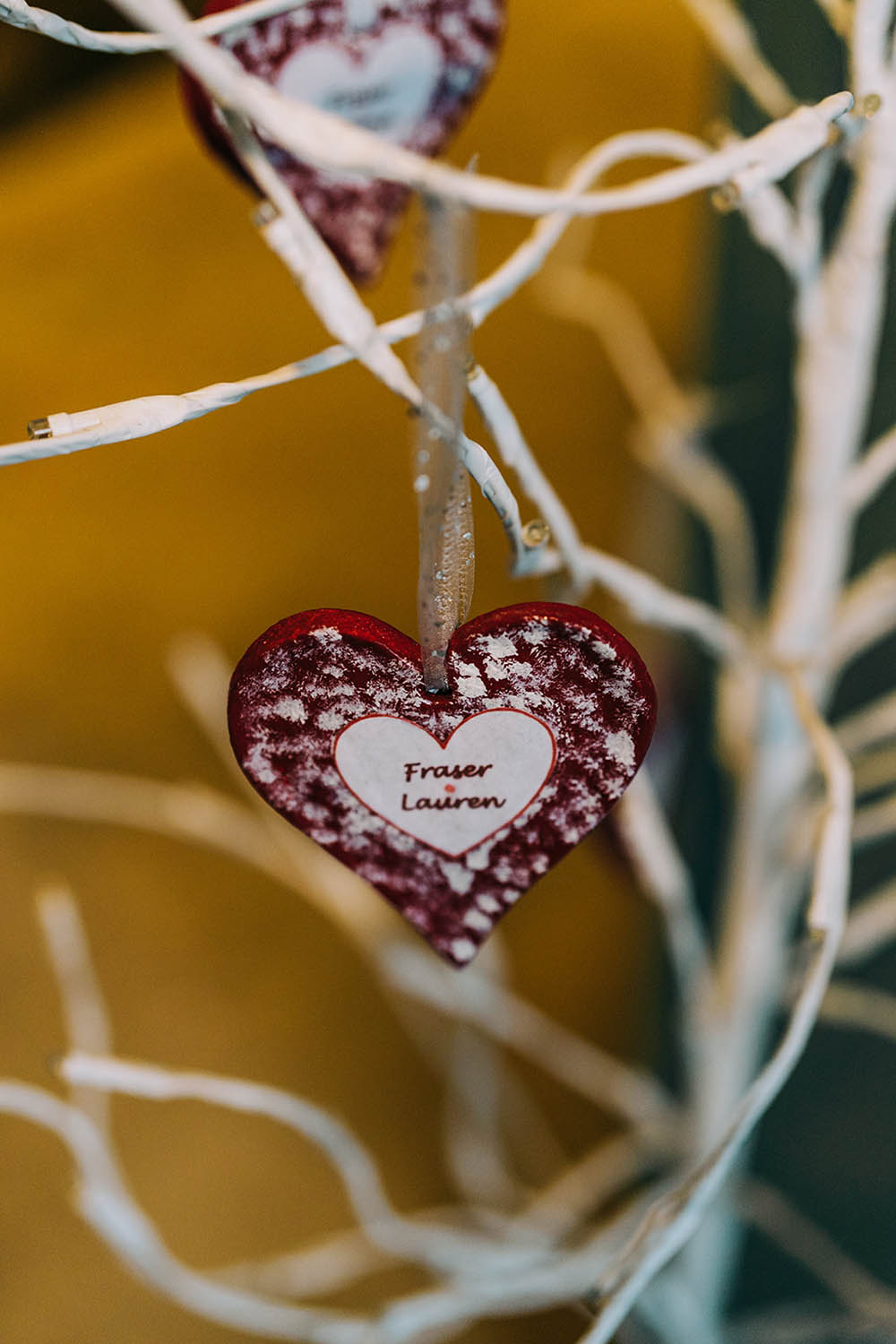 I am a sun worshipper so we decided we would eliminate worrying about the weather (who wants to worry about rain on a Scottish summer day) and we set our sights on a winter wedding (without sunshine worries).
Perhaps to the dismay of our families we kept the venue visiting and decision making a secret and then let them all know about our choices at the same time.
In hindsight I'd maybe let our parents know more about the places we were going to visit, but it did selfishly mean that Fraser and I decided on our venue without being influenced by others.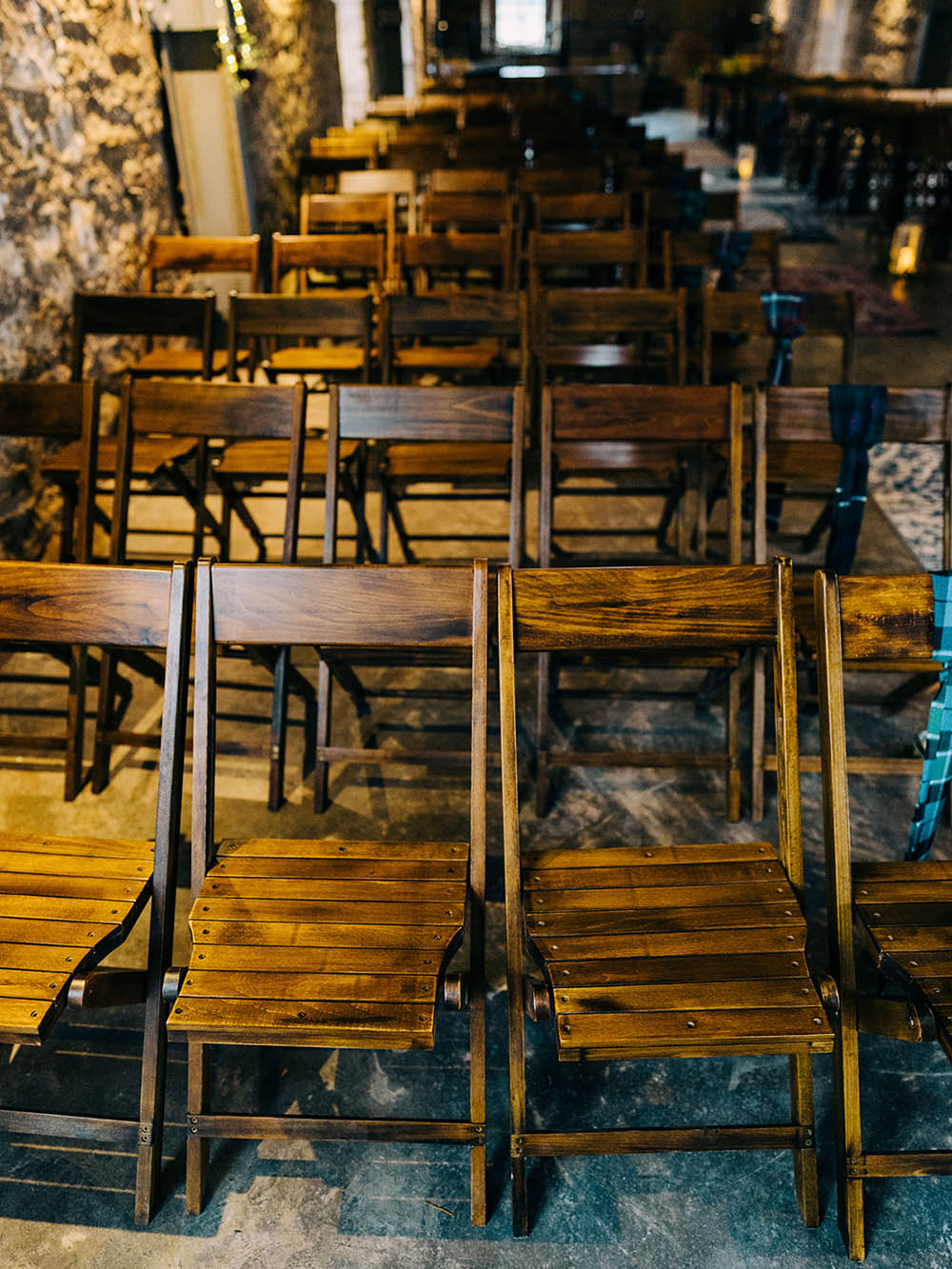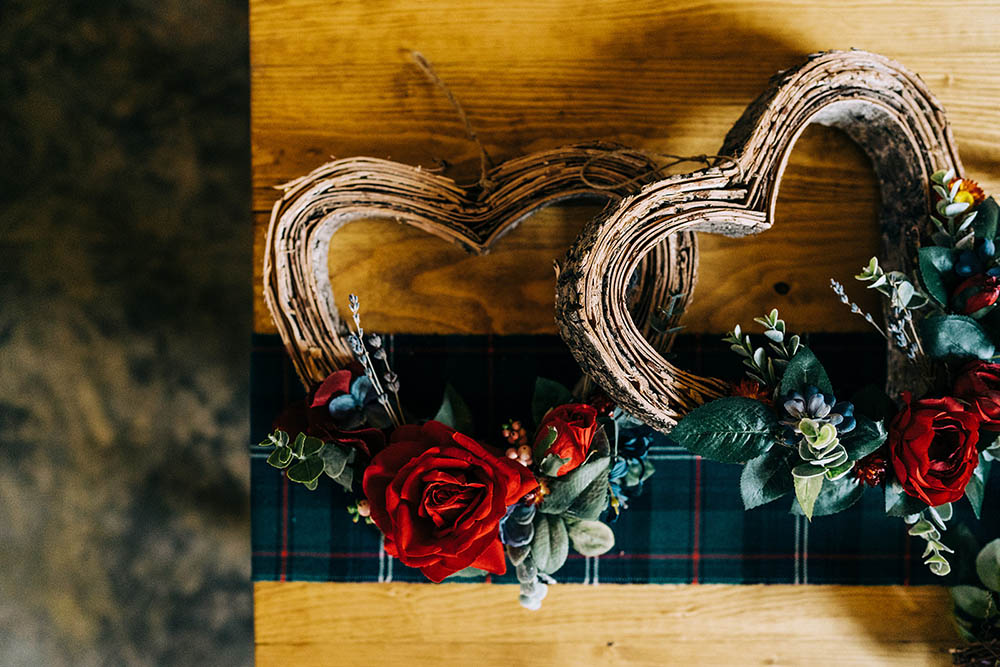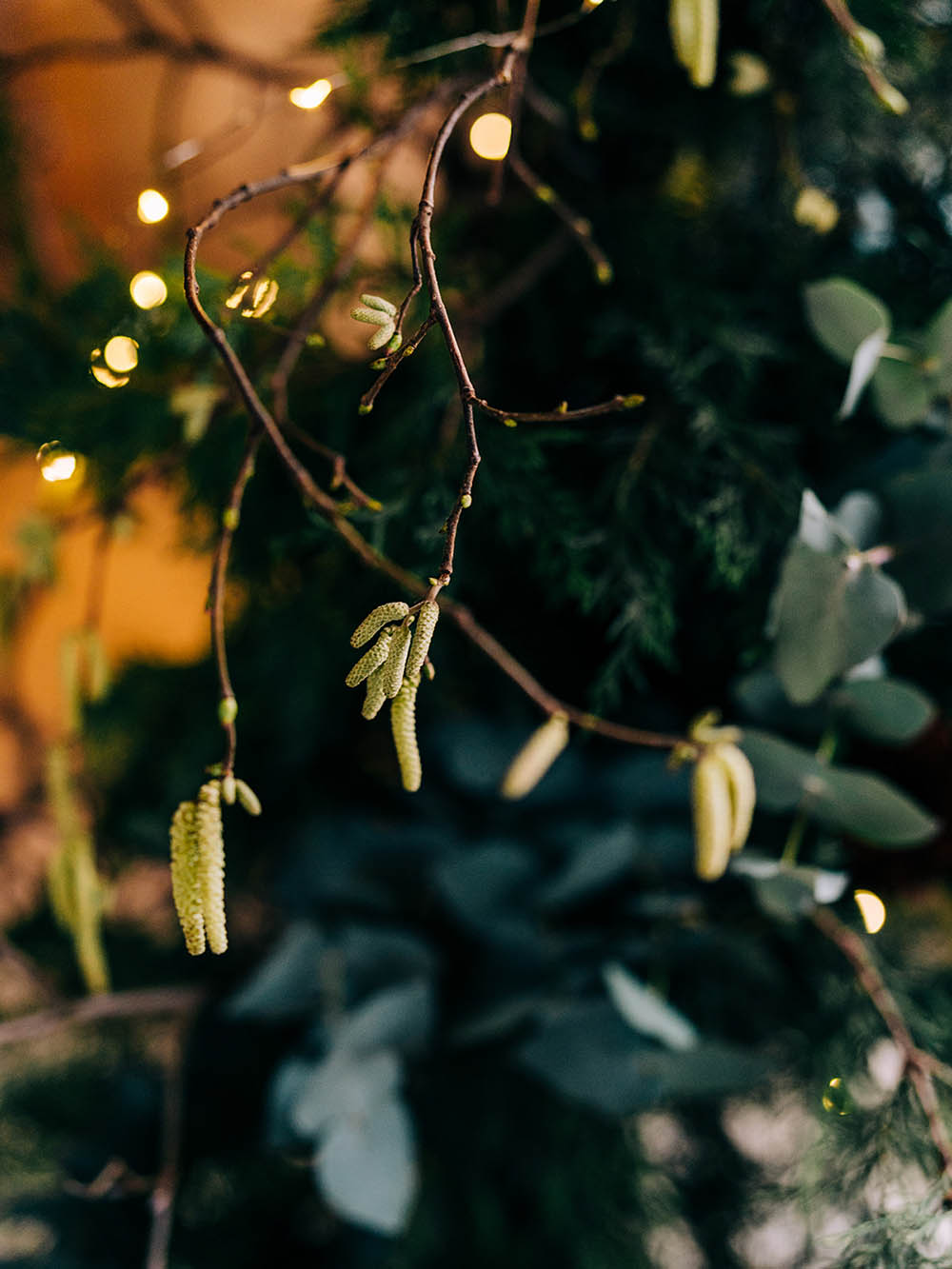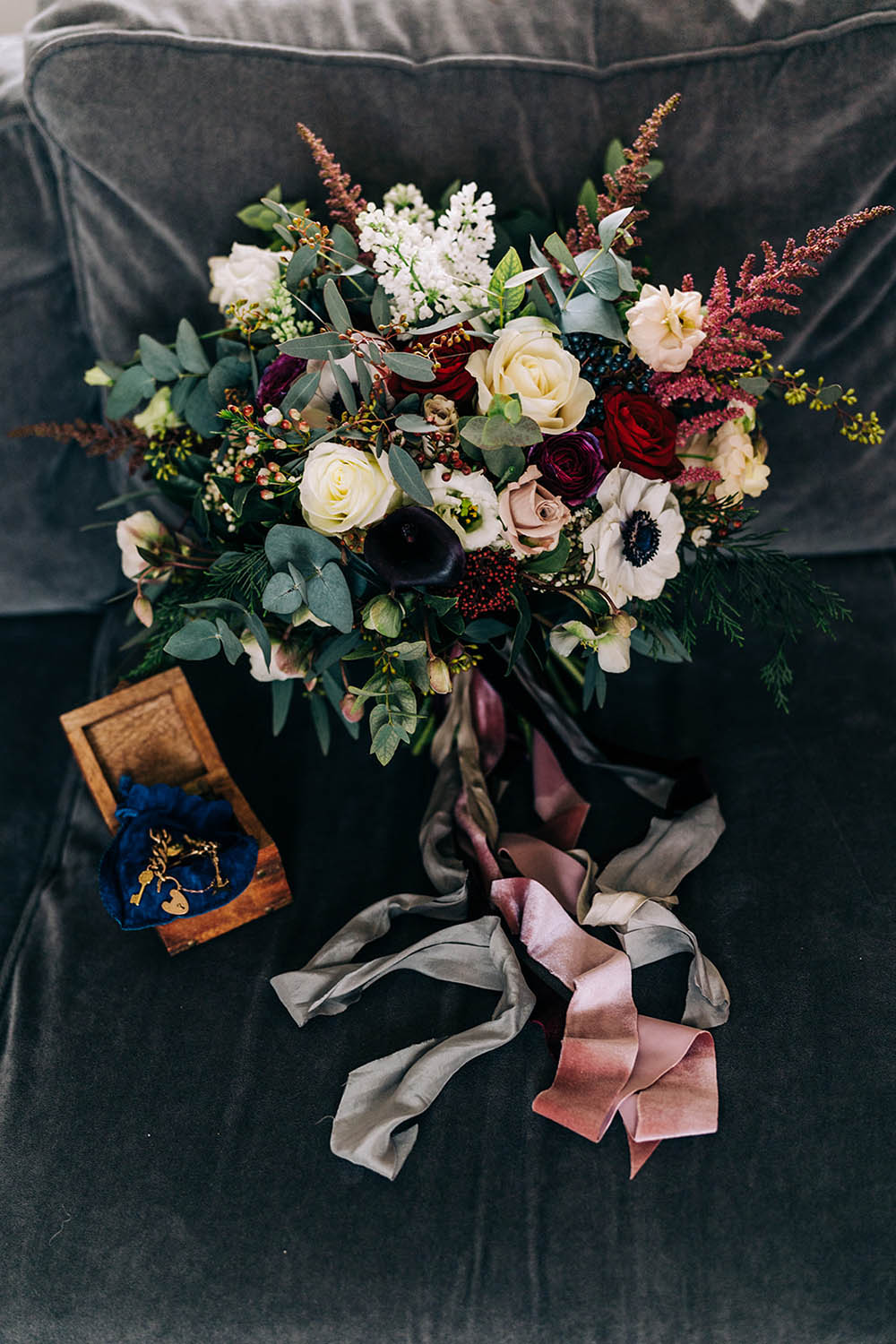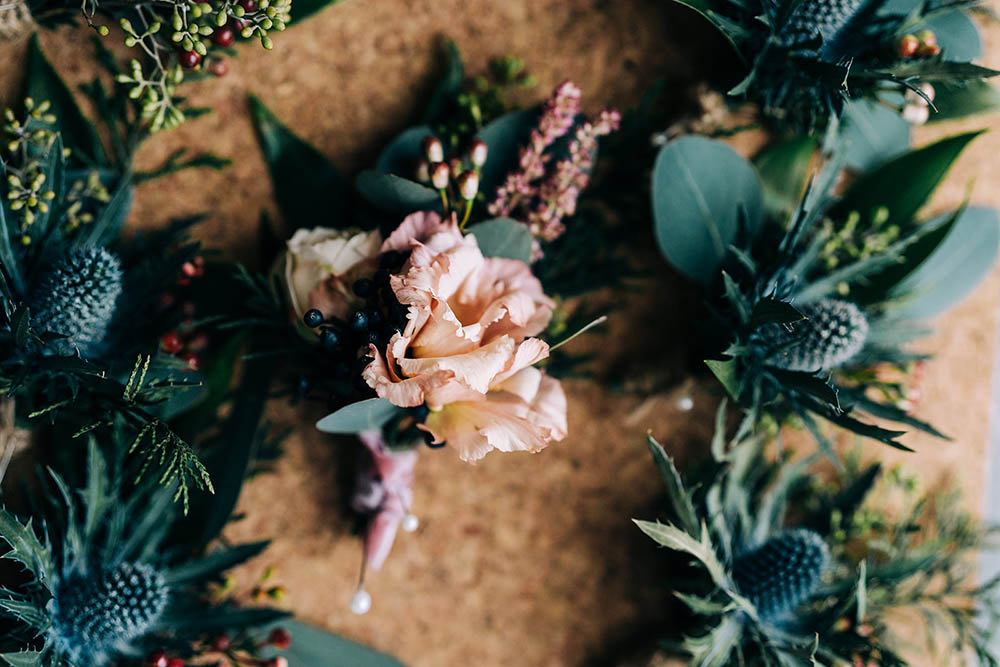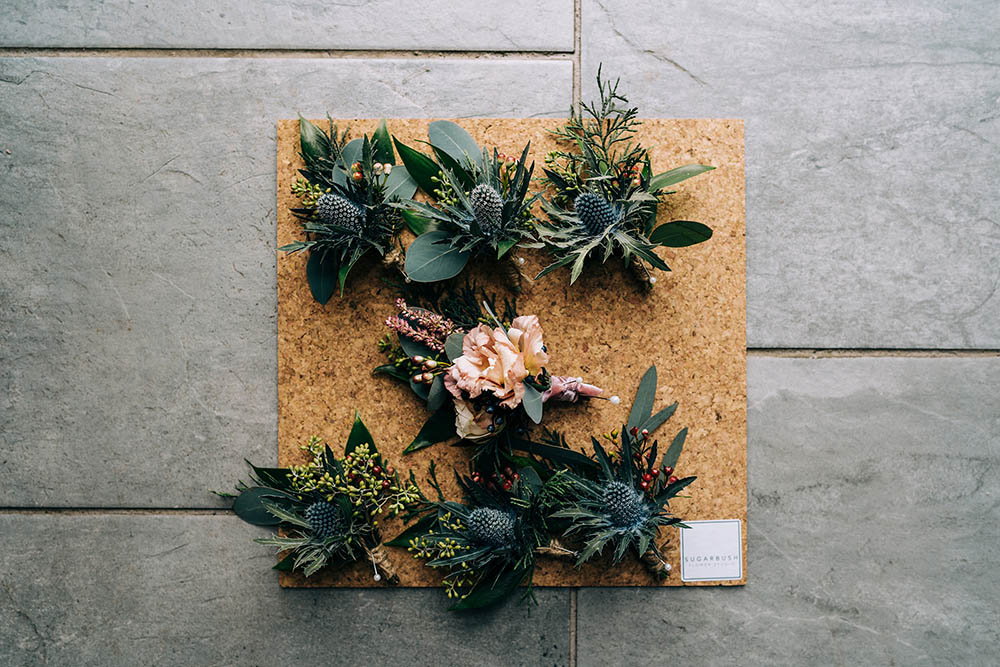 Falside Mill is a brand new venue near St. Andrews.
We were excited about the prospect of visiting Falside over the year before our wedding and watching as it developed from a roofless building site to the finished venue.
It was also important to us that we could use The Edinburgh Catering Company as this is my cousin's company and their food is amazing!
Lots of venues that were big enough for our party had stipulations about things including catering, but Falside gave us a totally blank canvas.
We loved having the ability to decorate the venue however we wanted. It is a great space and we, with our team of helpers, made it look absolutely wonderful.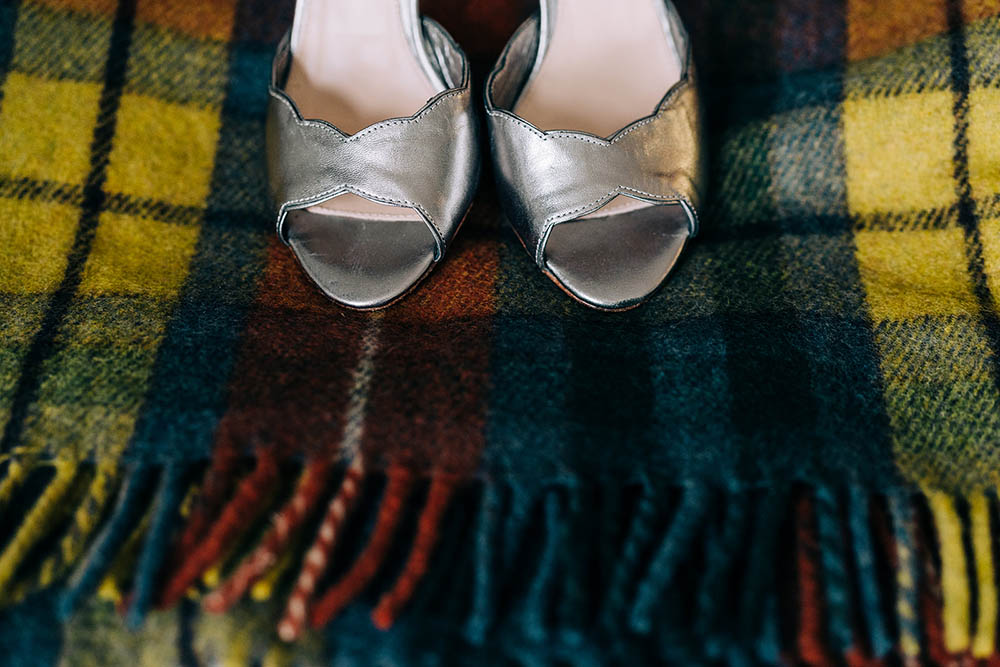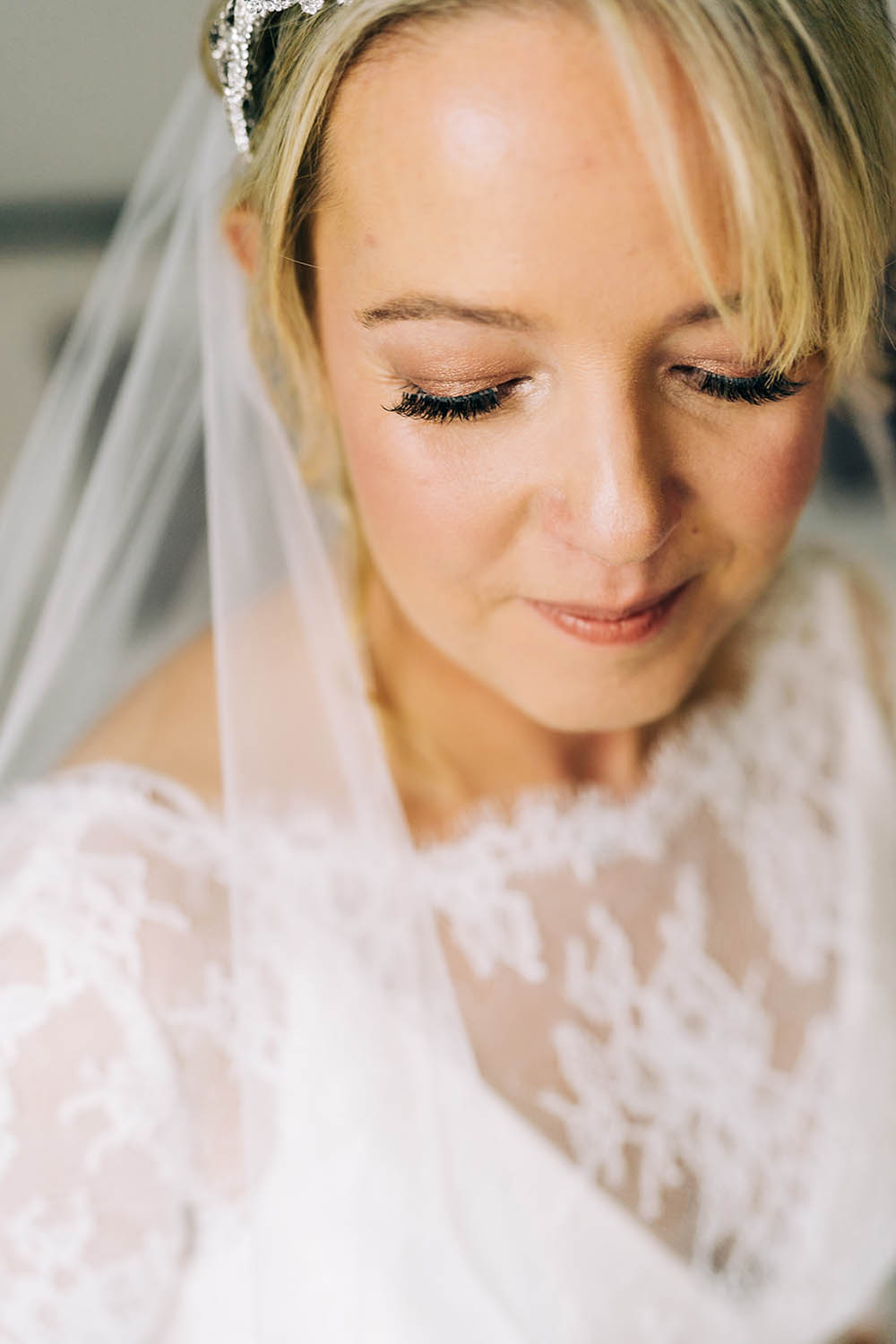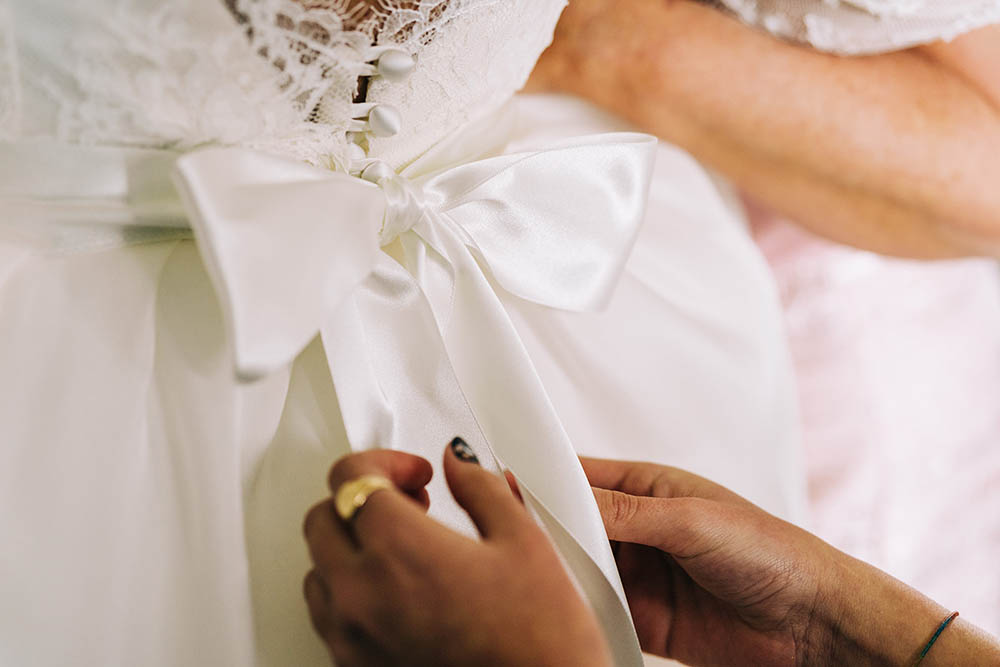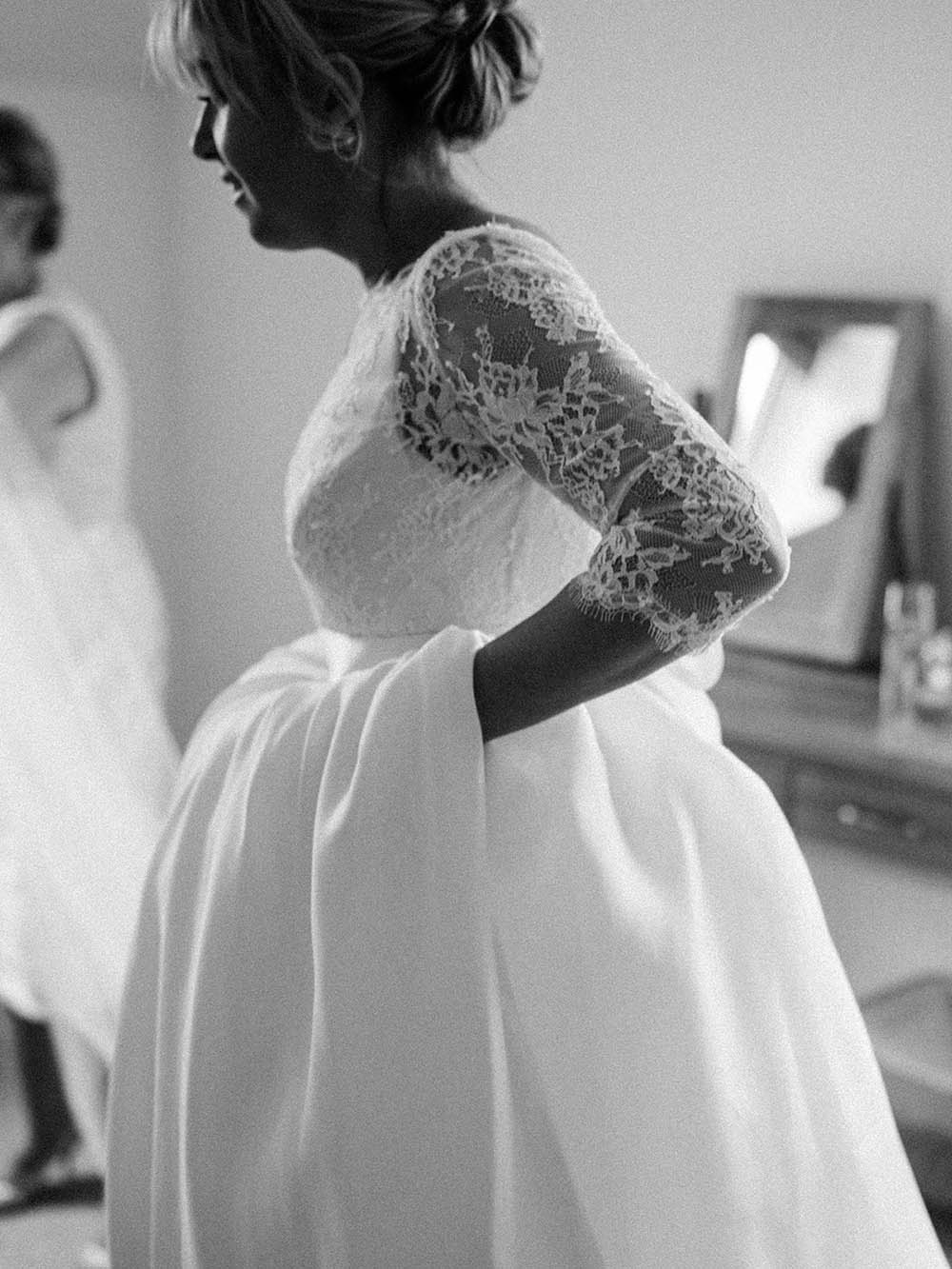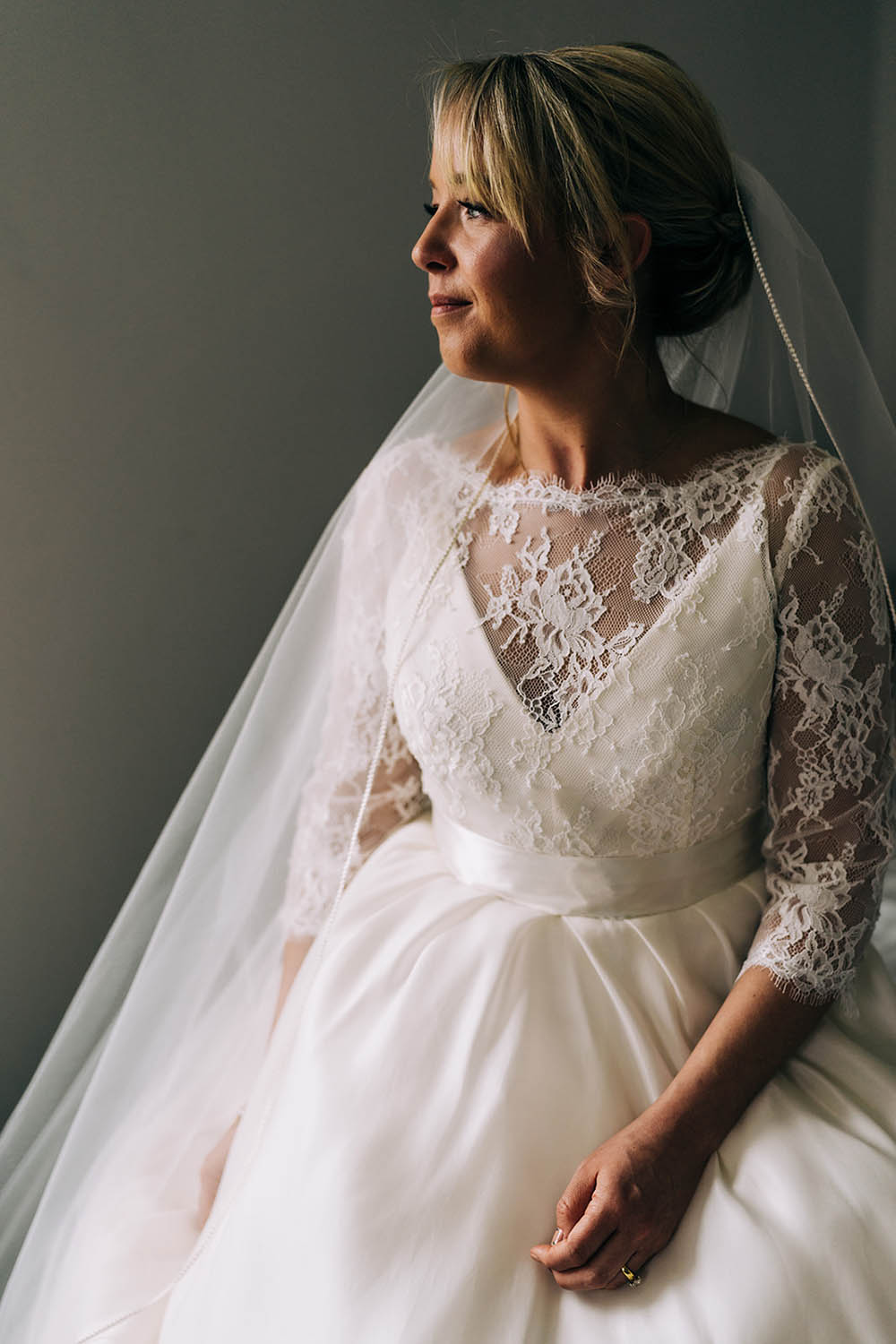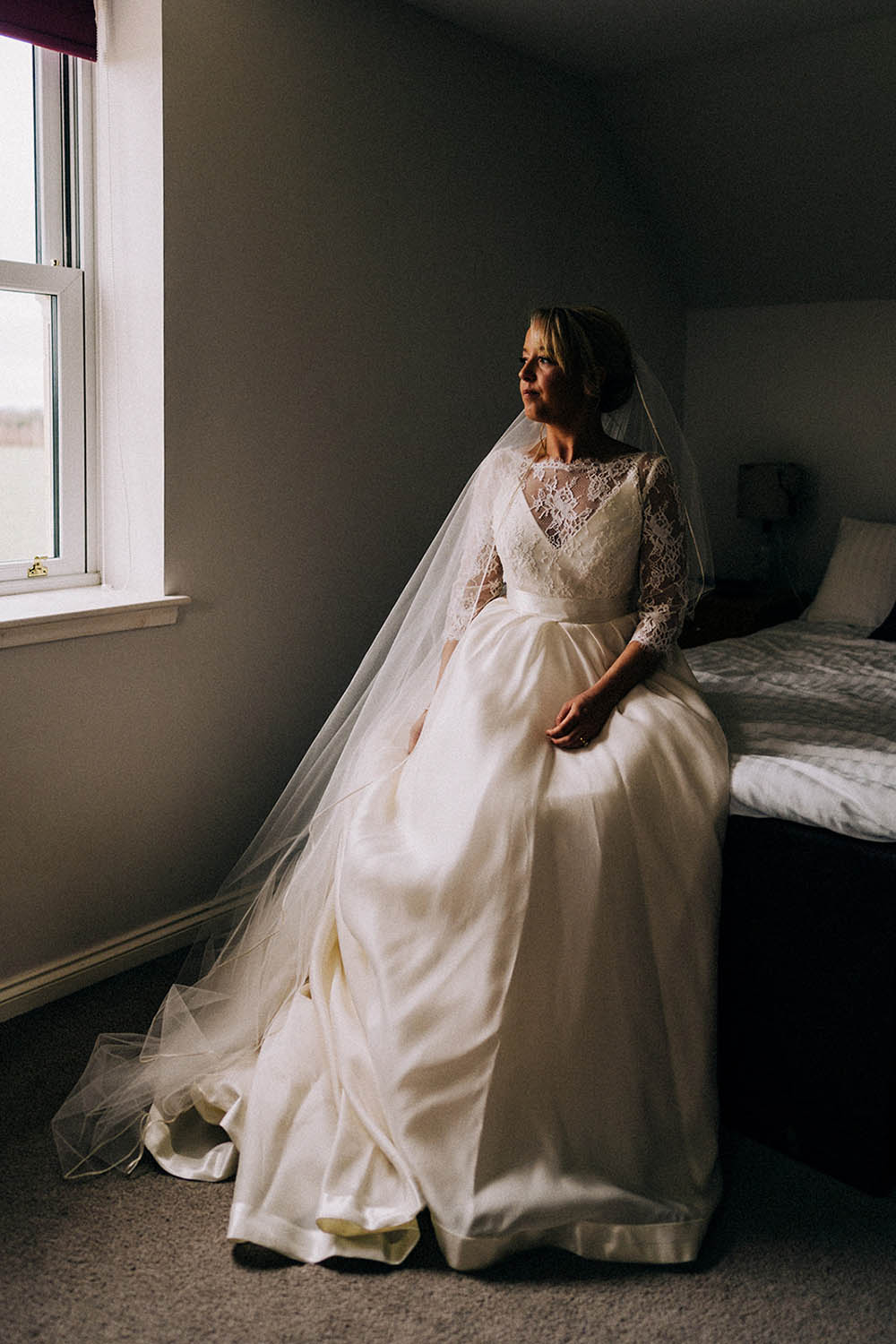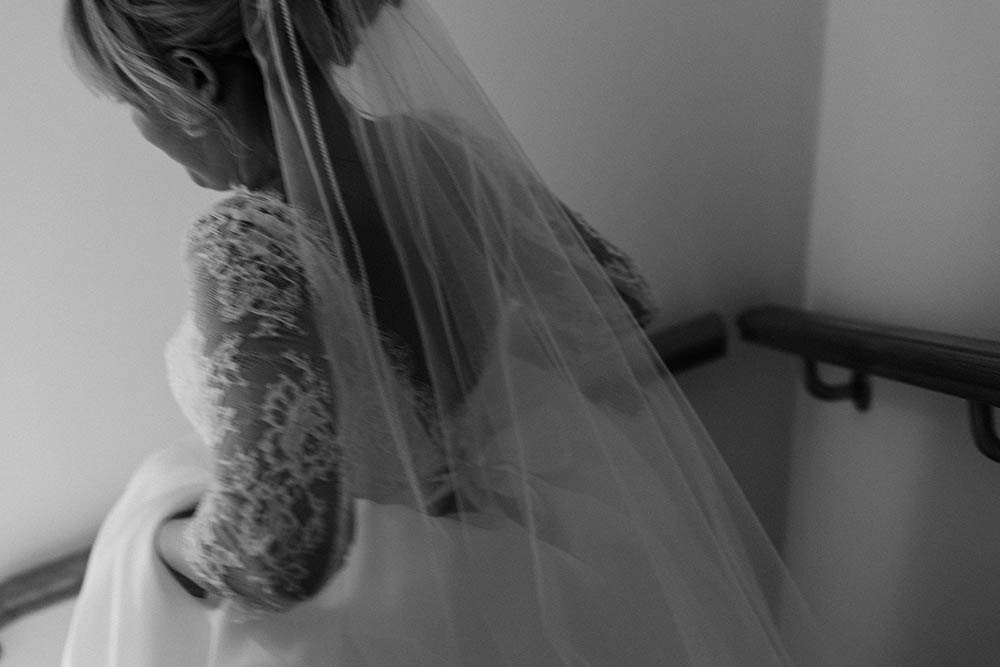 We used navy and gold for our Save The Dates and this formed the backbone to our ongoing colour planning.
Deep, plum red and pale, dusty pink were later added in – this created a nice warm, wintry colour scheme that we worked with for other stationery and the venue.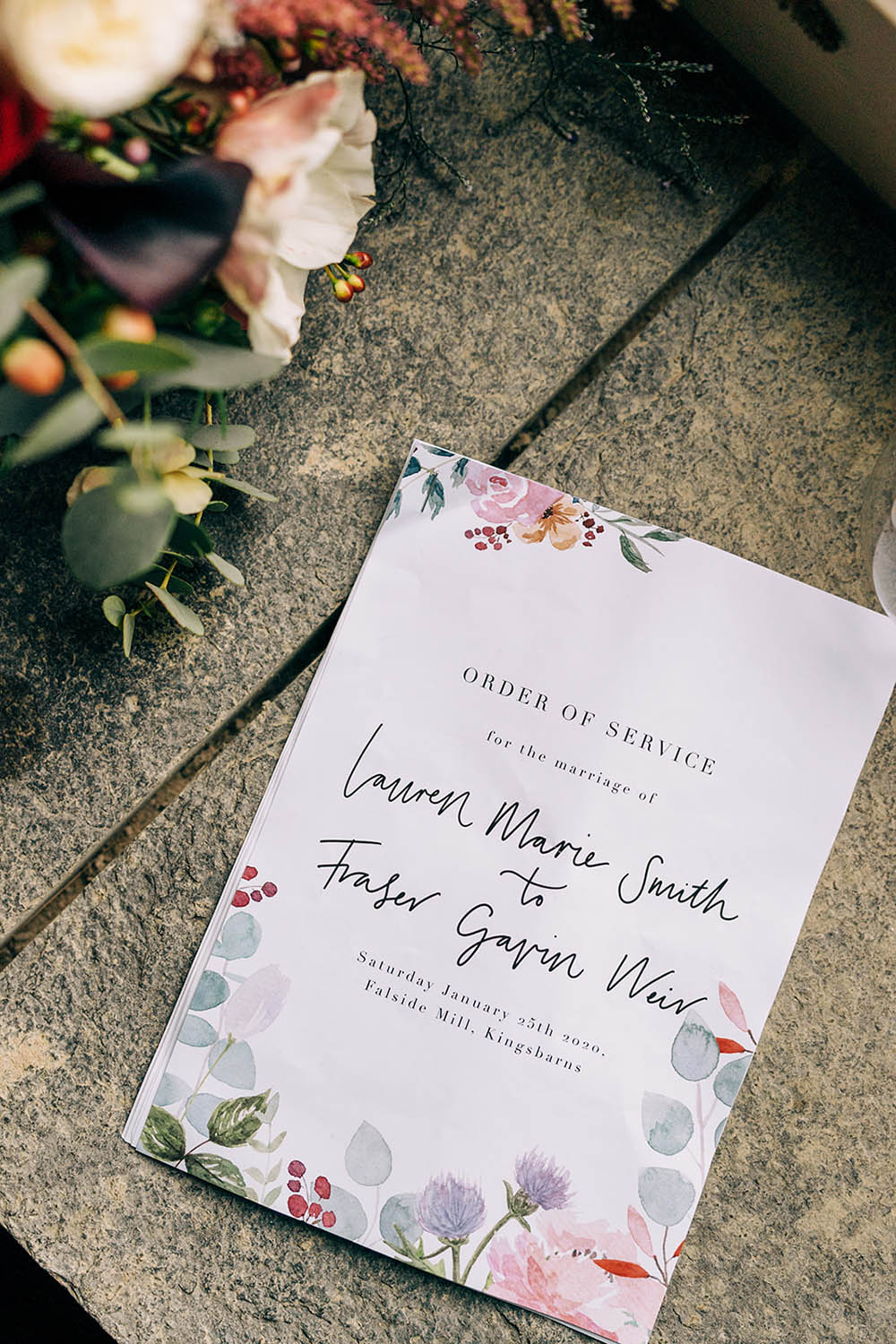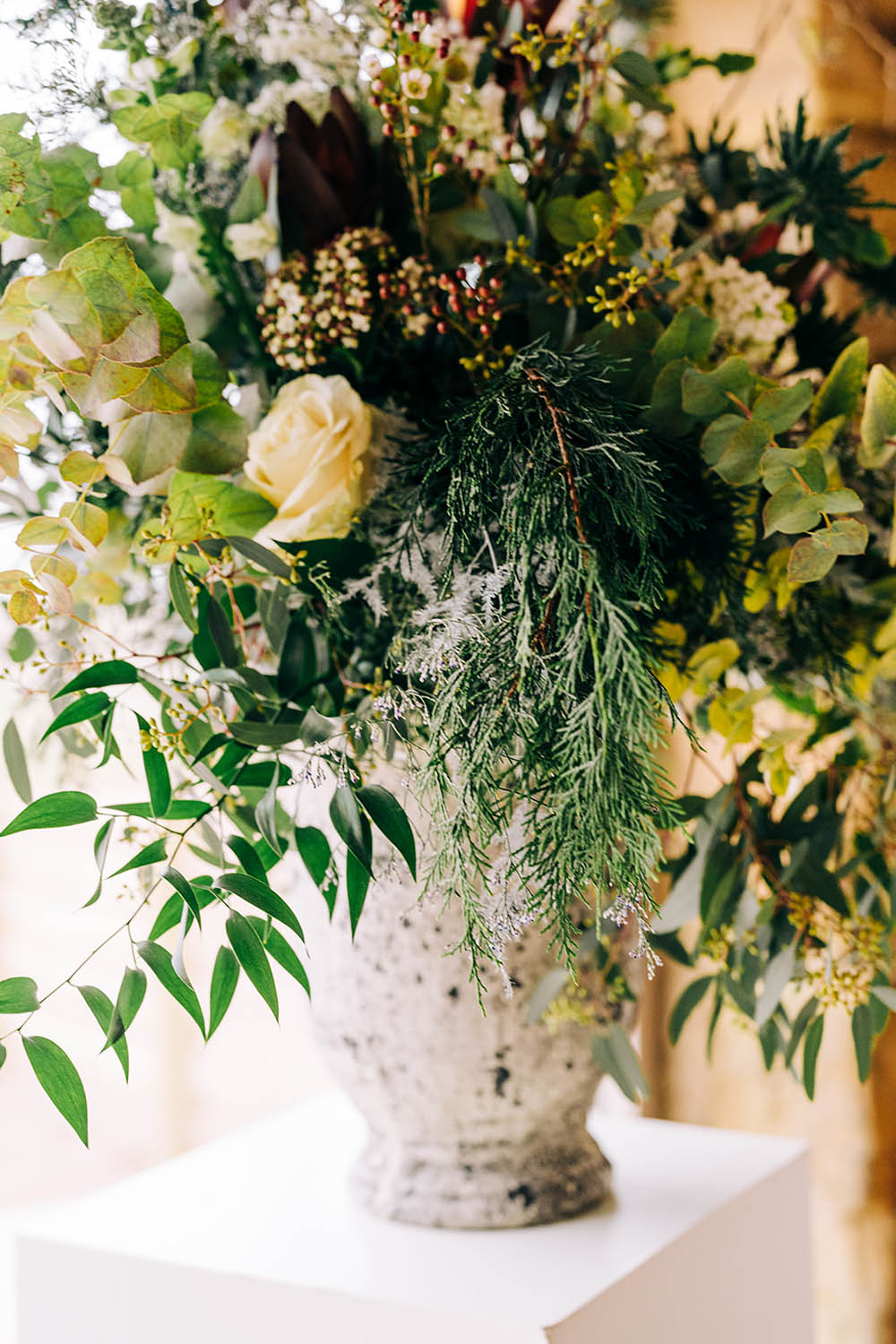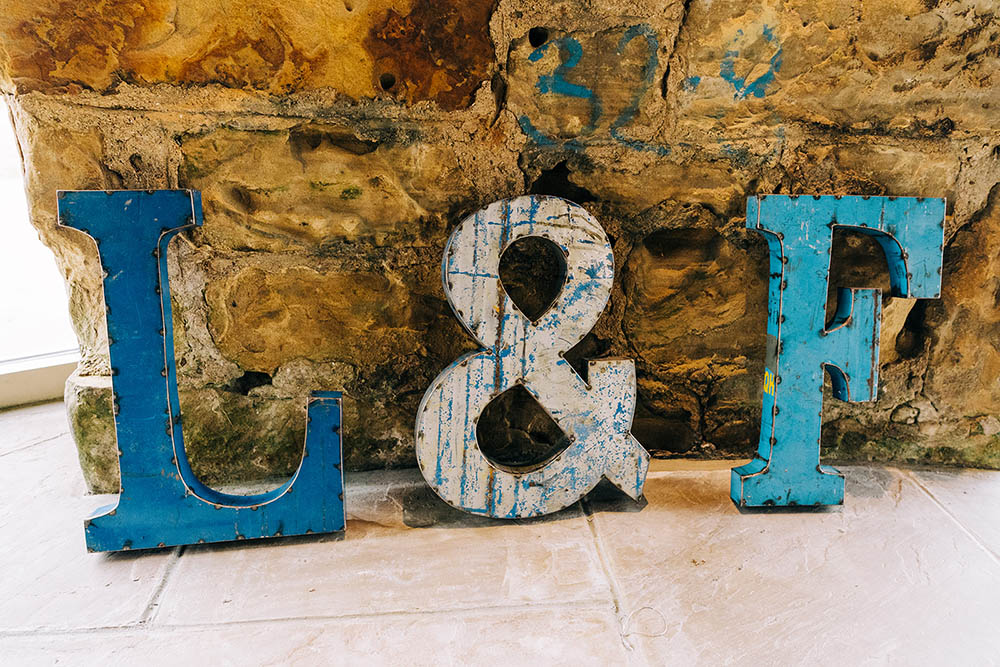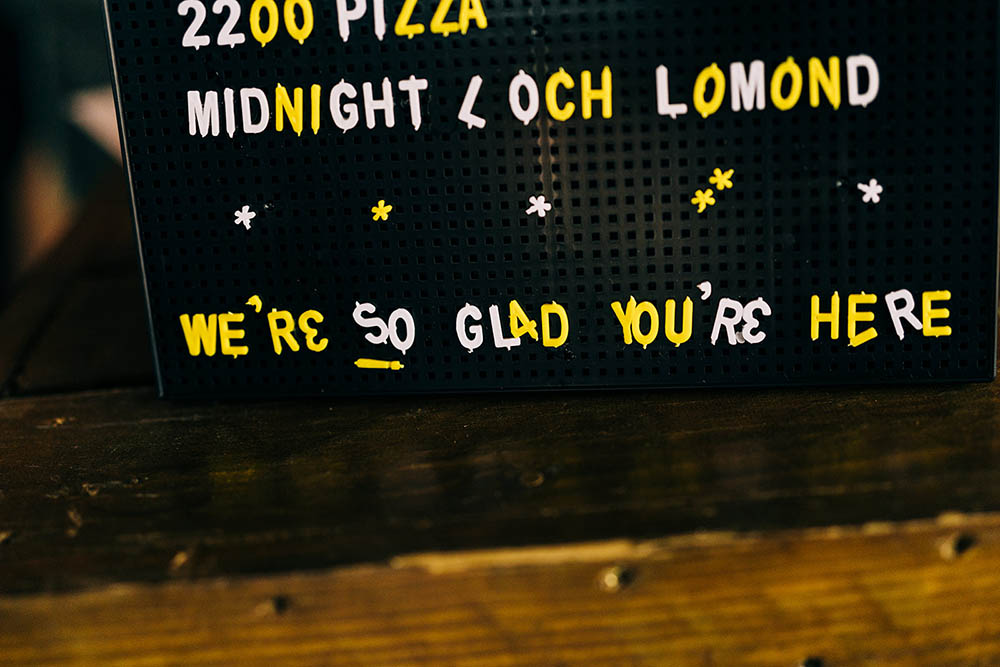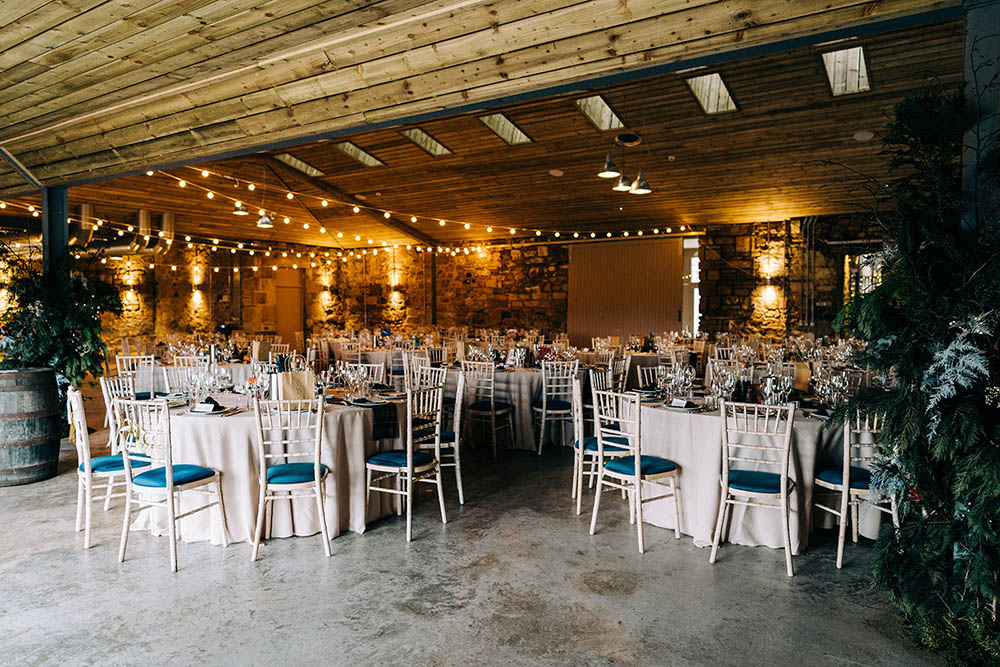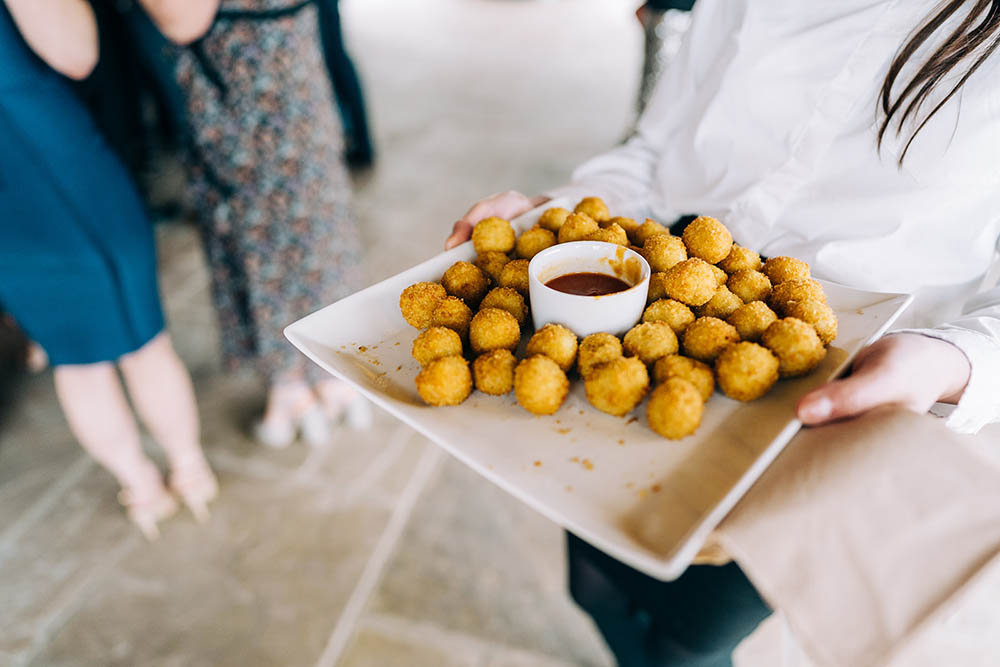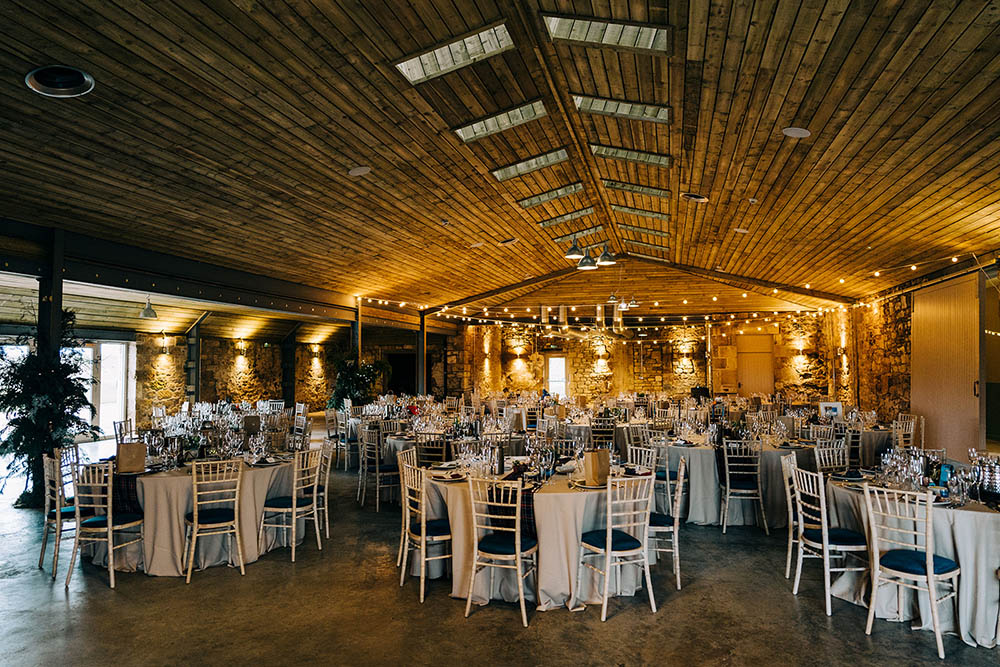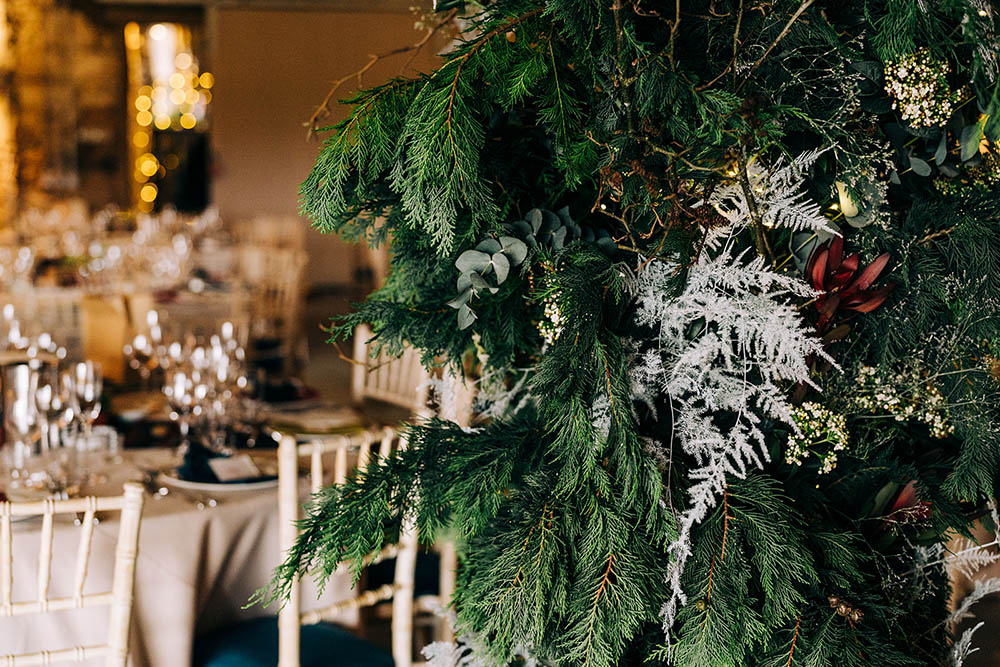 My mum and I enjoyed (far too) many trips to places like TK Maxx to pick candles and photo frames along with pretty vases and plant pots to furnish the tables and the venue.
We tried to only buy things that were reusable to ensure that not too much was just wasted; we now have beautiful memories of our wedding throughout our garden and house.
We decided that our tables would be named for some of our favourite places and added souvenirs to the tables to reflect our fabulous trips.
Our tables were furnished with delicious Winter Vodka made by my dad. Bridesmaid-made tartan scrunchies for all the girls added a keepsake favour and a ceilidh hair saver!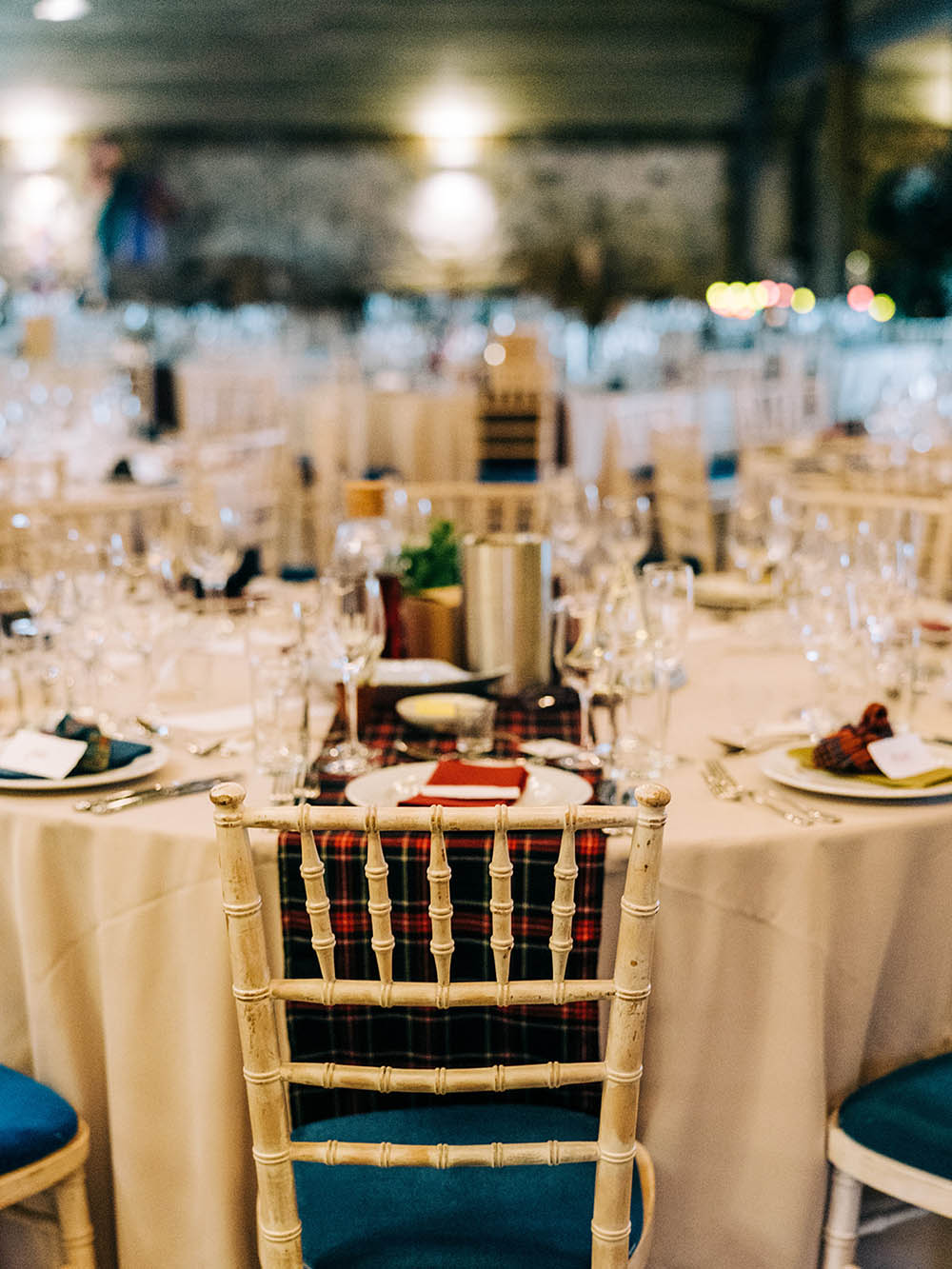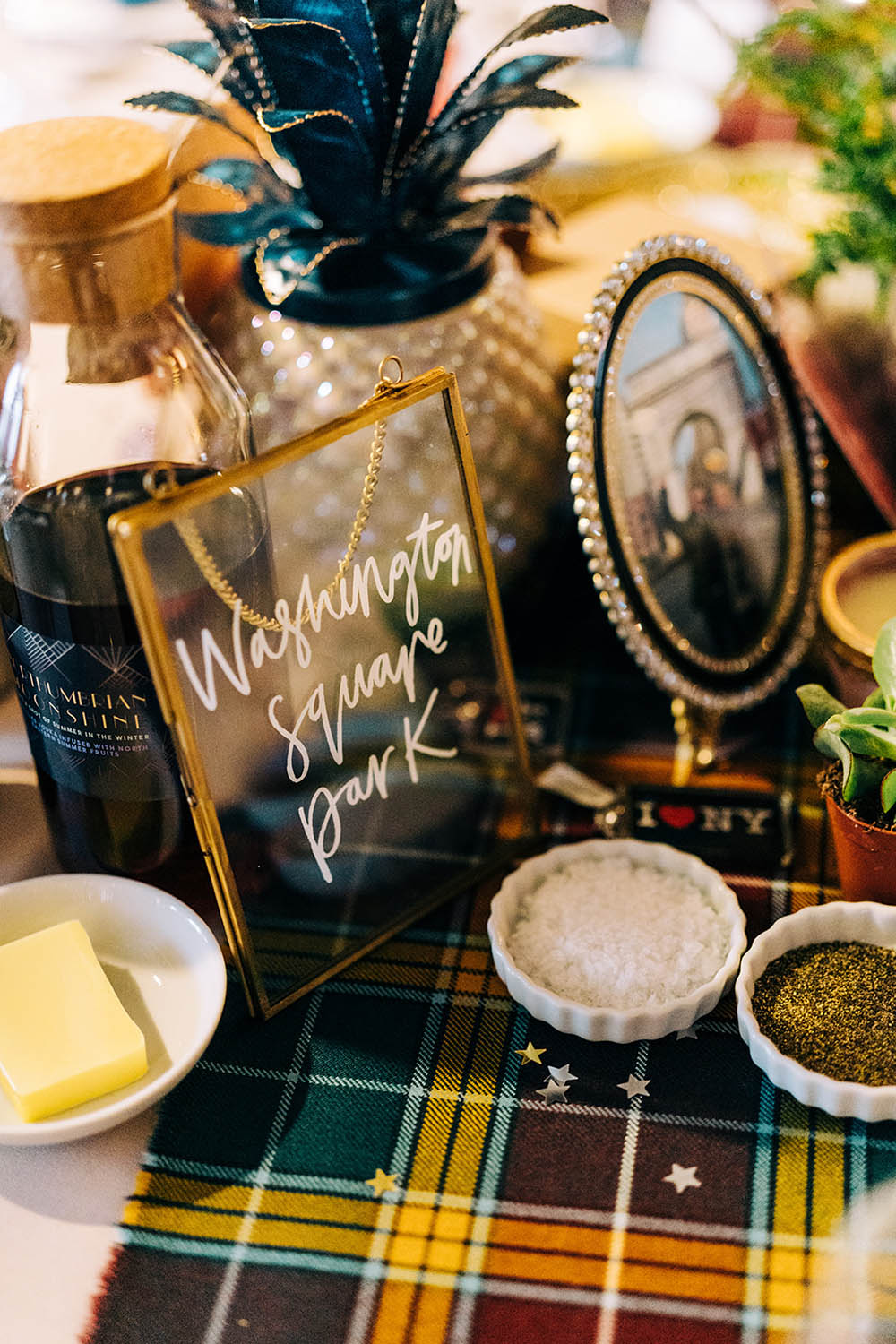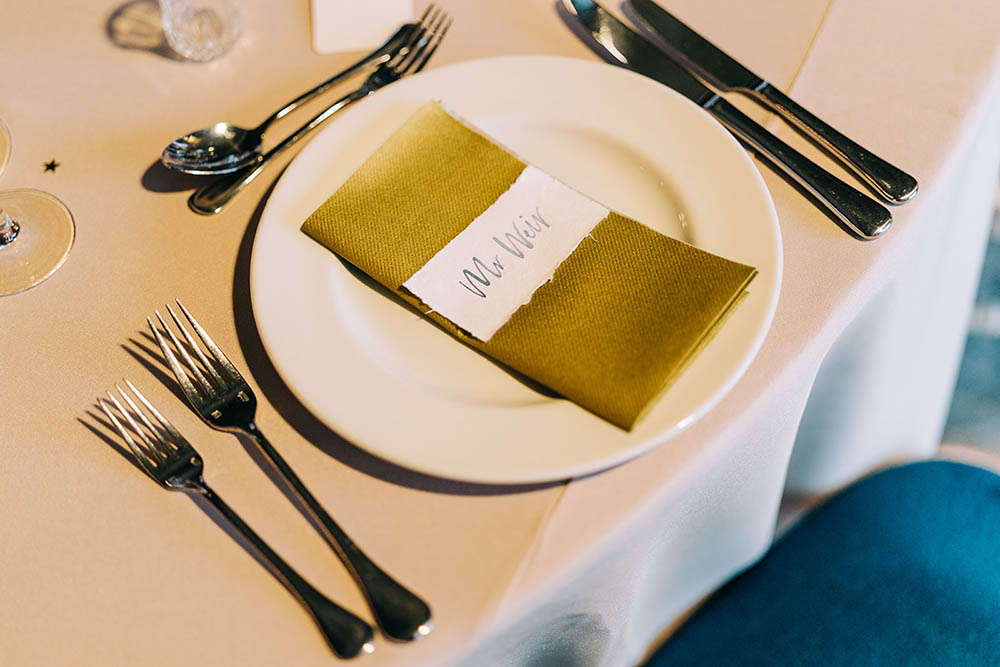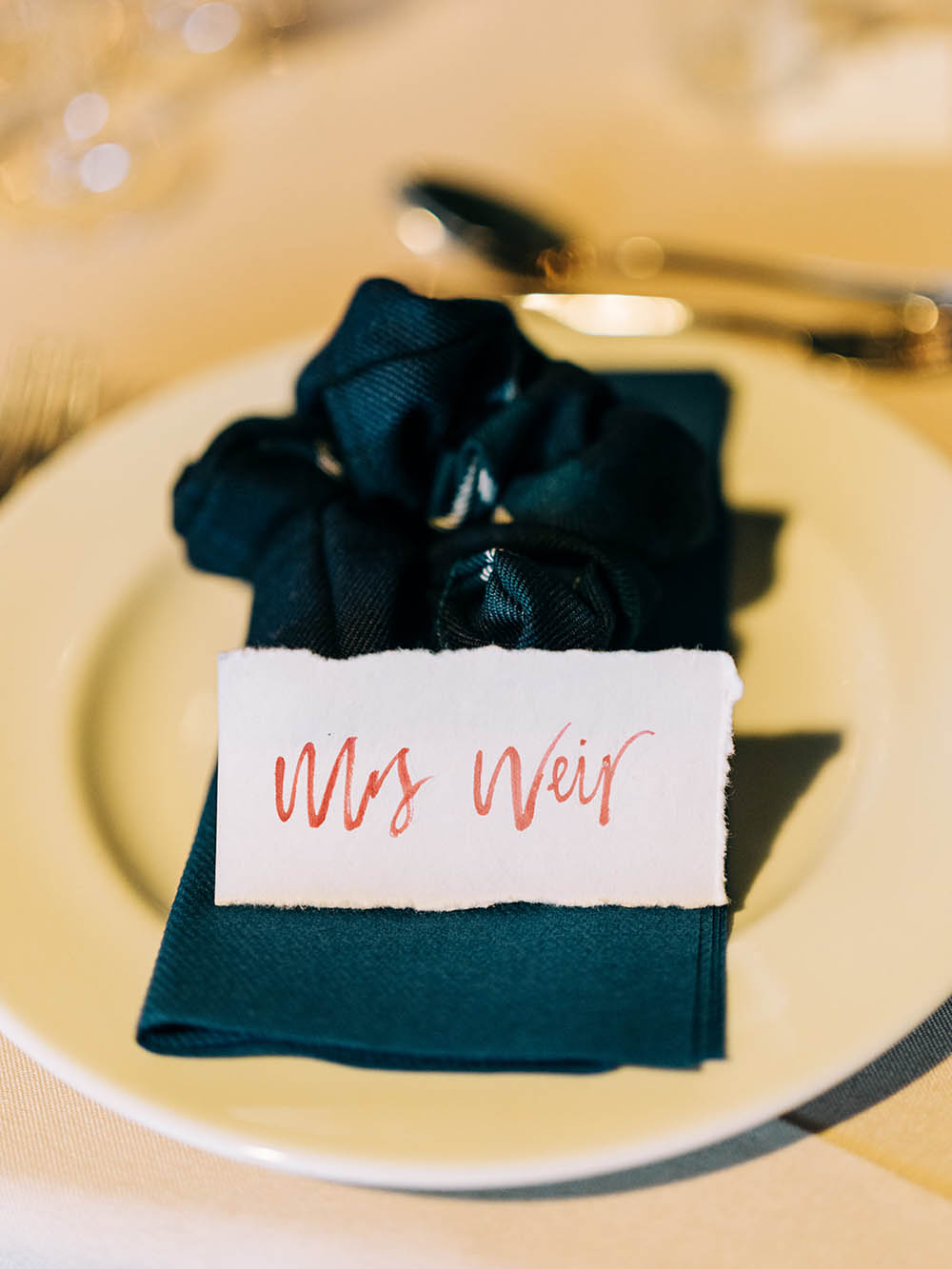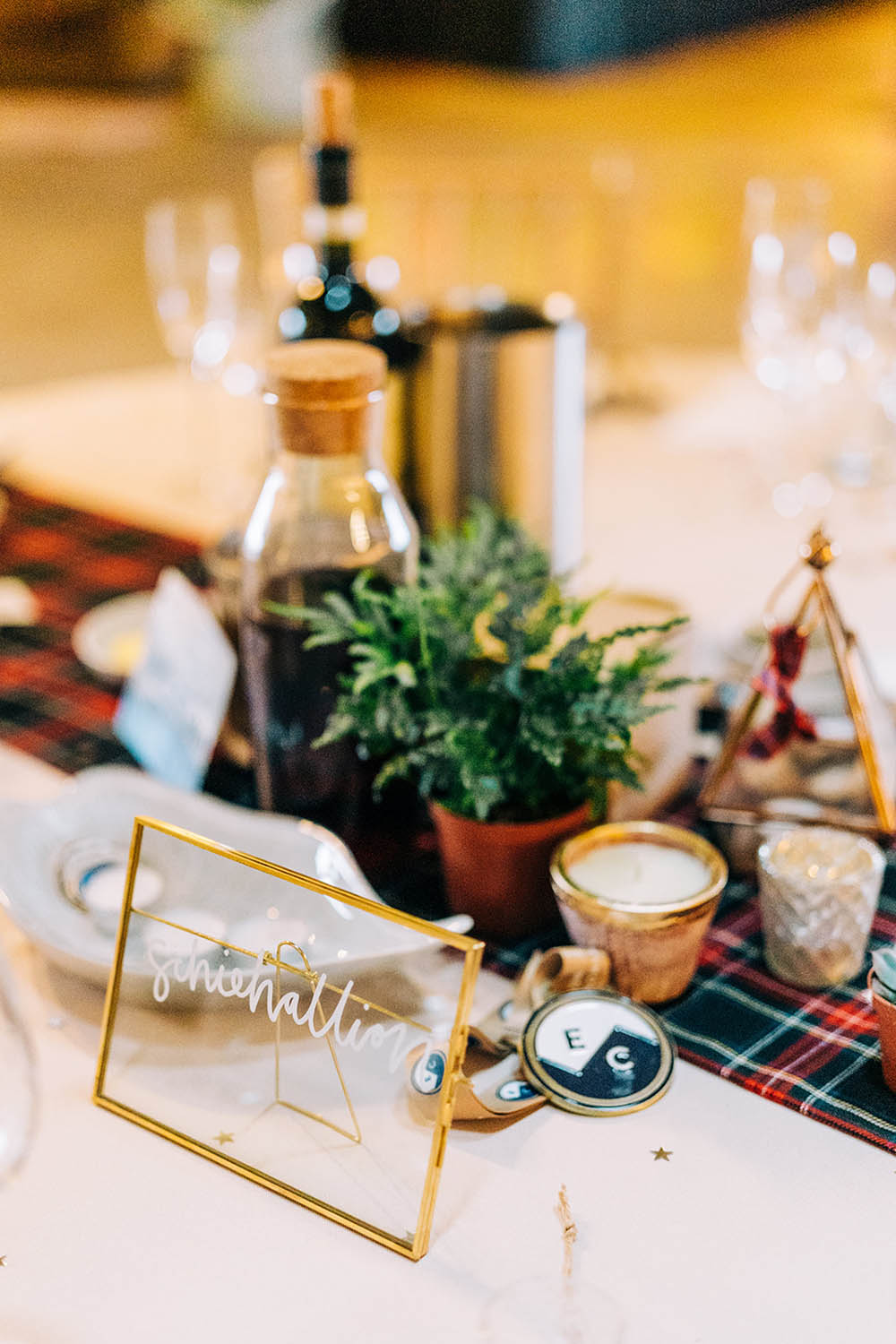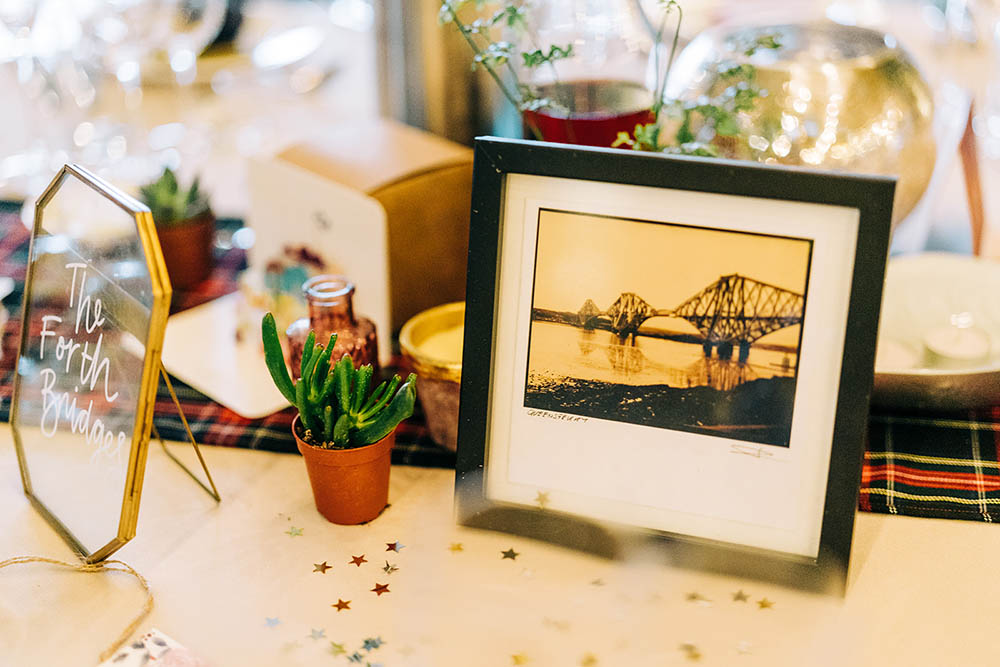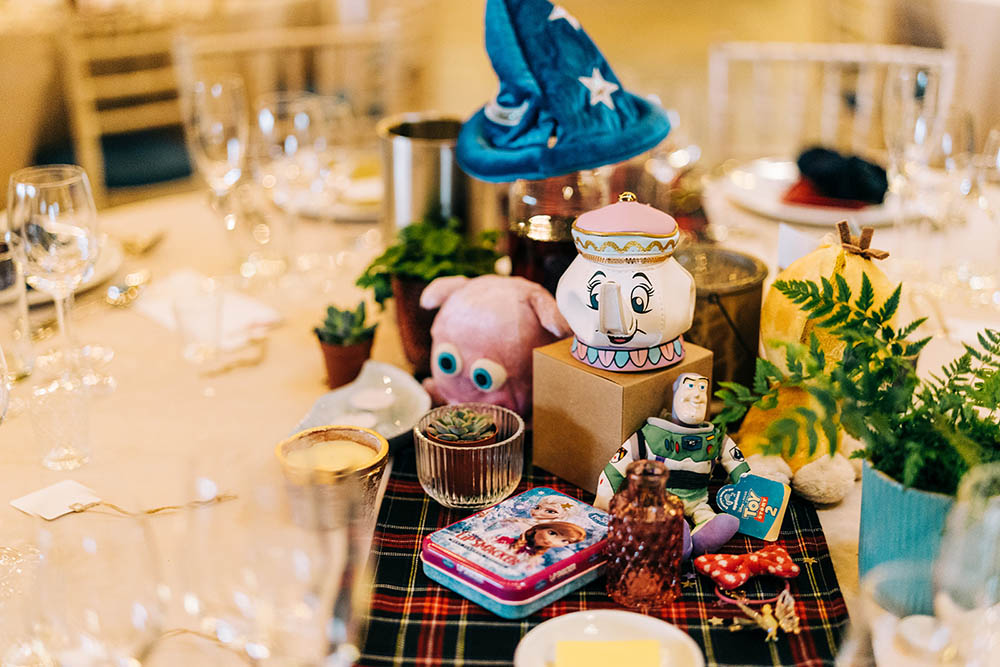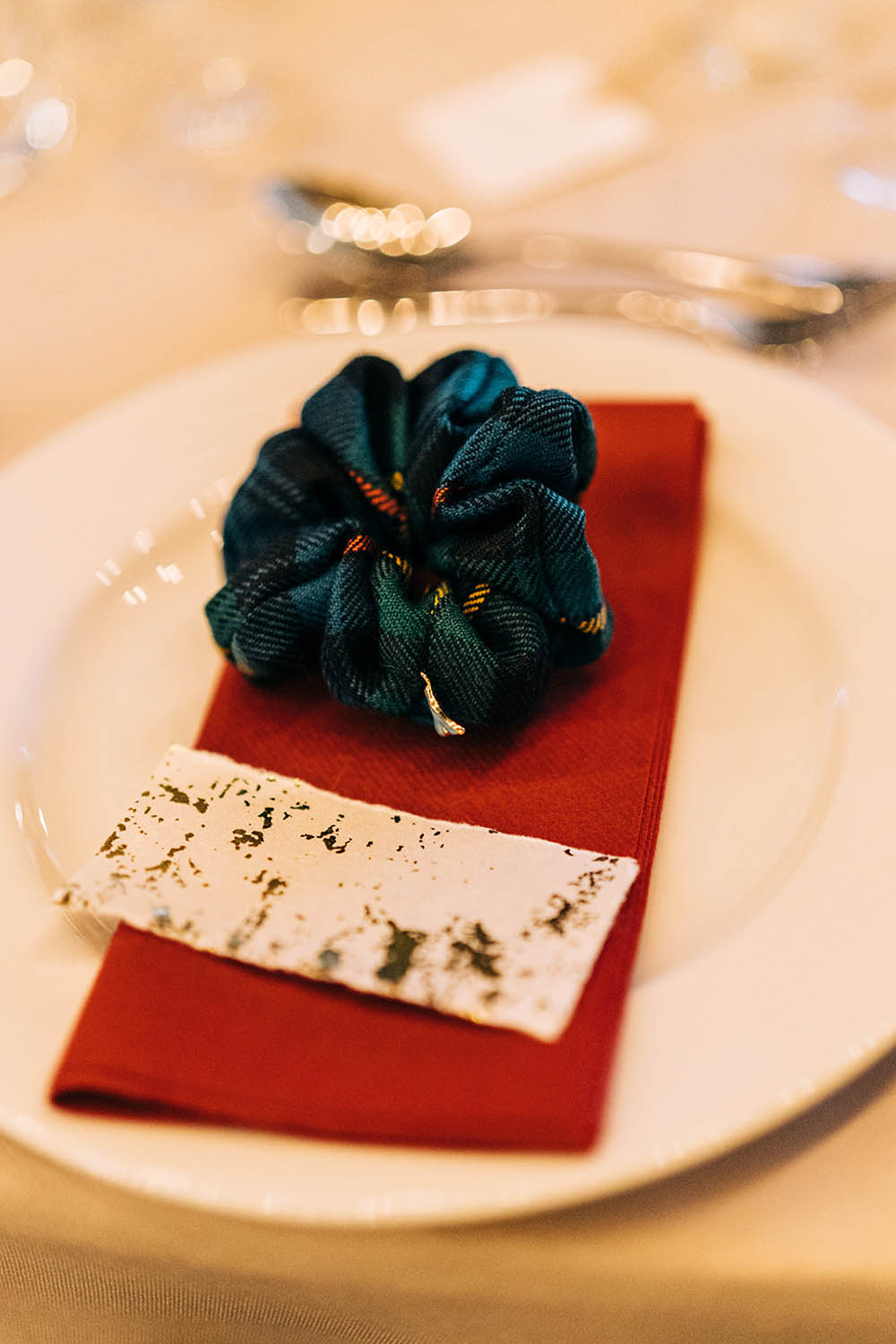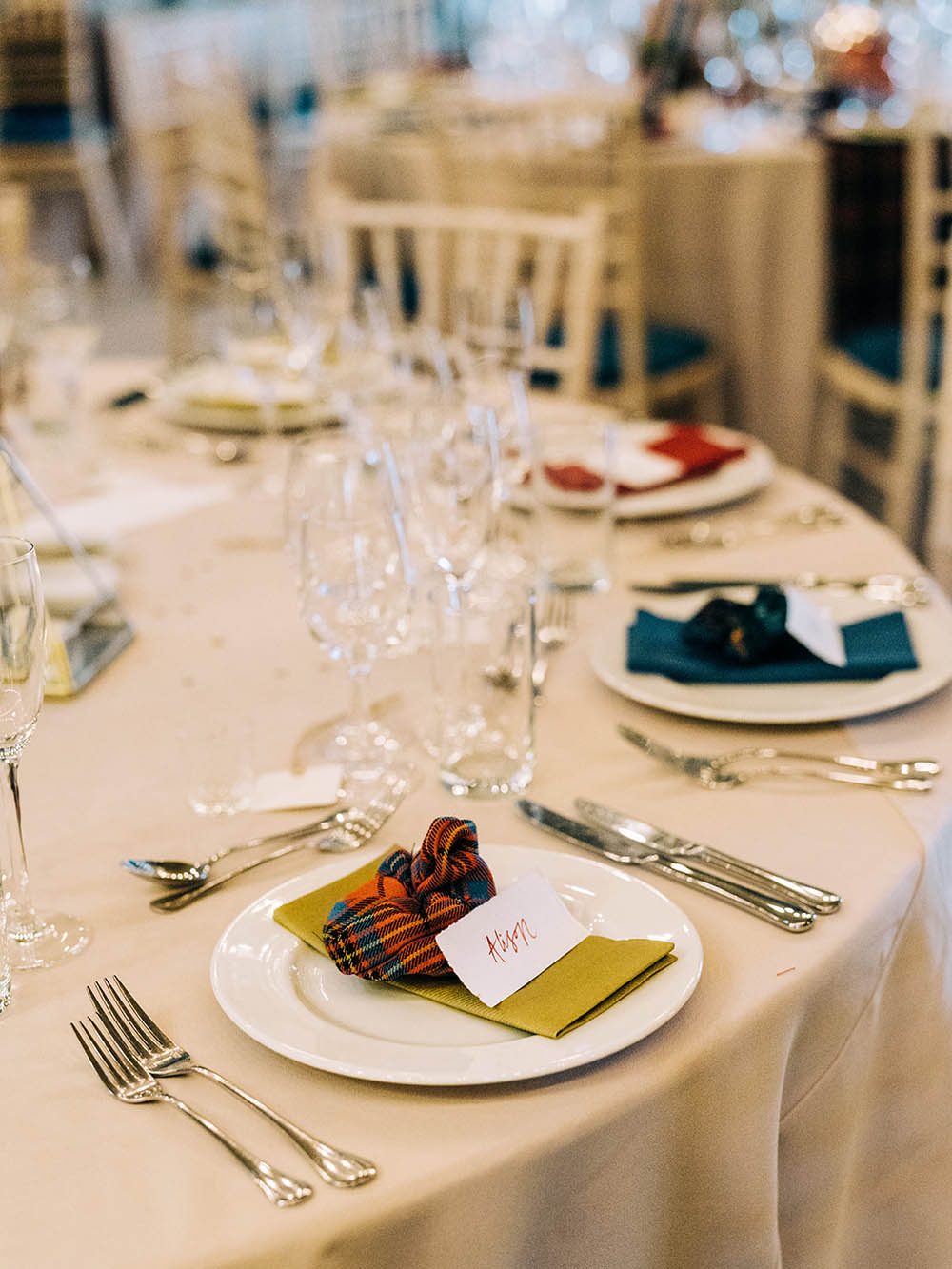 I wore the most beautiful Sassi Holford dress.
The material in the sample dress is striped and although it was beautiful I wasn't sure that the stripes were for me – however we discussed keeping the top stripey and changing the skirt to a wonderful organza silk.
To complete my dress I had made a beautiful lace jacket with a straight neck to keep my ceremony look more demure, this also led to a lovely change to the feel of my dress for our first dance.
To top off my outfit I took my cousin's idea of having a shawl made from Fraser's kilt.
The girls in Nicolsons were extremely helpful when he was choosing his kilt outfit, and were pleased to help with the shawl idea, which was also embroidered with our date.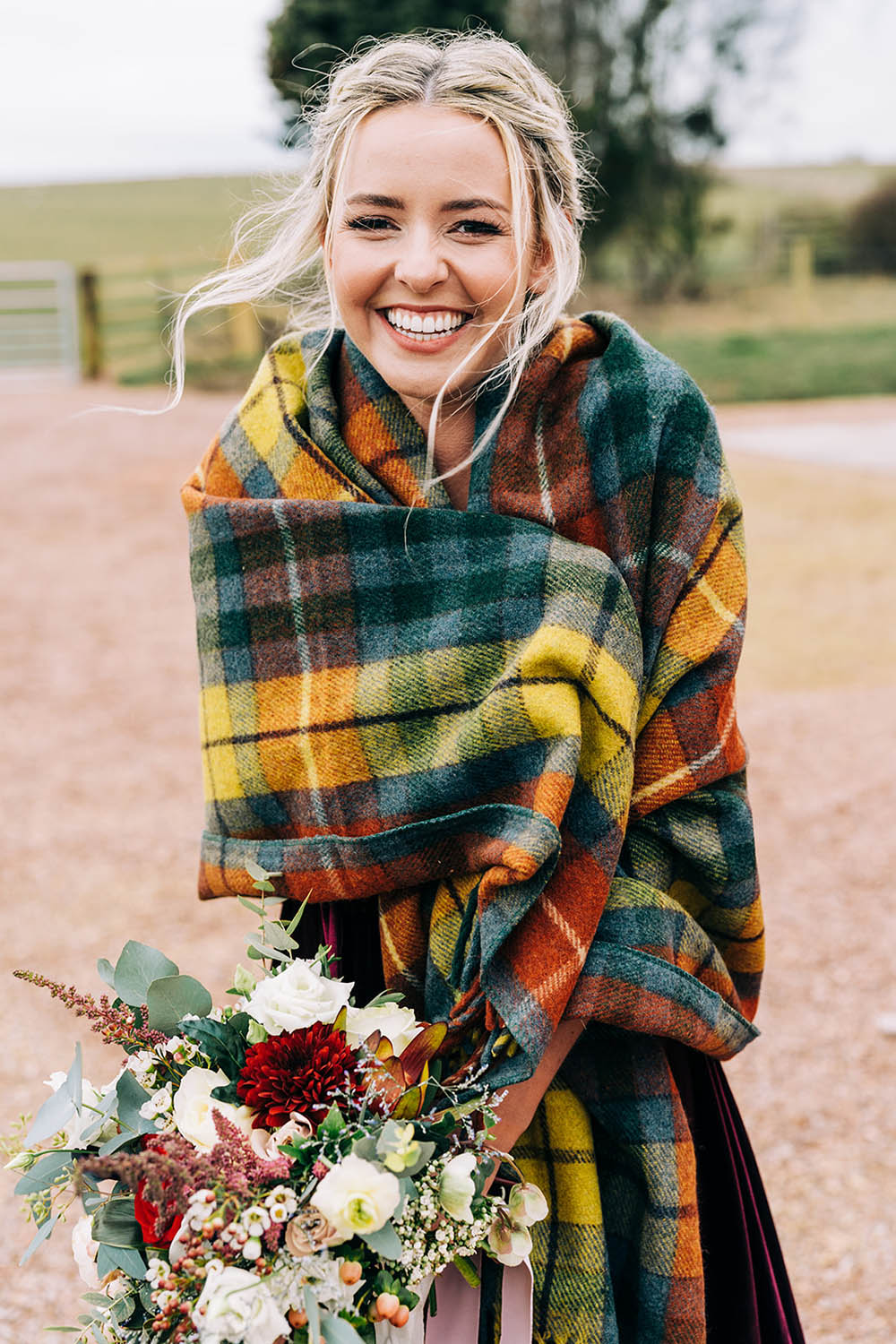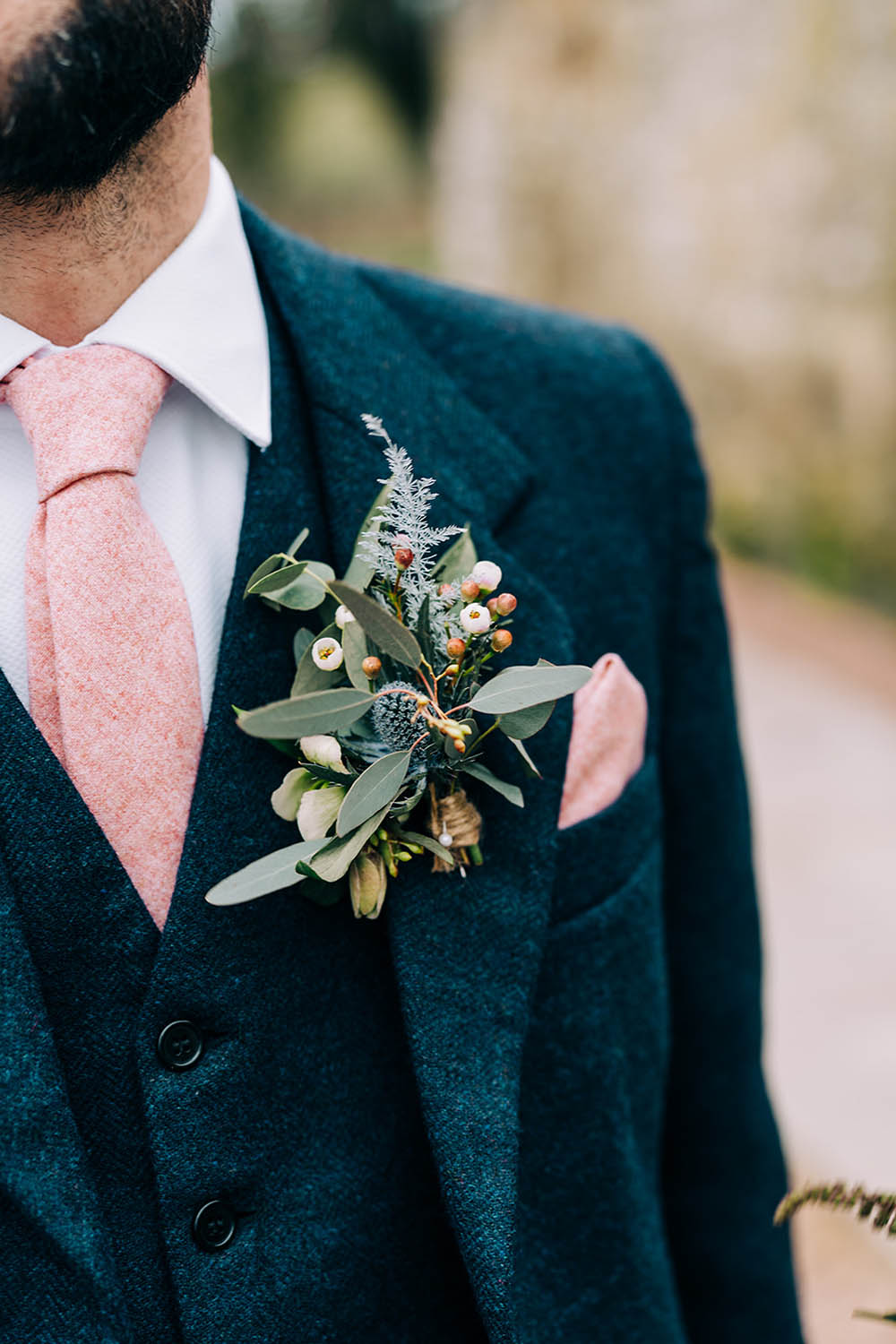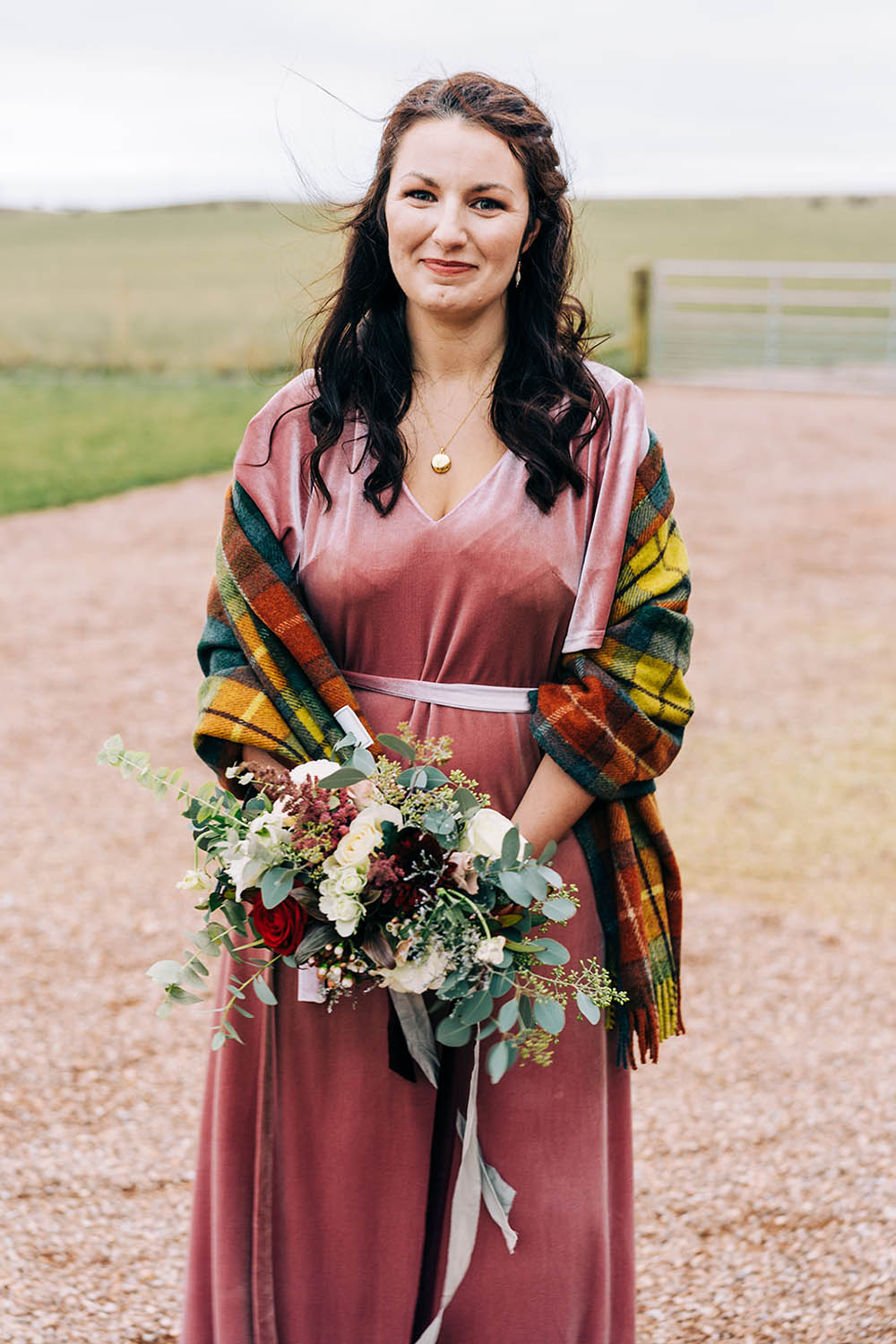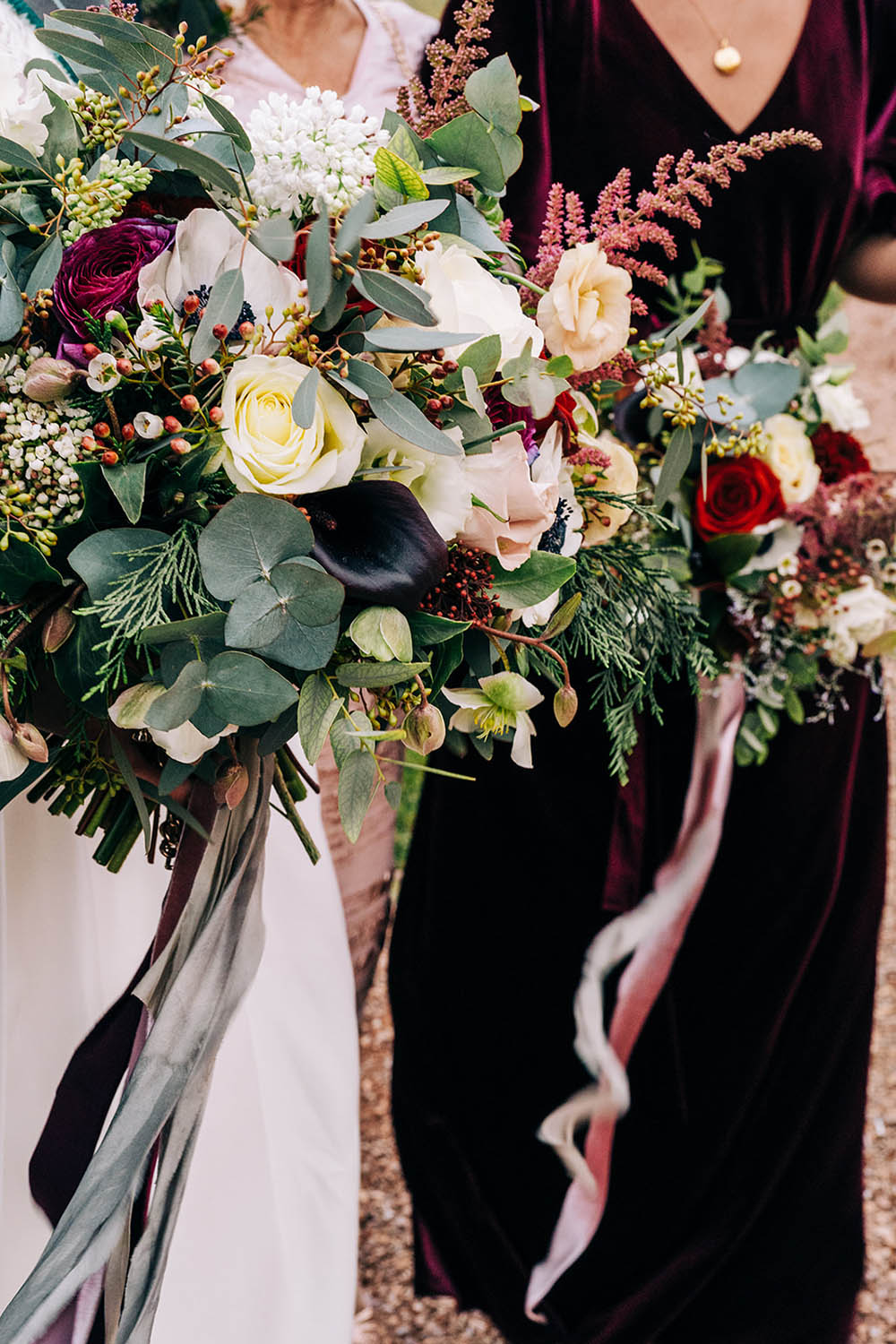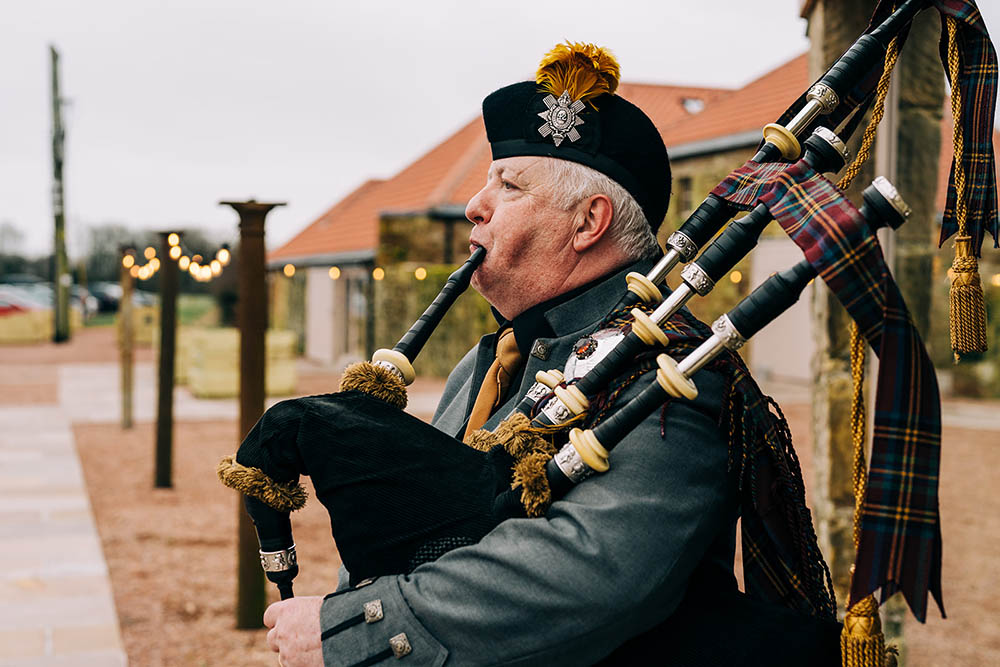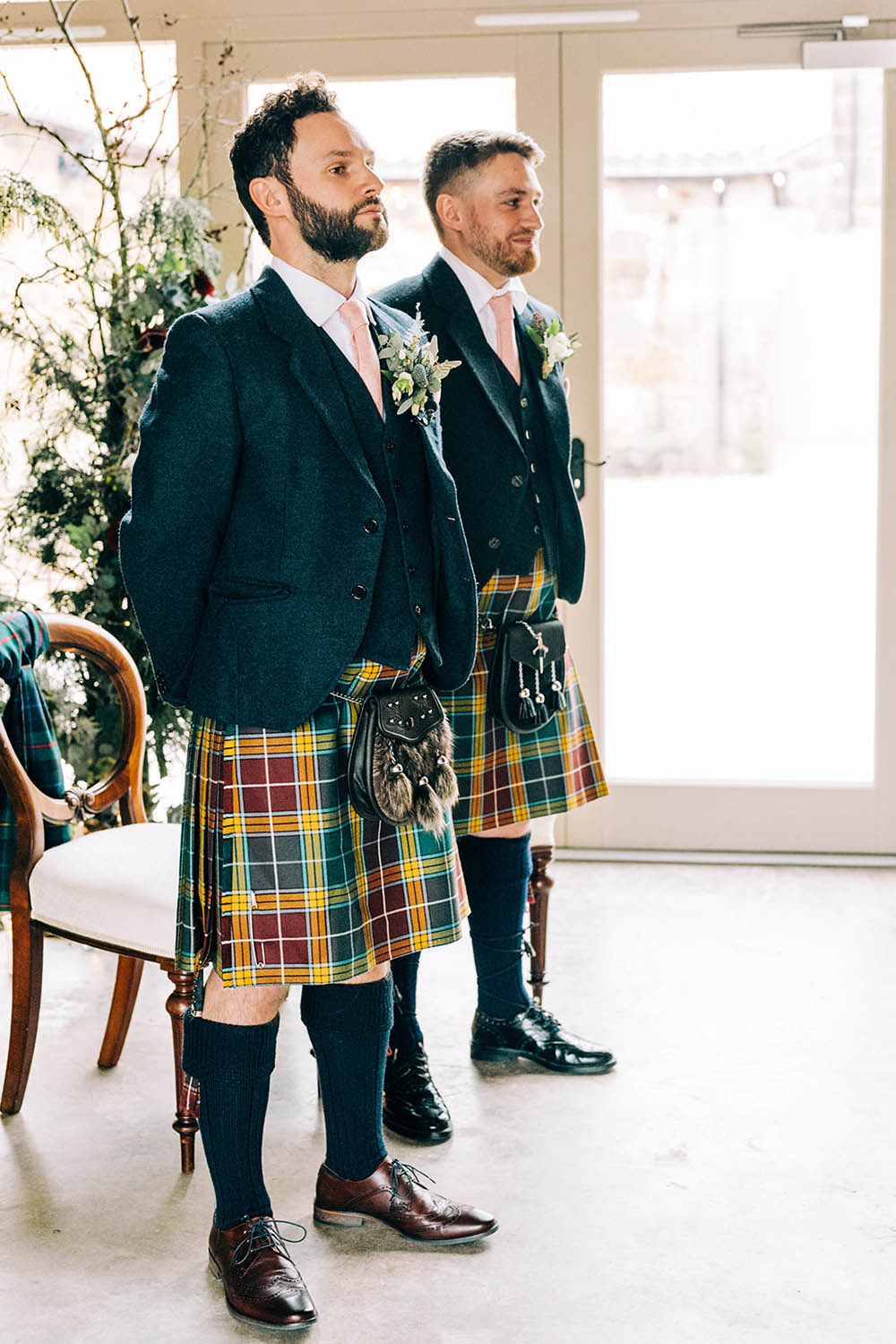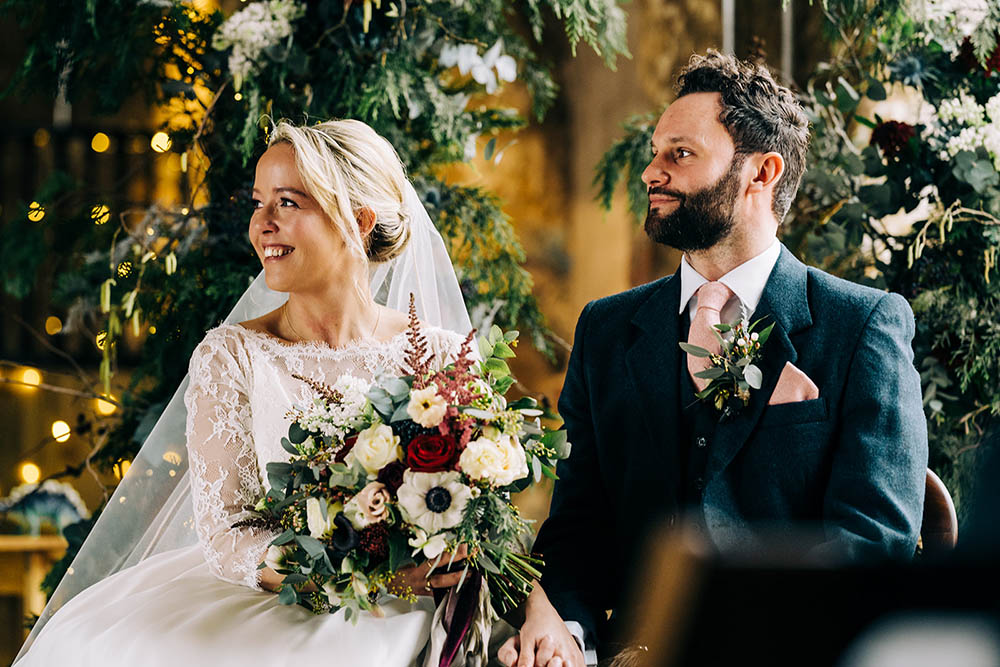 Getting to the venue and seeing Ronnie our piper outside was very exciting and surreal.
Fraser's groomsmen were waiting and opened the door for my dad and I.  Then seeing my maids for a few more minutes – a quick practice of our walk, and then .. seeing all of our people in the ceremony room with Fraser at the top!
Fraser and I are very close to our families and Fraser's Uncle Douglas is a newly retired minister of the Church of Scotland.
It was such an honour to have him agree to marry us – and during our engagement it was lovely to get to know him more as we planned our ceremony with him.
Douglas' ceremony for us was so thoughtful and great and we both enjoyed it – and have been told by friends and family that it was lovely.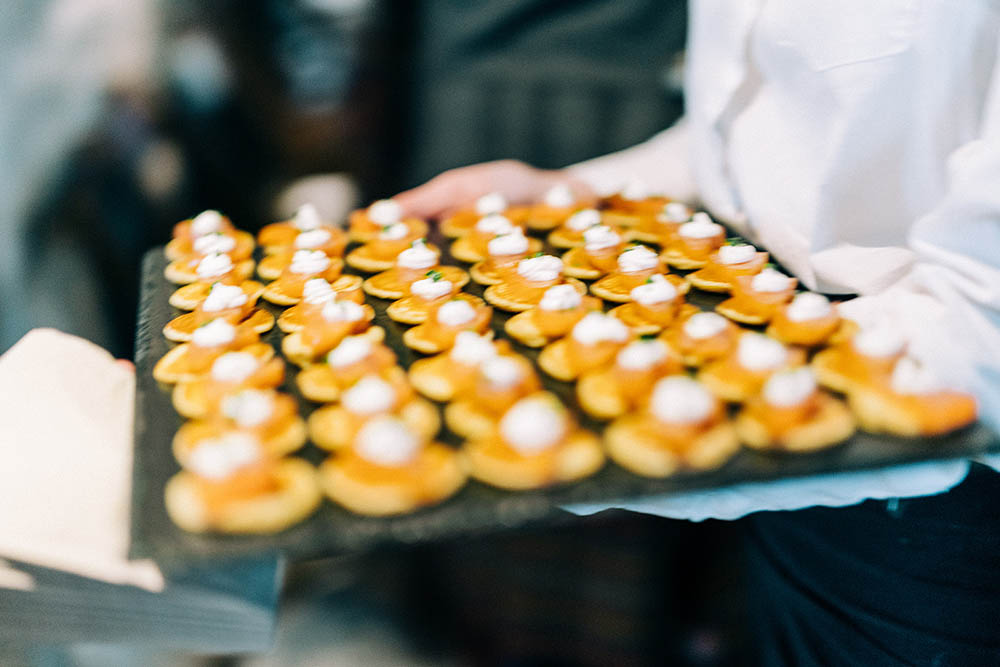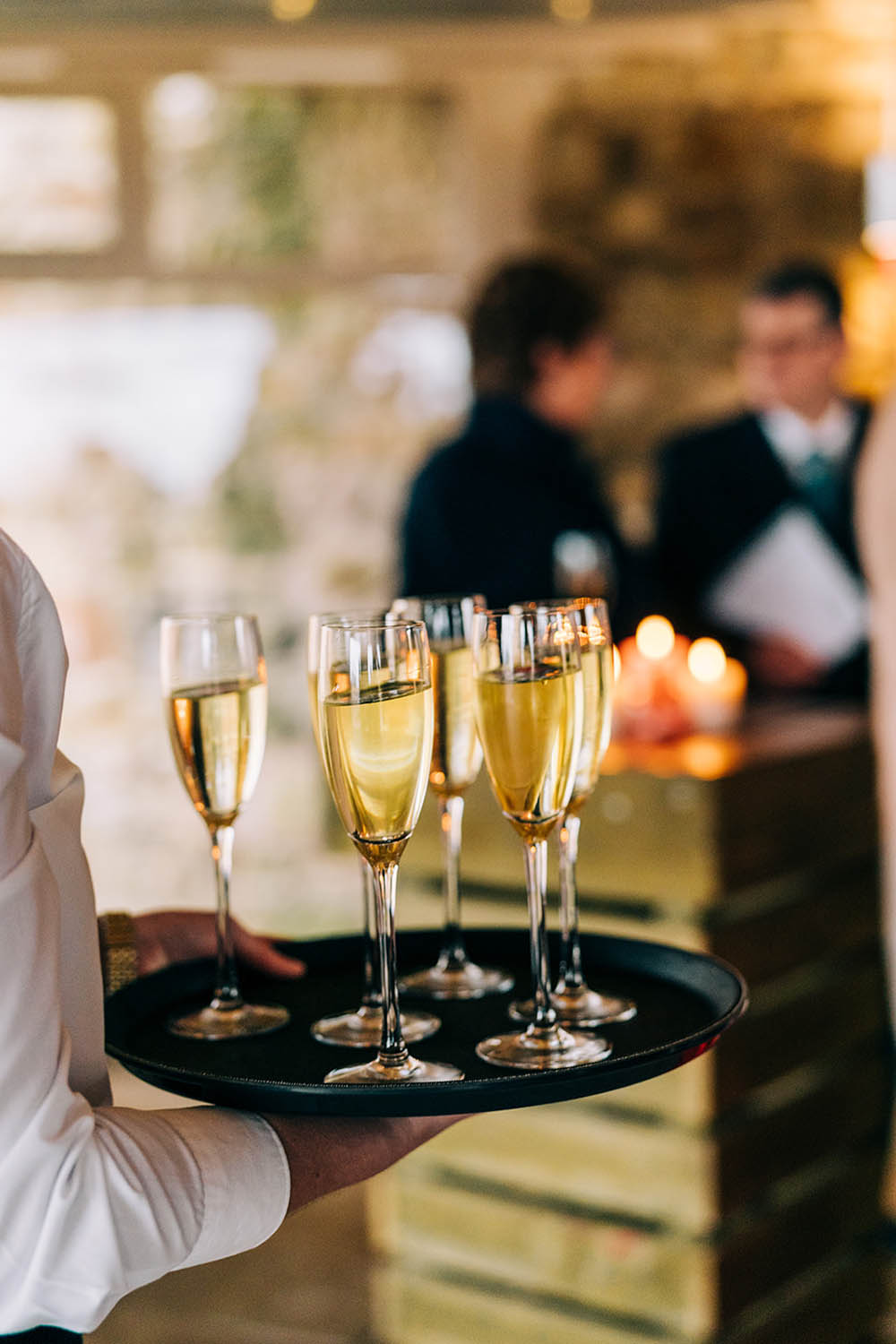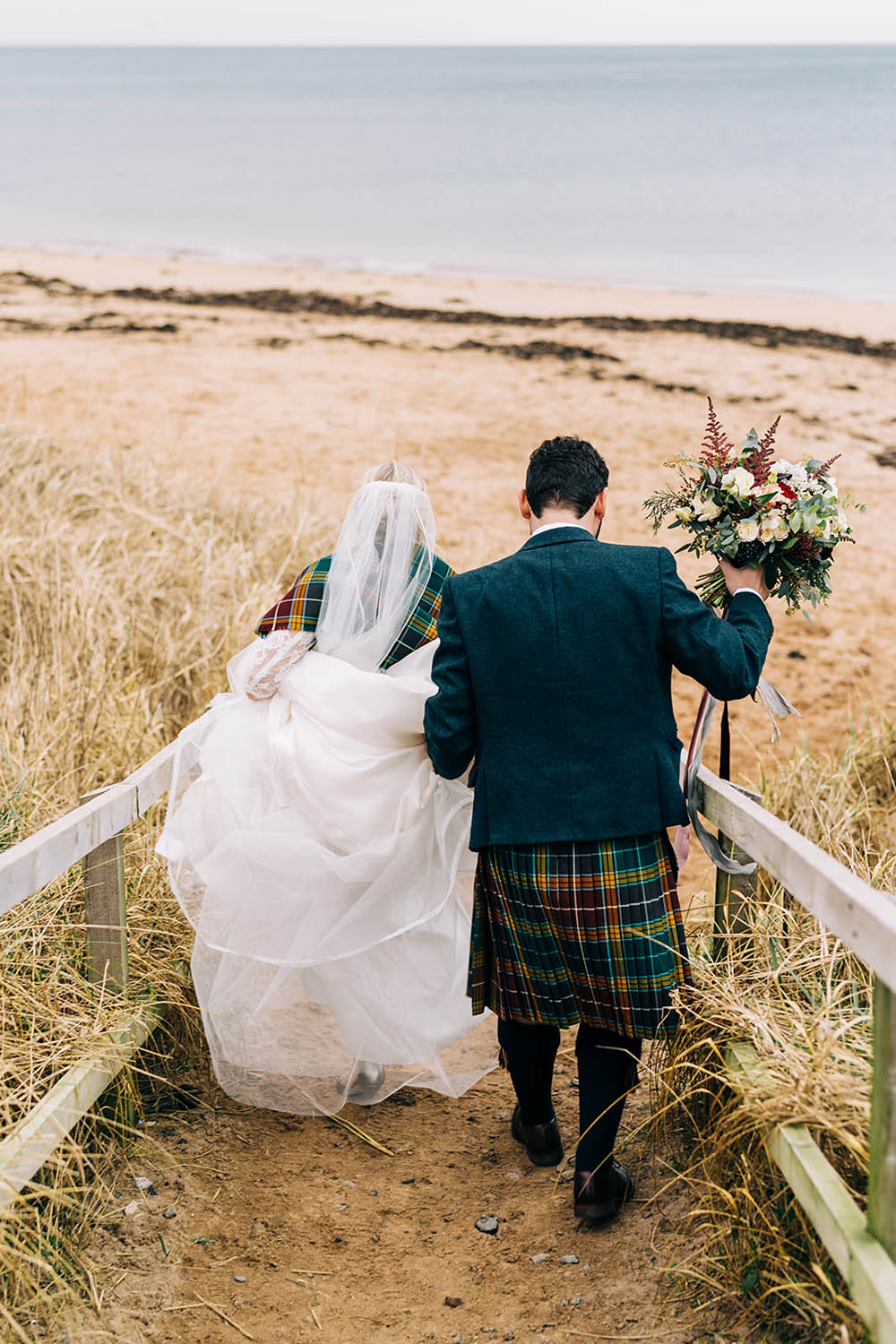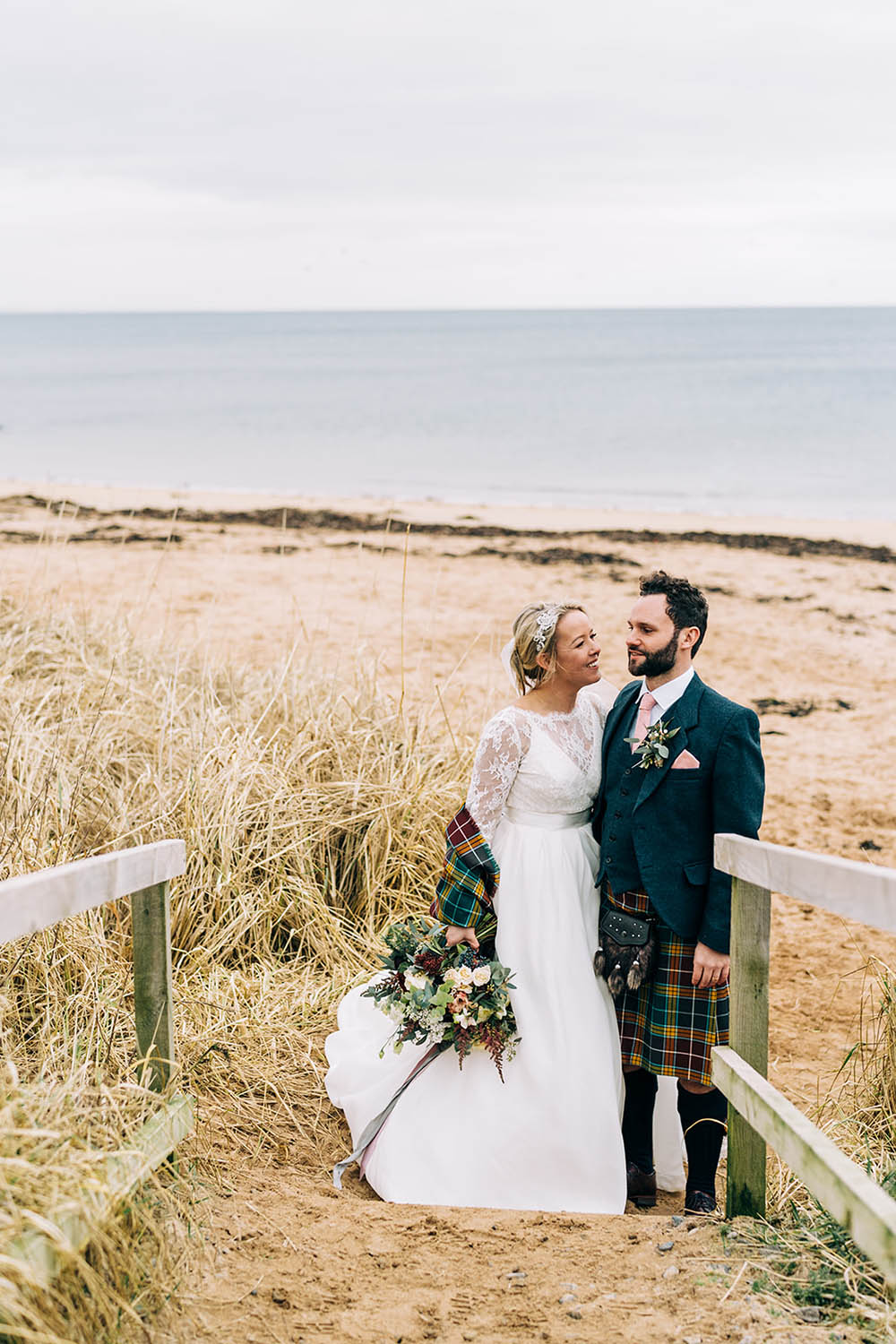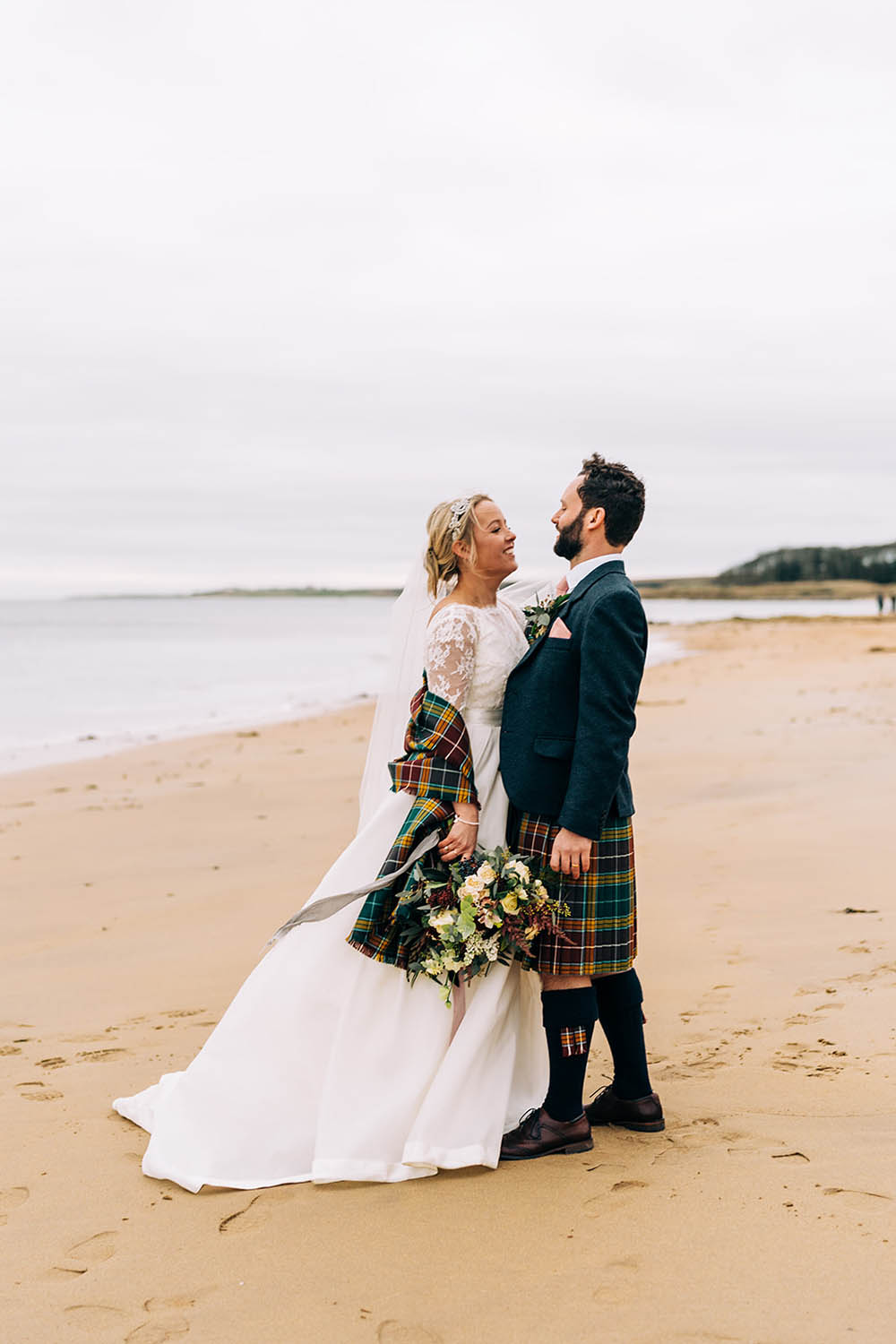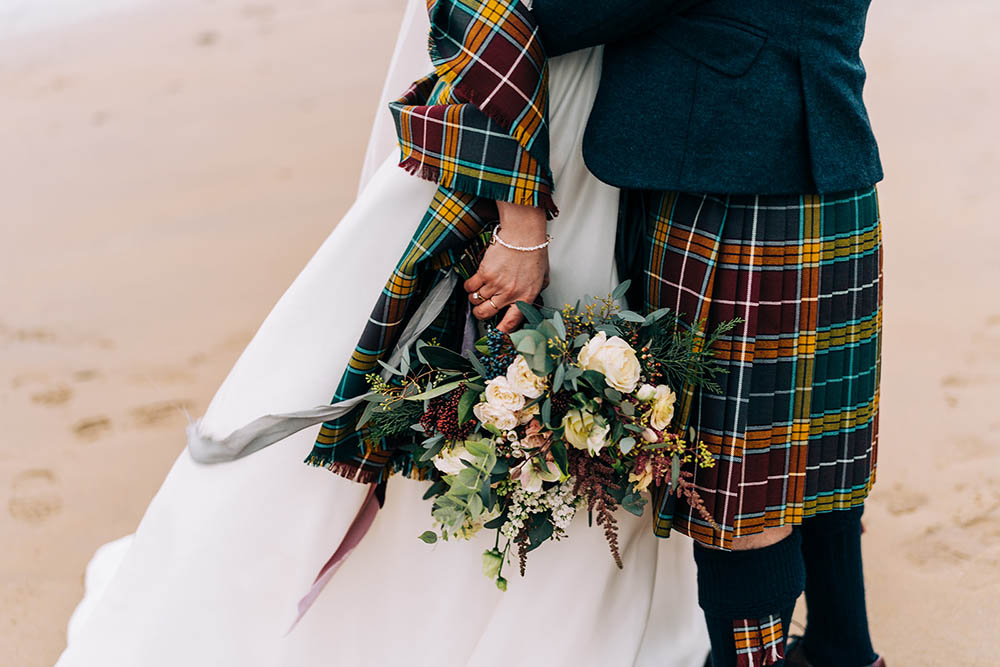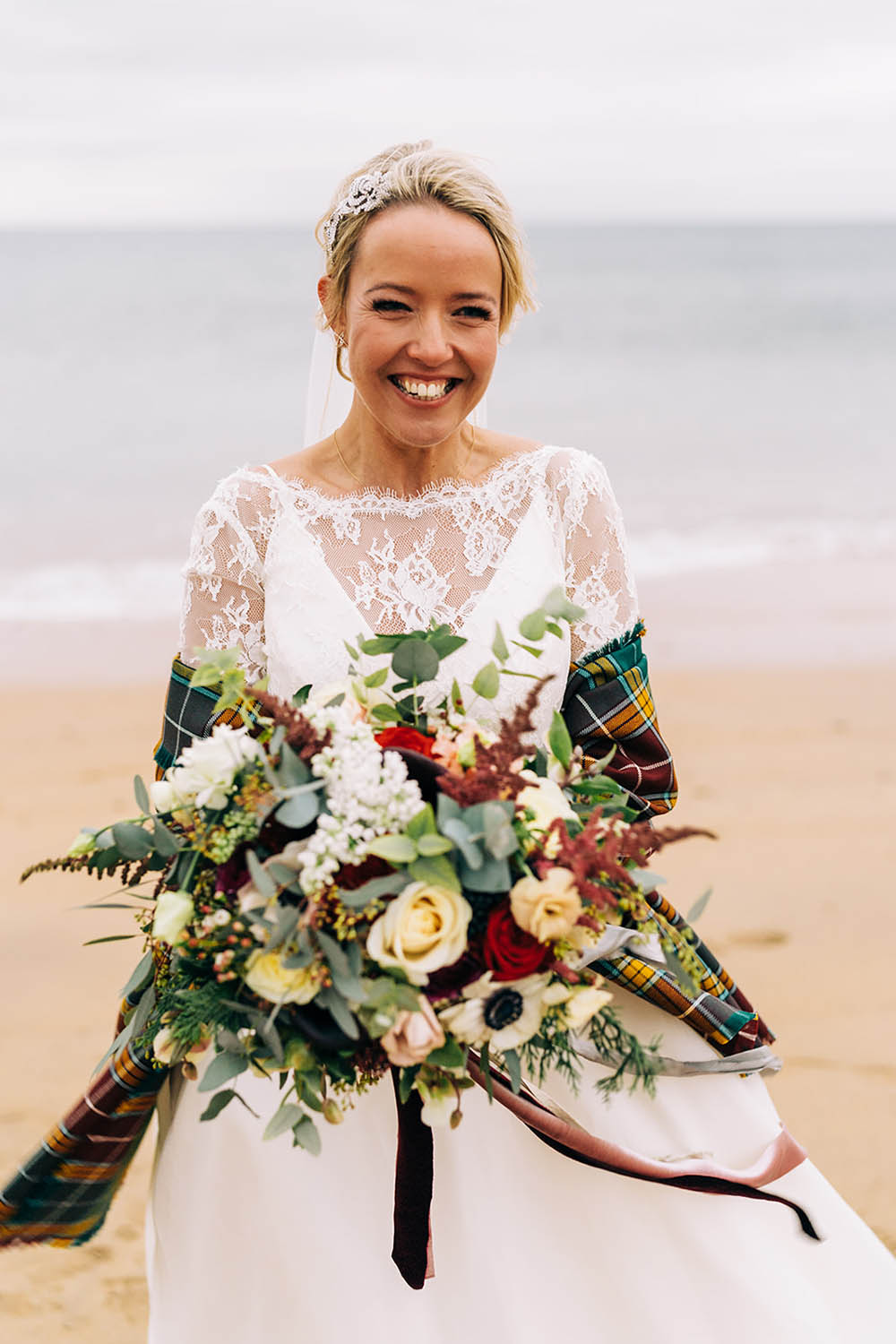 Cremant and canapés flowed and everyone just looked like they were having a great time.
Zoe and Rob, our photographer and videographer, knew  we were keen to sneak off for a little while – and we four got to zoom to the beach for an hour before dinner.
This was such a great period of time to only be with Fraser.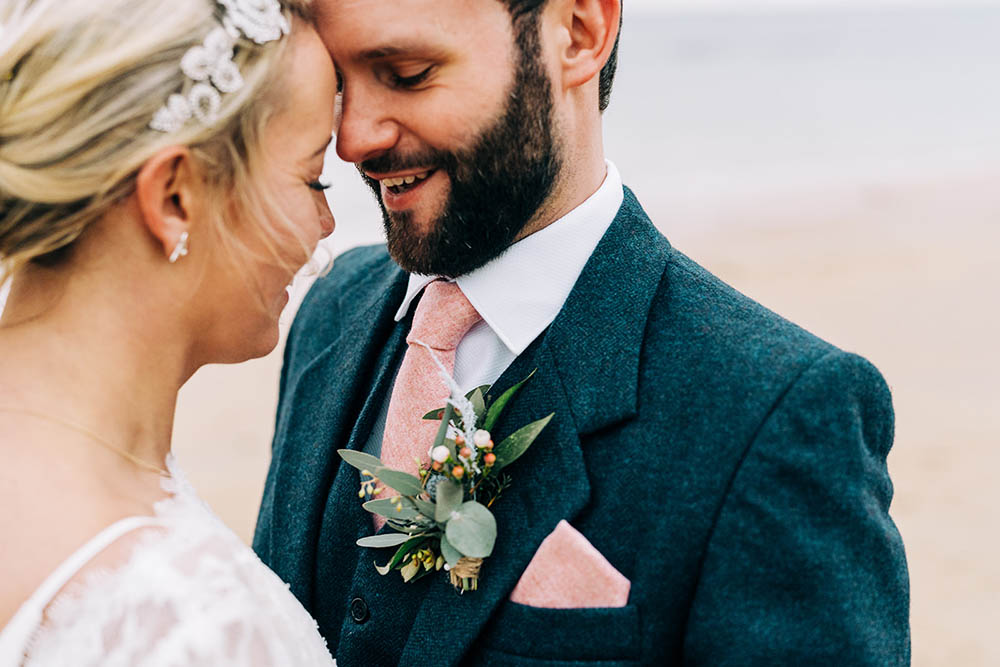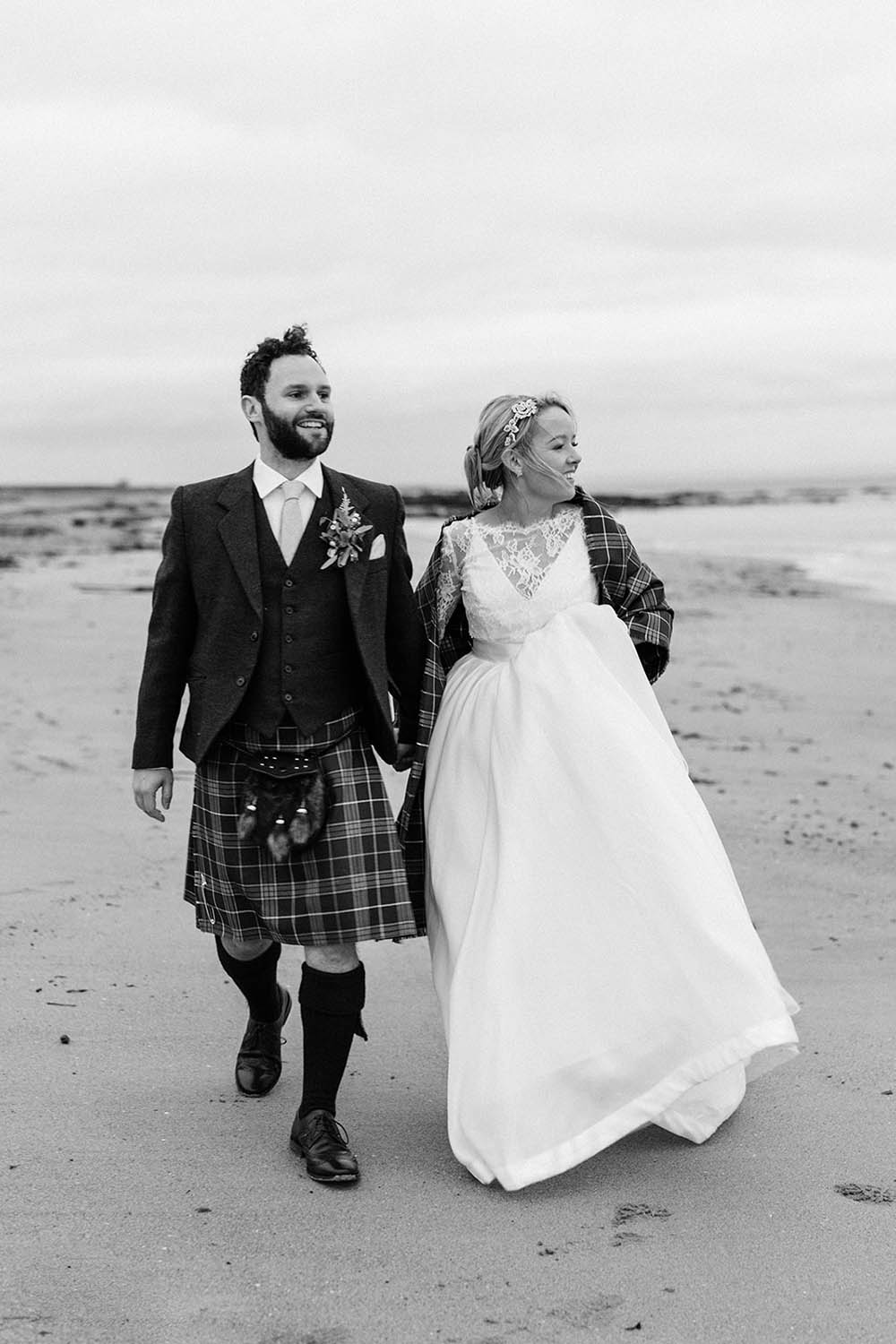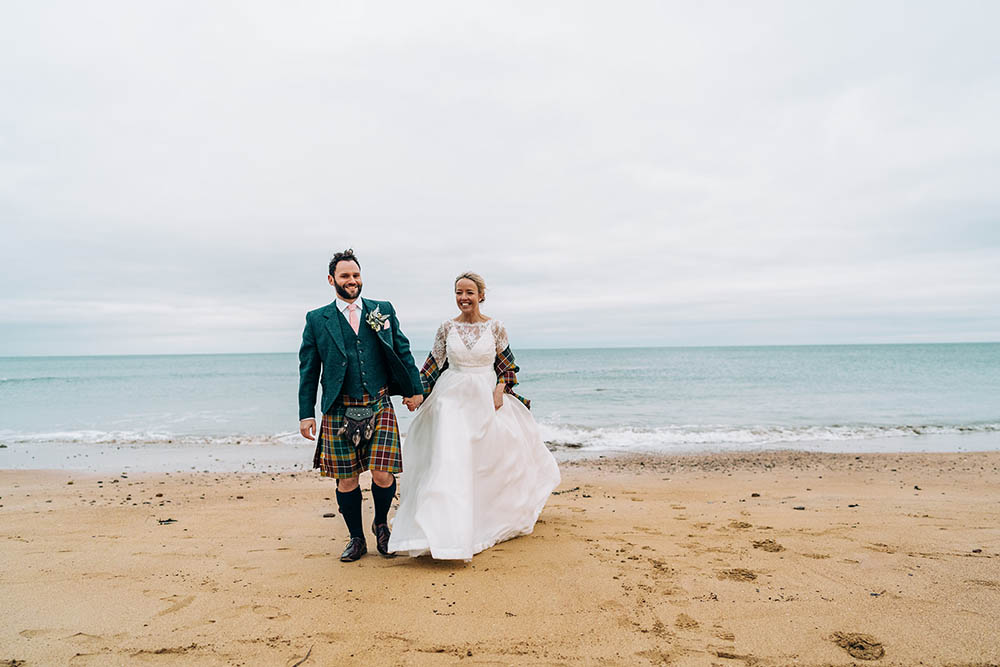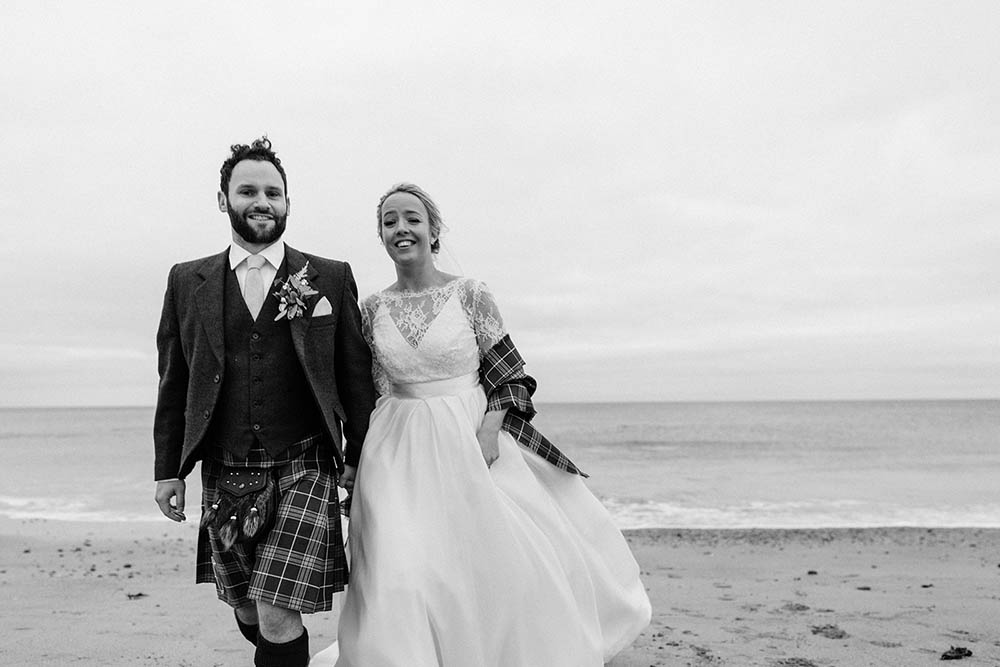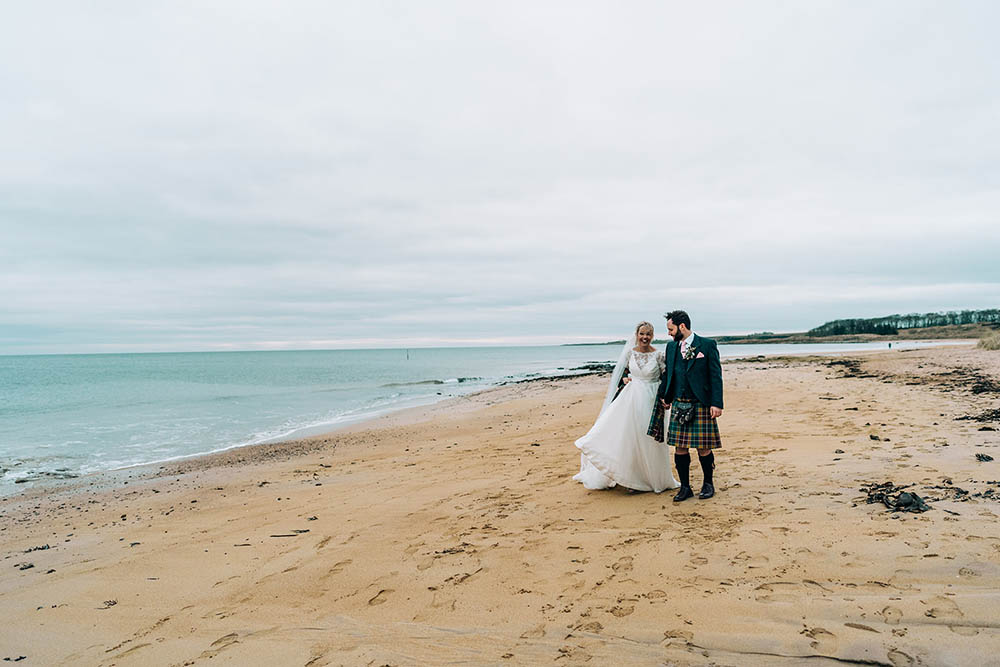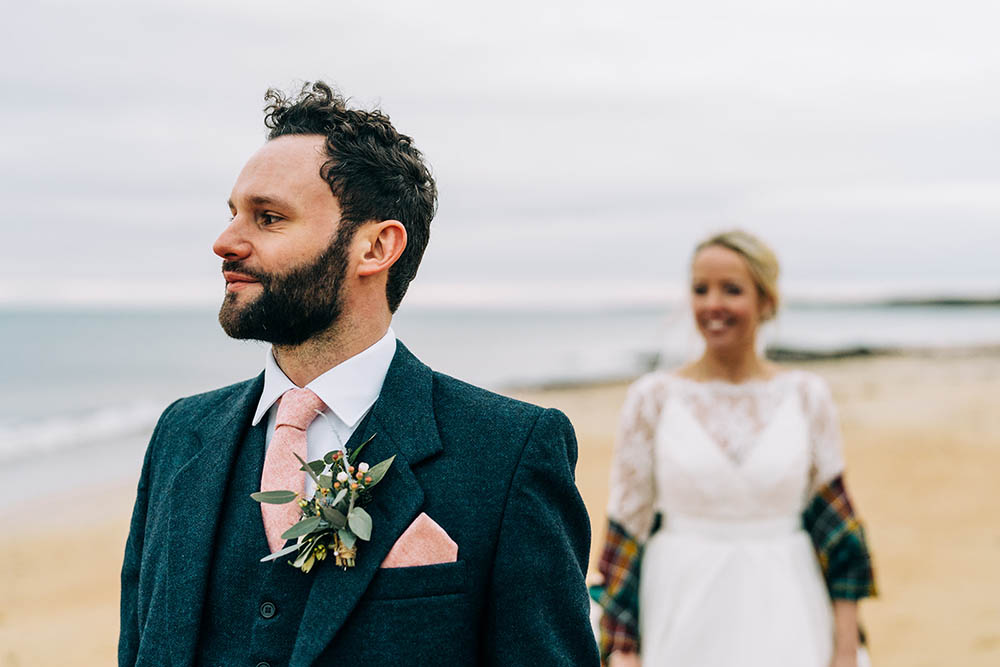 The afternoon became dusk as we got back from the beach and we arrived back to Falside, which looked magical.
Our food was absolutely amazing!
As it was 25th January we decided on a wee nod to Rabbie Burns. Each table had a nominated 'Rabbie' and adorned with their side burns and jabots they addressed the haggis and served it to their table.
As (huge) Sunday dinner fans, unbelievable rib eye beef was our main with super sides including dauphinoise potatoes and brussels sprouts. Everything was topped off with my cousins' crowd-pleasing and absolutely delicious sticky toffee pudding.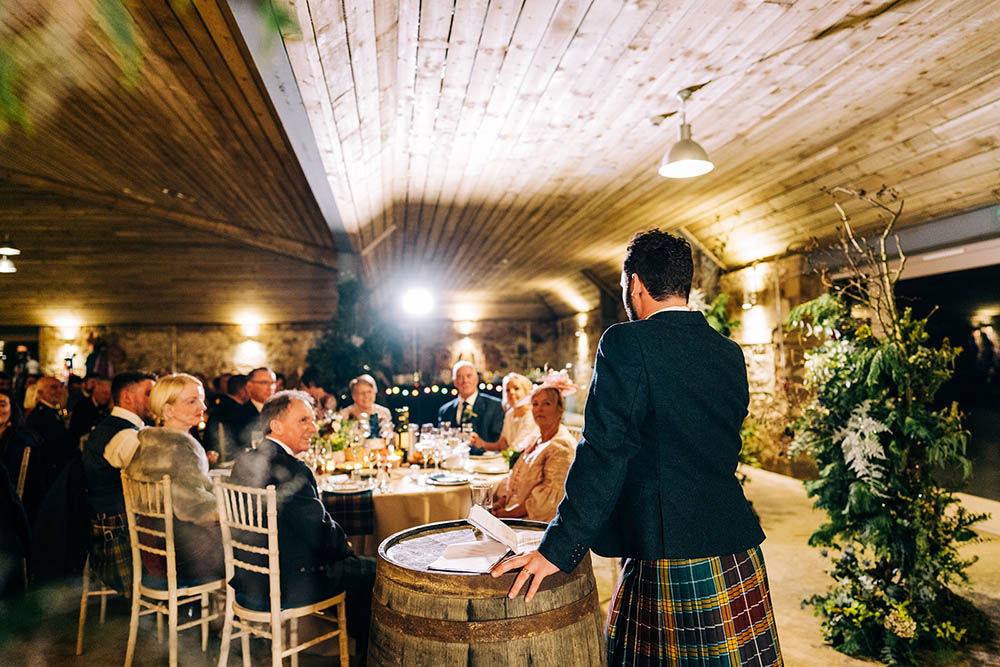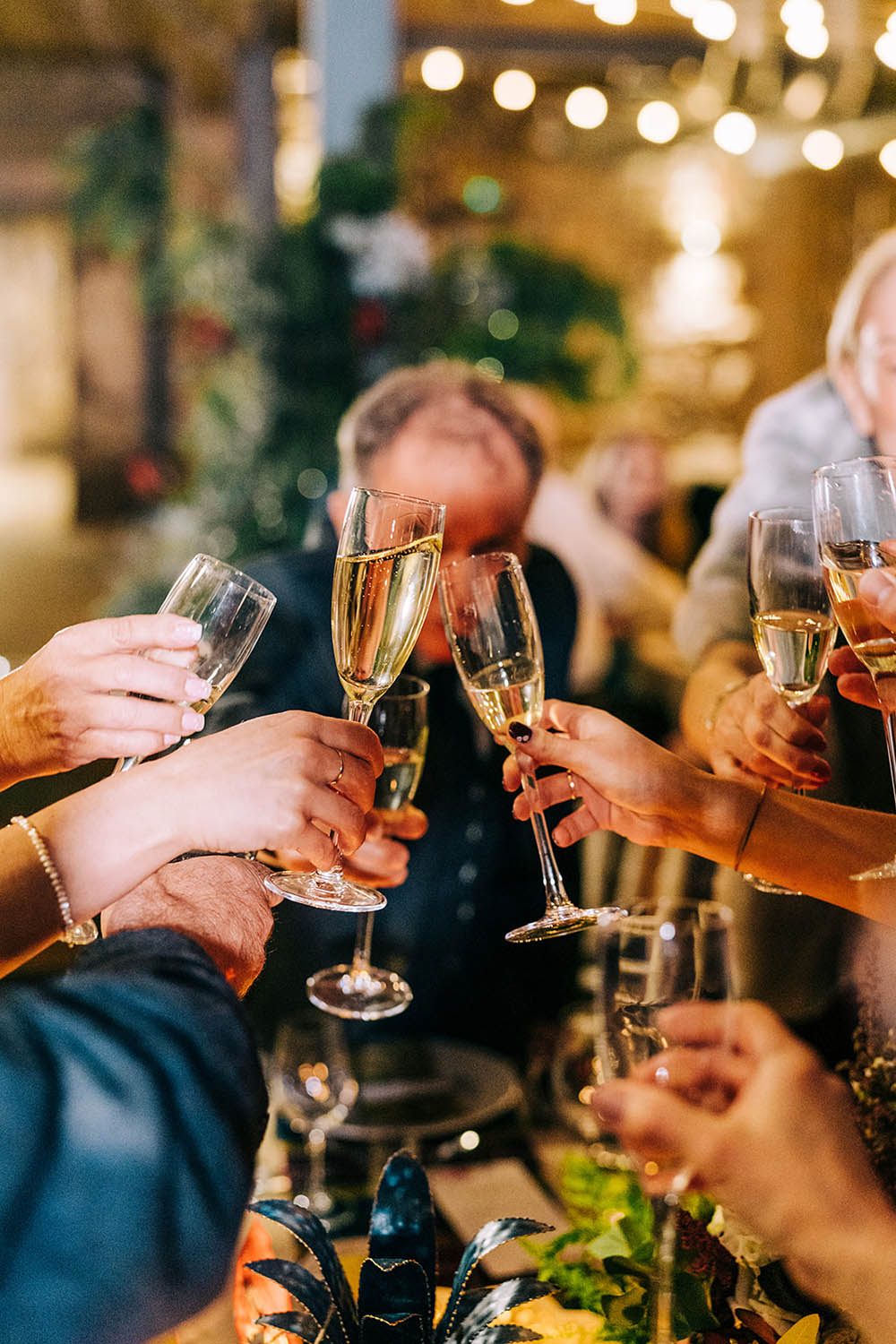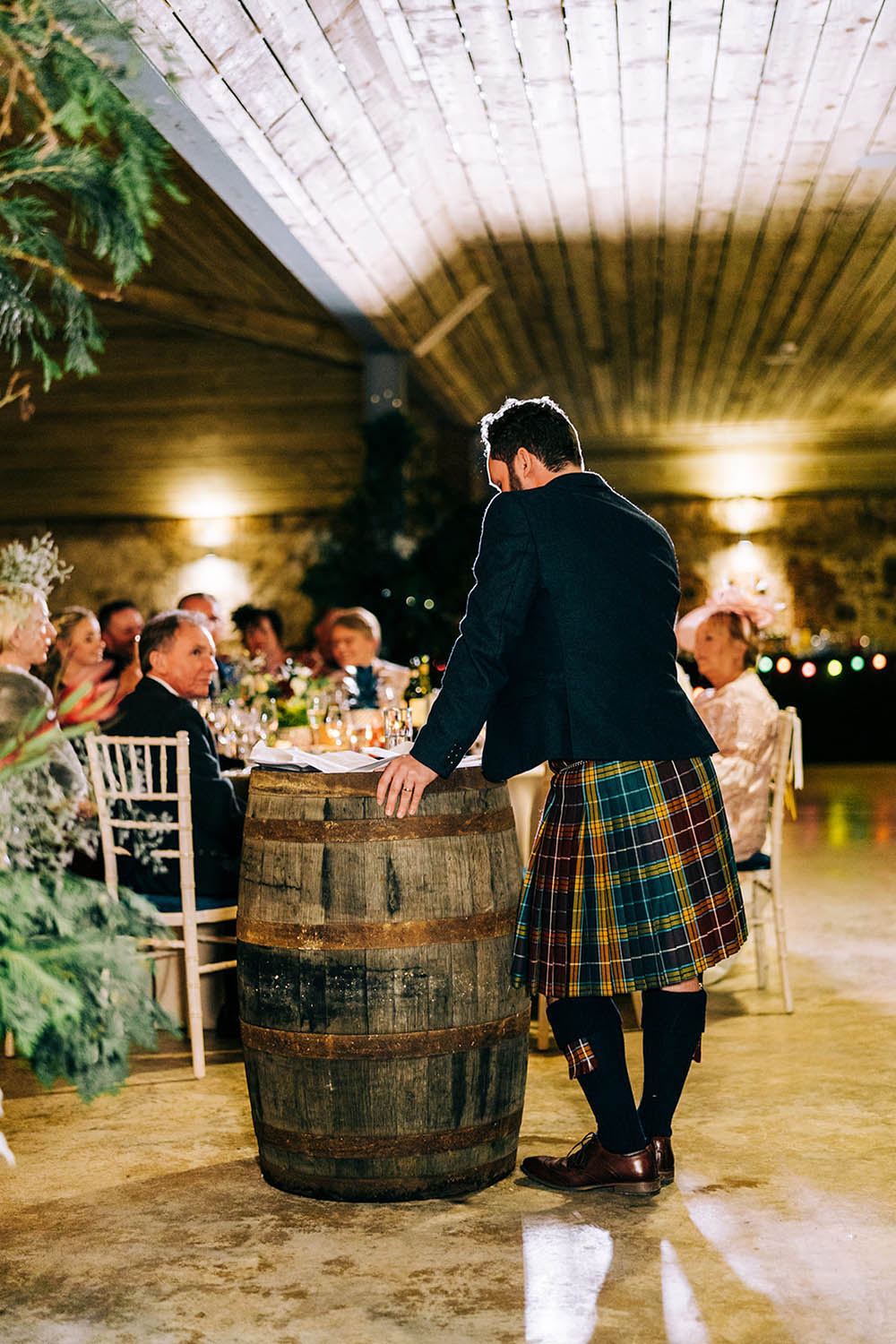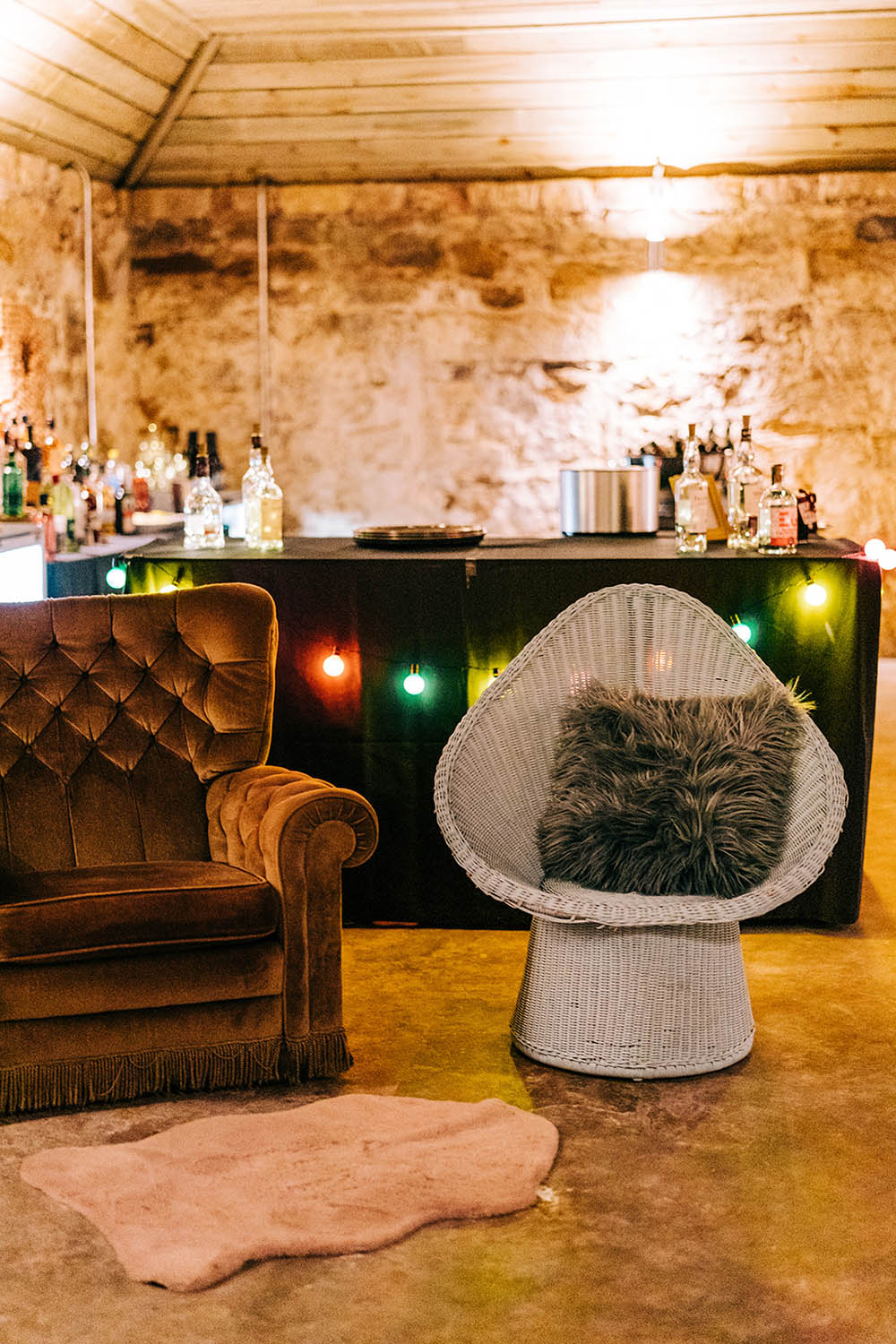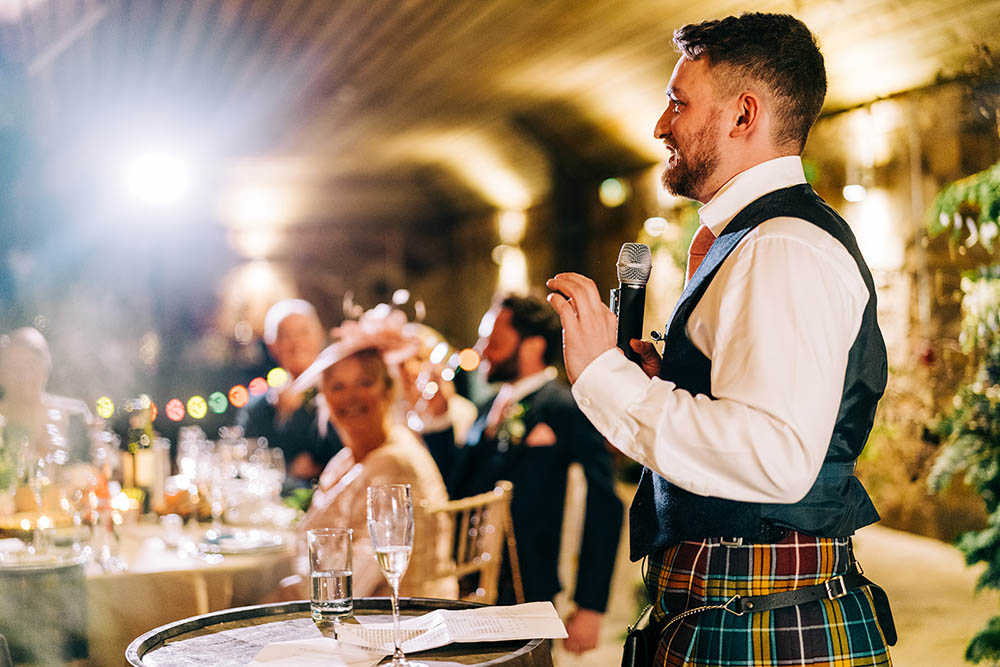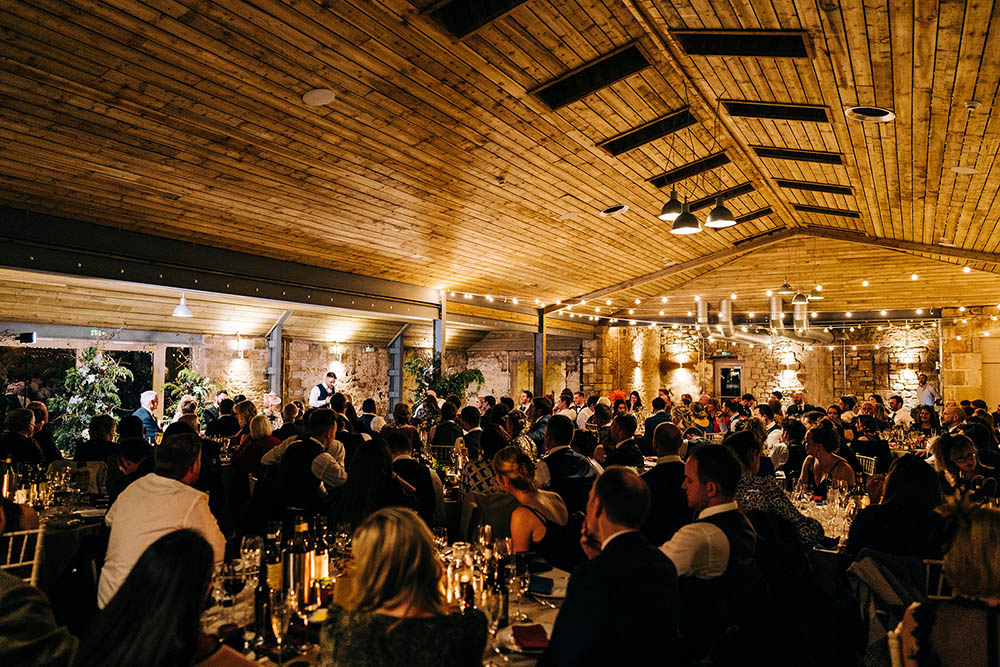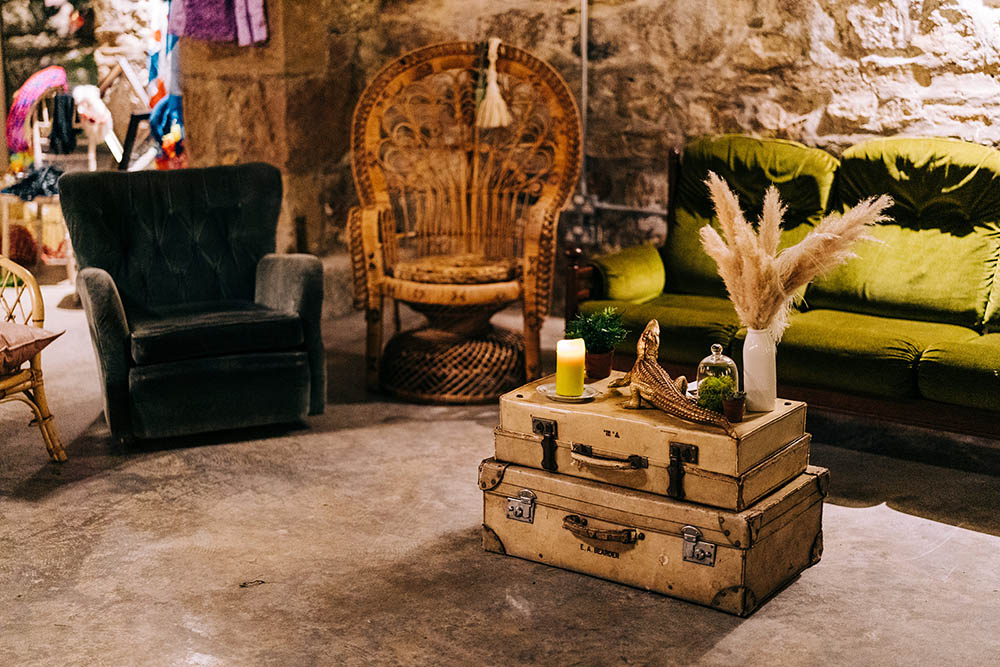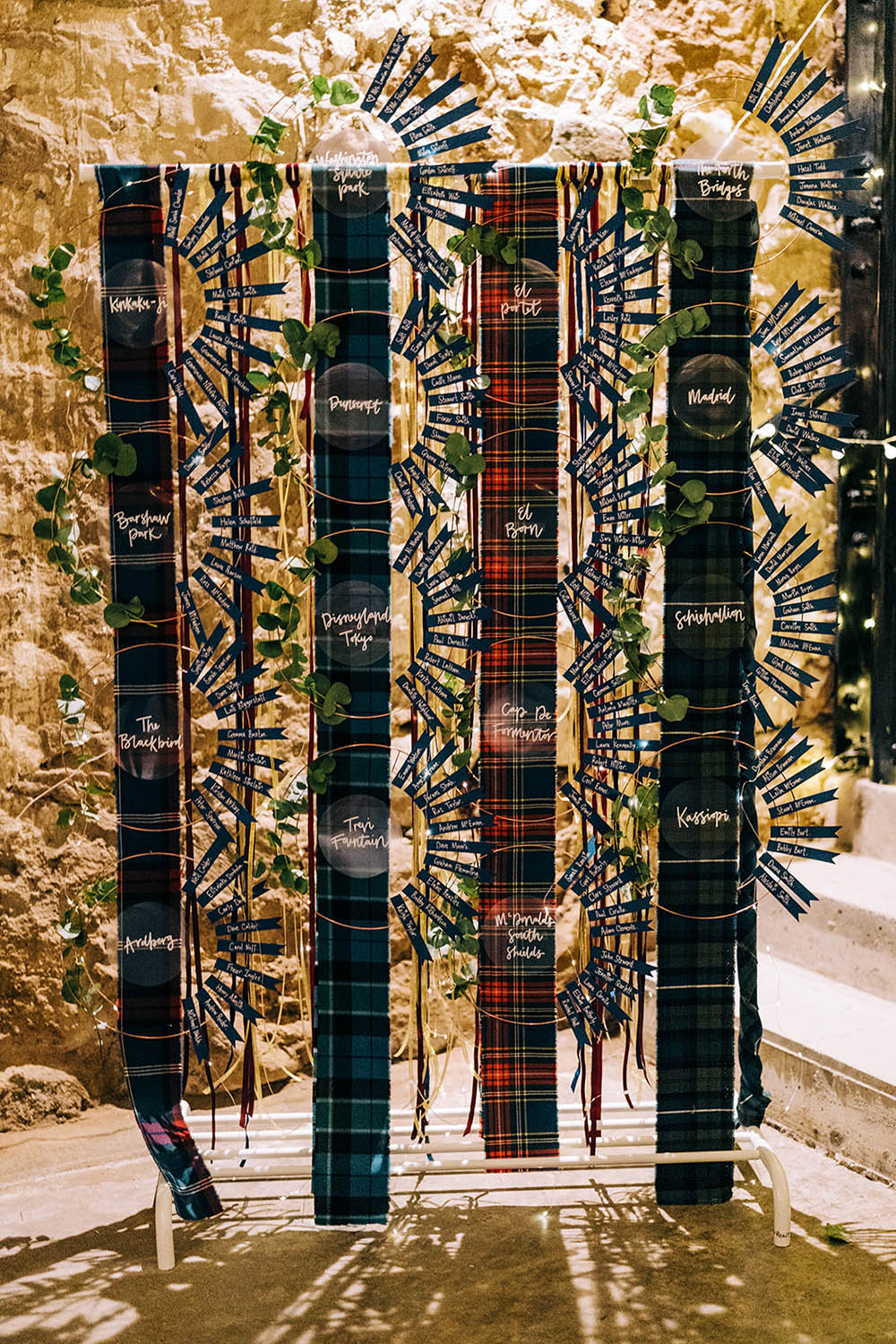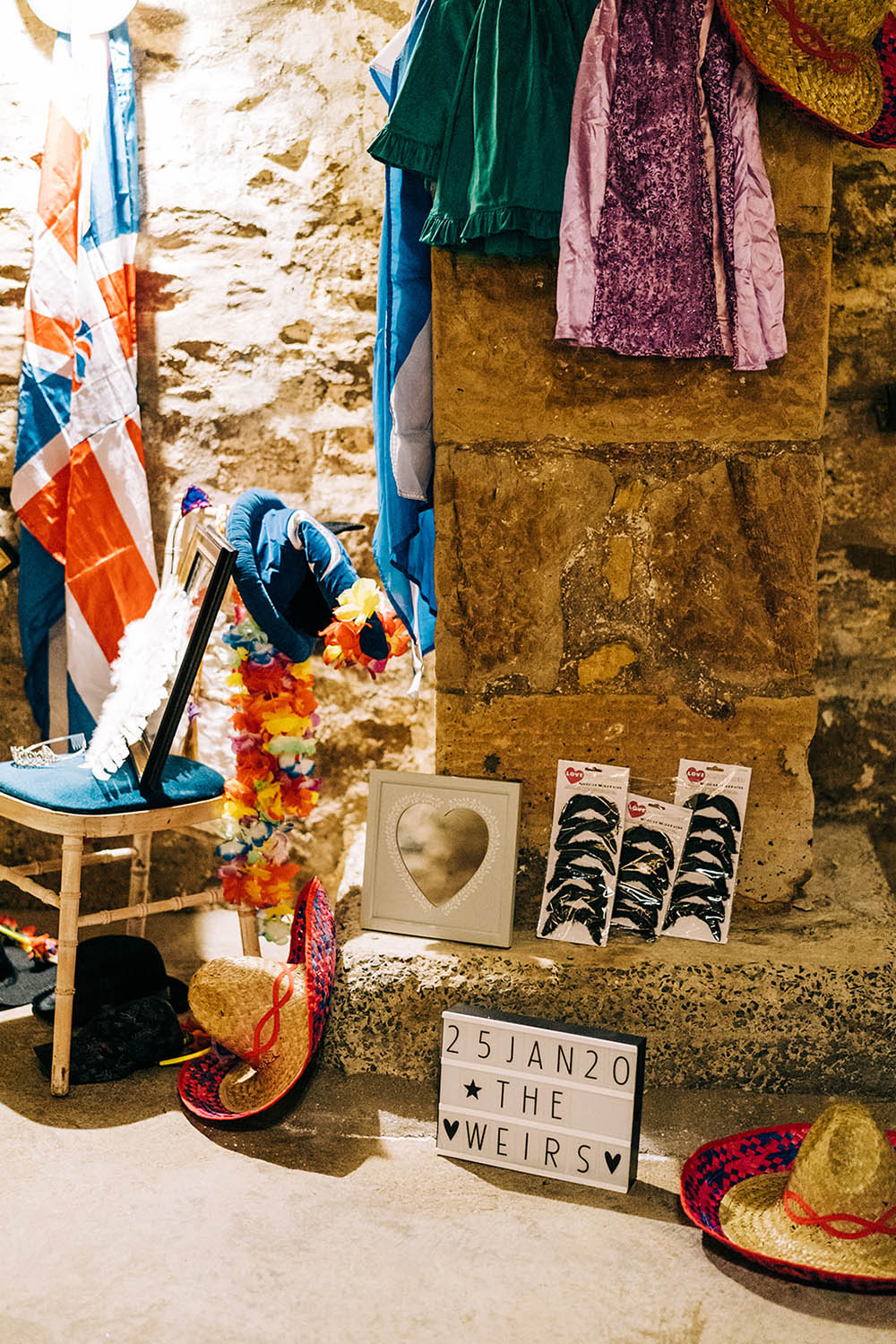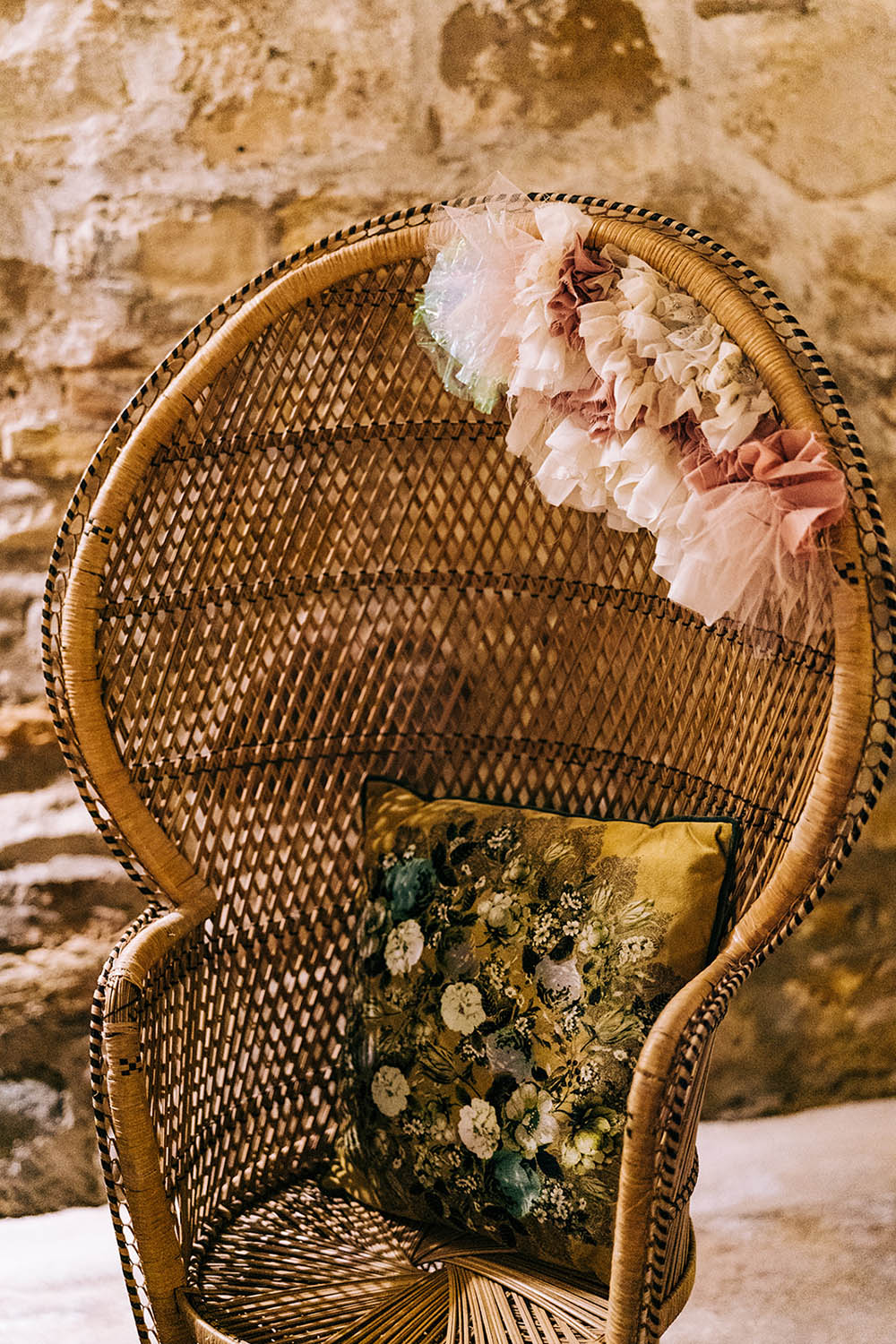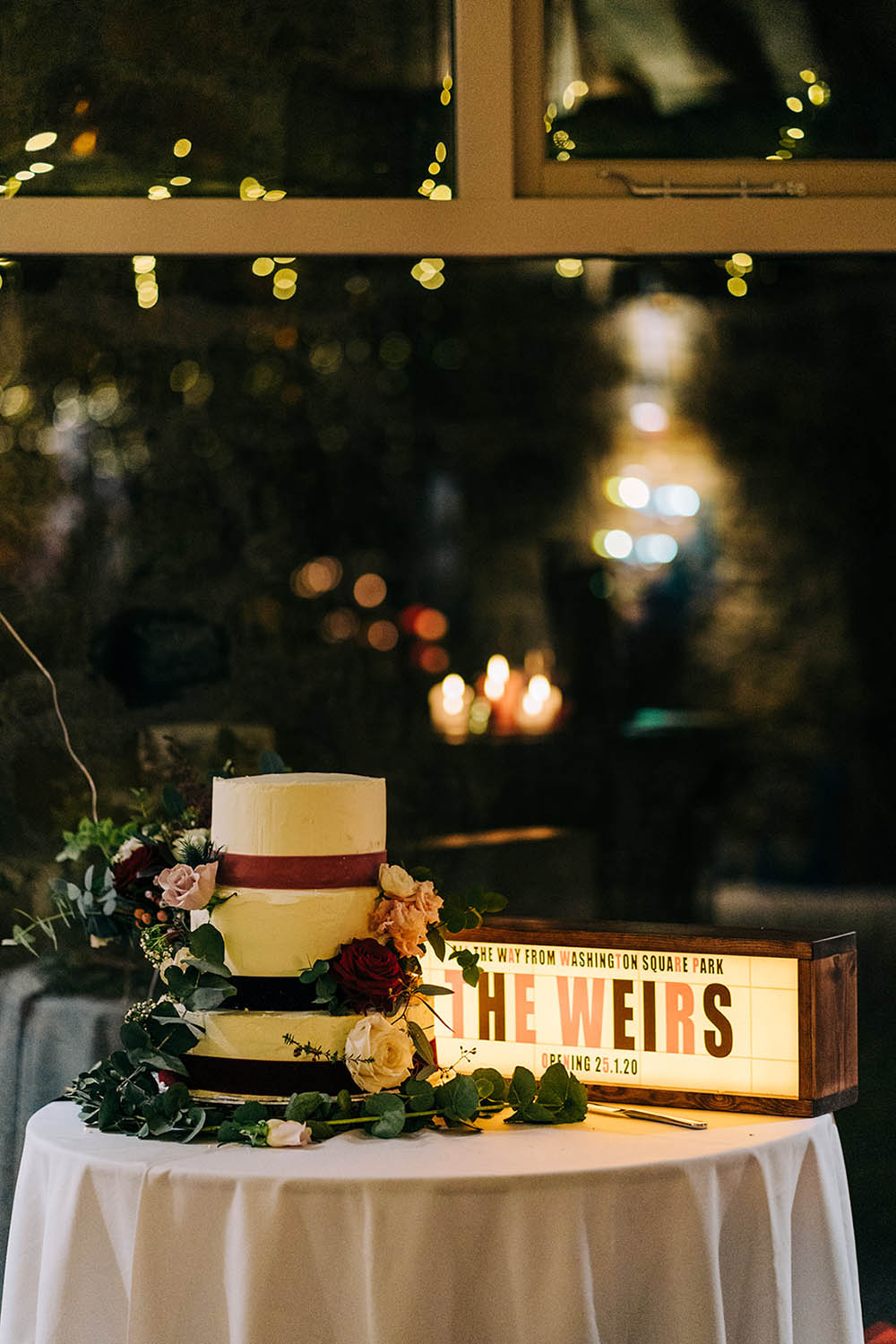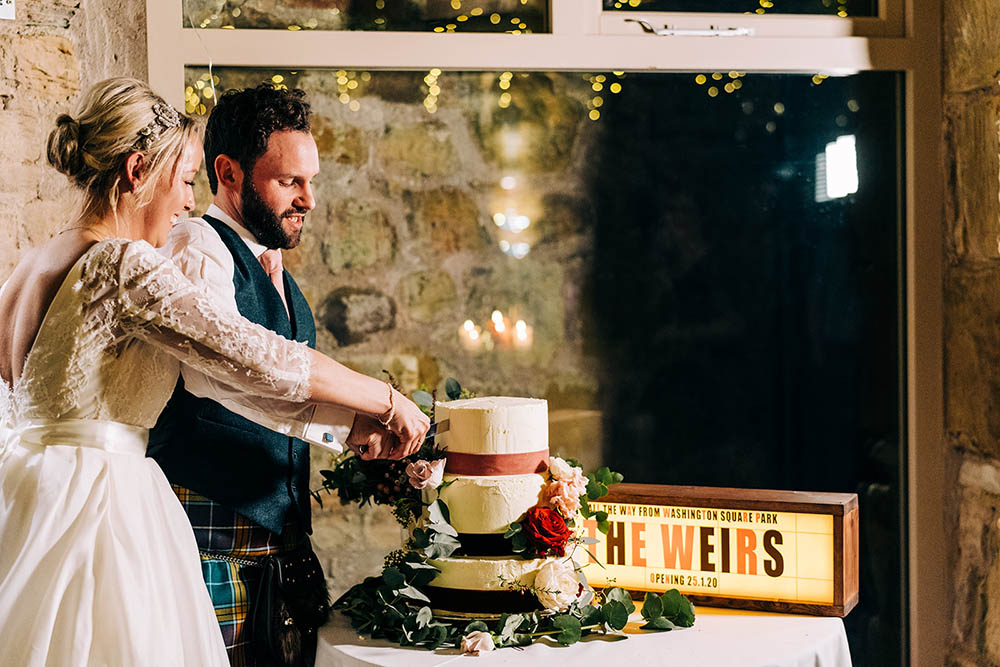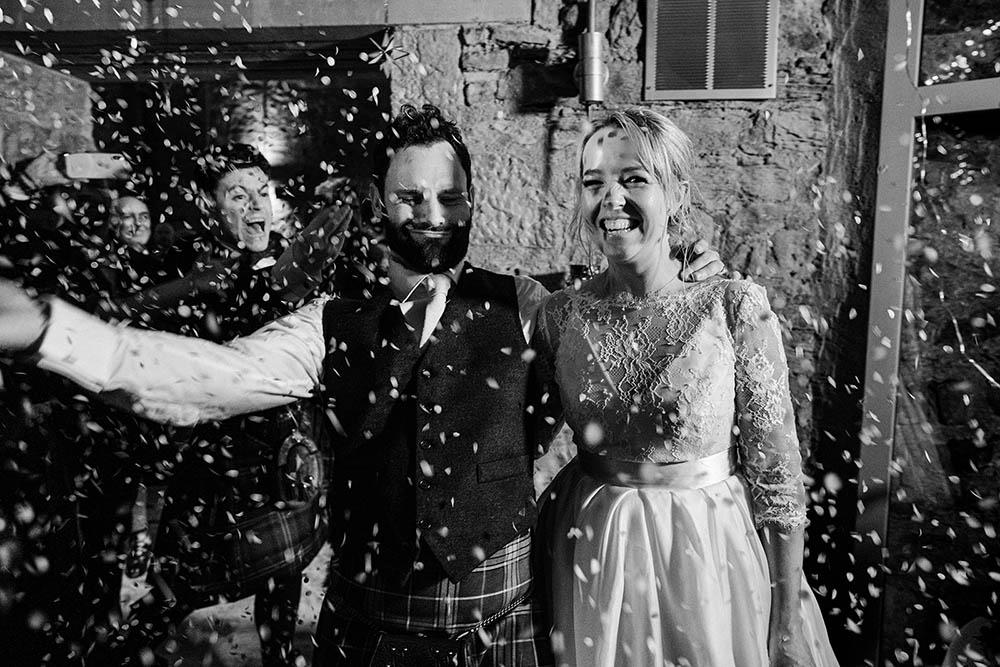 Our first dance, Disney's Can You Feel the Love Tonight was spectacularly played by Tom McGuire and The Brassholes – and the subsequent party atmosphere to the amazing jazz was epic.
Glitter and fancy dress were found by our guests and the whole place erupted in even more fun and party!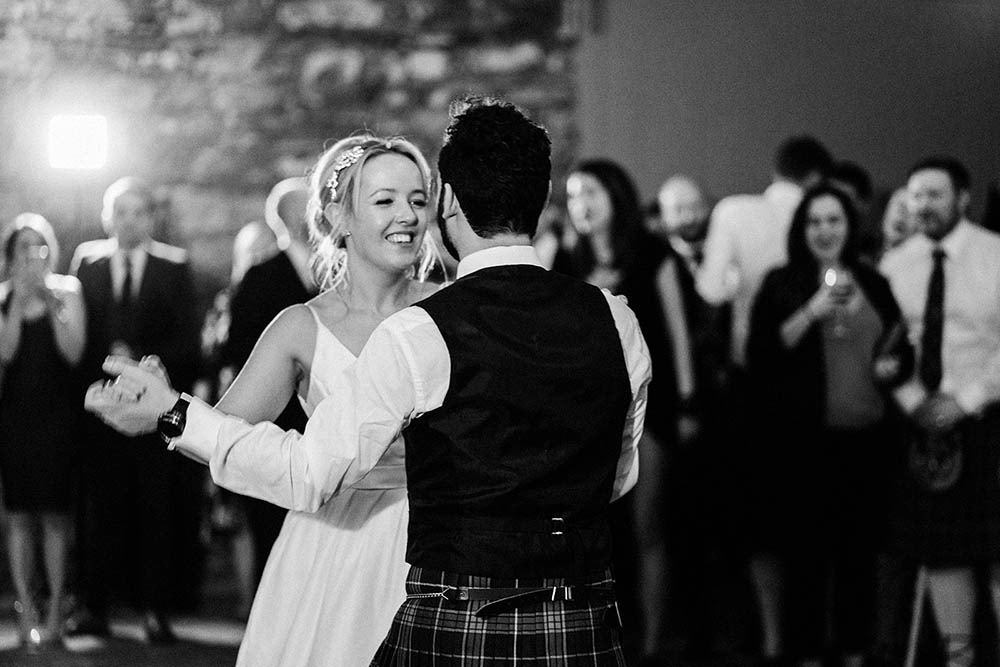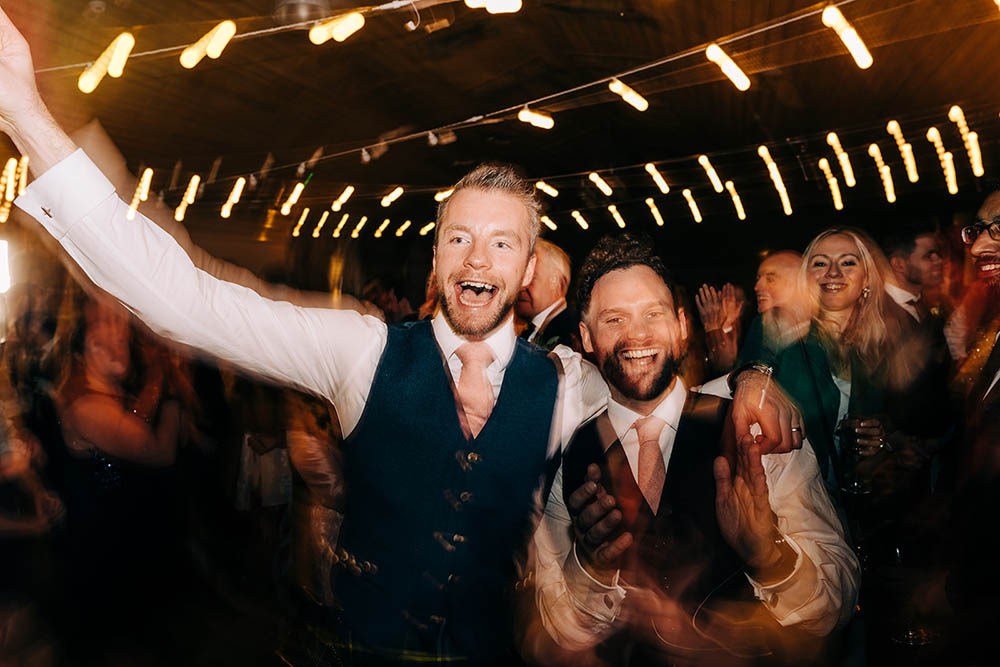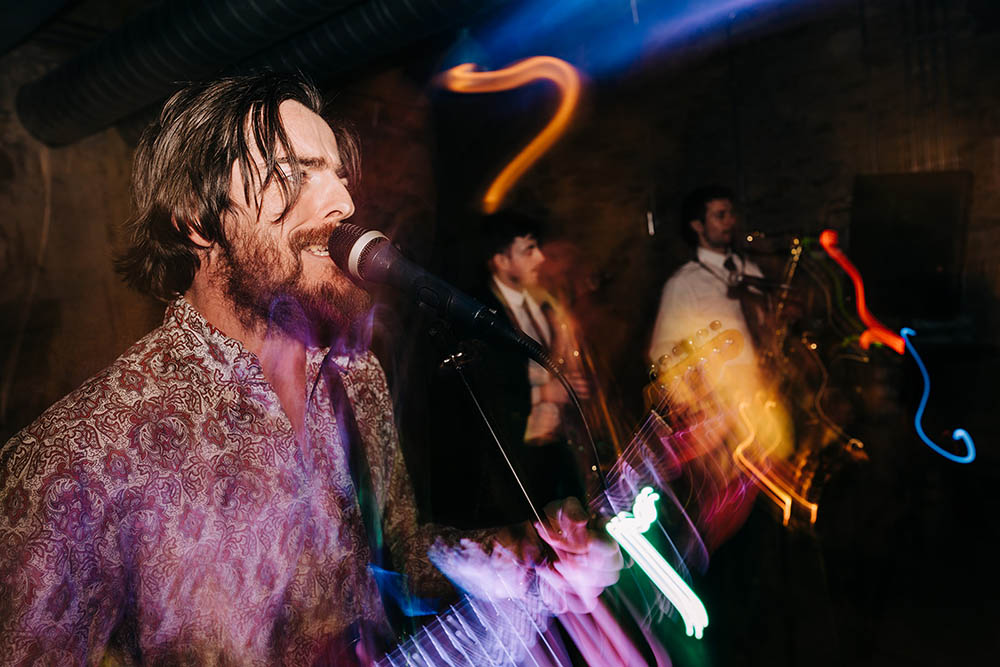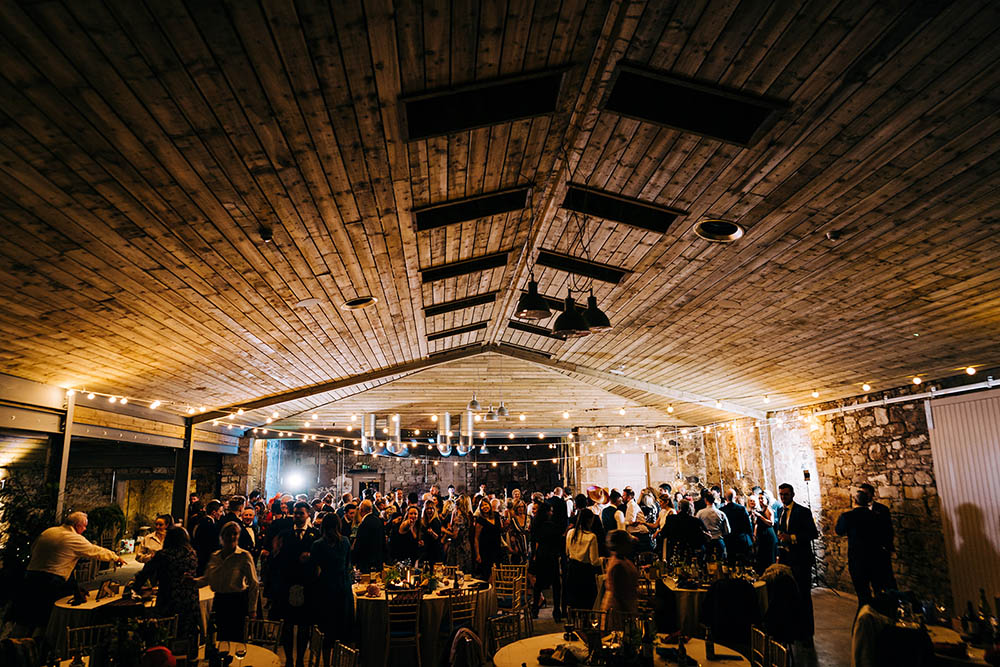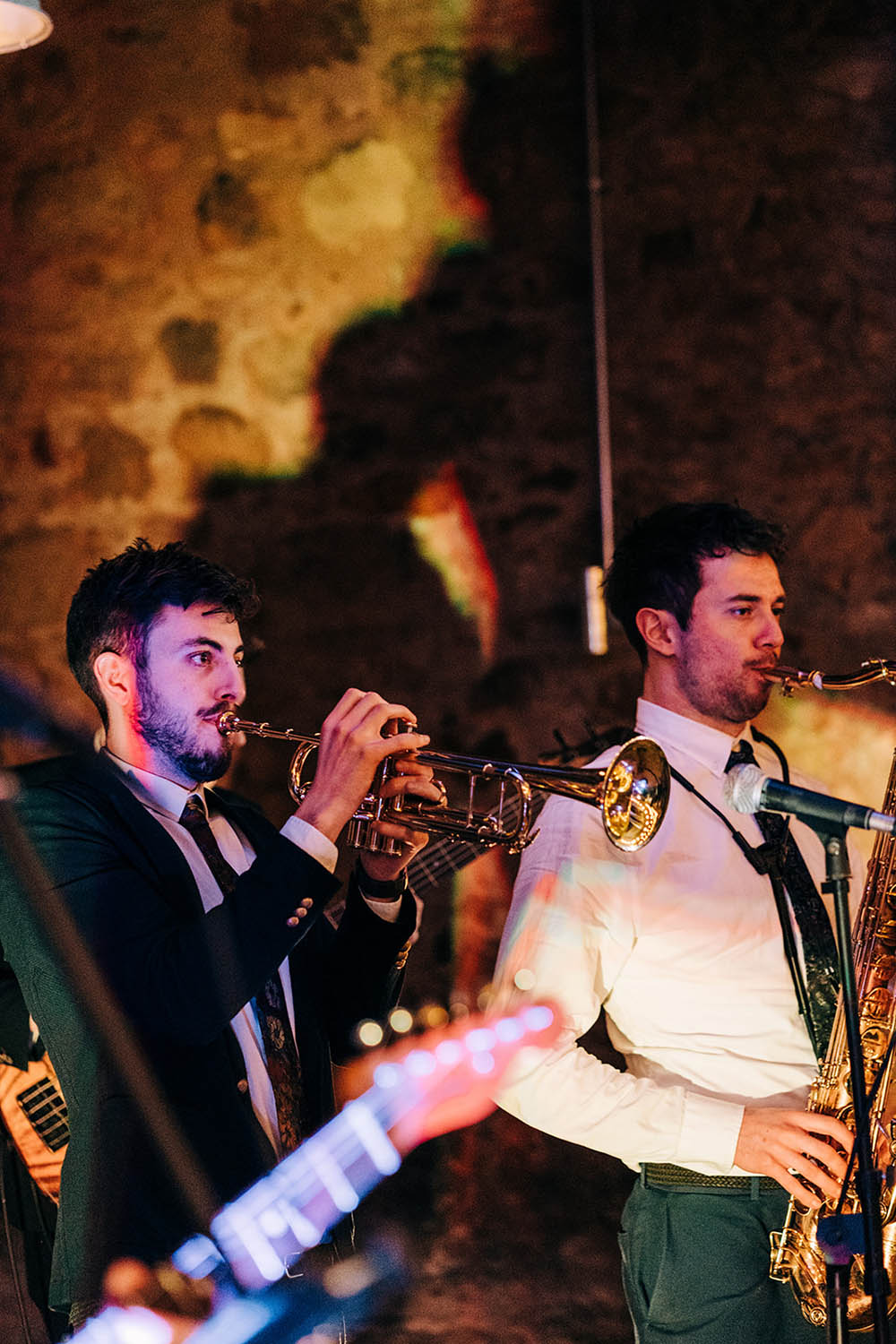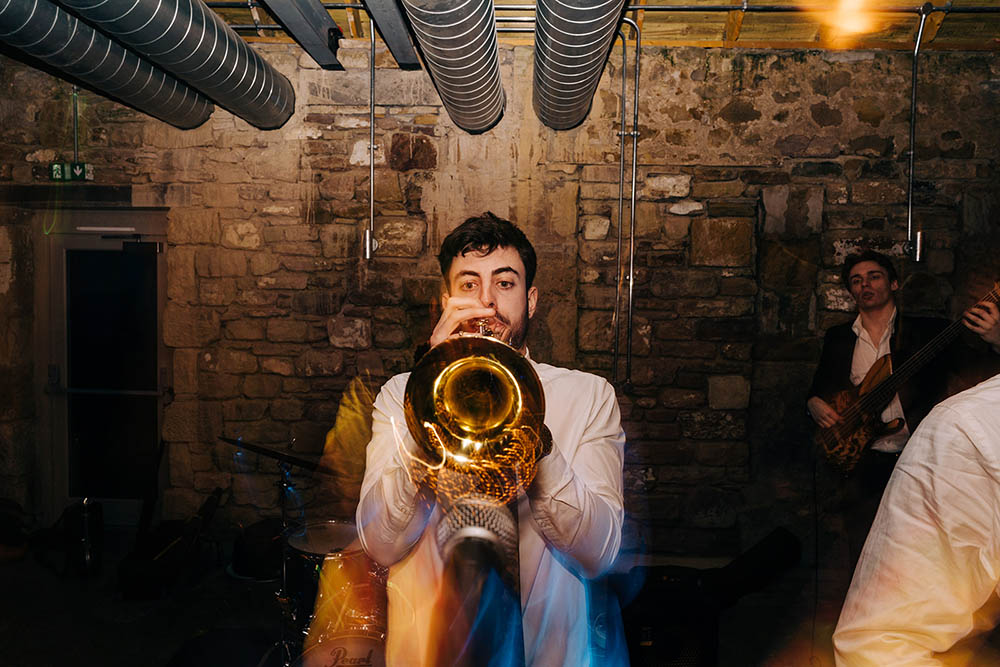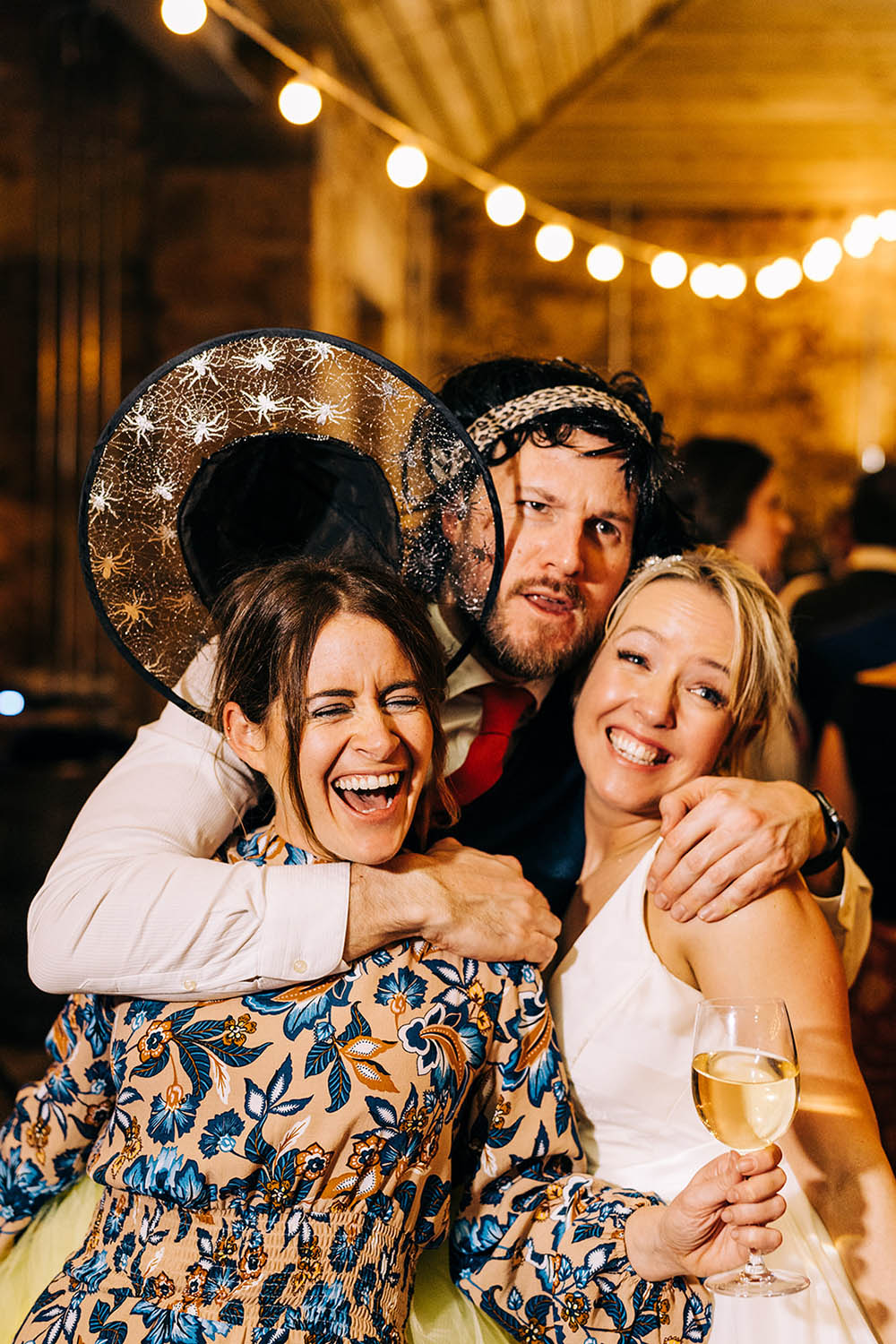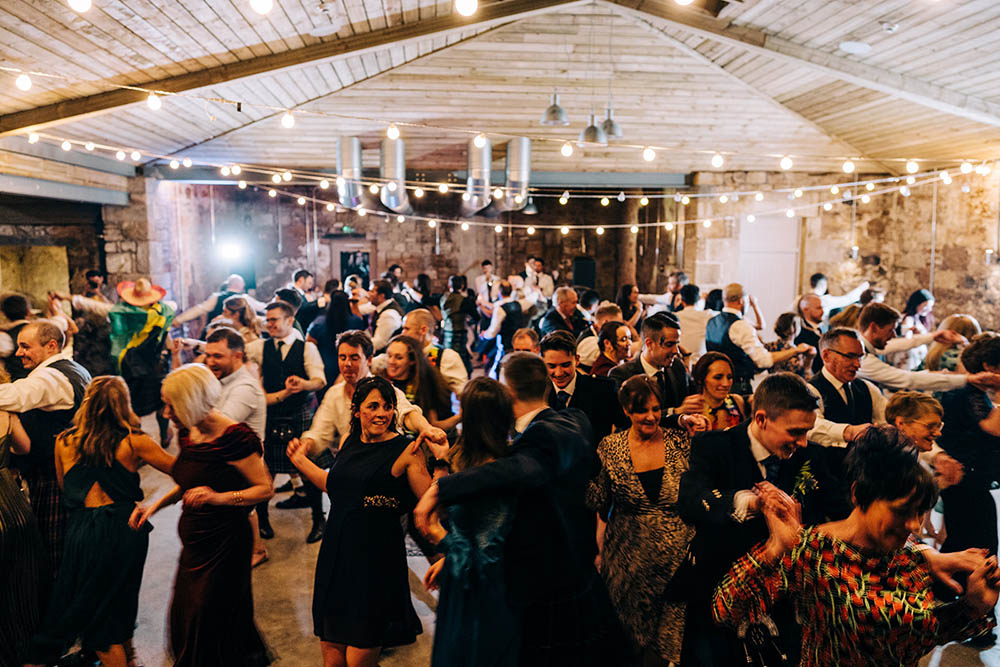 Venue: Falside Mill | Photographer: Photos by Zoe | Videographer: Peony Films | Bride's dress: Rachel Scott Couture | Bridesmaid dresses: Revelry | Groom's outfit: Gordon Nicolson Kiltmakers | Hair and make-up: MHM Styling | Caterer: The Edinburgh Catering Company | Celebrant: Douglas Wallace | Stationer: By Beck | Florist: Sugarbush Flower Studio (with extra from the bride's cousin Jenny, @rumble_and_boo) | Piper: Ronnie Allan | Evening music: Tom McGuire and The Brassholes | Venue furniture: Frill Factory