Enchanting hidden forest wedding at Elsick House, Kincardineshire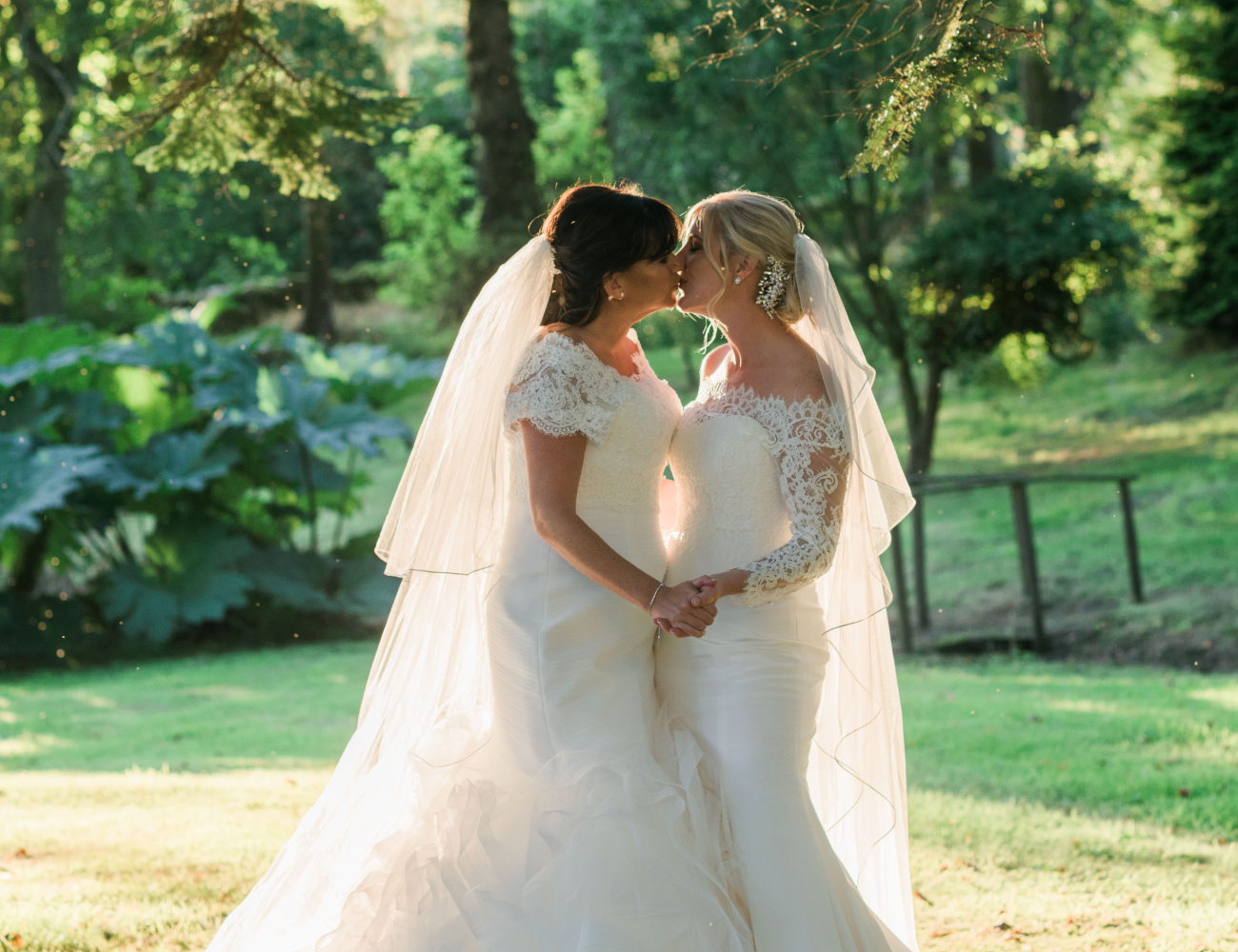 Brides Kirsten and Lisa tied the knot in the enchanting greenery of Elsick House in Kincardineshire.
Find out more about this couple's special day from Kirsten and Lisa, and take a look at the gorgeous pics by James Kelly Photography.
Kirsten and Lisa's love story began in March 2015.
"We both swiped right on Tinder! After only a few days of chatting, I plucked up the courage to ask Lisa on a date to Starbucks one rainy Sunday afternoon – the rest is history," smiles Kirsten.
After almost two years' together, Lisa proposed to Kirsten on New Years' Eve.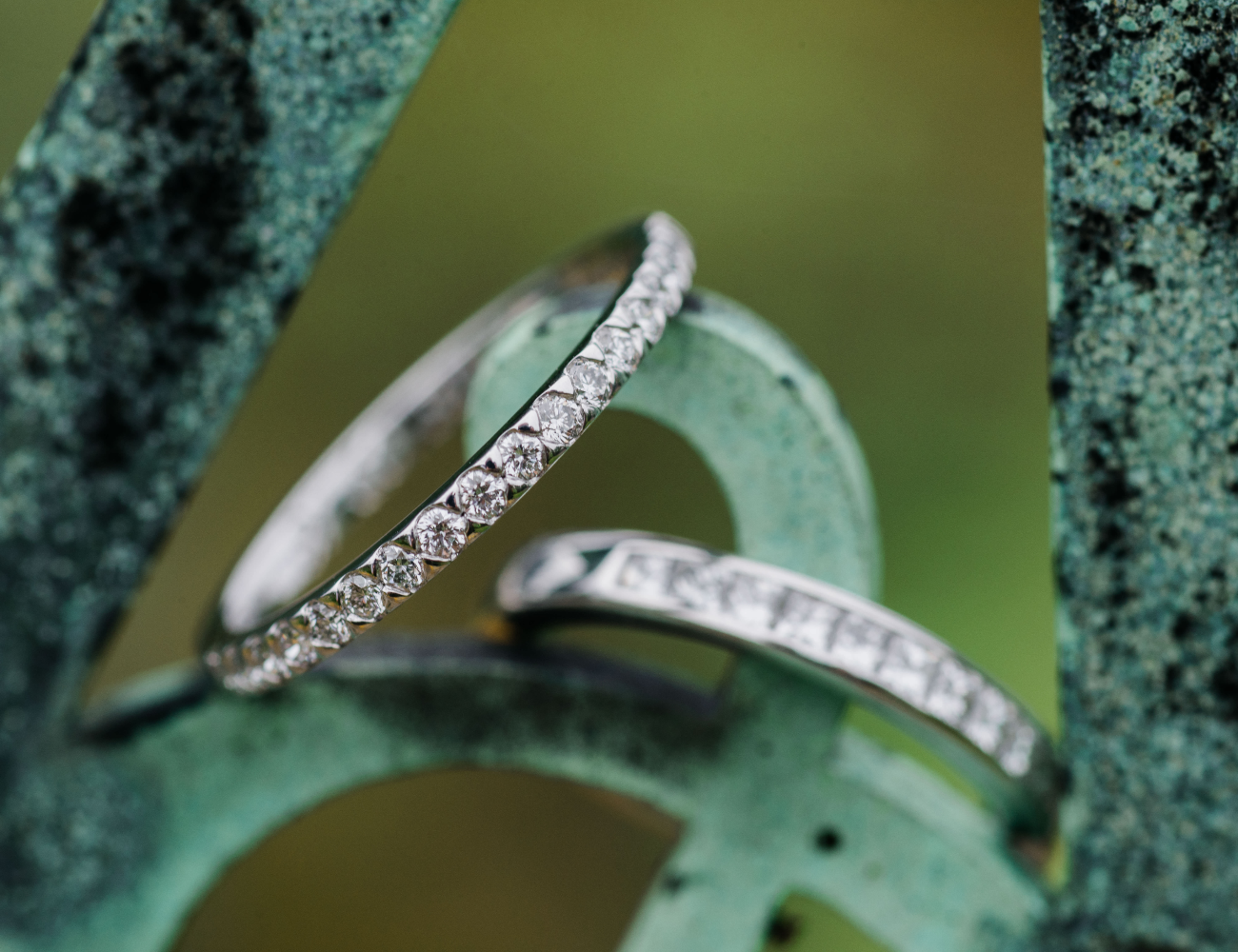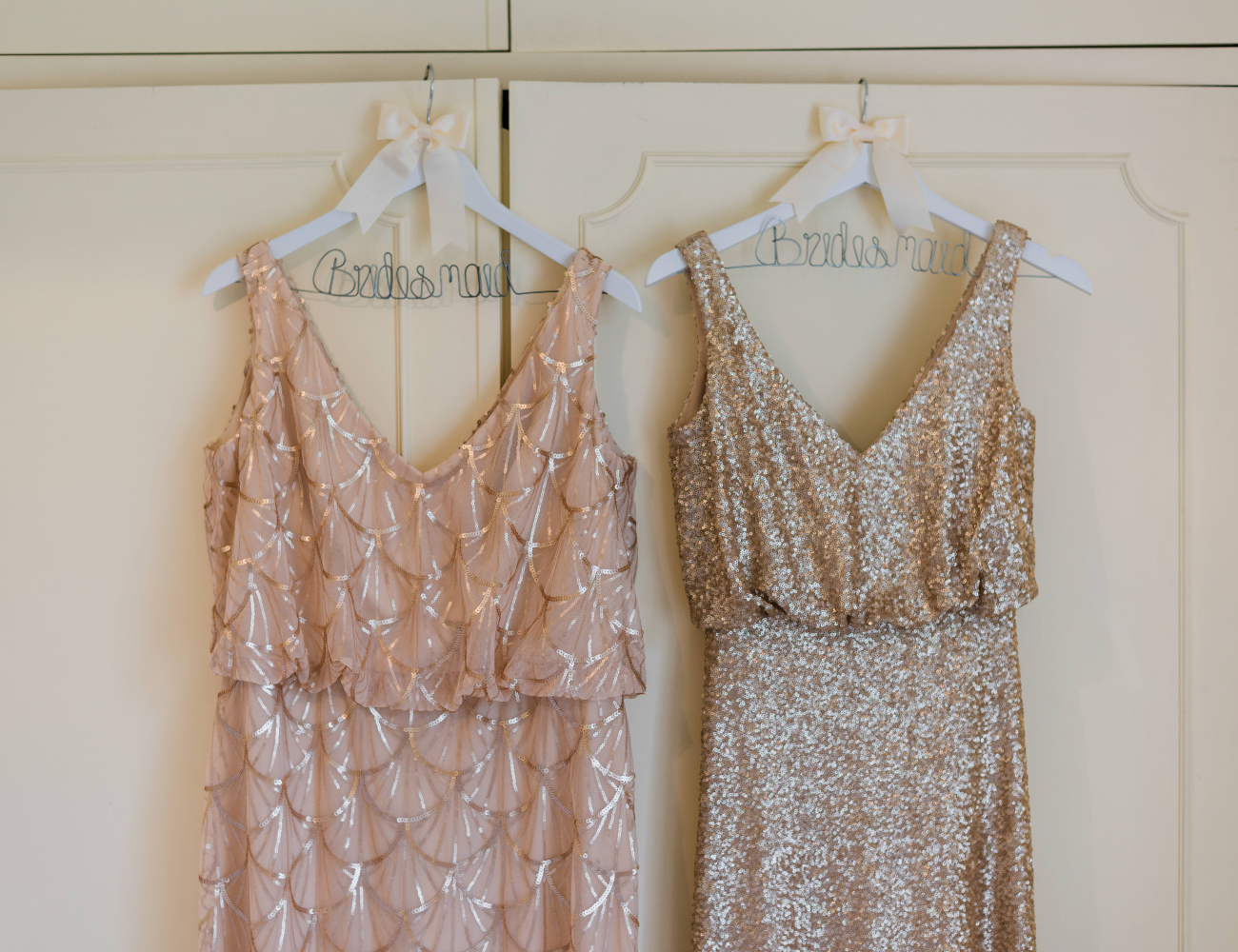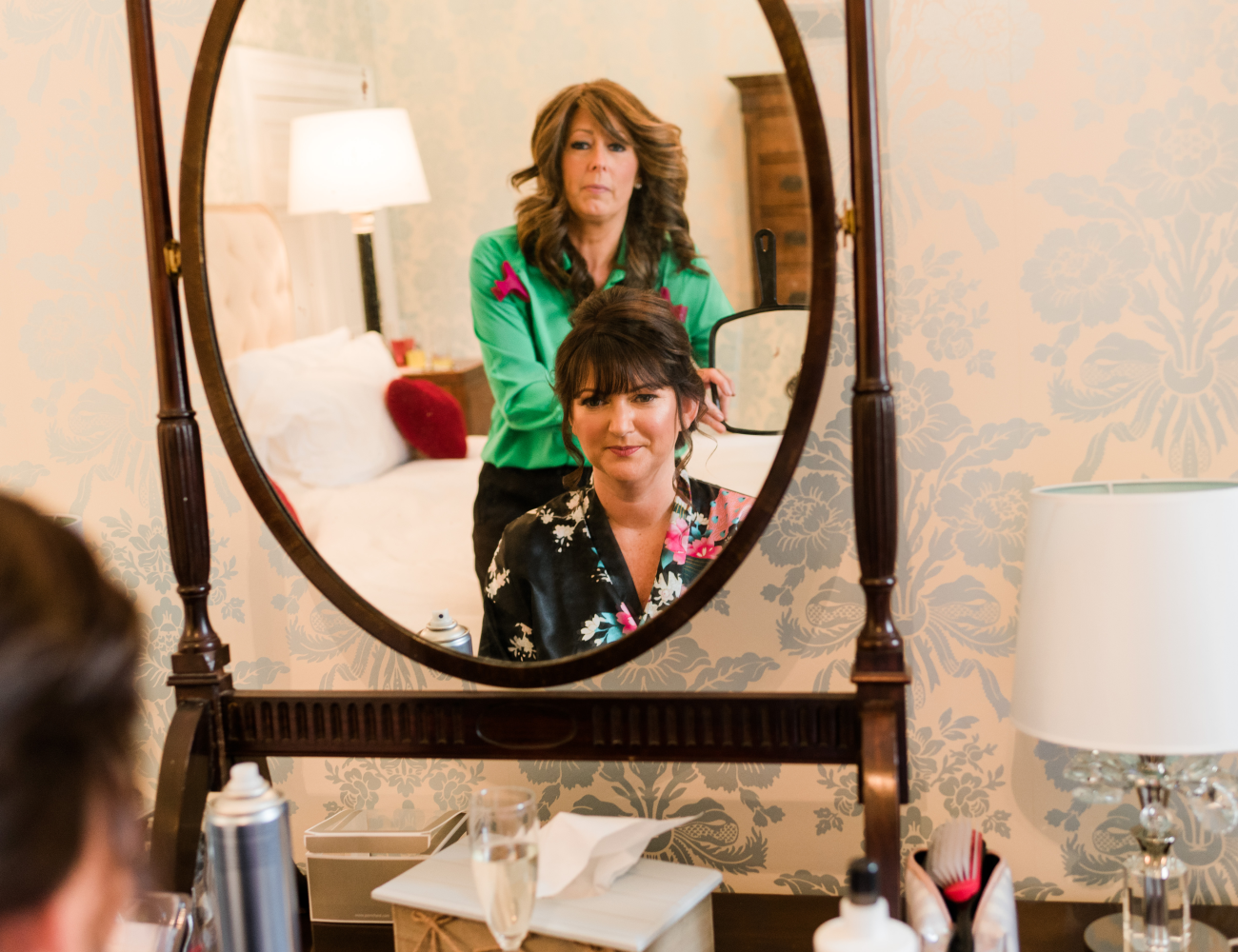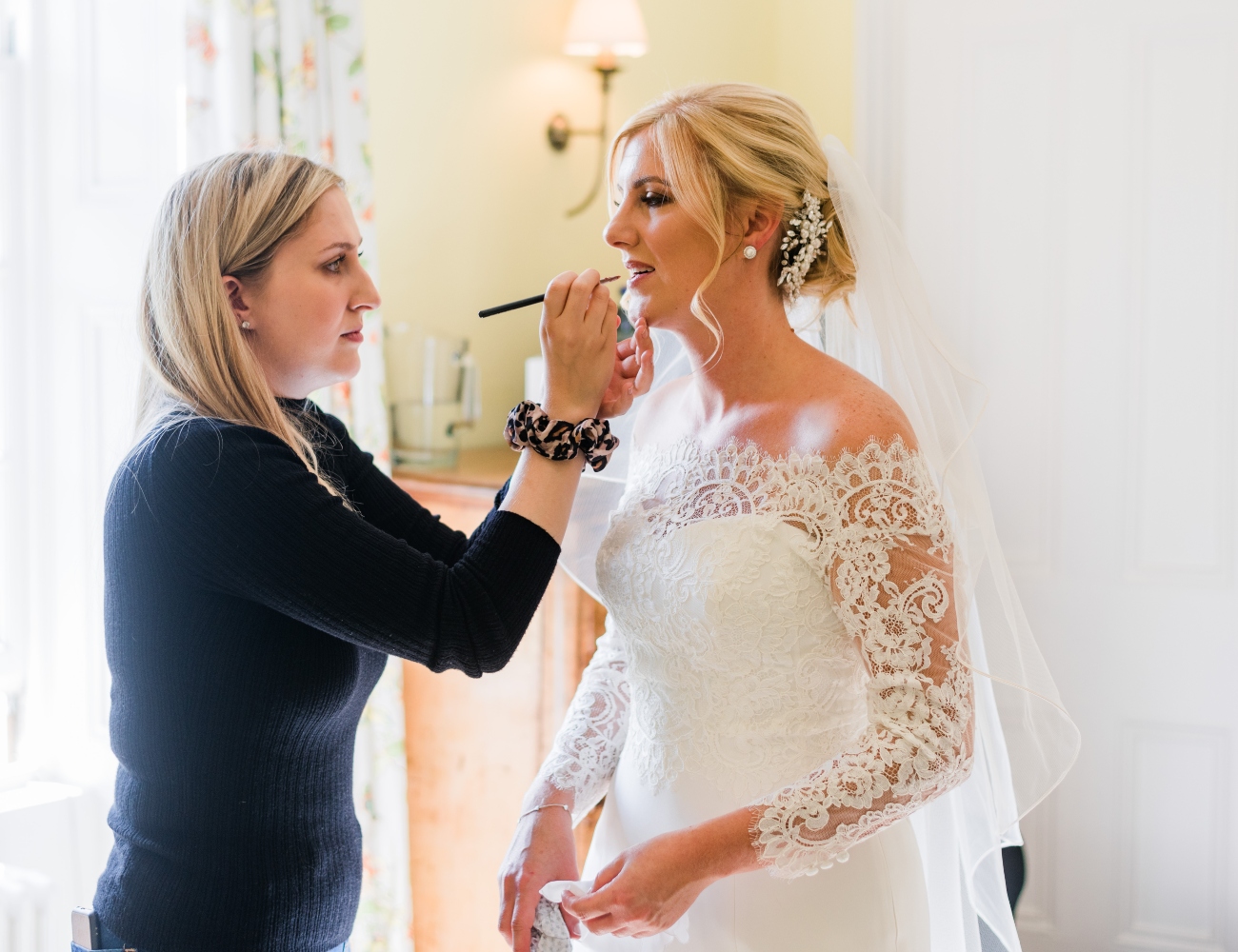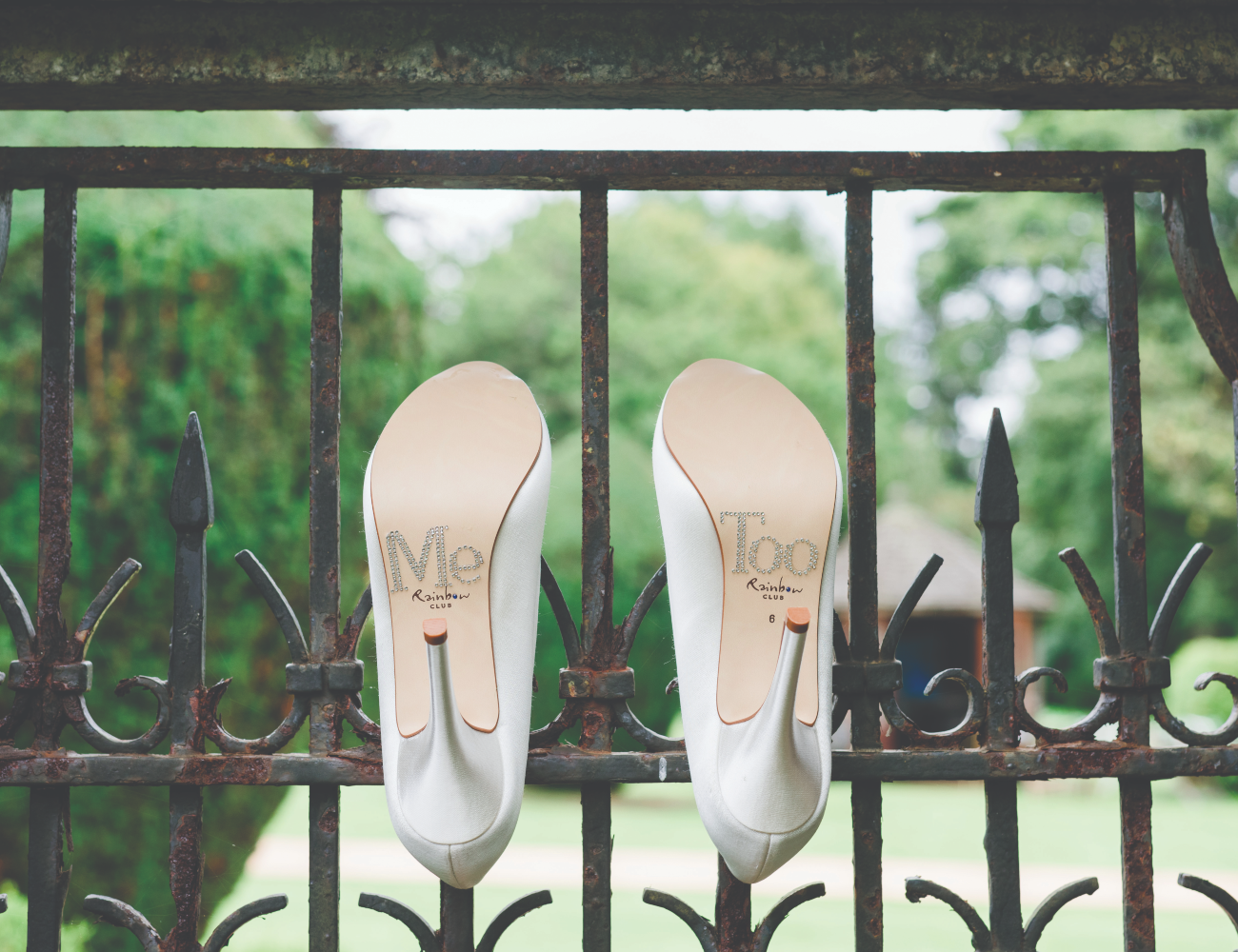 "It almost didn't happen as I was full of the cold and in no mood whatsoever to get out of bed. Thank goodness she persevered!" says Kirsten.
Looking for an exclusive use venue which could cater a weekend-long celebration, the couple soon discovered Elsick House.
"It's a hidden gem, tucked away in a beautiful forest. We both got 'that feeling' on our first visit."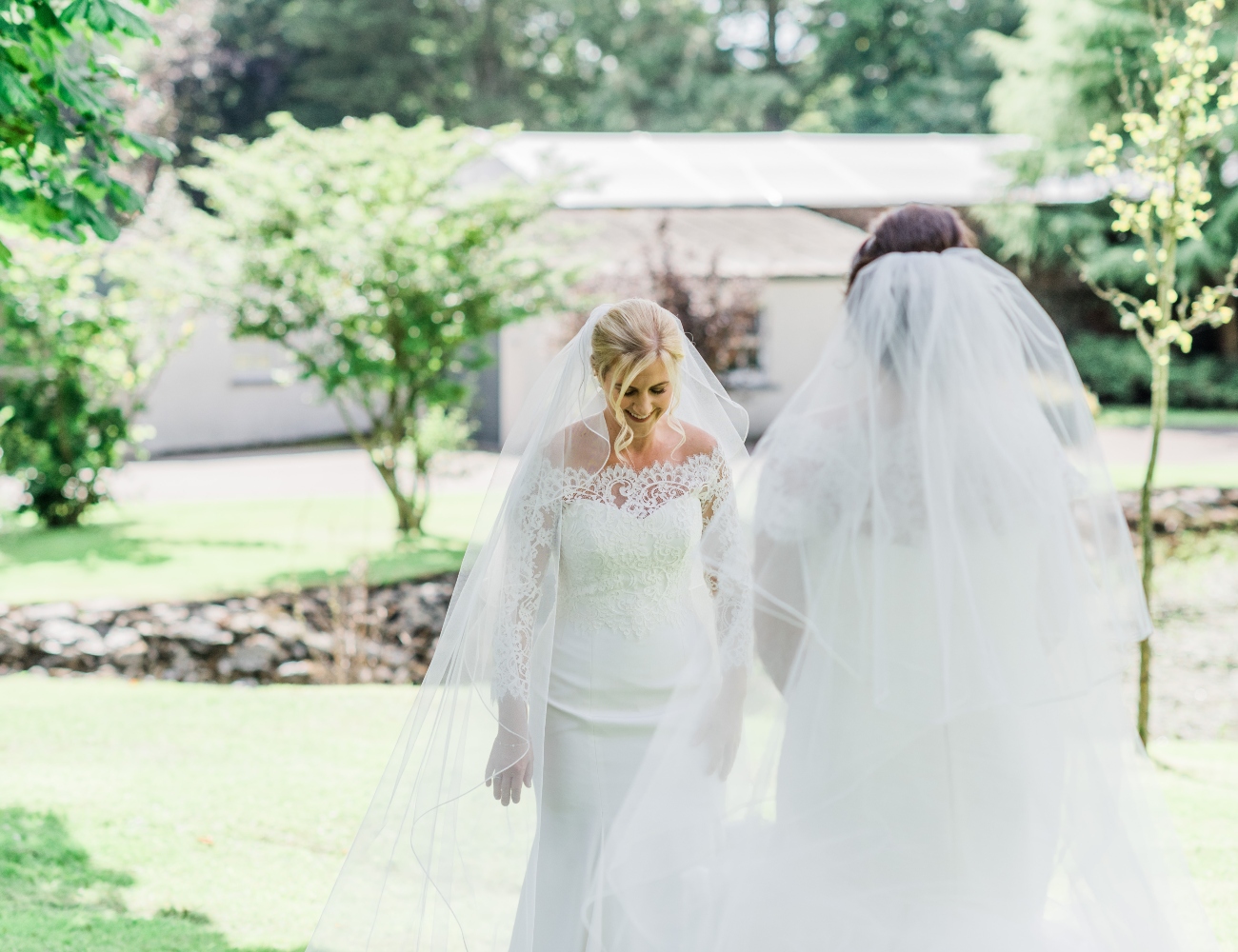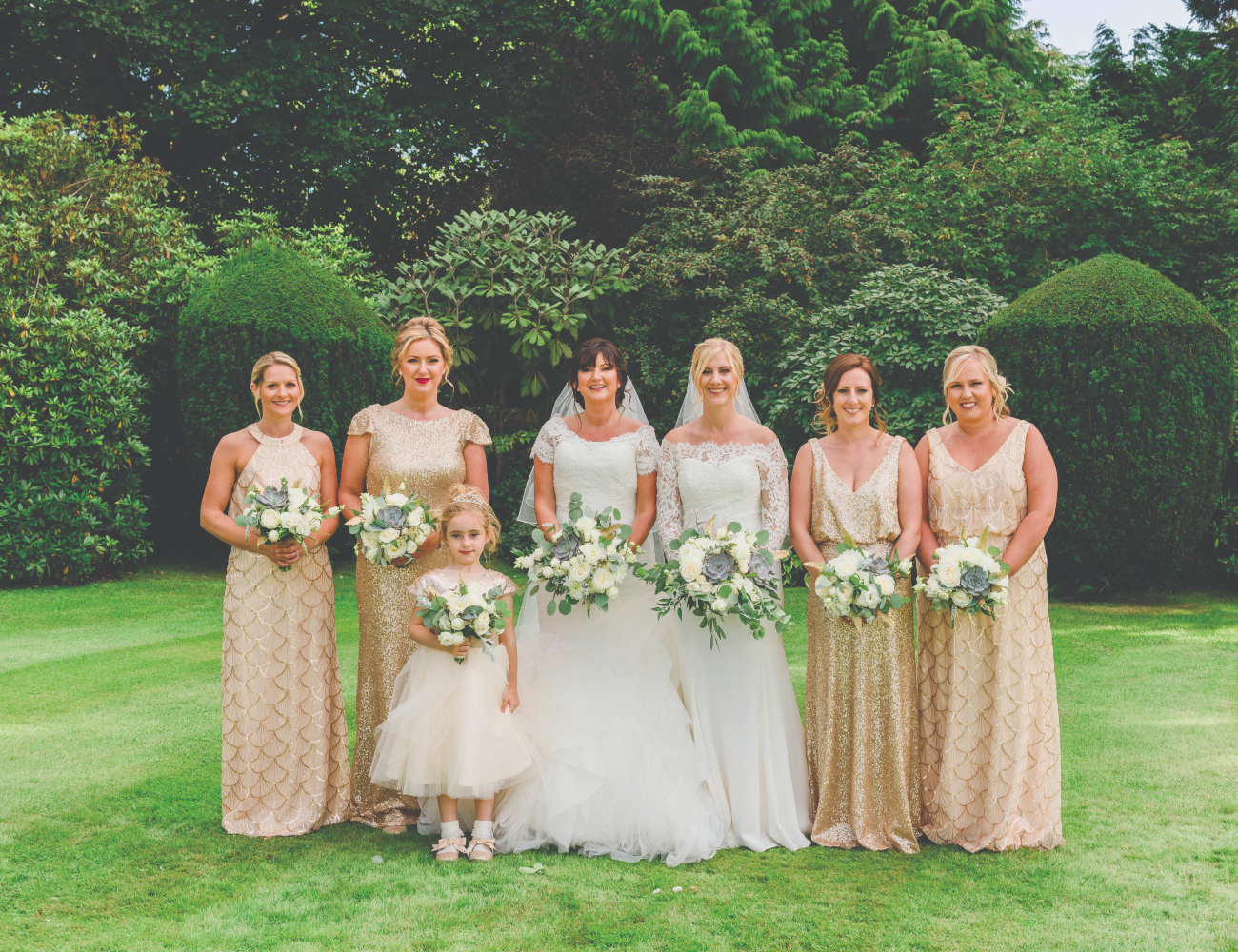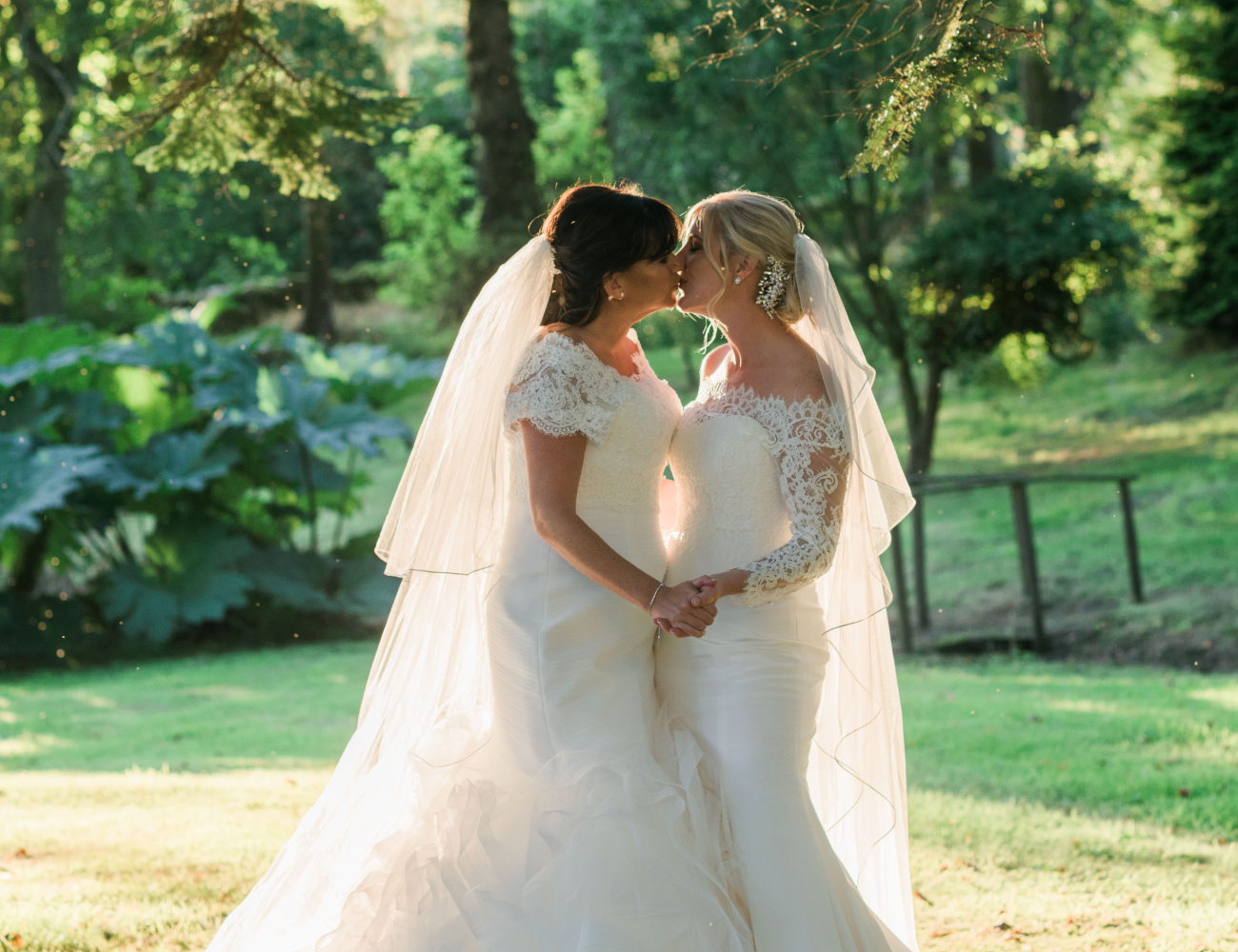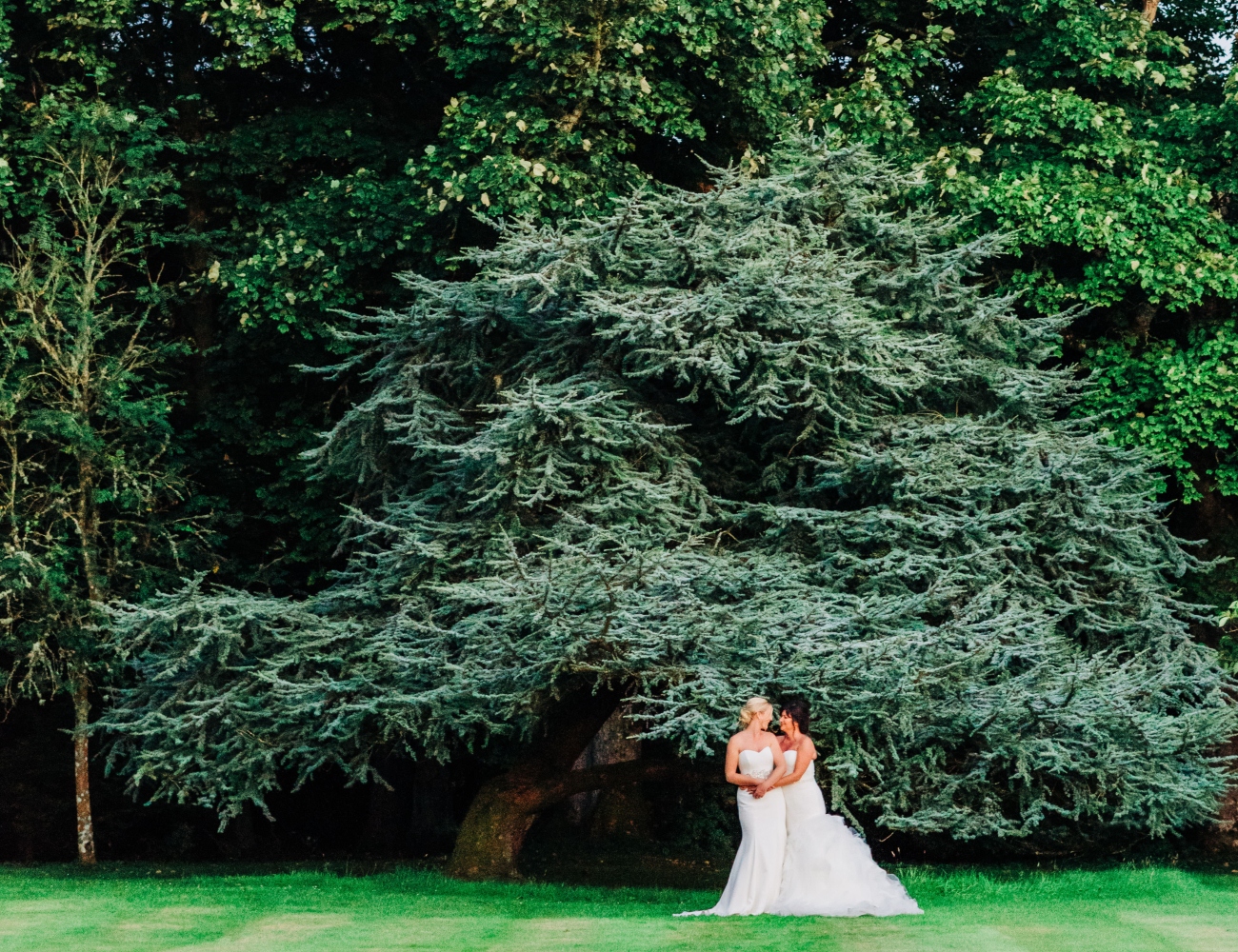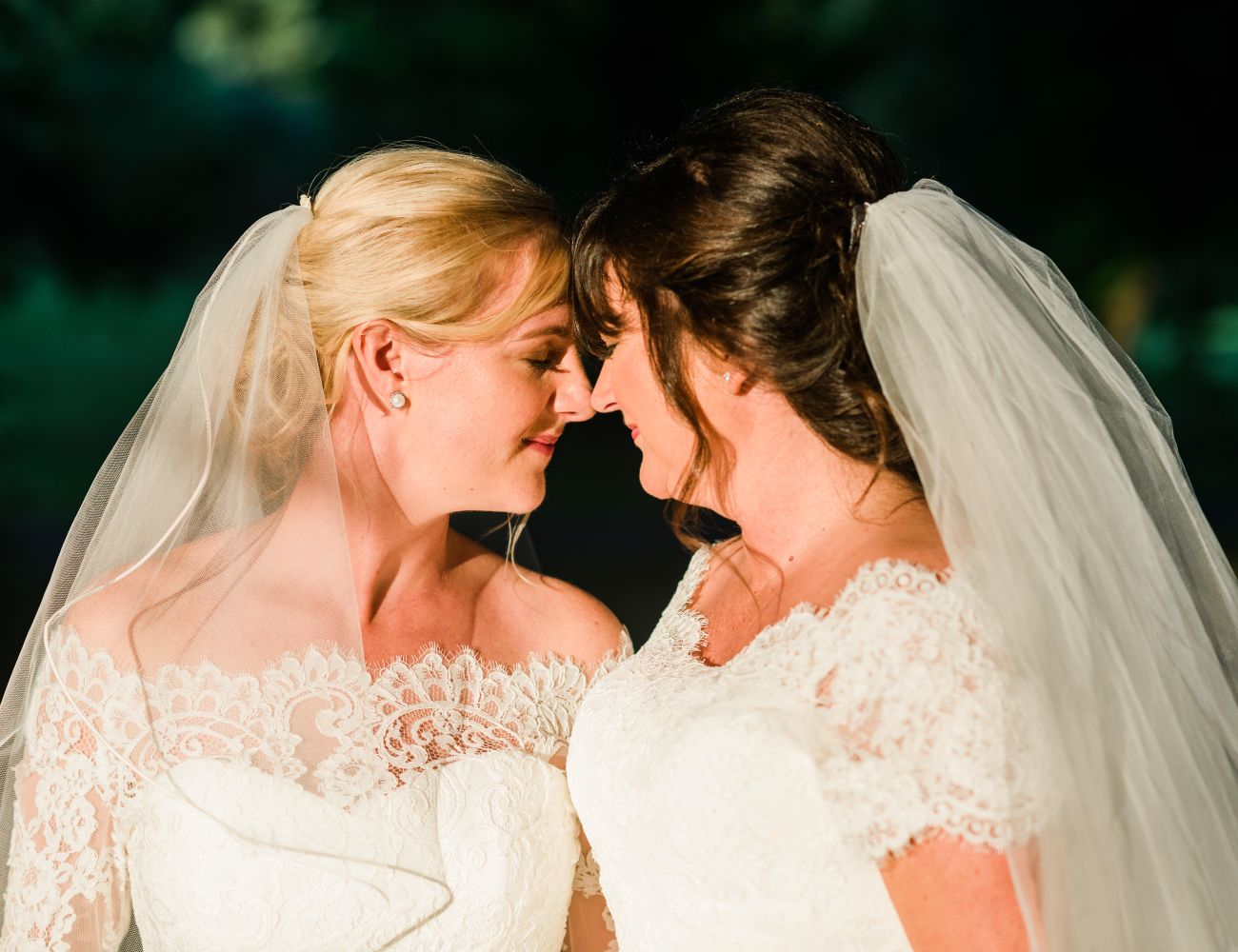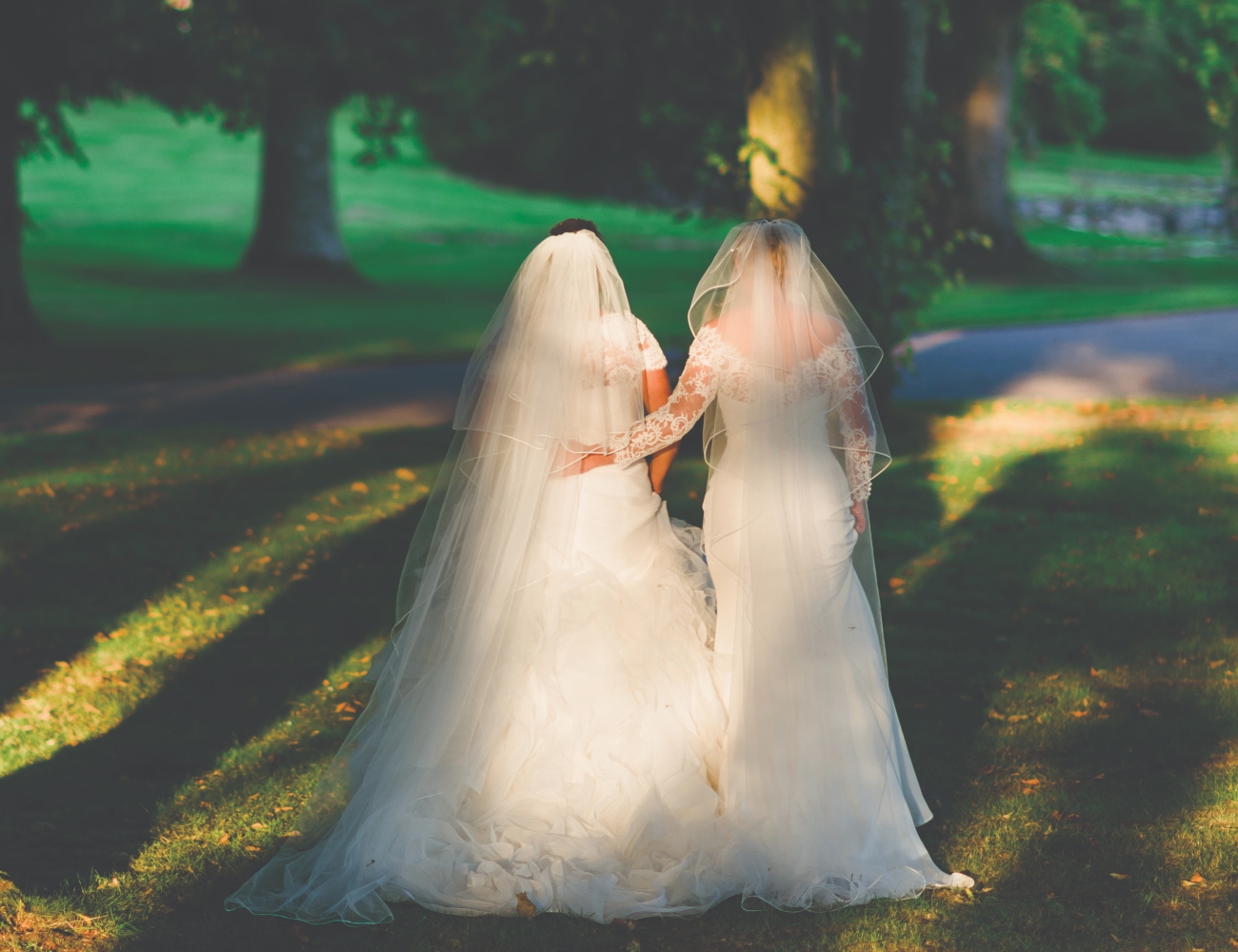 As planning got underway, it was teamwork, with Lisa enjoying the more logistical side of things, whilst Kirsten took more of an interest in the creative.
"We both really loved the simple, modern look of gold geometric shapes, concrete and marble effects with foliage to soften the look," says Kirsten.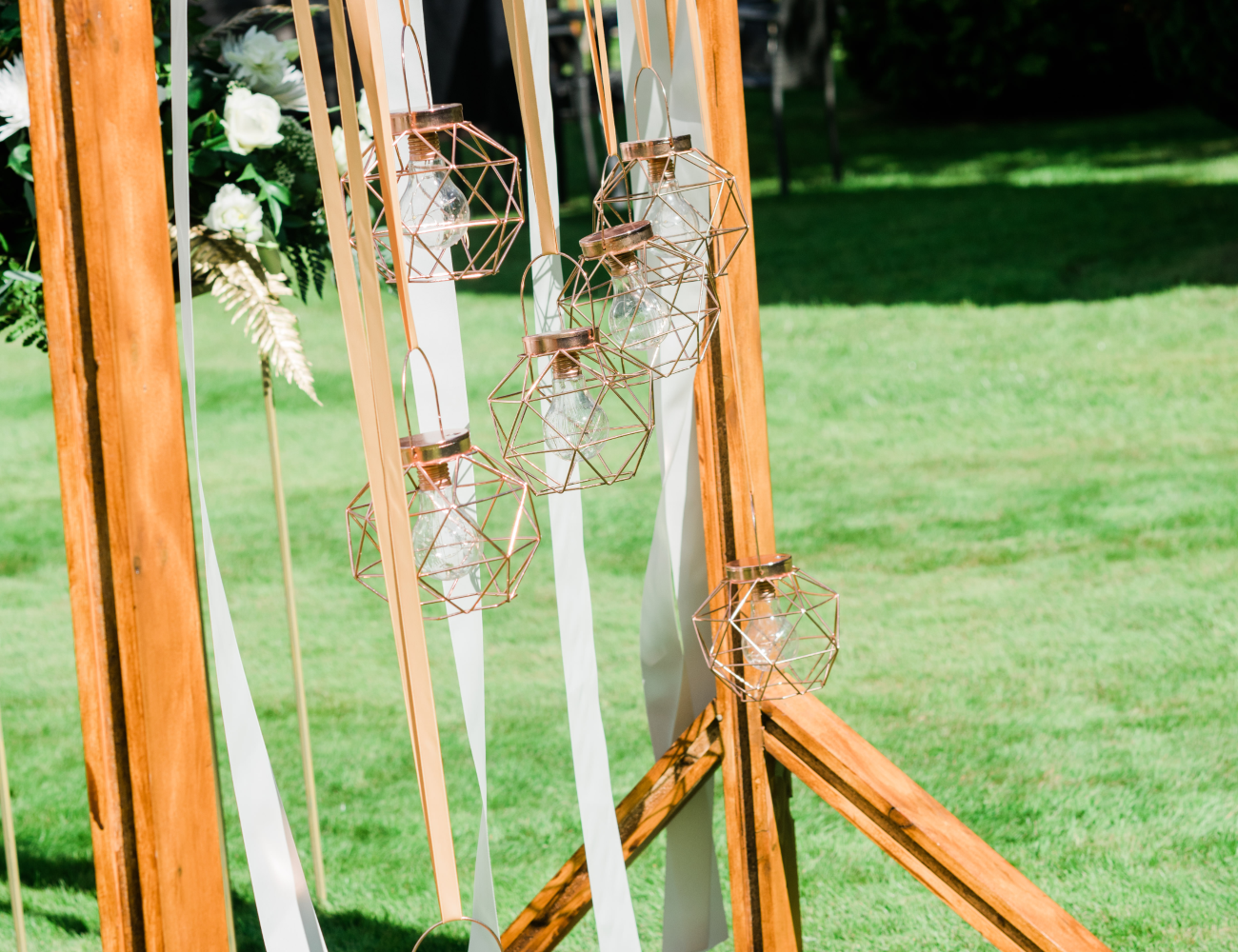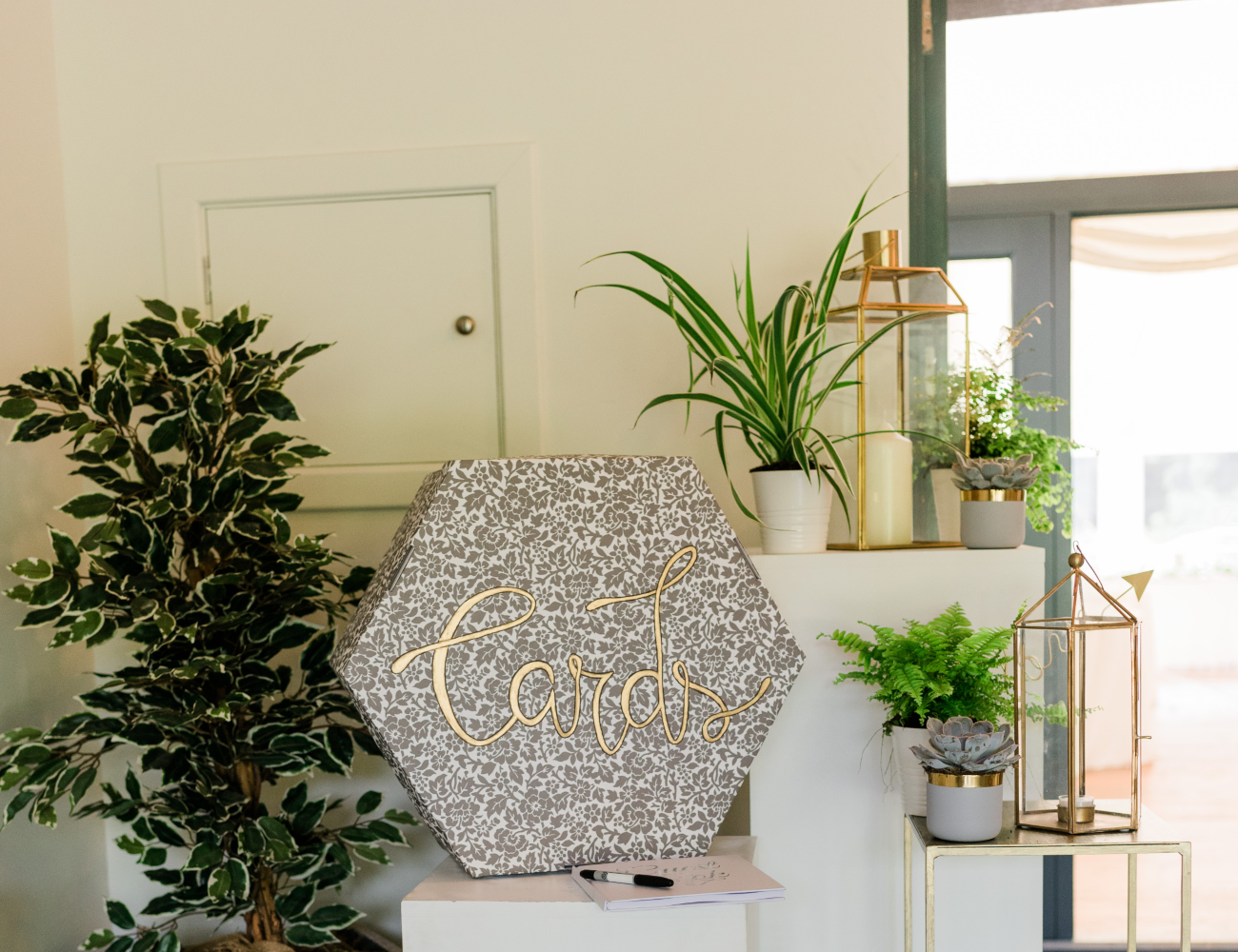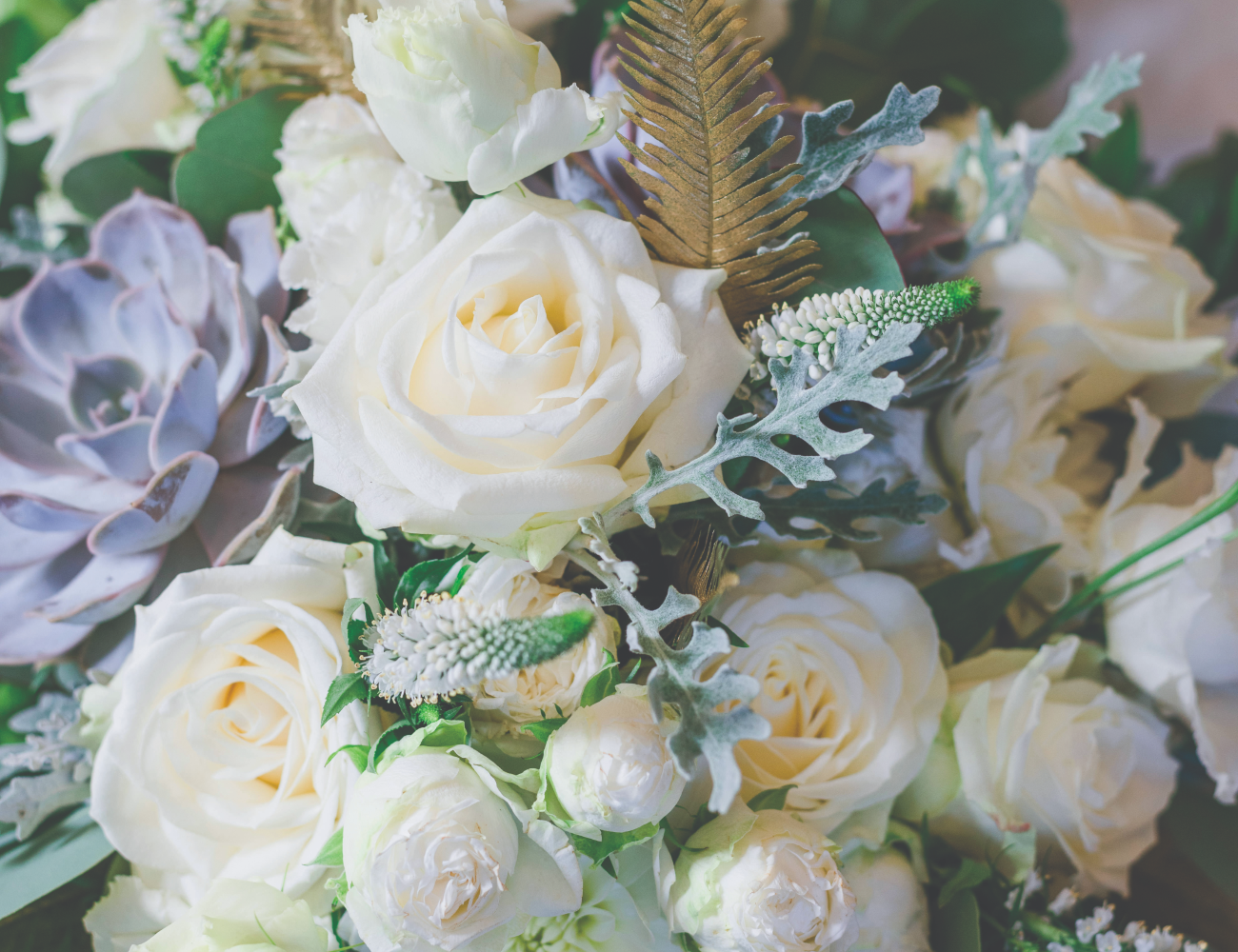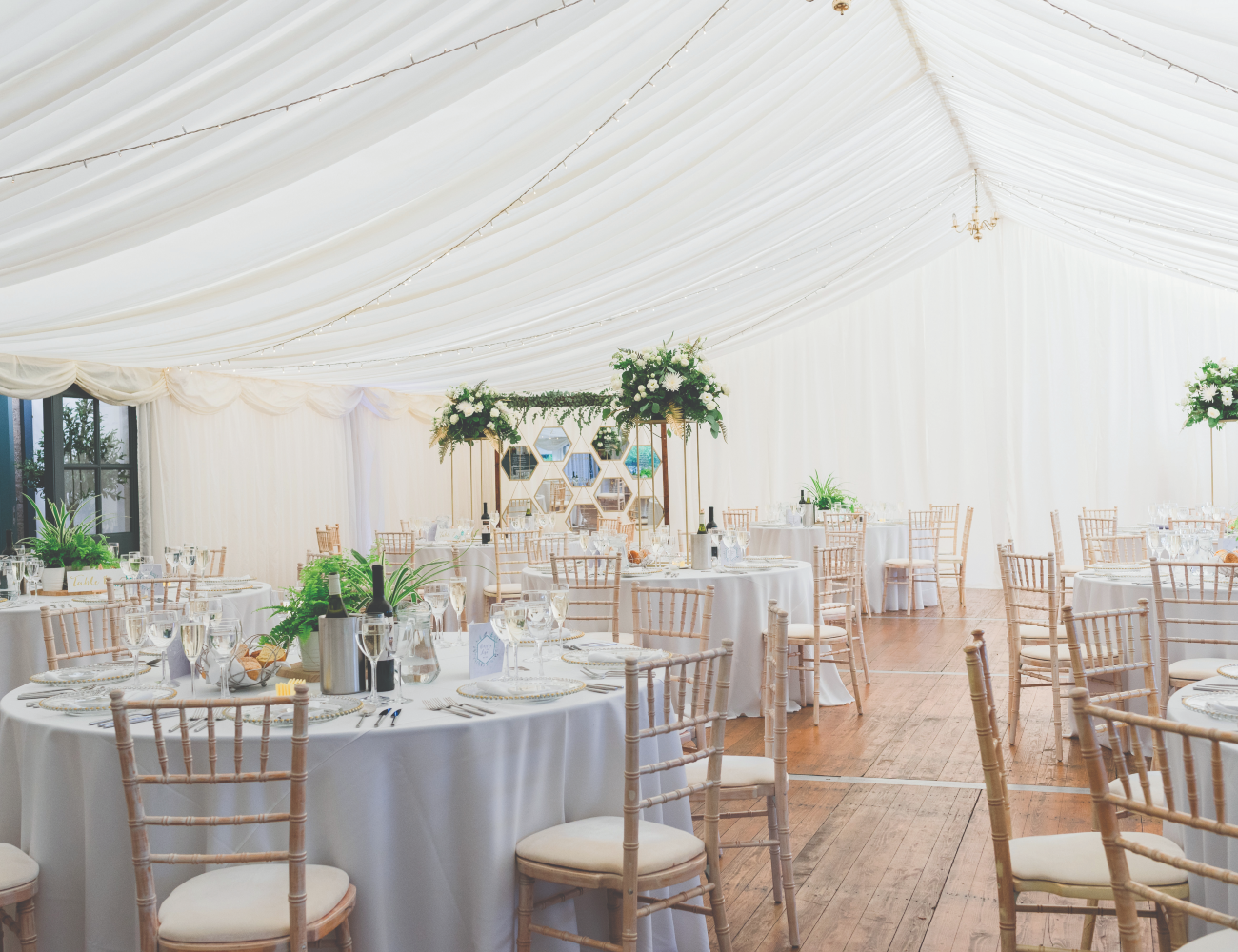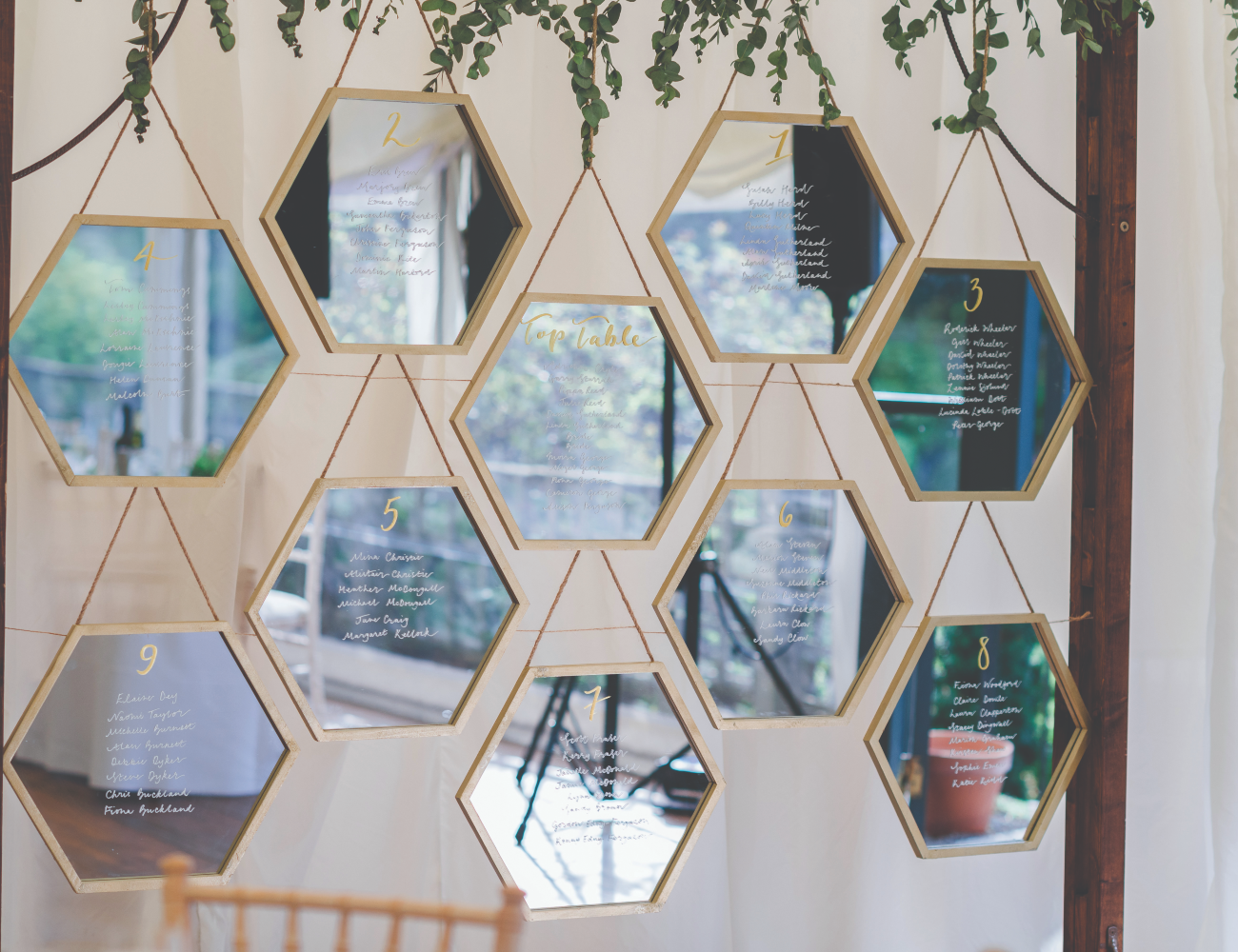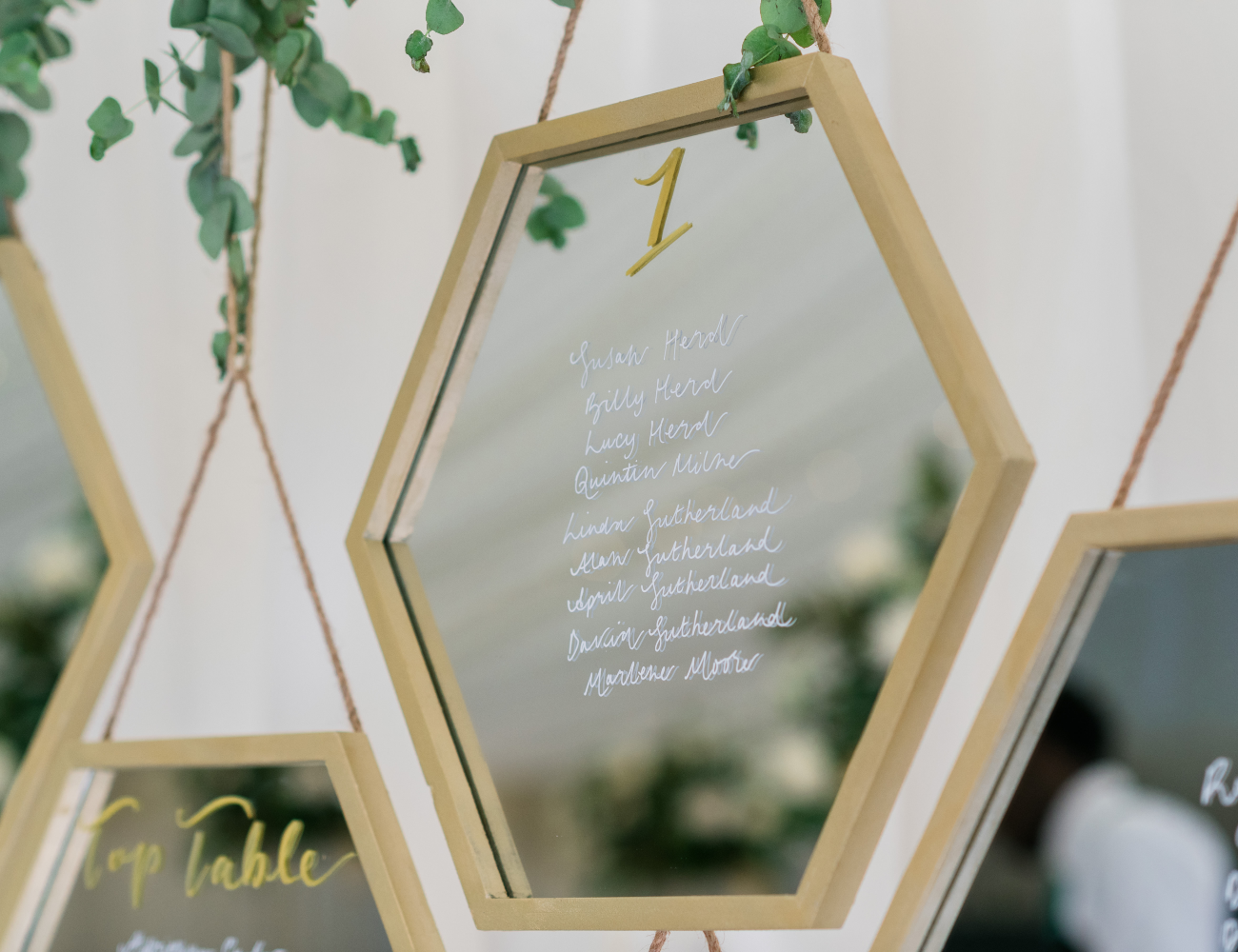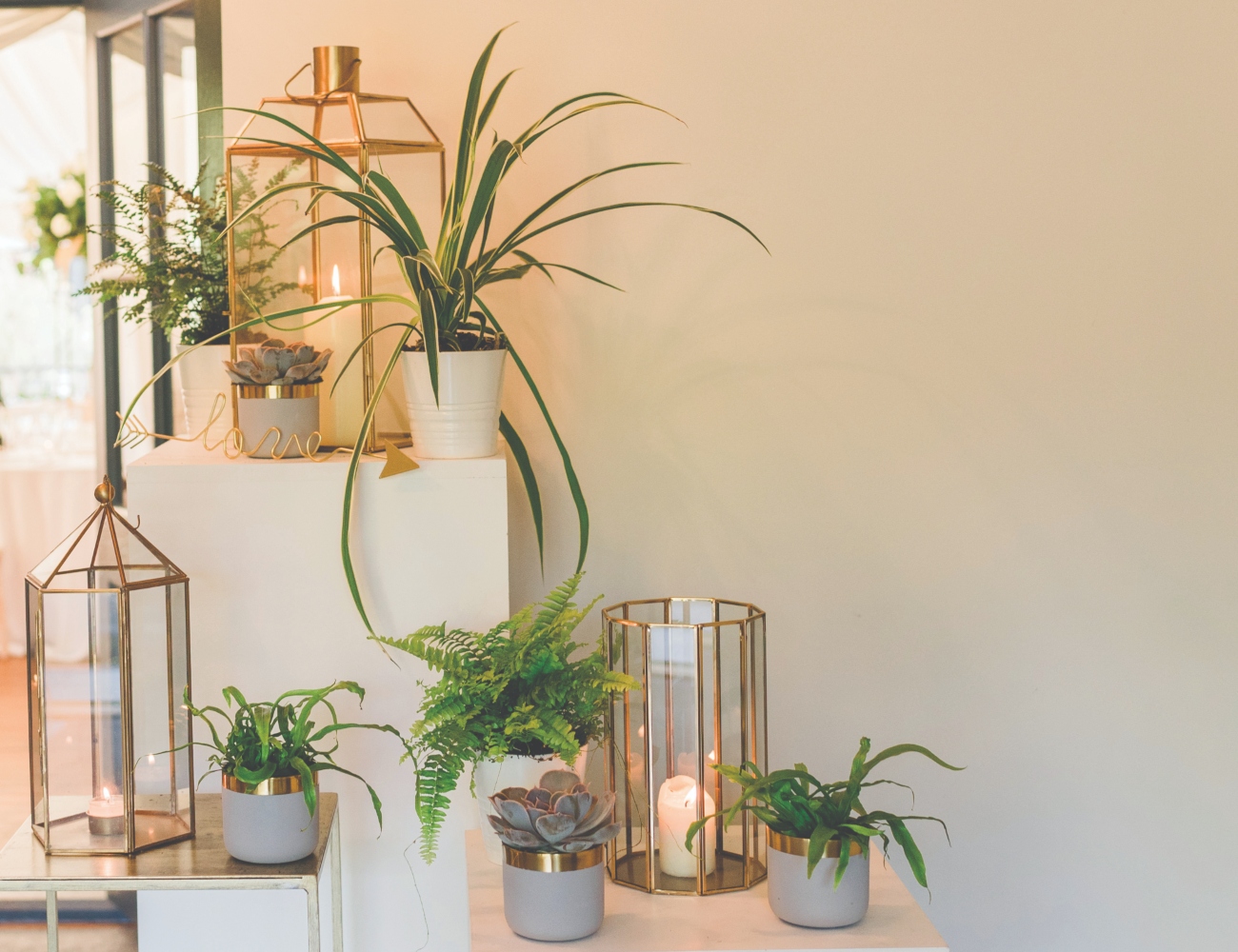 KEEP IT A SURPRISE
Deciding to embrace the element of surprise for their dream dresses until the big day, both brides went shopping separately.
"Only one of our bridesmaids knew what our respective dresses looked like to ensure we hadn't chosen identical ones!" says Kirsten.
Although friends joked the couple would try 'out dress' each other, both Lisa and Kirsten were quietly confident their dresses would complement each other on the day.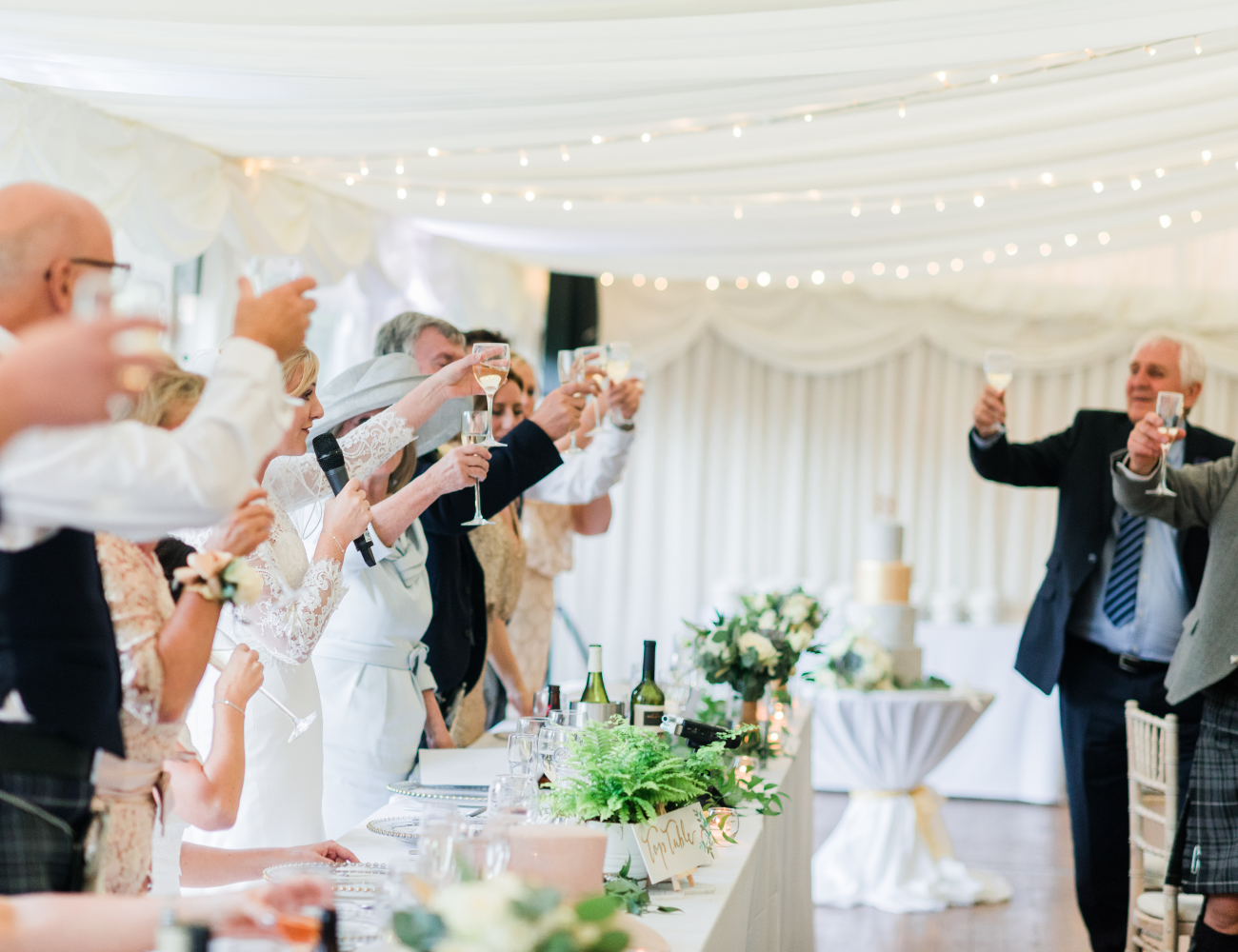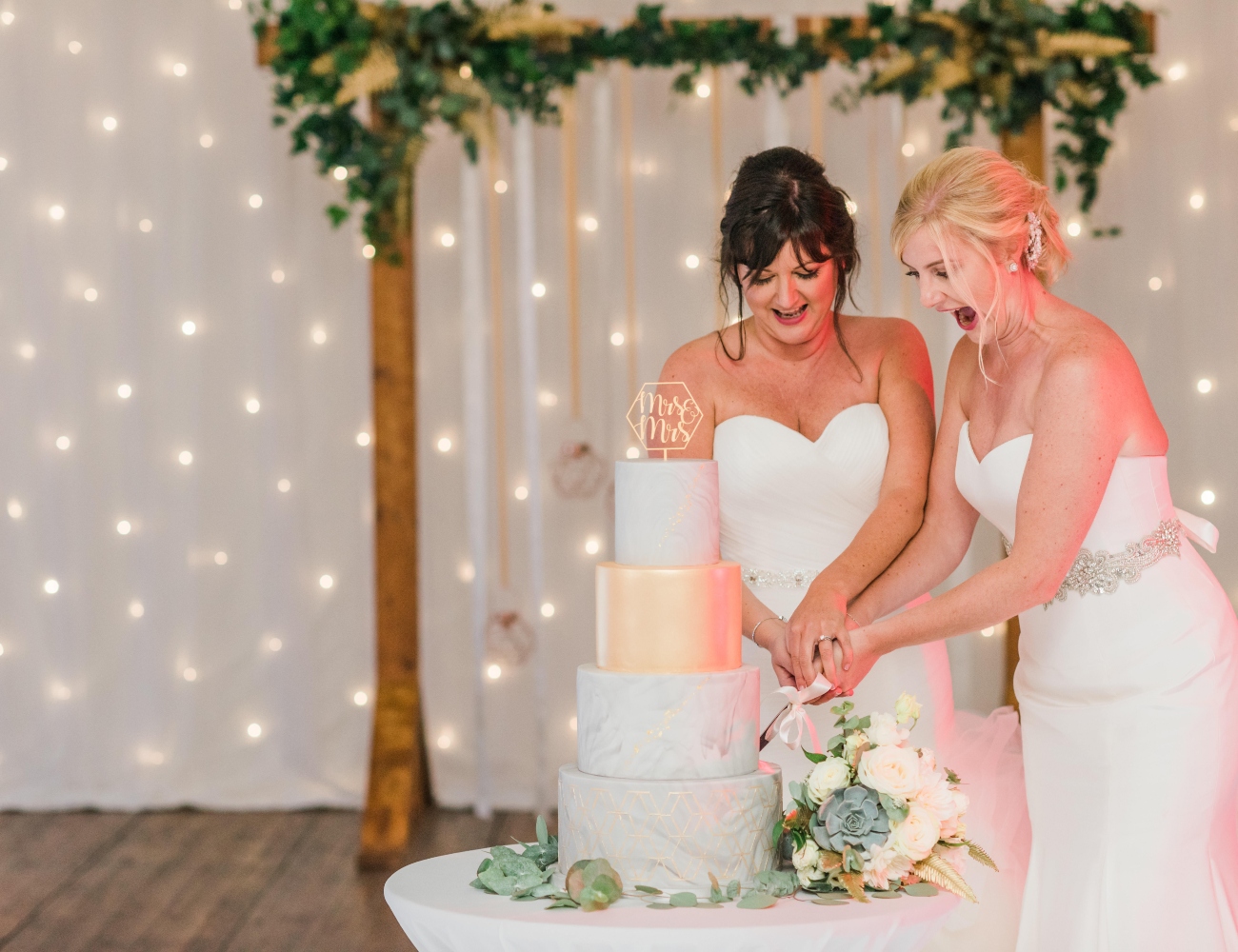 HEADS OR TAILS
The night before the wedding was a chilled affair with drinks and pizza. "We had a quick run through of the ceremony in the main entrance hall of Elsick which, although slightly chaotic, was great fun! It was a lovely atmosphere that evening, with our two families coming together."
There was a lot of discussion from family and friends on how the couple planned to walk down the aisle. "There are no 'traditions', as such, when it is two women getting married. In the end we flipped a coin to decide who walked down first!" Kirsten adds.
After a relaxed morning, with both brides getting ready in opposite wings of the house, it was time to see each other.
"Our photographer suggested we do a 'first look'. It was such a special moment that only we shared before the day got into full swing," says Kirsten.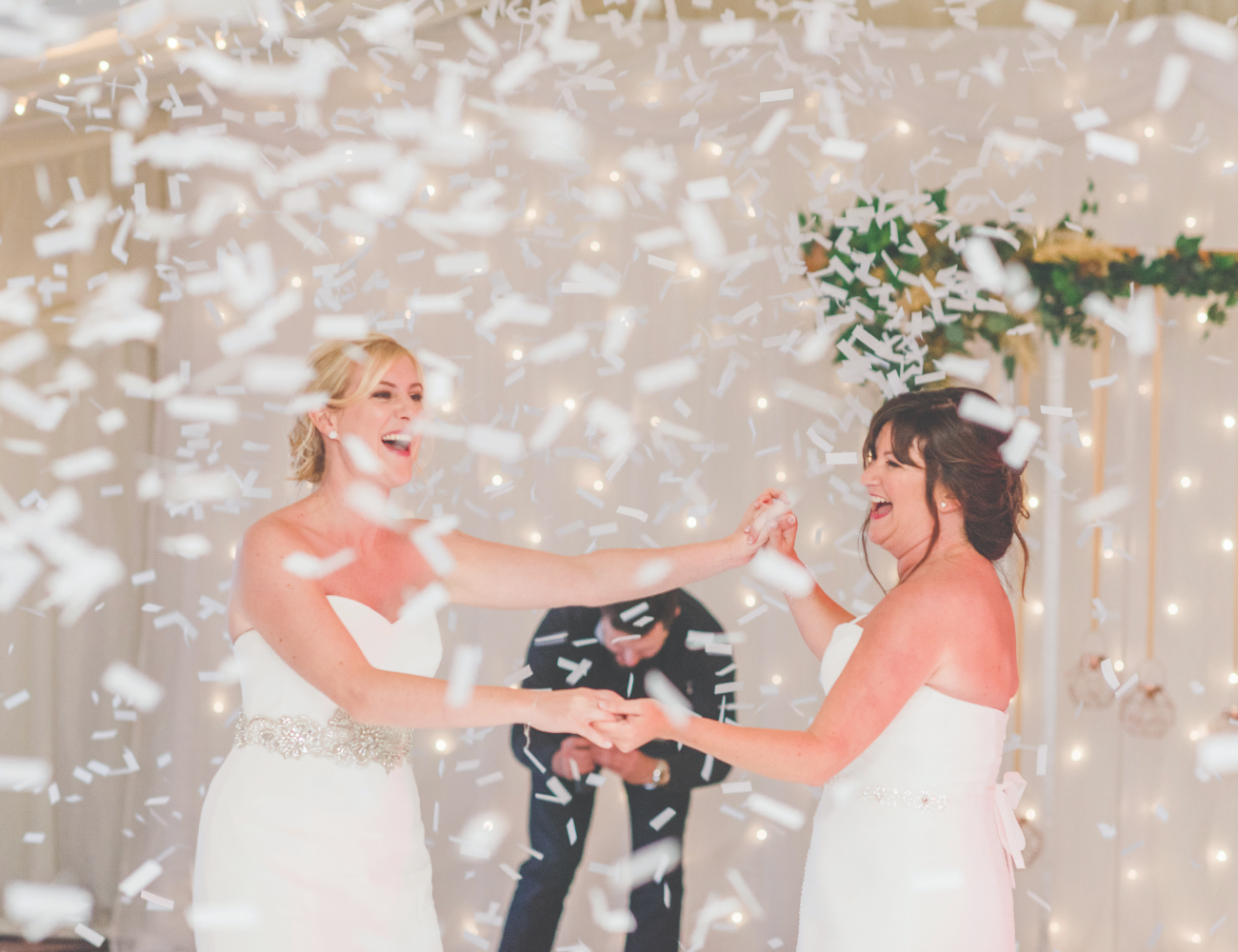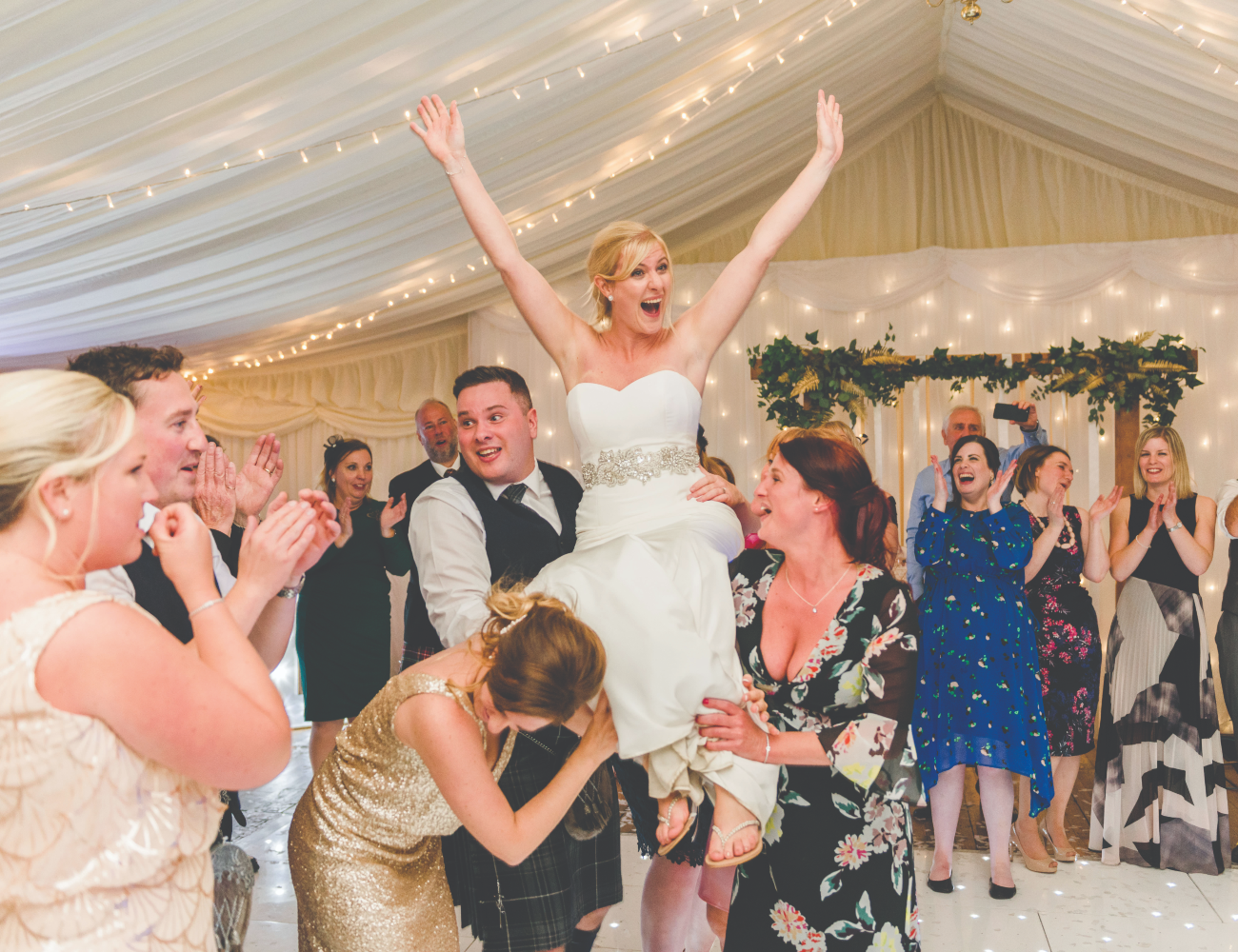 INFLIGHT ENTERTAINMENT
For the speeches, the newlyweds decided to do something different and had a speech between each course. "Both fathers of the brides gave funny yet heartfelt speeches," says Kirsten.
"Garry, our usher, and Julie, our bridesmaid gave a hilarious speech based on the safety demonstration that air stewards give.
Guests were welcomed on board British Gayways flight 080918 to 'destination love' and were regaled with funny anecdotes about us – some of which cannot be printed!" laughs Kirsten.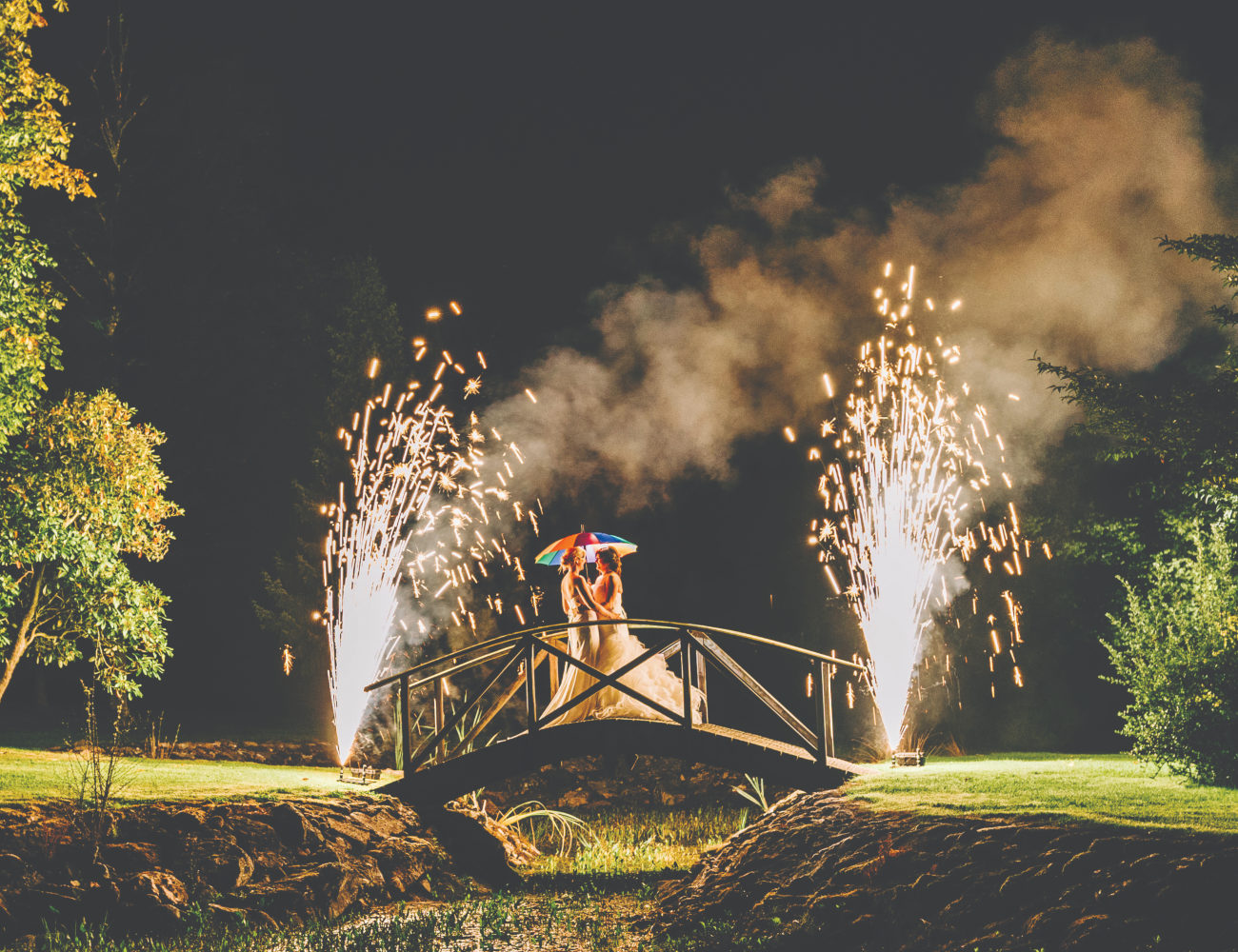 Reflecting on their special day, saying 'I do' hasn't changed much for the couple – apart from the addition of their puppy, Ernie, who they got two days after their wedding.
"Don't sweat the small stuff," advises Kirsten. "Your guests probably won't remember what colour your napkins were!"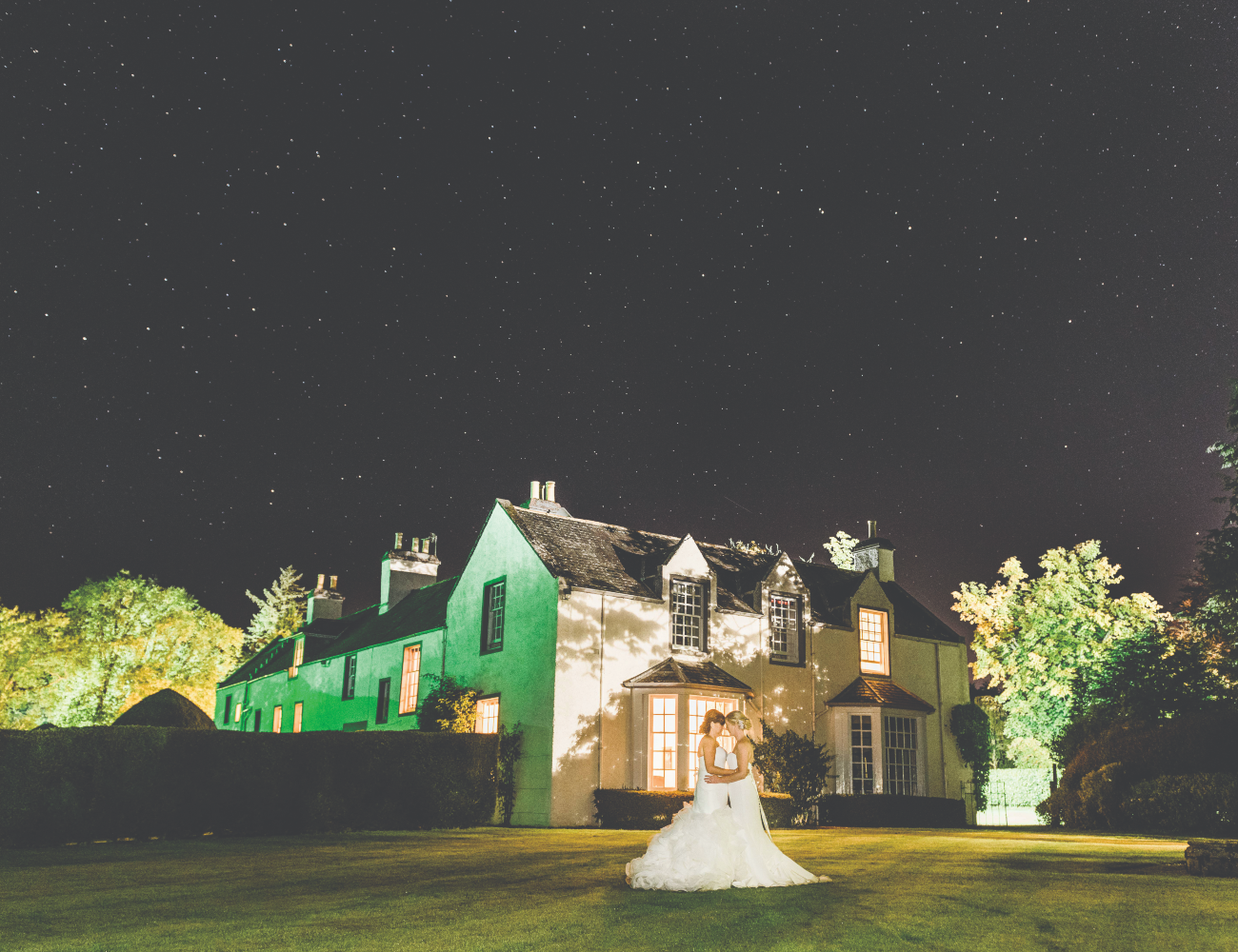 Lisa's dress: Pronovias at Avorio Bridal  | Kirsten's dress: Sassi Holford at Ivory Grace Bridal 
Bridesmaid dresses: Sorella Vita at Perfect Bridal Rooms  | Lisa's hair: Louise from Acropolis | Lisa's make-up: Jenny Gray Makeup | Kirsten's hair: Jill McFarlane at Poppy Skinner
Kirsten's make-up: Tiffany Dawson Make-up Artist
Décor: Hazel Thomson at Robins Egg + illumin8
Calligrapher: Amy Singer | Videographer: Made with Love Films 
Caterer: Hudsons  | Florist: Isla Duncan Florist
Stationery: Paper Skeleton | Cake: Cakes by Kirsty 
Celebrant: Emma McPherson from Aberdeenshire Council | Band: Little Red
Brass quartet: Bon Accord Silver Band | Magician: Lee McGroggan from Phoenix Magic