Elegant blue + white themed wedding at Glencorse House, Edinburgh
Cara and Brandon managed to plan an elegant wedding in Scotland all the way from China.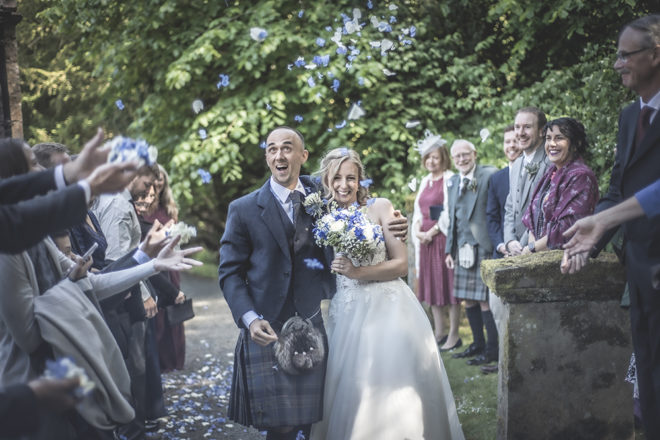 After meeting at a language school in France, Cara and Brandon spent the beginning of their relationship travelling the world together.
But when they decided to get married in June of 2019, one Scottish venue in particular stole their hearts – Glencorse House.
Here bride Cara shares some of their gorgeous wedding photos from Geebz Photography and tells us the story of their big day…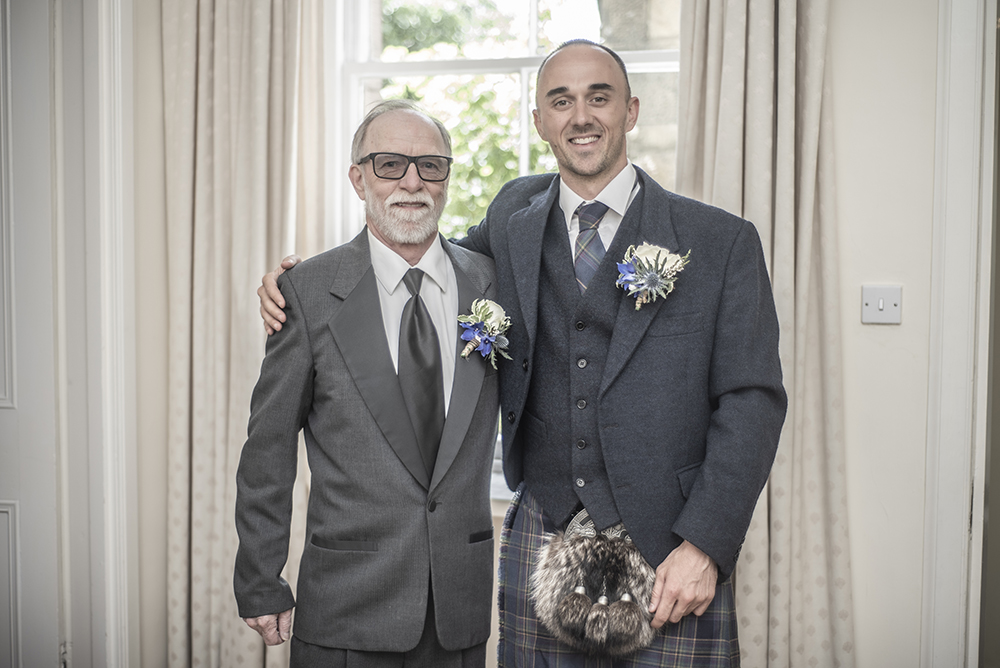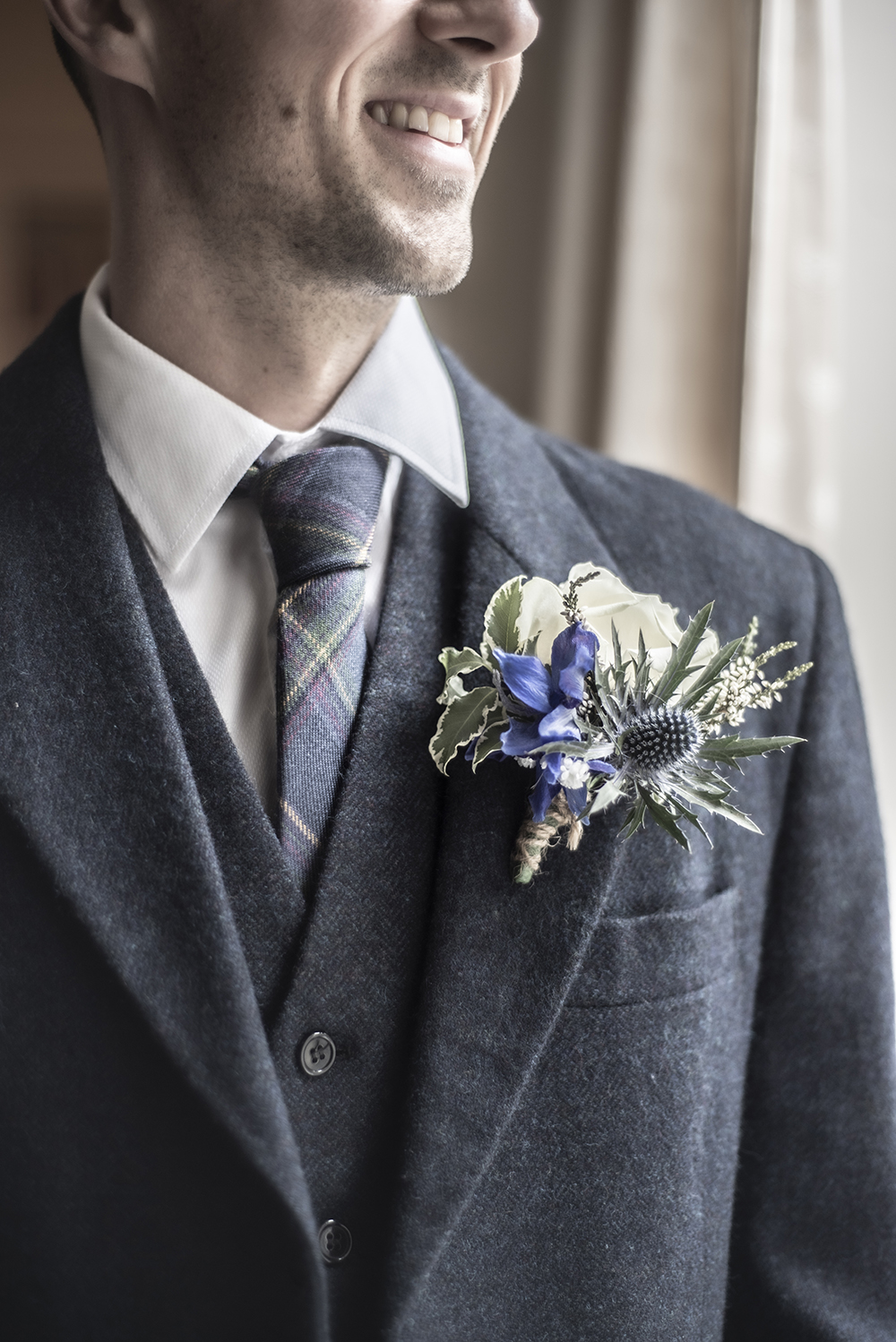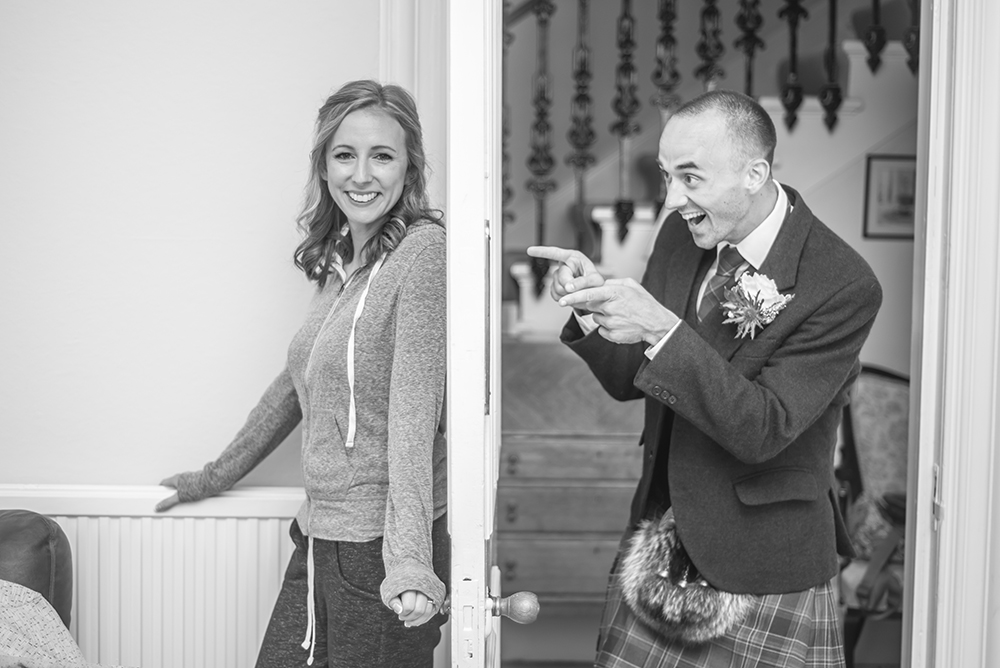 We met in September 2015. I was taking a sabbatical year from teaching internationally and Brandon was taking time off from his job as an engineer in Denver, Colorado.
We had both chosen to learn French at a small language school in Montpellier, France. I met Brandon on my first day of class and there was an instant connection.
For me, the beginning was platonic but it didn't take long for love to develop. After four months of being together, I accepted a job in China which was to begin the following August and Brandon committed to making the move with me.
We travelled the world together for six months and when we started in China, Brandon retrained to teach maths and was accepted to teach within the same school.
The proposal happened on Brandon's 30th birthday. We were on a seven day trek of Mount Kilimanjaro and we had just summited the peak in time for sunrise.
As I was taking in the spectacular views, I turned around to see Brandon down on one knee with the ring in hand. I burst into tears and instantly said yes.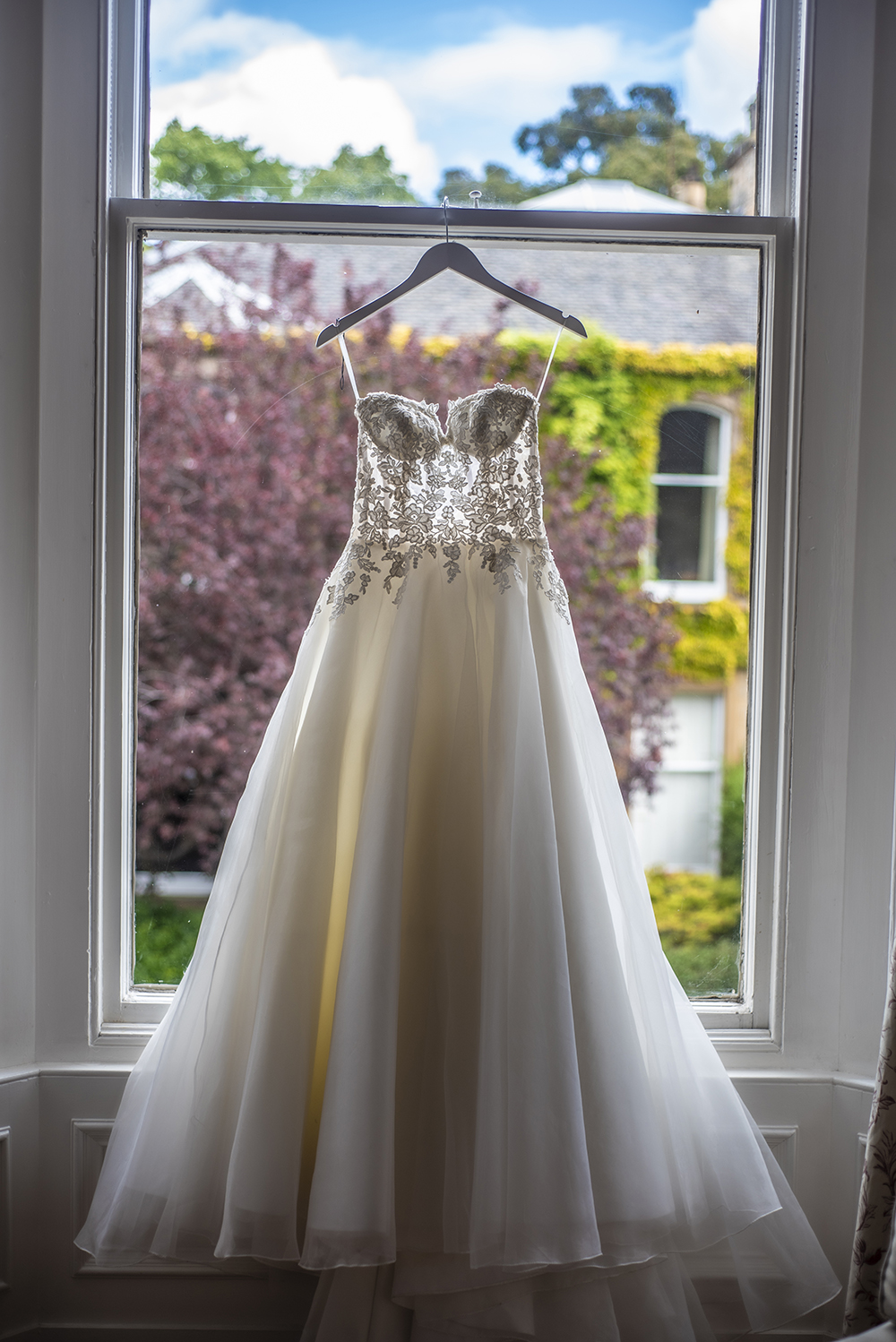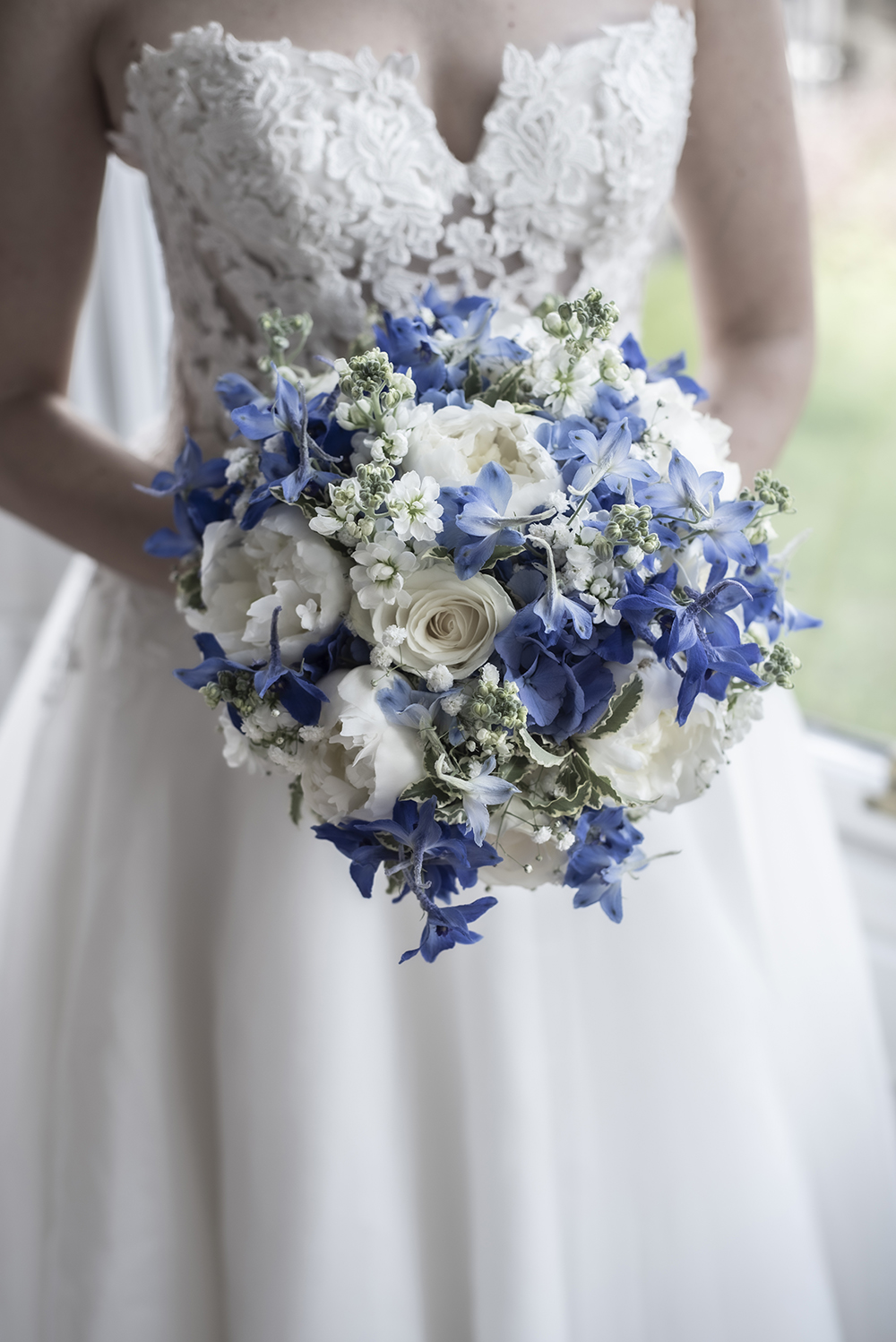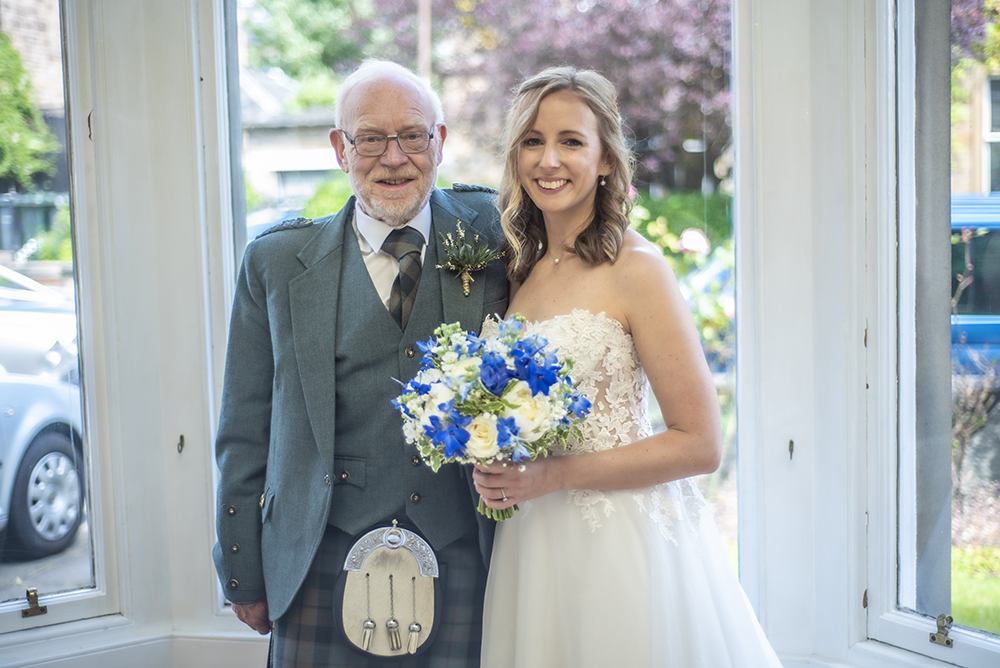 Wedding planning was a bit of a challenge as it was mostly done online from our home in China.
On our Christmas break we set up some venue visits but after we visited Glencorse House, all the other venues were blown right out of the water.
It was gorgeous!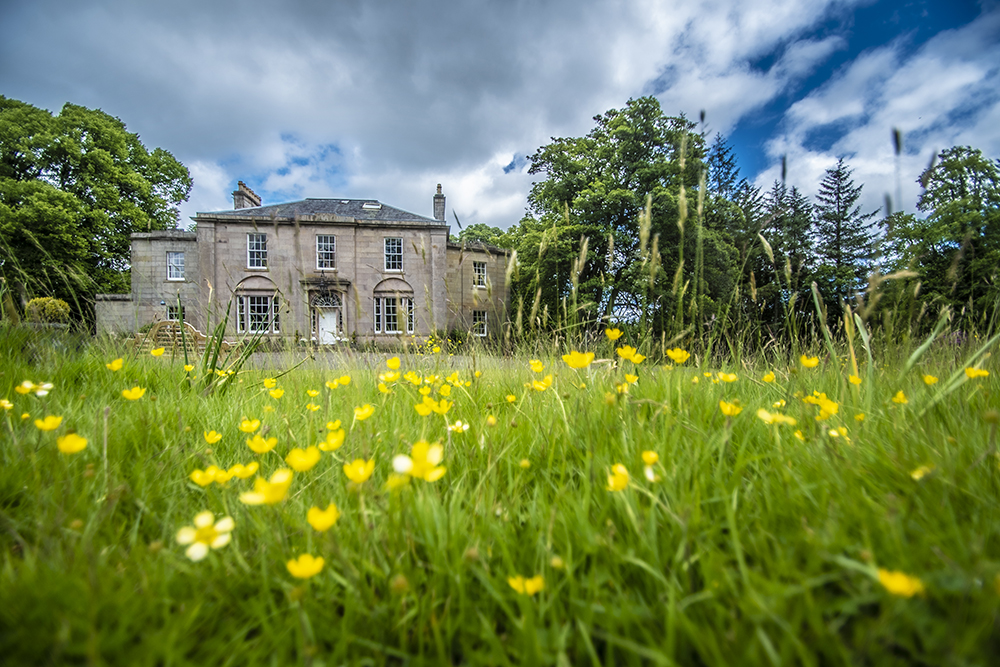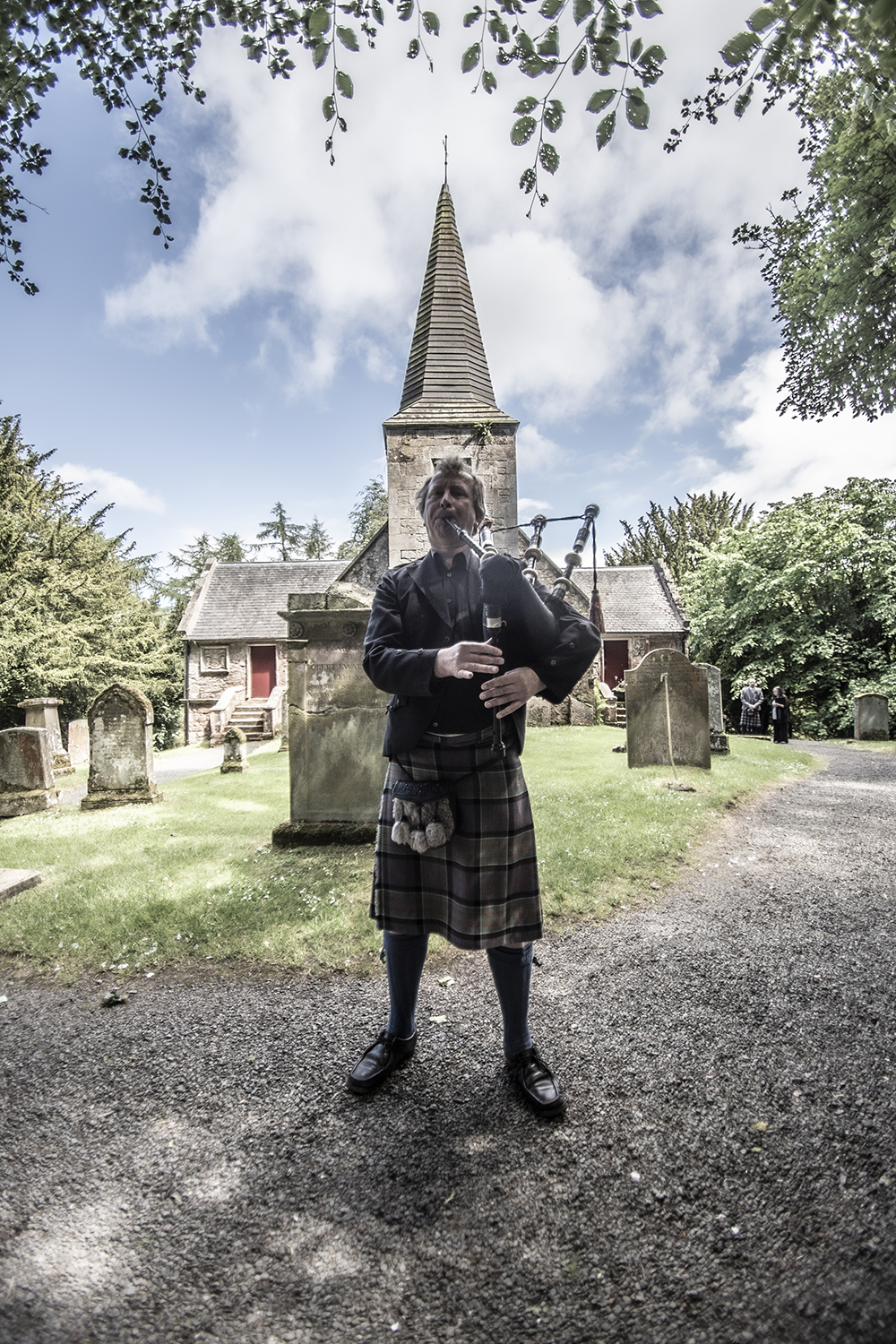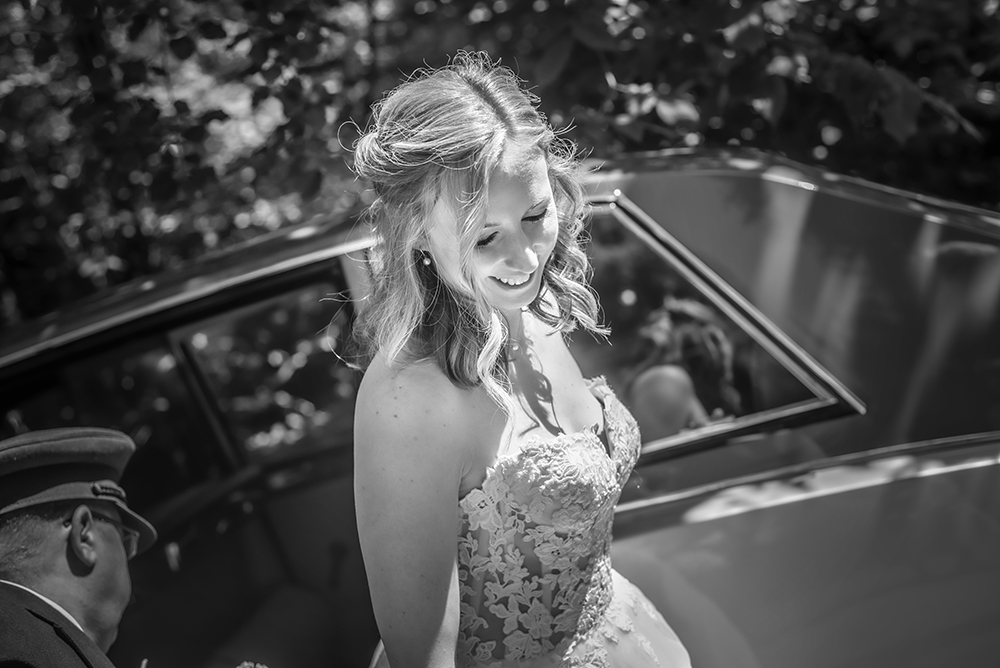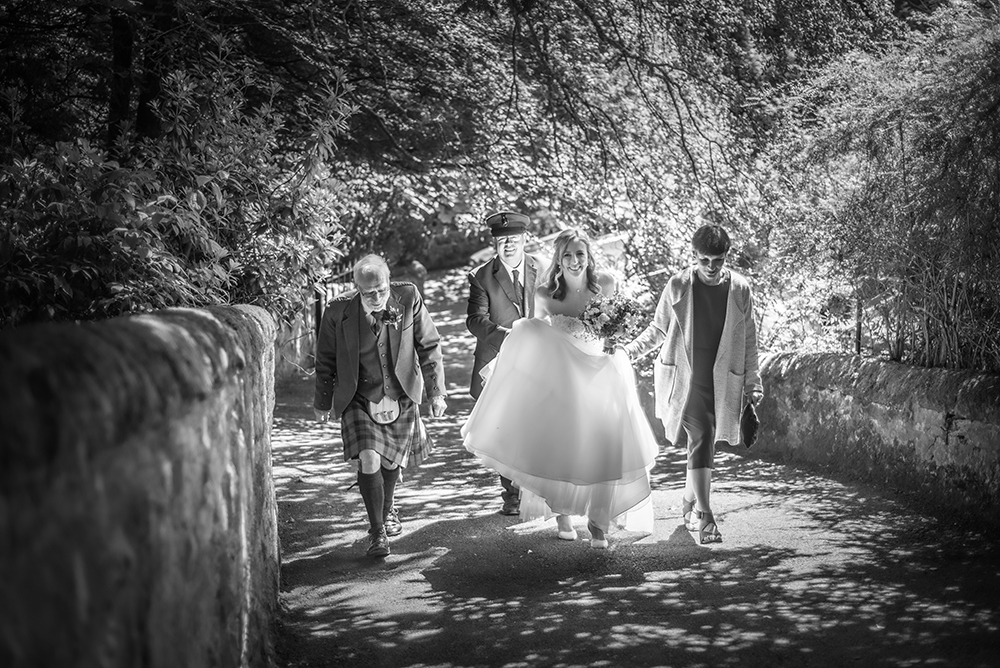 We instantly fell in love with Glencorse House. The owners were friendly and it had a lot more of a personal touch than other venues we had visited.
While other venues felt like corporations out to make as much money as possible, Glencorse was reasonable and a lot more couple focused. The chapel and the spectacular grounds were definitely the main selling points.
It was also close to the Pentlands and we were able to have some wedding photos taken out on the hills which was important to us as we love hiking and the outdoors.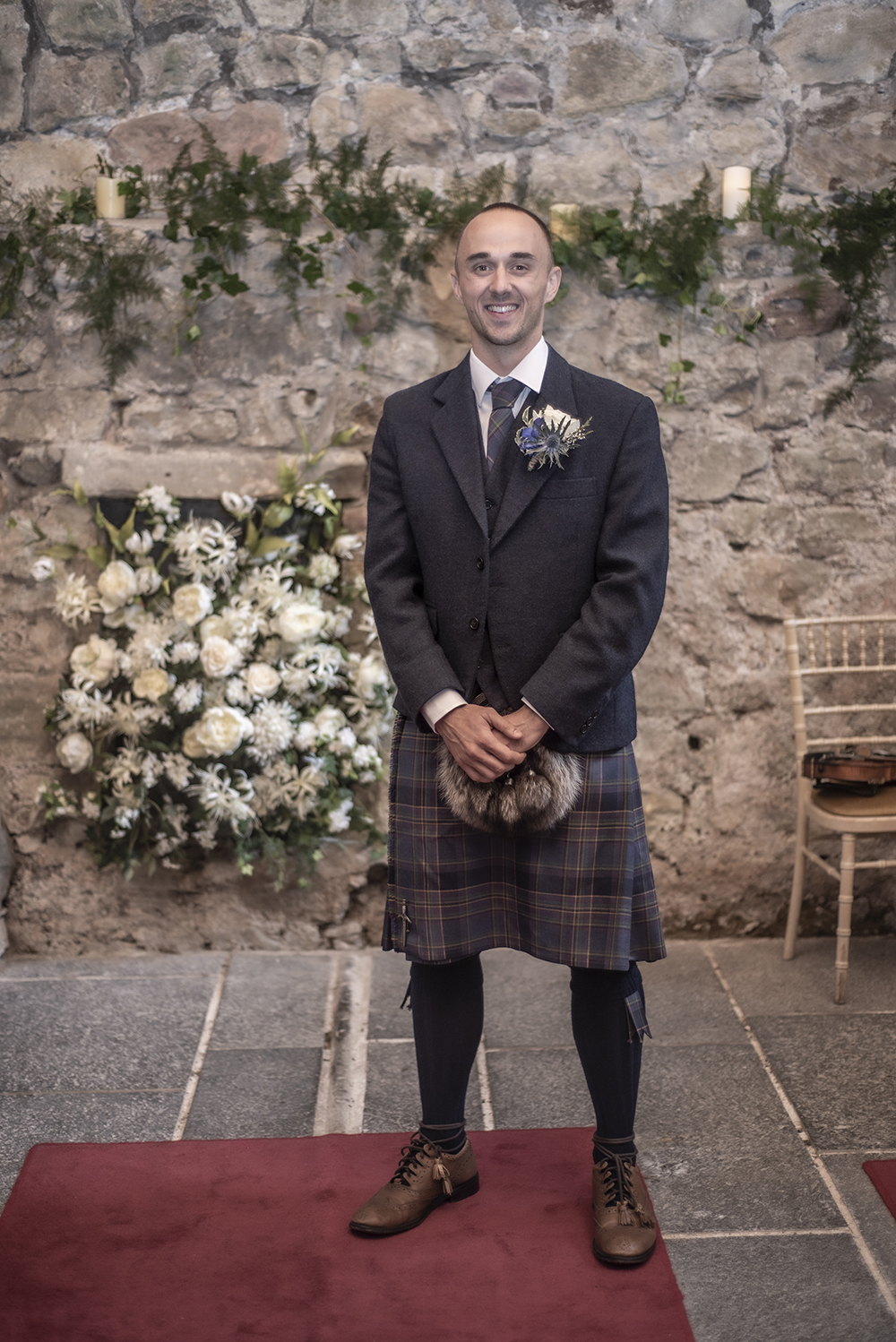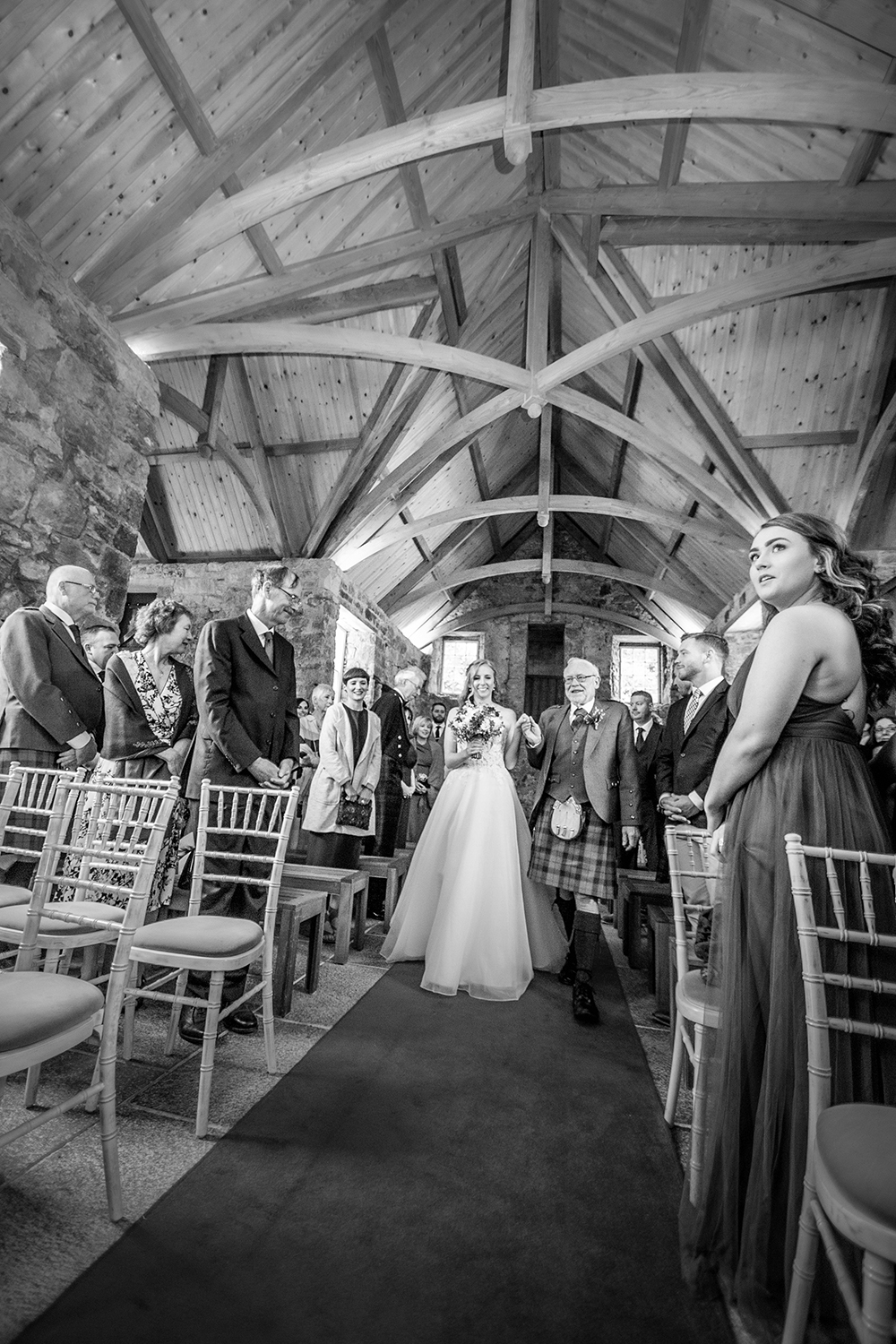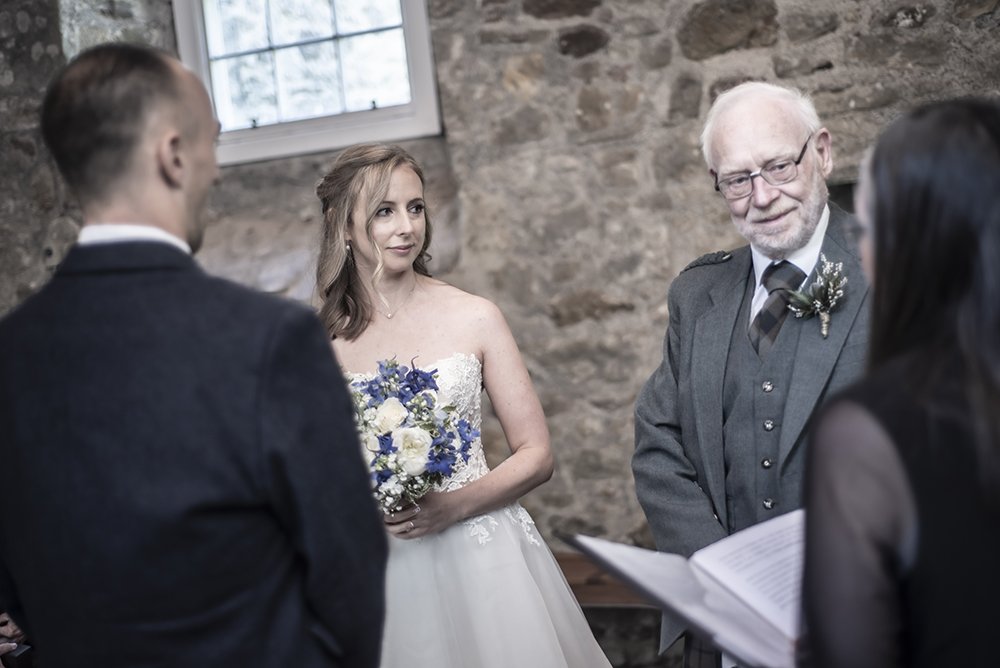 Once we had the venue, we were given some wonderful recommendations of suppliers which made the rest of the process a bit easier.
Geebz Photography was friendly and likable, and took real rather than posed photos.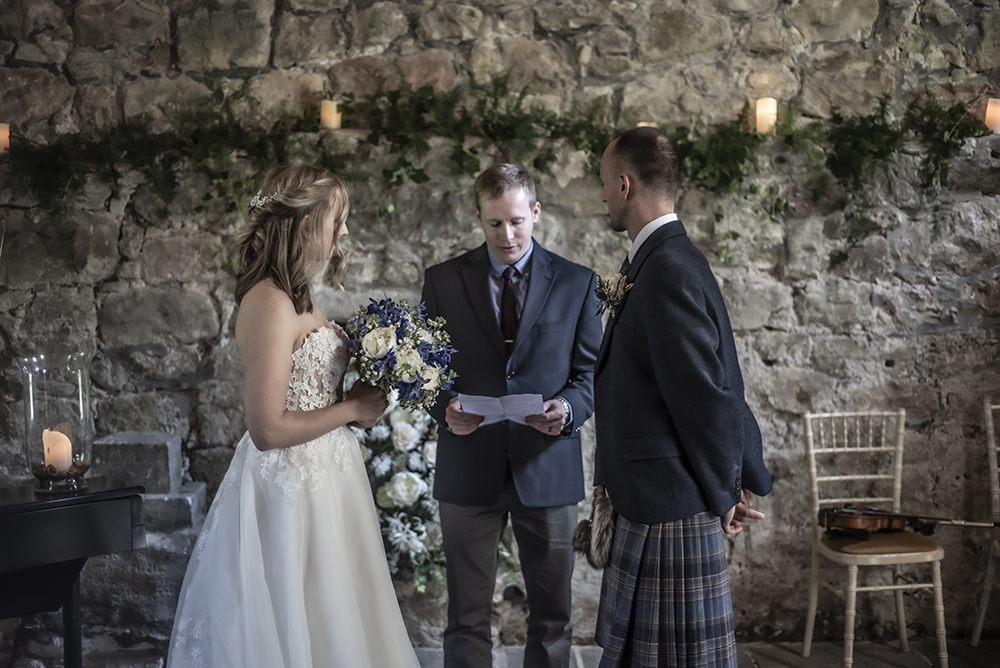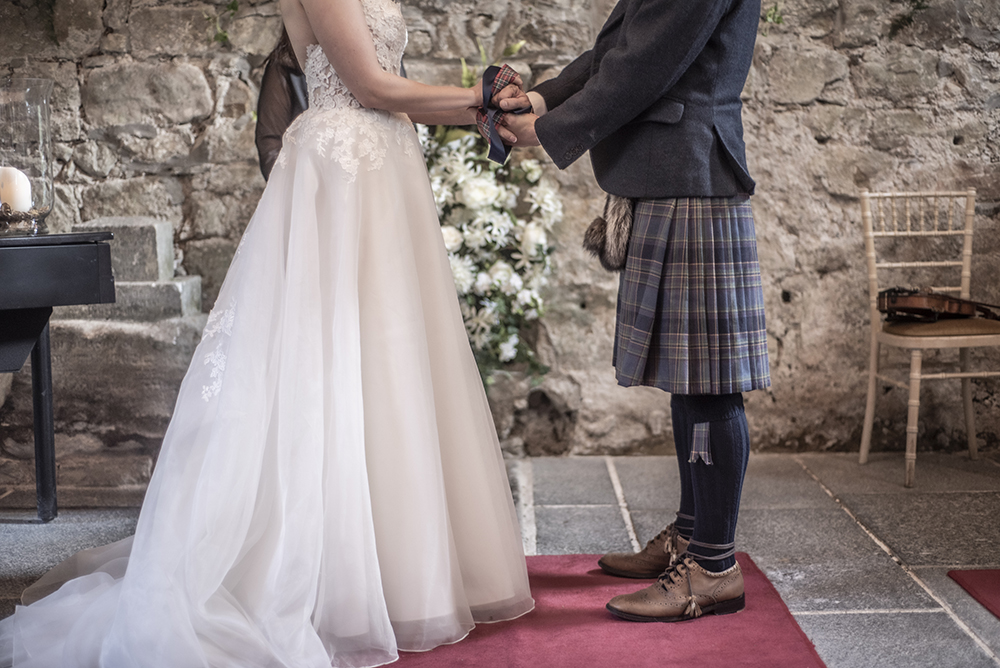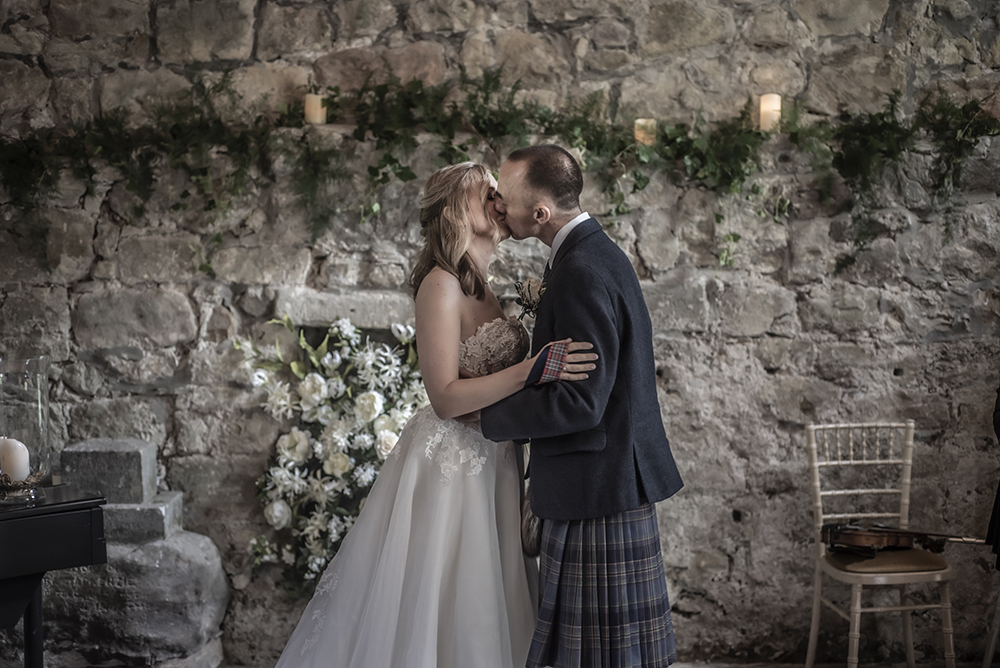 We weren't too bothered about a traditional wedding cake and we were finding it difficult to find a cake that was both within budget and would taste great.
I found Cuckoo's Bakery and I loved their cupcakes so we decided on a cupcake tower instead.
Our favourite part of the process was definitely the cupcake tasting!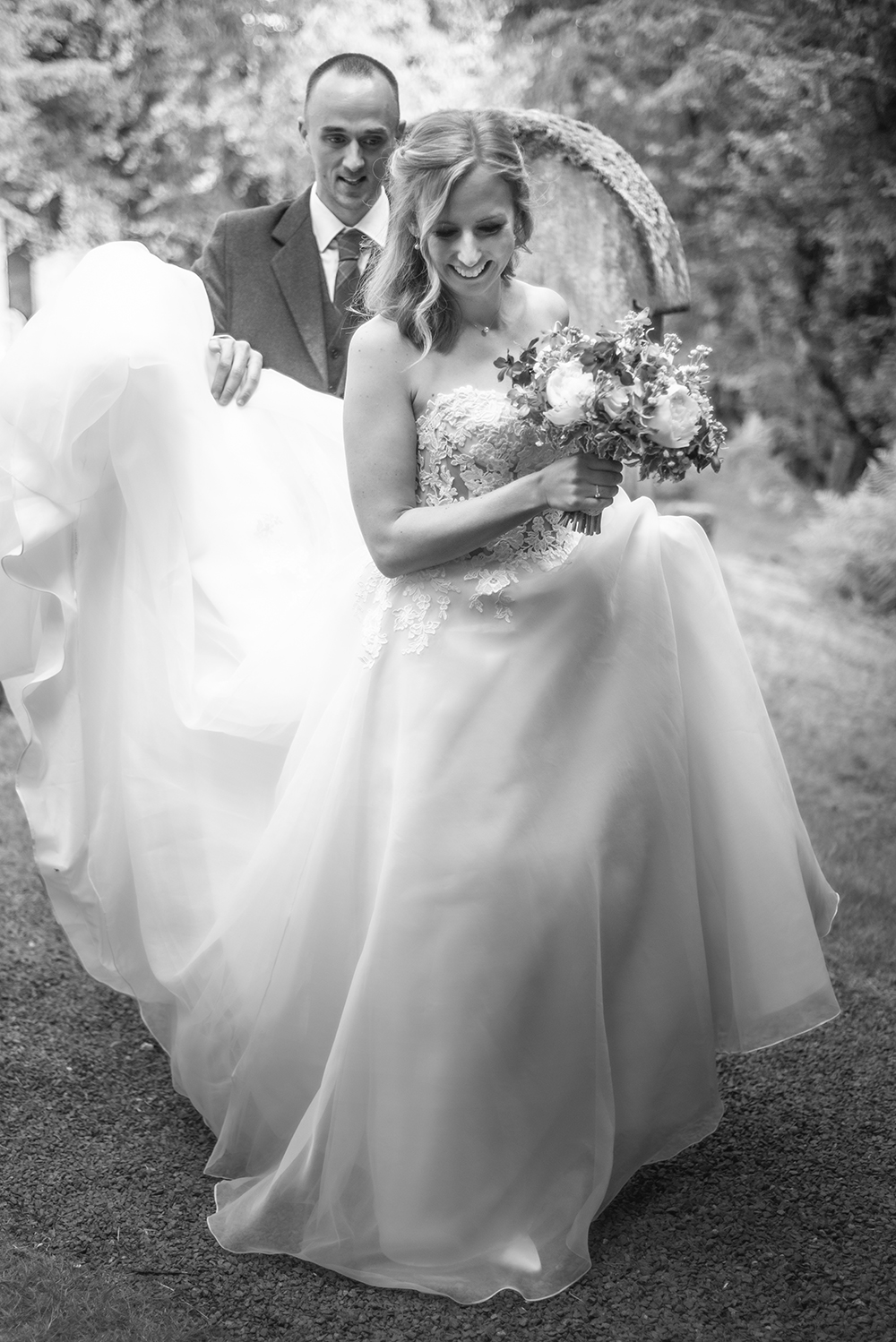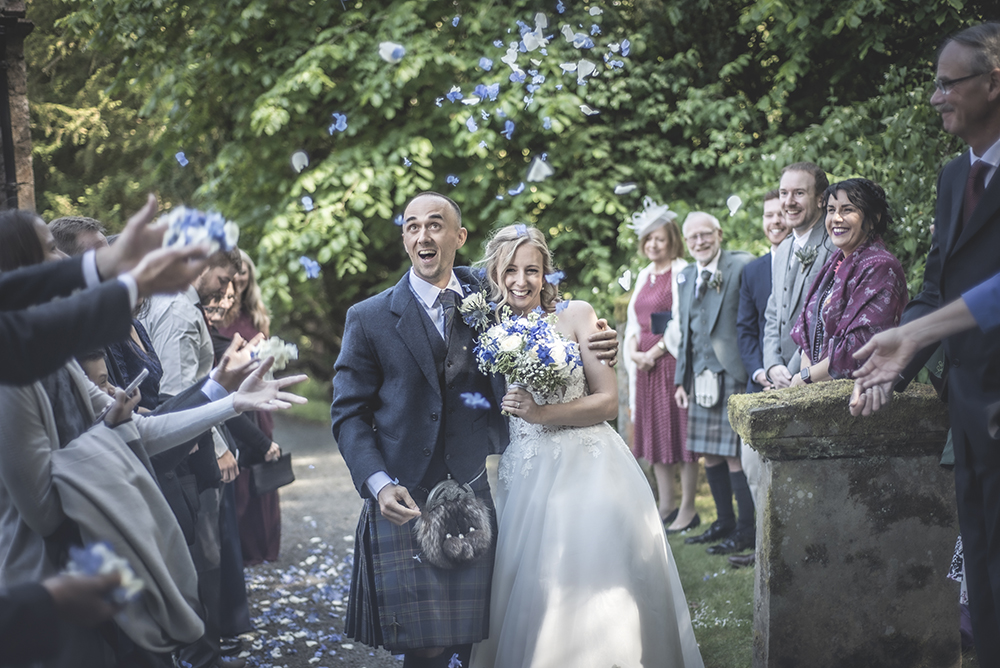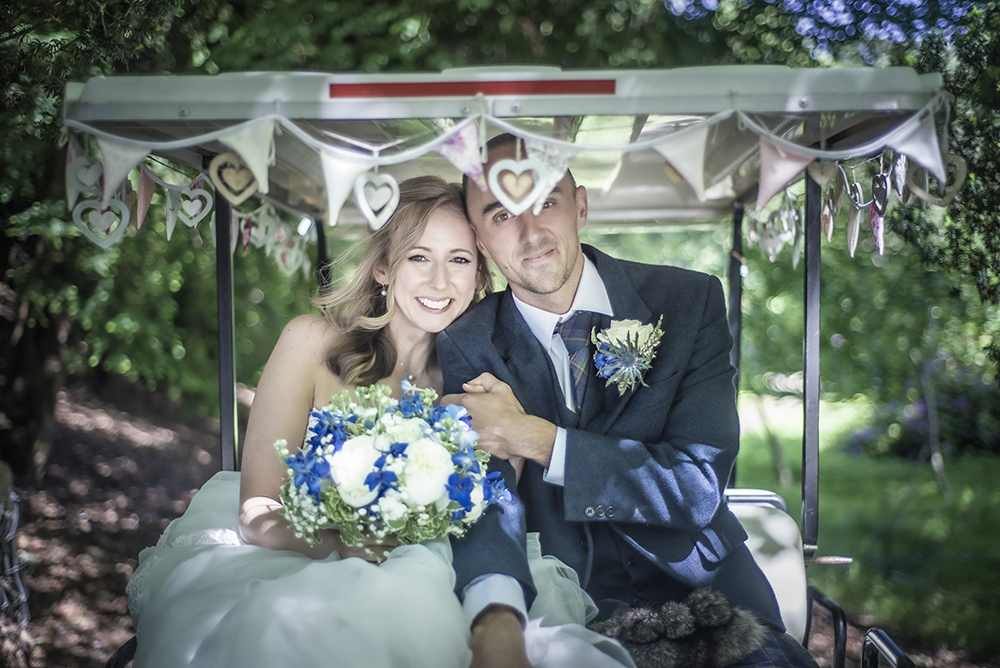 The colour scheme was generally blues and whites but that was mostly due to the flowers which we matched with my dress and Brandon's kilt.
Our florist, Myra from Scent of Ginger, was absolutely amazing at giving advice on what would work best at our venue.
As I have lived abroad for many years and we had friends coming from different parts of the world, we decided to base our seating plan on places we had lived or travelled to together.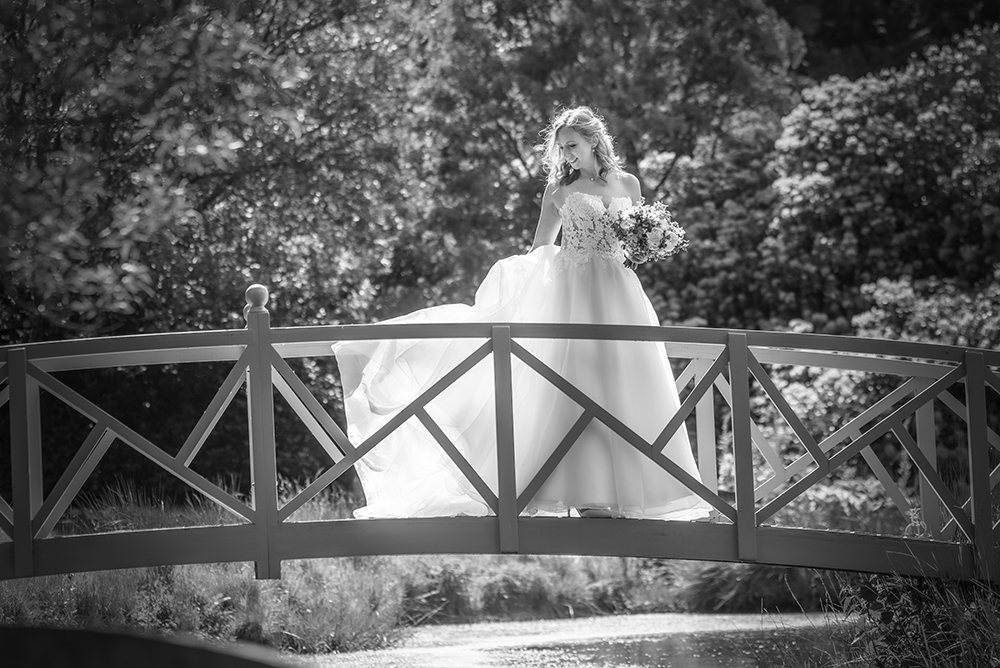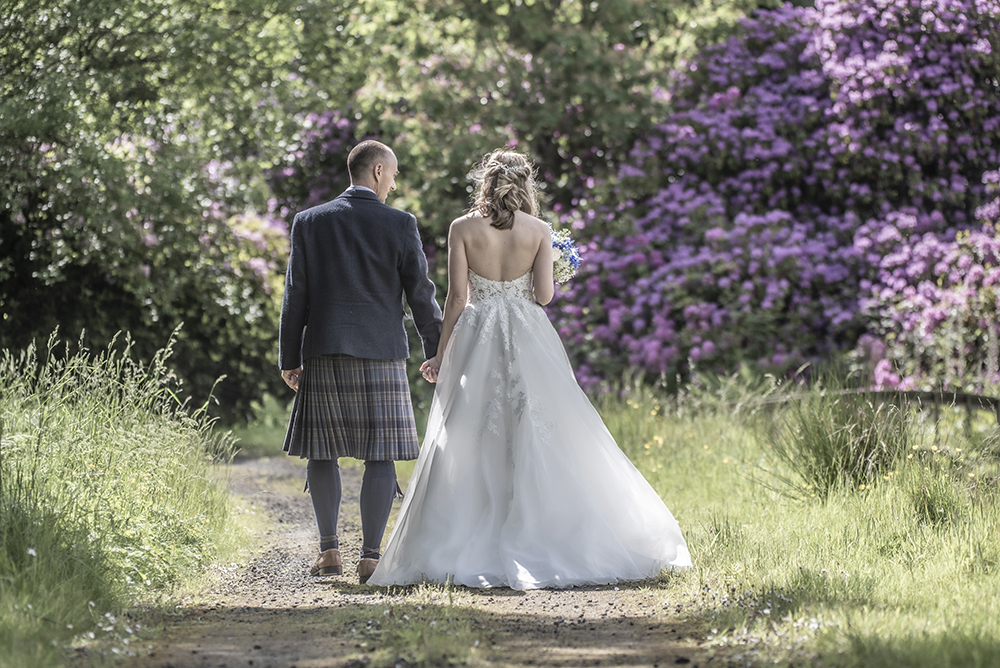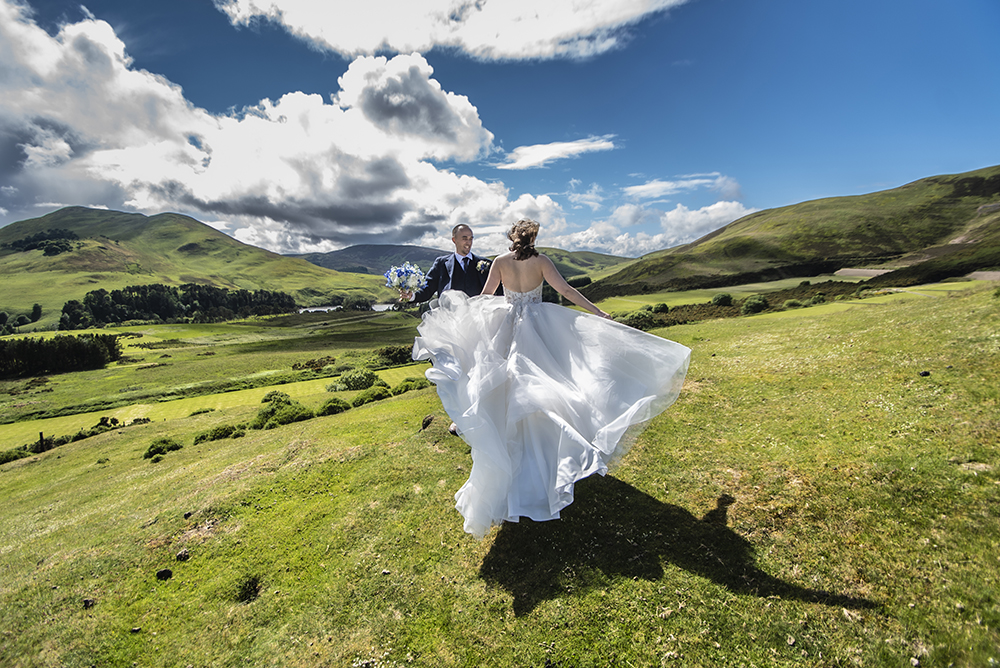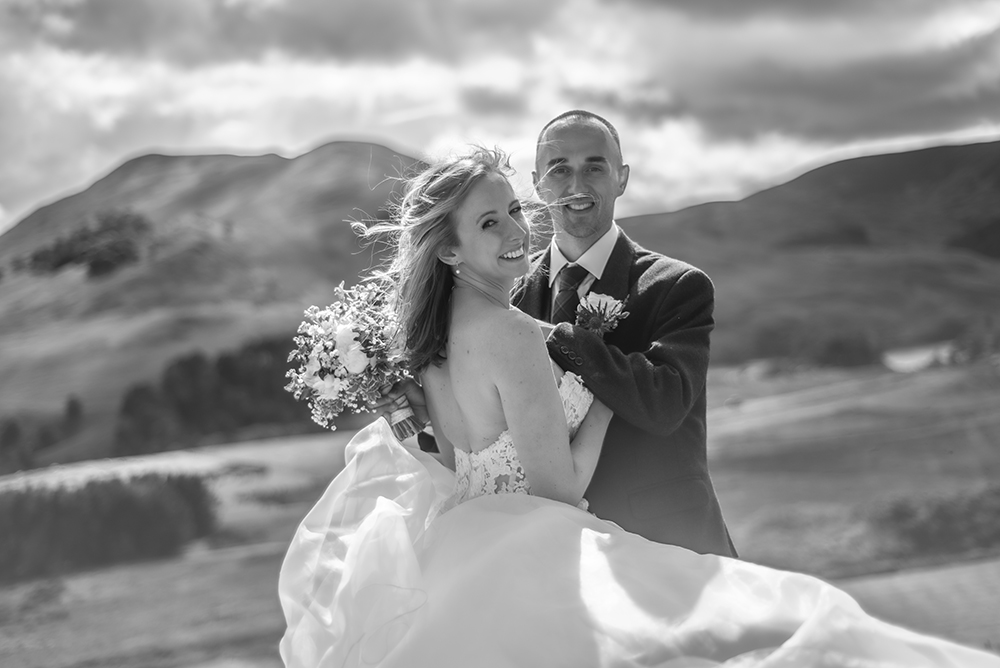 Our celebrant asked us before the wedding to send her three reasons why we love each other and these were to be unseen by each other prior to the day.
We heard them for the first time during our ceremony and it was definitely the highlight of the ceremony for us.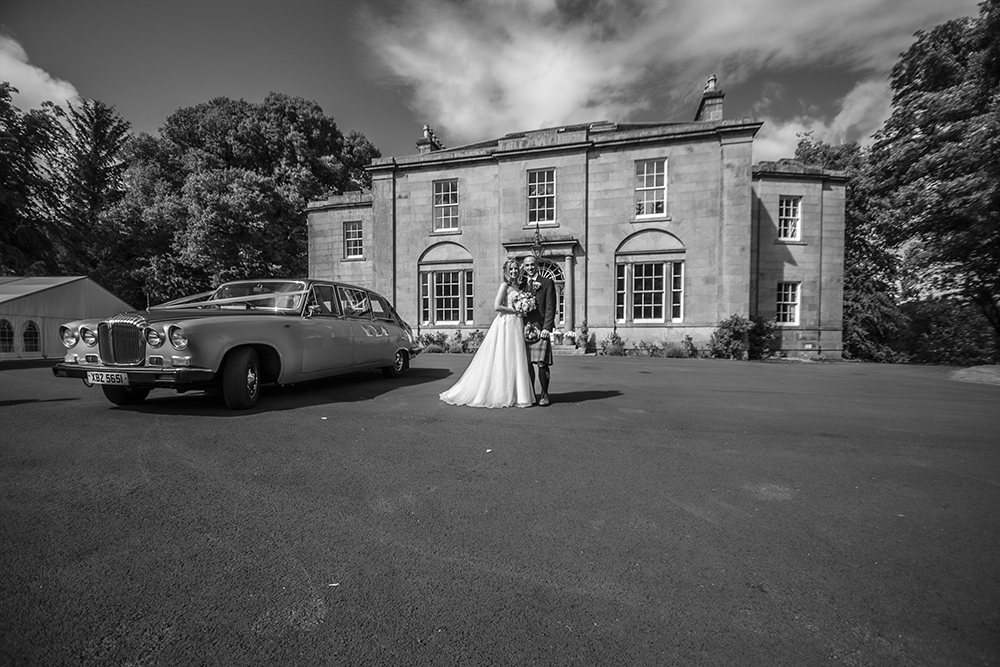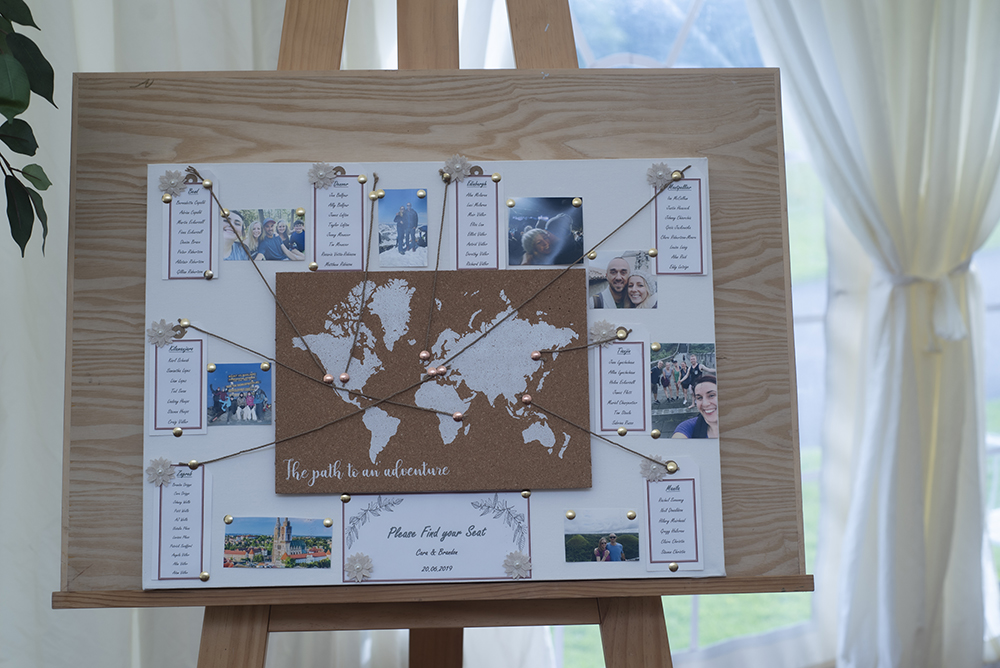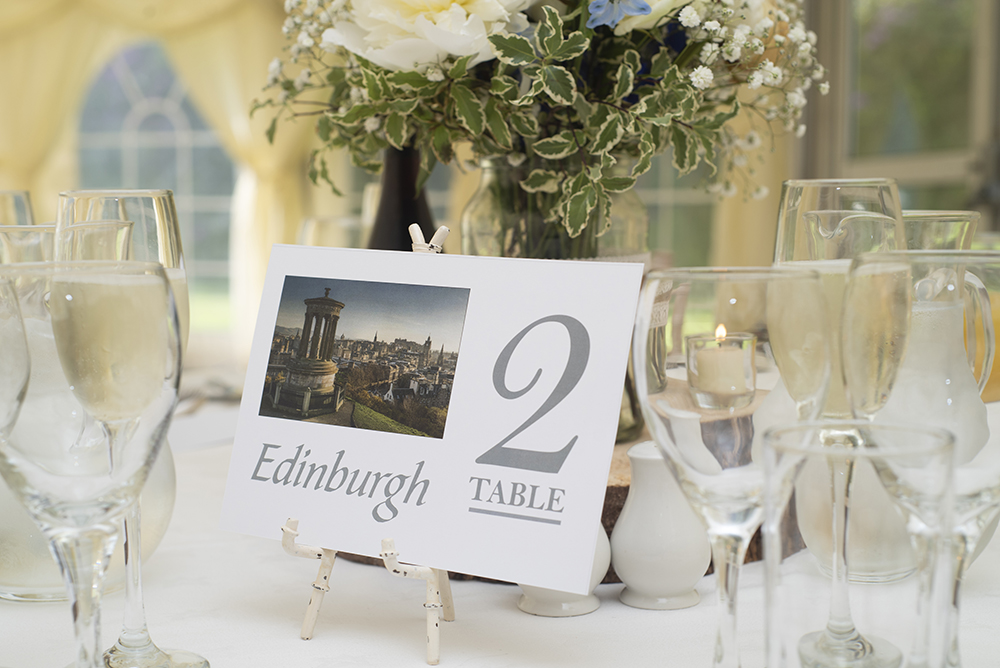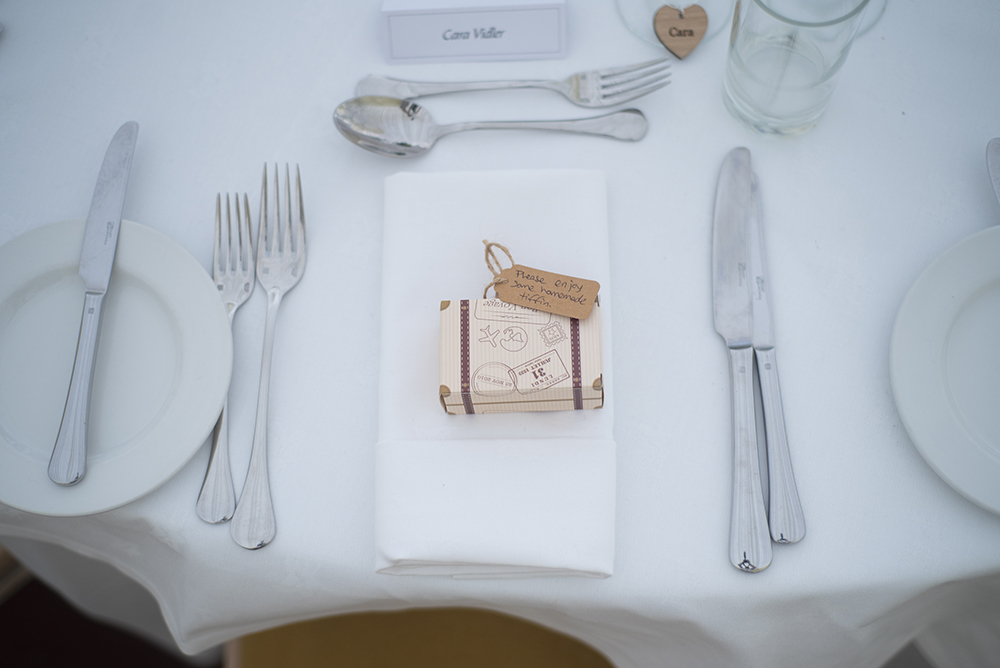 Our food catering was by Paul McLemen from Blackberry Cuisine. The canapés and food that he provided were amazing. 
Dancing Feet Ceildh Band are a two person band so it kept costs down, but they used a sound looping device to make it sound like a full band. They're very talented, and could play different instruments and bagpipes.
As Brandon is American, many of our guests came from the states.
We organised a ceilidh and it was so much fun watching the Americans trying out the moves, with a little help from the Scots.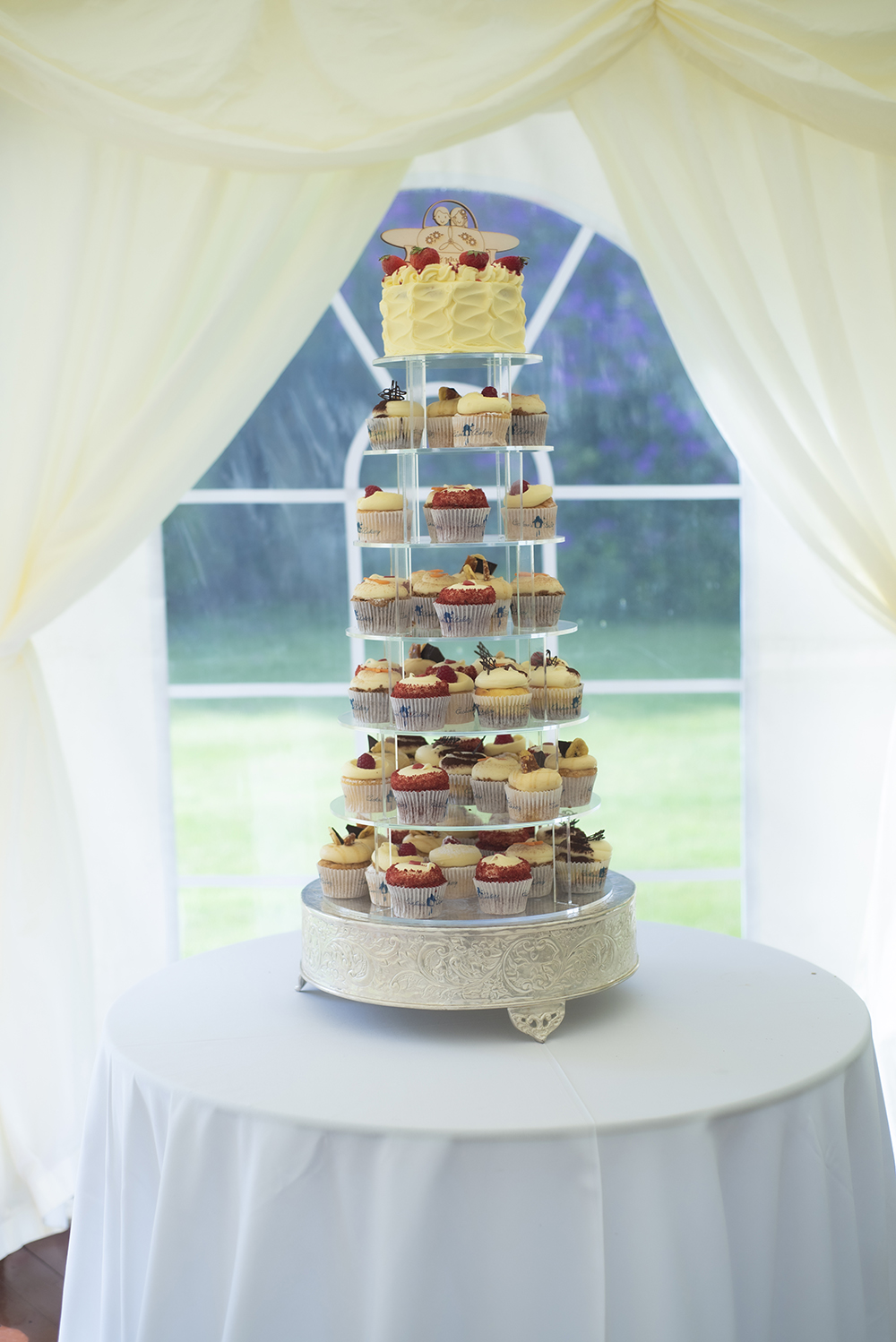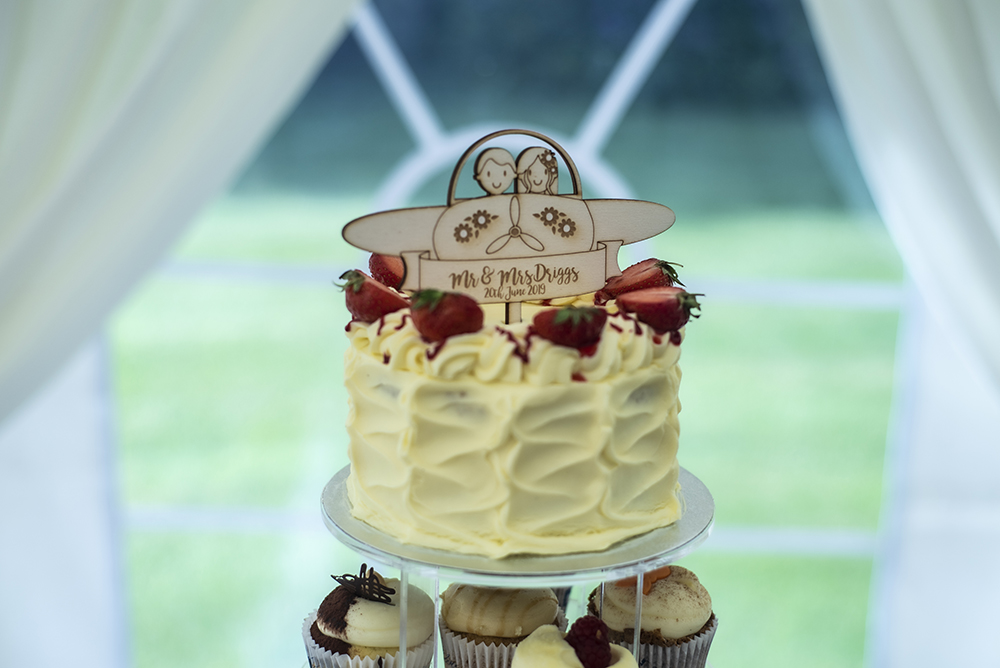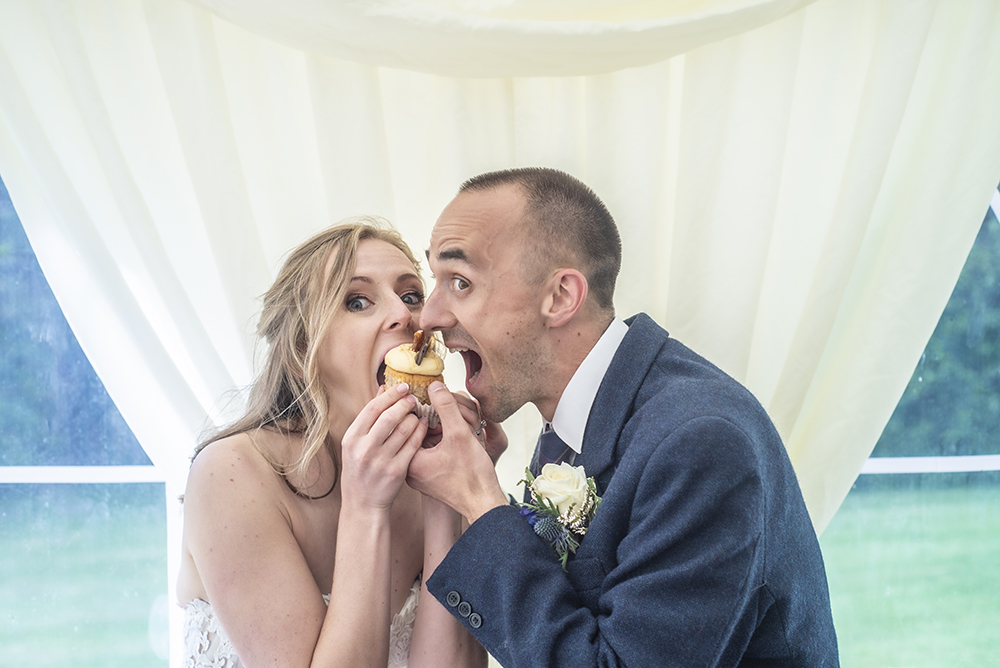 My advice for others planning a wedding would be to set deadlines and focus on one part at a time.
Don't leave it all to the last minute!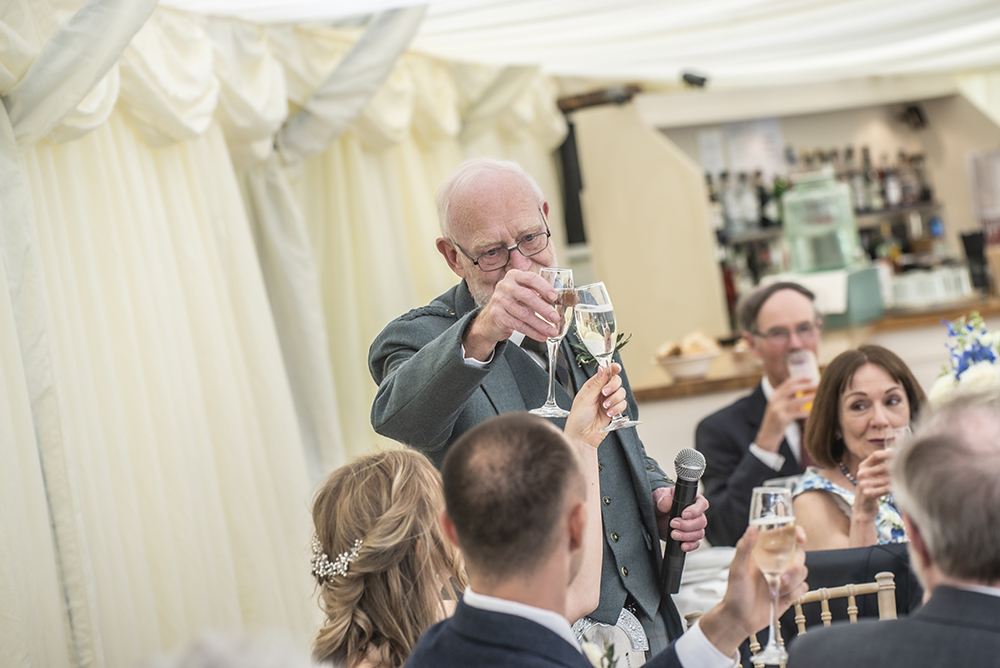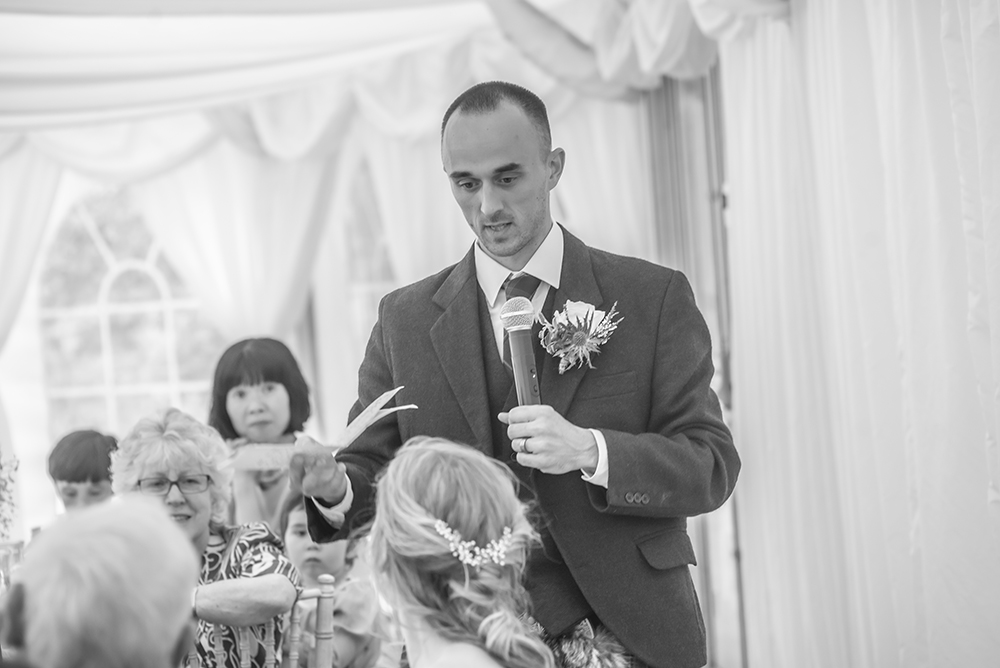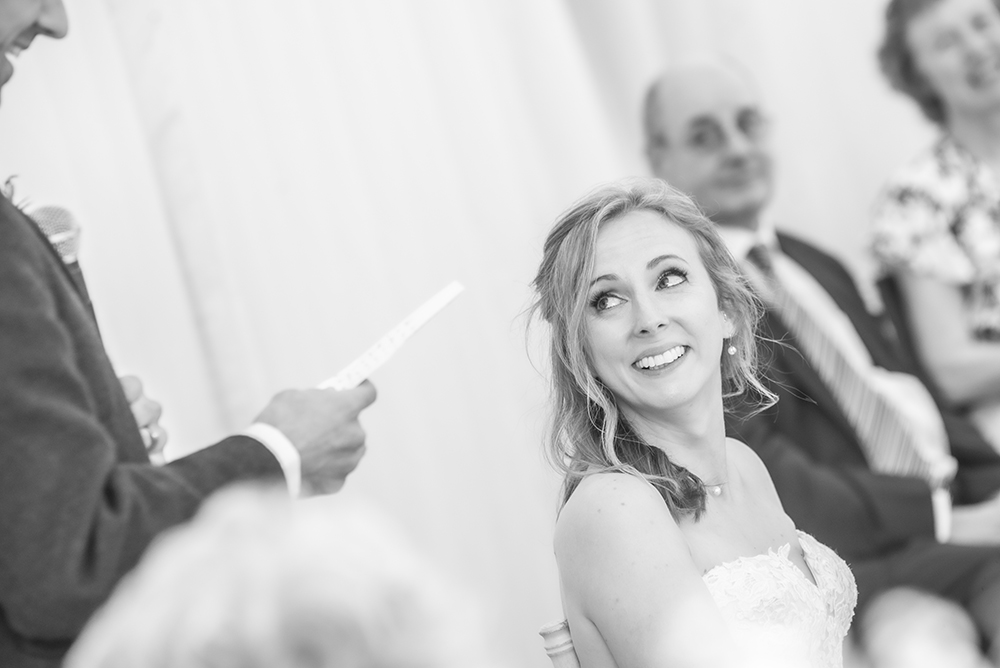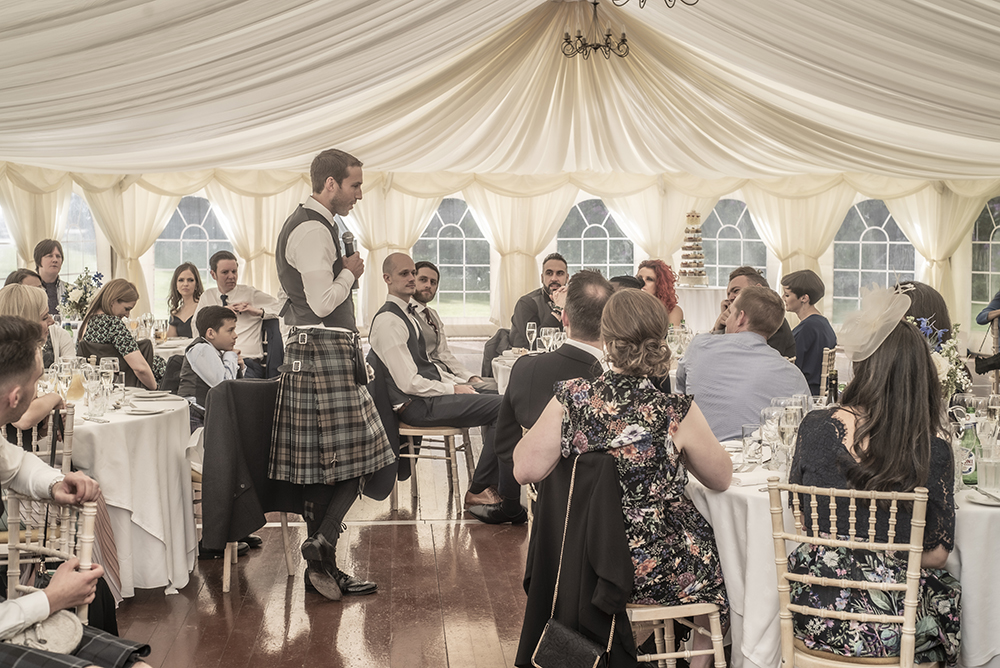 We spend much of our time abroad and away from our families so our wedding was the perfect opportunity to get everyone together. It was also the first time that my family had spent time with Brandon's family. We were just so happy to have everyone in the one place.
Since our wedding, we have moved to Croatia and started new jobs at an international school in Zagreb so that was a big change, and it was definitely strange at first seeing Brandon wear a ring as he has never worn jewellery before.
As for our relationship, it's just as great as it's always been and we look forward to many more adventures together."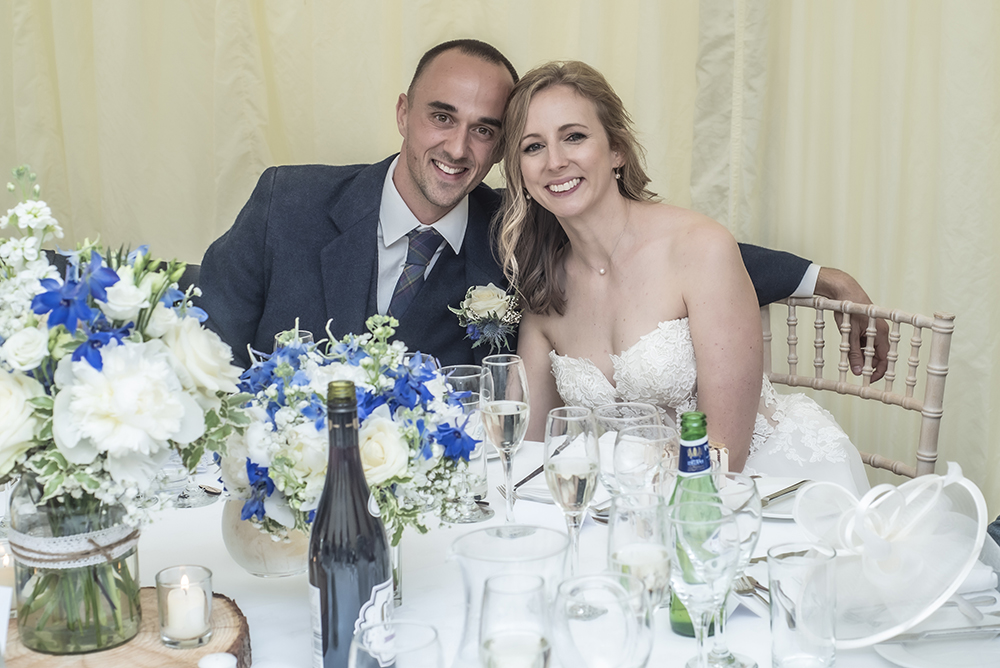 Venue: Glencorse House | Photographer: GEEBZ Photography
Transport: Edinburgh Classic Wedding Cars | Celebrant: Laura Baird 
Wedding dress: Cordially Invited Bridal, Oregon, USA | Dress alterations: Pan Pan Bridal
Hair and Make-Up: MHM Styling | Hair Vine: DaisychainsUK, Etsy
Groom's outfit: Nicholson's Kilt Makers 
Cupcake tower: Cuckoo's Bakery | Florist: Scent of Ginger | Stationer: Pace Print 
Entertainment: Dancing Feet Ceildh Band | Catering: Blackberry Cuisine