A movie-themed wedding at Dundas Castle with cosplay and a dinosaur cake
Erin and Chris planned a jaw-droppingly beautiful wedding with a fun movie theme woven into lots of details throughout the day.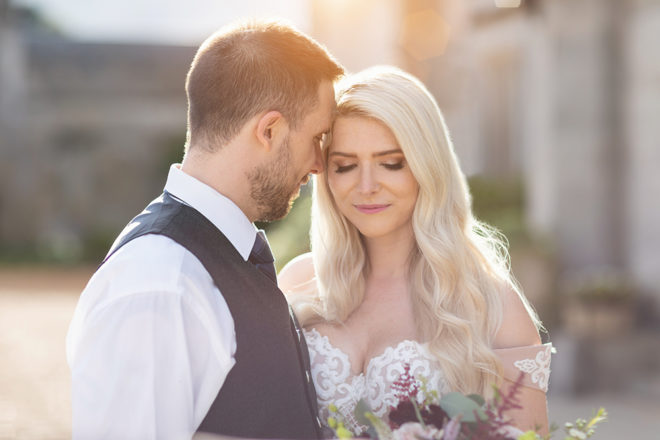 Dundas Castle is one of Scotland's most beautiful castle venues, and at Scottish Wedding we've seen it styled in so many different ways over the years. However, we've never seen anyone host a wedding quite like Chris and Erin's.
This creative couple incorporated a movie theme into their day, threading it through everything from their choice of music to their totally unique table names.
Their wedding is proof that you don't have to choose between throwing a celebration that's classy or fun; they effortlessly achieved both, their personalities shining through in every last detail.
Read on to find out more about their wedding in the words of bride Erin, alongside the gorgeous photos captured by Craig & Eva Sanders.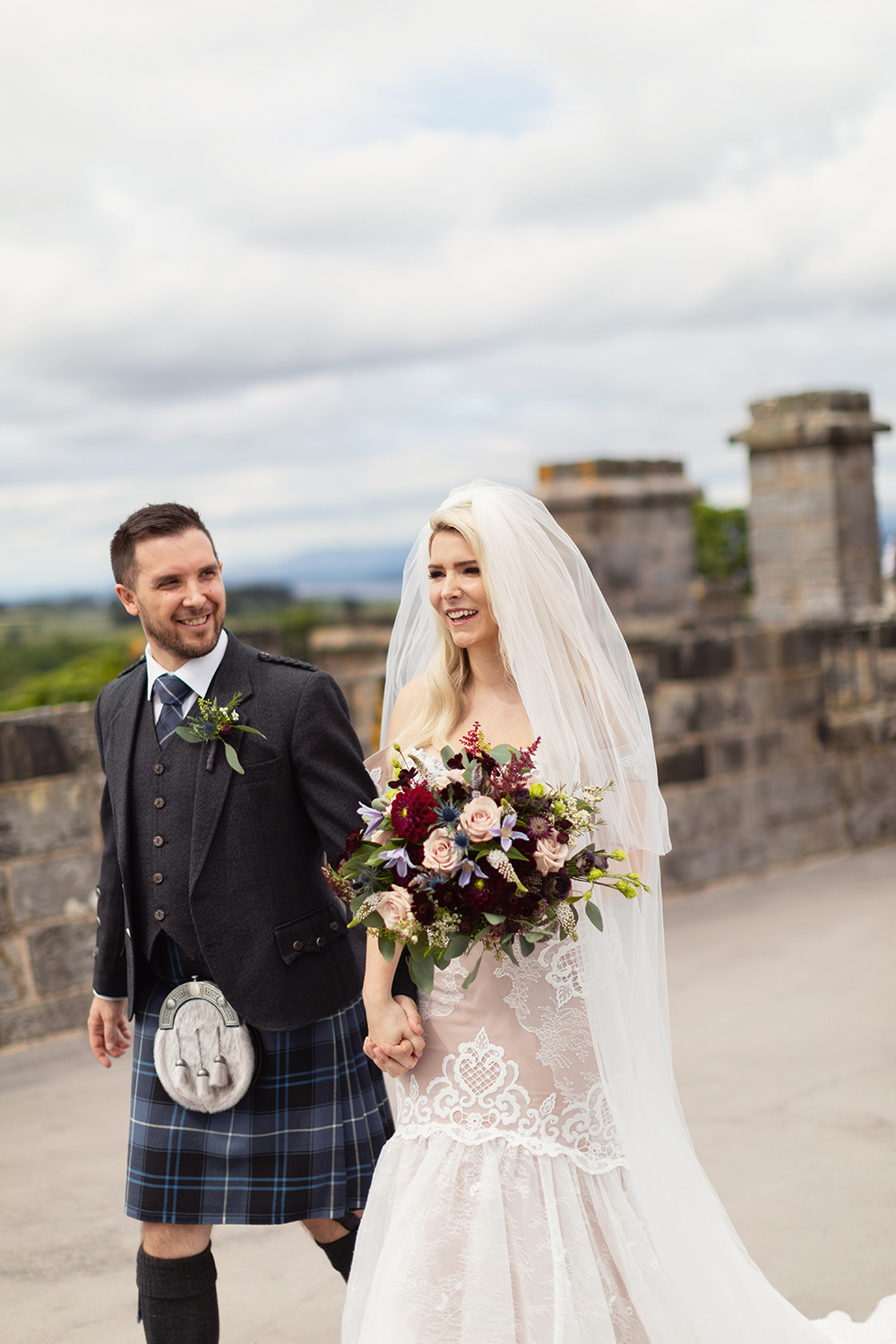 I work part-time in a gym and my husband was friends with other people who work there. We would be on similar nights out, then we became friends and it went from there. We've now been together six years!
Chris proposed to me in Bali. We were chilling in the hotel room and he turned to me out the blue and proposed; it was the sweetest thing.
If you ever visit Dundas Castle, you will understand instantly why we chose it. It is breathtaking, quite private and you can stay for two nights.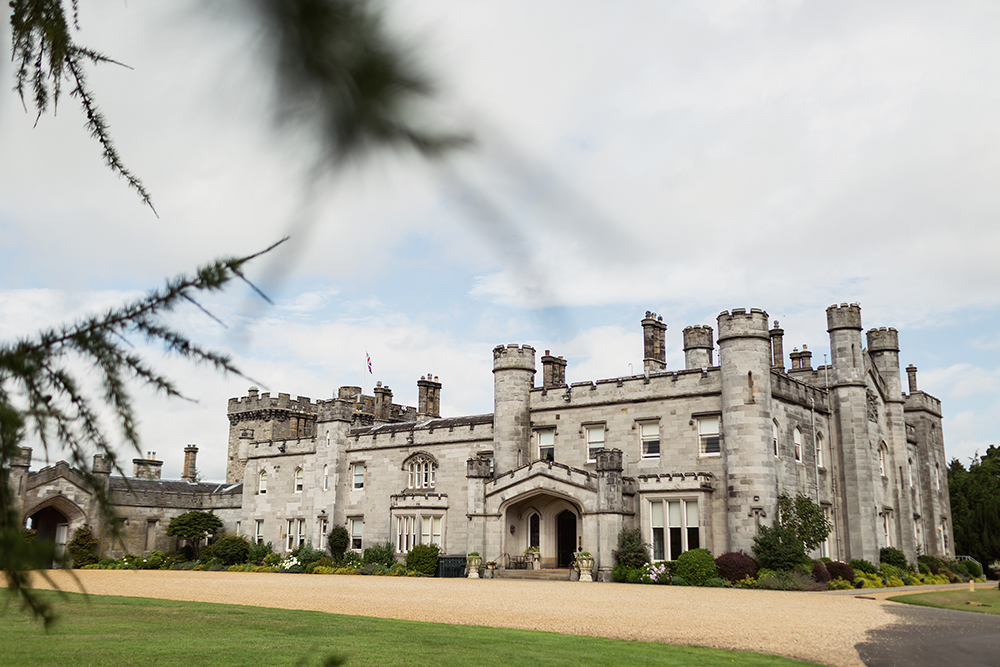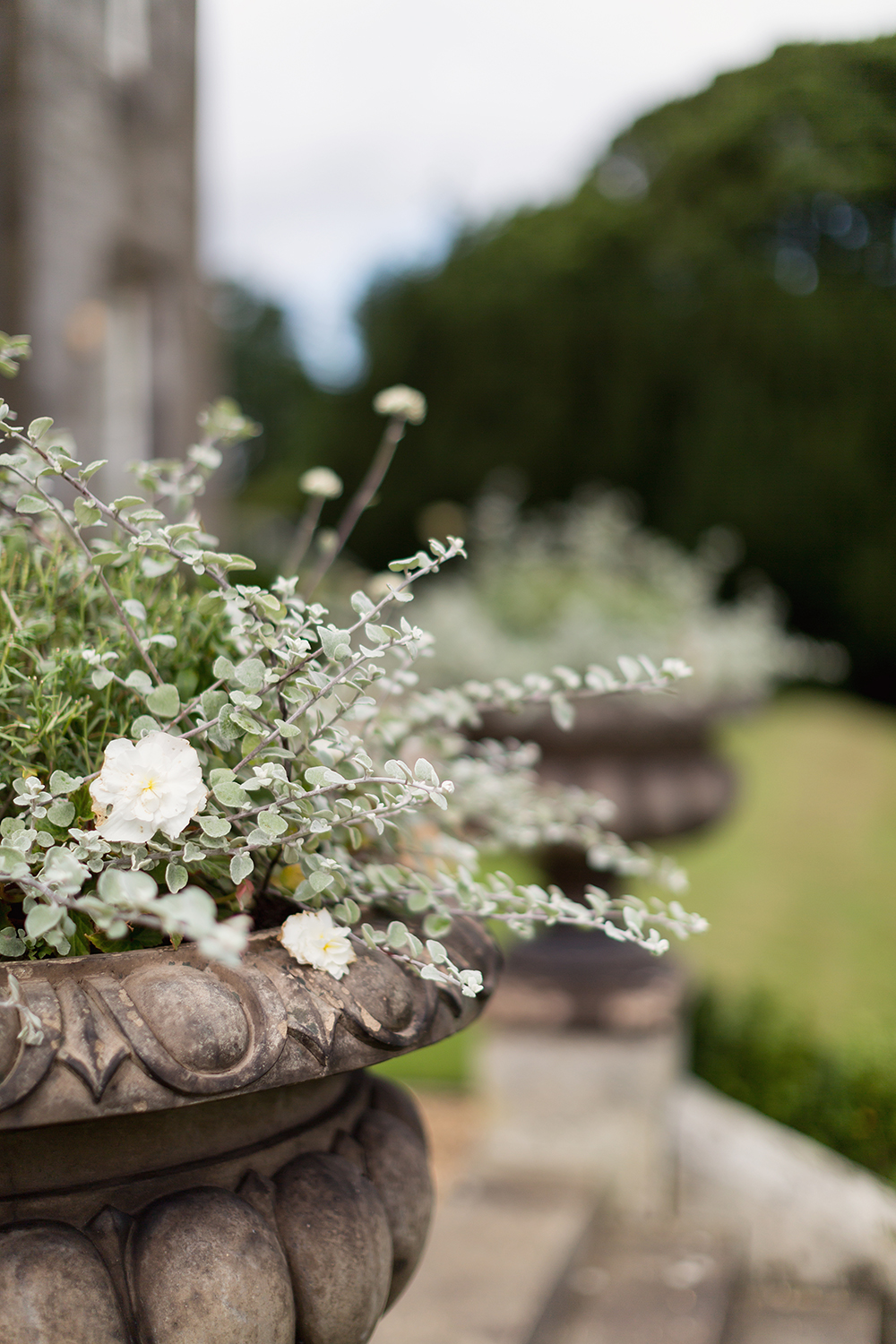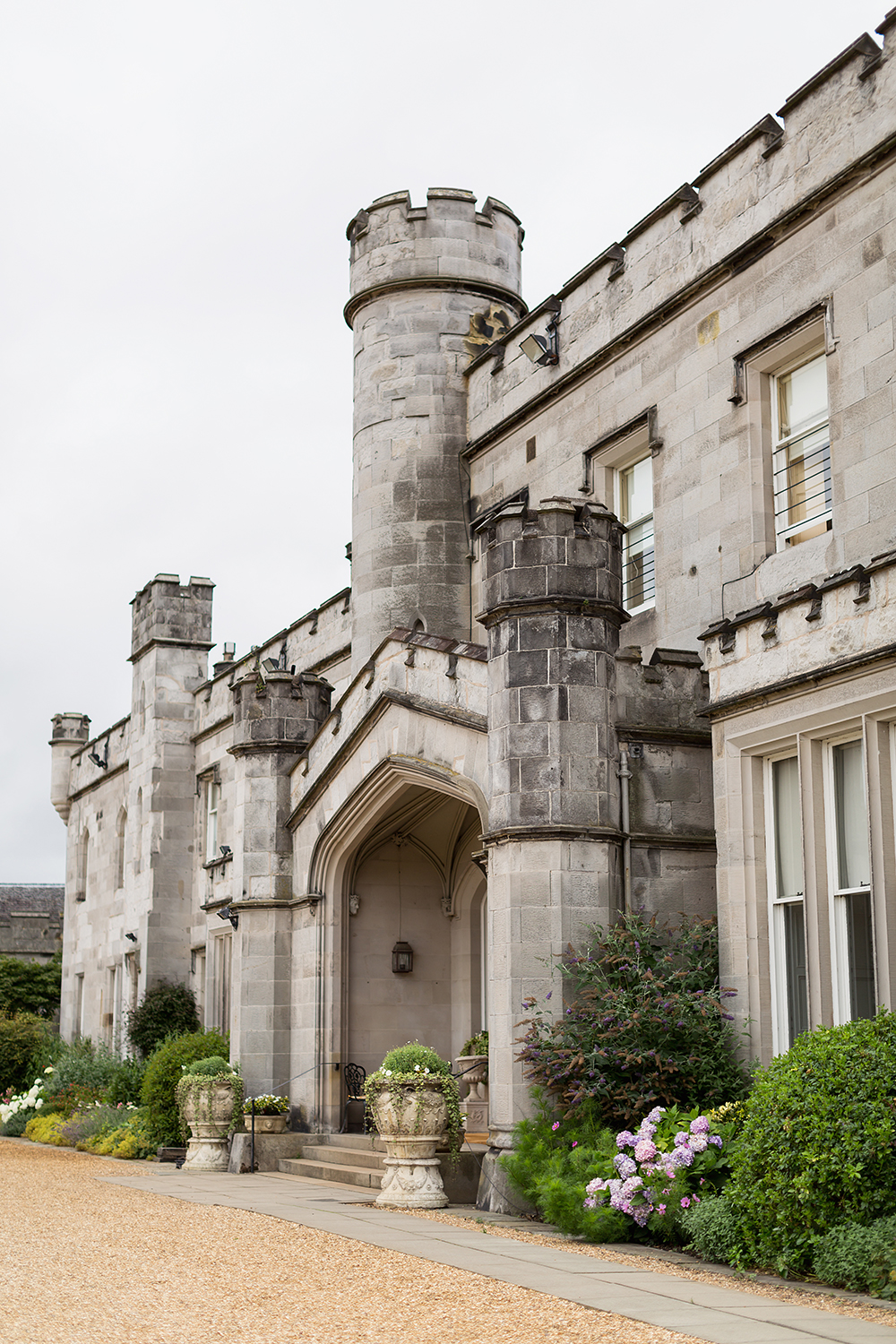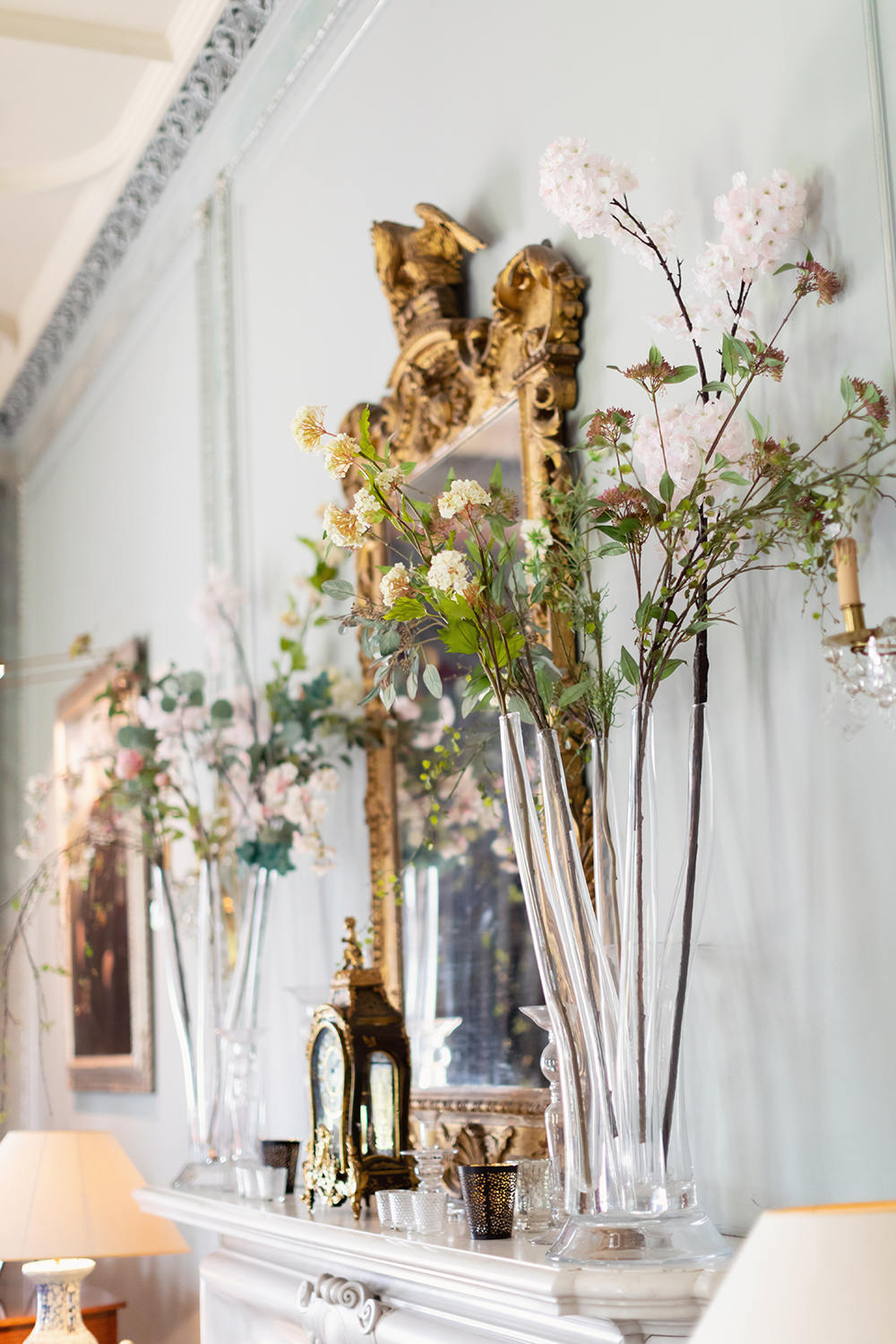 The Auld Keep looks like something from Game of Thrones and is perfect as long as your guests are able to walk up the 15th-century spiral steps. There are many gorgeous rooms, all decorated in their own way. Also, the marquee is outside and is a perfect size.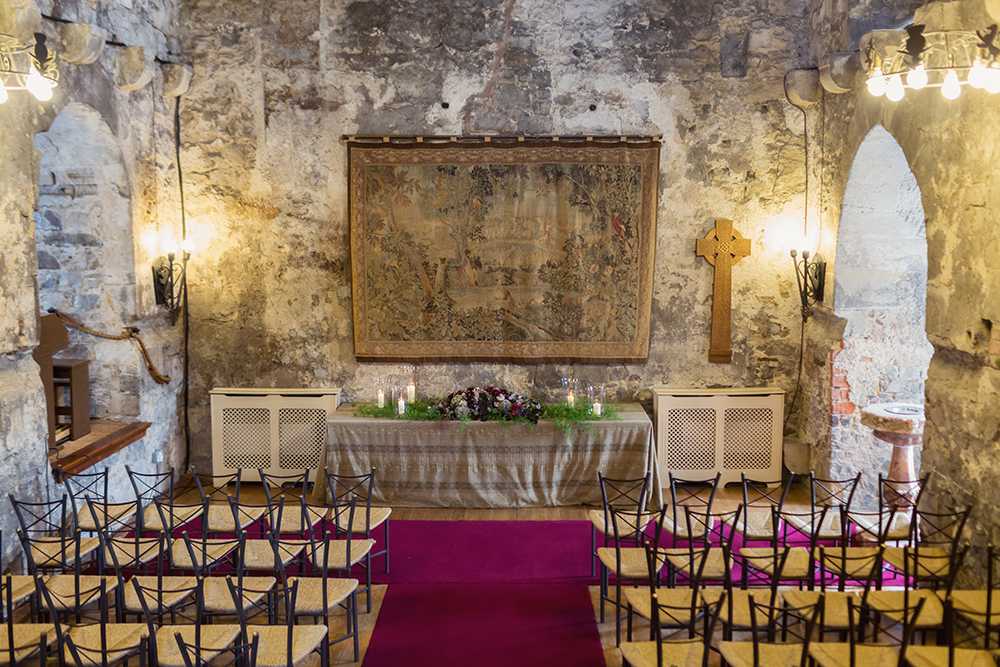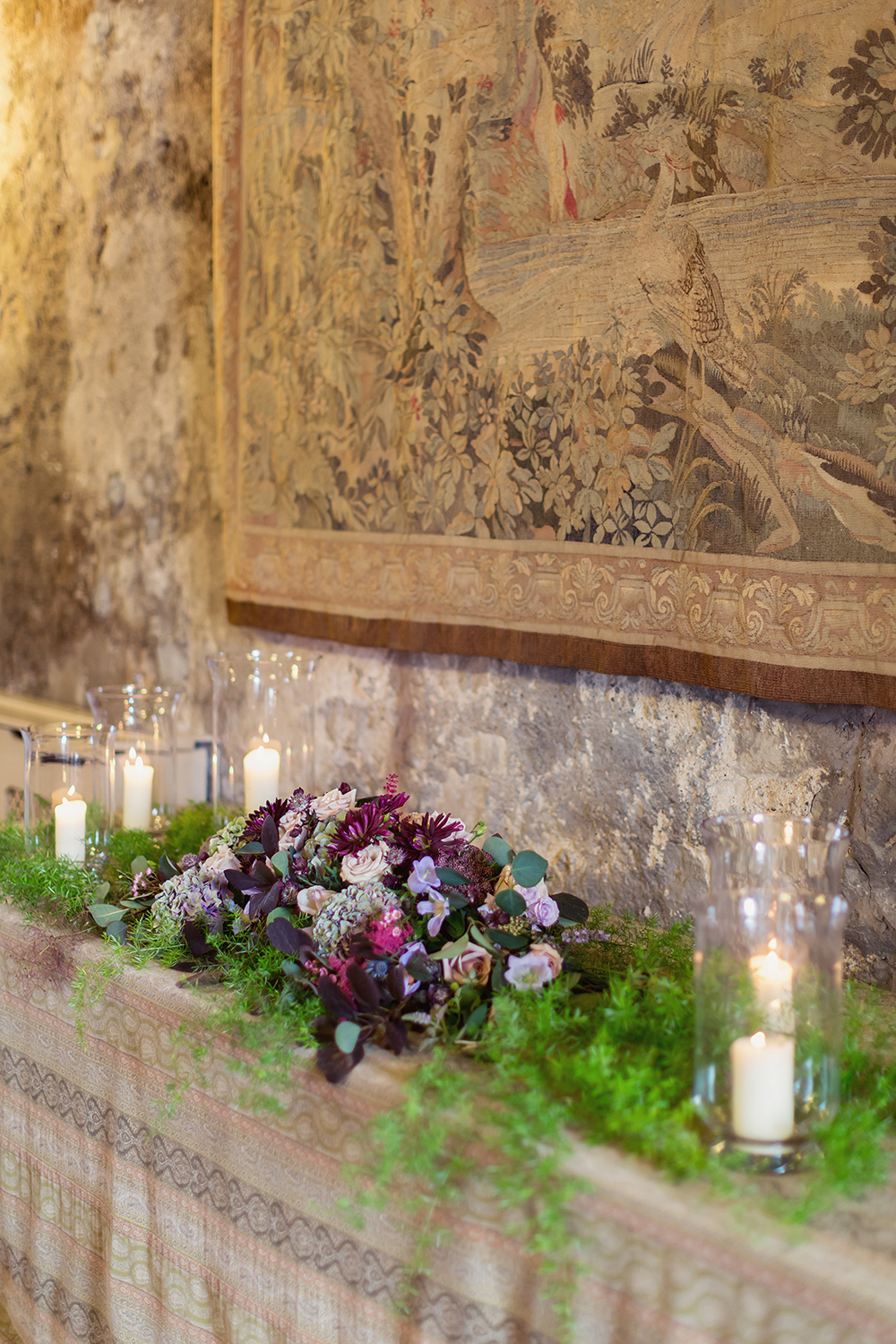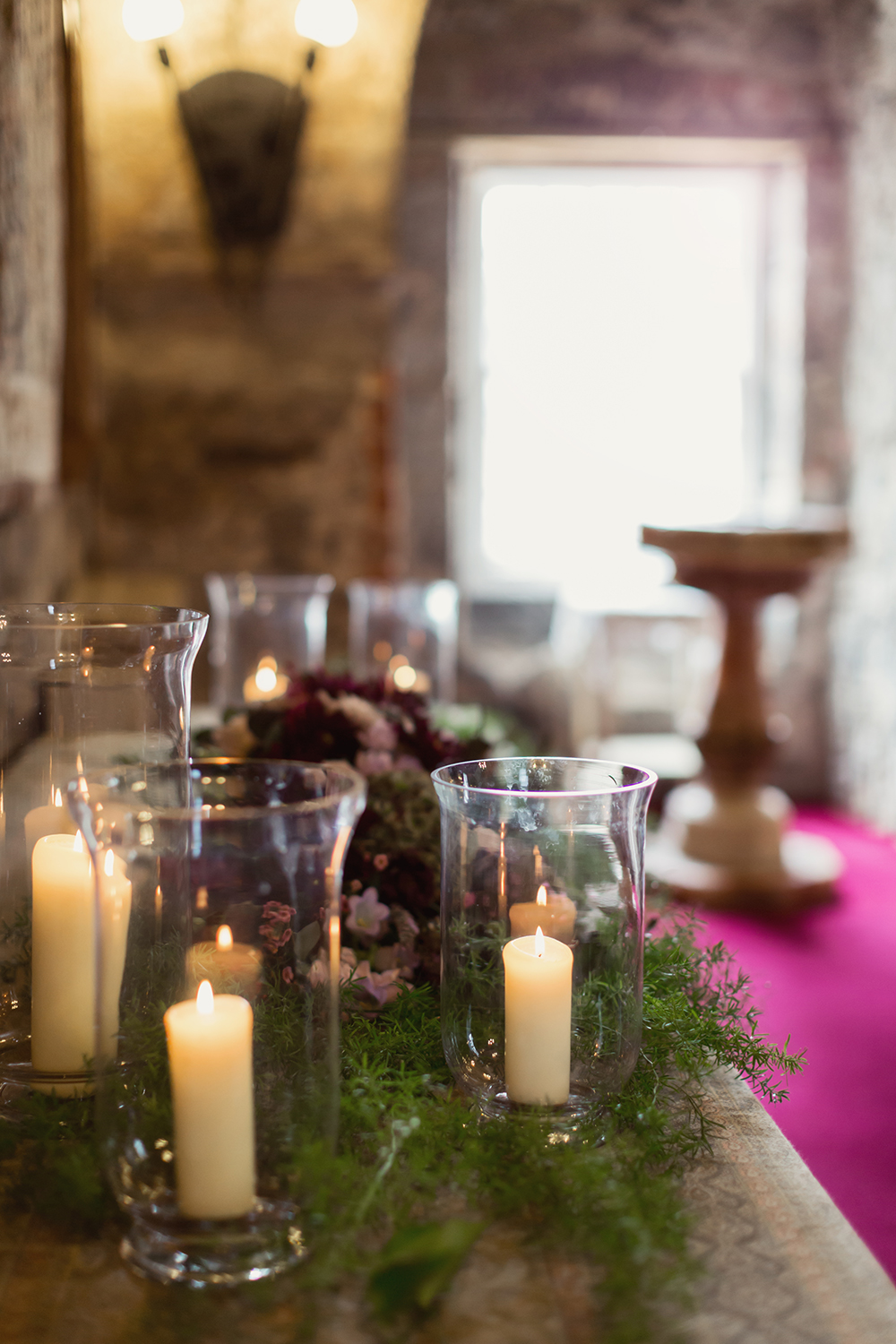 We got a two-day package that's available during the week only.
So we arrived on the Thursday, had a family BBQ, lounged in the castle, played some games outside and just relaxed before the big day.
We were married on the Friday, stayed Friday night and left the next morning after breakfast.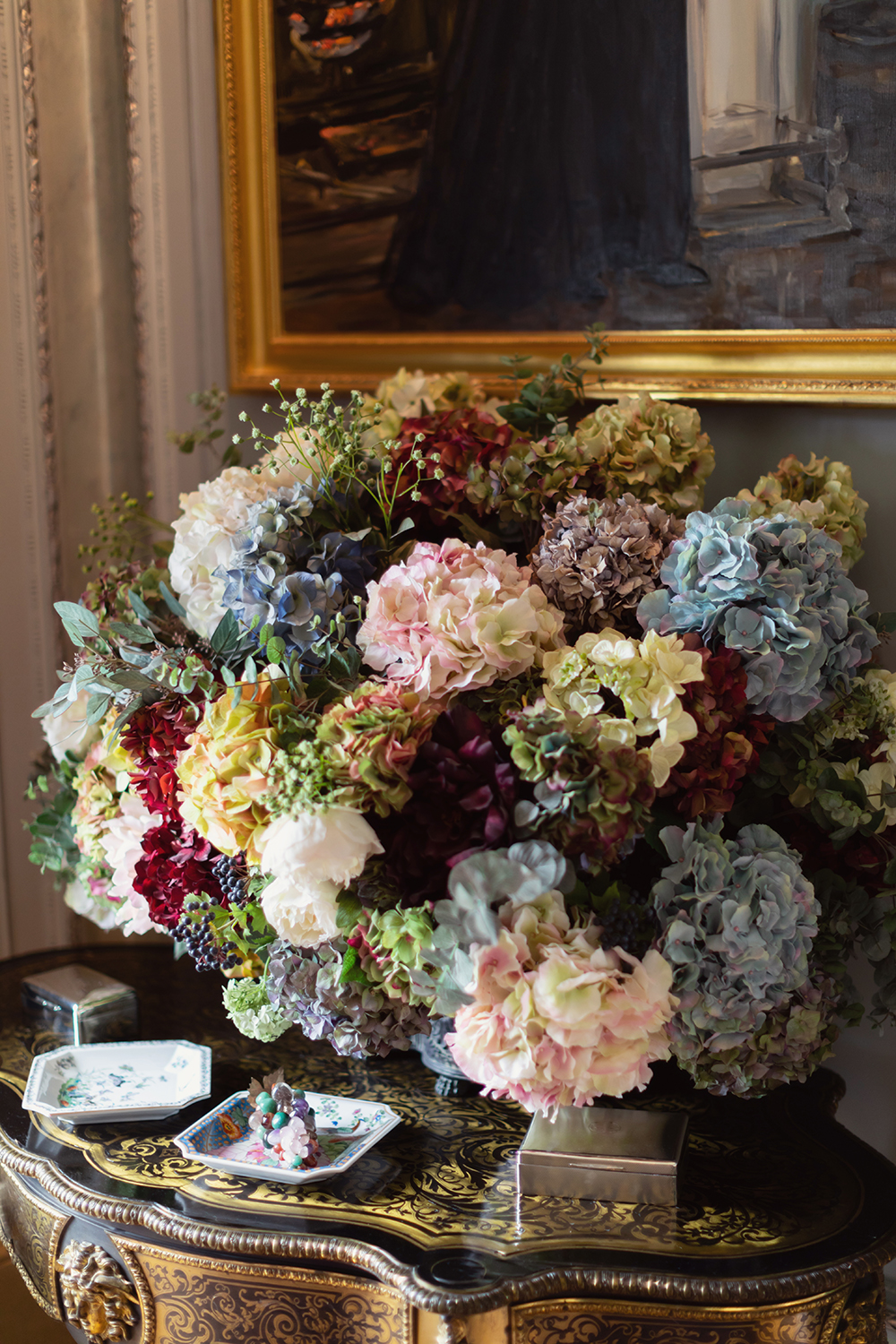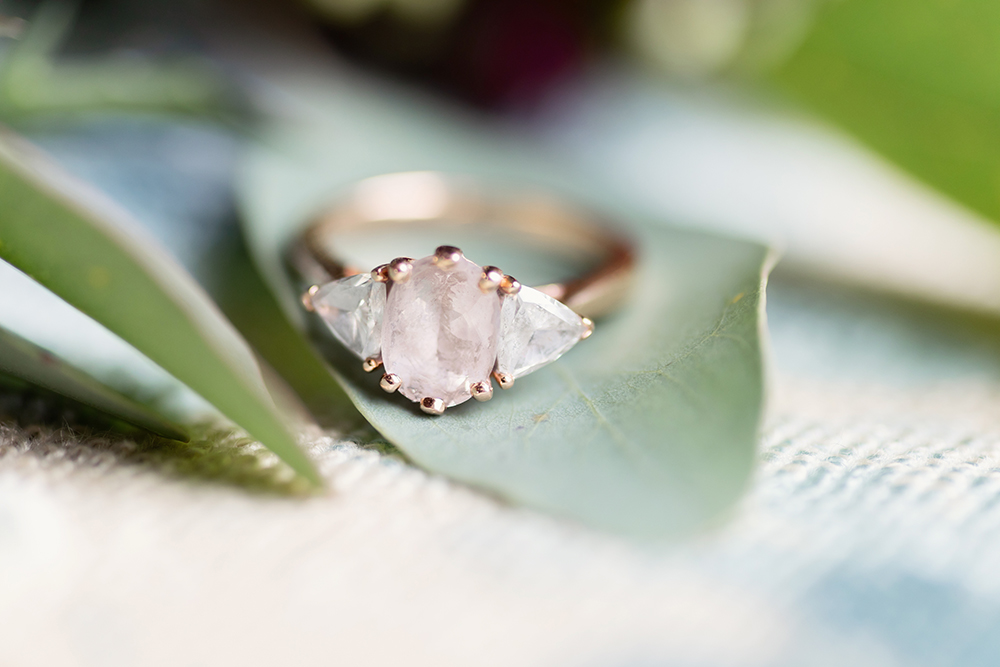 After trying on many dresses locally I just couldn't find the special dress that I was looking for. I searched on Etsy one day and found a company called Rara Avis who had a sub-line called Ange Etoiles. I fell in love with all their dresses.
I could have sent my measurements and chanced it arriving and being the right fit but my husband and I decided to travel to their main salon in Minsk!
You may think that this is craziness, however my wedding dress cost £500. We took two trips for a fit and a refit which cost just over £1,000. So all in all I got two trips and my dress for less than what people pay on average for a wedding dress.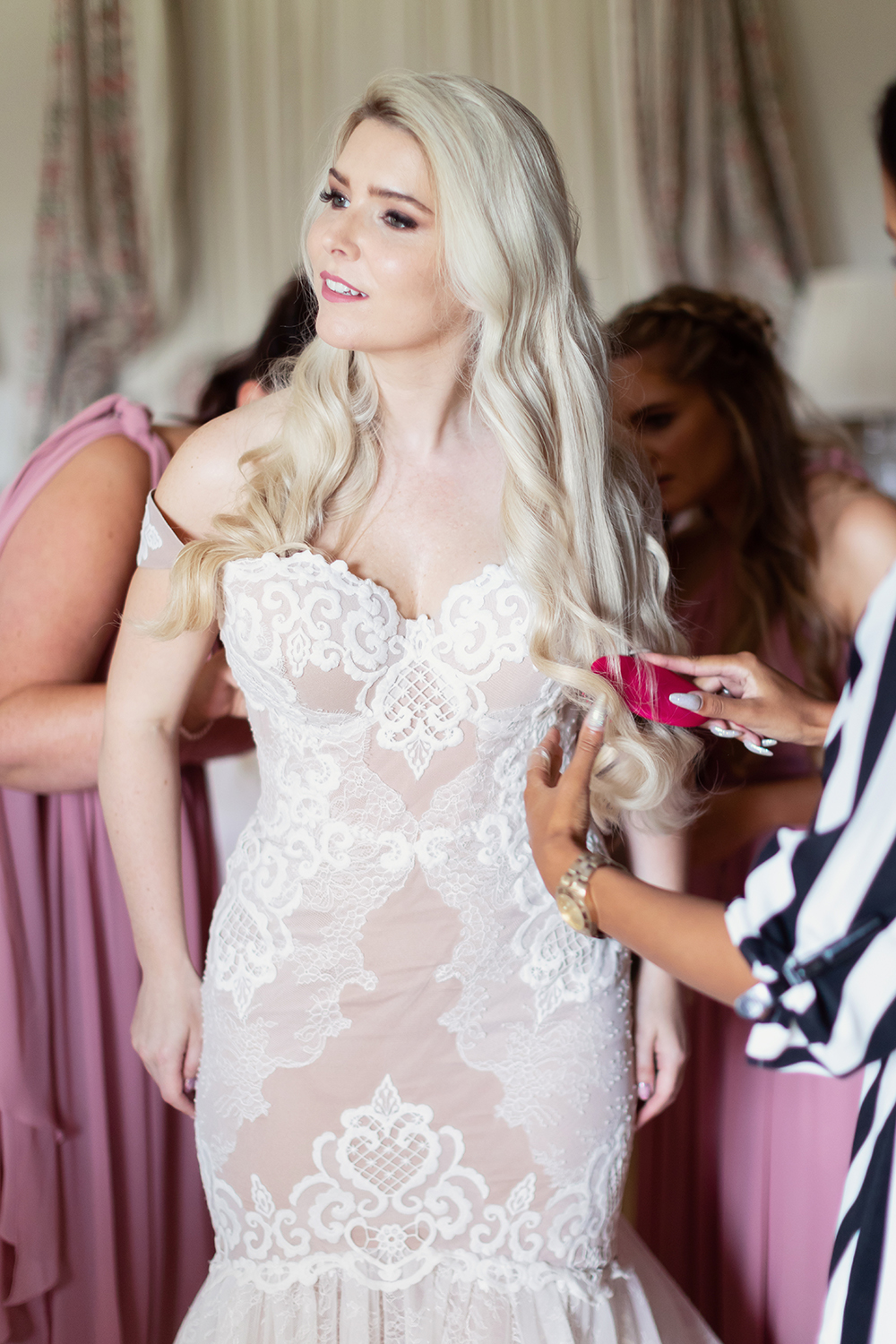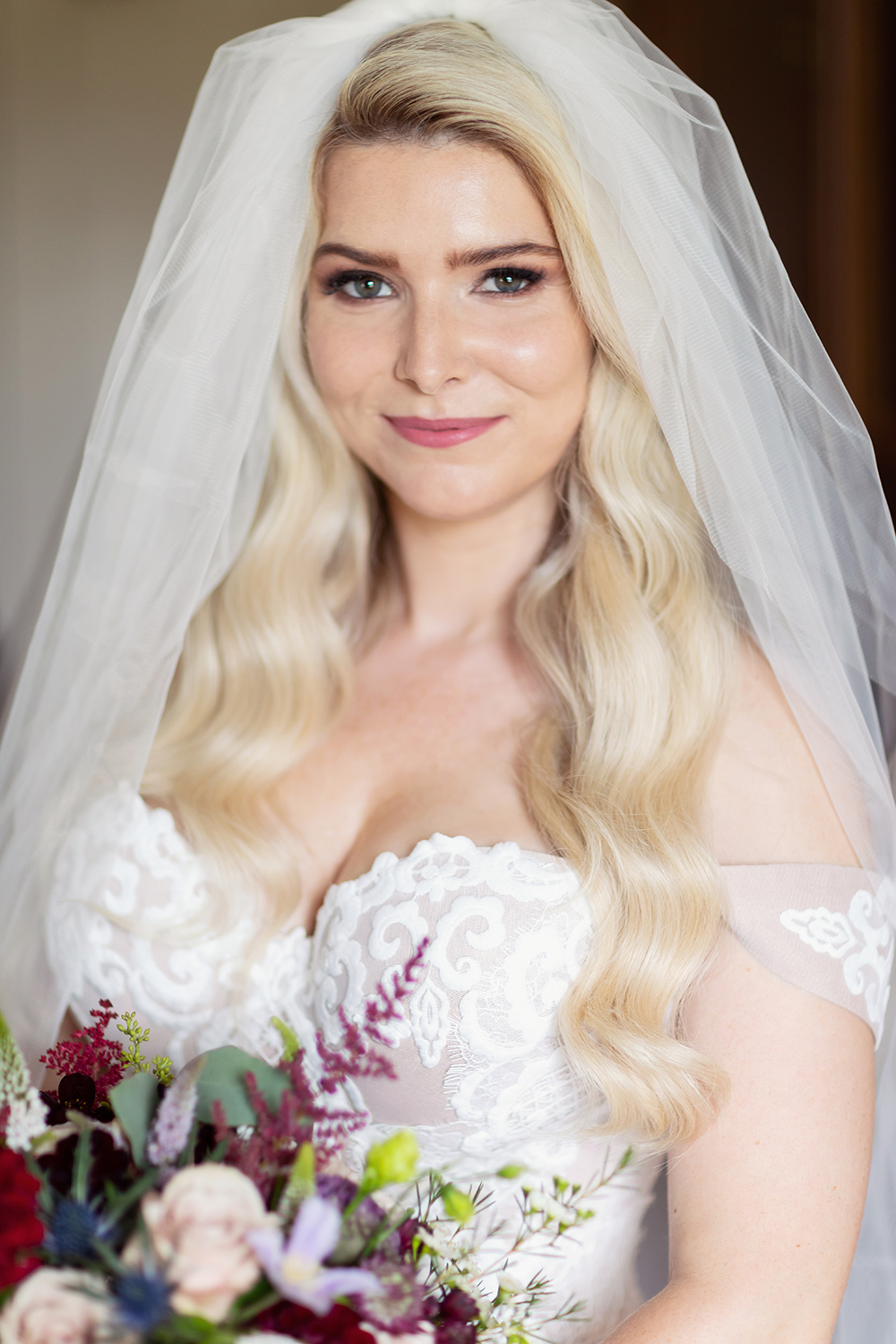 It was made from scratch, I got to choose the colours with the designers and make any changes that I wanted. It was an amazing experience.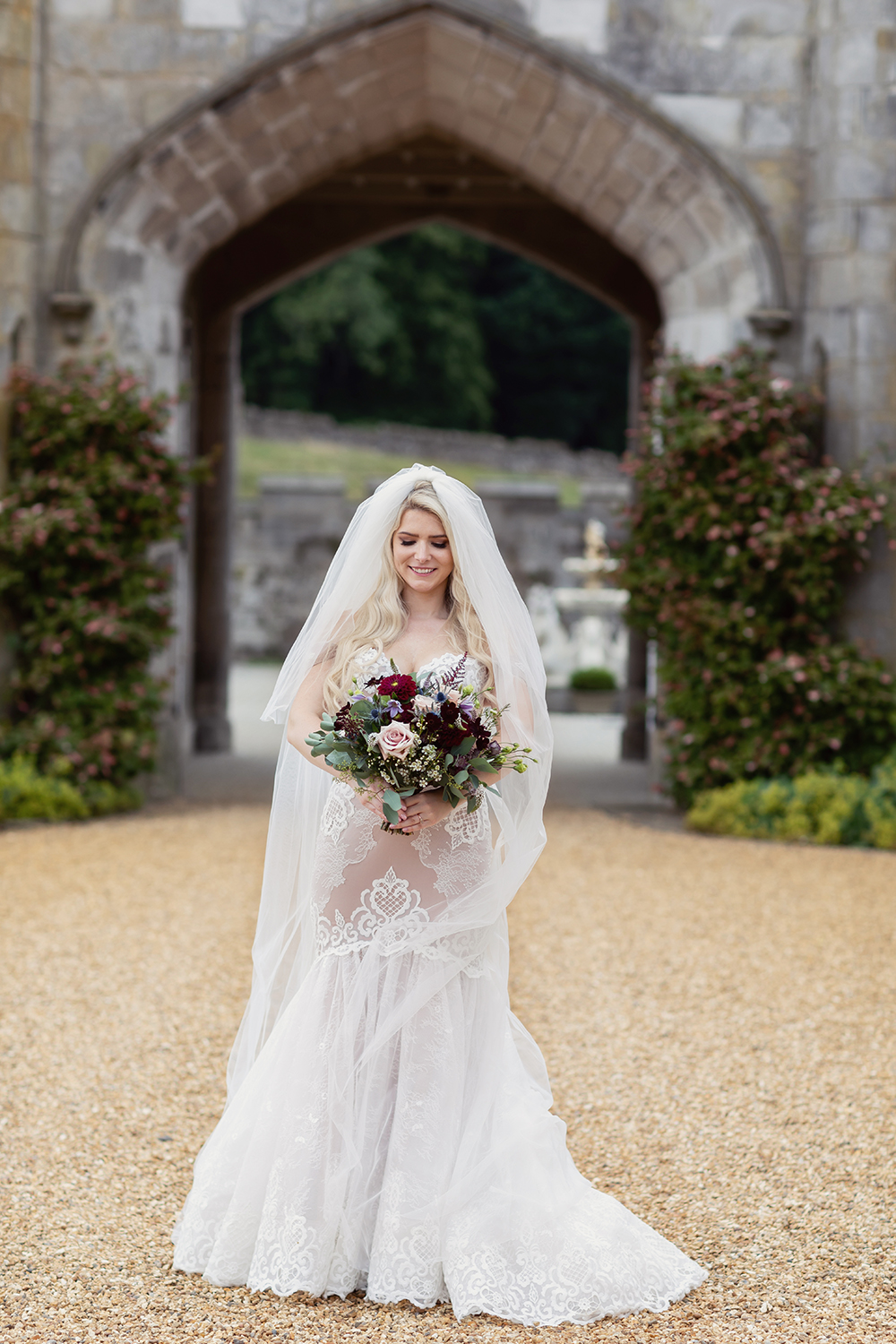 We got our bridesmaids dresses from Aimee Bridal on Bath Street in Glasgow. The reason we went there is because I knew they stocked Kelsey Rose dresses, which were my favourite. We picked beautiful dusty pink dresses that you can customise for each bridesmaid. The colours went perfectly with my dress.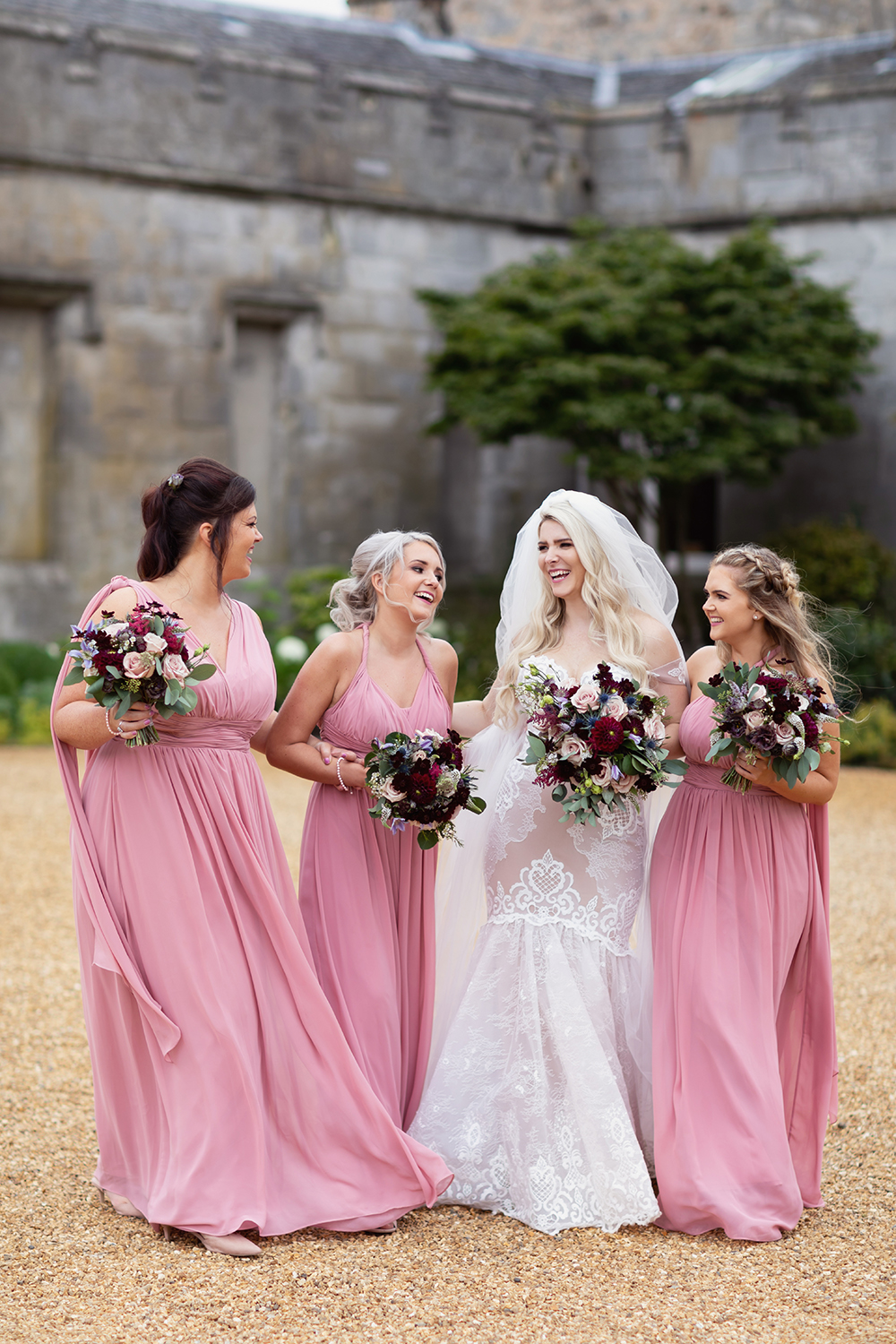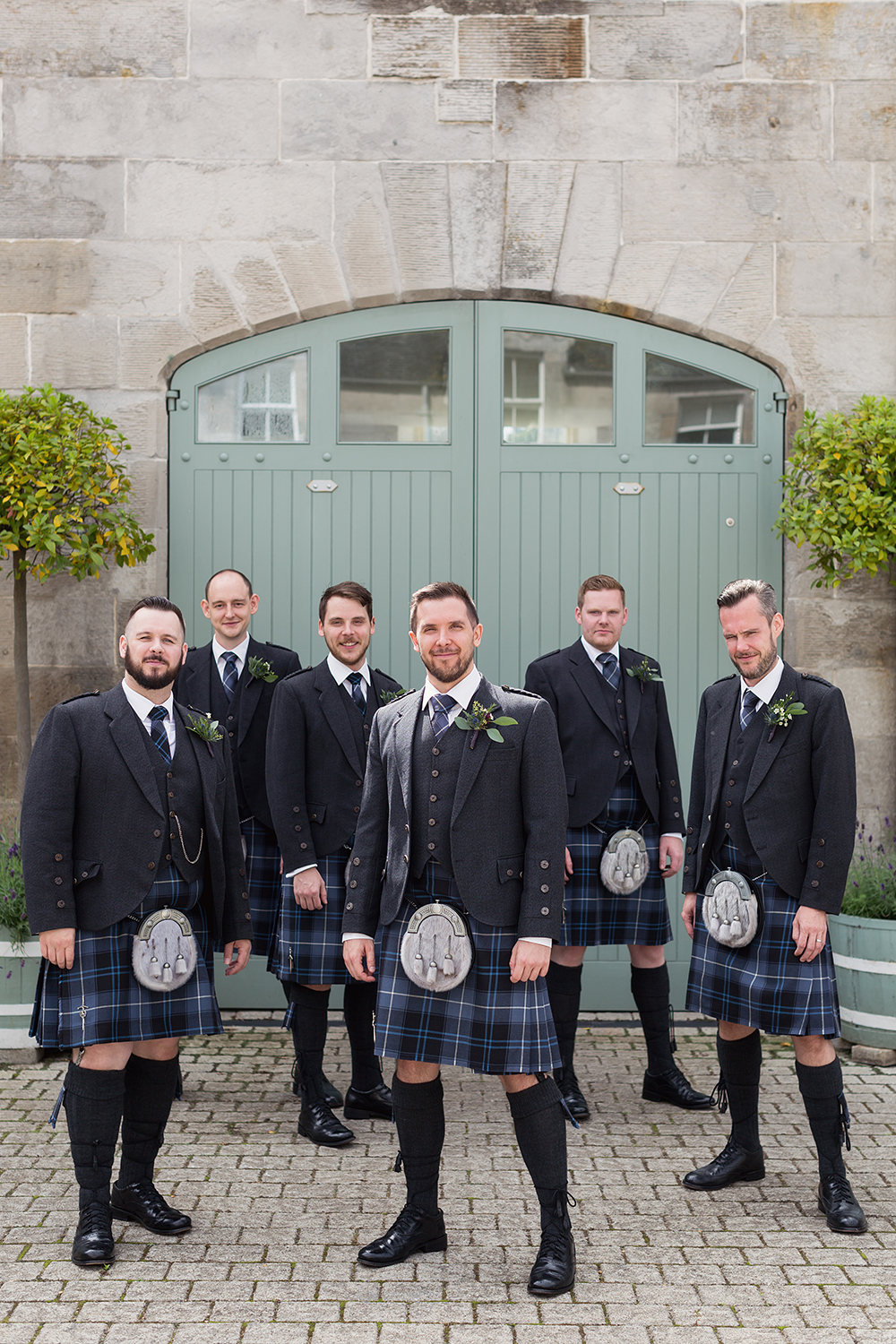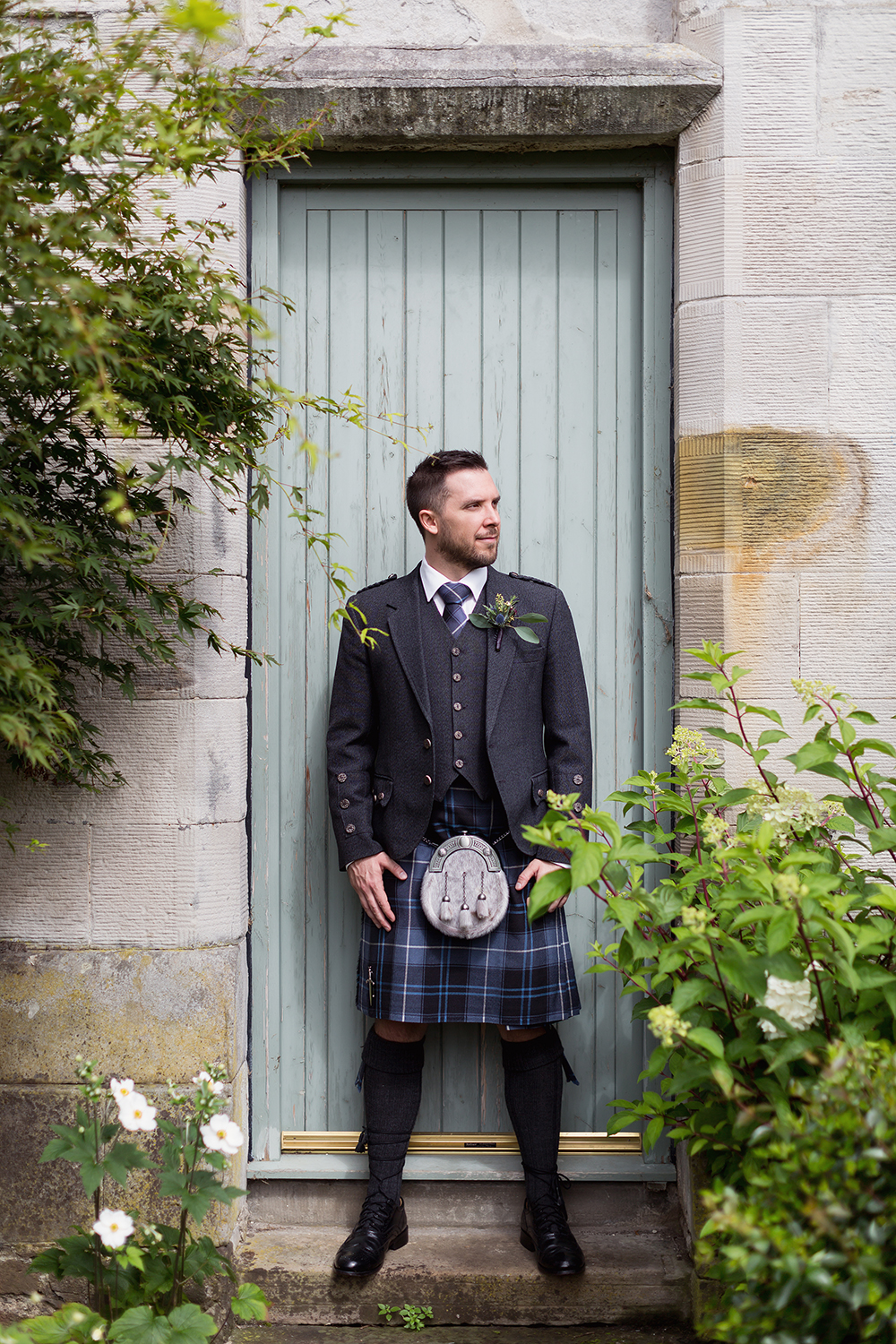 Our movie theme is basically where most of the memorable stuff from our wedding comes from.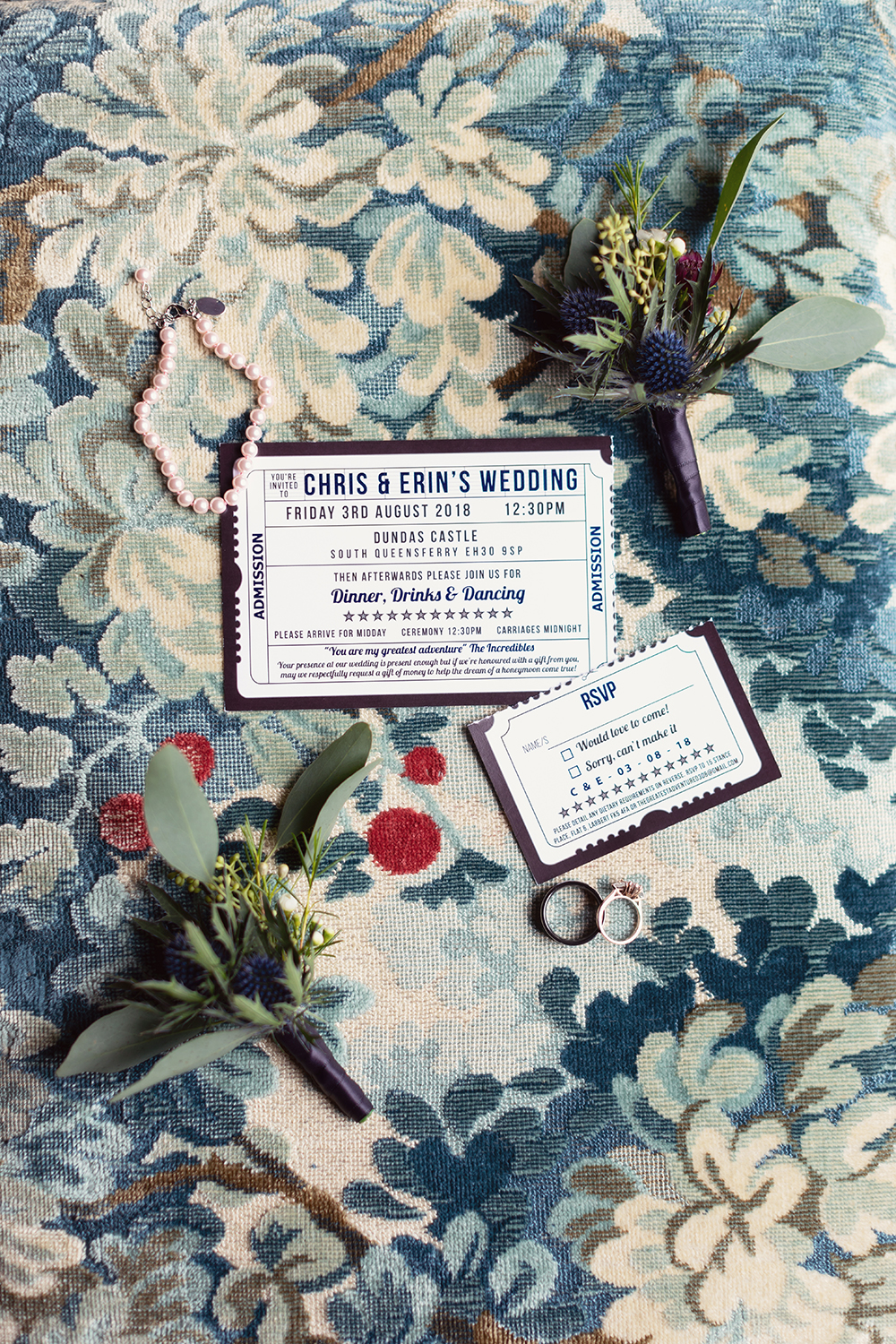 First of all, I walked down the aisle to Married Life, the theme from the movie Up. All the songs played at the ceremony were from movies like Home Alone, Jurassic Park and Star Wars.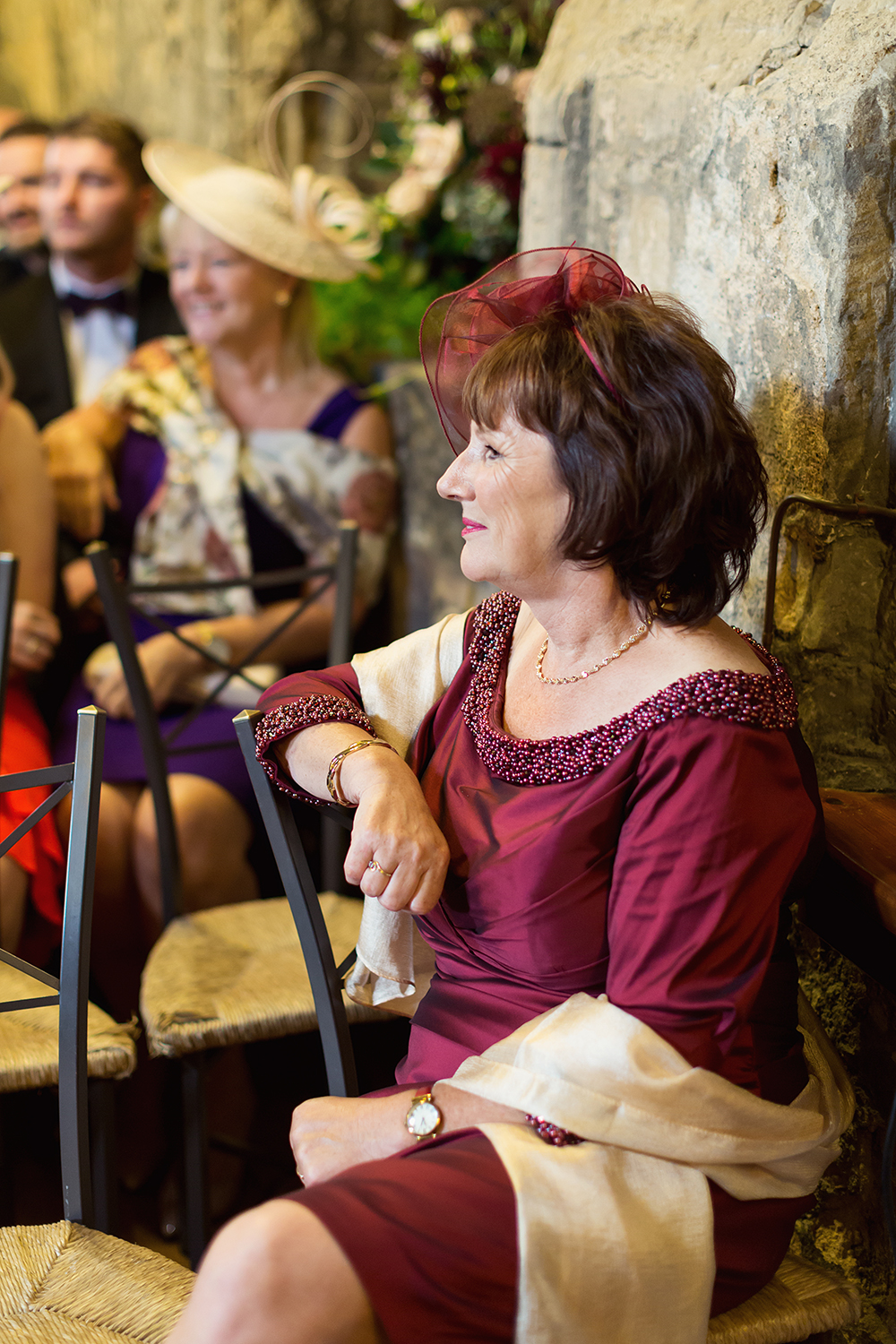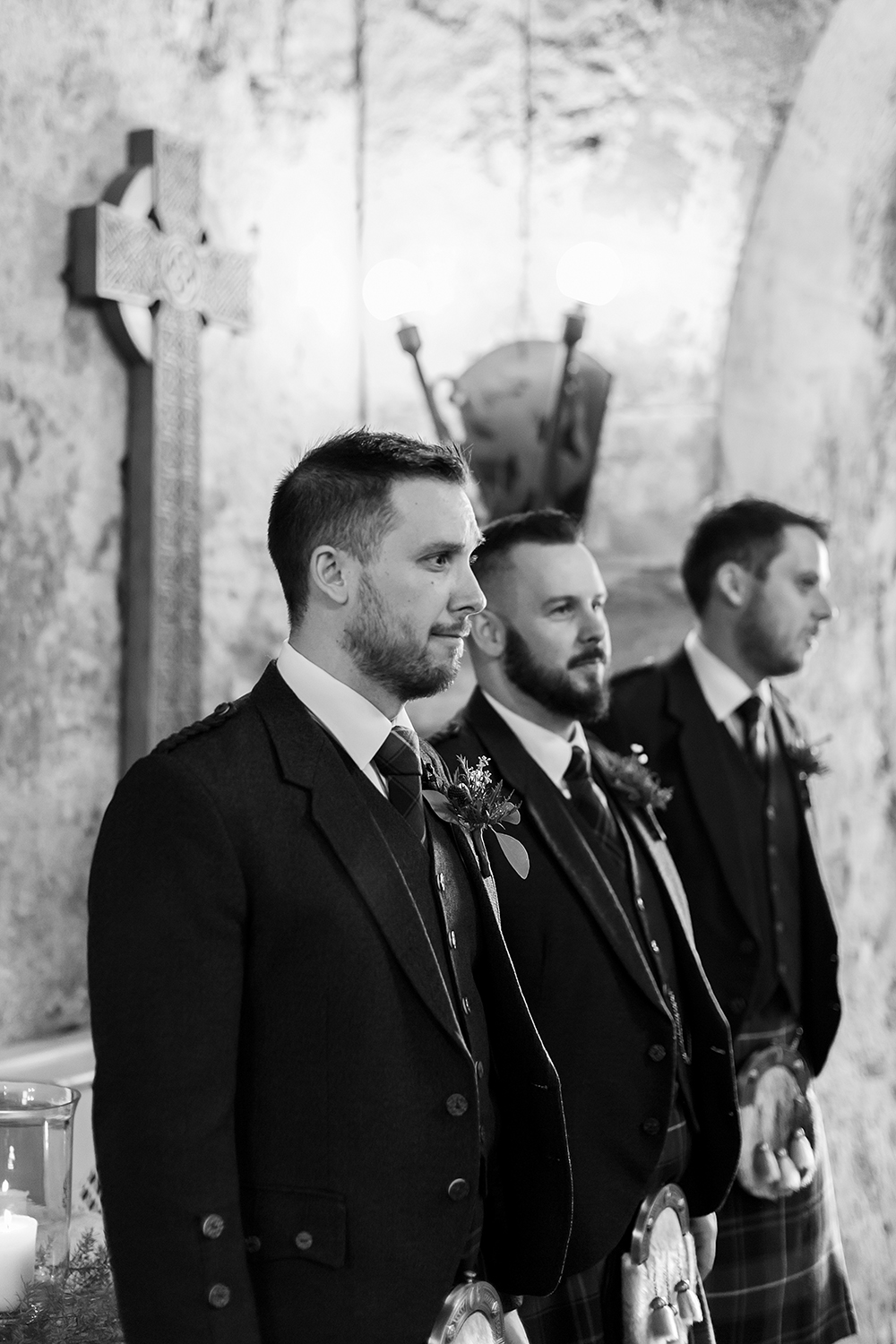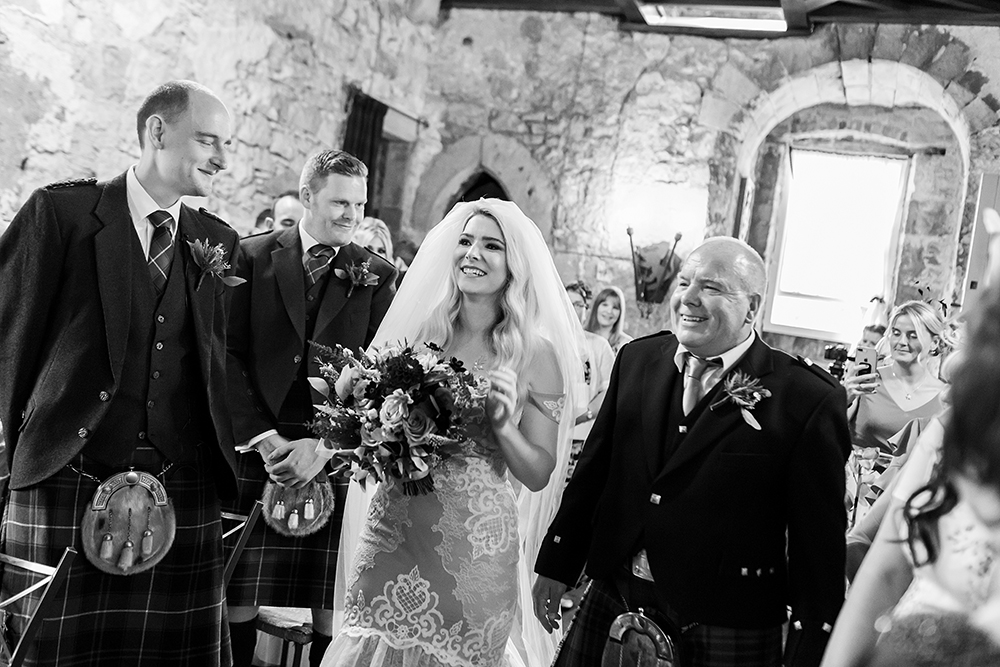 Our readings were from movies, the first one being an excerpt from Captain Corelli's Mandolin. The second was our own take on the Choose Life speech from Trainspotting. We threw in lots of daft personal stuff to mix it up.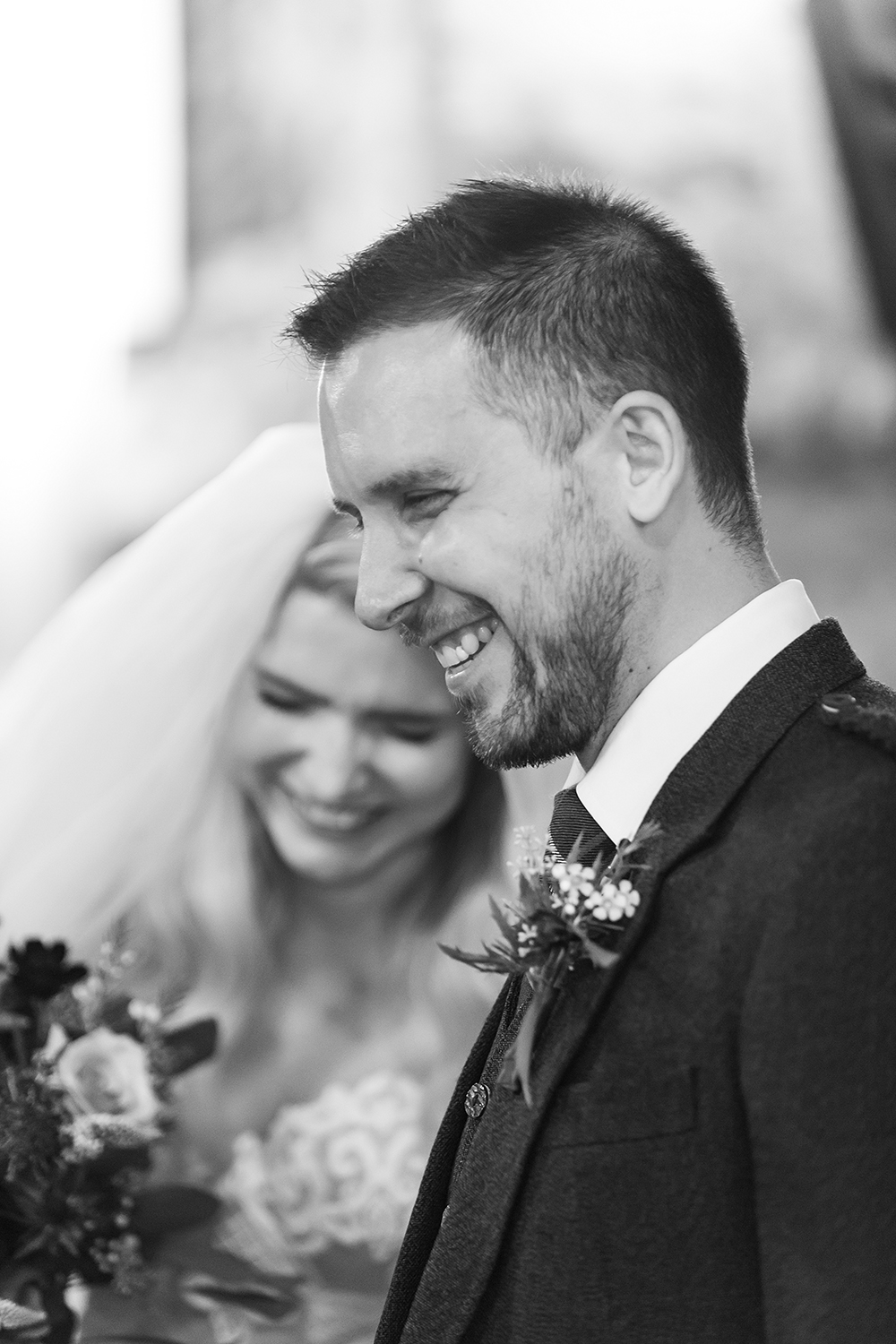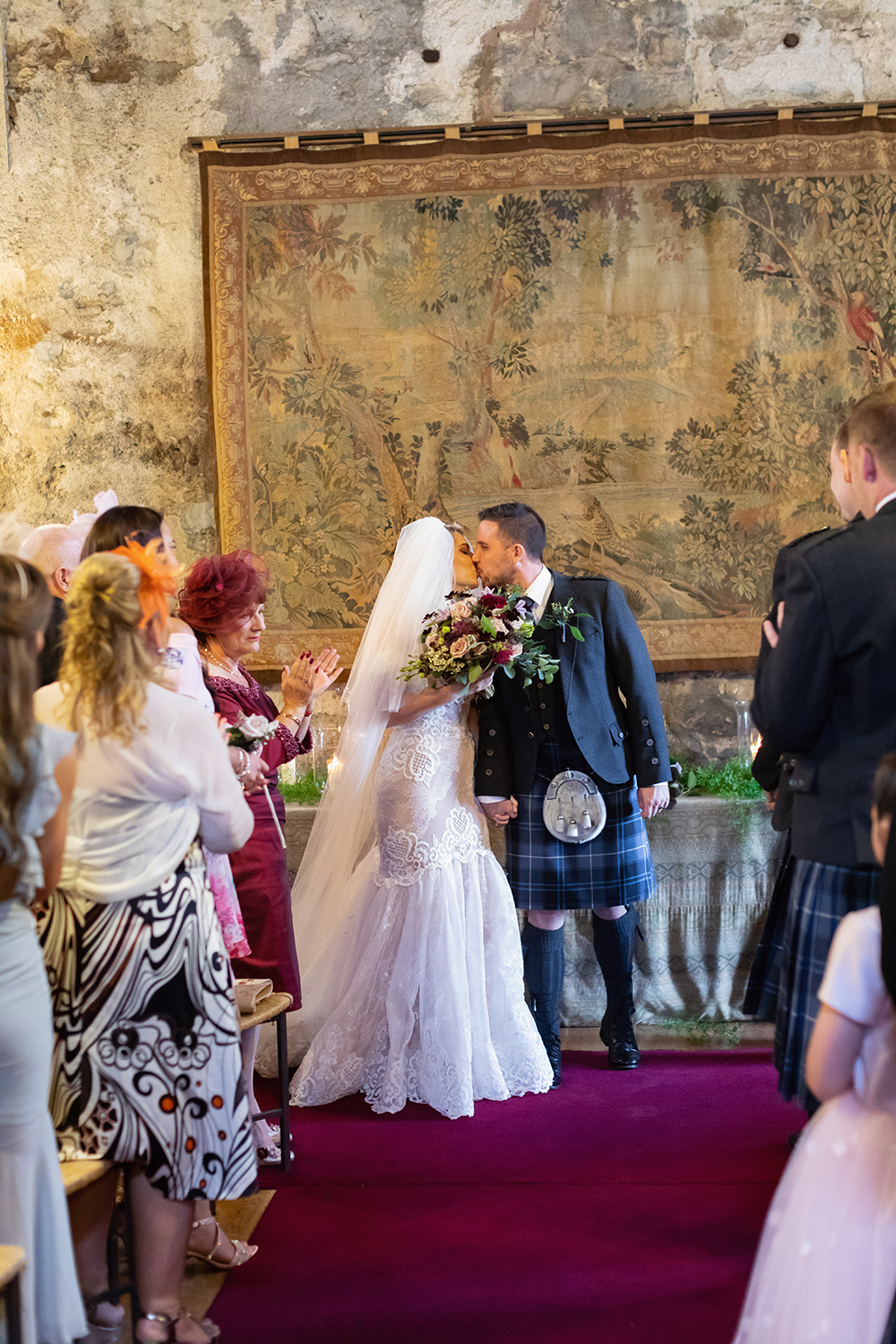 After the ceremony, guests were able to see our cake. It was a massive T-Rex chasing us in our wee Jurassic Park jeep. I absolutely loved it! We cut the cake and ended up whacking the head off it with a cake-cutting sword the venue provided!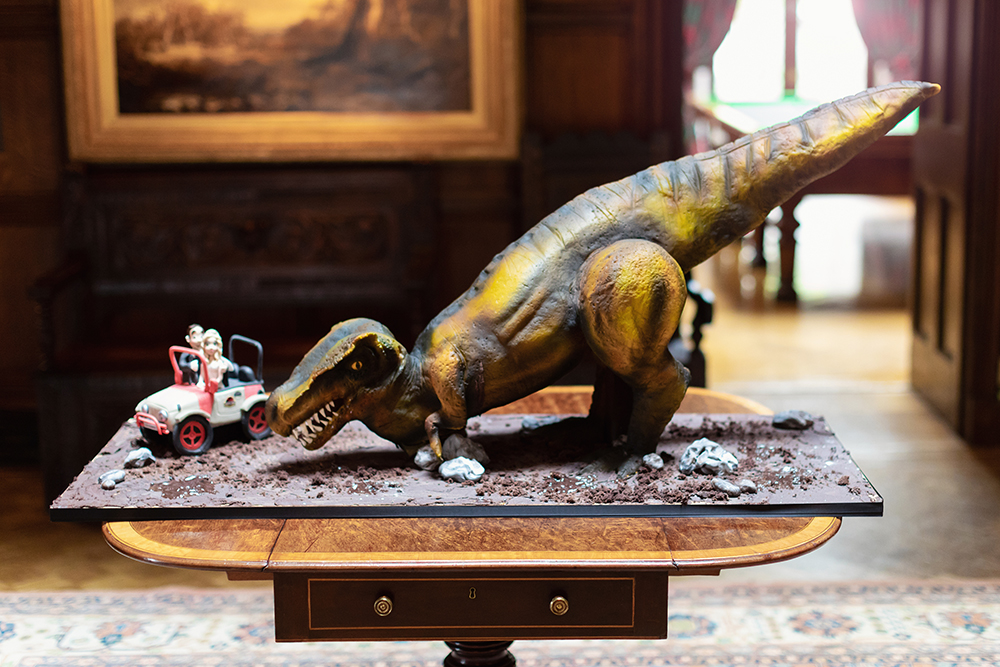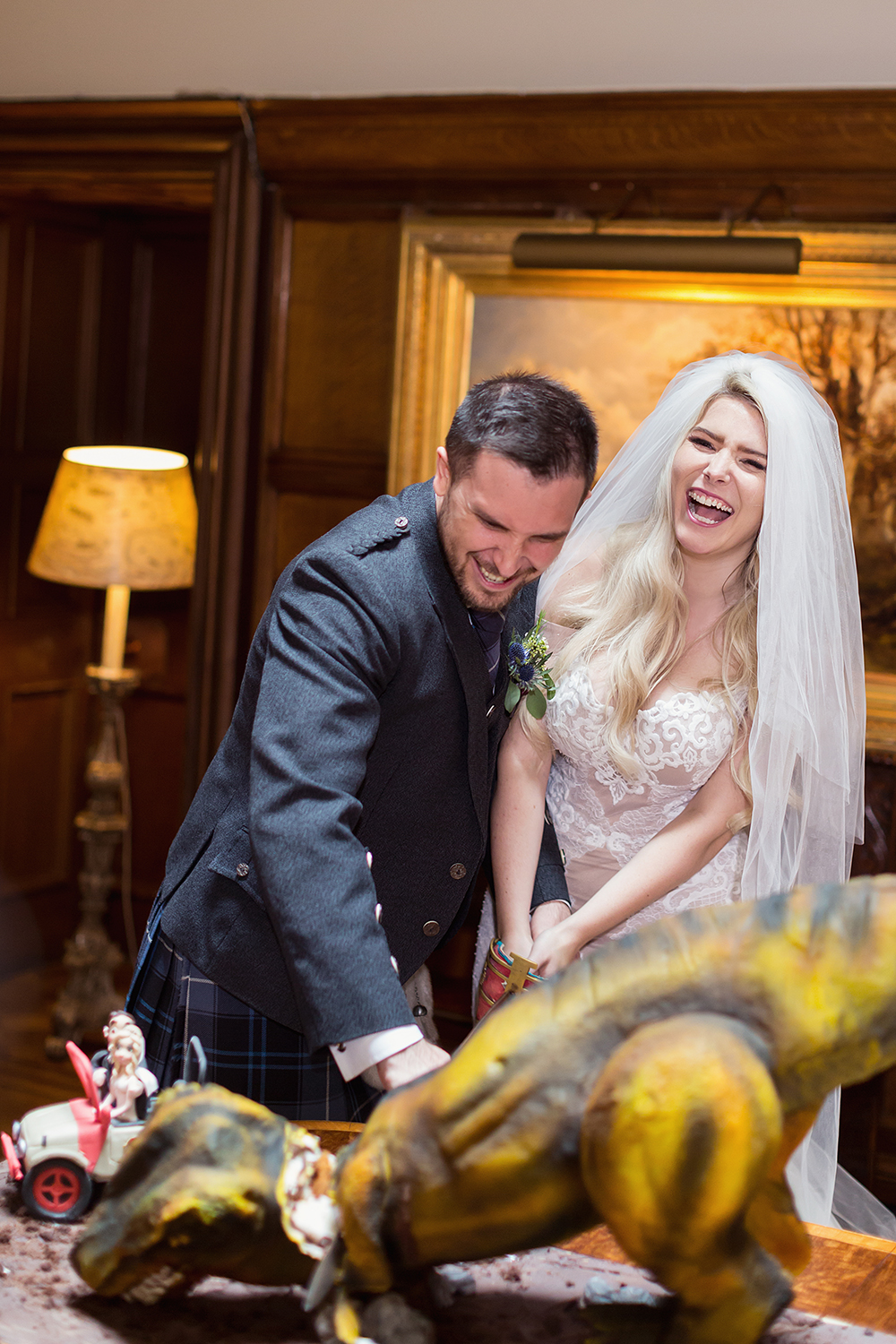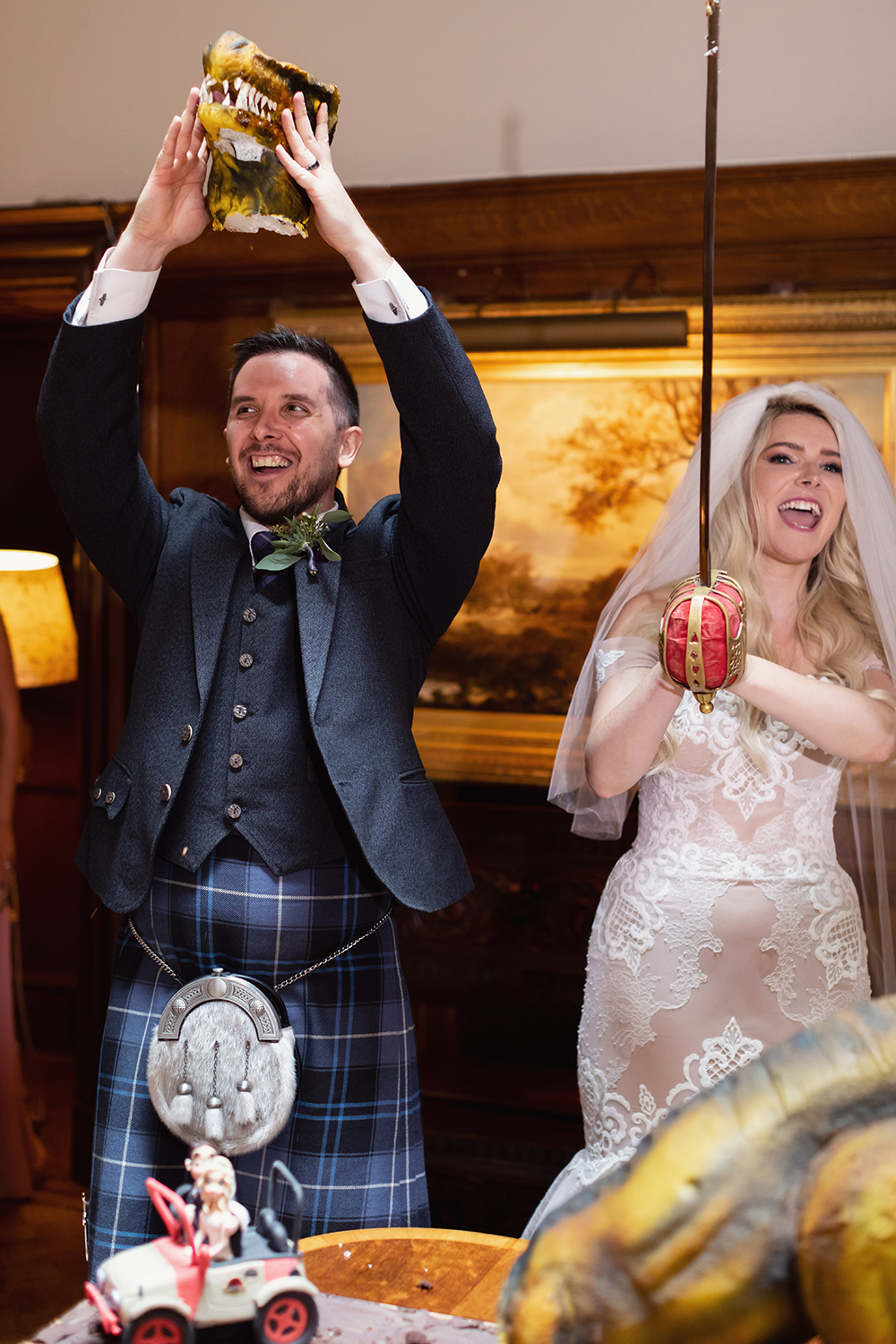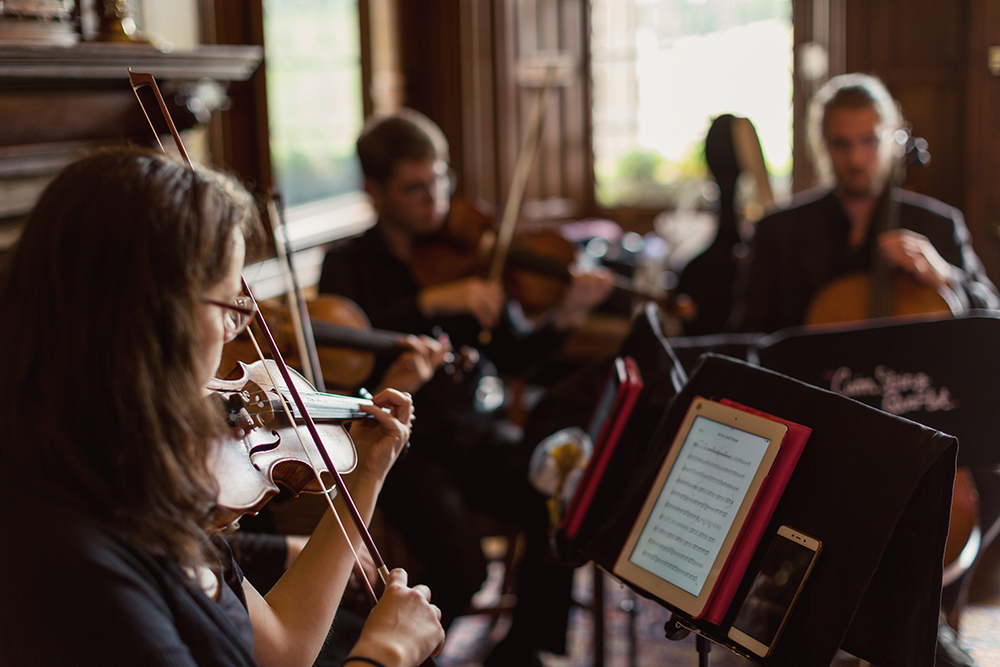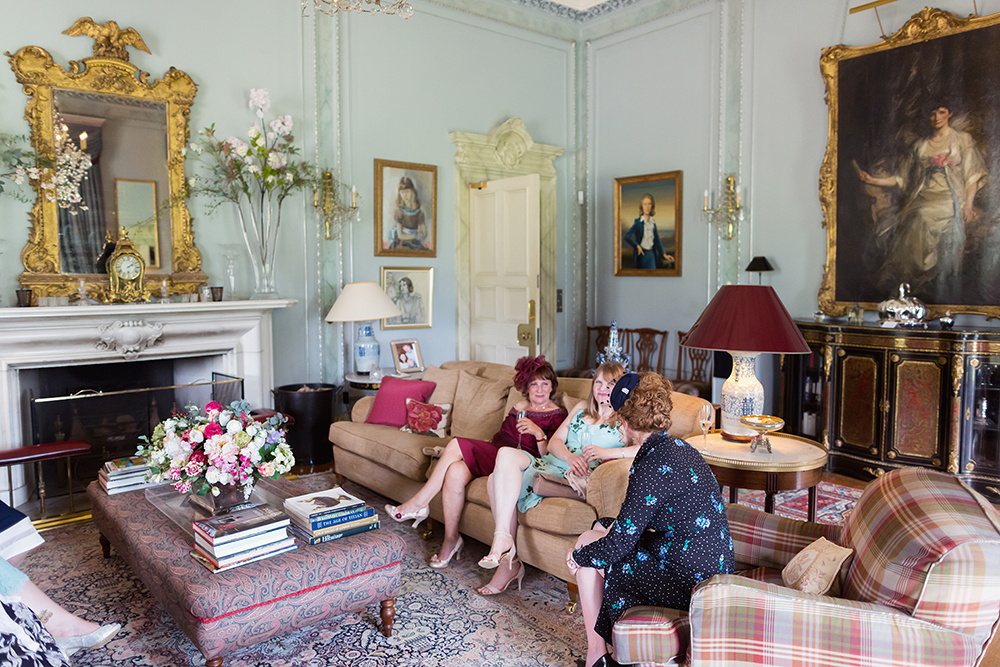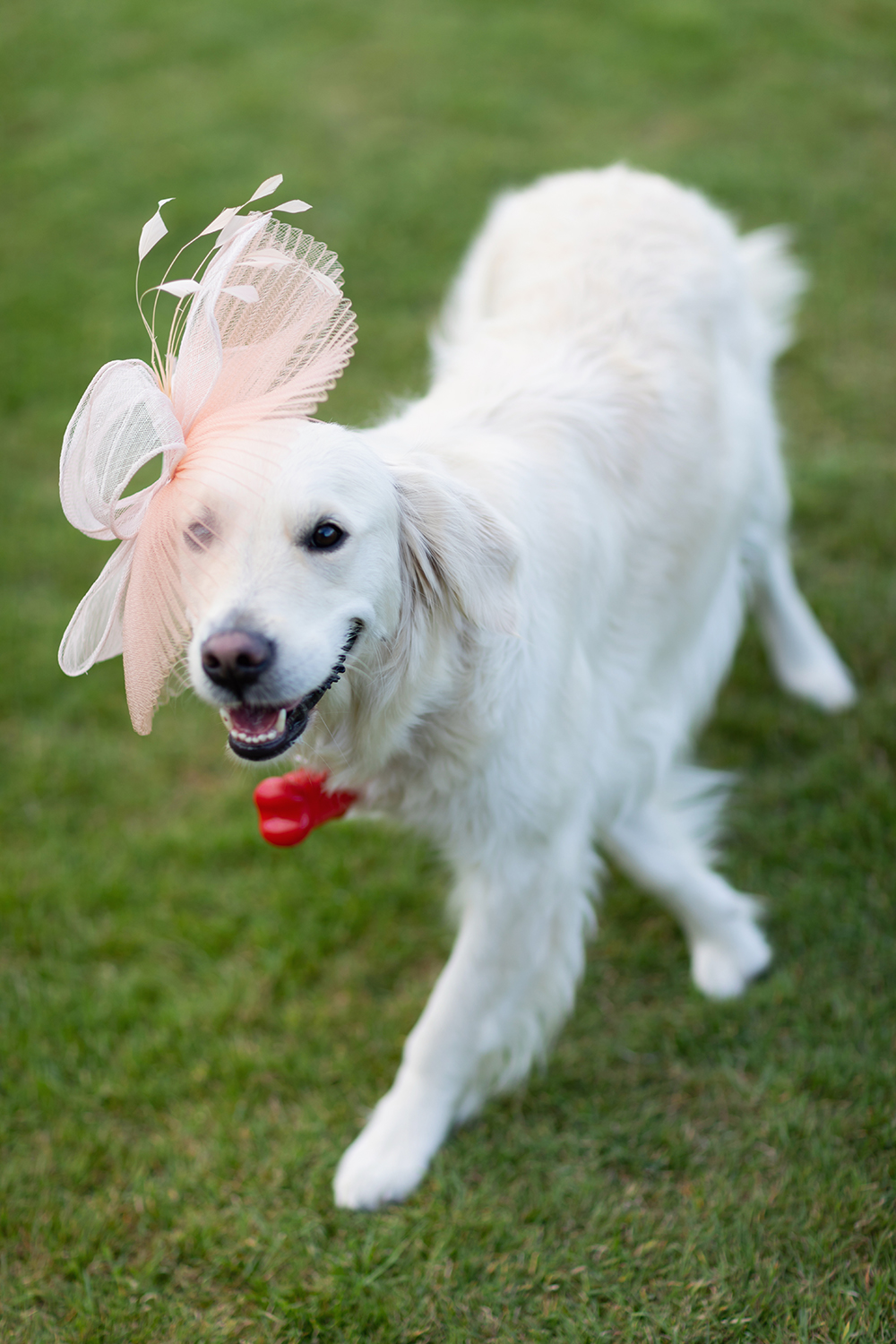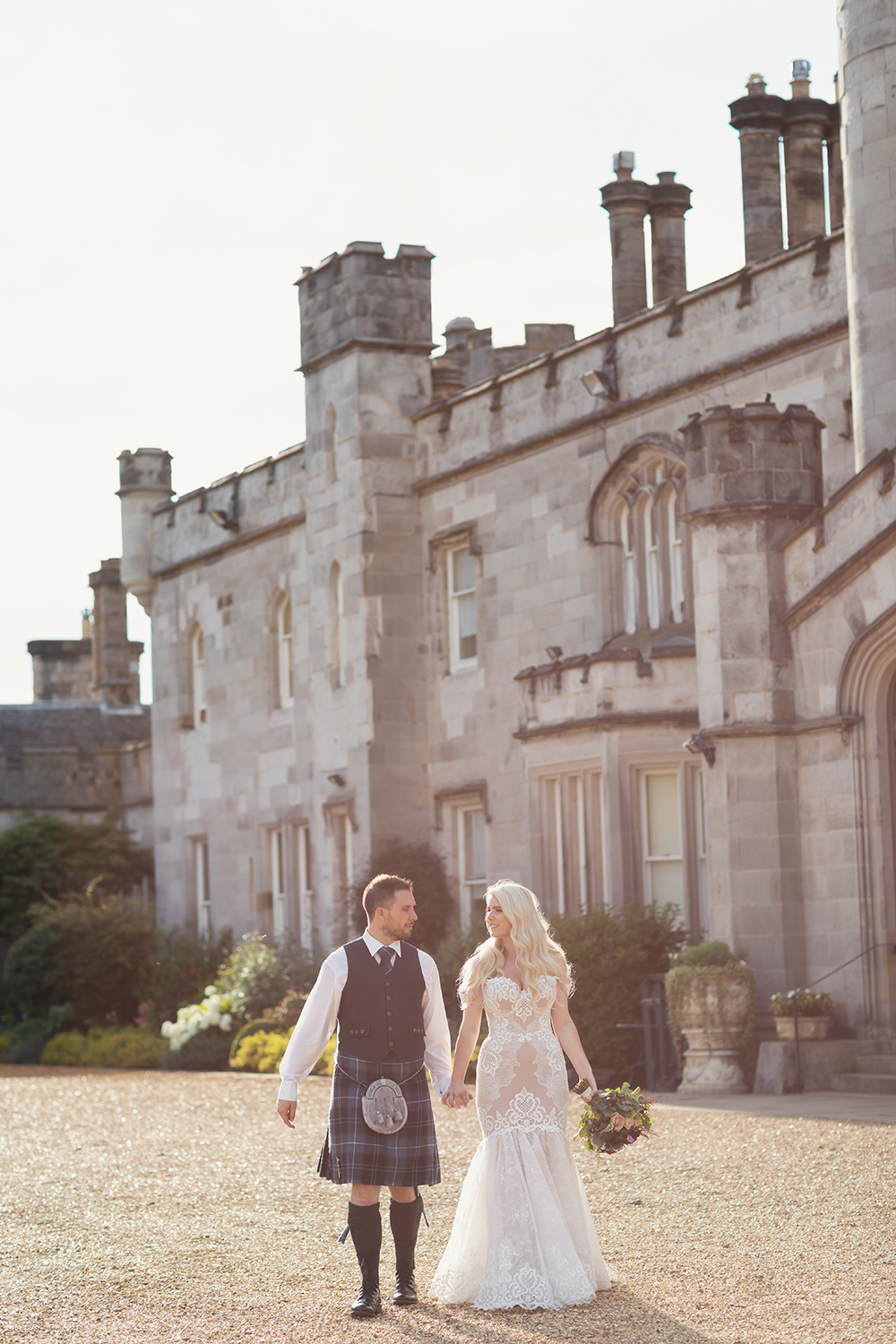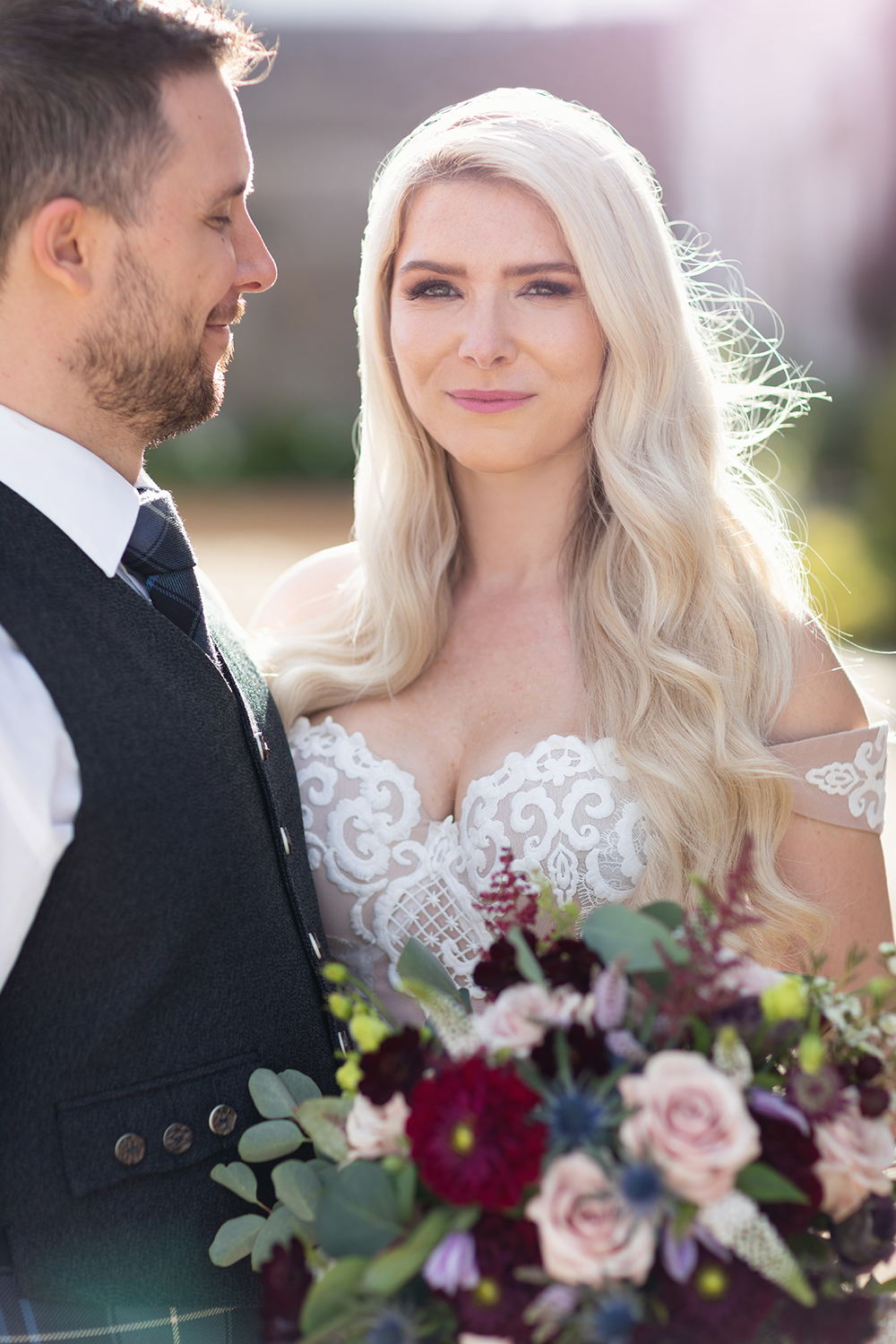 I am a cosplayer: I make costumes and wear them to conventions [check out Erin's Cosplay page]. It's a big part of our life going to Comic Cons so we decided to dress as couples from 10 different films, then got a photographer to take photos of us in costume, and displayed them on each table.
The films were Addams Family Values, Star Wars: A New Hope, Indiana Jones and the Raiders of the Lost Ark, La La Land, Robin Hood: Men in Tights, Anchorman, Ghostbusters, Pulp Fiction, Wonder Woman and Jurassic Park.
We wanted something a bit different for the tables so chose VHS tapes with LED lights installed! You can order them from Nancy's Jars on Etsy. It was a great service and they'll send you VHS lights from any film you want.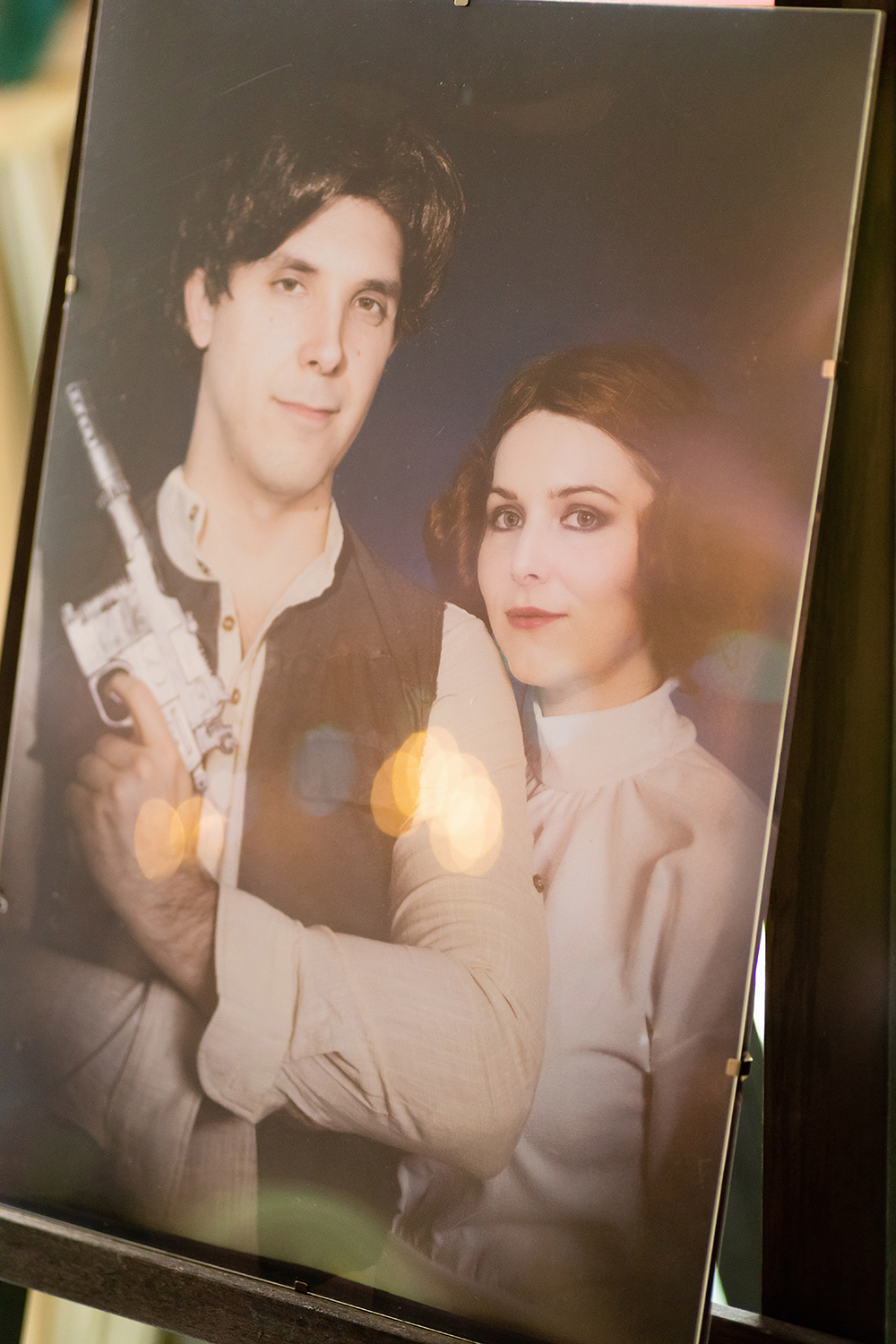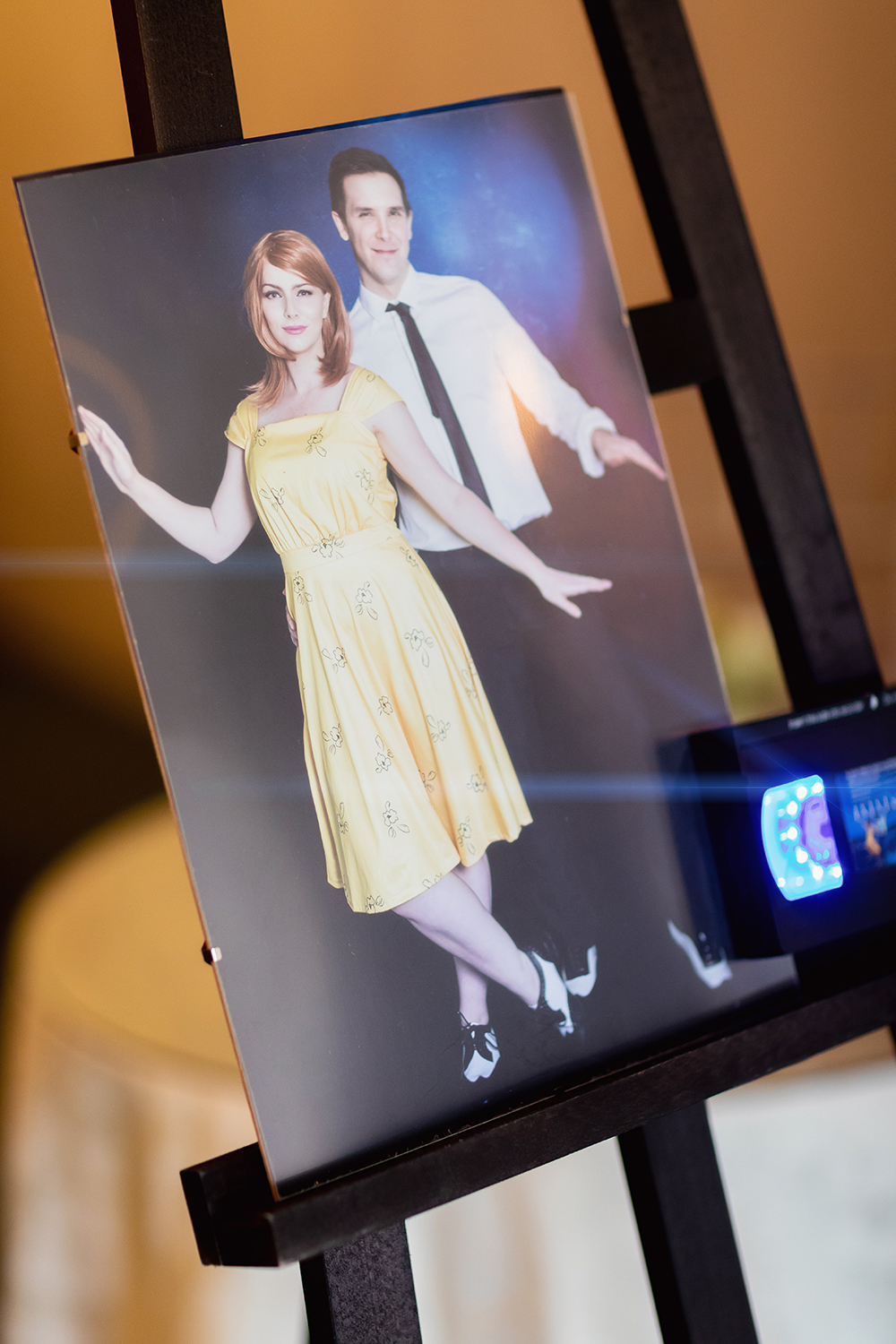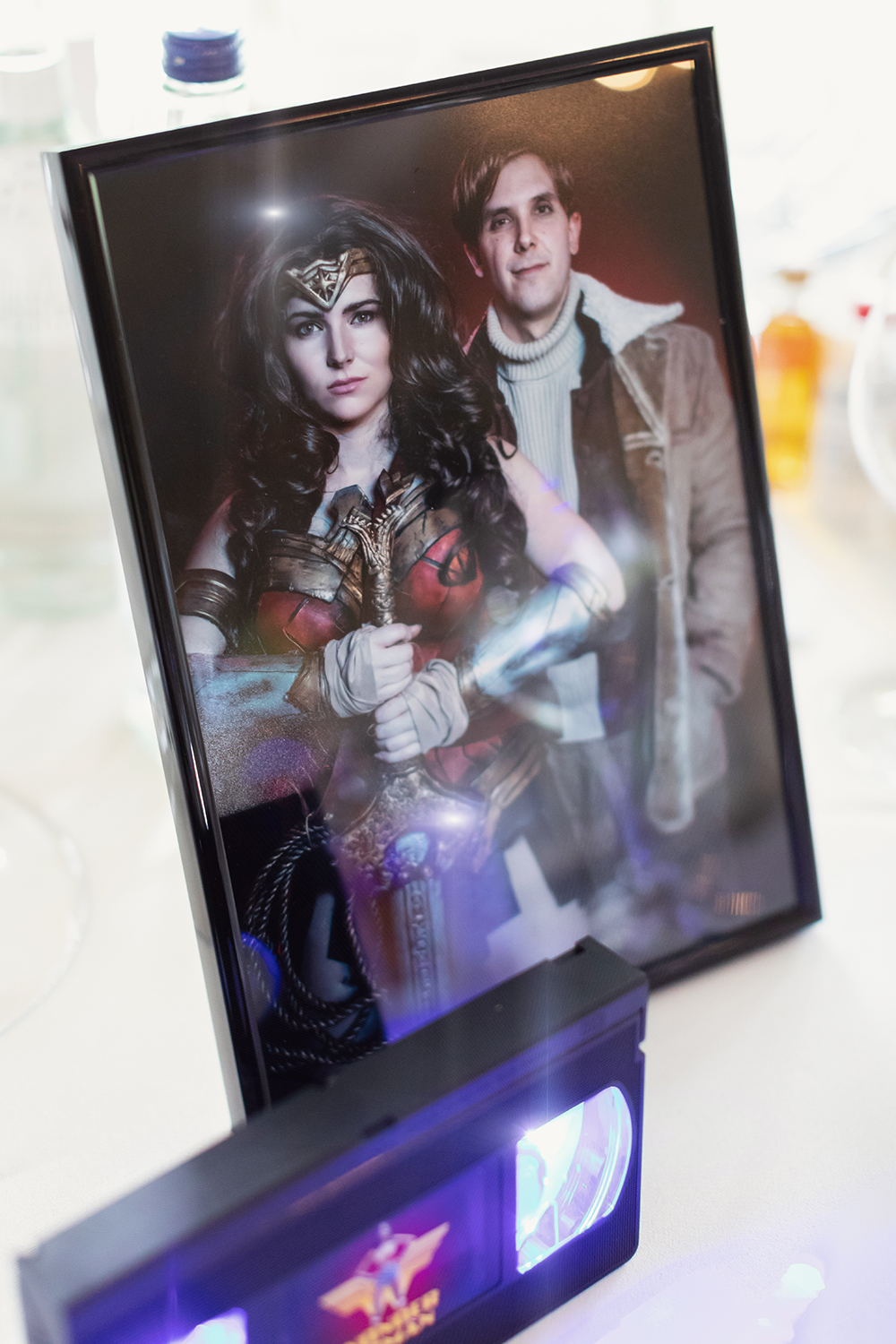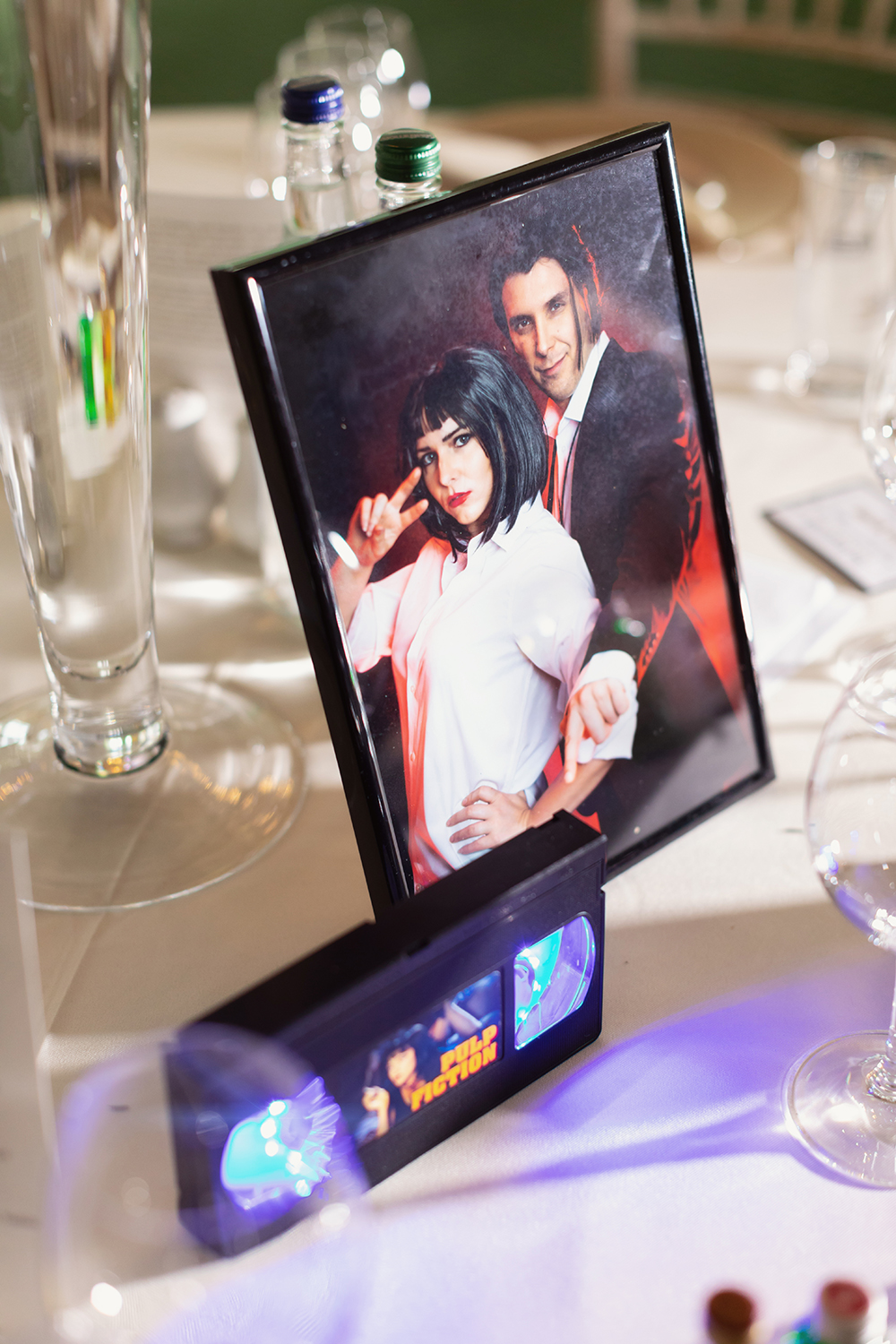 We love the film Up so for our guestbook table we made a scrapbook like the Adventure Book that Carl has in the film. I made the house from up and we also bought a white postbox for cards, painted our hands and stamped them like Carl and Ellie did.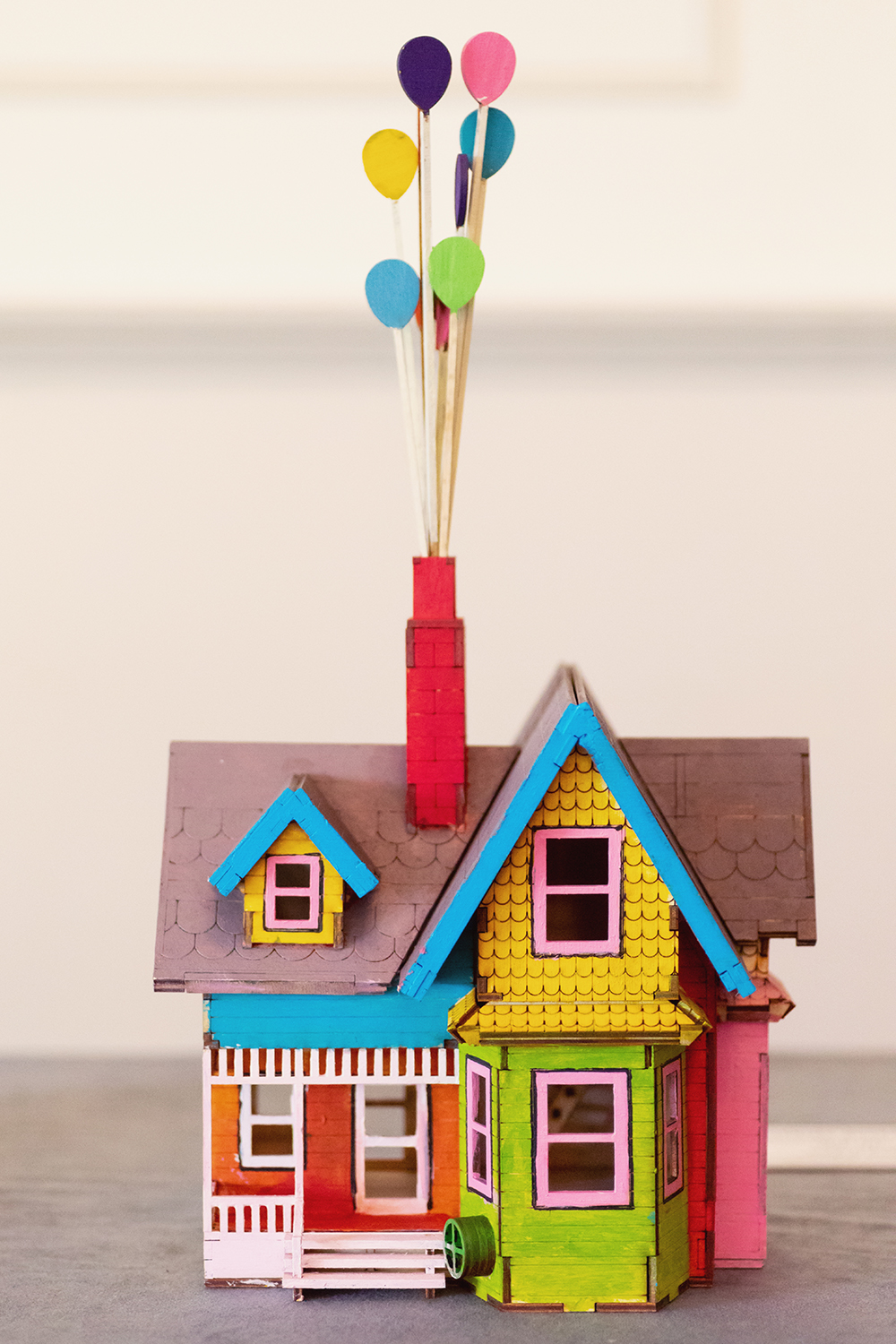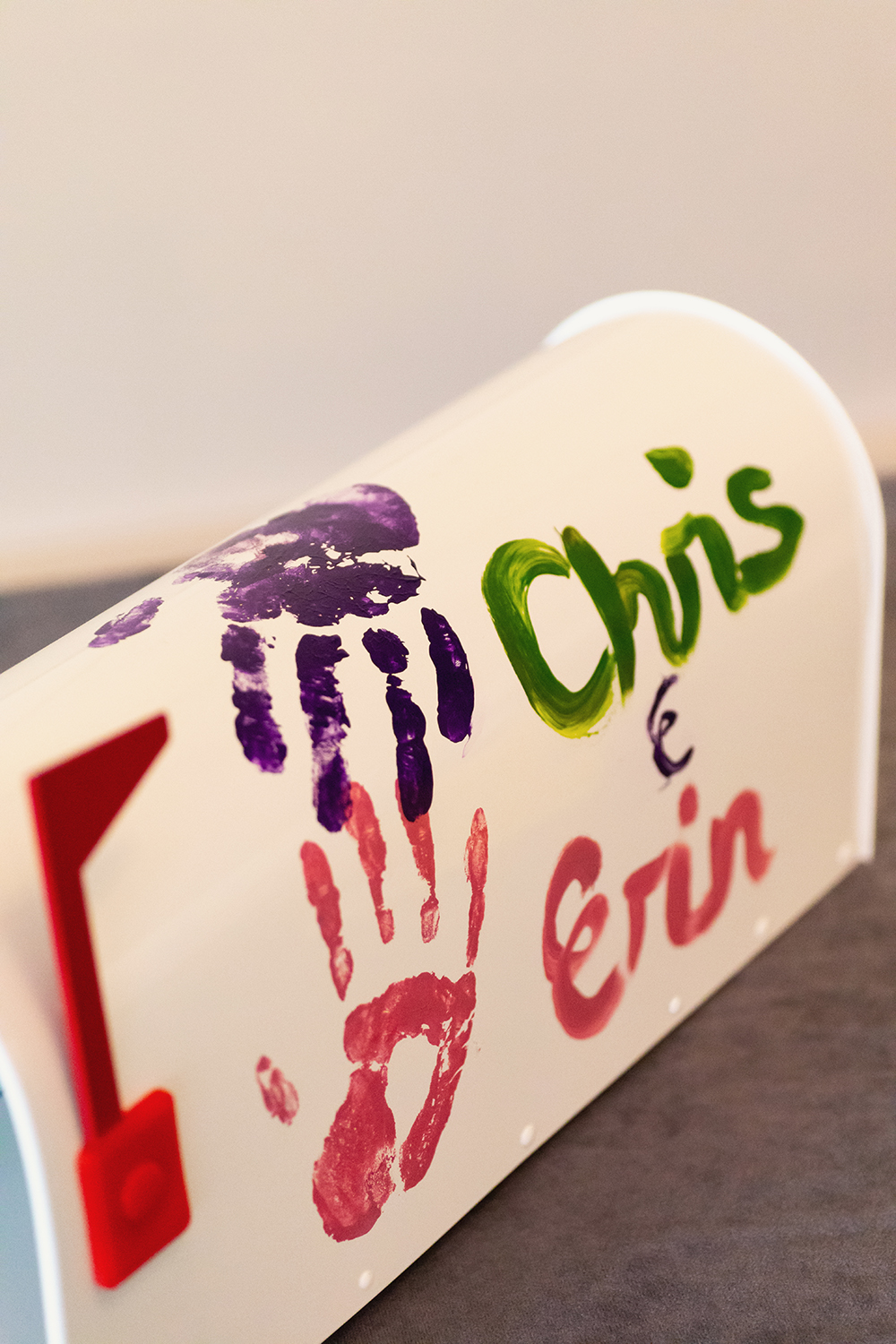 Another small detail is that I got my niece and nephew who were flowergirl and pageboy to take Ellie's badge up the aisle to Chris. If you haven't seen the film it is a purple bottle top with a pin going through.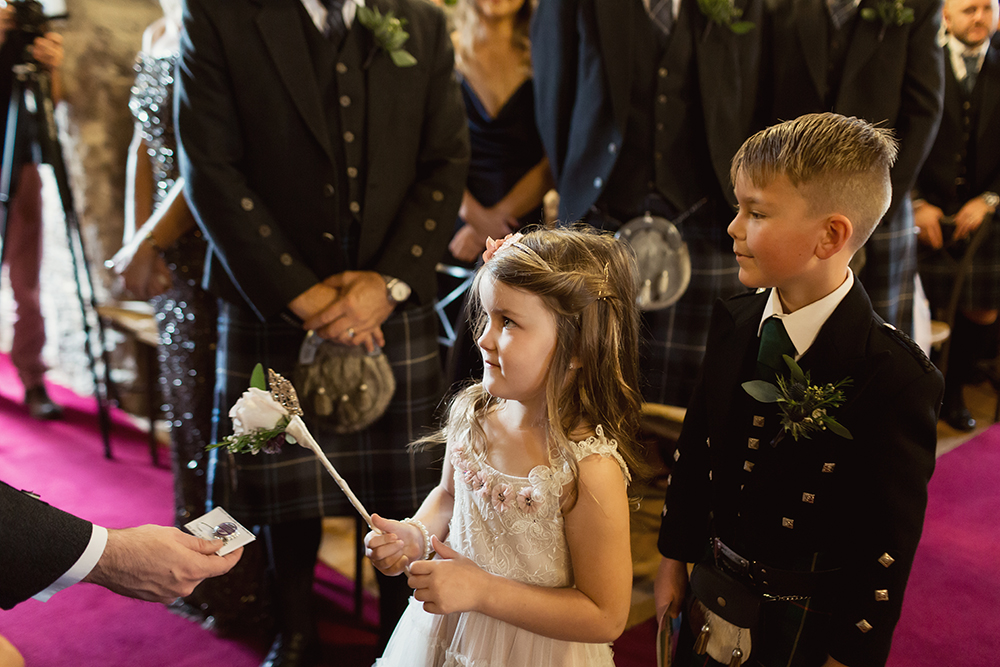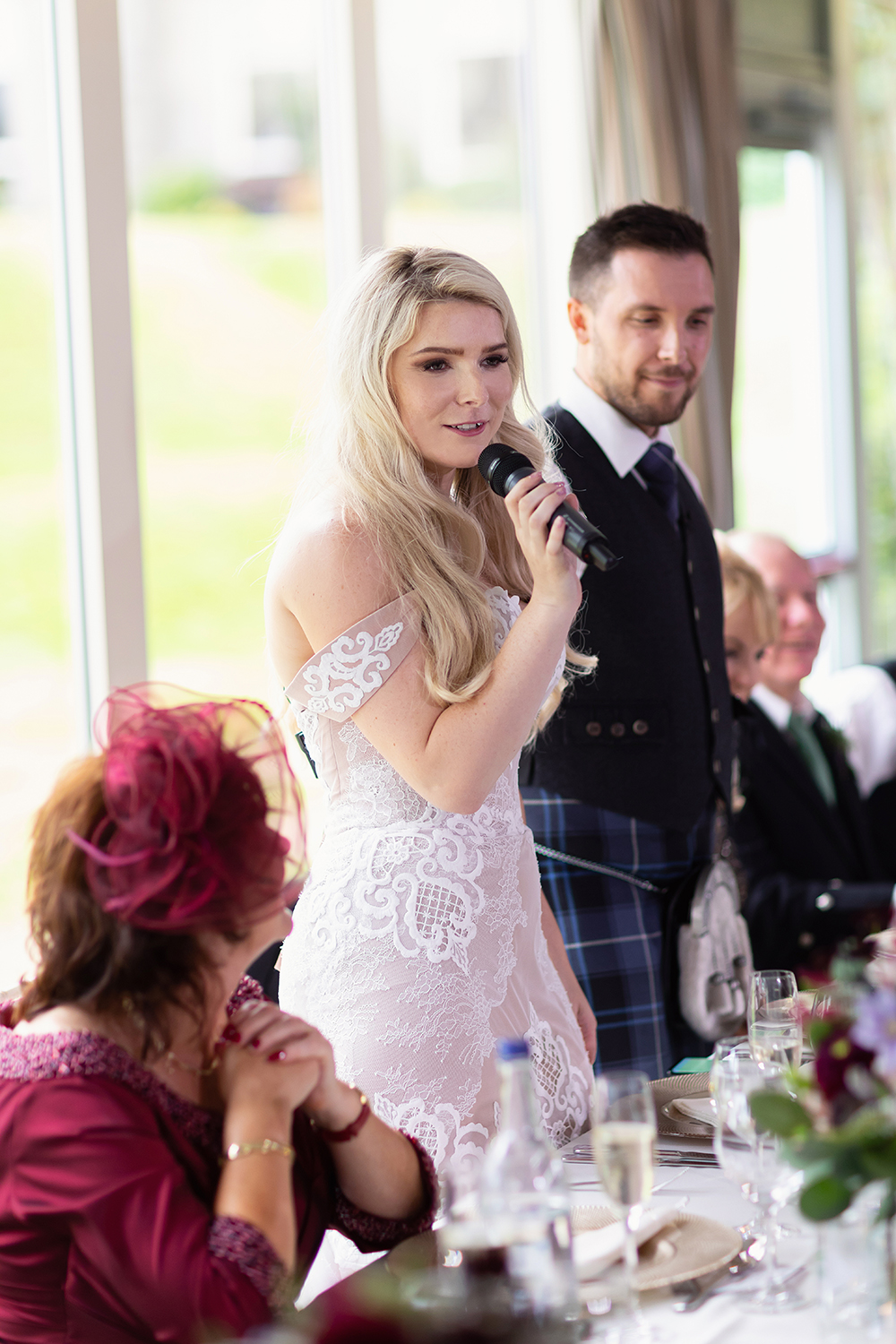 The part of our day that everyone mentions instantly is our first dance. We are daft and up for doing daft things so we went with the idea of a movie medley.
I edited lots of music together and took moves from different movies and tried to come up with something that might work. We were able to practise in Dianne Inglis Studios in Falkirk which was such a massive help.
When the day arrived the only people who knew about this were me, Chris and the staff. We walked out and had changed outfits as no way could we do this in a mermaid-style dress and kilt.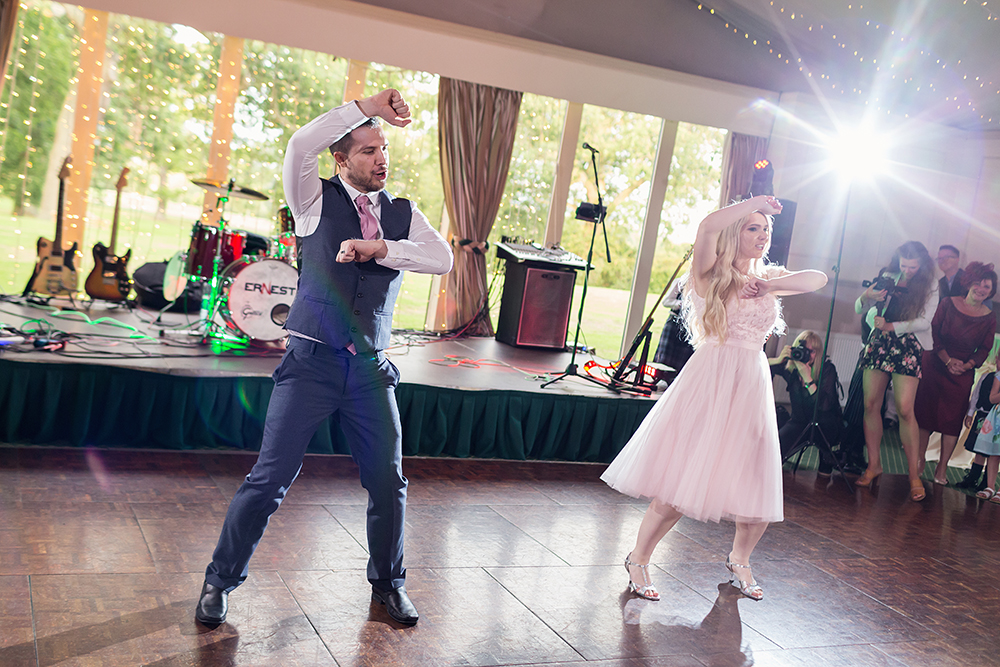 Everyone said they thought we were going to do a ballroom dance as we started with a slow song from La La Land. However Austin Powers kicked in and everyone lost it.
The music then changed to Footloose, Tropic Thunder, Pulp Fiction, Night at the Roxbury, Saturday Night Fever, Napoleon Dynamite, Wayne's World, The Mask and Grease. We changed back a couple of dances later but it was totally worth it.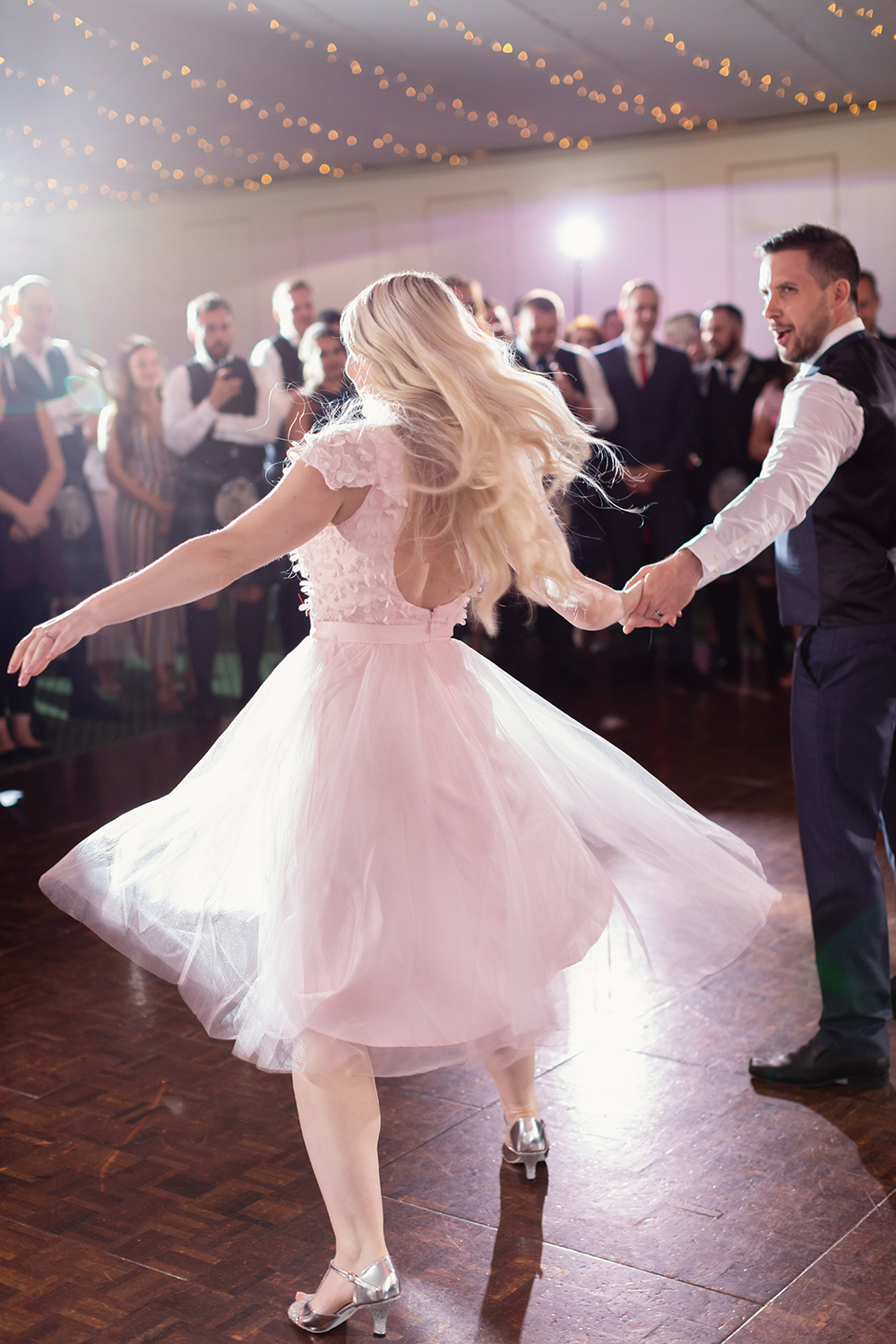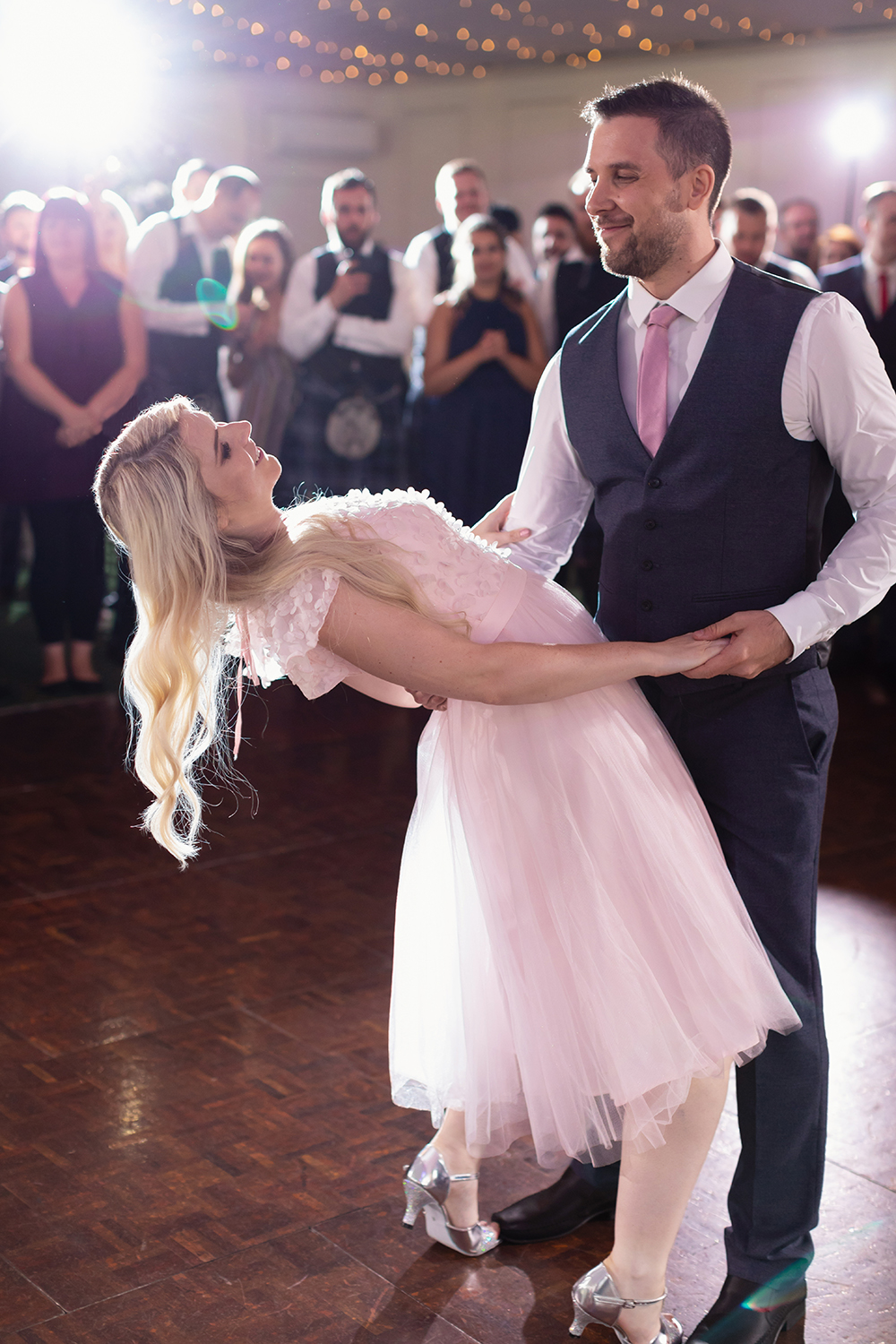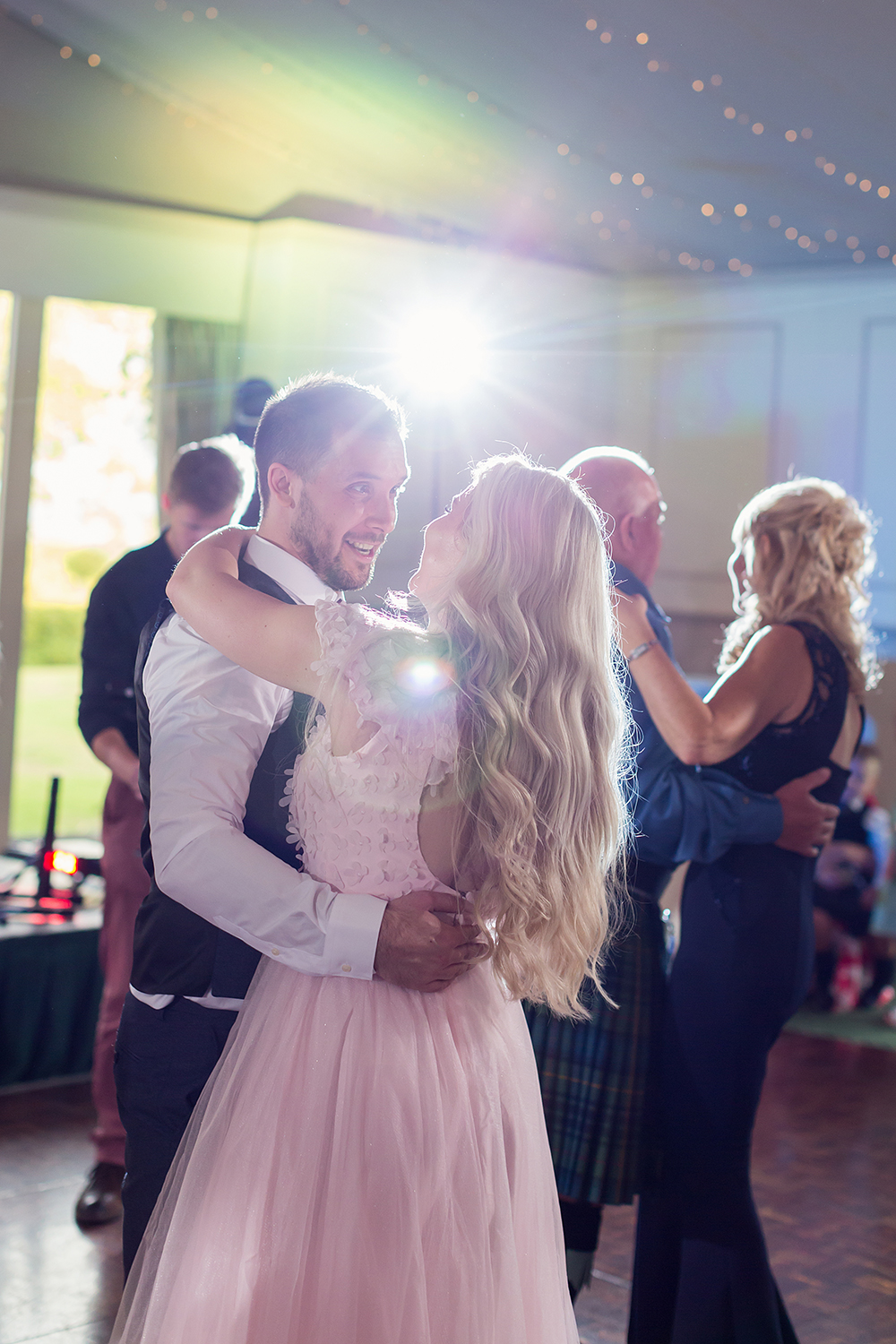 Ernest then started playing City of Stars from La La Land and for our final dance of the night we requested Bohemian Rhapsody. A lot of people choose Loch Lomond but we like to be different.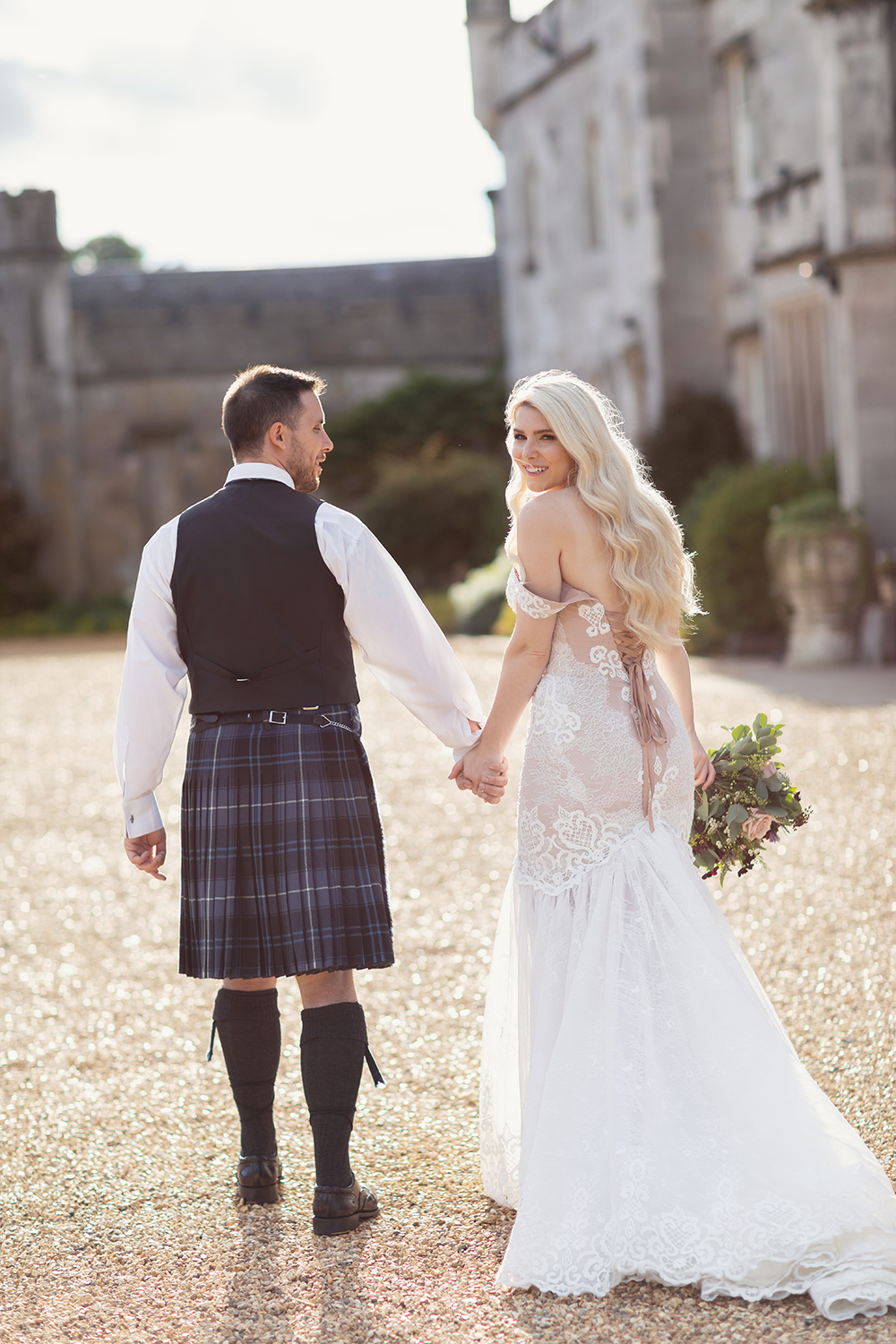 Watch Chris and Erin's amazing first dance below!
Here's the video of our first dance! We hope you enjoy it ?Many thanks to Dianne Inglis Studios for letting us practise there and to White Balloon Films for all our amazing videos! ❤️

Posted by Erin Kirkwood on Sunday, 14 October 2018

Venue: Dundas Castle | Photographer: Craig + Eva Sanders | Videographer: White Balloon Films | Dress: Ange Etoiles | Bridesmaid dresses: Aimee Bridal | Groom's outfit: Kiltpin | Celebrant: Gerrie Douglas-Scott | Cake: 3D Cakes | Florist: Planet Flowers | String quartet: Cairn String Quartet | Band: Ernest | Rings: Chisholm Hunter + JQ Studio Designs | Stationery: Designed by Joe | Hair: Hair by Chantelle | Make-up: Gloss Makeup by Alana
Cosplay Photographer: Lens Girl