A Crossbasket Castle wedding in winter with a burgundy and gold theme
Gabriella and Greg got engaged in winter and chose the festive season for their big day too, with a classy colour scheme and bundles of beautiful foliage.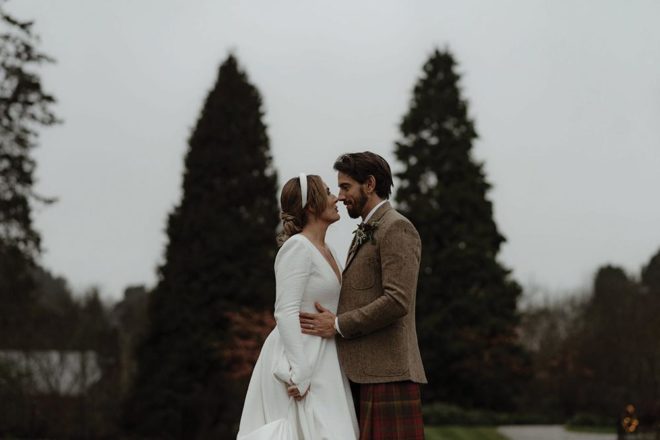 Actor Gabriella Stylianou and partner Greg enjoyed a cosy, wintry Crossbasket Castle wedding. Read all about their incredibly stylish day in the words of the bride, and see the amazing photos captured by photographer Sean Bell.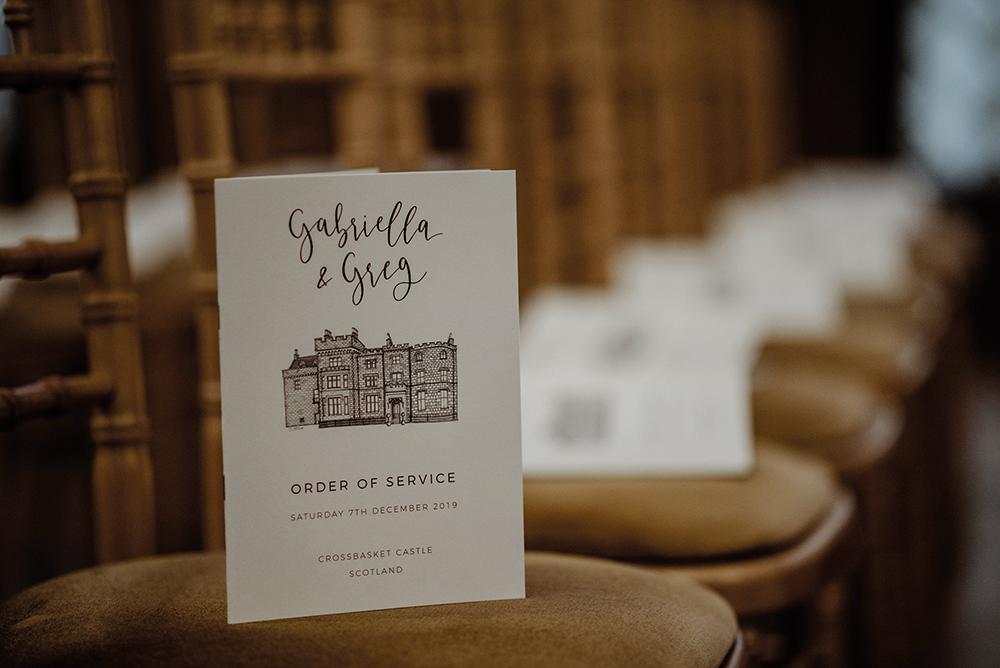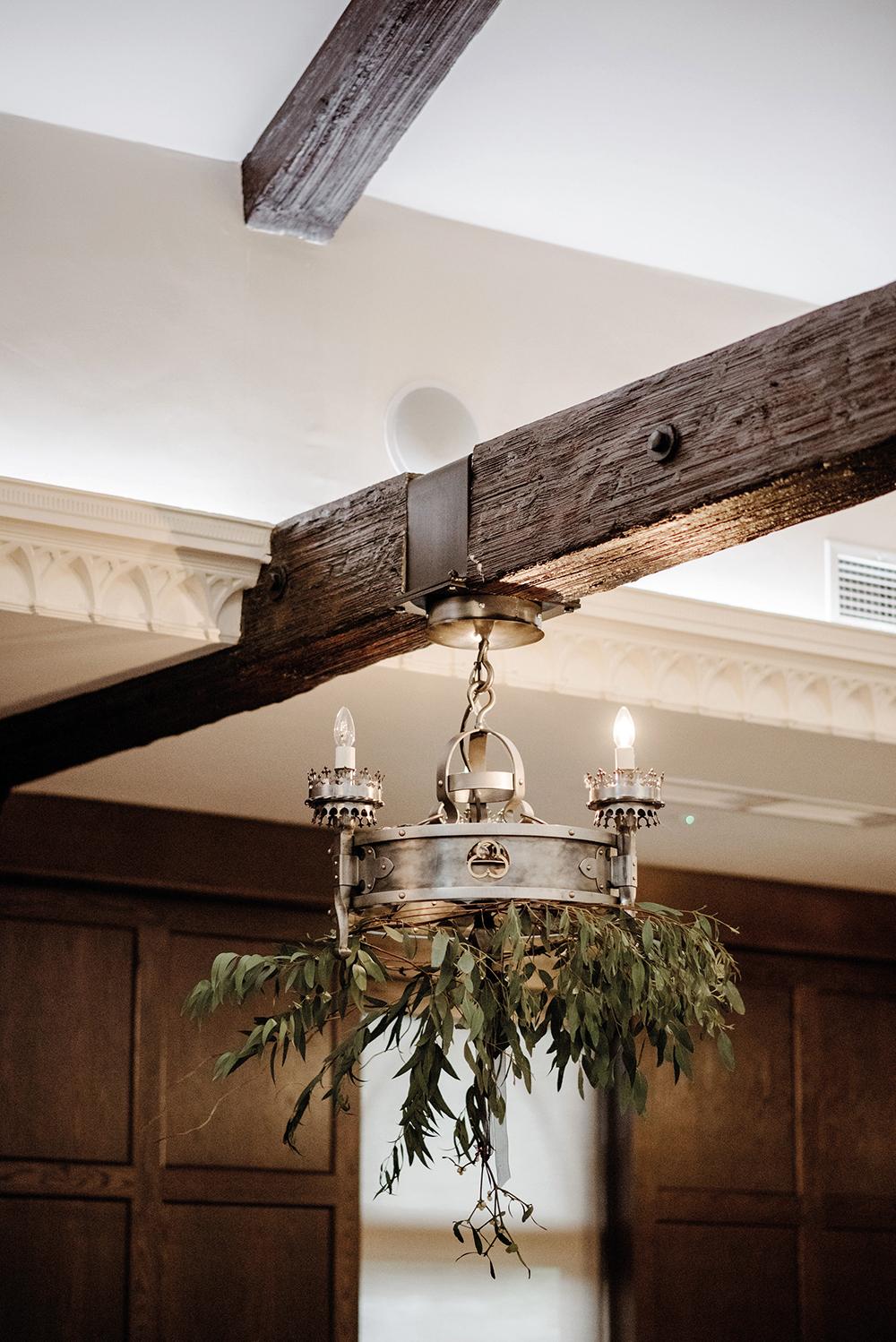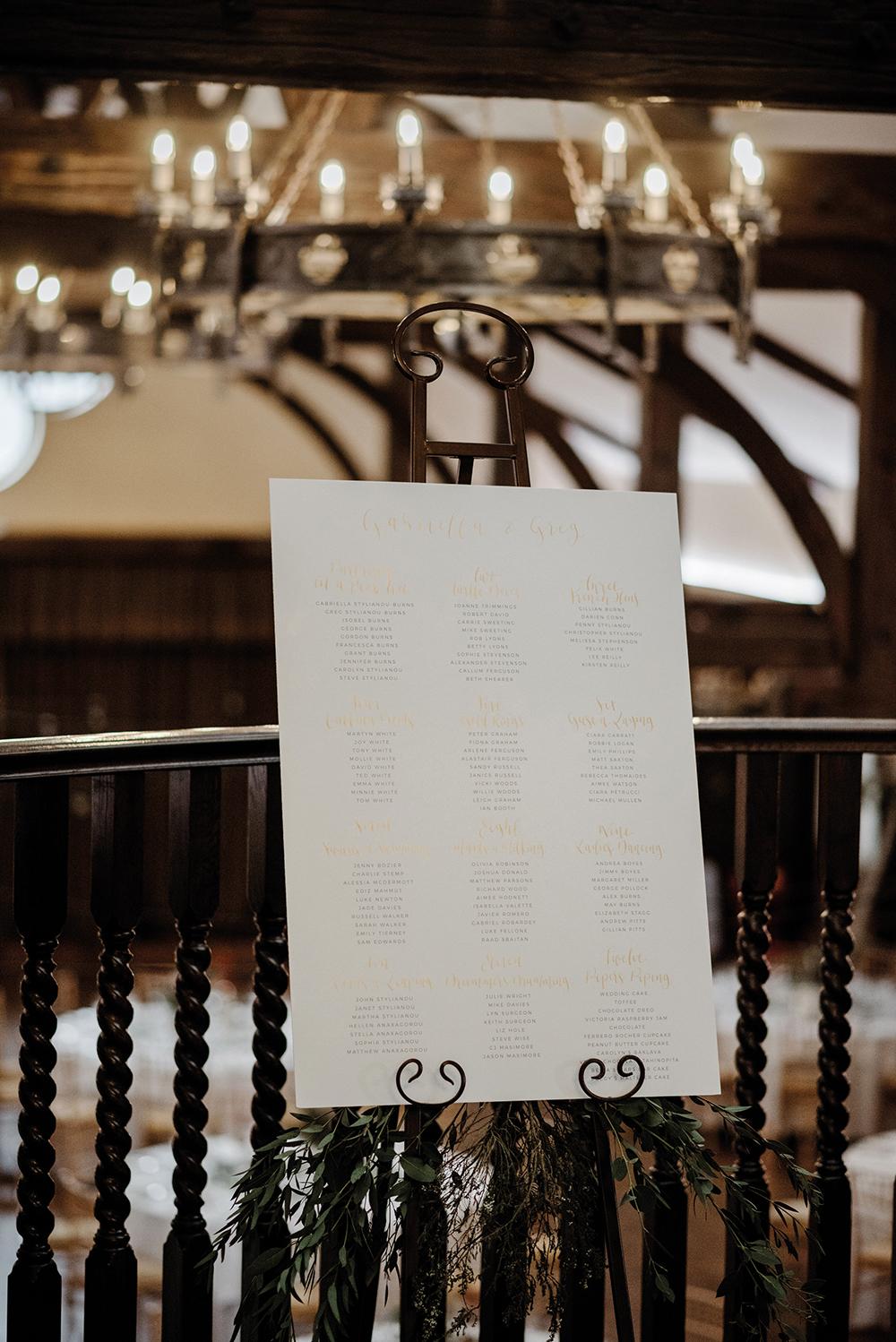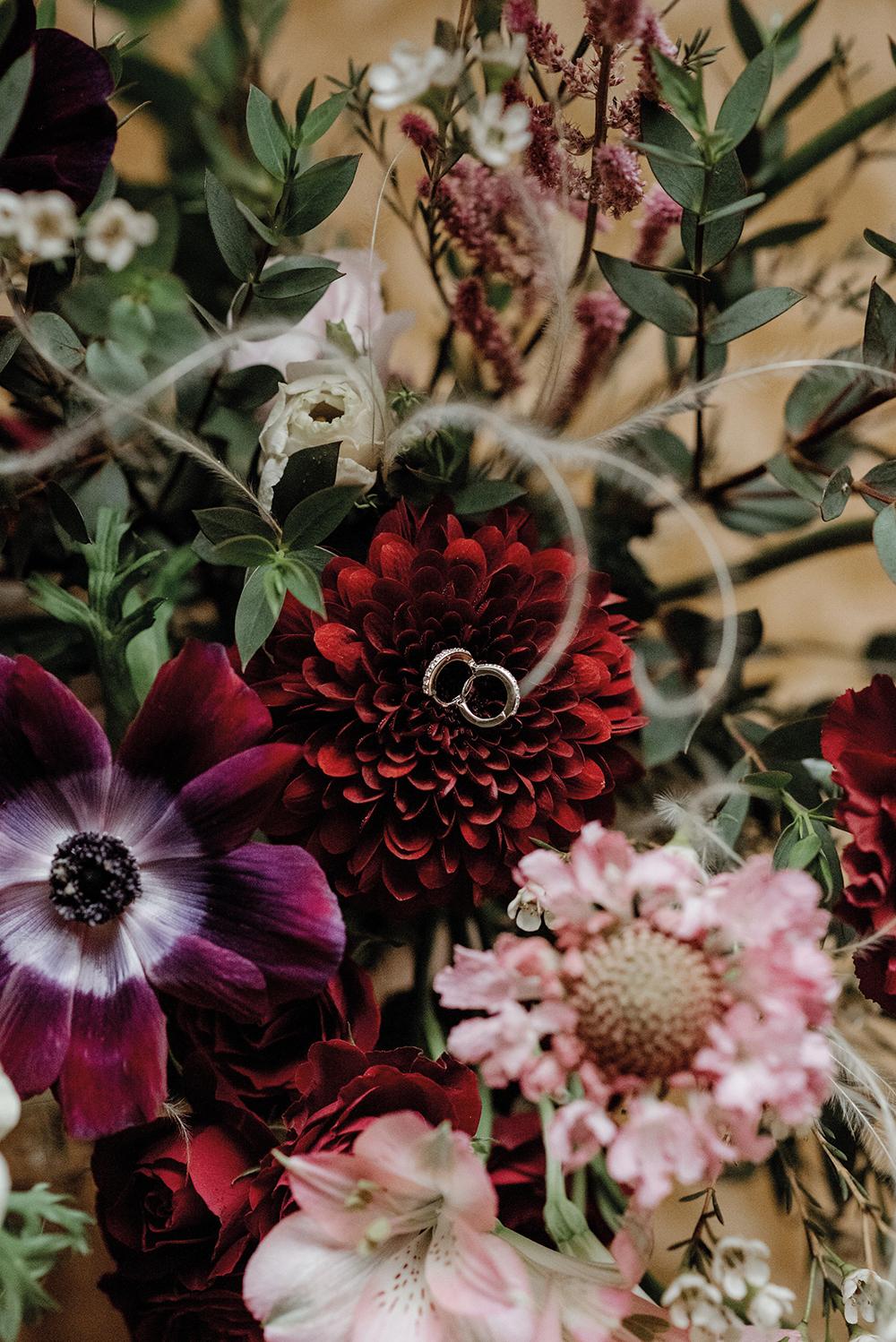 Greg proposed to me in December 2016 at Royal Botanic Kew Gardens. We were viewing the Christmas lights there which we went to every year.
At the end of the trail we went to take a polaroid in front of the giant Christmas tree but there was already a group of guys in front waiting for a picture.
Greg offered to take the picture and instead the camera started recording. The four men started singing a capella and of course it was our song, 'Saving All My Love For You'. Greg then took me in front of the camera while they continued to sing and proposed. It was truly magical!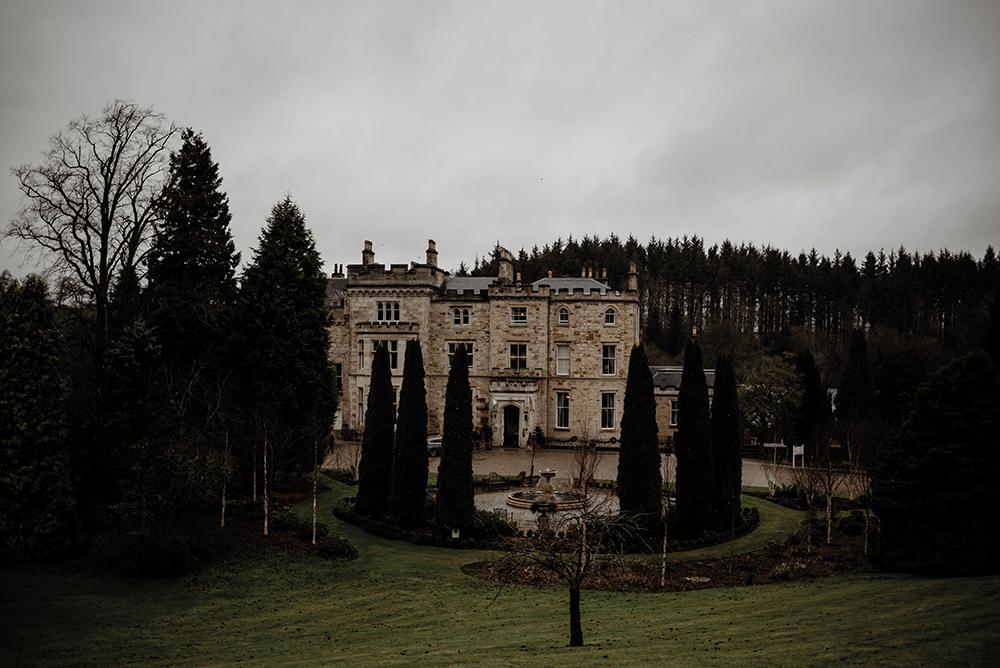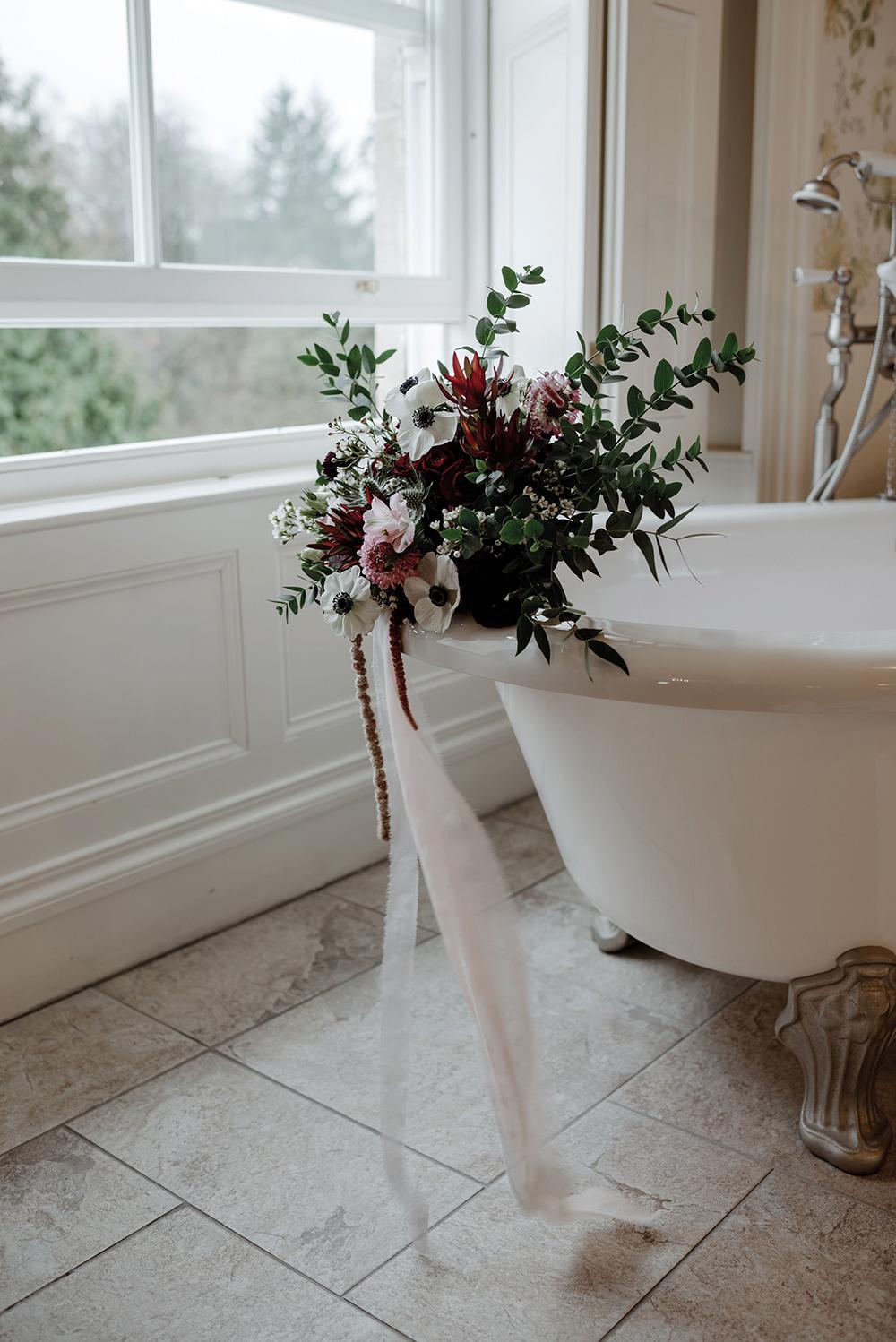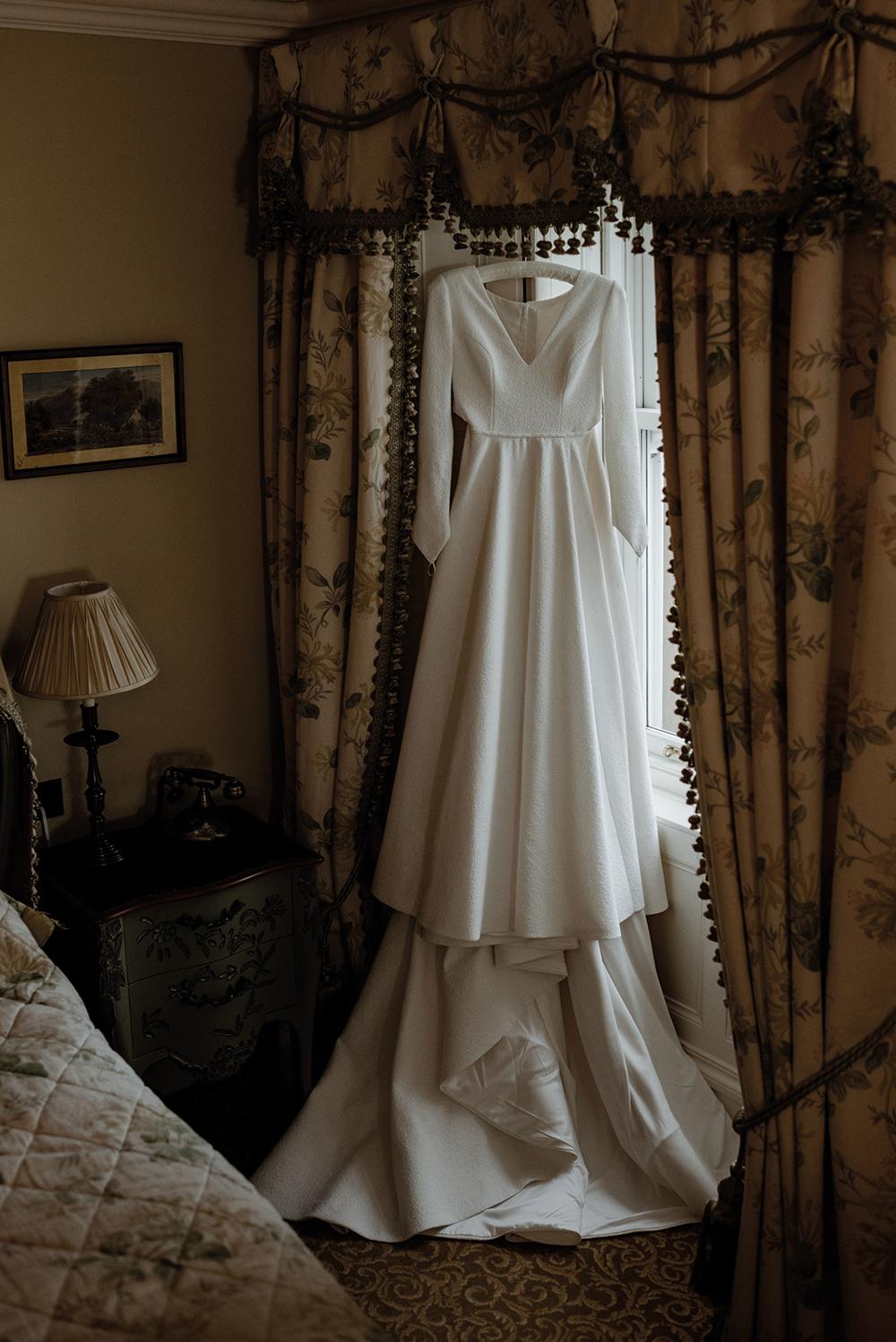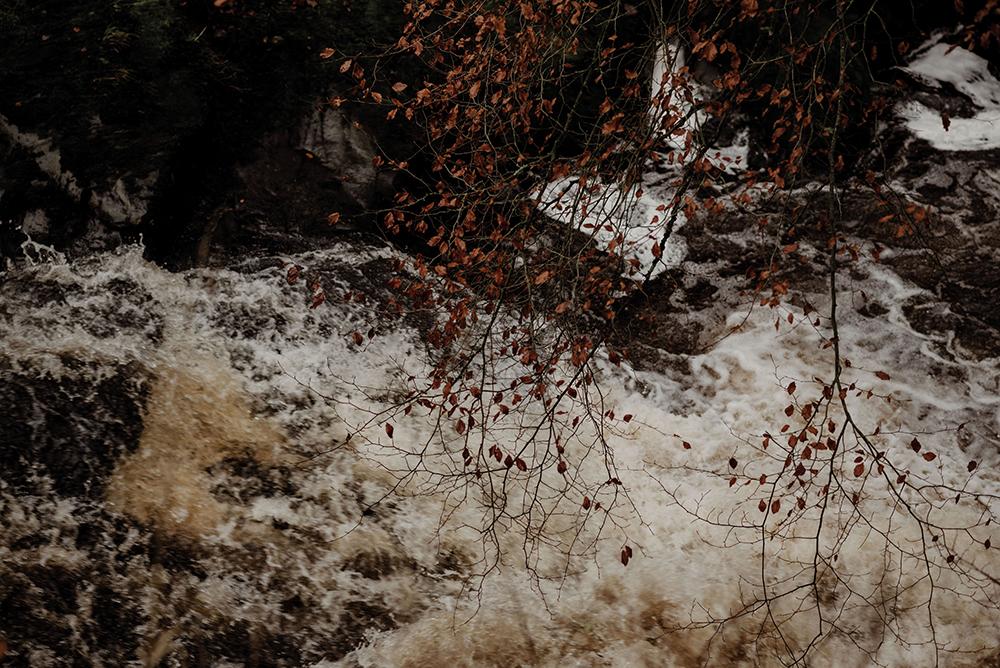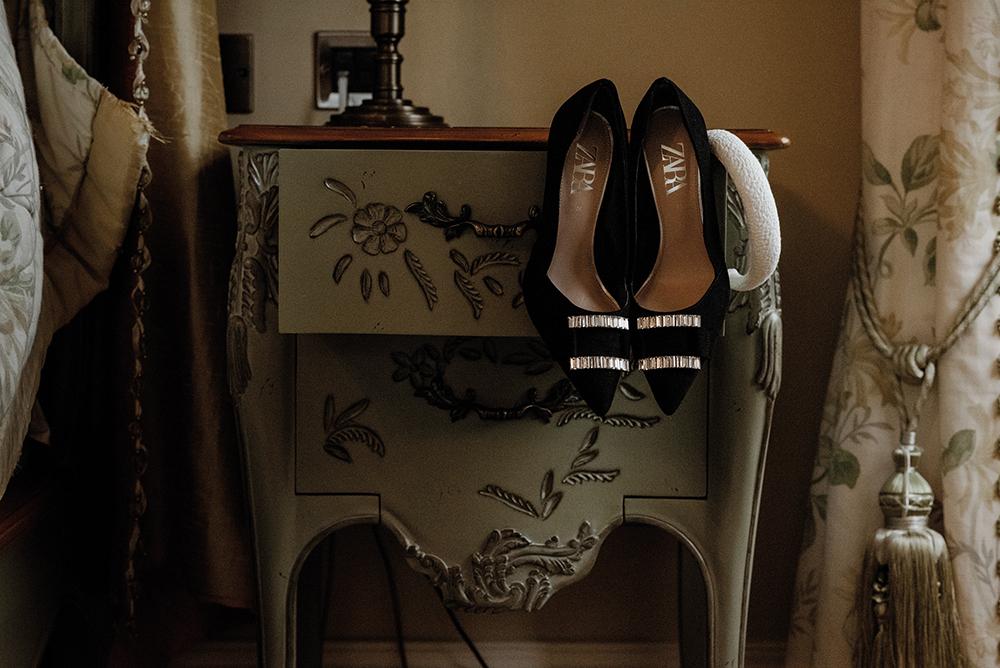 We knew we wanted a winter wedding so we needed a venue that was big enough to house everyone inside.
We wanted a castle or stately home with a gorgeous ballroom to match and thankfully that's what we found at Crossbasket Castle!
Once we decided on winter for the time of the wedding, the colour scheme fell into place. Gold and burgundy to me screams 'classy Christmas'.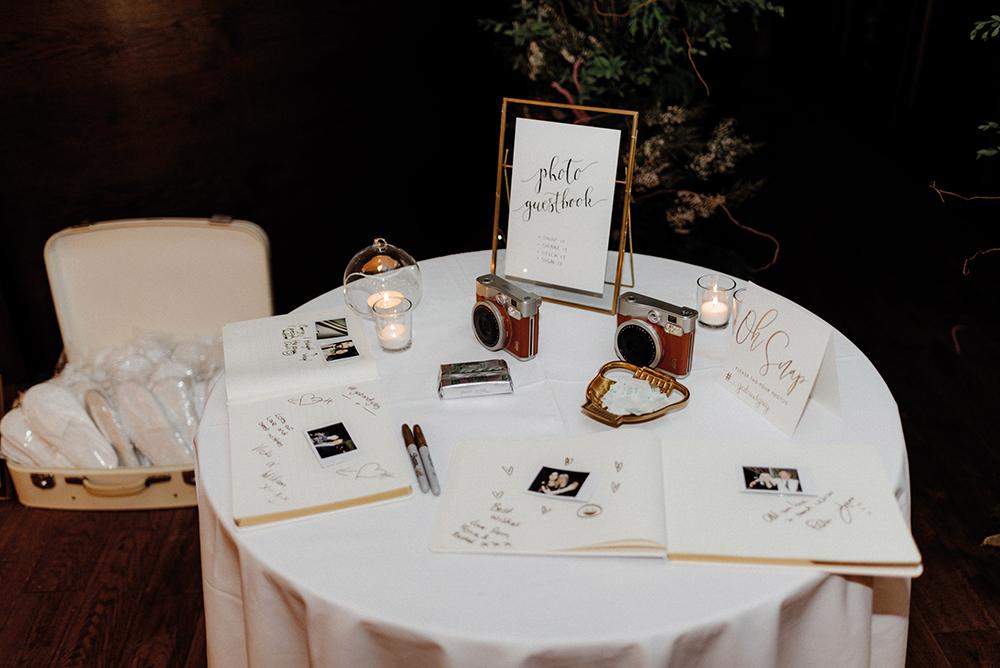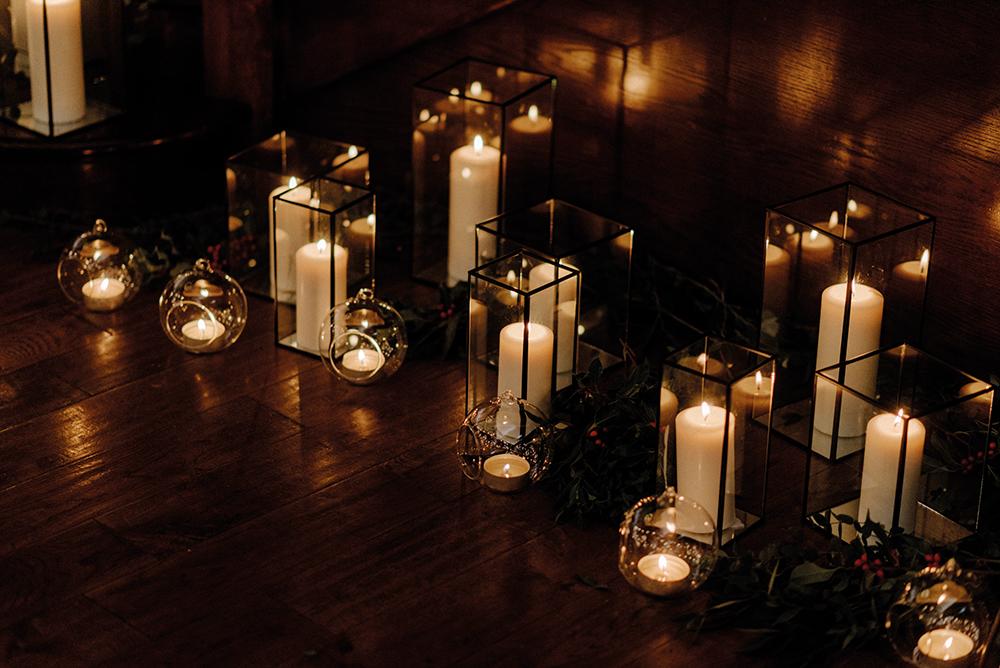 I wanted candles everywhere and we also had festoon lights running from beam to beam above the ballroom.
I also knew I wanted the flowers very wild, and lots of them. We had foliage hanging from the chandeliers and wild foliage and candles running down the staircase into the ballroom.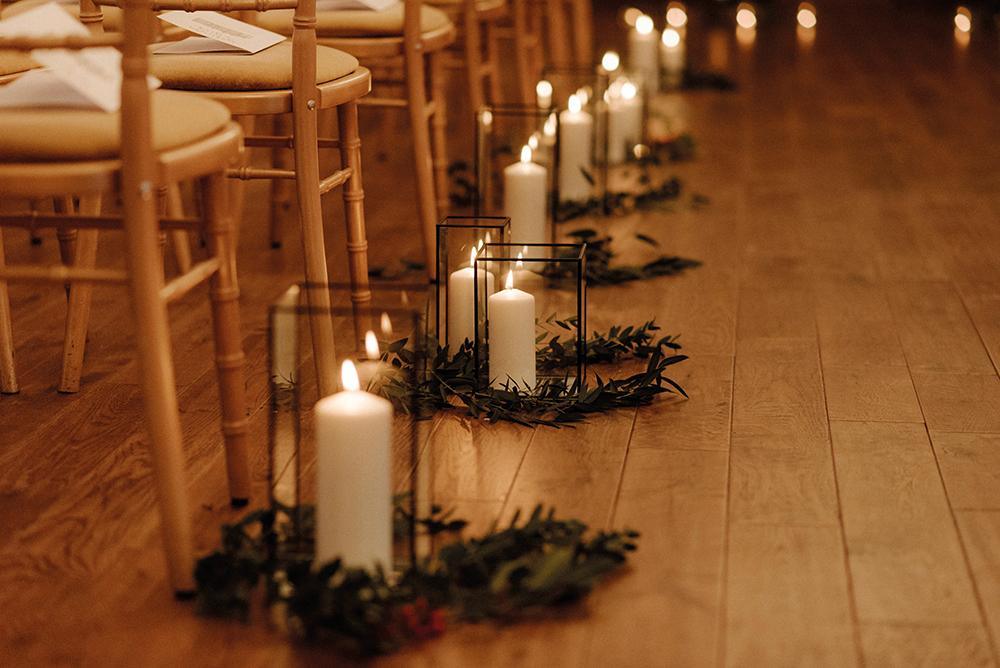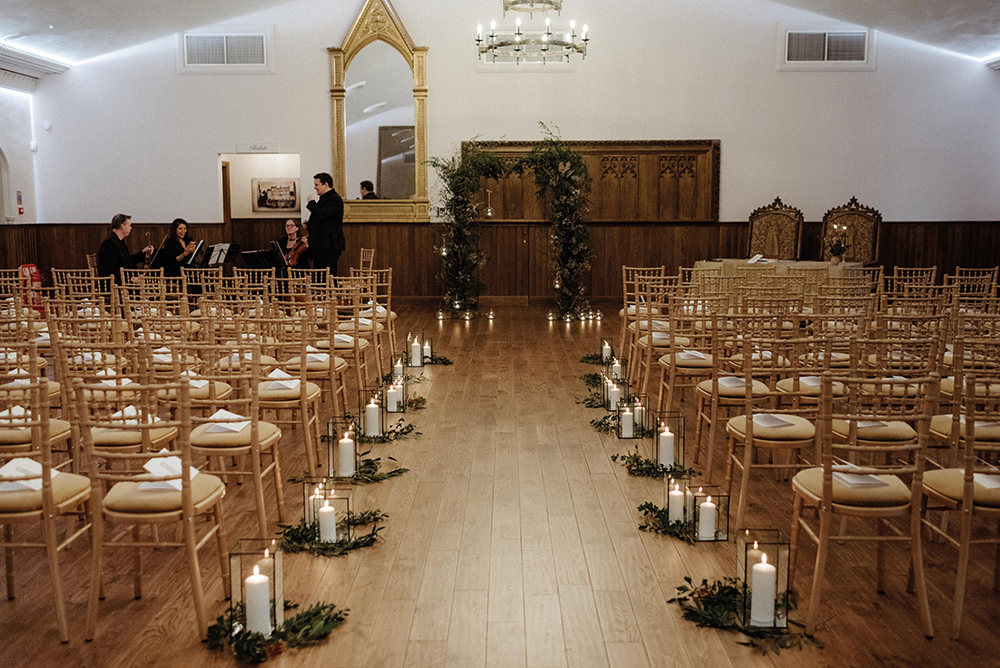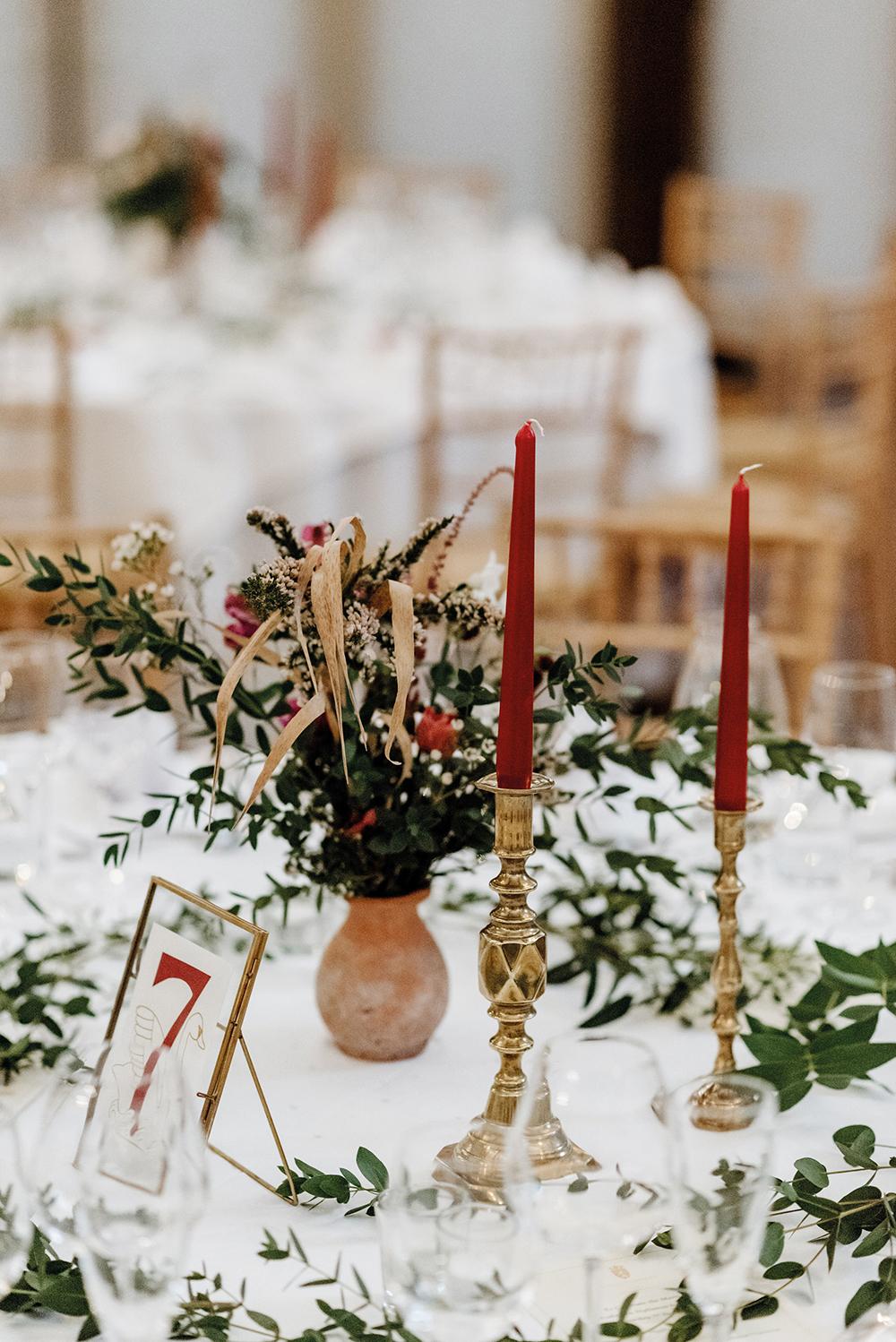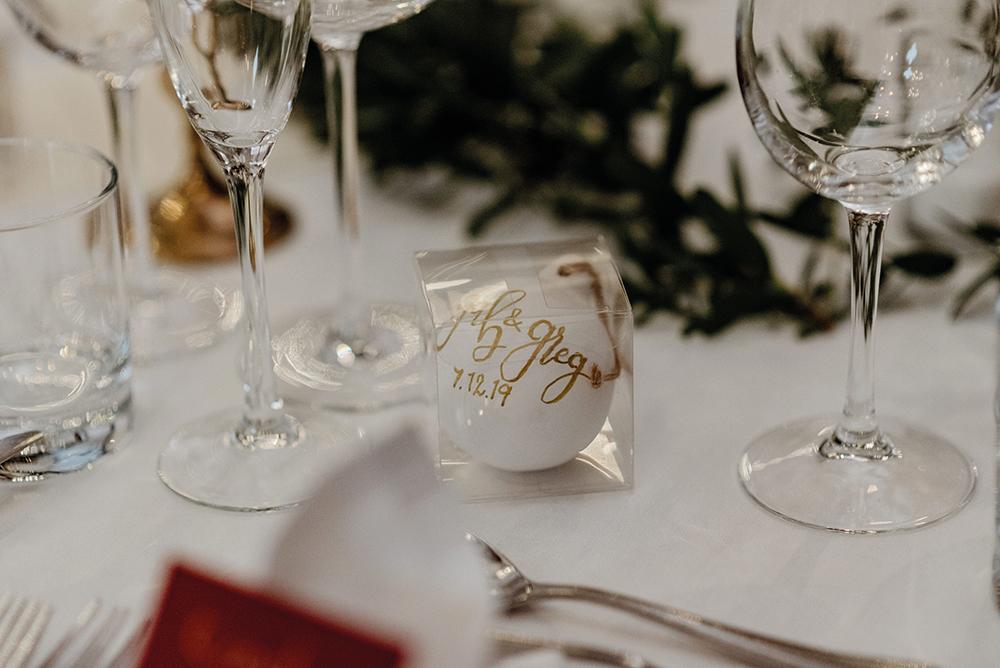 We had a mix of brass candlesticks with red candles and tea lights dotted around the tables. We had foliage arrangements hanging from the bouquets and foliage scattered on the tables.
My mother did all the table names and place names and also decorated our wedding favours which were clay baubles with our names and date in gold calligraphy.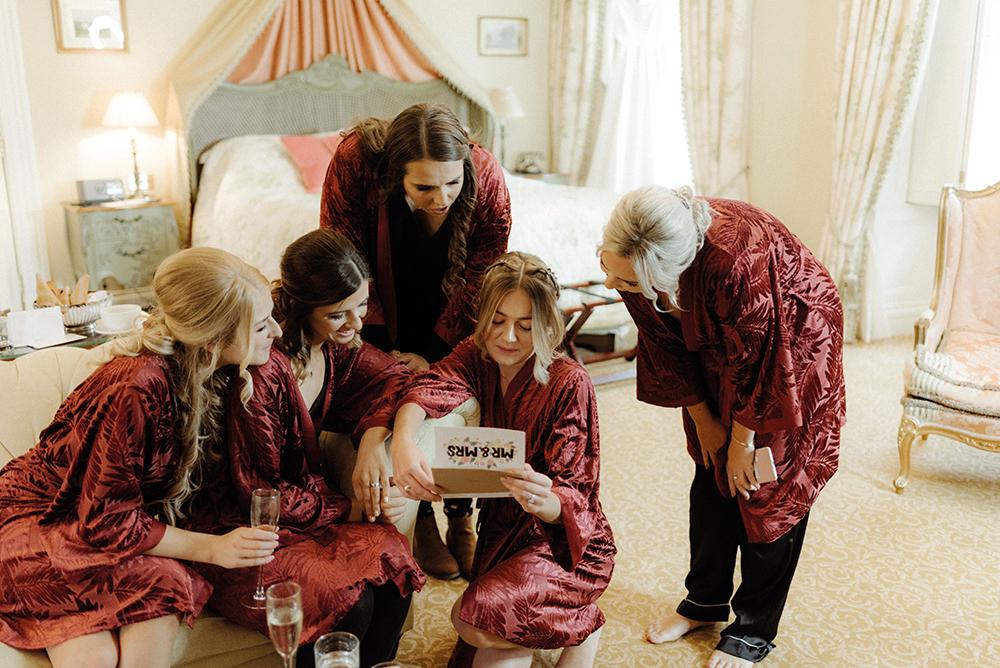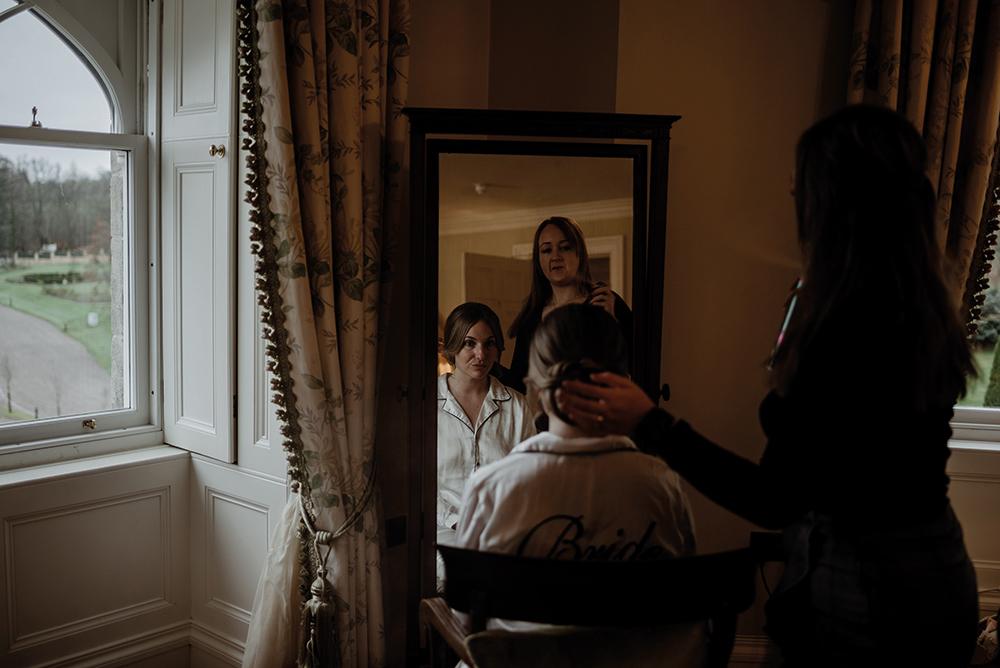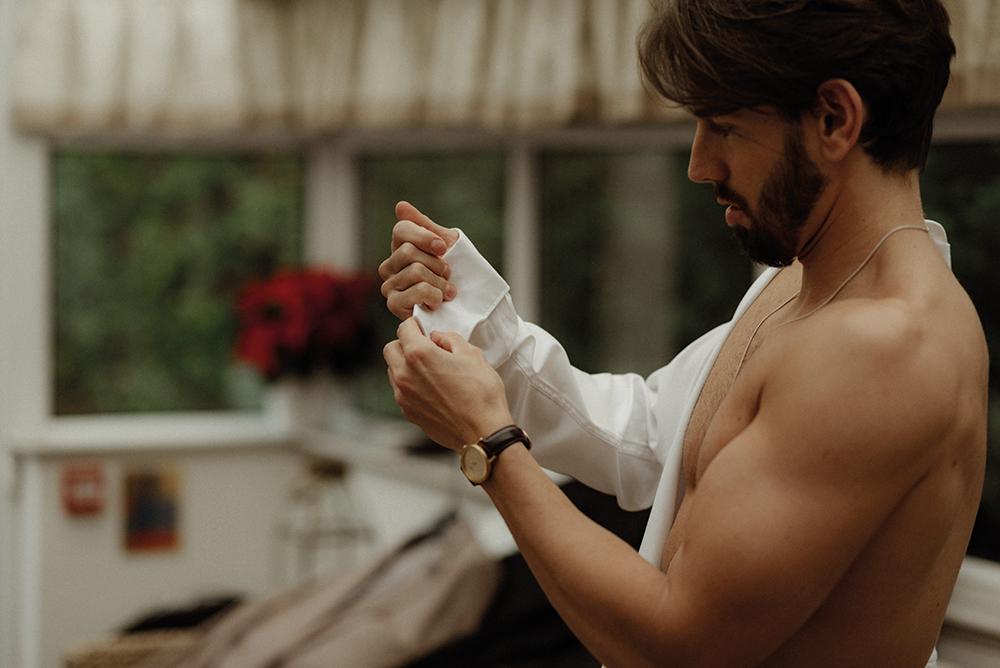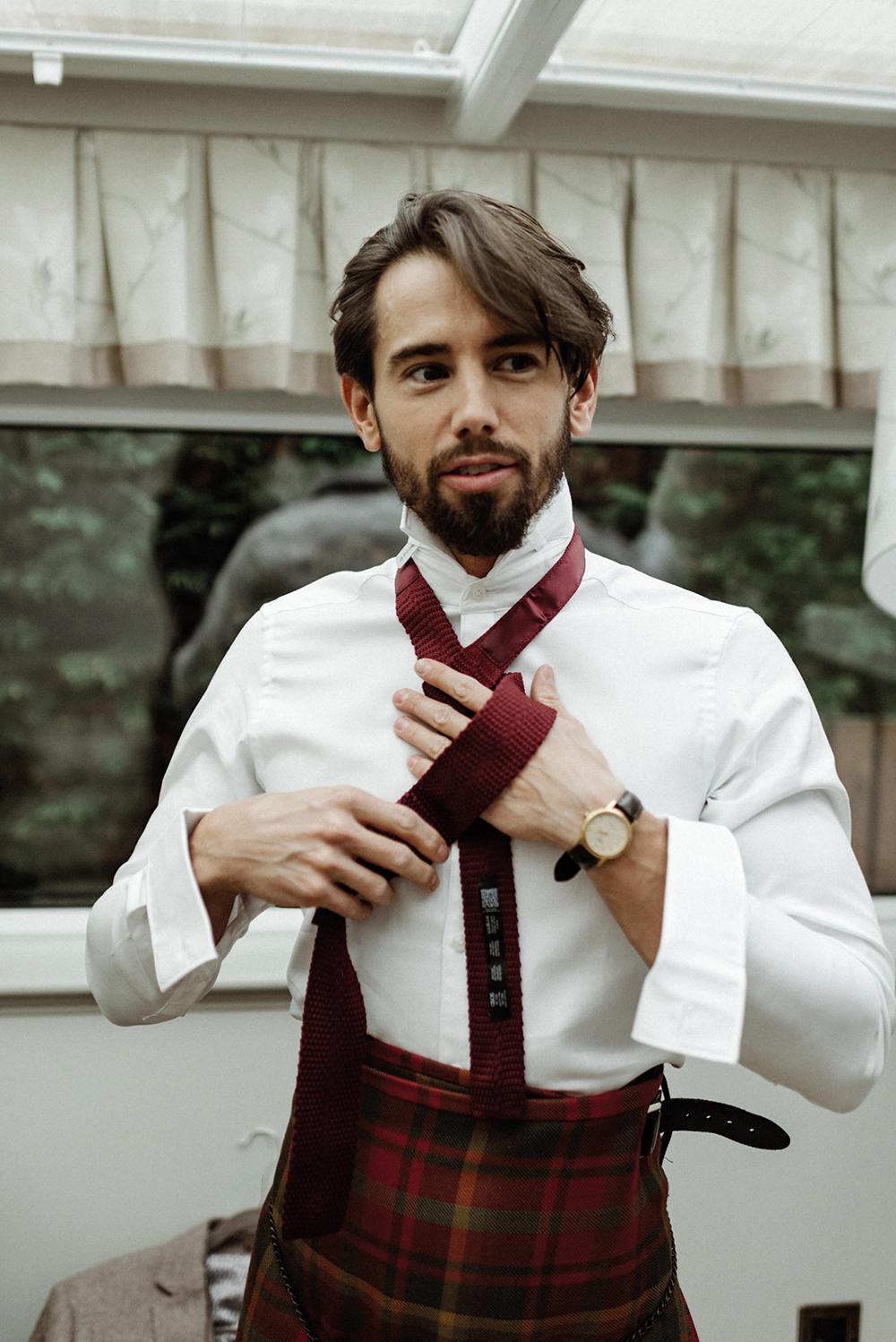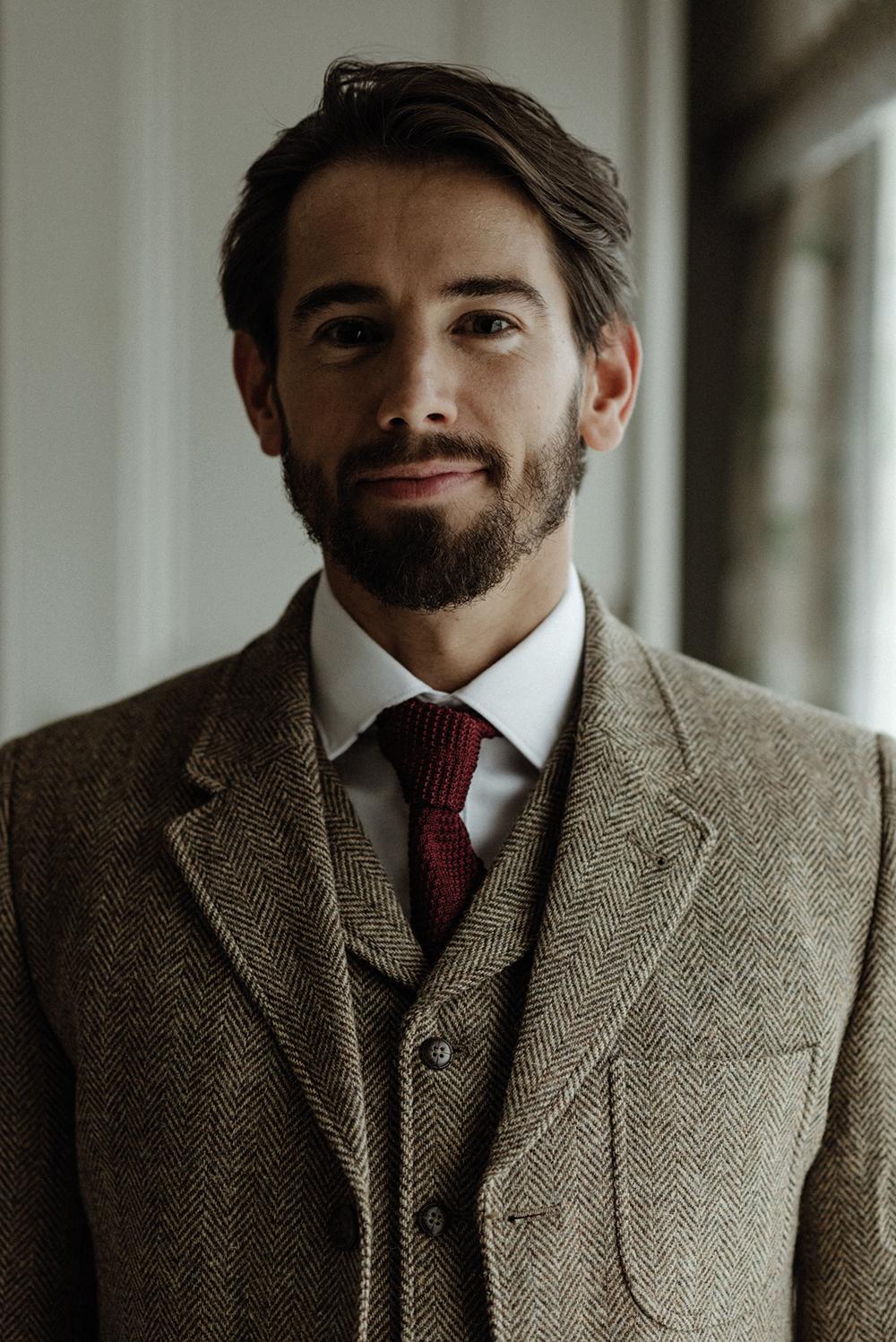 From the moment we got engaged I started following blogs and dress designers on Instagram. I knew I wanted something long sleeved and A line.
I had my dress designed and made by Emma Beaumont.
She made me a beautiful A line, long-sleeved, low V neck dress with pockets and a slit down my left leg. The dress was made in a cotton brocade, which gave it a very structured look. She added some padding to the shoulders and I had points at the end of my sleeves with ribbons to attach to my middle finger with our initials on each sleeve.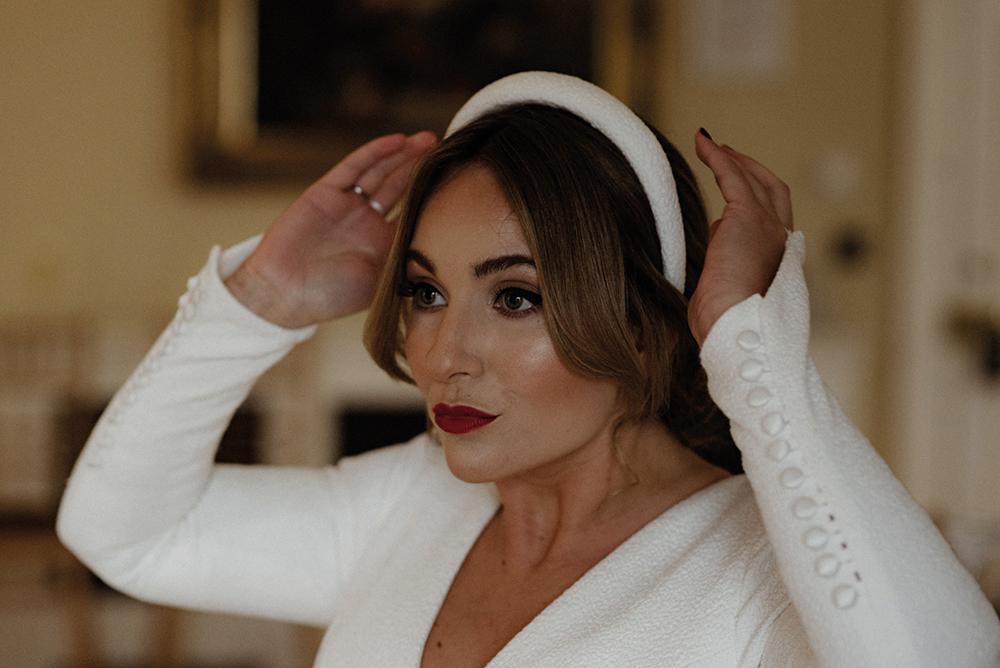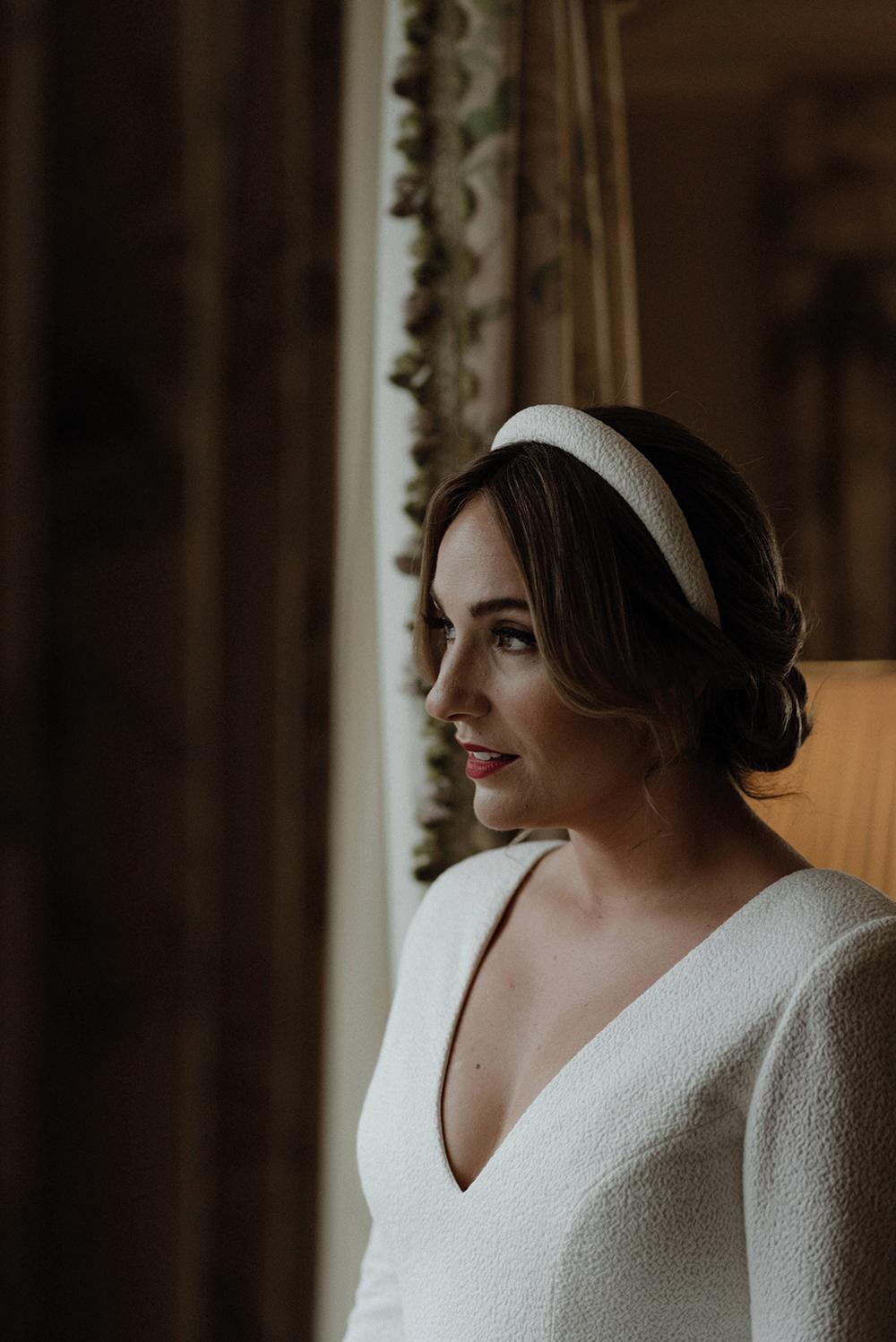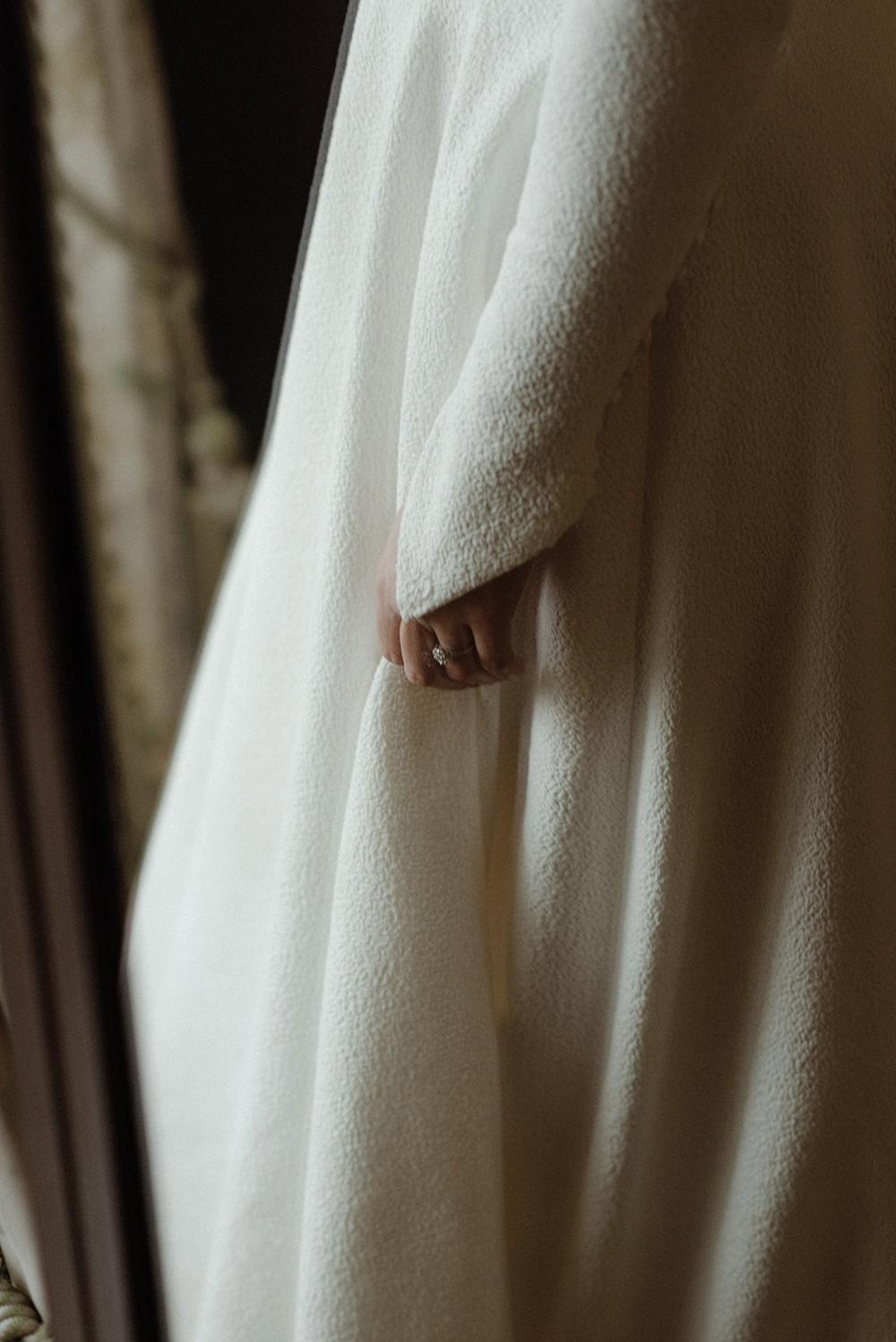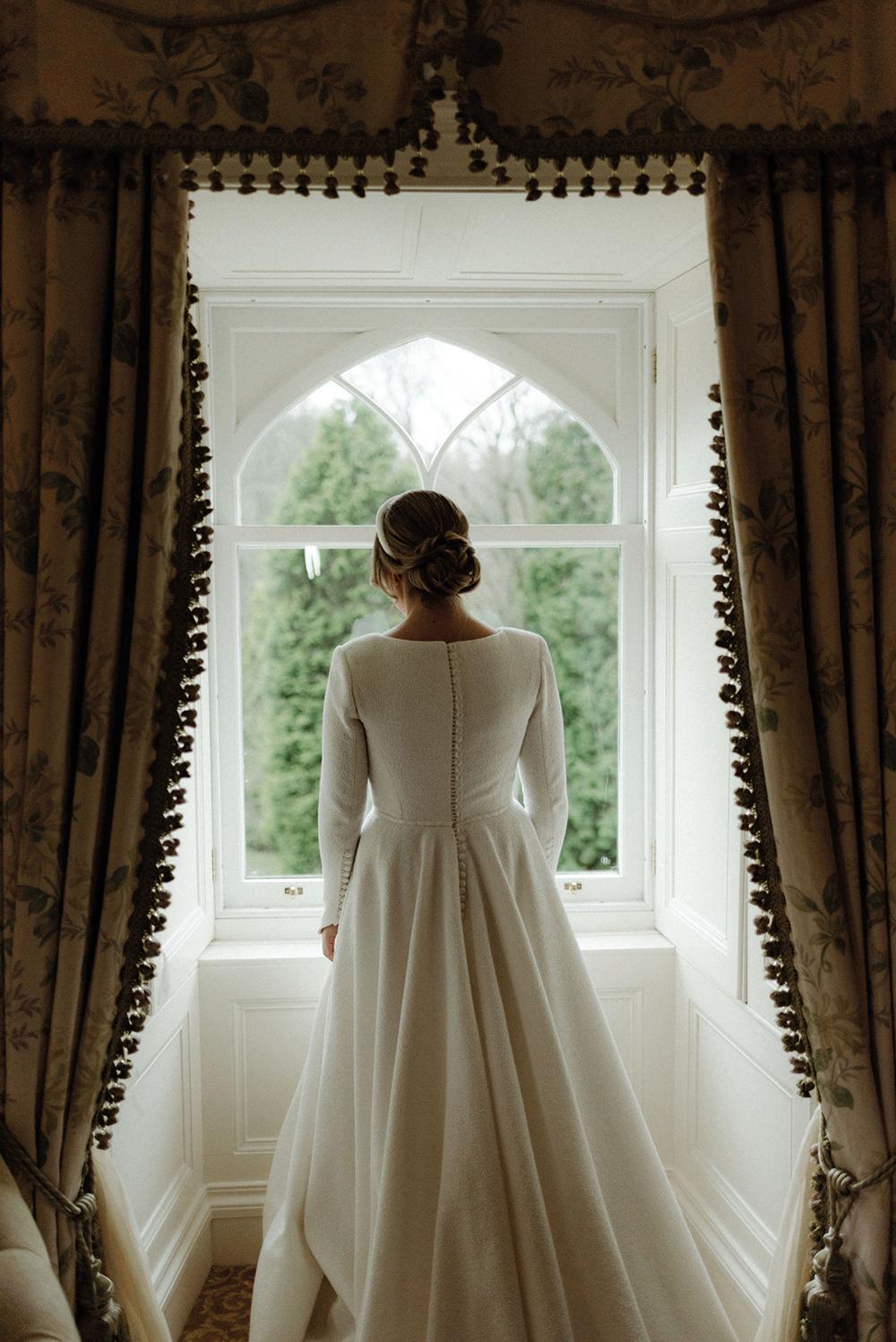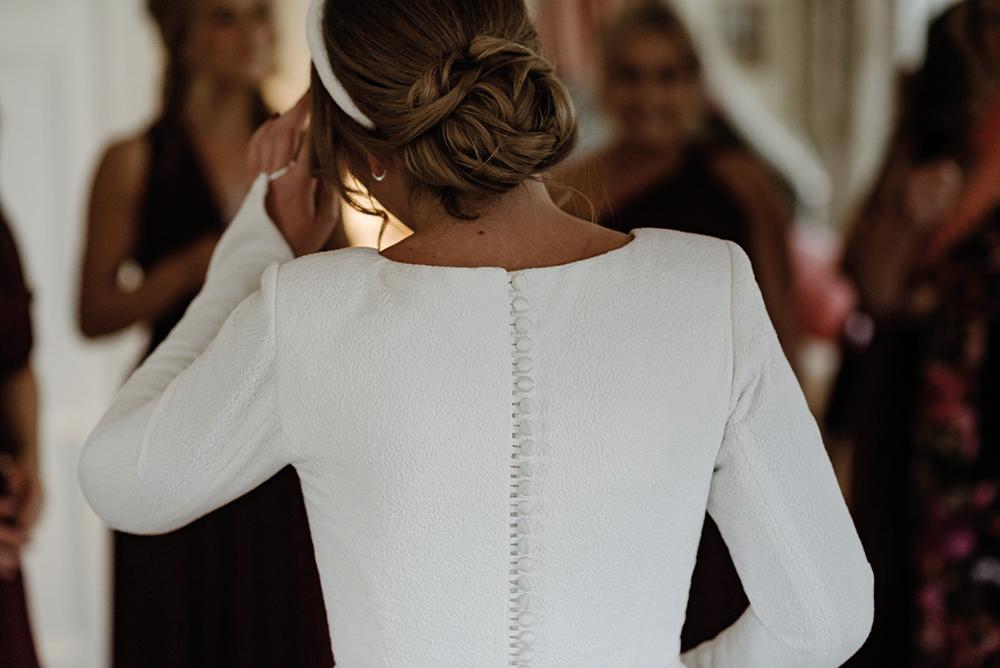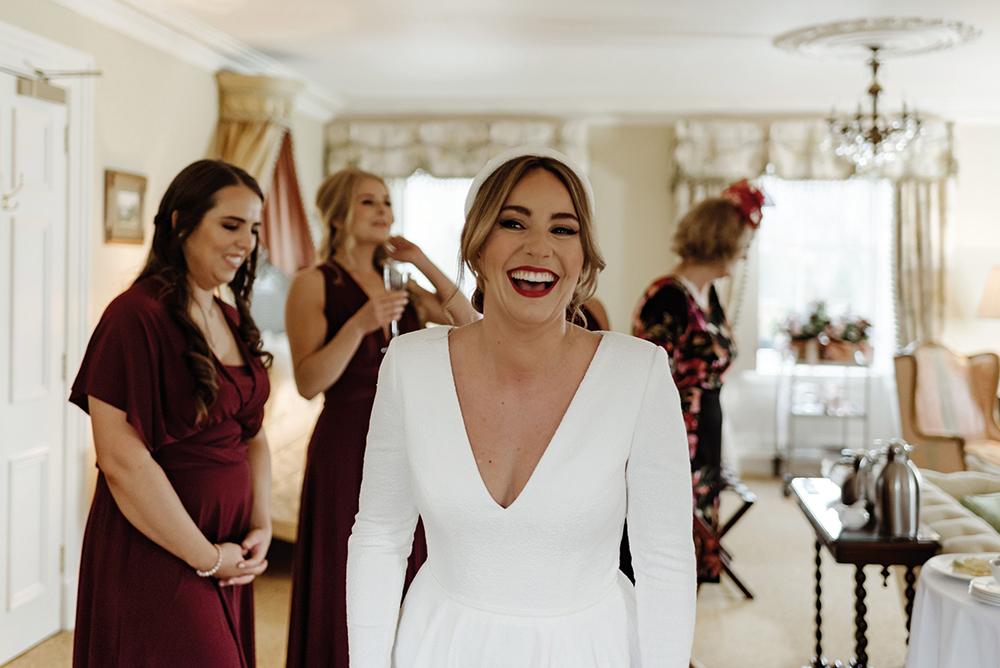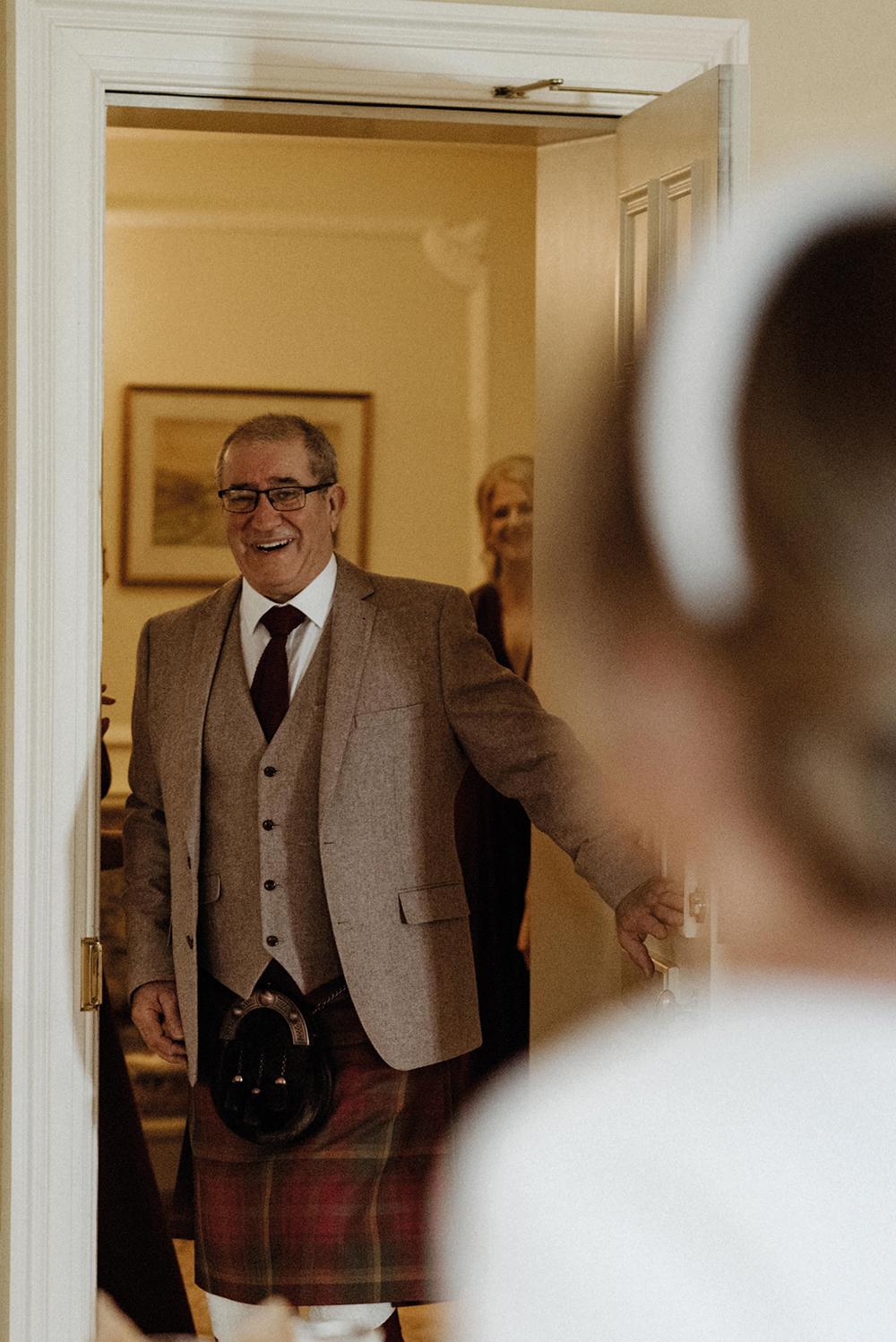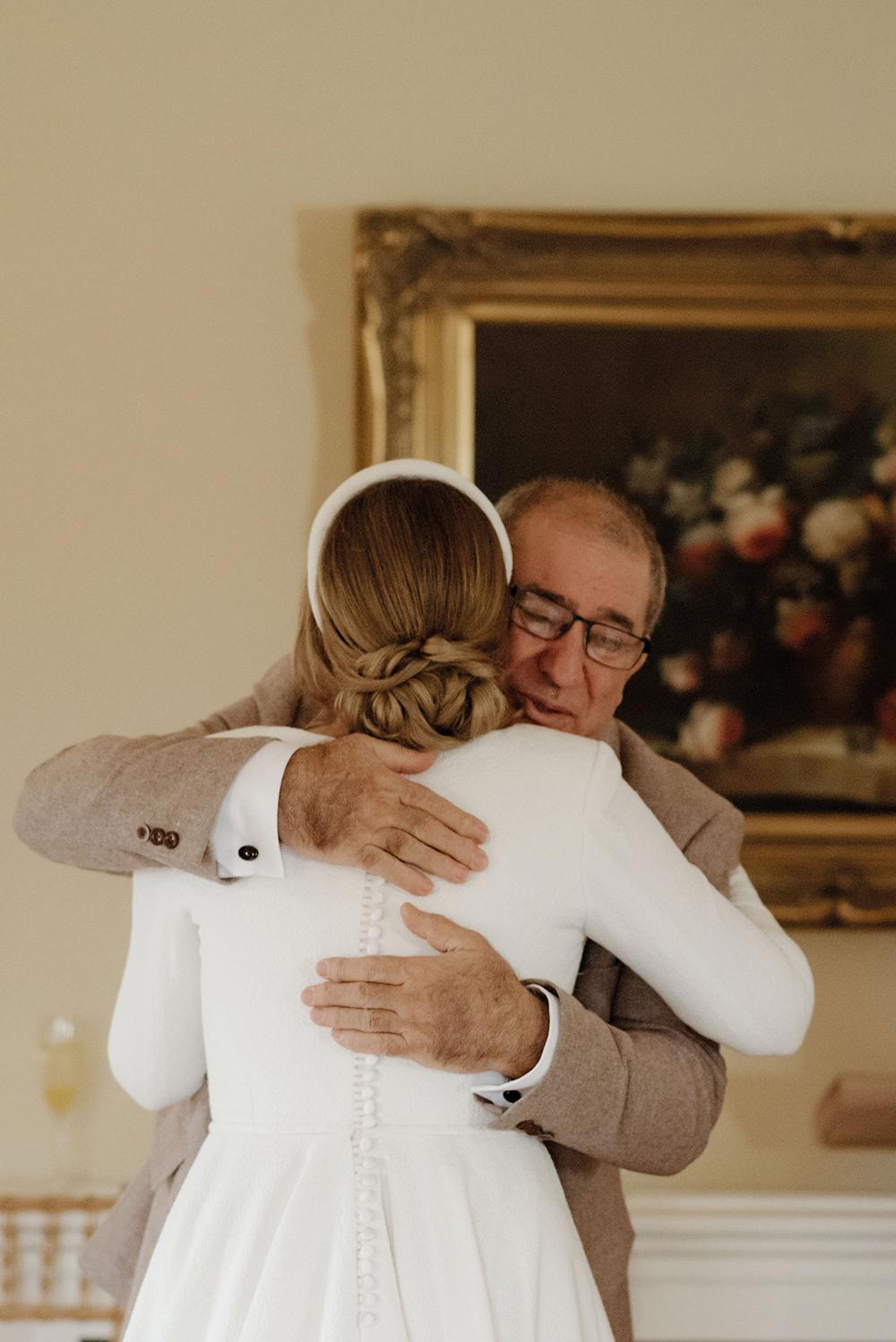 We hired all the bottom half of the kilts from Slanj Kilts on Bath Street and then bought the groomsmen waistcoats and jackets from ASOS. Greg wore a Harris tweed waistcoat and jacket from Gibson.
I found Jen of Violet Rose Make Up on Instagram and fell in love with her work. She's all about a natural glow and she did exactly what I wanted on the day. My make-up stayed on all day and I've never felt as beautiful as I did that day!
She was also a pleasure to have with us in the morning, as was Steph my hair stylist.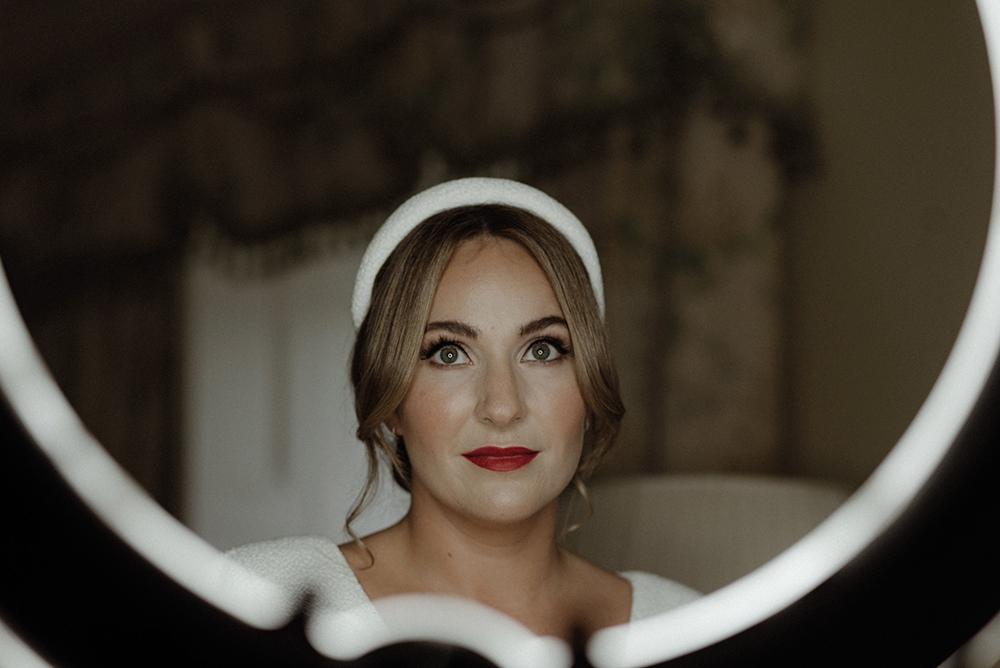 We had a Church of Scotland service in the ceremony room at the castle. Both our families are Christian and we both felt it right to have a religious ceremony as we also had a minister in the family and we loved the idea of having a family member take our service.
We hired a string quartet, Capella, who played all our music for the service and then stayed and also played through our reception drinks straight after.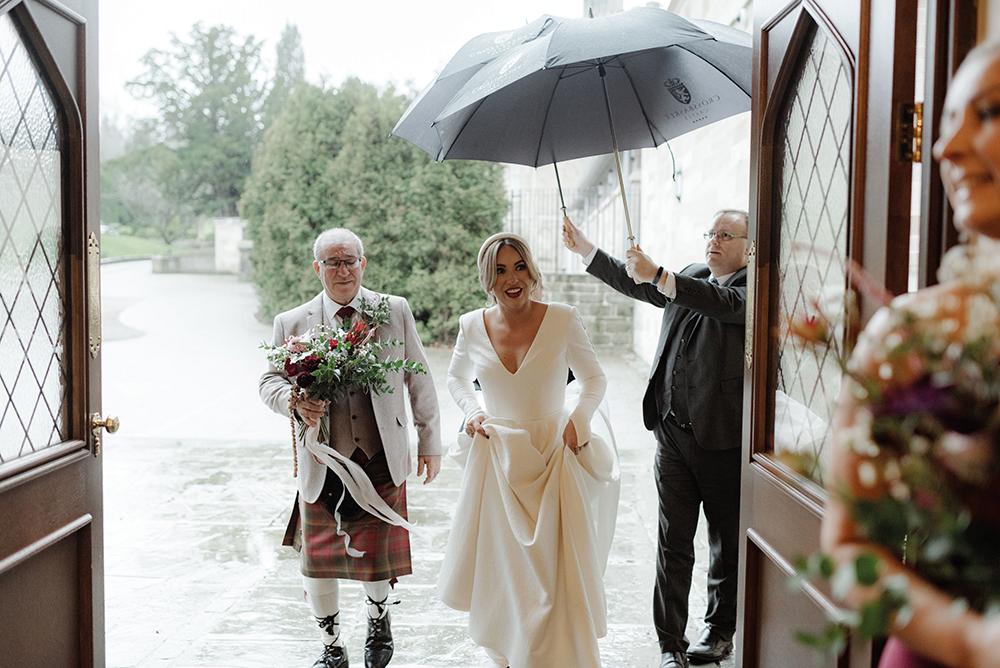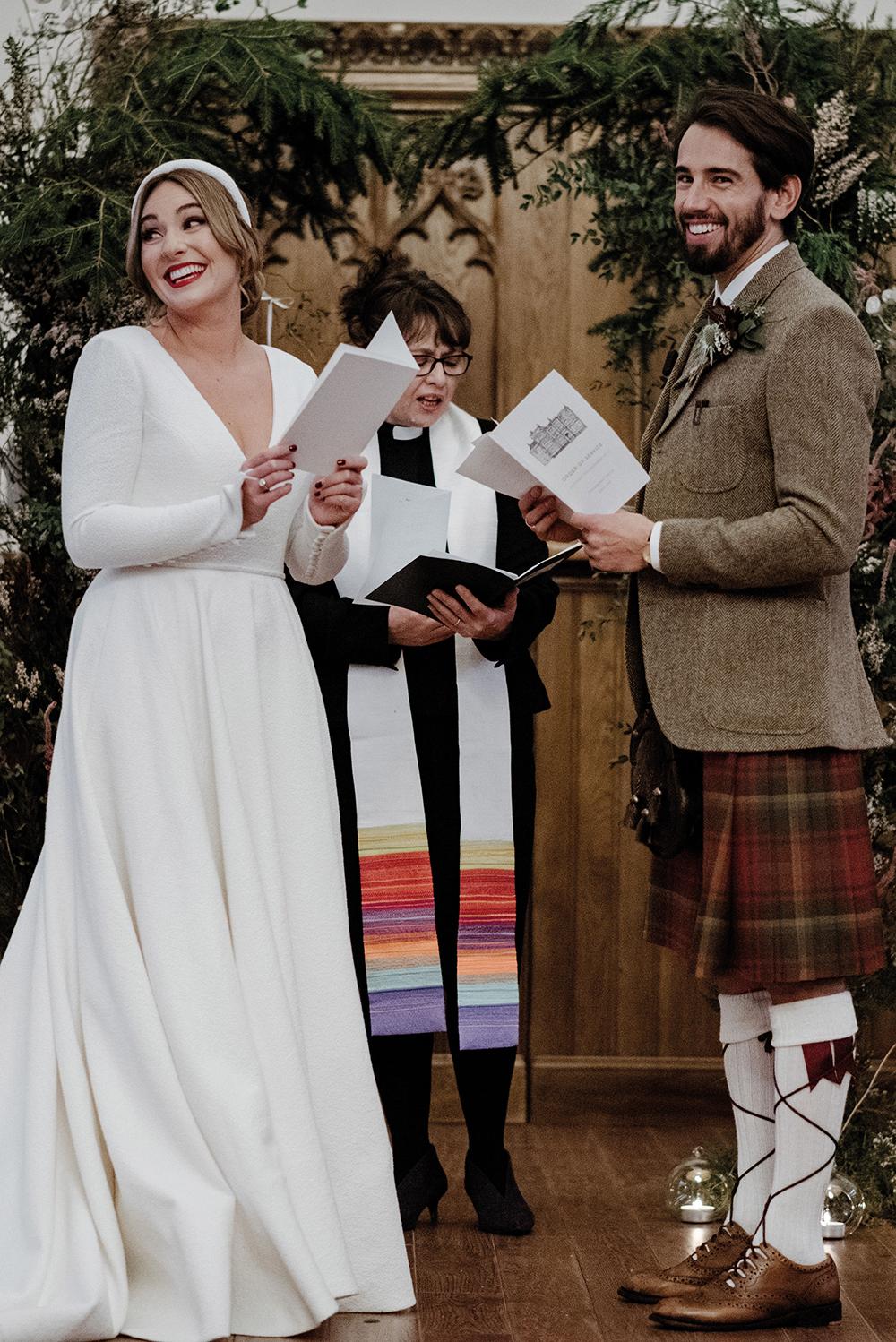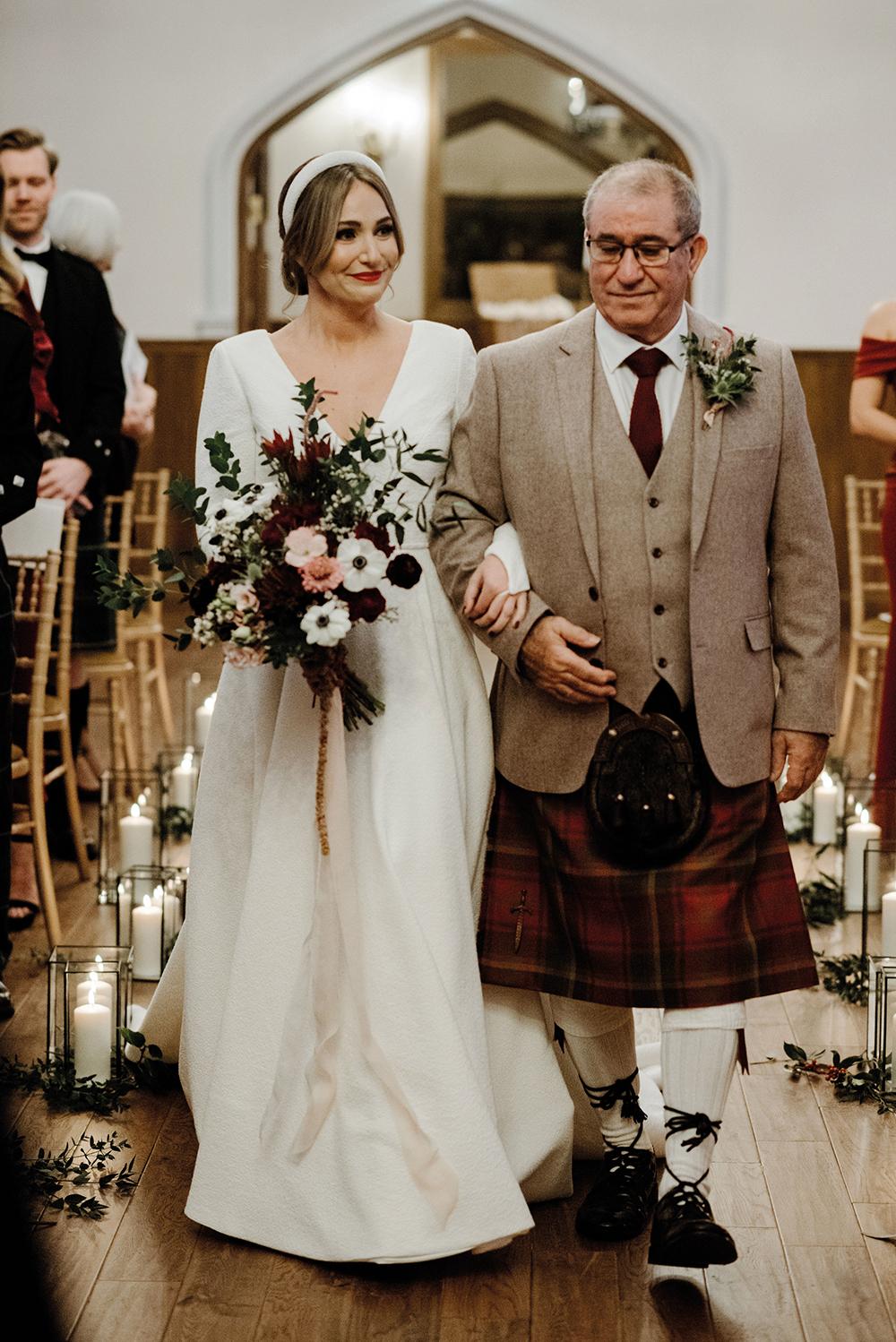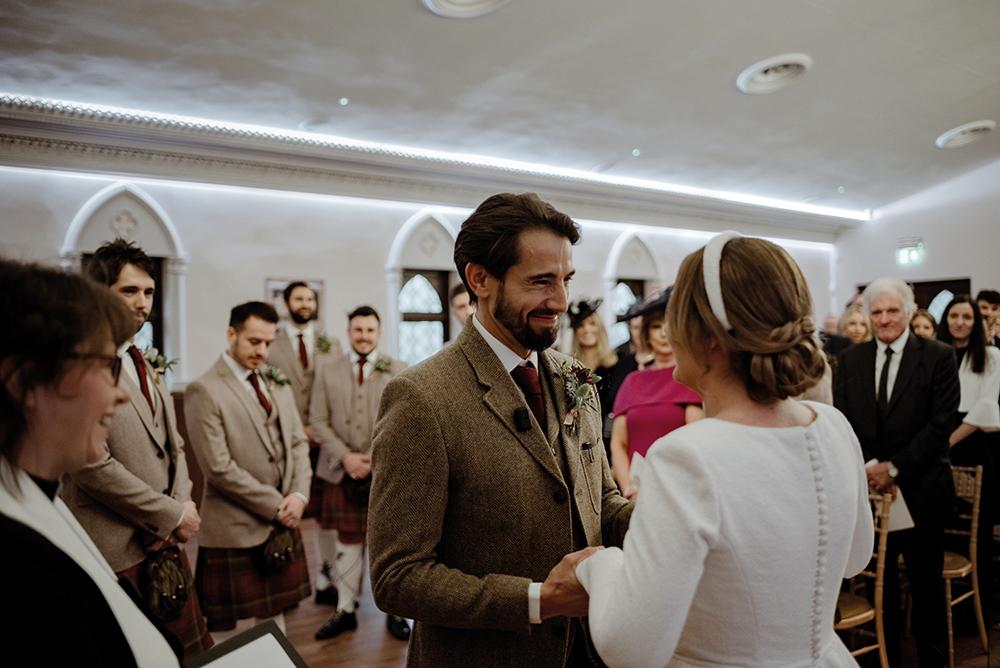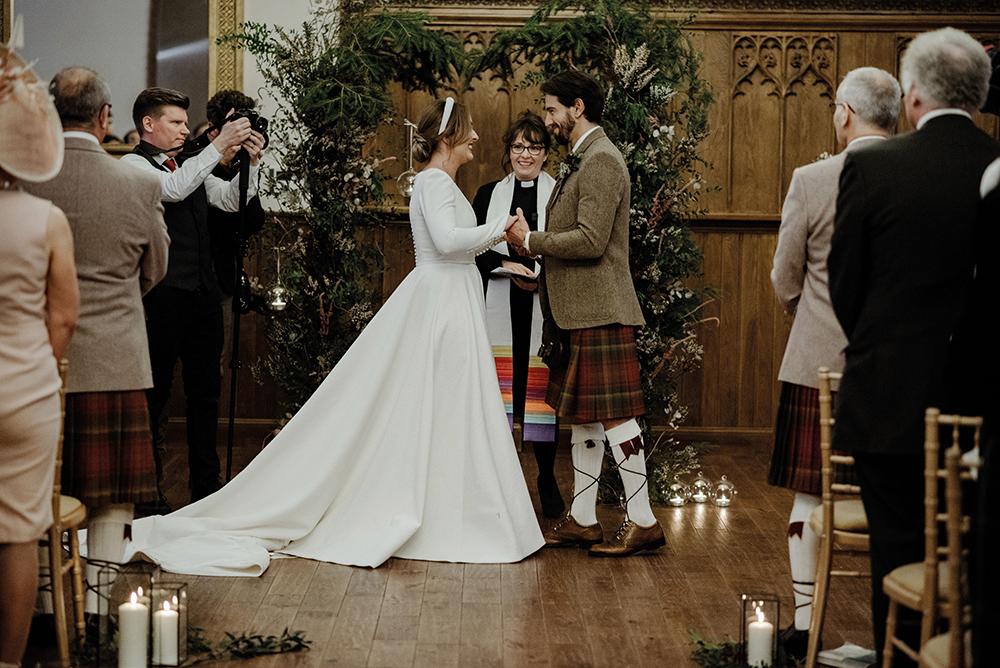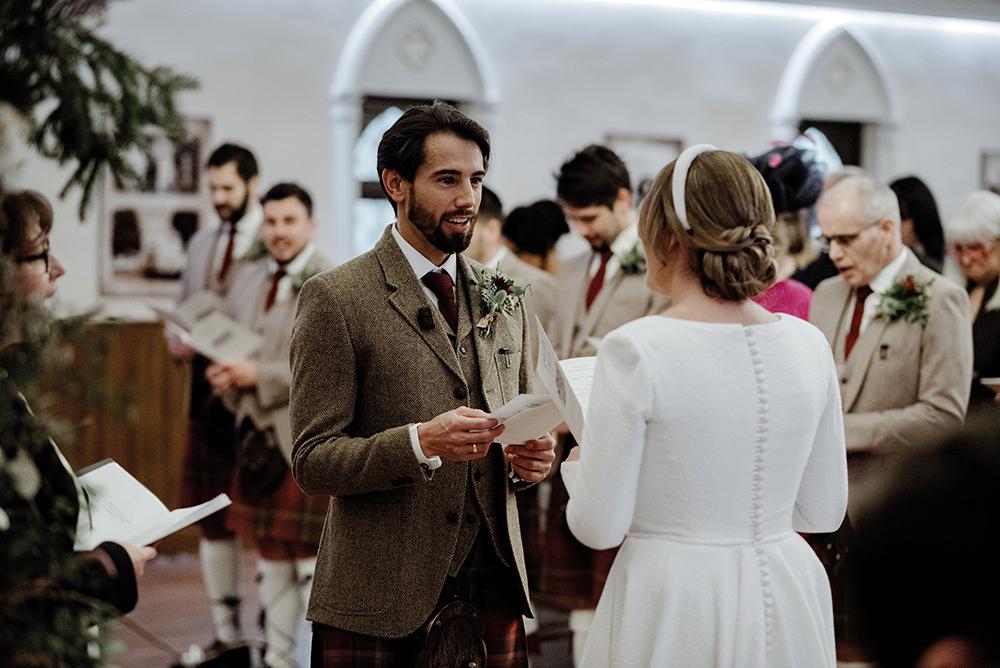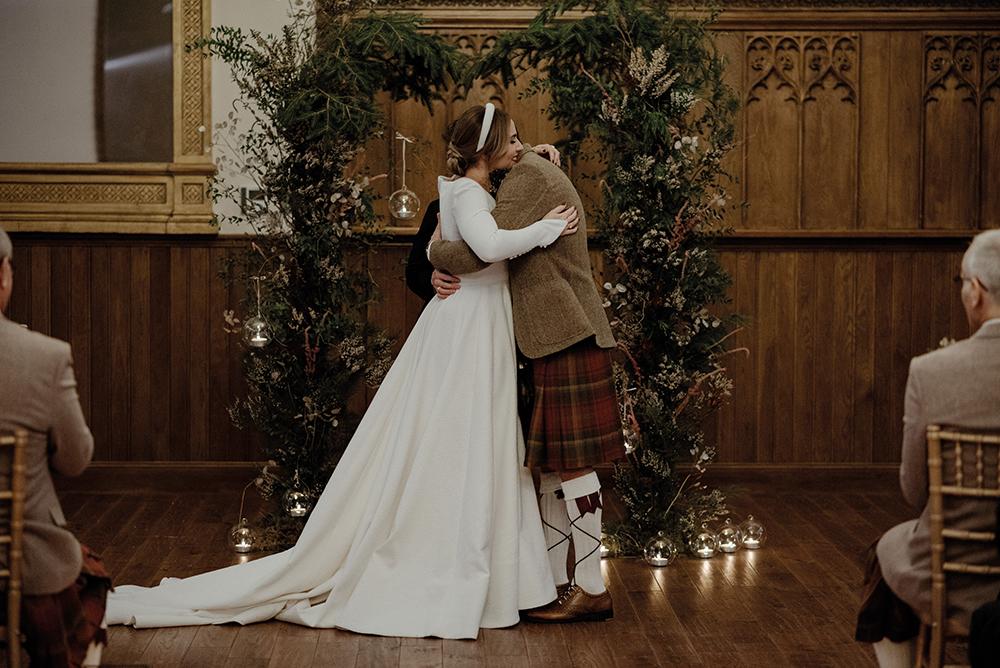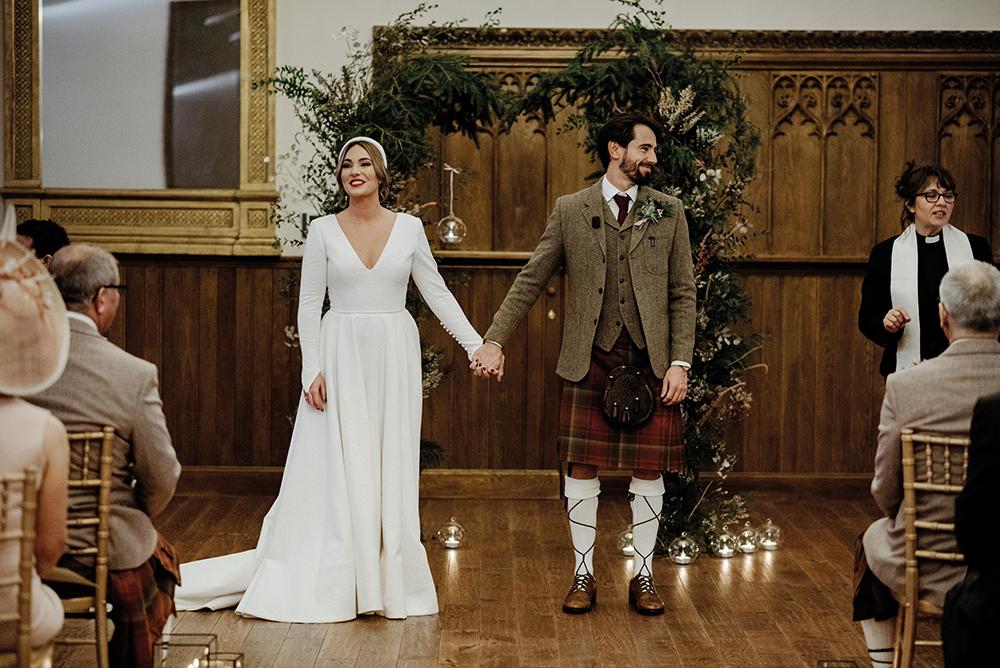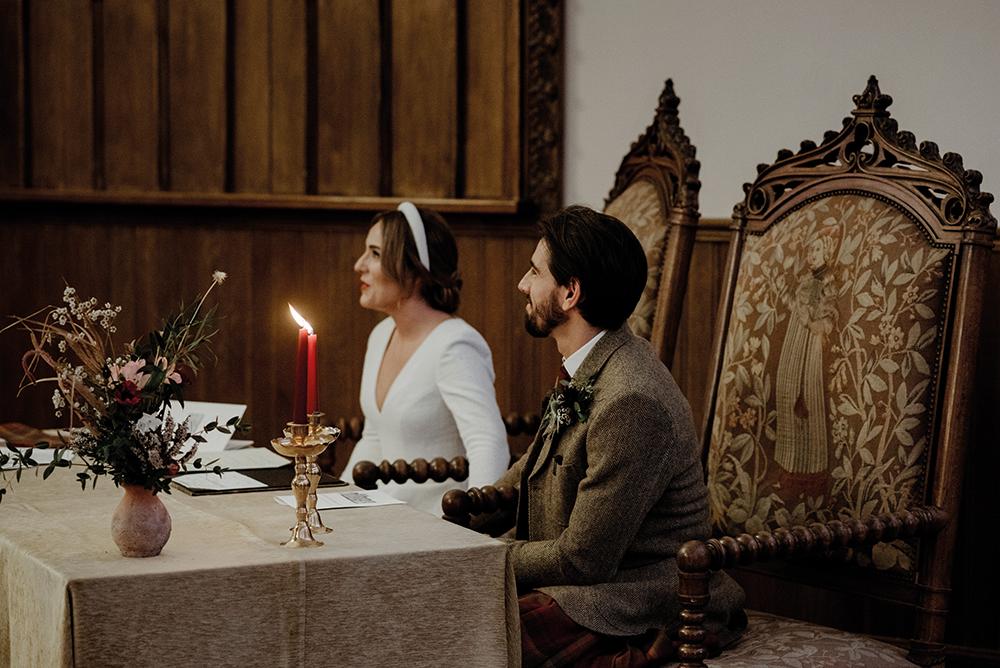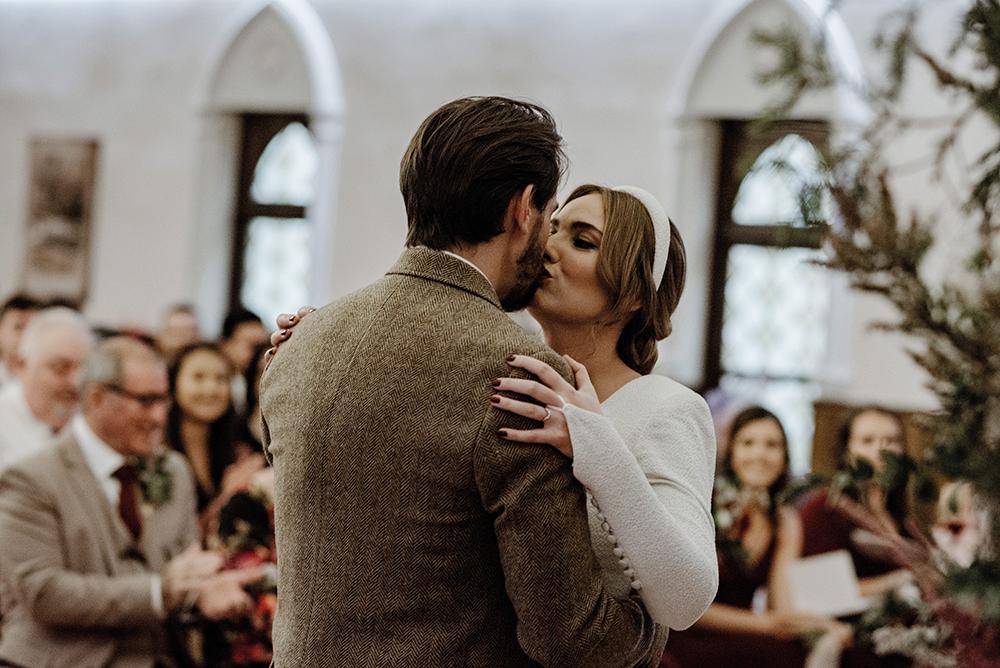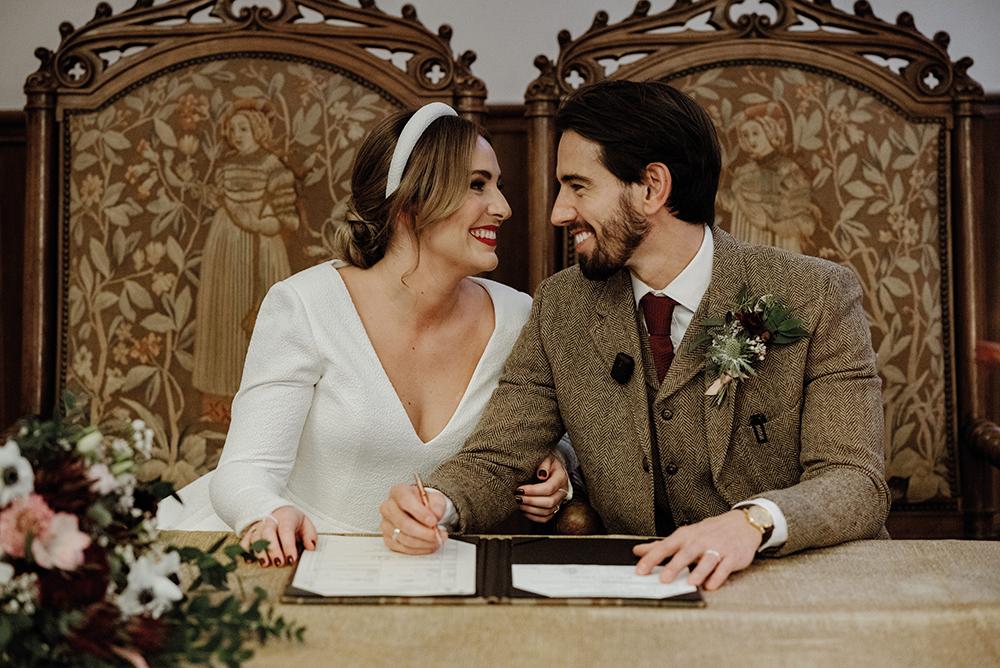 We had a drinks reception inside the castle straight after the service. Unfortunately it did pour with rain on the day but thankfully the reception rooms at the castle were beautiful and it actually encouraged everyone to mingle more!
We did hire a vintage pizza van who had a wood fire oven but because of the weather guests weren't able to see the van personally. We were lucky that the incredible staff at Crossbasket did runs in the rain to bring the pizzas in to us so no guests had to get wet!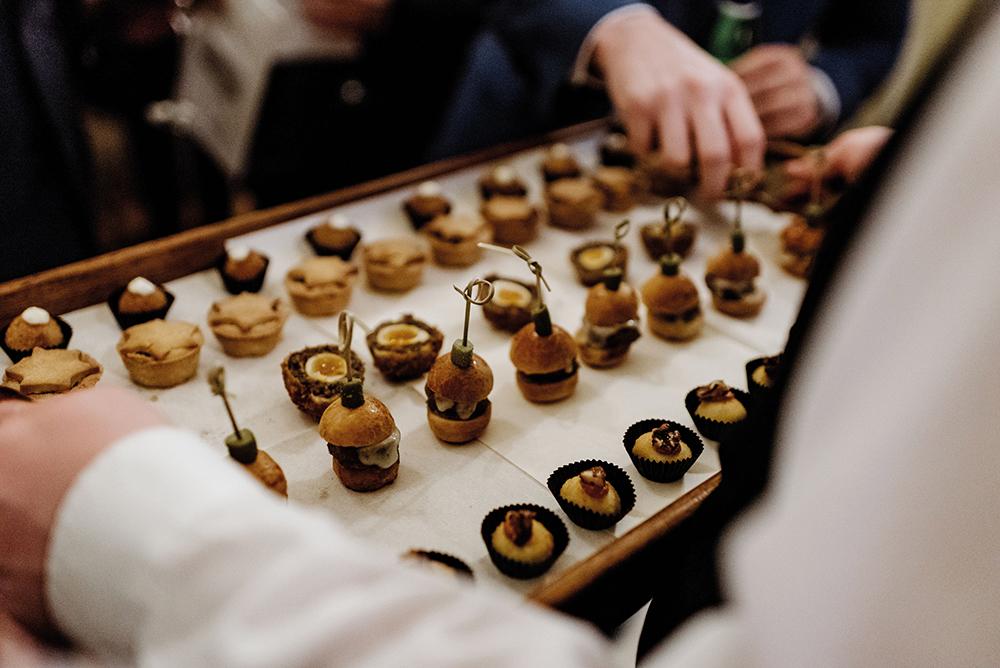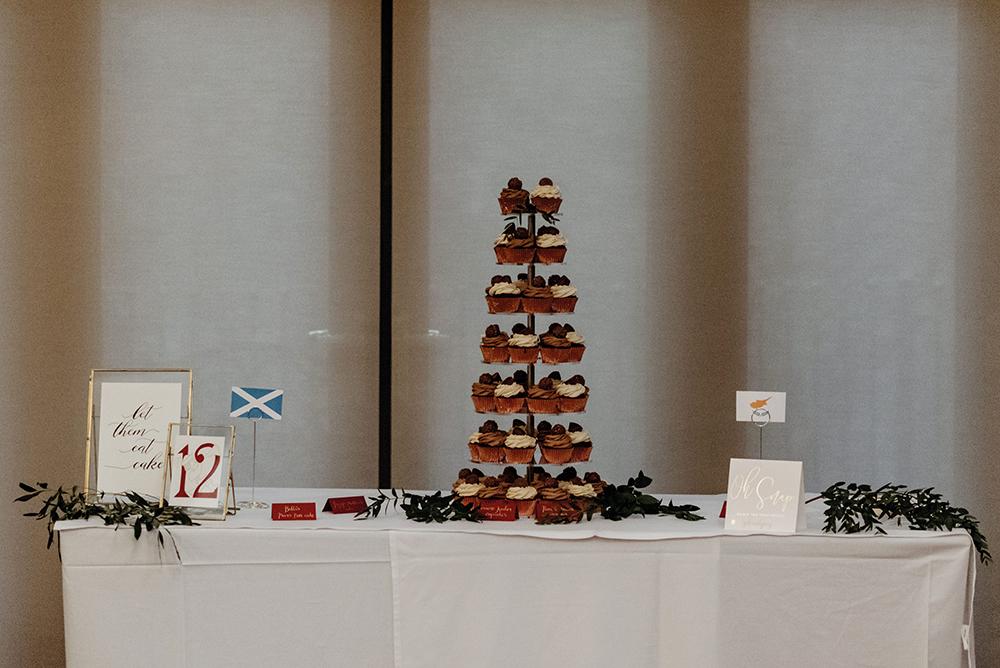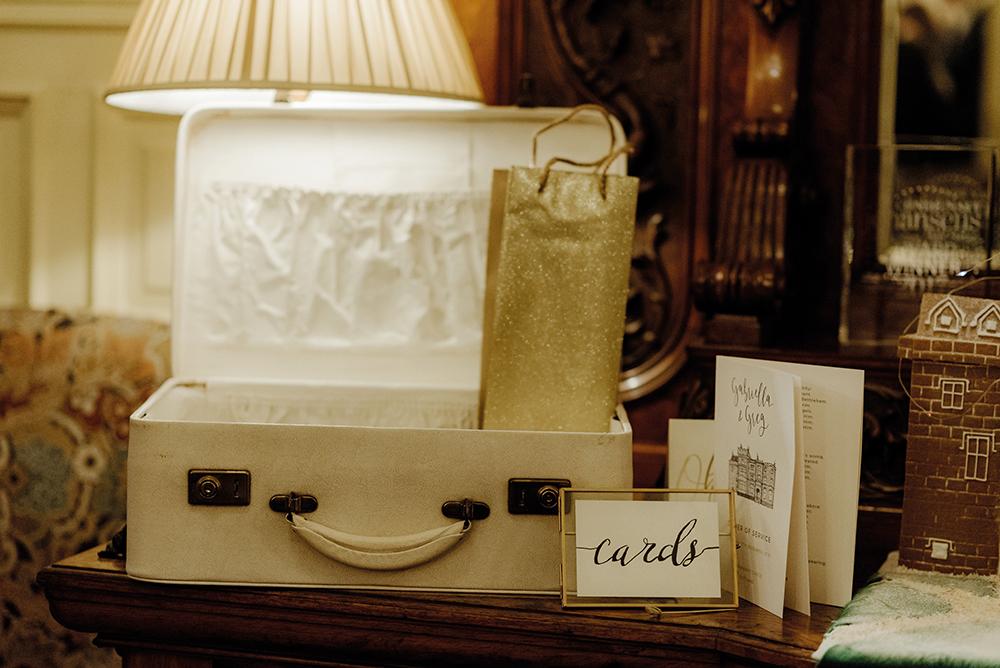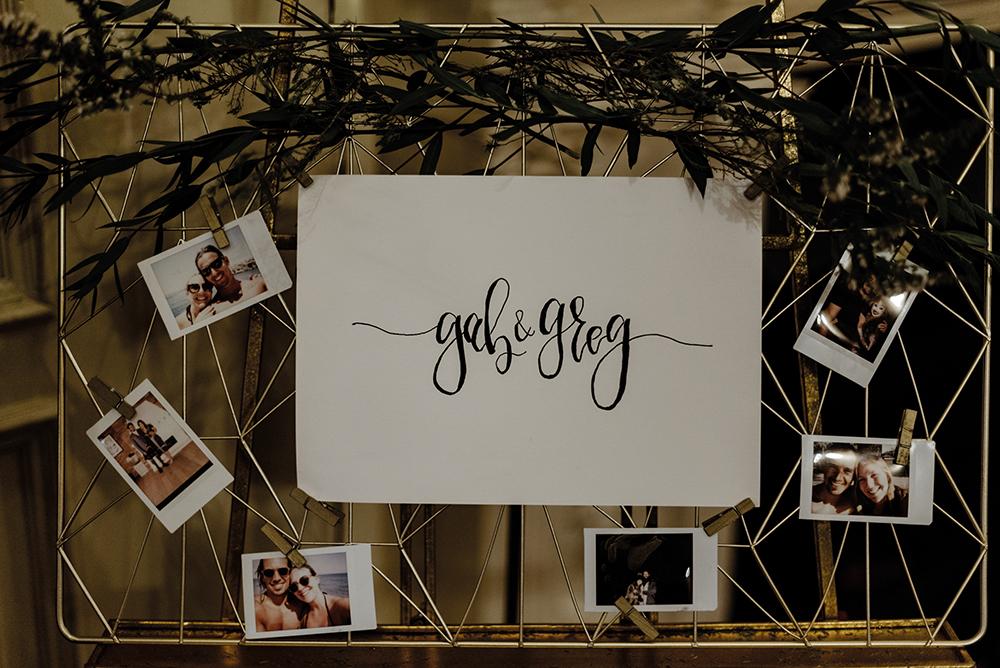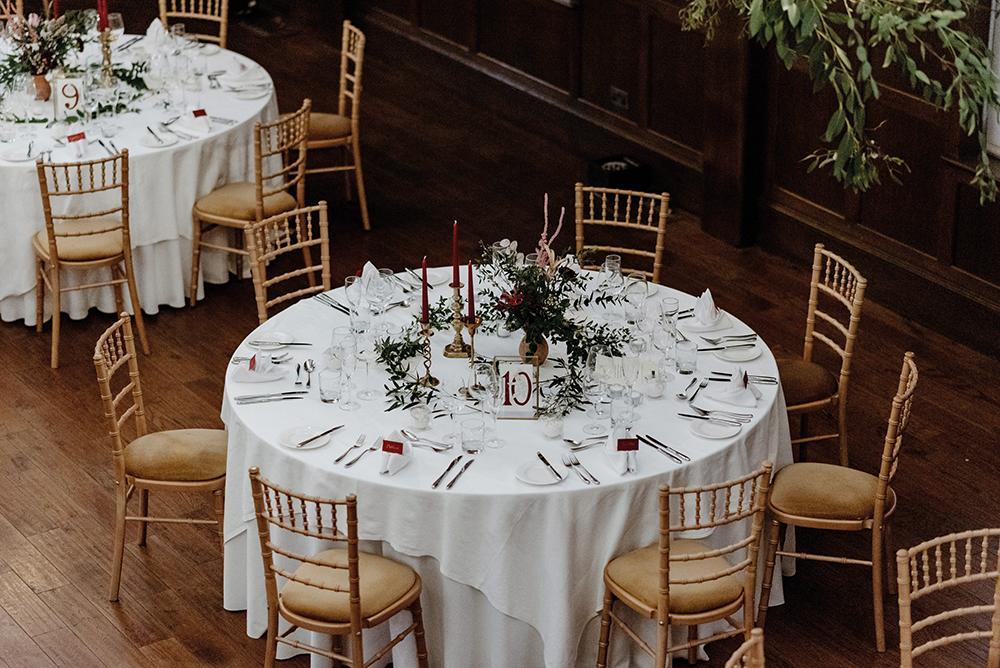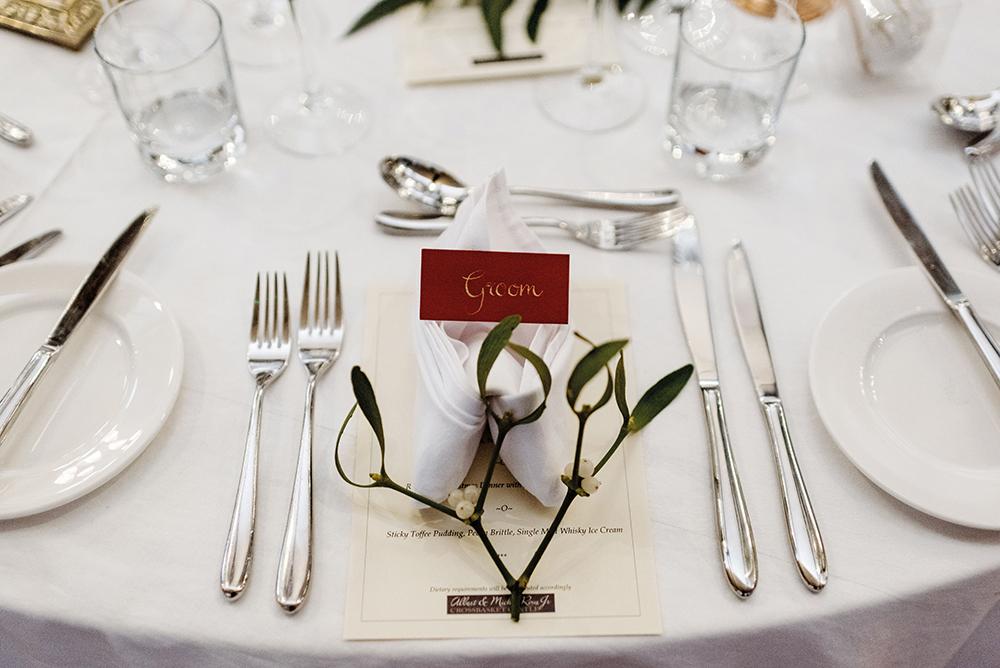 We were very lucky that the hotel restaurant is overseen by Albert and Michel Roux Jr and the food is incredible. They were incredibly flexible with letting us make up our own courses as opposed to having to pick off their set menu.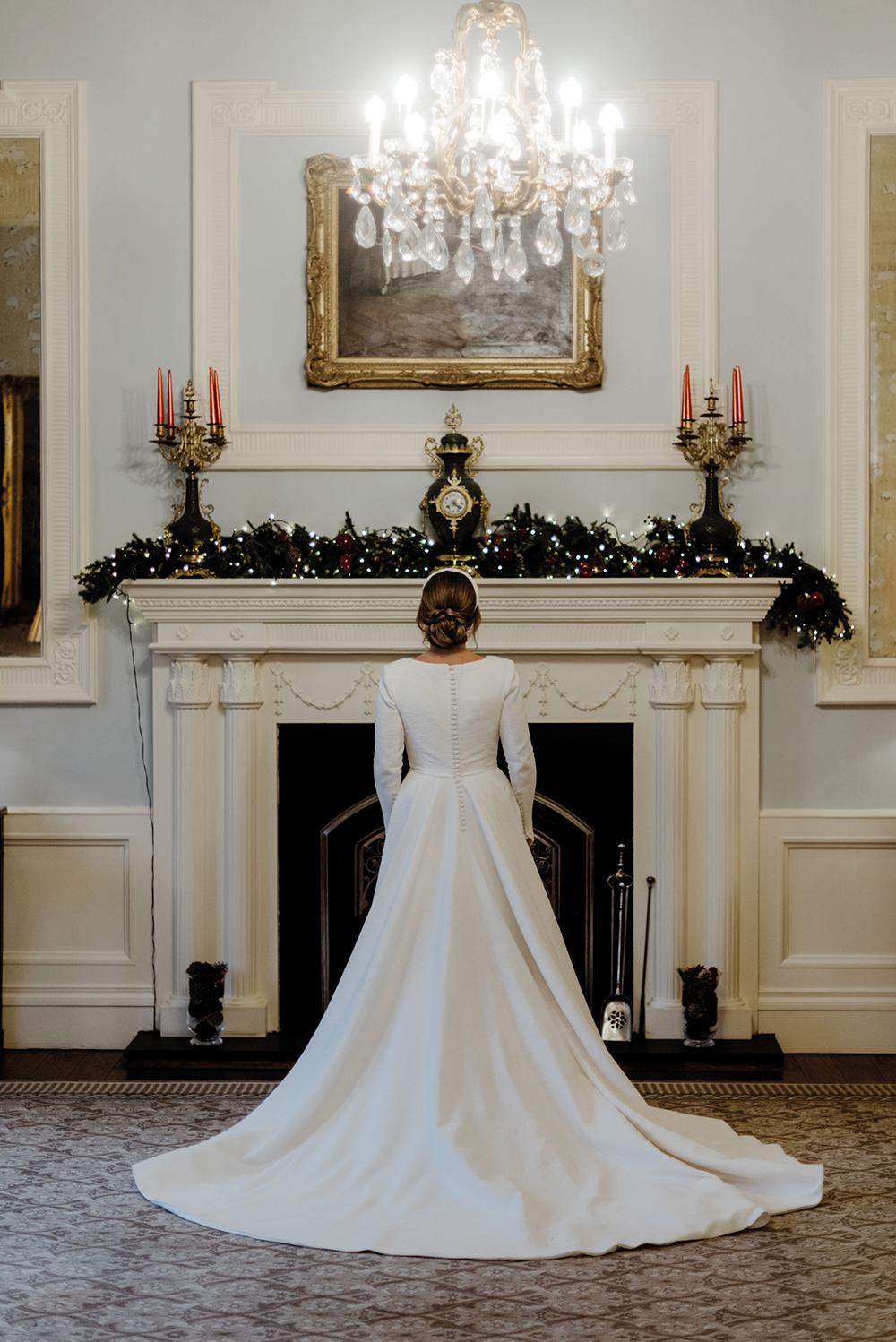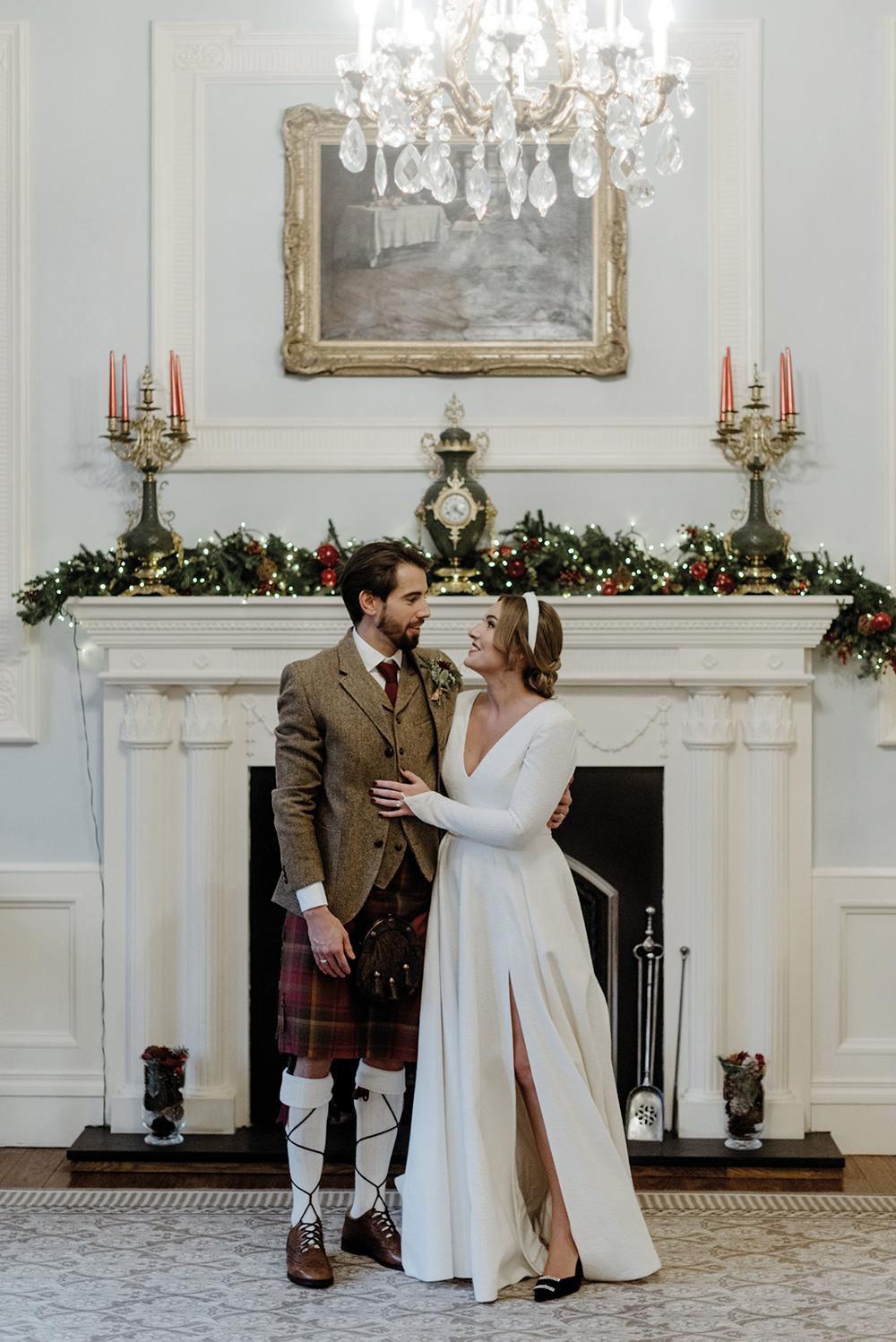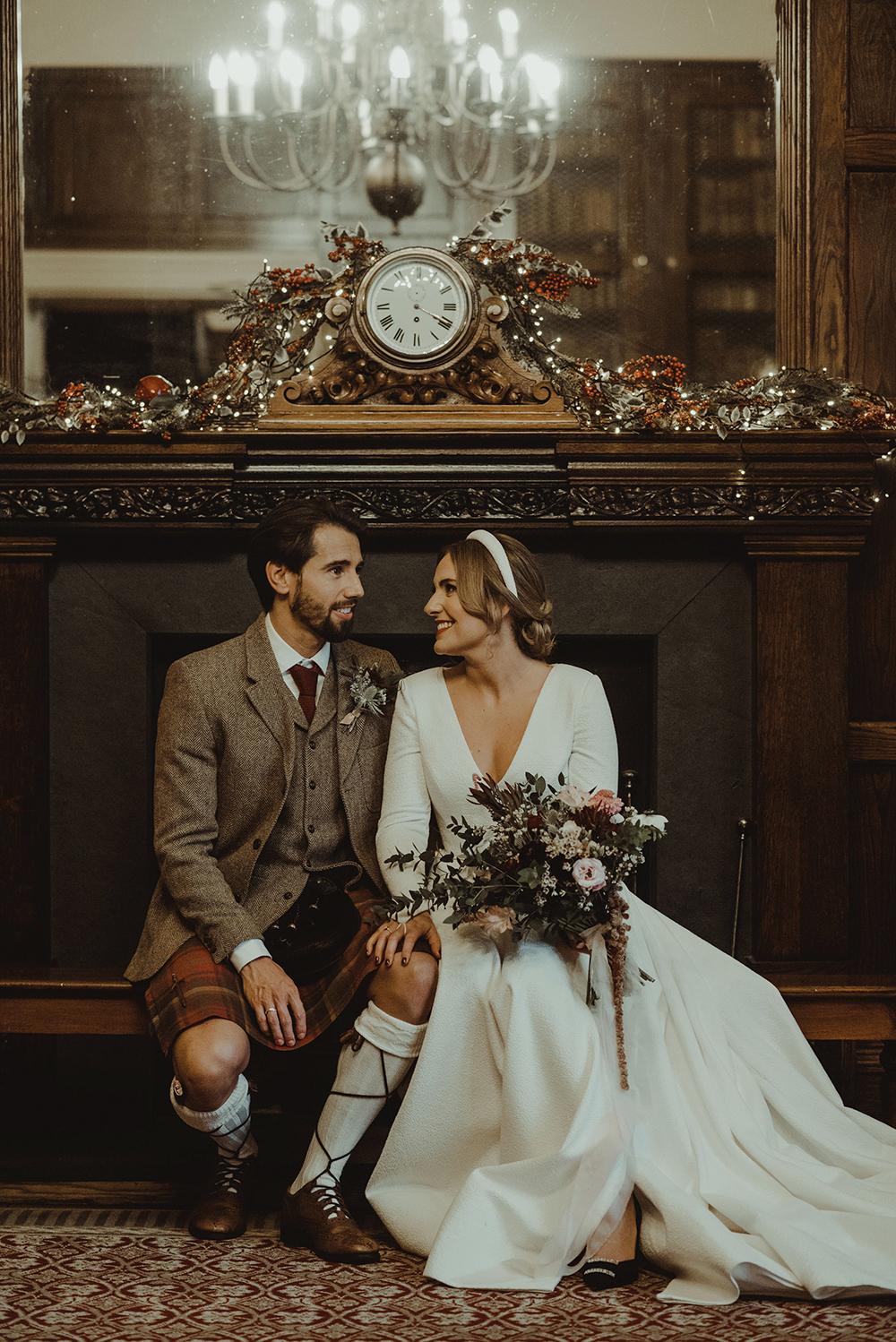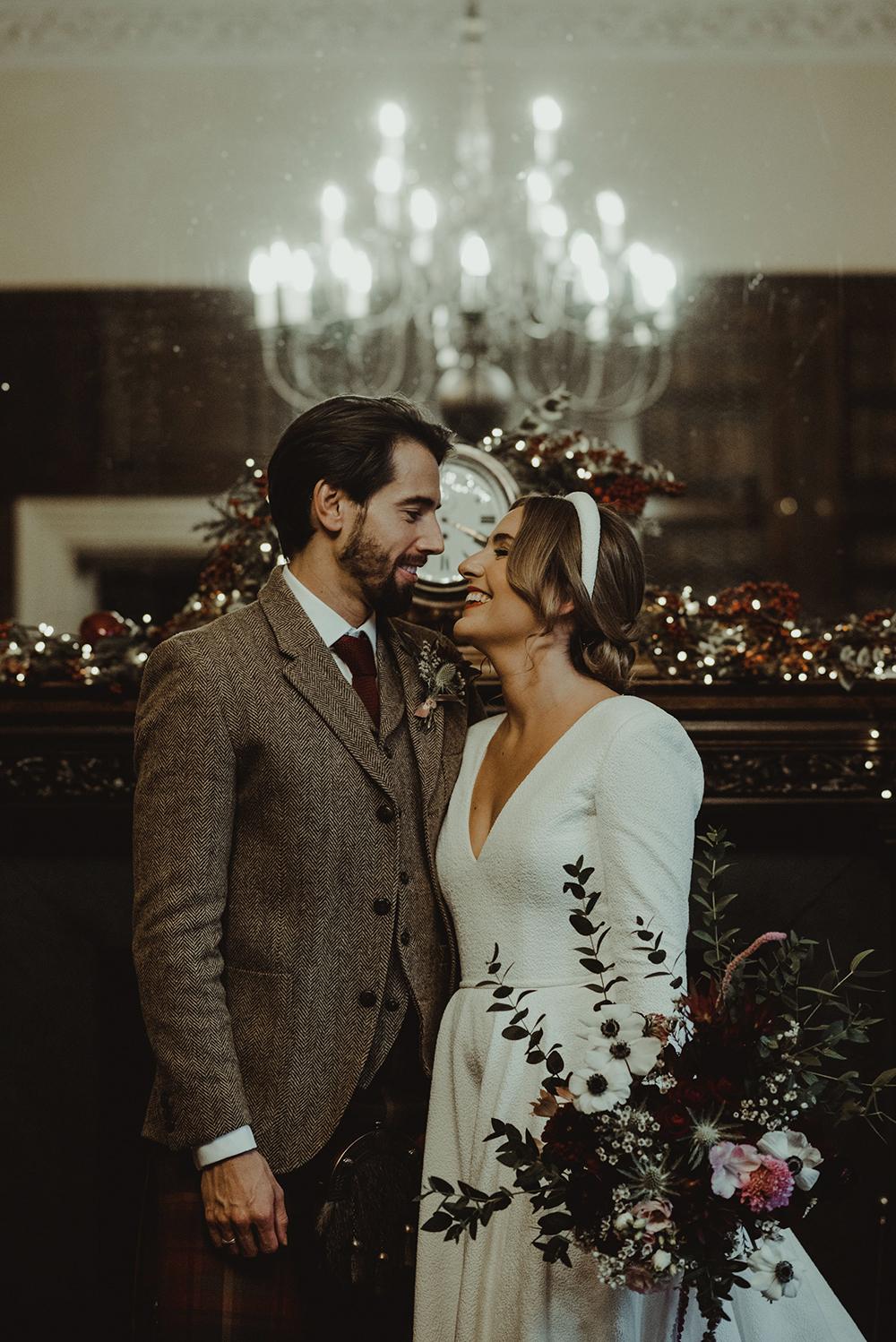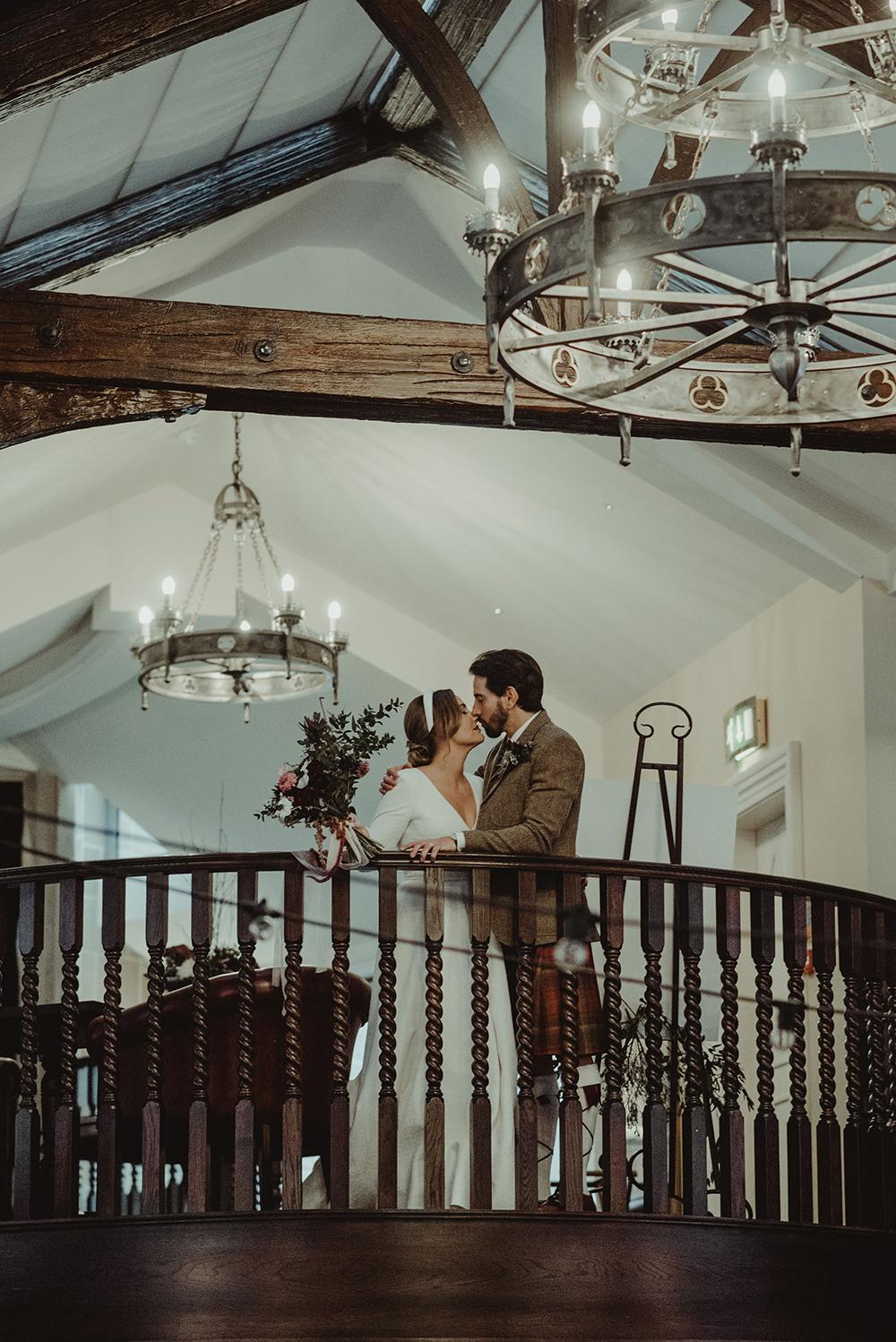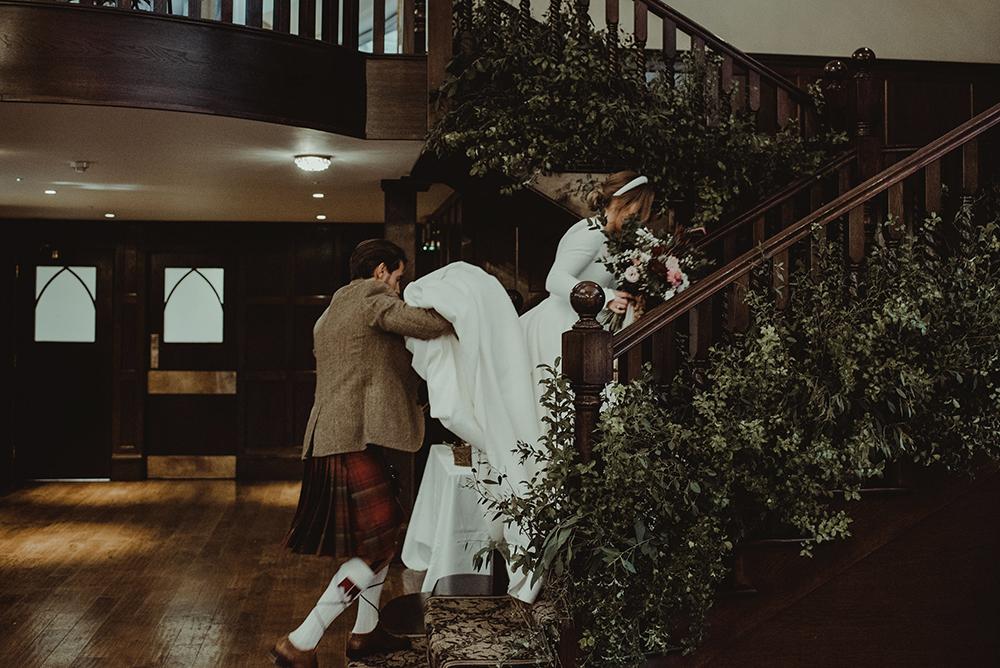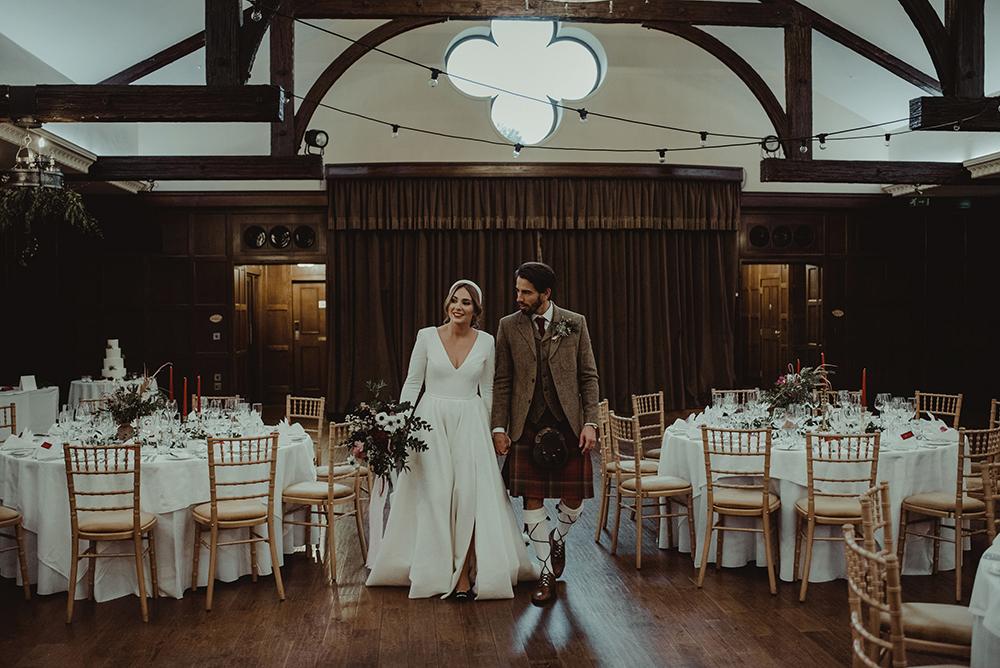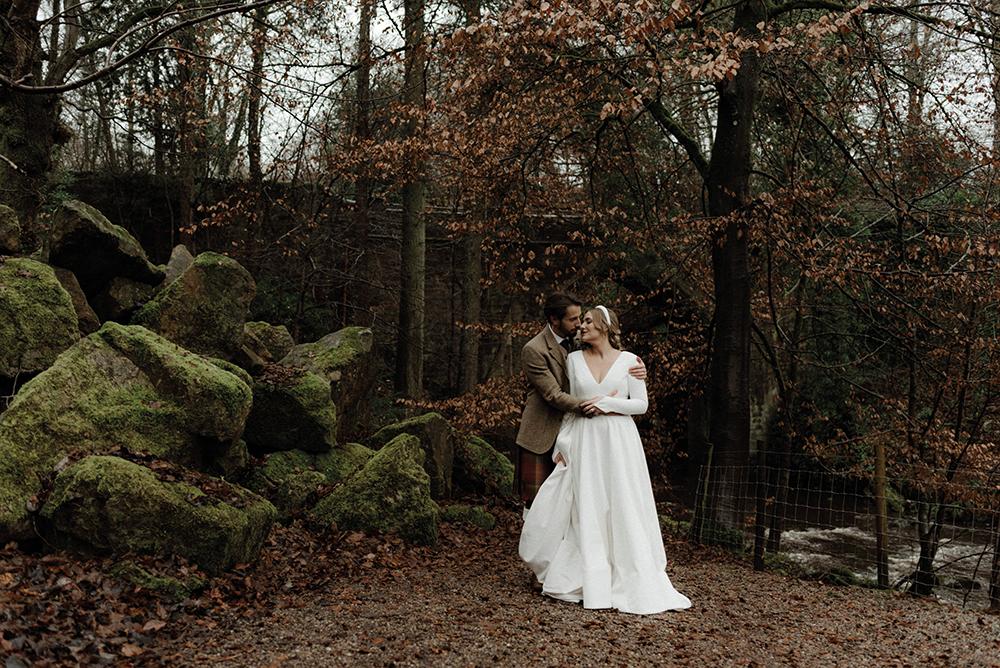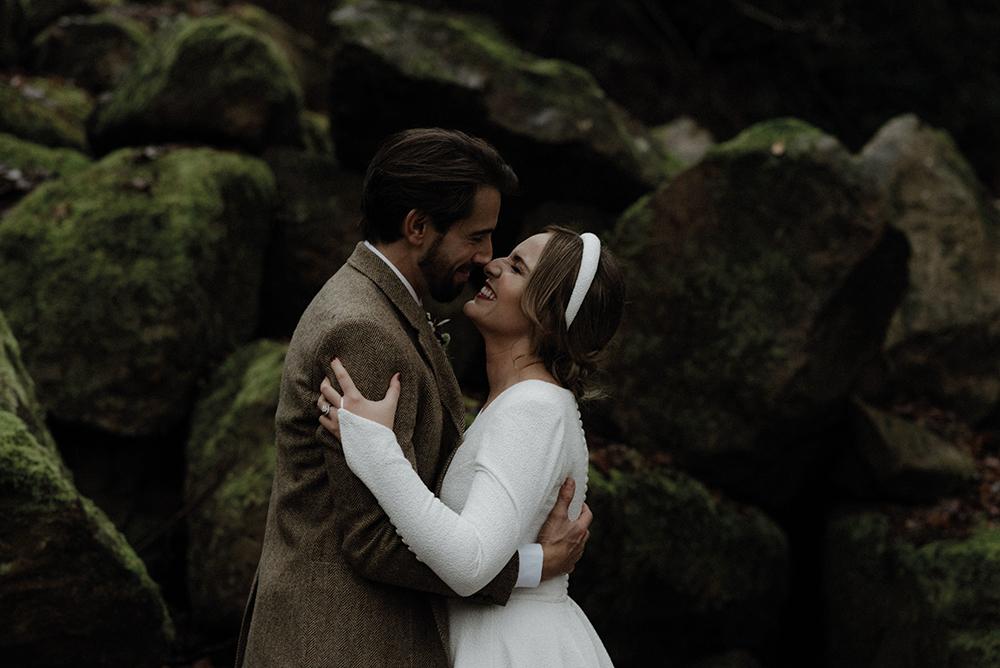 Greg played a little game in his speech where he gave all the tables a piece of card in which they had to write down their guess for how many times they thought he would cry.
He and the Master of Ceremonies then kept a count and he gave a prize to the winning the table. I loved the idea as it kept the speech light and made a joke of it when he was about to break down!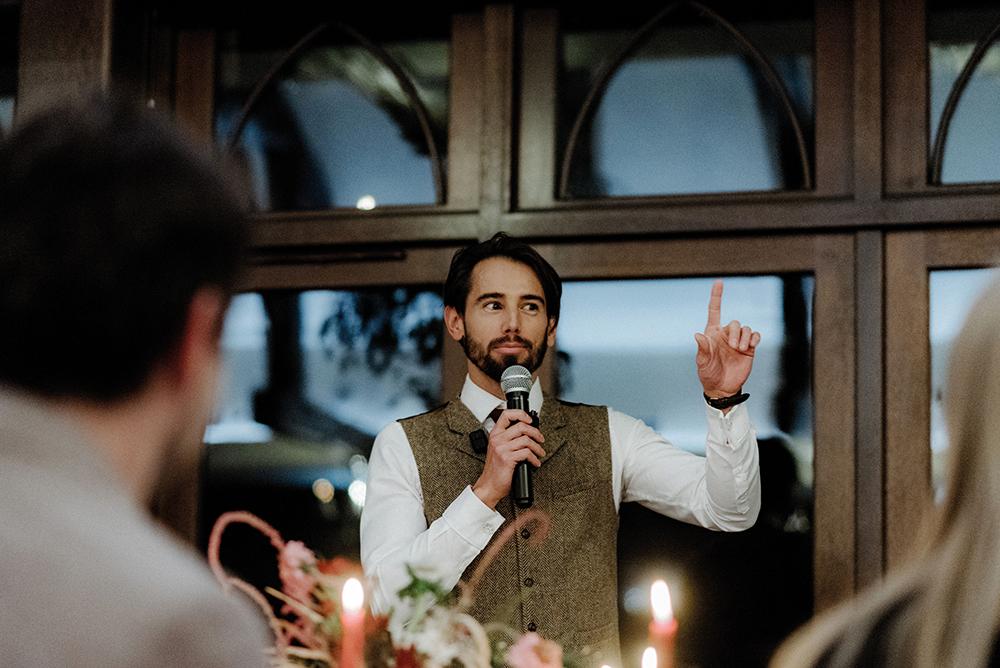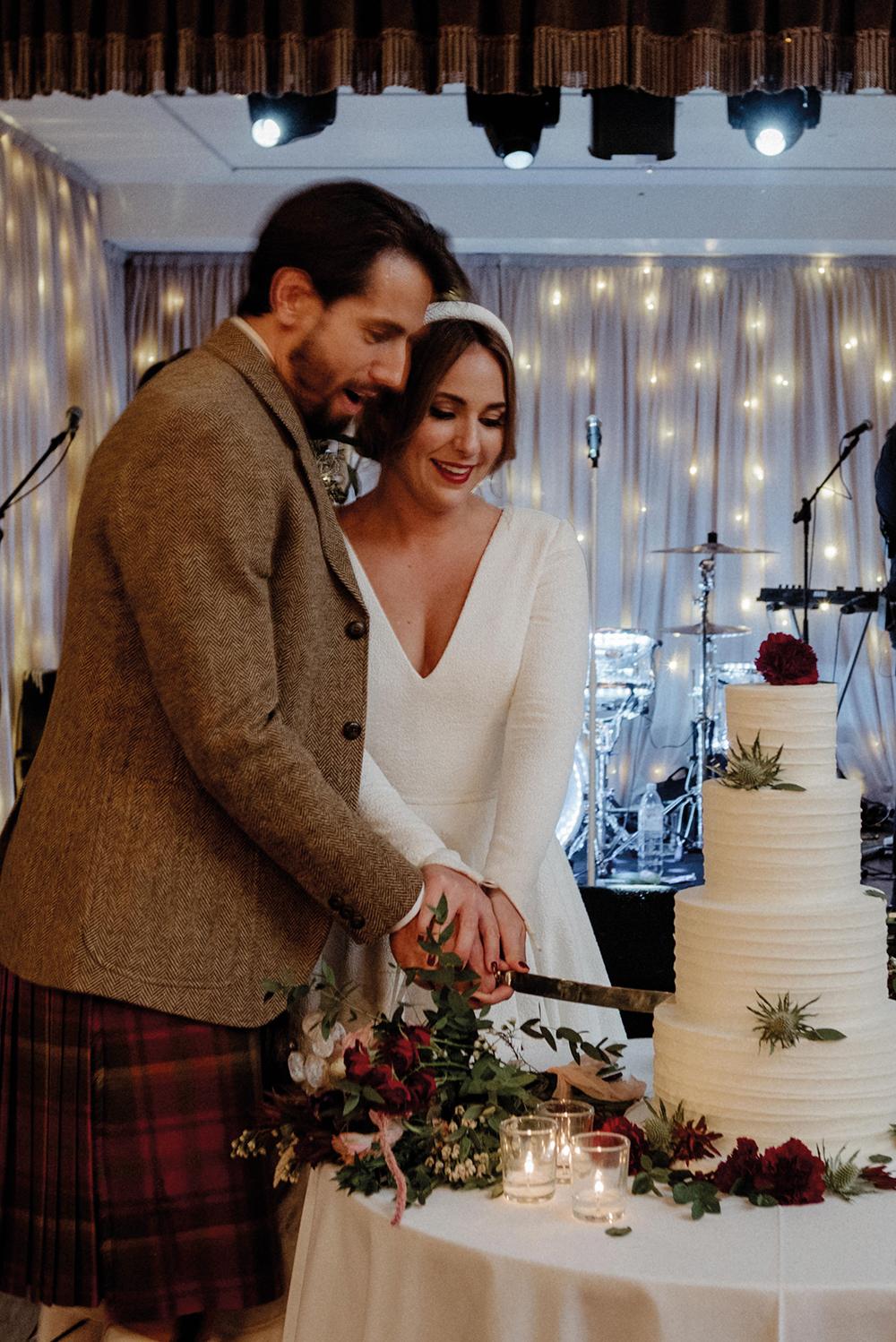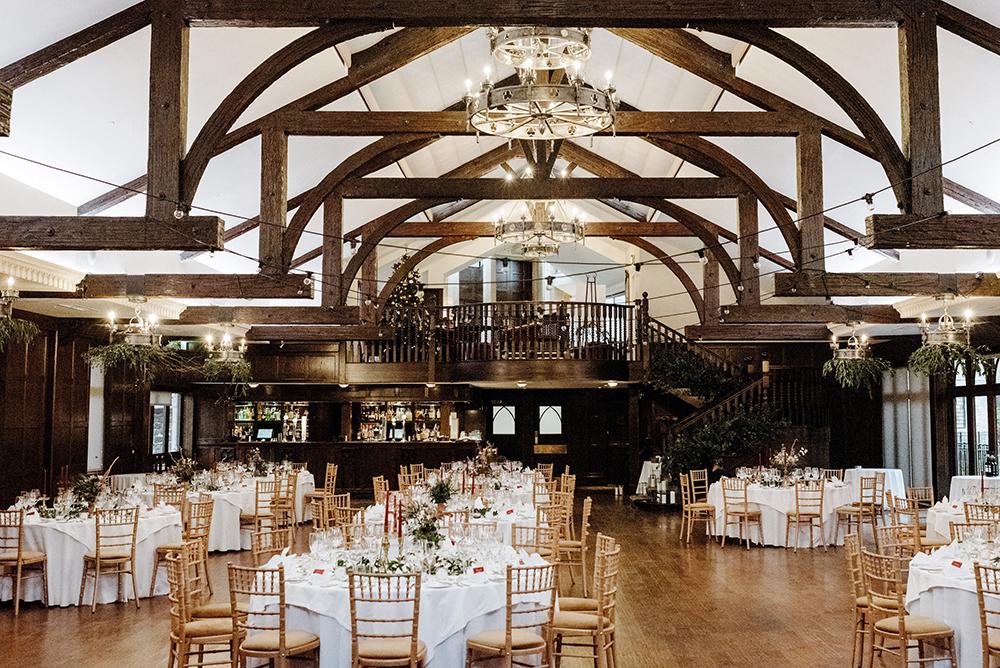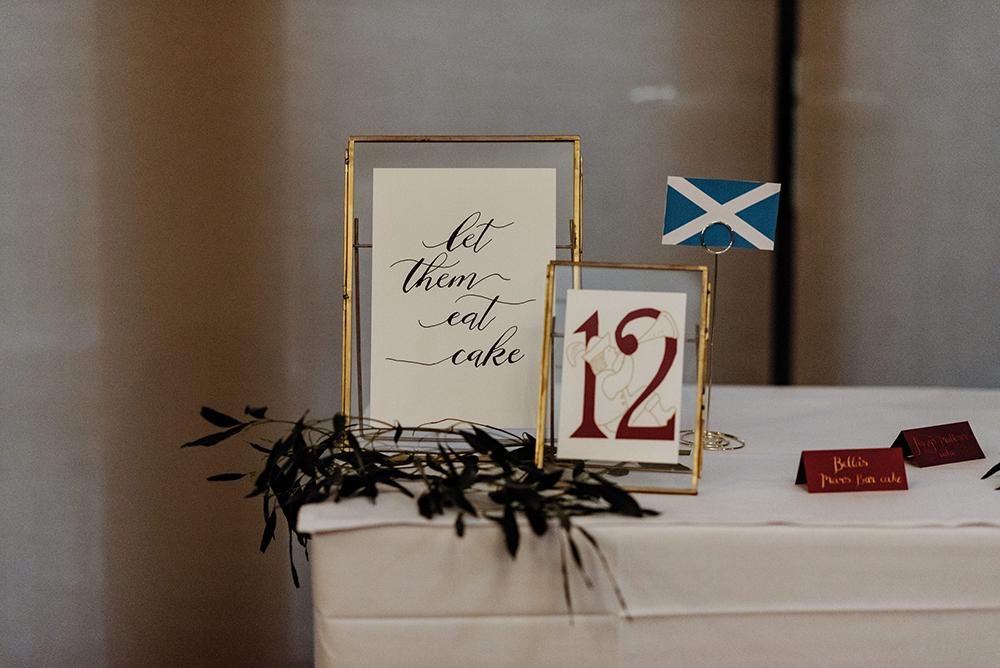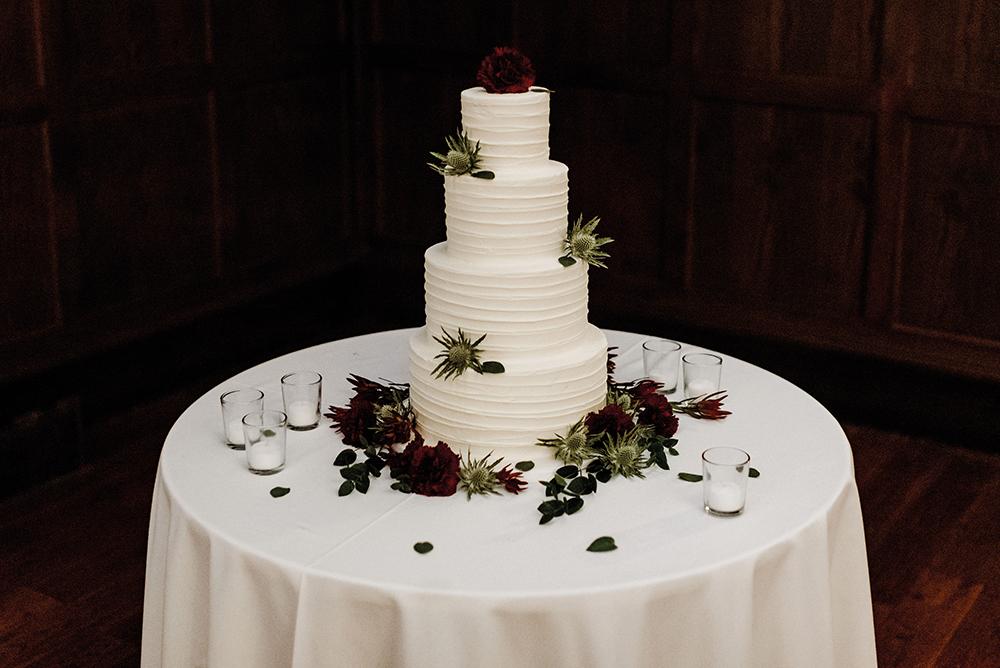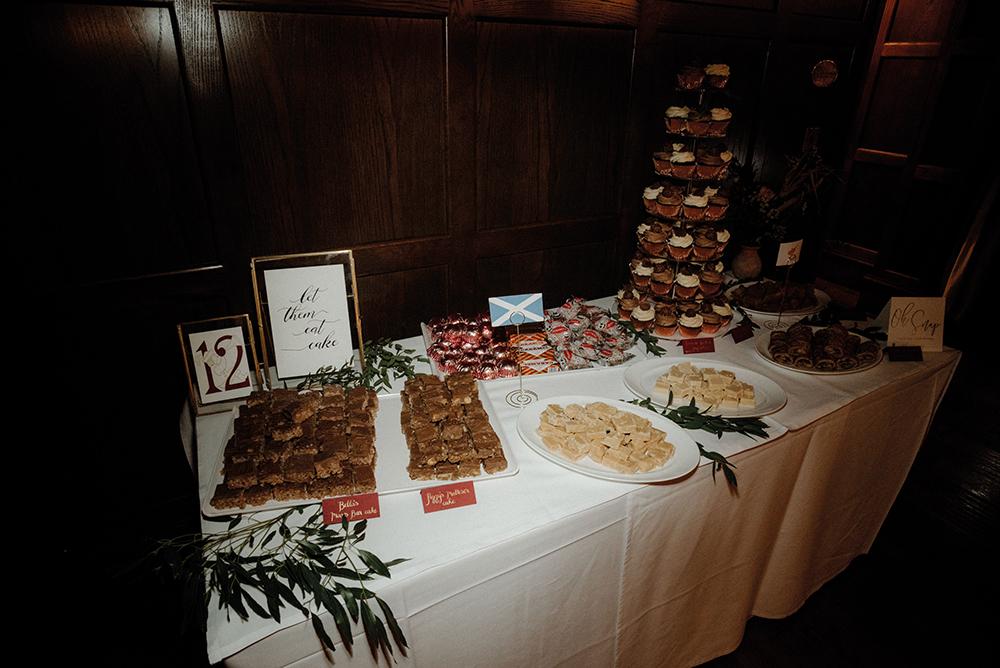 Our first dance song was by an artist called Raul Midón called 'Waited All My Life'.
We were incredibly lucky that our band were so great with learning new material and did a gorgeous rendition of the song then segued into Stevie Wonder 'Sir Duke' where we then had gold confetti canons set off and invited everyone to join us on the dancefloor.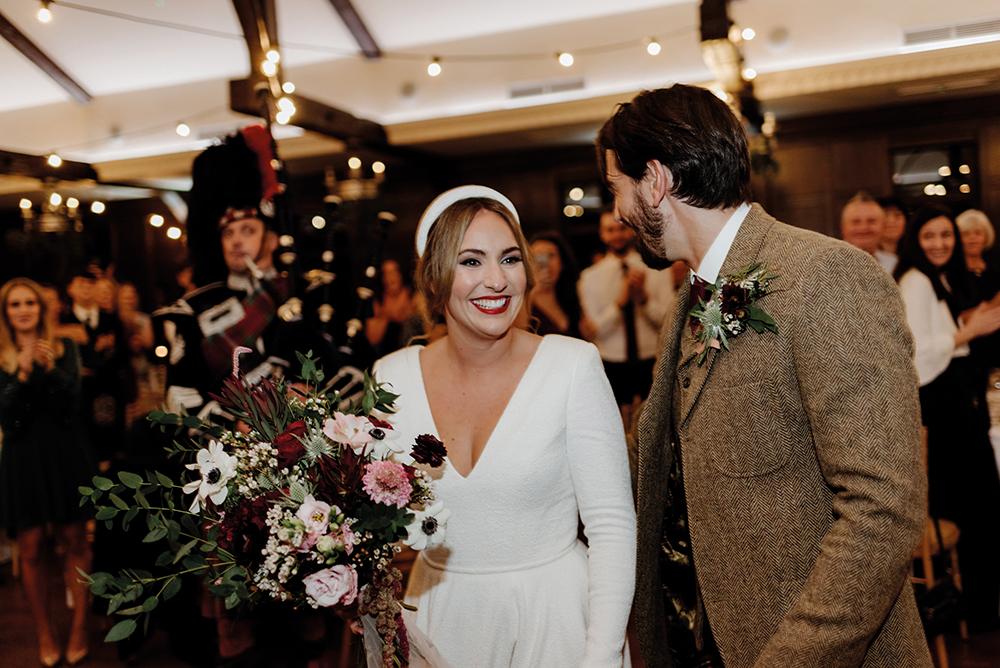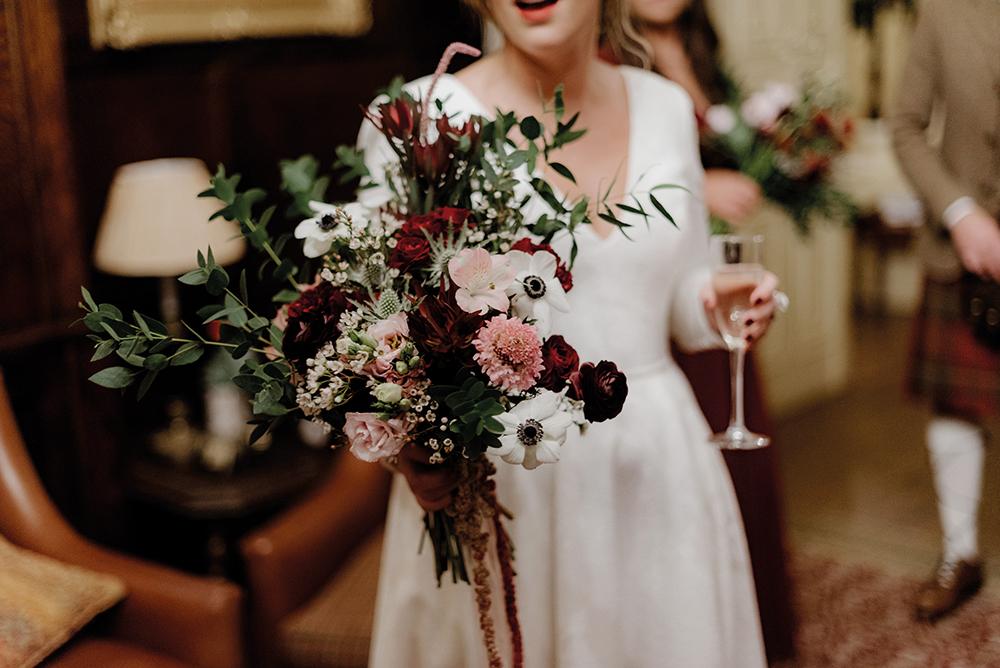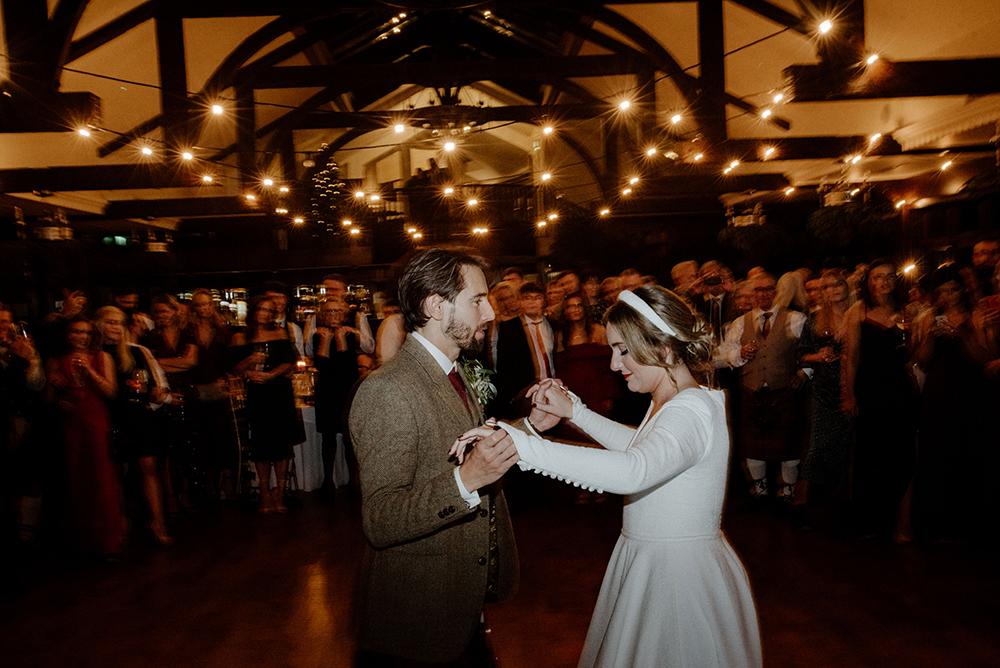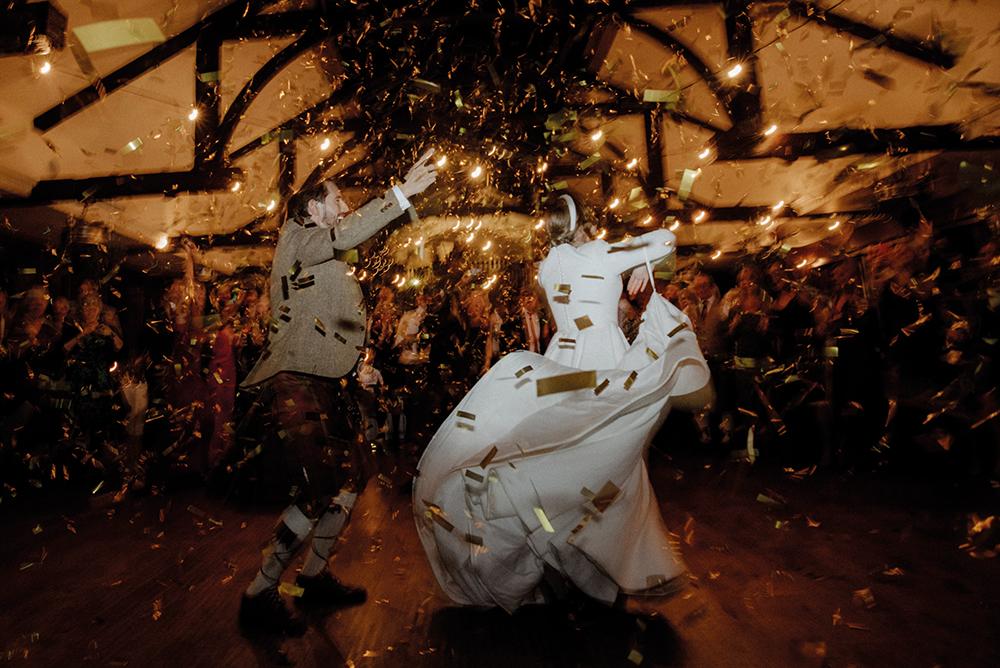 Greg and I had the best time imaginable. It felt as if the moment the music started the dancefloor was constantly full.
Everyone absolutely loved the ceilidh and it also helped people to mix. We had the band until midnight and then played our own music until carriages at 1am. Lots of our friends stayed straight through 'til the end and then we retired to the bar with leftover pizza and wine and didn't fully end the night until about 2.30am!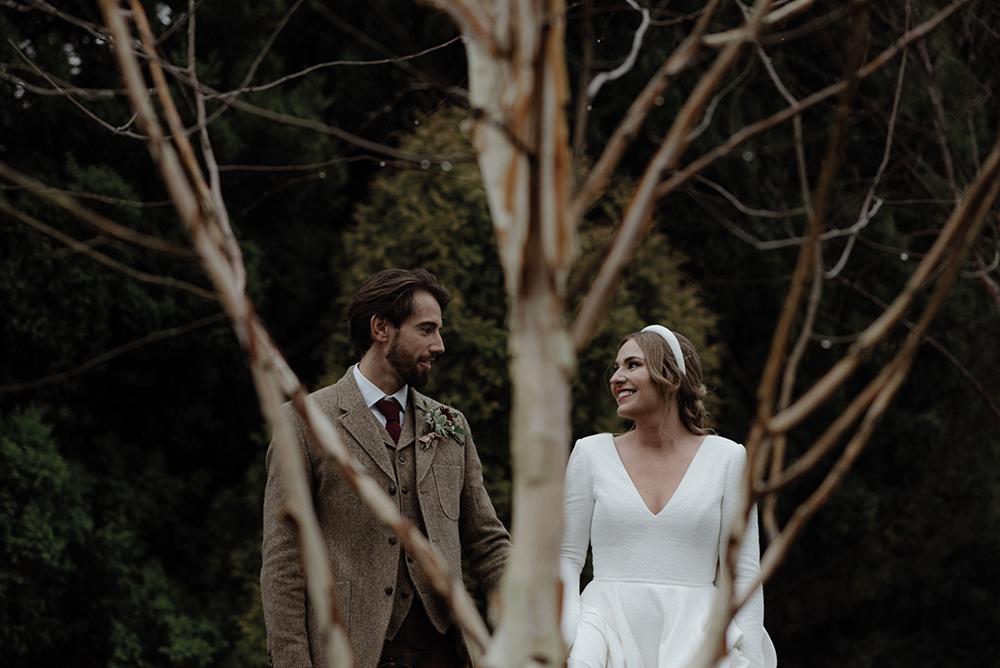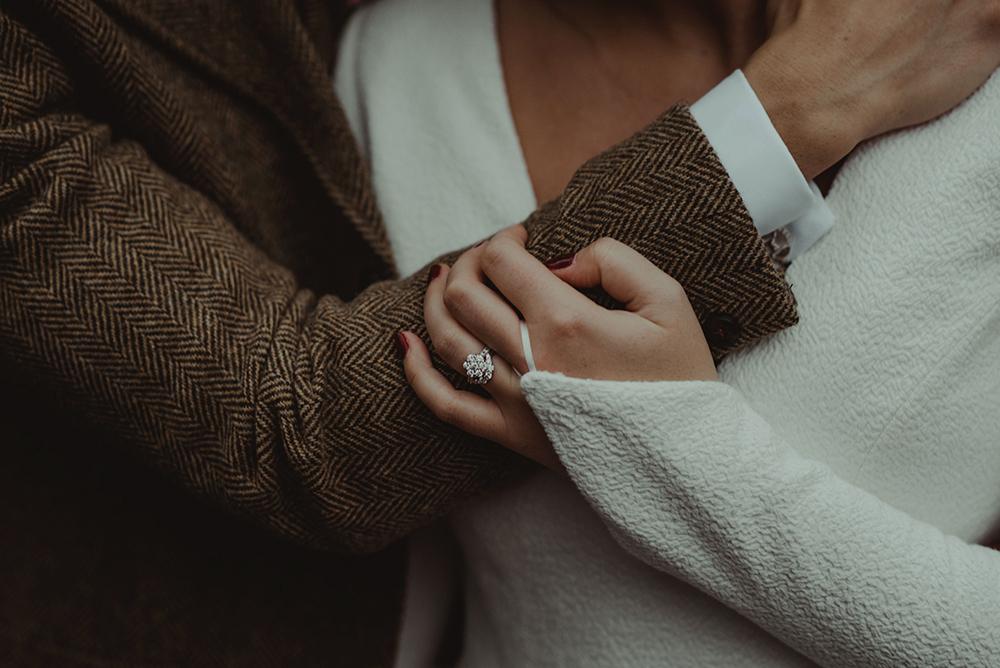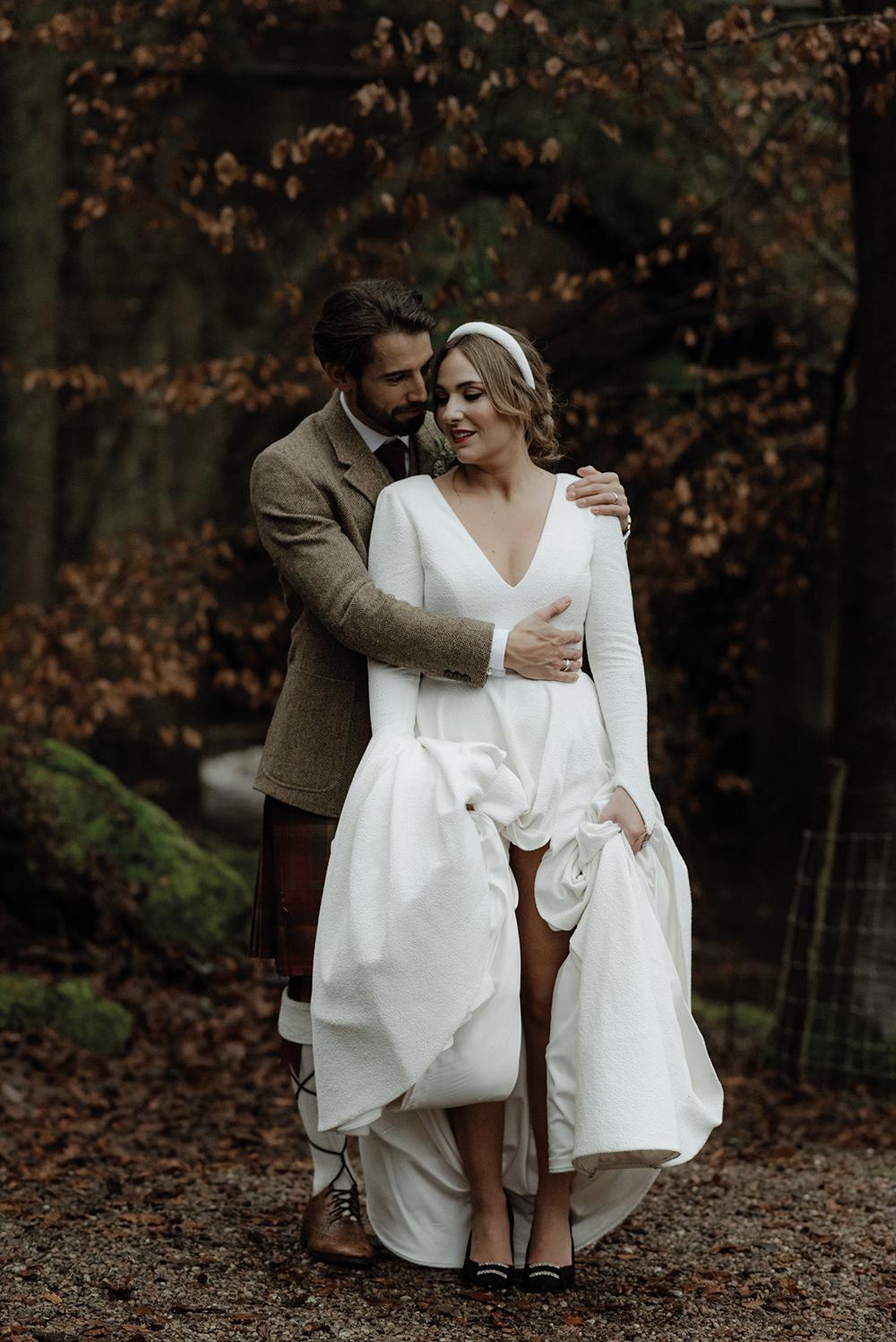 Venue: Crossbasket Castle | Photographer: Sean Bell Photography | Videography: Worldly Nomads Films  | Rings: Shirley Paris Jewellery | Bride's dress: Emma Beaumont | Bridesmaid dresses: Etsy | Kilts: Slanj Kilts | Groomsmen's waistcoats and jackets: ASOS | Groom's waistcoat and jacket: Gibson | Stationery: Loupaper | Cake: Liggy's Cakes | Floristry and décor: Days of Dahlia | Hair: Scissors Dot Comb | Make-up: Violet Rose Make Up | String quartet: Capella  | Band: Classic Noir