Bright + colourful wedding day with beautiful DIY touches at Killearn Village Hall, near Loch Lomond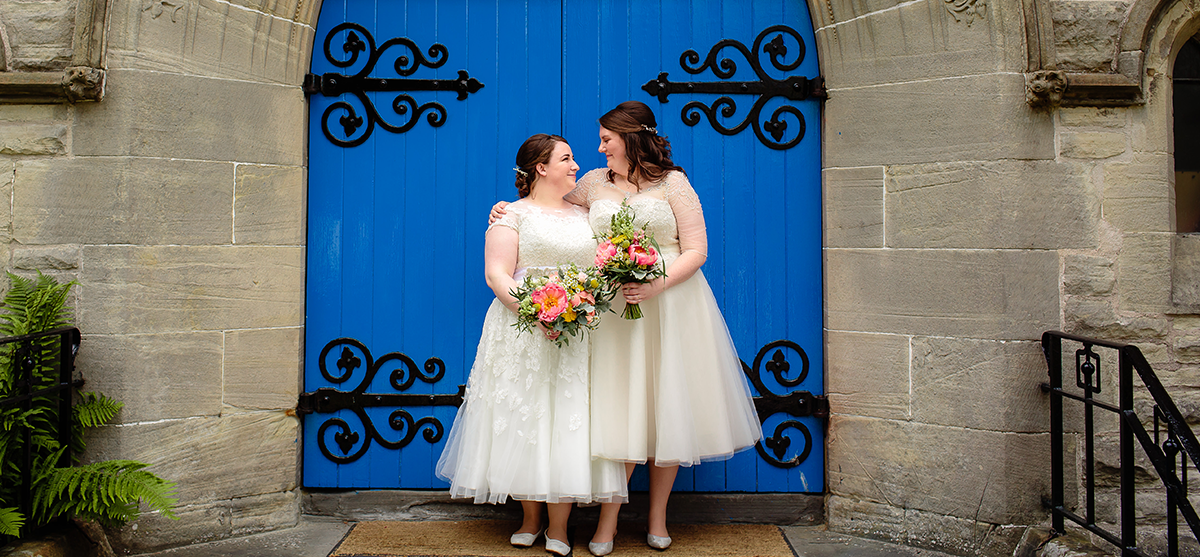 It was a bright and happy day for Annie and Catherine in more ways than one; not only did the sun shine down on their gorgeous wedding in Killearn Village Hall near Loch Lomond, but their decor was beautifully bright too, and they made the most of this blank canvas wedding venue.
Add delicious food and cake, plus great friends and family into the mix, and you've got the perfect wedding day!
Hear what brides Annie and Catherine had to say. Photos captured by Fotomaki Photography…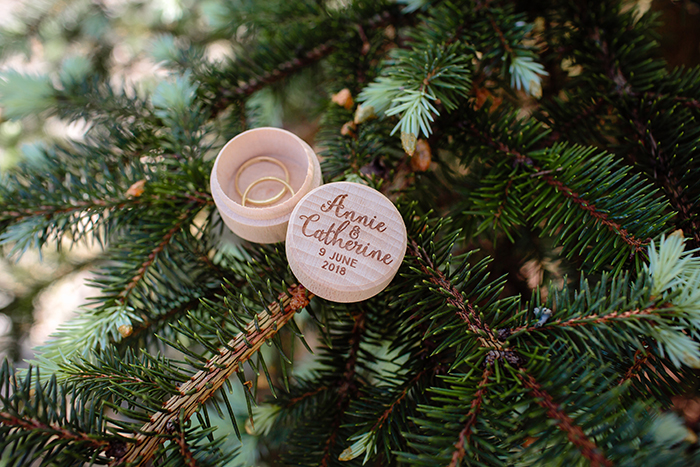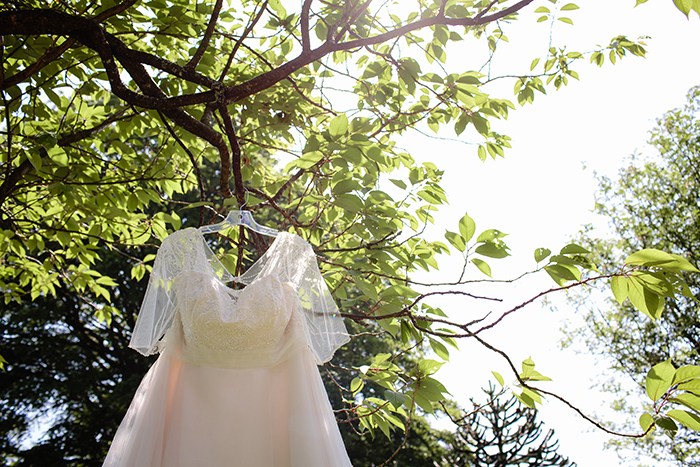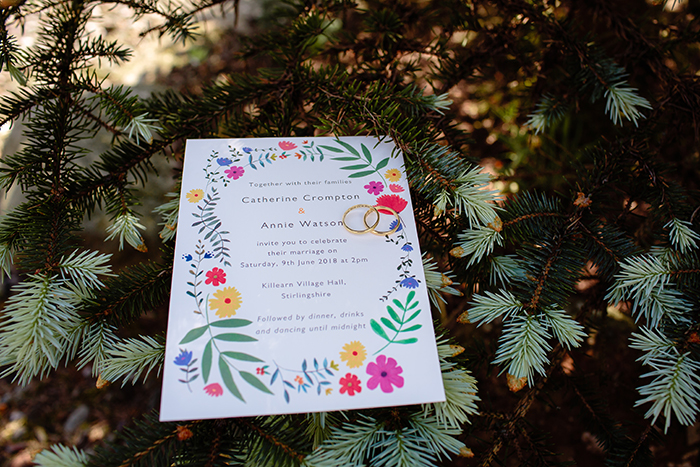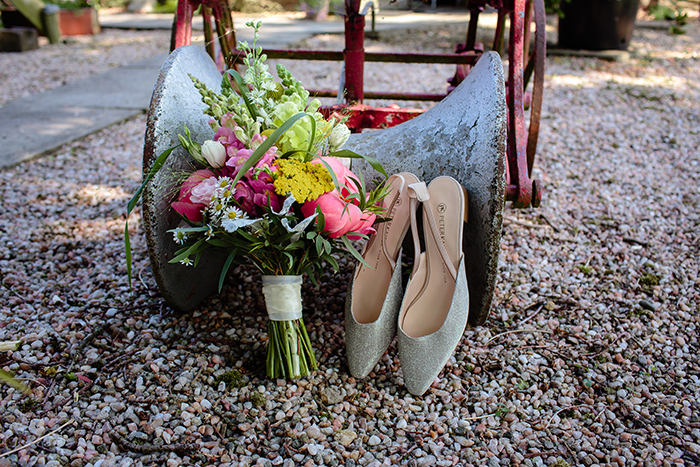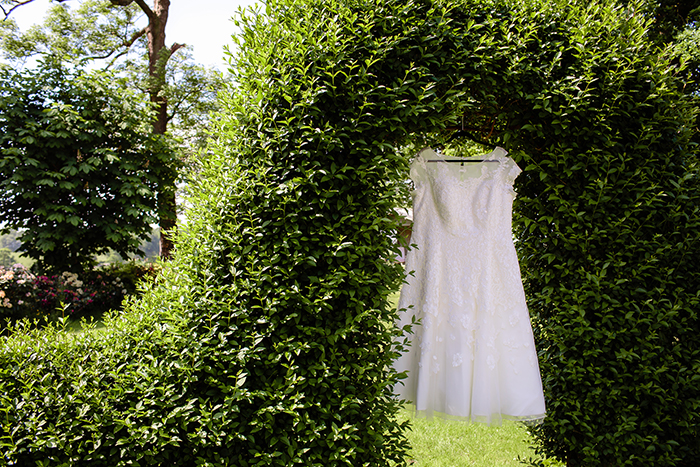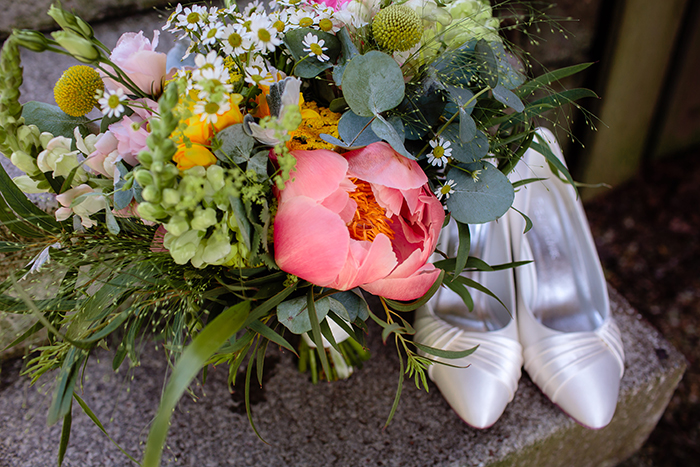 "Planning a wedding took more time than we'd anticipated. There are just so many things to think about that we hadn't realised! We took just over a year to plan our wedding, which was a nice length of time and we didn't feel too rushed.
For the first few months, we decided to tackle one big job per month, things like finding a venue and caterer, choosing a photographer, and working out our guest list.
We were so happy with all of the suppliers that we chose in the end and we wouldn't have changed a thing about our day!
We found our photographers through the Scottish Wedding Directory website.
From the very beginning, Sarah and Kristeen were a treat to work with, and they were very considerate of us being two people who really don't enjoy having our photos taken. They really made us relax, and we love our photos.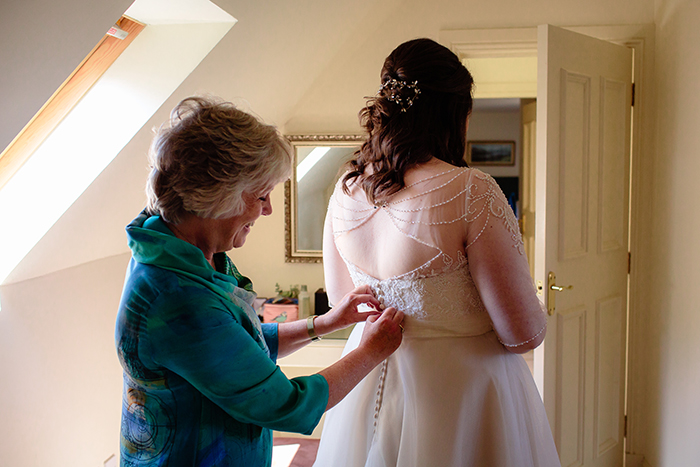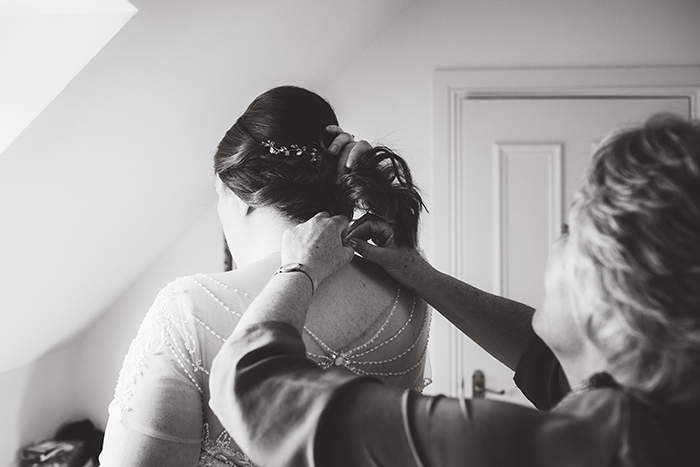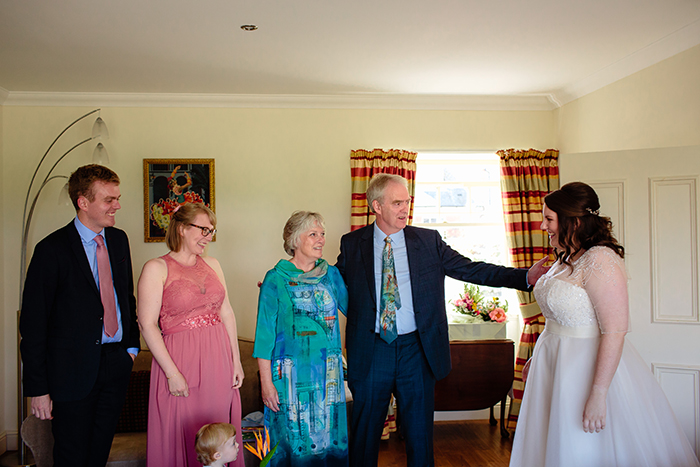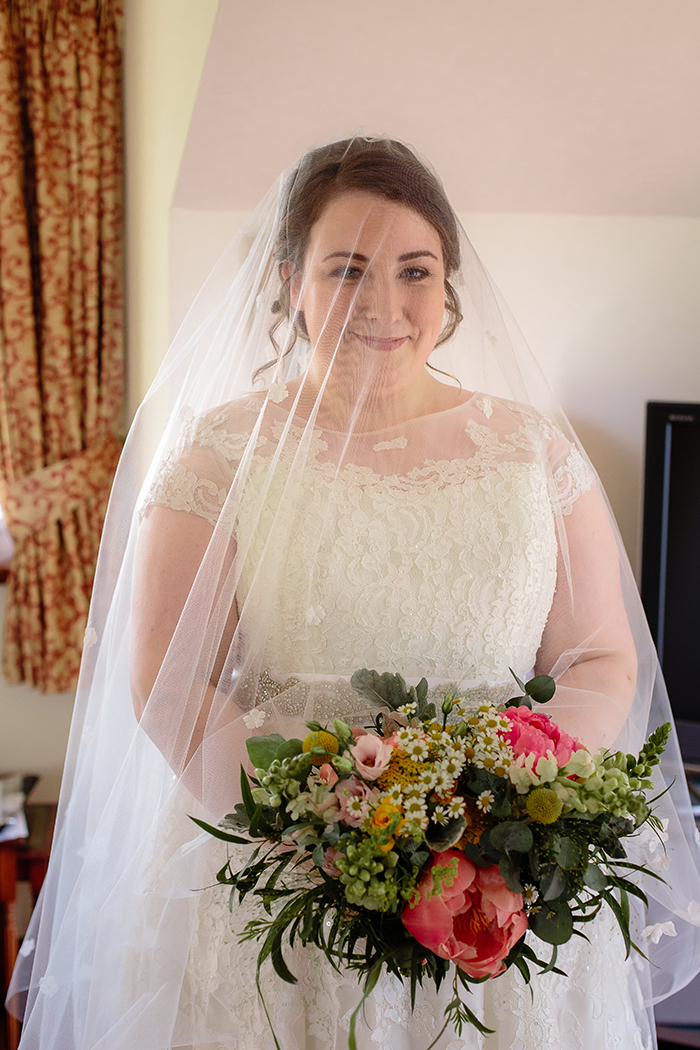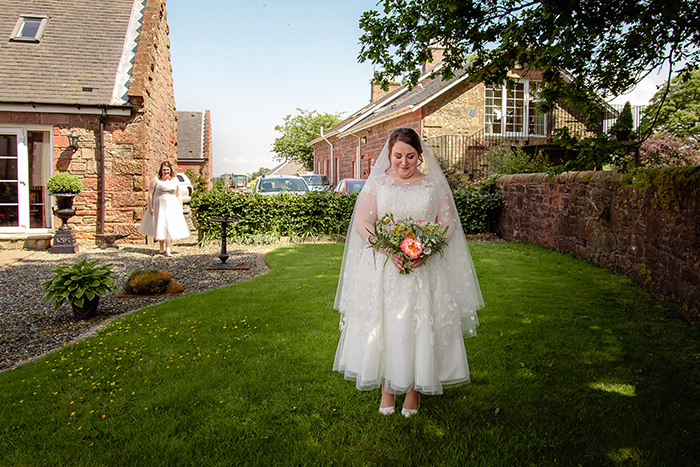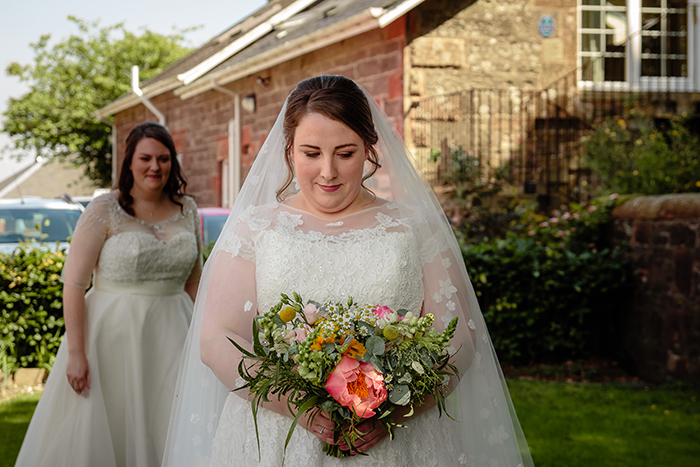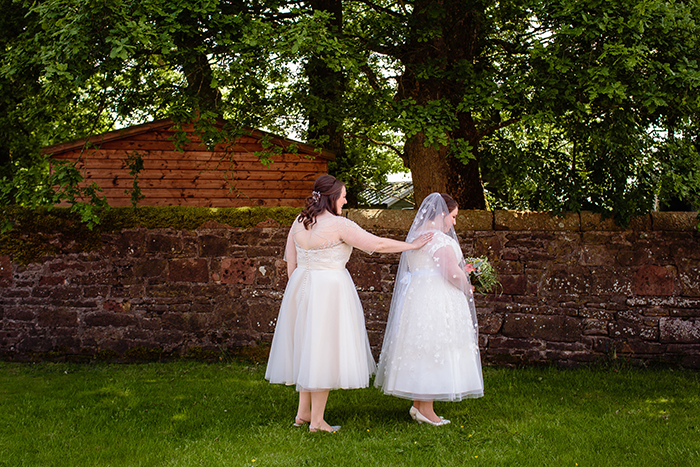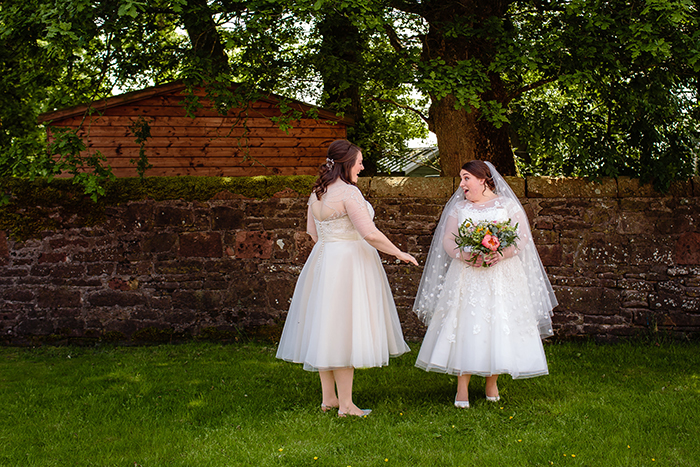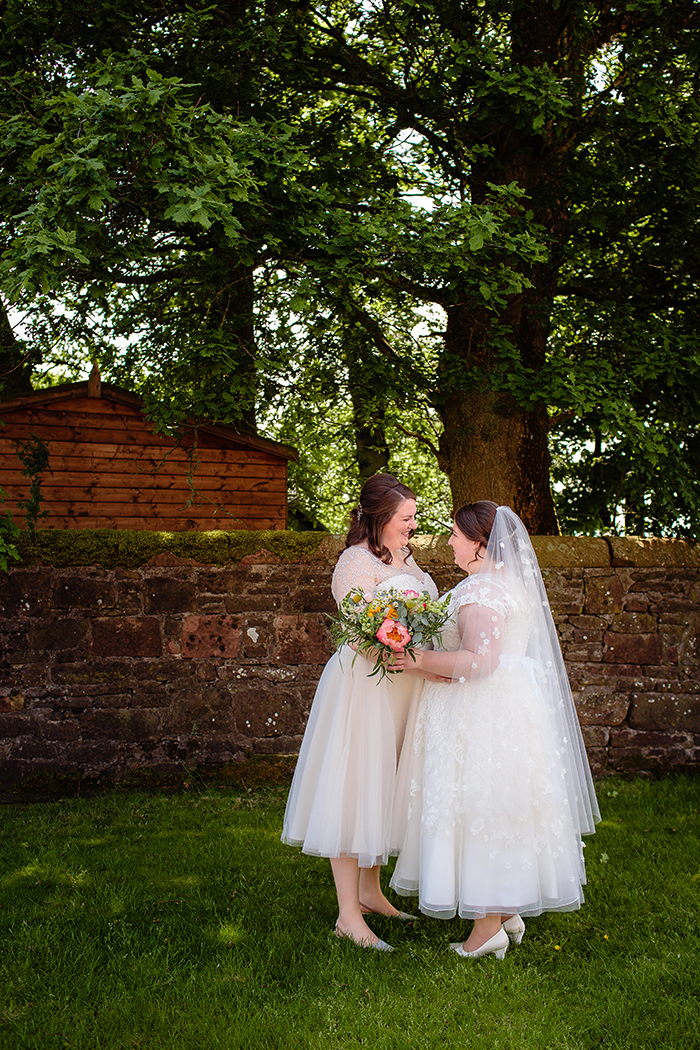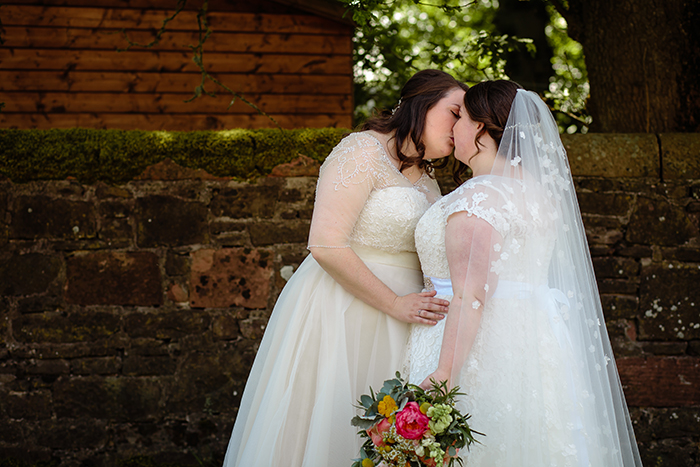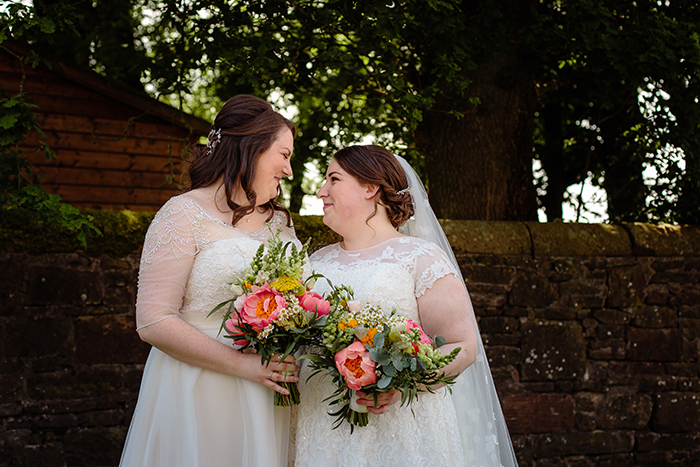 Our wedding venue, Killearn Village Hall near Loch Lomond, was in the ideal location for us. It's not too far from Edinburgh (where we live) or from Glasgow, and is set in beautiful surroundings.
It was important for us to get married somewhere with plenty of natural light, and with an outdoor space to make the most of the long summer evening.
The weddings at Killearn are run by Three Sisters Bake and their wedding co-ordinator, Sheena, as wonderful to work with. She made everything really straightforward for us, and helped us have the day we truly wanted.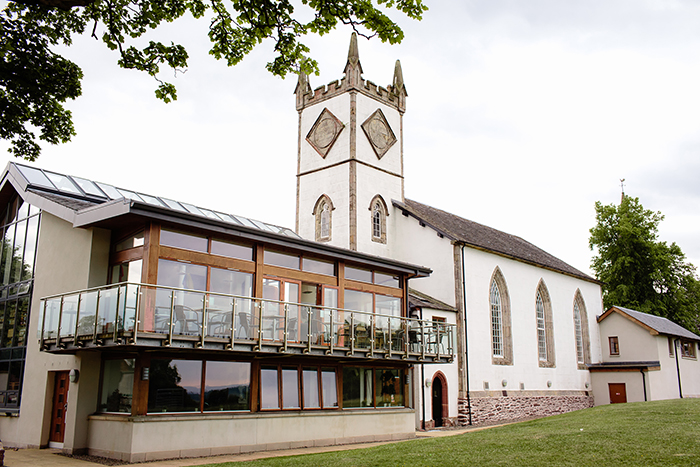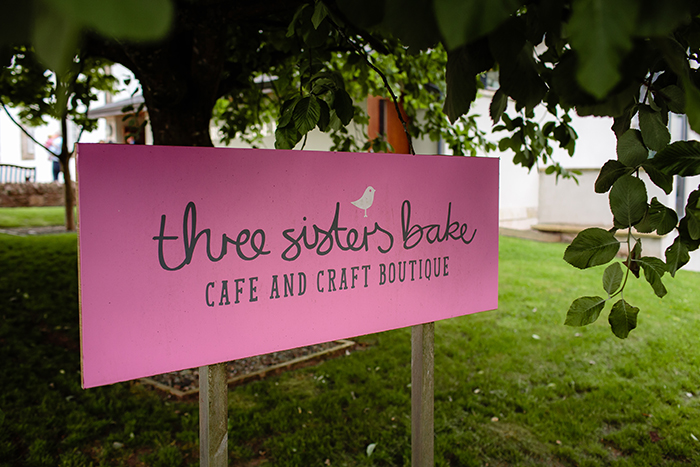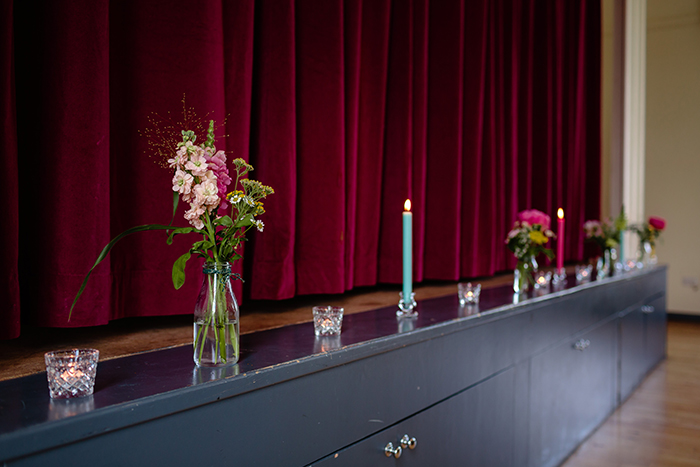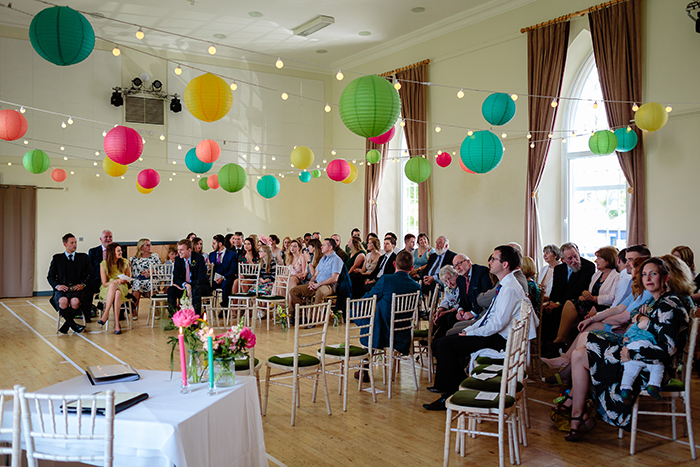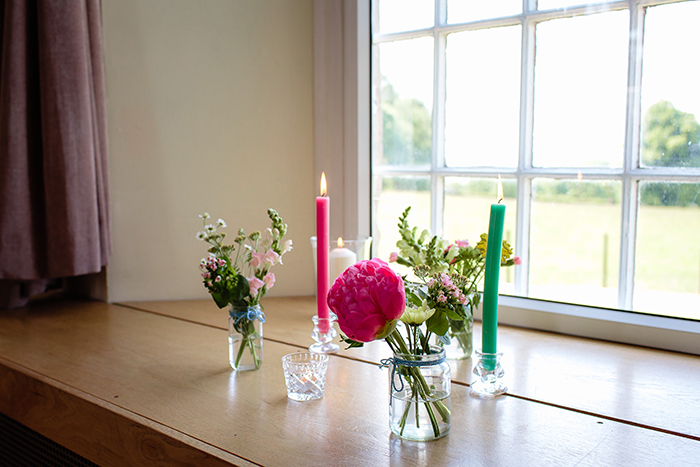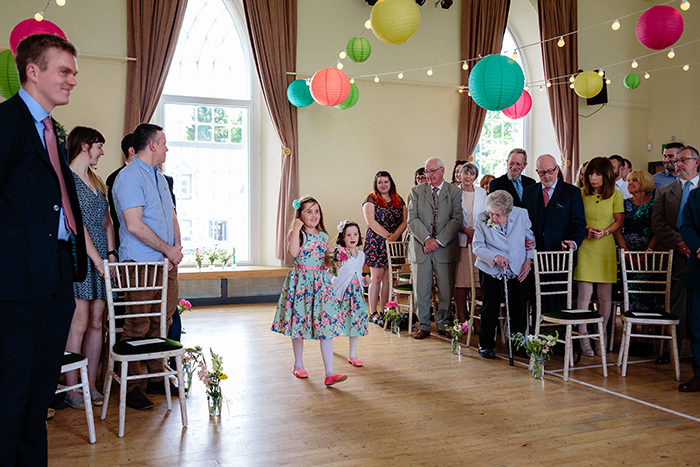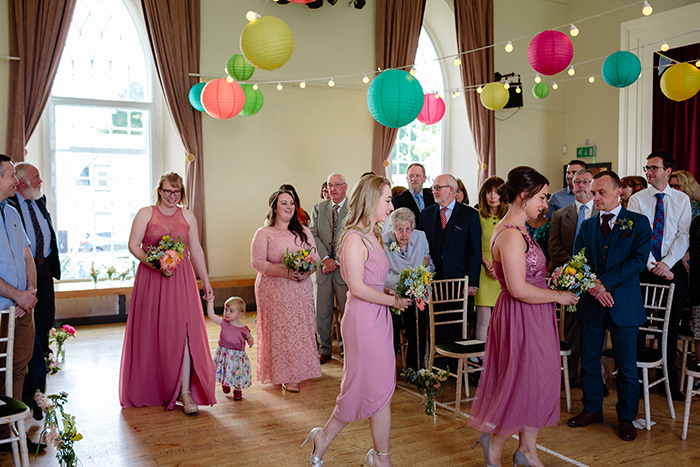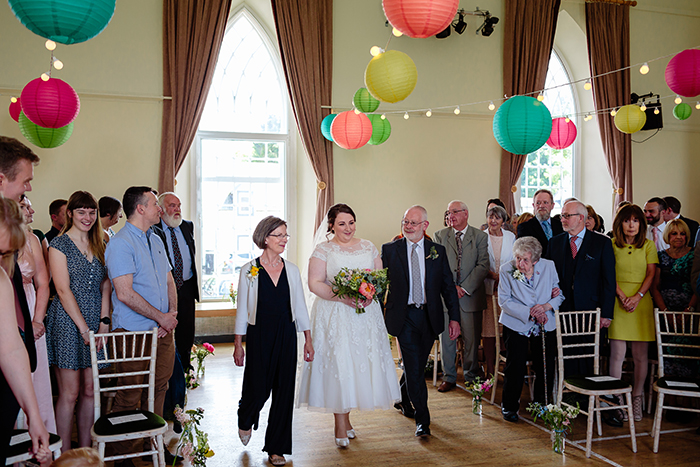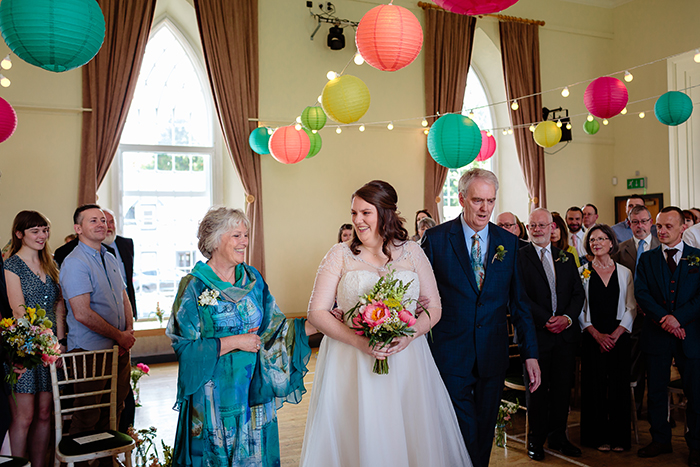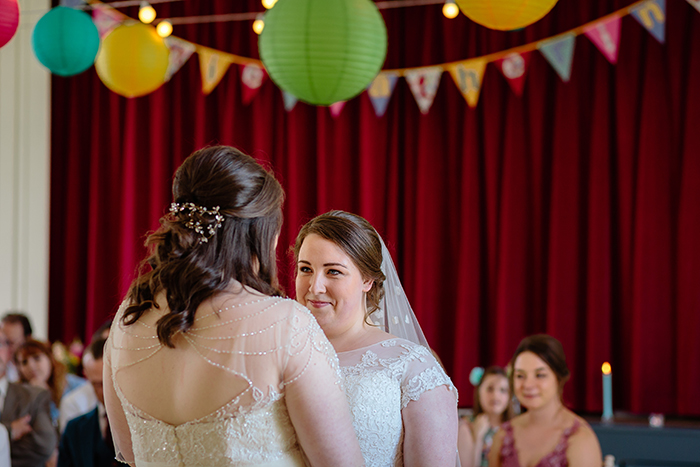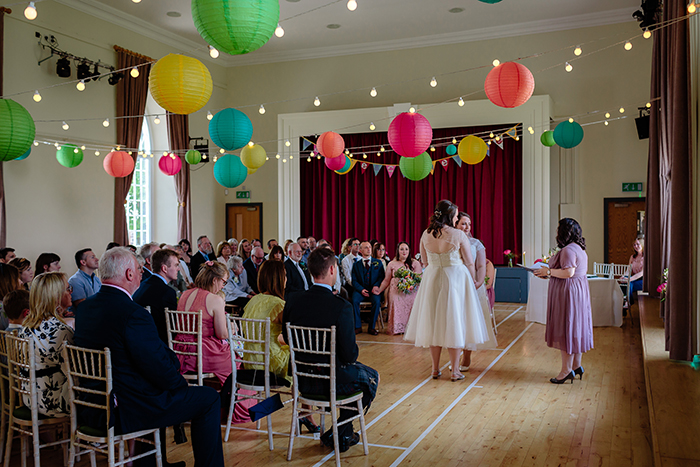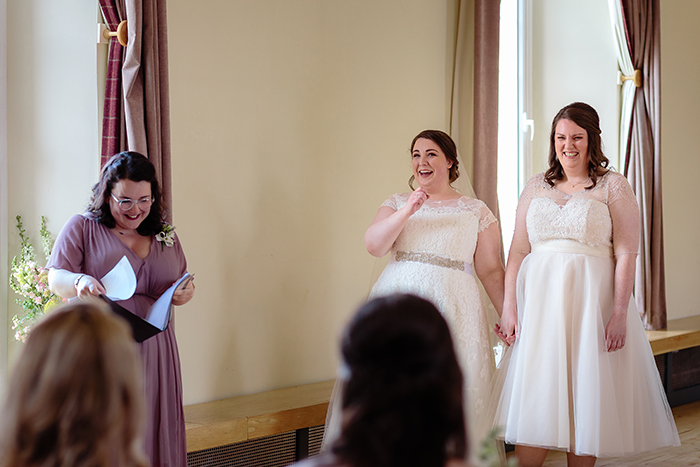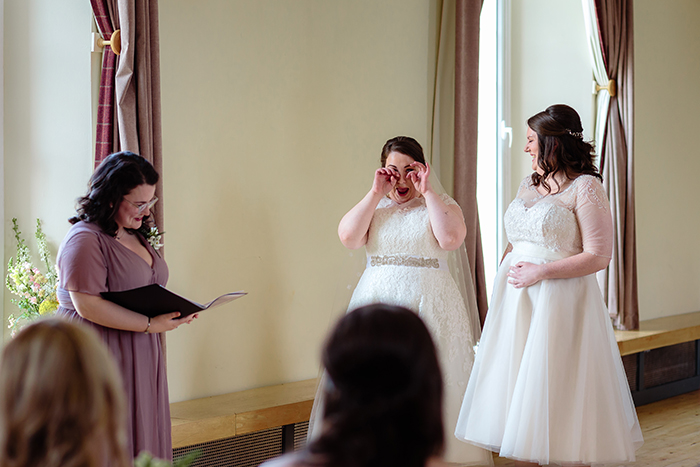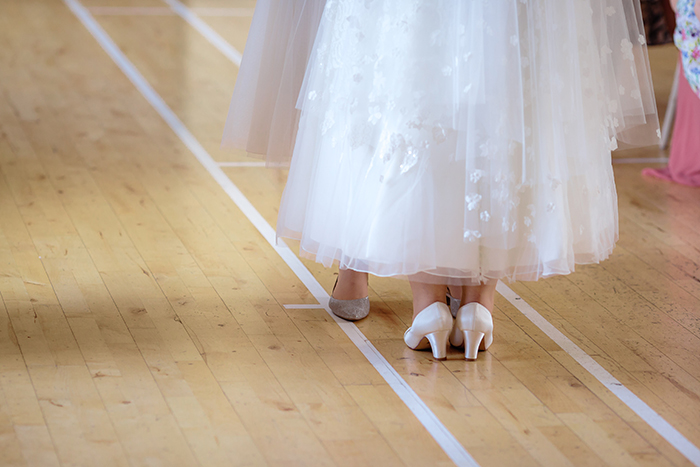 The building has a mix of modern and traditional spaces and it was a beautiful blank canvas which meant we could put our own stamp on it and personalise our day.
We really enjoyed preparing the venue for the wedding; Annie's mum made us some beautiful bunting which hung across the stage and made a lovely backdrop for our first dance photos.
We wanted the day to be bright and summery, and thankfully the Scottish weather decided to play along!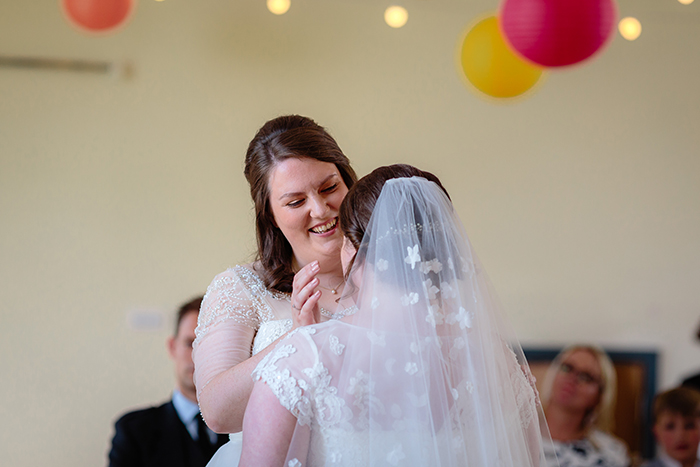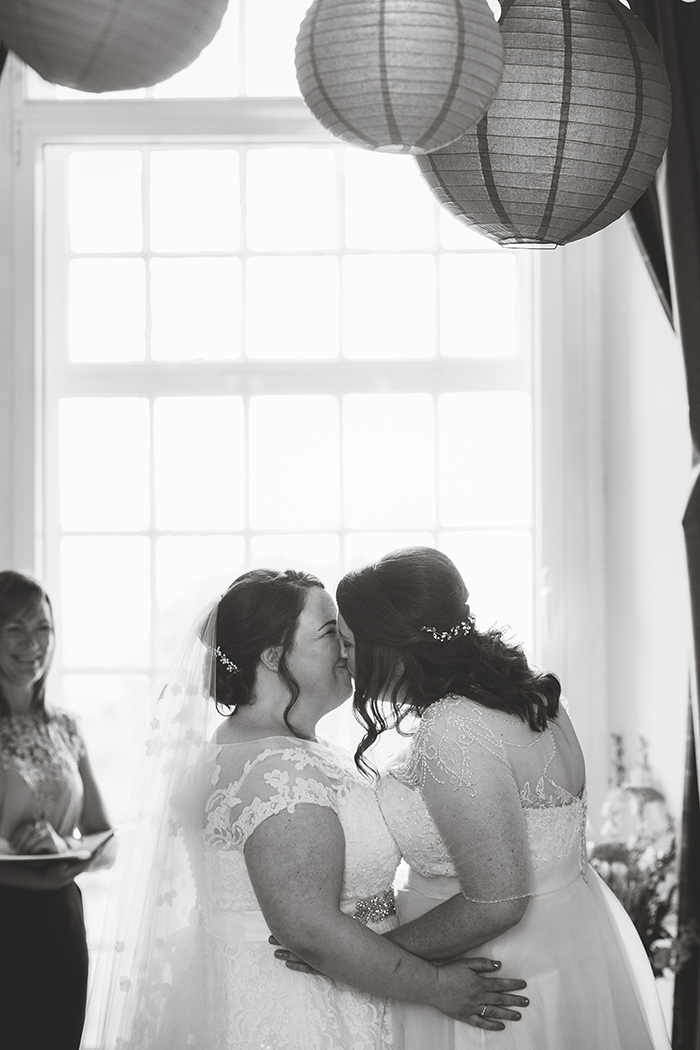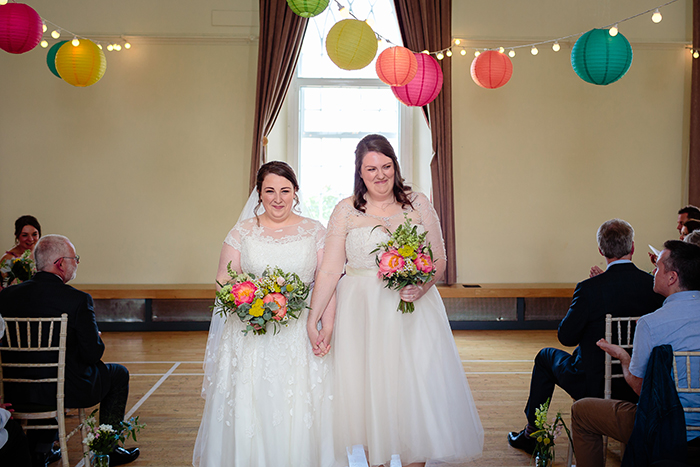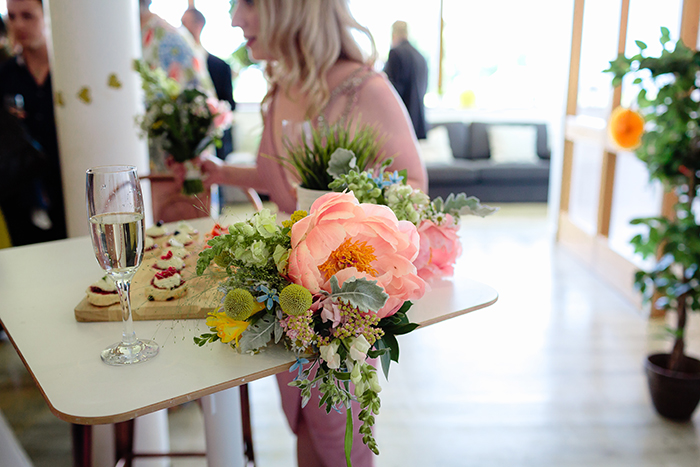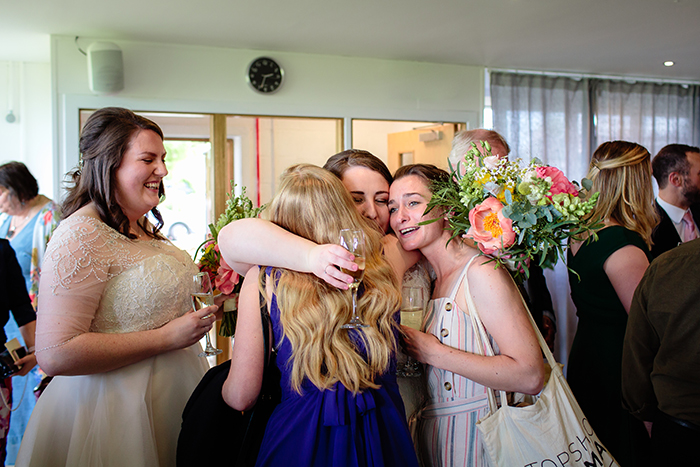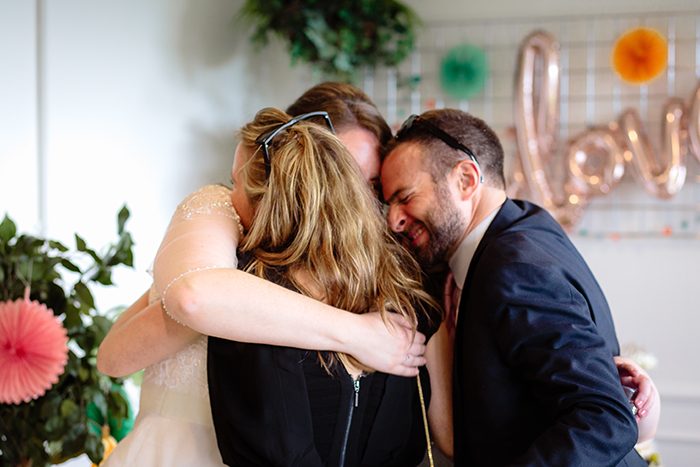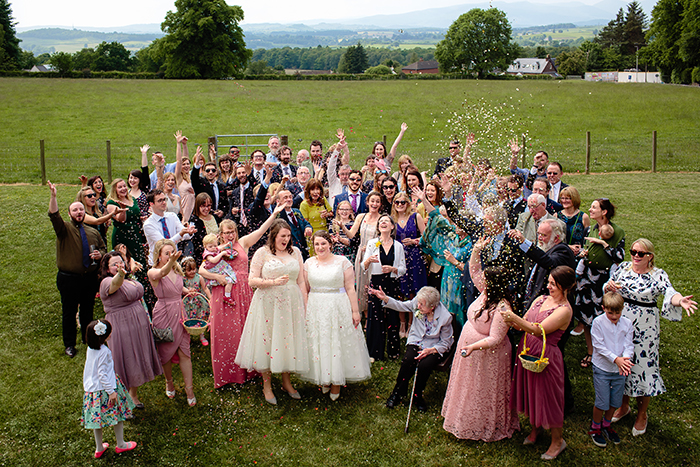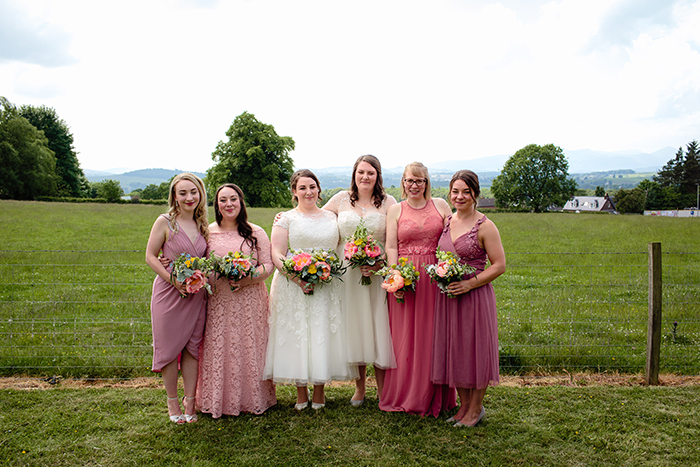 Annie is coeliac, so we needed a delicious gluten-free cake, and we found that at SugarDaddy's Bakery in Edinburgh. We visit a lot together and they do brilliant cakes that you'd never know were gluten free. We opted for strawberry, raspberry and lemon flavours.
We had beautiful wildflower bouquets and decorations, drinks and scone canapes out in the venue grounds in the afternoon, while the children played games and blew bubbles – it was so wonderful.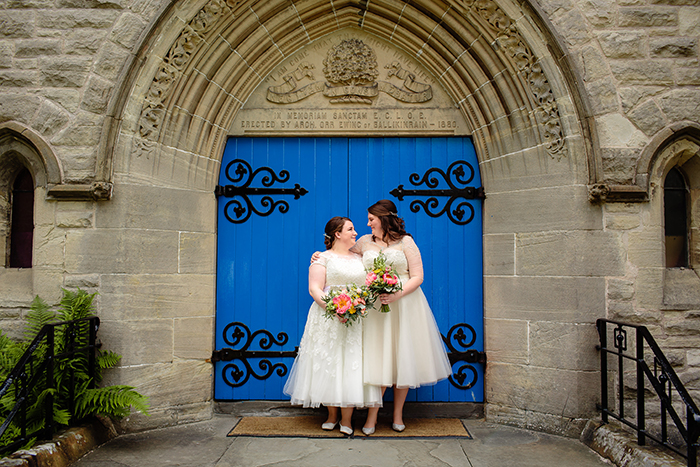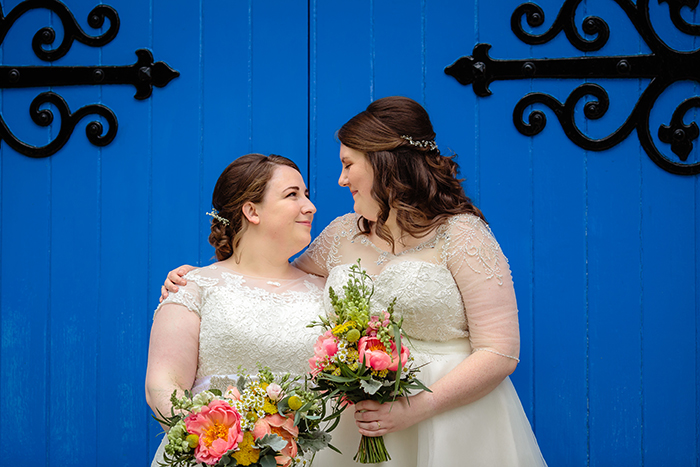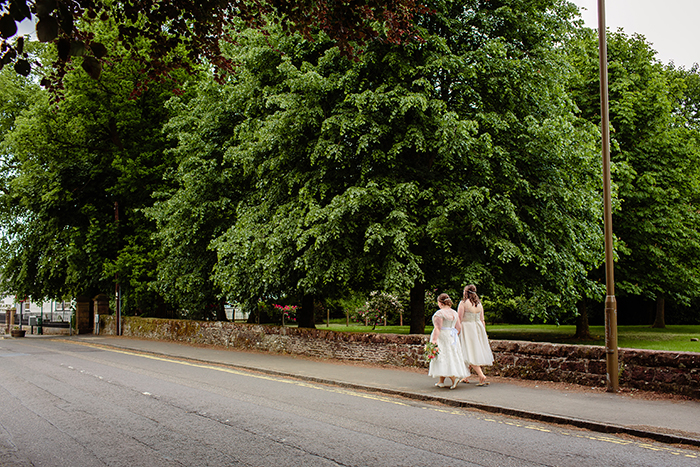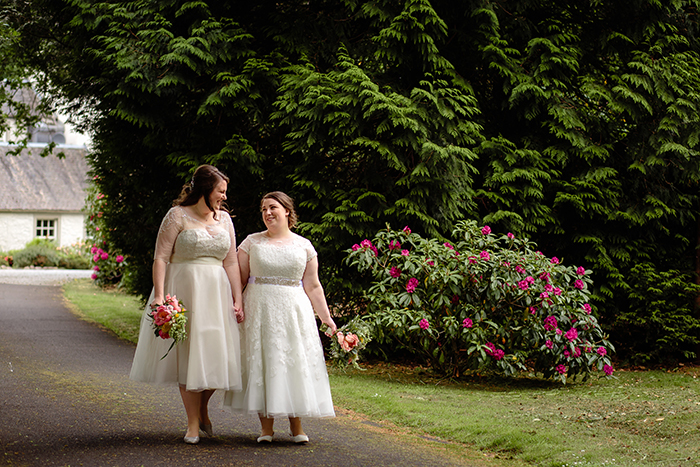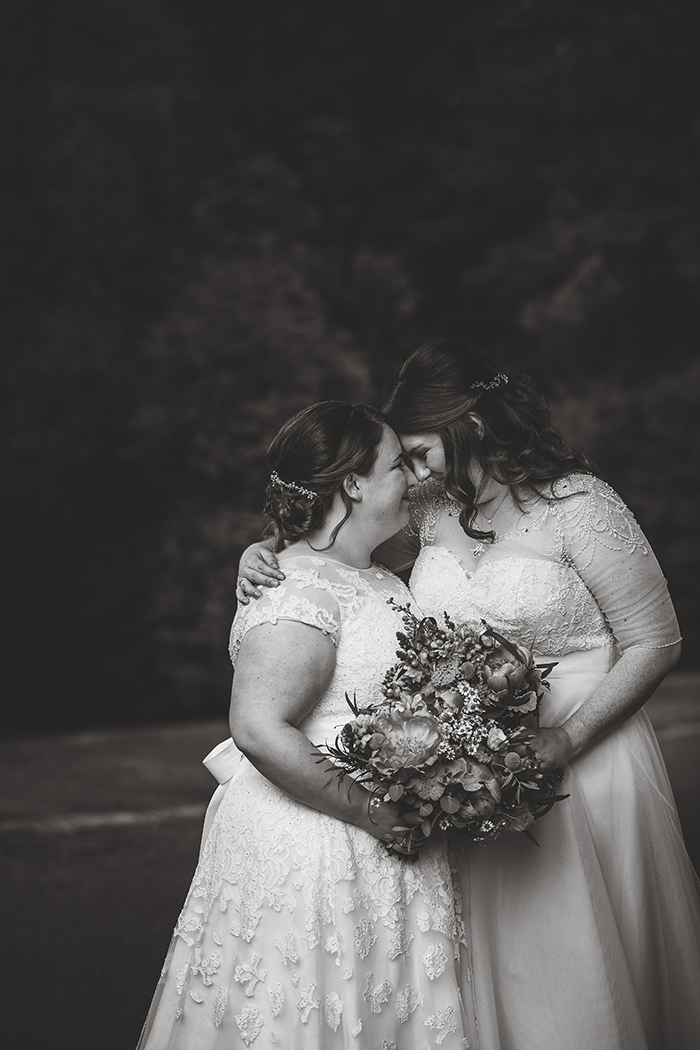 We had about 80 guests altogether who came from all over the UK to be with us, and it was special to have everyone we loved in the one place.
Our ceremony was so personal, and we were so lucky to be able to involve our friends and family in it.
One of our closest friends is a celebrant-in-training and could perform our ceremony for us. Lucy has known us for years and we were so happy that she could celebrate our marriage; it made it even more special.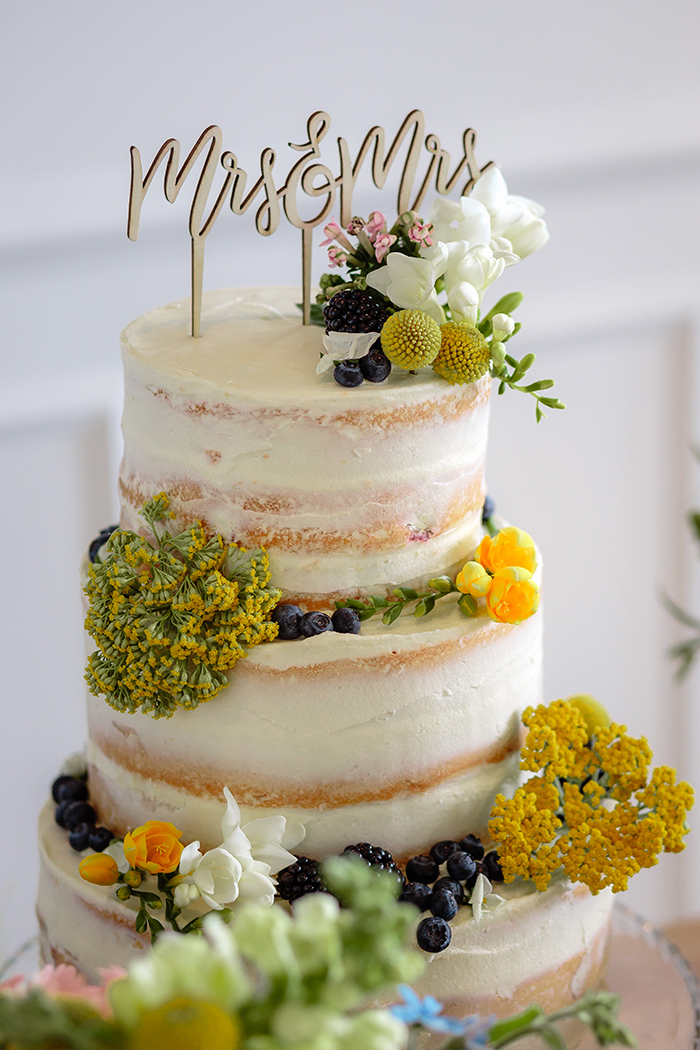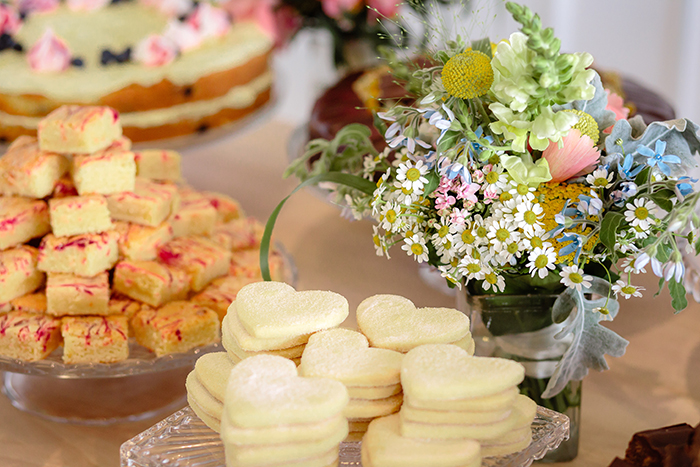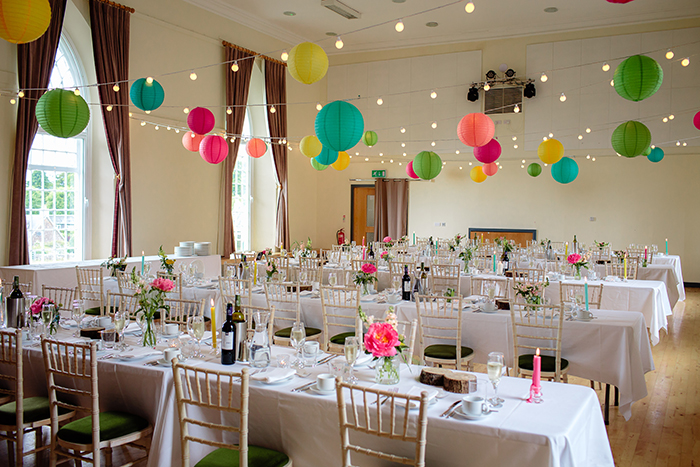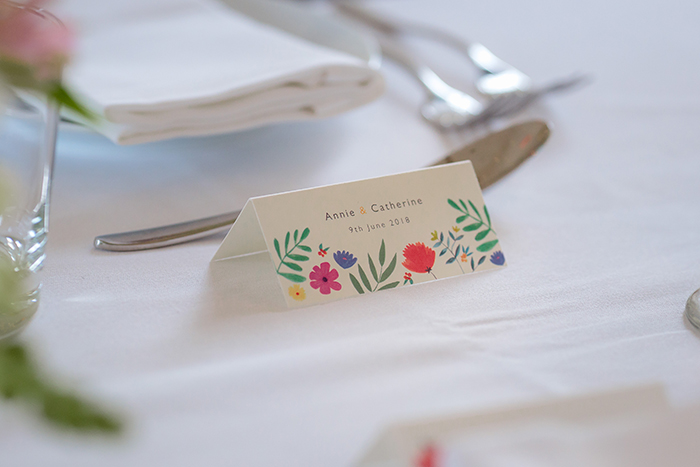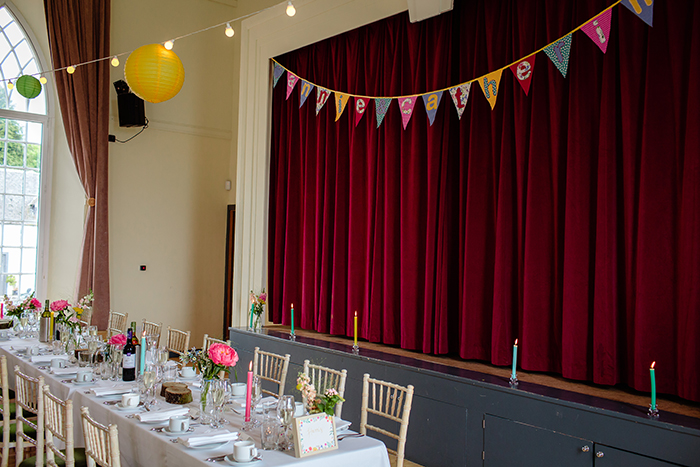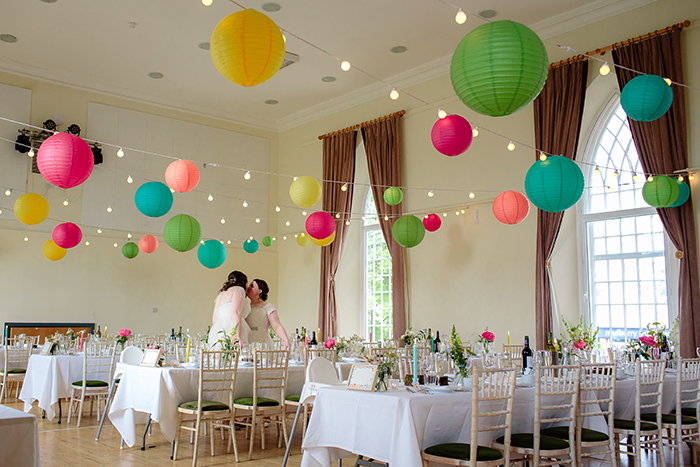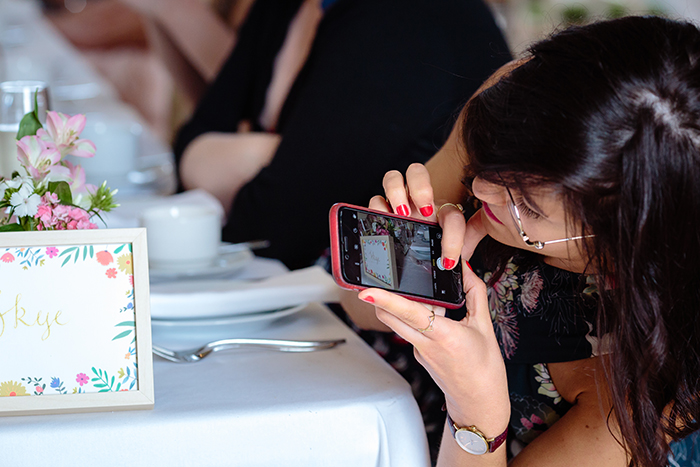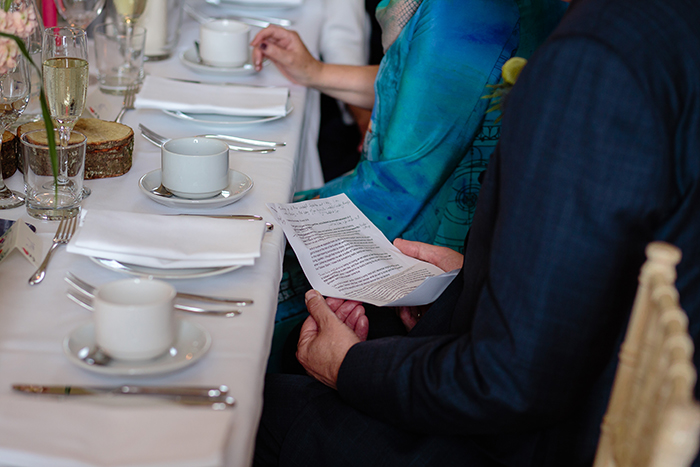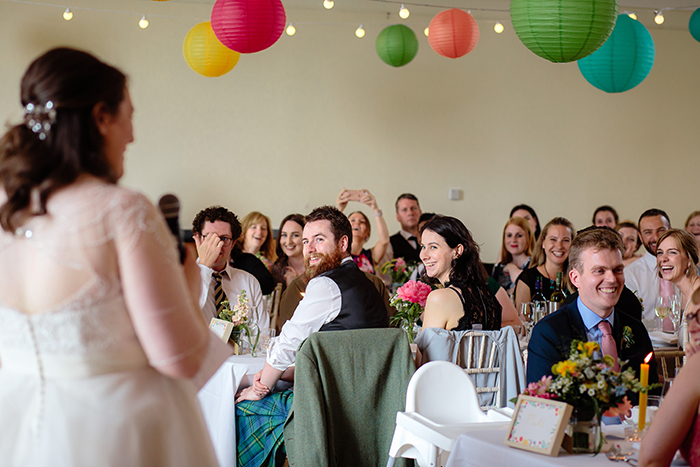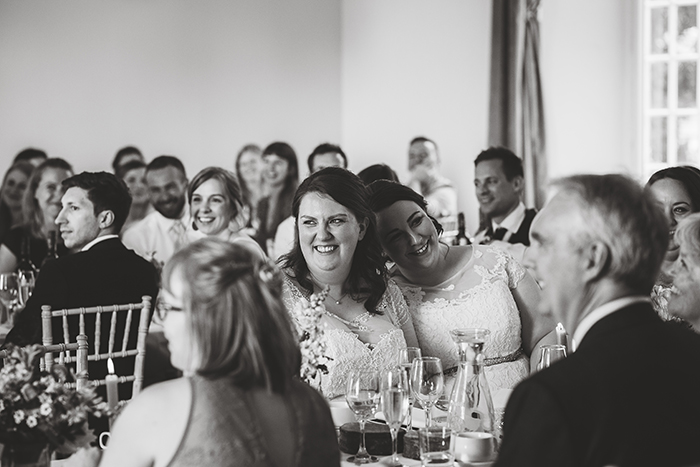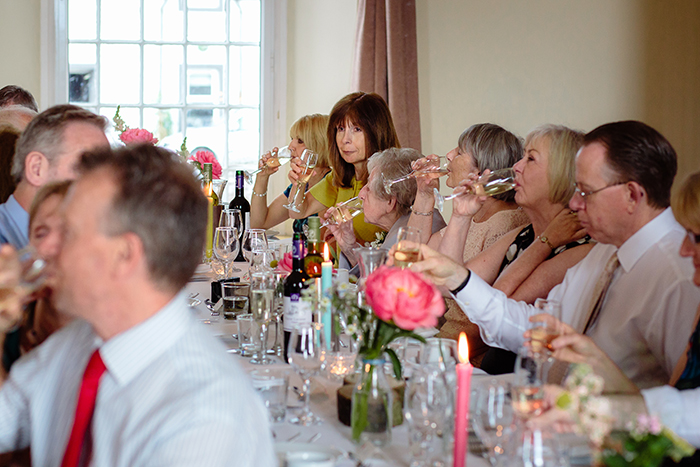 We included two readings: Wedding Day by Rowena Edlin-White, read by our friend Jayne, and Neil Gaiman's All I Know About Love read by Catherine's sister, Sarah.
When we walked up the aisle, our mums and dads came with us, and Annie's brother Olly and Catherine's sister Helen were witnesses.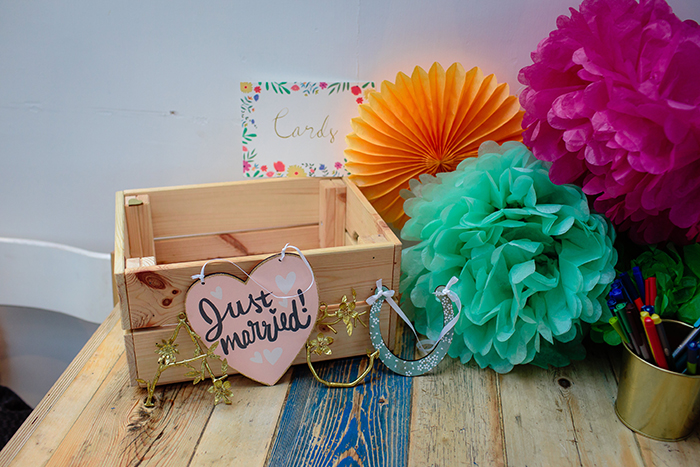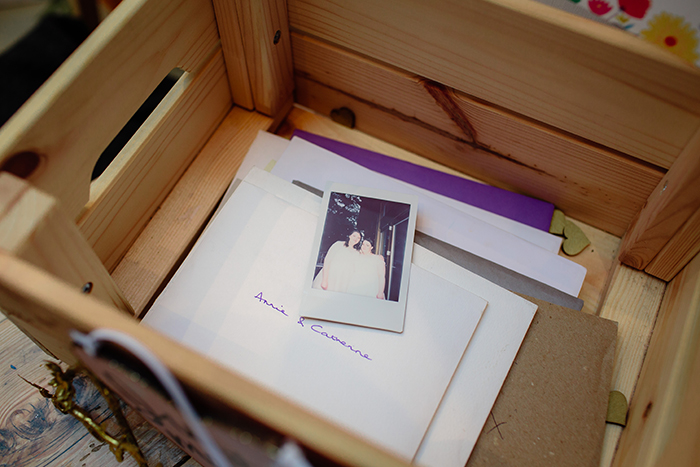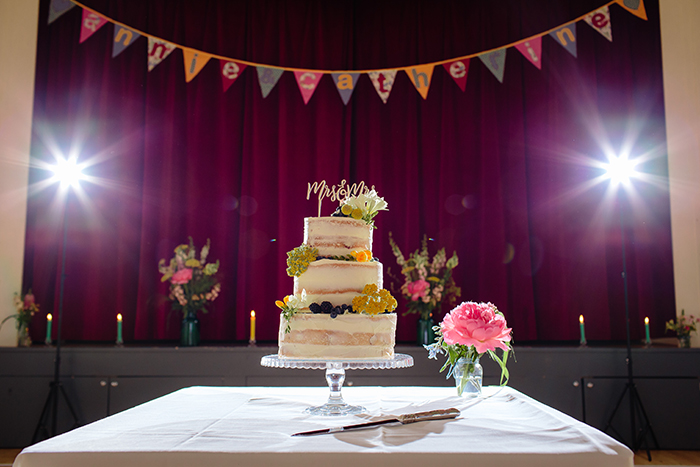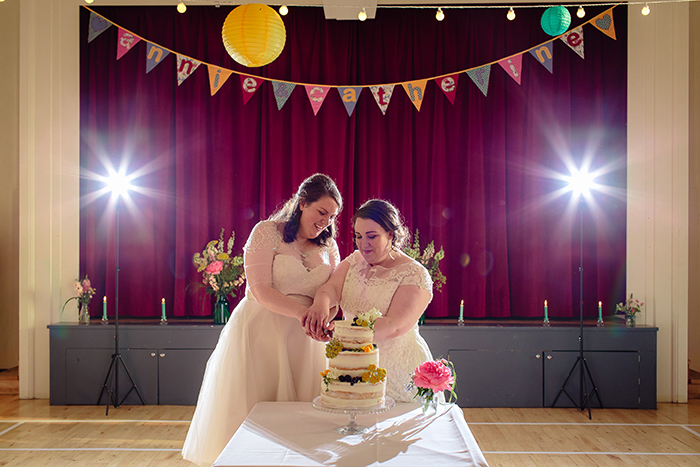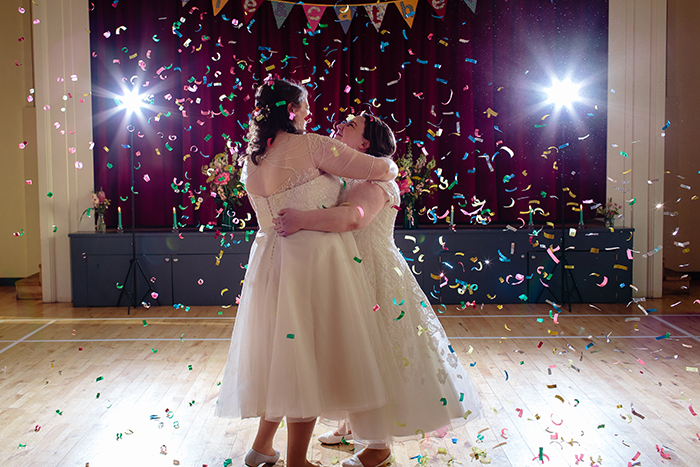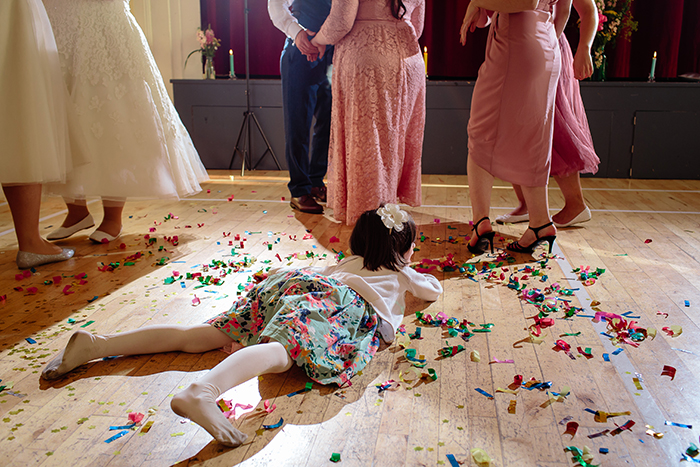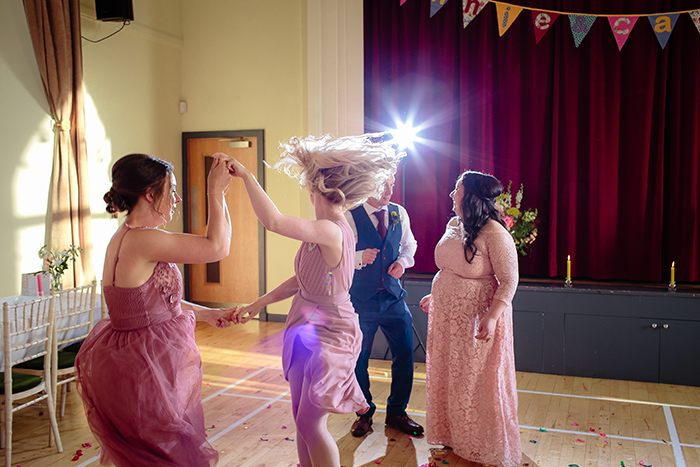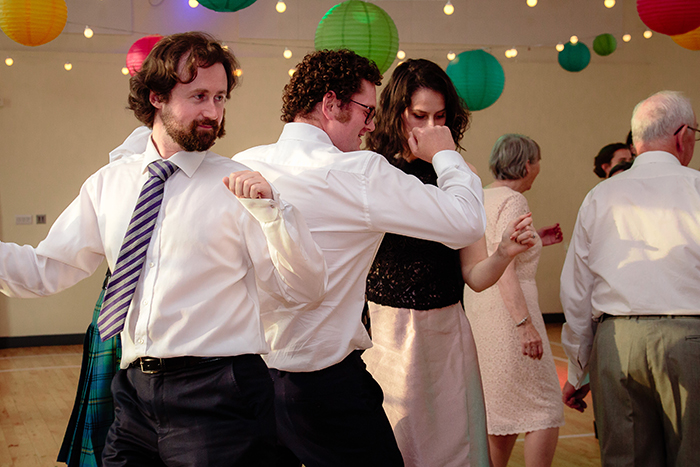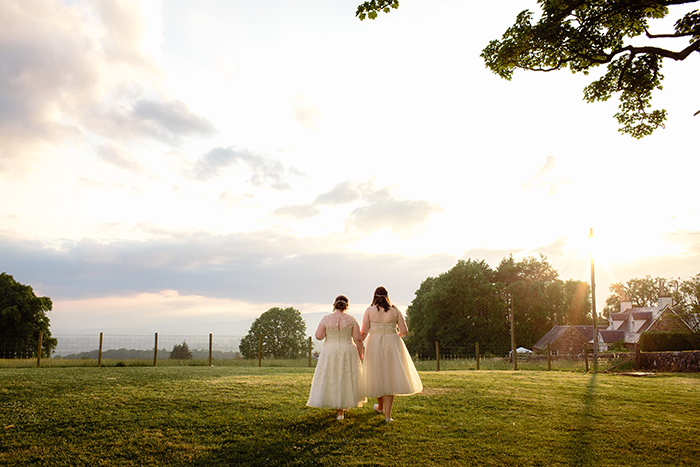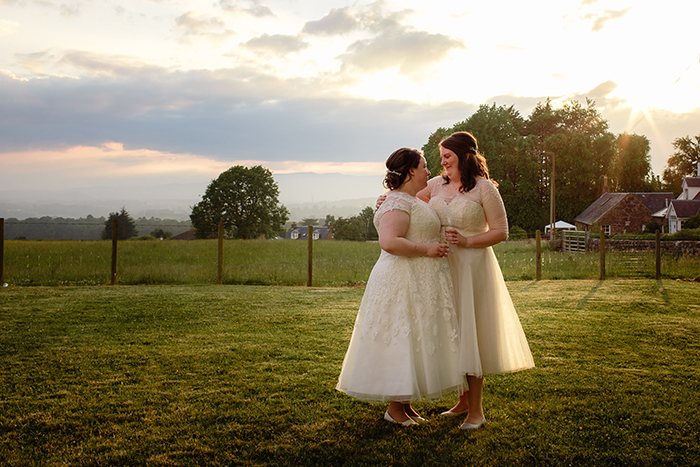 After the day, we both felt so happy. It was such an amazing experience having everyone we love celebrating with us. We were also both relieved that everything had gone so smoothly after so much careful planning!
On honeymoon, we each took time to write down our memories of the day while they were still fresh in our minds, and it was so nice to relive those happy (and funny!) moments together.
Being married is a wonderful feeling. We lived together for a few years before getting married, so our day-to-day life isn't too different in a lot of ways – but something does feel different for both us us in a very lovely way."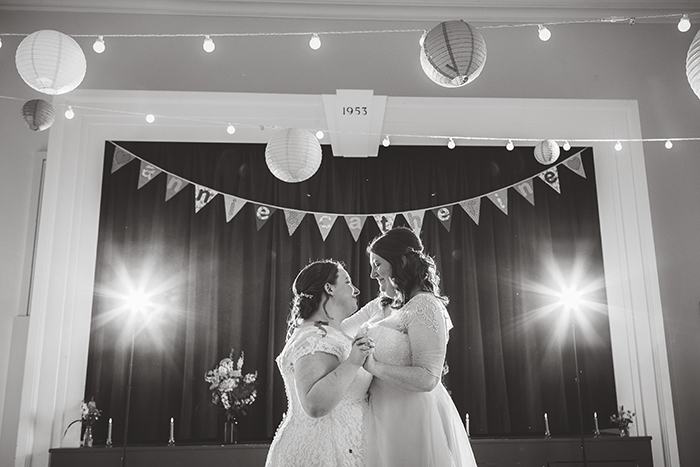 Venue + catering: Killearn Village Hall | Photography: Fotomaki Photography 
Annie's dress: SJP Bridal | Catherine's dress + veil: David's Bridal | Bridesmaid dresses: ASOS
Celebrants: Lucy Hinnie + Victoria Bisland from Fuze Ceremonies | Cake: SugarDaddy's Bakery | Florist: Endrick Blooms
Wedding rings: Annie Smith Jewellery Studio | Stationery: Papier
Hair: Hair by Shirley | Make-up: Laura Bruce Beauty