Bright + Bold Wedding With DIY Decor at Balmule House, Dunfermline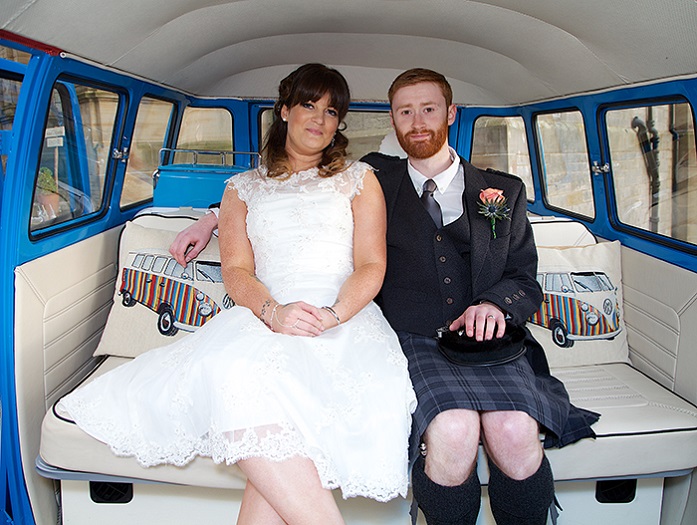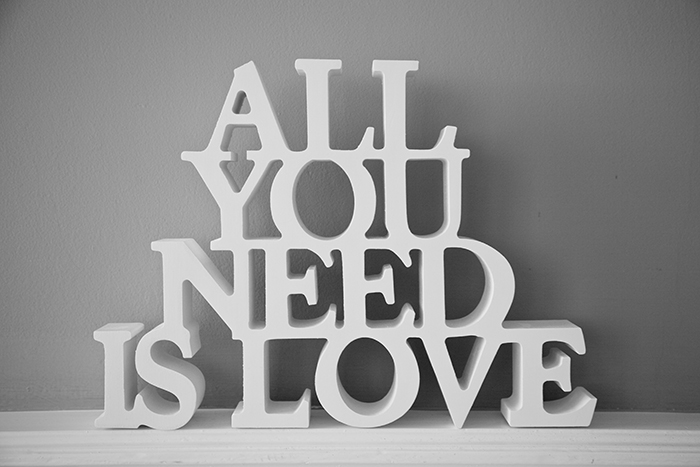 Carolyn Henderson + Andrew Slater
Friday 17th October 2014
Photographer: Thomas Evangelopoulos at Creative Composition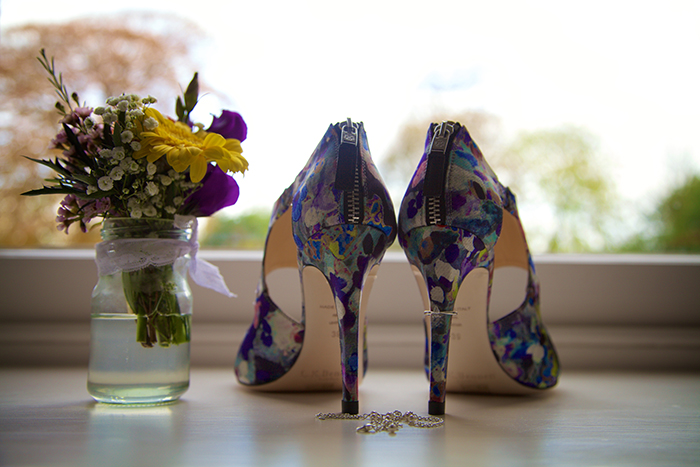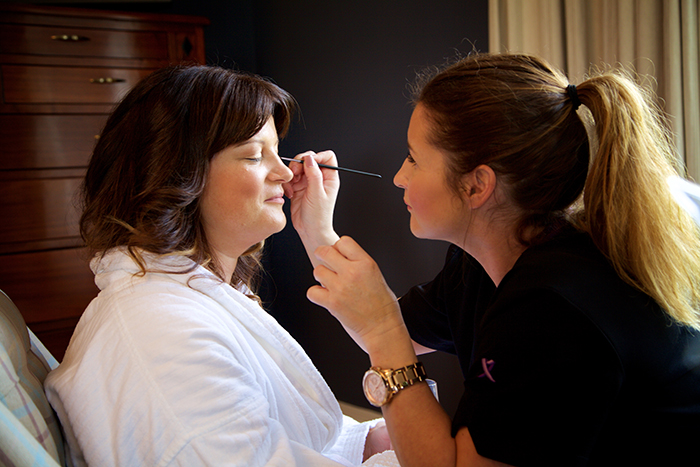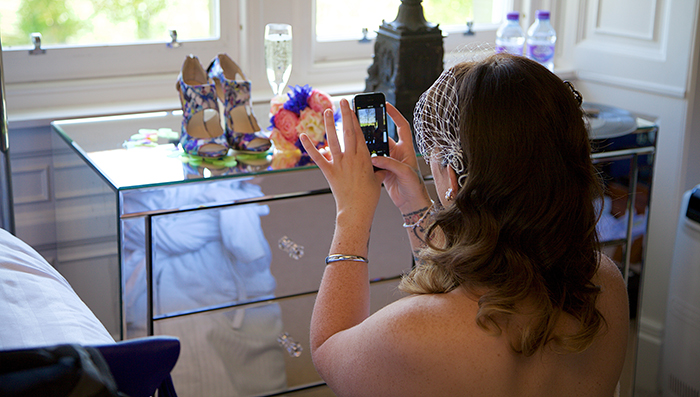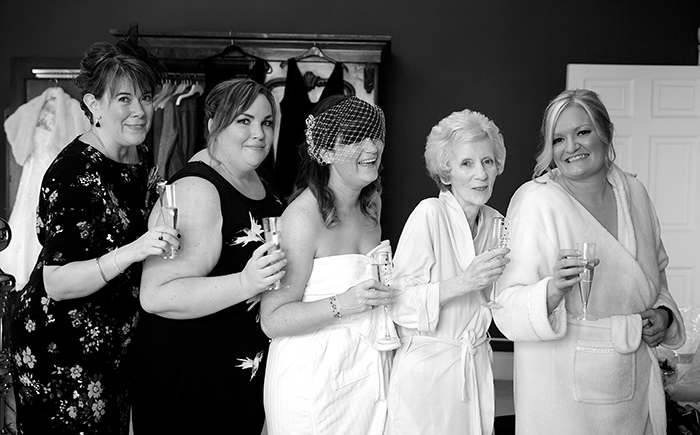 It was meant to be when Carolyn and Andrew set their sights on beautiful Balmule House as the perfect place to host their wedding day.
In a twist of fate, Carolyn is now employed by the venue as their wedding co-ordinator! "It's my dream job, I loved planning and organising our day so now being able to help other couples have the day of their dreams is just fantastic," she says.
"When the previous co-ordinator left and the owner offered me the opportunity to take over I was delighted."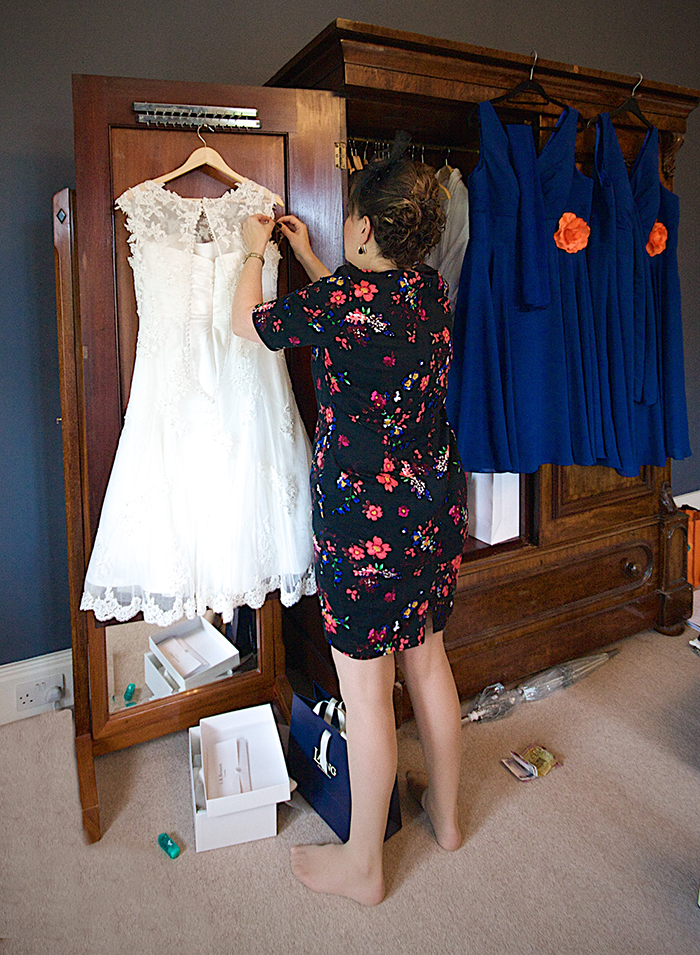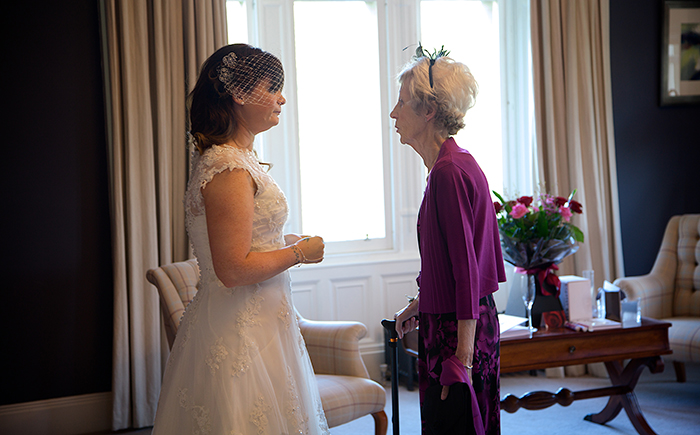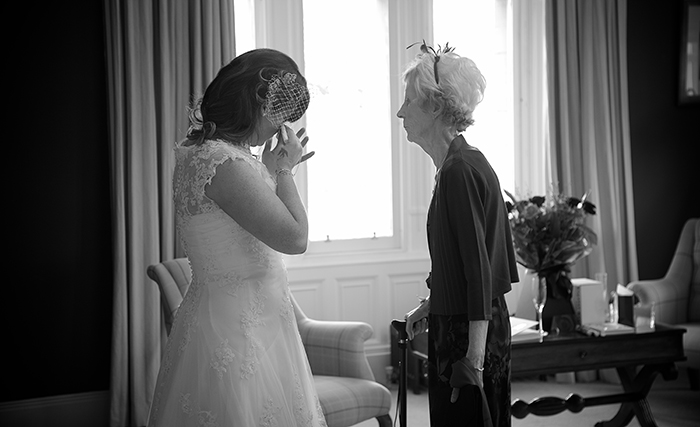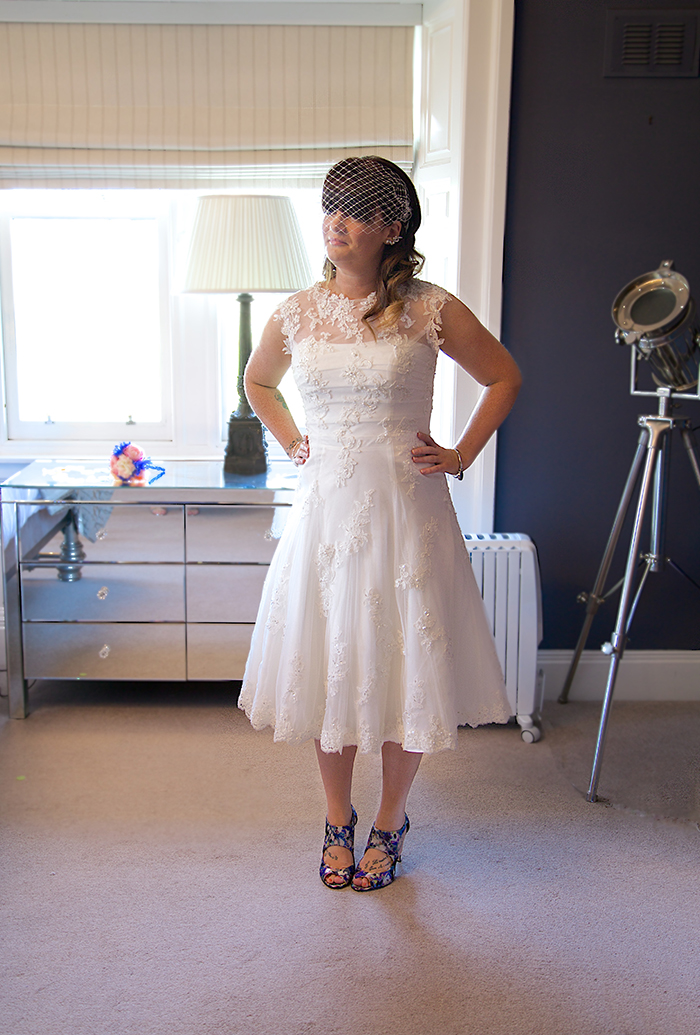 Carolyn and Andrew went for a relaxed, colourful and vintage theme; an informal day with lots of bright colours. "All of our décor was DIY, so it was great to see it all come together on the day after a few weeks of stressing if it would all work," says Carolyn.
For transport, the couple hired a vintage campervan for Andrew and his family to travel to the venue from home.
"I organised it as a surprise for Andrew, he had no idea. I just wish I had seen his face when it pulled up outside his parent's house," laughs Carolyn.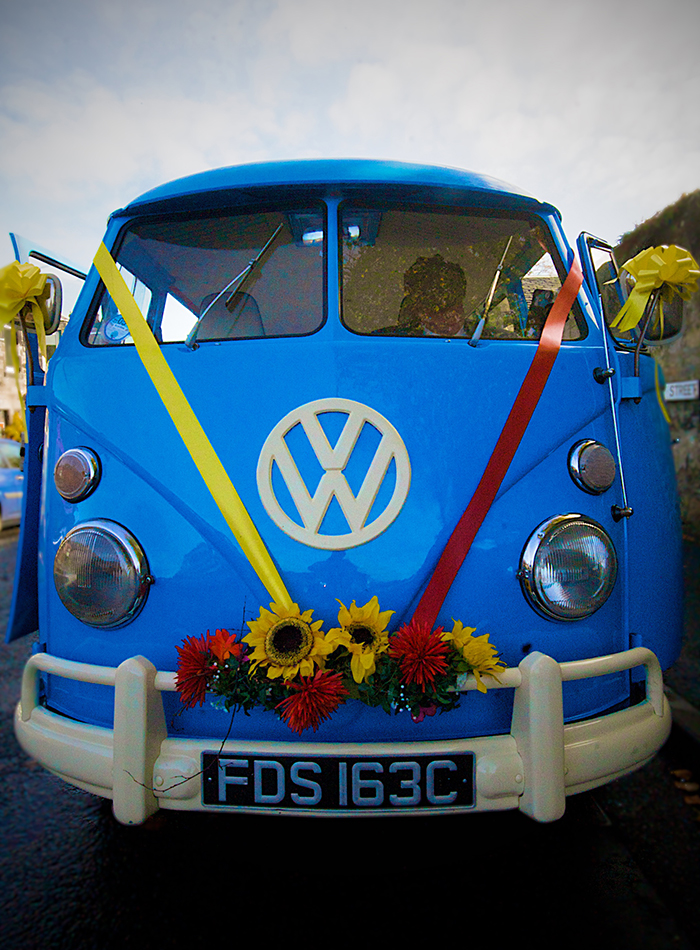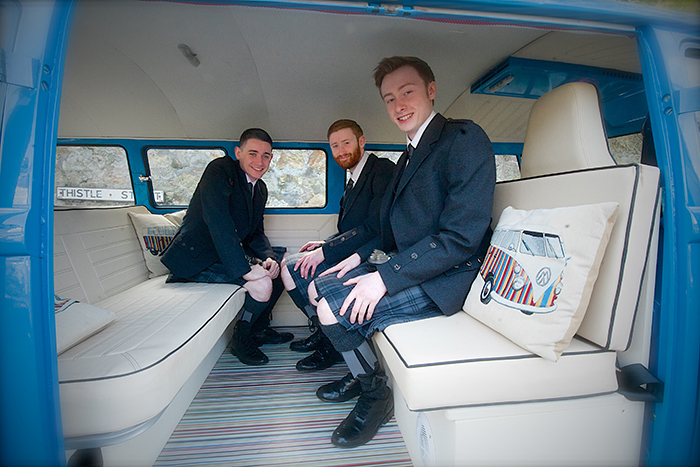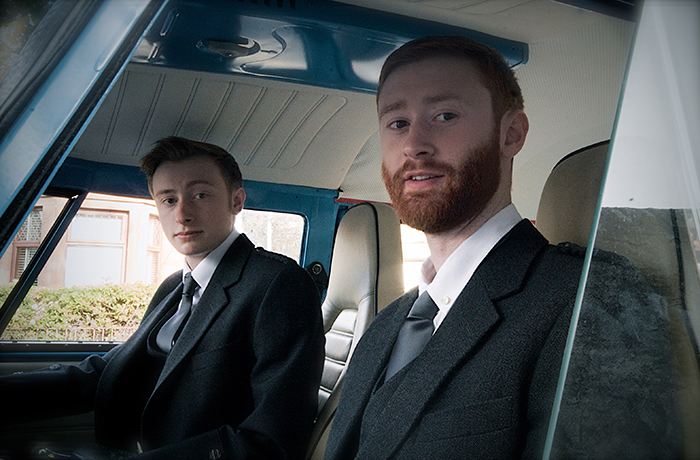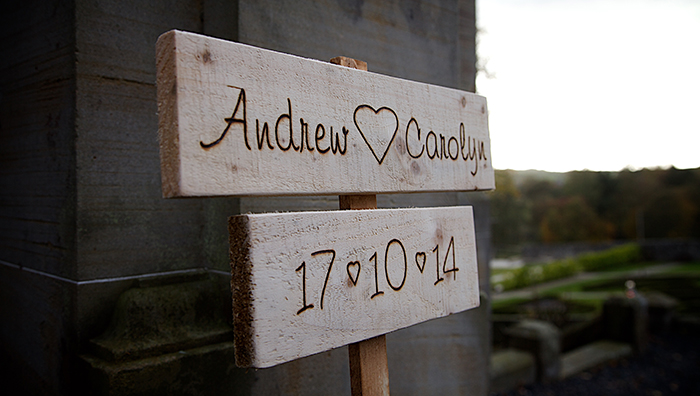 "I've known Lauren at The Glass Slipper boutique for years, so it was an easy decision to go to her for my dress," Carolyn tells us.
"I had an idea of what I wanted but Lauren was great at getting me to push my boundaries a little and try on dresses that I wouldn't normally have chosen."
The men were kitted out in suave kilt outfits too, and chose a local supplier to hire their kilts from.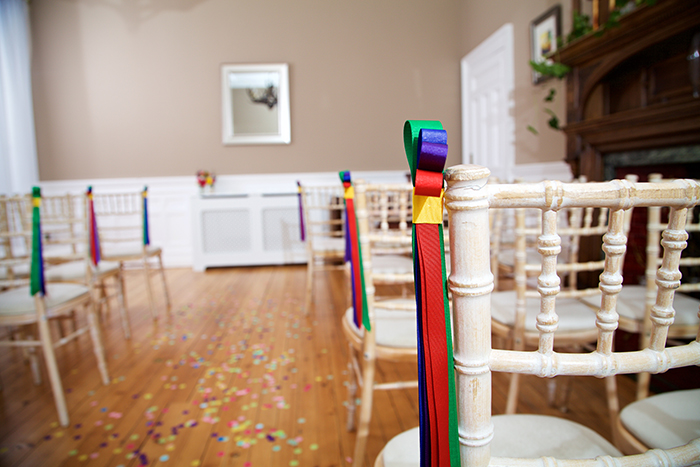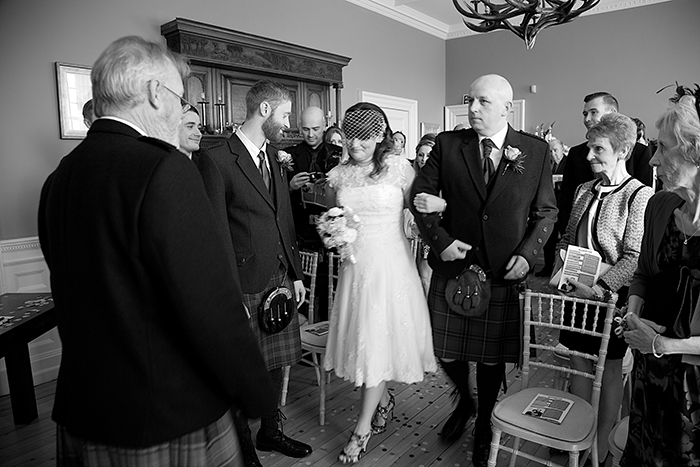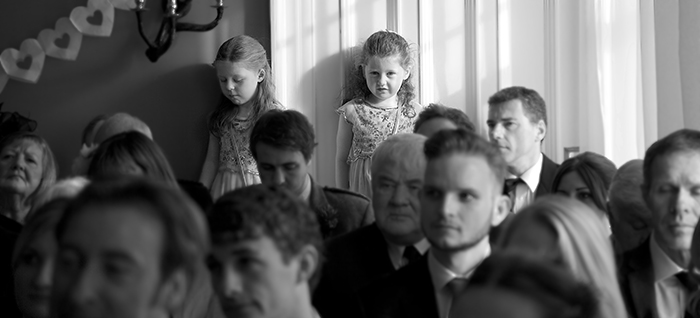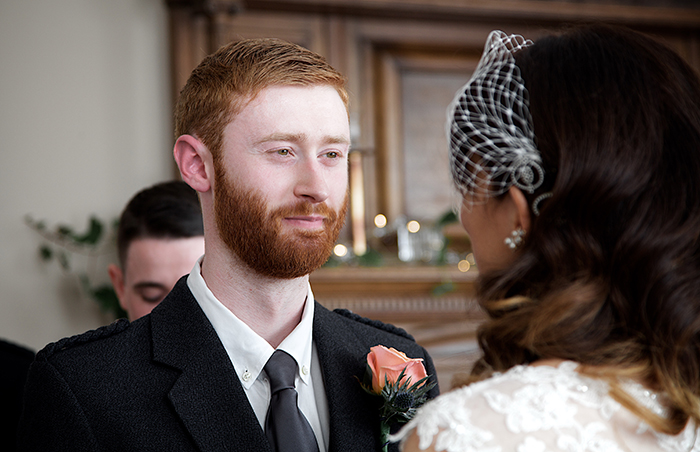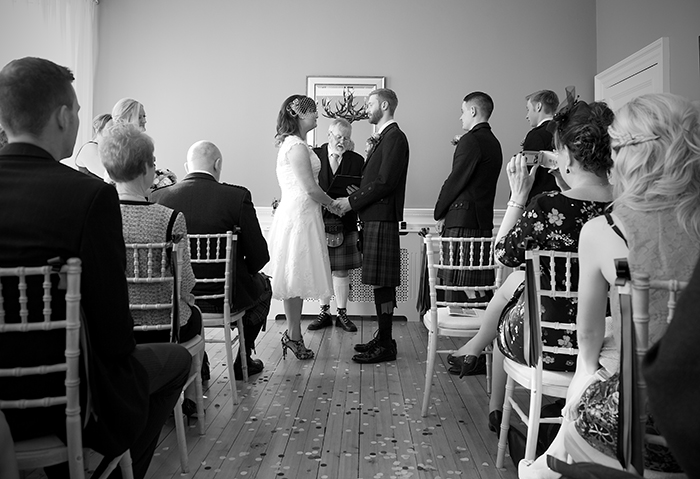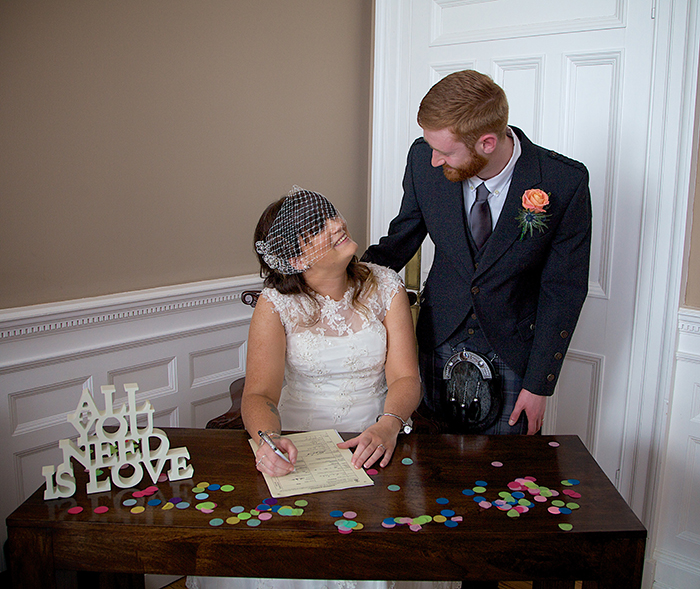 Food was a focus for the happy couple too with treats from Dandelion Artisan Bakery, Glasgow who created a unique afternoon tea wedding breakfast for the pair.
"Our menu had a mix of cold and hot savoury options; the mini Yorkshire puddings with smoked venison were a particular highlight!" raves Carolyn.
In the evening, guests were treated to a scrumptious hog roast provided by festival favourites Puddledub Butchers in Fife.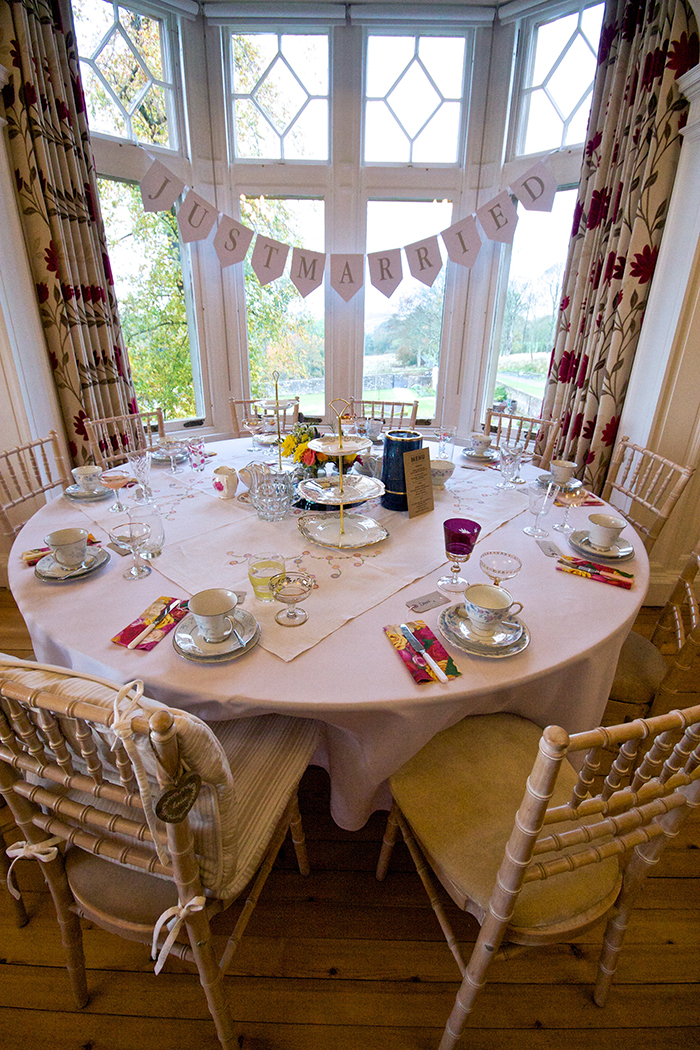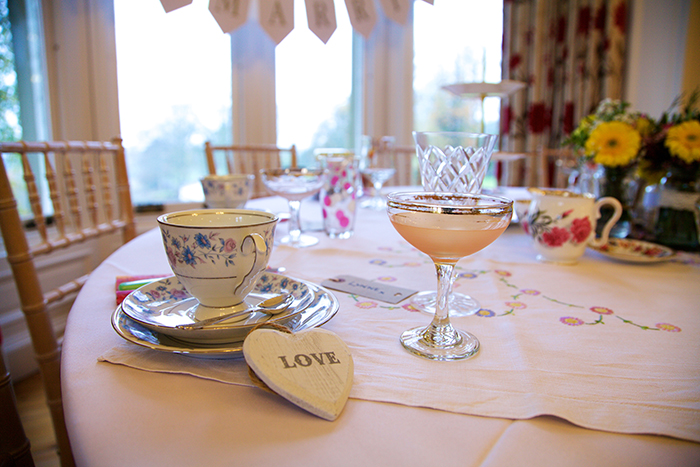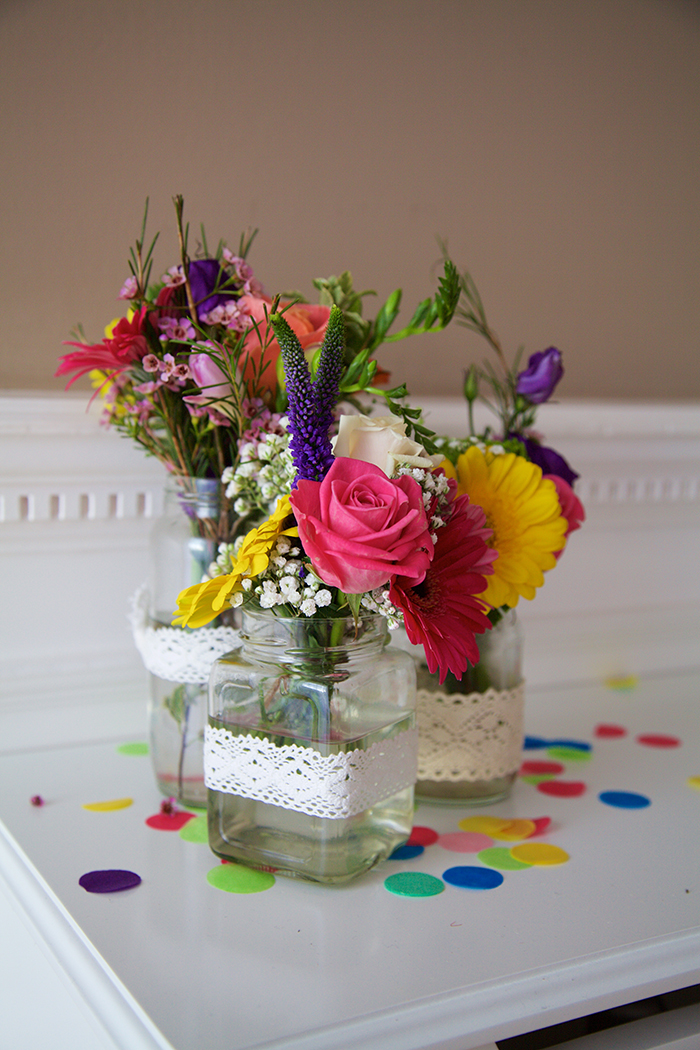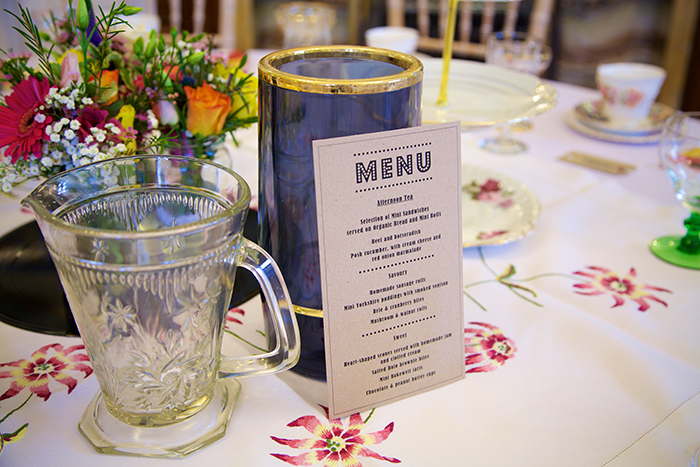 The beautiful flowers were created by Lyn at Poppy Floral Design in Dunfermline, another friend of Carolyn's. "Her sense of style and knowledge of flowers is unquestionable and we knew that the venue and tables would look fantastic and had every faith she would do a good job," says Carolyn.
Her bouquet and bridesmaid's flowers were created by friend Lorraine and were a mixture of silk flowers and brooches, which was really important to Carolyn as she wanted to incorporate treasured mementos into her bouquet.
"I'll always treasure being able to have something on the day from family members who are no longer with us," she reflects, "and it was especially touching that Andrew's mum and my mum gave me a brooch each. It now has pride of place on my dressing table, still as pretty as it was on the day."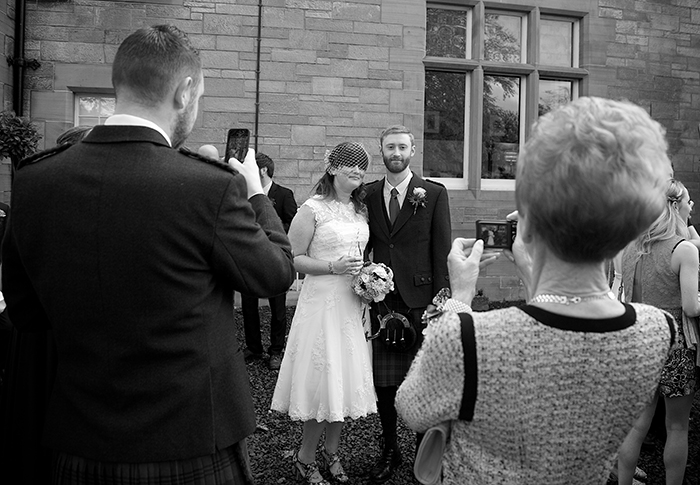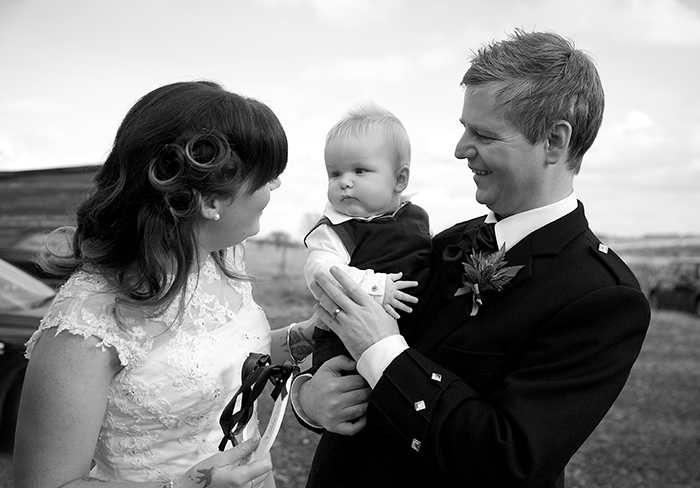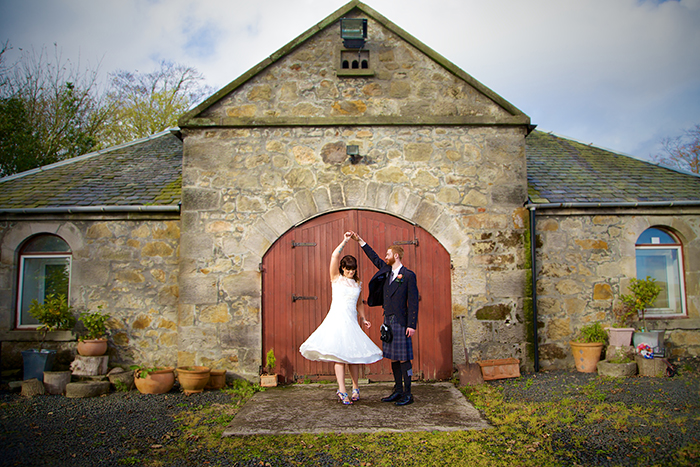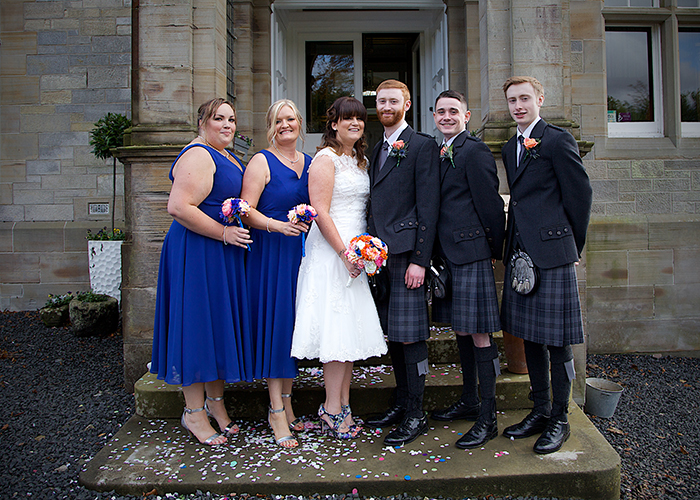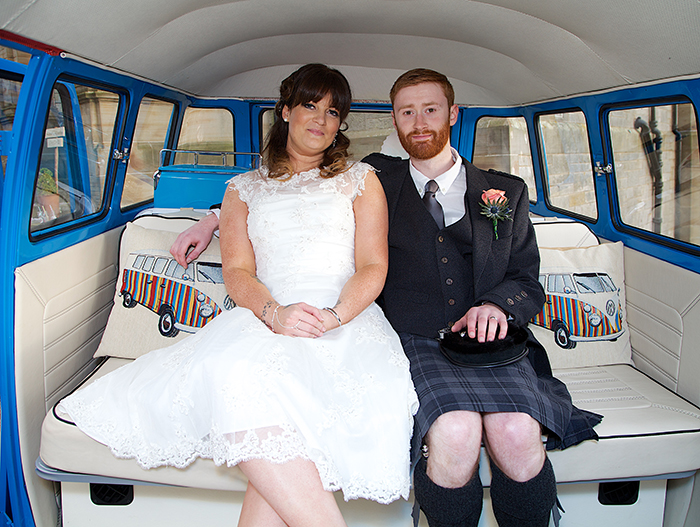 The newlyweds soon hit a test of their marriage when Carolyn's mum, who had been ill with cancer, passed away just a few months after the wedding day.
"Knowing that we have each other and that there is always someone in your corner has been the best thing about being married; it's what has gotten us through this year," she says.
If they had to choose, we ask, what would be the best thing about their wedding day?
Carolyn thinks before answering: "Having all of our family and close friends celebrate with us, and personally for me, having my Mum with me. I couldn't have done it without her, and the memories created that day I'll have forever. That means so much more now."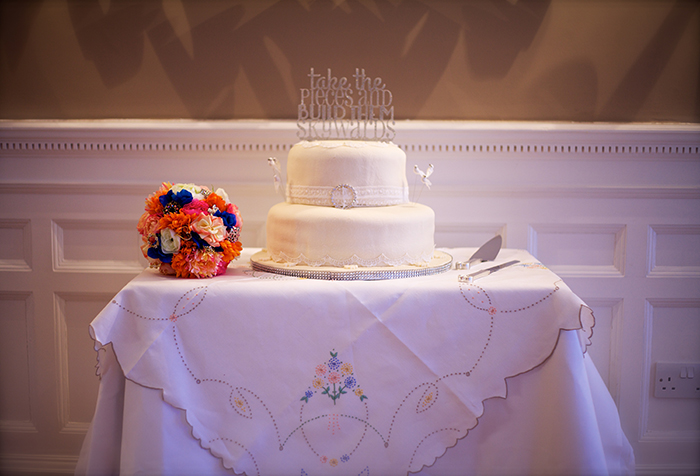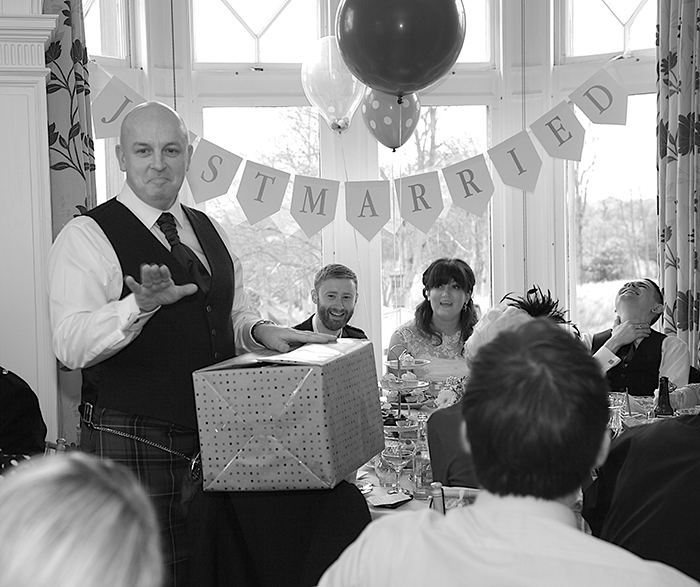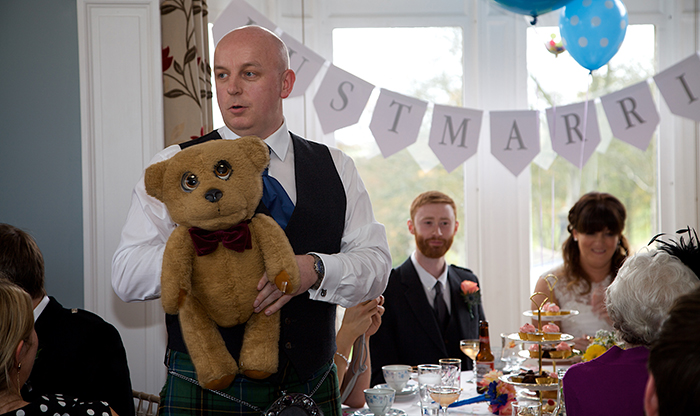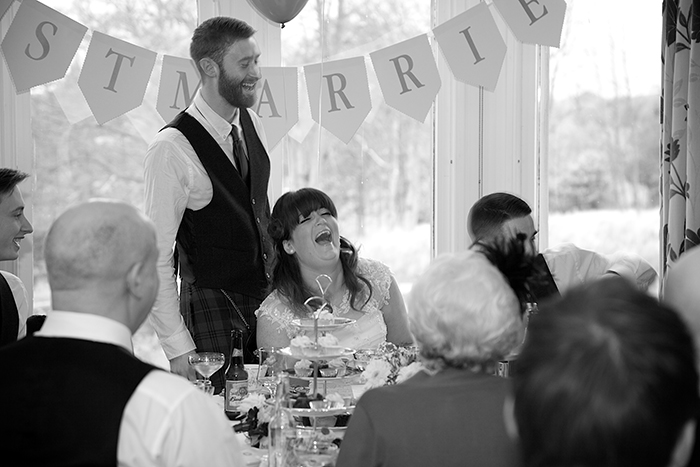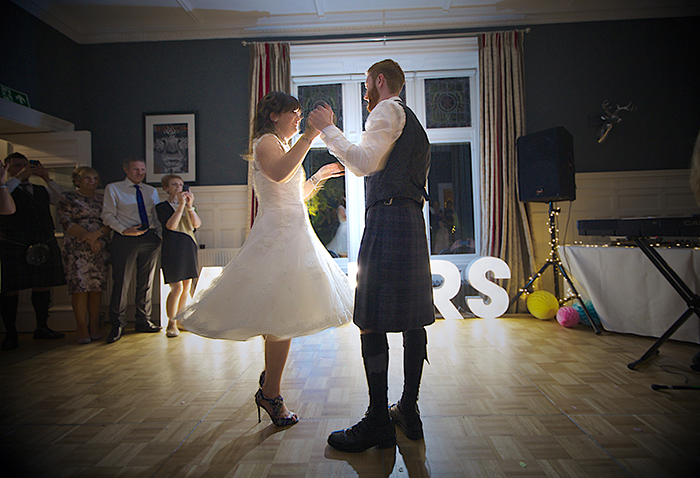 Contact Carolyn at Balmule House to arrange a viewing of the venue, or find out more about booking your wedding at this gorgeous Scottish venue.
t. 01383 432999

// Venue: Balmule House // Photographer: Thomas Evangelopoulos at Creative Composition // Videographer: Lorraine McRoberts //
Transport: Vintage VW Campers // Dress: The Glass Slipper // Jewellery: Allium // Shoes: LK Bennett + Converse // Kilts: Kingdom Kilts //
Caterer: Dandelion Artisan Bakery + Puddledub Butchers // Florist: Poppy Floral Design // Entertainment: Rory Cowieson + Craig HP Neilson //
Stationery: Eco Chic Occasions // Hair: Mel at Caramel Hairdressers + Debbie at Hope Hairdressing // Make-up: Jill Carter Beauty // Tablewear: The Green Cockatoo //