Beautiful wedding day at the heart of Glasgow's East End in Saint Luke's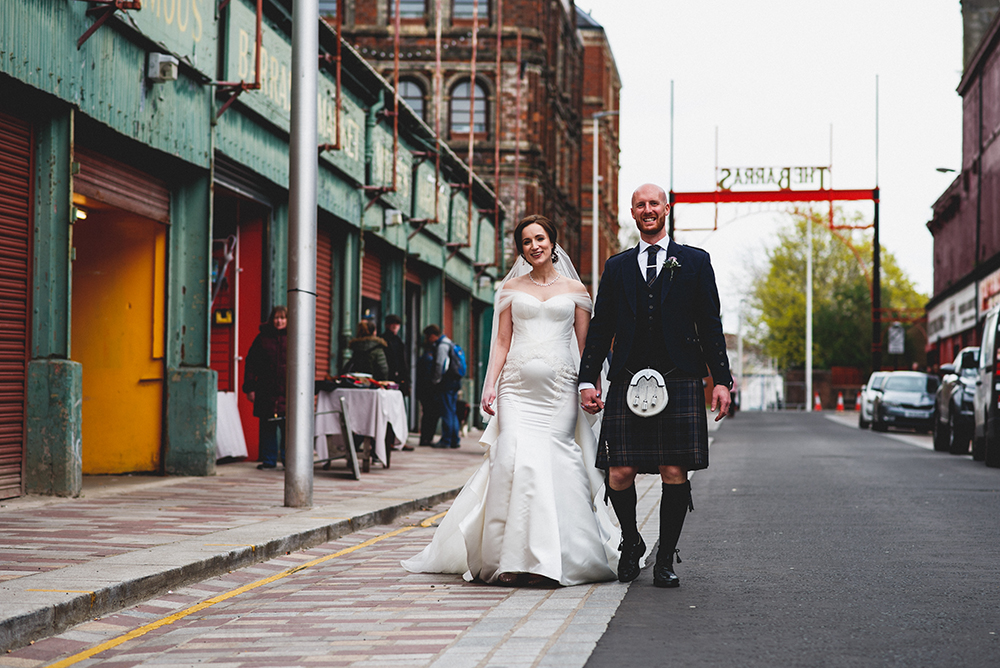 Sarah and Craig loved to go to gigs together, so it was an easy decision to get married in one of their favourite venues in Glasgow, Saint Luke's.
But with everything booked and less than a year to go to the wedding, Sarah found out she was pregnant.
Not to be deterred, Sarah had her dream dress amended and tied the knot with Craig with just three months to go in her pregnancy!
Captured beautifully by Top Table Photography, find out more about Sarah + Craig's wedding journey in the bride's own words below…
"We met on Tinder, but unbeknownst to us, we both worked at the same office and had never met.
I thought he was funny, handsome, determined and had so much ambition to travel and be active. He thought I was adorable, smart, funny and found my accent (English) hilarious and tried (and still does) to copy it on a regular basis.
I knew he was the one when after a couple of weeks of dating he invited me to a friend's engagement party but failed to tell me his whole family would be there!
He said he didn't tell me because he didn't want me to be nervous and it worked – I didn't have time to panic.
I realised someone who was so keen to show me off to his family and friends meant business. But to be honest from the day I met him I knew he was something special.
Craig proposed to me on Calton Hill in Edinburgh. He took me and our dog Gus there on the pretence we were doing to see a dog-friendly comedy show.
It was a beautiful day and he put a tweed bowtie on the dog and a wee sign round his next saying 'Mummy will you marry daddy?' He had a lovely speech prepared and I was totally taken by surprise.
We always travel to Edinburgh for the day when we have any free time and it was the first time we had taken Gus with us.
Saint Luke's was a favourite venue of ours even before even getting engaged so it was a no brainer to book our wedding there.
The day after we got engaged, we went to St Luke's and met with Alyson, the events planner.
We knew we wanted the wedding as soon as possible as we planned to start a family, so wanted to secure our dream venue first.
My dress was by Zac Posen Truly, at David's Bridal. It was a strapless ivory satin fishtail gown with a tulle corset and a long tulle train and satin/lace pleats at the back.
Totally not what I thought I would get and I chose it because it accentuated my small waist and slender figure.
I really felt like I wouldn't find anything else that would suit me better. Then in October 2018, I fell pregnant and realised I would be six and a half months pregnant at the wedding!
The staff at David's Bridal reassured me they could alter the dress to fit me and it did, thankfully.
I would have been devastated if I had had to get another dress as I fell in love with this dress as soon as I tried it on.
For walking down the aisle we picked Samm Henshaw Only Wanna Be With You. When I told Craig I was pregnant he had just found this song and played it to me and it's just really special to us now.
Initially, I picked Hall and Oates You Make My Dreams Come True to walk back down the aisle after the ceremony, but Craig surprised me by secretly hiring Daniel Docherty to sing his song Colours.
I had managed to keep it together until this point and all my emotions came out – it was the best surprise and I loved it.
Daniel used to be a busker, and Craig booked him years ago for his friend's wedding before he was famous, but he has finally made it big and we've been to see him a few times since.
It was great to get to meet him and he gave us a signed album!
We had a drinks reception on the balcony upstairs and served canapes of haggis bonbons, chicken and veggie skewers, and Spanish tortilla.
We also had a 'Mr and Mrs Thomson' stand displaying Tunnocks teacakes, caramel wafers and caramel logs. I saw a good few people stuffing them in their pockets so I think it went down well.
We had Sedona Park, a guitar/violin duo play through the drinks reception who were brilliant and kept our guests going.
During the reception, we snuck away to BAAD for a quick half with the photographers to get 10 minutes to soak everything up together.
It was lovely and I think we just chatted non-stop like kids about how happy we were.
Our invites were designed like concert tickets featuring the venue logo and a tear-off stub for menu choices, and we added a line for guests to name a song they would dance to.
Our table names were all after Glasgow gig venues and old nightclubs we used to frequent, with the top table being The Barrowlands.
Craig's Best Man Ryan couldn't make it to the wedding, so he recorded a video speech which was played on a projector, and he proceeded to grass 'squeaky clean' Craig in for all the bad things he had done and gotten away with when he was younger, including a bit of shoplifting and pulling an old teacher!
It was a bit wild but I wouldn't expect anything less from Ryan, and he said some genuinely lovely words about how even though he should really be the one marrying Craig, he saw me as a close friend and couldn't have picked anyone better for his best pal.
Craig's brother Gavin then spoke, and has everyone in stitches, revealing to all our guests that contrary to popular belief that we met at work, we had actually met on Tinder and displayed fake Tinder dating profiles he had created for us, which had everyone in stitches.
Even though our wedding was on a Sunday, there was a real party atmosphere. The boys were all up dancing, throwing the kids and the women around and whipping off their waistcoats, I even found myself standing at the side at one point with a huge smile on my face watching everyone enjoying themselves.
By the end of the night, everyone was in high spirits and when the band played Loch Lomond, we were hoisted up onto shoulders and everyone was cheering.
I had simply the best day and night and thankfully managed to spend time with Craig on the dancefloor and both of us just felt so happy that everyone was here to celebrate for us.
It feels great knowing we are committed to each other no matter what and with the baby expected in July it's all the more real that we are a proper family now.
But in general it doesn't feel any different; it's lovely to have the memories and photos from a day we planned together as a team!"

Photography: Top Table Photography | Venue: Saint Luke's | Bride's dress: David's Bridal
Groom's outfit: MacGregor and MacDuff | Cake: Big Bear Bakery | Florist: Janette Mitchell Flowers
Hair: Nicola McMillan Hair | Make-up: Samantha Connor | Ceremony music: Daniel Docherty 
Drinks reception music: Sedona Park | Reception music: Los Perros