A Gorgeous and Emotional Wedding at Aswanley, Aberdeen
Jennifer McLeay and William Wood Saturday 24th October 2015 Aswanley by Glass, Huntly Photography: Susan Renée Photography When Jennifer McLeay got engaged, her Mum had a present ready and waiting. Though she passed away a year before Jennifer's partner William popped the question, she knew the moment would come eventually and wanted to be prepared. After being diagnosed an incurable form of cancer, […]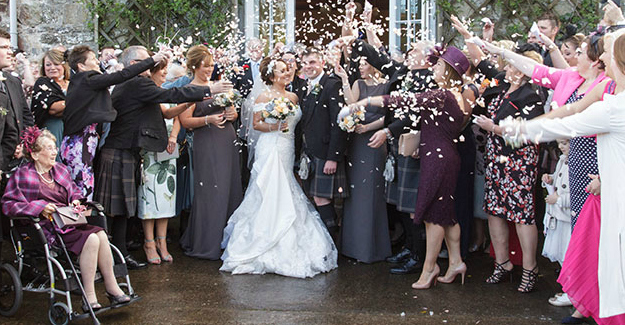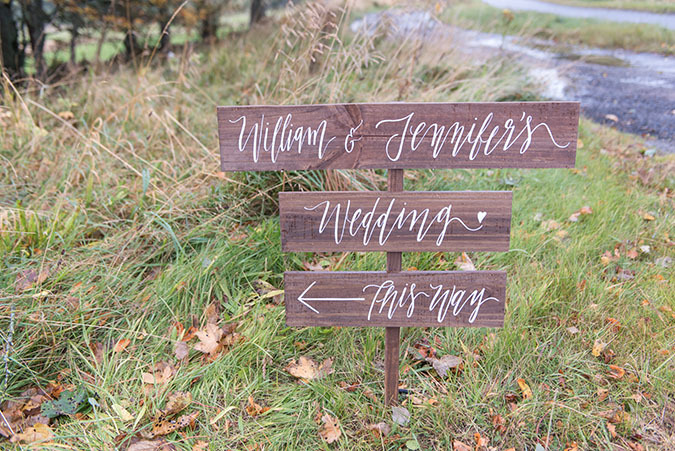 Jennifer McLeay and William Wood
Saturday 24th October 2015
Aswanley by Glass, Huntly
Photography: Susan Renée Photography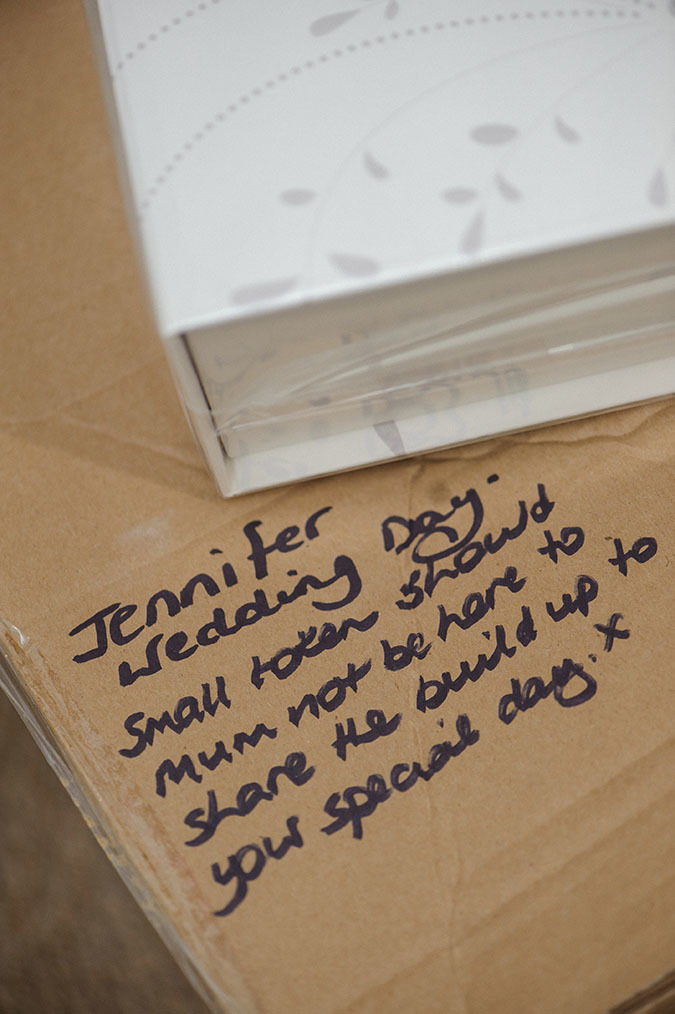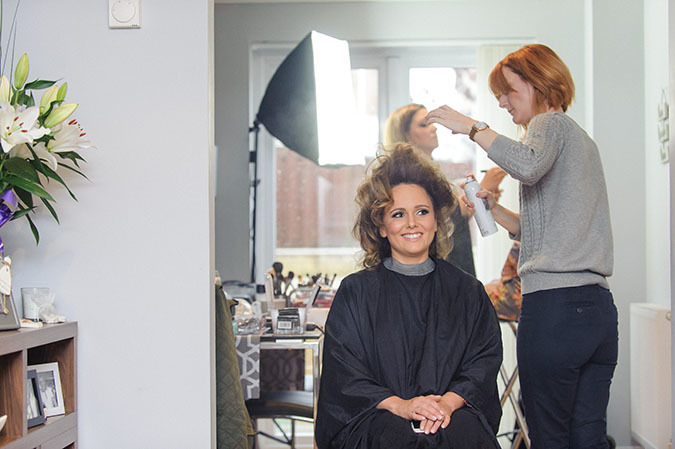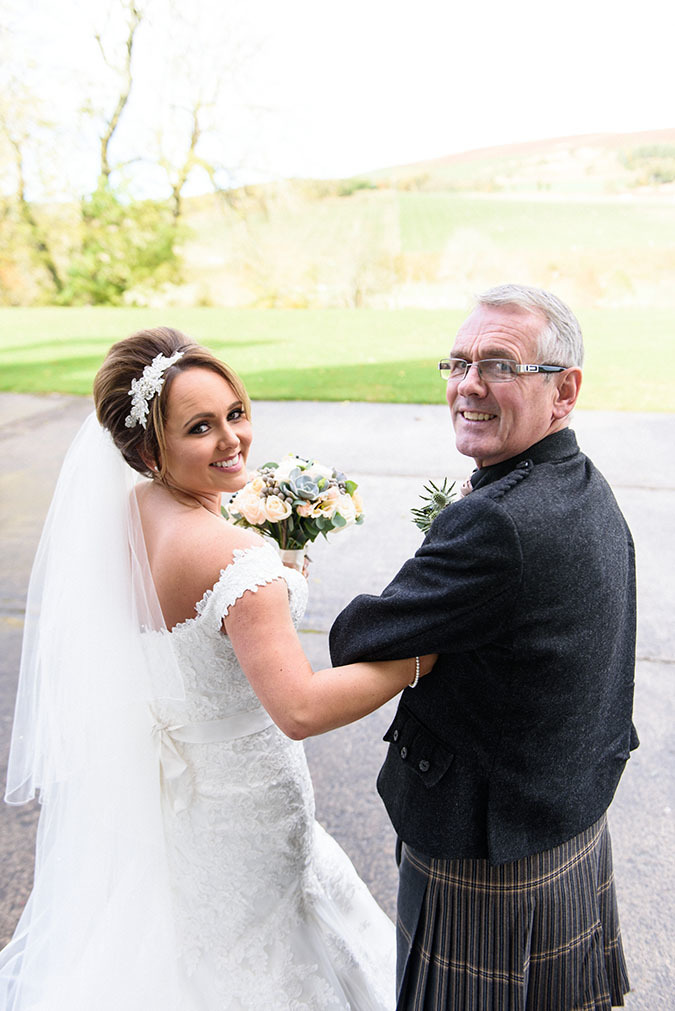 When Jennifer McLeay got engaged, her Mum had a present ready and waiting. Though she passed away a year before Jennifer's partner William popped the question, she knew the moment would come eventually and wanted to be prepared. After being diagnosed an incurable form of cancer, she arranged for some gifts for the future to be stored in the family loft.
"In her final days William assured her one day we would be married," Jennifer says. "When my niece was born there was an audio storybook of [my Mum] reading Twinkle Twinkle and when I got engaged there was a wedding planner. It was so thoughtful and incredible that she managed to organise that knowing she wouldn't be there on my wedding day."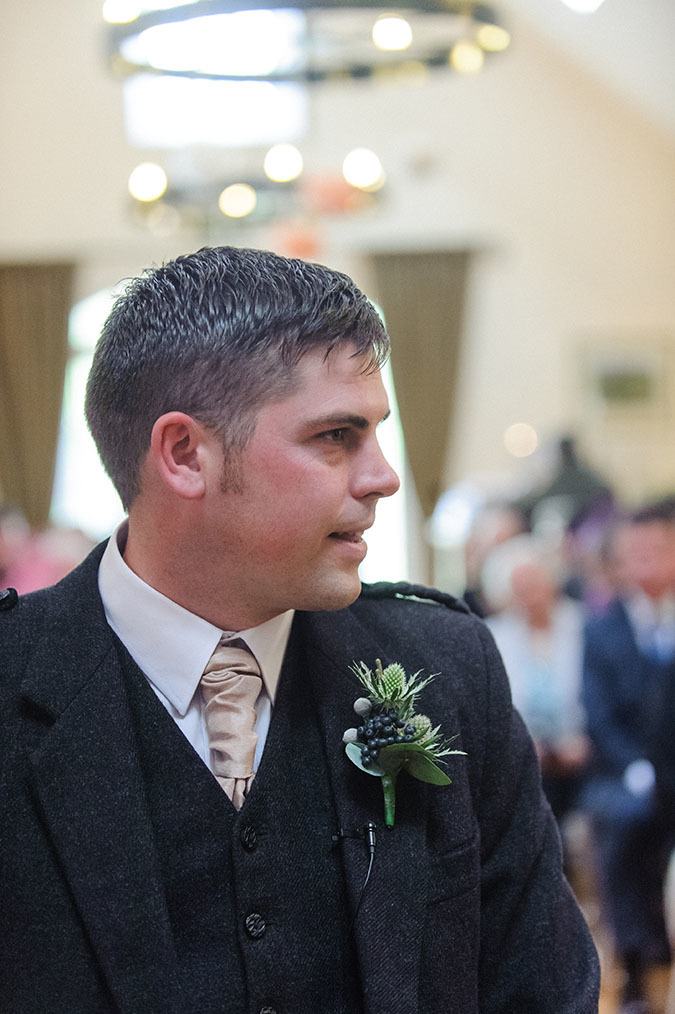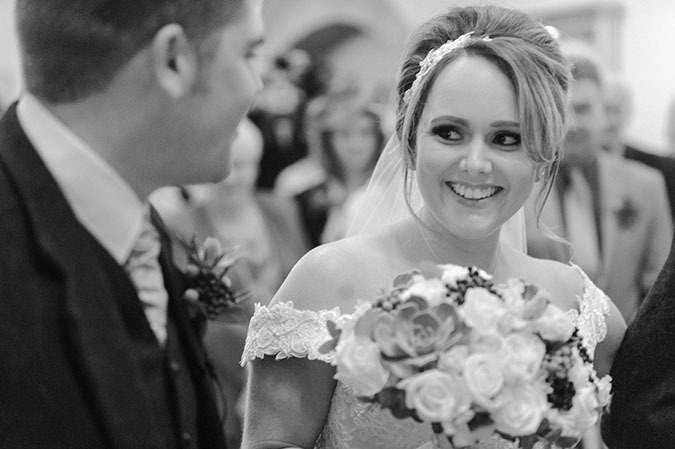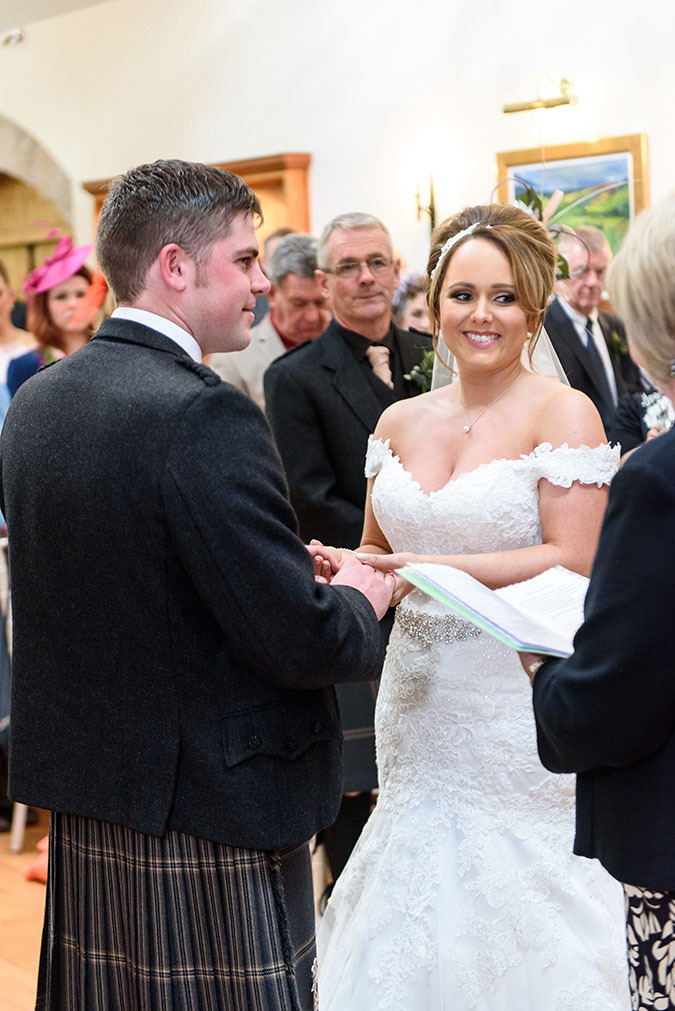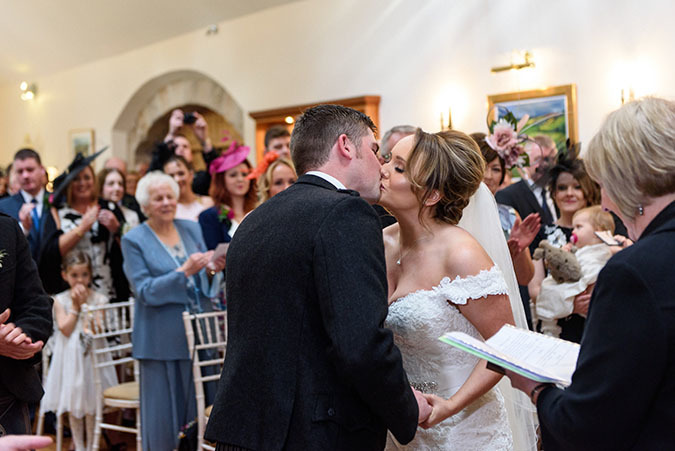 When it came to start planning, Jennifer remembered venue Aswanley from a conversation with her mum and aunt years earlier. "My aunt had attended a wedding there and commented on what a fantastic place it was," Jennifer explains. "As women do, we had a nosy online and it looked absolutely beautiful… when William and I got engaged, it immediately sprung to mind.
"I didn't tell William about the conversation I'd had with my Mum about the venue as we had a couple of other venues in mind and I didn't want him to choose Aswanley for that reason. Even though Mum wasn't there to share our excitement and celebrations of the engagement, deep down I knew she would be delighted with the choice of venue."
As well as holding a lot of meaning to the couple, its gorgeous grounds and blank canvas personality meant it was perfect for the chic, country-themed wedding they wanted. Jennifer very much inherited her mum's organisation skills and, although the personal touches made it tougher to plan, says she was in her element.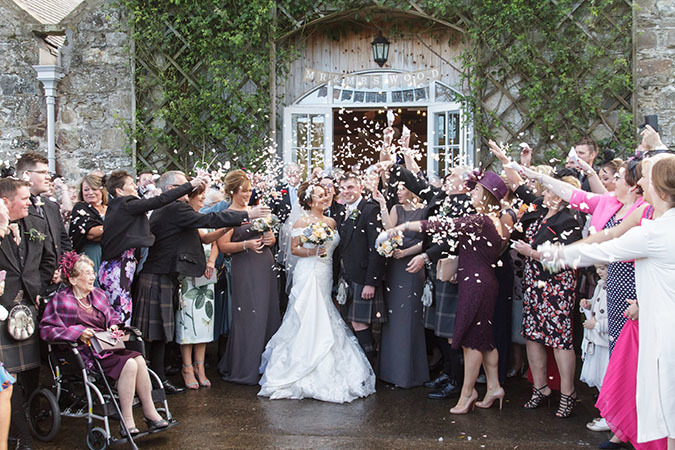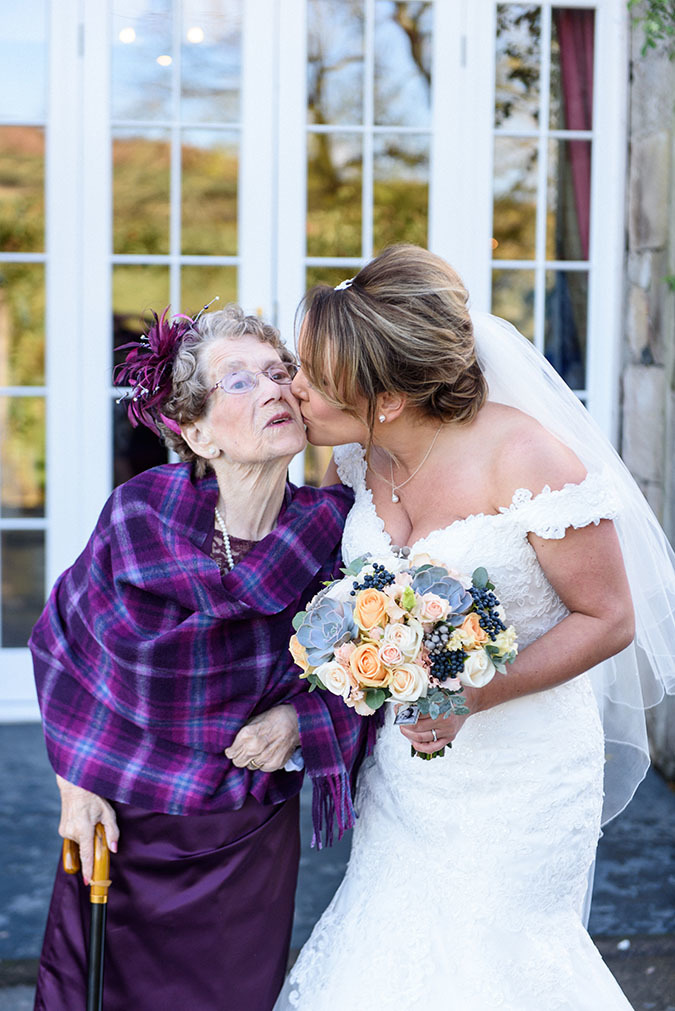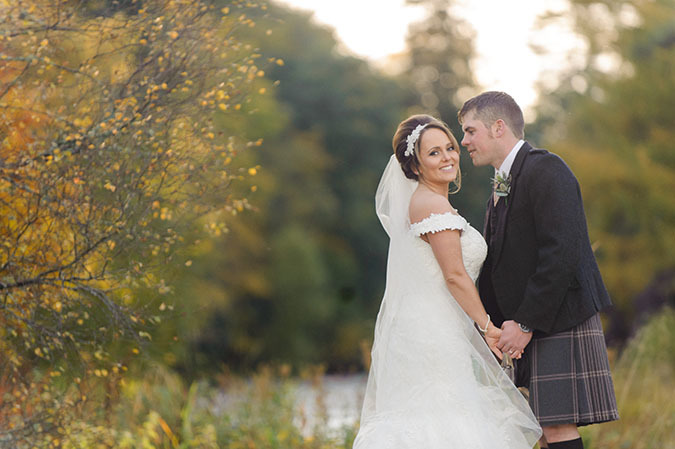 Opting for a pretty peach and charcoal colour scheme, the venue was decked out in fairylights and mason jars, adding to the rustic feel of the day. There were even whisky barrels dotted about the venue, one housed the wedding came while family members' wedding photos sat on top of another.
Perhaps more importantly, there were personal touches peppered throughout the day – starting with the significance of the wedding date itself. "We chose October because it was the month we got engaged," explains Jennifer, "and the 24th would've been my grandfather's birthday – I was extremely close to him."
They named the tables after Scottish Championship golf courses as William is a keen golfer. "Golf plays such a large part in his life, so it was to incorporate it into the wedding," Jennifer says. "This year he played 100 holes in one day to raise money for [Aberdeen palliative care unit] Roxburghe House in memory of my mum."
Jennifer's mum was also with her on the day by way of a small photo charm attached to the bride's bouquet.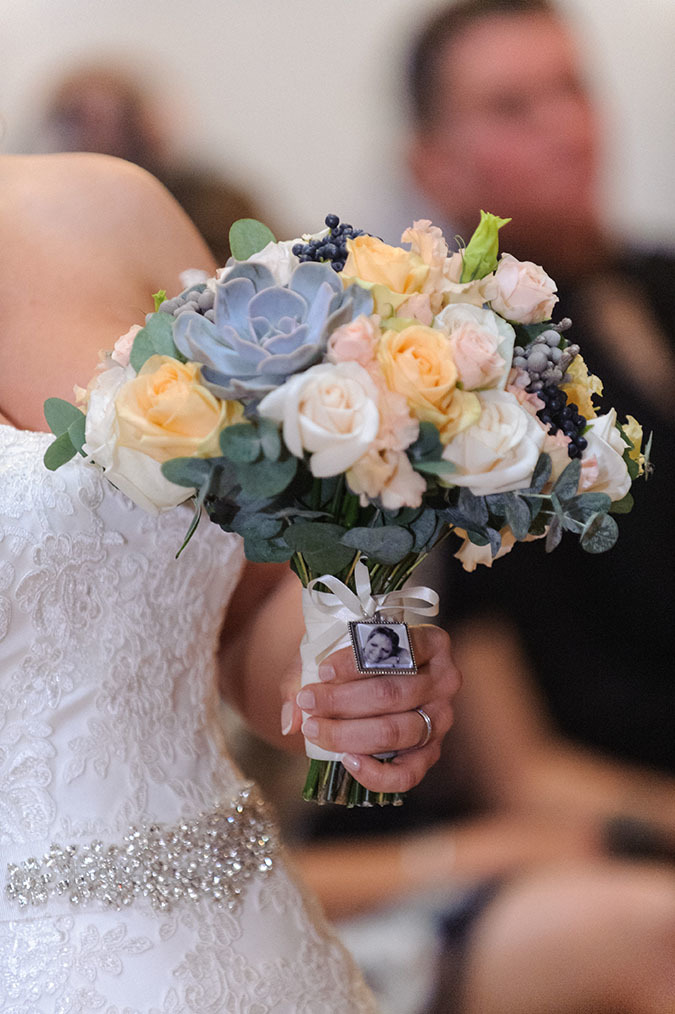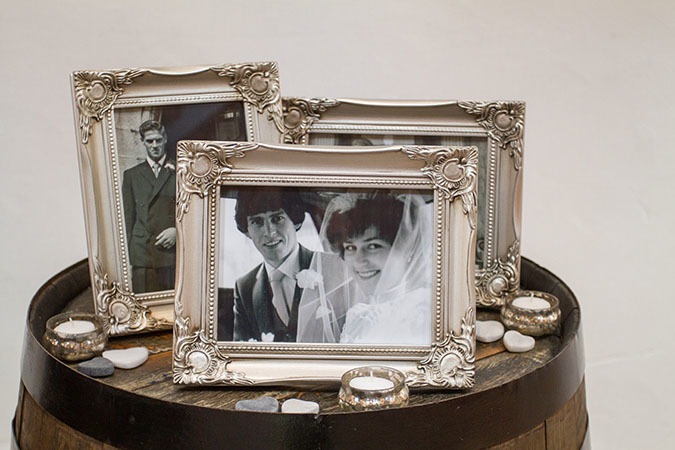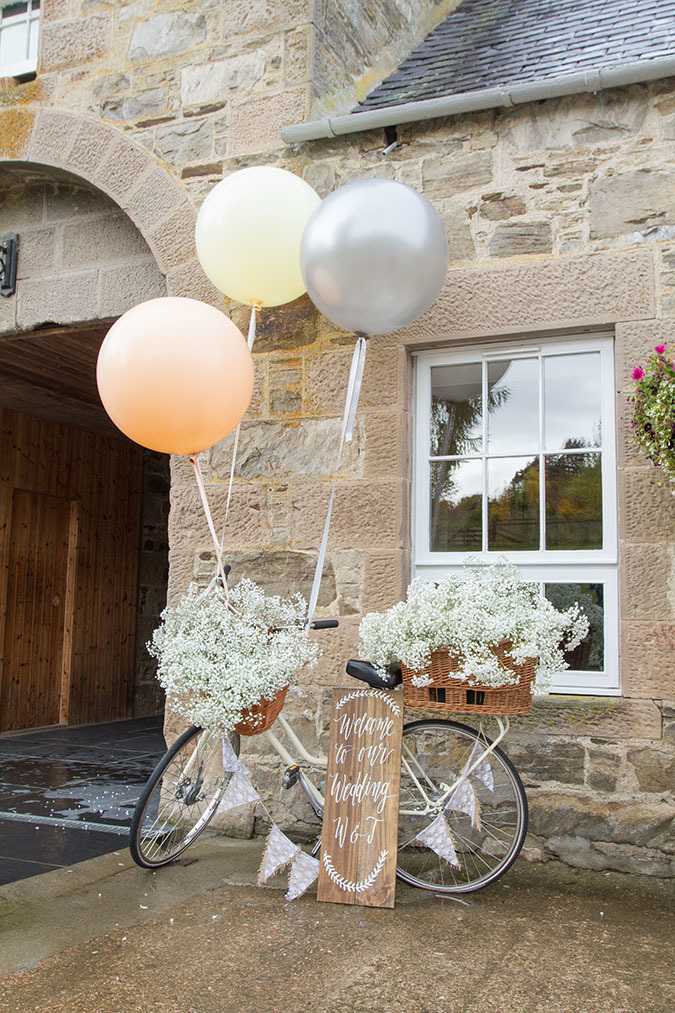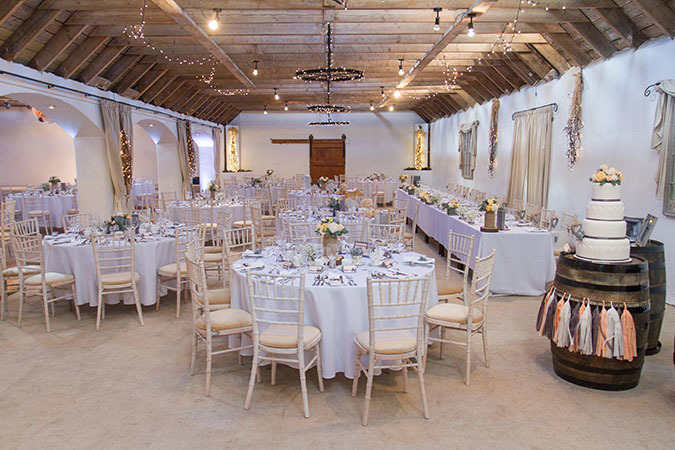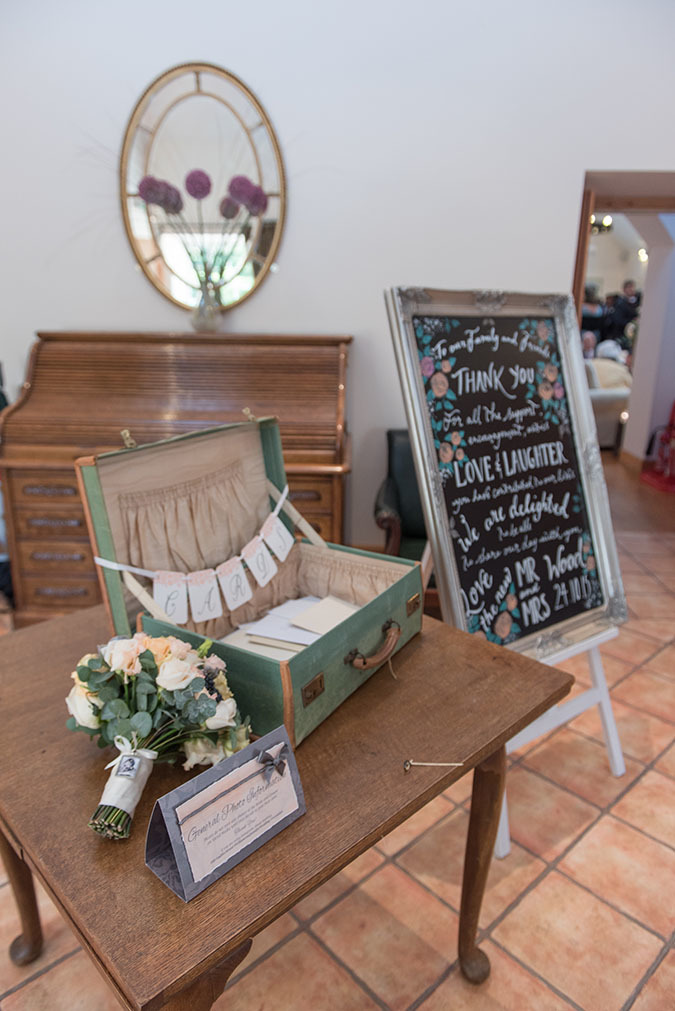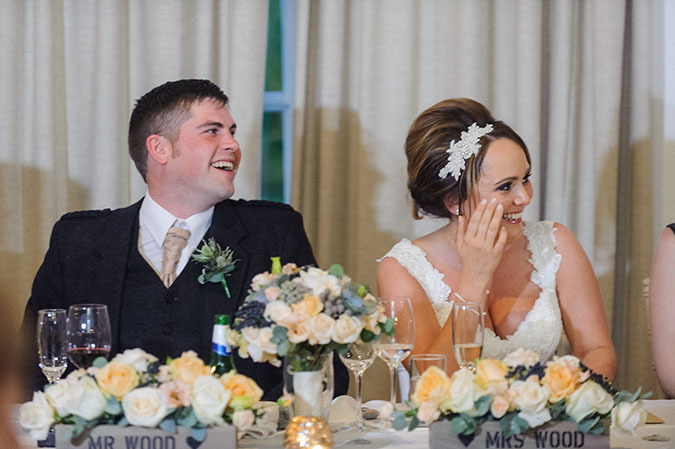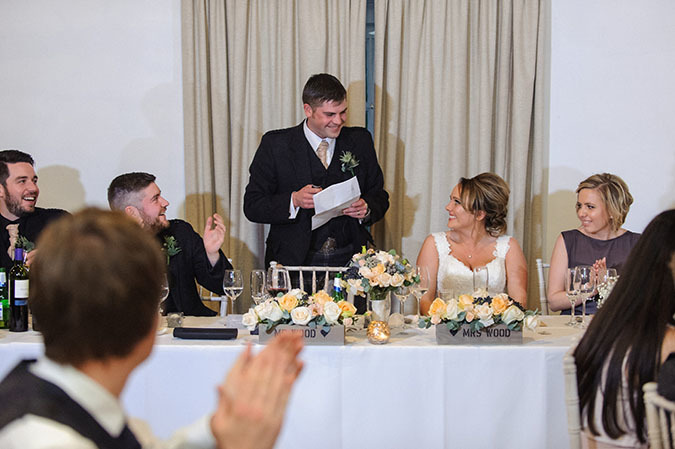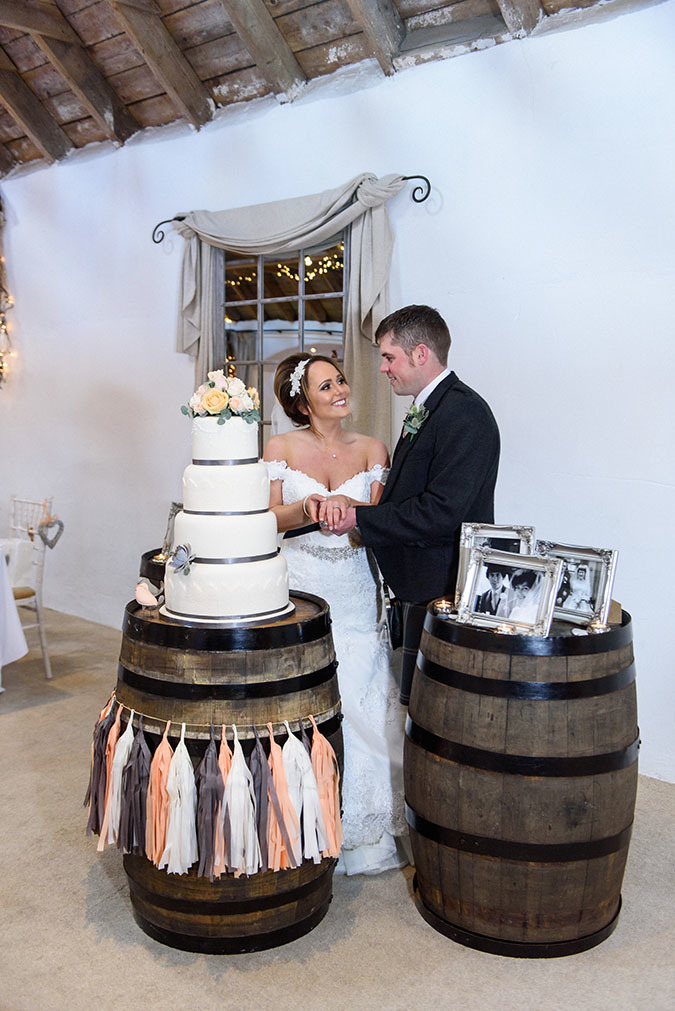 The loss of Jennifer's mum made parts of the countdown to the wedding bittersweet. "It has been extremely difficult not having around to chat to and share my ideas with," she admits, "but I am extremely lucky to have such a supportive and loving husband.
"We've been through a lot together over the years, the biggest of all being the loss of my Mum. But subconsciously she was there for most of the decision-making process and I like to think she was very much around me and looking down on the day."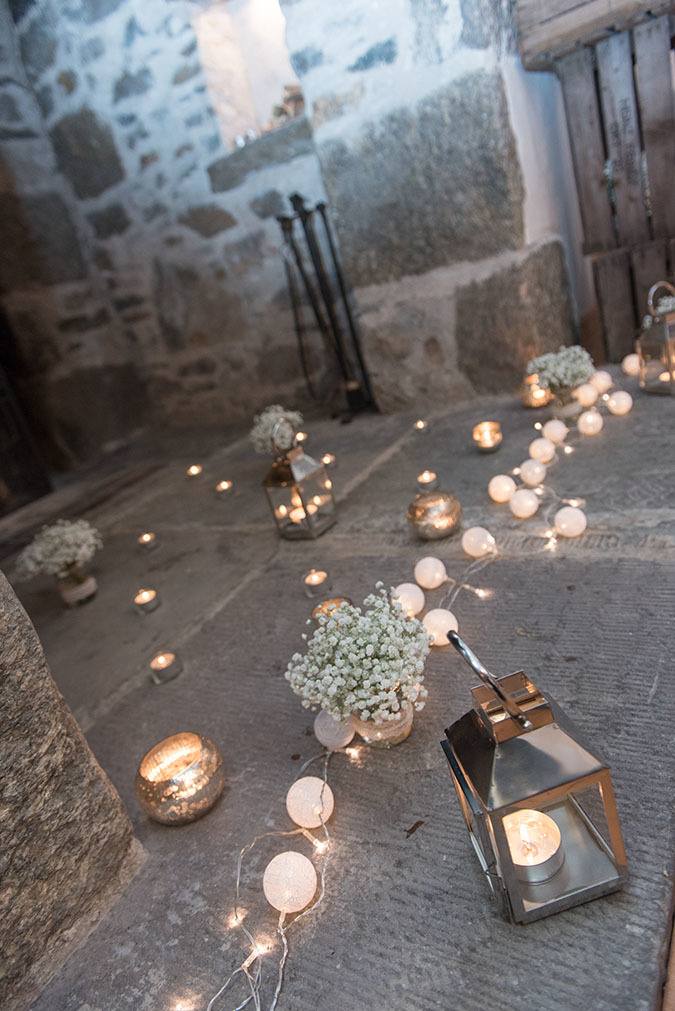 ABOUT SUSAN RENEE PHOTOGRAPHY
…
Susan says, 'My name is Susan Renée and I am based in the rugged and beautiful north east of Scotland. My images have been described as natural and contemporary with an edgy, artistic flair and I hope that they make you smile.'

Venue: Aswanley "Many of our guests have commented on what a lovely intimate venue it was and how there was a fantastic atmosphere the whole day."
Photographer: Susan Renée Photography "Susan has captured our special day beautifully. Not only are the photos amazing, but Susan was amazing, she kept me calm in times of need and reassured me – probably a role my mum would of played if she was still here. Her personable approach on such an emotional day was really appreciated."
Filmmaker: Darren Campbell of Eternal Films "When we were sourcing our videographer we were looking for something contemporary and Eternal stood out for us. We barely felt his presence the whole day and are extremely excited to see our wedding video!"
Bride's dress: Essence of Australia from Perfect Bridal Rooms
Hair: Louise Chrystal "Louise helped create a pretty hair knot with soft volume and texture " it was exactly what I wanted and I received lots of lovely comments on the day."
Make-up: Rae Mathieson "Rae helped create the look I wanted, the make-up lasted all day, and I received lots of lovely compliments."
Accessories: 'Rihanna' by Benjamin Adams
Groom's outfit: 'Eternity' tartan from Neil Selbie & Co
Decor hire: A Vintage Tea Party
Cake: Annie Denham Cake Company "We bounced ideas off each other to create the vision I had in mind. It was simply beautiful, everything we had hoped for and more, delicious too!"
Florist: Isla Duncan Florist "Flowers were quite a big deal, and I knew I needed to find the right person to help create what I had as a vision. Isla created the most outstanding flower arrangements with the colour theme and they helped finish off the venue beautifully! I loved my bouquet and the fact I had a photo charm of my mum, it meant that she was close by me on the day."
Piper: Alba Bagpipes "Rikki Evans did a great job of playing the bagpipes. I was piped down the aisle to ˜Highland Cathedral' " this was a favourite tune of my mum's."
Light-up 'love' letters: Event FX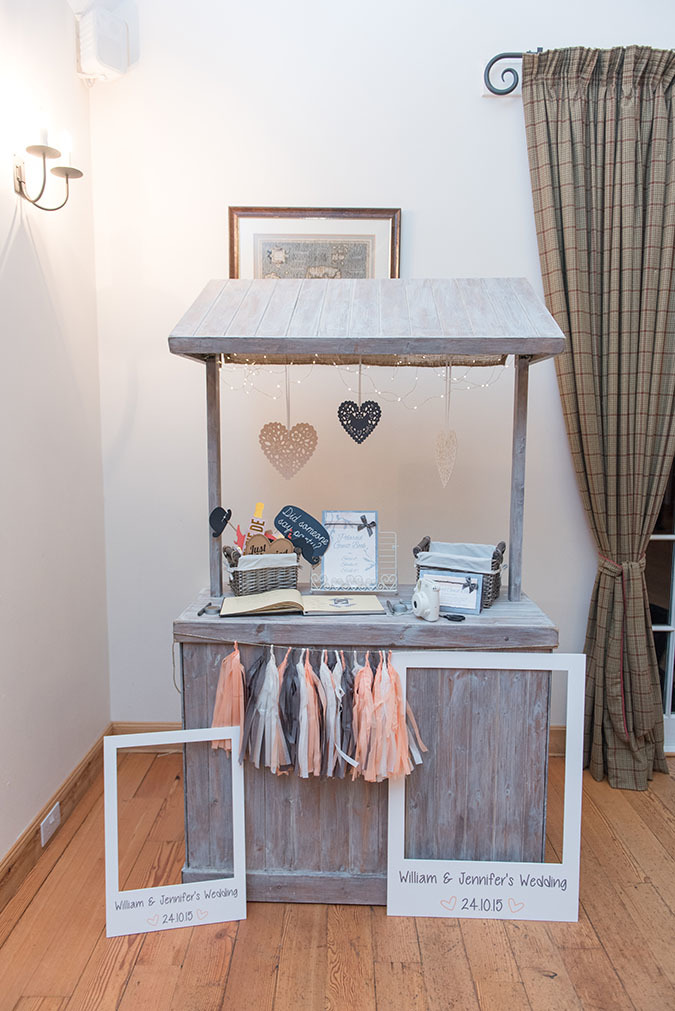 SWD Loves… the Pinterest perfect DIY photobooth!
"The grey wooden hut was the feature for our Polaroid guestbook," Jennifer explains. "We hired hired the wooden hut from A Vintage Tea Party. We had large Polaroid frame props for everyone to use, and the fun photo props came out in the evening – it was such a hit with our guests and, looking through the photos and messages, it's such a nice keepsake."