A Family Oriented Countryside Wedding in East Lothian
Eve MacDonald and Michael Chisholm Saturday 5th September 2015 Garleton Lodge, Haddington Photographer: Polarberry Photography Eve and Mike met aged 18, when both of them were in their first year at university. It took the couple almost 13 years to tie the knot; a fact makes Eve smile as she insists it was totally worth […]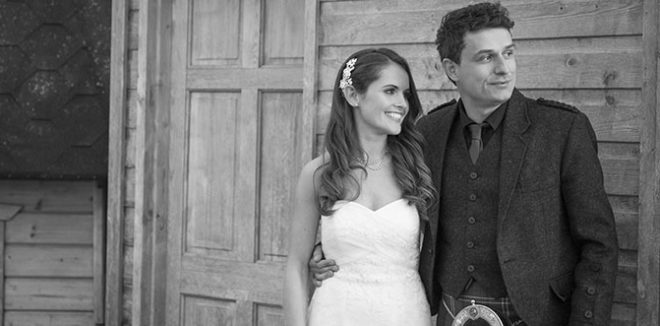 Eve MacDonald and Michael Chisholm
Saturday 5th September 2015
Garleton Lodge, Haddington
Photographer: Polarberry Photography
Eve and Mike met aged 18, when both of them were in their first year at university. It took the couple almost 13 years to tie the knot; a fact makes Eve smile as she insists it was totally worth it!
"The wait only meant that the build-up was full of excitement and buzz from all our friends and family and the occasion just felt all the more special for this," she explains.
The couple chose the beautiful Garleton Lodge in the countryside in Haddington to host their nuptials, falling for the natural beauty of the area and the fact that they were free to incorporate their own DIY touches throughout the day.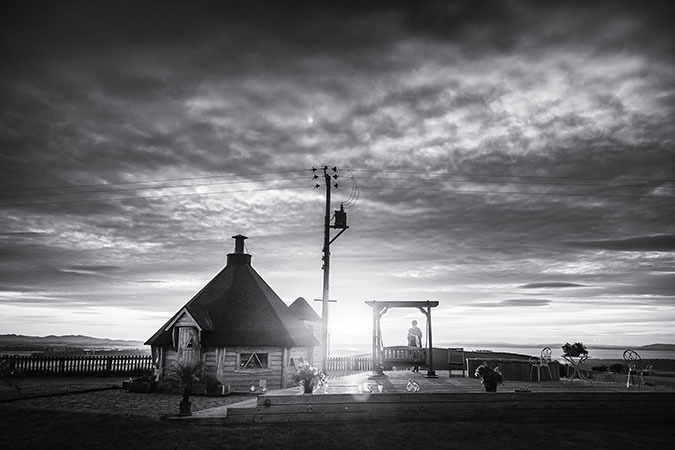 Eve and Michael decided on a pretty chilled approach to their big day, with no main theme and a calming palette to keep the overall look clean and calm. The couple were also very keen to involve as many people as possible in the preparations for their celebrations.
"Our wedding was laid back and relaxed with the emphasis on people feeling involved" says Eve. "This was very much reflected in the actual ceremony where our guests were seated within touching distance of us and some were involved in the service itself."
The bride chose an incredible La Sposa Barcelona gown, purchased from Kavelle Bridal in Edinburgh which featured an amazing lace overlay. "The moment I tried on my dress, I just knew it was the one," grins Eve. "It felt very elegant yet vintage and was very comfortable to wear. It's a shame I won't be able to wear it again as I loved it so much!"
The dress was partnered with a stunning pair of sparkling Christian Louboutin heels and the bride's dear grandmother's necklace. "My Mum gave this to me as my ˜something borrowed' on the morning of my wedding," smiles Eve, "and it was just perfect and fitted in so well with the style of my dress. By wearing her necklace, it felt she was very much there with us on the day."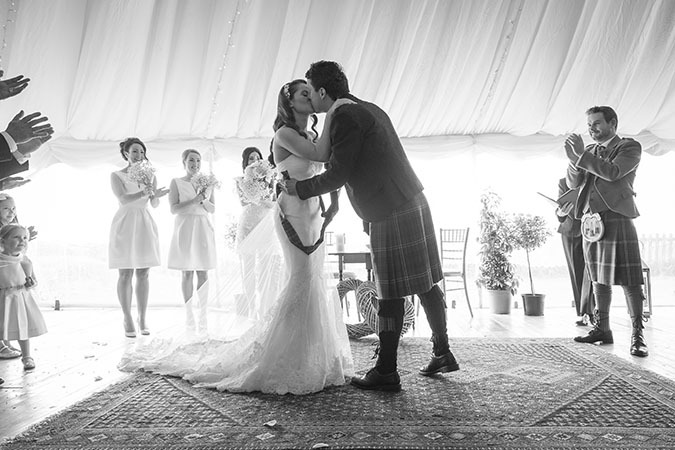 The bride and groom enlisted the talents of many of their friends and family to create their special day, with the bride's mother Eileen helping to create floral centrepieces and her friend Laura Ferguson, who designed all of the couple's stationery.
This collaborative vision helped the couple achieve a truly memorable day for their loved ones. In-keeping with the personal twist on their day, Michael and Eve's celebrant made their vows feel very personal and special by incorporating their unique love story into the ceremony.
"The ceremony was a real highlight for us. Our celebrant was lovely to work with and really allowed us to build a ceremony based on our story from how we met through all of our years together and up to our wedding day," Eve says.
The couple also included some traditional Scottish elements to their celebrations."The hand-fasting was a lot of fun and something that really seemed to resonate with our guests, many who had never seen this before," says Eve.
When looking back on their big day, the couple offer up some words of wedded advice to couples in the planning process. "Our biggest challenge was trying to keep to our original budget and not get too carried away" laugh the couple. "Our advice would be to allow for an extra 10% for all the last minute things that just seem to crop up!"
After such a long romance, how do the couple feel about married life?
"Our wedding was definitely the best day of our lives and something we will always remember for so many great reasons. Being married feels like a new chapter has begun in our lives and it just makes our relationship feel all the stronger and more loving for it".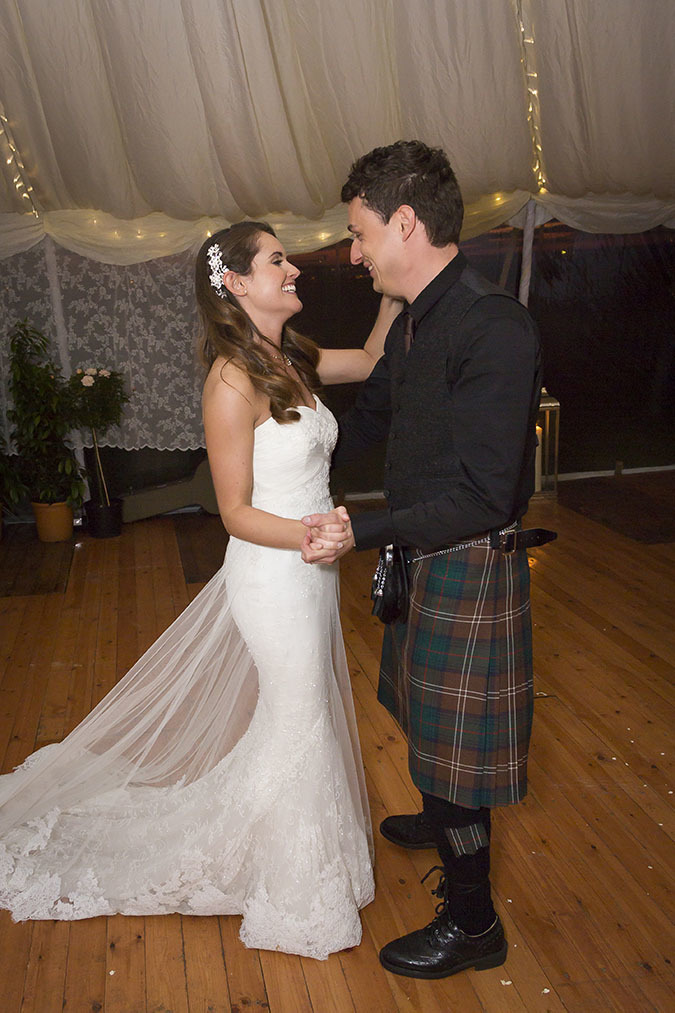 ABOUT POLARBERRY PHOTOGRAPHY
Polarberry Photography are a friendly, professional, dedicated company specialising in reportage photography that captures your day in dynamic, eloquent and unforgettable imagery.
CLICK HERE to check out Polarberry Photography's website


Venue: Garleton Lodge, Haddington
Photographer: Polarberry Photography. "Michael was so professional throughout the day but made us feel at ease at the same time."
Dress: Kavelle Bridal Couture
Accessories: Christian Louboutin heels." I feel in love with my shoes as soon as I saw them!"
Cake: Angela MacKay at Cuppacakes. "The cake was a lovely wedding gift from my borther and sister in law."
Florist: Susan Harris Florist. "Our theme was ivory and pastel colours and susan did a fantastic job with the flowers to match."
Stationer: Friend of the couple, Laura Ferguson.
Transport: Eve Coaches. "Ideal for the location of our venue, and the fact their name was EVE seemed very apt too!"
Entertainment: The Midnight Specials
Hair: Laura Anderson Bridal Hair Specialist
Make-up: Rosie Fraser Make Up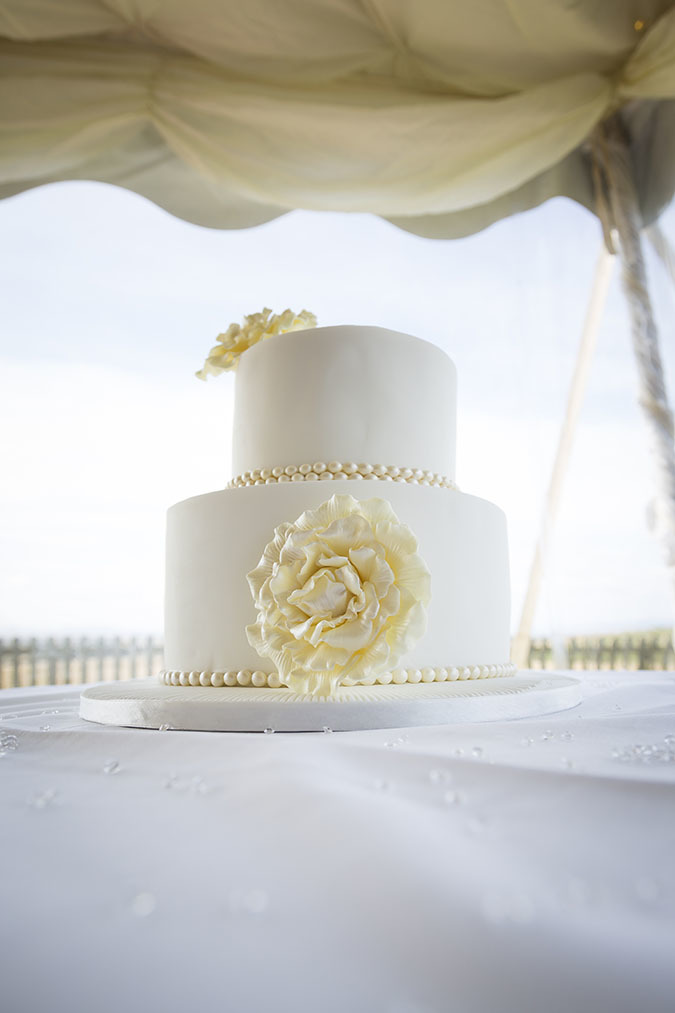 SWD LOVES… the couple's gorgeous cake! Looks good enough to eat.