A cute, colourful Glentruim Estate wedding with DIY details
Suzanne and Graham celebrated their wedding over the course of a weekend and packed it full of super-cool DIY makes for a personal touch.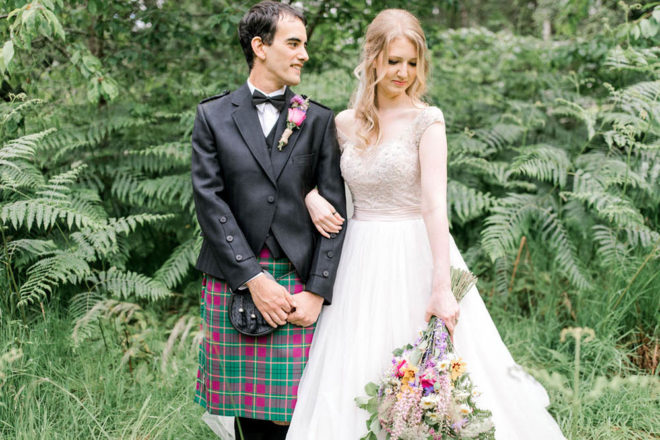 Suzanne and Graham wanted to celebrate their wedding over a few days and found the perfect venue in Glentruim Estate, located in the Scottish Highlands.
They incorporated lots of creative, crafty details into their day, perfectly showcased in their light and airy photographs taken by dream duo The Gibsons.
Read on for the lowdown on their wedding in the words of bride Suzanne…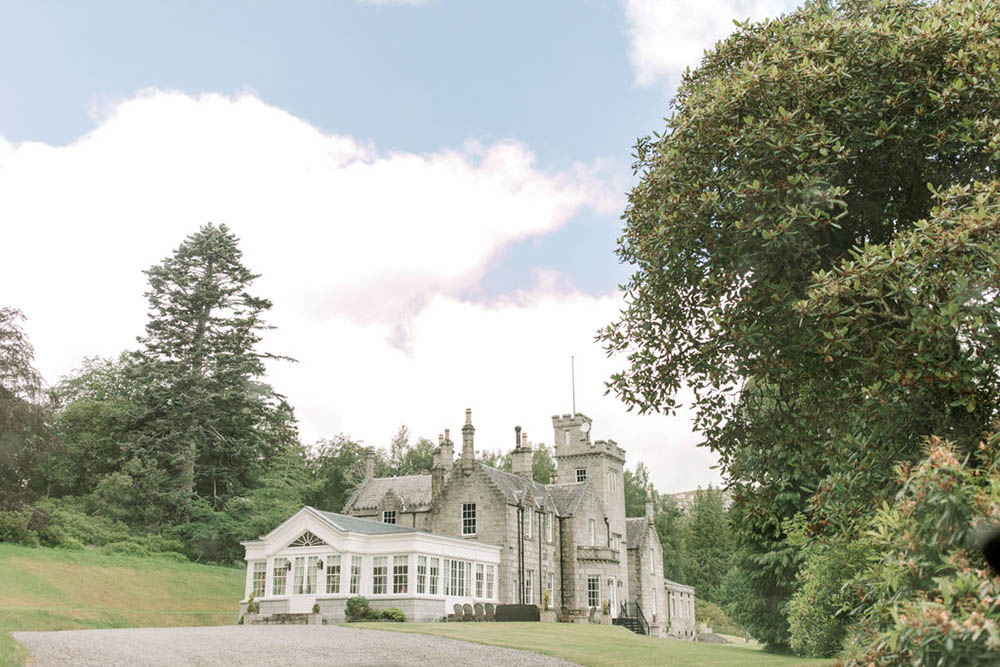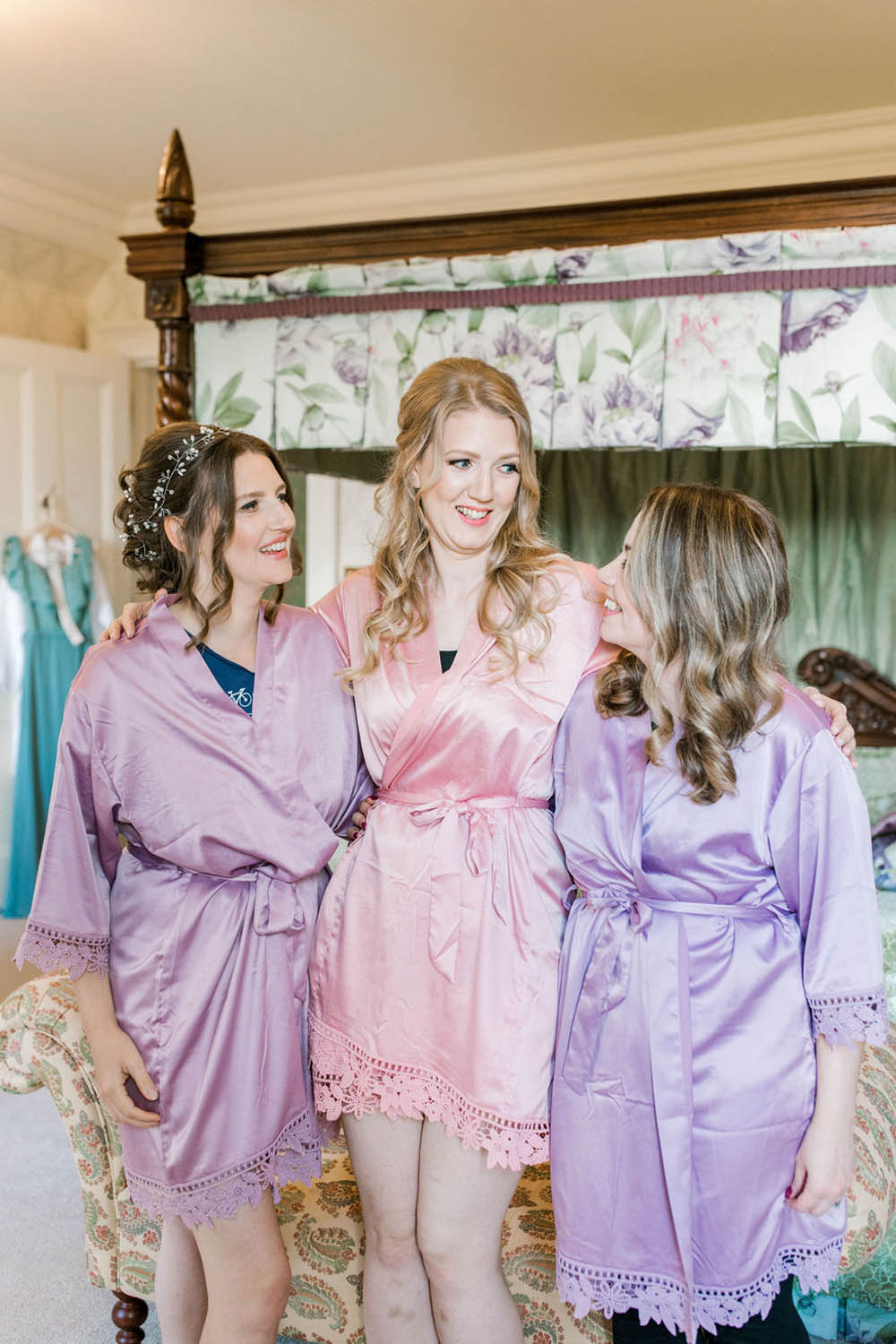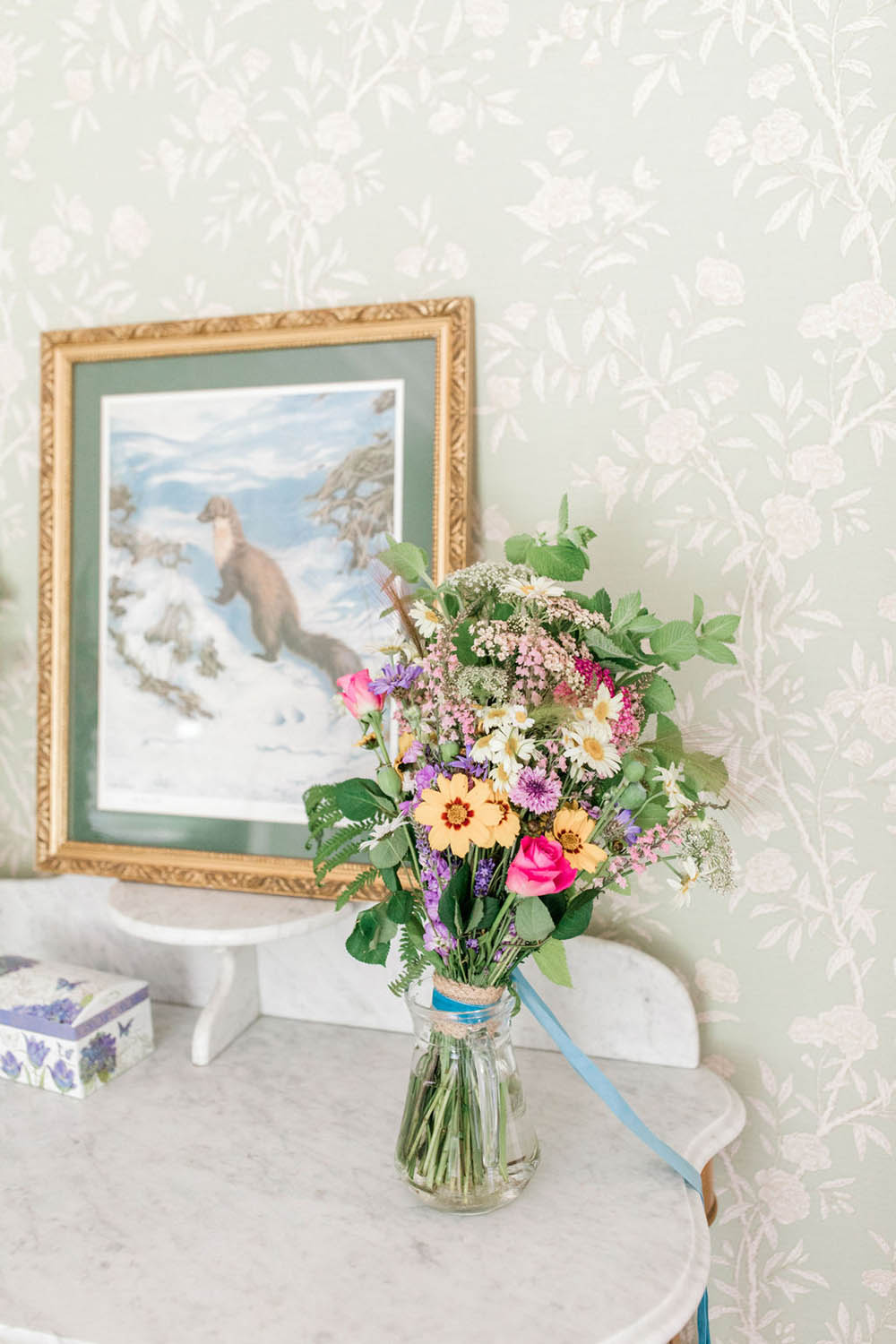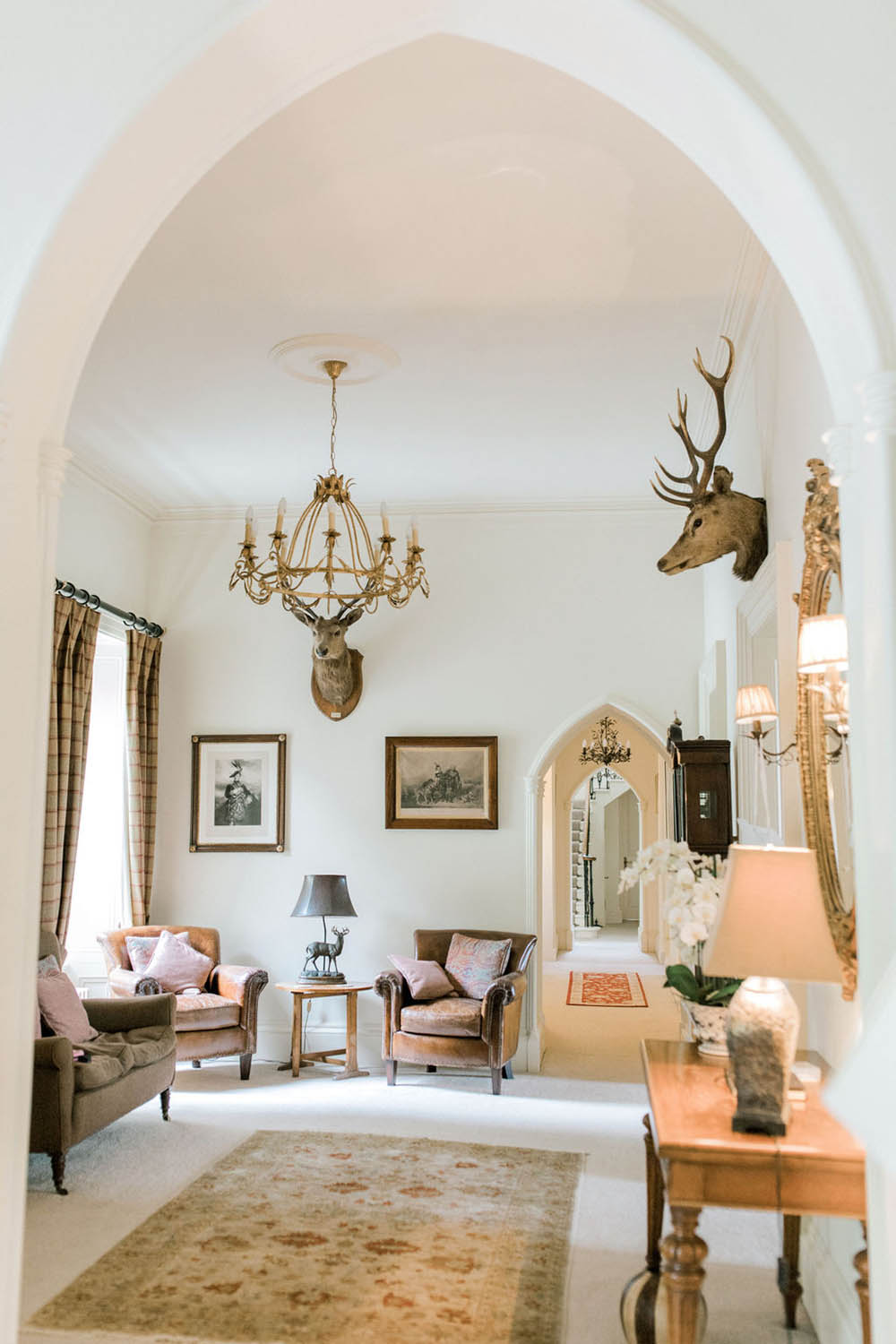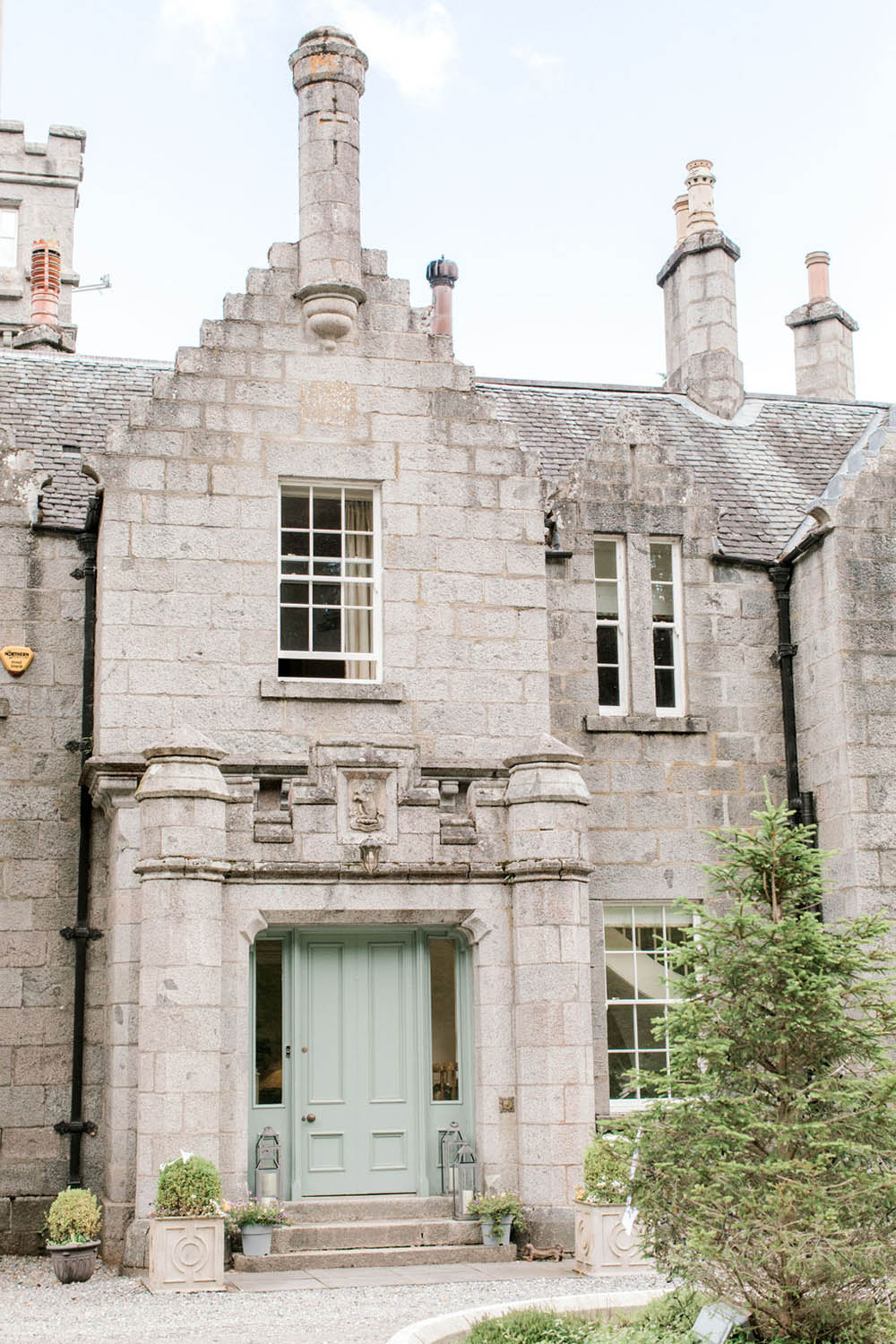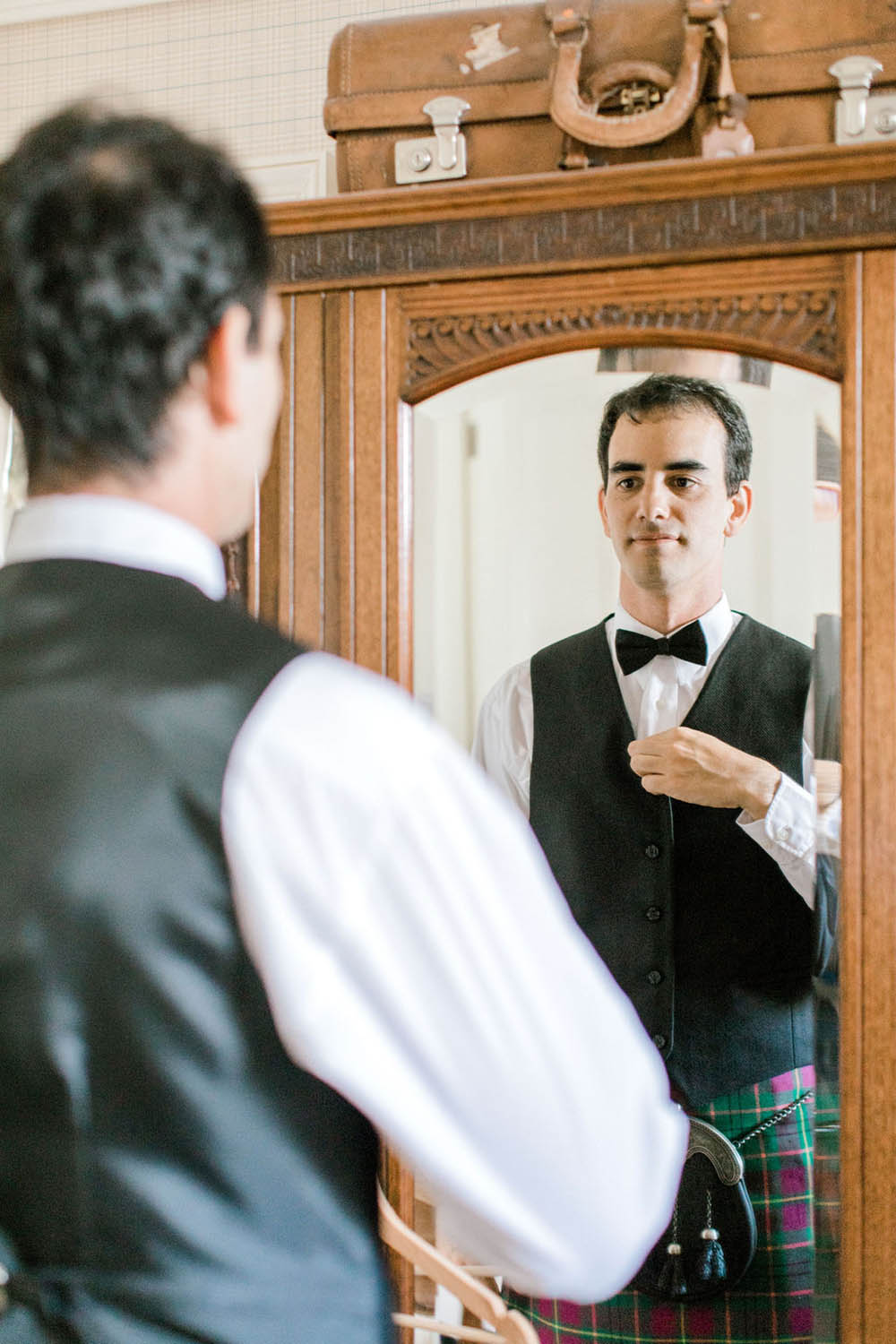 Graham is from New Zealand and we knew that having his family coming over for the wedding would be very special.
It would be the first time our families had met and we wanted the wedding to be an opportunity for us all to bond.
We decided to look for a venue that would sleep all of our guests for several nights. We also wanted to give the Kiwi contingent a true taste of Scotland, so the Highlands were ideal.
When we visited Glentruim we knew it was perfect. The main castle would be a great venue for the meal and dancing. The on-site chapel was adorable and the views from the lookout spot were outstanding.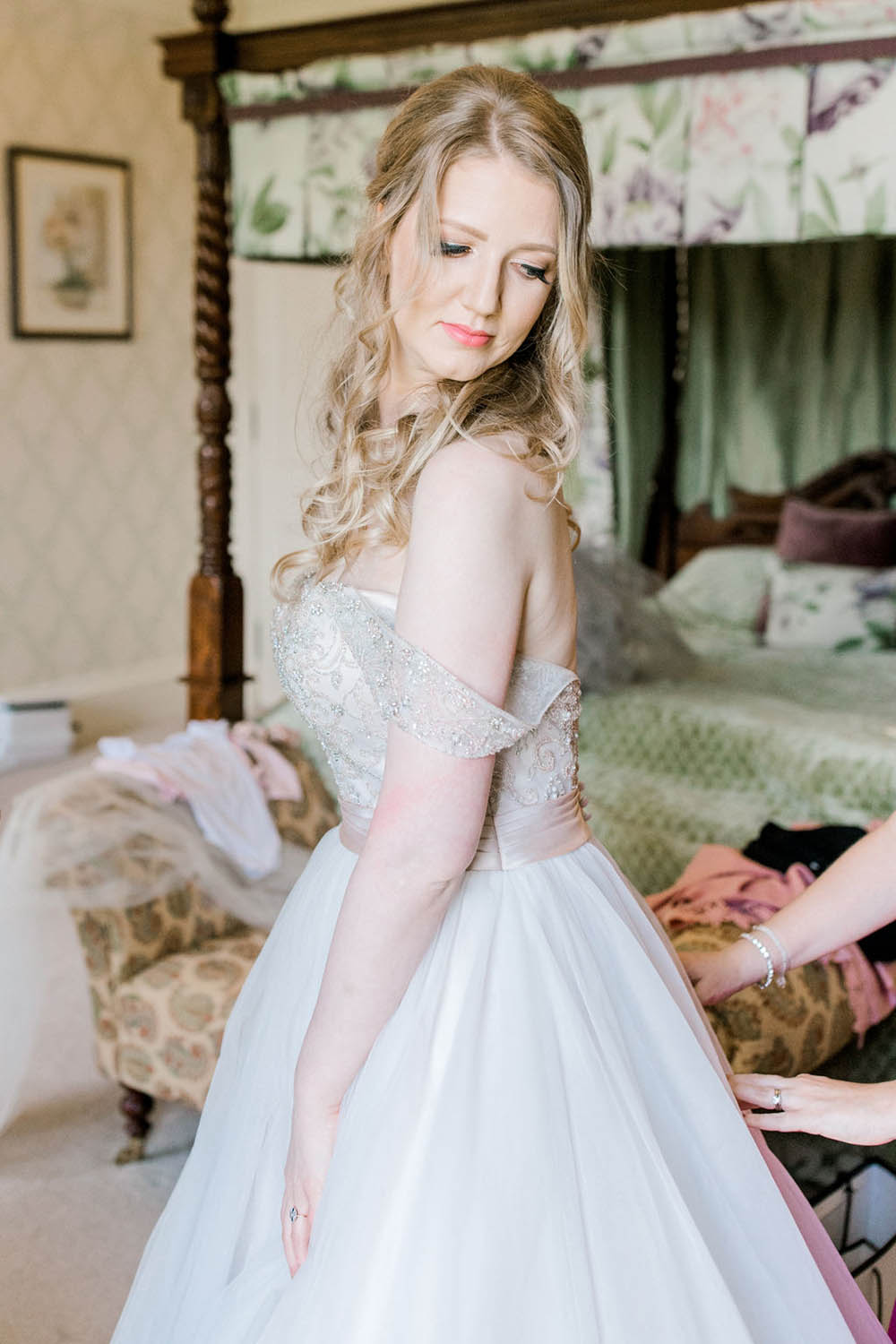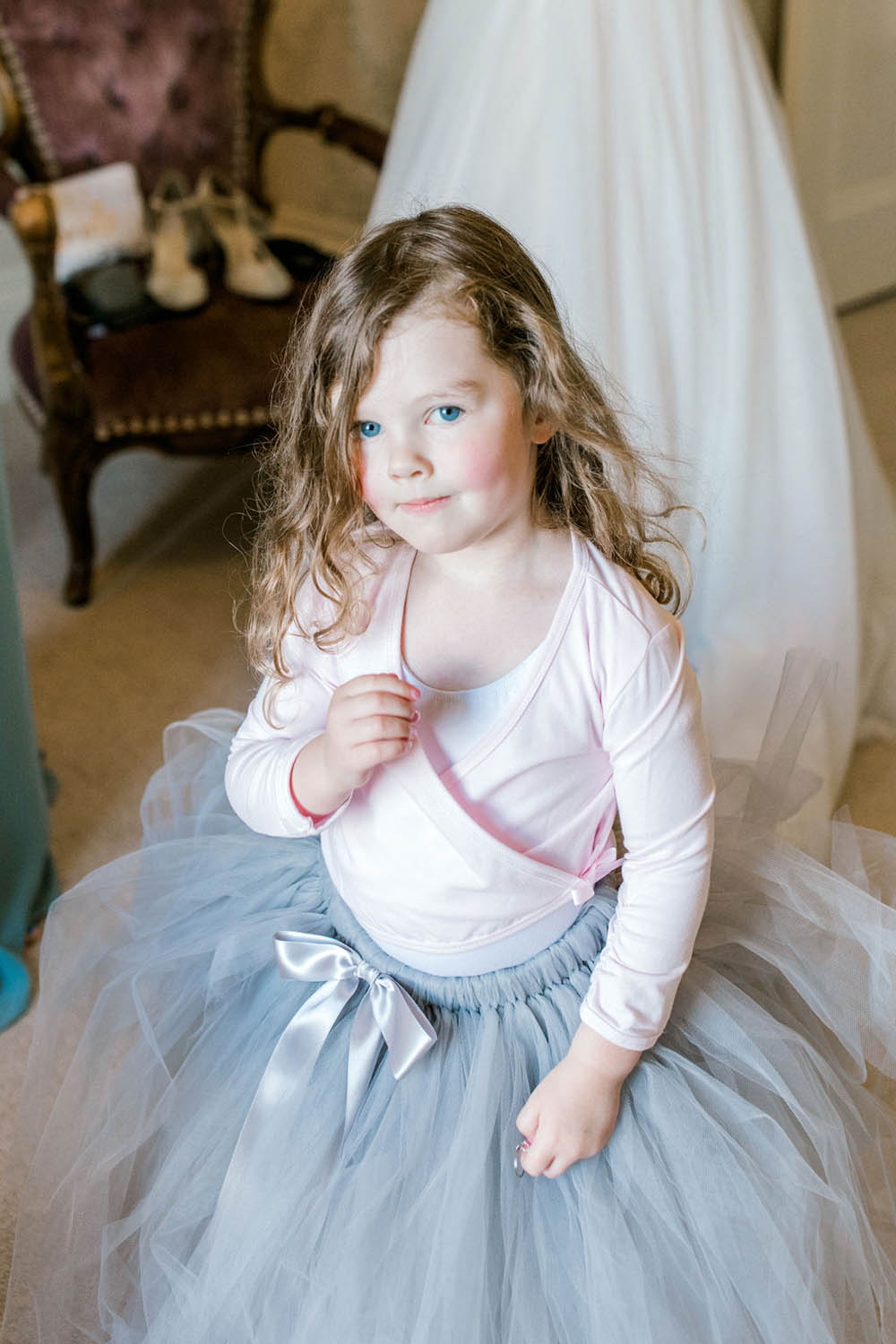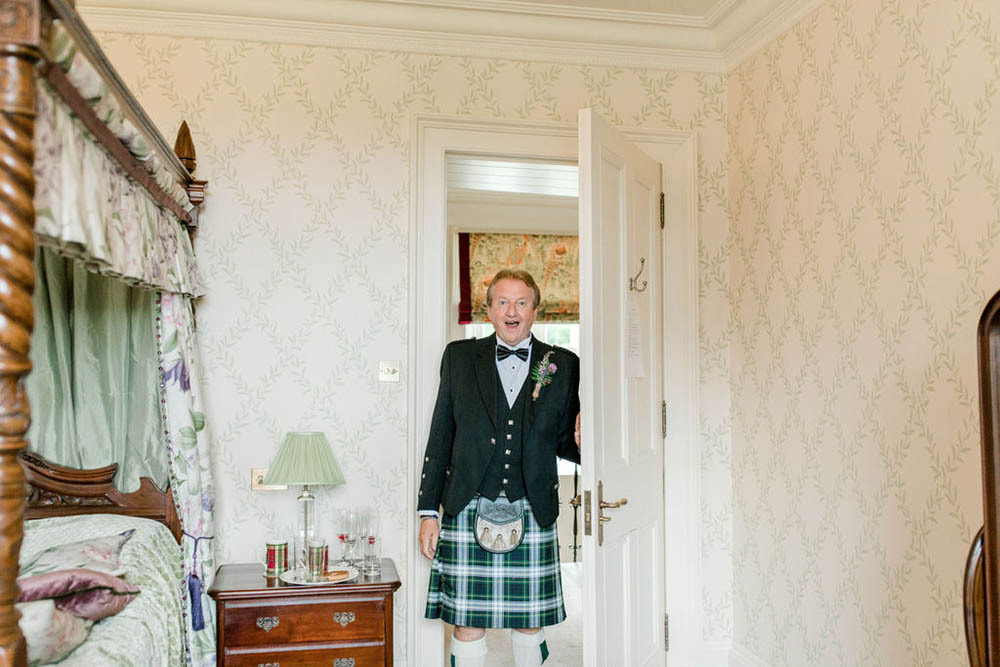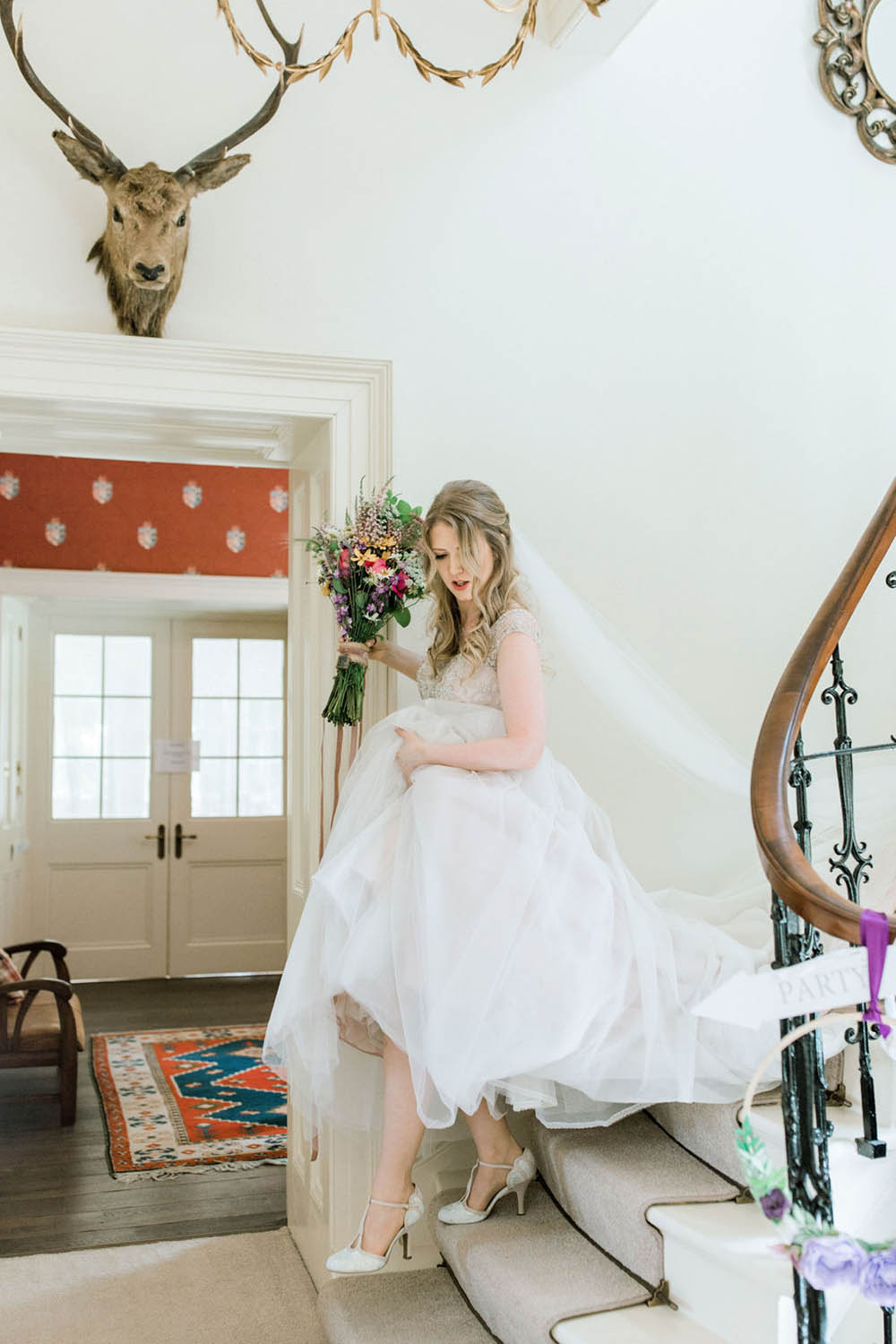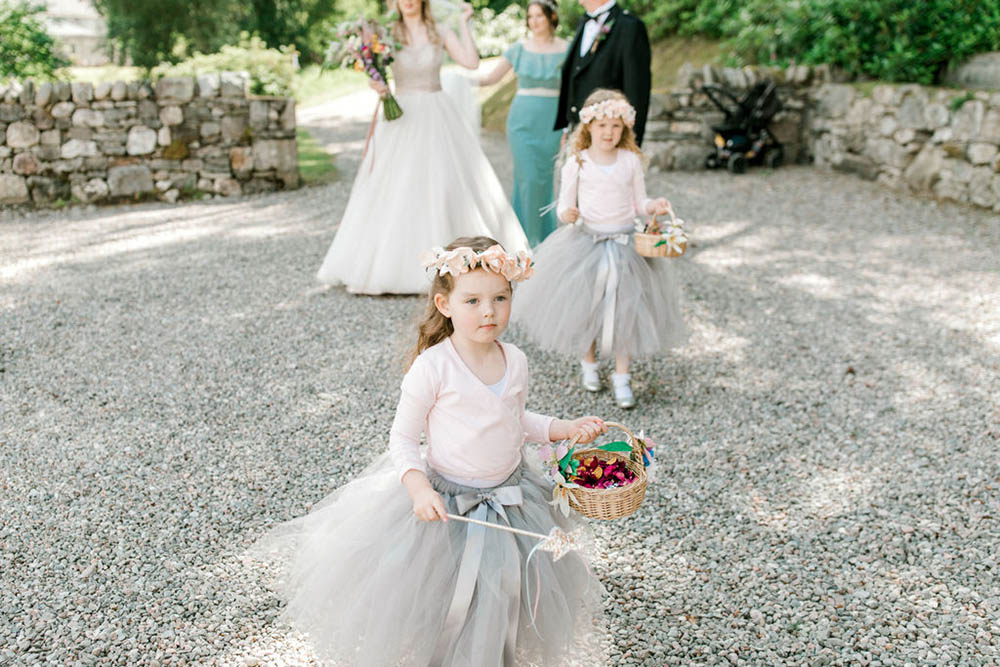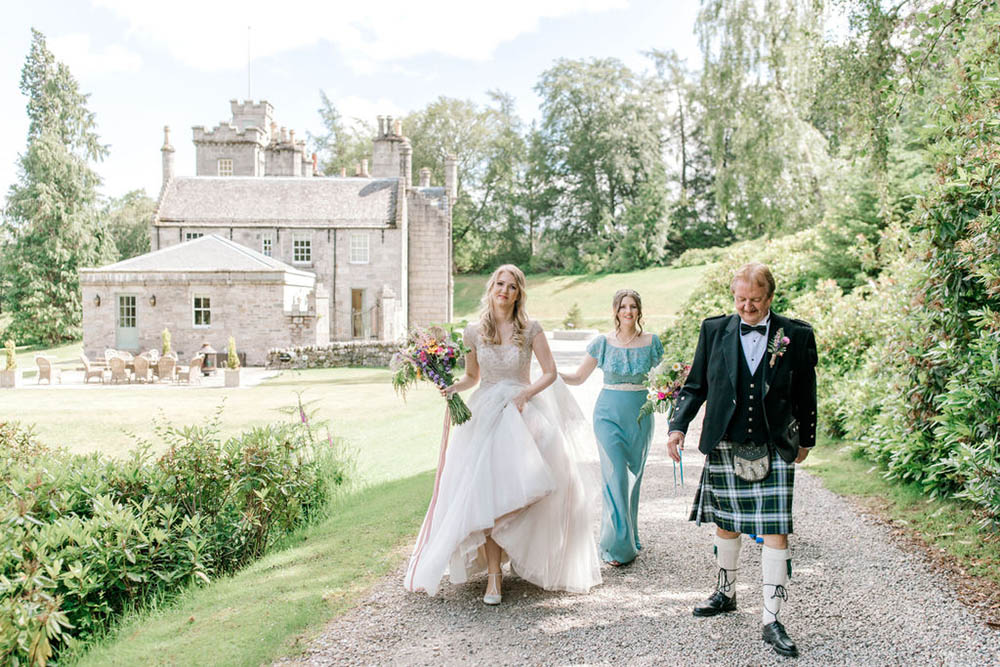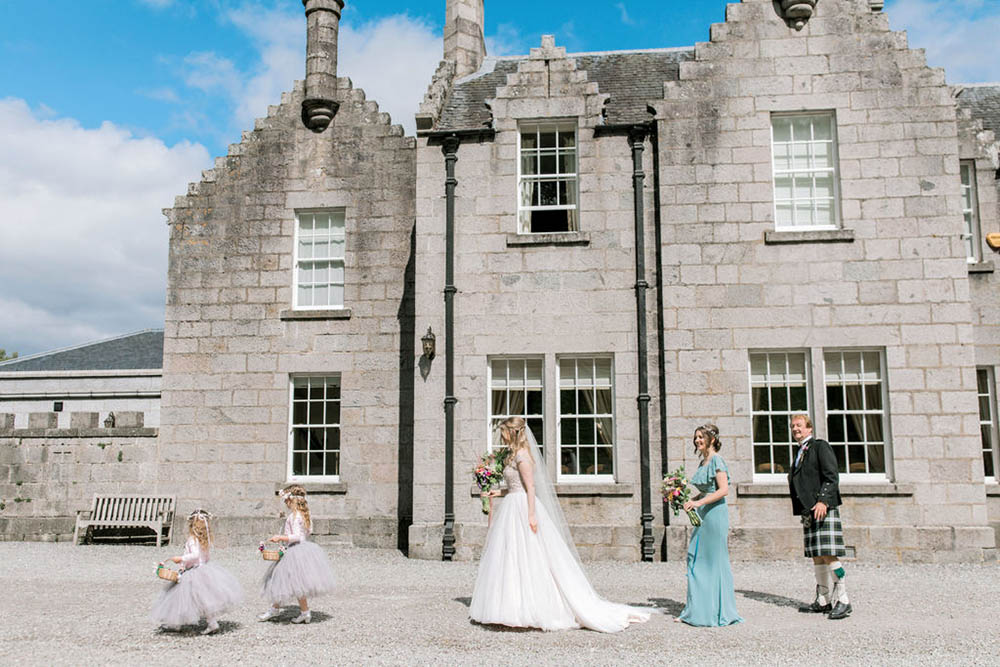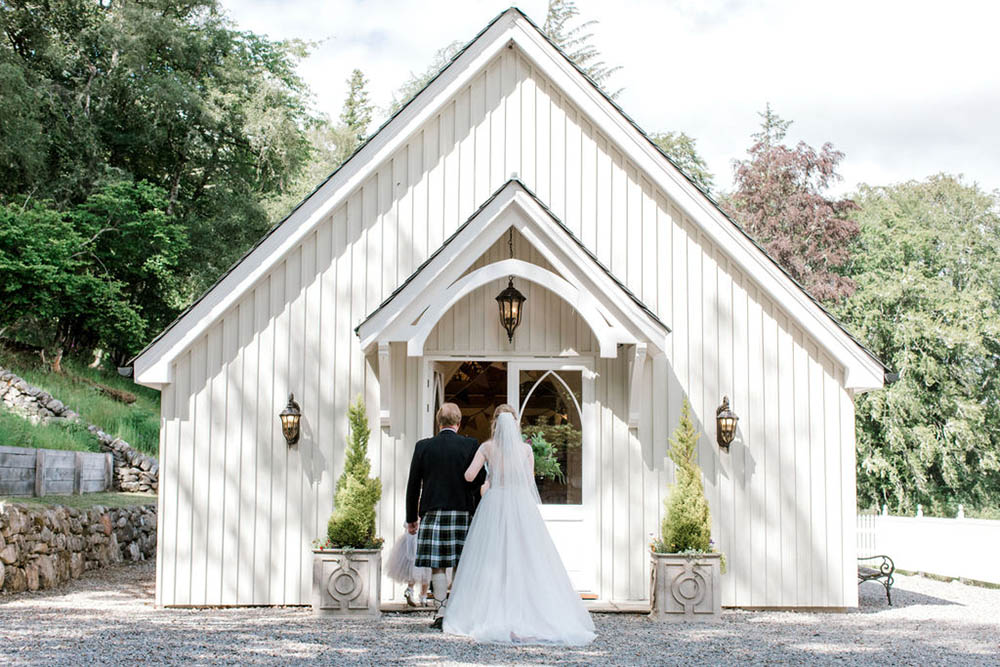 It was tastefully decorated with roll top baths, four poster beds and traditional hunting lodge stag heads for a bit of twee. It had plenty of space and amenities for us to enjoy in the days around the wedding including a pool table, large kitchen and cinema room.
I knew I wanted to create a lot of the décor myself so that it would be unique and personal.
I love all things vintage and whimsical so looked at ideas that would fit. I began by sewing metres and metres of large bunting at my sewing class, earning a reputation as the "bunting queen".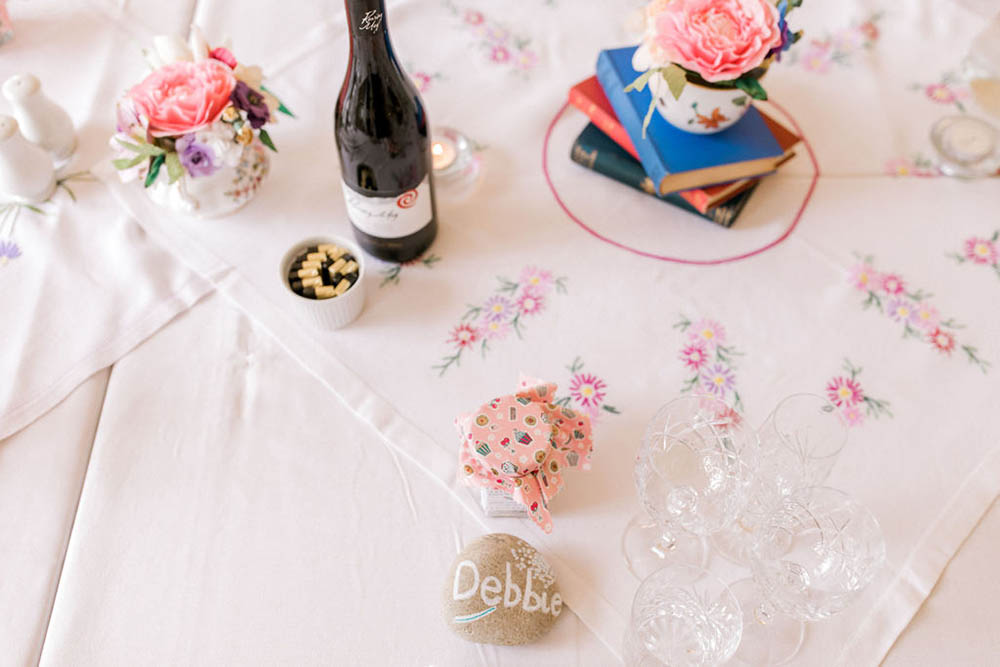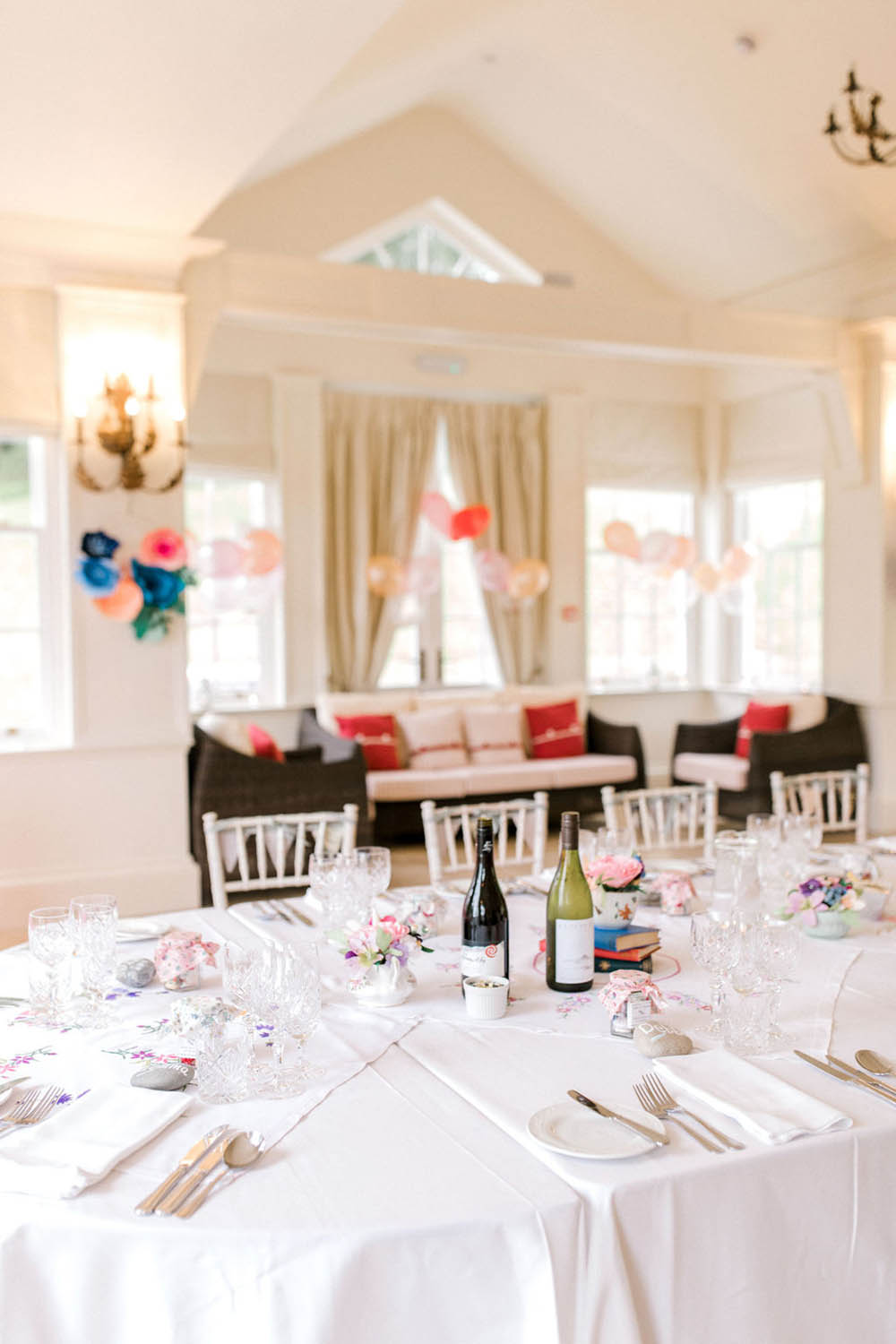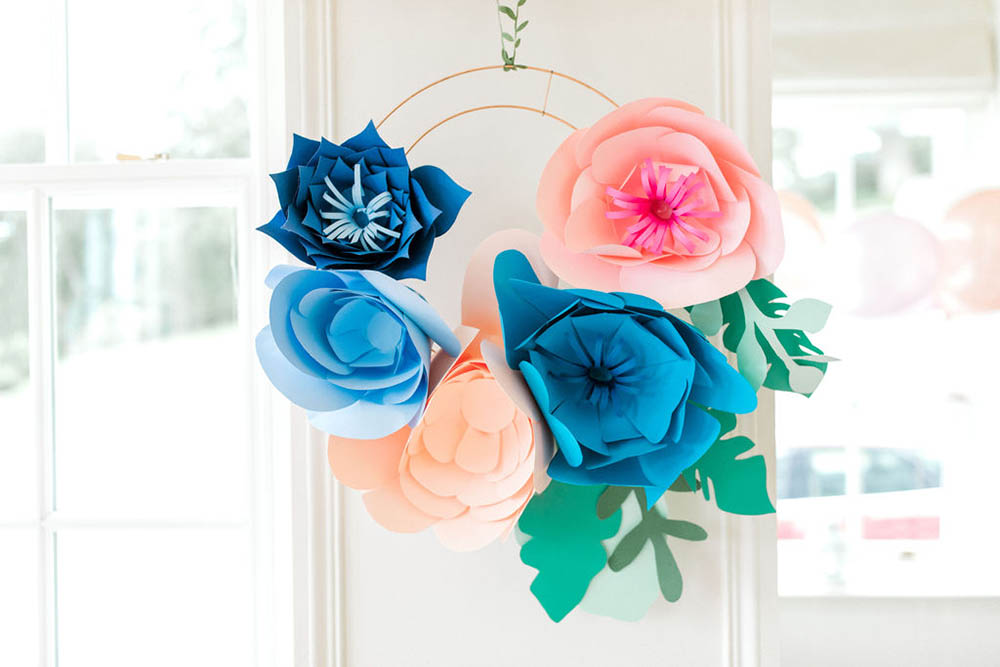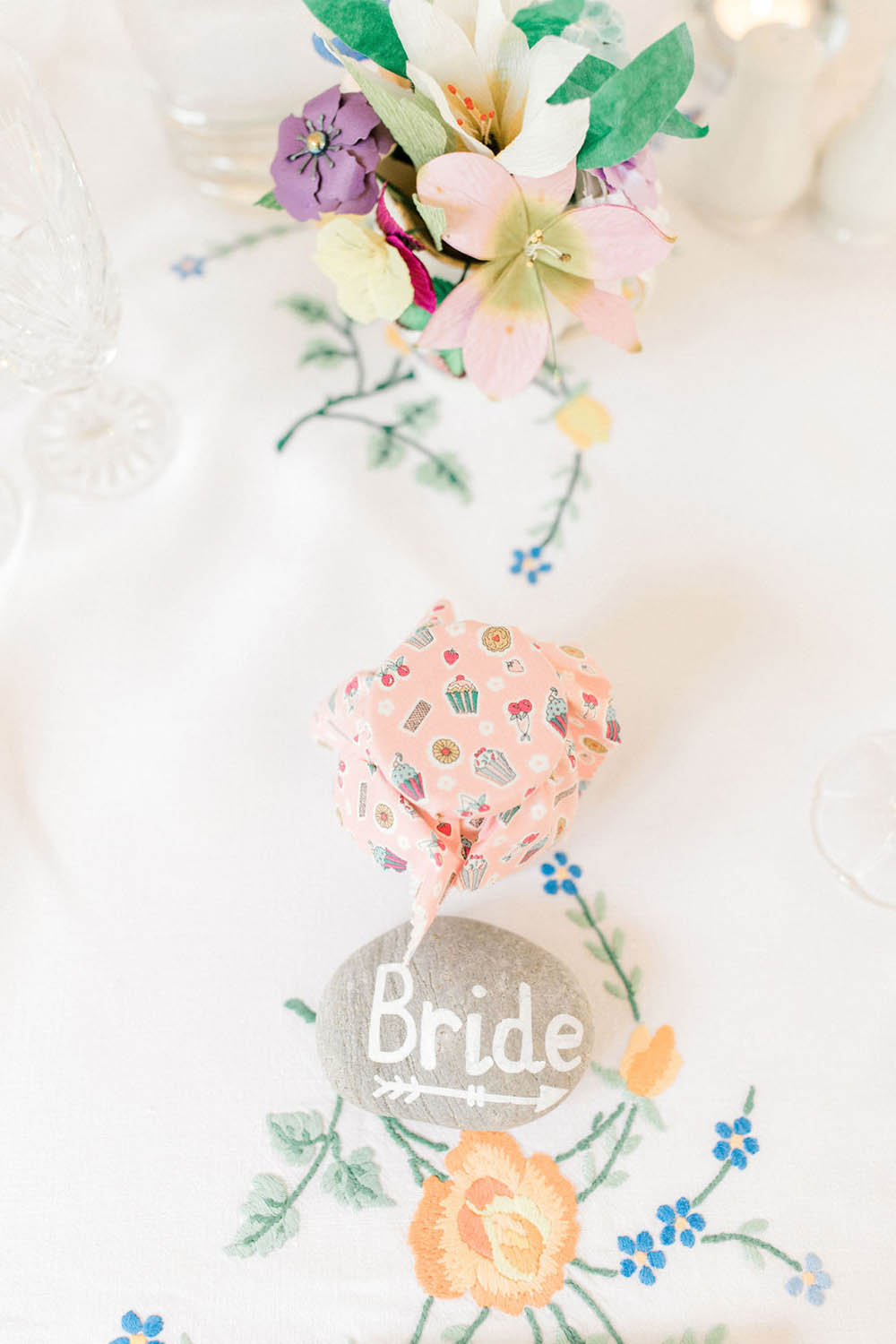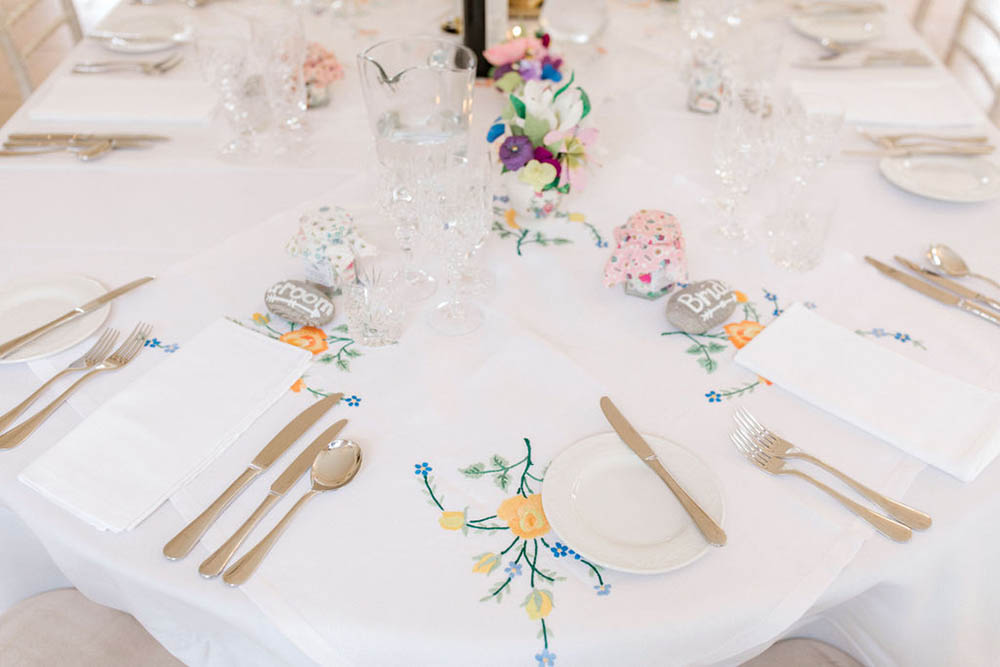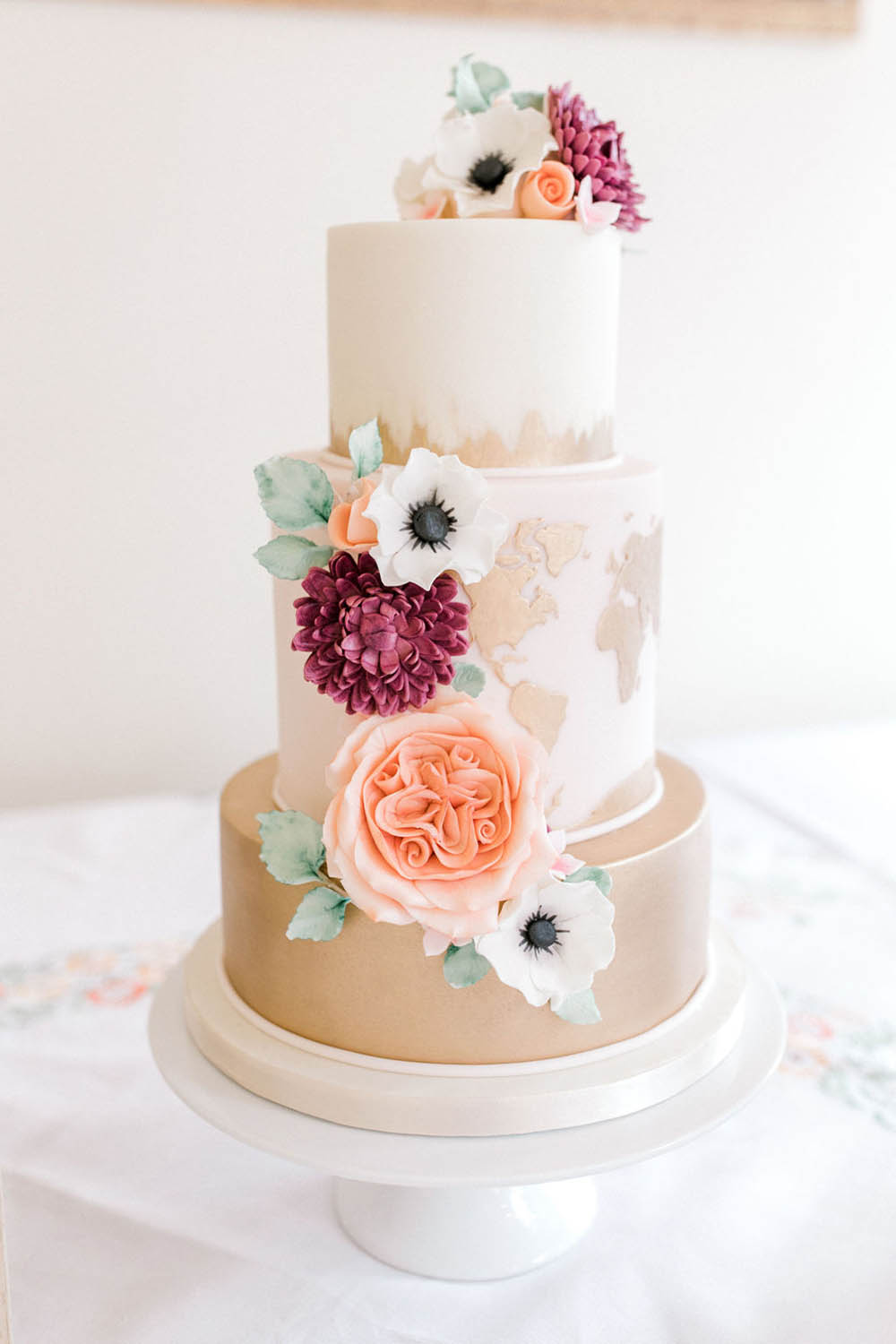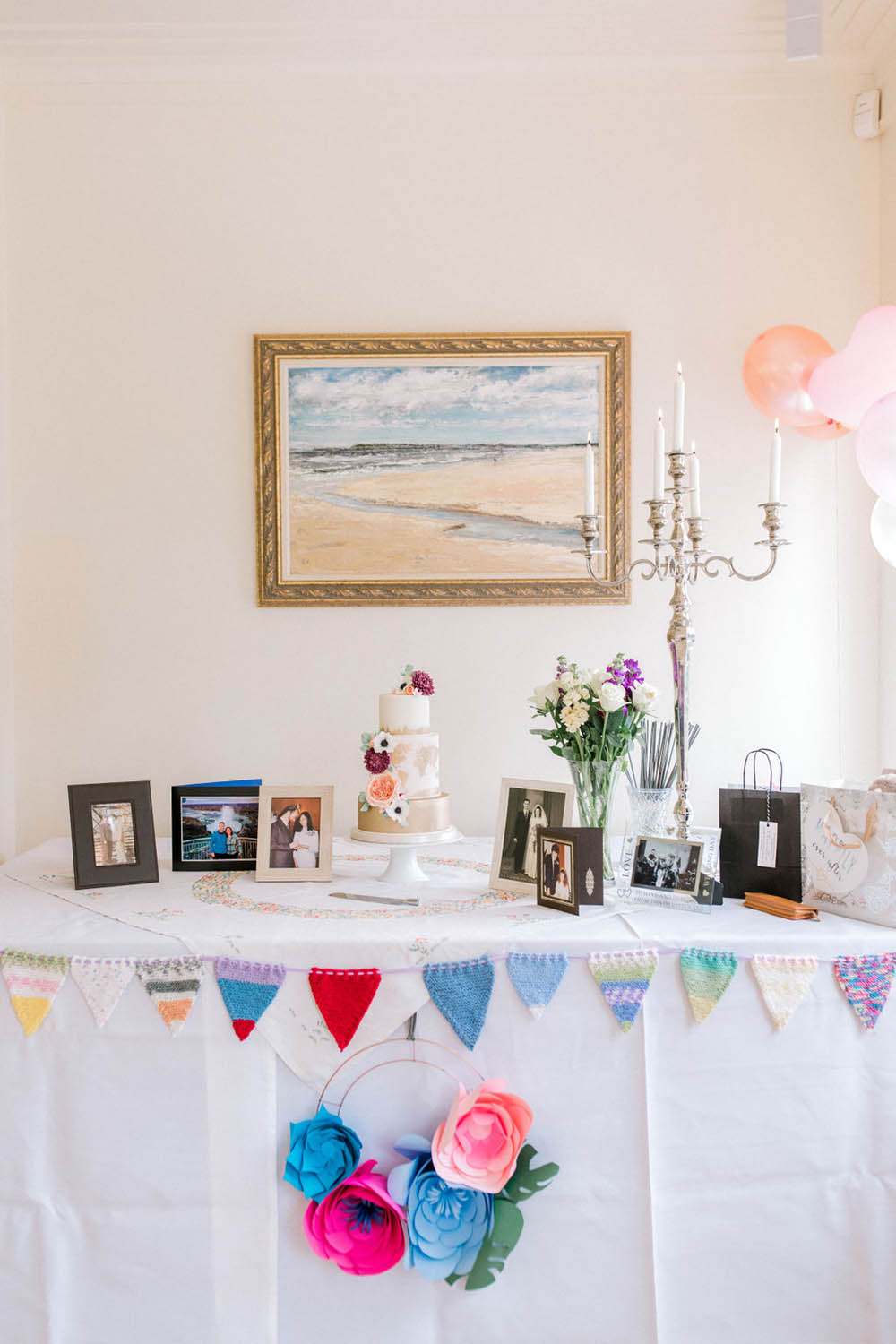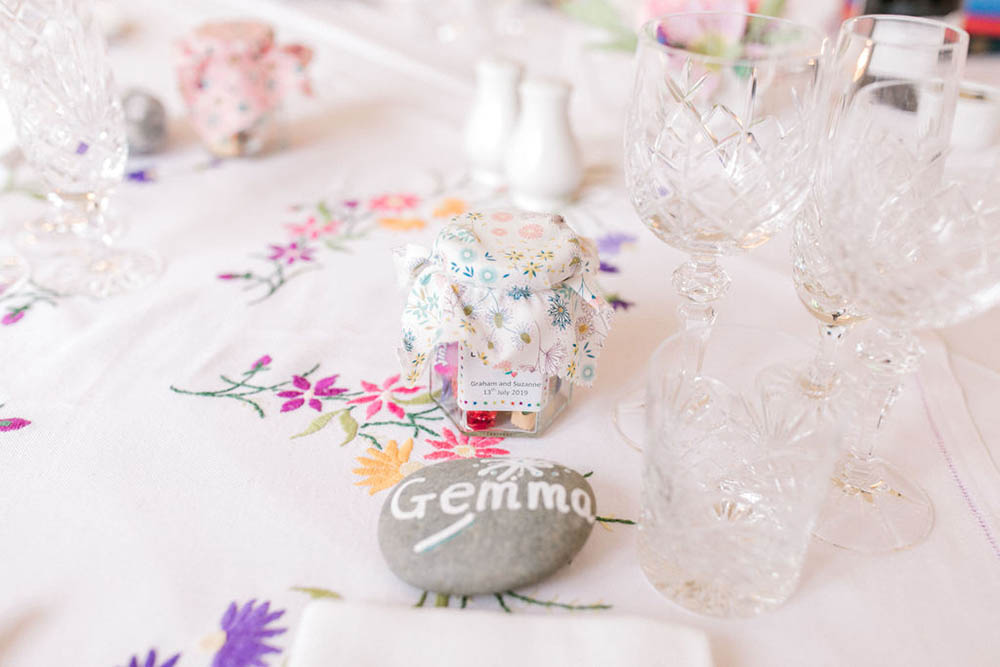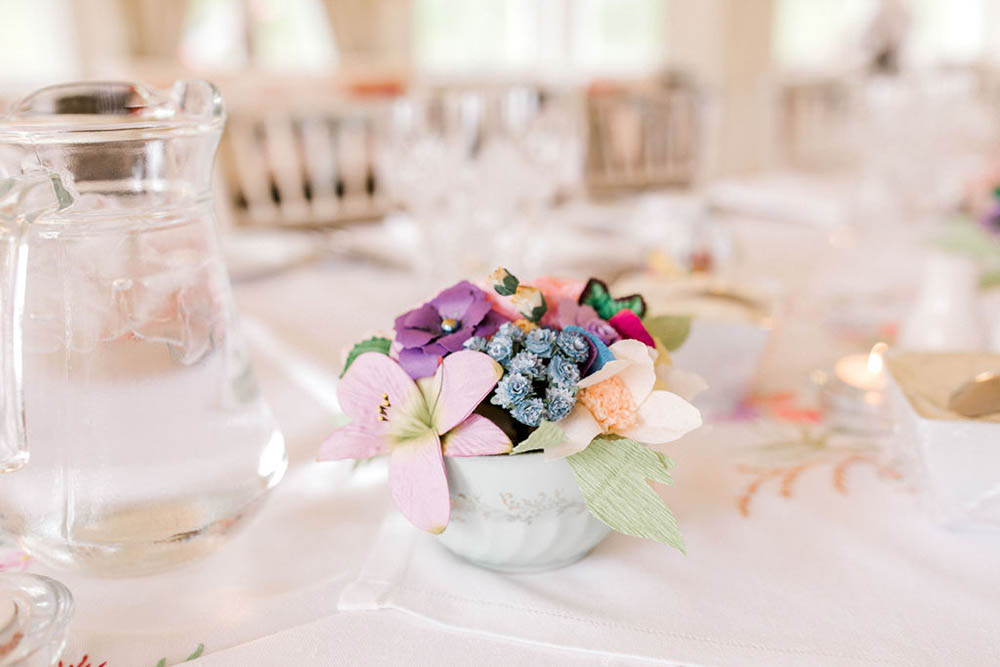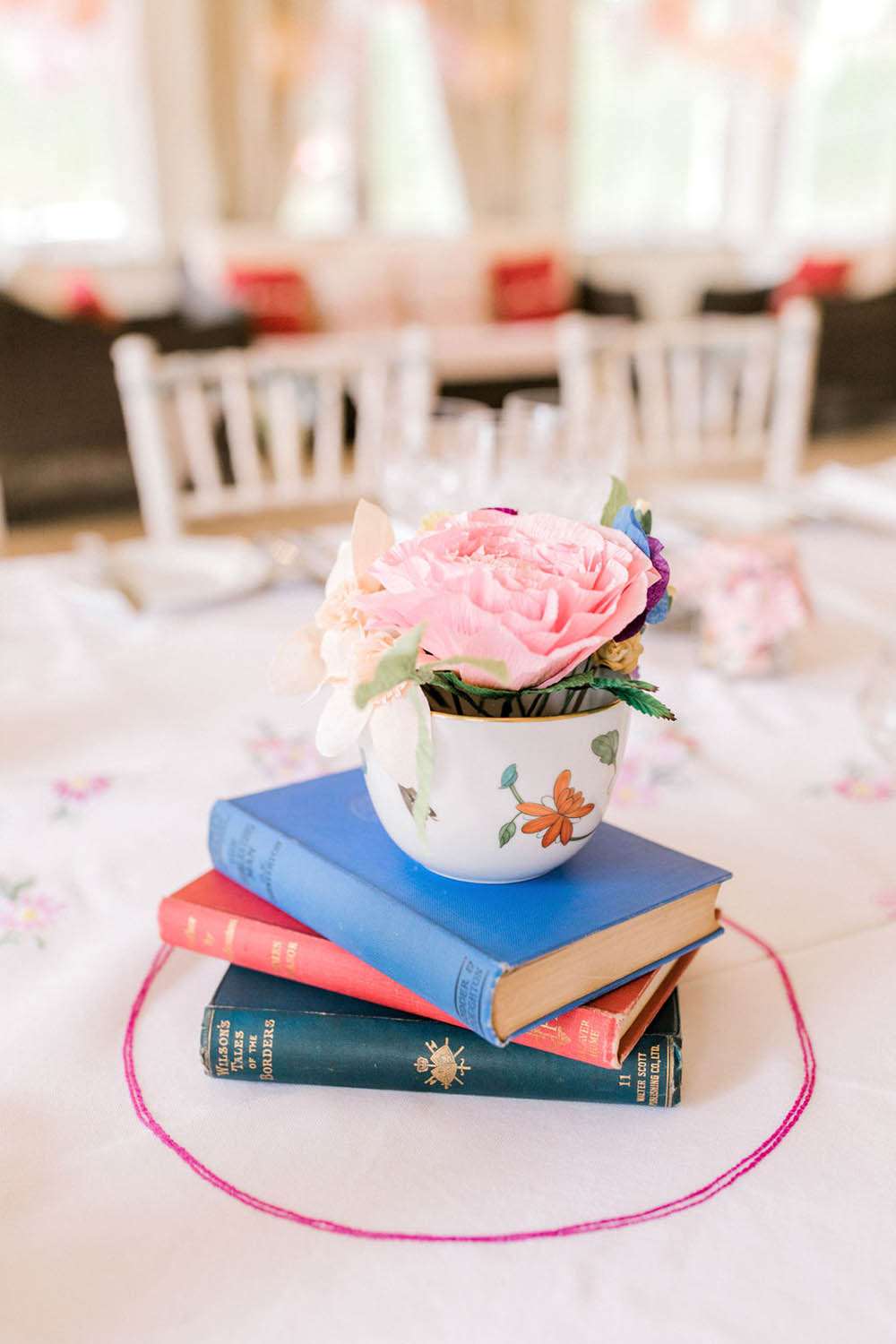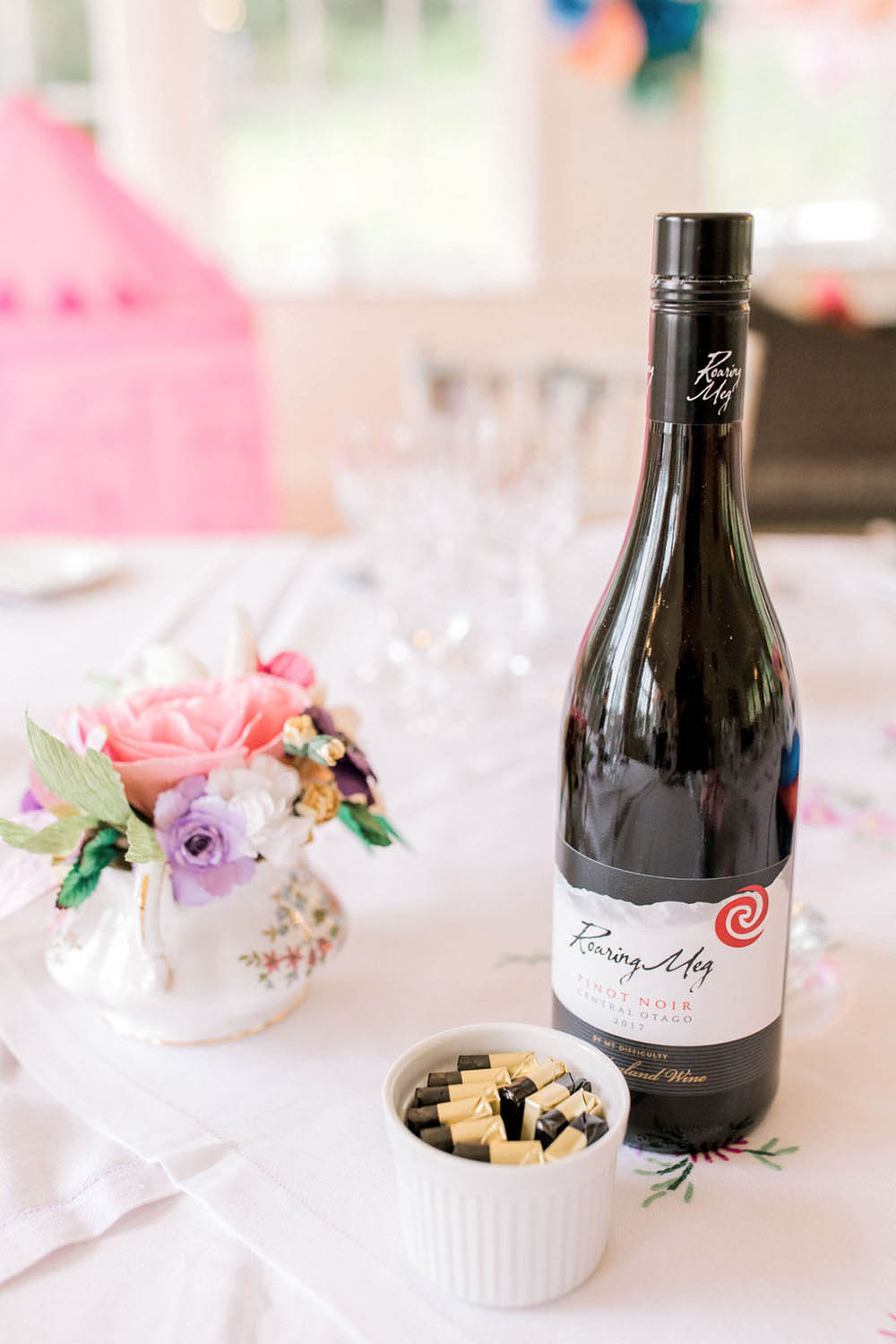 My very clever and talented friend Kirsty suggested that we hand make the flowers from paper.
Kirsty put in tireless hours of crafting, each flower petal cut out and attached by hand. It became one of our regular social evenings, dragging another friend in to help. By the end we were all sporting glue gun injuries!
I created name markers for the table from pebbles that I collected from the beach next to my home and painted names on individually.
We decided on jars of sweeties with a mix of New Zealand "lollies" and British sweets for everyone as favours.
One of my favourite touches was putting up paper flower hoops that were made during a crafting activity on my hen party. It felt like everyone had a hand in bringing something to the day.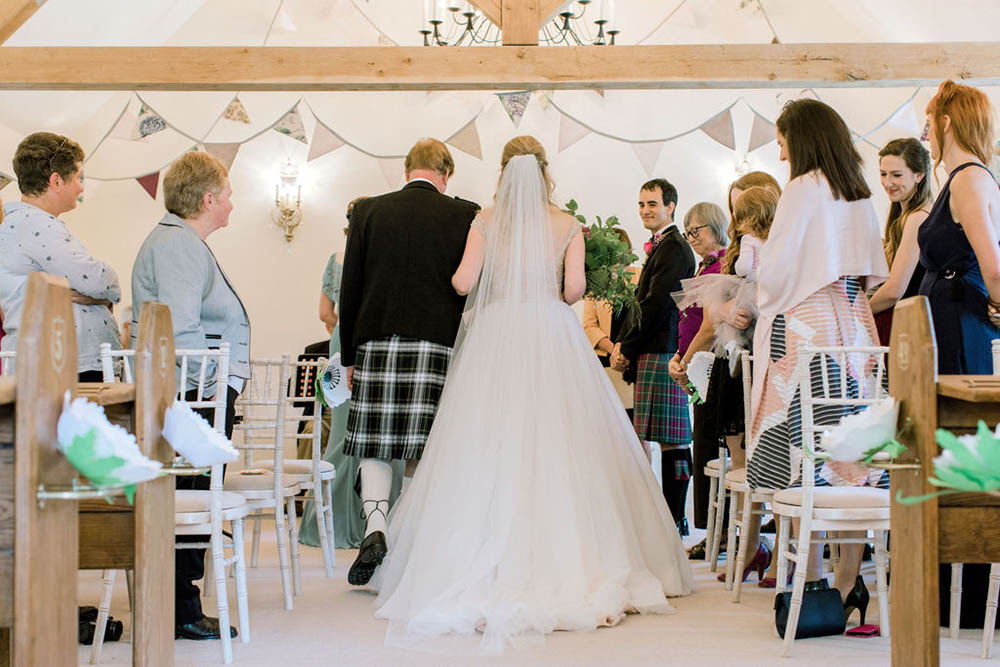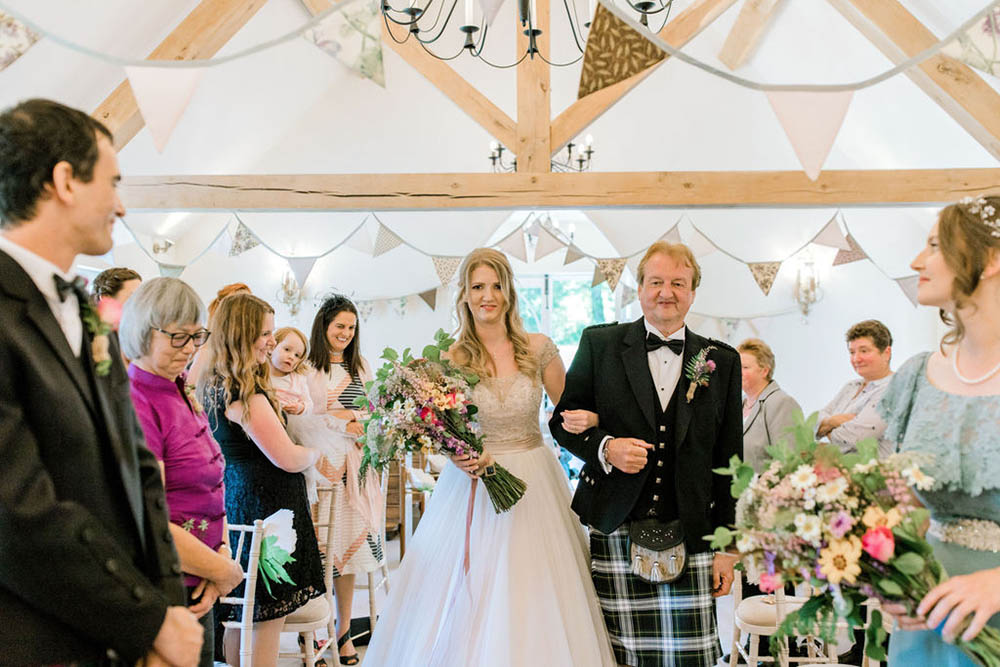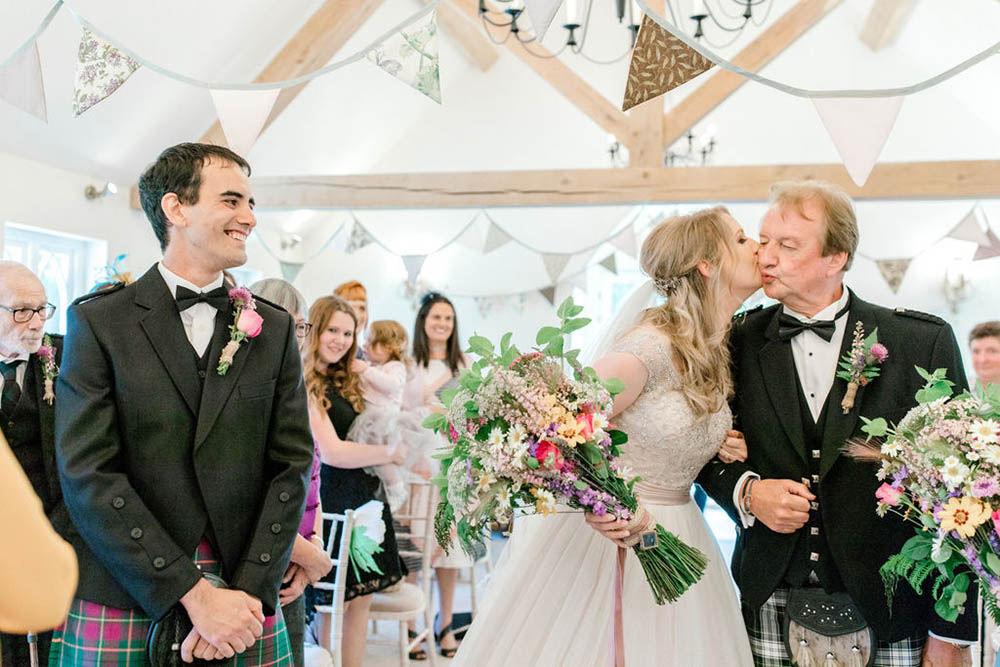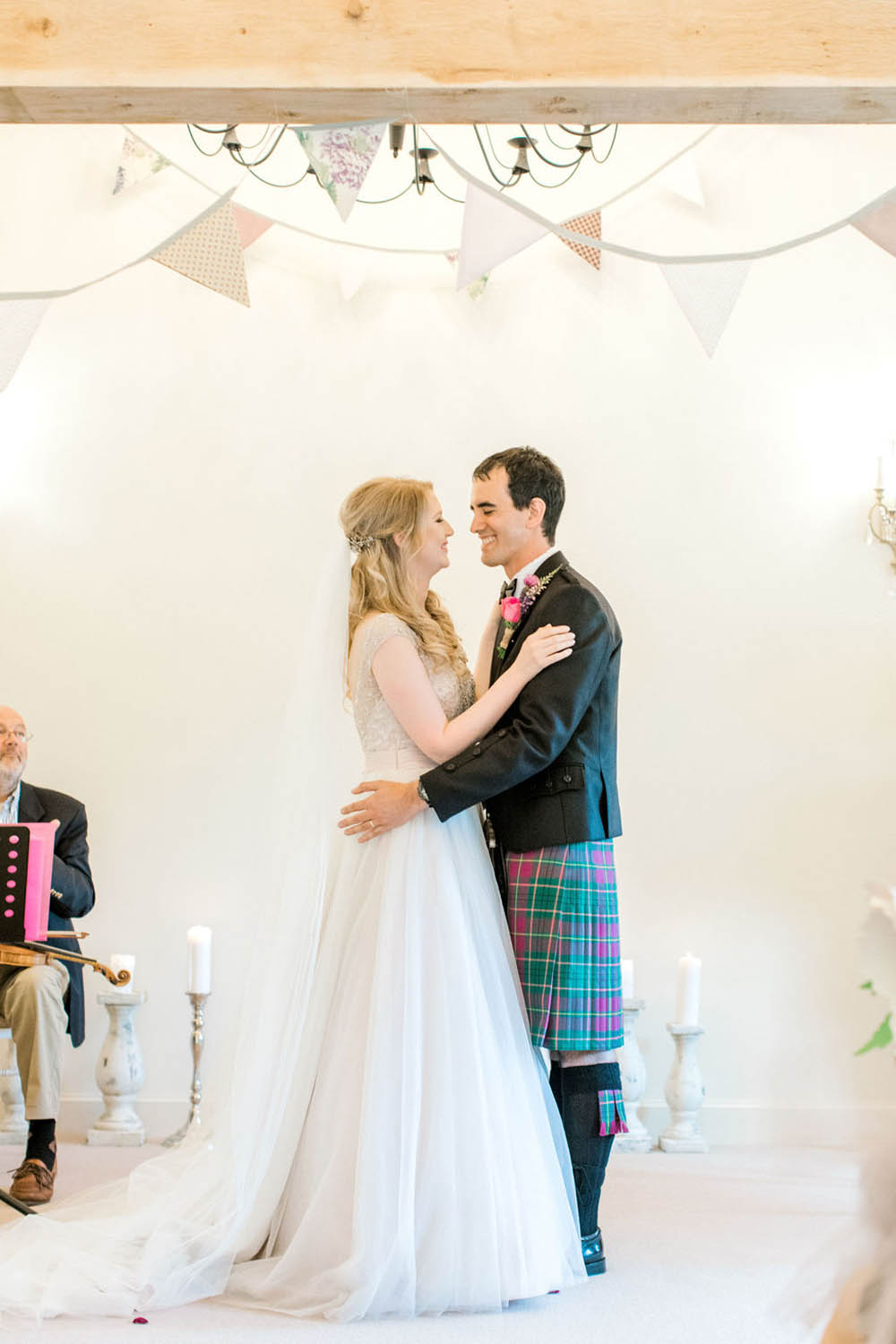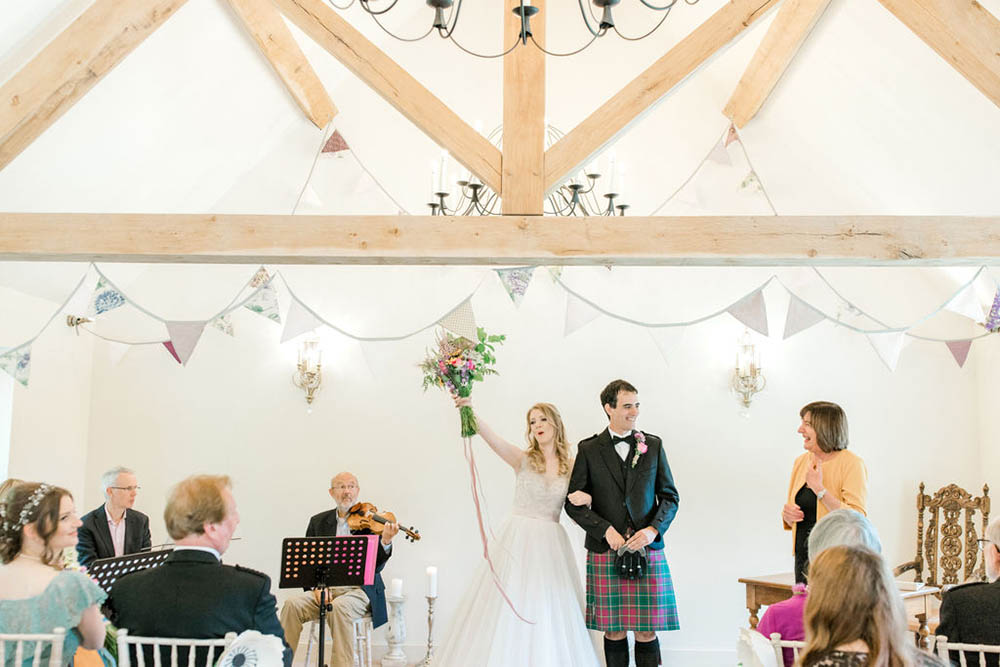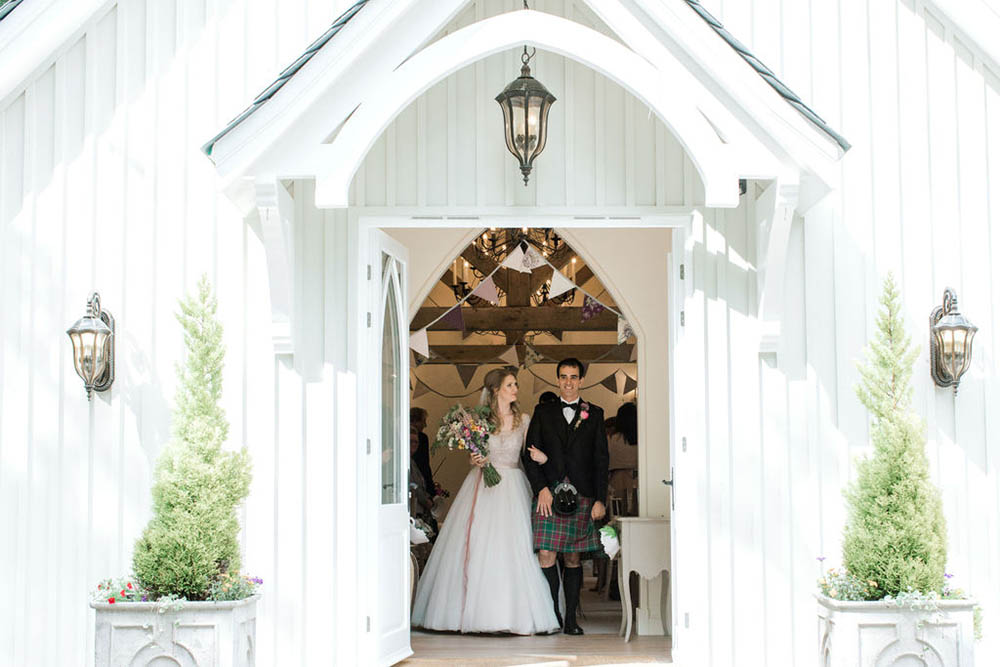 My wedding dress was by Cosmobella (Style 7795) and called Katherine. My friend took me to June Brides as an initial shop to try on some different styles. I never imagined I would come away with my dress but I did! The team were lovely and so helpful.
Shopping for Graham's kilt outfit was great fun! He had never worn a kilt before and was excited about getting his very own to keep.
We went to Edinburgh and walked in to Gordon Nicholson without an appointment. They chatted us through the tartan options but Graham was set on a very lively Clan Taylor tartan.
The day we returned to pick up his whole outfit we had to dance through the crowds gathered for Edinburgh Pride. It was such a happy and fun day as we jigged through the revellers holding his new statement piece.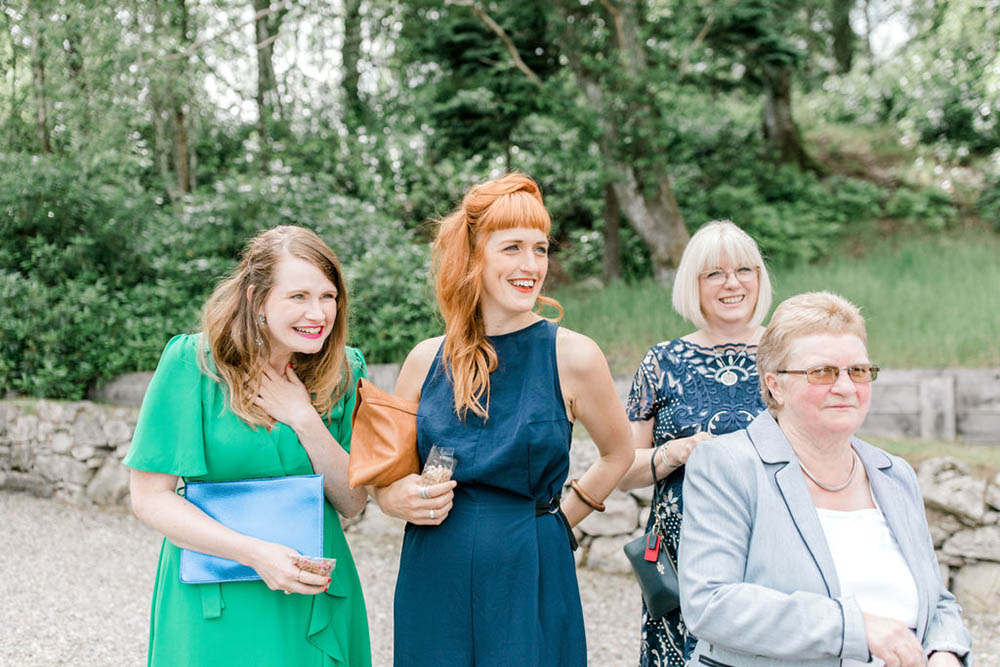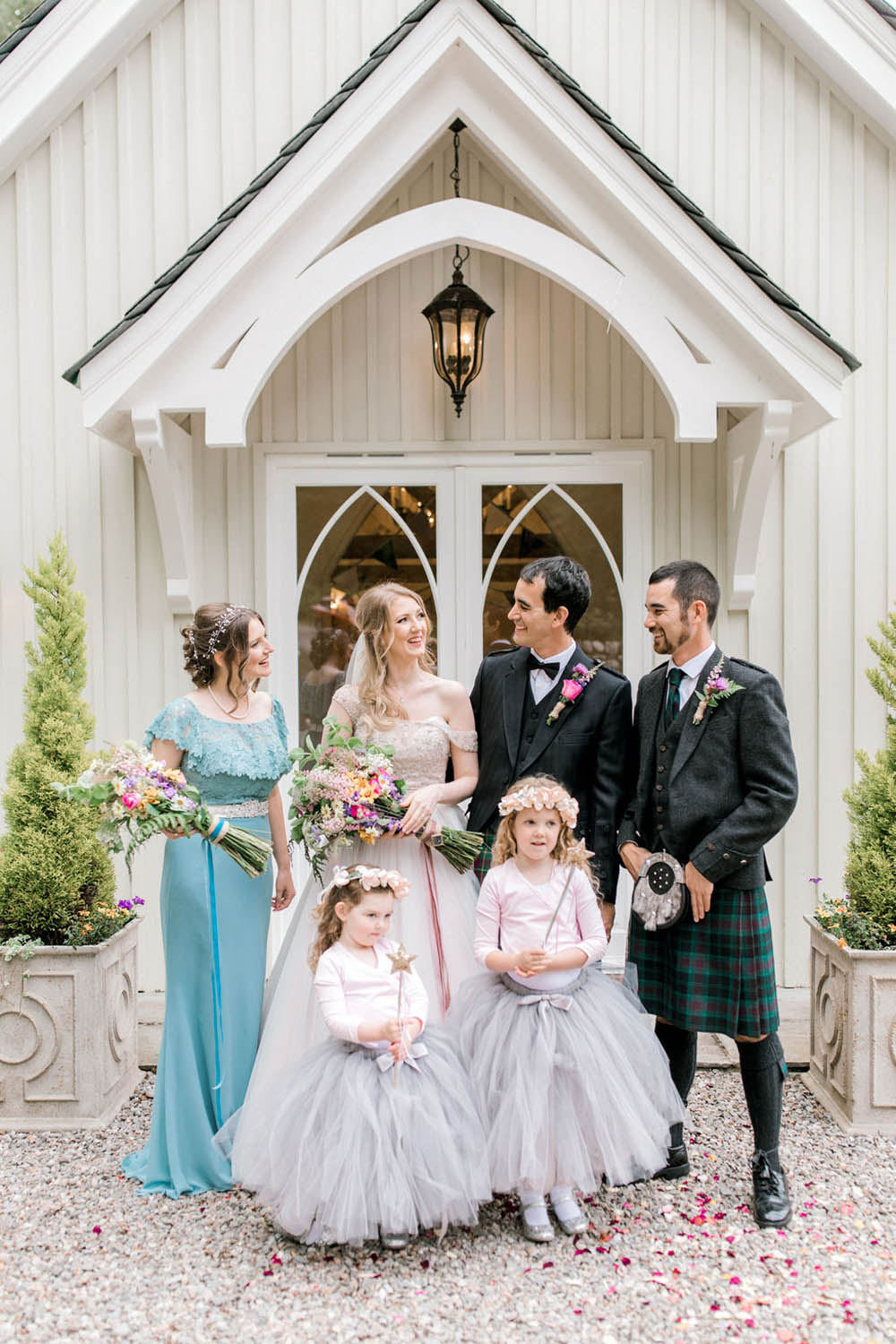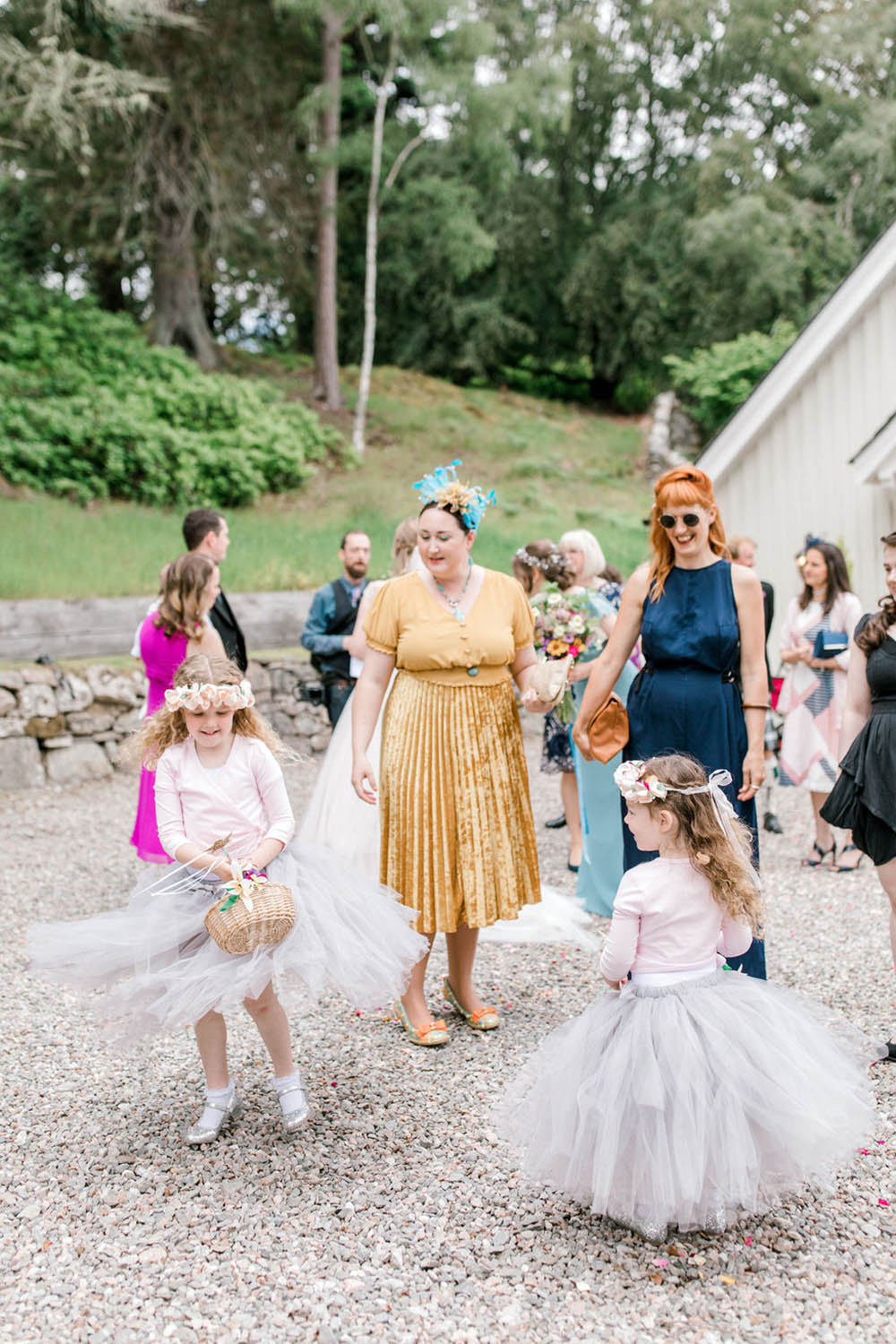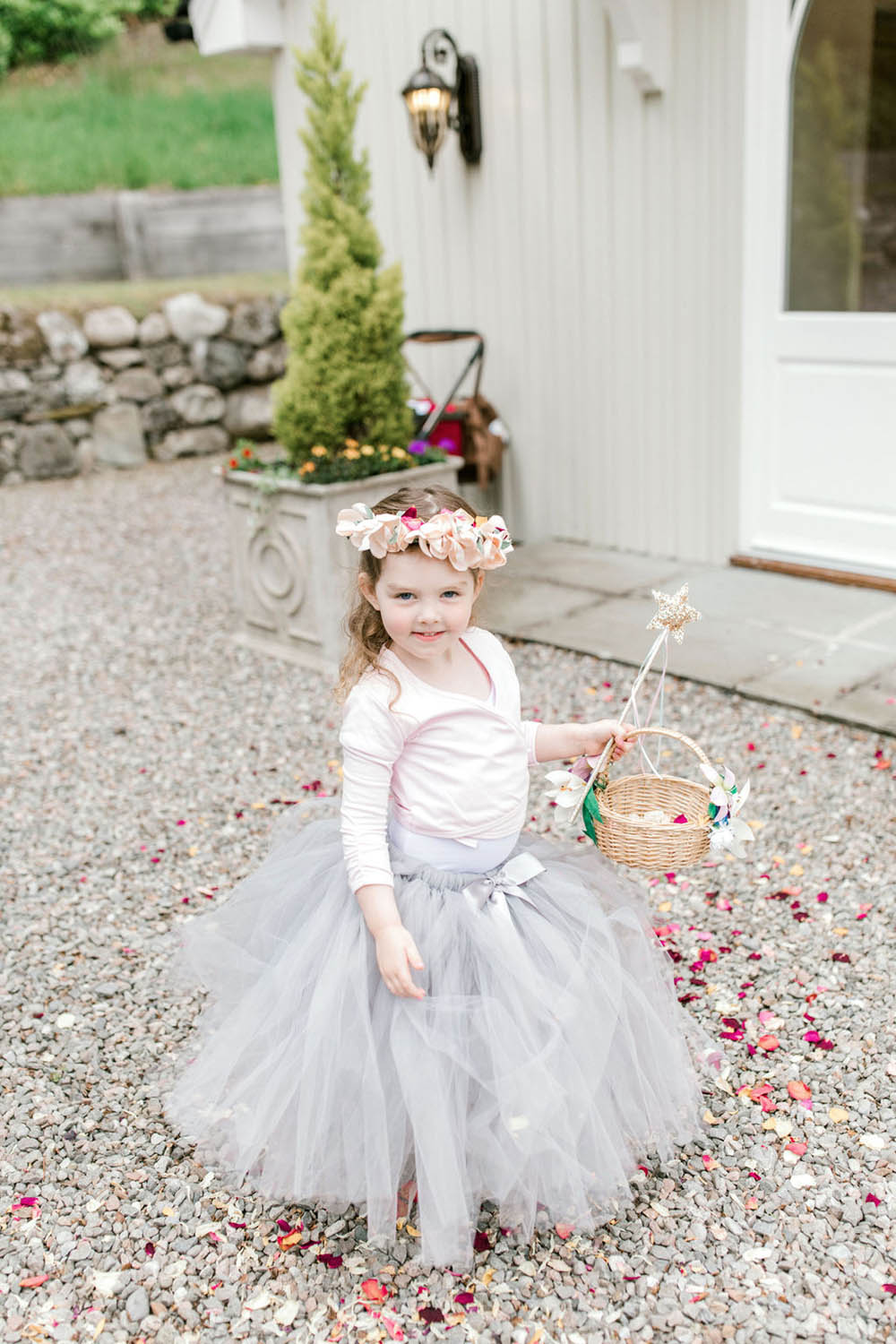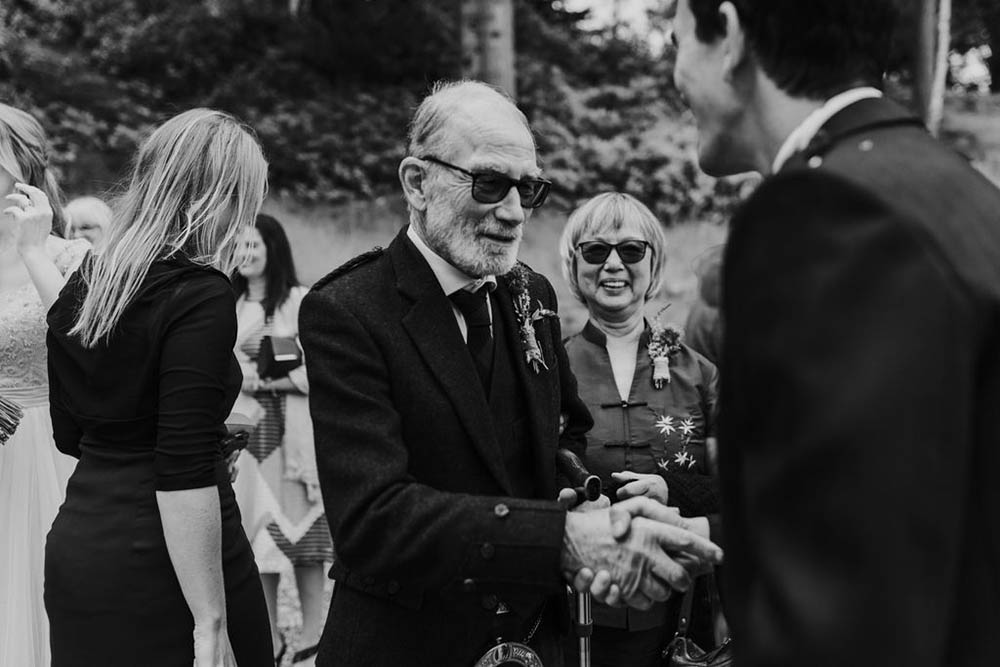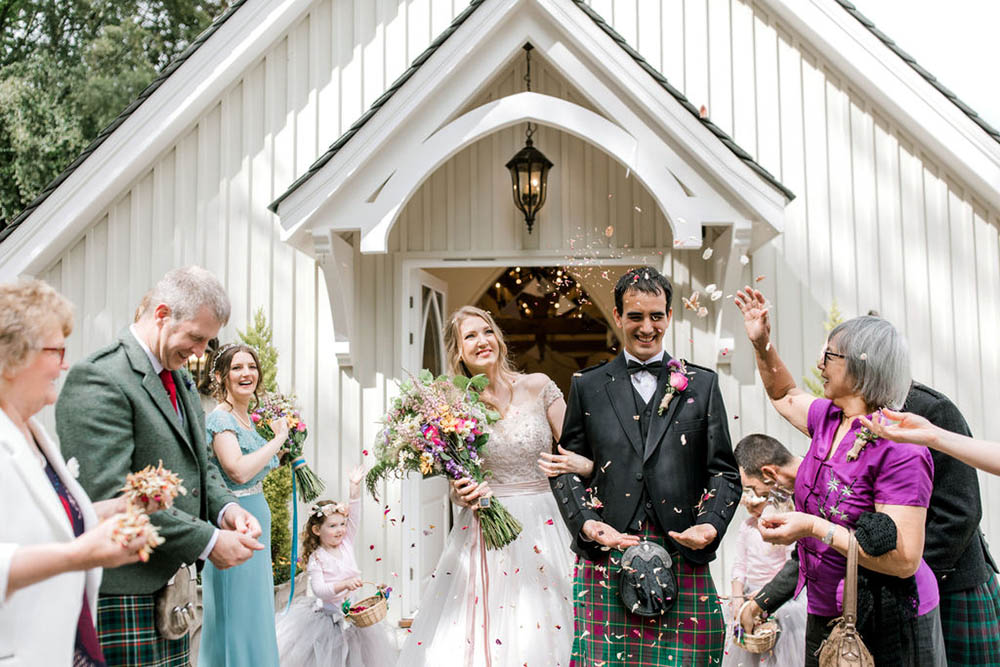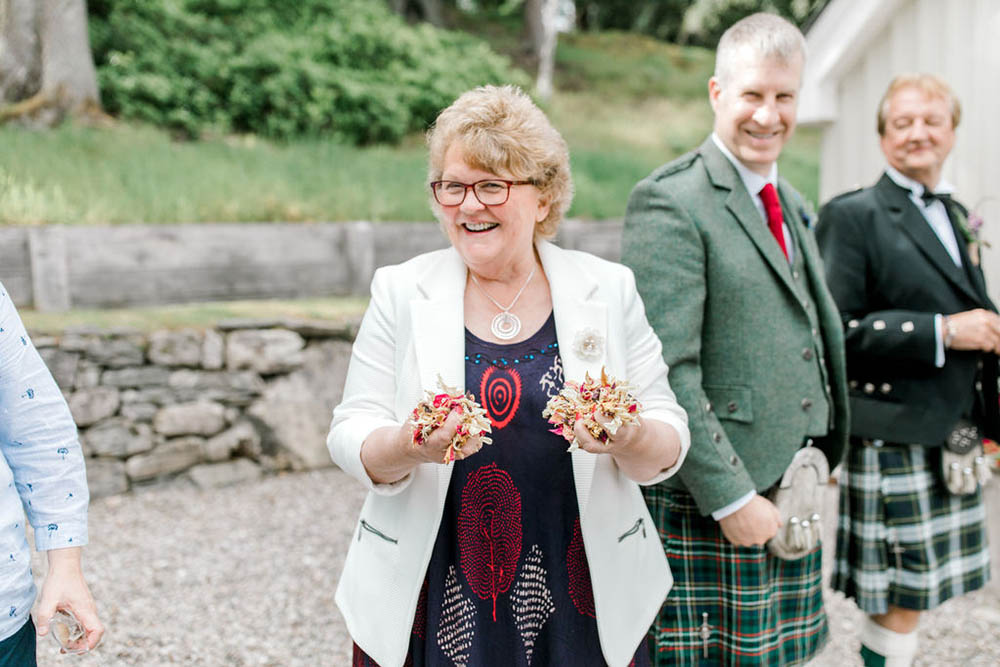 Rather unusually we woke up on the morning of the wedding together. Graham then got ushered off to be with the boys and the girls took over the master bedroom to get ready.
My sister (a member of Grampian Concert Orchestra) put together a string quartet for me by contacting people she has played with.
They played a beautiful range of pieces prior to my arrival in the chapel and again in the garden for drinks and canapes.
I had always wanted to walk down the aisle to Kissing You by Des'ree, but the music did not exist for a string quartet. My sister is a talented musician and took the piece and arranged it for a string quartet. It was completely unique and perfect!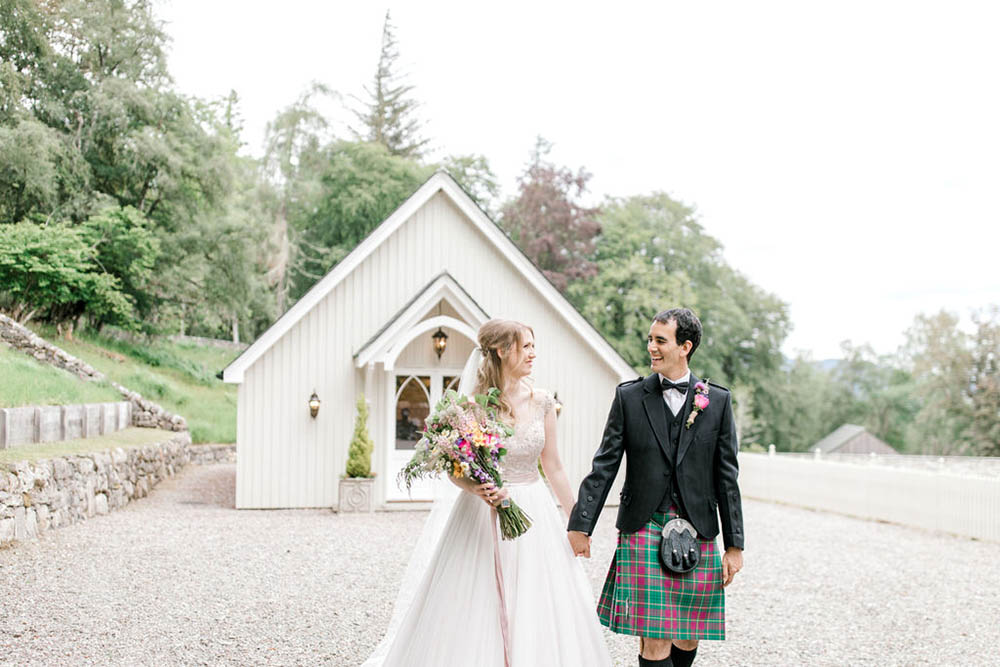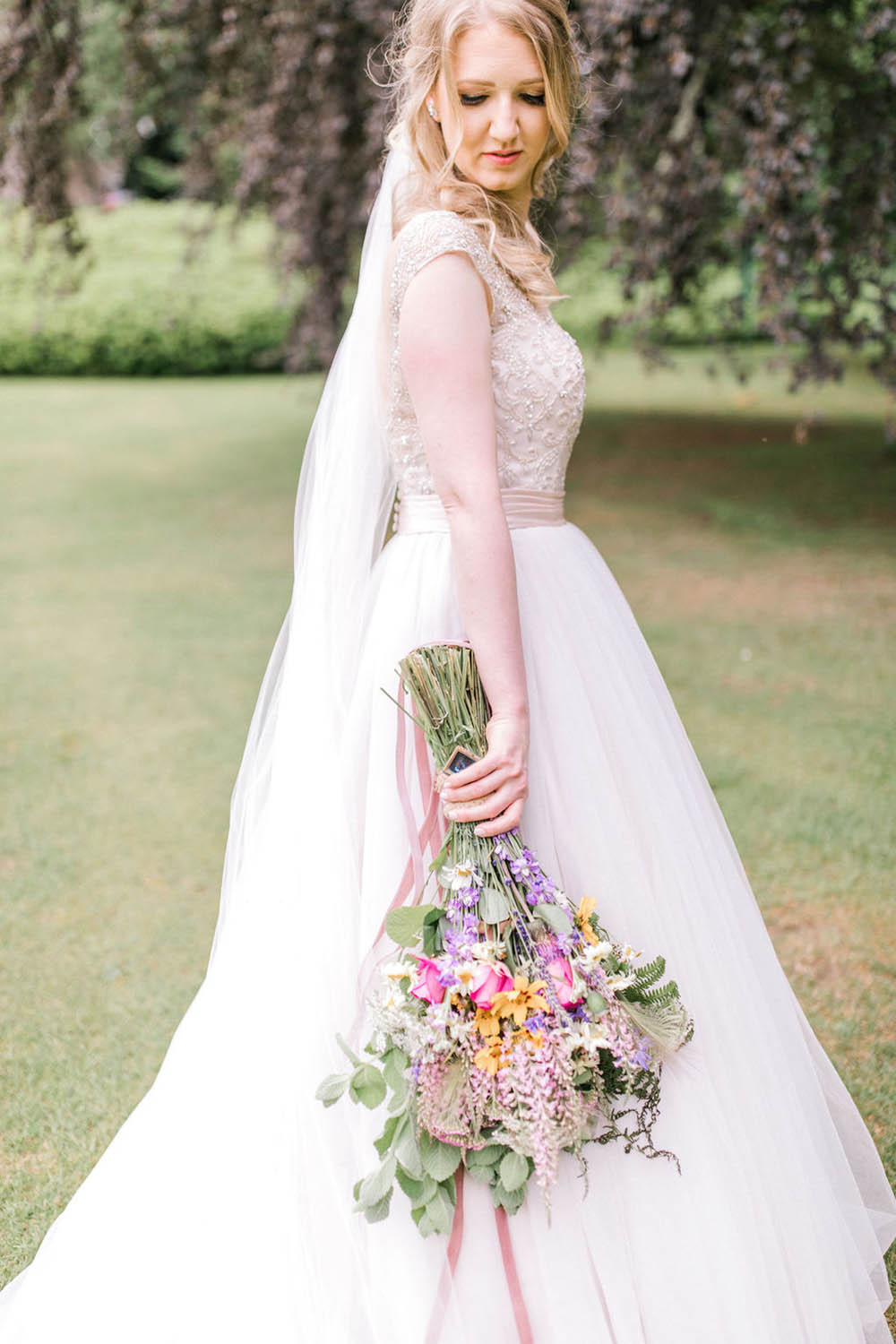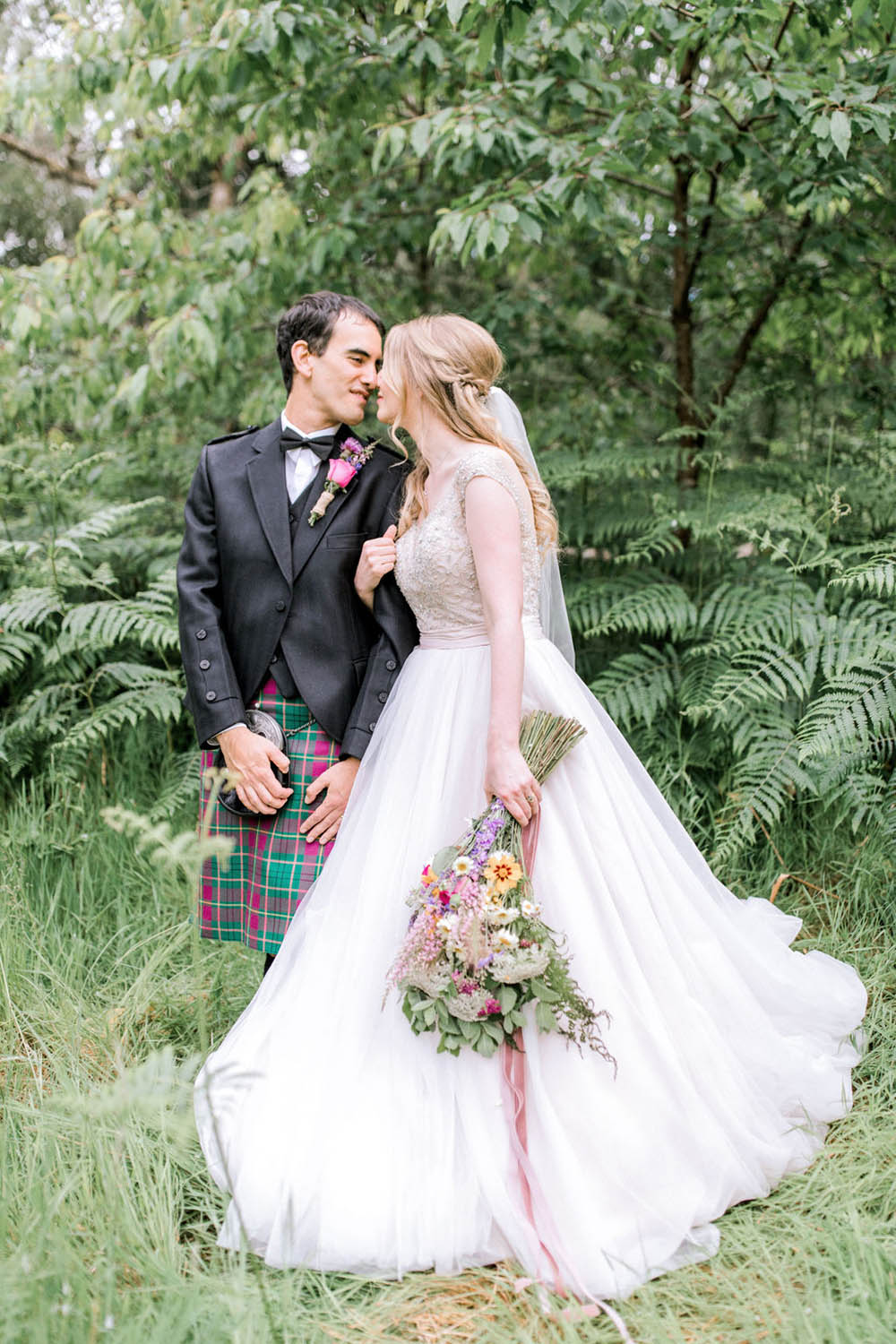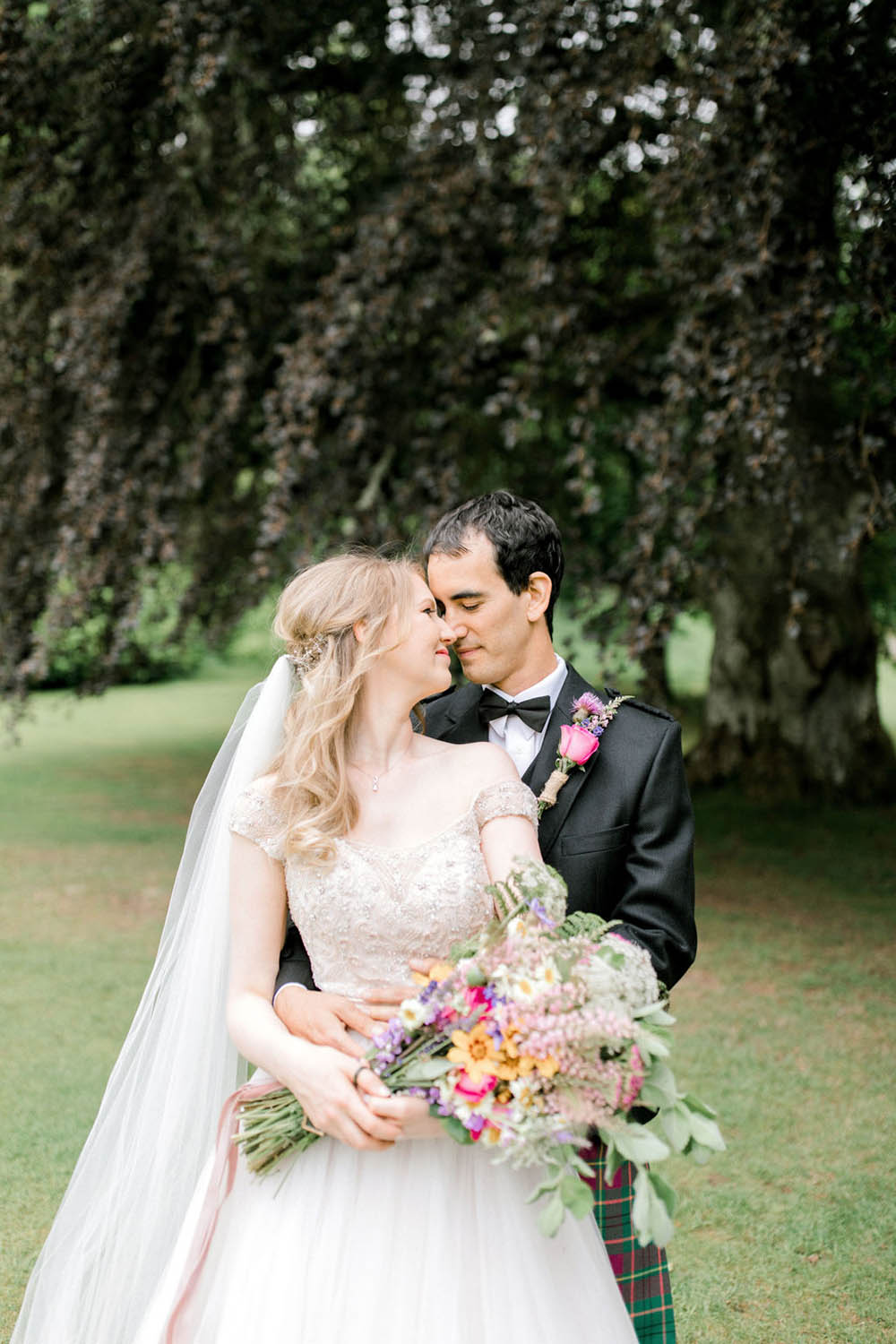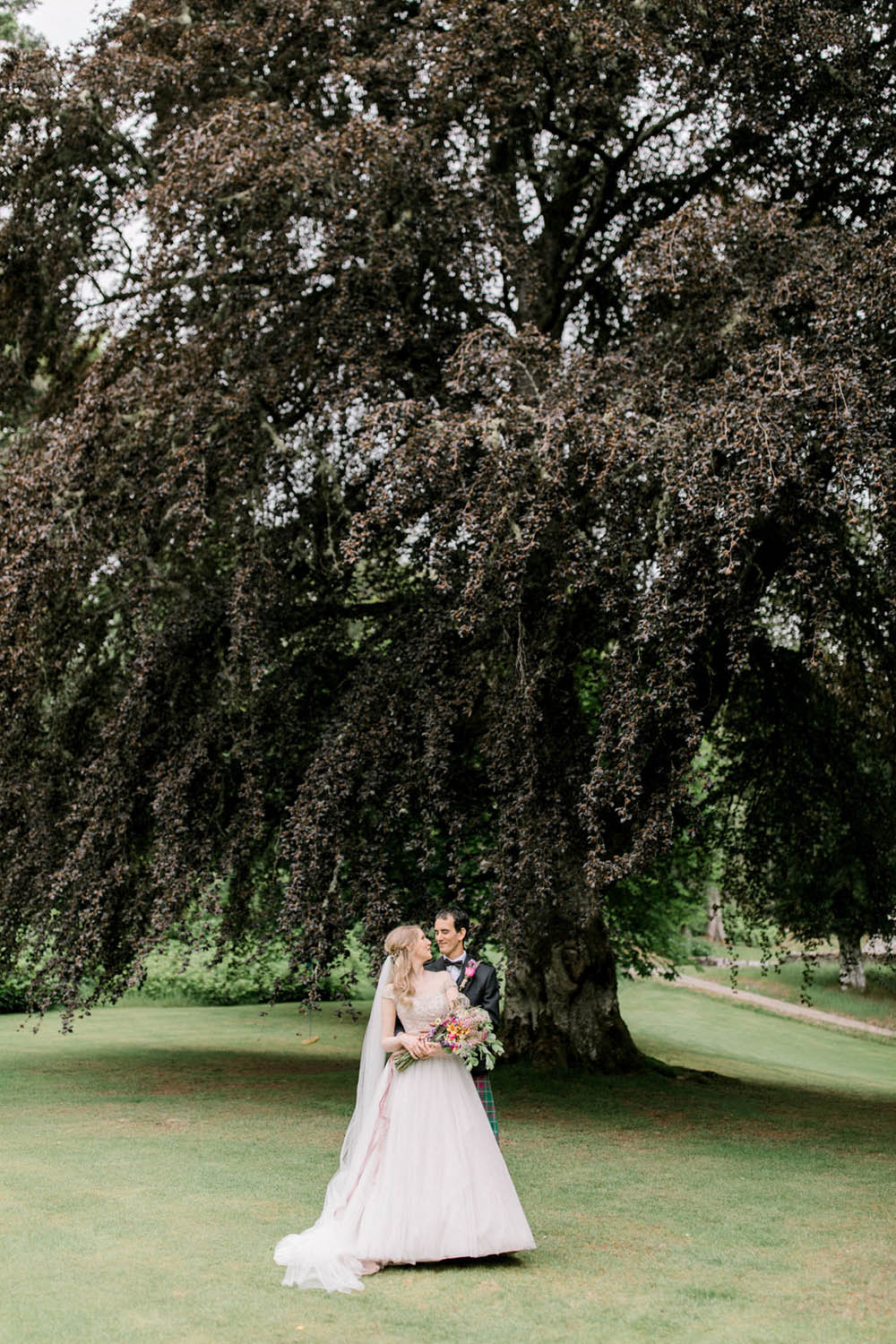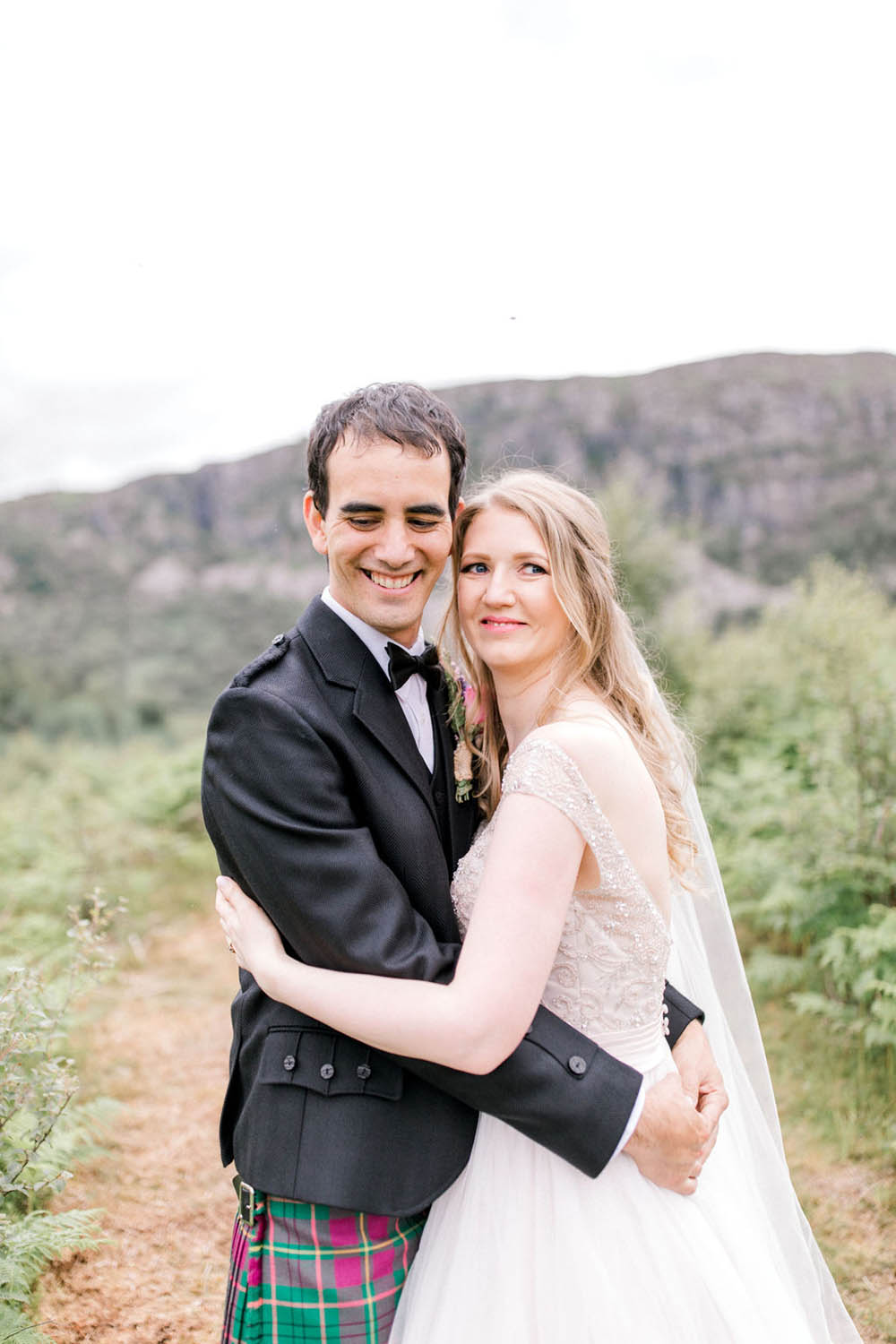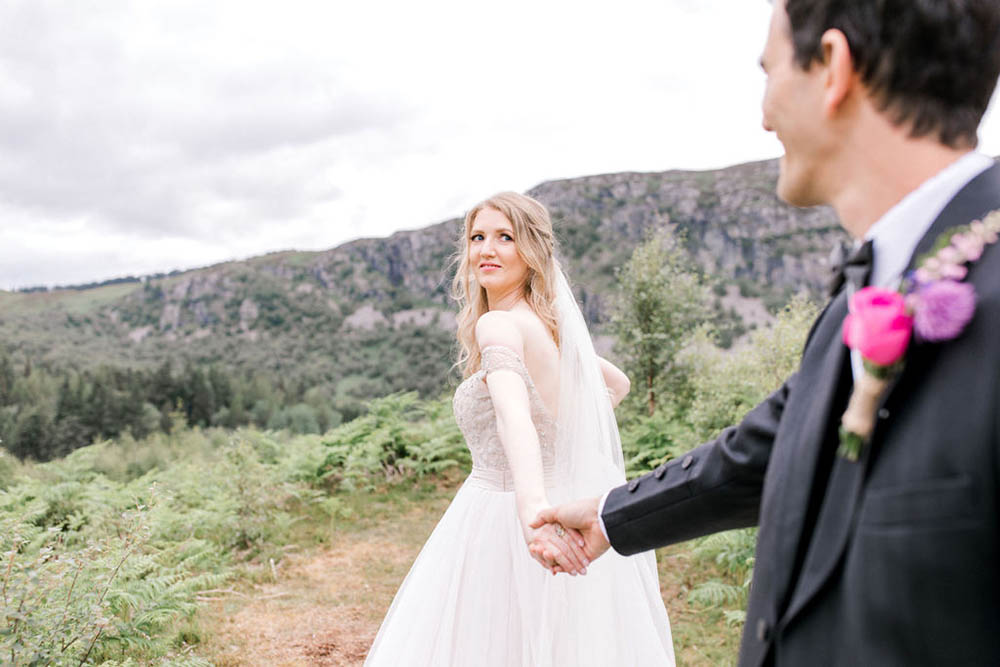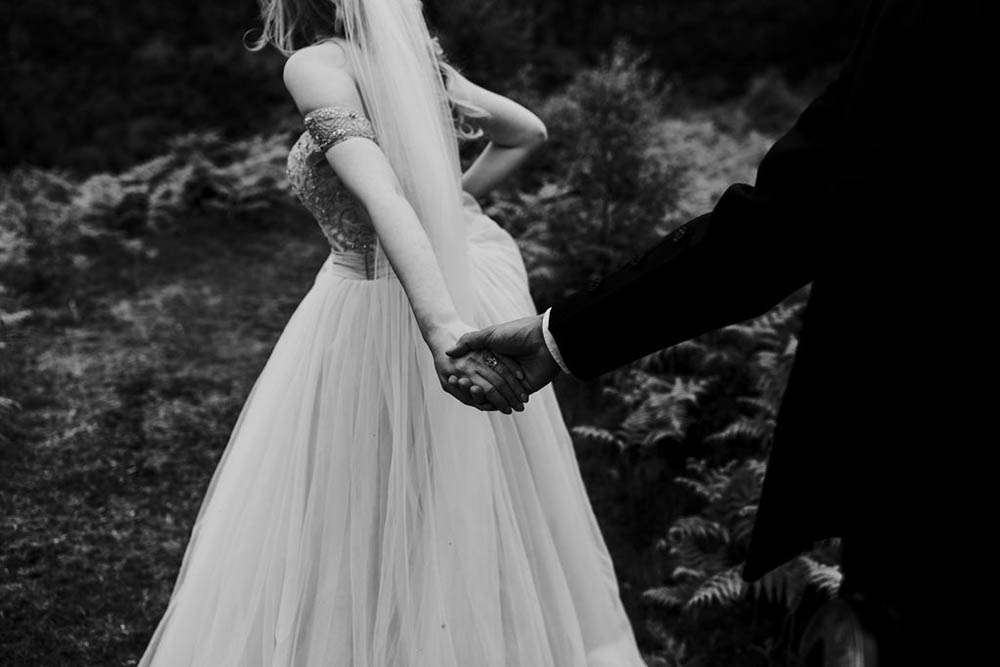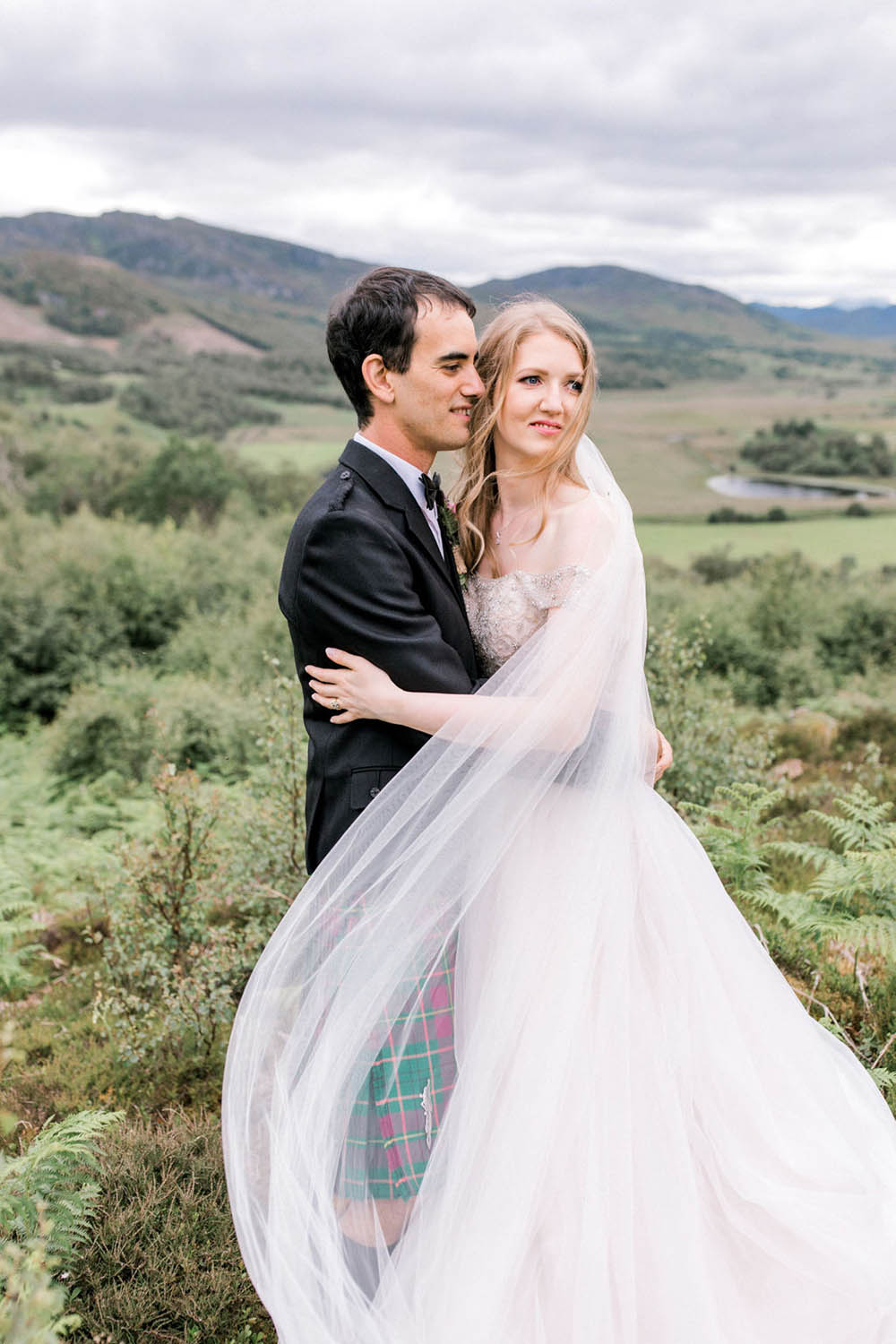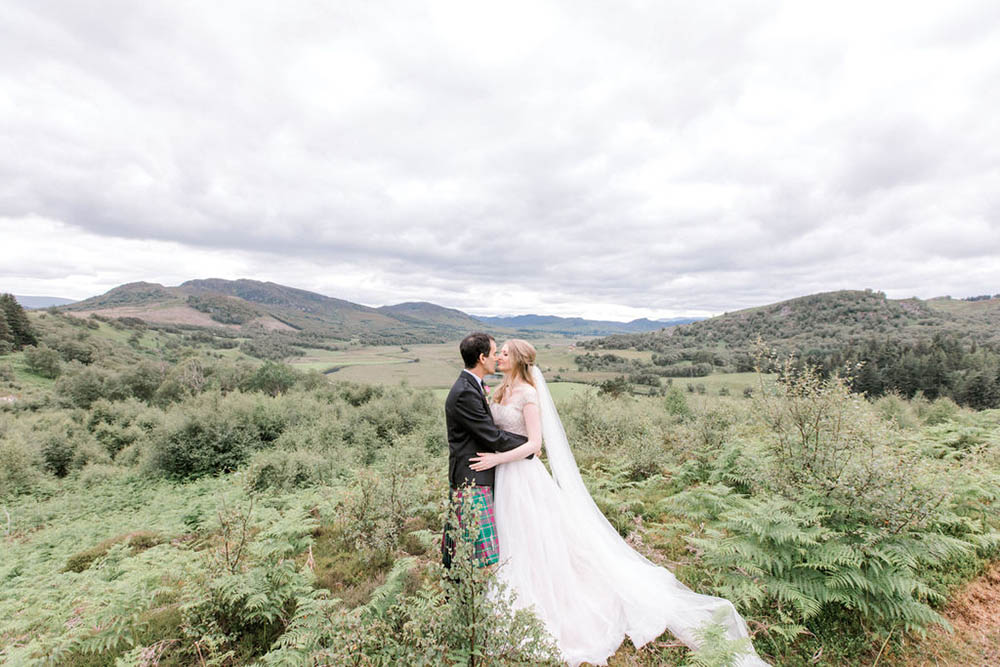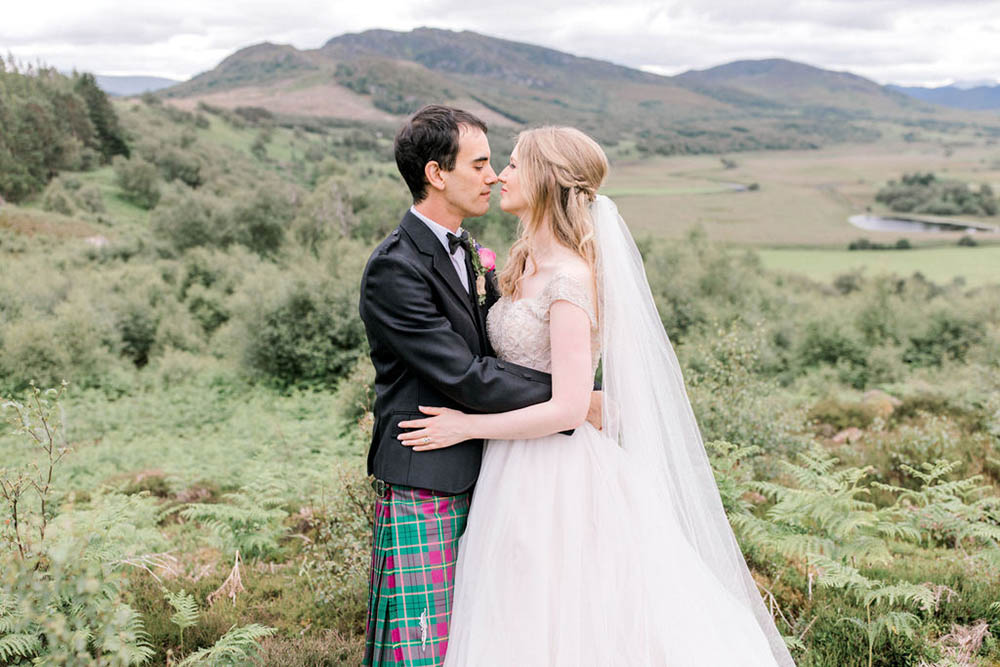 We wrote our own vows together as it was important to us that the promises we made reflected our expectations of what we both wanted from marriage.
One of our focuses, family, was very emotional as I had lost my mother the year before to cancer. While it was very sad not to have her with me on my big day, I felt our ceremony honoured her memory and the amazing upbringing she and my father had given me.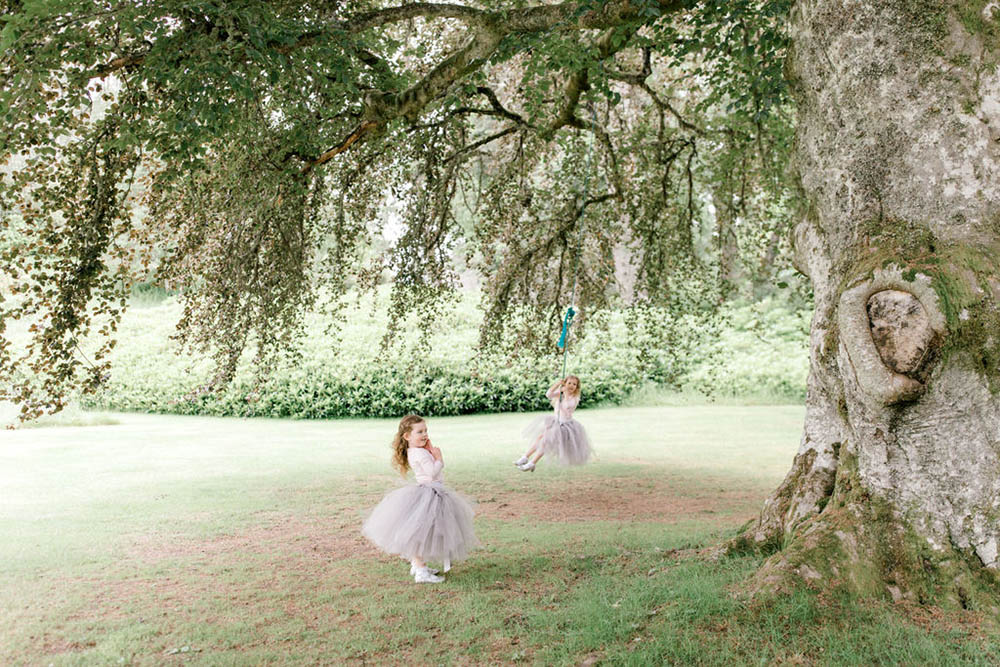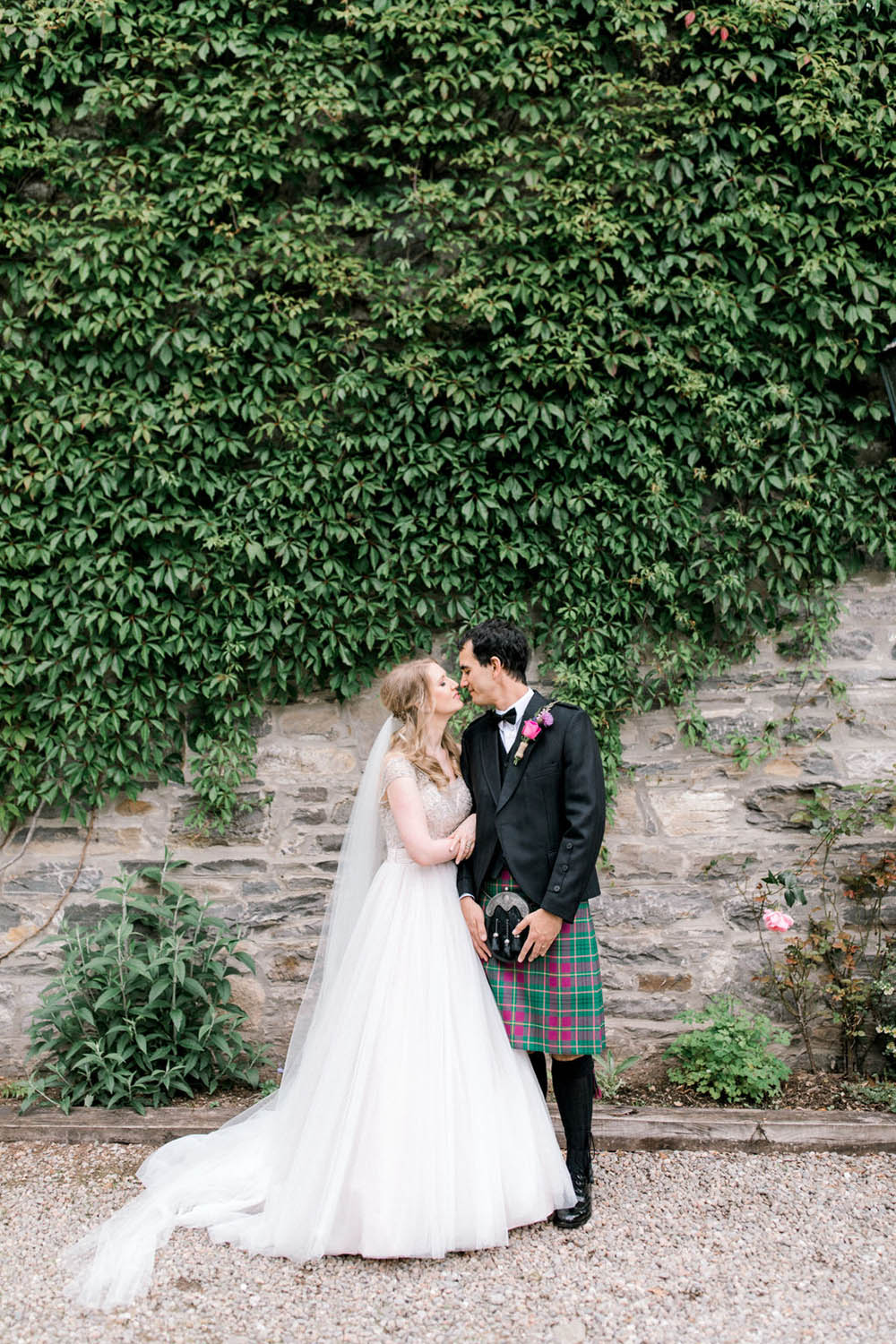 After many hours spent googling photographers we hit the jackpot with The Gibsons. They are a Glasgow-based husband and wife team and their photography is just beautiful.
We loved their less formal style as we wanted lots of photographs "in the moment" rather than posed. They were fantastic to work with from start to finish. They blended into our intimate little group and made us so relaxed. I adore my photographs!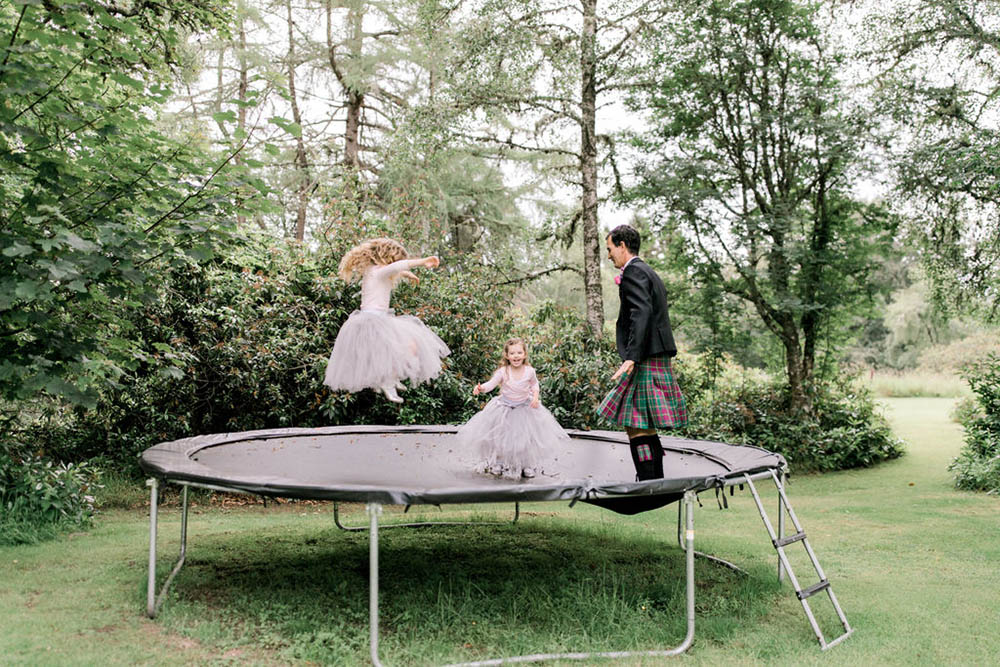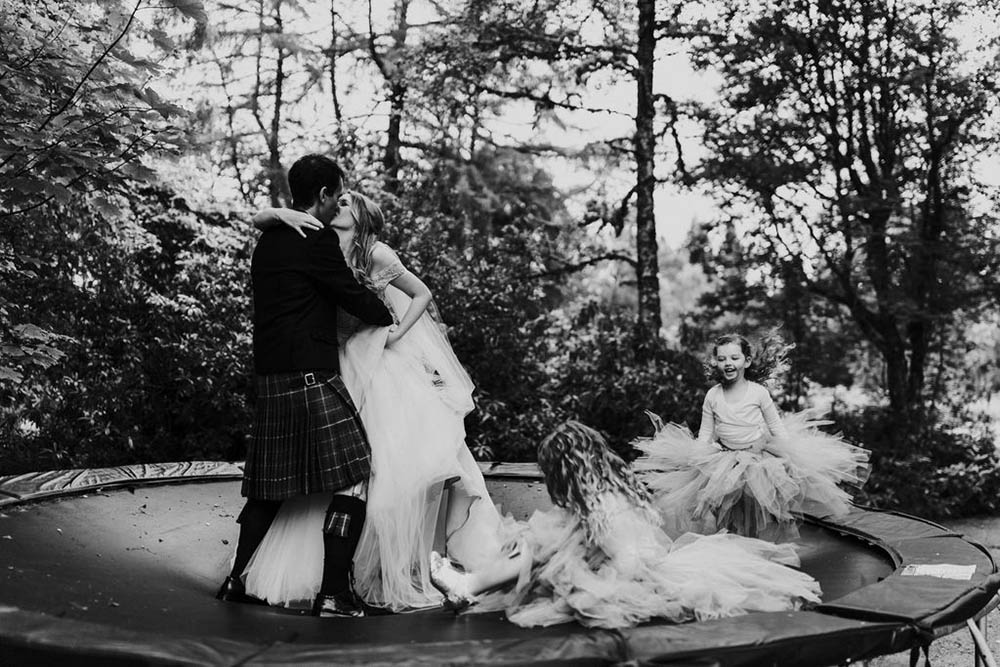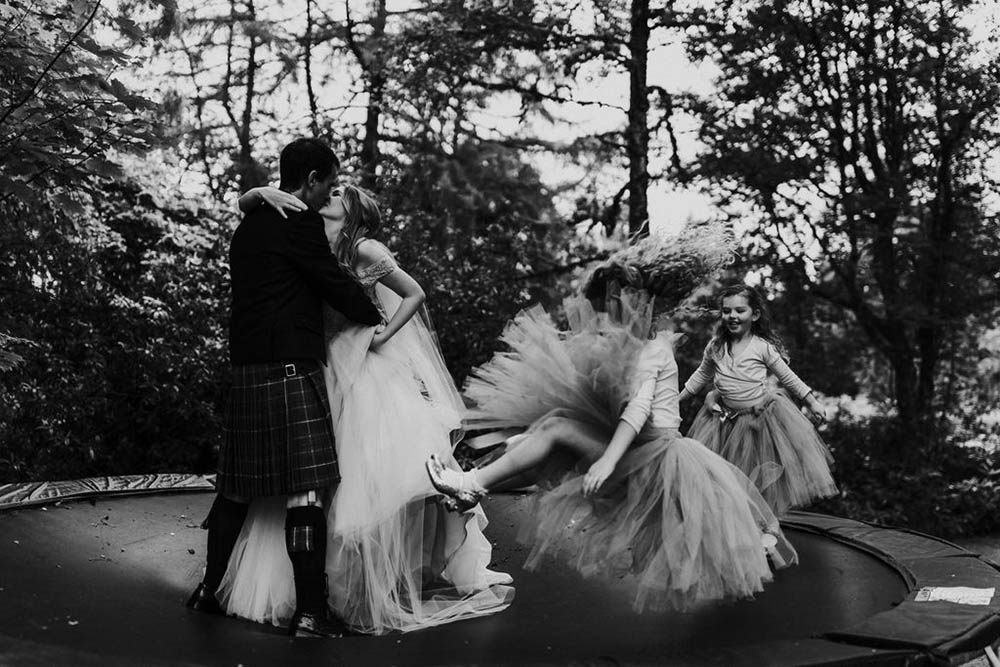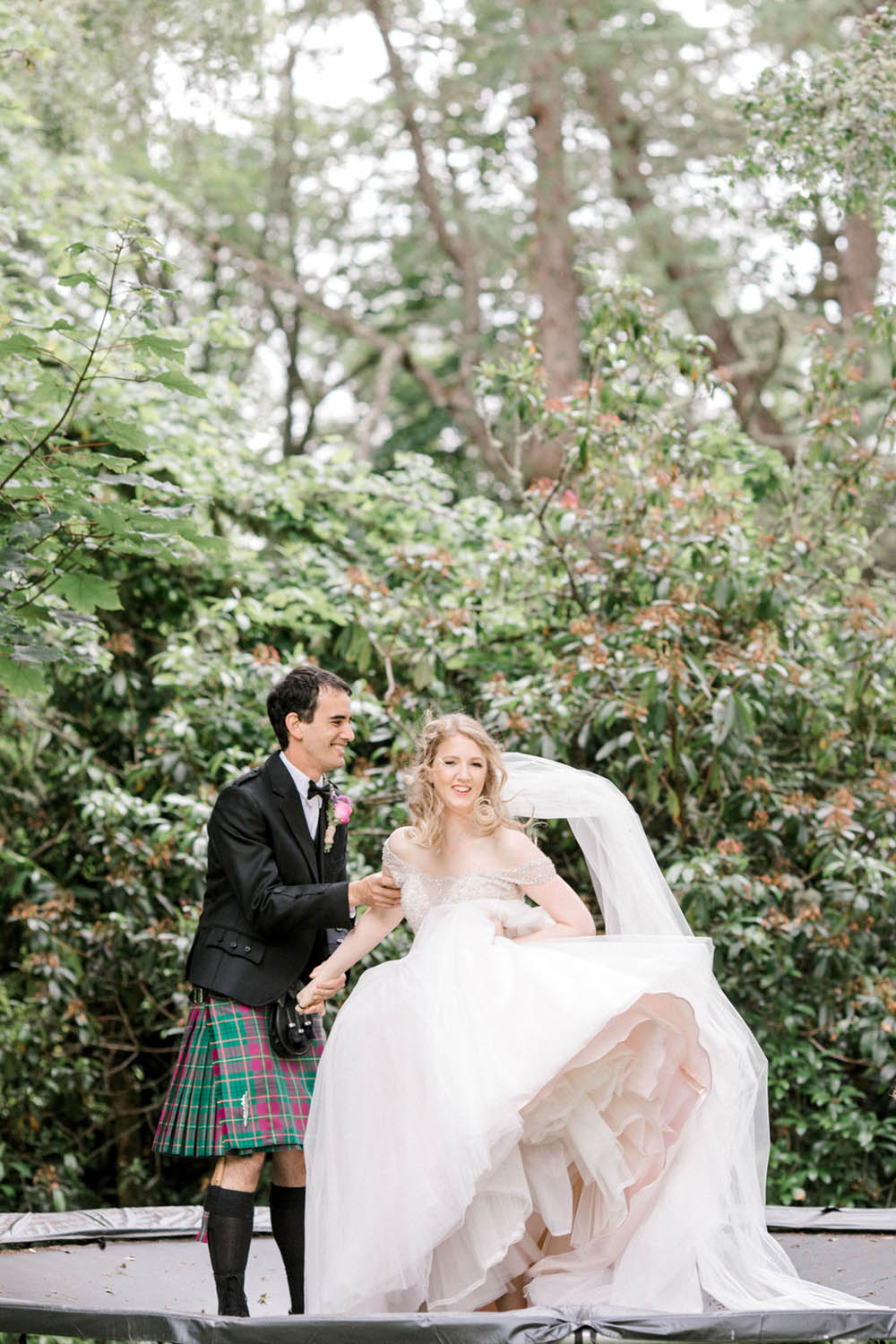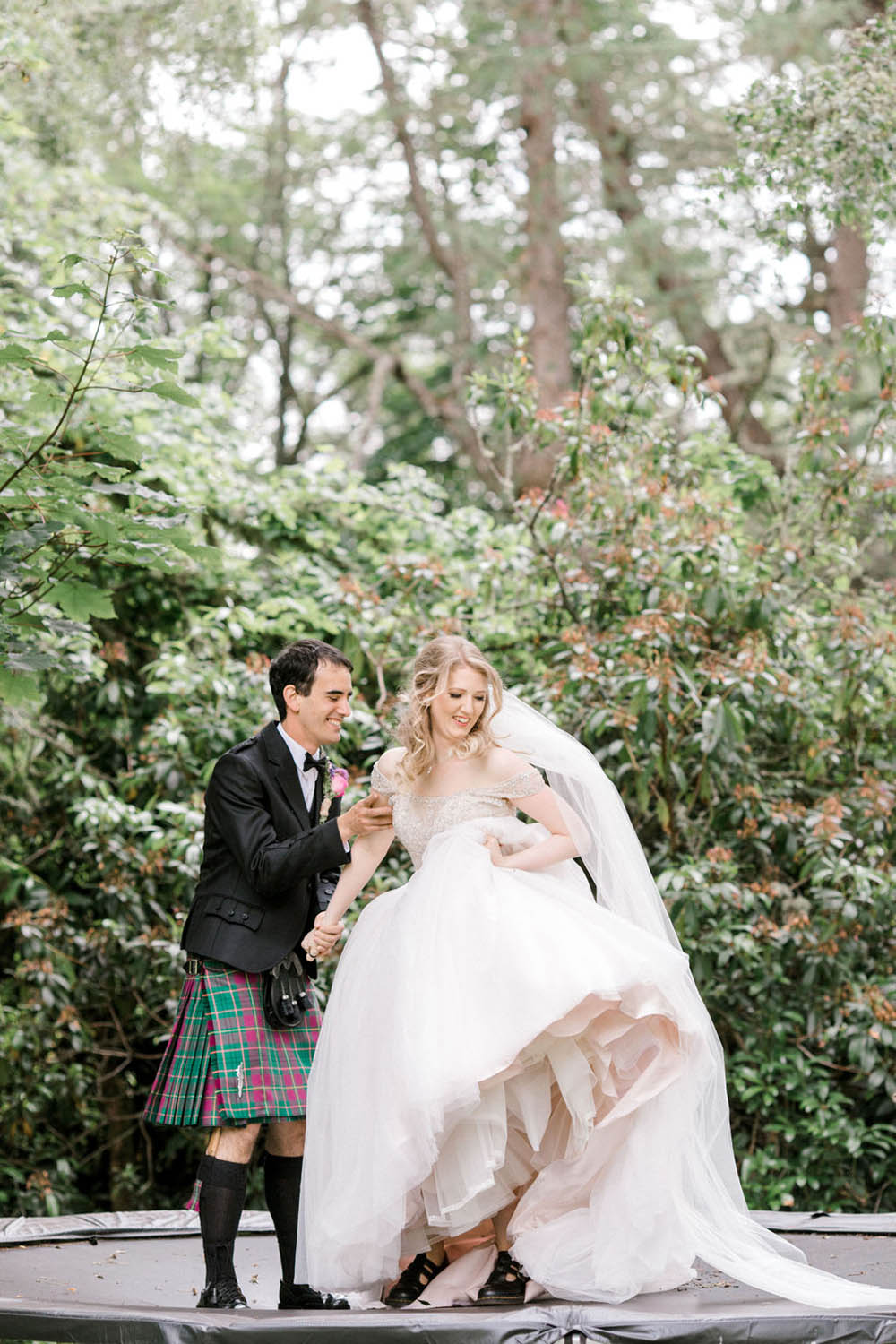 During our photo session two of my flower girls decided to photo bomb us and in an impromptu moment we all jumped onto the nearby trampoline. It was definitely not planned but those shots are probably my favourite photographs of the day!
There was no real end-point to the fun. We danced, lit sparklers and partied well into the early hours. The bar staff left at midnight and we continued on. We eventually turned in at around 3am totally exhausted and exhilarated.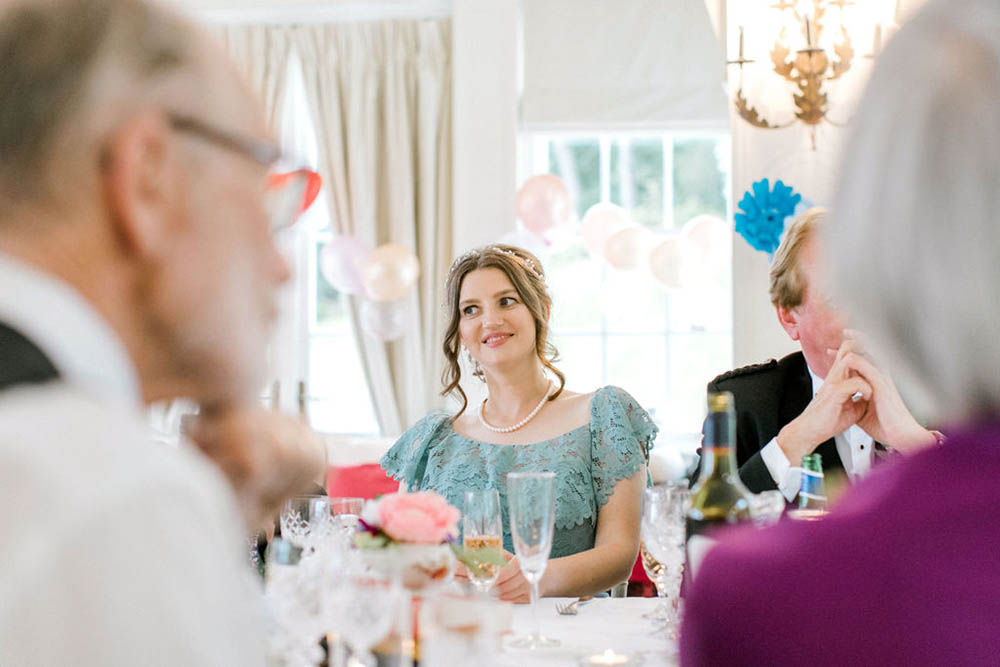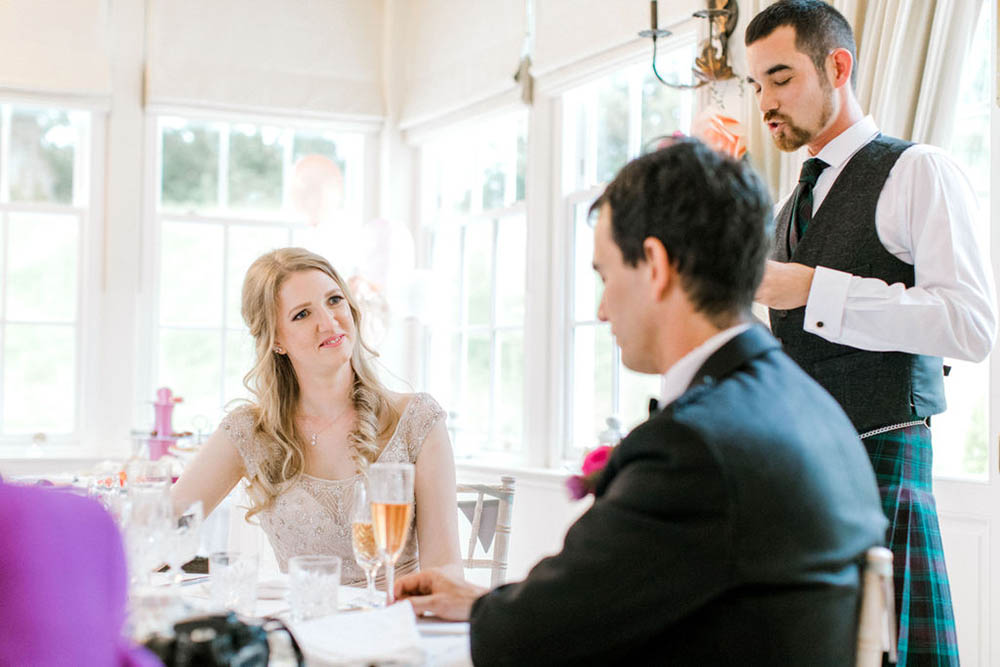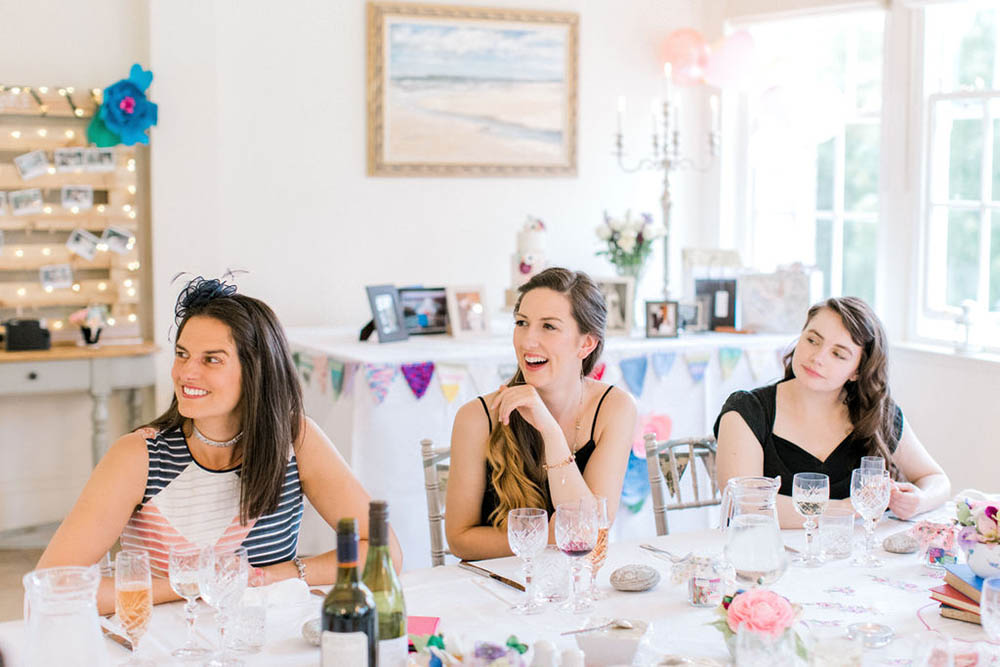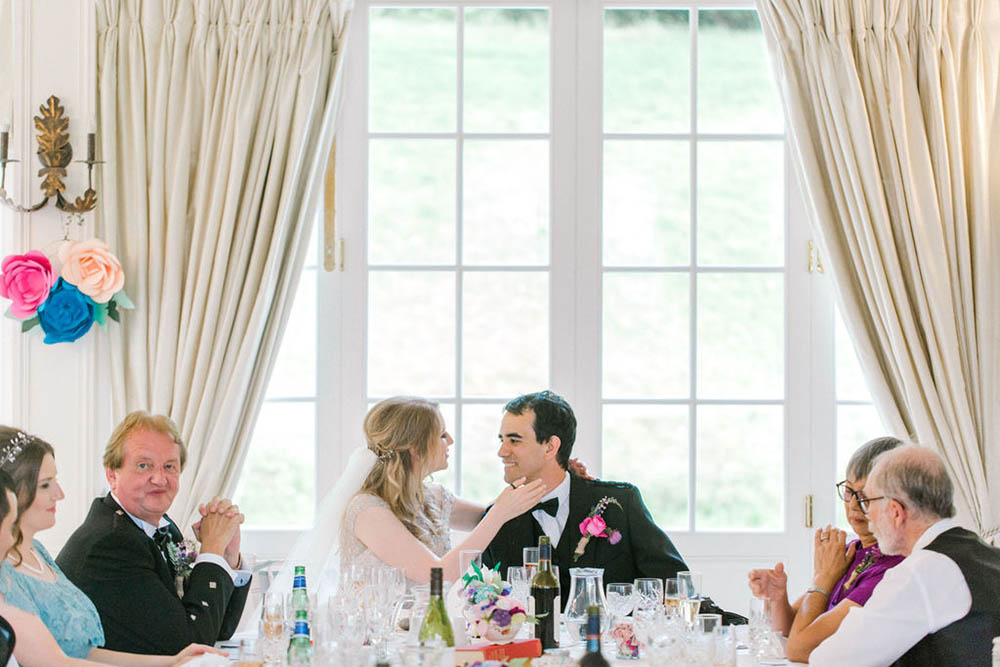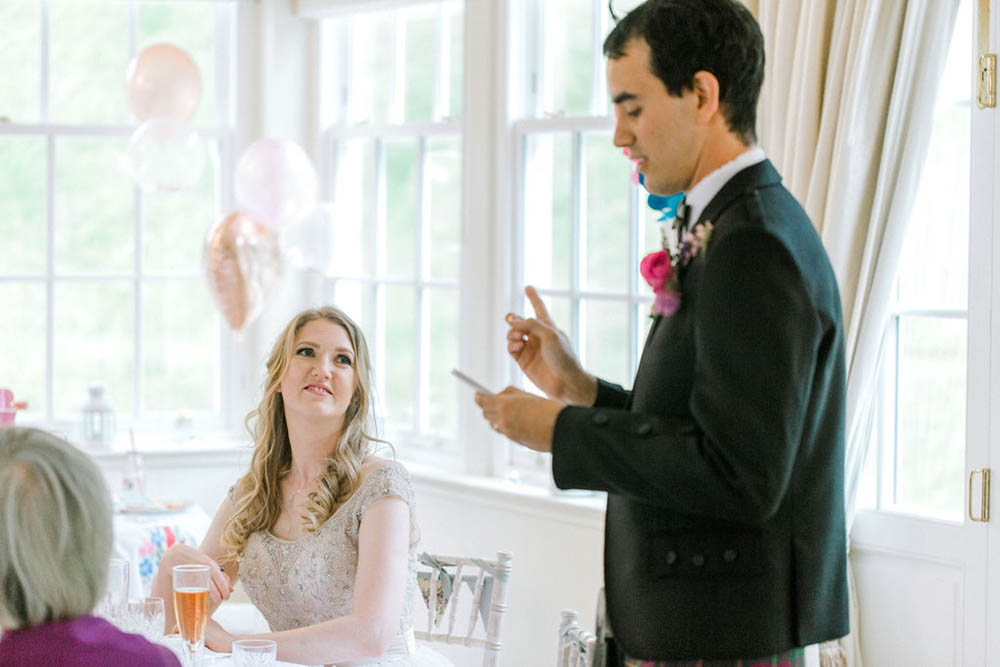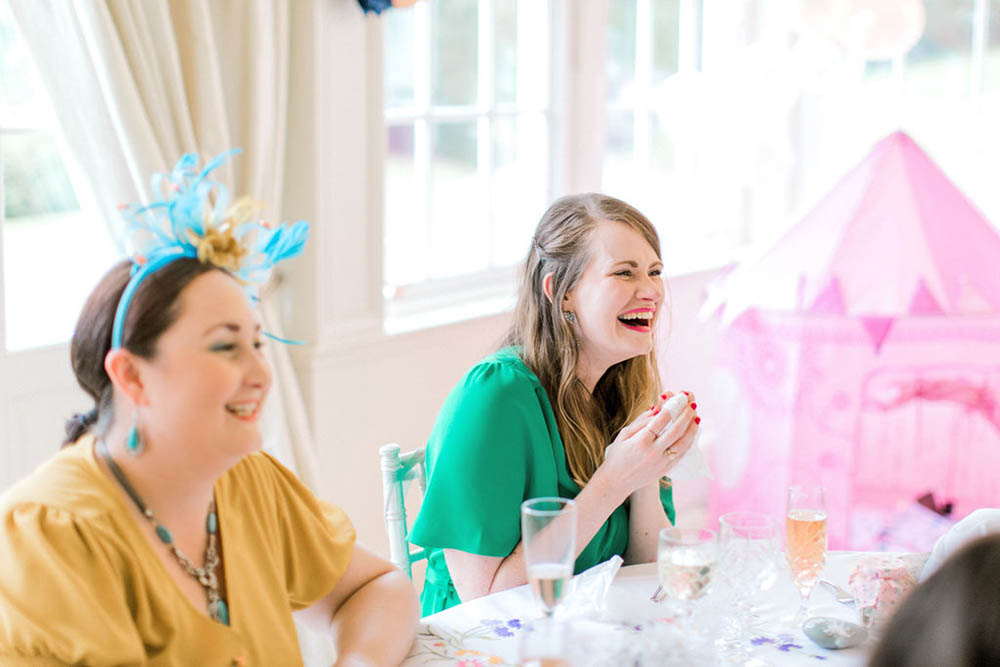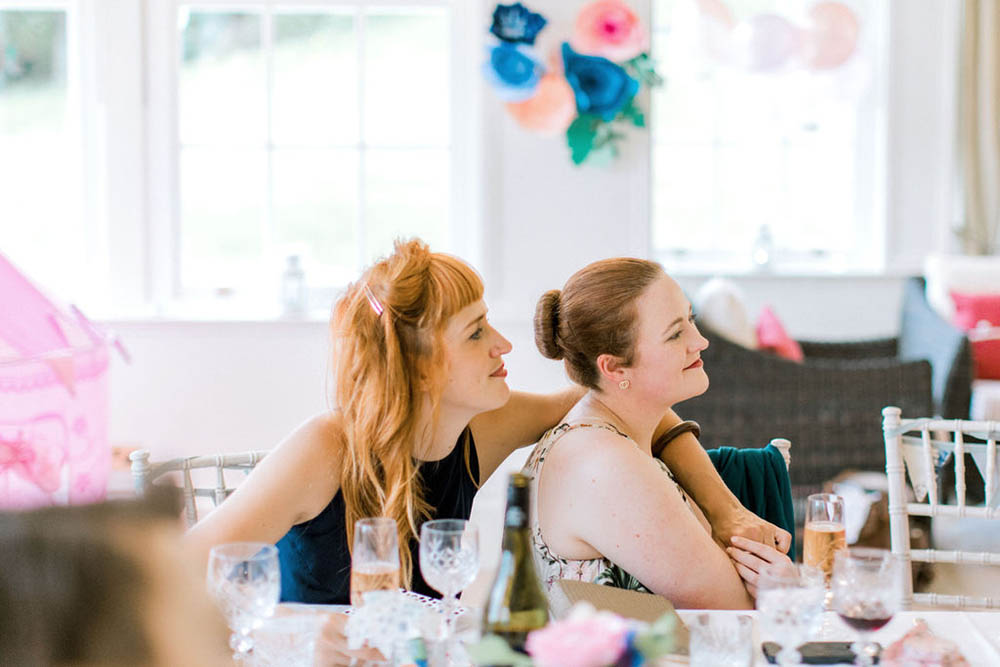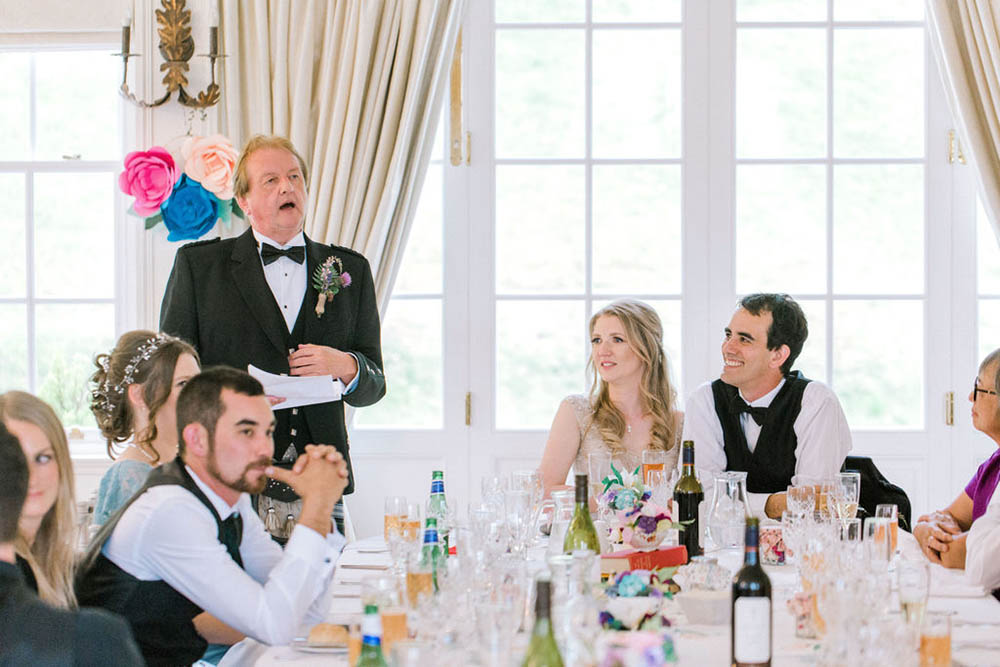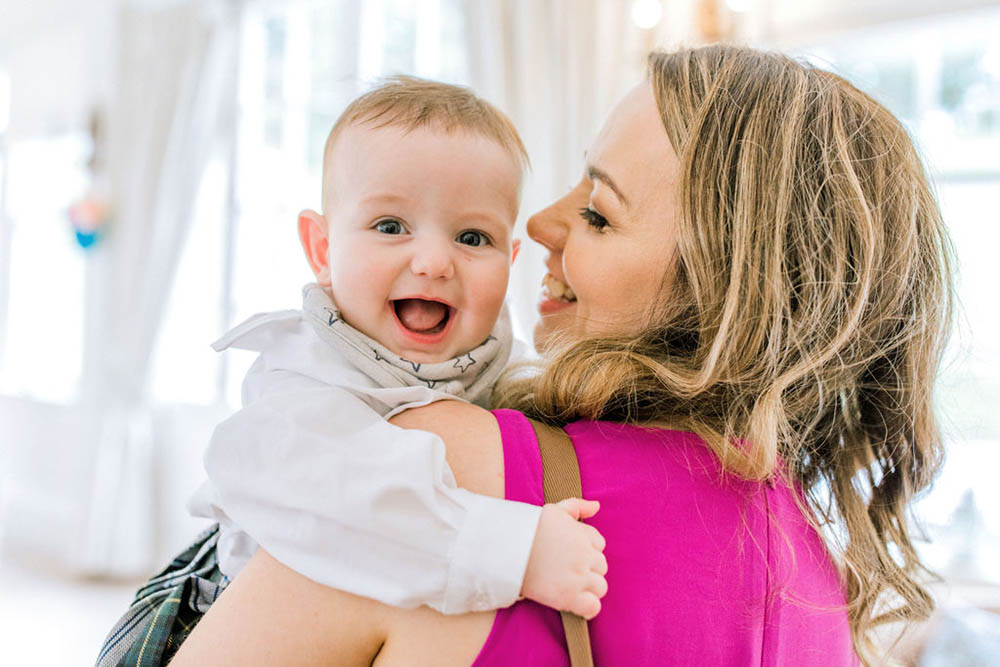 The day after was almost as fun as the wedding day. The weather gods smiled on us and it was a glorious summer day. We had planned a champagne afternoon tea and then a barbecue in the evening so the sunshine made it perfect.
Everyone lounged on picnic rugs and enjoyed each other's company while scoffing large amounts of wedding cake. We finished the evening by eating the massive cheeseboard that we had been too full to contemplate on our wedding day.

Venue: Glentruim Estate | Photographer: The Gibsons | Bride's dress: June Brides | Bridesmaid dresses: Perfect Bridal Rooms | Bride's accessories: Gemma Sargent | Groom's outfit: Gordon Nicolson Kiltmakers | Celebrant: Lesley Simpson | Cake: Dedicaked | Hair and make-up: Shona De Rose Hair and Make-up 
Get gorgeous real weddings and all the latest wedding news delivered direct to your inbox every week by signing up to the Scottish Wedding newsletter