A Beach Front Wedding in Beautiful Cala Codolar, Ibiza
Samantha Toyer and John Wright Wednesday 11th June 2014 Elixir Shore Club on Cala Codolar Beach, Ibiza Neil Thomas Douglas Photography Imagine sitting on a cliff top, champagne in hand, enjoying the world famous Ibizan sunset fall over the island surrounded by those that mean the most to you and your new husband. That was […]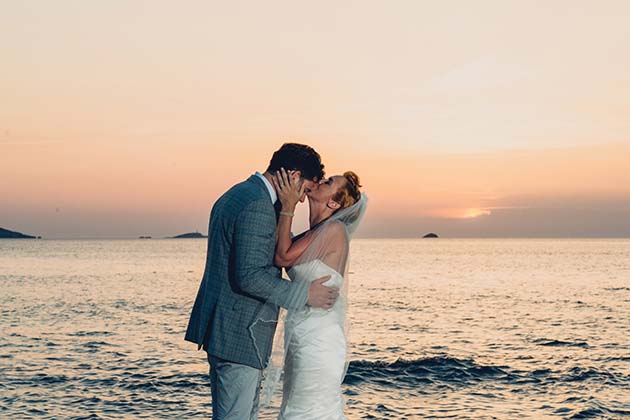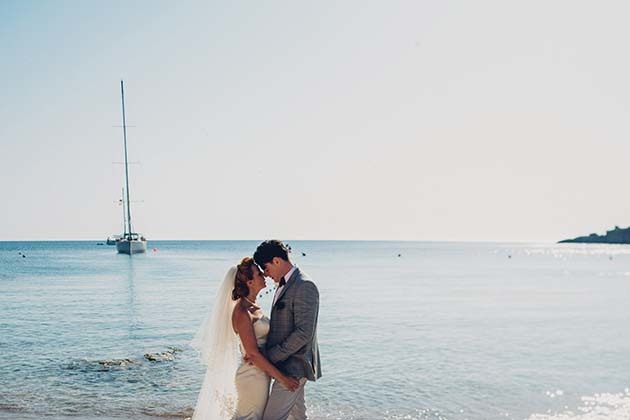 Samantha Toyer and John Wright
Wednesday 11th June 2014
Elixir Shore Club on Cala Codolar Beach, Ibiza
Neil Thomas Douglas Photography
Imagine sitting on a cliff top, champagne in hand, enjoying the world famous Ibizan sunset fall over the island surrounded by those that mean the most to you and your new husband. That was exactly the blissful scene that Samantha Toyer remembers fondly from her wedding on the island of Ibiza.
"My husband John and I met and fell in love on the beaches of Ibiza in 2010," says Samantha, "We've watched so many sunsets over Es Vedra, a huge rock rising out of the sea to the west of the island, and we knew we wanted a venue which overlooked it."
If you think planning a wedding abroad would be a logistical nightmare, think again. According to Samantha, the biggest challenge was something very familiar to most women who are off on their travels " the packing! "We took four huge suitcases with us, some of them with very fragile glass table settings on them. That was the most stressful part!" laughs Samantha. "It was so worth it though, to have everything looking exactly as I imagined."
One stress that the couple could tick off of their list was finding a photographer and wedding film-maker on the island; they flew two of Scotland's best out to join them for the big day: Neil Thomas Douglas Photography and Gryffe Weddings.
"On the day, Neil was amazing," says Samantha. "We really commited to our photos, stepping over nude sunbathers and climbing onto the roof for some shots! Photos last a lifetime and I am so glad we got the right photographer for us."
The couple also loved their wedding film, captured by Steven at Gryffe Weddings. "Their films look like the kind you'd see at the cinema. On the day, Steven was excellent. He captured so many things we didn't even notice ourselves on the day. It's so lovely to watch back," she says.
The couple chose Elixir Shore Club on Cala Codolar Beach to host their wedding ceremony and reception, with views over the Mediterranean Sea.
"Our venue was amazing. They recommended some great local suppliers and I had every confidence in them to make our day special," says Samantha. "On the day, they made us feel so welcome; like we'd known them for ages. All of our guests commented on it. I couldn't recommend them enough!"
"I think the main difference between a wedding at home in Scotland and our wedding abroad was how late the day started," remarks Samantha.
"We got married just before 5pm so there was plenty of time to get ready. I even managed a last walk along the beach. It was so chilled out." The couple invited 55 friends and family to their day, and they all made the trip to enjoy a week's holiday out in Ibiza with the couple.
The couple didn't abandon their Scottish roots altogether though. A couple of weeks after they returned home, they celebrated with 200 guests at a reception in Rutherglen Town Hall.
"We played our wedding highlights video then did then John and I came in and did our first dance song again," Samantha recalls. "I thought this was a nice way to give our home guests an idea of our day, and make them feel included too. John even wore a kilt for the reception " he looked very handsome!"
Now that the beautiful sunshine of Ibiza is but a distant memory, what do Samantha and John love most about being a married couple? "We love being married," gushes Samantha, "one of the first things we did was changing the names on our phones so that we ring each other it says ˜husband calling' or ˜wife calling'. We still get a thrill from introducing each other as husband and wife!"
ABOUT NEIL THOMAS DOUGLAS PHOTOGRAPHY
Neil Thomas Douglas is a creative wedding photographer based in Glasgow and works both throughout the UK and internationally. He likes cake, sunsets and his wee dog Juno.
Visit Neil Thomas Douglas Photography's website by CLICKING HERE.
Venue: Elixir Shore Club
Photographer: Neil Thomas Douglas Photography. "I cyber stalked his site for a couple of months and absolutely loved his pictures. I liked how fun they looked!"
Videographer: Gryffe Weddings. "I choose them as they had covered our friend's wedding the year before and we absolutely loved their really cinematic looking videos."
Transport: "We got taxis to the venue, we just flagged them down outside our hotel. I spent our transport money on Christian Louboutin shoes instead¦ oops!"
Dress: Justin Alexander from Poppy's Boutique, Uddingston. "I've always wanted to go to the Oscars and I reckon I could get away with my glam dress there!"
Groomswear: Gucci jacket from Livingston Designer Outlet, chinos and bow tie from Next, shoes from Dune. "We had John's shirt made for him so it fitted like a glove."
Bridesmaid dresses: Courtesan Boutique
Catering and cake: Eat Ibiza. "Their food is amazing. We went for a buffet style wedding breakfast. The cake was so yummy; vanilla sponge with raspberry filling."
Florist: "I made all the flowers for the wedding myself with help from some friends and some wine!"
Jewellery and accessories: "My friend lent me some pearls and my mum gave me her pearl bracelet that she wore on her wedding day. I wore teal Louboutin shoes and my veil was chapel length with lace trim."
Hair and make-up: Smack Ibiza. "I knew I wanted this company for my make-up. They do amazing work and have even styled for Vogue magazine."
Entertainment: DJ Steve MITA. "He was great and contacted us beforehand to get all of our favourite songs."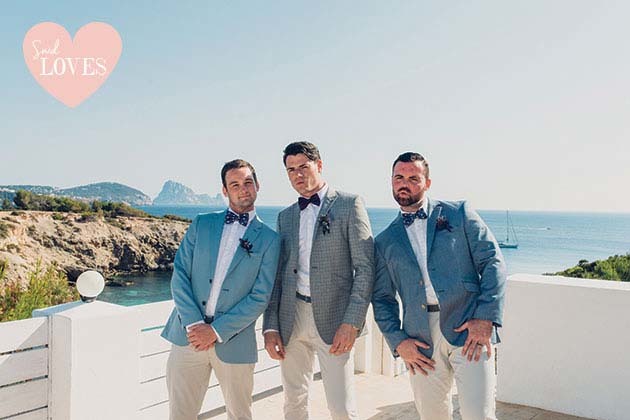 ¦ the preppy, country club feel of the groomsmen's outfits! It really complimented the colour scheme of pink, blue and purple.