Your wedding horoscope for August 2019
Feeling lucky? Find out what the cosmos has in store for your big day plans with our wedding day horoscopes.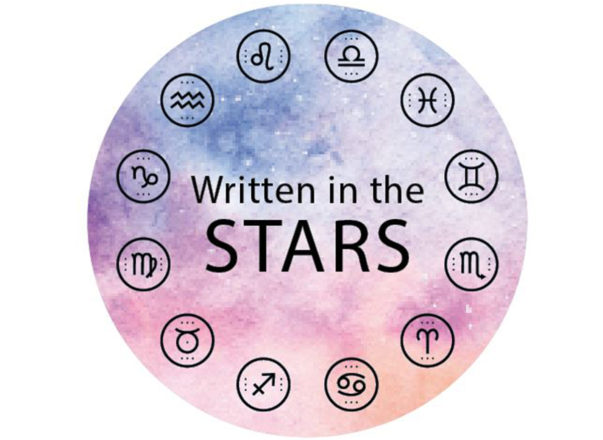 Aries (Mar 21 – Apr 19)
August is looking metaphorically sunny for you Aries, and their figurative glow will reach all aspects of your life, particularly family, love and career. Everyone is on your side (for once!), so if you have any wedding-related news that might go down like a lead balloon, now is the time to trade on that goodwill and drop the bombshell. For example, if your mum has her heart set on singing an acapella version of I Will Always Love You in lieu of a speech, it's currently a cosmically soothing time to say no.
Taurus (Apr 20 – May 20)
Your bullish nature will raise its stubborn head, Taurus. An argument with your other half is on the horizon, and the only way forward is compromise – if they really don't want to have llamas as ring bearers at the wedding, now is not the time to strong-arm them into it! Meet them halfway – what about a surprise appearance from the family dog instead? Astrologically speaking, August is shaping up to be a relatively chill month for you. Use this time to get into the nitty-gritty of wedding planning and do some boring wedmin.
Gemini (May 21 – June 20)
Are you feeling lucky? If so, it might be worth taking that risk you've been dreaming of. You've always been adventurous, but the fact that this gamble will affect your big day is giving you pause. It's worth remembering, though, that you're only going to get married once. And oh la la, romance is on the cards for you in August! Now's the time to focus on your partner and remember why you're doing all this in the first place. Light a Yankee candle, stick on some Rod Stewart and recapture the fiery throes of passion from the early days of your relationship.
Cancer (Jun 21 – Jul 22)
Cancers are the artists of the zodiac: their weddings are usually conceptual masterpieces. Something in the stars will get your creative juices flowing, but try not to get too carried away. Asking your celebrant to perform your ceremony as the Mad Hatter might fit nicely with your Alice in Wonderland theme in your head, but in reality, it will confuse your granny and frighten the flower girls. In August, you'll be so in the wedding planning zone that you'll even start to zone out from your other half. Try to keep them in the loop (we know it's easy to forget, but it's their day too!).
Leo (Jul 23 – Aug 22)
Looking good, Leo! You're feeling yourself, huh? Well, now is a good time to hit the bridal boutiques and find The One if you haven't already. You'll be in great spirits all month, but don't let the good vibrations cloud your judgement. It might seem like a great idea right now to hand make 100+ wedding invites, but the satin bows and patterned lace will hit the fan if you bite off more than you can craft, so leave it to the experts. In August, you have a big decision to make. The cosmos is recommending caution for you Leo, so don't get too adventurous when picking the bridesmaid dresses.
Virgo (Aug 23 – Sep 22)
Virgo, good news is coming your way (your first pick wedding band has a cancellation on your wedding date, perhaps?) but you're susceptible to a summer slump. You'll be more committed to procrastination than you will be to your soon-to-be spouse, yet the stars are aligning to make any project you start mid-month bloom – you better WORK, Virgo! Also, watch out because you're in for some bad luck. That means don't give your pals a sneak peek of your wedding dress during a boozy night at yours, because the forecast is predicting red wine stains and tears ahead.

Libra (Sep 23 – Oct 22)
A problem is coming your way, but it's nothing you can't innovate your way out of. Turn on the Libra charm that everyone knows and loves you for, and talk your opposition down, be it an overly restrictive wedding venue (they won't let you hang lit candles from the wooden beams of a barn? But what about the aesthetic?!) or a charge-happy cake designer (you wanted gold foil, not actual gold). If they won't budge, remember that Libra is the sign of beauty – you could make a public toilet look pretty with just some bog roll for bunting, so hit the Pinterest boards and find another way to make your wedding look fabulous.
Scorpio (Oct 23 – Nov 21)
Scorpio, you have the talent and smarts to back up your big ego, but people who don't know you well might find your confidence obnoxious. Normally you wouldn't concern yourself with the haters, but a meeting with an authority figure is on the cards soon. Be it a snotty in-law or a stern religious celebrant, try to be humble when communicating with them. It might feel maddening to hold fire, but it will make planning your wedding a whole lot easier in the long run. By the end of August, you'll be in serious need of some R+R, so put down the table plan, get out of your bridal headspace and have some fun!
Sagittarius (Nov 22 – Dec 21)
You're going to start feeling some serious angst about how much money you're spending on your wedding – and maybe buying a few cheeky wee lottery tickets as a result – so don't be surprised if you find yourself begging your significant other to just run away and elope. Instead of despairing, have a sit down with your partner and go over your budget again, because it might not be as bad as you think. By the end of the month you'll be feeling focused, and after your money worries, you won't fall into the trap of blowing your budget on silly things like a custom-made kilt for your dog Baxter – he just doesn't have the legs for it!
Capricorn (Dec 22 – Jan 19)
Eeek! Capricorn, you're not going to have a great month, but I'm guessing you probably already know that by now. If you're wondering why your partner is being short with you, it's because a solar eclipse is putting pressure on your relationship (duh). Buckle up, because a lunar eclipse is going to ramp up the tensions in your friendships too (honestly, that pesky moon), so beware the pass-agg bridesmaid. The cosmos knows you're strong enough to handle it, and things will blow over by the end of August, which will turn out to be quite a prosperous month for you – get that coin, Capricorn! Your work will take centre stage this month, so don't feel bad if wedmin gets pushed to the side for a week or two.
Aquarius (Jan 20 – Feb 18)
It seems like the wedding is getting to everyone except you, Aquarius. You'll probably have a lovers' tiff with your betrothed about some small wedding detail, but don't worry about it too much – it's definitely them, not you. Even work colleagues will be a little iffy with you, so if someone's in a huff that they didn't get a Save the Date, try to make the peace while you can because wedding planning is stressful enough without added work drama. August will be a very social month for you, so why not double up and have that night out you've been promising your friends while checking out a potential wedding band?
Pisces (Feb 19 – Mar 20)
If you have any children or teenagers in your wedding party, watch out – they're about to go all fussy on you. No matter what you do to accommodate them, they'll be more difficult than usual, but try not to get frustrated. Weddings are positively infectious with joy and so even the most rambunctious of scamps usually decide to behave like angels when the big day comes around. No offence Pisces, but when it comes to love, you're being an ass this August. You're all lovey-dovey one minute, then berating your partner for not focusing on the wedding the next. These whims have a real potential to hurt your partner, so plan your wedding nice!