Unique + Romantic Wedding Ceremony Readings
Choose your to put your #feels into words¦ You are¦ a pop culture fanatic If you and your other half enjoy nothing more than spending a weekend on the couch inhaling everything on Netflix, perhaps you'd like to reference your most-loved film or TV show in your ceremony? Bride-to-be Ashleigh Kerr turned to one of […]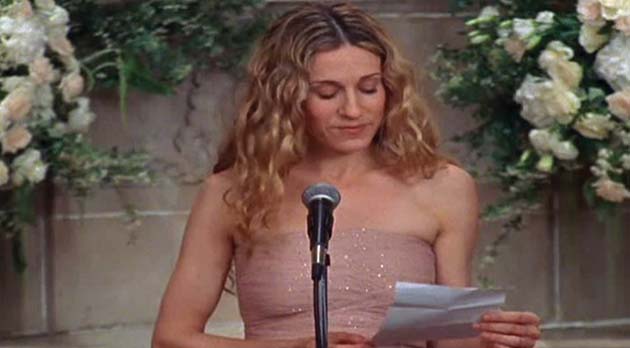 Choose your to put your #feels into words¦
You are¦ a pop culture fanatic
If you and your other half enjoy nothing more than spending a weekend on the couch inhaling everything on Netflix, perhaps you'd like to reference your most-loved film or TV show in your ceremony?
Bride-to-be Ashleigh Kerr turned to one of her all-time favourite TV shows, Sex and the City, and Carrie's own poem (series two, episode seven), to find fitting words for her humanist wedding to partner Garry at the Dumfries Arms Hotel next August. Fortunately, the groom loved it too!
Fancy doing the same? Don't forget to pick something that sounds good in a Scottish accent. Ryan Gosling's dulcet tones in The Notebook might sound a bit awks in your dad's thick Scottish brogue¦
Carrie's poem

His hello was the end of her endings,
Her laugh was their first step down the aisle.
His hand would be hers to hold forever,
His forever was as simple as her smile.
He said she was what was missing;
She said instantly she knew.
She was a question to be answered "
And his answer was "I do".
We also love¦ Leslie and Ben's vows in series five, episode 14 of Parks and Recreation; Harry's romantic New Year's Eve speech in When Harry Met Sally; Ted's advice on love to Robin in series nine, episode 22 of How I Met Your Mother
You are¦ book smart
Surprise surprise, one of the best places to look for wedding readings is within the pages of your favourite books. You might not find a suitable extract in your most well-thumbed reads " believe us, we hit the books hard to find something wedding-worthy in Harry Potter " so keep an open mind.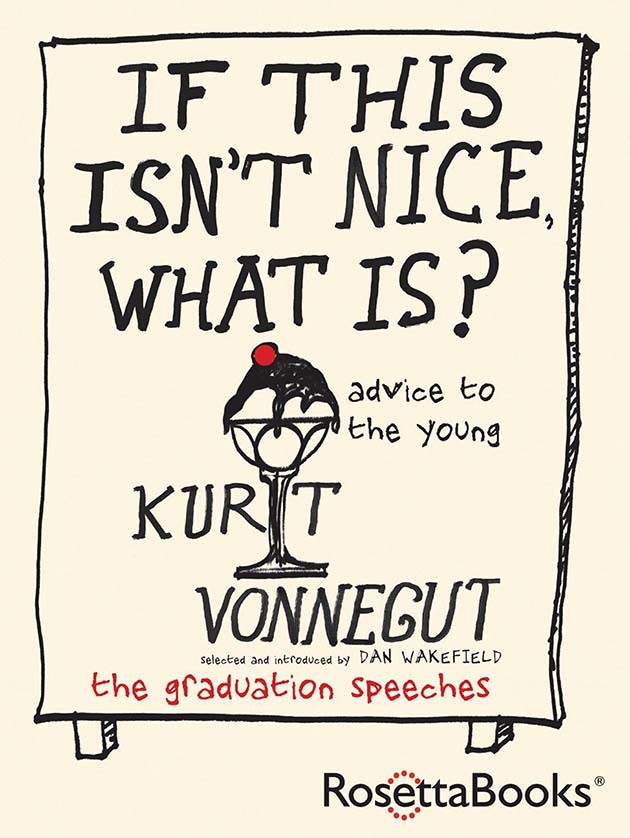 If you'd prefer something weighty, Ernest Hemingway's A Farewell to Arms has a popular passage which is romantic without being schmaltzy ("We could feel alone when we were together, alone against the others. We were never lonely and never afraid when we were together."). Or go for Mitch Albom's no-nonsense approach to marriage in his memoir Tuesdays with Morrie. "Your values must be alike. And the biggest one of those values? Your belief in the importance of your marriage. Love each other or perish."
If This Isn't Nice, What Is?: Advice for the Young, Kurt Vonnegut (an extract)

One of the things [Uncle Alex] found objectionable about human beings was that they so rarely noticed it when they were happy. He himself did his best to acknowledge it when times were sweet. We could be drinking lemonade in the shade of an apple tree in the summertime, and Uncle Alex would interrupt the conversation to say, "If this isn't nice, what is?"
So I hope that you will do the same for the rest of your lives. When things are going sweetly and peacefully, please pause a moment, and then say out loud, "If this isn't nice, what is?"
We also love¦The History of Love, Nicole Krauss; The Princess Bride, William Goldman; Stardust, Neil Gaiman
You are¦ one of a kind
Can't find a reading that truly reflects who you are as a couple? Why not include a completely original piece by asking a family member or friend to write something especially for you.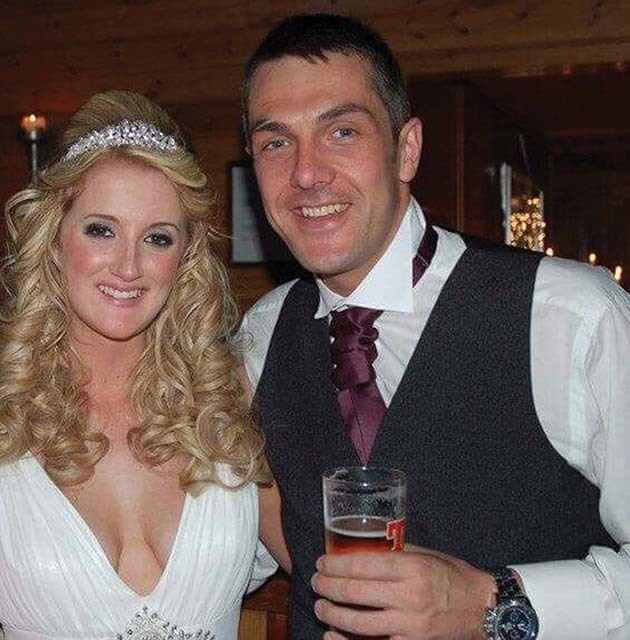 "My mum has always had a flair for writing and has dabbled with short stories in the past, but in recent years poems have become her forte," says Cheryl Clelland, who married partner David in a civil ceremony at The Cruin, Loch Lomond.
There wasn't a dry eye in the room when Cheryl's mum recited her poem ˜A Mother's Love' during the ceremony.
"I even had one guest tell me that she was more emotional during our service than she was at her own sister's!" laughs the bride.
If you want to follow suit, make sure you give your friend or family member plenty of time to put pen to paper " it's a stressful task to be given at short notice.
A Mother's Love, Maureen Smith (an extract)

You both are so happy and it makes me content,
There's nobody better, from heaven he's sent.
His love did not change mine; it's still just as fond,
For nothing can alter a mother-child bond.

I look to this couple who stand here today
And I love and give blessing as I wave them away
To start their journey on their ladder of life
I'm so glad that my daughter is now David's wife.
You are¦ religious
If you're planning a religious or interfaith ceremony, you may feel that religious readings are most befitting of the occasion.
But that doesn't mean your only option is to reach for the "Love is patient, love is kind" passage from Corinthians!
The Song of Solomon is an unusual yet beautiful reading celebrating romantic love between partners, which can be read at both Christian and Jewish weddings.
Planning a Hindu ceremony? The Saptapadi, also known as the Seven Steps, is a ritual whereby the happy couple walk round a fire while the priest chants blessings such as: "May this couple be blessed with an abundance of resources and comforts, and be helpful to one another in all ways."
The Song of Solomon, 8:6-7 (an extract)

Set me as a seal upon your heart,
As a seal upon your arm;
For love is strong as death,
Passion fierce as the grave.
Its flashes are flashes of fire,
A raging flame.

Many waters cannot quench love,
Neither can floods drown it.
If one offered for love
All the wealth of one's house,
it would be utterly scorned.
GOOD TO KNOW
¢ Religious readings and hymns were traditionally not permitted at all in humanist and civil ceremonies, but some humanist celebrants and civil registrars will now allow you to include non-secular content if you wish.
¢ Most couples include no more than three readings in their ceremony, and the average number of readings is two. Be mindful of the length of each; a couple of minutes per reading is ideal.
¢ You don't have to select the readings yourself! You could ask your friend or family member to choose a reading themselves. The surprise element can often make this option really touching and special.