Humanist Celebrant Marks 1000th Ceremony Milestone at Prestonfield House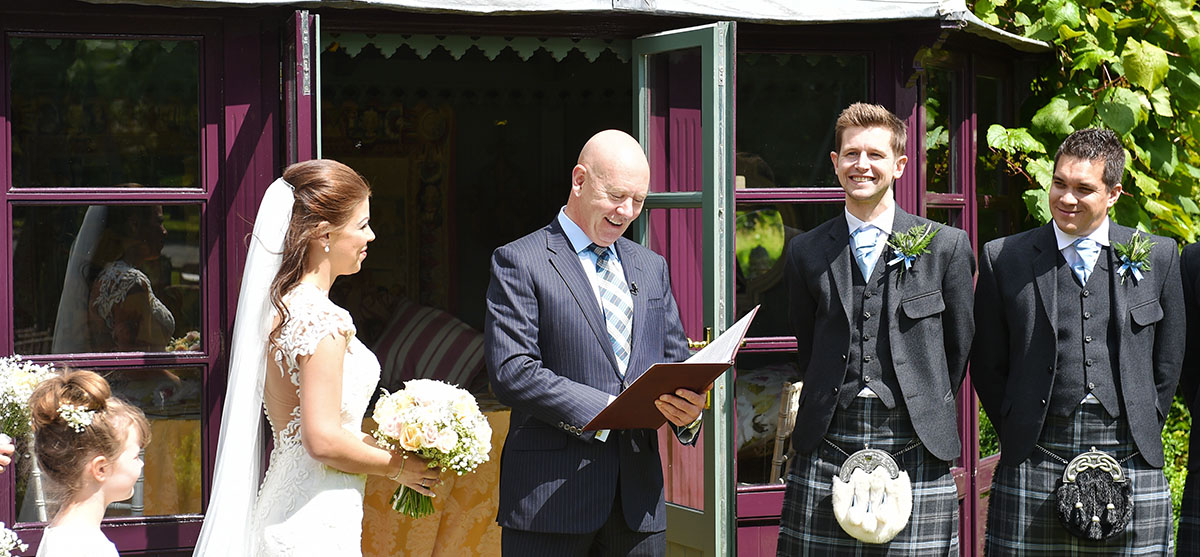 [IMAGES: EMMA GRAY PHOTOGRAPHY]
He has conducted many memorable wedding ceremonies, from mountains and beaches to castles and hotels, but 8th July 2016 marked a real milestone moment for humanist celebrant Tim Maguire.
Tim conducted his 1000th humanist ceremony, celebrating the impressive achievement by marrying Robyn Brown and Paul Dickie for free at Prestonfield House, as an extra special wedding present to the happy couple.
IN THE MOMENT
"I've been a celebrant since 2005, and my career began with a funeral training course run by an amazing woman called Mary Wallace. To be honest, I was a bit apprehensive at the time because nobody likes thinking about death, let alone talking about it, but it was really inspiring", Tim explains. "I soon realised that funerals are all about love – just like a wedding – and that's why they're often described as ˜a celebration' of the life that has been lived".
Tim's passion for humanism is evident, describing being a humanist celebrant as his ˜dream job' after a previous career producing and directing TV commercials. "Humanism is a very old philosophy but it's also a very simple one. Humanists believe that we've only got one life, so it makes sense to live it as well as we can, and the best way to do that is to be kind and thoughtful to other people.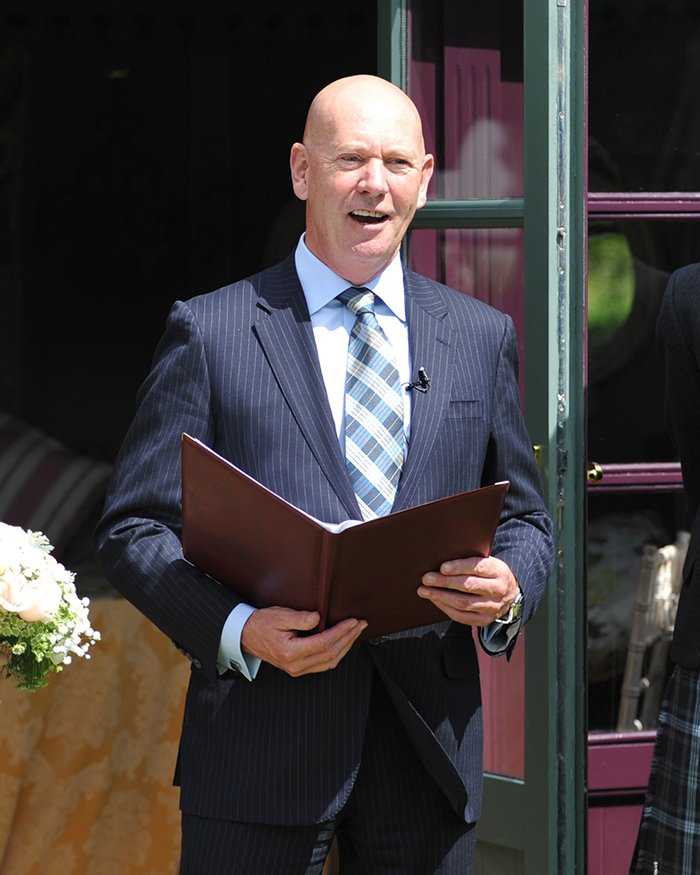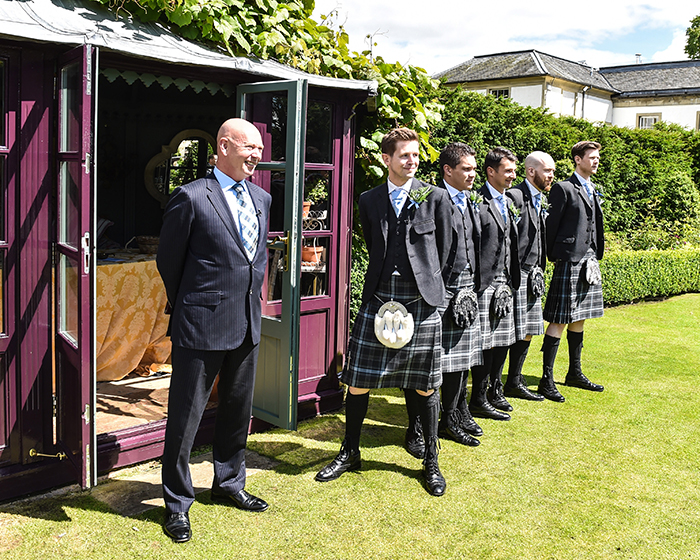 ON THE UP
The number of Humanist ceremonies is still growing, (their popularity has now overtaken that of Church of Scotland weddings), and Tim puts that down to several things.
"One reason is that couples are free to speak about their love in their own words. Another is that I don't tell couples what marriage means. Instead, I ask them to think hard about what it means to them and then I help them tell their families and friends. Every humanist wedding is a very personal redefinition of marriage and I think that's why people like them so much".
As for the future of humanist ceremonies?
"I think they will continue to rise, but Humanism as a movement still has a long way to go", Tim observes. "I think it's extraordinary that it's not taught in schools, but perhaps now that humanist marriage has overtaken church marriage, the Scottish Government will look at how Religious & Moral Education is taught. I'd be really pleased if one day teachers are allowed to tell kids that they really can lead good lives guided only by compassion and reason".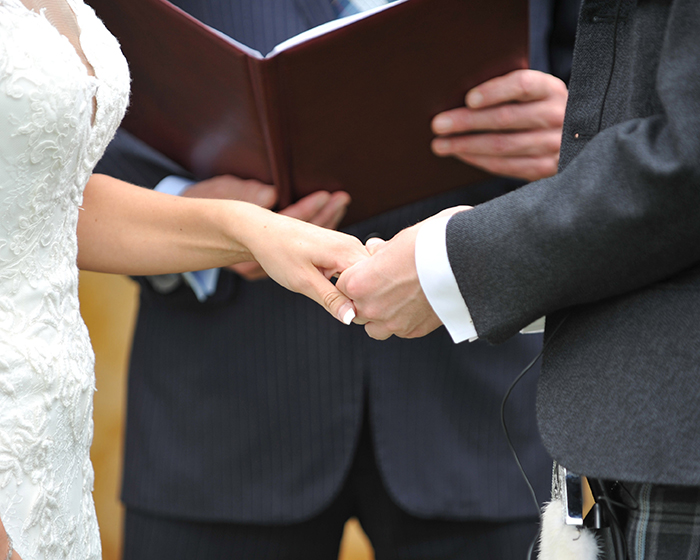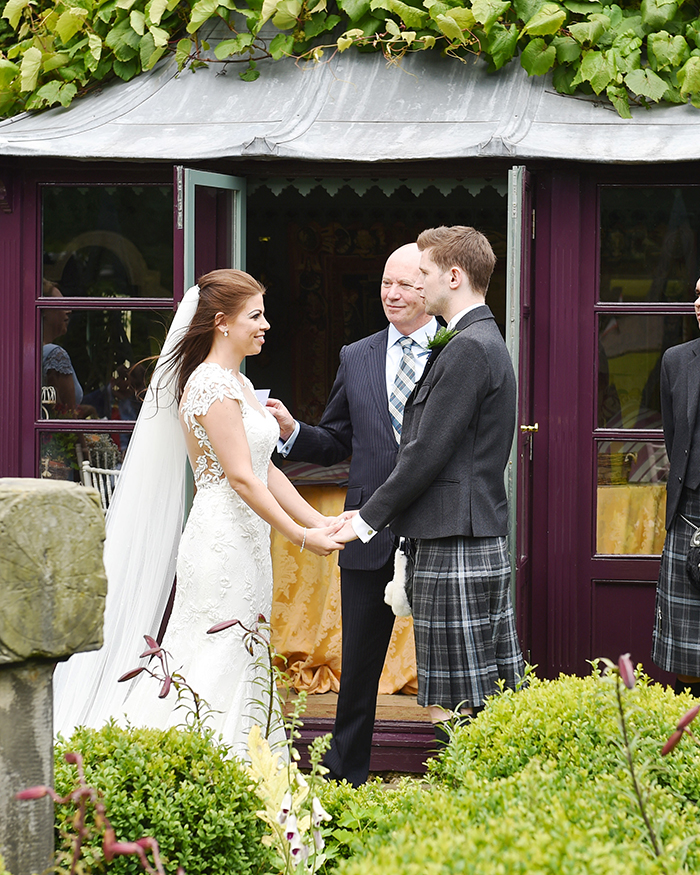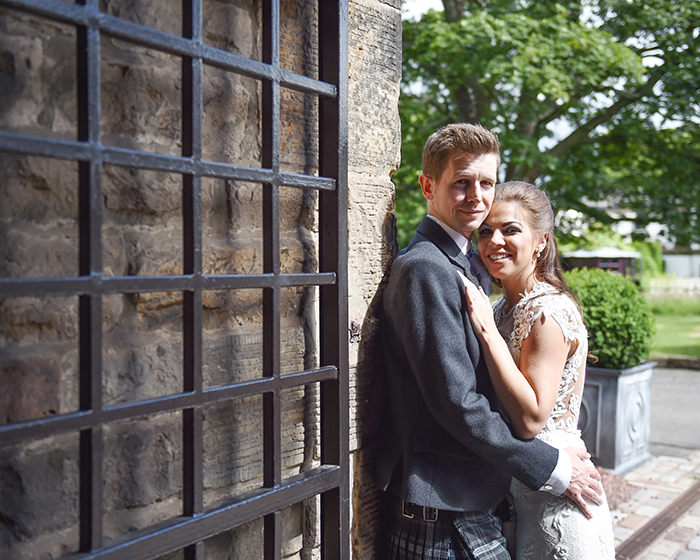 Membership to the CHA is free of charge. For more information on this, or to find out about booking Tim to conduct your own wedding, email tim@cha.scot or call 07770555224.