Everything you need to know about getting married in Scotland
Our comprehensive guide to legal issues, types of ceremony and etiquette.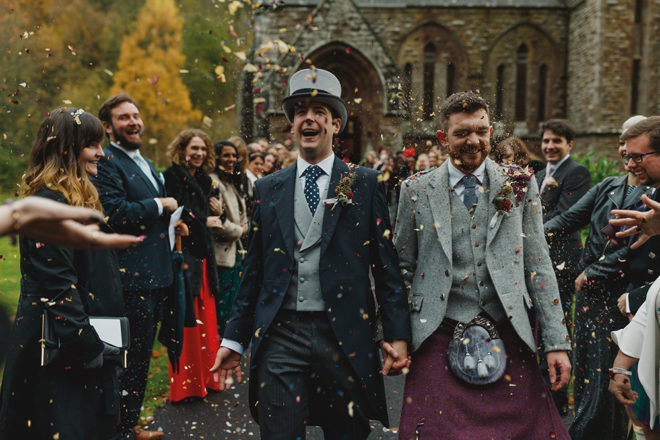 IMAGE | Duke Wedding Photography
Q. How easy is it for a same-sex couple to have a Christian ceremony?
A. While same-sex marriage has been legal in Scotland since December 2014, the ease for gay couples to say "I do" in a Christian ceremony varies from denomination to denomination.
The country's Roman Catholic Church remains opposed to same-sex marriage but in 2017 the Scottish Episcopal Church voted to redefine marriage to include gay couples, removing mention of being a union of "one man and one woman".
However, not all clergy have opted in to conduct same-sex weddings so it's necessary to check the position with the local church.
While the Church of Scotland has not followed the Episcopalians yet, it moved one step closer to allowing same-sex marriages in May 2018 when the Kirk's General Assembly tasked a committee to draft church law on the issue and report back this year (2020).
The report could offer a way for ministers and deacons who wish to do so to conduct same-sex weddings.
However, even if approved, that decision will be sent to local Presbyteries for approval – which can't be guaranteed – and the issue would return to the General Assembly in 2021.
Q. How quickly can you legally arrange a wedding in Scotland?
A. Sorry to disappoint but this isn't Vegas, so abandon any ideas of tying the knot on an ever-so-romantic (and not at all foolhardy) whim.
The very quickest turnaround between applying to marry and getting hitched is 29 days.
To legally marry in Scotland, you each must submit completed M10 marriage notice forms to the registrar of the district in which the marriage is due to take place.
Failure to give notice means your wedding may have to be postponed.
Usually you must post – not email – the forms to arrive with the registrar 10-12 weeks before your intended wedding day and no later than 29 days before.
This gives them plenty of time to check you are both actually free to marry one another.
If you're having a religious or belief ceremony make sure you contact your celebrant before filling out the marriage notice.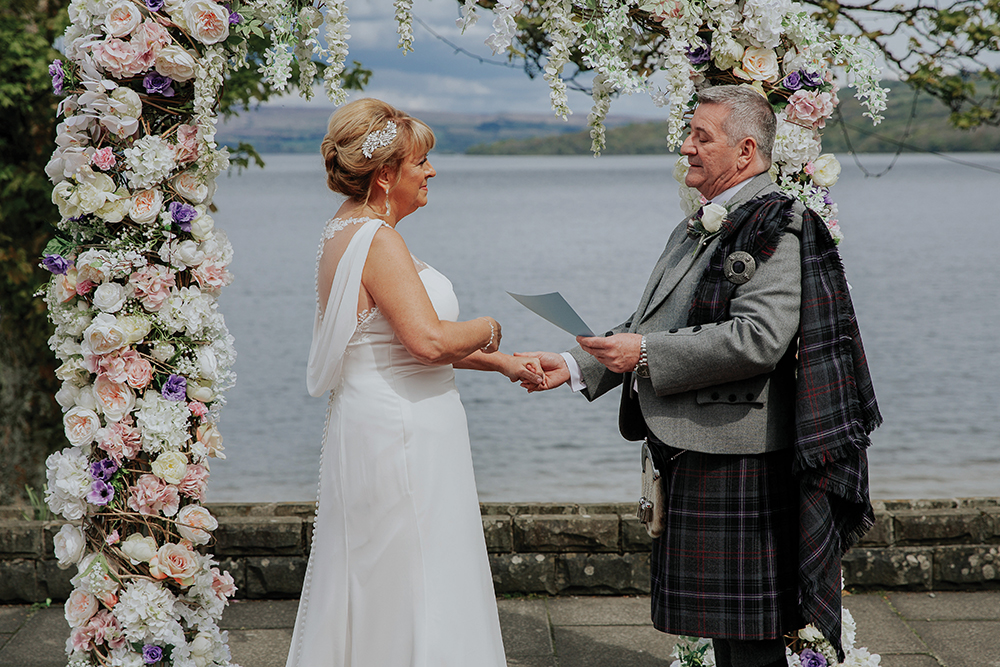 IMAGE | Francis J Smith Photography
Q. This isn't my first marriage. Do I apply to marry in the same way?
A. Yes, but you will have to produce extra documentation to prove you are free to marry.
According to the National Records of Scotland, if your previous marriage or civil partnership ended in divorce, annulment or dissolution you must submit a certificate of divorce or annulment or a certified copy decree or decree of dissolution along with your M10 marriage notice form.
If you have been married or in a civil partnership more than once you only need to submit documents relating to the termination of your most recent relationship.
If you were widowed, then you must submit the death certificate of your former spouse or civil partner.
If in doubt, head to the National Records of Scotland website and check out their handy guidelines.
Q. What's an unplugged wedding?
A. Imagine the scenario. You're about to get in the wedding car when a notification flashed up on your phone because some overly eager guest has shared a snap of your nervy-looking other half.
Worse still, people are starting to leave comments.
Want to avoid this happening?
Then go for an unplugged wedding by asking guests to turn off their phones and cameras and just enjoy being in the moment.
That way you'll also ensure no photos sneaking onto the internet until you're ready!
Prior warning is always the way forward.
You could include a polite notice in your invitations and let guests know there's no need to take their own pics of the ceremony as you'll be sharing all your professional ones.
As a reminder on the day, you could have a cute sign asking guests not to take their phones out during the ceremony, or have your celebrant mention it before the ceremony begins.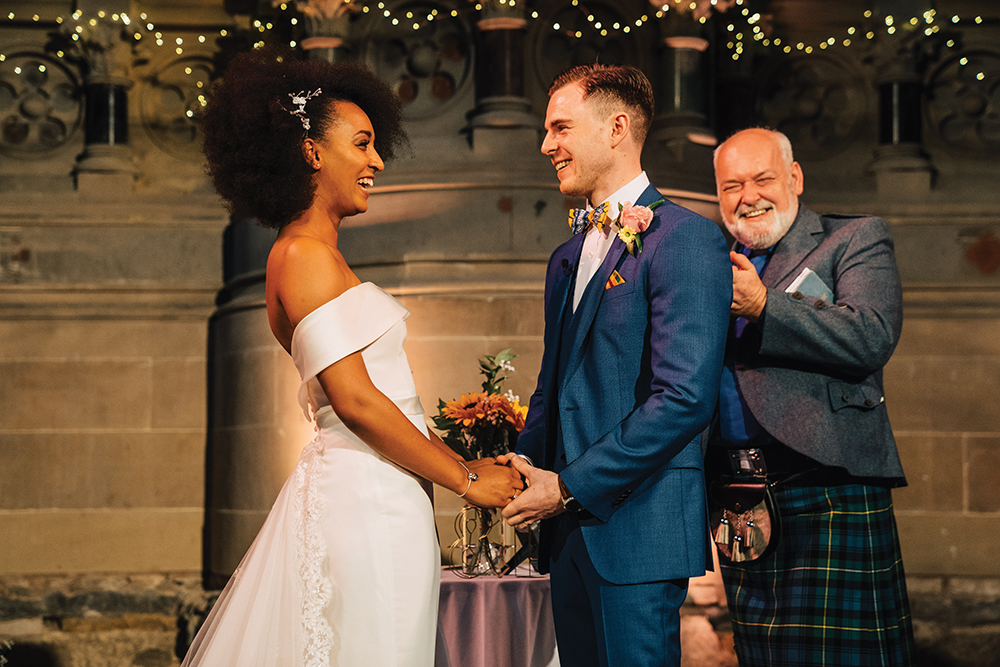 IMAGE | Dom Martin Photography
Q. I'd like to have some religious elements in our ceremony but my partner is an atheist. How do we compromise?
A. Going down the civil ceremony route is an option as you may still incorporate religious readings or prayers.
However, these must be approved by the registrar and they must be delivered by someone else at the ceremony as the registrar isn't permitted to do this.
Another possibility is an interfaith ceremony.
"Interfaith celebrants have trained for two years to hold ceremonies for people of all faiths and beliefs, including those that are non-religious, atheist or agnostic," says interfaith celebrant Jane  Patmore.
Your celebrant will work with you to understand what's important to you both, what you are each comfortable with in terms of music, language and symbolism, what are definite no-go areas and what traditions are important to the wider family.
Ways to incorporate each of your beliefs include both religious and non-religious readings; a non-specific blessing; inviting guests to silently offer their good wishes, blessings or prayers (perhaps during a ring-warming); and explicitly welcoming all beliefs and traditions.
Jane also suggests playing instrumental versions of music such as Ave Maria so it doesn't include overtly religious words, and saying different vows.
For instance, one of you can say "In the presence of God," while the other says, "In the presence of our family and friends."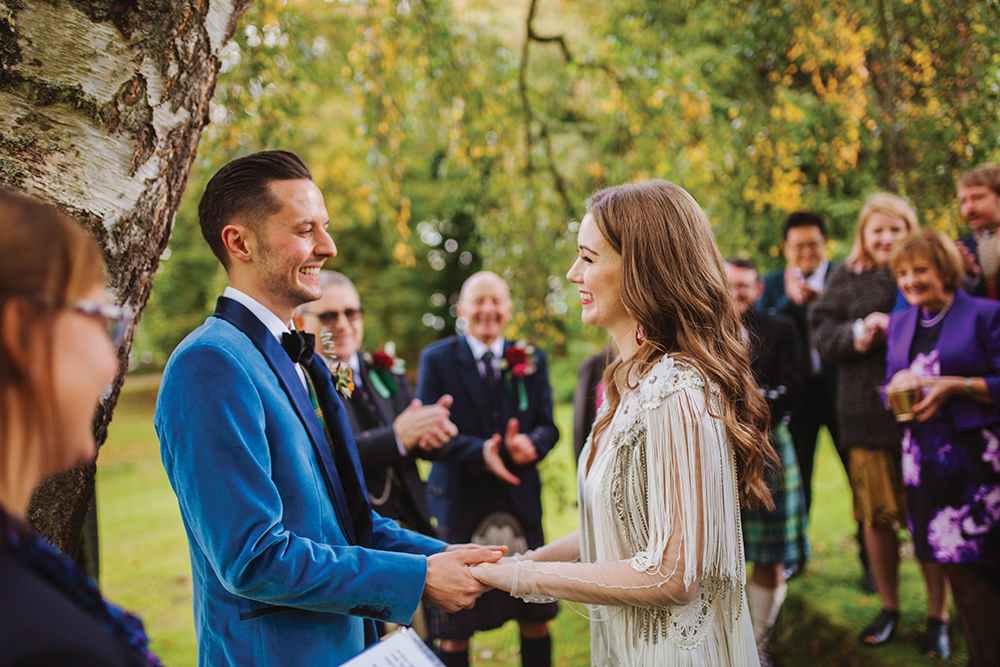 IMAGE | Laura A Tiliman Photography
Q. We're not religious but don't fancy a civil ceremony. What are our options?
A. Interfaith ceremonies are definitely worth exploring (see above), or you could hold a humanist ceremony – the most popular type of ceremony in Scotland according to the Scottish Wedding Survey.
"A humanist ceremony is the ideal place to have a ceremony that reflects your beliefs.
Many people describe themselves as 'spiritual but not religious,' and spirituality is an essential part of being human," says celebrant Tim Maguire from Celebrate People.
"As celebrants, we are here to help you express your love for one another in your own words, so you are free to write or choose all the words and readings in your ceremony."
Gerrie Douglas-Scott, also from Celebrate People, adds that the celebrant should be able to give the couple "lots of ideas on how to make their ceremony a wonderful and real reflection of themselves and what their ceremony says about their love and relationship."
The ceremony can include some fun or romance about what you love about each other, or what your love and marriage means to you.
"We give them real ideas to discuss," she says. "I also say to couples that words will never be enough, but we will help you find the closest ones possible to how you feel.
That space between you can't be captured in words, but we can try our best."