The lowdown on ordering a Jappacakes wedding cake
Laura, owner of Jappacakes, answers all your commonly asked questions about wedding cakes.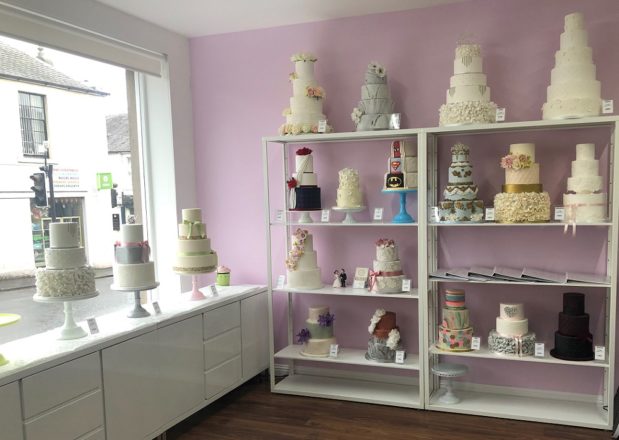 If you're looking for a delicious, beautiful and creative wedding cake, Jappacakes is the place to go.
Cake designer Laura first launched the company in 2013 and has proved so busy, she's since opened a Jappacakes shop in Lanark.
It's safe to say she's a wedding cake expert so we sat down to ask her all your commonly asked cake questions.
From knowing when to place your order to choosing flavours, getting the cake to your venue and freezing slices for future special occasions, Laura covers it all…
1 How far in advance of the wedding should couples book in their cake order?
Ideally as soon as they know who they want to make their cake, but it really depends on a number of factors. For our shop, we book up quickly April to October so would advise at least a year for summer weddings.
For weddings November to March, three to six months is ok. Generally, we would say book and then come back to the design at a time nearer the wedding date.
Because we have a shop and staff, we can accommodate shorter notice than someone who works alone from home and is perhaps booked up two years in advance.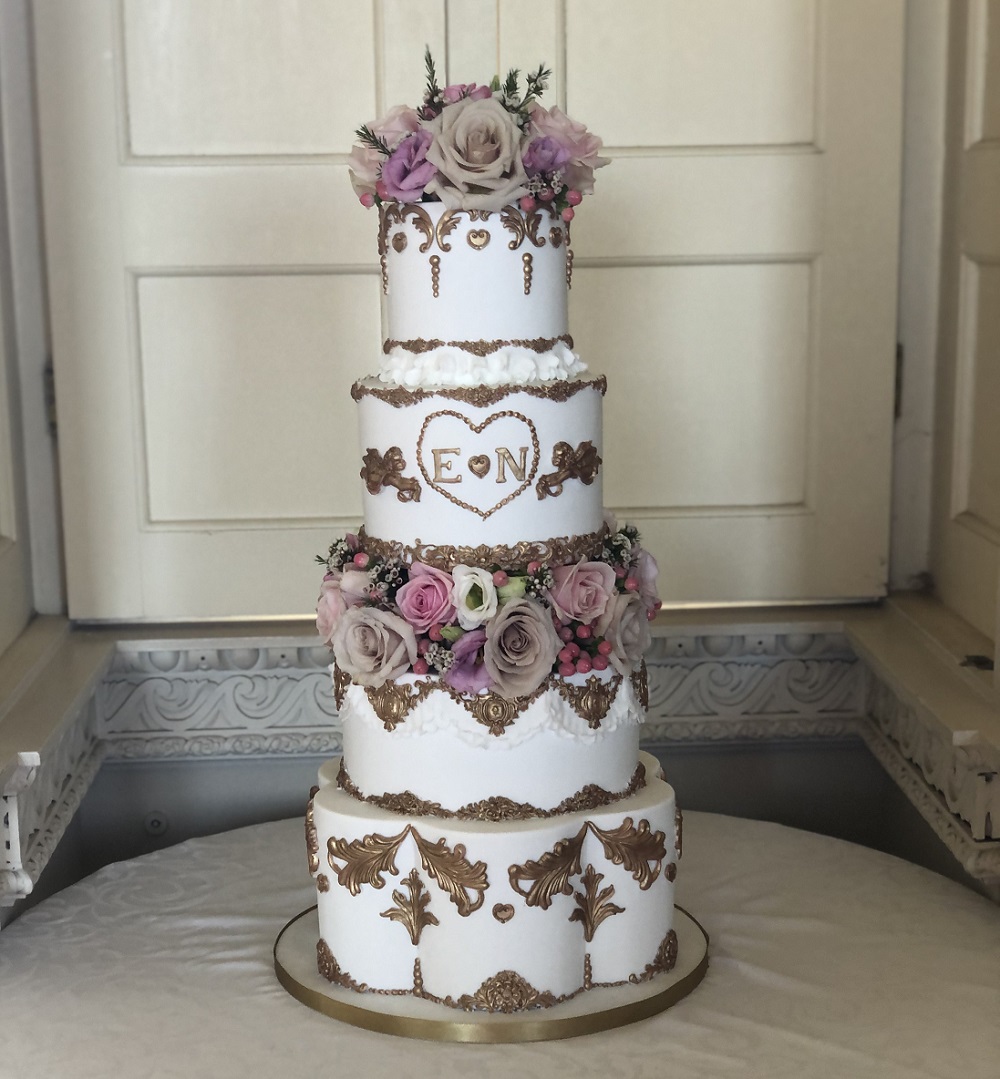 3. What information do couples need to be able to give you when ordering their cake?
The only information we need at the point of booking is who the cake is for, when it's for and where it's being delivered. We are happy to put a pin in it and come back to the design later.
Often it can be helpful for budgeting for the couples to have an idea of size or design so they know how much to put aside, but we allow them to make any changes to the size or design of their cake up until eight weeks before their wedding.
Flavours don't need to be decided until four weeks before, when the couple have had their sample kit and a good chance to discuss it!
4 Can you talk us through the process of ordering a cake with Jappacakes?
We are very flexible and are happy to go with what works best for the couple. Some couples come for a booking consultation in the shop, where they can look at our portfolios, sample some flavours and discuss designs and prices.
Others meet us and book at a wedding fayre. Again, they'd be able to discuss prices and sample some flavours. We also take bookings online or over the phone too.
Initially we would discuss prices and rough ideas, write out the order and take a £50 deposit. That's all that's required to book.
We offer complimentary sample kits to all our booked customers, containing a good-sized slice of each of our 10 flavours. We do these every 3 months and they can be collected from the shop or posted. Again, we leave it to our couples to decide when they get theirs and how.
The final stage is to get our couples into the shop for a design consultation. We go through absolutely everything; colours, size, design. We try to make every cake unique. If the couple live too far or don't have time (or the inclination) to come to the shop, we can finalise everything over the phone or by email.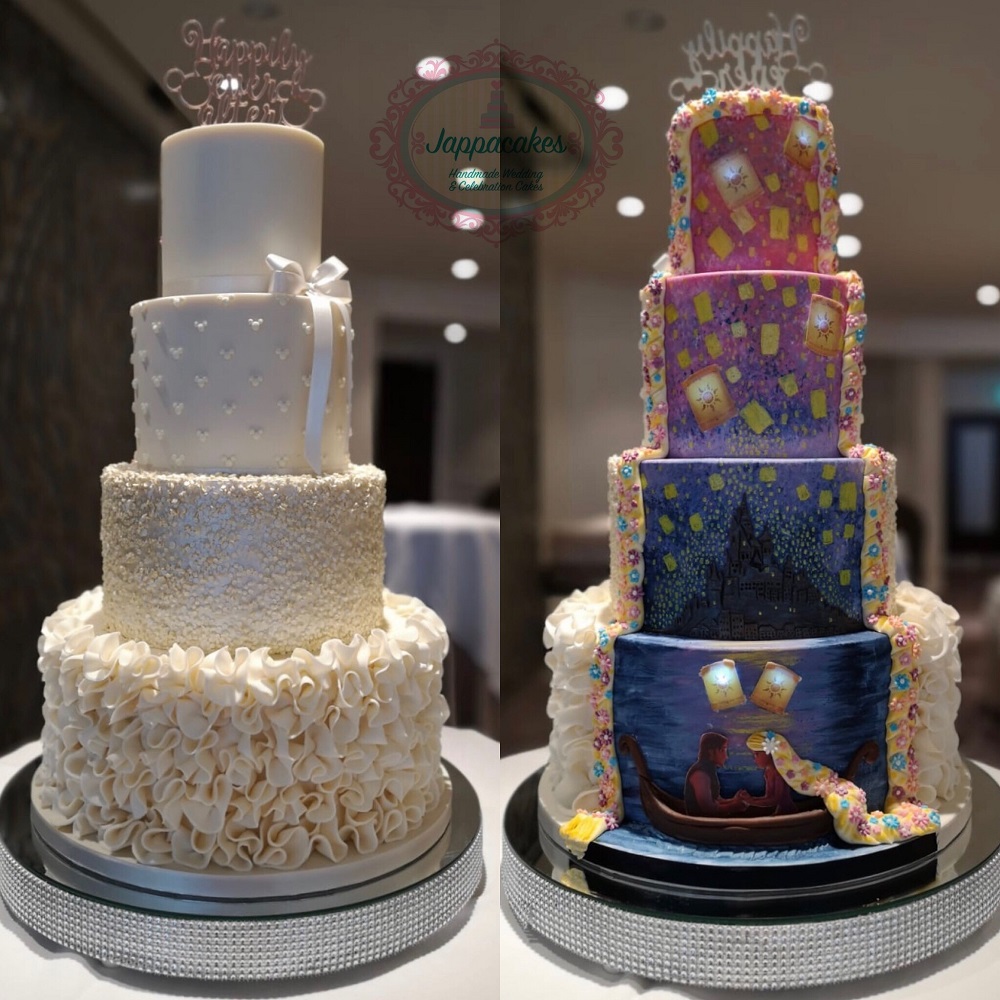 5 What advice do you have for couples looking to make a big impression with their cake on a tight budget?
We have designed enough cakes now to know what'll immediately push the cost of a cake much higher. If the couple want a wow cake but want to spend a little less we would suggest alternatives for expensive design work, such as fresh flowers instead of sugar flowers.
Dummy tiers instead of real cake can lower costs too if the couple want a large cake but don't need that much cake!
The best advice I can give is to be honest about your budget and choose someone you trust to give you as much as they can for your money. We want every cake to be spectacular and will always try to get the best of every penny!
6 Can you talk us through the process of getting a cake to the venue?
We always deliver and set up our wedding cakes. We don't spend a week creating something perfect only to cut corners at the last minute.
We contact the venues directly to arrange a time to deliver, always on the day of the wedding. We discuss with them issues such as whether the couple are being married in the same room as the meal or evening reception, when the cake will be cut and where it will be displayed.
We want to ensure when we arrive at the venue we will be able to set the cake up on the stand and it won't be moved.
If this means we have to go to the venue during a room turnaround from ceremony to meal, that's when we will go. In that case, we allow time for dance floors, etc to be installed. We like to be the last person to touch the cake before the bride and groom do!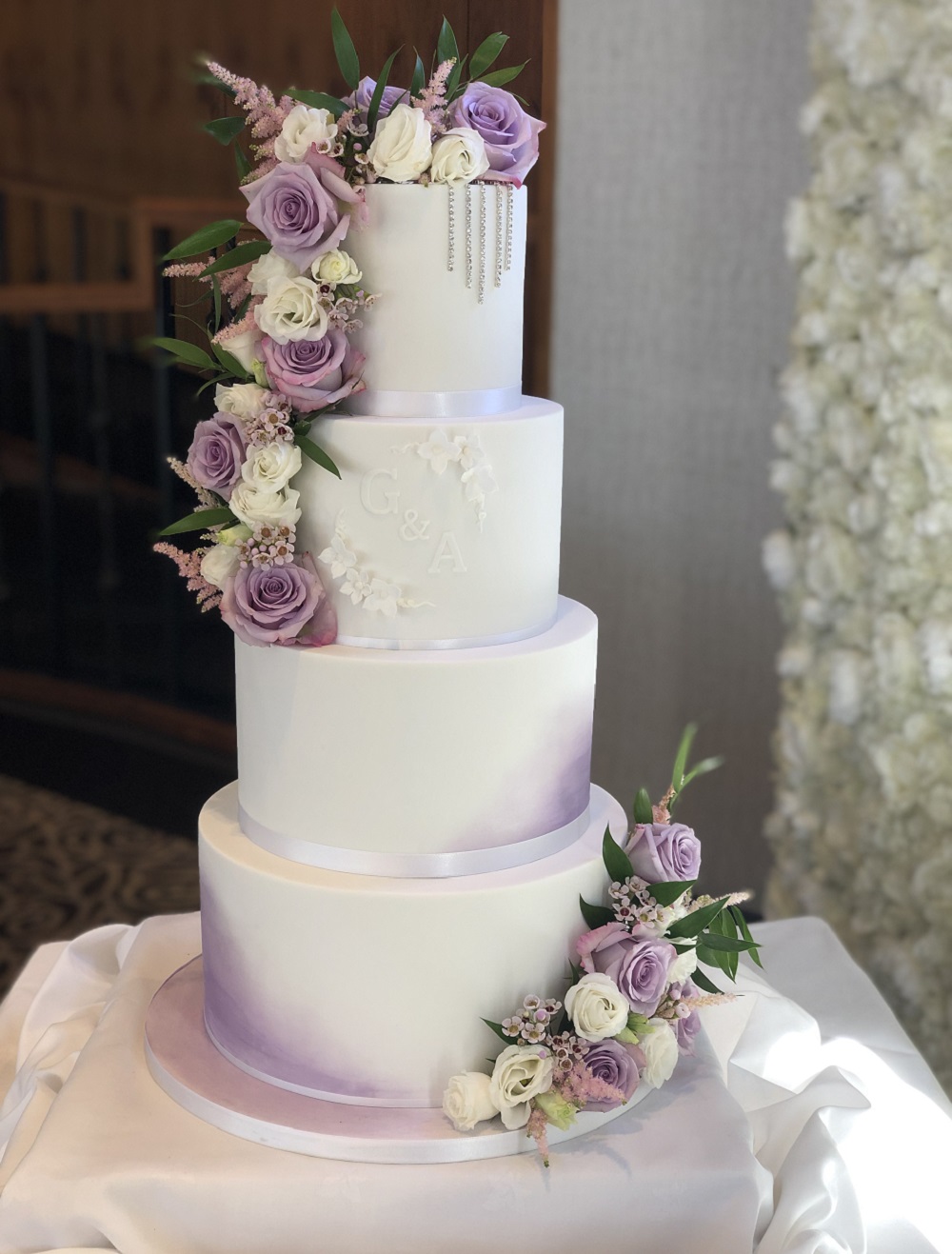 7 Do you have any advice when it comes to saving or freezing wedding cake?
We make everything fresh, from scratch. Everything is baked in our shop. We don't use cake mixes and we don't buy our sponges in premade. This means that we can say with absolute certainty that our cakes are ok to be frozen.
We don't freeze anything. We always advise our couples to cut any cake they want to freeze into slices. This means they can defrost a slice or two at a time rather than a big chunk of cake!
Wrap it well in cling film and place the wrapped pieces in an airtight container, then freeze! Some of our flavours have a shorter ambient shelf life, such as the white chocolate and raspberry due to the fresh raspberries we use for the coulis. We always advise our couples to freeze these flavours quickly to avoid them spoiling.
In "the olden days" a couple would retain their top fruit tier and it would be re-iced and decorated for their first child's christening. A lot has changed in food hygiene regulations since then and we are now prevented from re-icing or decorating tiers of a fruit cake that we have baked previously. This is because we haven't stored the cake. It's something for couples to bear in mind when deciding to keep a top tier for this purpose. You'll have to decorate it yourself!
We are very strict in following food hygiene regulations and we'll also strictly follow advisory standards as well as legal ones.
8 How long does a cake take to make?
The honest answer is it depends on the cake. Generally speaking, we start an average cake a week before the wedding and work on it until the day before.
Exceptions to this would be for sugar work, such as sugar flowers or icing models. We would make these approximately 2 weeks in advance.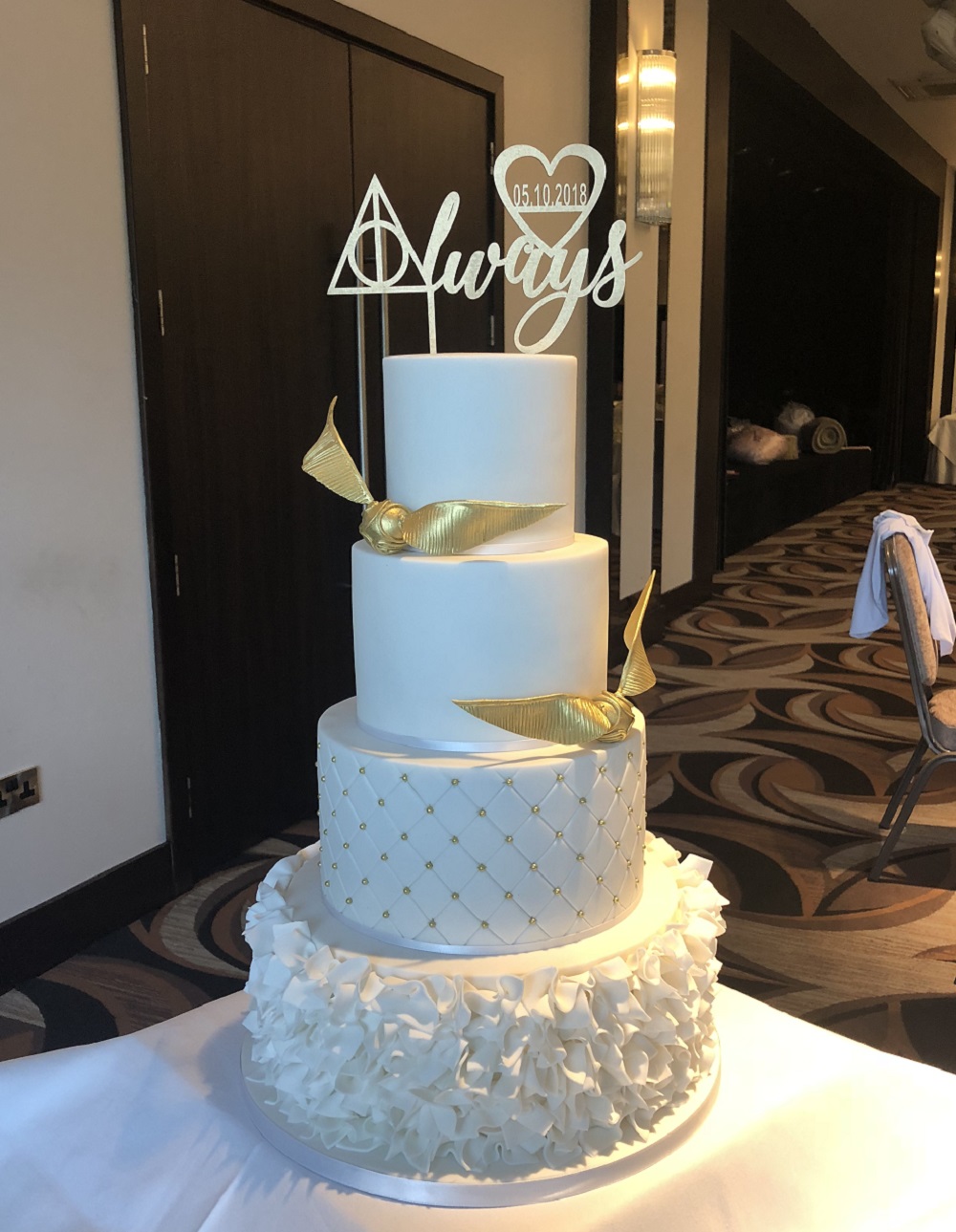 9 Can you provide gluten-free, dairy-free or other allergen free cakes?
Again, this is a standard we are strict about. We can make a cake with gluten-free flour but as we use and store a lot of gluten containing ingredients, there's a chance of cross contamination. Particularly when the cake is out of our hands, such as when the cake is being cut and served. Guests can often cross contaminate without realising… crumbs travel!
We would always advise that the cake would be considered "may contain traces of" and shouldn't be eaten by anyone with a severe or life threatening allergy.
We usually suggest cupcakes as an extra for guests with dietary requirements as this cuts out most of the risk involved.
10 Any parting advice for couples starting their wedding cake journey?
Couples are often daunted by the process of designing their wedding cake and are usually surprised by how easy it is. They arrive at our shop and will often comment on how they don't have a clue what they want.
Try not to worry about it, we know what we are doing and can promise you'll end up with the perfect wedding cake! We don't expect you to know what you want or to know anything about cakes.
We are the experts so choose someone you trust to make and design your cake and I promise it'll be a fun experience! Cake should be fun!
FIND OUT MORE ABOUT CREATING YOUR DREAM WEDDING CAKE WITH JAPPACAKES
t. 01555 728290 | e. info@jappacakes.co.uk