25 cakes we love by Scottish wedding cake designers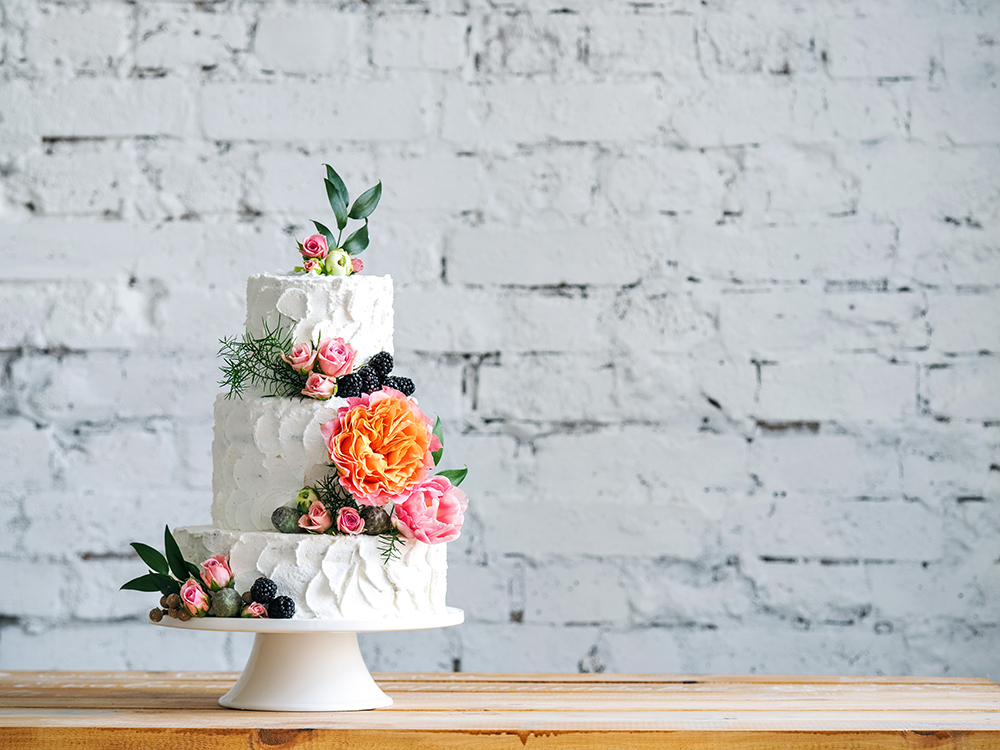 Earlier this week, a group of talented Scottish wedding cake designers got together to share a message on Instagram.
It was so lovely to see the faces behind some of Scotland's leading wedding cake companies sharing such a positive message, and we figured it'd be lovelier still if we could showcase some of the most gorgeous, creative cakes they've made for Scottish weddings.
So if you're in need of wedding cake inspiration, look no further.
Here are some of the most beaut wedding cakes made right here in Scotland.
A black and grey marble wedding cake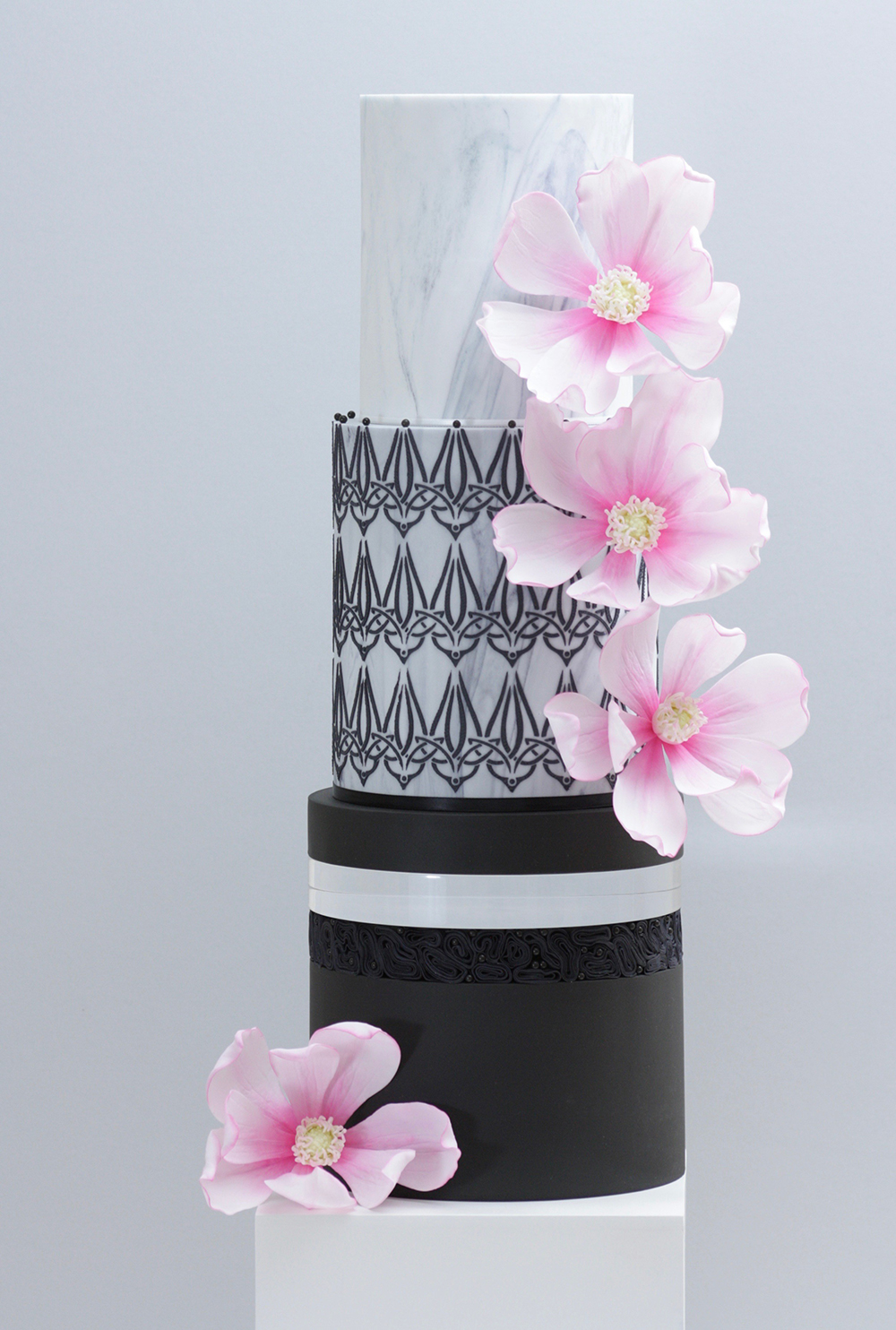 This beaut monochrome black and grey marbled cake was designed by Cake Halliday, who organised the group photo above.
"I love little details, so I included an inset layer of tightly packed sugar ruffles and pearls in the bottom tier," says cake designer Caroline Halliday. "The stencil is part of a new range I have custom designed for American company Evil Cake Genius."
A white and gold wedding cake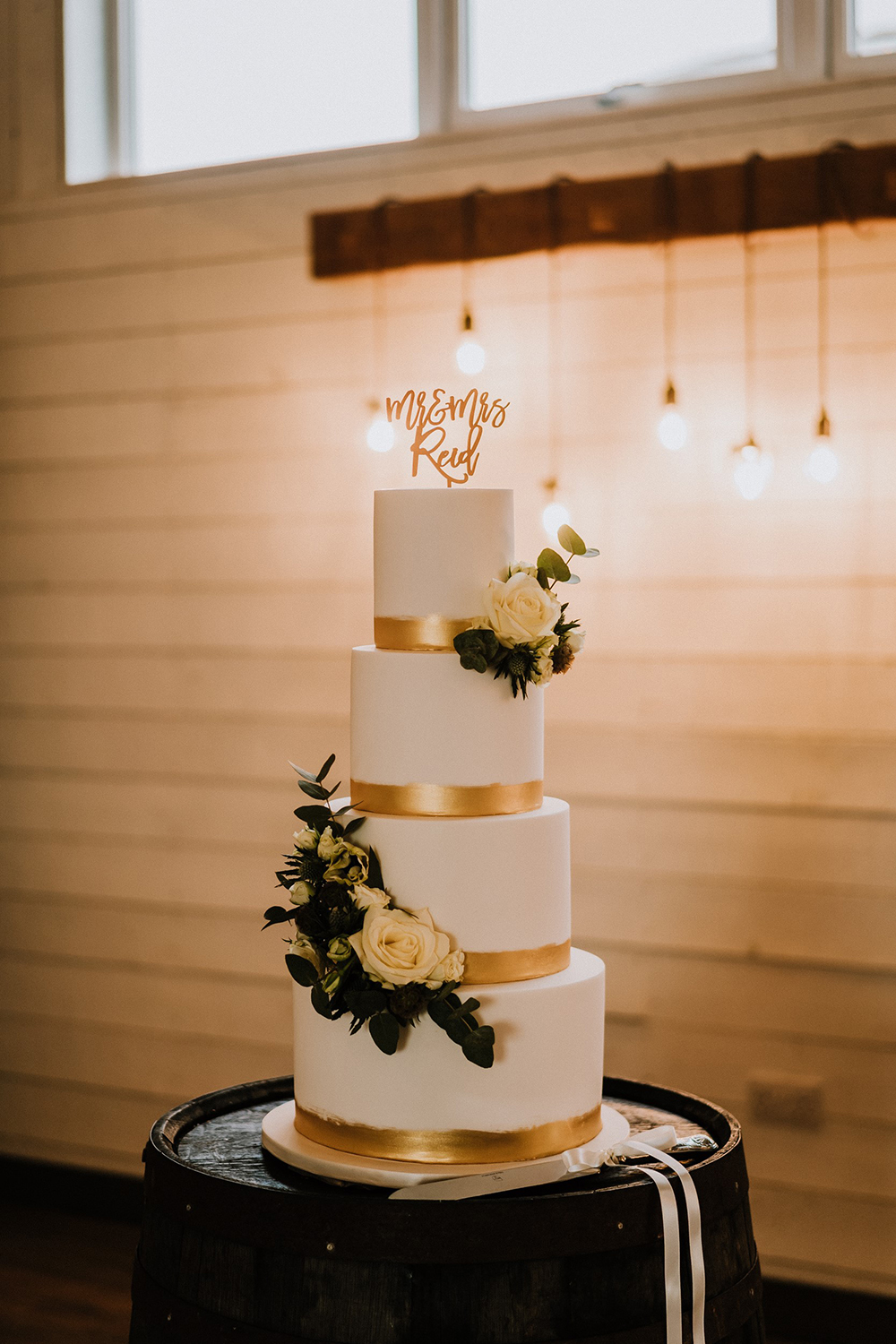 IMAGE | Burfly Photography
Aberdeenshire cake designer Cakes by Kirsty wowed with this simple but elegant wedding cake, created for a wedding at The Barn at Barra Castle.
"It's four tiers with a delicate gold watercolour band, finished with a personalised cake topper and beautiful fresh flowers," says Kirsty.
A blush wedding cake with edible flowers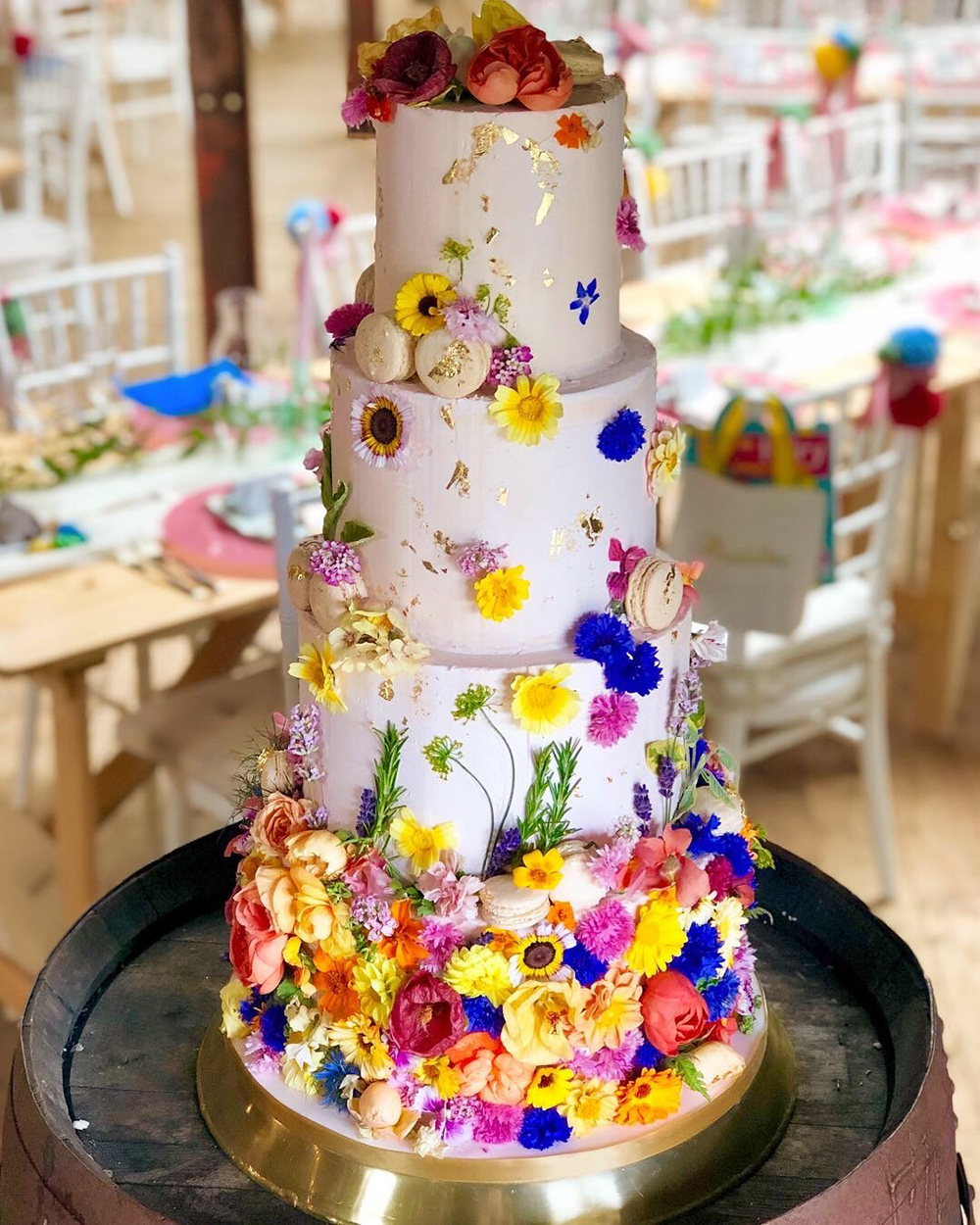 The Little Cake Parlour created this bright and beautiful cake for a wedding at Knockraich Farm, Stirlingshire.
"This was a blush pink buttercream cake decorated with gold leaf, macarons and organic edible flowers in colours to match the bride's bouquet and venue decor," says cake designer Lisa. "The flowers were supplied by Maddocks Farm Organics."
A stylish blue wedding cake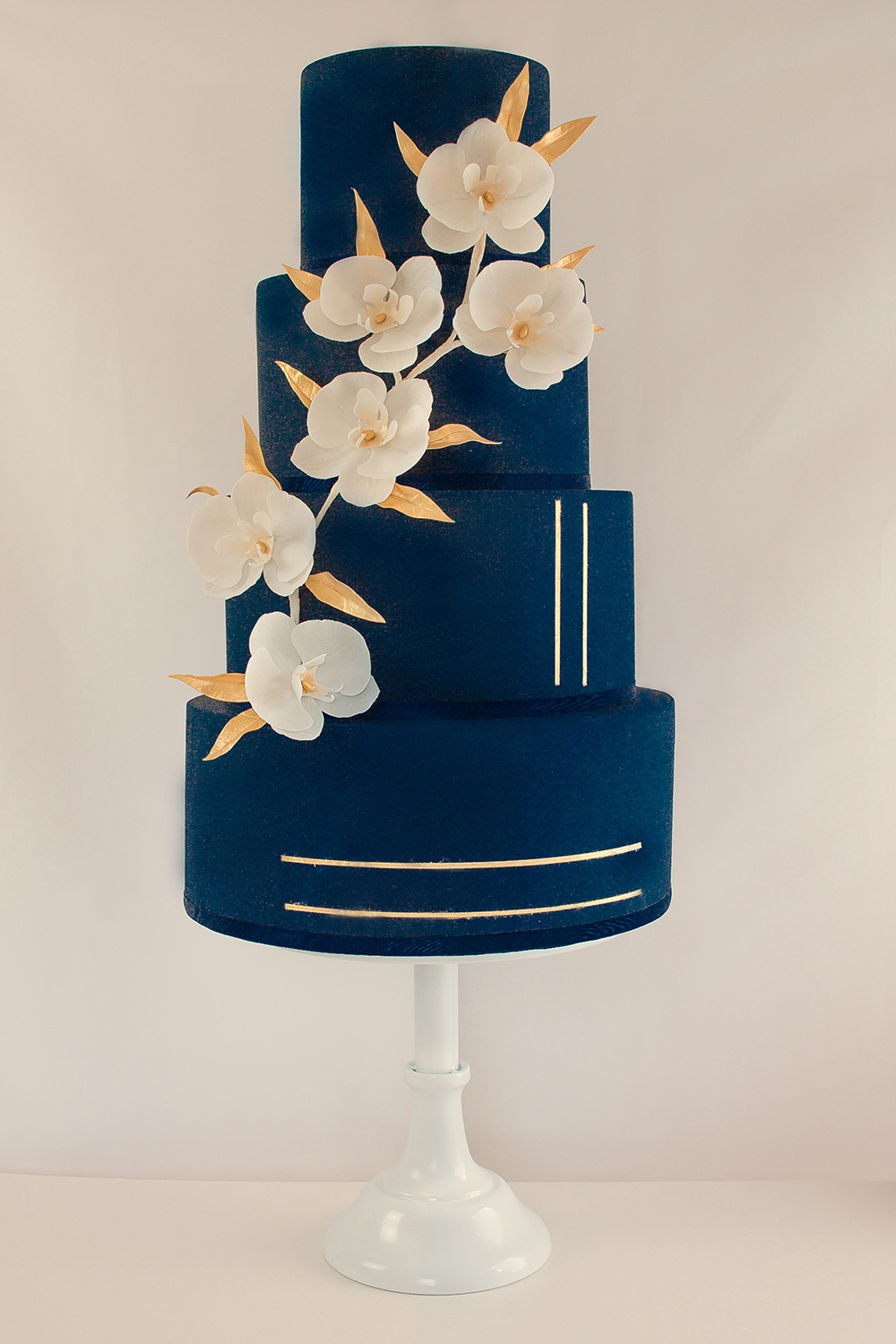 Your 'something blue' surely doesn't come more delicious than this creation by Copper Rose Wedding Cakes, which serves 165 people.
"This is a striking classic blue cake with a contemporary flawless finish, featuring delicate hand-crafted sugar orchids and hand-painted gold detailing for a touch of luxe!" says cake designer Alison.
A glittery watercolour wedding cake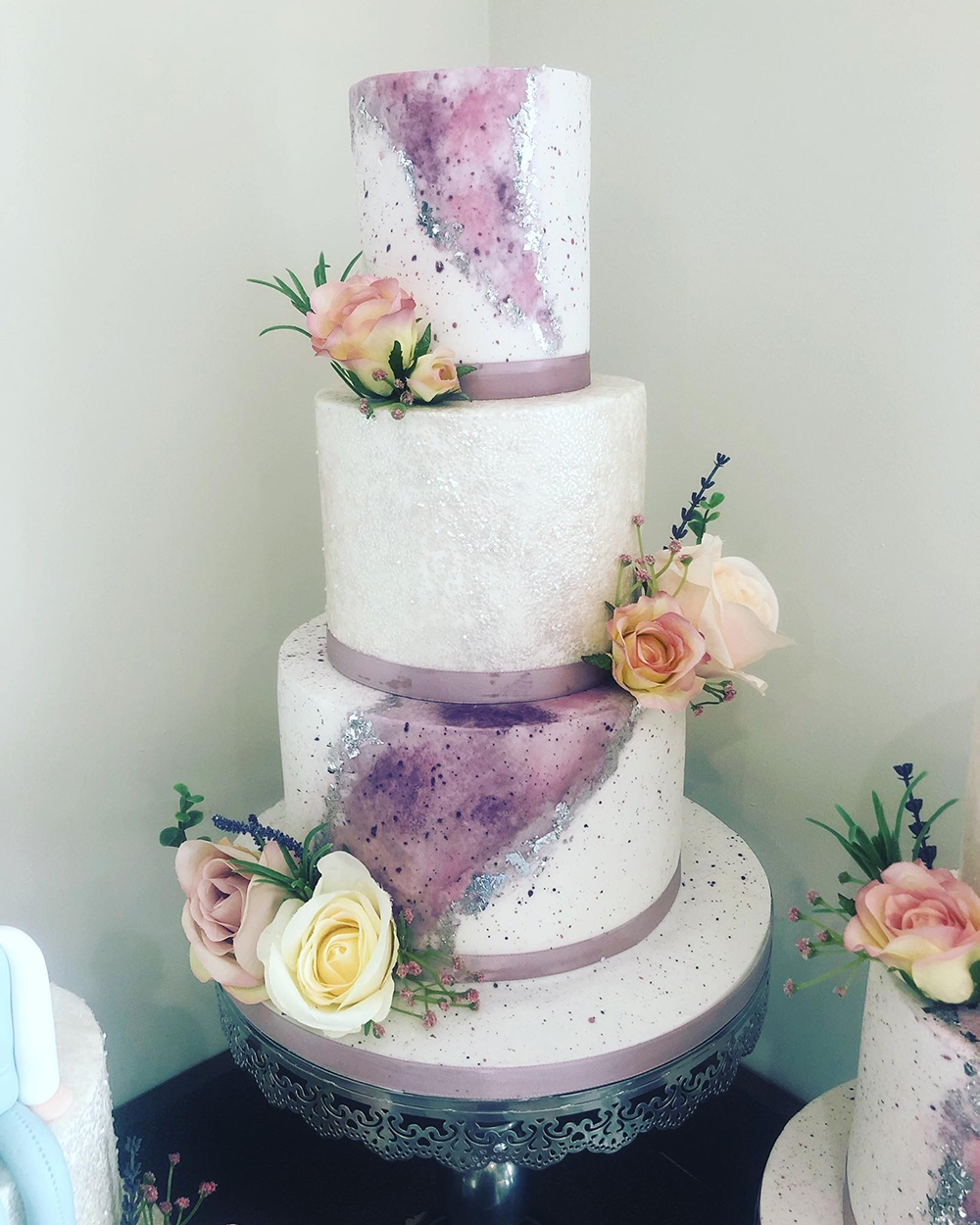 All That Glitters Cakes made not one but five seriously cool wedding cakes for this wedding! "There was a mix of naked cakes, super glittery tiers and some hand-painted watercolour-effect tiers with silver leaf and paint flecks," says cake designer Rachael.
The cakes were also adorned with roses and lavender, and one bake even had a hand-made edible bride and groom and a model of the couple's daughter.
A classic white wedding cake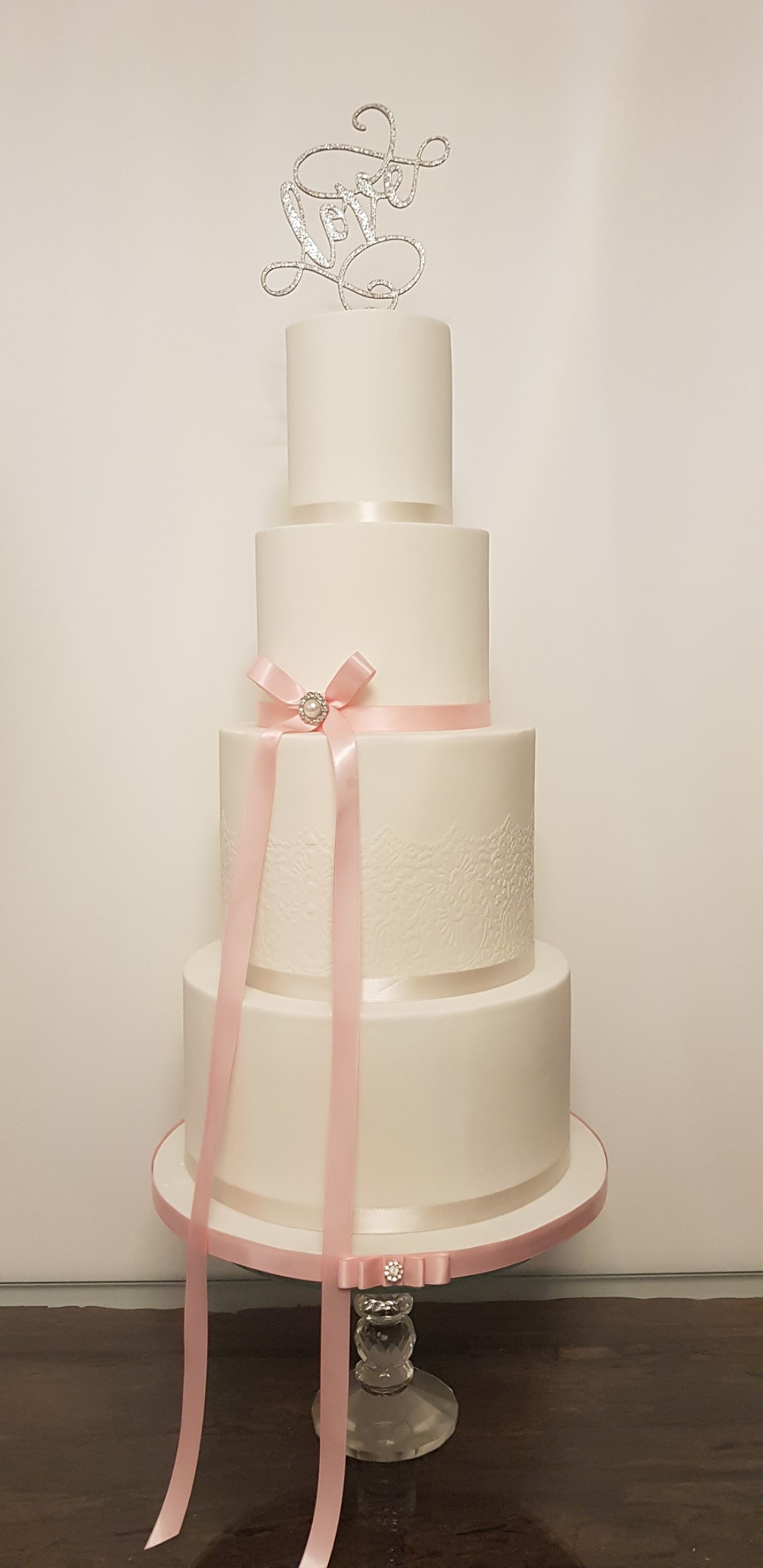 This chic four-tier classic wedding cake was created by Little Lace Cake Design.
It features an intricate lace effect on the third tier and is elegantly finished with ribbon wrapped around each tier, including a pink bow fastened with a pearl brooch.
A gold ruffled wedding cake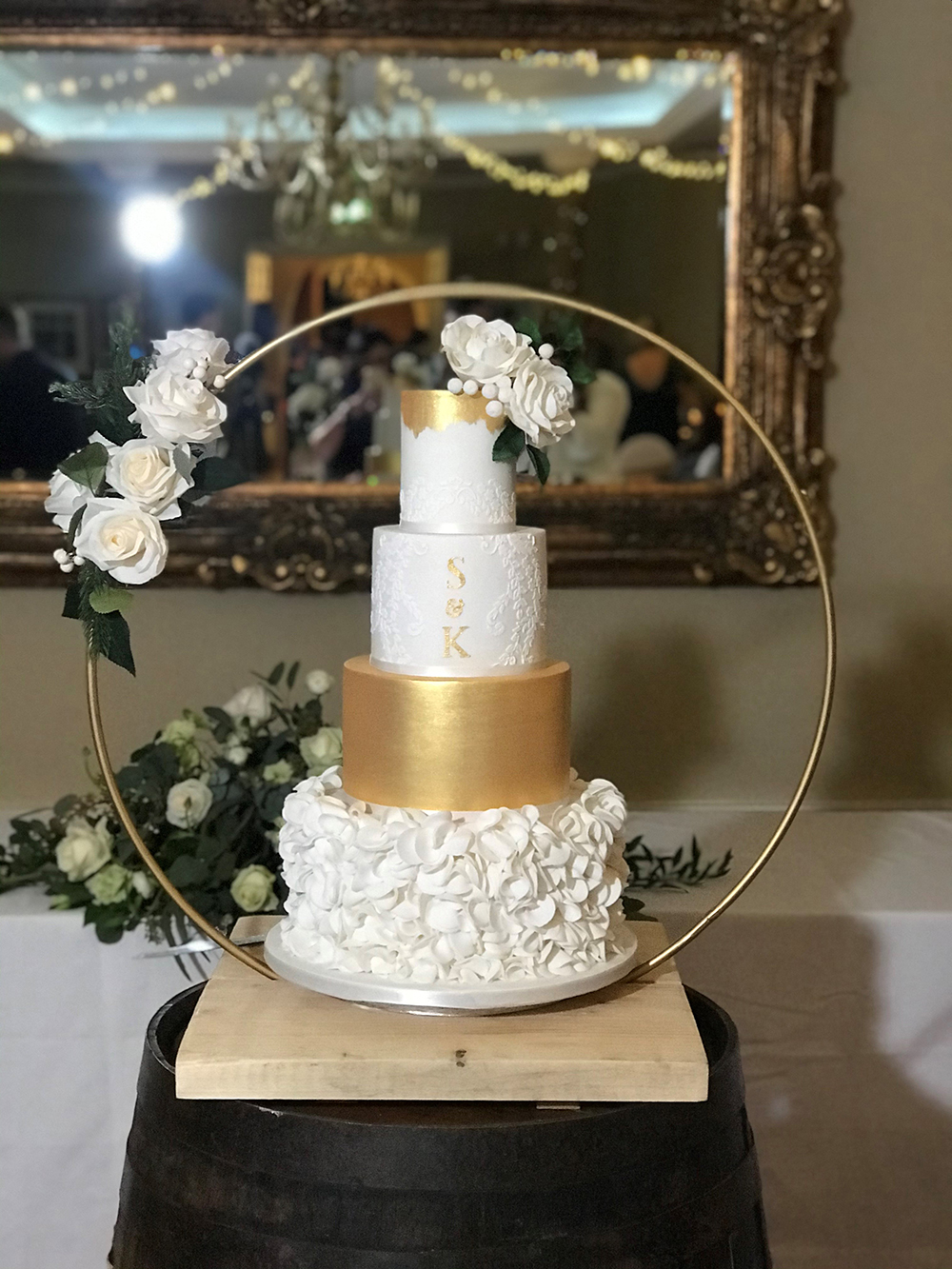 "This is my favourite wedding cake from the past year as I love a bit of gold," says cake designer Joanna of Truly Scrumptious Cakes by Joanna.
The pearl ruffle and gold lustre cake has personalised initials and is finished with delicate sugar roses and berries; just look at that amazing detail. And the finishing touch? A gorgeous gold hoop stand!
A decadent forest green cake with gold leaf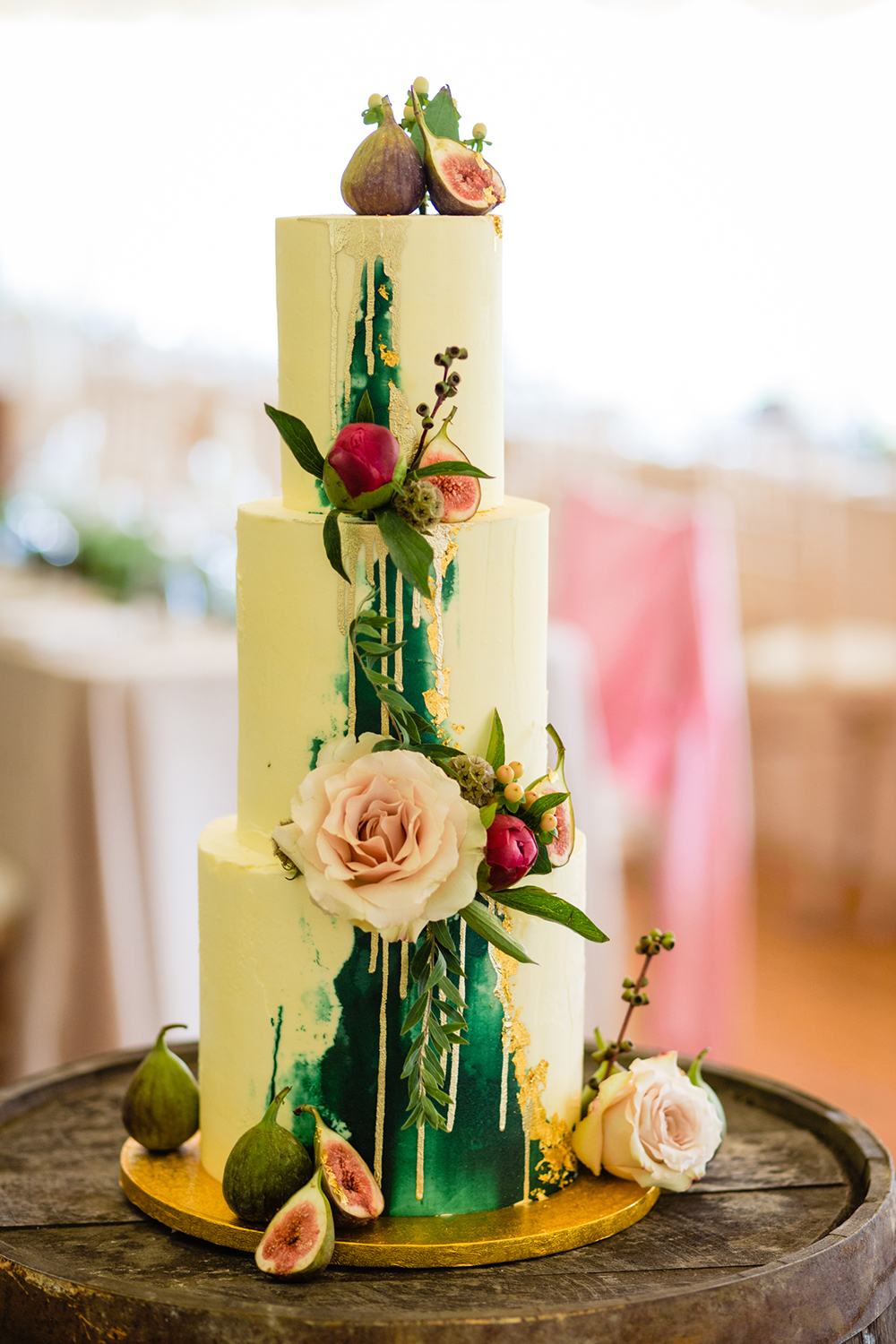 IMAGE | Emma + Rich
"The theme for the lovely Dawn and Ollie's wedding was very eclectic with nods to vintage and lots of quirky details like neon signage, old typewriters and abundances of wild foliage and flowers," says Nicola from Ruby and Pearl Cake Art who made this unique, creative cake.
"We decided on a forest green on ivory palette with gold drips and gold leaf, leaving the flowers to bring in touches of blush and burgundy. The fresh figs just finished the cake off perfectly, adding even more decadence."
A blush pink and rose gold wedding cake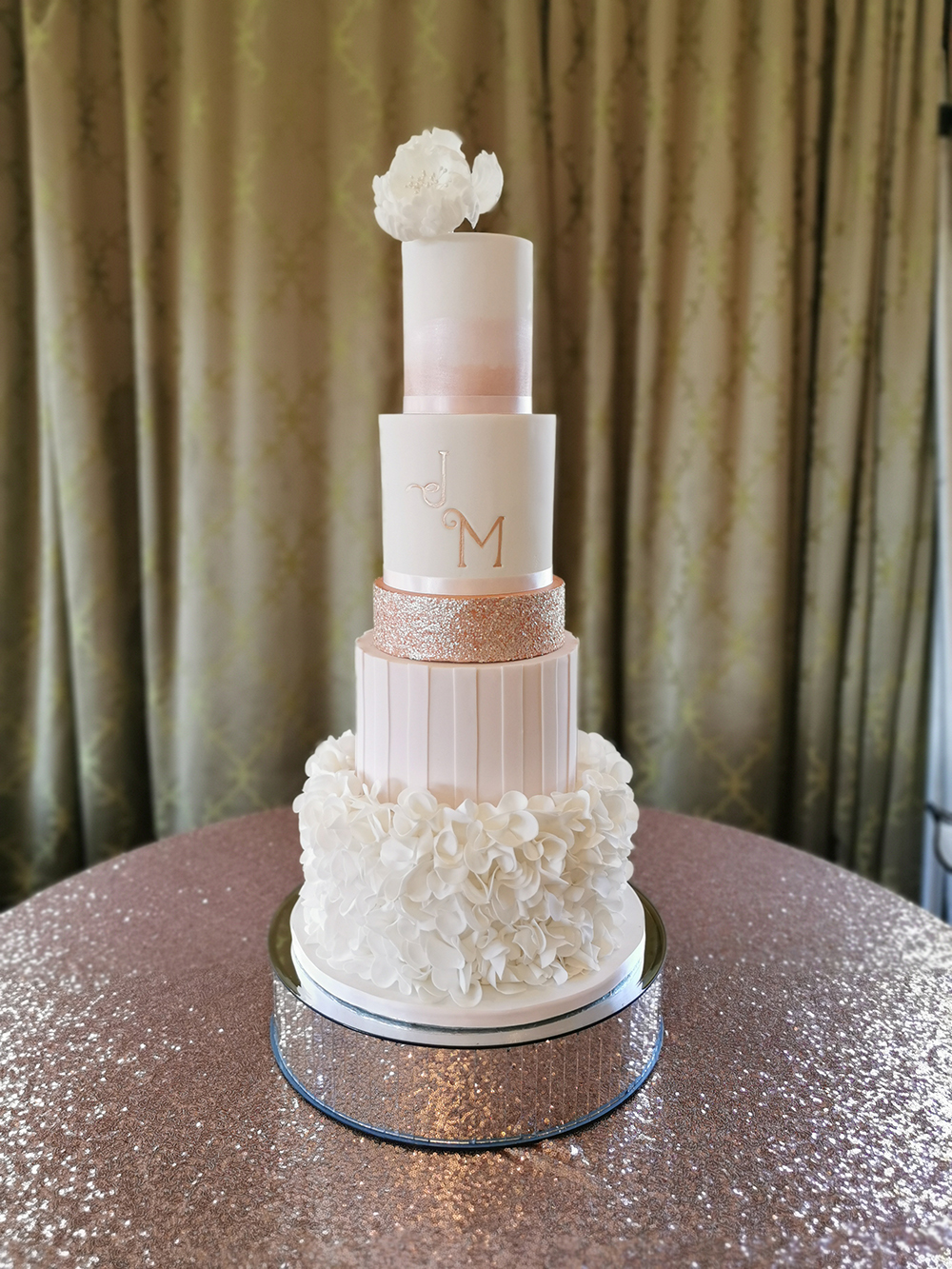 "Ruffles continue to be a firm favourite along with a blush and rose gold colour palette," says cake designer Sharon of Wedding Cakes by April Cottage.
This oh-so-pretty wedding cake was created for a wedding at Macdonald Crutherland House Hotel in March. We love that the cake was displayed on a rose gold sequinned tablecloth to mirror the cake design!
A crisp white and navy ruffle wedding cake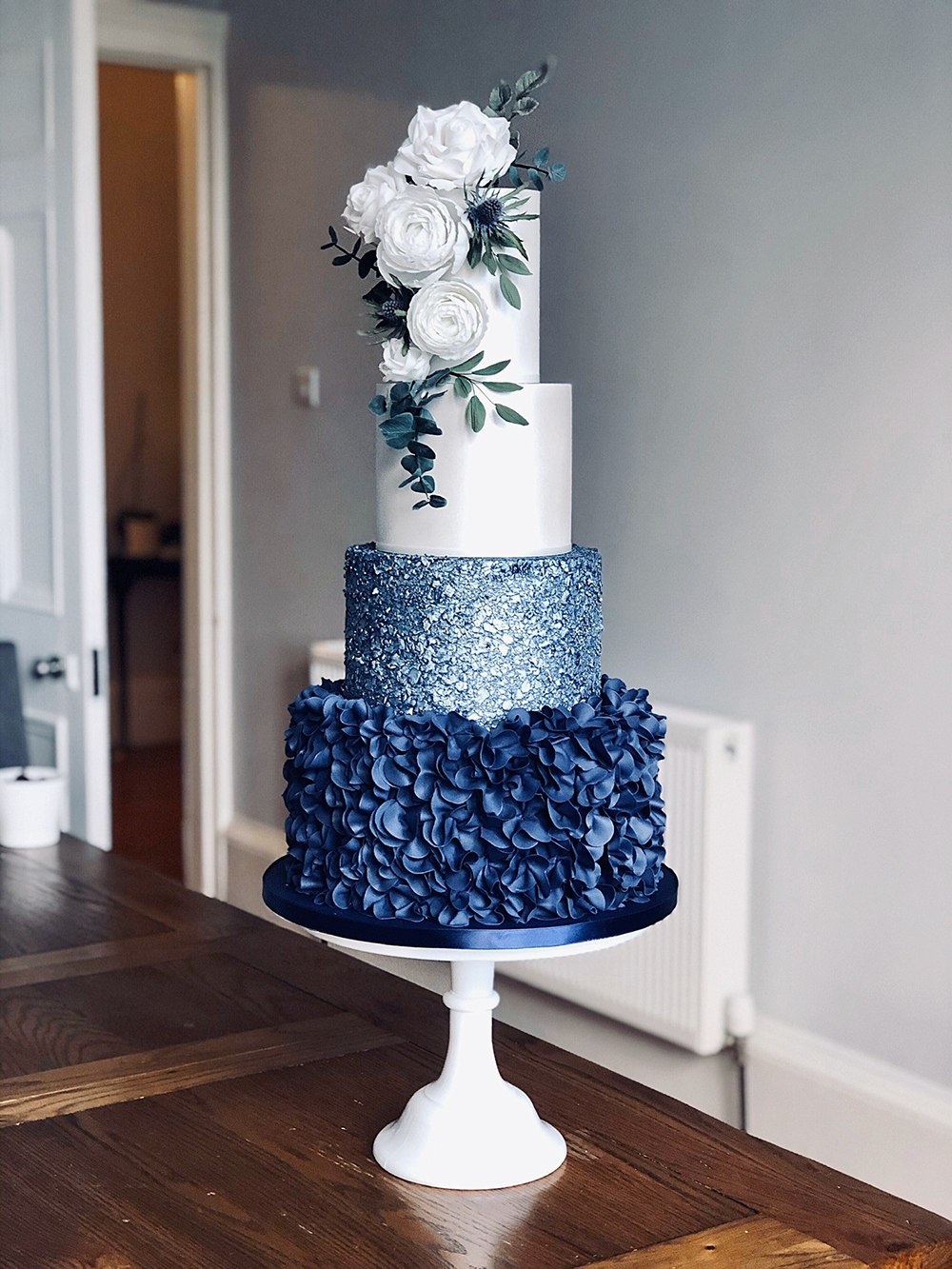 Cake designer Kim from Kim Gordon Cakes made this striking four-tier cake for a wedding at Ingliston Country Club.
"Ruffles are one of my absolute favourite things to do on a cake; they are paper thin and take forever but with navy being that bit different I knew it was going to be a stunning cake. Teamed with a crisp white lustre and a Russian blue textured tier they chose a mixture of sugar ranuculus, Avalanche roses and thistles with an extended full foliage of eucalyptus and various greenery to top the cake."
A Japanese inspired wedding cake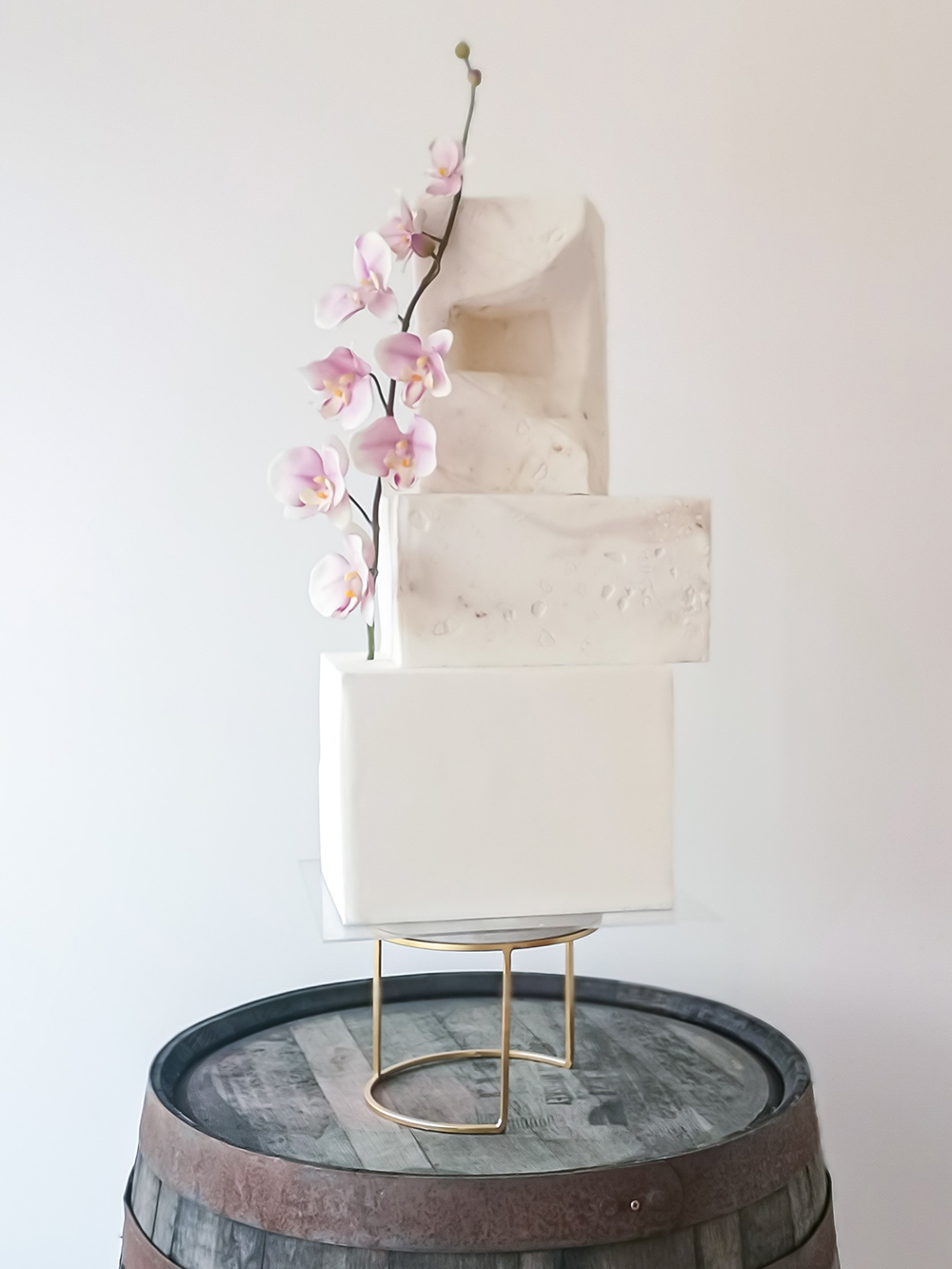 This stylish, minimalist cake, designed by Moira of The Wedding Cake Studio, was inspired by the Japanese art of flower arrangement, Ikebana.
"It's so muted yet there is so much detail to this cake: texture, sharp edges and slight marbling all on a white canvas," says Moira. "The orchids just come alive. The flavours were just as much out the box as the design with earl grey, lemon and lavender."
A hand-painted castle cake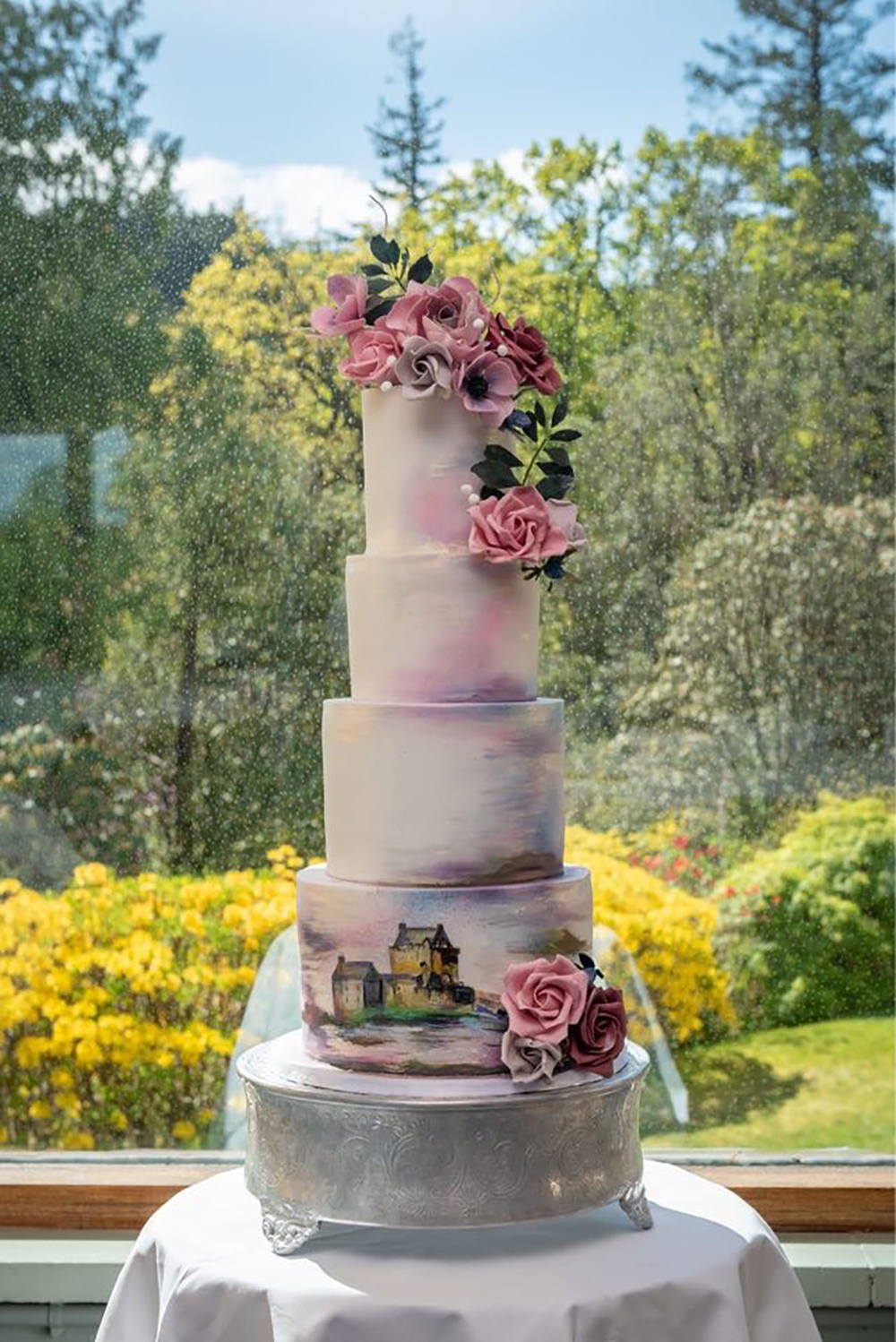 Marie-Clare Cake Design created this dreamy hand-painted cake to reflect the couple's wedding venue.
"This is a hand-painted castle 'Eilean Castle' and skyscape," says cake designer Marie-Clare. "The couple were married in a castle and wanted to carry that theme through the cake."
A wedding dress inspired cake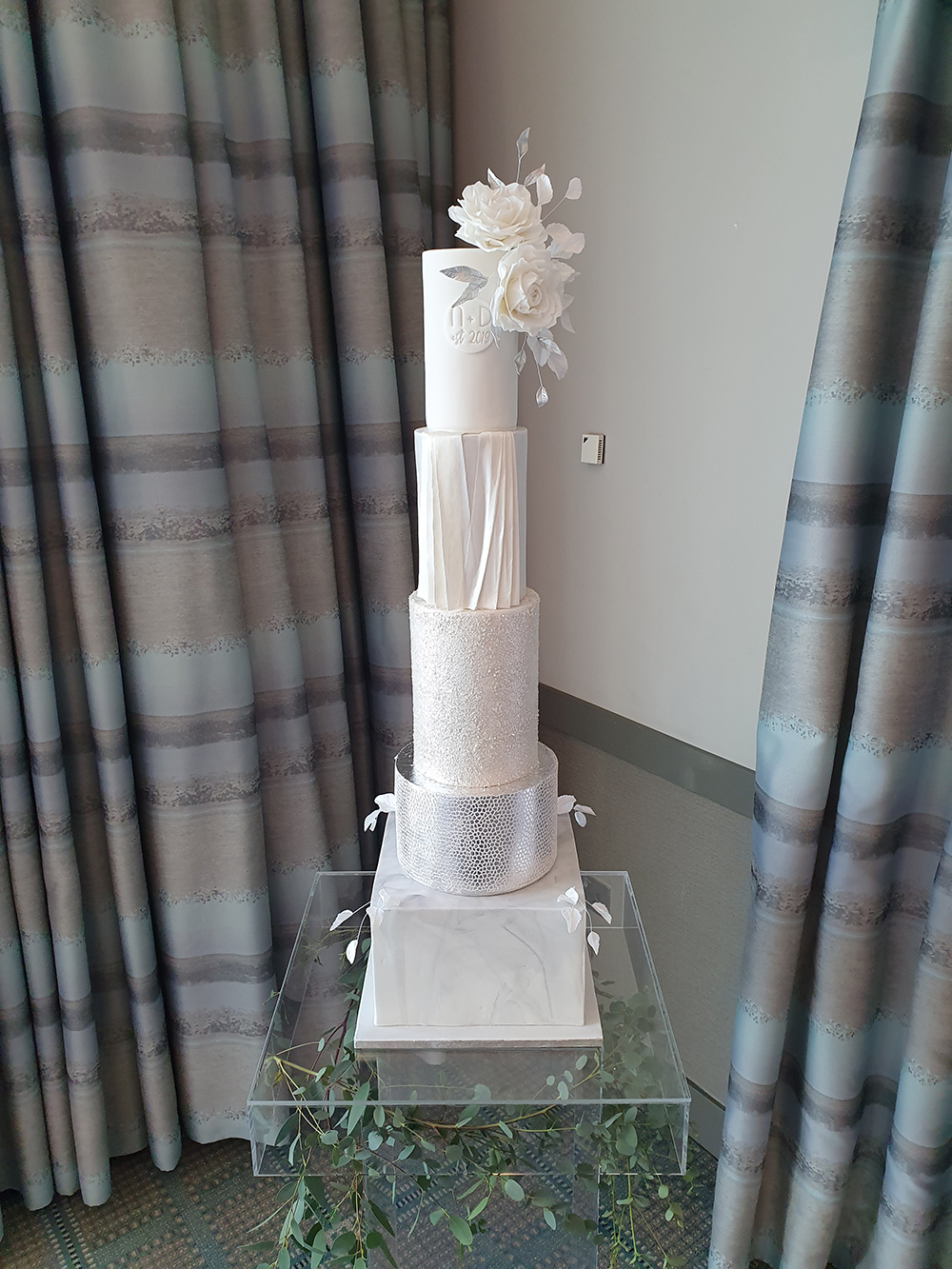 Why not take inspiration from your wedding dress when coming up with your ideal cake design, like this fashion-led creation?
"This tall contemporary cake, with sugar flowers, marble, silver leaf and edible material (to replicate the bride's dress) was a real hit with my lovely bride and groom and on my social media," says cake designer Laura of Love Laura Lane Cakes.
The cake was finished off with an acrylic stand decorated with foliage.
A marble monogrammed cake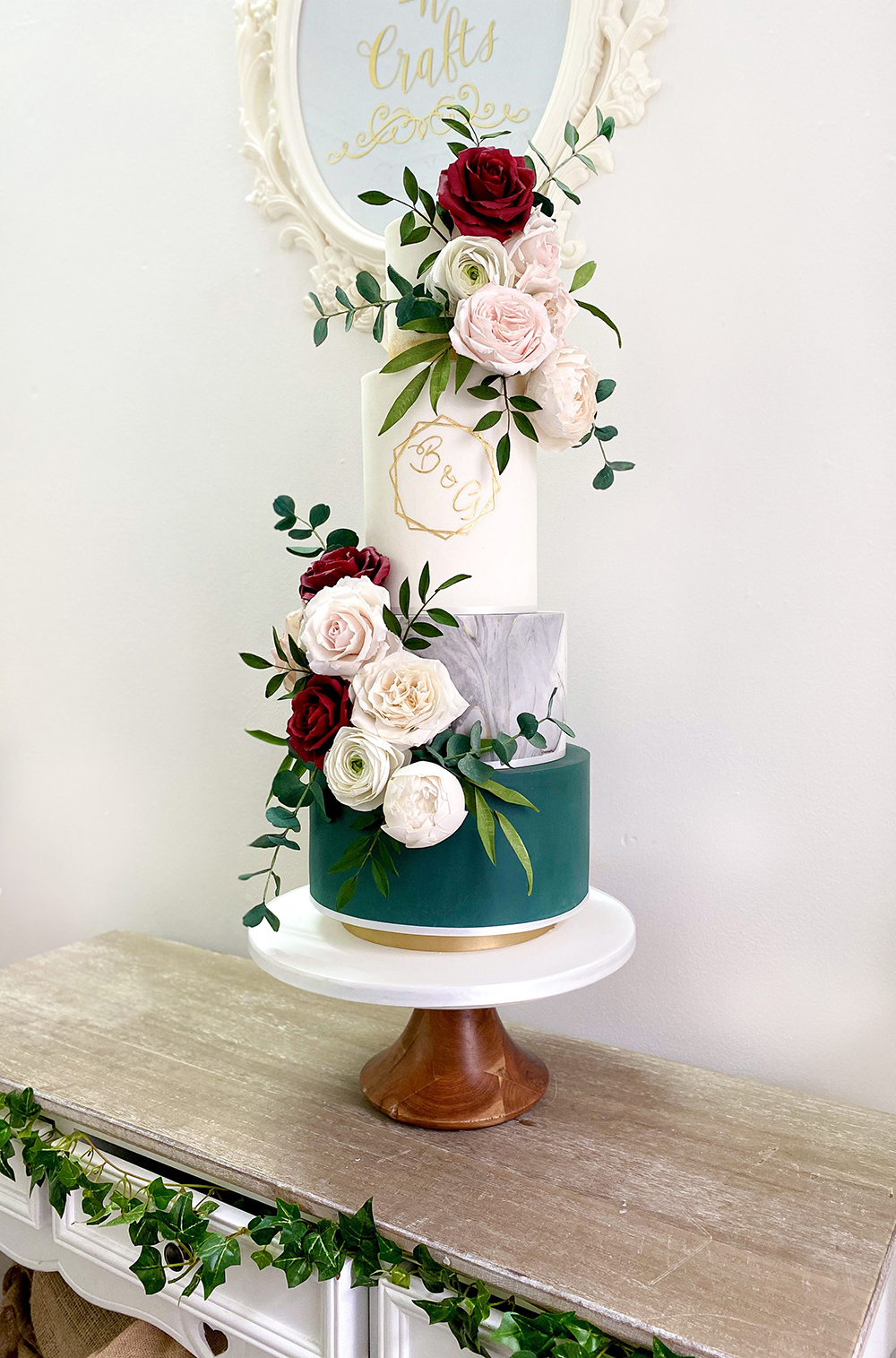 Cake designer June of Cakes-n-crafts was inspired by the darker tones of winter when designing this contemporary cake (believe it or not, those are sugar flowers!).
A forest green tier perfectly complemented the rich red sugar flowers, balanced out by a marble-effect and crisp white tier with the couple's initials in gold monogram.
A very Scottish wedding cake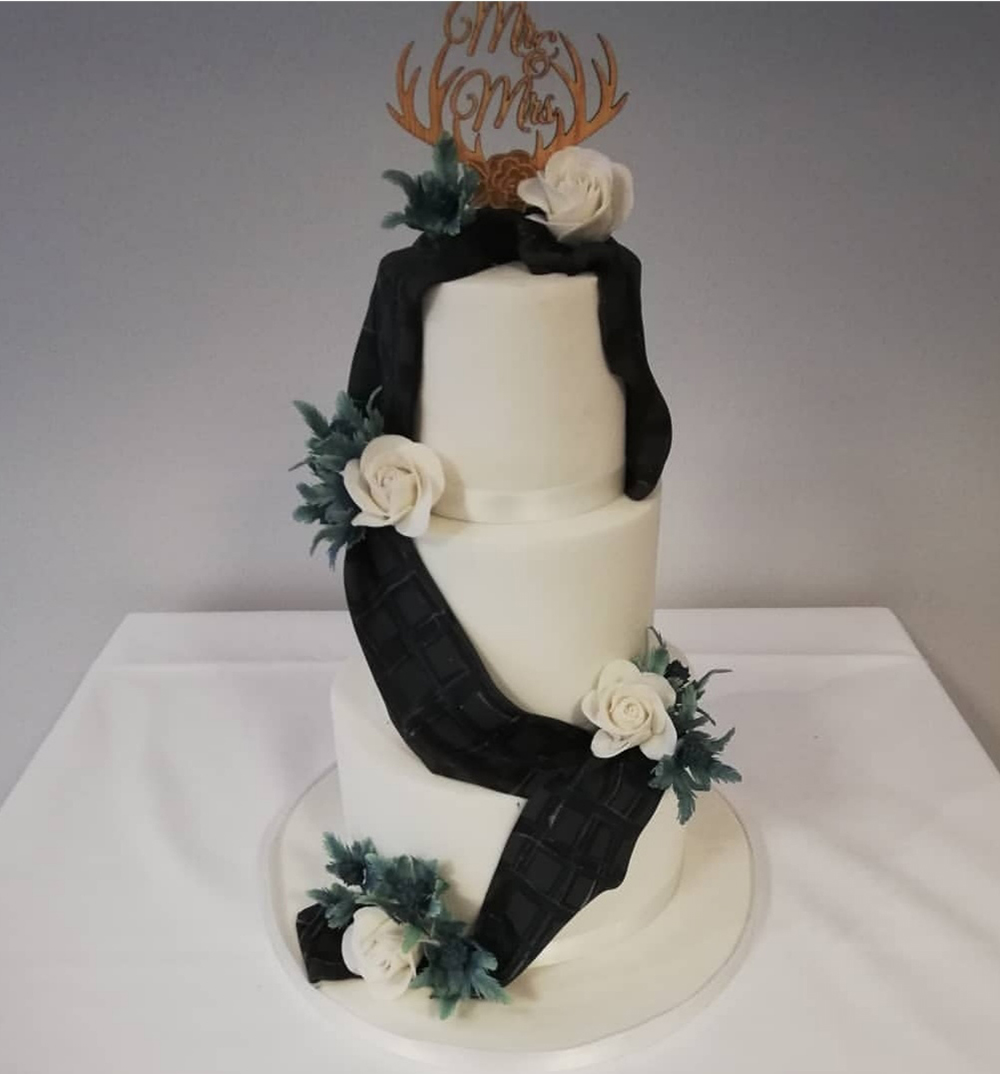 If you're getting married in Scotland, why not incorporate traditional Scottish touches into your cake design?
"This cake had hand-painted tartan drapes, hand-made sugar thistles and roses and an antler topper provided by the bride," says Leanne from Little Cakes of Art. In spite of its traditional Scottish appearance, the couple went for an unconventional flavour combination with one tier of vanilla, one key lime tier and a tier of cookies-and-cream sponge. Yum.
A pearl wedding cake on a cake swing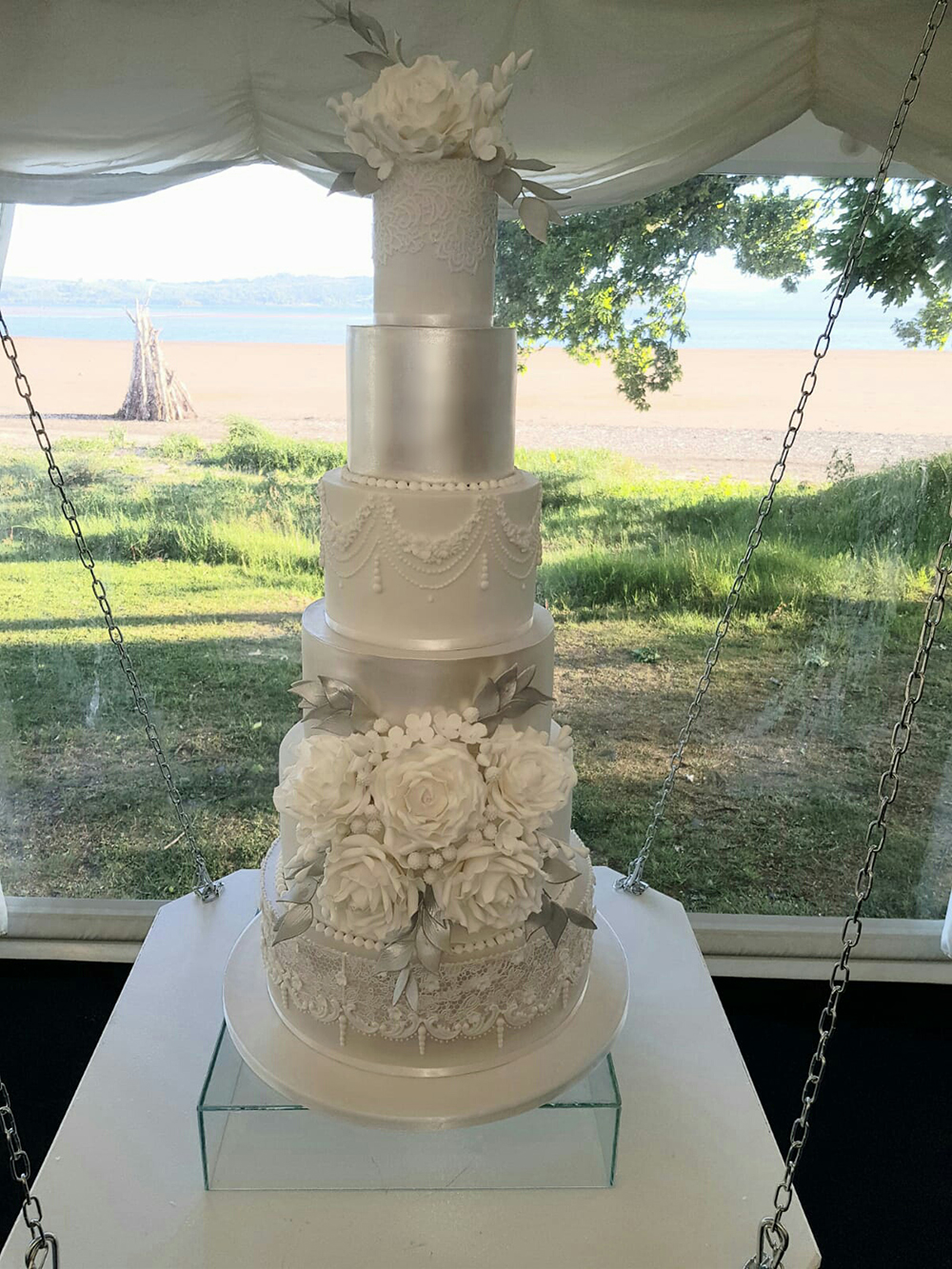 If you're going for a stunning six-tier wedding cake then you may as well go all out and display it on a swing, which is exactly what this couple did with their A-Cakes cake when they got married on the beach at Balmaha.
"This cake was six tiers in white and pearl lustre with edible lace, piping and moulded details, and it also had a large front floral centrepiece," says cake designer Ashleigh.
A glittery pink and white marble cake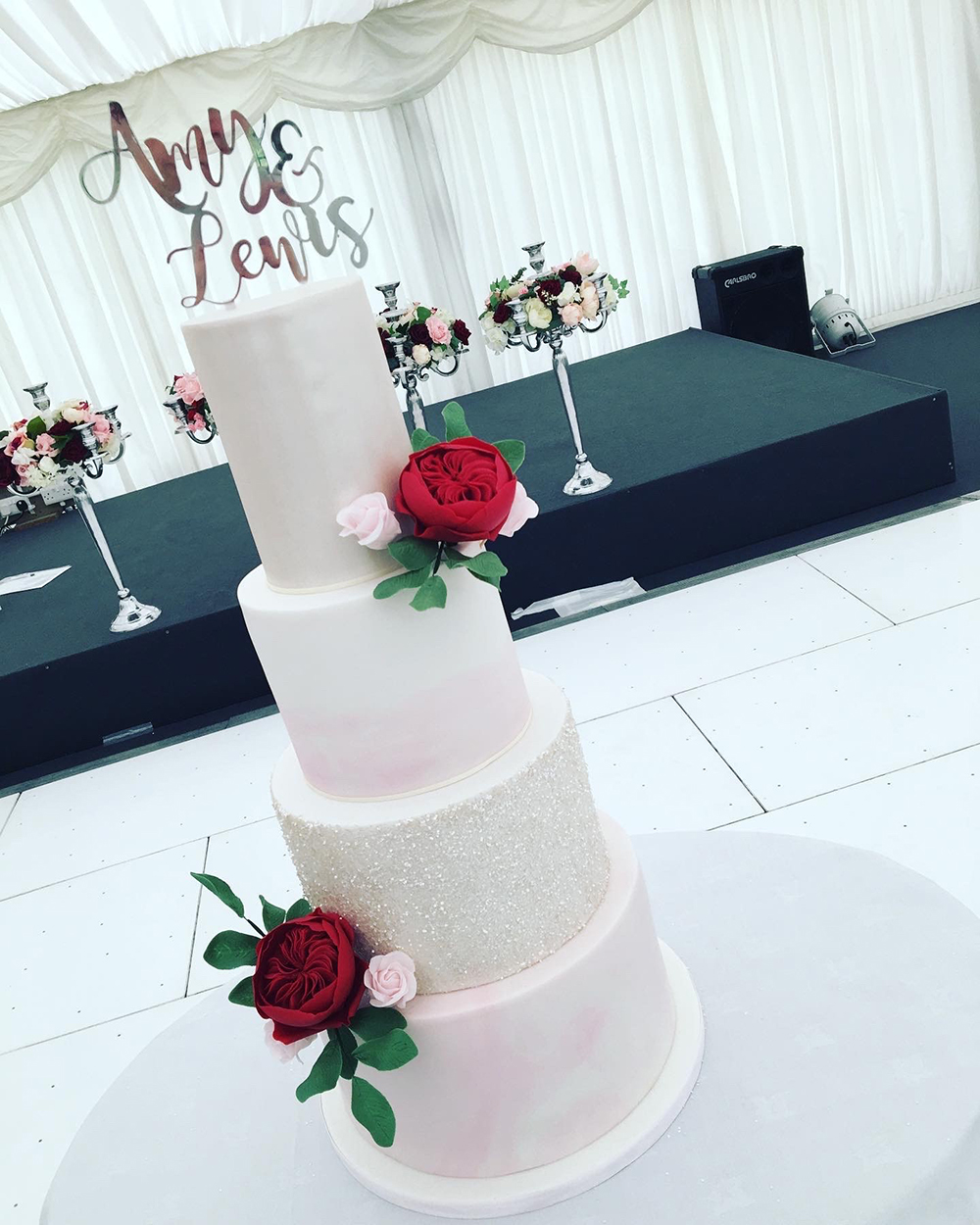 Cake designer Aileen of The Three Cupcakes Cakery designed this gorge marble-effect cake with sparkle detailing.
"This cake was four tiers of different flavours," she says. "The bottom tier was a very light pink marble, the second tier was CK squares, third tier was white with some light pink watercolour, and the top tier was white lustre. It was finished with hand-made red David Austin roses and foliage. As you can see it matched their candelabra perfectly!"
A Classic Blue wedding cake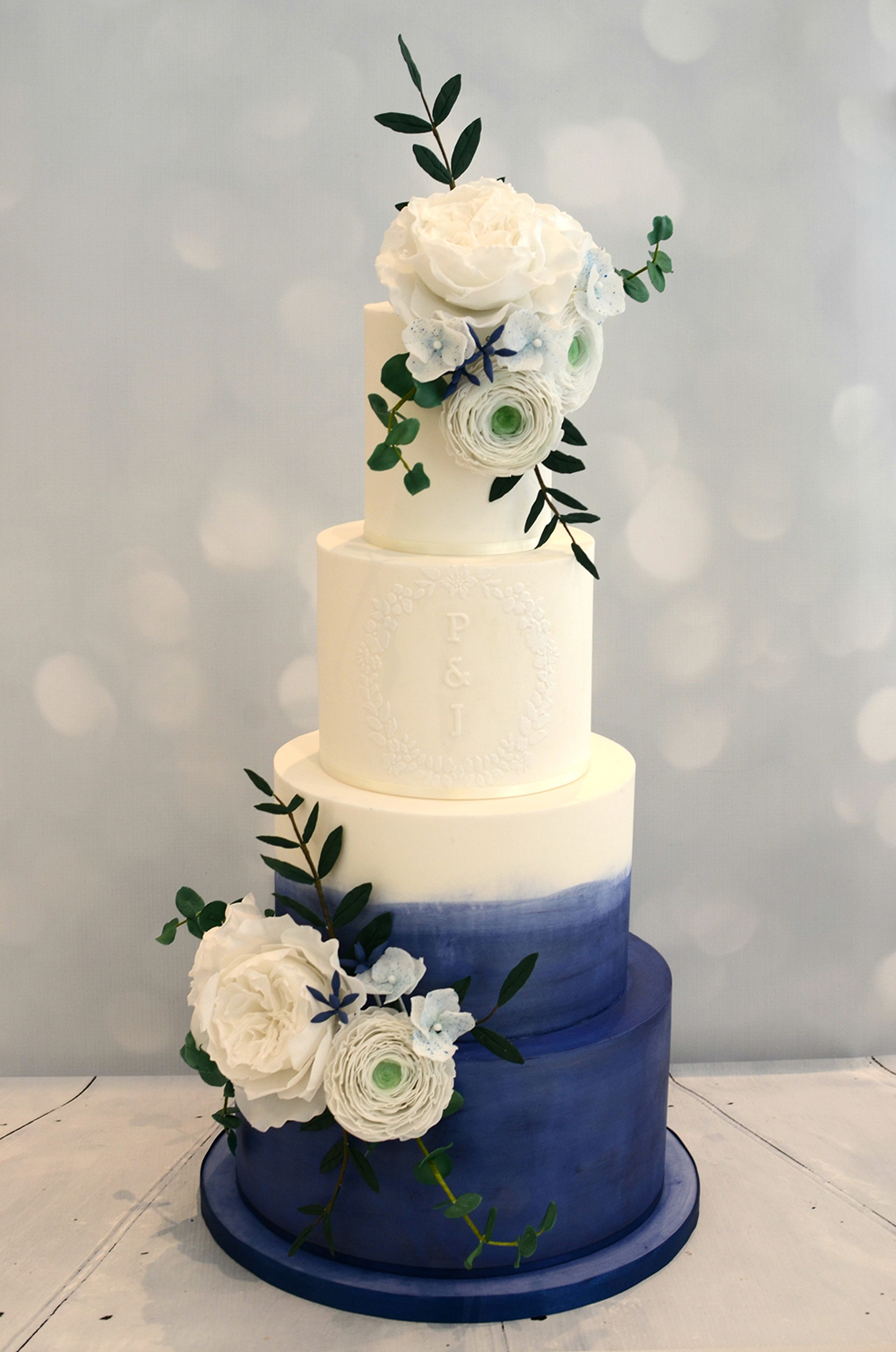 "This cake was styled on the Pantone colour of the year Classic Blue and features lots of sugar flowers, stencilling with monogram and watercolour blue," says cake designer Jennifer of For Goodness Cake.
"The sugar flowers are O'Hara roses, Avalanche roses, delicate blue hydrangeas and ranunculus along with lots of greenery to frame the flowers." Beautiful.
An all white cake with a hint of blush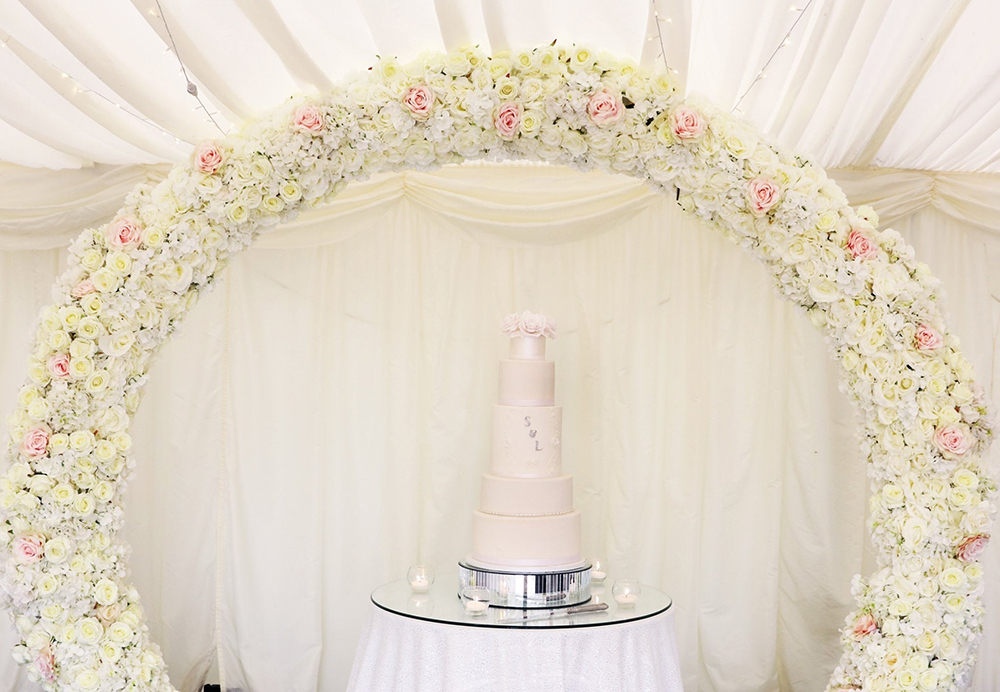 Cake designer Kate from Gorgeously Sweet Cake EmporiuM designed this show-stopping white cake for a wedding at Kinnettles Castle last year.
"It was a five-tier cake (three tiers being cake with two dummy tiers) with personalised monogram stencilling, a starlight lustre-dusted top tier adorned with pale blush pink sugar flower roses and leaves to match the floral arch, and it was edged in diamanté trim and satin ribbons," she says. "The bride wanted an all-white brief with just the slightest hint of blush pink."
An intricate sugar flower wedding cake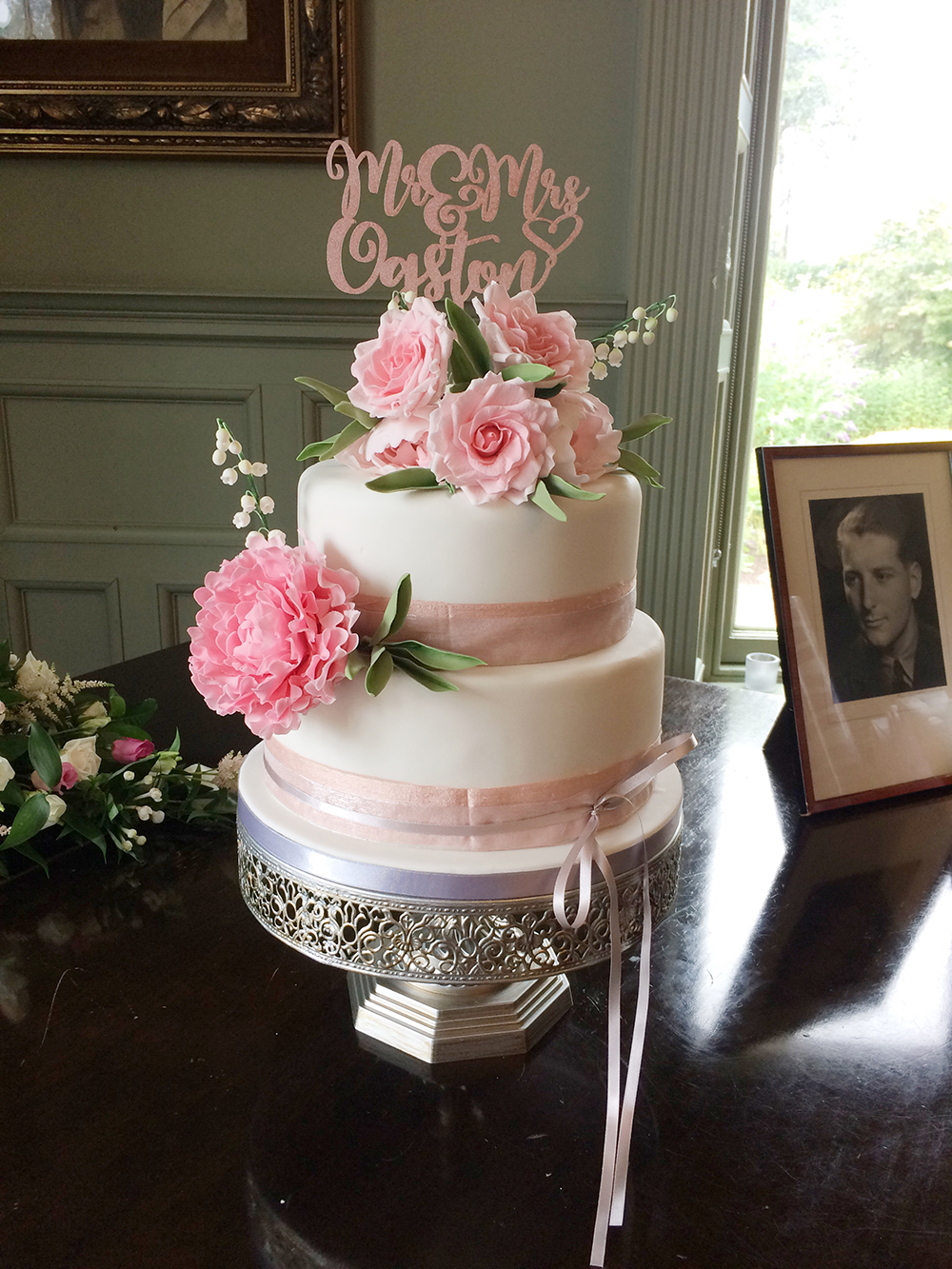 The sugar flowers in this cake, designed by Emma of Cake That and Party, were so realistic that the groom's mum mistook them for real flowers!
The couple went for a classic Victoria sponge and a fruitcake layer, with a fondant-covered white chocolate ganache shell. Cake designer Emma has been designing and making cakes for seven years and was a graphic designer for 13 years previous, so she has a great eye for visuals!
A beautiful botanical bake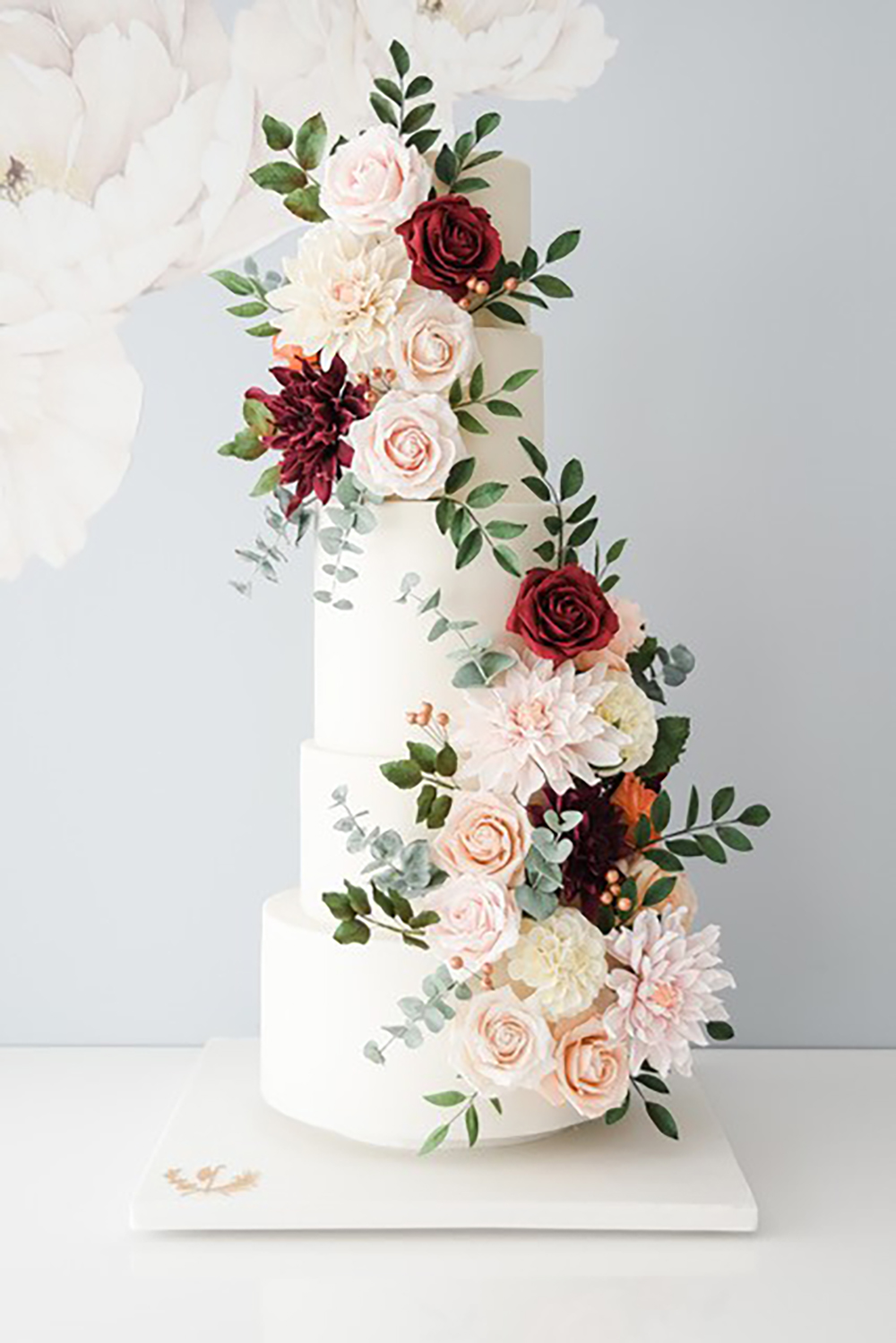 Cake designer Suzanne Esper is renowned for her sugarcraft which is shown off to perfection in this 30-inch-tall creation (which served 230 guests!).
A modern colour palette of ivory, peach, burgundy and orange creates a fresh look, enhanced by lots of beautiful sugar greenery.
A statement gold cake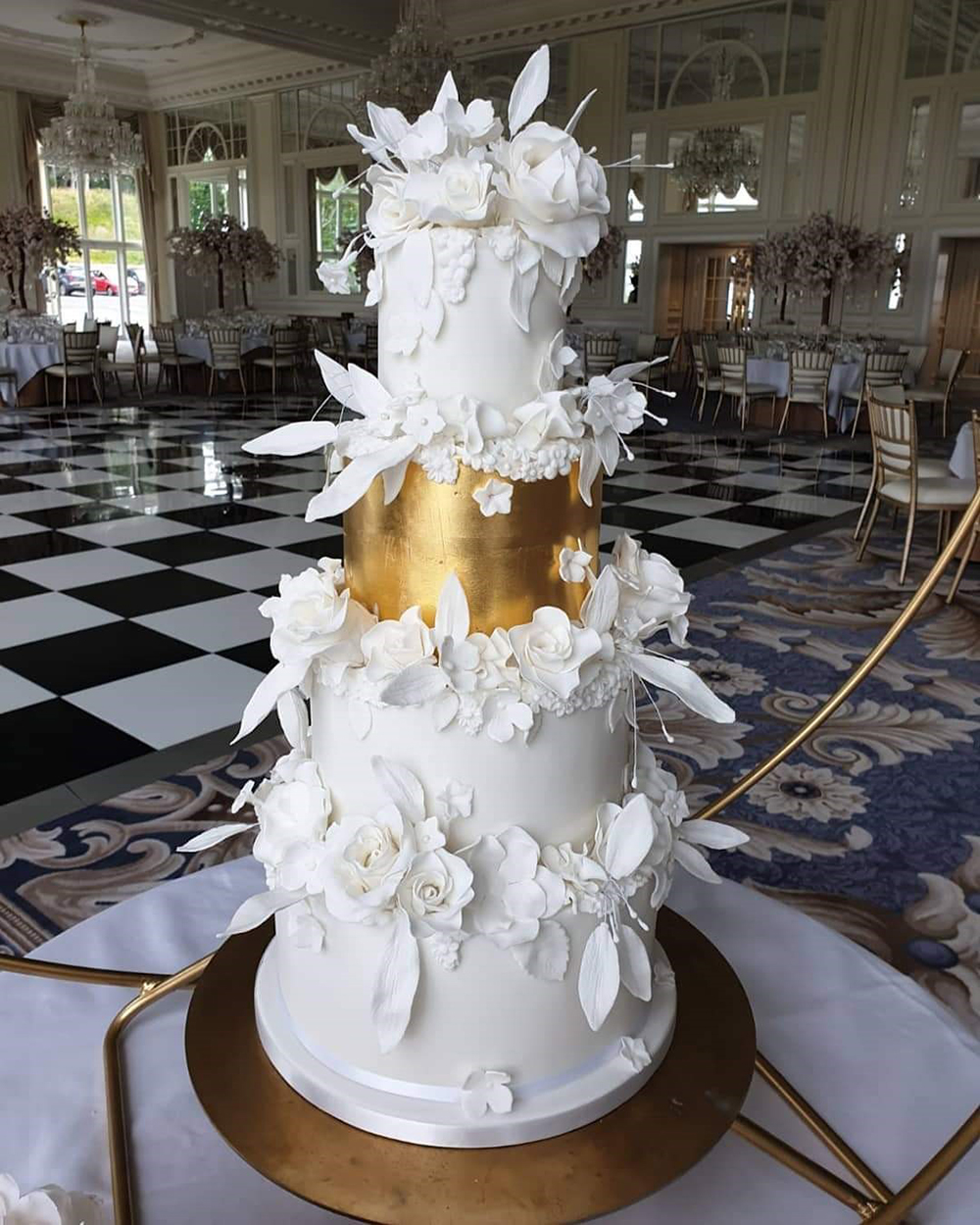 When you're getting married at a striking venue such as Turnberry in Ayrshire, only a statement cake will do: and that's exactly what Samantha at Sprinkles on Top created.
"This has a statement edible gold leaf tier which provides a striking contrast to the all-white cake, adorned with literally hundreds of sugar flowers and leaves," she says. "It was settled beautifully on the stunning cake hoop provided by Supernova Wedding Design & Flowers."
A crisp and clean all-white cake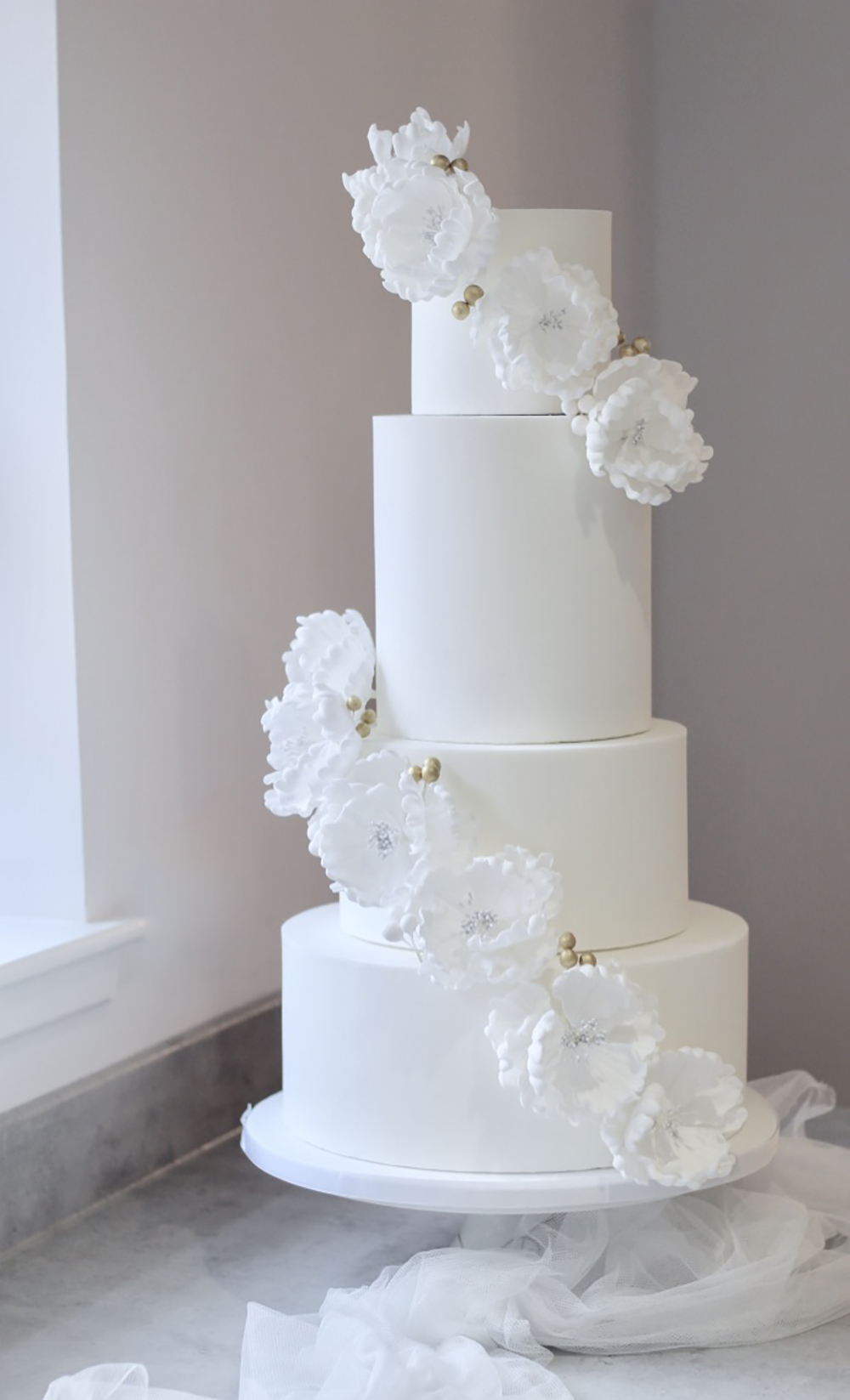 This super-elegant four-tier cake was designed by Caroline Jax Cakes and would be perfect for any couple going for a clean and minimalist wedding theme.
It features a double-barrel tier and is adorned with white sugar roses, lifted by gold accents for a touch of subtle glam.
A unique cake pop wedding cake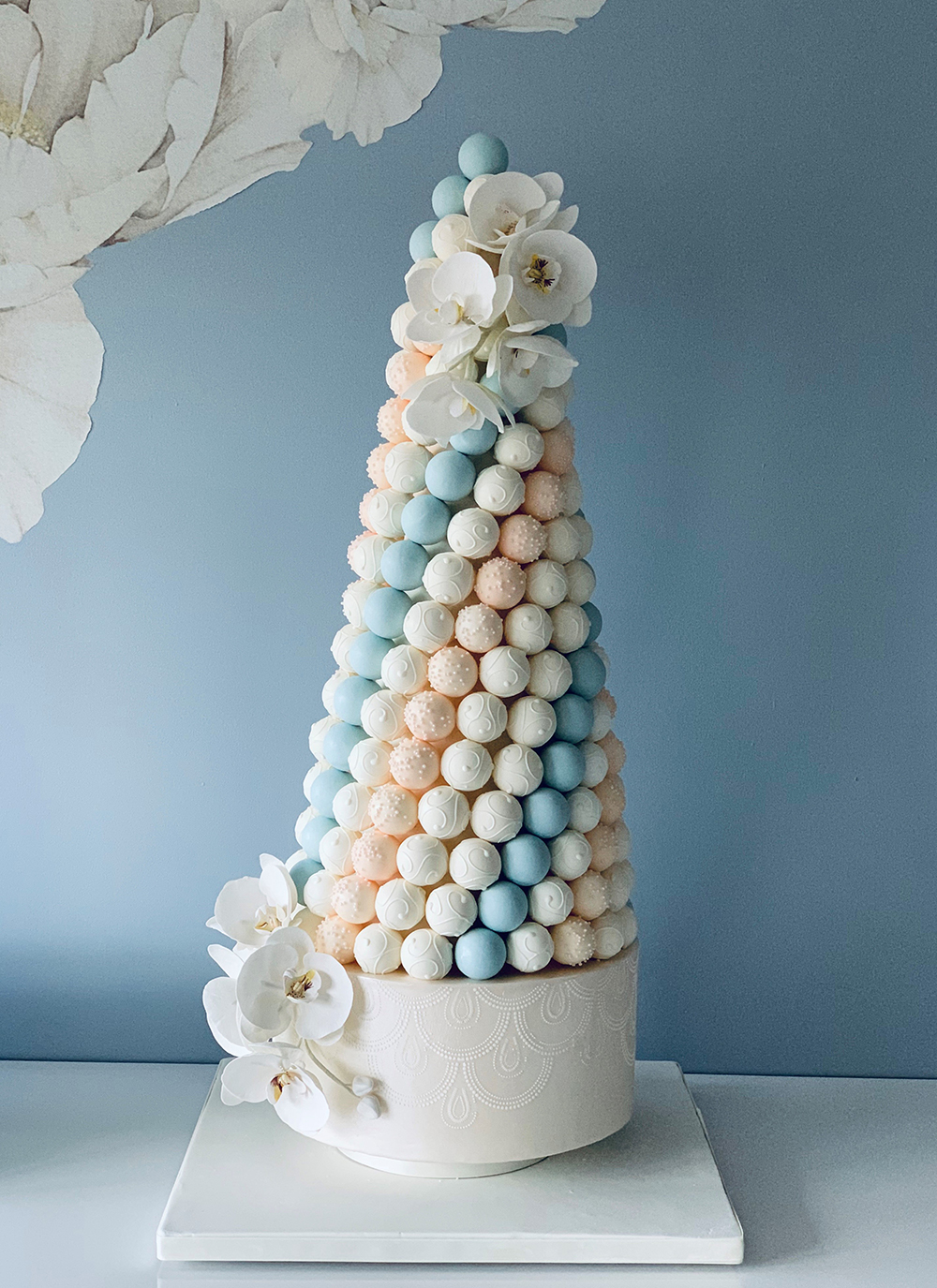 Lisa of Eccasion Cake Design specialises in cake pop tower cakes, like this beauty which comes in a gorgeous powder blue, ivory and blush colourway. This is brilliant if you love the idea of giving your guests something a little bit different (we love a sweet treat that can be carried on to the dancefloor).
It holds 200 cake pops and has a stencilled cake tier at the bottom, dressed with sugar orchid flowers.
A sparkly wedding cake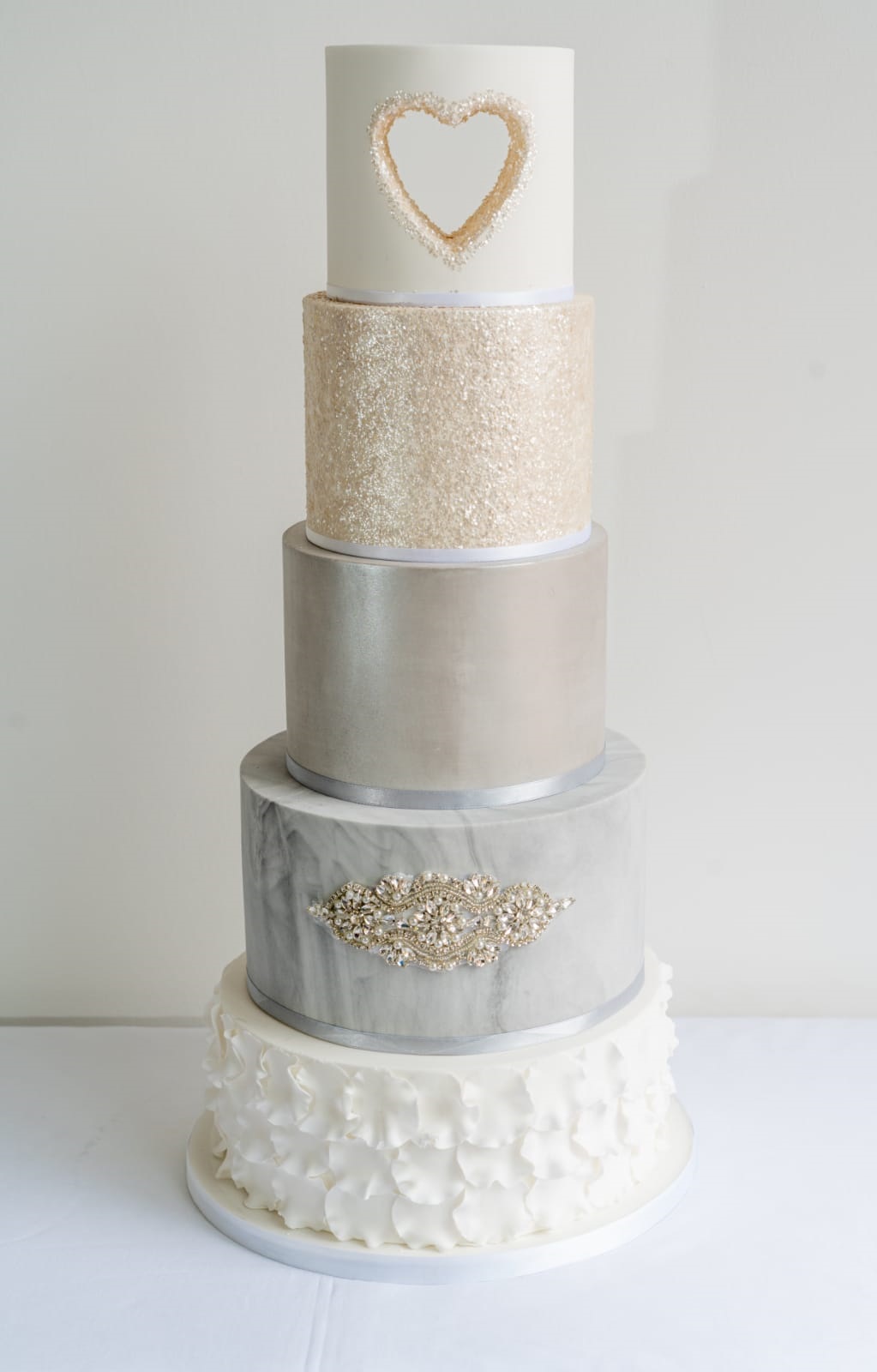 If you want a wedding cake that'll catch everyone's eye then take a look at the five-tier 'Orla' cake which stands 27 inches tall and was created by Cheryl from Sweet & Flour Cakes.