Everything you need to know about choosing a wedding cake
Is choosing a wedding cake next on your planning To Do list? We ask expert cake designer Joanna Jarvis, owner at Heavenly Tiers, for advice!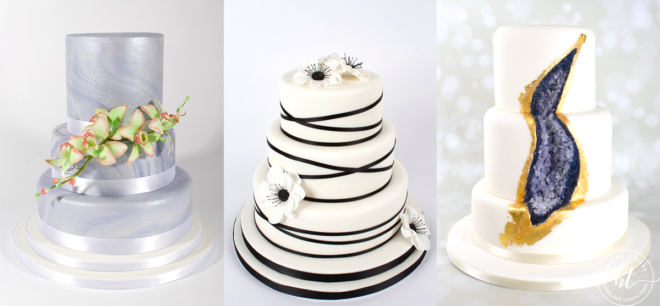 Joanna Jarvis, founder and cake designer at Midlothian-based cake company Heavenly Tiers, gives us the 411 on where to begin with choosing your wedding cake.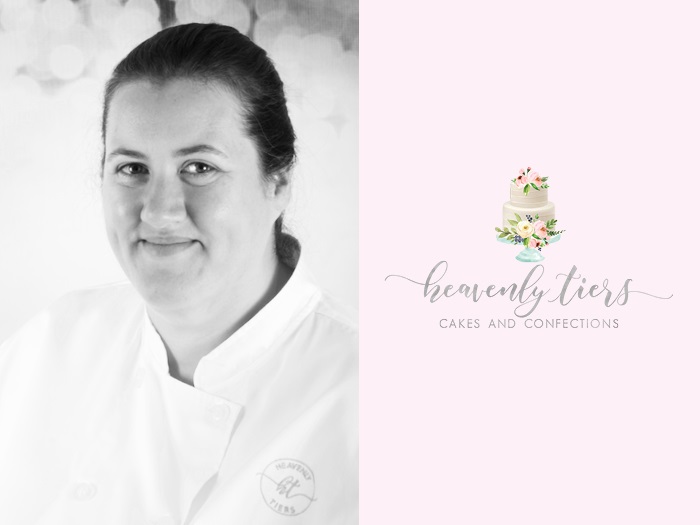 Founder and cake designer Joanna
I need a cake! Where do I begin?
Firstly – congratulations on your engagement! Planning a wedding can be so much fun, but can also feel a little overwhelming, so we try to make choosing a cake as stress-free and simple as possible.
Some of our clients will come to us with ideas – they'll look at wedding magazines or blogs, or find inspiration from social media, in particular Pinterest and Instagram. Others will want a little more guidance and might have some thoughts on colours or styles.
We offer a free wedding consultation and tasting service to discuss the cake design and any specific requirements – these are always a popular part of the wedding planning!
How does a wedding cake consultation work?
This is an opportunity to meet with our designer to discuss your ideas and consider your themes, colours and any other unique aspects to make your wedding cake special for you.
During a typical consultation with tasting, you'll be invited to try a selection of three of our popular cakes and fillings in the comfort of our dining room. If you have a particular preference from our cake and fillings menu we can accommodate that.
Once we've discussed the cake, decided upon size and design we'll email a quotation and order form and can secure the chosen date following payment of a deposit.
We hold a regular wedding consultations throughout the year – you can sign up to our email list to be notified of available dates and book your space as soon as they're announced.
How do I choose a style of wedding cake?
We know that choosing your wedding cake is one of the most important decisions you'll make for your big day. A real centrepiece for your reception, your cake will feature in wedding photographs for years to come, so it's important to make the right choices and find something that's just right for you.
Our cakes are created with options to suit to suit your style and budget, with different levels of detail and in different sizes.
We offer a range of cakes as part of our Simplicity, Elegance and Opulence ranges, to give plenty of choices whether you opt for minimal decoration and clean lines, handmade sugarcraft flowers or highly decorated and ornate cakes.
As part of your consultation, we'll talk through any ideas you may have, discuss your wedding venue, colour theme and other details and will make some suggestions to help create a cake that's just perfect for your special day.
You can also get inspired by checking out the Heavenly Tiers Instagram feed, and Facebook page!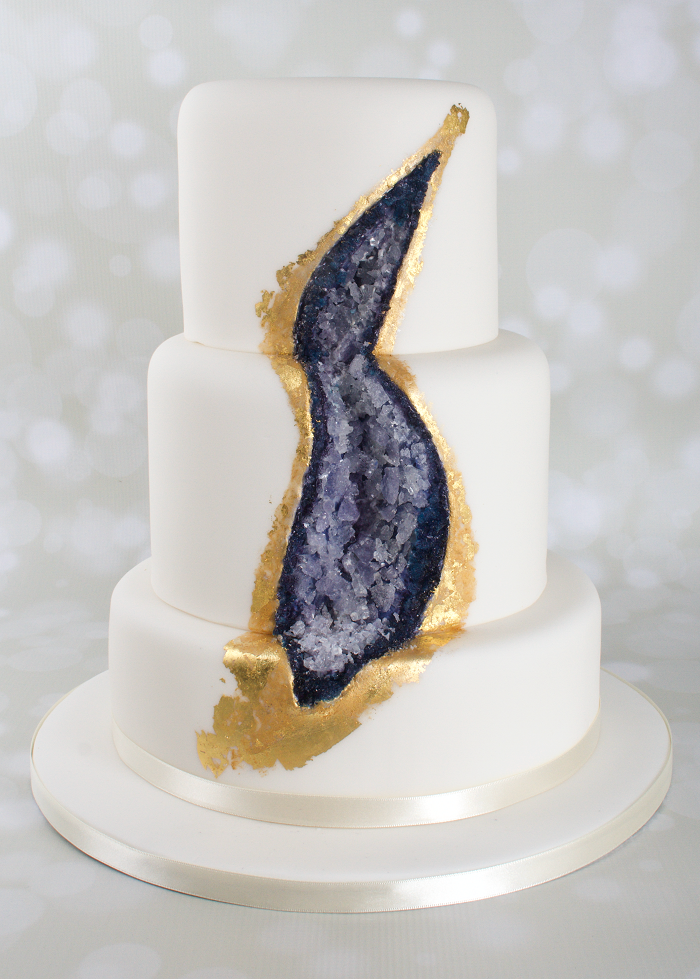 Geode wedding cake
How do I choose from the different sponge and filling flavours?
Heavenly Tiers cake menu offers classic combinations that are real crowd pleasers, and I would always recommend that couples go with flavours they know and enjoy.
Infusions of alcohol or chocolate variations are really popular at the moment, and if a customer is looking for a particular flavour combination we'll always do our best to accommodate them – sometimes couples really want to push the boat out with unusual flavour combinations and we'll always work hard to create something that tastes delicious.
Dessert tables are a great way to provide a real variety of different flavour profiles and you're sure to find something that all of your guests will enjoy!
How much should I budget for a wedding cake?
Our wedding cakes start from £345 in our Simplicity range, and we have a range of three price bands depending on the level of decoration you'd like.
Our cakes are handmade from the best-quality ingredients, and decorated and finished by hand, so you can be sure you're getting a top-quality, artisan product.
What if I don't have much of a budget for a wedding cake " what can I do?
We know that sometimes budget can be tight – but everyone still wants their wedding cake to be a real showstopper!
Cupcake towers with a top tier can be created to echo the themes of the wedding and are a great way to provide a real ˜wow factor' without a hefty price tag.
Naked and buttercream cakes are less expensive than those iced with fondant, but lose none of their charm or impact.
A plain white or ivory cake finished with some simple decorations is elegant and looks perfect alongside the bride's bouquet.
Alternatively, you could opt for a dessert table instead of a cake – a beautiful selection of sweets, biscuits and layer cakes makes another tempting choice.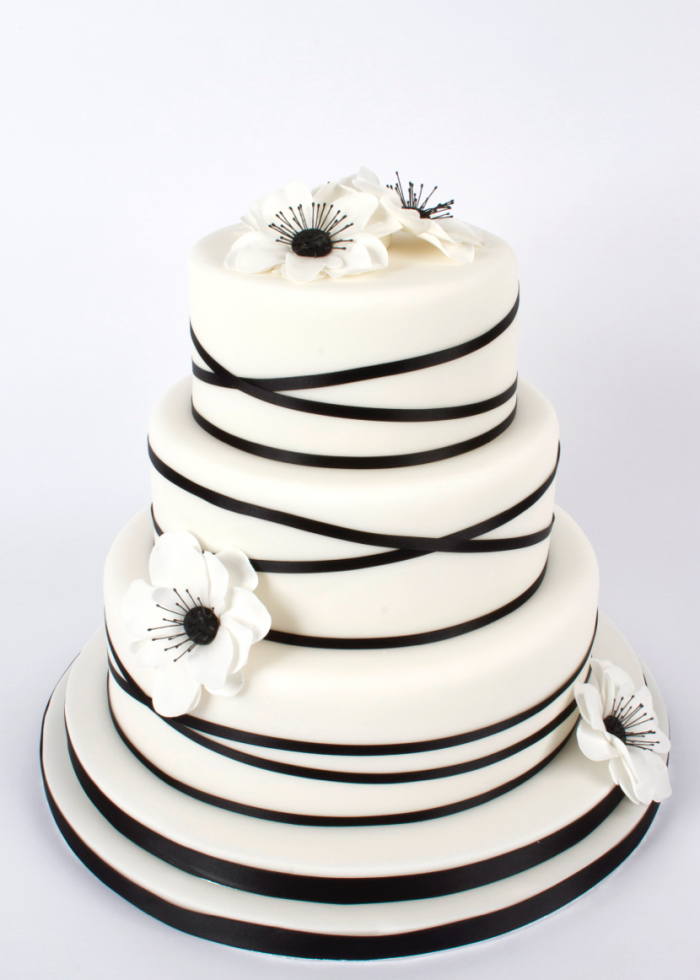 Anemone wedding cake
How many people should a wedding cake serve?
Couples may wish to serve their wedding cake as a dessert or with coffee at their wedding breakfast, or perhaps plan to have some extra portions to send to those who can't attend.
It's also popular to have an extra tier to continue to share with family and friends after the wedding.
Discussing your plans with your wedding cake designer will help you gauge how many portions and the size of cake that you will need to feed your guests.
How does the wedding cake get to my venue?
We provide a delivery and setup service to the venue and can also hire cake stands.
We're always happy to work with other suppliers such as venues, florists and wedding planners to ensure the arrangements are in place for your big day.
When should I order my wedding cake?
It's best to book your wedding cake a minimum of three months before the big day, and highly decorated cakes require a longer lead time of six months, so that pieces can be made in good time and space allocated.
In fact most couples book well in advance of the wedding, allowing somewhere between six and 18 months to ensure they secure the date and designer they've chosen.
However the growing trend for naked and buttercream sponges with simple floral or fruit decorations, means that these can be made with shorter notice of around one month.
If you've left it later or are working to a tight deadline, don't panic! It's always worth contacting your chosen designer to discuss what options could be available as a solution can often be found.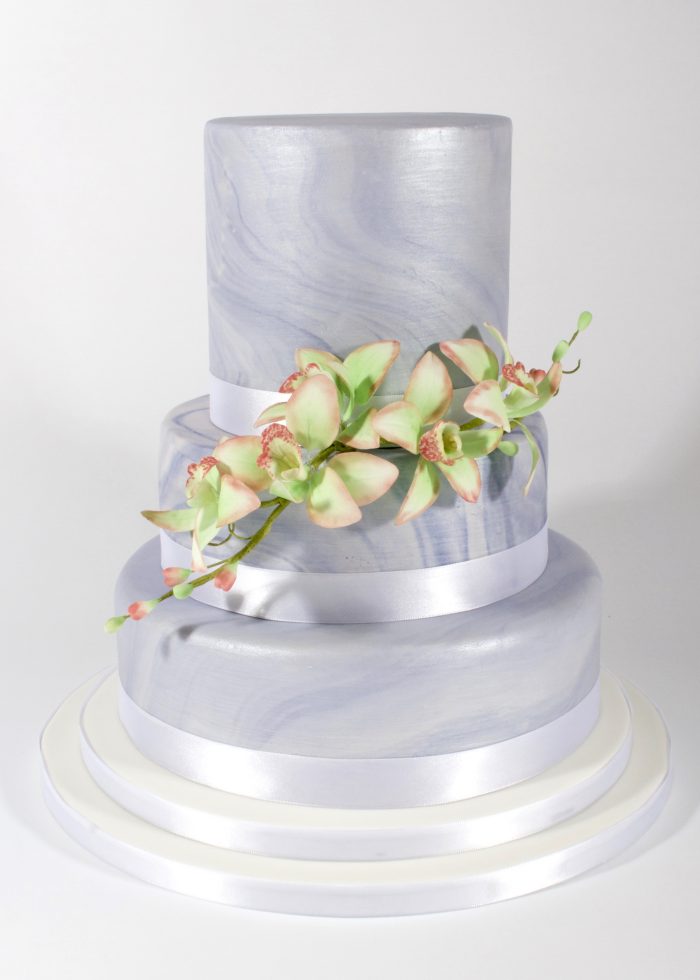 Lilac marble wedding cake
Want to book a consultation with Joanna at Heavenly Tiers?
You can check out their latest designs by visiting heavenlytiers.co.uk.