Did you meet on Tinder? Here's how to incorporate it into your wedding
Your celebrant's asked you to write a bit about how you first met, and the truth is that you swiped right. So how do you include that in your wedding?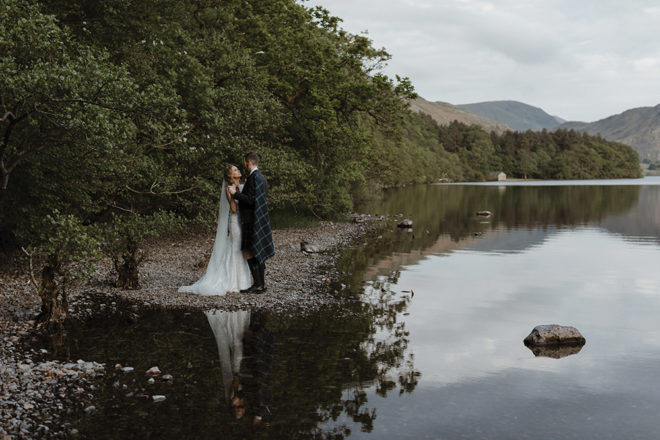 IMAGE | Caro Weiss
"You were working as a waitress in a cocktail bar when I met you" might, one day, become a lyric that few of us can identify with.
Tinder gets 1.6 billion swipes per day with more than 20 billion matches, while eHarmony and Imperial College Business School's Future of Dating report predicts that meeting online will increasingly become the norm.
Projections pinpoint 2035 as the year when more couples will meet online than in real life, but a recent study in the Proceedings of the National Academy of Sciences found that heterosexual couples are already more likely to meet online through personal contacts and connections.
In spite of this, some couples who have made the journey from app to aisle still deliberate over whether or not to mention it on their wedding day due to a perceived stigma.
Yes, it might be an important part of your story – but it's hardly the most romantic way to meet. And what will granny say?
According to Jennifer Faura, dating trends expert at dating app Happn, as dating app users have increased, the taboo around the communication method has lessened.
"Couples meeting via dating apps and swiping in search of love has become an accepted new norm," explains Jennifer.
"Long gone are stereotypes associated with online dating of shy singletons hiding behind their keyboards. We find that Happn users are increasingly open about looking for a partner on the app, with those making it down the aisle even celebrating how they met as part of their nuptials. Even if it may take a little explaining to family and friends unfamiliar with dating apps!"
Mentioning Tinder in your wedding ceremony
If you met your partner online and like the idea of referencing it on your wedding day, an obvious place to start is your ceremony.
Humanist ceremonies are incredibly popular in Scotland, and a big part of the appeal of this type of ceremony is the focus on you and your partner's story, and what drew you to one another.
When Peter and Pauline Arnott tied the knot after swiping right on Tinder, they chose to celebrate their meeting with just that – a celebrant.
"Tinder was the beginning of our journey, so when we chose to have a humanist ceremony we wanted to be true to that. Our celebrant Chris Gray started our service by saying that we both swiped right to be here today," laughs Pauline.
"A lot of people that meet online for some reason are ashamed to admit it, however Peter and I both couldn't care less that's how we met. If my 93-year-old gran thinks it's amazing that we met online, then why shouldn't everyone?"
For anyone feeling a little sheepish about what others might think of them having met on an app, a light-hearted quip is the perfect way to do it. It'll get guests laughing, and your celebrant can move on from there to chat about your love for one another – which is the most important bit.
Get creative with your speeches
For stand-up comedian Chris Forbes (pictured at top), humour was – as it always is – absolutely
the way forward.
It's traditional for a groom's speech to run through a lot of thank-yous – y'know, the bridesmaids, the parents, the guests. But when Chris was writing the speech for his wedding to now-wife Eleanor, he left the most important (and unconventional) thank-you 'til last.
"At the end of my speech, I thanked Sean Rad, Jonathan Badeen, Justin Mateen, Joe Munoz, Alexa Mateen, Dinesh Moorjani and Whitney Wolfe," laughs Chris. "I could tell people were a little confused, so I eventually revealed that those were the people that created Tinder.
"And of course at the very end of the speech I finished with the very cheesy and very clichéd 'Thank you for swiping right for me!'"
Use social media inspired wedding decor
If you don't fancy doing it through words, make like Mike and Rhiannon Scrimgeour, who met on Tinder and hinted at it with something subtle: their table plan.
"Instead of having table numbers at the meal, we had tables named after dating apps," says Mike. "We also had little symbols on each table for every app as well as wee decorations. For the Tinder table we had little toy flames and other bits and bobs, and my wife insisted on sitting her lesbian friends at the Grindr table."
Your stationery makes an ideal canvas to reference the way you met – especially when it was the written word (and maybe a selfie or two) that brought you together. How about incorporating a screenshot of your very first messages into the order of service, or, if you're brave and still have access to it, pics of your dating profiles side by side?
// Shop it now: Tinder themed wedding decor //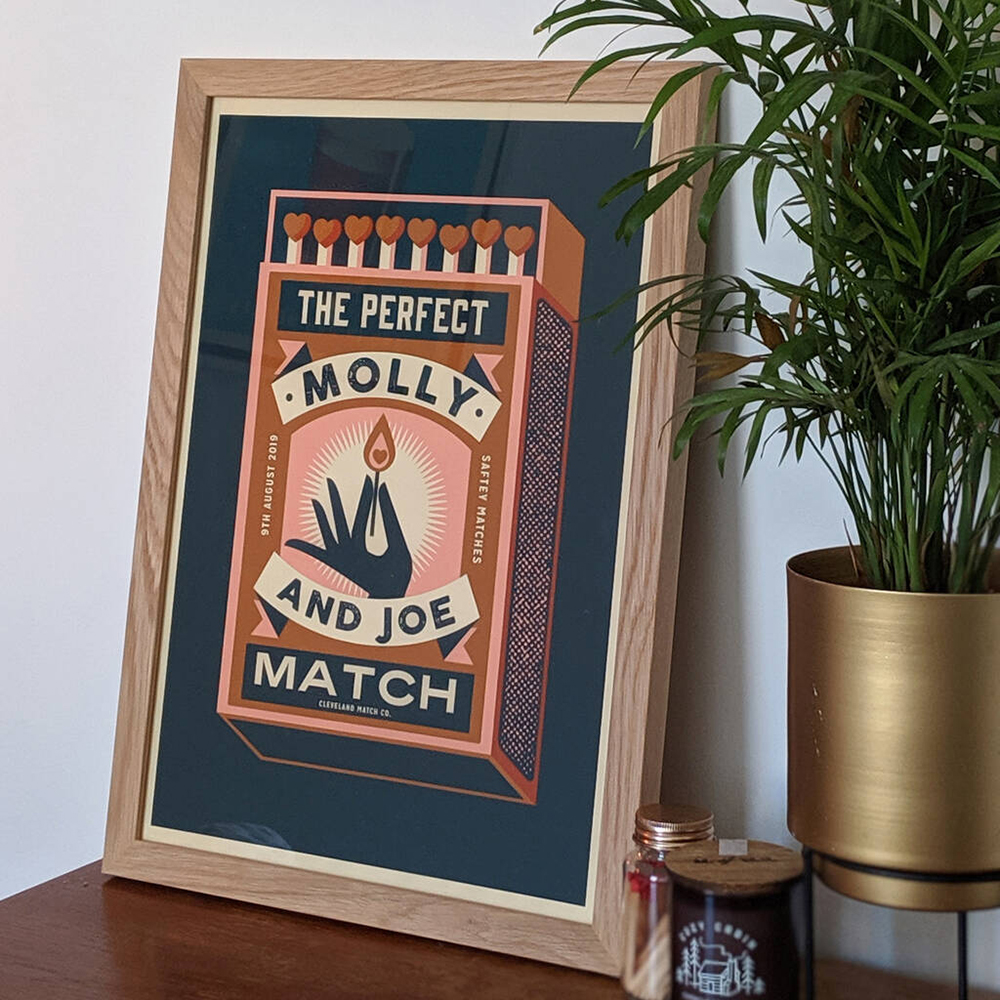 Personalised couples matchbox print (£70) | notonthehighstreet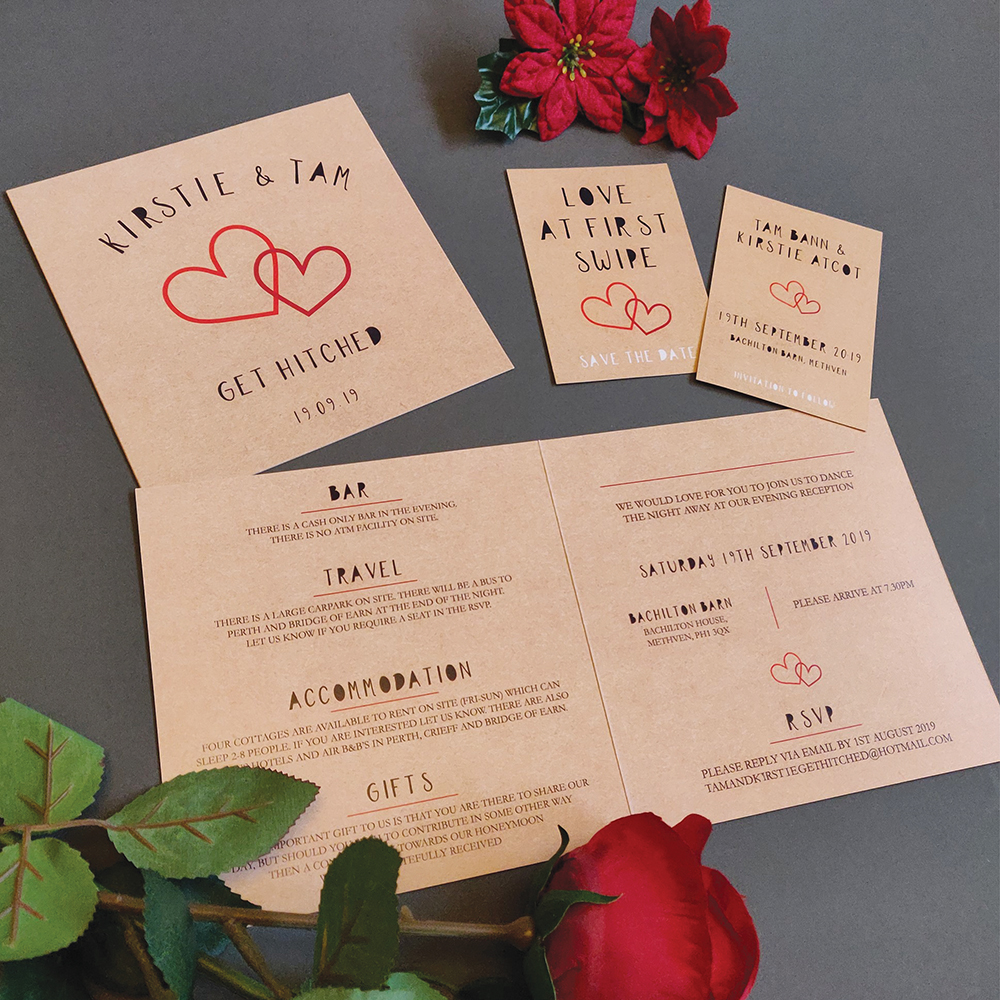 Love at First Swipe wedding stationery (POA) | Flutterbreeze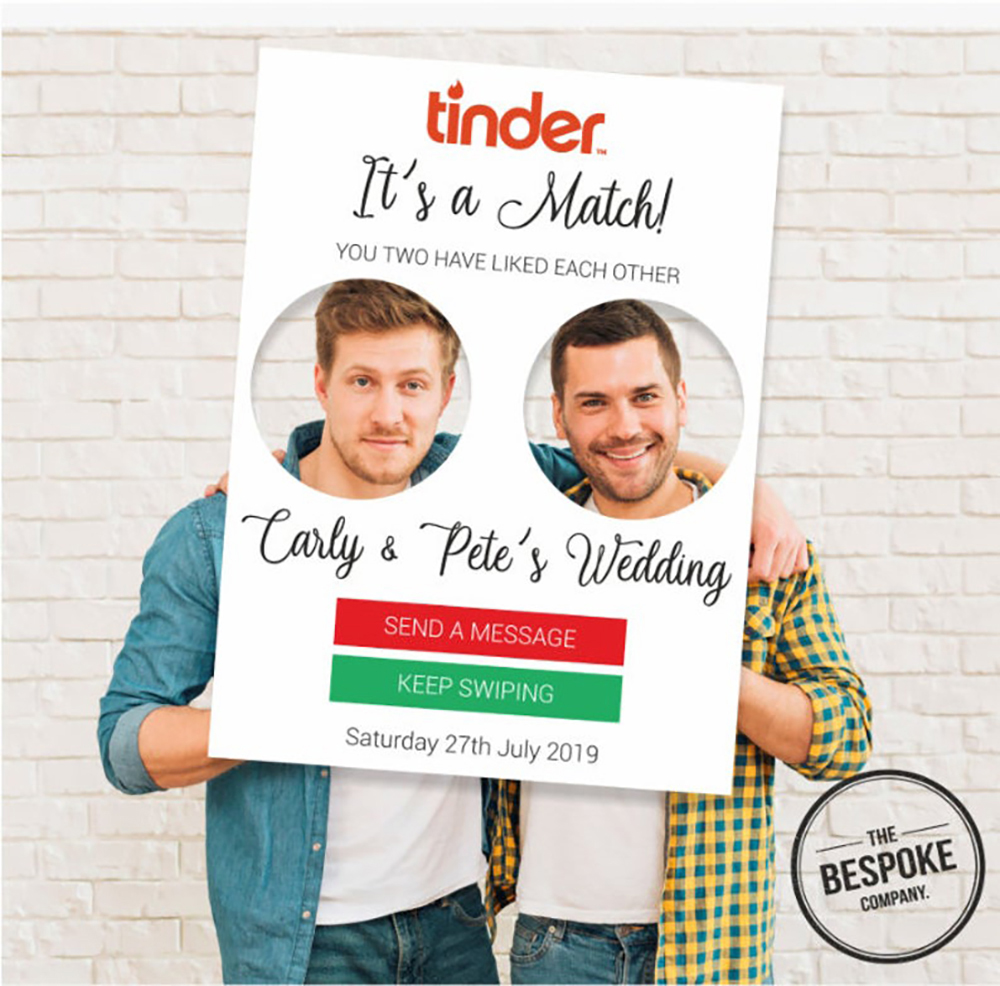 Tinder "It's a Match" selfie frame (from £9.50) | Etsy