The lowdown on planning your fairytale Peebles Hydro wedding
We spoke to one of Peebles Hydro's event coordinators to find out more about getting married here!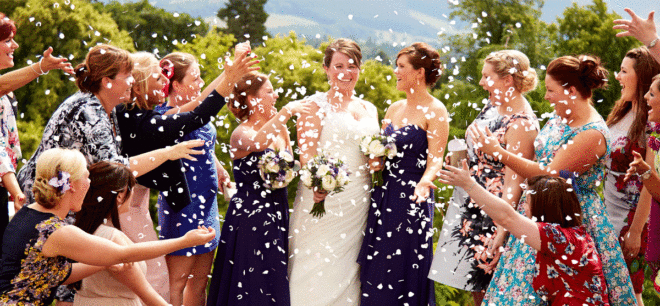 When it comes to dreamy Scottish wedding venues with jaw dropping views and tons of romance, Peebles Hydro ticks every box.
Nestled in the Scottish Borders and with a dedicated events team on hand, it's the perfect backdrop to one of the biggest chapters in your love story – your wedding!
We spoke to Peebles Hydro's Conference and Events Coordinator Vikki Gordon to get the lowdown on planning your big day at this gorgeous Scottish countryside venue…

IMAGE| Story of Love
Sitting on the Venlaw Hill, the hotel has been an iconic landmark of Peebles since the first foundation stone was laid in 1878!
Since joining the Crieff Hydro family in 2014, Peebles Hydro has been treated to a £5 million facelift: from bedroom refurbishments to the introduction of our very own gin palace and brewery, the result is a hotel packed full of character.
Plus, there's the floor to ceiling windows showcasing jaw-dropping views out over the
quaint town of Peebles and surrounding areas.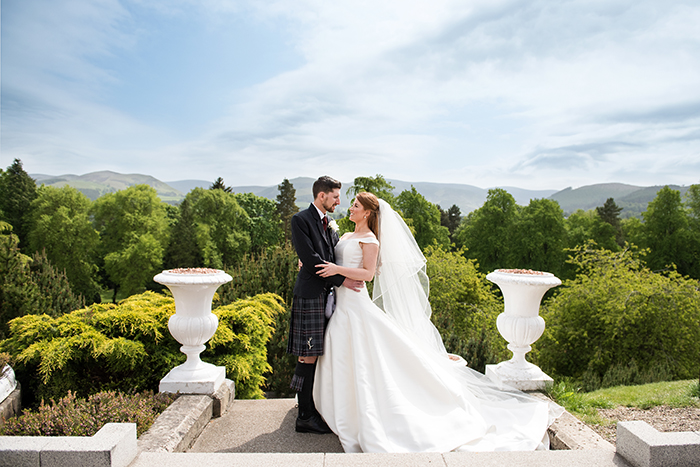 IMAGE| Jillian Clark Photography
It's a special place for a wedding, which Vikki (who lives in the Scottish Borders) explains perfectly: "Being just half an hour from Edinburgh, it's world away from the city hustle and bustle. We've got the best views over the Tweed valley – I even had my own wedding photos here.
Peebles Hydro is our own little secret and we want to shout about it!  With the hotel investment we are only getting bigger and better."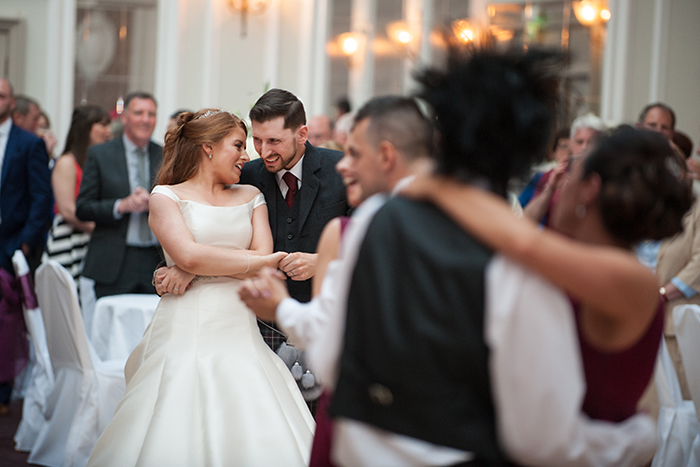 IMAGE| Jillian Clark Photography
Planning your dream wedding with Peebles Hydro
One really important thing that hasn't changed at Peebles Hydro is that it's still an independent family-run business that puts you – the soon-to-be-weds – first!
"Some venues start with what you can't have," explains Vikki. "We specialise in channelling the dreams of every bride-to-be."
Once you've booked your wedding at Peebles Hydro, your wedding coordinator wilI help you stay organised throughout the whole planning process.
"Although I'm always available at the end of a phone or email, I love to meet couples face-to-face as often as possible in the lead up to their big day. We all know how stressful planning a wedding can be, but it's a whole lot easier when you have someone to share the burden with (apart from your partner!).
I love that I am able to work with a couple from start to finish, learn about each of their individual love stories, join them in the excitement of planning their perfect day and finish with a huge celebration of their love for each other."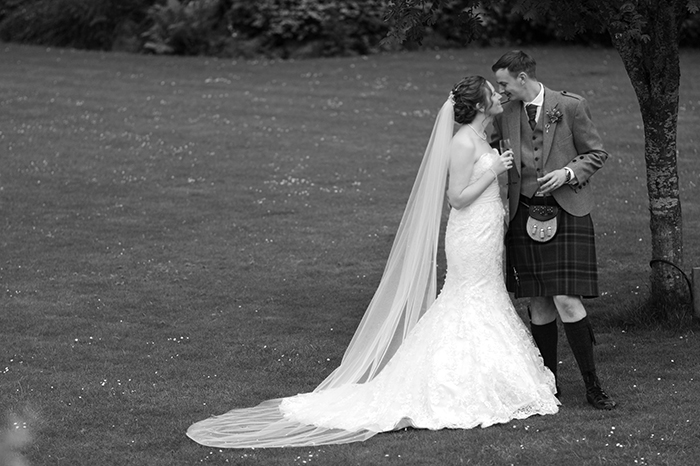 IMAGE | SMK Photographics
Personalising your big day
Your wedding coordinator will be able to offer lots of advice on making the most of Peebles Hydro for your big day, and with their flexible approach, you'll find nothing's too big an ask.
"Your wish is our command (where humanly possible!)," explains Vikki. "From multi-coloured macarons and acres of fairy lights, to heilan' coos with classic cars – we really have seen it all. We're here to create your day, your way."
Their commitment to delivering dream big days has seen them organise plenty of surprises!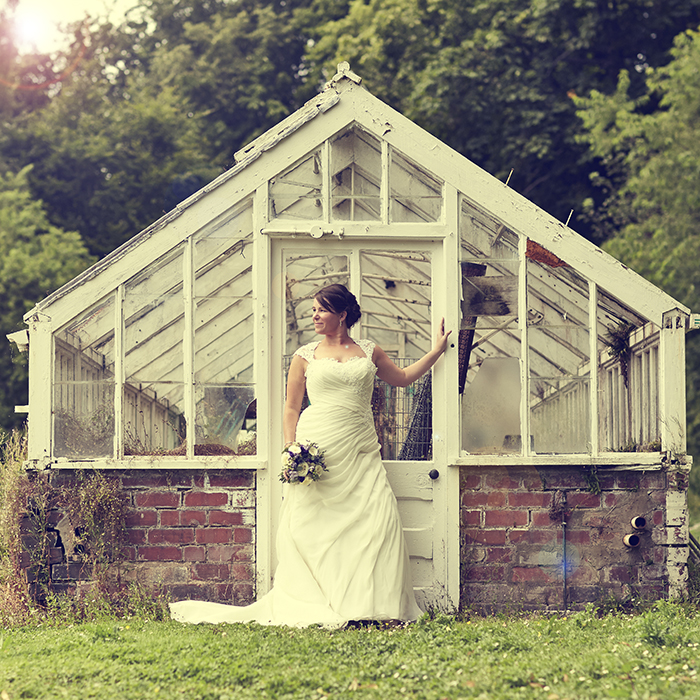 IMAGE| Story of Love
"One of the sweetest requests I've dealt with was organising a surprise for the bride herself," smiles Vikki. "I'd mainly been in contact with the bride but one day the groom contacted me with a special request; the bride had been a member of an Irish dance troop in her younger days and he wanted to surprise her with a "throwback to the glory days" during their wedding. While I was meticulously running through the timings with the bride in the weeks prior to their big day, we snuck in an extra 20 minutes for the troop to perform during the wedding breakfast. She had absolutely no idea and was delighted with her wedding gift!"
They'll also help you find the perfect space to get married in.
Peebles Hydro offers four unique reception rooms for both intimate and large weddings, with each space offering a different décor style and personality! Or if it's the great outdoors that you prefer, then take advantage of the amazing Tweed Valley views by getting married outdoors.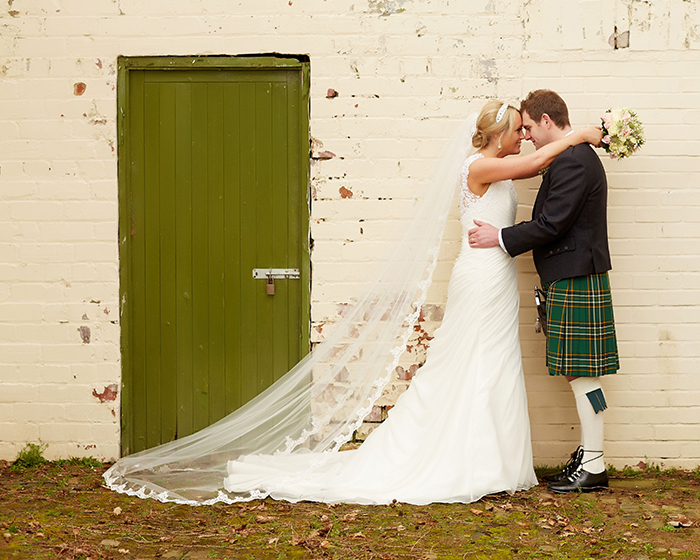 IMAGE | Story of Love
Visit Peebles Hydro
You can check Peebles Hydro out in person during their Wedding Fayre on Sunday November 4th (it's free and there'll be some local suppliers there too!).
But if you can't make the fayre, just get in touch with their team to organise a showaround with Vikki or another wedding coordinator.
t. 01721 720602 | e. weddings@peebleshydro.co.uk