Planning our wedding: The groom's guide
We speak to four newlywed grooms to share their wedding highlights and planning tips.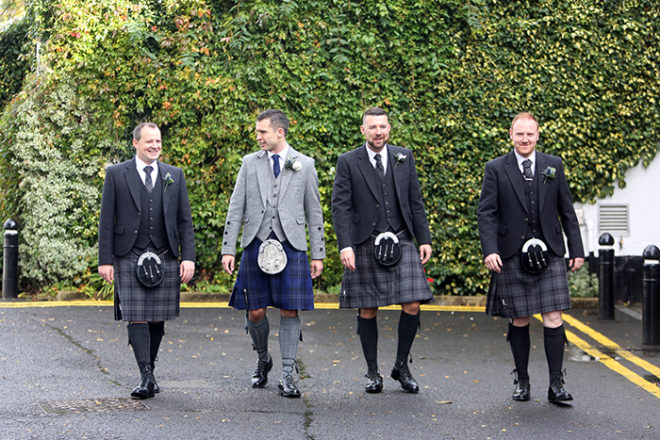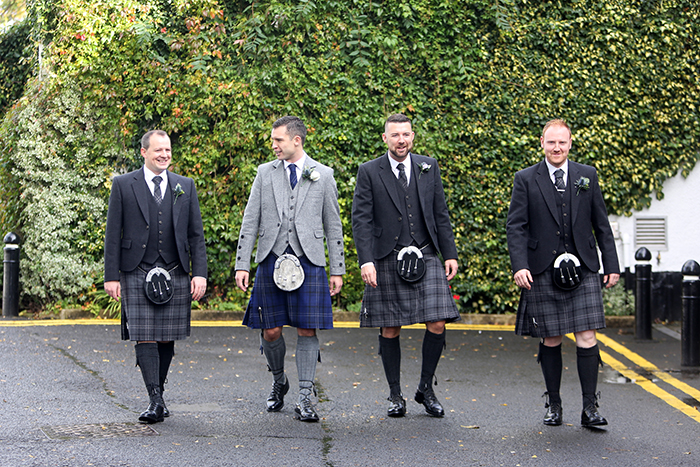 It's normally a story that we're told from a bride's perspective: How exactly did you plan your wedding? We think it's about time we hear from the grooms too! 
We chat to four newlywed grooms who want to share their wedding highlights and planning tips… 
~ DANIEL JOHNSON ~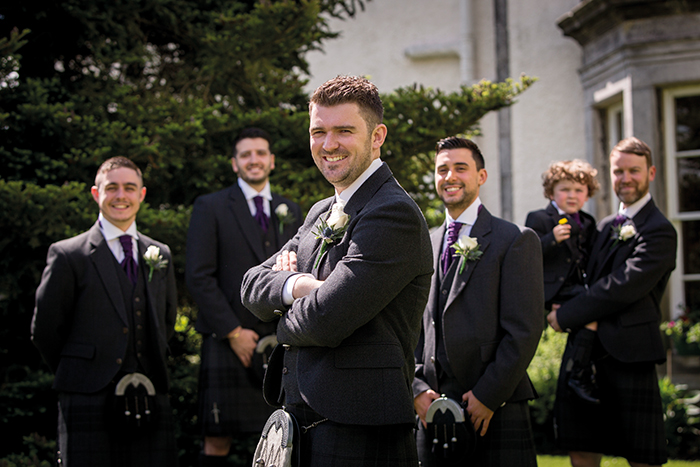 IMAGES | 1500 Photography
WHERE DID YOU GET HITCHED?
Best Western Plus Keavil House Hotel, Dunfermline.
WHAT WAS YOUR FAVE PART OF WEDDING PLANNING?
Picking the venue. We viewed multiple venues across Glasgow and Edinburgh. In every one there was always one thing we didn't like and couldn't see ourselves getting married in those rooms. However, when we got to Keavil we didn't know the room we would then choose even existed.
We were meant to view what we thought was their only room until they told us they had an additional Elgin suite. The moment we walked into the room we just knew. The colour scheme complemented our colours of silver and lilacs.
Plus the room had amazing features such as colour-changing lights on the ceiling and big chandeliers, and would accommodate our guest numbers without looking too big or too small.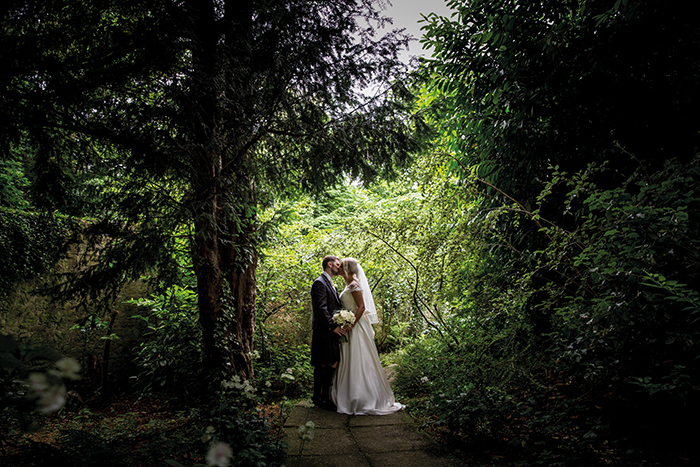 DID YOU WRITE YOUR OWN VOWS?
We didn't write them ourselves but we did choose different vows from a book from the humanist. They weren't traditional vows but they meant something to us.
We had been to a friend's humanist ceremony a couple of years before and thought it was personal to the couple and we wanted our ceremony to be personal to us.
WHAT WAS YOUR WEDDING SPEECH LIKE?
Short and simple. I knew the guests would be hungry by that point!
GIVE US SOME ADVICE FOR OTHER GROOMS-TO-BE¦
Make sure your groomsmens' kilts fit before you go to the venue. The kilt of one of my best men was way too short when we checked the night before the wedding. He had to drive back to the shop in Glasgow to change it!
 ~ DAVID MARR ~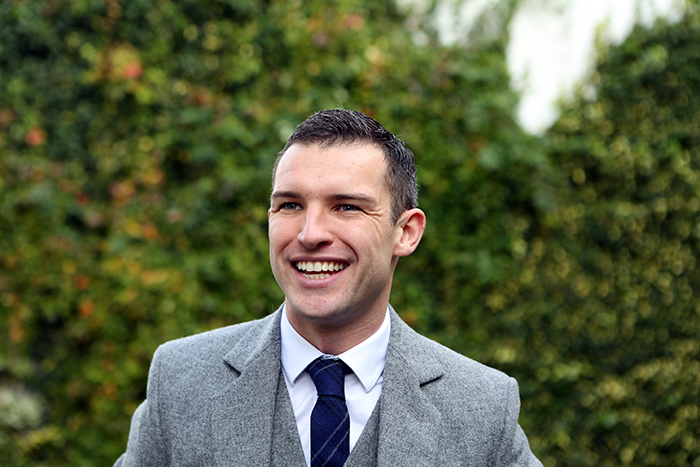 IMAGES | Gail Photography
WHERE DID YOU GET MARRIED?
Best Western Eglinton Arms Hotel, Eaglesham.
WHAT MADE YOU CHOOSE YOUR VENUE?
We knew of the hotel because we go walking at the wind farm nearby from time to time. It always looked nice and one day we went in for lunch and were really impressed.
We had shortlisted a few hotels and went to Eglinton Arms first. The place looked so great, and it was perfect for what we wanted; so much so that we just booked it right there and then.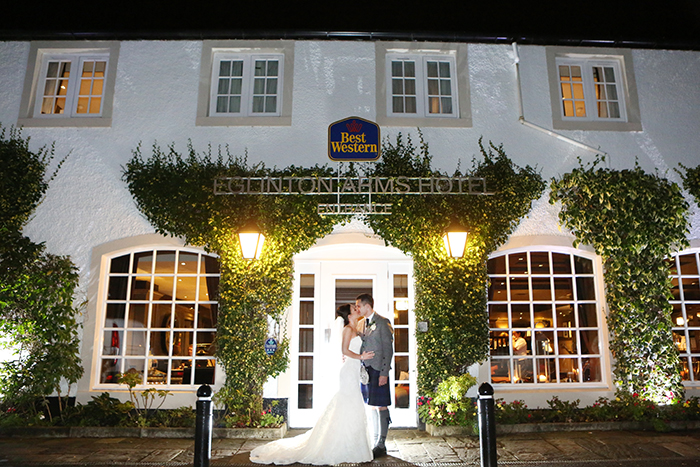 HOW DID YOU DECIDE ON YOUR WEDDING OUTFIT?
I always thought I'd get married in a suit; I'd never felt comfortable in a kilt in the past. But I wear a suit to work every day so that just didn't feel special enough for my wedding day.
My mate said I should opt for a custom-made kilt and recommended MacGregor and MacDuff. The staff couldn't have been nicer and spent ages with me, helping me narrow down the choices. I was delighted with the outcome and felt really smart on the day.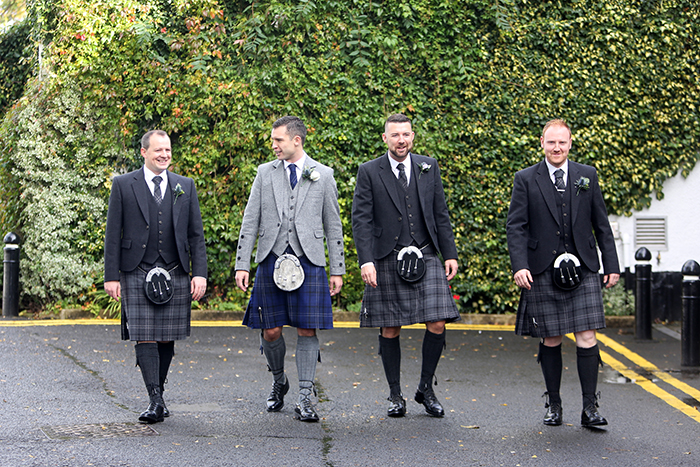 WHAT WAS THE HIGHLIGHT OF YOUR DAY?
Having all your friends and family in the same room is really amazing and to be able to share with them all how happy I was that day and how I felt about Nicola was important to me.
We had the most amazing day from start to finish " everything was perfect. I was more nervous than I thought I would be, and the day definitely went by far too quickly. Nicola looked absolutely stunning, as always, and I was so proud to marry my best friend.
~ CALUM DALGARNO ~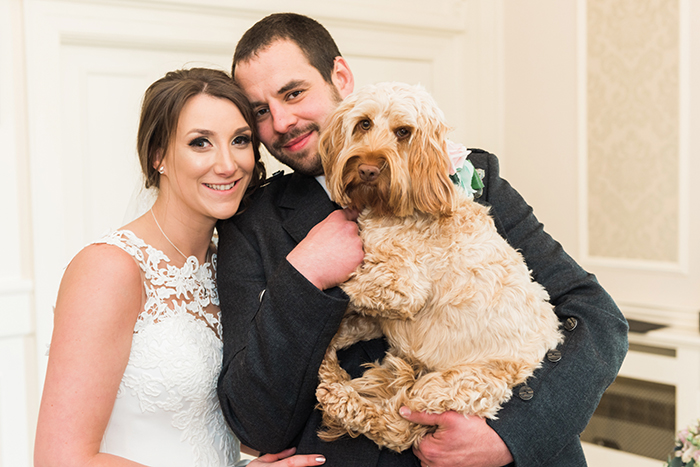 IMAGES | James Kelly Photography
WHERE DID YOU WED?
Chapel of Garioch Church and Thainstone House Hotel, Inverurie.
BEST THING ABOUT PLANNING A WEDDING?
Meeting all our different suppliers and putting forward our initial ideas. We didn't really have a theme. It was all based on the colours my wife Hollie picked for the bridesmaids and the flowers, plus utilising the tractors.
We created our own sweetie table and used an old pallet that we painted as a photo collage as an extra feature.
I made the decision to have a cheese board cake as I've never been a lover of wedding cake, and it was a good excuse to try lots of cheese along with a few glasses of wine.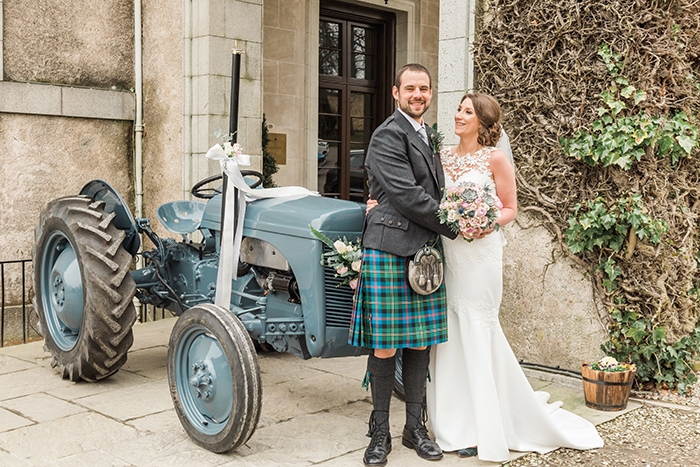 TELL US MORE ABOUT THOSE TRACTORS…
My grandpa and granny had a farm when I was little so I have always had an interest in tractors.
Hollie bought me the grey Fergie [a type of tractor] for my 30th birthday so I restored it to its current state in time for the wedding and we used my tractor models to bring in a theme for the tables.
WHAT WAS THE HIGHLIGHT OF YOUR DAY?
Seeing Hollie walking down the aisle towards me.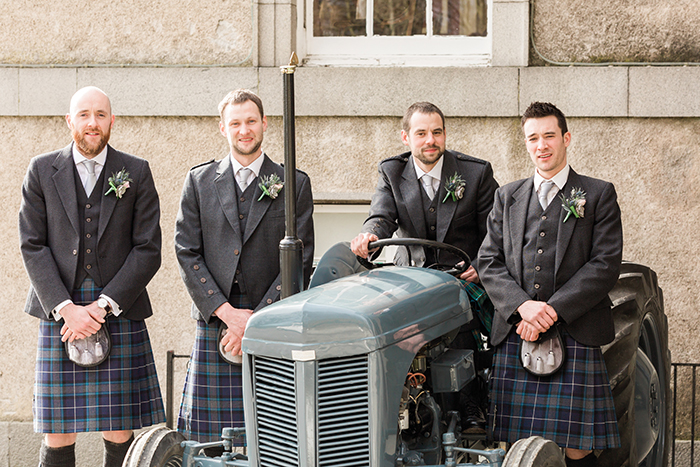 HOW DID THE SPEECH GO?
I was a nervous wreck as I'm not a public speaker and have never had to do anything like that before. I think it went ok " certainly got a few laughs from our guests and a few tears thrown in too.
My best tip would be to not overthink it, keep it fairly short and make sure you have a few pints for some Dutch courage. Most importantly, take your time and enjoy it as you will only do it once.
~ STEVE ADAMS ~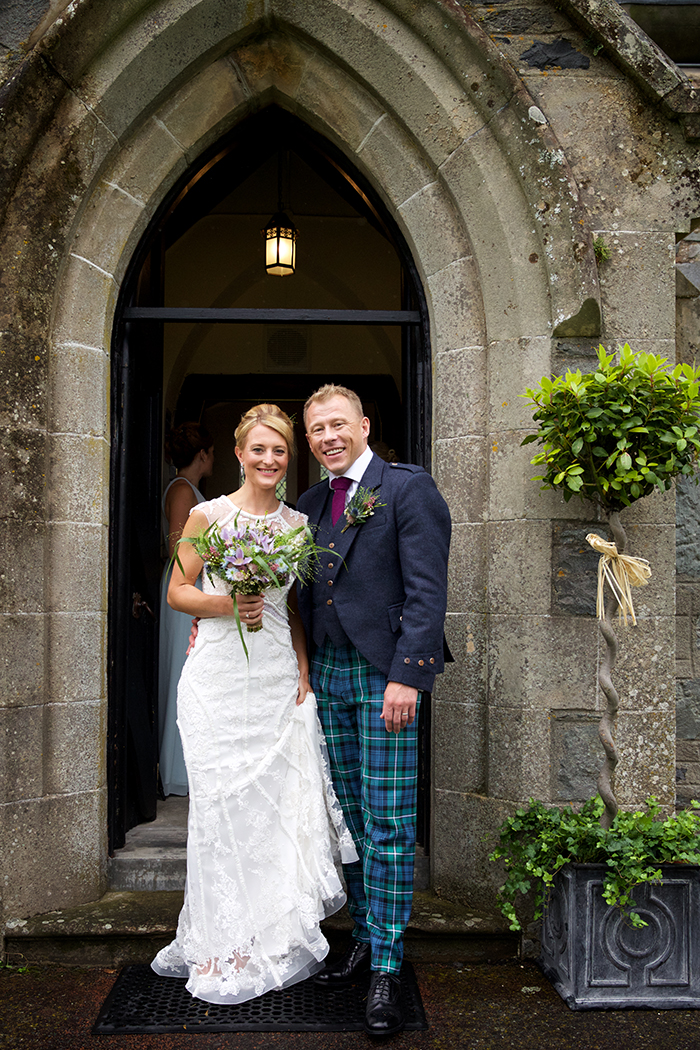 IMAGES | Jenni Browne Photography
WHERE DID YOU TIE THE KNOT?
Trossachs Church and Roman Camp Hotel, Callander.
WHAT DID YOU WEAR?
I really wanted to wear my family tartan from my father's maternal side. I was worried about being viewed as a wannabe Scot [Steve was born in Boston, England] so I thought trews would be a nice halfway house.
Also, I have a great butt which looks far better in trews (I was on a promise from my new wife!).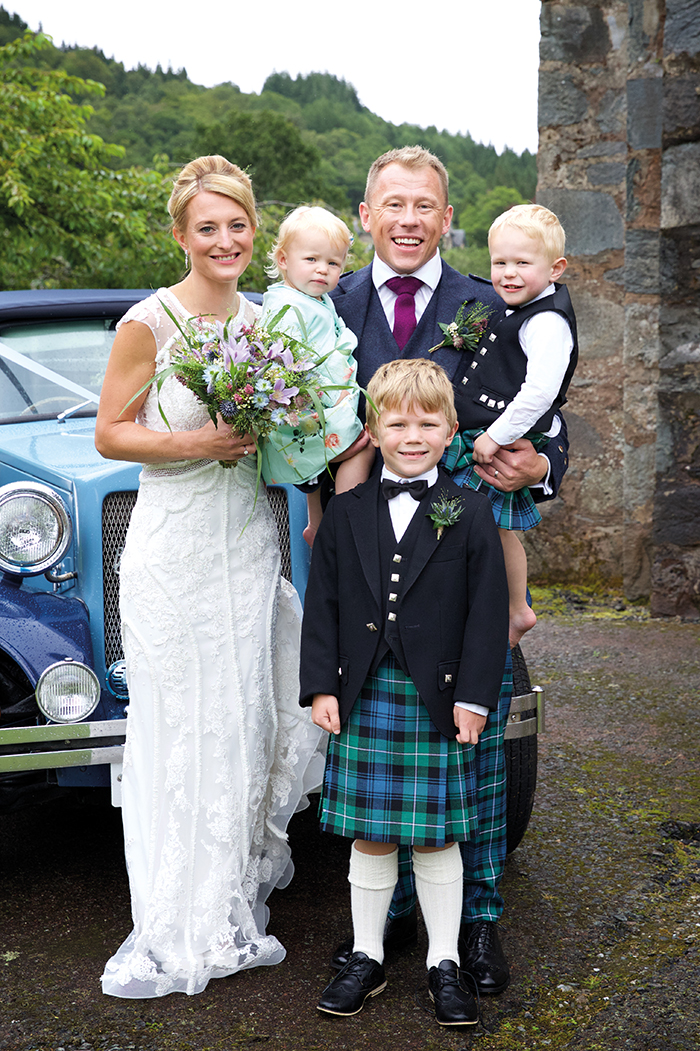 WHAT WEDDING PLANNING TIPS WOULD YOU GIVE OTHER GROOMS?
Most importantly, be sure you're marrying the right person. It can be an expensive and painful experience if you get it wrong! Keep it simple. We kept a real focus on having fun and enjoying the day.
Plan your speech well in advance and practise it. If you're making an effort for everything else then make an effort for your wife. And don't get pished before your speech " it will go wrong! Above all, remember it's about marrying your beautiful wife.
HOW IMPORTANT WAS IT TO INVOLVE YOUR KIDS?
Fred, Horace and Rosie were all a massive part of our day. Fred (6) helped the ushers. He loved that (he was known as The Boss). It was planned that Horace would walk my wife Vicky down the aisle and Rosie would be the flower girl.
However, the two of them just ran down the aisle and left the bridesmaids and mummy to do their own thing, which I thought really showed what we are about " a fun, take-it-as-it-comes, chilled family.
The two wee ones decided to partially undress during the ceremony but the minister was fantastic. She just embraced them into the ceremony and made the whole occasion more family-orientated.