Amendment to the Marriage and Civil Partnership Act
A change in law means you now have to give more notice before you can tie the knot. WHAT'S CHANGED Amendments to the Marriage and Civil Partnership Act 2014 come into effect from March 1st, meaning couples must now submit a Marriage Notice form – also known as an M10 – at least 29 days […]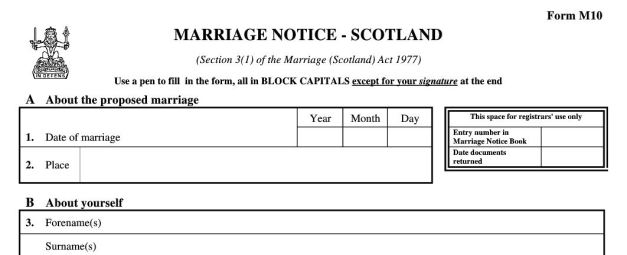 A change in law means you now have to give more notice before you can tie the knot.
WHAT'S CHANGED
Amendments to the Marriage and Civil Partnership Act 2014 come into effect from March 1st, meaning couples must now submit a Marriage Notice form – also known as an M10 – at least 29 days in advance. (The notice period deadline was previously 14 clear days before the ceremony.)
The new 29-day time frame will affect notices of intention for both marriages and civil partnerships.
It also applies to the issuing of a Certificate of No Impediment (CONI), for those looking to marry outwith Scotland, or those looking to enter into a civil partnership with someone living in England or Wales.
WHAT YOU NEED TO DO
Between three months and 29 days before the ceremony, you and your partner must complete an M10 form. This is submitted to a registrar in the district where the ceremony is due to take place.
Alongside this form, you must produce your birth certificate and a valid passport or ID to prove your nationality.
If you've been married or in a civil partnership before, you must provide proof of a divorce or dissolution when submitting a new notice. If your partner is deceased, you must provide a copy of their death certificate.
THEN WHAT?
Once you've submitted your Marriage Notice, the register office will prepare your Marriage Schedule.
This is the document you, your partner, your celebrant and two witnesses sign to make your ceremony legally binding – so you can't get married without one!
If you're having a civil ceremony, your registrar will bring the Marriage Schedule but, if you're having a religious or belief ceremony, you or your partner must collect the document from the register office the week of the big day.
After the wedding, you have three days to hand in the completed Marriage Schedule to the register office. (If you're jetting off on your honeymoon straight after the wedding, ask a friend or family member to do it for you – you won't get your marriage certificate otherwise!)
FOR MORE INFORMATION
For more information,visit the National Records of Scotland website. A full list of registrars in Scotland is available online.