How to honour your lost loved ones at your wedding
How do you honour a loved one who won't be there on your wedding day?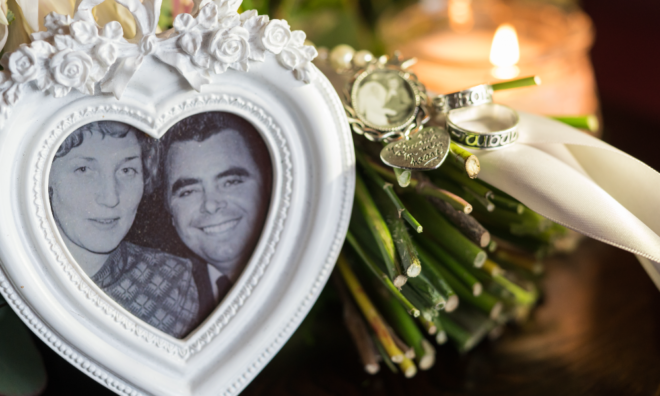 IMAGE | Our Dream Photography
In an ideal world, we'd spend our wedding day surrounded by absolutely everyone we love. But sometimes that's not possible.
Just how do you pay tribute to your missed family member or friend without it feeling, well, morbid?
A PERSONAL TOUCH
Firstly, it is important to remember that whatever choice you make, it's the right one.
"It's very common to pay tribute to a loved one, but it isn't something that a couple should feel that they are expected to do. Mourning is very personal," says celebrant Craig Flowers from Independent Humanist Ceremonies, who explains that he's always mindful to pay tribute in a respectful way without letting it dominate the celebration.
A personal touch seems fitting, something Madeleine Clark from Humanist Society Scotland, has seen embraced by other couples.
"On the wedding day of one of our own celebrants, the bride had her dad's wedding ring hanging from her dress so she felt he was with her all day," she recalls.
"One bride had small framed photos of her grandparents pinned to her shoes, whilst another had the smell of her mum's perfume wafting through the room with a scented candle lit in her memory. This made everyone laugh as she was known for the scent getting everywhere!"
Another popular way to remember a loved one comes via your blooms. You could attach a photo locket to your bouquet, or, for a more subtle nod, incorporate a flower that you associate with them into your floral arrangements.
"We're often asked if we can include a certain flower in a bride's bouquet to honour a loved one that is no longer with them," says florist Laura Jardine from Cherry Blossom.
~ WHAT REAL COUPLES DID ~
"KNOWING MY PARENTS WERE THERE IN SPIRIT GAVE ME EVEN MORE HEARTFELT LOVE"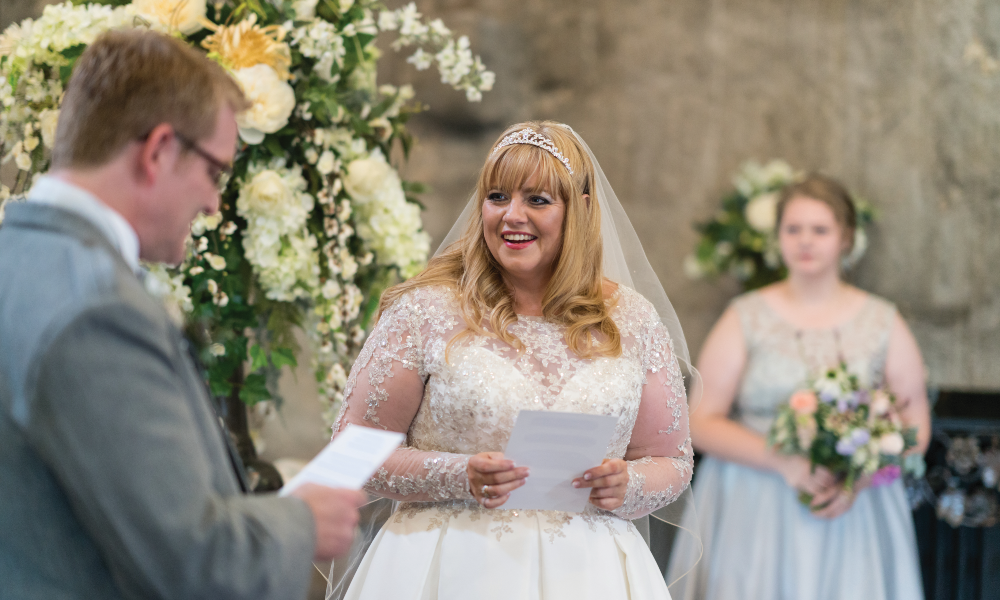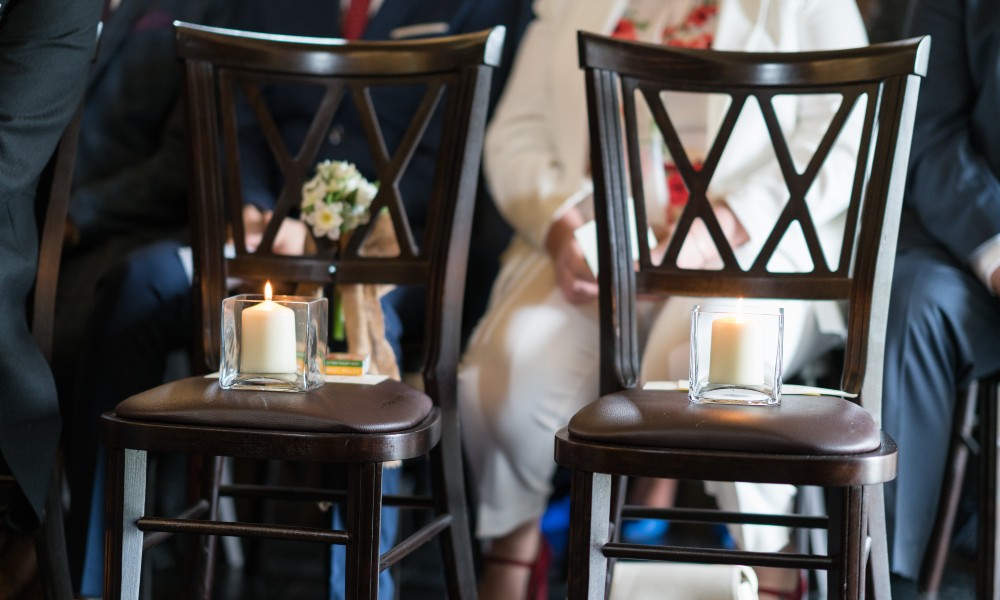 IMAGE | Our Dream Photography
On their special day, it was important for both Sean and Sally to honour Sally's late parents, Maureen and Ray, who sadly passed within 12 months of each other.
"We decided on incorporating the love of theatrical musicals I shared with my parents as a child, in particular Barnum," says Sally.
"We played the song The Colours of My Life from the musical during our ceremony while my two sons, Josh and Kyle, lit two candles on the front row seats that we had reserved for my mum and dad."
During this time, celebrant Tim Maguire from Caledonian Humanist Association invited guests to pause and reflect on fond memories of Sally's parents and their own lost loved ones.
At their reception, the couple had a special memory table set up. "There were two heart picture frames; one with a picture of my mum and dad at their engagement meal, the other on their wedding day," says Sally.
"I also wore my mum's engagement ring on my right hand which I have not taken off since our wedding day."
"I WAS REALLY WORRIED ABOUT WALKING DOWN THE AISLE"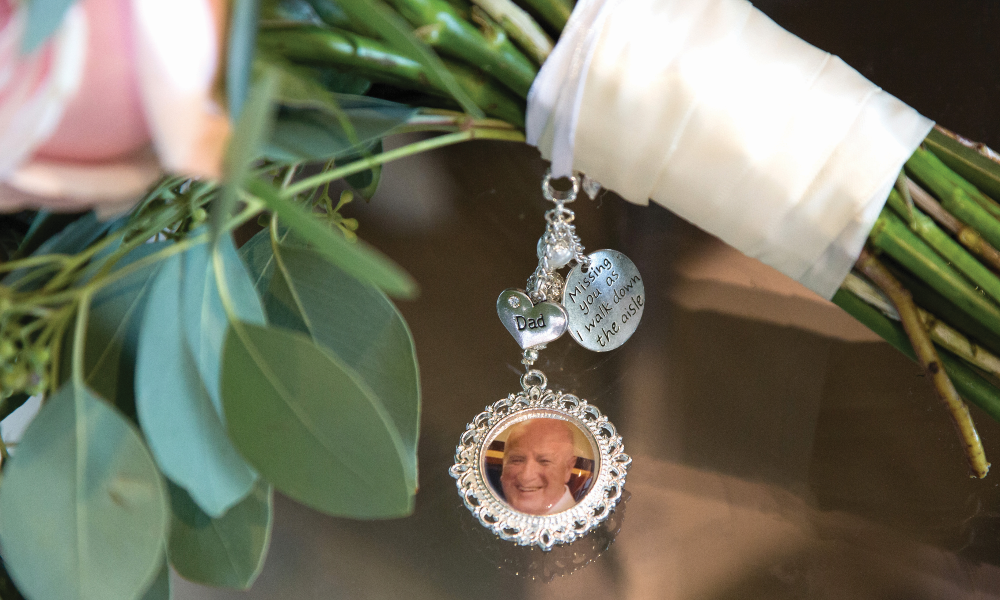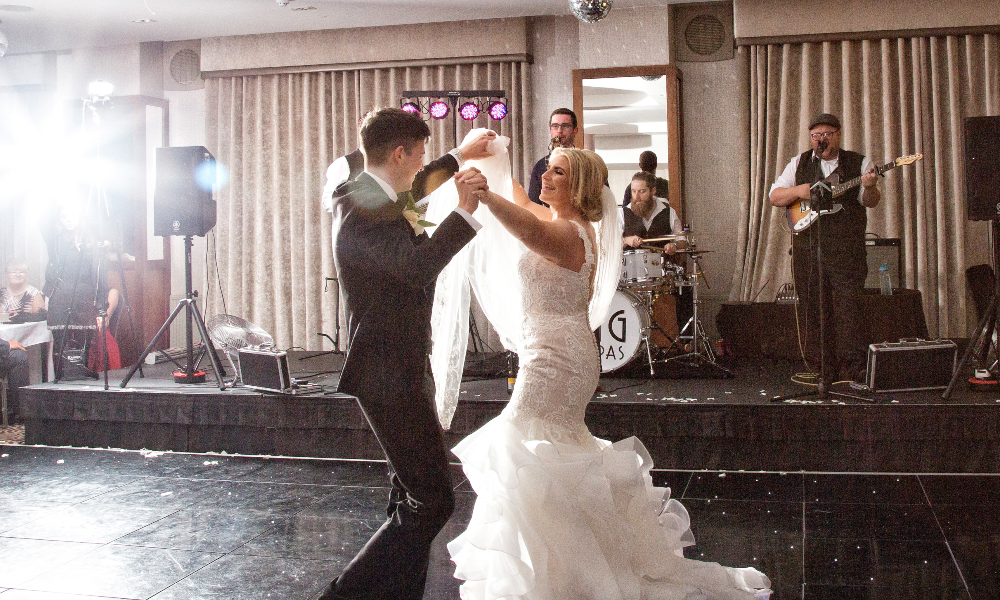 IMAGES | Julie Lamont Photography
When Lauren's dad fell ill, the bride and partner Jordan brought the date of their wedding forward – but sadly her dad passed before the big day arrived.
"We got married just six weeks after he passed and I was concerned that our wedding was going to be a really sad day," says Lauren.
In tribute to her beloved father, Lauren had a photo charm of him in her bouquet. She also displayed a photograph of her dad that showed him standing in almost the exact same spot where Lauren and Jordan said 'I do'.
In the evening, everyone mentioned Lauren's dad in their speeches.
"There wasn't a dry eye in the house during my mum's speech. It was the perfect mix of emotion and humour – just as my dad's would have been," smiles Lauren.
Having planned to take to the dancefloor with her dad after the first dance, the bride instead had her band pay tribute with a performance of her dad's all-time favourite song, Teenage Kicks by The Undertones.
"What I would say to other couples is don't worry about taking the happiness away from your day – that's the last thing my dad would have wanted," advises Lauren.
Follow us on Instagram for more wedding inspiration