Glamorous Pakistani + Italian wedding day at Mar Hall, Bishopton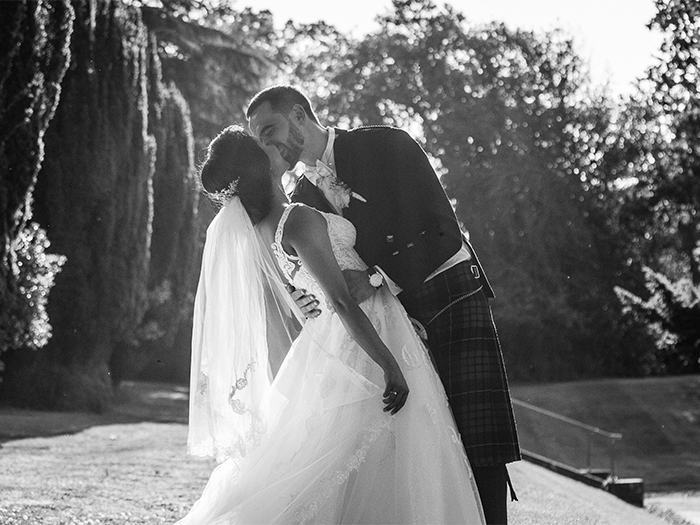 When Giancarlo and Mishal first met, sparks flew immediately. After a whirlwind romance, Giancarlo proposed to Mishal during a romantic getaway to Morocco.
The couple wanted to celebrate their Pakistani and Italian heritage with all their friends and family on their wedding day, and threw a beautiful multicultural celebration at Mar Hall filled with joy and laugher.
We chatted to Mishal to find out all about her amazing wedding day…
Giancarlo and I had great chemistry together from day one, but most importantly, we've always had a deep spiritual connection. When we met each other, we knew that life wasn't ever going to be the same again.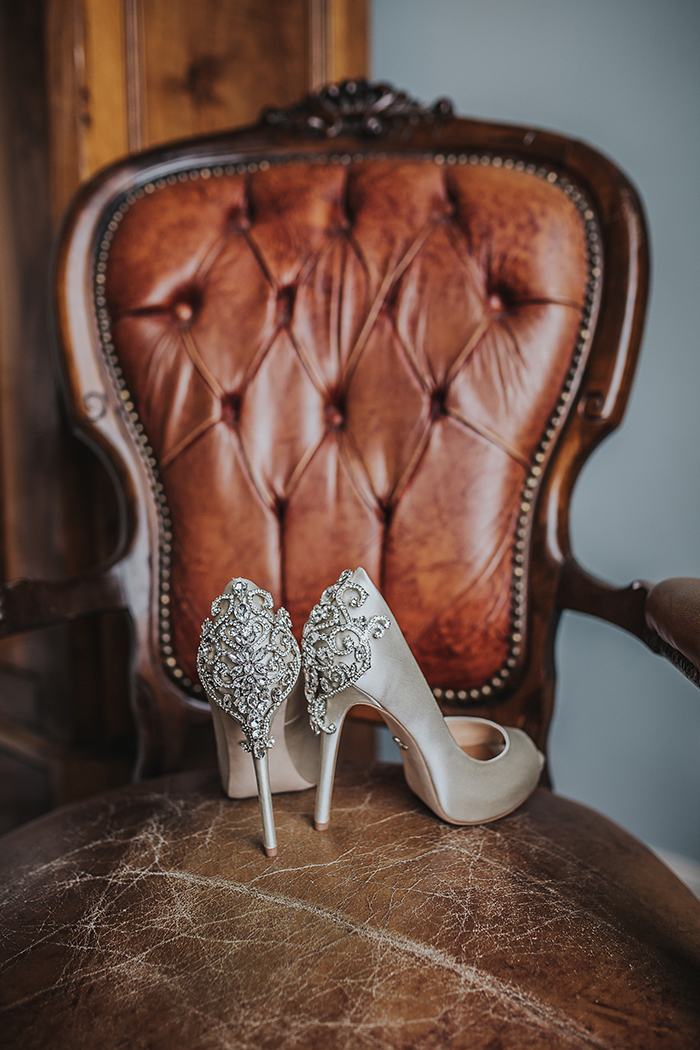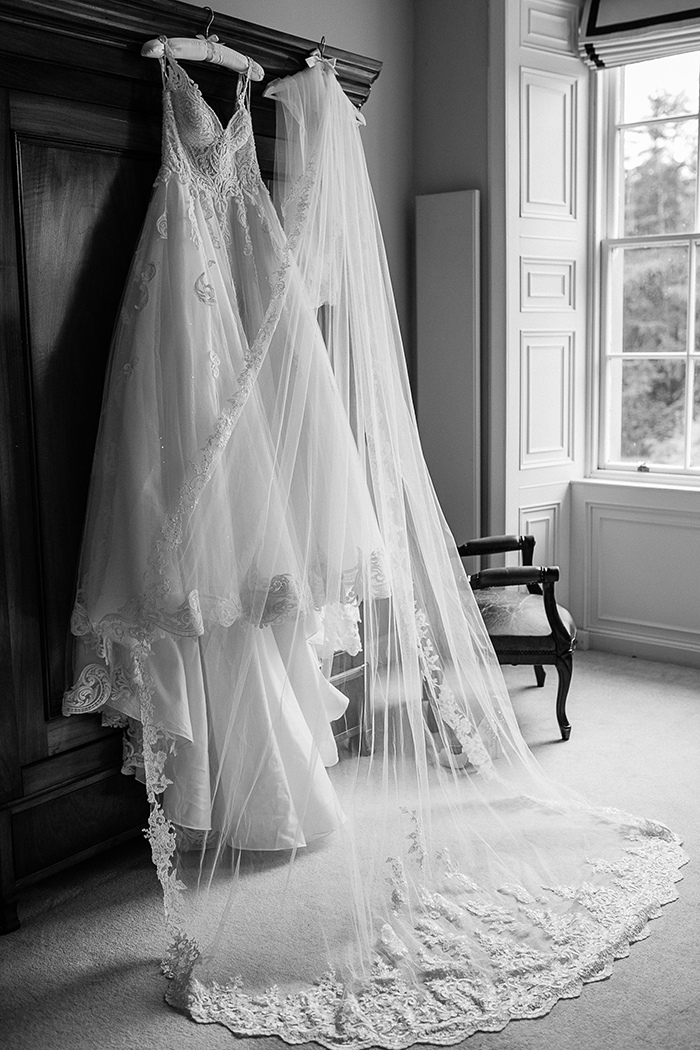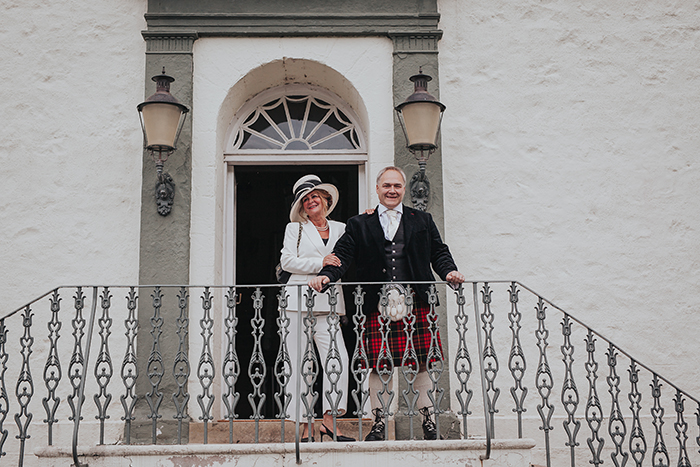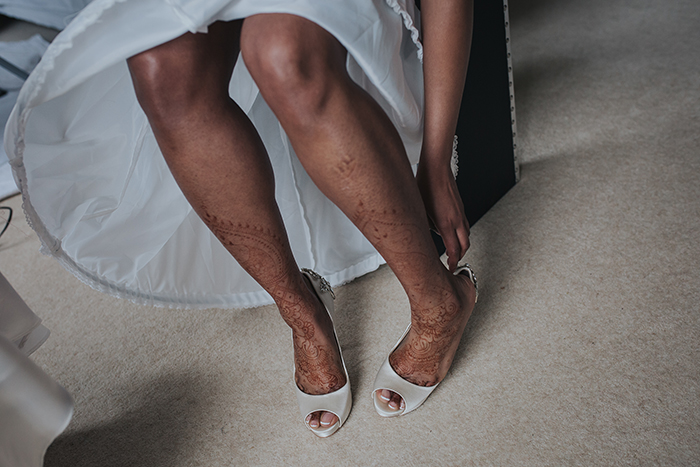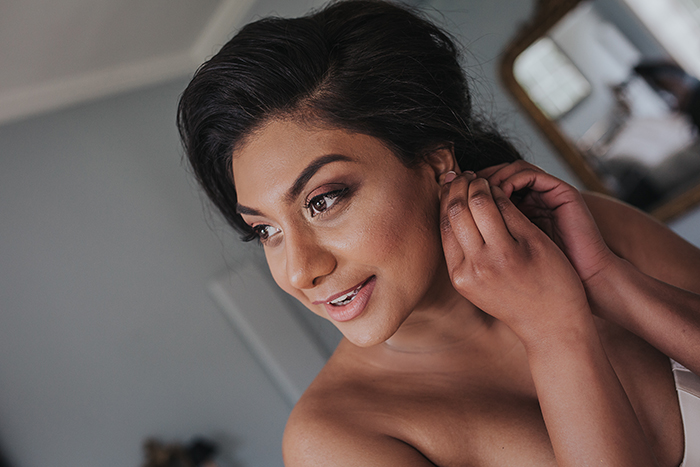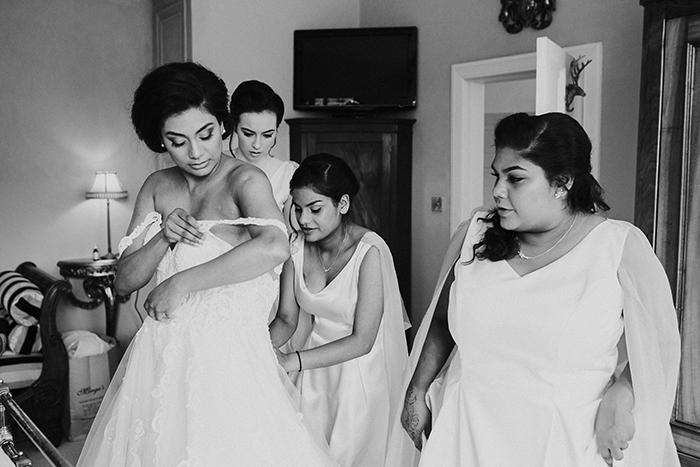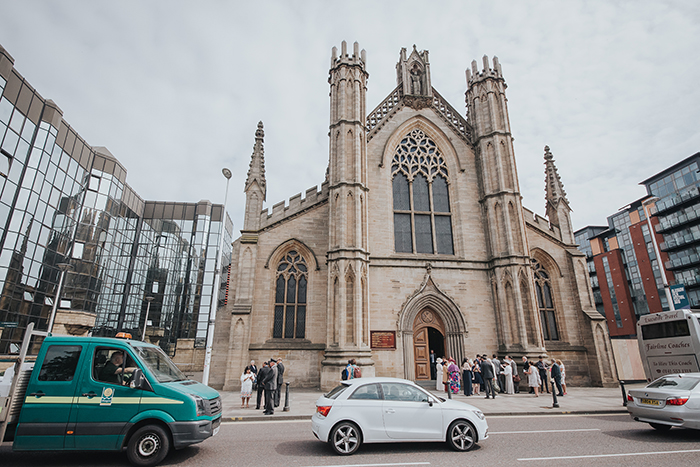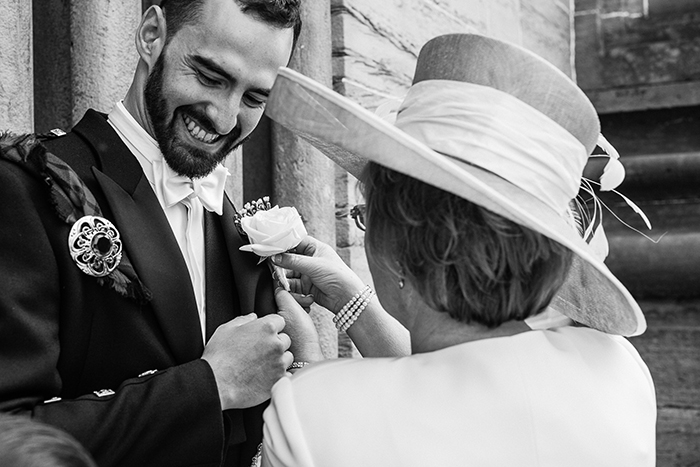 We missed Valentine's Day, so decided to go on a short holiday to Morocco. We wrote letters to remind each other of our love and commitment and Giancarlo suggested we go down to the private garden to read them to each other.
He recited a poem he had written, got down on one knee and said, "Honey, will you marry me?"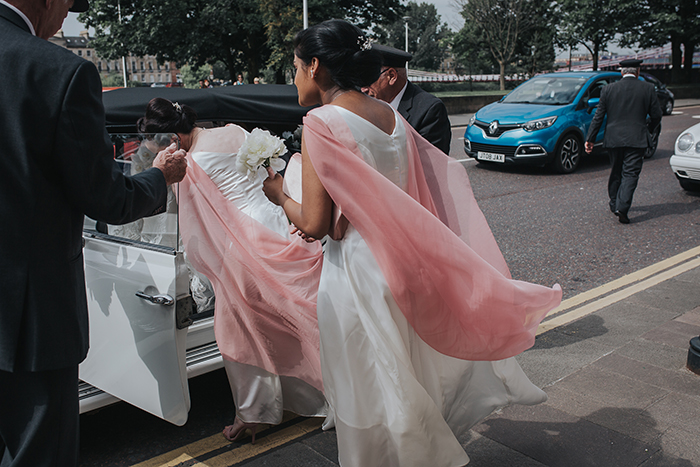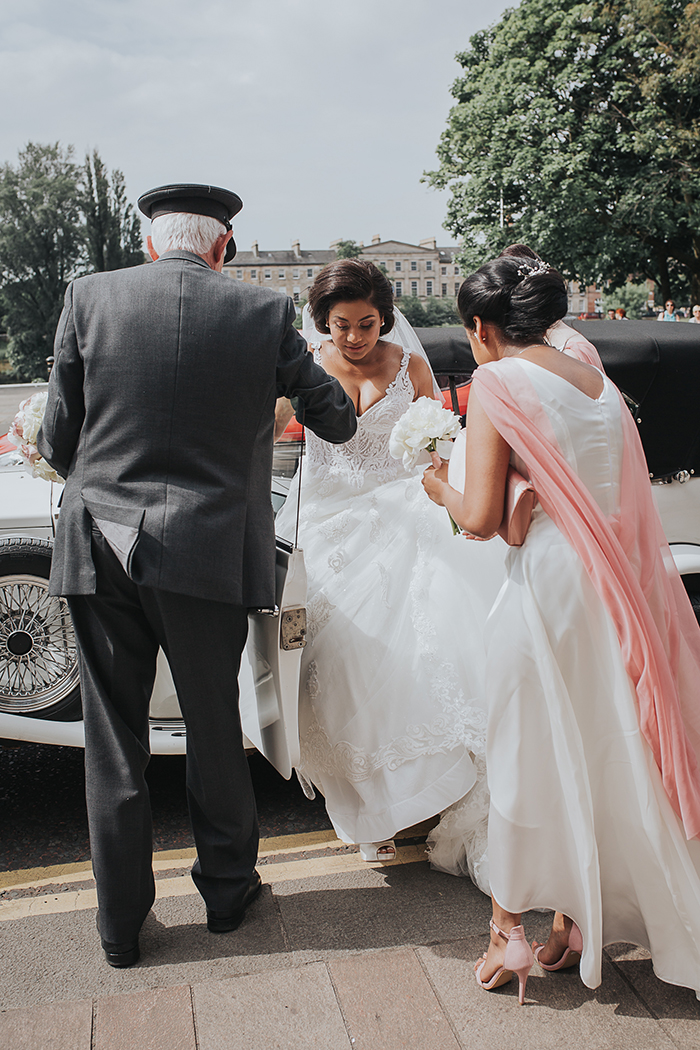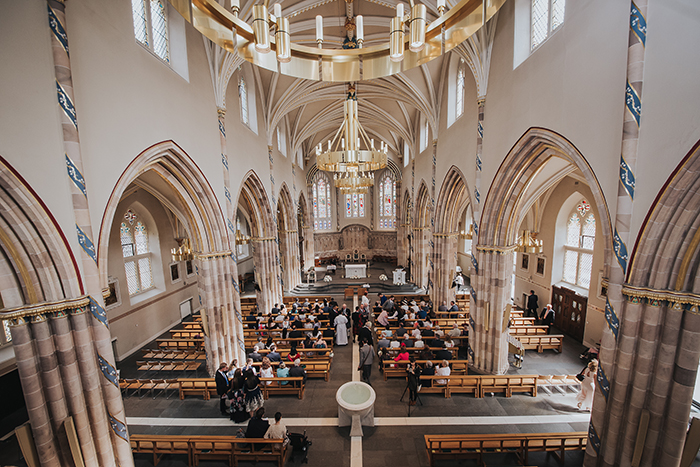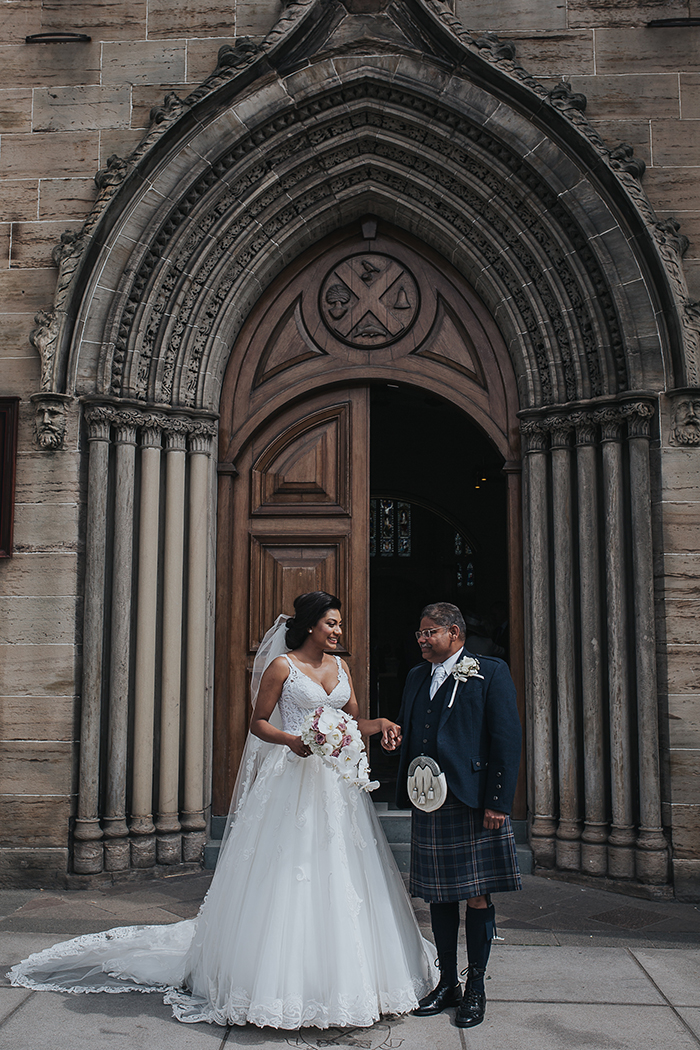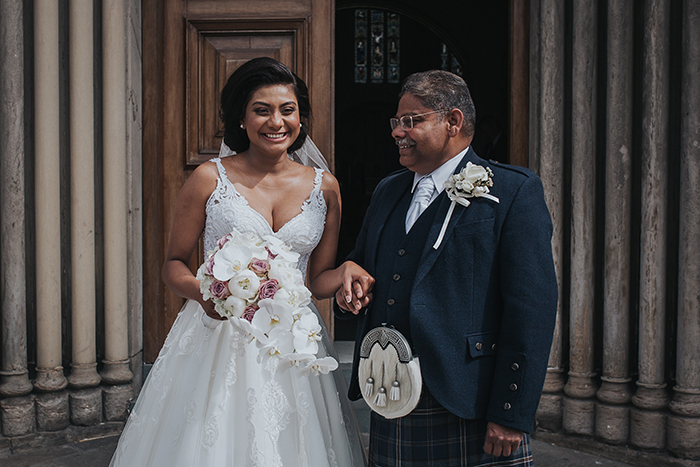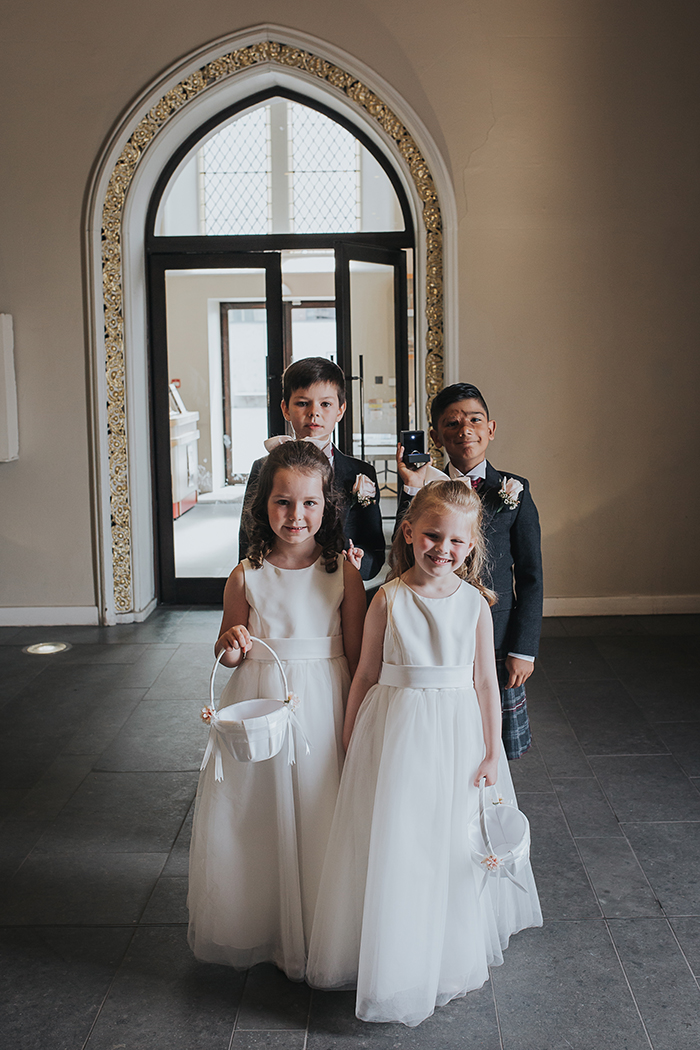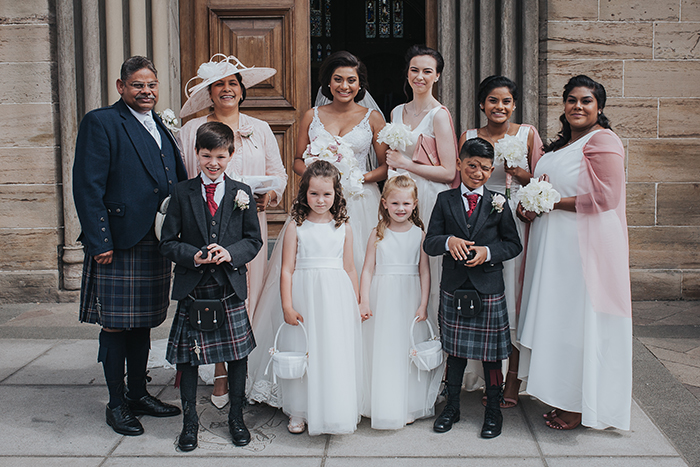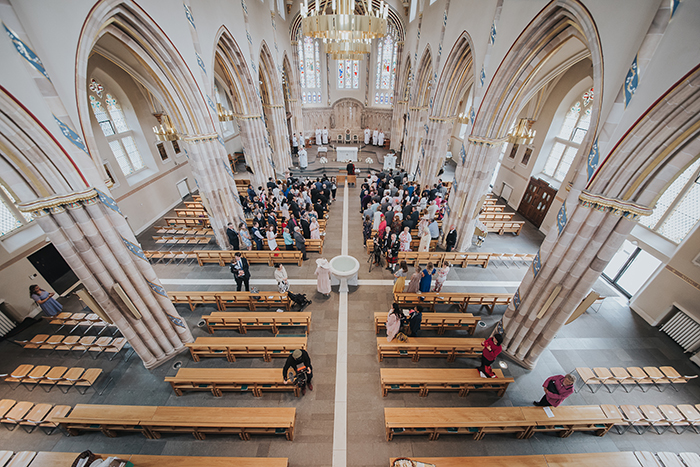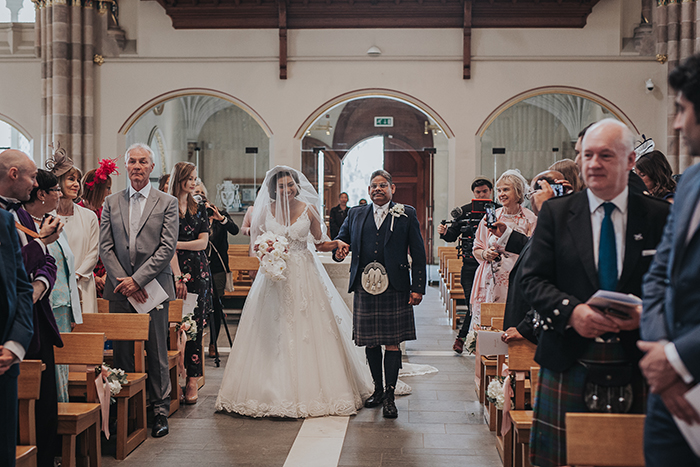 We had a harpist, flautist, organist and a schola for our mass. I walked down to the harp playing and the choir singing Ave Maria. It was divine.
As we approached the altar, my dad lifted my veil, kissed my forehead and placed my hand gently in Giancarlo's. It was such an emotional moment. Saying our vows was by far the most important moment of the day and also my favourite.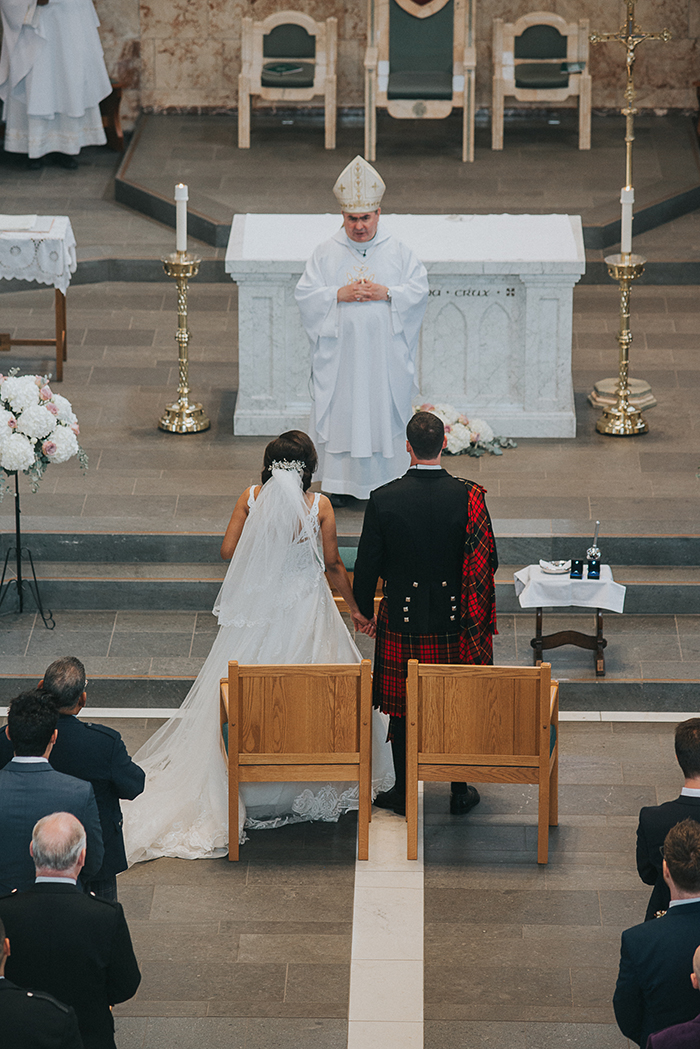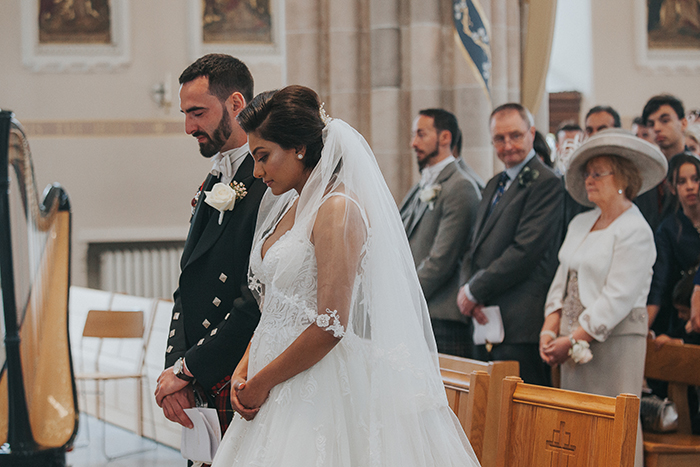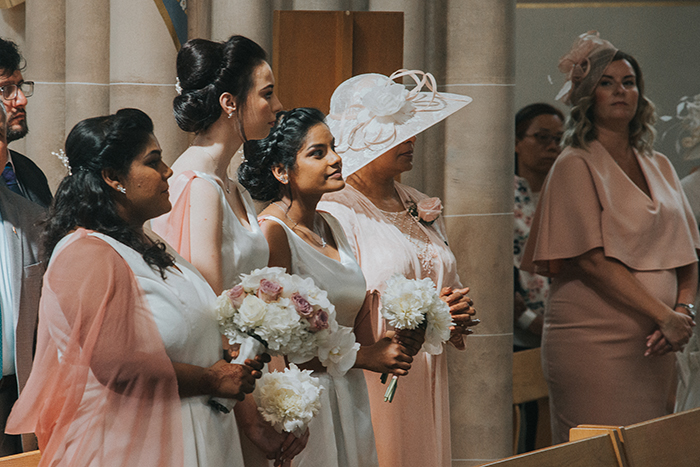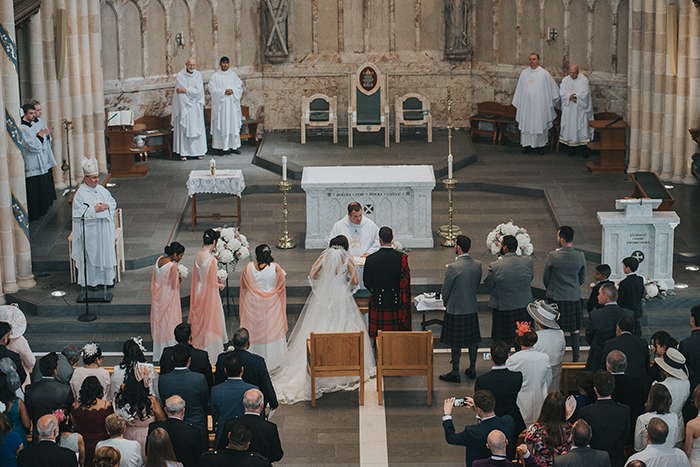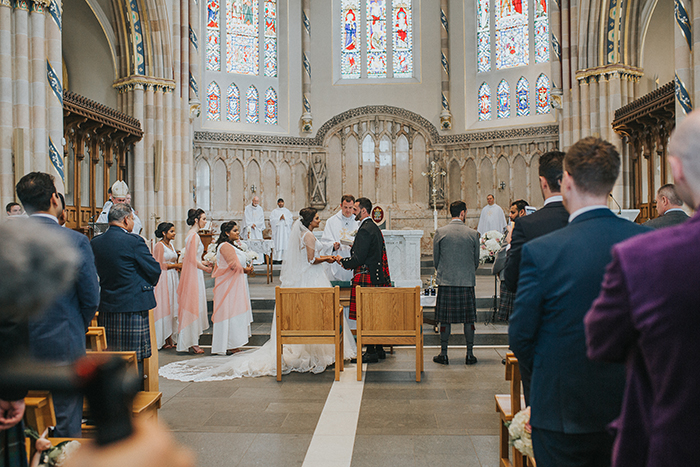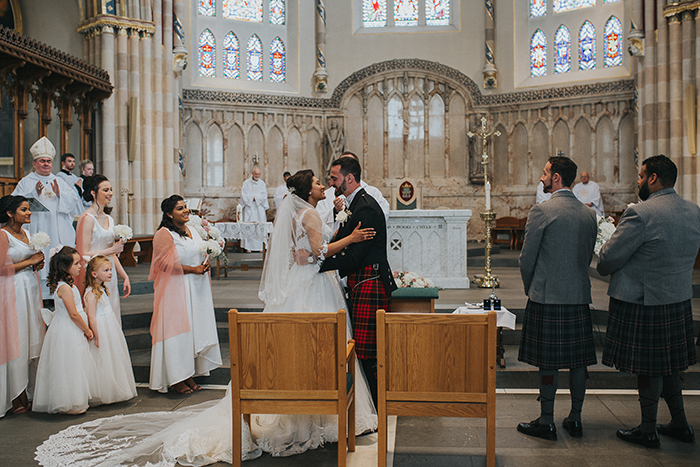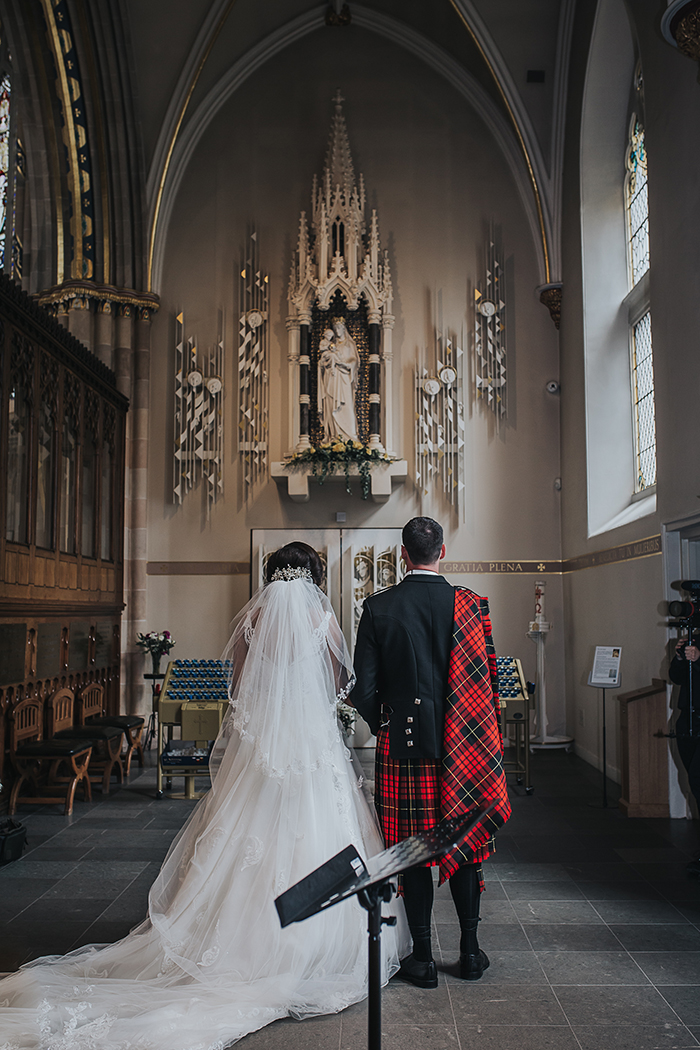 We were adamant to combine Giancarlo's Italian and my Pakistani heritage with our Scottish traditions. We had a Scottish wedding meal with Italian wine and traditional bomboniere favours.
For the evening, we had Pakistani cuisine: a whole lamb spit roast, biryani and lots of merry alcohol.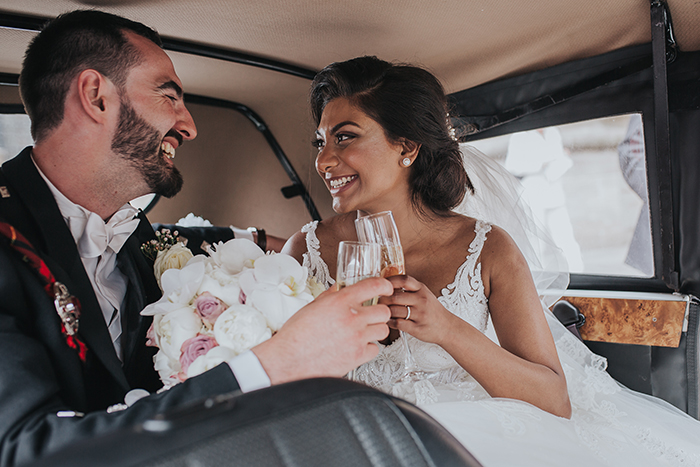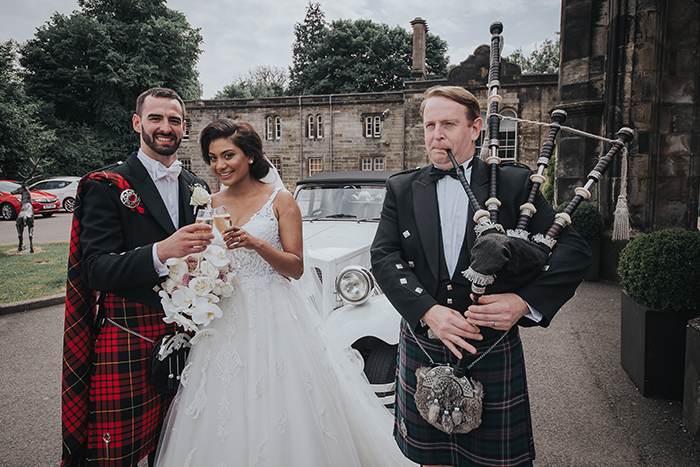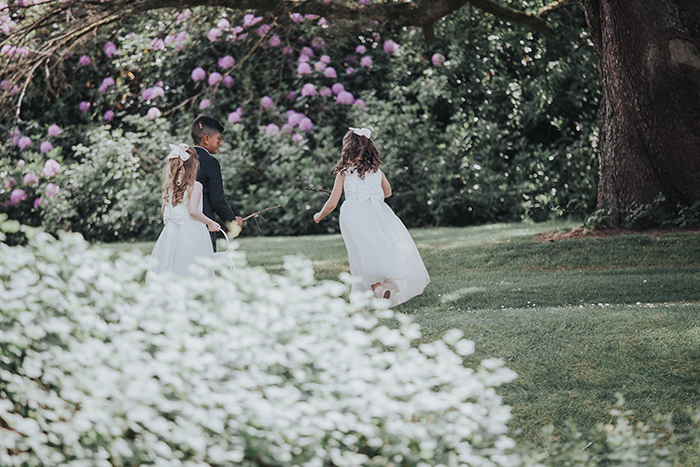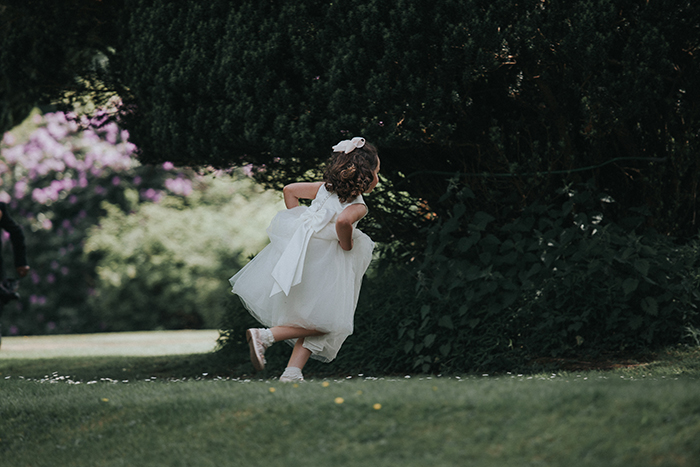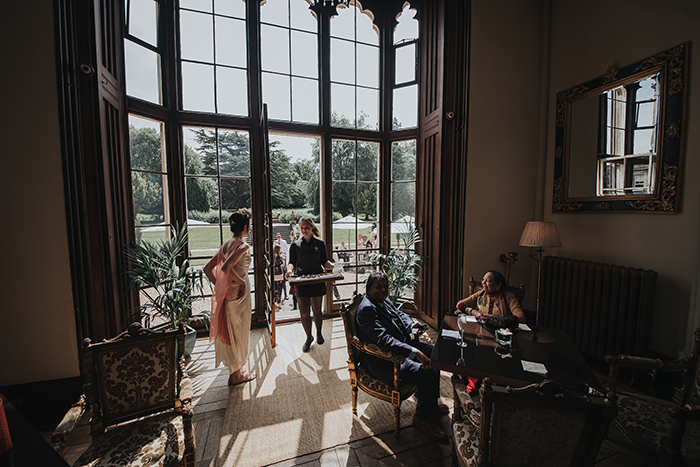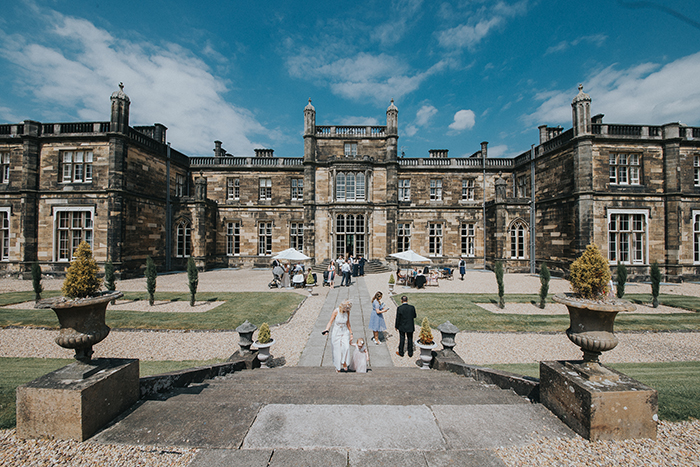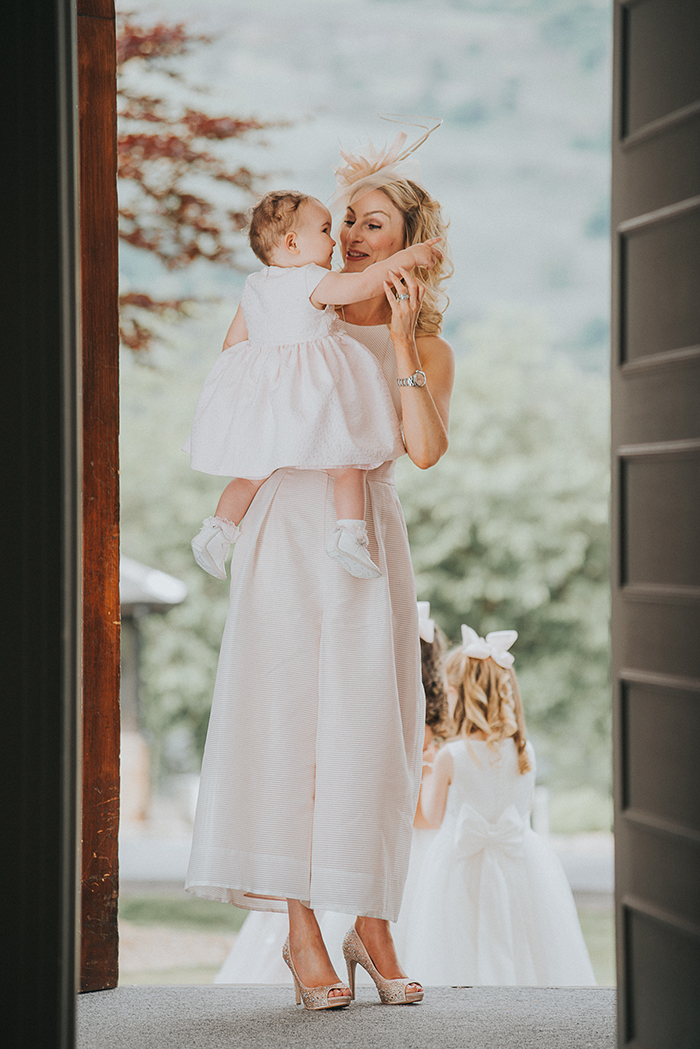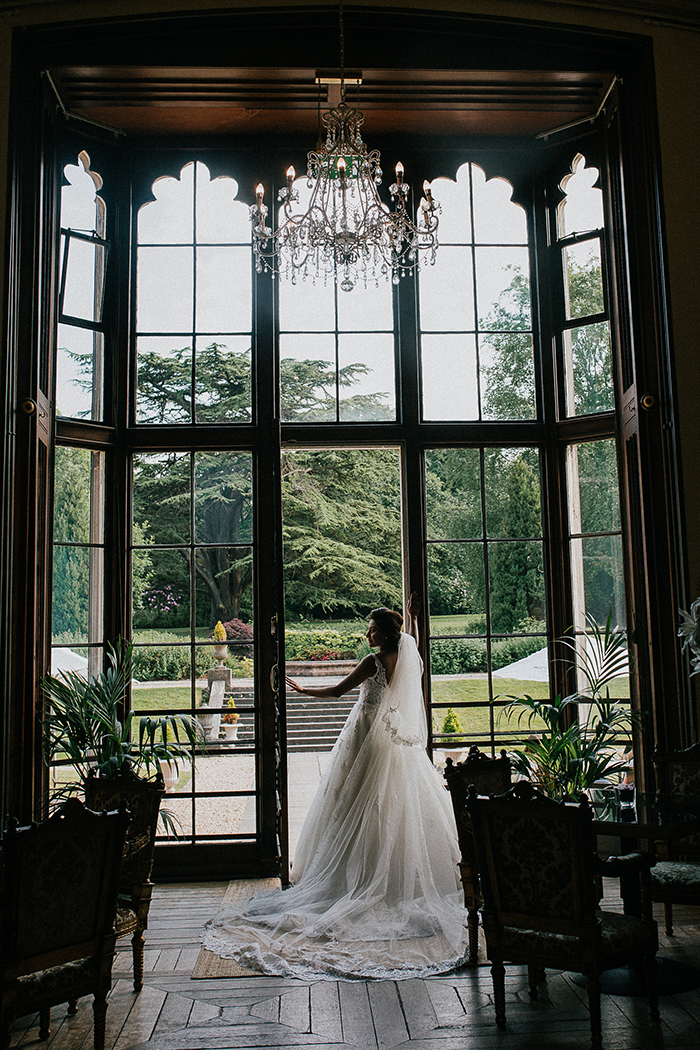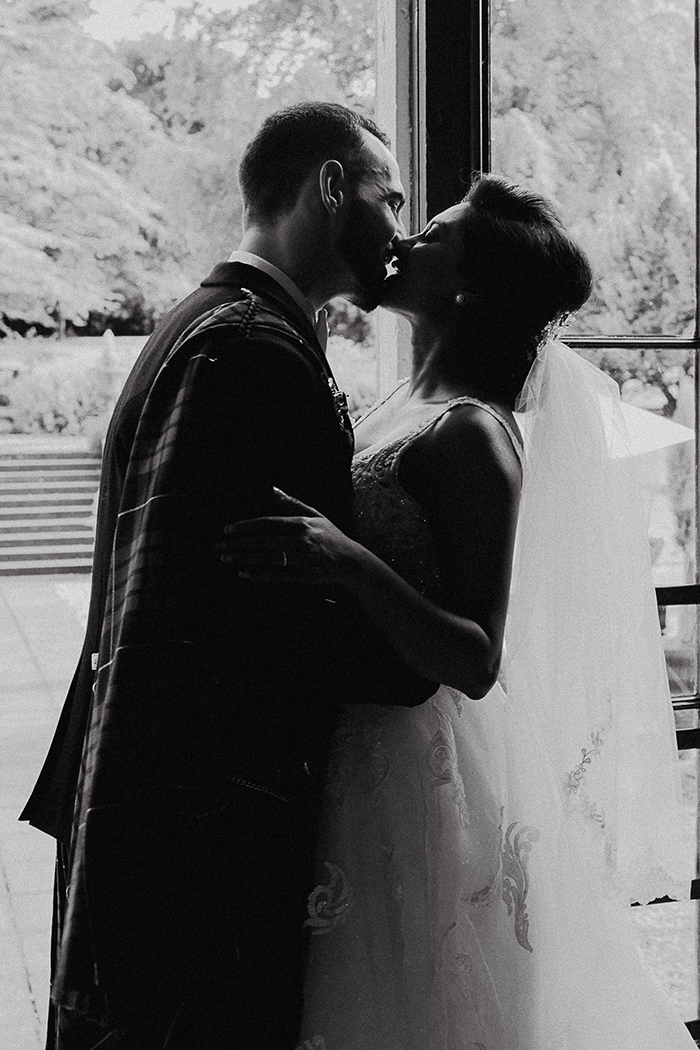 When I woke up, I shouted 'I'm getting married!'. I was excited and nervous. My maid of honour insisted we take a walk. There, she gave me a letter Giancarlo had written and a box with white gold and diamond earrings.
The letter really calmed my nerves. Giancarlo hadn't figured out how to tie his bow tie and wound up running to Slaters 15 minutes before the wedding to have the staff do it!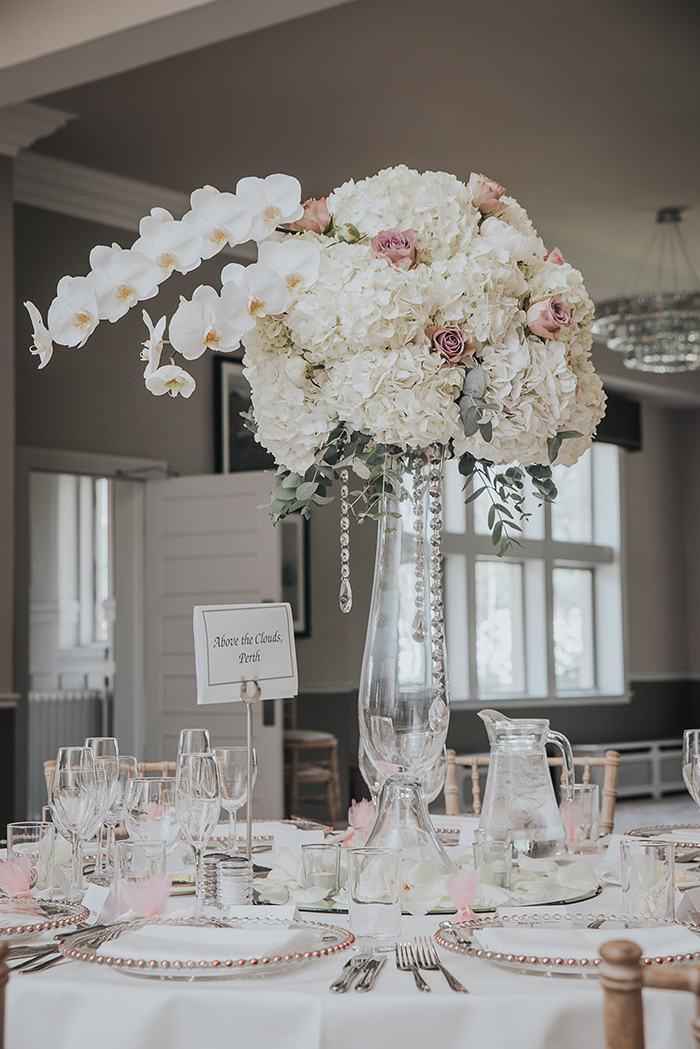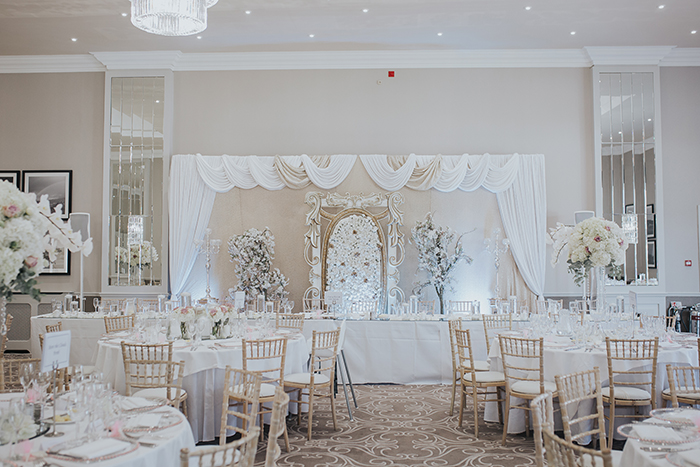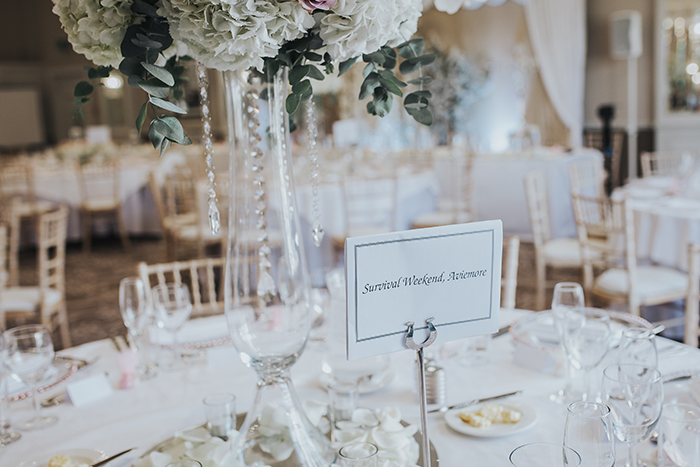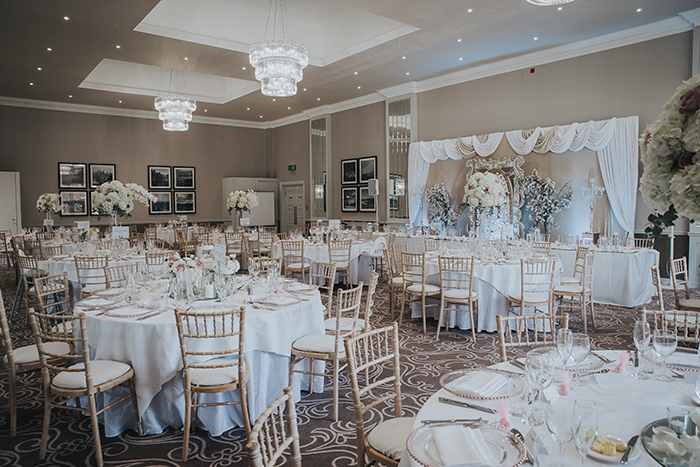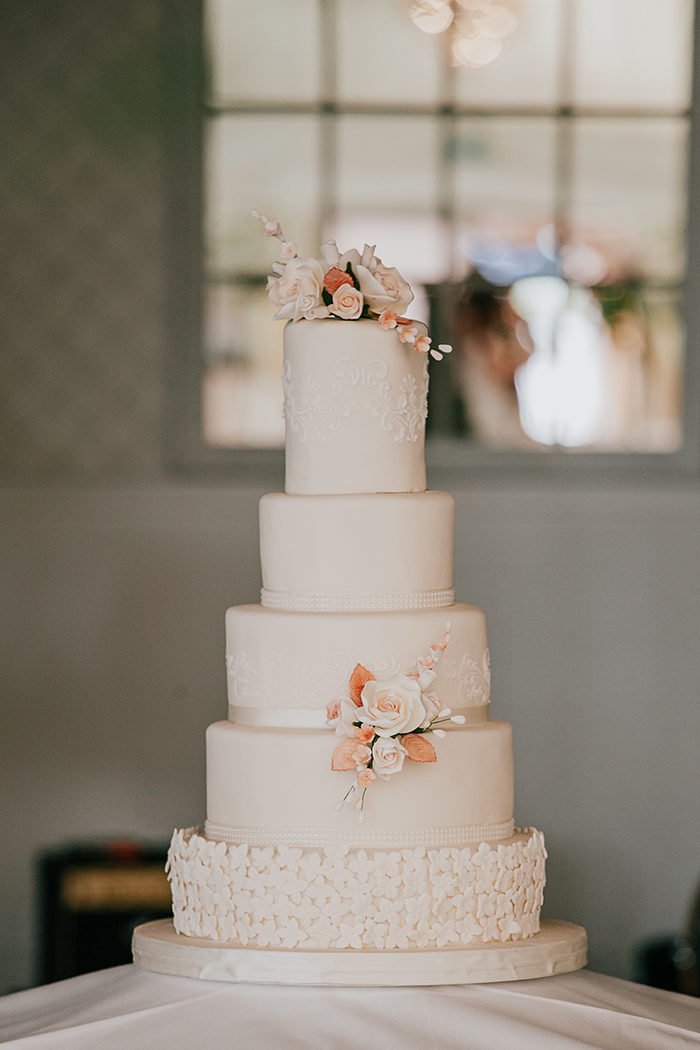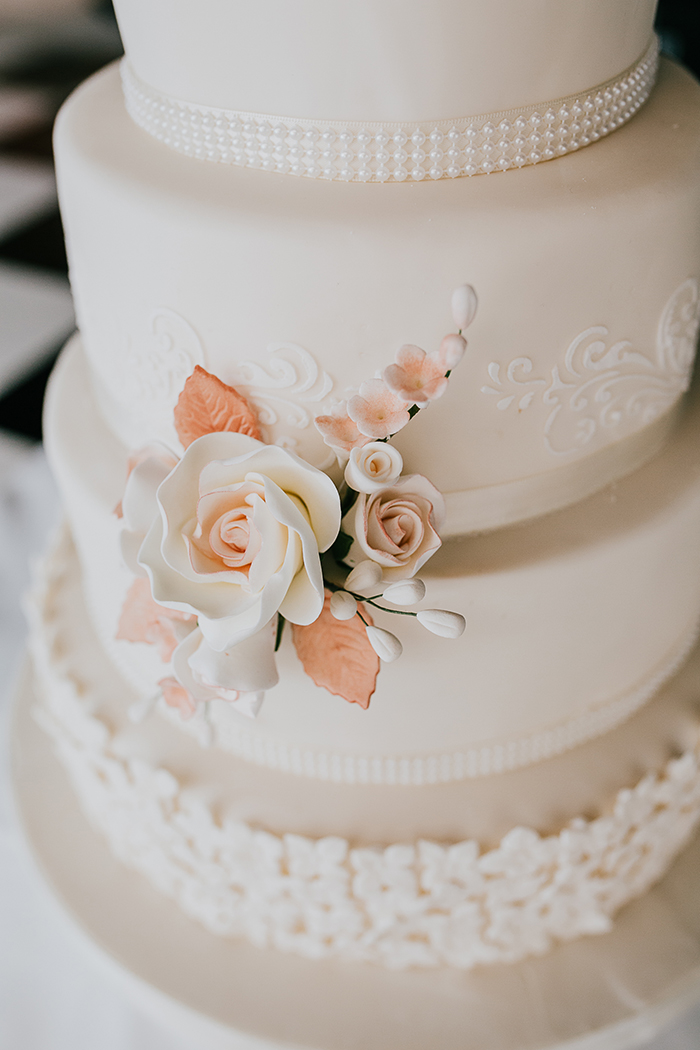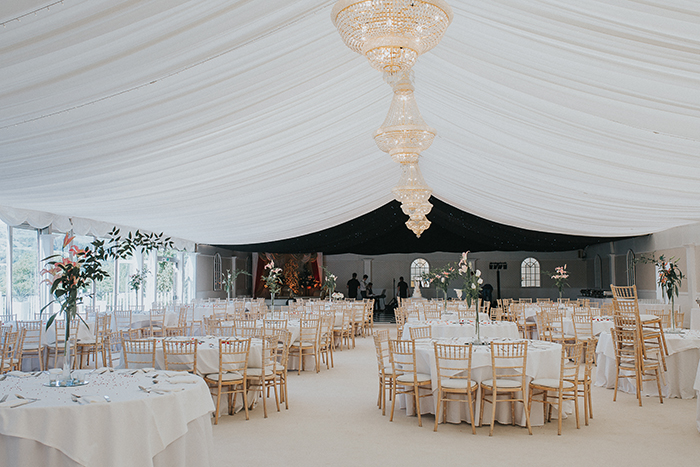 We wanted [to get married] somewhere surrounded by beautiful scenery. We also really wanted to feel royal so the Morton House Ballroom at Mar Hall provided a spacious, bright room for a romantic wedding breakfast.
We co-ordinated and planned everything ourselves. My brother designed and printed the invitations and directed and edited our wedding video, and my family and bridesmaids were pretty much on hand all the time. We couldn't have done it without everyone.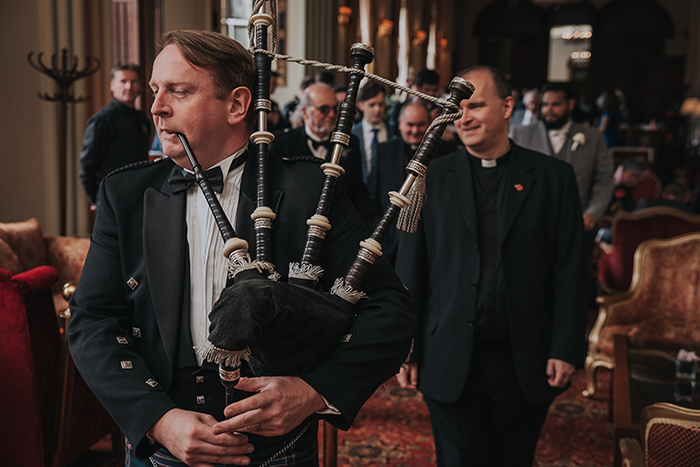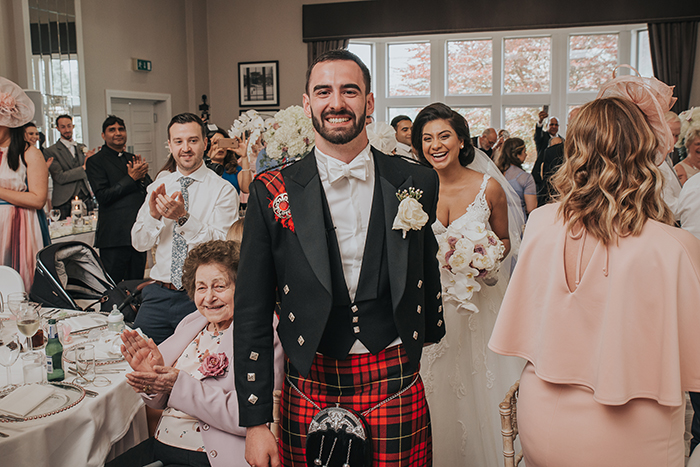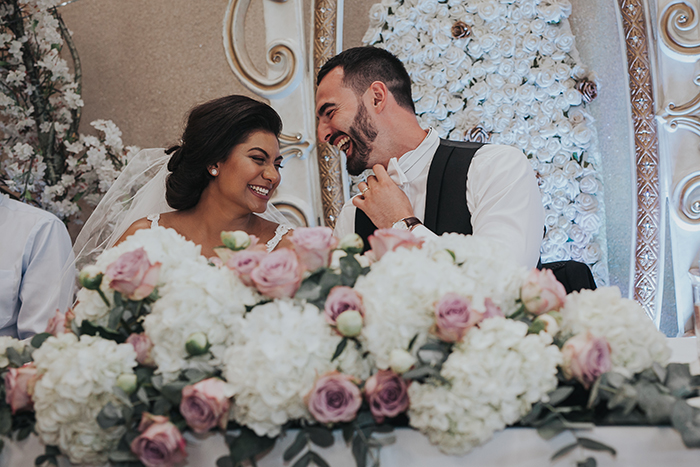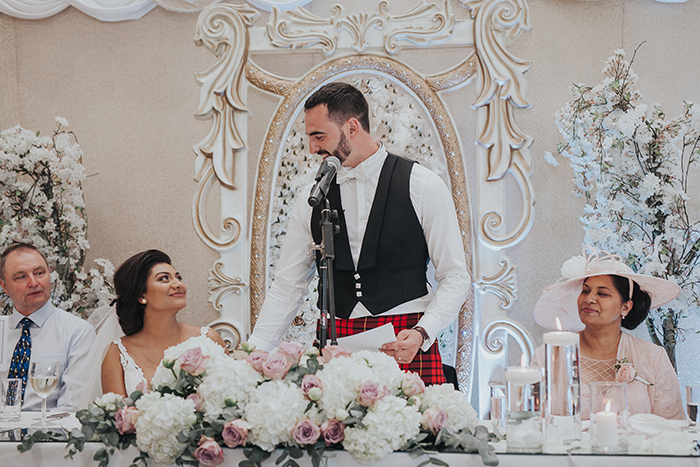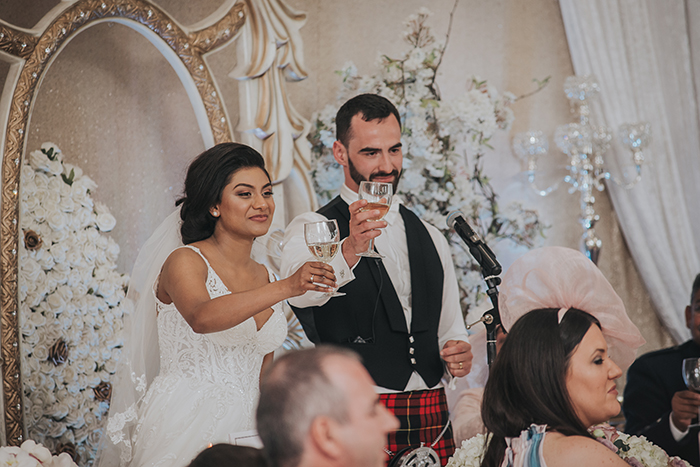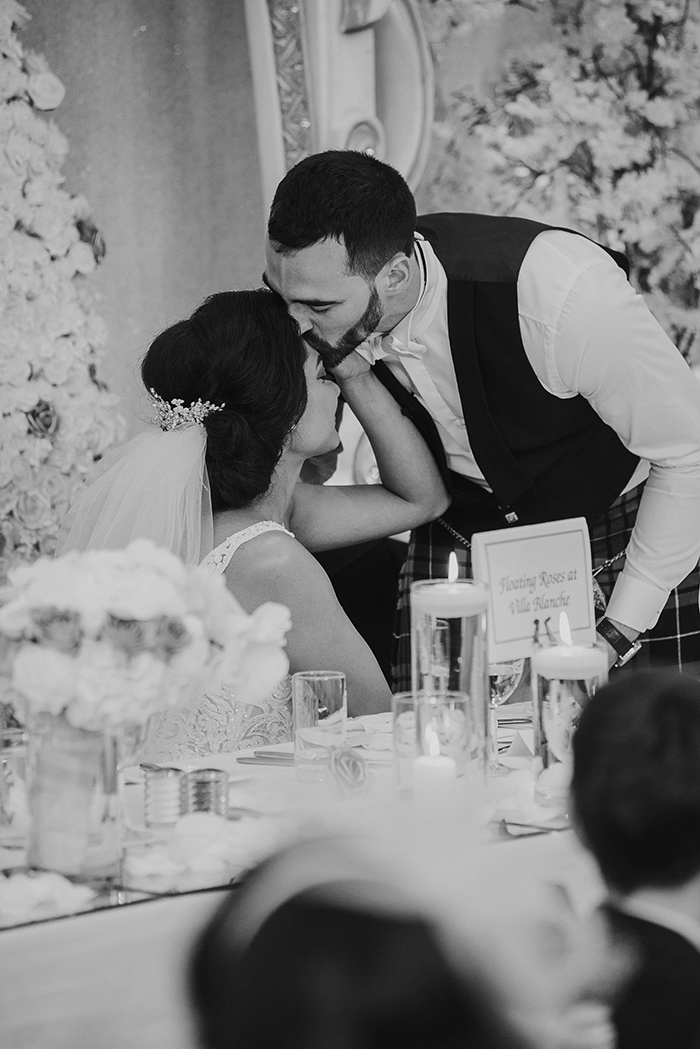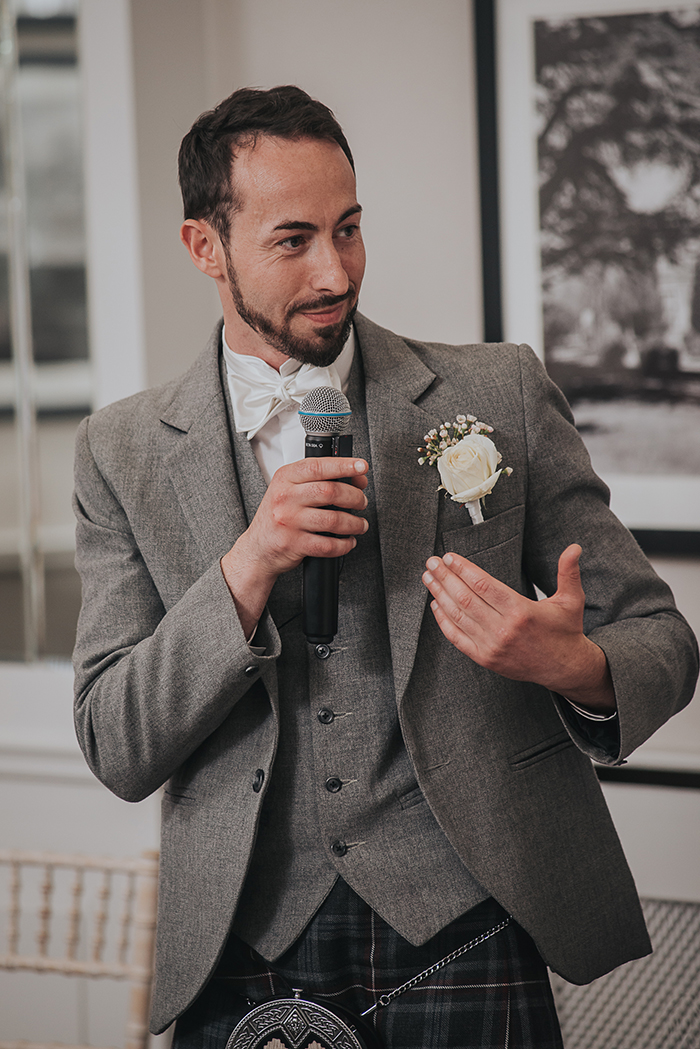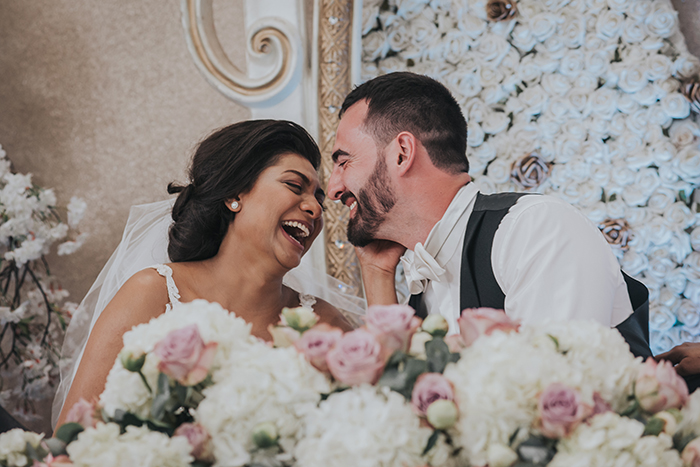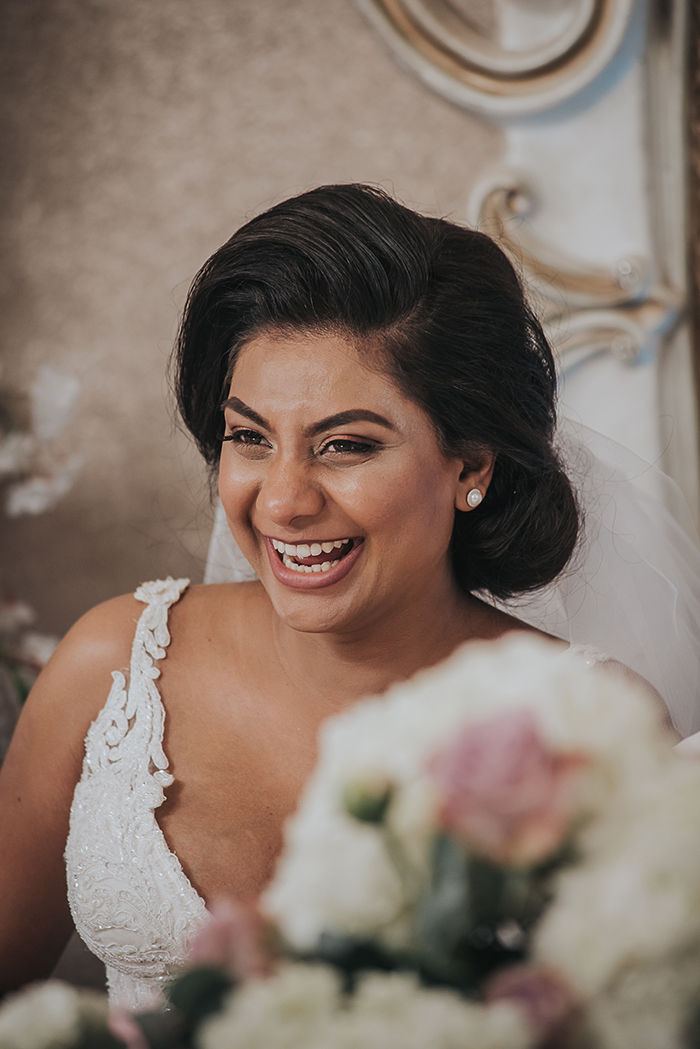 We had a ceilidh set then a band. Everyone was buzzing and hitting out with their best moves on the dancefloor – some were truly hilarious to watch!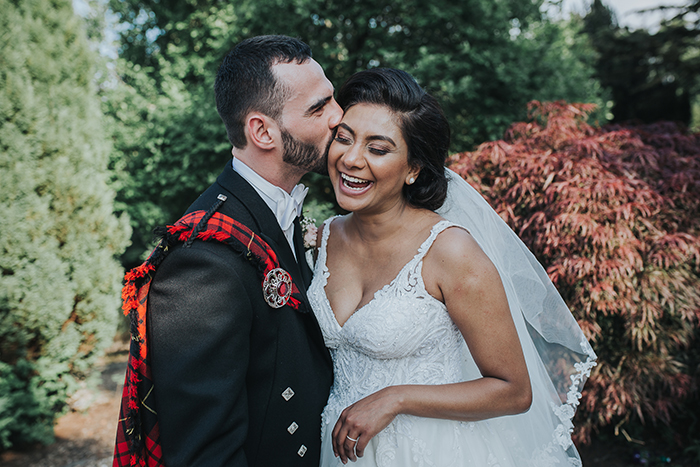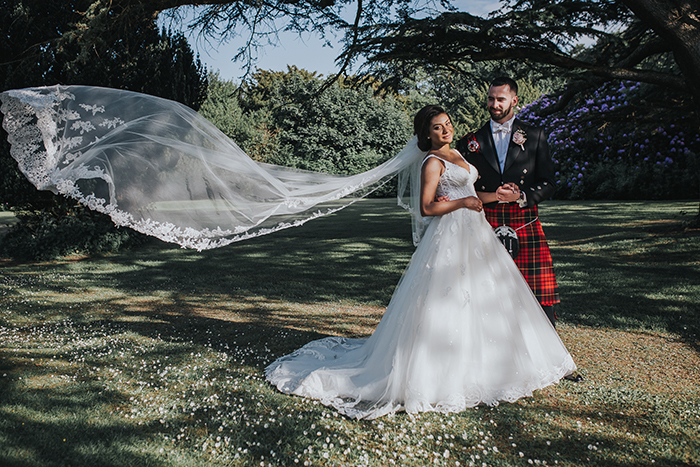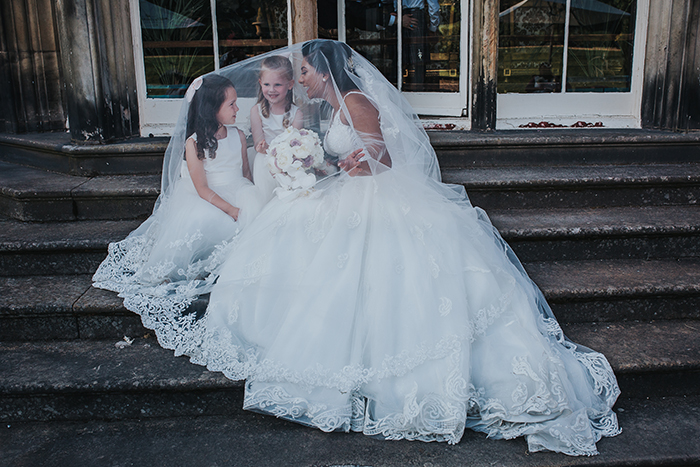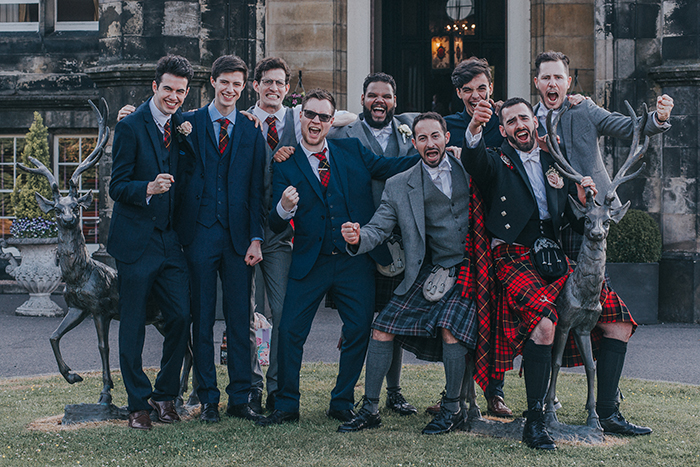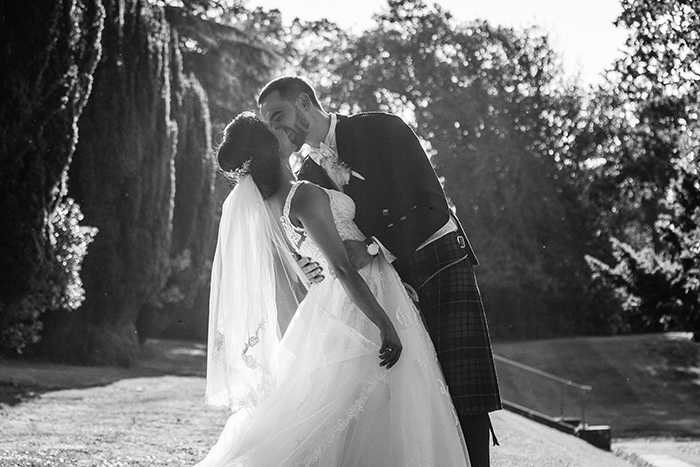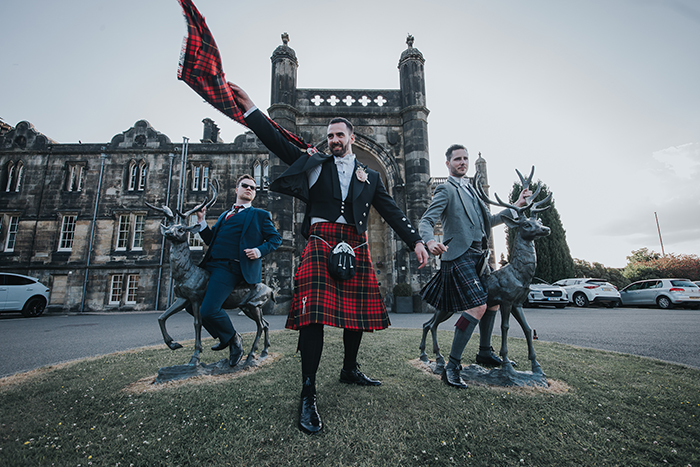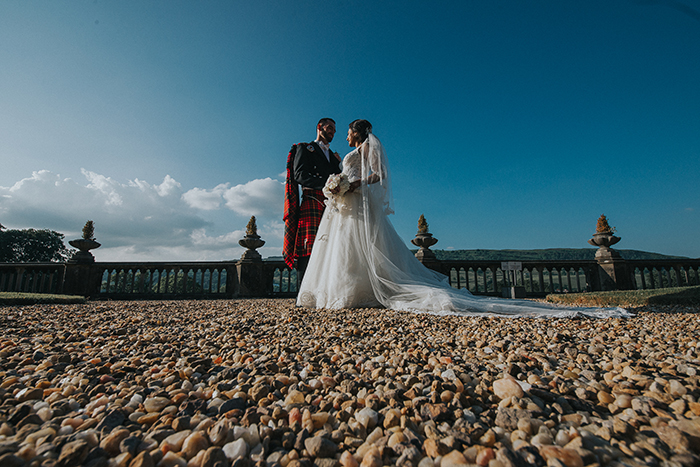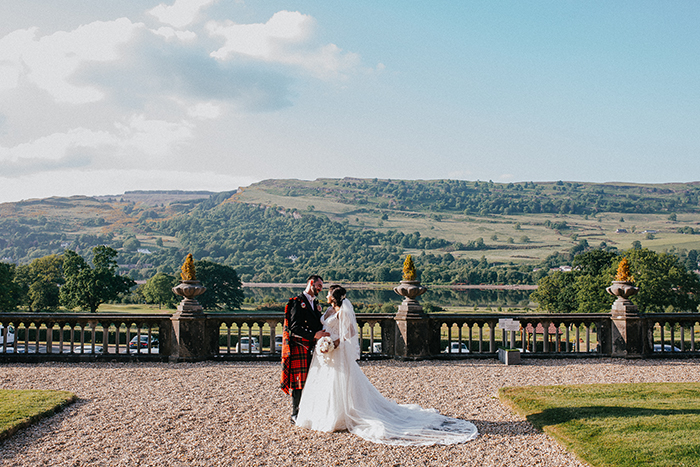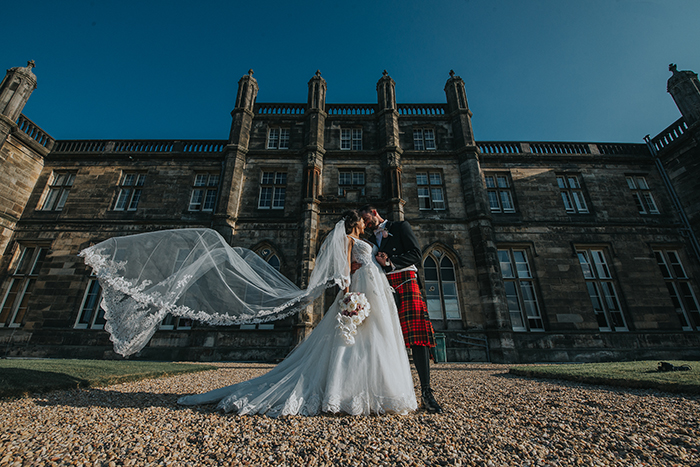 I love being married. The commitment of a lifetime is a beautiful and liberating feeling. My advice to other brides would be to remember you are planning not just one day, but a happy lifetime together.
It's a joyful occasion so plan what you can and enjoy yourselves!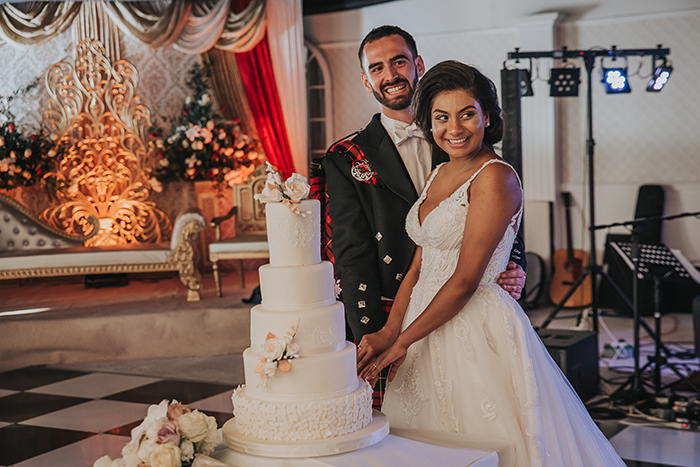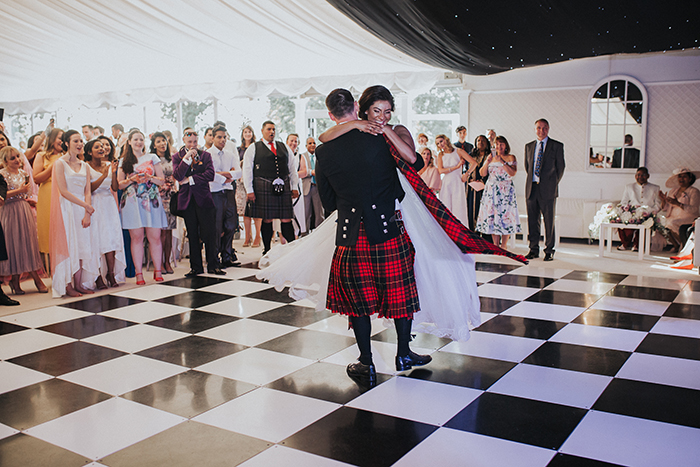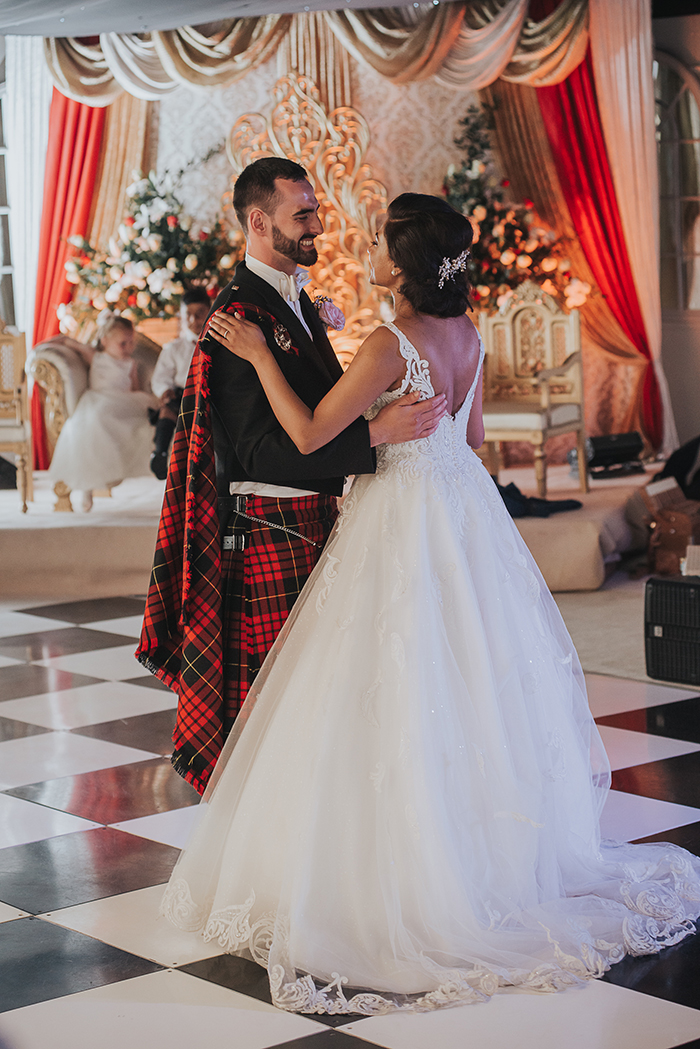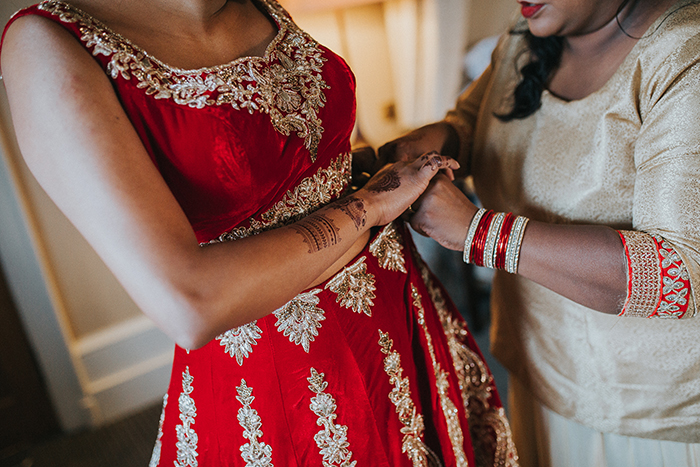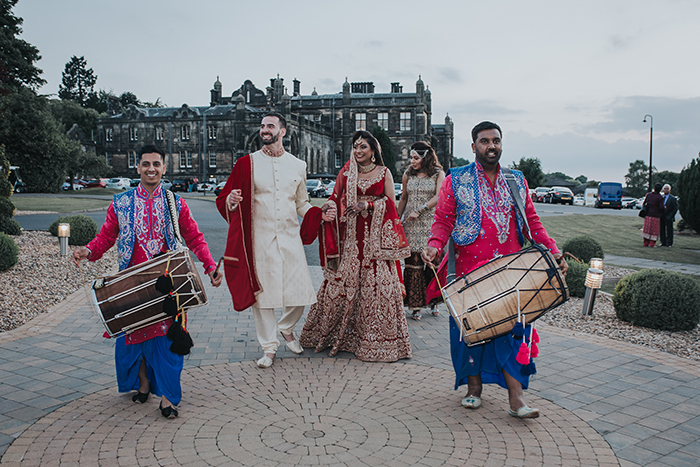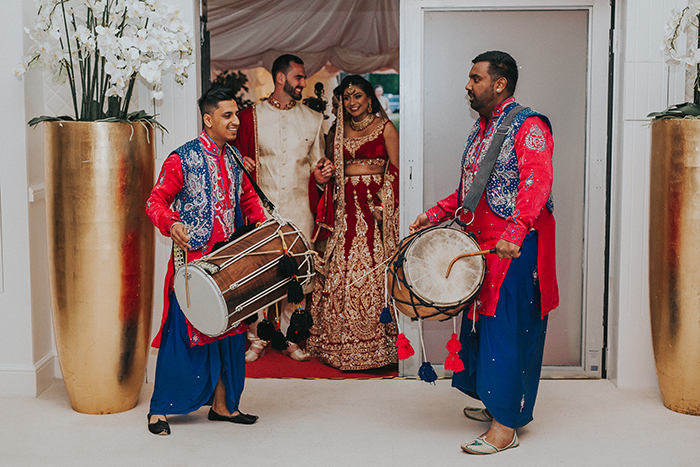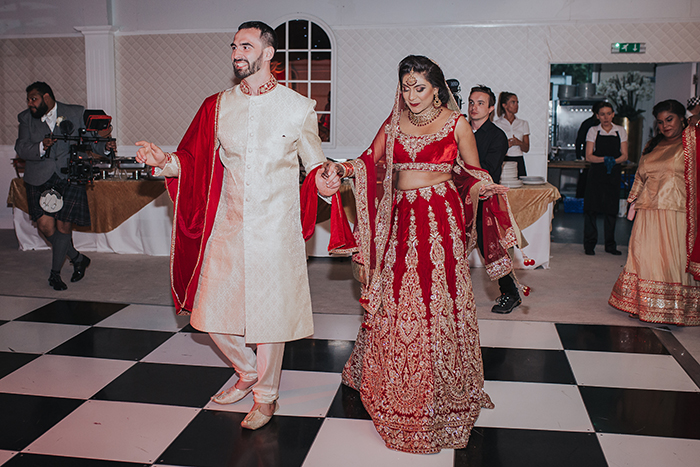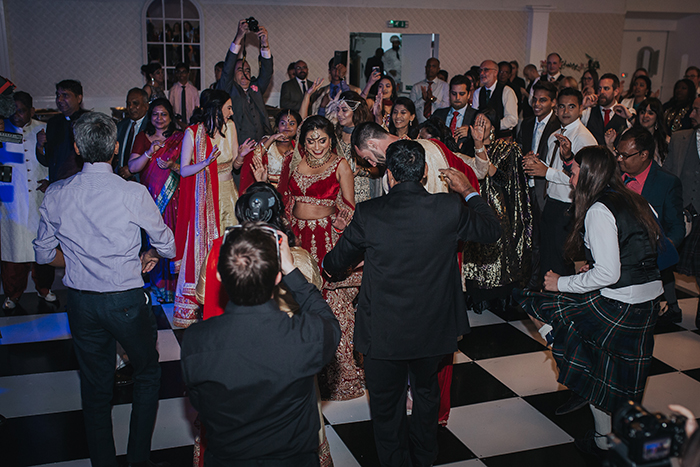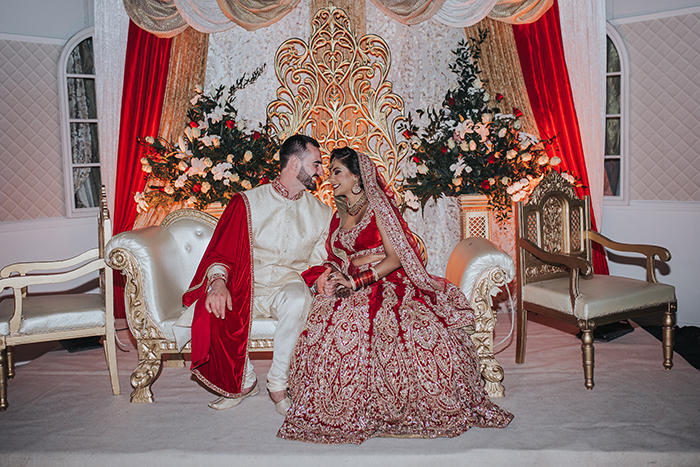 Venue: Mar Hall | Photographer: Iris Art Photography | Videographer: HF Films
Bride's dress: Eleganza Sposa | Bride's headpiece: Baba-C Designs
Groom's kilt: Tartan Couture | Cake: Classic Touch Cakes 
Flowers + décor: Supernova Wedding Design & Flowers | Rings: Goldcraft 
Hair and make-up: Fakhra Q Makeup Artist | Ceilidh band: Eriska 
Wedding band: Elwood