Safe + sound: Choosing the right wedding music
Music journalist Lisa-Marie Ferla investigates the nitty-gritty of choosing the right wedding music.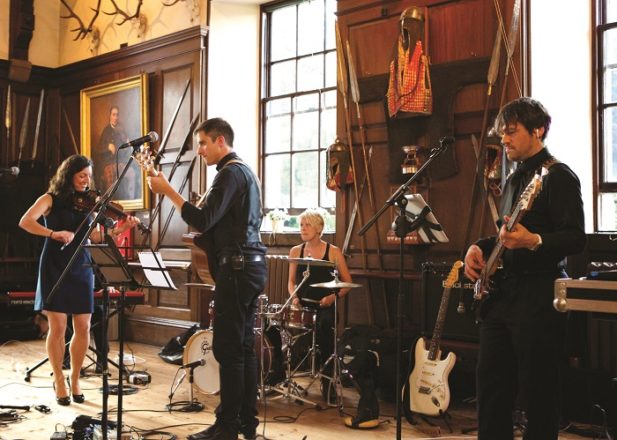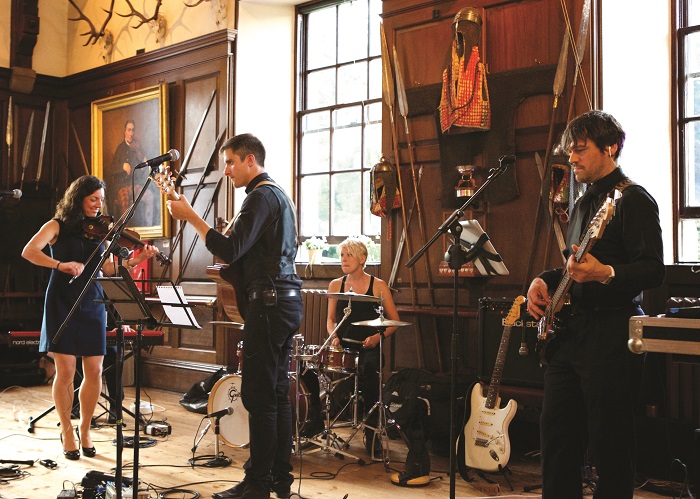 Music journalist Lisa-Marie Ferla investigates the nitty-gritty of choosing the right wedding music " from finding an act that suits your venue to sussing out the type of tunes to play.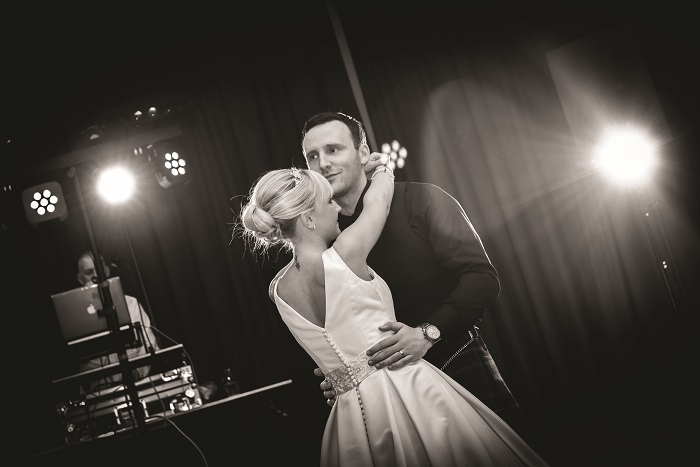 IMAGE | Casey Stewart Photography
Ever hear the one about the music journalist who forgot to organise entrance music on her wedding day? I suspect not, since it's not a joke but rather a true-life cautionary tale.
In fact, it never occurred to me that I needed something to accompany my walk down the aisle until I opened the door and 120 of my closest friends and family started humming Mendelssohn's Wedding March.
Five years later, that moment remains one of my favourite memories: it was hilarious, haphazard and done with love, and so as good a summation of my wedding day as any. It also shows the important role played by music on your big day – be it the string quartet over dinner, the kids in the middle of the ceilidh circle or, of course, the first dance.
Depending on your tastes, your venue and your budget, there are plenty of ways to soundtrack your wedding day, from a carefully curated iPod playlist to a nine piece professional band.
To help you get started, I asked some real couples, bands and DJs to share their advice, experience and a few tricks of the trade. While "band or DJ?" won't be the most important question on your wedding day, finding the one you can rely on to keep your guests entertained long into the night is no easy ask.
SIZE MATTERS
Scottish Wedding Directory is a great place to start looking, particularly since most listed bands and DJs provide links to websites where you can watch videos or browse through sample playlists, while many of the couples I spoke to came across their perfect musical match at other weddings and functions. You can search for Scottish wedding bands, DJs and musical acts in the online directory section of this site!
"I think a band provides a more personal touch: more eyes connecting with the crowd, more smiles to be seen by your guests and more opportunity to interact," says Kim Shepherd whose Dunfermline based contemporary and ceilidh band, Cut the Cake, have performed at venues across Scotland. "It also creates a sound that is fuller and more dynamic – and I personally think it looks a wee bit more interesting too."
On the other hand, cost, flexibility and a wider selection of music could make a DJ a better choice for you. "Bands will only have so many songs that they have rehearsed and may not have many newer songs," says Lynne Johnston of Glasgow-based DJ duo Pretty Ugly.
"Bands also require time to set up and soundcheck whereas most DJs can just plug in and play – so if you have a tight turnaround between dinner and reception, a DJ is usually the quickest way to get the party started."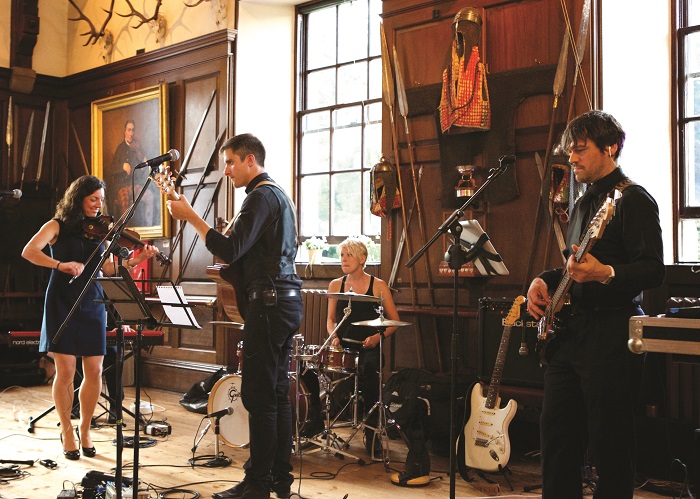 IMAGE | Jenni Browne Photography
Space and volume considerations will likely have some bearing on your choice of music.
When Faye got married in the champagne bar of a boutique hotel in Glasgow, the small space with little room for setup meant that a large band was out of the question – "which suited us, because we hate dancing and wanted more of a ˜lounge' feel to the evening", she says.
She opted for a singer-pianist duo, who were "perfect for the space". Bands will, however, be as flexible as they can – making it worth a conversation if you love somebody's sound.
"Bands will, up to a point, play anywhere they can plug in and a lot of acts will even do acoustic busking sets which are ideal for outdoor drinks receptions and the like," says Chris Mackinnon, artist liaison at booking agency Freak Music.
"About 95%" of bands will also supply their own PA, backline and sometimes even lighting, while all of the professionals I spoke to said that they would generally make their own contact with the venue to get the lowdown about load-in and equipment needs.
"I can safely say I can play anywhere," says Hugh McGuiness, a DJ/entertainer.
"Well, if it's dry and flat and has a 15amp plug outlet that is. I have in the past worked in an area that would not fit a drum kit, let alone a full band, but I have also entertained at corporate events with about 1,000 people sitting for a meal."
THE SKY'S THE LIMIT (KIND OF)
Worth bearing in mind is a growing trend among some venues, particularly older buildings or those close to residential areas, to install ˜sound limiters' which will cut the power supplied to the stage if the volume level gets too high for a certain period of time.
Few couples know to ask if their venue has one in place, which can lead to awkward moments on the day. "It won't put us off playing the gig as we are willing to work with the venue as best as we can," says Mark Coffield of Lanarkshire's Carbon Copy.
"It can, however, be a real hindrance to the quality of music which in turn affects the overall atmosphere of your reception. We'll sound check after our initial setup and see what volume is possible under the limitations set by a sound limiter – but you can't ˜turn down' the volume of an acoustic drum kit."
"With a capable sound engineer with us we can usually find a way around most sound issues," says Cut the Cake's Kim Shepherd. "Unfortunately this can sometimes mean not playing to the quality of sound that we'd like, but the evening can pass by happily and smoothly for us, the guests and the venue."
IMAGE | Lynne Kennedy Photography
LOVE A PLAYLIST
For smaller spaces, incidental music and setup and break times, an iPod playlist makes an excellent budget solution – although many couples cautioned against not being selective enough and missing out on the music that they really wanted to hear.
Kirstin and Alan asked their guests to suggest a song guaranteed to get them onto the dance floor to add to their mix, while I asked mine to make mix CDs to bring along on the evening – none of which got played, and most of which we lost on the night.
A nice idea in theory, though. It can be tricky to put together a playlist that satisfies your new grandmother-inlaw, your 15-year-old pop-punk cousin and your clubbing friends from high school though, which is where the professionals come in.
"Most DJs will try a few different songs at the start of a set to see what works for that particular crowd, which is why it can be hard to make a playlist in advance as you need to see what works in the room," says Lynne Johnston of Pretty Ugly. "Weddings are usually long days so it can take a while to get everyone going – but it's always possible. If in doubt, everyone loves a bit of Motown!"
Lots of bands will offer to learn and perform your choice of first dance as part of their fee, given enough notice – but, again, suggest allowing them to ˜read the room' and choose the rest of their set as the night progresses.
"We have been doing this successfully for a long time, so do advise leaving most of the song choices for the rest of the evening to us," says Mark Coffield. "The reception is for all of your guests too, so take them into consideration when thinking about music," adds Kim Shepherd. "But trust your band to lead the evening – this is the time for you to relax and enjoy yourself!"
What song have you chosen for your first dance? We'd love to hear all about it!