New ways to entertain your wedding guests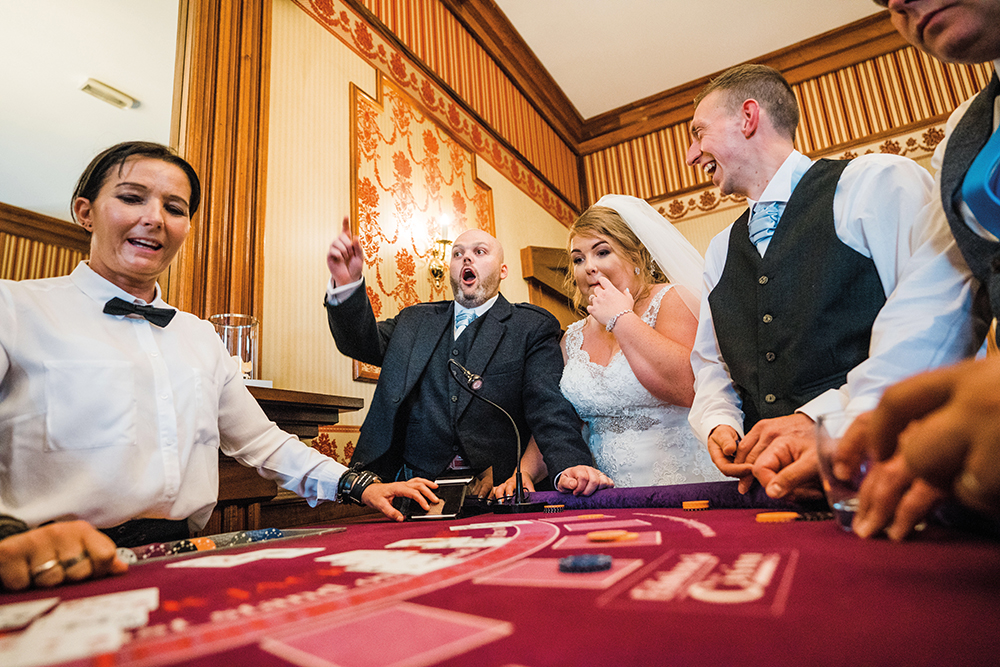 Admit it, you've caught yourself clock-watching at a wedding before.
Here are some of the weird and wonderful entertainment options to beat boredom and ensure your wedding is the one your guests talk about for years to come…
STRIKE A POSE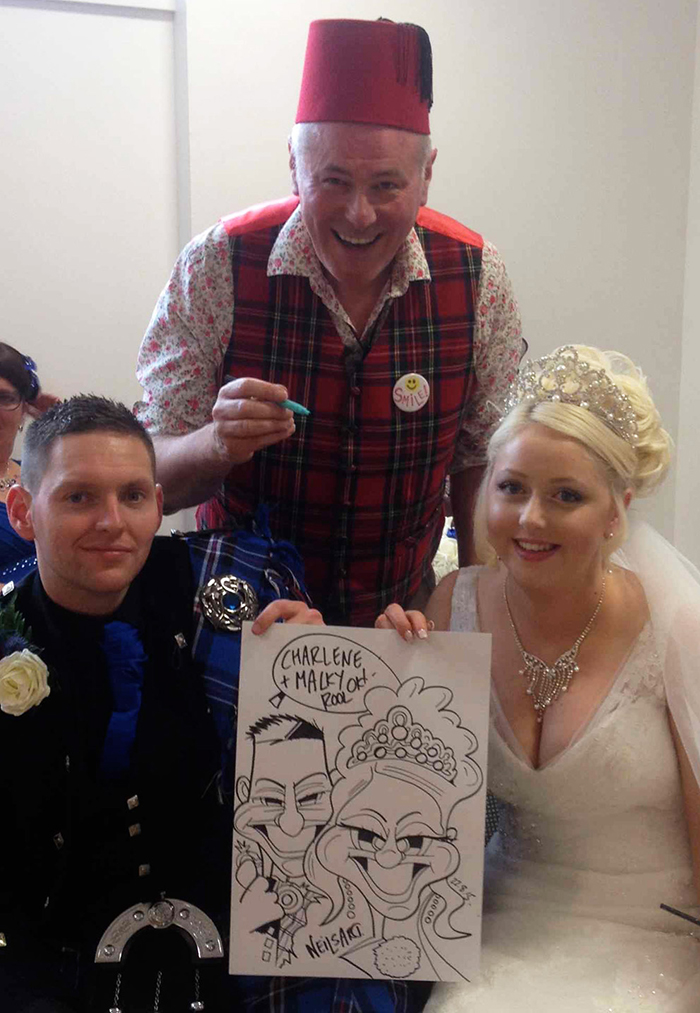 There's nothing like hiring someone to mingle among your guests, sketching them to break the ice, so a caricaturist is a great entertainment option.
Neil Thomson from Neilsart Wedding Caricatures works his way round the wedding guests, drawing quick five-minute caricatures on A3 paper during the drinks reception or dinner.
And evening reception bookings are becoming increasingly popular.
"The drinks reception is a popular choice for on-the-spot caricature entertainment while the bride and groom are having their photographs taken," says Neil, who can draw between 25 and 30 people over a two-hour period.
"Couple caricatures are popular and the drawings are provided free to guests."
You can even book Neil to sketch your invitations.
"The caricature artwork created to be used on the invitations can also be used for other parts of the wedding such as a guest signing board, table plans and order of service," he says.
"The colour artwork can also be framed as a memento of the wedding."
WE'VE GOTTA GET OUT OF THIS PLACE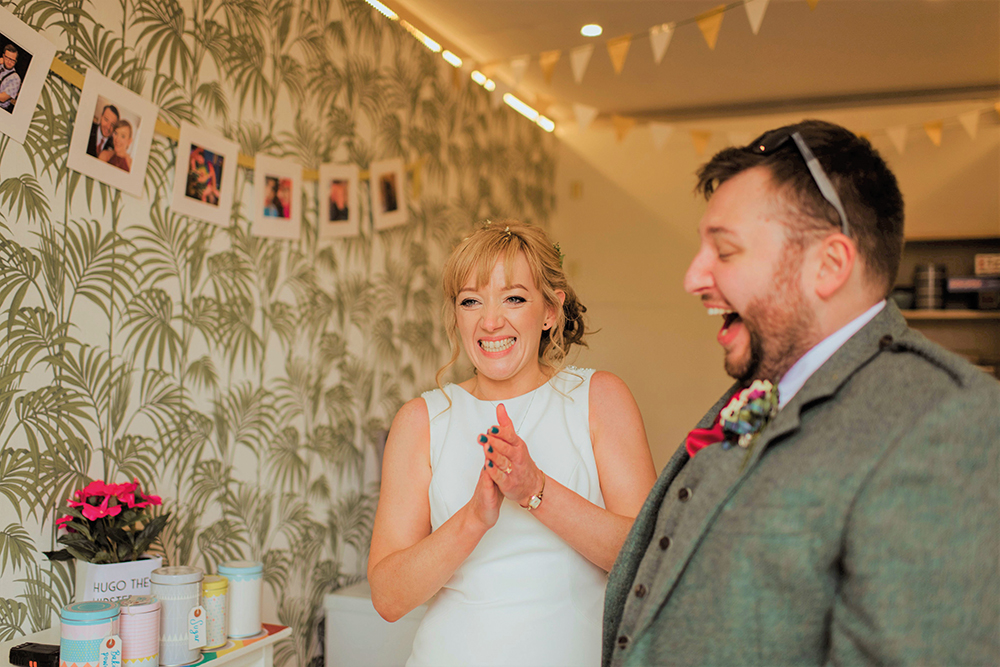 Think escape rooms are restricted to your stag or hen? Think again.
Padlox Escape Rooms can bring their unique escape game on wheels to your venue.
Morven Lyon, creative director says, "The game is personalised to the happy couple and takes around 20 minutes per team.
The Padlox staff host the whole experience.
Whether you are an escape room fanatic or a first-timer, we're on hand to provide an entertaining and memorable experience."
When you book, Padlox will send a questionnaire to gather fun facts about your relationship to add the personal touch to your particular game.
On the day, guests are split into teams of six and around three teams can play per hour, so a four to five-hour booking can entertain 60-80 guests.
However, the game can be made shorter or longer depending on the number of guests.
Typically, couples book the experience to take place post-ceremony with a break for dinner and then carry on into the evening but you could hire it for the day after the wedding if you're extending the celebrations.
ROLL UP, ROLL UP!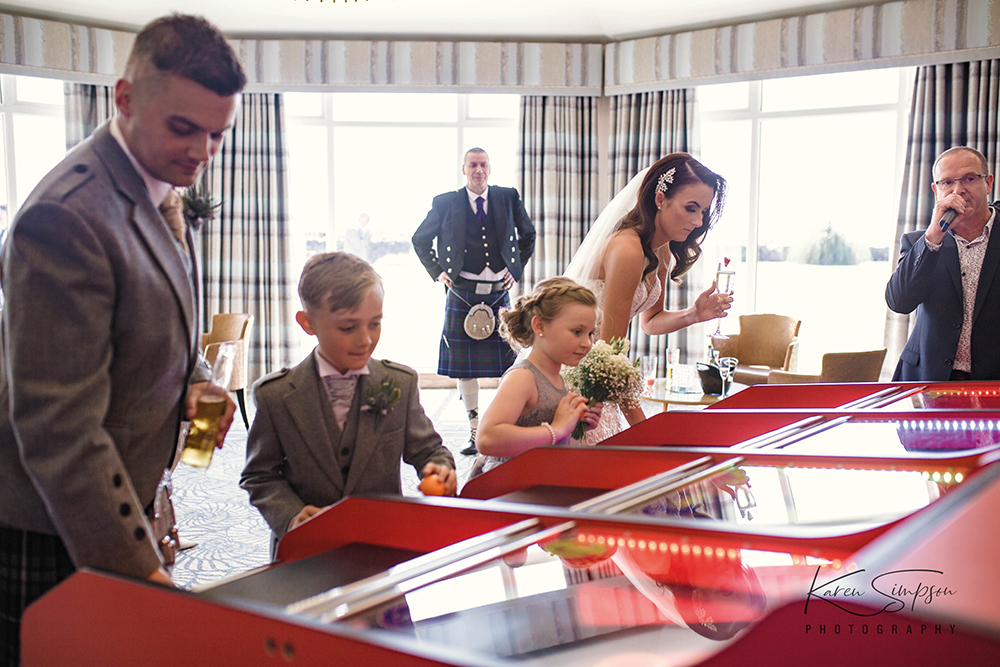 IMAGE | Karen Simpson Photography
If the thought of bringing all the fun of the fair appeals to you, check out AIB Entertainment's Roll a Ball Derby.
This classic seaside game is suitable for all of your guests, whatever their age, and is a great icebreaker as it really encourages audience participation.
Managing director and compere, Alan Burt, says, "Our mobile Roll a Ball Derby is the only one of its kind, based in Scotland.
Each time someone wins a race they are given a 'win' ticket.
At the end, all players redeem their tickets and the three people with the most win a prize."
The game typically runs for three or four hours during your wedding.
Alan says couples typically book them for after the ceremony until dinner or as the early part of the evening entertainment.
"We can also offer a package with two additional games, 'Crack the Code' and 'Giant Buzz Wire'," he says.
SING IT LOUD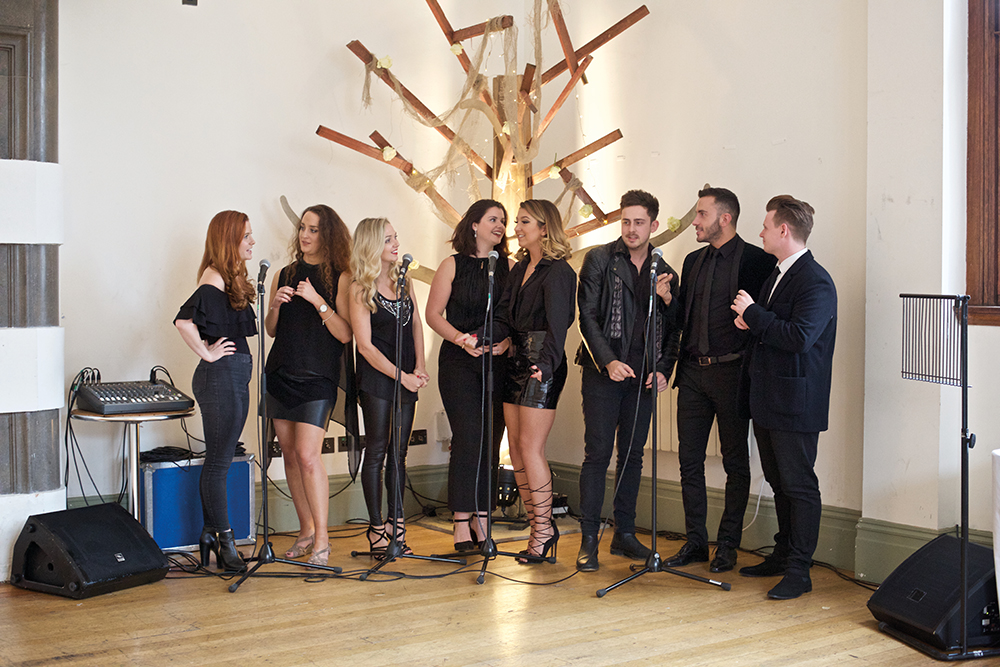 With GeO Gospel Choir you can inject your day with the warmth of soul music.
"We really appeal to any couple looking for that more bespoke and unique kind of entertainment – from boho festival weddings to traditional Catholic church weddings to more intimate civil ceremonies," says choir director Gerad McArthur.
The choir can vary in size but Gerad recommends booking the eight-piece ensemble for a strong visual impact.
Plus, he says, "when it comes to gospel, bigger always sounds better."
You can book them to perform during your ceremony, drinks reception or even your first dance.
What's more, they can personalise their repertoire and learn specific songs for you, though that will factor into the cost.
"We have a song list of 25 songs which are regularly updated to keep things current, and it's not just traditional gospel songs we sing," says Gerad.
"As part of all our wedding packages, each couple has the option to request a song and we would write and structure a gospel arrangement around this."
POKER FACE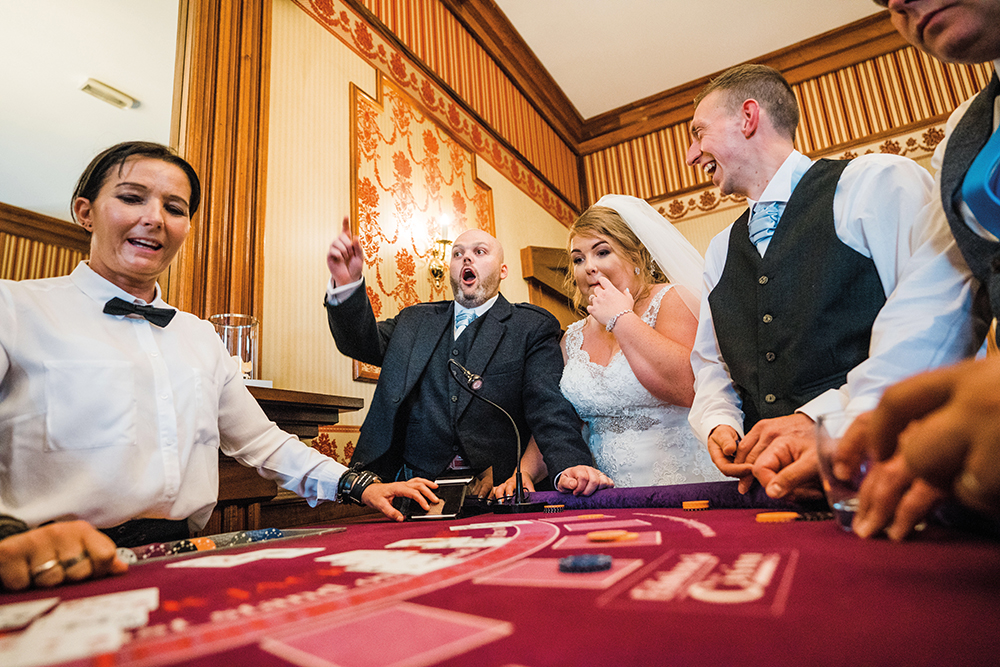 IMAGE | Lifetime Photography
Add some full-on Vegas pizzazz to your wedding by setting up your very own casino.
If this sounds your bag, check out The Edinburgh Fun Casino Company who let couples choose from Roulette, Blackjack, 3 or 5 Card Stud Poker and Baccarat.
Each guest is issued a fun money voucher which they use to buy-in at either of the gaming tables and the dealer will exchange it for chips.
They can then game, gamble, win and lose.
And for a sweet touch, they can personalise the fun money with an image of you and your other half alongside your wedding date and a message to guests, or anything else you fancy.
Plus, as it's not real gambling your younger guests can give it a go, too.
As there can only be 12 roulette players and seven Blackjack players at once, guests come and go during the three hours of gaming.
Manager Matt Lee recommends two or three tables for 120 guests.
"We would normally set-up and game in the evening after the wedding breakfast, but we are available for any time of the day, sometimes when the newlyweds are having their photos taken," he says.
ALL THAT GLITTERS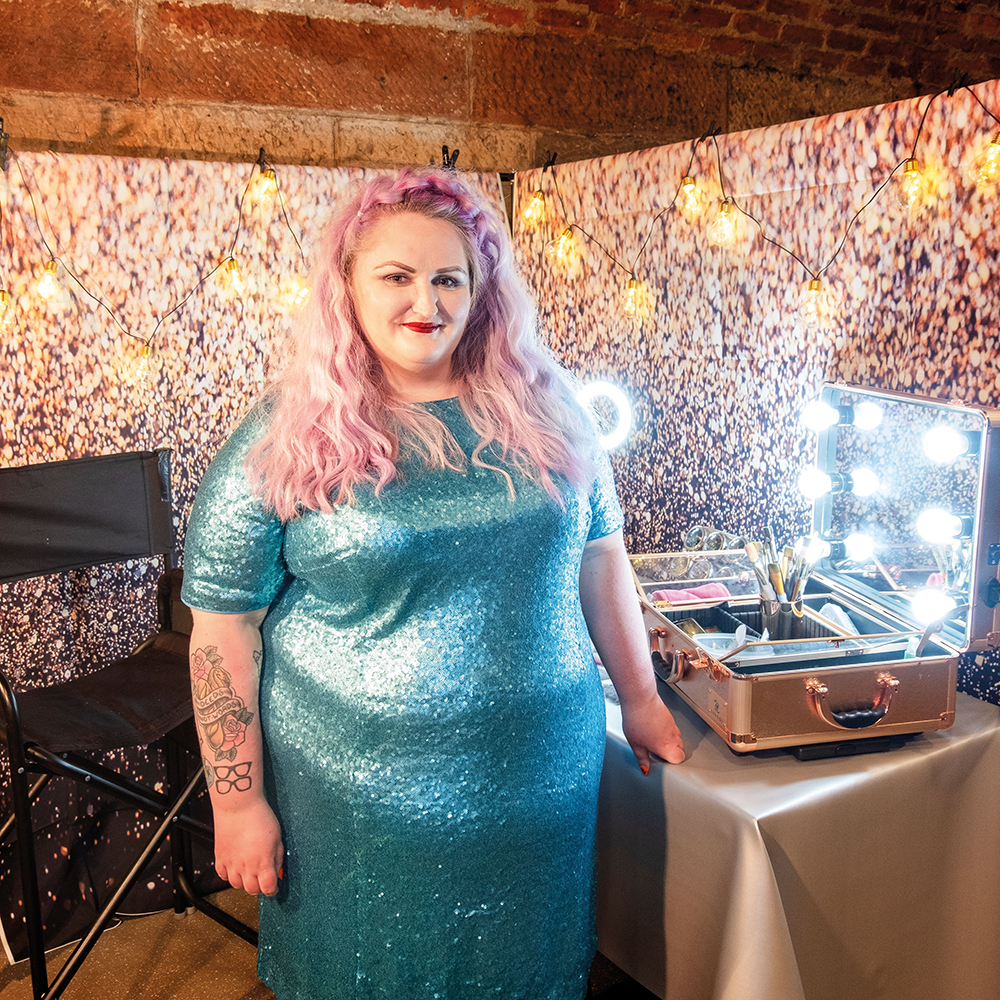 IMAGE | Angela Allison
To create a real festival vibe at your wedding, a paint and glitter bar is a must.
Emma Cunningham from Give Good Face typically sets up after dinner to get everyone ready for the evening party.
"That way I can get everyone's glitter on before they hit the dancefloor," she says.
"The couples I have love fun and want something a little unusual on their day."
Once a couple books Give Good Face, Emma finds out the colour scheme or theme so she can build it into her designs.
She uses handmade gems and works the colours into them so guests have them as a keepsake after the wedding.
You can choose from The Opulent Paint and Glitter Bar, The Grand Glitter Bar and First Class Face Painting.
Emma can also add custom-designed temporary tattoos.
"These can be either added to the Glitter Bar or packaged as wedding favours for the table," she says.
What's more, Emma is working on making her kit more ecologically friendly by using bio-glitter, reducing single-use plastic and banning make-up wipes.
There you go: guilt-free fun.
ARE YOU READY FOR YOUR CLOSE-UP?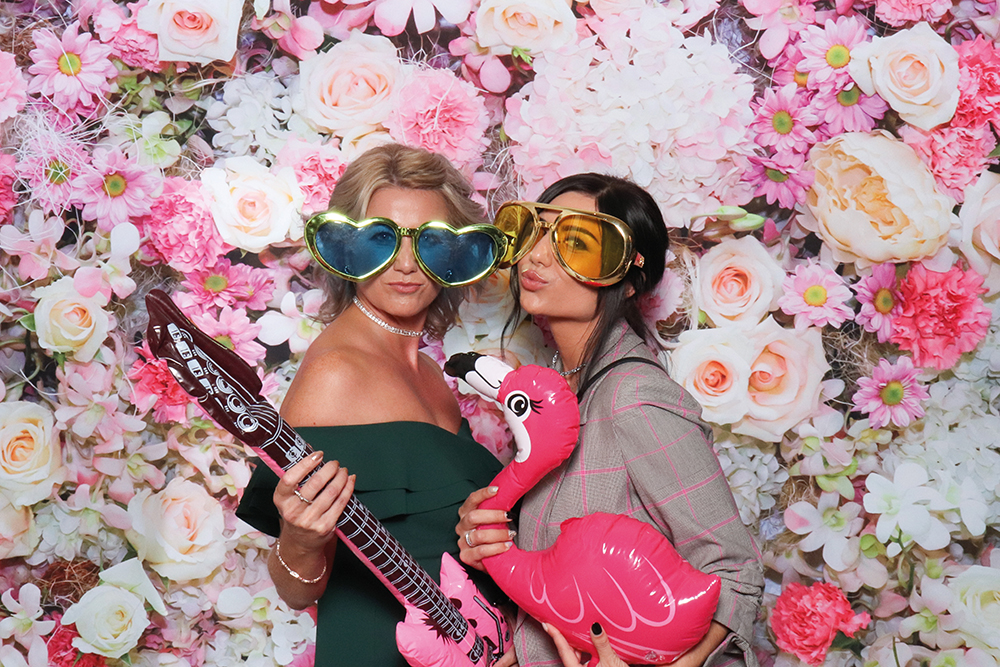 When was the last time you went to a wedding and they didn't have a photobooth – or at the very least a Polaroid station?
Photobooths have become a mainstay of wedding entertainment and it's no wonder.
Justin at Photobooth Deluxe says there's been a swing towards booking them for the very start of the evening reception.
That way there's already entertainment on hand for the evening guests if the meal is running late, and it's a handy distraction if the main room is being changed around.
Photobooths have come a long way from the early days.
Photobooth Deluxe can provide a slow-mo booth, gif booth, video booth, green screen, standard booth hire and a social media print station.
The latter option allows you to pick a hashtag for your day which guests can use when uploading pics.
The company's software then scans for images with that hashtag and the social print booth prints them out, customised with your theme, giving guests a memento from the day while the newlyweds get a special gift box of prints.
SHINE BRIGHT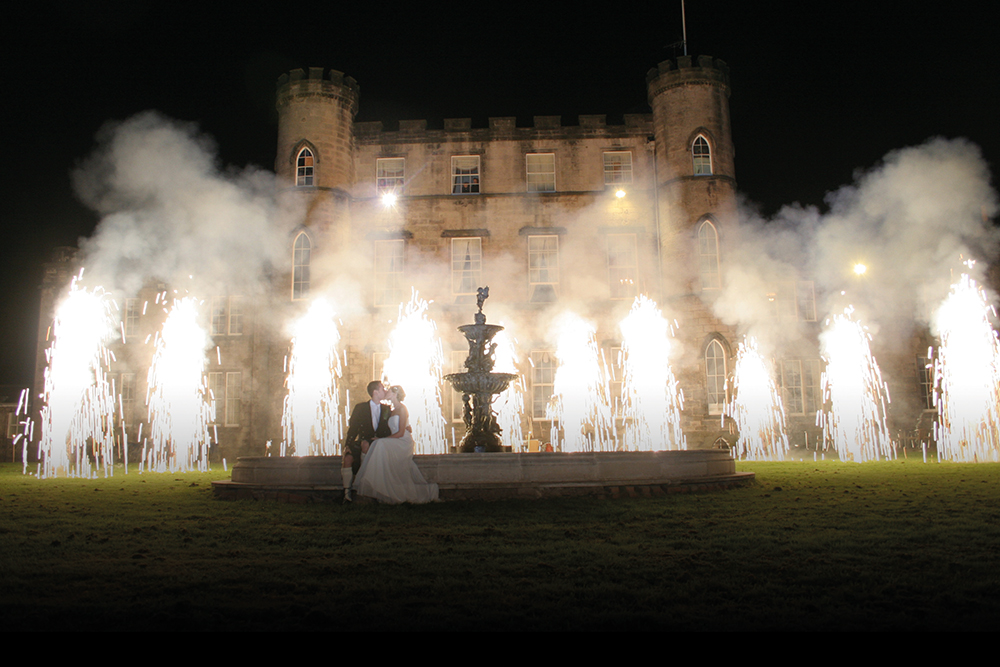 Fireworks bring out the big kid in everyone and spark a party atmosphere.
And when it comes to a wedding display Chrissie Stanners, wedding co-ordinator at 21cc Group, has some top tips.
"Couples can have the show choreographed to the beat of their favourite music, whether that be a pop song or classical piece," she says.
You could also incorporate special effects, such as a Lancework Heart containing your initials.
And new this year is their Rainbow Firework.
"It fires a fan of colour across the sky from red through to purple – absolutely stunning!" says Chrissie.
If you don't want a full-blown fireworks display there's always indoor pyrotechnics.
21CC have a whole range including confetti cannons, table top ice-fountains, and cake cutting fountains.
There's even a bubble machine where the bubbles can be filled with smoke and highlighted in colour using LED uplighters.
"These can all be used to add special touches throughout the day from the ceremony to the evening reception," says Chrissie.
HAVE YOU CHOSEN YOUR WEDDING ENTERTAINMENT YET?