7 ways to make your Scottish wedding as eco-friendly + ethical as possible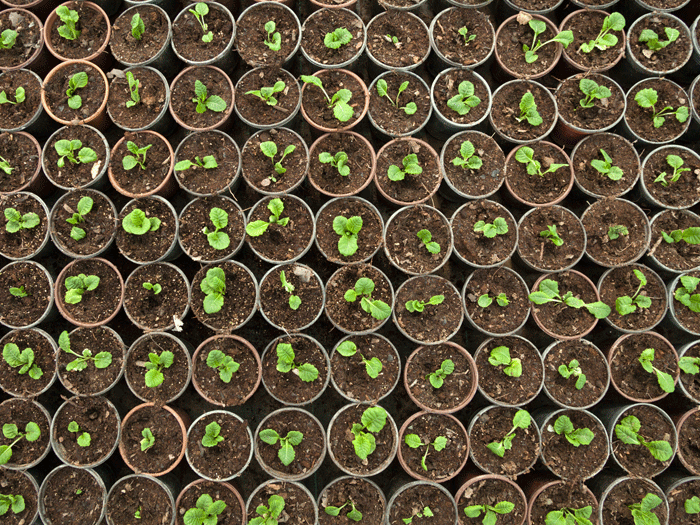 Thinking of ways to make your Scottish wedding as ethical and eco-friendly as possible? Claire McPhillimy discovers simple ways that you can give something back with your wedding…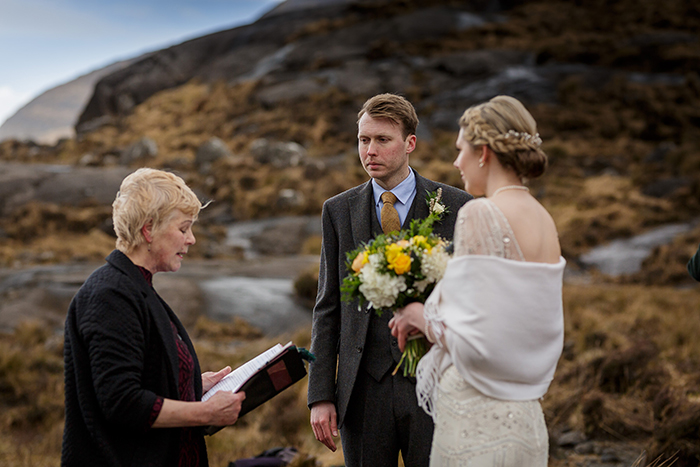 IMAGE | Lynne Kennedy Photography
There are really no two ways about it – weddings cost a lot. In fact, the average Scottish couple spends around £31,000* on their wedding which, for most of us, is a huge chunk of change.
And although you know it's going to be worth it, it's understandable if the current balance of your wedding bill makes you feel just a wee bit sick with guilt.
Happily, there are lots of ways you can ensure that your money is being well spent, not only in pulling together the day of your dreams but in helping others.
Here's how you can give something back every step of the way…
1. Hire ethical wedding suppliers
One of the simplest things you can do is find like-minded wedding suppliers. Hire a company with a strong ethical focus and you can create the wedding day of your dreams safe in the knowledge that everyone involved shares your beliefs.
Take Next Scene Films, for example, who create beautiful wedding films and work hard to help the environment.
"For every project we are hired for (wedding, corporate or script contest entry) we plant a tree via the World Land Trust. We're currently on 42 trees!" says Matt. "We also donate 5% of our yearly profits to charity – from April 2019, this will be going to the World Land Trust."
Other companies, such as Humanist Society Scotland, are registered charities, which means that in enlisting their services you're helping to fund the work they carry out.
"As a national charity we campaign for a fairer world and our services include community food projects, school visitors and chaplains in universities, hospitals and hospices," explains Lynsey Kidd, Director of Services at Humanist Society Scotland.
2. Give your guests charity wedding favours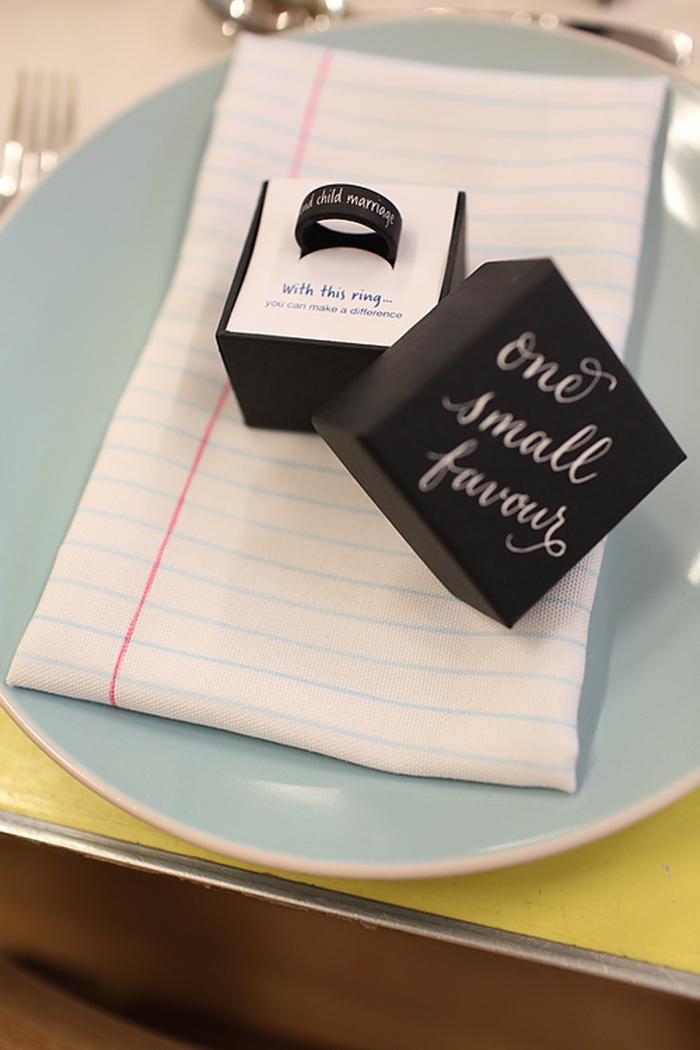 Sourcing a charity favour is a great wee finishing touch that'll let you offer something meaningful to your guests and support a worthy cause. There are lots of charities in the UK that will provide wedding favours, with the money you spend on them acting as a donation.
Cancer Research UK offers lovely pins in varying designs, or individual packets of Forget-Me-Not flower seeds. These unique wedding favours from Plan UK (above) are a great way to support the charity's work in helping to end child marriage across Africa, Asia and the Americas.
3. Donate your wedding day flowers
Why not make like Harry and Meghan and spread the love by donating your wedding flowers?
They shared theirs with patients at a London hospice, but you could speak to a local care home or hospice about sending in your flowers after the wedding.
4. Buy a vintage or second-hand wedding dress
Dress from Those Were The Days Vintage Bridal Boutique
Being careful to minimise waste doesn't exactly sound like the most fun or glamorous of wedding planning jobs, but if you look to the right suppliers, recycling is much more chic than you'd think.
Consider reducing your carbon footprint with a vintage wedding dress.
"There are so many advantages to shopping for a vintage wedding dress, ranging from their marvellous uniqueness and beautiful designs to the fact that you are helping to protect the environment," explains Claire Paterson from Those Were The Days Vintage Bridal Boutique, an Edinburgh boutique that specialises in beautiful, easy-to-wear and romantic vintage wedding dresses.
"Fashion is one of the most pollution causing industries in the world, after oil. Re-wearing old clothes displaces the need to make new virgin fibres manufactured with oil-based petroleum or using cotton – both of which have huge environmental impacts."
5. Recycle old family jewellery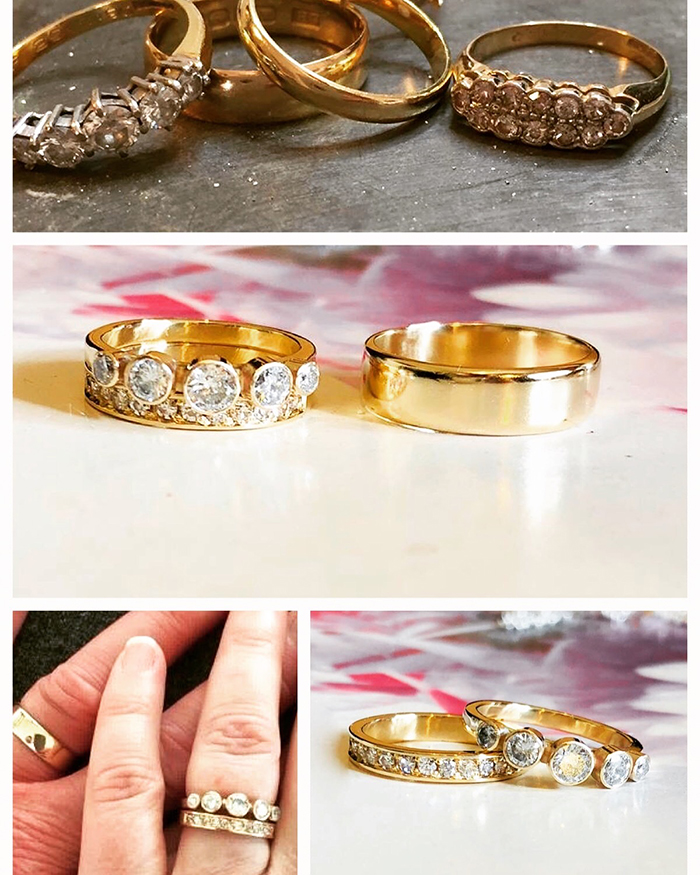 Jewellery from Sweet Rosie Jewellery
When it comes to your wedding rings, why not repurpose the stones and metal of jewellery you or your family no longer wear?
Rosalind from Sweet Rosie Jewellery offers a special remodelling service to do this, and it's not just environmentally friendly – it's budget friendly too.
"You'll be able to reduce costs (buying gold can be pricey) and create a new design that retains all the sentimental value of the jewellery," explains Rosalind.
6. Create a guilt-free gift list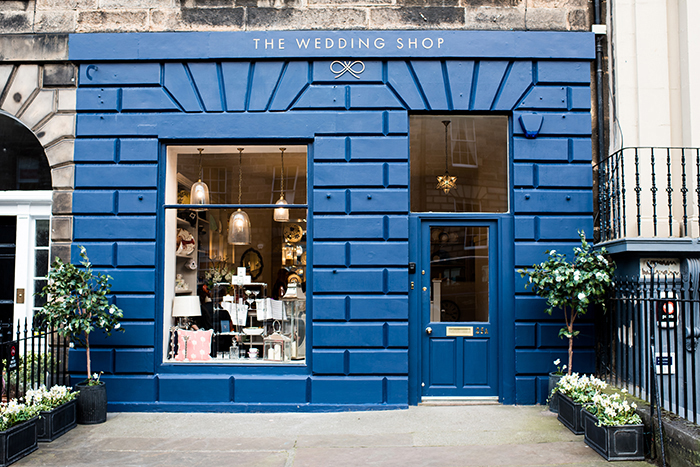 If like many couples you're already living together and don't need any gifts to help you set up home, ask guests to donate money to your favourite charity in lieu of a gift. You can set this all up through The Wedding Shop, which provides a 'Charity Contribution' option when creating a gift list.
It's basically like setting up your own Just Giving page. You just pick from one of their preferred national charities or choose from any you support (even a local one), add on a little line or two explaining your connection to the charity, let your guests fill in their details and how much they want to donate, and then The Wedding Shop will take care of everything else.
The best thing about doing this through The Wedding Shop is that although you can set a charity contribution as your preferred option, you can also create a gift list at the same time. That way, family and friends can make a small donation and buy you both a gift to celebrate your wedding. Plus, The Wedding Shop partners with lots of ethical and sustainable living brands, so even your non-charity gift list can still be thoughtful!
7. Book an eco conscious honeymoon
Even once your wedding is over, there are still plenty of ways to give something back.
If you're an eco conscious couple, look to the Cayuga Collection for a luxurious and romantic honeymoon in one of their Sustainable Luxury Hotels. From rainforest eco-lodges in Costa Rica to a private island in Panama, you'll find no shortage of eco-friendly options.
If you're keen to get a little adventurous with your honeymoon, why not use it doing a once-in-a-lifetime experience like volunteering to help with elephant conservation in Sri Lanka? Or put your diving skills to use helping experts survey natural ecosystems in the India Ocean?
Just make sure you do your research properly to find ethical volunteer programs.
Want to make your Scottish wedding as ethical as possible?