Disabled people shouldn't have to compromise when it comes to their wedding
Wheelchair user Eilean Duncan shares all the extra things she had to consider when planning her Glasgow wedding to partner Greig.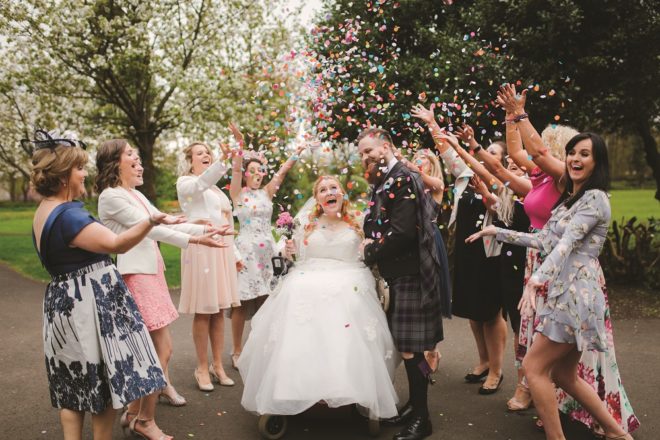 Words by Eilean Duncan | As told to Natasha Radmehr
Let's be honest: spontaneity is a luxury not often afforded to wheelchair users.
If you take a sudden notion to go on a day trip by train, you need to give the station staff 24 hours' notice so they can arrange to meet you on the platform with ramps.
If your friend hears about a last-minute gig, you need to first find out if the venue is accessible before deciding if you can go or not.
Planning a wedding for a disabled bride, groom or guest is no different.
Most things are possible – they just take a bit more forward-planning and careful thought.
I only wish I had realised this before I left most of the planning for our wedding until the last minute.
After getting engaged, we got our biggest decision out of the way first of all.
For us, choosing the venue was naturally the first step. Neither of us were too precious or particular about any aspect of our wedding, but we did have a few criteria points that our venue had to meet.
It'd have to accommodate at least 120 people; be located in our home city of Glasgow (we didn't want guests to fork out for travel or accommodation); and, possibly most importantly, it needed to have good wheelchair access.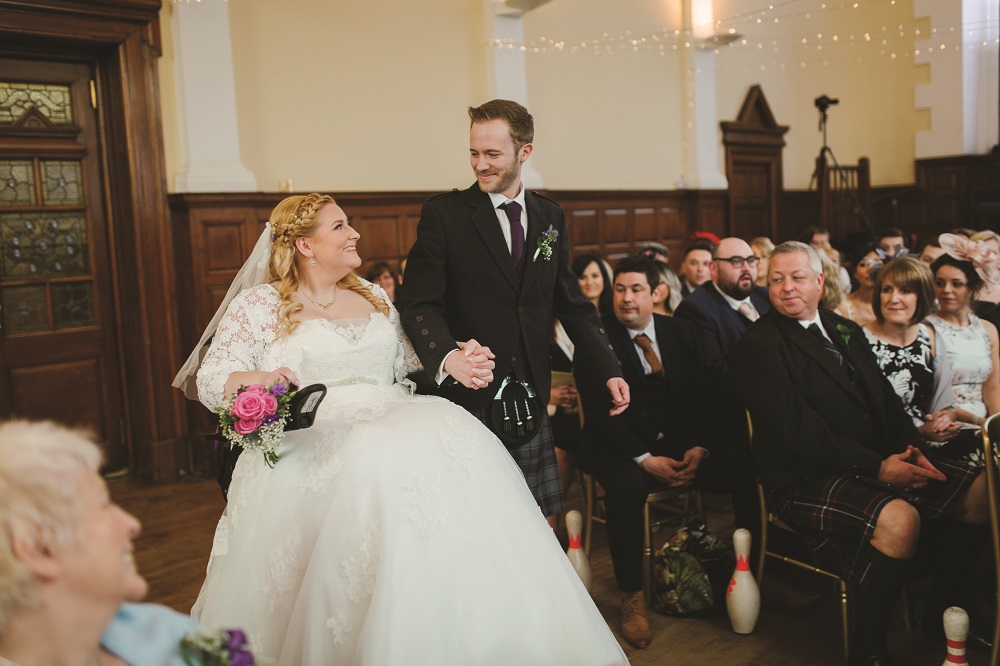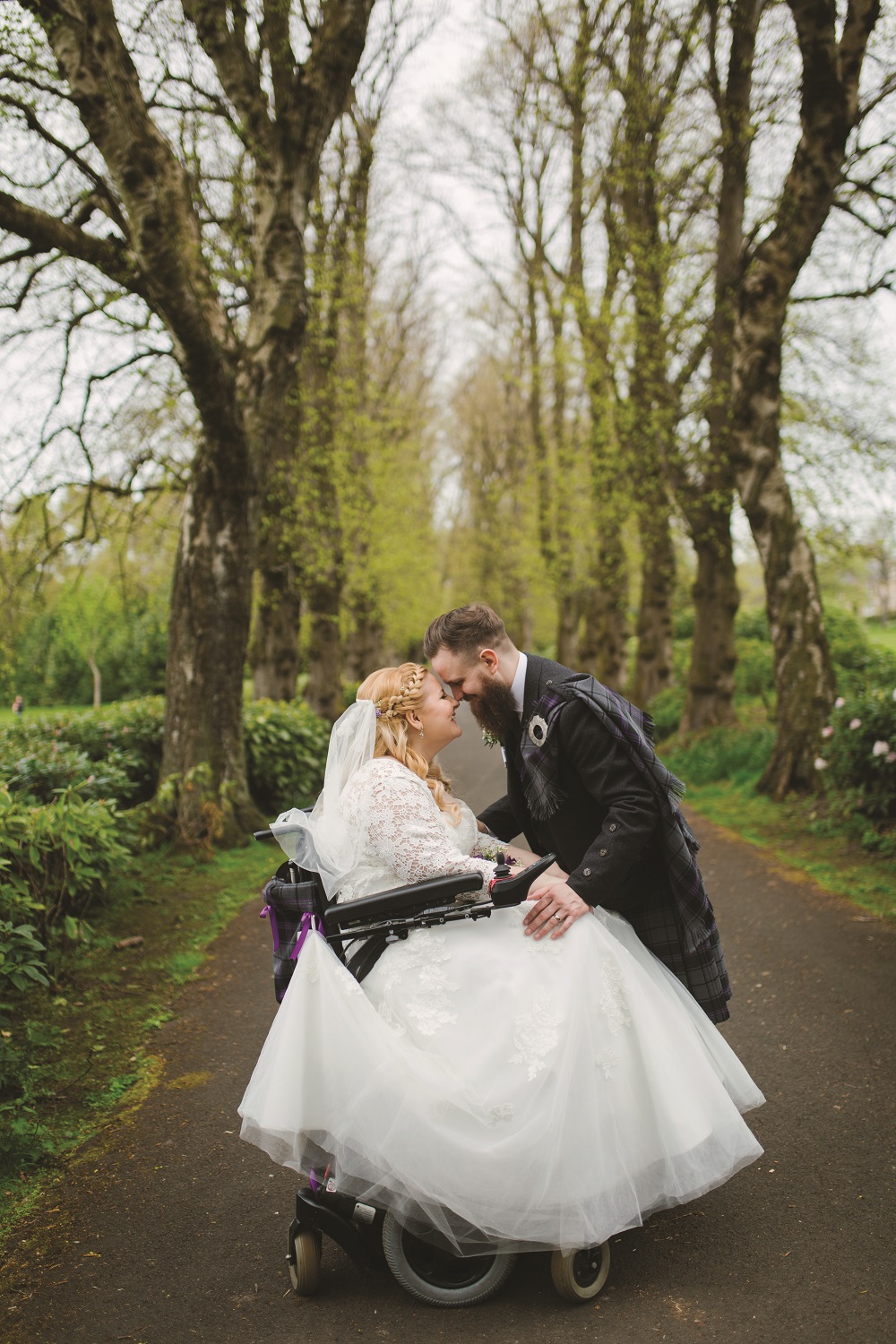 ALL IMAGES | Laura A Tiliman Photography
I've attended many weddings as a guest and I'm always more than happy to go off-road in back lanes to enter through fire exits, parking garages or freight elevators. I call it the "rockstar treatment" and it always adds to the adventure.
But this was our big day and I was determined for once to make my grand entrance through the main door. We compiled a shortlist of the venues that took our fancy and went to visit them all.
I'm pleased to report that wheelchair access has really improved in the last few years. In all honesty, if access was the only deciding factor, we would have had a difficult time choosing the winner. For us, though, Pollokshields Burgh Hall came out on top.
A piece of advice that I would give is to try sitting at one of the dinner tables your venue offers. My legs didn't quite fit under the table comfortably, so we knew to take riser blocks for the legs of the top table.
IT'S CALLED FASHION – LOOK IT UP
Proud of ourselves for booking our venue just one month after getting engaged, we patted ourselves on the back and relaxed. It wasn't until four months before our big day that we realised we still had almost an entire wedding to plan.
In saying that, one thing I'd made sure to plan far in advance was my chocolate labrador's outfit. Zonda is my disability assistance dog from Canine Partners. He is such a big part of our lives and he goes everywhere with me (he was even the one to jump up on my lap and give me the ring box when Greig proposed!). There was no question that he'd be our ring bearer for the ceremony.
My mum used his official working jacket to make a pattern for a slightly more formal kilt jacket. She then got an off-cut of the tartan that the groomsmen were wearing and added it to the bottom of his jacket so that he had his own mini kilt.
I wanted to give Zonda plenty of time to get used to his wedding outfit so he would be comfy and happy on the day. I can't say I was quite as prepared with my own outfit.
FINDING MY DRESS
Unlike most brides, dress shopping was the aspect I was dreading the most.
Trying on clothes in a wheelchair is challenging at the best of times so I usually try things on at home and send them back if I don't like them.
Unfortunately, that didn't seem to be an option with wedding dresses. I decided I had put it off long enough and I just had to suck it up and go.
After a quick search, I found a shop on the outskirts of Glasgow called Love Your Curves Bridal. It stated on the website that the shop had ramped access for wheelchairs, which was a relief.
Although I wasn't the most traditional bride, I did like the idea of my other half not seeing me in my dress before the big day.
However, Greig is the one who helps me get dressed every day. He knows better than anyone how to lift and move me and so, as I was already nervous about the whole prospect, I decided to take him along with me for support.
I'm so glad I did; it was actually really nice to share that experience with him, and the boutique offers one-to-one appointments so we had the whole shop to ourselves.
I took a small coffee table with me – not usually an essential when shopping for gowns – and rather than repeatedly get in and out of my chair to try on dresses, I sat on the coffee table and dresses were put on me and draped over the table (imagine one of those doll-like loo roll covers your gran used to have).
I found that a lot of dresses are very intricate from behind, presumably because your guests will be looking at the back of the dress for most of the ceremony.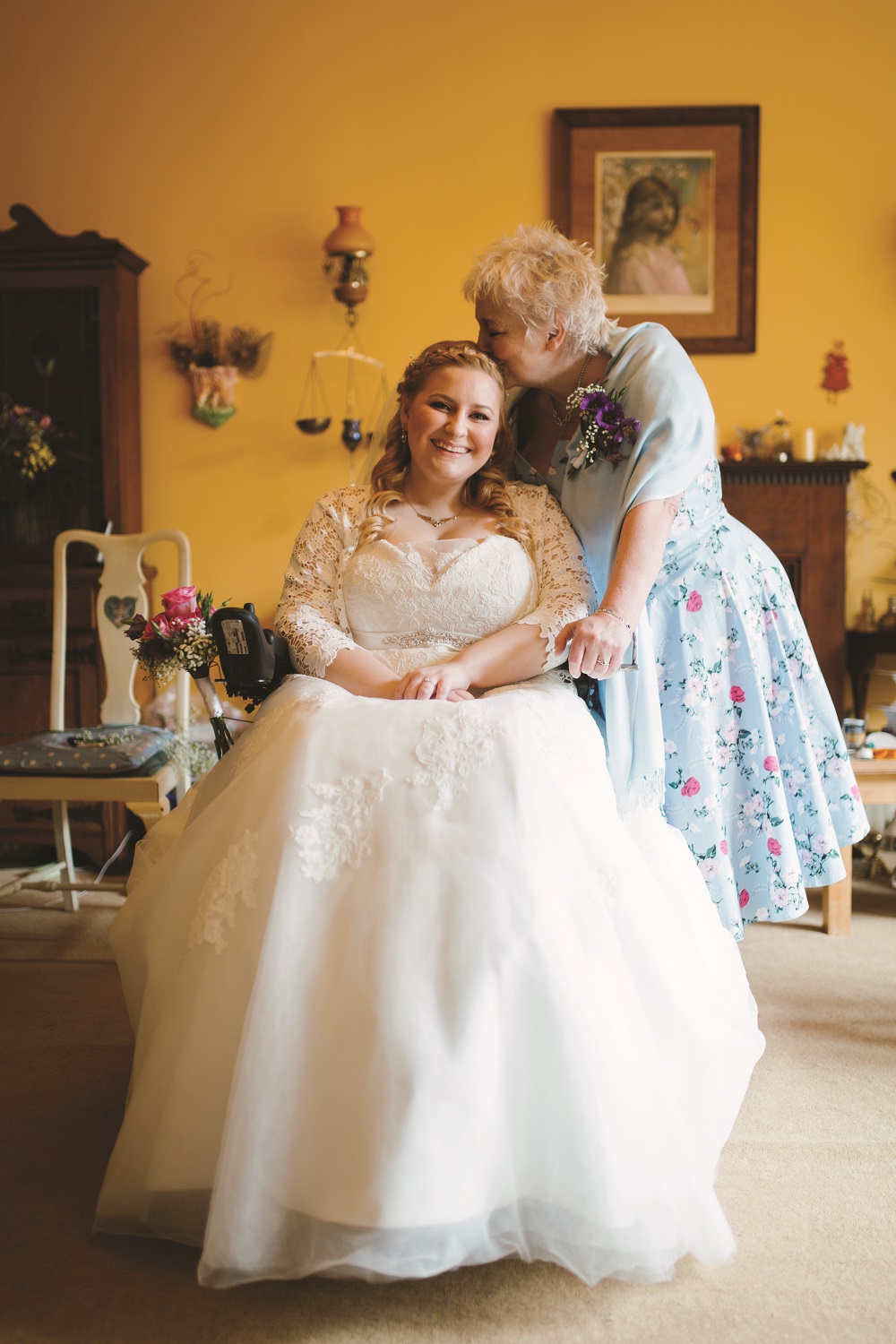 On me, however, this would have been wasted and I didn't fancy sitting on intricate beading for the whole day. Other than this, I didn't really know what kind of dress I wanted. I thought a two-piece might sit better on me, but I was wrong; the bodice was too long for a seated position and so the bust was practically holding my chin up.
After that, I tried on two other dresses, one of which was a contender. But when I tried on dress number four, I instantly fell in love (and if there had been any doubt, the look on Greig's face was enough to seal the deal).
It was the 'Sicily' dress from Callista Bride. I knew there were a few little things I wanted to change but it was definitely the one for me.
The shop assistant couldn't have been more helpful. She put me in touch with an amazing seamstress who, I was told, liked a bit of a challenge – which was just as well because I had a rather unconventional idea!
I decided that to make things as simple as possible on the morning of the wedding, I should cut my dress completely up the back and wear it like a backwards cape.
This meant my bridesmaids wouldn't need to worry about helping me out of my chair to get the dress on and it would also mean I wasn't sitting on multiple layers of tulle and netting. Plus, it'd allow the skirt to cover most of the mechanisms of my wheelchair, which aren't the nicest to look at.
Amanda, my seamstress, was only too pleased to get stuck in with her scissors. Even though it was my idea, watching somebody cut, rip and tear my lovely dress was a scary sight.
Amanda took the dress away to hem the edges and she did an incredible job. Upon learning that my mum is a capable seamstress who just didn't have the confidence to chop in to such a special dress, Amanda even left a couple of minor alterations for her to do.
She said it was important for Mum to be involved and I'm so glad she did because it made it even more special knowing that my mum was a big part of how the dress looked on the day.
For comfort and warmth (I'm always cold) I wore leggings underneath my dress. I also had a pair of killer heels but when I realised that they wouldn't be seen, I decided that comfort over style was the way forward and wore fur-trimmed boots.
Nobody was any the wiser and I was happy, cosy and comfy all day. I'm a bit self-conscious about my arms and I really am always cold so I knew I wanted some kind of cover up.
The day before our wedding we had to go to a shopping centre because we forgot to get wedding rings (no joke).
While I was there I popped into Tesco and happened to find the most perfect white lace cardigan. Being a lover of all bargains, I proudly told all of our guests about how it only cost £20 and they were genuinely surprised that it wasn't part of the dress.
LET'S GET MARRIED!
We planned our wedding on a budget so rather than spending time and money looking for wheelchair-accessible wedding cars, I used my own wheelchair accessible van.
The bridesmaids got a lift down to the venue with a friend and my brother drove my mum, Zonda and I down in my van.
As a surprise for me, he took the van to get washed and valeted and then decorated it with ribbons and flowers. It was a very nice touch and did make the journey seem more special.
It was also a good opportunity for my mum, brother and I to have a moment of calm together before the day kicked off.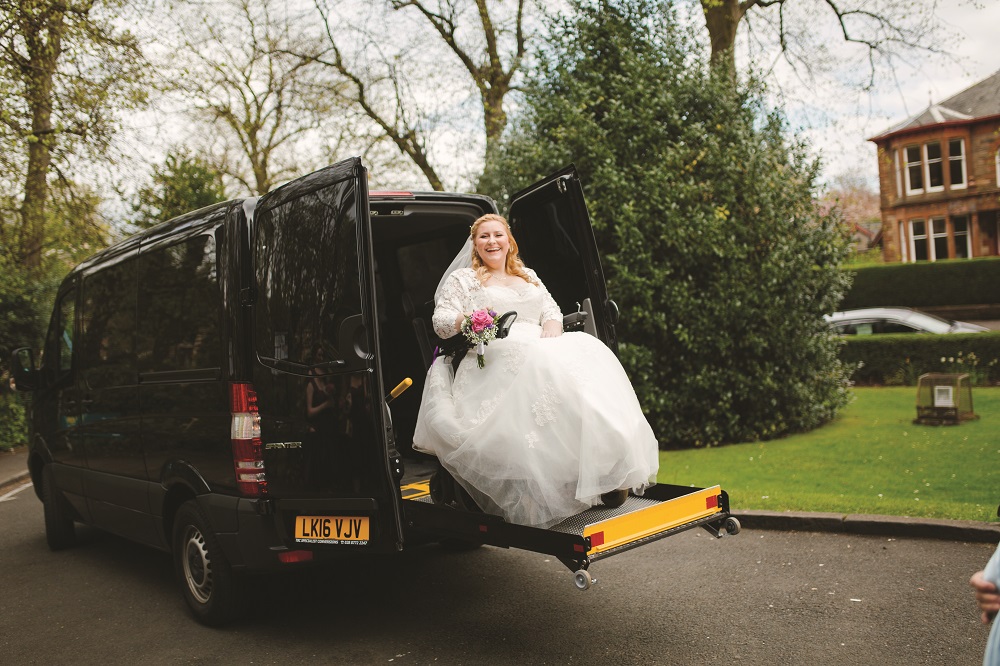 The ceremony was beautiful. Luckily, my wheelchair has a riser function so I was able to sit higher than a normal seated position.
Rather than asking guests to stand for the arrival of the bridal party, we asked them to remain seated.
Personally, I think this is a nice touch for any wedding. It demonstrates a much more relaxed atmosphere and means that everyone gets a good view.
After the ceremony, we were escorted outside to the beautiful Maxwell Park to take photos. It was here that I encountered an issue.
The lift going down to the lower level of the venue is quite small. I had realised this when we had first visited and had discovered the best way for me to position my chair to allow the door to close.
Of course, when I had visited previously, I hadn't been wearing a wedding dress. It was a bit of a squeeze but I did eventually manage to gather up enough of my skirt to allow the door to close – however, for the rest of the night, it wasn't as easy to move between floors as I had thought it would be. That being said, this was the only logistical glitch I encountered which is pretty good going.
SAVE THE FIRST DANCE
Given that my dance moves are mainly restricted to turning in circles, we didn't think there was much point in practising our first dance.
Depending on how you look at it, this was either a huge mistake or a blessing. It wasn't until we got onto the dance floor that we realised Faithfully, our first dance song by Journey, is four minutes and 26 seconds long.
We spent about a minute twirling my wheelchair round in circles before realising that we needed to step it up a notch.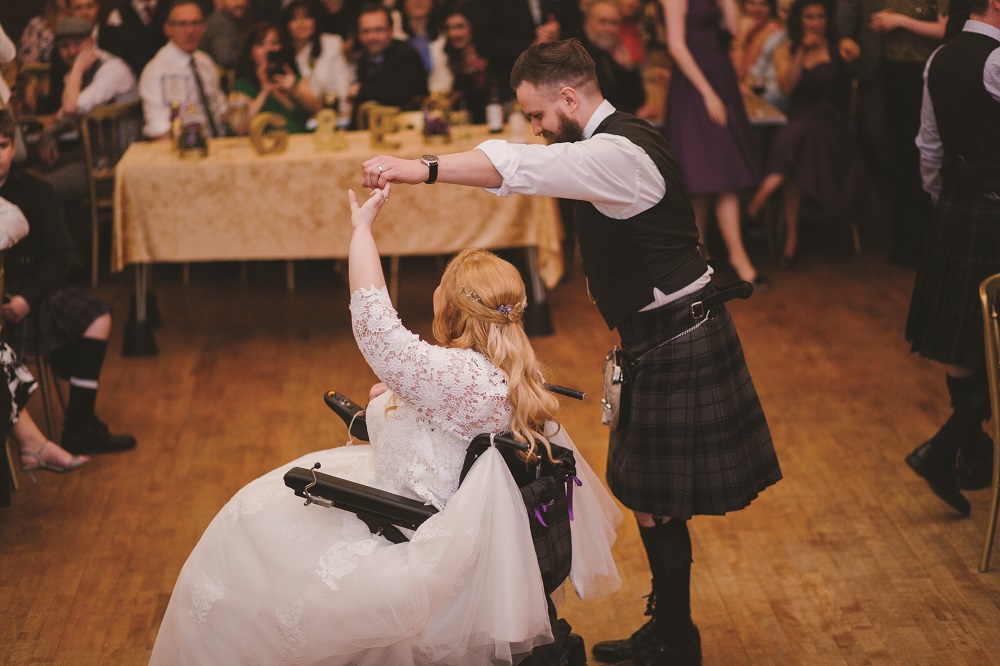 I'm not sure how it happened but the next thing I knew, Greig was on the opposite side of the room throwing an imaginary lasso at me.
Another questionable dance move included Greig running across the dance floor and leaping onto my wheelchair Dirty Dancing style while we spun round in circles (nobody puts Greig the corner)!
It was a welcome relief when the rest of the bridal party joined us on the floor and took some of the attention away from us.
It might not have been the most graceful or polished first dance, but it made us and our guests laugh which set the mood for the rest of the party.
HOMEWARD BOUND
At the end of the night, we decided to walk and roll home together. We could have got a taxi but, more often than not, they send the wrong type of car with the flimsy ramps that buckle under the weight of my power chair.
En route, we stopped in at our local takeaway for a late night munch. Greig was still wearing his full kilt outfit and I was still in my wedding dress and also had a 'Just Married' sign on the back on my wheelchair (complete with trailing empty Irn Bru cans).
The guys working in the shop were so shocked that we had actually just come from our own wedding that they gave us free chicken pakora and cheesy chips.
The rest of our walk home was met with horns honking and people hanging out of car windows waving at us. It really was very special.
If you are disabled yourself and you're planning your own wedding, you'll know what to do to suit your needs.
The most important thing is that you don't go without something that is really important to you.
Disabled people so often have to make compromises in daily life but that shouldn't be the case with your wedding.
Don't be afraid to ask for what you want and be sure to plan in advance. If you are planning a wedding and will have disabled guests attending, feel free to ask them candidly about their needs.
Most disabled people won't have many specific requirements and they'll appreciate you taking the time to consider them.
It will also give you and them one less thing to worry about knowing that you've had a prior discussion and therefore won't encounter any surprises on the day.