"Our weddings were postponed, so we found new ways to celebrate!"
Looking for ideas on how to celebrate your wedding during lockdown? We chatted to five couples whose big days have been postponed about how they marked their original wedding date while stuck at home.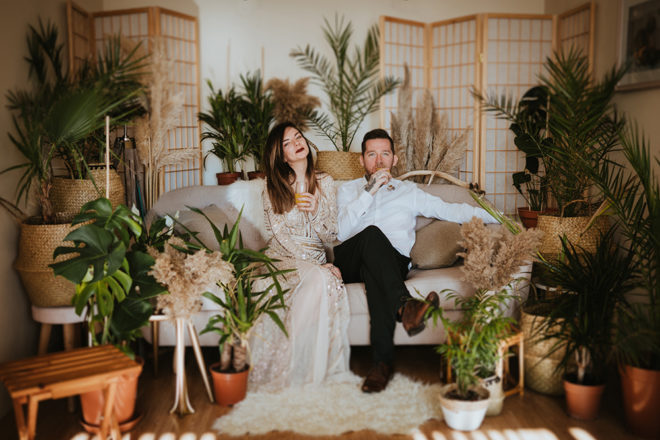 As lockdown continues in the UK due to the coronavirus crisis, many couples have been left with no option but to postpone their wedding. Others who are due to get married in summer have pre-emptively decided to put their celebrations on hold, too, given the uncertainty surrounding when it will be safe to have large gatherings again.
If you're in either of these camps, we really feel for you. There are no two ways about it: it sucks.
But while Covid-19 has the power to cancel a wedding, it cannot cancel love. It also can't remove our capacity to find – or, indeed, create – our own little pockets of joy.
That's exactly what the couples you're about to meet did. Each of them had to postpone their big day, so they decided to mark their original wedding date in sweet and inventive ways.
You might not be able to get married right now, and you will naturally be feeling down about it. But if you feel up to it, you can still celebrate your relationship and have a bloody great time. Here's how to do it!
"We exchanged rings and had a three-course meal"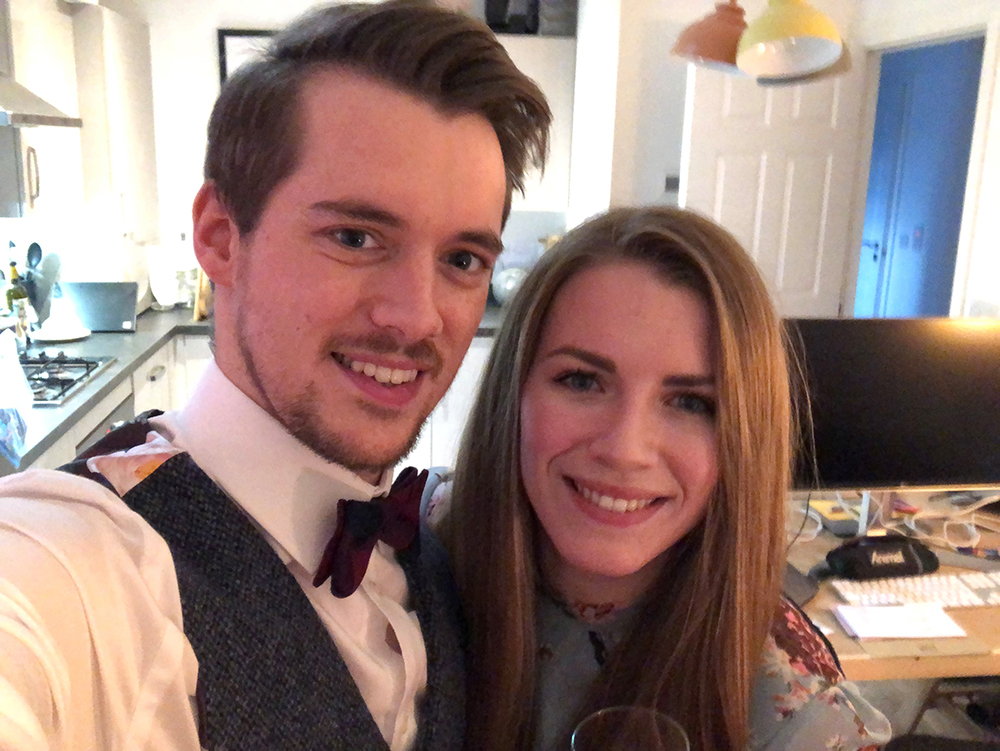 Lauren and Philip were due to be married on 3rd April at Balbirnie House Hotel. "We had planned to still get married just with immediate family there, but unfortunately lockdown put a stop to that," says Lauren. "Our wedding co-ordinator Christine and all our suppliers have been amazing with postponing."
Though the couple felt quite sad in the run-up to their big day thinking of all the things they should have been doing but weren't able to, they say it was a relief when 3rd April arrived. "We decided to celebrate it as much as we could," says Lauren.
"We started the day by reading our 'reasons why we love the other' reading that our humanist celebrant ask us to write, and after that we exchanged our rings. It felt so special to have our own ceremony, in our pyjamas and over a cup of coffee."
They watched a movie on Disney Plus afterwards with a glass of fizz, then got dressed up for a Zoom call at 2pm (when their ceremony was supposed to be) with family and the bridal party. "Throughout all this we had lots of flowers and gifts delivered," says Lauren. "It felt like a real celebration!"
Later, Philip's work arranged for a three-course meal to be delivered, and the couple also ordered cheese and goodies from their favourite place in Stockbridge. A massive quiz with family and friends followed.
"We definitely feel married, even though the legal part hasn't taken place. Although our day didn't happen how we originally planned it, 3rd April was still a really special day," says Lauren. "We plan on getting legally married as soon as we can, and having our celebration at Balbirnie House on November 20th.
"Our neighbours partied in the street with us"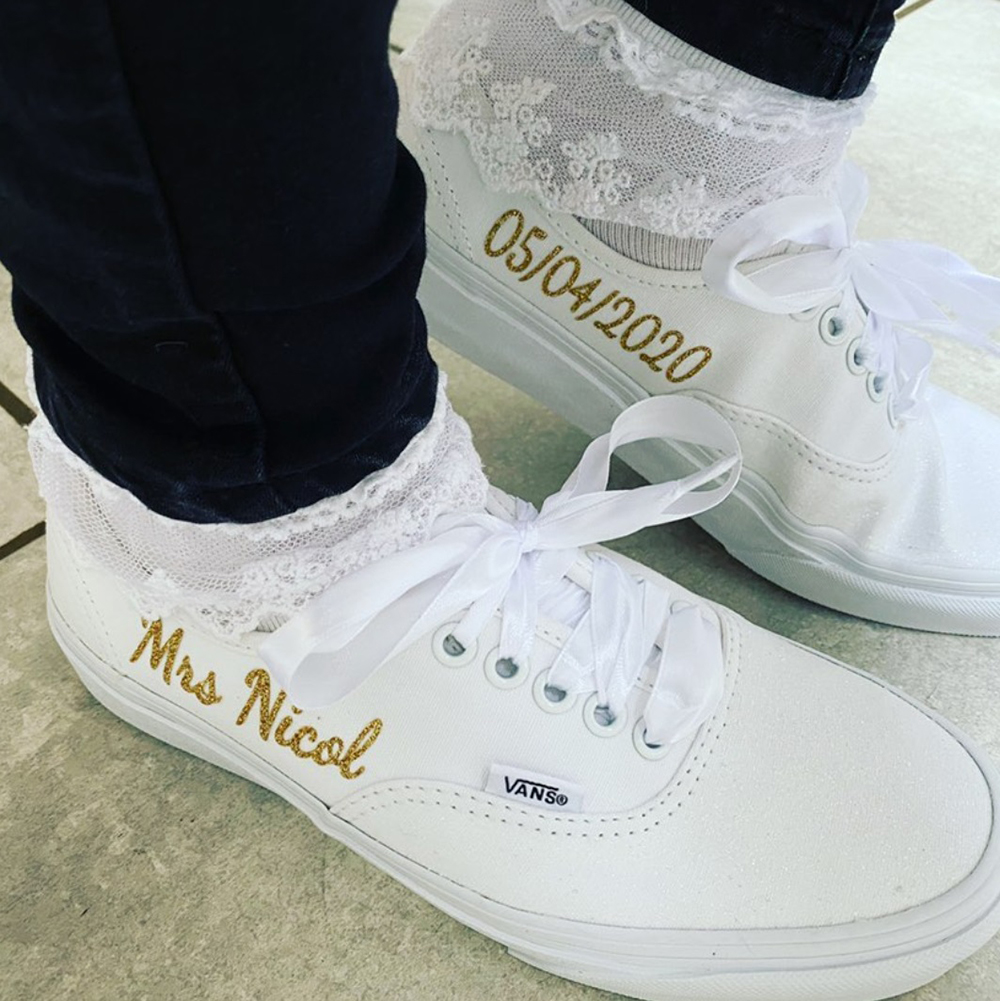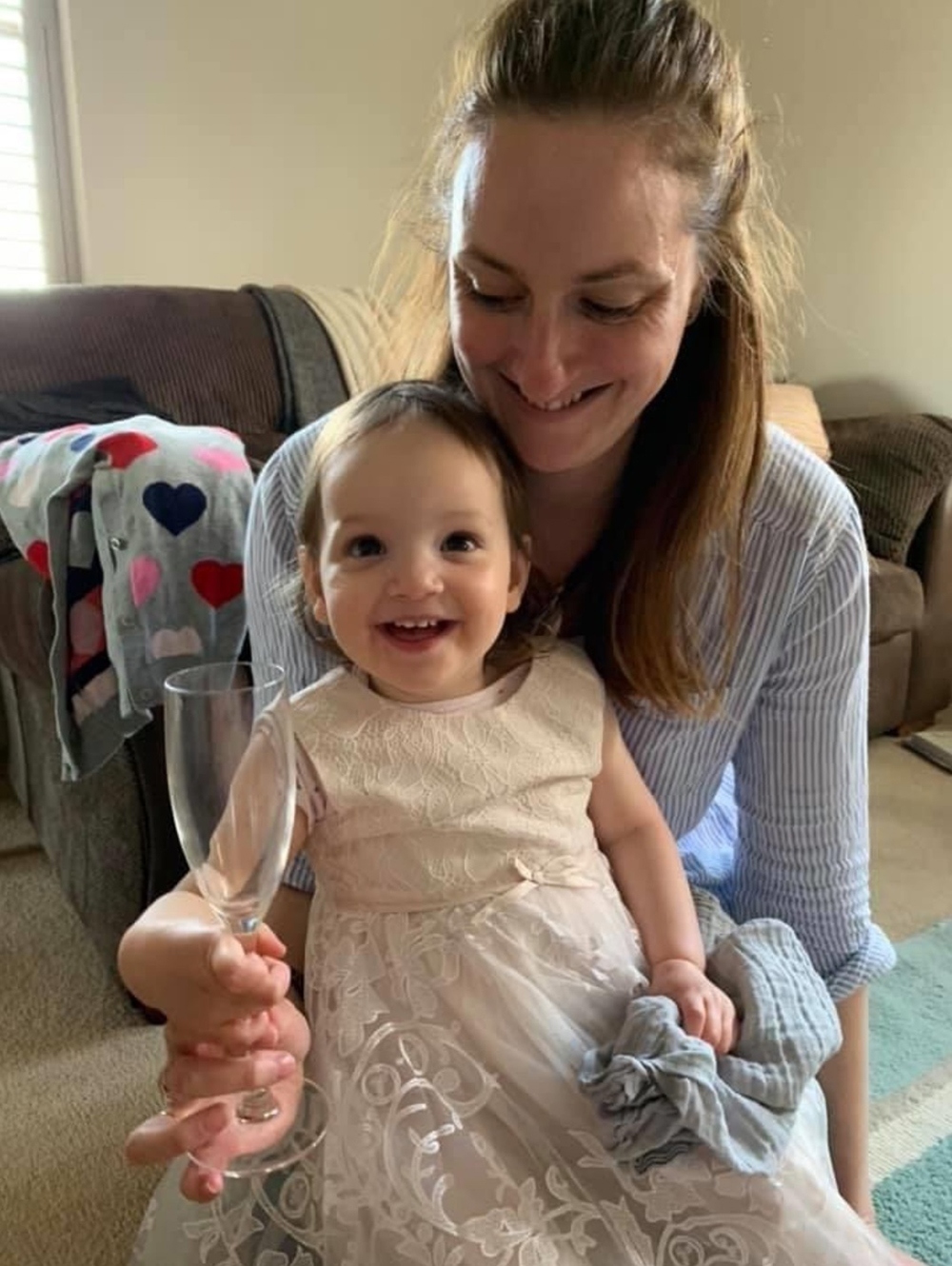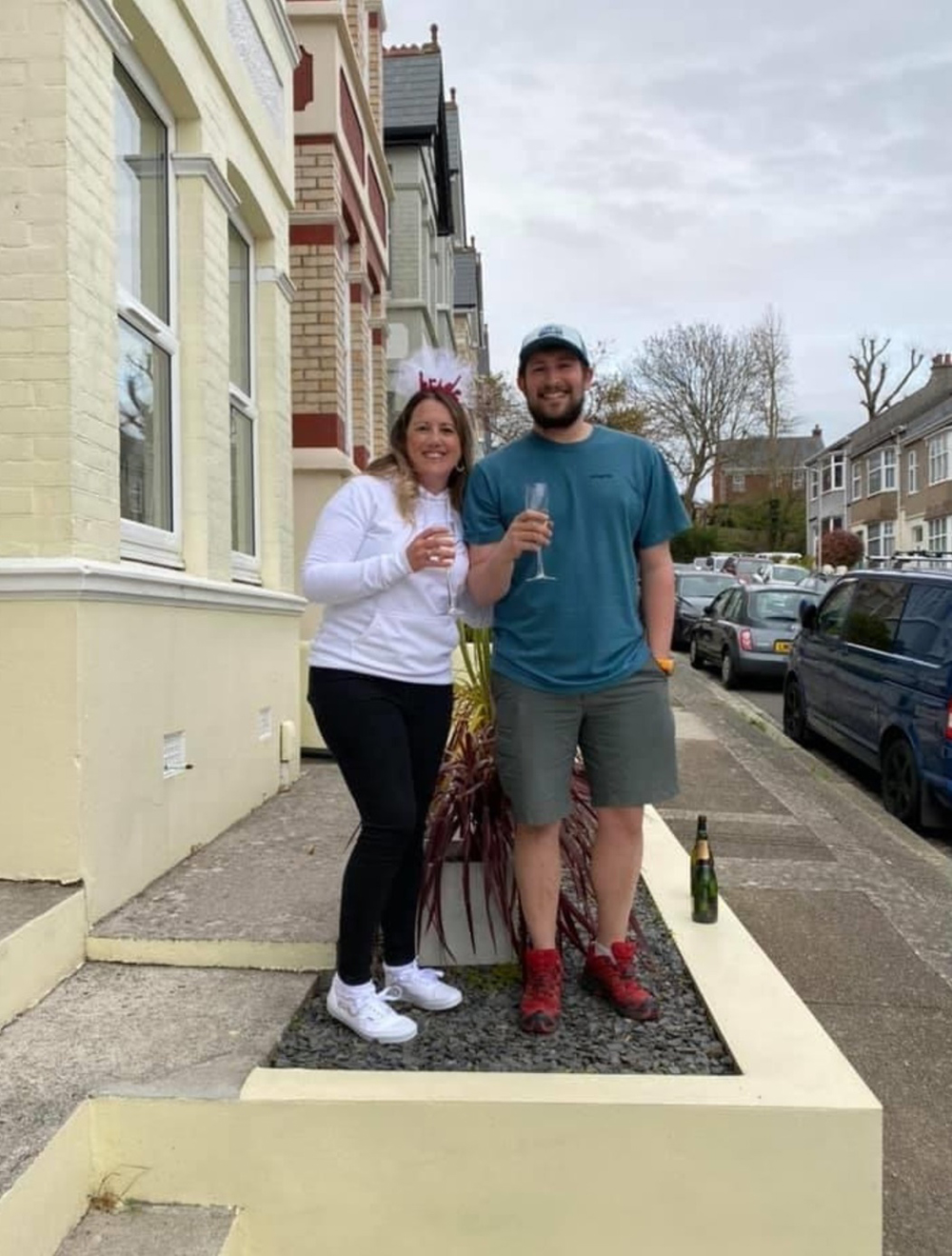 On 5th April, Zoe and Alex were supposed to tie the knot at Errichel, Aberfeldy – but their big day is now set to take place in December, eight months later than originally intended.
That didn't stop the pair from getting into the celebratory spirit, though!
Through their street WhatsApp group, the couple had a socially distanced party outside. "Our neighbours were two metres apart at all times," says Zoe.
The bride even wore a cute 'Bride' headpiece and a pair of customised Vans trainers bearing her married name!
"We had a photoshoot!"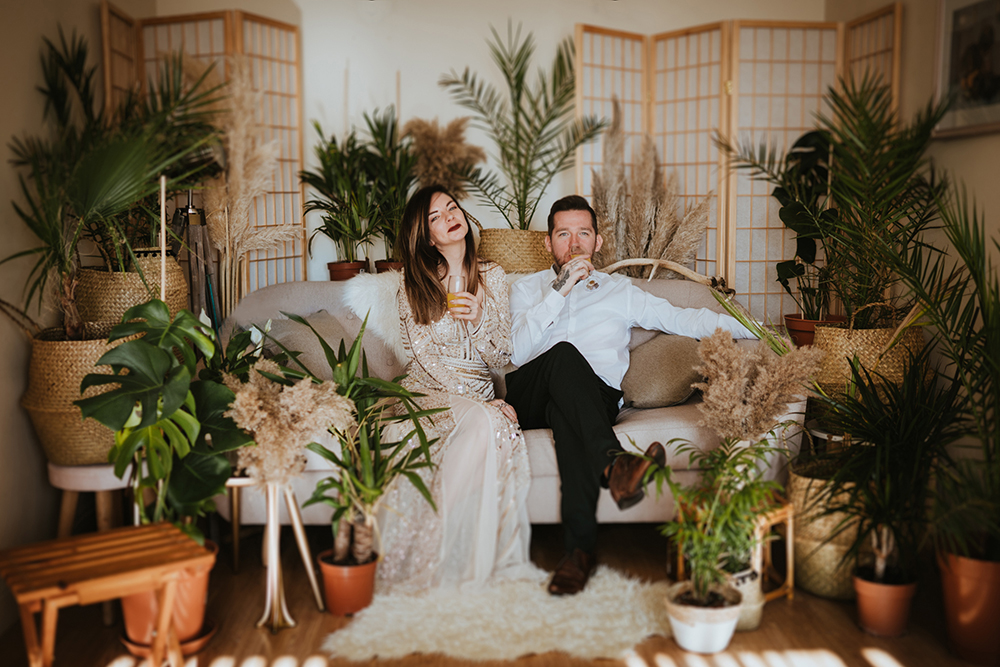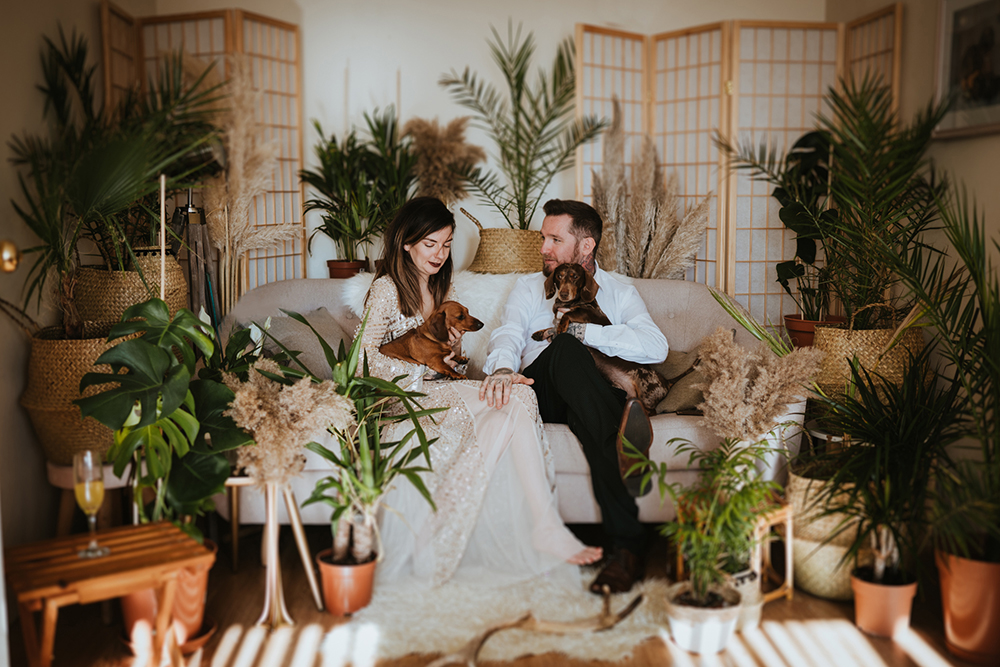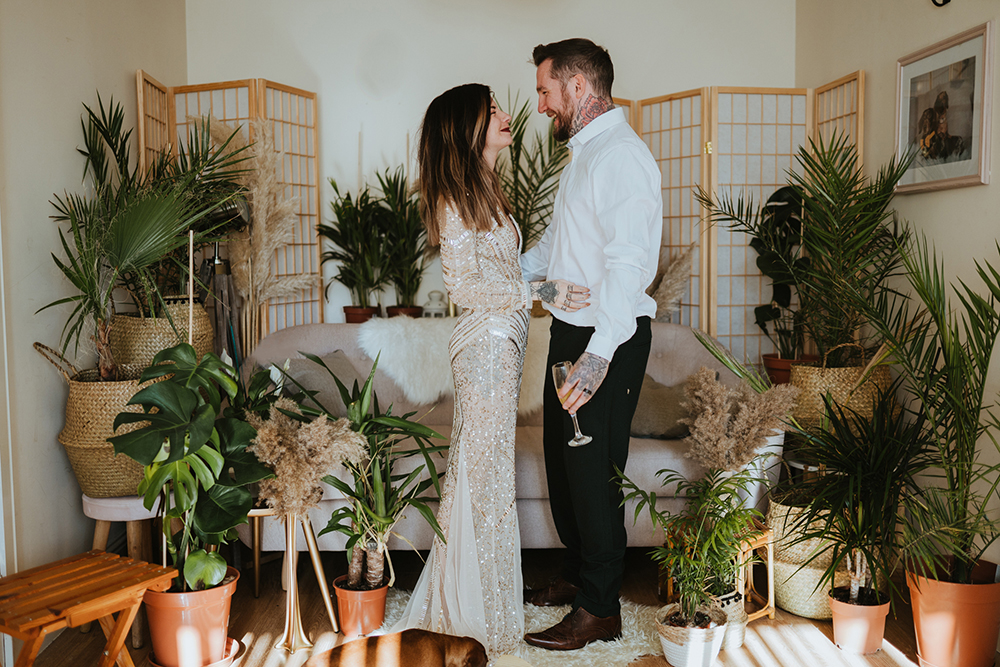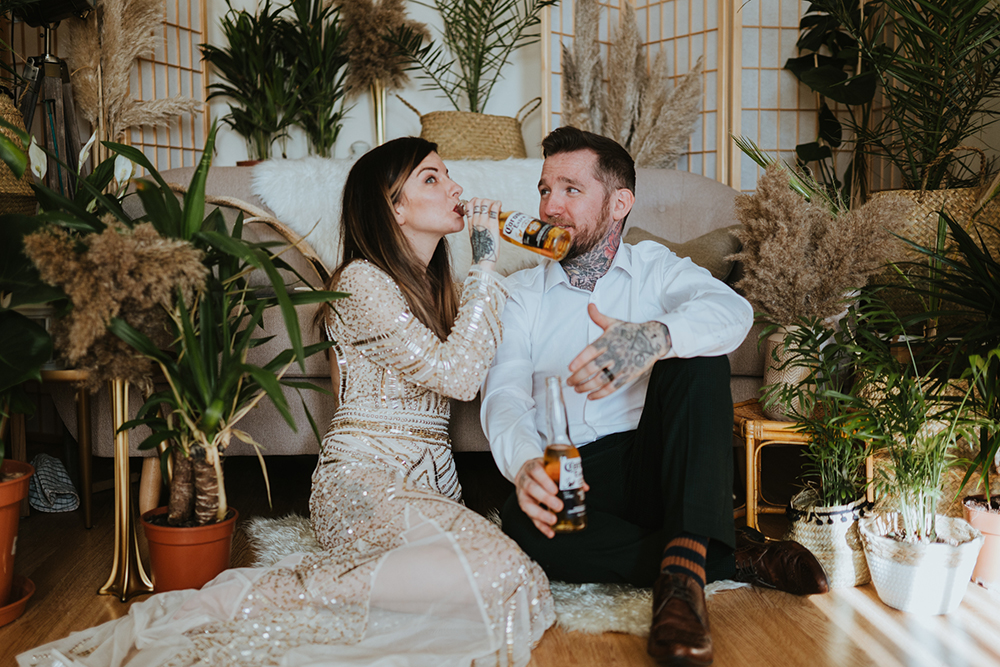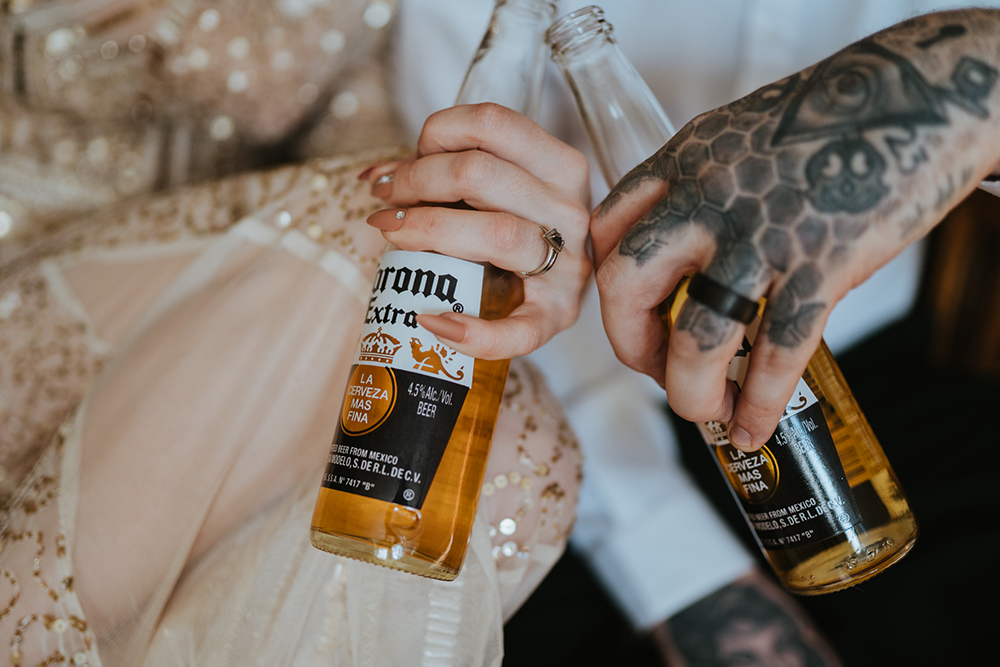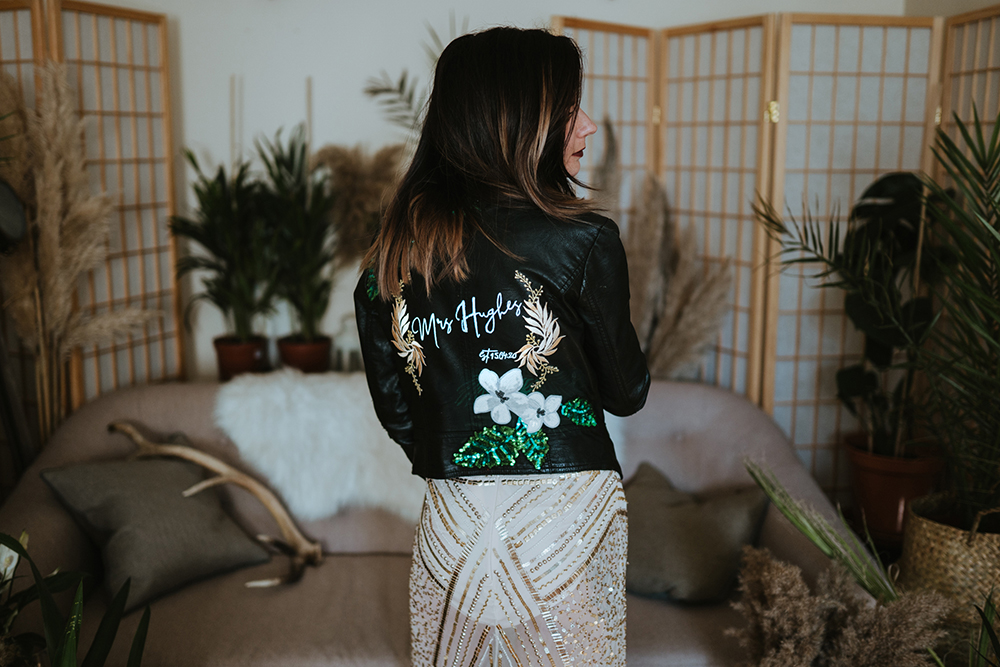 Wedding photographer Jacqui Paterson of Chic Photo by Jacqui was due to get married on 15th April at Inglewood House to partner Tony, but had to reschedule their day to September.
"We were so excited to get married and to have our plans just taken away upset us both – we still wanted that to be our wedding day," she says.
So when 15th April rolled around, Jacqui's creative photographer brain kicked into gear and she arranged a photoshoot in the front room to commemorate the date.
She and Tony got dressed up in their wedding outfits (including a super-cool customised leather jacket for the bride) and prepared the perfect backdrop for their snaps.
"I had been saving up loads of plants for the wedding anyway, so we brought them all together in our living room, had a few drinks and just went with the flow," she smiles. Bottles of Corona were included as a jokey nod to the situation, and their two adorable dogs got involved in the shoot too.
"I used an app to control the camera on a tripod. It was actually loads of fun to do and I'm glad we have something to remember the date by!"
"We had a ceremony and first dance"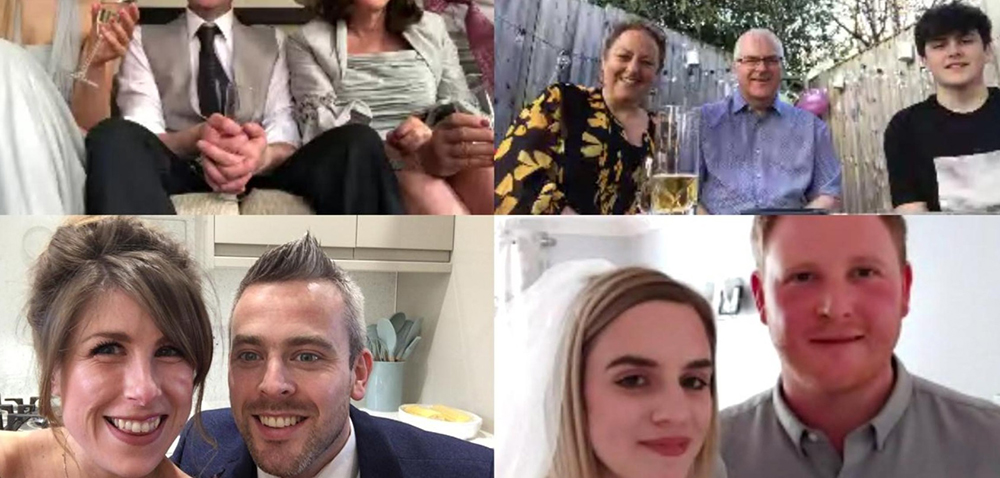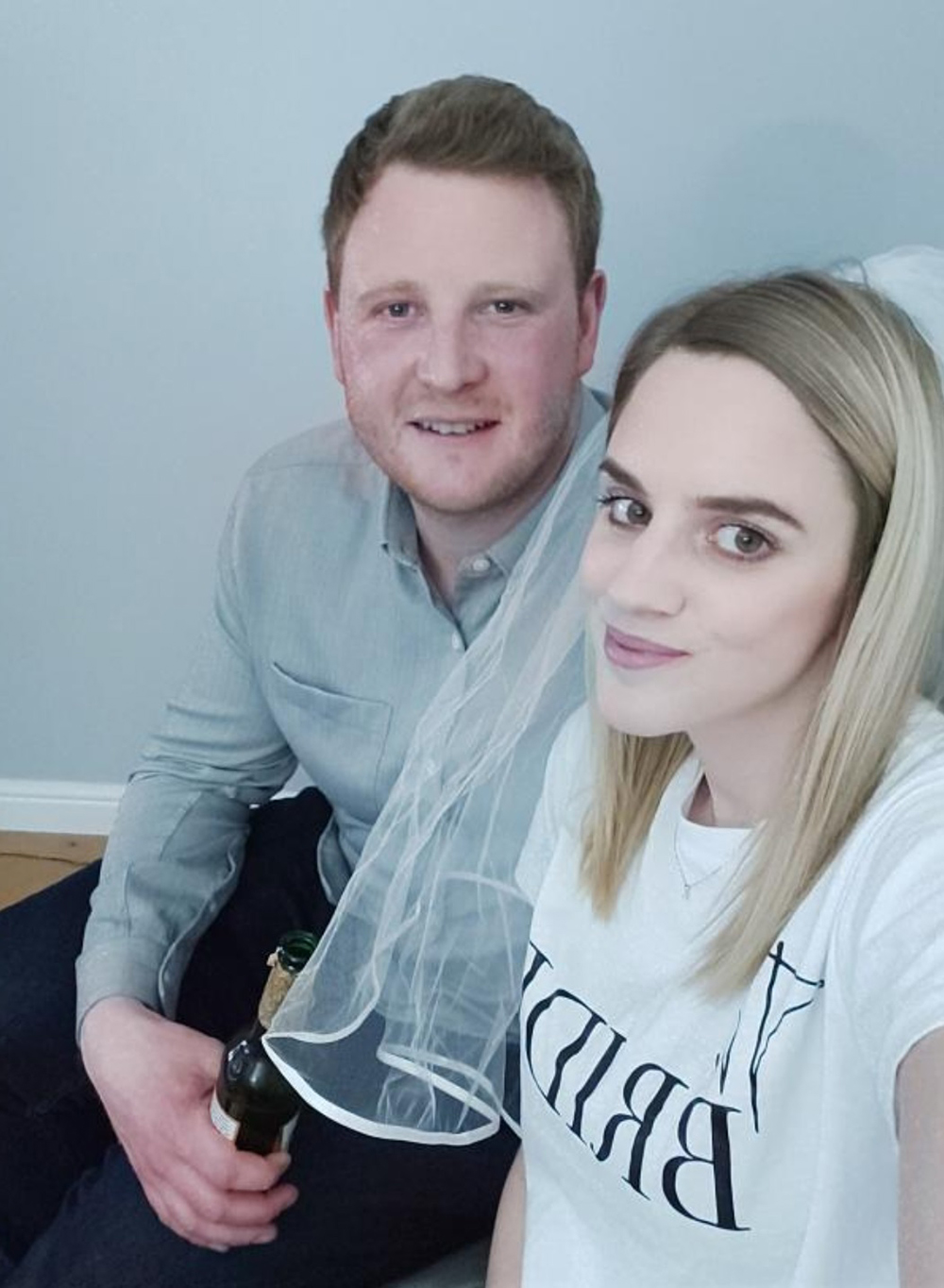 Midlothian couple Jenna and Ewan have been together for over 12 years, and were supposed to get married at Logie Country House, Inverurie, on 4th April. "We were so disappointed when it had to be cancelled," says Jenna.
The pair were able to reschedule their day, which will now take place in February 2021, and decided to get unofficially married at home on their original wedding date.
"Our fantastic humanist celebrant Denise Morton from Humanist Society Scotland wrote us a ceremony, we said some promises and even had a first dance to get us through to our wedding next year," smiles Jenna. "Our family all got dressed up and came on Facetime too."
The couple say their wedding suppliers have all been accommodating of their new date. "Our make-up artist Julia at Platinum Pro Makeup has gone the extra mile and helped me secure a new make-up artist as she was already booked. Everyone has been fab! So helpful in times where everyone is struggling."
"We're recreating our wedding meal"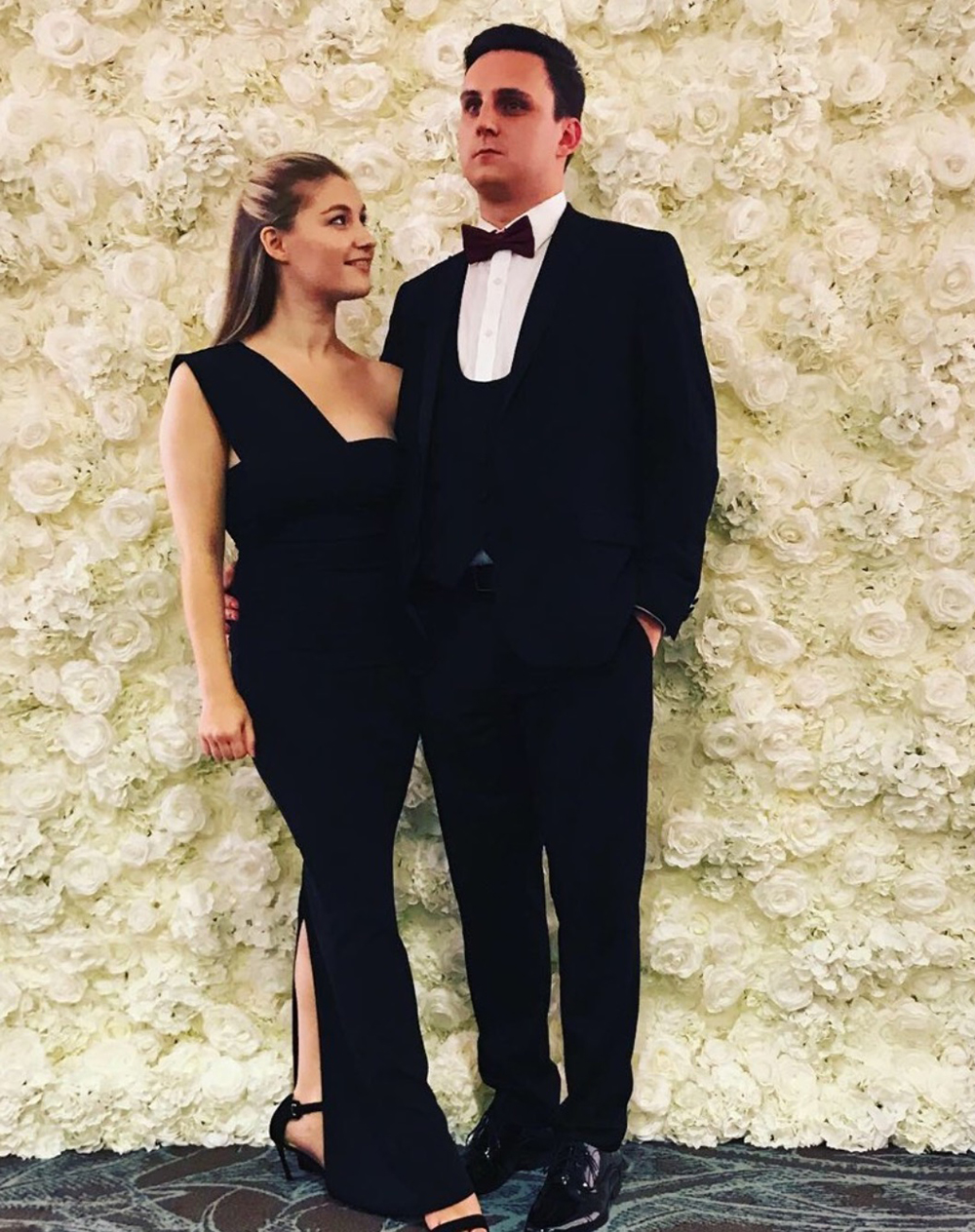 This coming weekend will mark the original wedding date of Abbey and Stuart, who were due to marry on 25th April at the Signet Library in Edinburgh.
And while they won't be saying 'I do', the couple fully intend to make some special memories when the day arrives.
"We are recreating our wedding menu together with a fun cooking date night and drinking our favourite wine to celebrate," says Abbey. "We are actually looking forward to this a lot!"
Abbey and Stuart have been able to postpone their wedding date to December this year, and are now eagerly anticipating their new winter wedding.