The cute moment these primary pupils surprised their teacher at her wedding
When primary school teacher Ms Forbes became Mrs Griffiths, her young pupils came along to wish her well.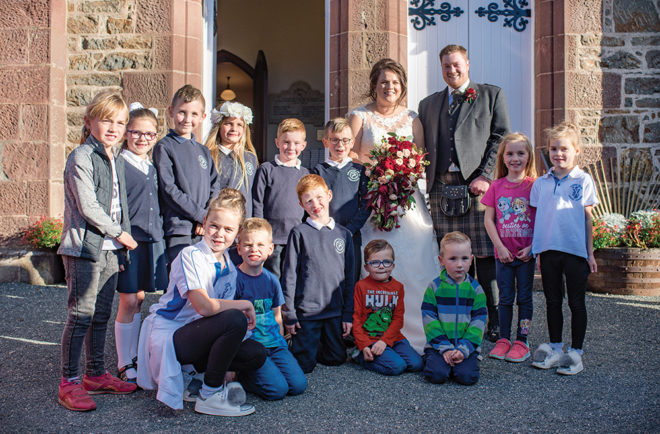 Kayleigh grew up in the village of Cuminestown, and when the opportunity arose to teach in her former primary school, she leapt at the chance.
"It's such a great community.
Everyone knows everyone and they look out for each other, especially the kids.
I couldn't pass up the opportunity to work at Monquhitter School!"
After working as a teacher for two years as Ms Forbes, the time came for Kayleigh to marry her fiancé Sam and become Mrs Griffiths.
She couldn't believe her eyes when she arrived at Auchterless Church to the sight of her class of primary threes and fours.
"As soon as I saw them standing at the gate I began to well up," recalls the bride. "I'd managed to hold it together all morning, but that set me off!"
Kayleigh admits that she'd had an inkling some of the pupils might have made an appearance, as some of her friends have children in the class she teaches.
"But I really didn't expect so many to turn up – it was amazing," she smiles.
Even though it was her wedding day, Kayleigh found herself slipping into teacher mode.
"I asked them if they were enjoying their holidays," she laughs.
"They all became really shy all of a sudden. I suppose it was strange for them to see me all dressed up – I certainly looked different to how I do at school!"
Both Kayleigh and Sam were incredibly touched by the gesture; after all, it takes serious planning and time to get a full primary school class together on a weekend!
"I was so happy that they and their parents had taken the time to wish us well. It's a memory that Sam and I will both cherish forever," says Kayleigh.
IMAGES | Zoe Rae Photography
The bride says the transition from Ms Forbes to Mrs Griffiths has been relatively smooth.
"All the kids have been really good with my change of name. They even have to correct me sometimes when I forget!"
HAVE YOU GOT A CUTE WEDDING STORY?