Coronavirus: a Scottish legal expert answers your wedding questions
Unsure what your rights are if you want to postpone your wedding due to Coronavirus? Rosie Walker of Gilson Gray LLP offers advice.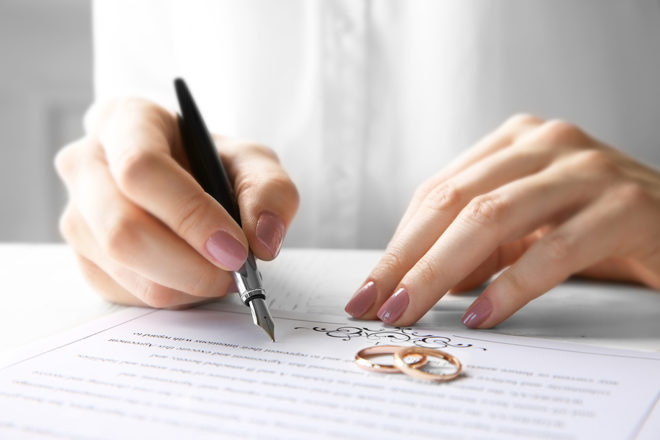 Coronavirus has created a lot of uncertainty within the wedding industry. Many couples are uncertain as to whether or not to postpone their weddings, and unsure what their legal rights are if they do.
We asked Rosie Walker, Partner and Head of Litigation & Dispute Resolution at Gilson Gray LLP in Edinburgh, to answer some of your questions.
CORONAVIRUS: YOUR WEDDING QUESTIONS ANSWERED
Q: I've had to postpone my April wedding to December, and my suppliers have been great. But my make-up artist can't do my new date, and says I need to pay her for the full booking as it's so close to my wedding date. I paid her a deposit which I know I can't get back, but do I need to pay her in full? We had no contract – it was all done on Facebook Messenger.
A: Unfortunately this situation is going to be very common. A contract is just an agreement between two parties. Contracts don't have to be in writing so an agreement reached via Messenger or even over the phone is still a valid contract.
However, informal contracts like yours won't usually contain any more than a few basic terms. Sometimes all the parties will have agreed is that your make-up artist will do your make-up on a certain day and in return you will pay an agreed price.
Unless you agreed to pay something on cancellation, there is unlikely to be any obligation on you to do so. You should bear in mind, however, that sometimes a supplier will have full written terms and conditions covering situations like cancellation charges. These might be issued to you in writing but they can sometimes instead be displayed on a website or at the bottom of an email. In that case, those conditions might become part of your contract and you could be bound by them even if you didn't read them. If you are unsure about what your contract or terms and conditions say, you could discuss them with a lawyer or with Citizen's Advice.
Q. My venue has announced that all weddings will be postponed until further notice, but they haven't actually given us a new date. This means I can't check my other suppliers will be available on the new date and I'm just living in uncertainty. Can my venue have me in limbo like this? I just want to plan something concrete.
A: I appreciate this uncertainty is stressful but in reality no one really knows how long the current situation will last for. Giving you a date too early might risk another cancellation. The solution here is likely to involve communication. Could you and the venue agree a date further away? That would mean a longer delay but the venue may be more comfortable agreeing to that now.
Q. My wedding is in July, and I'm thinking of pre-emptively postponing my wedding. What is the best way to do this without upsetting my suppliers?
A: Before you speak to your suppliers you should check the terms and conditions in the contracts which you have with each of them. Do they contain cancellation fees? Do these only apply if you cancel after a certain date? Are the fees waived if you rearrange another date?
Each contract could be different in which case you may need to focus on the ones where you stand to lose the most money. If you are facing cancellation charges, the key is to communicate with the suppliers. These are such unusual circumstances that many venues and suppliers may agree to postpone without penalty where they wouldn't normally do so. Trying to postpone to an agreed new date is likely to be a better option for the suppliers than indefinite postponement. It would also give you more certainty.
Q: With all the uncertainty, my partner and I are considering cancelling the wedding and just starting again when everything is settled. We don't want to have to postpone it twice. But would our wedding insurance cover us for this, since the government hasn't actually placed a ban on events such as weddings?
A: This is another very common experience just now. The starting point is to read the insurance terms and conditions. They should tell you when they will cover cancellation and when they won't.  You can also discuss this with your insurer.
In most cases, however, insurers are unlikely to pay out for cancelled weddings unless the government actually bans such events or the venue cancels due to an outbreak of disease.  An option might be to contact the venue and suppliers to see whether you can agree to postpone the booking to a later date. That way you wouldn't be out of pocket and may not need to make an insurance claim.
Q: My wedding isn't until next year, but I stupidly didn't get wedding insurance and it's now impossible to get. I'm worried that some of the suppliers I've booked may go out of business before my big day, through no fault of their own – would that mean I'd lose my money?
A: Unfortunately that is possible. If a company becomes insolvent, it will usually stop trading and won't be able to supply the services you paid for. It is sometimes possible to register a claim for repayment but generally the company will have no money and so customers will get little or nothing back. If you paid using a credit card, you should contact your card provider or bank who may be able to refund you the money. If you are worried about a supplier going out of business, it may be worth getting legal advice sooner rather than later.
If you require legal advice, you can email Rosie or call her on 0131 516 5374.