Coronavirus: Weddings and other social gatherings banned
Prime Minister Boris Johnson's latest statement places indefinite ban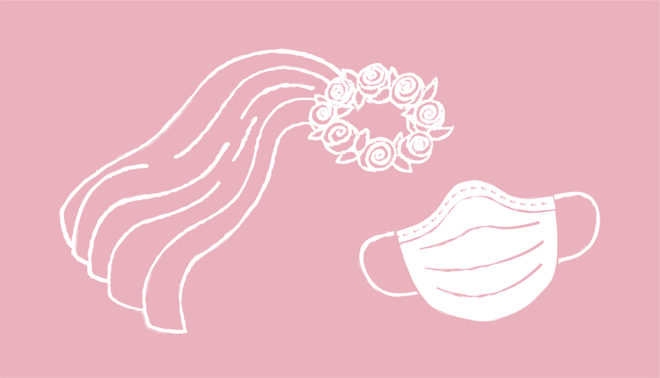 All information up to date at the time of publishing and we will be updating this post.
LAST UPDATED | 21.07pm – 23/03/20
The UK Prime Minister addressed the nation tonight (Monday 23 March 2020), calling the coronavirus the "biggest threat [UK] has faced for decades."
He told the public they must stay at home and said people would only be allowed to leave home for four reasons – infrequent shopping for basic goods including food and medicines, for one form of exercise a day, for a medical need and to travel to and from work when "absolutely necessary".
All public gatherings of more than two people, excluding people you live with, are banned.
The police will be given powers to enforce the new restrictions, including by fines.
All social events, including weddings and baptisms, are banned, though funerals are not included in the restrictions.
Johnson's statement followed an earlier one by Scottish First Minister Nicola Sturgeon.
She was accompanied on stage by chief medical officer Dr Catherine Calderwood and issued warnings as the Scottish death toll hit double figures.
"Life should not feel normal for you right now. If it is, you're not doing the right thing," said Sturgeon.
She said that tougher rules and regulations were needed in order to slow down rapid acceleration of COVID-19.
SO HOW DOES THIS AFFECT YOUR WEDDING PLANS?
Don't cancel your wedding; postpone it. We've given you a guide to postponing your wedding because of the Coronavirus outbreak, and how to tell guests.
Instead of taking measures to cancel, get in touch with your wedding venue to see what your options are for the end of this year or 2021.
Make sure you keep in touch with your suppliers too, especially ones that you 100% want there – maybe give them a range of dates first and go with the date they can make.
Wondering where you stand legally? We speak to Rosie Walker, Partner and Head of Litigation & Dispute Resolution at Gilson Gray LLP in Edinburgh, to answer some of your questions.
---
PRACTICING SELF CARE IN STRESSFUL WEDDING-RELATED SITUATIONS
---
Speak to your suppliers 
Photographer Ross Alexander says: "I will be as flexible as I can to accommodate any change of date for couples who are affected by the virus. If I do fall ill, there's a clause in my contract that states if I'm unable to attend a wedding due to illness, I'll find a suitable replacement, and that still stands."
Cora Anderson, owner at Cora Anderson Florist + Wedding Stylist, says: "Keep in regular contact with your suppliers to ensure you are fully covered with wedding insurances and contracts. At this time, we're only concerned about imminent weddings, and this shouldn't affect the planning of future weddings. We're contacting all clients who may be affected with a detailed emergency plan."
Protect yourself
If you already have a wedding insurance plan, then read the fine print to make sure you are covered. If you're unsure at all, call and ask. Be prepared to be on hold for a while.
It will be much harder to get a policy, especially now that many wedding insurers are refusing to insure weddings in the next three to five months.
All wedding insurance suppliers have suspended new policies for now, many have suspended them for the remainder of 2020.
A quote on the Debenhams website says, "As a result of the information currently being provided by the World Health Organisation the Foreign & Commonwealth Office and the UK Government, we have taken the decision to suspend all new Debenhams Wedding Insurance applications whilst we assess the impact of the virus both in the UK and abroad.
"Please note that if you are an existing customer, your policy will remain in place and unchanged."
Wedding Plan has also posted on it's website, "We have taken the decision to suspend all new WeddingPlan and Asian WeddingPlan Insurance applications whilst we assess the impact of the virus both in the UK and abroad."
Information from Money Saving Expert:
Covermywedding.co.uk states on its website that "any new wedding policy issued after 6pm on 10 March 2020, will no longer provide cover for claims resulting from coronavirus".
Emerald Wedding will only cover for weddings that are over 150 days away, while Wedinsure says it will only cover for weddings that are at least five months away.
Digital editor at Scottish Wedding Steph Telfer managed to get insured by Wedinsure recently (9th March) for her wedding in September this year.
"My policy with Wedinsure says that we'd be covered for cancellation or re-arrangement in cases of an outbreak of infectious disease, however there's so much small print that I am not 100% sure what it actually covers," she says.
"My advice to couples would be to speak to your suppliers if your wedding is imminent, to try and alleviate any worries you have."
HOW IS CORONAVIRUS LIKELY TO AFFECT YOUR HONEYMOON OR WEDDING ABROAD?
The Foreign & Commonwealth Office (FCO) now advises British people against all non-essential travel worldwide. This advice took effect immediately on 17 March and applies initially for a period of 30 days.
The COVID-19 pandemic has led to unprecedented international border closures and other restrictions. All countries may restrict travel without notice.
All travellers are advised to check and follow the latest FCO travel advice and you can sign up for email alerts for your destination.
If you're concerned about the impact of COVID-19 on your honeymoon contact your airline, tour operator and accommodation.
Barrhead Travel president Jacqueline Dobson says, "The best advice we can give is to ensure you book your wedding abroad or honeymoon with a reputable travel agent, such as Barrhead Travel.
"Our experts are trained to support our clients during unexpected world events and we are on hand 24/7 should you need us.
"With the travel restrictions in place to the likes of Italy and China, our team has been working extremely hard to help re-book our customers – including some honeymooners – and change their holiday to a different destination or re-book for a later date.
"Honeymoons at Barrhead Travel are on sale up until 2022 and by booking with one of our travel agents, you can guarantee full financial protection."
Jacqueline says the company always recommends clients take insurance for their holidays or honeymoons. "It's so important and should never be underestimated," she says.
"You should read your policy carefully and always ensure your insurance covers your exact personal circumstances."
Unfortunately, if you have not already got travel insurance for a honeymoon that you've already booked for this year, then it is unlikely that you'll get it now. There's no policies in place right now that will cover Coronavirus or its impact on upcoming holidays and even if you have an annual policy, most are now excluding COVID-19 cover for newly booked trips.
According to YOUGOV the Association of British Insurers (ABI) has produced information on travel insurance implications following the outbreak.
If you have any coronavirus symptoms or have recently travelled to an affected area, contact the NHS helpline on 111 and do not visit your GP or hospital.
FOR THE LATEST INFORMATION ON RESTRICTIONS AND TRAVEL GO TO THE GOVERNMENT WEBSITE HERE