9 of the most luxurious honeymoon suites in Scotland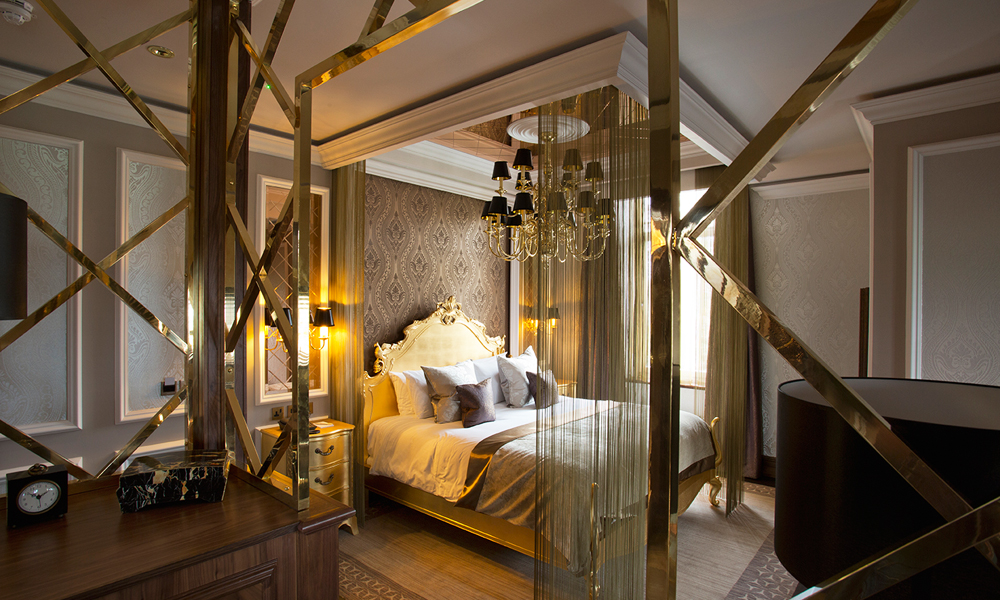 Kick off married life in style in a venue with an Insta-worthy honeymoon suite…
CORNHILL CASTLE
Nestled in the Biggar countryside, Cornhill Castle's three-storey Balmoral honeymoon suite was unveiled in 2017 as part of the venue's £850,000 revamp.
Occupying one of the castle's original turrets, the first floor comprises a beautifully decorated living room with a winding staircase leading up to the bedroom.
One of the highlights of this dreamy suite is the bathroom, a sunken area just off the bedroom complete with large hot tub bath, a two-person sauna and a massive rainfall shower.
The top floor is a real hidden gem: a one-of-a-kind champagne room in which bottles of fizz adorn the specially adapted walls, and a special bottle chilled to exactly the right temperature has pride of place in the centre of the room.
Visit Cornhill Castle's website | t. 01899 220001 | e. info@cornhillcastle.co.uk
THE TORRANCE HOTEL
The Torrance Hotel in East Kilbride, South Lanarkshire is home to perhaps one of Scotland's most indulgent honeymoon suites.
Running over two levels, the ground floor features a king-size bed, a bathroom with dual his-and-hers sinks and a luxurious lounge area; the perfect place to raise a glass with your new spouse on your wedding day.
Climb the spiral staircase to the mezzanine level and you will find the pièce de résistance: your very own private spa containing a sunken jacuzzi bath, steam and sauna room, complete with loungers and a mirror TV so you can kick back and relax for hours.
Visit The Torrance Hotel's website | t. 01355 225241 | e. info@thetorrancehotel.co.uk
BOCLAIR HOUSE HOTEL
Situated in Bearsden, just a short drive from Glasgow city centre, the impressive Boclair House Hotel hosts exclusive-use weddings and can provide seriously sumptuous accommodation in one of its 12 perfectly styled suites.
The Arran honeymoon suite is the stuff of dreams; after a blissful wedding day, you and your other half will retire to Art Deco-inspired interiors and bespoke furnishings, while champagne on ice sits within arms' reach of the indulgent freestanding copper bath.
This converted turret room features a spiral decorative staircase, tower shower and his-and-hers mirrors for the ultimate pampered stay.
Visit Boclair House Hotel's website | t. 0141 9424278 | e. events@boclairhousehotel.co.uk
BALBIRNIE HOUSE HOTEL
Recently named 'The World's Best Destination Wedding Retreat' at the Haute Grandeur global awards, it will come as no surprise that Balbirnie House Hotel in Markinch has a pretty spectacular honeymoon suite.
After a £50,000 investment, The Pearl Suite is an absolute show-stopper, from its £22,000 free-standing fully surrounded glass shower (sourced from London) to the elegant décor: think soft grey and pearl-inspired hues with a vintage French aesthetic.
With views out across the 400 acres of beautiful parkland, it's a truly romantic setting for newlyweds.
Visit Balbirnie House Hotel's website | t. 01592 610066  | e. gaynor@balbirnie.co.uk
GLENSKIRLIE HOUSE AND CASTLE
Located in Banknock, Stirlingshire, Glenskirlie House and Castle is a wonderfully chic wedding venue with not one, but two honeymoon suites to choose from.
Each of the beautifully appointed suites are individually themed, and both are incredibly glamorous. In the main room, you will find your own lounge and dining area, with a luxurious four-poster bed behind a glittering curtain.
The suites also have walk-in wardrobes, separate powder rooms and lavish en-suites with a luxurious whirlpool bath, double shower and his-and-hers sinks, a perfect room for your special day.
Visit Glenskirlie House and Castle's website | t. 01324 840201 
e. weddings@glenskirliehouse.com
CROSSBASKET CASTLE
Tucked away on the outskirts of Glasgow and with incredible views of the River Calder and its stunning waterfalls, Crossbasket Castle is an uber-luxe venue with a rich history.
The main castle dates back to the 18th century, and its 16th-century tower has been transformed into a four-storey honeymoon suite (yep – four!).
The incredible converted tower has a bridal dressing area, four-poster bed, bathroom with walk-in shower and roll-top bath, and your own luxury lounge area – it's what honeymoon suite dreams are made of!
Visit Crossbasket Castle's website | t. 01698 829461 | e. info@crossbasketcastle.com
TRUMP TURNBERRY
Set on a stunning stretch of Ayrshire coastline, Trump Turnberry, a Luxury Collection Resort, will completely enchant you.
For one of Scotland's most awe-inspiring honeymoon suites, experience the lavish Scotland villa that is the Lighthouse Suite. Housed within an actual lighthouse, this elegant suite offers breathtaking views across the Irish sea to the Isle of Arran and beyond.
The unique setting includes a living room with its own extensive private terrace and upstairs you'll find two bedrooms, each with its own bathroom and terrace access.
A hidden gem is the freestanding bath, perfectly positioned to enjoy views across the iconic landscapes whilst soaking in the tub.
Visit Trump Turnberry's website | t. 1655 334196 | e. weddings@trumpturnberry.com
SEAMILL HYDRO HOTEL
With its stunning beachside location on the Ayrshire coast, Seamill Hydro has long been renowned as a wedding venue of distinction.
The Glen Rosa Suite lives up to this reputation, and is the perfect honeymoon suite, located in the grandest area of the original Victorian building.
The bedroom has a gorgeous large bay window, with uninterrupted views over the Firth of Clyde and Isle of Arran, whilst the lounge is home to the famous Seamill turret, affording panoramic views right along the Ayrshire coastline.
Extra special features include a custom-built hidden dressing table complete with Hollywood mirrors, and a large double whirlpool bath.
Visit Seamill Hydro Hotel's website | t. 01294 822217 | e. mywedding@seamillhydro.co.uk
HETLAND HALL HOTEL
Set in 18 acres of picturesque private parkland with sweeping views over the Solway Firth and the mountains of the Lake District, Hetland Hall in Dumfries is an 18th-century country house like no other.
Providing a balance between the traditional romance of the Scottish countryside and the vibrancy of contemporary design with a stylish newly renovated interior, you can now soak up the opulence of the brand new Eden honeymoon suite.
A stylishly designed space with two wide-screen televisions, a spacious lounge area, two-person jacuzzi bath and splendid king-size bed, it's the perfect setting for a night of glamour and tranquillity.
Visit Hetland Hall Hotel's website | t. tel:01387 840201 | e. reception@hetlandhallhotel.co.uk