Louise's Bride-to-be Beauty Masterclass: Steer clear of the sunbeds + fake it!
After postponing her April wedding, award-winning Scottish make-up artist Louise Ballantine is getting married in 2021. She'll share her expert advice with us every fortnight, with personal recommendations, tips and advice as both a make-up artist and a bride-to-be!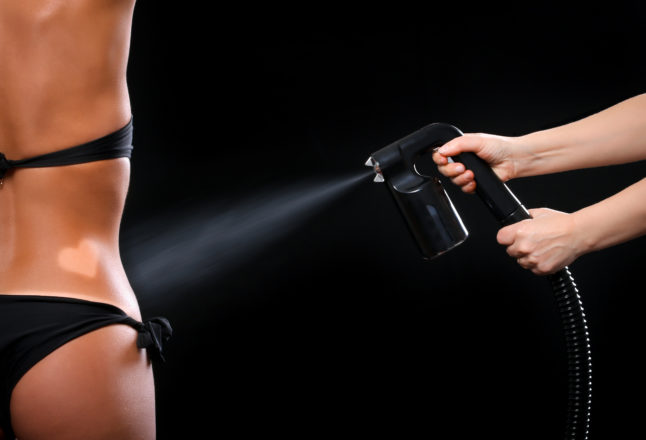 Being bronzed not only helps you glow but also makes you feel good, says Louise.
"I wouldn't recommend any bride-to-be uses a sunbed; not only are they harmful for your health, but you run the risk of burning your skin.
My number one recommendation to brides who want a golden glow on their wedding day is to get a spray tan from a professional who specialises in bridal spray tans.
GET SPRAYED
A spray tan is a much better option. I have been using a brand called Sienna for eight years now, and it's a brilliant bridal spray tan; I've never had any complaints about it, only lovely reviews!
The brand have so many different shades and tones for all skin colours, types and ages, for example, drier skin or more mature skin works best with a hydrating and moisturising spray, without affecting the end result.
The way I spray my brides is slightly different to how I would do any normal spray tan. Firstly, the absolute golden rule is that brides have to exfoliate. It's so important! Moisturise the night before your tan, but not on the day of (you can moisturise your face), and strictly no make-up, perfume or deodorant should be worn when getting the tan.
I don't spray directly under the arm as that's where we run the risk of transfer onto your dress.
There's maximum risk of sweating and rubbing, and any tan would leave marks on your beautiful wedding gown.
The tan should be done two days prior to the wedding. I always recommend a trial to see which shade you like best, which I then note down in your client file. You can go up or down a shade if you like – this small change can make all the difference to the depth of colour. We can experiment.
My bridal spray tan starts at 6% DHA (this stands for dihydroxyacetone, the colorless chemical that reacts with your amino acids to produce colour) solution – this won't give you a tan but can even out the skin tone – then we can go all the way up to 16%, so there really is a shade for everyone, even if a dark tan isn't your look.
Your tan should last five to seven days, if you look after it properly. Moisturise, don't use swimming pools and avoid shaving every day, as this will strip the colour faster.
Sienna Tan fades beautifully, so even the darkest shade will not go patchy whilst your skin is renewing.
DO IT YOURSELF
If you don't have the time or budget to get a professional spray tan, then you can do it yourself at home. I would really recommend that you try this a good few times well in advance of your wedding day if you are going to DIY your tan.
I absolutely love Tanologist Self-Tan Mousse in dark (£14.99). I've found over the last year, clear tans work better on my skin than any colour guide foam or mousse.
I go to bed with a clear, non-sticky tan and wake up lovely and bronzed. My bedding is not stained and there's no colour guide to be washed away. My pores seem to be less clogged with clear formulas also.
You should use a face-specific tan for your face too; I love Tan-Luxe The Face Illuminating Drops (£35). You can customise how much colour you want, and I mix it with my moisturiser so that then tan doesn't feel drying on my skin.
TOP TIP | Use a large soft brush, like a fluffy Kabuki brush, to blend your face and knuckles for even application.
IN AN INSTANT
Although you probably wouldn't want to tan your whole body with instant tan for your wedding, it can be really handy just to hide any visible veins or even out some patches of skin. It's also great to have for your hen do and honeymoon.
My go-to instant tan is Insta Glow by Tanologist (£11.99). It's my saviour most days, and I wouldn't go on a night out without it!
~ T H E  M A N  T A N ~
Tanning isn't just for us brides. A subtle golden glow can make the groom shine too

A recent survey revealed that 70% of women think men should use fake tanning products – so what are you waiting for guys?
An increasing number of men are now realising that fake tan can give a healthy look and a boost of confidence. Not only does it give you a bronzed look, but it also brings out your features, and even defines muscles!
Most importantly, a 'man tan' doesn't expose your skin to sun damage, meaning you can avoid those risk factors of skin cancer and even premature ageing.
Follow my tips to achieve the best fake spray tan possible for men…
Prep your skin. Shave your face 24 hours before the appointment, as shaving afterwards will remove some of the colour. Scrub your body with an exfoliator. Borrow your girlfriend's if you have to! Apply moisturiser the day before your appointment, focussing on face and hands as these can be dry spots. Don't wear aftershave or deodorant before your spray.
Speak with your therapist about what you want to achieve with your tan so that you can get the colour you want. Men often go for a lighter tan, as it looks more subtle – but this depends on your natural skin tone and how well your skin normally tans.
After your spray tan, wear loose and dark clothing so the tan doesn't rub off. Wait at least eight hours before showering it off, and avoid chlorine and gyms for 24 hours.
Once the tan has developed, you'll be left looking and feeling amazing! Once the compliments start rolling in, you'll wonder why you didn't get one sooner.
Until next time! Louise x