Here's what the wedding beauty experts couldn't live without…
Scotland's top bridal hair and beauty experts reveal the big day products they couldn't be without.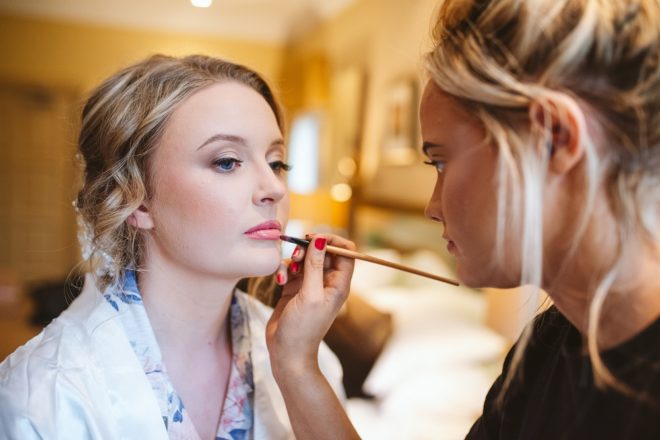 IMAGE | Glitter and Twigs Photography
BEST FOR: that glow up
Setting sprays have become a beauty must-have for anyone who wants to keep their make-up looking picture-perfect long after it's been applied.
And, happily, lots of brands are introducing sprays that seriously bring the glow.
"Not only does Iconic London Prep-Set-Glow smell gorgeous and come in three different shades, but it has a stunning pearly glow which, when applied to a full face of make-up, leaves skin looking and feeling fresh," tips Leslie.
1. BUY | Iconic London Inc Prep-Set-Glow (£20.50)
BEST FOR: long-lasting make-up
Few bridal make-up artists would forego primer; it's essential for creating a smooth base, and helps to ensure your foundation stays in place from morning until night.
There's a primer for every skin type, and if your complexion is on the oily side you'll love Illamasqua Matte Veil Primer.
"It instantly and visibly turns skin matte before applying foundation, keeping oil at bay so that less powder needs to be applied," says Kirsty. "It's great for combination or oily skin."
2. BUY | Illamasqua Matte Veil Primer (£34)
BEST FOR: a softer style
Even if you've used a product to prep your hair pre-styling, you'll always need a mist of hairspray to keep everything in place. But nobody wants to be the bride with the rock-solid do. So what's best for a natural look?
"My can't-live-without product for bridal hair is L'Oreal Paris Elnett Volume Excess Hairspray," advises Mandy.
"It's perfect for strong hold without the residue – no bride wants to be caked in hairspray! It's all about the natural, soft-looking locks."
3. BUY | L'Oreal Paris Elnett Volume Excess Hairspray (£6.69)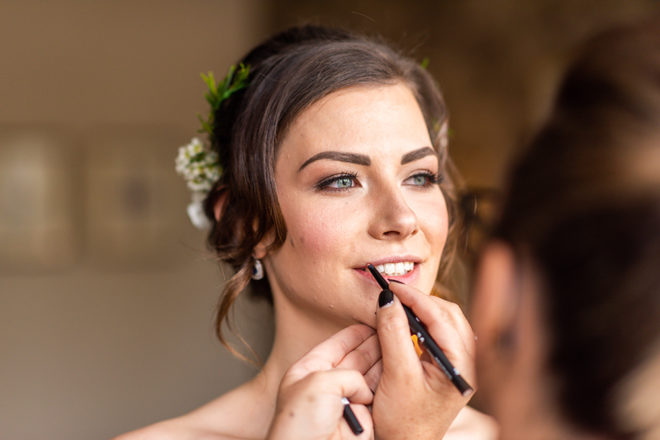 IMAGE | James Kelly Photography
BEST FOR: a bridal kit essential
Who doesn't love a multi-tasking product? "I love Elizabeth Arden Eight Hour Cream Skin Protectant – you can use it to prep dry lips or cuticles, and it's also great for reducing spot scarring in the lead-up to your wedding day," says Caroline.
Add it to your regular body moisturiser for use on particularly dry areas that are sometimes neglected, such as elbows and knees, and keep it on hand on your wedding day for any dance-related injuries!
4. BUY | Elizabeth Arden Eight Hour Cream Skin Protectant (£28) 
BEST FOR: everything!
"I use Weleda Skin Food on all my clients to create a glowing, luminous base under make-up," says Jen of Violet Rose, who's well-known for her glow-getting approach to naturally beautiful bridal make-up (check out her Glowing Live videos on Insta!).
"Skin Food is inexpensive and completely natural and can be used in so many ways; not only as a primer but also as a highlighter on top of make-up or even to create a glossy eye. I'm obsessed!"
5. BUY | Weleda Skin Food (£7.95) 
BEST FOR: adverse wedding day weather
When so many of us face the prospect of changeable weather on our wedding day, it's important to find a product that can prep your locks for wind, rain or a particularly sweaty rendition of Strip The Willow.
"Wella Professionals EIMI Perfect Setting Spray is my hero product – I use it on every single bridal hairstyle I do," says Lauren.
"I spray this on before heat-styling hair and it helps to really hold the shape, while also protecting the hair from heat damage."
6. BUY | Wella Professionals EIMI Perfect Setting Spray (£11.10)
BEST FOR: pre-wedding skincare
You don't need us to tell you that a proper skincare routine is essential to any great beauty look, and that can sometimes require a bit of experimentation to find the products best suited to your skin.
"Charlotte Tilbury Magic Cream is like a little bit of luxury for your face – I pop it on at night and let the magic happen overnight," says Leigh.
"I have oily skin though; if you have dry skin you could wear it day and night. My skin's never been better."
7. BUY | Charlotte Tilbury's Magic Cream (£70)
BEST FOR: under-eye darkness
We often hear of brides complaining that they didn't sleep well ahead of the big day due to a combination of excitement and nerves.
If you're prone to dark circles but want to look bright as a button when you make your way down the aisle, heed Hannah's advice: "My hero product is Becca Under Eye Brightening Corrector. It's a light formula and iridescent – great to cover any pigmentation under the eyes, giving you a fresh, beautiful look for your wedding day."
8. BUY | Becca Under Eye Brightening Corrector (£21)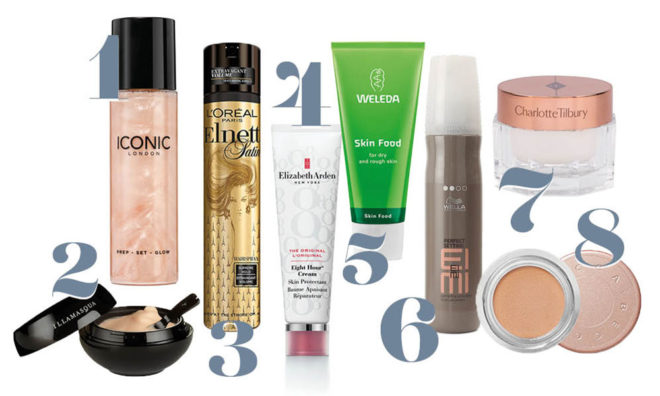 Take a look at the suppliers in our online directory!