Simple ways to personalise your groomswear
Madeleine Dunne explores how to use accessories and bespoke details to make your ensemble unique.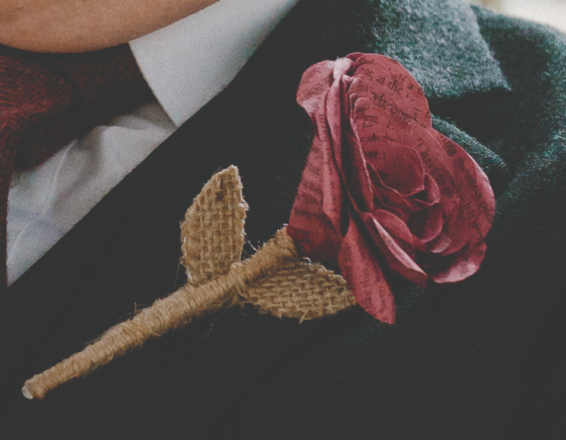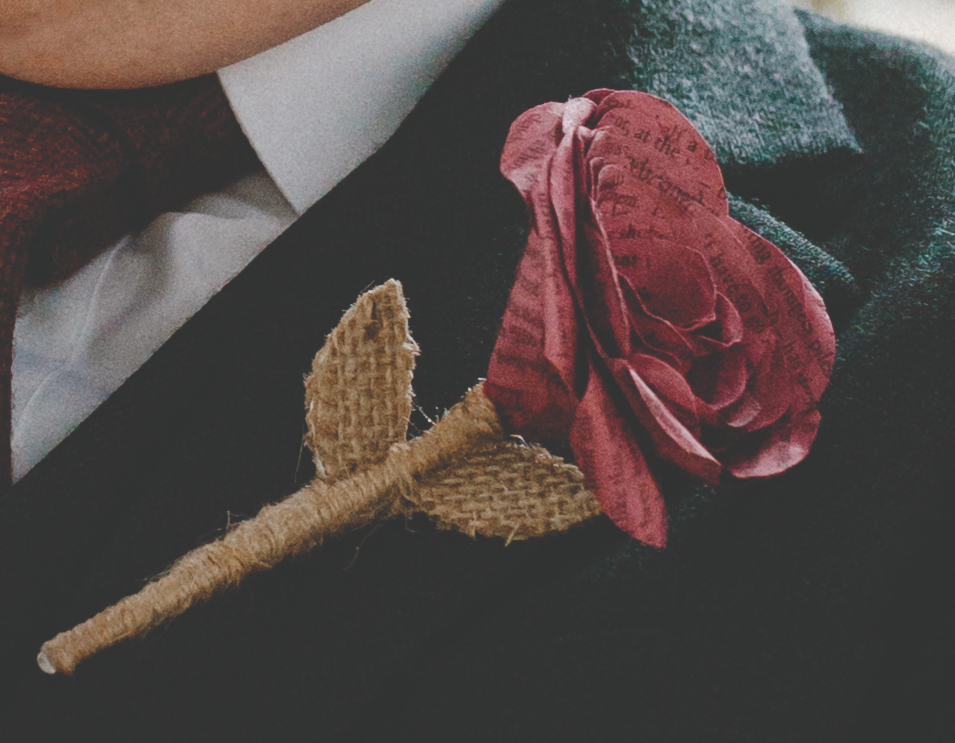 LINE UP, LINE UP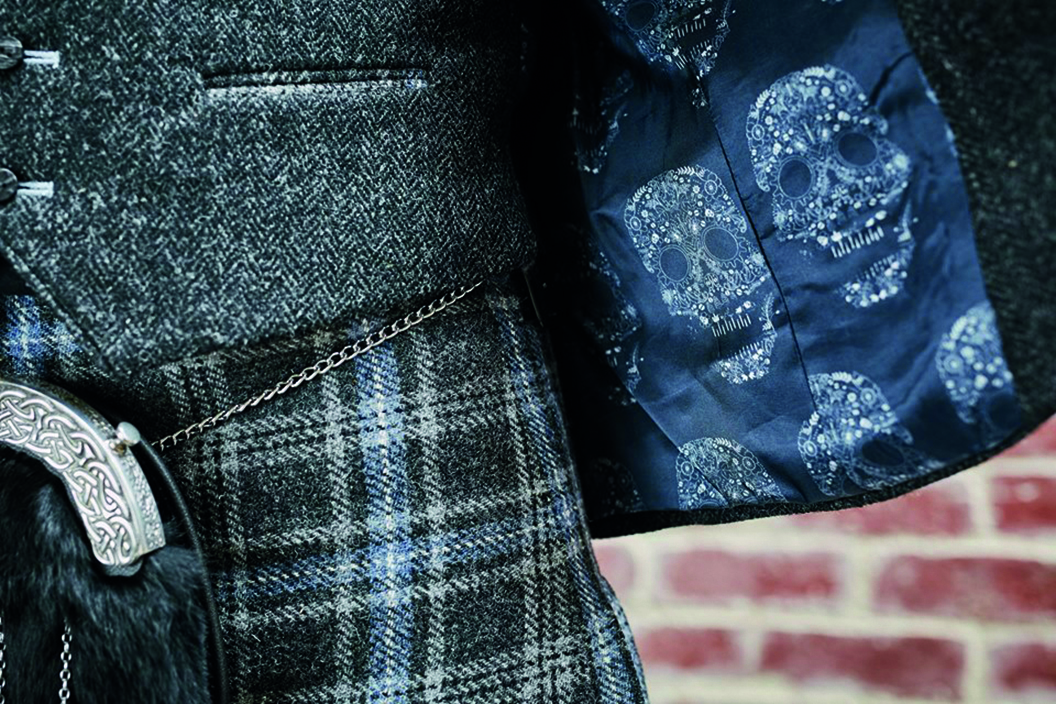 Bespoke lined jacket, Eight Yards (POA)
At Edinburgh-based menswear tailor Andrew Brookes Tailoring, there's been a clear rise in grooms searching for unique touches to make their wedding outfit one to remember.
"More and more grooms want a look that's individual and are taking more of an interest in their overall look and style," explains creative director and founder, Andrew Brookes. "Our handmade printed linings are becoming really popular as we take our clients' memories, special moments and photos from photo to silk."
Whether you're expressing a rock-and-roll element of your style (like with this skull smattered lining from Eight Yards) or making it sentimental by commemorating a loved one, Kyle Swadzba from Eight Yards says that the experience of customising a garment enriches the process from start to finish.
"We offer lots of in-house services to add personal touches to the outfits, from personalised writing or imagery engraving," says Kyle. "Whether you are designing or wearing the outfit, adding a personal touch makes the experience all the more special."
Andrew Brookes cites coloured buttonholes as another fun twist, and a great way to tie your look in with the wedding palette. "Embroidery under the collar or detailing such as special words, dates and nicknames are really popular too," he adds.
IF THE SHOE FITS…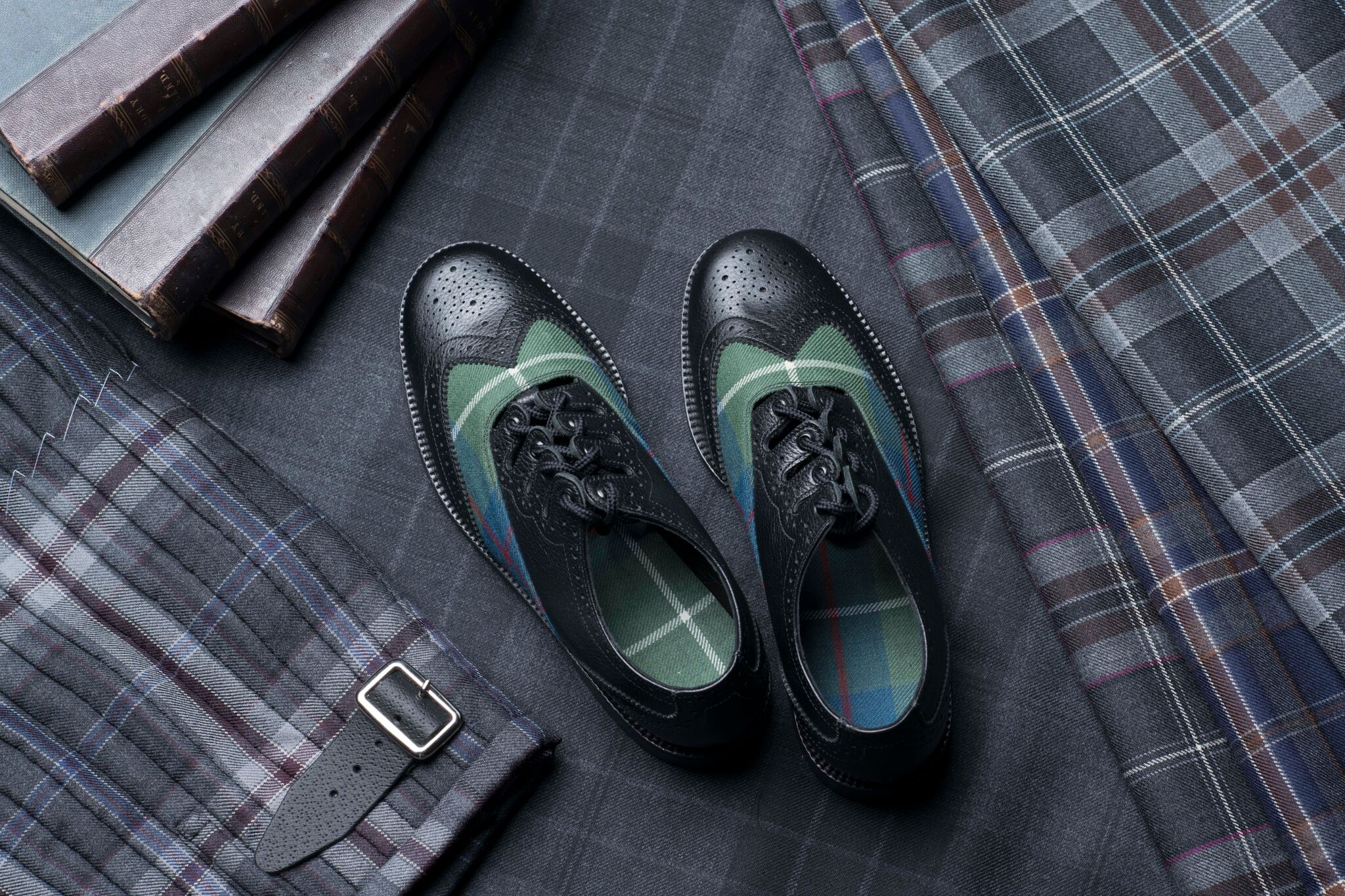 Bespoke brogues from MacGregor and MacDuff (POA)
If you think about it, a pair of bespoke shoes are a very sound investment. After all, while your clothing size may fluctuate over the years, your shoe size won't; so you'll be able to wear them forever.
MacGregor and MacDuff's bespoke tartan brogues are perfect for adding an individual edge to your wedding day suit. Handcrafted to order in Scotland in a choice of 12 different leather colours, 900 tartans, ghillie or day brogues, the options are endless.
If you're not a brogues kinda guy, check out Duke + Dexter. The brand makes bespoke loafers which can be monogrammed with your initials (or hand-painted with a design of your choosing).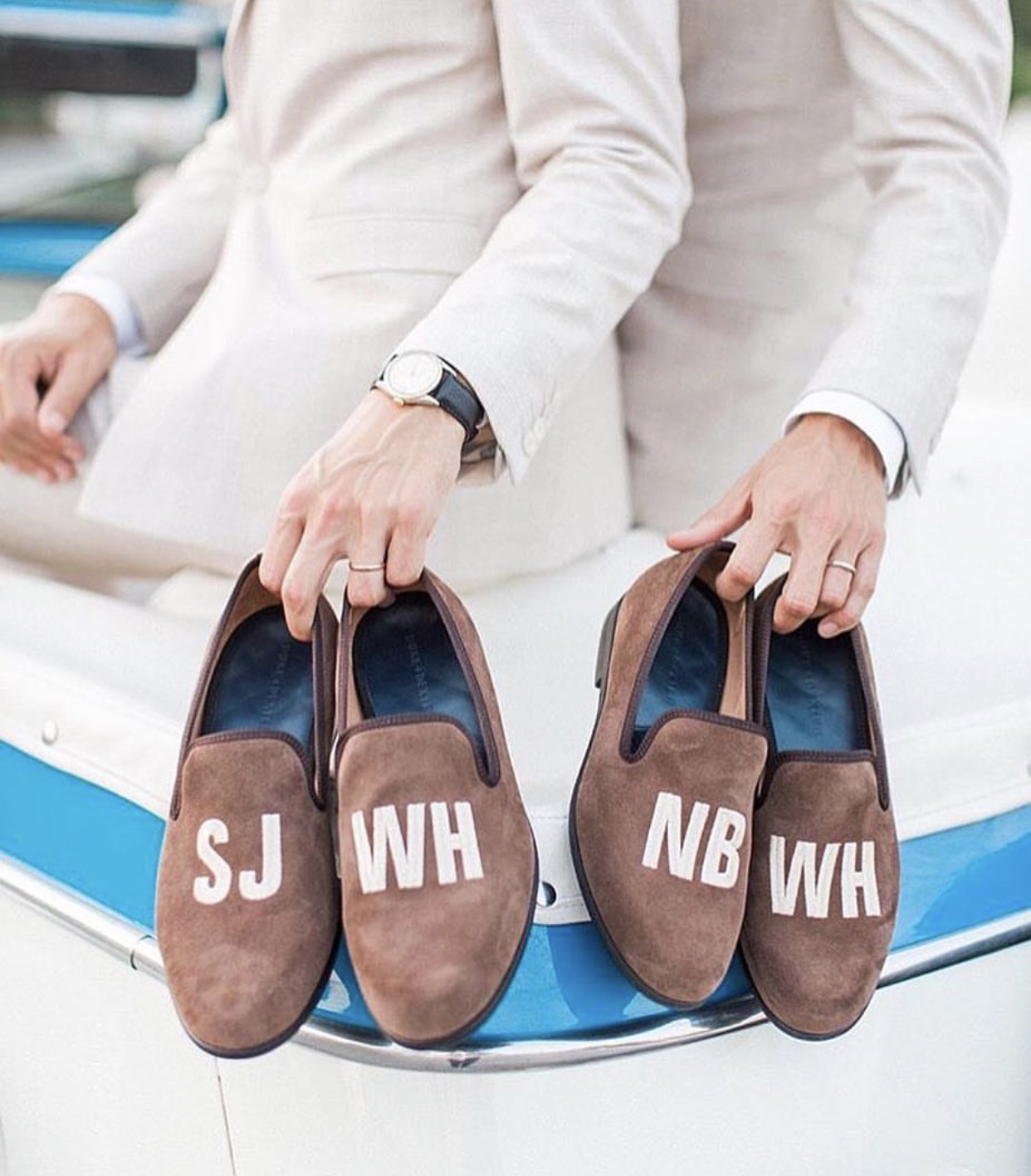 Duke + Dexter
CUTE AS A BUTTON
There's a lot of personal flair to be added with the modest boutonnière – florals to match your venue décor, your partner's favourite bloom, or an homage to your home country's flower. Lynne and Chris took it a step further, crafting a gorgeous literary-themed boutonnière from the pages of Chris' favourite book.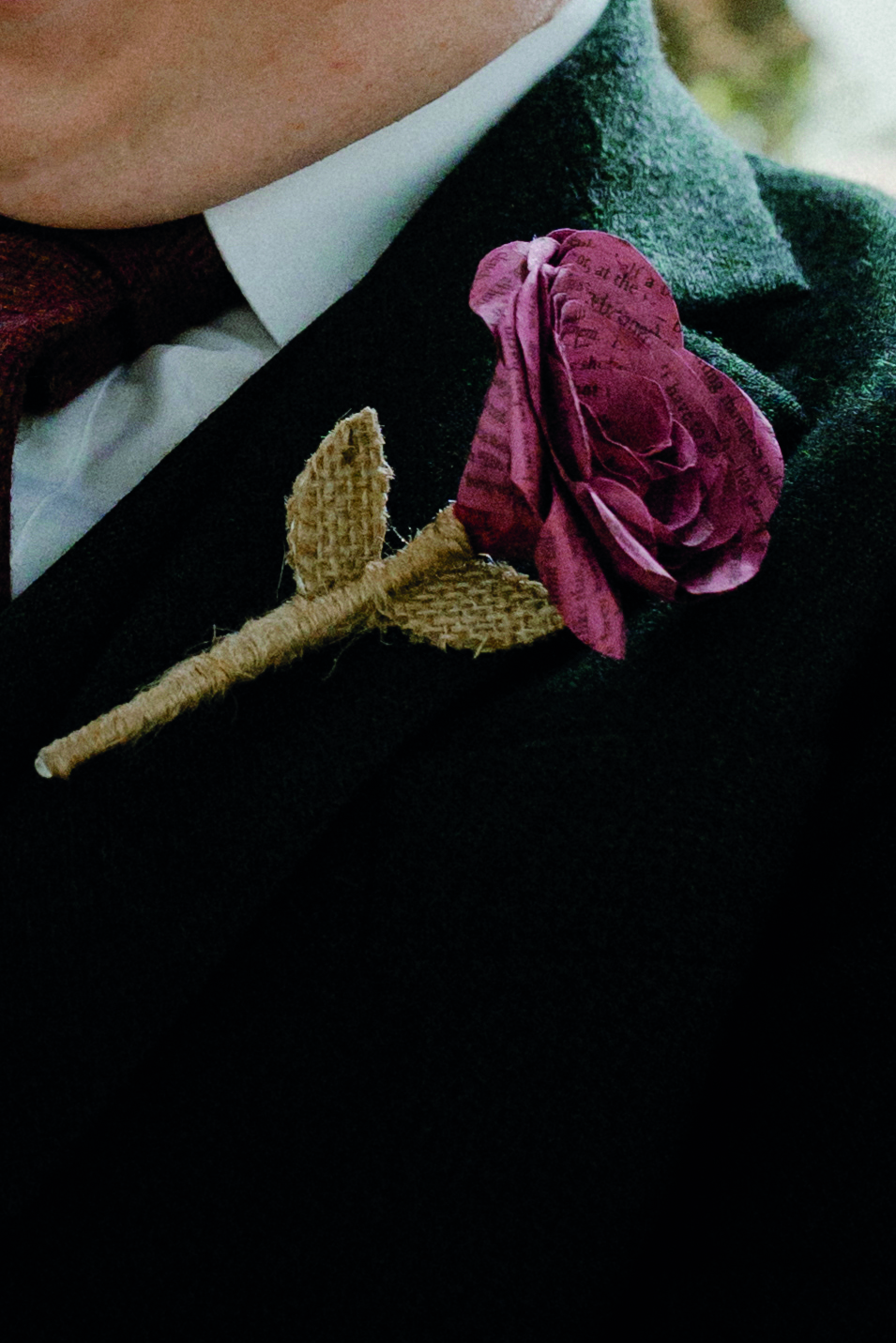 "I'd recommended the book, High Fidelity, to Lynne when we started chatting, so I loved being able to capture that as part of my suit," says Chris. "We made lots of paper flowers while watching Netflix and doing other bits of wedding prep together, and it was a great touch to have such a personal little memento afterwards."
We've seen similar ideas executed using the musical notation of a favourite song and even the script of a beloved film. It's a cool way to imbue something with special meaning without being showy about it. You could always have flowers during the day then switch up to your own paper one at night for a different look.
MATERIAL BOY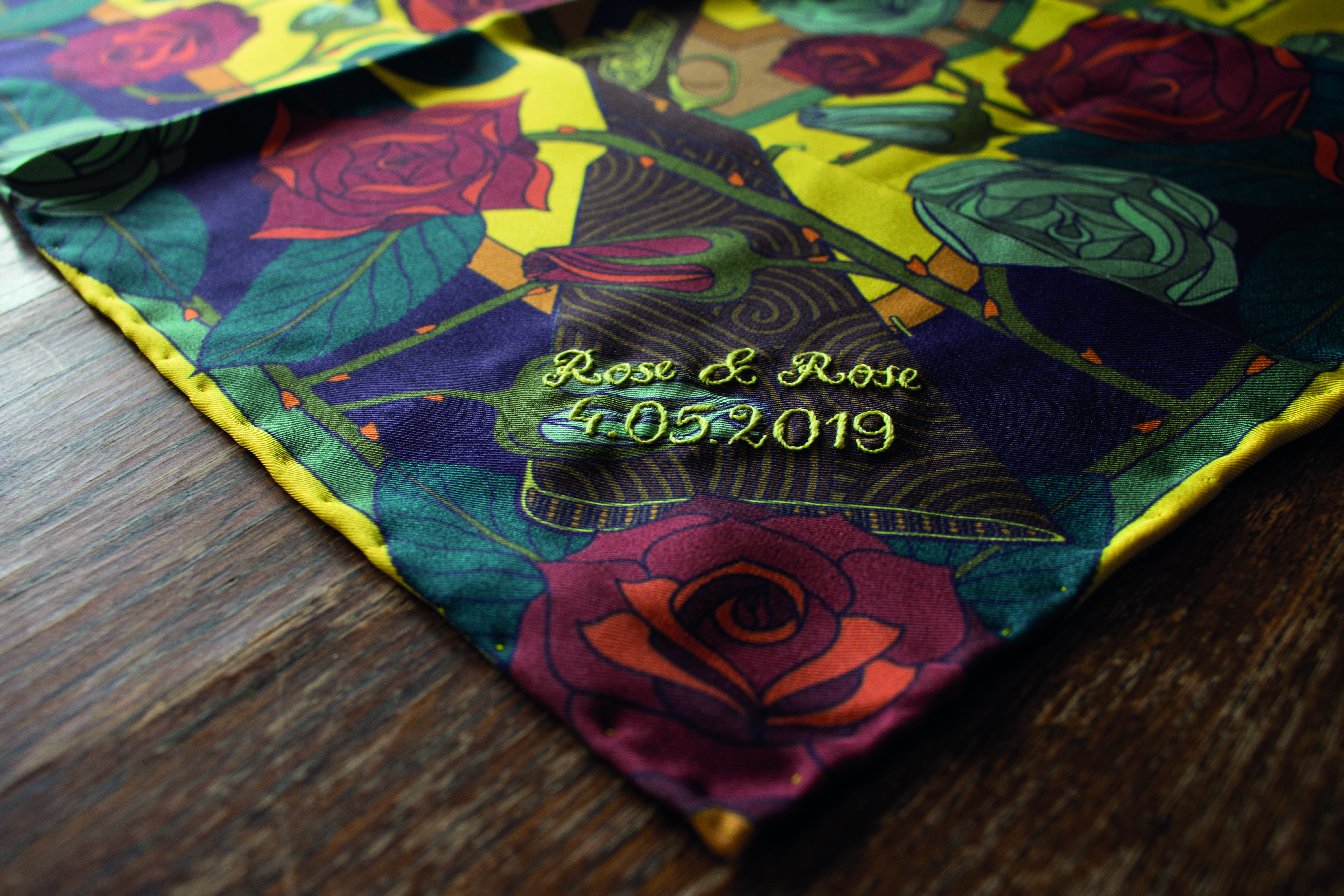 Furious Goose customised pocket square (POA)
The humble pocket square can tie your whole outfit together; mirroring your wedding palette, matching up or setting apart your groomsmen or even nodding to your heritage.
From embroidered phrases to fully bespoke designs, you'll find there's a lot of scope to score personal style points too. When it comes to flashing the cash on personalization, Edinburgh-raised, London-based designer Patrick Morrison of Furious Goose explains that there's a wide range of price points to accommodate a range of budgets.
"We offer a hand-stitched embroidery service for £20-£30 per letter, which can be as simple as a monogram of the groom's initials or a personal message," he says. "If money is no object then a fully bespoke design can be created. Going bespoke does mean longer timelines, and can take over six weeks to design, print, and hand finish."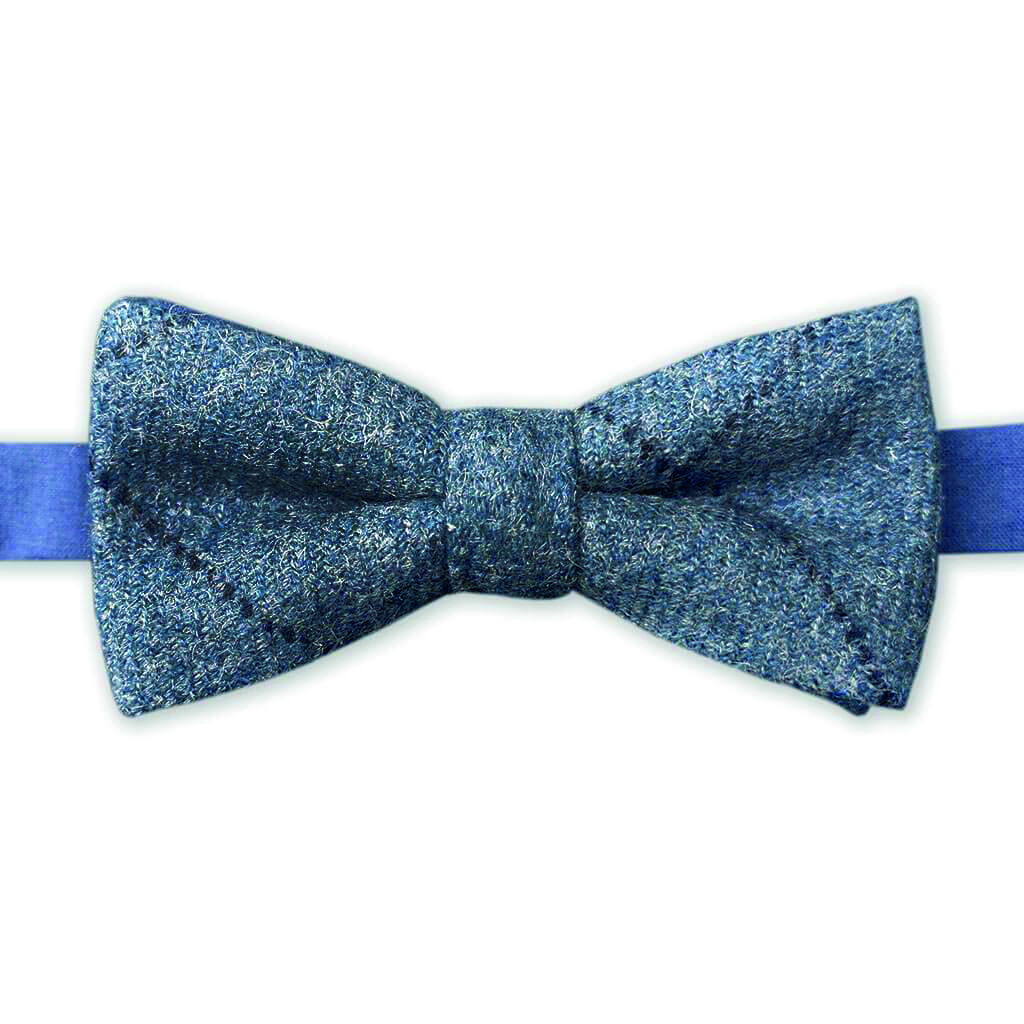 'Sandpiper' Blue Tweed 'Sophisticate' Bow Tie, The Edinburgh Bow Tie Company (£35.00)
You could even get bespoke neckwear to match; check out The Edinburgh Bow Tie Company for custom bow ties that can be monogrammed, embroidered or made from a favourite tartan or tweed.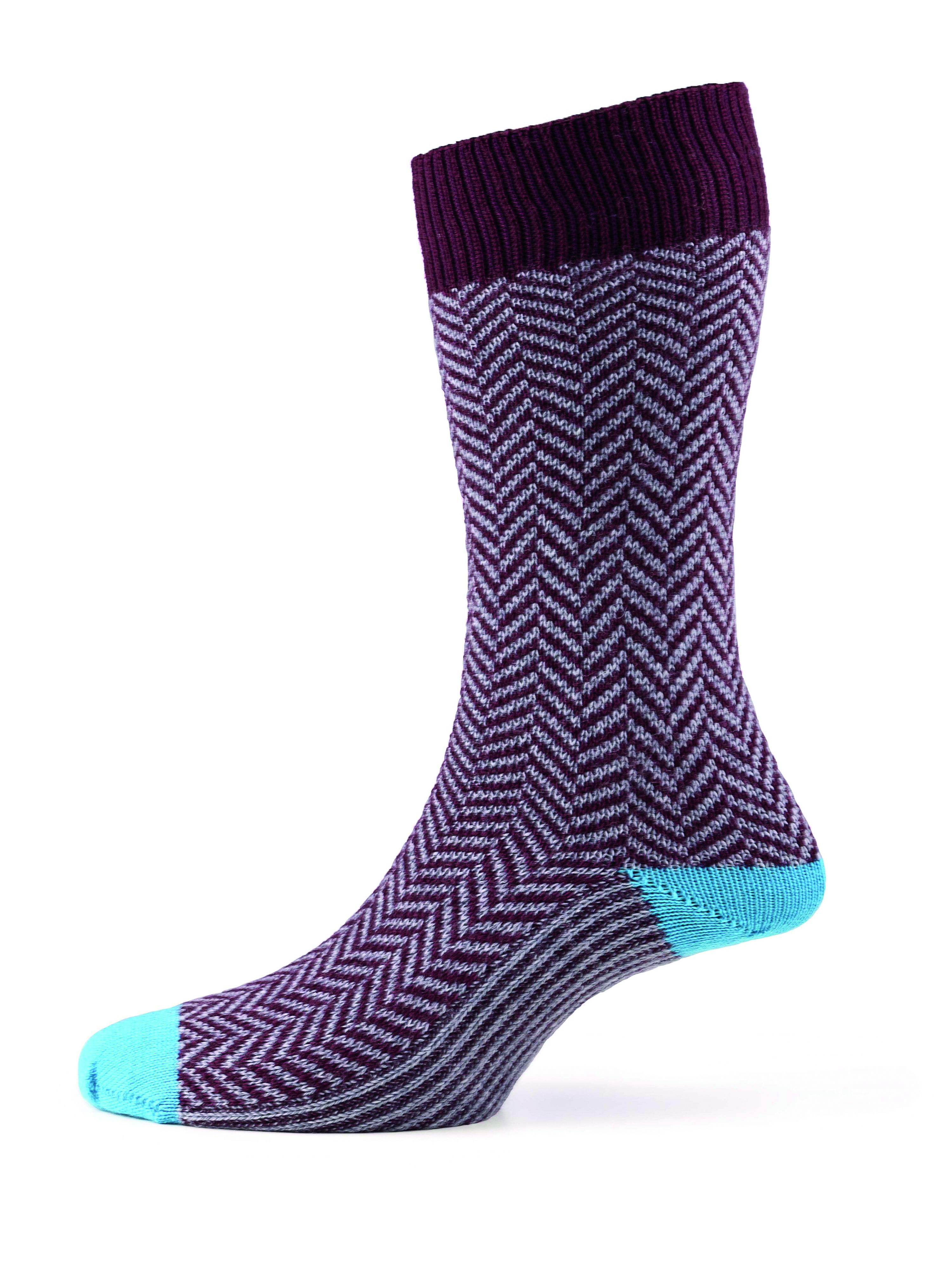 Fisherman Merino Wool Socks, Walker Slater (£15).
Oh, and don't forget a pair of jazzy socks if you're wearing a suit. We love this fisherman merino wool pair from Walker Slater.
JEWEL MEANING
If you intend to treat yourself to some new silverware anyway, have a think about how it could reflect who you are. You don't need to go the whole hog and get something designed from scratch if you've not got the budget for it, but it's worthwhile putting a bit of thought into it to avoid taking the panic-dash-round-Next route.
Take cufflinks for example; you could keep it simple and go for your initials, or don a set that nod to a hobby or interest. We've seen everything from watering cans to guitars to a Moomin set on a groom who believed Moomins to be his spirit animal.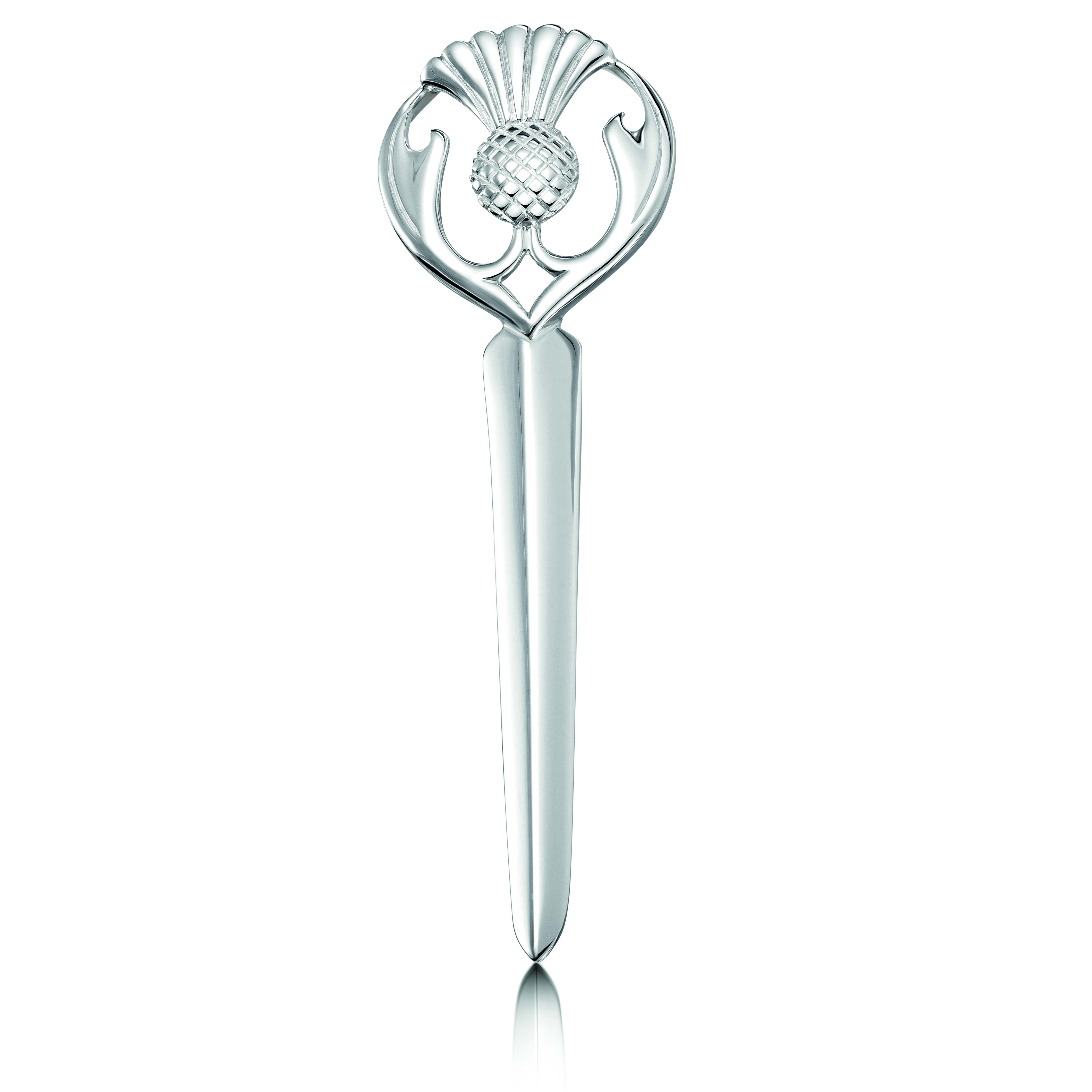 Kilt Pin, Sheila Fleet (£190)
Kilt pins can be personalised easily by having them engraved. Remember you're not confined to a Celtic design either; it's the most traditional option, but by no means your only one.