The ultimate kilt shopping guide
Want to look stylish on your wedding day? Finding your kilt with MacGregor and MacDuff couldn't be easier.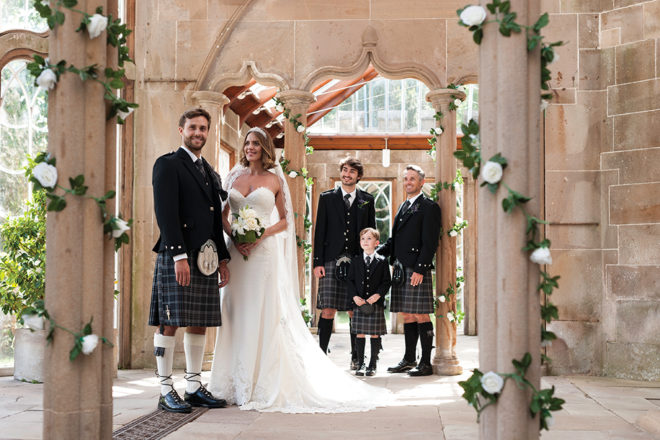 There are entire TV shows dedicated to brides hunting for their dream wedding dress. But what about you, the groom?
Finding your kilt can be just as challenging and exciting – and with screen-worthy results, too!
At MacGregor and MacDuff, the focus is on making the experience of purchasing and hiring wedding party kilts as stress-free and enjoyable as possible, so you can look your best without breaking a sweat.
GETTING STARTED
To start with, you'll find a great range of styles at their Prestwick and two Glasgow stores.
There are 12 hire tartans and six jacket options, not to mention up to 4,000 tartans to choose from if buying.
The expertly trained sales stylists will run through outfits and styling options with you, as well as letting you know about any relevant special offers.
Take advantage of the Groom's Fitting Service, too.
This involves being measured at the store, then returning at a later date to try on two to three outfits in your size.
It should help you make up your mind if you're stuck between a couple of options.
Once you're all sorted, get your wedding party in for measurements and outfit selection; you can do this individually or make an appointment to come in as one group.
THE COUNTDOWN
After that, MacGregor and MacDuff's wedding party co-ordinator will take over.
She'll look after the logistics – checking outfits and collection dates – so that you can focus on other wedding planning tasks.
Ideally you'll have your groomsmen measured 12 weeks before your wedding, while you should aim for a couple of weeks before this (if you're buying a kilt, it'll take 8-10 weeks to be made).
Children are asked to pop in three weeks before the wedding to be remeasured.
This is also an option for the rest of the wedding party, if you'd like to double-check sizes.
Finally, MacGregor and MacDuff ask wedding parties to collect their outfits at least two days before the wedding – this gives you a little bit of breathing space to try them on and sort any last-minute changes.
Left it a little bit late to find your outfit, or planning your wedding within a short window of time?
Don't panic. MacGregor and MacDuff will do their best to accommodate you, no matter your timescale.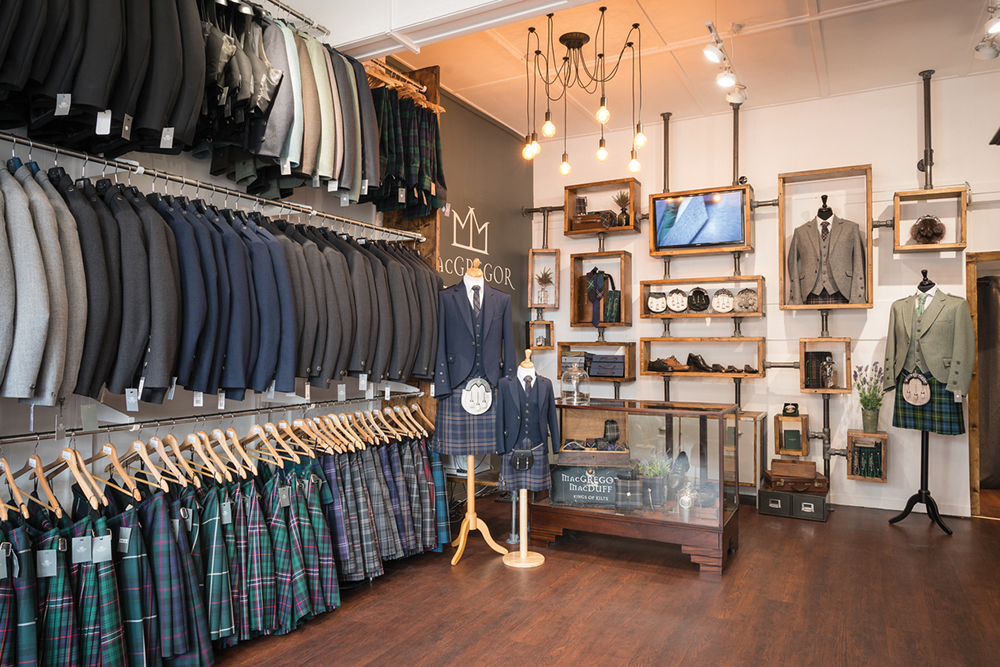 ON THE DAY
When it comes to picking up your kilts, you can collect them at a time that suits you.
Or, excitingly, if you live within 15 miles of MacGregor and MacDuff's Bath Street store, you'll be able to make use of the company's brand new drop-off service, whereby your outfit will be dropped off at your home address.
Fancy having an extra special wedding morning? Check out the new Groom's Room service at House Martin Barbers on Bath Street, Glasgow.
MacGregor and MacDuff have teamed up with this super-stylish barber so that grooms and their groomsmen can book it for the wedding morning.
Everyone will get fresh haircuts and beard trims while sipping on whisky and coffee.
Better still, a MacGregor and MacDuff stylist will be there to dress you all in your outfits, so you can stand proudly at the top of the aisle knowing that you look amazing.
Whether or not you opt for additional extras like these, you'll receive the exact same standard of care and attention that all MacGregor and MacDuff grooms get.
And that's invaluable.
CONNECT WITH MACGREGOR AND MACDUFF