An easy guide to grooms' wedding suits
If you choose a suit for your wedding wear it right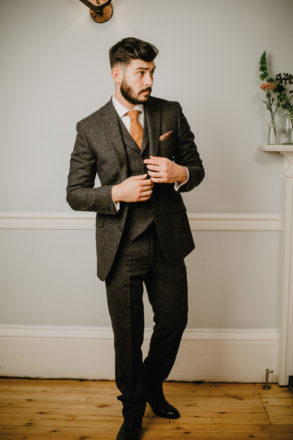 IMAGE | Walker Slater shot by Laura Tiliman and Eve Conroy for Scottish Wedding Directory
Highlandwear isn't for everyone but if you choose to wear a suit make sure you're wearing it right and looking sharp.
~BAND ON TREND~
"The most popular style right now is most definitely a three-piece suit with jacket, waistcoat and trouser," says Declyn Cooper, buyer at Slaters Menswear.
"The newer trend is having a fancy waistcoat such as a double-breasted style or lapel on the waistcoat."
Andrew Brookes, creative designer of Andrew Brookes Tailoring says the cut of the suit tends to be a narrower, more European cut with slimmer sleeves and tighter shoulders.
He adds, "We're seeing a lot more double-breasted or scooped waistcoats.
"It's really nice to do something in cream or ivory in the waistcoat for when you see brides and grooms together."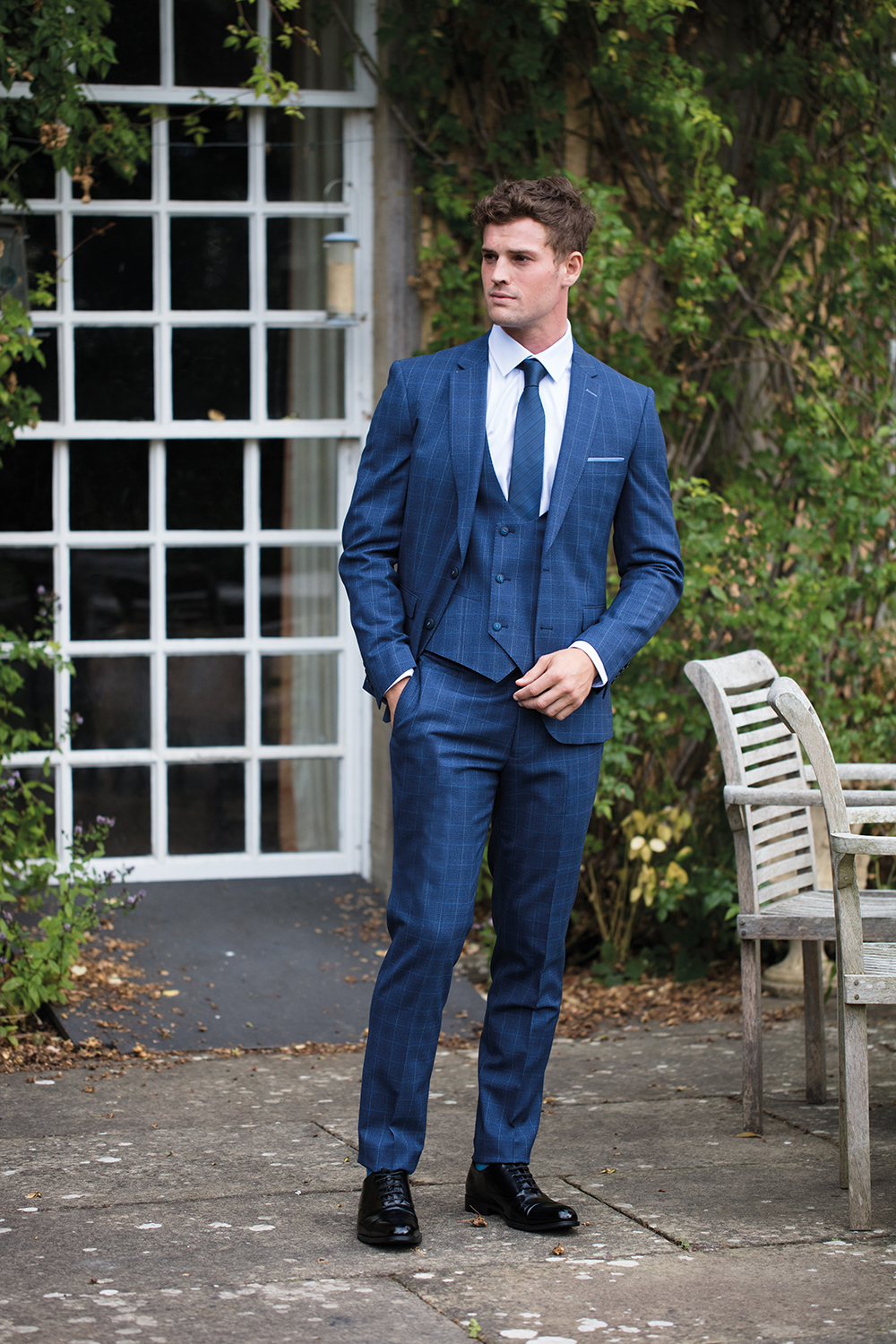 IMAGE | Remus Uomo
~COLOUR ME BEAUTIFUL~
Declyn says navy is the winner again this season, providing a nice contrast with the colours of the bridal party.
Bold checks are also popular.
~TROUSER LENGTH~
Trousers should ideally sit on top of your shoe with a slight break
~JACKET BUTTONS~
On a single-breasted two-button jacket you only ever do the top button up.
Three-button jackets are falling out of favour, but if you choose to wear one, you should only fasten the middle one.
Andrew says, "You should really cut the top button with the narrowest part of the groom's waist so it pulls his waist in."
~BUTTONHOLES~
Buttonholes are a great way to tie your wedding outfit in with the overall colour scheme.
The buttonhole will usually be on your left side but Andrew says for left-handed grooms he puts the buttonhole on the right lapel.
He also places a couple of loops of thread behind the hole to feed the stem of the buttonhole flower through neatly.
~SHIRT~
The shirt you wear will depend on the style of suit you opt for.
As suits have become more fitted, so too have shirts.
"It's comfortably neat, showing the man off," says Andrew, who espouses a big collar with a bigger tie knot.
"That's what can really give you an edge. If you take the collar a bit more cut back, the points will sit neatly underneath the waistcoat."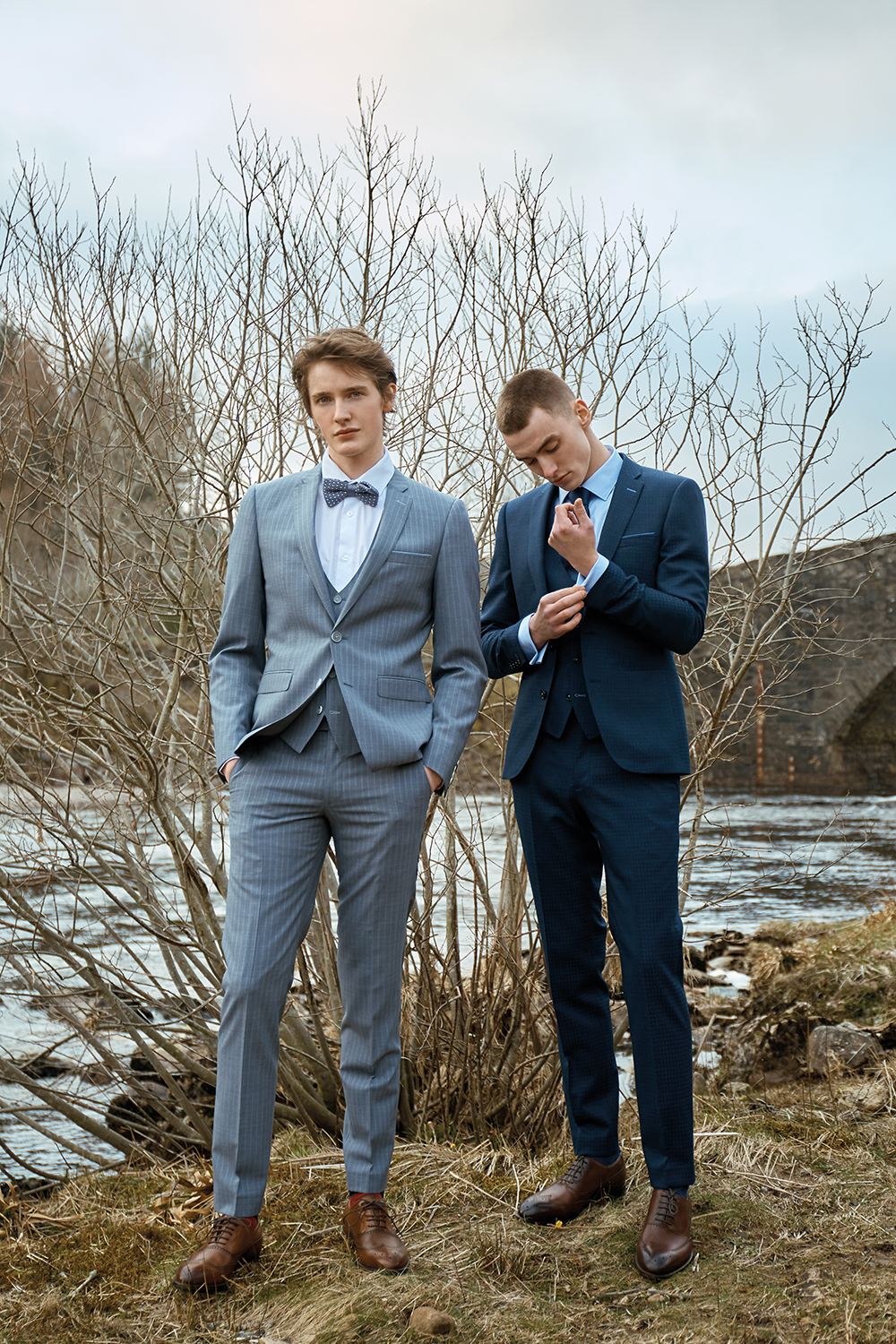 IMAGE |  Remus Uomo
~CUFFS~
Narrow-fit suits mean single-cuff shirts are more popular now because they fit better with the suit, says Declyn.
However, double cuffs tend to look smarter for your wedding and they can be accessorised with a nice pair of cufflinks – a perfect present for your best man.
~ACCESSORISE THAT~
You can easily elevate your wedding suit with fancy socks, handkerchiefs, ties and pocketwatches.
~THE CUSTOM LOOK~
Opting for a bespoke suit may seem like a huge expense but it's one that'll pay off, as you'll be able to wear it again.
"For your special day, a custom suit is a great idea as every aspect of the garment is tailored to the individual from the material to the lining to the custom button, possibly with the date on it," says Declyn.
Andrew can add personal touches that will really mean something to the couple like making a collage of the couple's holiday photos to transform into a handmade lining for the suit or changing the melton (the fabric underneath the collar) and embroidering it."
HAVE YOU FOUND YOUR WEDDING SUIT YET?