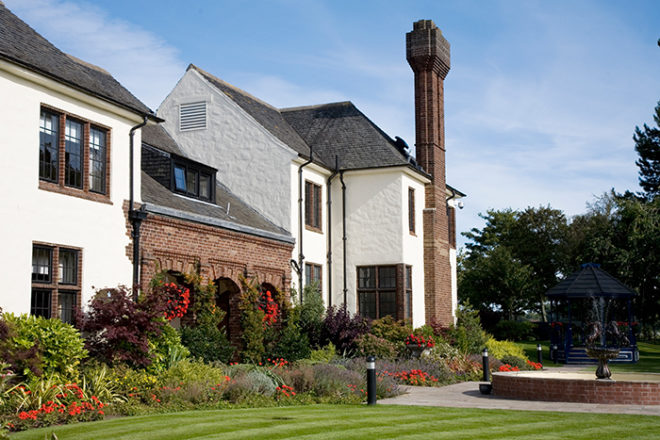 A country house on the edge of town, an idyllic setting where your wedding dreams are turned into reality
Western House Hotel is a stunning country mansion, set within the heart of Ayrshire. The four star hotel features beautiful gardens complete with stunning water features, romantic sweeping driveway, iconic open fireplace, Cathedral Ballroom and 49 bedrooms. Making it the perfect all year round wedding venue, where your dreams are turned into a reality.
2019 has been a very exciting year for Western House Hotel, with a full refurbishment of its Cathedral Ballroom, Lounge and Courtyard Bedrooms now completed. Teal, silver and gold notes enhance and complement the traditional, classy yet modern feel of the venue. With overhead mood lighting in the Cathedral Ballroom, offering a personalised touch to weddings. The original external brickwork, fireplace and staircase still stand as it did in 1920s, a truly unique aspect of the Western House Hotel.
We believe that each Wedding is unique which is why we offer a range of packages which can be tailored to suit your needs, so whether you want a small romantic wedding or a fantastic grand celebration Western House Hotel has everything you need. View our exceptional wedding packages online here! And call us on 01292 294990 to make an appointment with a member of our team and take the first steps on your dream wedding journey.
Awarded Hotel of the Year at the 2018 Scottish Hospitality Awards, Scottish Wedding Venue of the year in 2016 and a finalist in 2017 at the Scottish Confetti Awards and nominated for Best Wedding Venue in the 2016 and 2017 VOWS Awards.