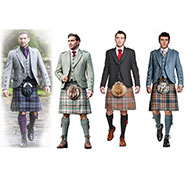 Slanj Kilts specialize in all forms of Contemporary and Traditional Wedding wear,
We pride ourselves on being Scotland's finest supplier of made to order kilts, sporrans, kilt pins, sgian dhus, tartans, kilt jackets and full highlandwear outfits to buy or hire.
Our knowledgeable sales team have an unrivalled wealth of experience earned by working in the kilt trade over many years and would be delighted to assist you in either one of our Glasgow or Edinburgh stores.
Slanj Kilts are at the forefront of innovation and design in the Scottish highlandwear trade and consistently stock the widest range of kilt jackets and the finest kilt accessories available in Scotland.